The Sympathetic System and Humour
Humour Smile and Learn
By Roberta Miscia and Students
LICEO SCIENTIFICO STATALE "G. GALILEI"
Via Balilla 34 – Via Vespucci 175, 65121 Pescara (Italy)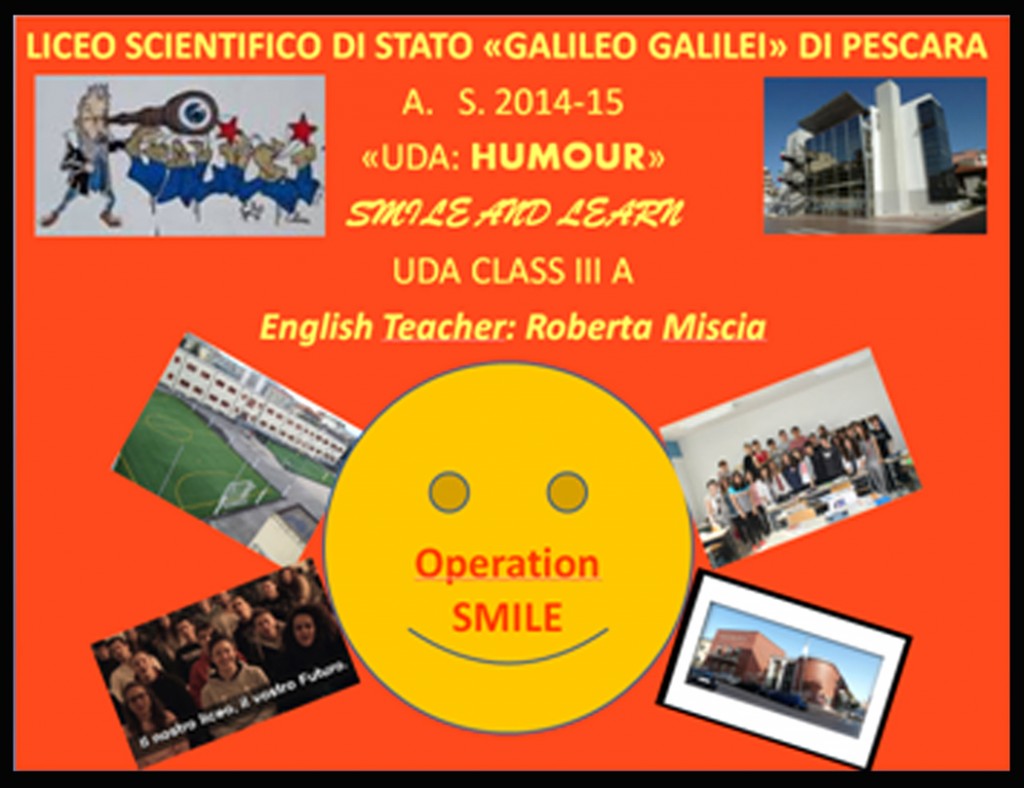 Hi Ing,
I'm so pleased to hear from you! I share with your family the great and wondrous joy of the little Kai James's birth. I've been thinking about you and your daughter all the time these days. I'm really happy that everything has come out well.
I have finished just now to read your latest post: "Peace to Syria for Little Alan Kurdi and all the Syrians". I'm still shocked and terribly sorrowful at the sight of the lifeless body of the three year-old Syrian creature lying on the shore. The war is such a cruel atrocity!!! Powerless people too often pay the highest price…we continue adding injustice to injustice witnessing, impotent, the daily silent massacre of "brothers and sisters" whose only dream is to have, like us, the right to a better future and existence. We can only be silent and pray for the conversion of the killers' souls. 
You can publish my project "The Sympathetic System and Humour" if you like; you can add Titti's pictures as well, if you like,
hugs and kisses to you, John, your daughter and her husband,
 Roberta 🙂 🙂 🙂

10.15.2015
Hi Roberta,
You are a kind and compassionate person which is the best quality for humanity and especially the value for being a good teacher.
Thank you so much for the lovely congratulations card for our grandson, new born baby Kai.  I really love the poem it has a great meaning.
The flower heart artwork is so beautiful.  I love all the colorful flowers.  I am very happy to receive them.
If you do not mind I would like to publish your comments on "Peace to Syria for Little Alan Kurdi and all the Syrians" on the comment section of the project with other people's comments.  Because your writing is powerful and came from the heart it is important for others to view. 
"Seeing the little lifeless body of Alan Kurdi
Squeezes my heart with pain"
That is how I feel every time I think about the poor refugees and the young boy.
Thank you very much for your email.  I will send you the link of your project "The Sympathetic System and Humour" after I post it on my website.  It will be a nice change from the troubling news of the world.  But now I cannot stop thinking about Syrian problems.
Hugs and kisses to you and your family,
Ing 🙂 🙂  🙂

10.17.2015
Titti's Photographs
Ing,

I'm using my phone to take these pictures so the close-ups are not like the ones of a real camera but it's easier (than to use a camera, to download …). I took theese pictures from one of my balconies and my mum's one.   I hope to give you an idea about the dracaena (dragon tree) taking pictures of the different parts of the plant, from the bottom to the top and above. I' m also sending you some photos of unripe fruits whose blossoms I sent you in spring: oranges, lemons, mandarins, and of course the well-known bougainvillea from mum's balcony.

Hugs to you and John

Titti  🙂 🙂 🙂

Italy

P.S. The photos are difficoltà to upload so I'm sending them in more than one mail
5 Attachments
10.9.2015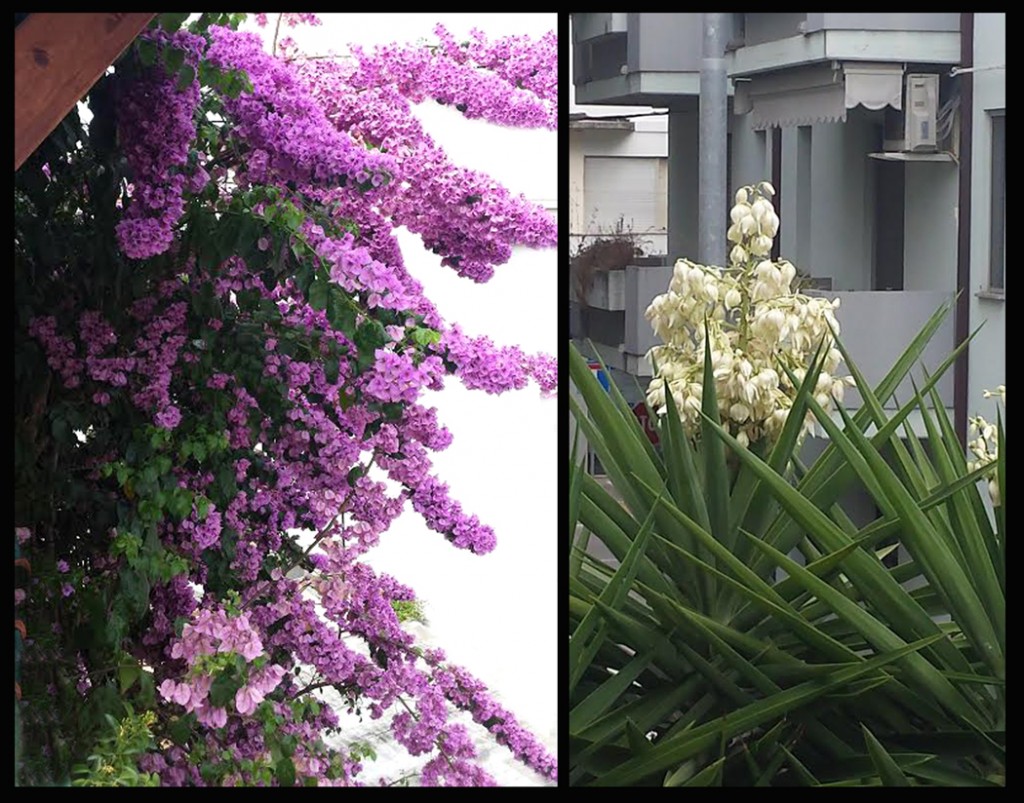 Titti's Photos, Bougainvillea and Dracaena Flowers
We Smile with happiness
When we see flowers bloom
Lemon juice tastes so good
Offer to my husband with a smile
Delicious cake with lemon zest
Elevates the quality
We smile while tasting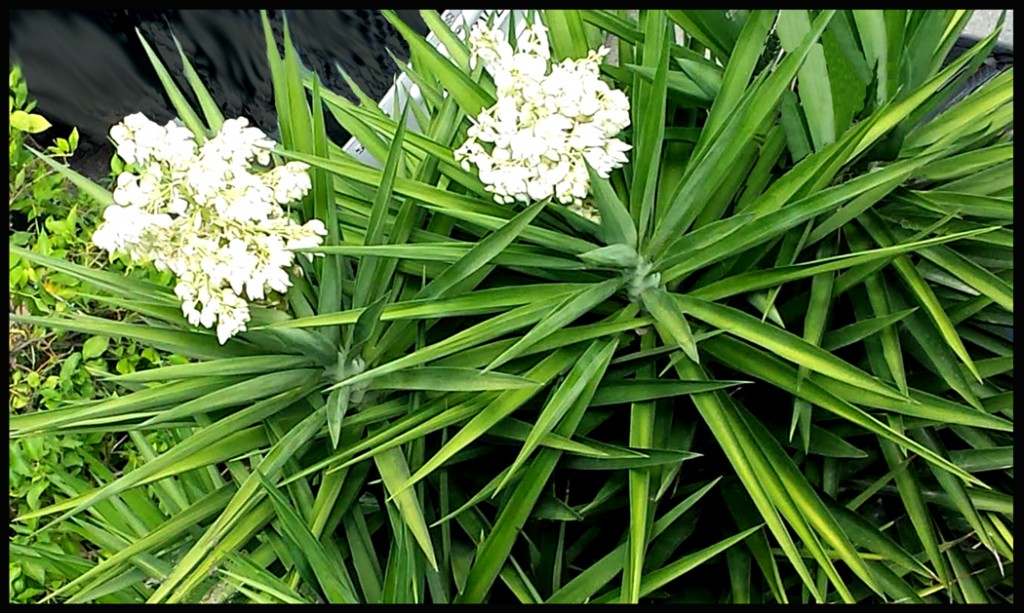 Titti's photo, dragon flowers and tree

Smile with happiness
When we are together
After hard work with success
We hug and smile
Relieves the tension
Smile after overcoming suffering
To solve problems
As long as we are together
We face the world with a smile

Ing-On Vibulbhan-Watts, Tuesday, October 20, 2015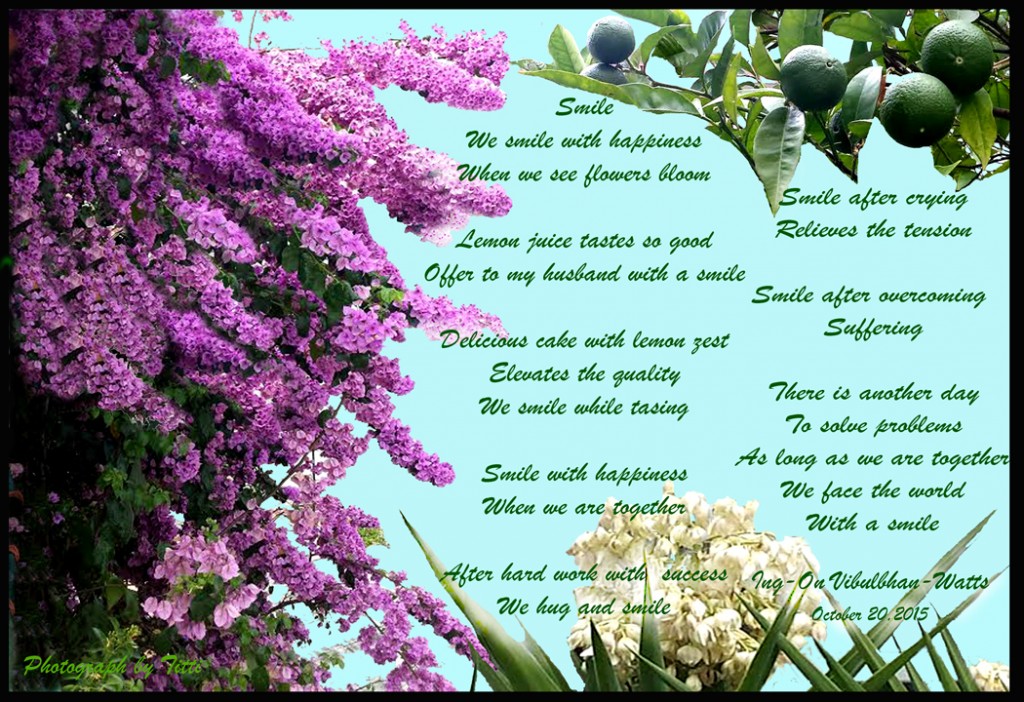 I smile when I think of Roberta and Titti in Italy.  🙂  🙂  🙂

Hi Ing,
thanks for everything, I wish you and your family all the best, you'll find in attachment a simple gift,
Kisses,
Roberta Miscia 🙂 🙂 🙂

10.19.2015
Hi Roberta,
Your presentation for us is very nice.  We are appreciative and grateful for this wonderful presentation.  The meaning and thoughtful selection of artwork and comments is universal.  It is for everyone to enjoy and feel what life is and what love is for those of humanity who want to travel this path.
I hope you do not mind that I decided to post it with your The Sympathetic System and Humour project.
The weather is getting cold now; please take care of yourself and family.  Please give our love and best wishes to everyone.
Kisses and hugs to you and your family,
Ing & John
🙂  🙂  🙂

10.21.15