PBS News: November 22-25,2019, How these 2 economists are using randomized trials to solve global poverty, Is the distinction between migrant and refugee meaningful?, and Winslow Homer's long love affair with the sea,
BBC Click: What's The Impact Of 5G?
TED Talks: Daniel Bogre Udell How to save a language from extinction?, Jimmy Nelson Gorgeous portraits of the world's vanishing people,
Elian Silverman: Photo gallery: Stunning images of indigenous peoples in their traditional splendor
Scientific American: Can Scientists Predict Fire Tornadoes?
PBS NewsHour full episode November 25, 2019
Nov 25, 2019 PBS NewsHour
Monday on the NewsHour, Hong Kong voters deliver a stunning rebuke to Beijing in the first election since protests began months ago. Plus: President Trump clashes with military leadership over a Navy SEAL, Politics Monday with Amy Walter and Tamara Keith, Italy's falling birthrate drives rising anxiety, David Rubeinstein on America's story and art brings joy to people with Alzheimer's disease. WATCH TODAY'S SEGMENTS: News Wrap: Judge rules McGahn must testify to Congress https://www.youtube.com/watch?v=TlKk5… How will Beijing respond to Hong Kong election results? https://www.youtube.com/watch?v=7r0BC… The fallout from Trump's intervention in Navy SEAL case https://www.youtube.com/watch?v=4uiZb… Tamara Keith and Amy Walter on impeachment polls, Bloomberg https://www.youtube.com/watch?v=igLPJ… In Italy, rising anxiety over falling birth rates https://www.youtube.com/watch?v=vYYzT… David Rubenstein on what history can teach our politicians https://www.youtube.com/watch?v=0VNhf… How art can help people with Alzheimer's enjoy the moment https://www.youtube.com/watch?v=zW-3j… Stream your PBS favorites with the PBS app: https://to.pbs.org/2Jb8twG Find more from PBS NewsHour at https://www.pbs.org/newshour Subscribe to our YouTube channel: https://bit.ly/2HfsCD6
PBS NewsHour Weekend full episode November 24, 2019
Nov 24, 2019 BS NewsHour
On this edition for Sunday, November 24, the latest on the impeachment inquiry, Michael Bloomberg officially enters the 2020 presidential race, a look a racial bias in algorithms used by hospitals, and reenacting the largest slave rebellion in U.S. history more than two centuries later. Hari Sreenivasan anchors from New York. Stream your PBS favorites with the PBS app: https://to.pbs.org/2Jb8twG Find more from PBS NewsHour at https://www.pbs.org/newshour Subscribe to our YouTube channel: https://bit.ly/2HfsCD6 Follow us: Facebook: https://www.pbs.org/newshour Twitter: https://www.twitter.com/newshour Instagram: https://www.instagram.com/newshour Snapchat: @pbsnews Subscribe: PBS NewsHour podcasts: https://www.pbs.org/newshour/podcasts Newsletters: https://www.pbs.org/newshour/subscribe
Category News & Politics
PBS NewsHour Weekend full episode November 23, 2019
Nov 23, 2019 PBS NewsHour
On this edition for Saturday, November 23, a look ahead at the next steps in the impeachment inquiry, Minneapolis eliminates single-family zoning as it searches for a solution to its housing crisis, and the Navy secretary downplays reports he may resign. Hari Sreenivasan anchors from New York. Stream your PBS favorites with the PBS app: https://to.pbs.org/2Jb8twG Find more from PBS NewsHour at https://www.pbs.org/newshour Subscribe to our YouTube channel: https://bit.ly/2HfsCD6
PBS NewsHour full episode November 22, 2019
Nov 22, 2019 PBS NewsHour
Friday on the NewsHour, the week's impeachment hearings are over, but analysis of their impact continues. Plus: The significance of Hong Kong's upcoming election, countering the dangers of vaping through public policy, political analysis with Mark Shields and David Brooks, a Brief But Spectacular take on women in comedy and a preview of a movie about beloved children's entertainer Mister Rogers. WATCH TODAY'S SEGMENTS: News Wrap: DOJ says political bias didn't alter Russia probe https://www.youtube.com/watch?v=tFr1P… What happens next in the impeachment inquiry https://www.youtube.com/watch?v=NQPFZ… Will Trump take action on medical crisis of youth vaping? https://www.youtube.com/watch?v=Sz4Uw… Shields and Brooks on impeachment hearing revelations https://www.youtube.com/watch?v=lkE0F… Amid protests, Hong Kong's interest in local elections soars https://www.youtube.com/watch?v=k5Btj… A Brief But Spectacular take on women in late-night comedy https://www.youtube.com/watch?v=GJrfd… Honoring Mister Rogers with a film starring Tom Hanks https://www.youtube.com/watch?v=UNz-t… Stream your PBS favorites with the PBS app: https://to.pbs.org/2Jb8twG Find more from PBS NewsHour at https://www.pbs.org/newshour Subscribe to our YouTube channel: https://bit.ly/2HfsCD6
How these 2 economists are using randomized trials to solve global poverty
Nov 21, 2019 PBS NewsHour
More than 700 million people across the globe live on extremely low wages. This year, a trio of economists won the Nobel Prize for their work on addressing global poverty, using randomized control trials to test and improve social policy. Economics correspondent Paul Solman talks to two of those winners, husband-and-wife duo Abhijit Banerjee and Esther Duflo, about their work. Stream your PBS favorites with the PBS app: https://to.pbs.org/2Jb8twG Find more from PBS NewsHour at https://www.pbs.org/newshour Subscribe to our YouTube channel: https://bit.ly/2HfsCD6
Is the distinction between migrant and refugee meaningful?
Nov 18, 2019 PBS NewsHour
Under President Trump, American immigration policy has been in the spotlight. While Trump may talk the most about stopping illegal entry into the U.S., he is also taking action to reduce the volume of legal migrants the country accepts as refugees. But what makes one immigrant a refugee and another simply a migrant? Writer Dina Nayeri offers her humble opinion questioning that distinction. Stream your PBS favorites with the PBS app: https://to.pbs.org/2Jb8twG Find more from PBS NewsHour at https://www.pbs.org/newshour Subscribe to our YouTube channel: https://bit.ly/2HfsCD6
Winslow Homer's long love affair with the sea
Nov 18, 2019 PBS NewsHour
Renowned 19th century American artist Winslow Homer began his journey in marine painting with a trip to Europe, following his well-known work documenting the frontlines of the Civil War as an illustrator. But it was back in the U.S., and specifically on the shores of Gloucester, Massachusetts, where Homer became "enchanted" with land, sea and sky. Jared Bowen of PBS station WGBH in Boston reports. Stream your PBS favorites with the PBS app: https://to.pbs.org/2Jb8twG Find more from PBS NewsHour at https://www.pbs.org/newshour Subscribe to our YouTube channel: https://bit.ly/2HfsCD6
What's The Impact Of 5G? – BBC Click
•Nov 15, 2019 BBC Click
Click investigates whether 5G networks could damage our health as some fear, and whether 5G might take our weather forecasting ability back to the 1980s? Subscribe HERE https://bit.ly/1uNQEWR Find us online at www.bbc.com/click Twitter: @bbcclick Facebook: www.facebook.com/BBCClick
Category Science & Technology
As many as 3,000 languages could disappear within the next 80 years, all but silencing entire cultures. In this quick talk, language activist Daniel Bögre Udell shows how people around the world are finding new ways to revive ancestral languages and rebuild their traditions — and encourages us all to investigate the tongues of our ancestors. "Reclaiming your language and embracing your culture is a powerful way to be yourself," he says.
This talk was presented at an official TED conference, and was featured by our editors on the home page.
About the speaker
Daniel Bögre Udell · Language activist
Daniel Bögre Udell is the cofounder and director of Wikitongues, working with a global network of grassroots linguists to build a seed bank of every language in the world.
Take Action
participate
Contribute a video of your language to the Wikitongues seed bank.
organize
Donate to Wikitongues and help safeguard linguistic diversity.
147,311 views
TED Residency | May 2019
When Jimmy Nelson traveled to Siberia to photograph the Chukchi people, elders told him: "You cannot photograph us. You have to wait, you have to wait until you get to know us, you have to wait until you understand us." In this gorgeously photo-filled talk, join Nelson's quest to understand — the world, other people, himself — by making astonishing portraits of the world's vanishing tribes and cultures.
This talk was presented at an official TED conference, and was featured by our editors on the home page.
About the speaker
Jimmy Nelson · Last tribes photographer
Jimmy Nelson's photographs of vanishing tribes illuminate the indigenous cultures of our shared world.
More Resources book
Jimmy Nelson
teNeues (2013)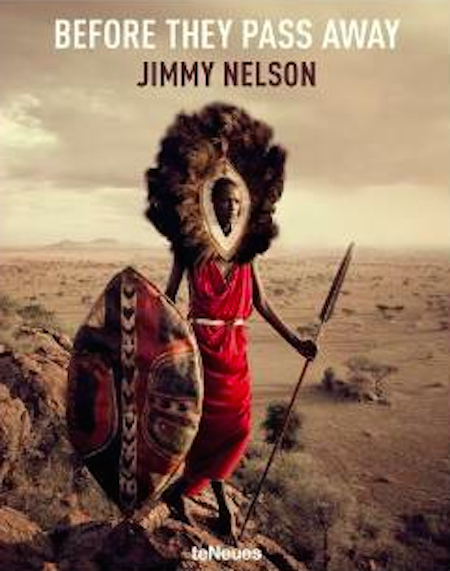 Take Action join
Support the effort to protect the homes of indigenous people who live in the rainforest.
TEDGlobal 2014 | October 2014
https://www.ted.com/speakers/jimmy_nelson
Jimmy Nelson's photographs of vanishing tribes illuminate the indigenous cultures of our shared world.
Why you should listen
In his quest to photograph endangered cultures, Jimmy Nelson has endured Kalishnikov-toting Banna tribesmen, subzero reindeer attacks, and thousands of miles of hard travel. With a blend of humility and humor, Nelson won the trust of each of his subjects, using an antique plate camera to create stunning portraits of 35 indigenous tribes.

The result is Before They Pass Away, a photo treasury that Nelson hopes will not only help preserve the lifestyles of people the world over, but also perhaps inspire readers in the developed world to ponder their own connections with their ancestral environments.
What others say
"There is a pure beauty in their goals and family ties, their belief in gods and nature, and their will to do the right thing in order to be taken care of when their time comes. Whether in Papua New Guinea or in Kazakhstan, in Ethiopia or in Siberia, tribes are the last resorts of natural authenticity." — beforethey.com
Jimmy Nelson's TED talk
More news and ideas from Jimmy Nelson
Arts + Design
Photo gallery: Stunning images of indigenous peoples in their traditional splendor
December 7, 2018
Jimmy Nelson has gone all over the earth to photograph native peoples at their proudest moments and to show you their soul.
Live from TEDGlobal
Through the looking glass: A recap of session 8 of TEDGlobal 2014
October 9, 2014
In this session, "Lenses," speakers look through cameras and new lenses — at subjects from the very, very big to the very, very small to the very, very far away. Wendy Freedman talks about a remote location in the Andes, far from the lights of civilization, where the stars can be seen clearly with the naked eye. In that location, […]
Live from TEDGlobal
Lenses: A sneak peek of session 8 at TEDGlobal 2014
October 9, 2014
Lenses allow us to look at far away worlds and to examine our own more closely. In this session hidden social and scientific fabrics will be amplified by several orders of magnitude, bringing us a richer and more vibrant experience than the naked eye can see on its own. The speakers who'll appear in this […]
Photo gallery: Stunning images of indigenous peoples in their traditional splendor
Dec 7, 2018 / Elian Silverman
Jimmy Nelson has gone all over the earth to photograph native peoples at their proudest moments and to show you their soul.
"This is us at our best" — that's the caption that could hover over these images from Dutch photographer Jimmy Nelson (TED talk: Gorgeous portraits of the world's vanishing people), who works to put the world's peoples and their rich traditions front and center in his pictures.
"I don't think there's anyone else in the world who looks like us or does things the way we do," says Mucathalepa Tchombo, a 32-year-old Muchimba woman from southwestern Africa, and one of the subjects of Nelson's work. "I'm very proud of my culture, but the world is changing fast, and we're part of that too."
Nelson is keenly aware that customs can vanish in a flash. To document them before they do, he spends months immersing himself in remote communities, connecting with people and really learning about their lives. Later, he returns to share the finished pictures with them. "In some cases, I'm not the first person to have photographed them," he says. "But, in most cases, I'm the first to return and show them the imagery."
While Nelson's images are undeniably beautiful, some critics have accused him of perpetuating stereotypes and "othering" his subjects. But he disagrees. "I think a lot of judgement is based on fear," he says. "And that's the antithesis of my project — it's about trying to break down those barriers and bring the people closer to you."
Nelson's new book, Jimmy Nelson: Homage to Humanity, is his latest attempt to showcase the pride, strength and resilience of the people he has come to know; all shown, as he puts it, "standing at their most proud." The book's smartphone app lets viewers access 360-degree images and videos, letting readers feel as if they are witnessing these rituals firsthand. "The idea is that the whole world can get access to what's going on behind the pictures, see who these people really are, and dispel myths about them," he says. "I want to show you the soul of these people."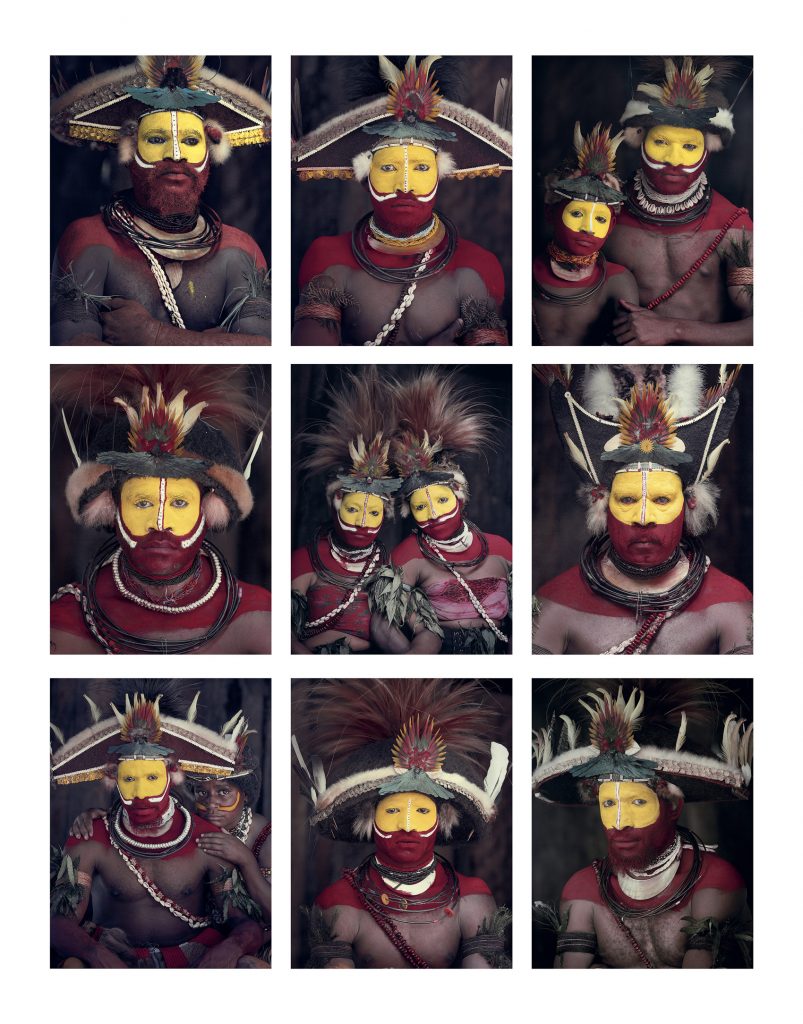 The Huli people, Papua New Guinea
The Huli are believed to have laid down roots in Papua New Guinea as far back as 45,000 years ago. The people shown are from the town of Tari, and many still live according to the traditional ways. "The Huli men are famous for their unique custom of creating and wearing impressive wigs decorated with feathers. They also wear bright facial paint in red, yellow and white — colors originally chosen to strike fear into their enemy in times of conflict," says Nelson. "Nowadays, they usually wear them to sing and dance."
The so-called Wigmen make their wigs out of their own hair — yes, that's right — and weave them with feathers from the island's 700 bird species. Each feather carries its own symbolic meaning (such as strength and courage). The Huli who participated in Nelson's photographs did so in the hopes that their portraits will inspire their youth to follow in their elders' footsteps. But they also want their images to reach people outside their community.
"The forest in which we live is essential to us. It provides for all our needs, it is sacred, and I would do anything in my power to protect it," writes Mundiya Kepanga, a 53-year-old Huli Wigman, in the foreword to Homage to Humanity. "I hope that by helping people to better understand my culture, they will also respect our environment."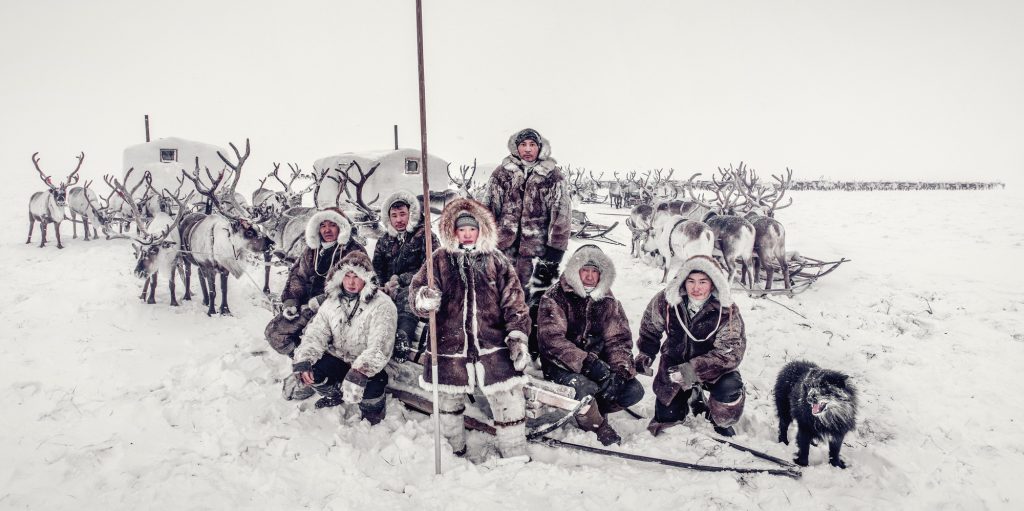 The Dolgan people, Siberia
The nomadic Dolgans roam one of the coldest regions on earth, the tundra of the northern Anabar Republic of Yakutia in Siberia. On a particularly brutal day, the temperature may drop to -76 degrees Fahrenheit. "Dolgan means 'people who live close to water' — or, in this case, ice. They live on icy white plains that stretch out as far as the eye can see," says Nelson.
The herders move every few days to find enough lichen for their reindeer to eat. For maximum efficiency, the Dolgan put everything they need to carry with them — including their homes, which are called balok — on skis. They travel with more than 1,500 animals, including packs of herding dogs and herds of reindeer.
"We Dolgan have been the envy of many people. During perestroika in the 1990s, the reindeer herders were the only ones who were well-fed because the tundra always keeps providing," says Roman Dimitruvik Tupirin, a 44-year-old Dolgan who was interviewed by Nelson and his team. "Now we're fearful of losing our connection to nature because people are coming here to hunt for diamonds and oil."
The Ngalop people, Bhutan
Buddhism is the most widely practiced religion in Bhutan — an estimated two-thirds to three-quarters of the population are adherents — so the Ngalop people hold a special place in their country. "Ngalop means 'the first risen,' and they are known as the people who brought Tibetan Buddhism to Bhutan when they migrated there in the ninth century," says Nelson. The Ngalop live mainly in the northwest region of the country.
Shown are a group of Ngalop masked dancers. Symbolizing different deities, demons and animals, the masks are used when the Ngalop act out spiritual stories from their collective past. In this photo, they're dressed for the annual Tshechu festival. "Religious gatherings such as the Tschechu festival are an important way to promote and share cultural heritage between the people from remote villages," Nelson says. The temple complex seen on the left-hand side of the image is Paro Takstang or "The Tiger's Nest." Located more than 10,000 feet above sea level, it is is one of the most sacred sites in Bhutan.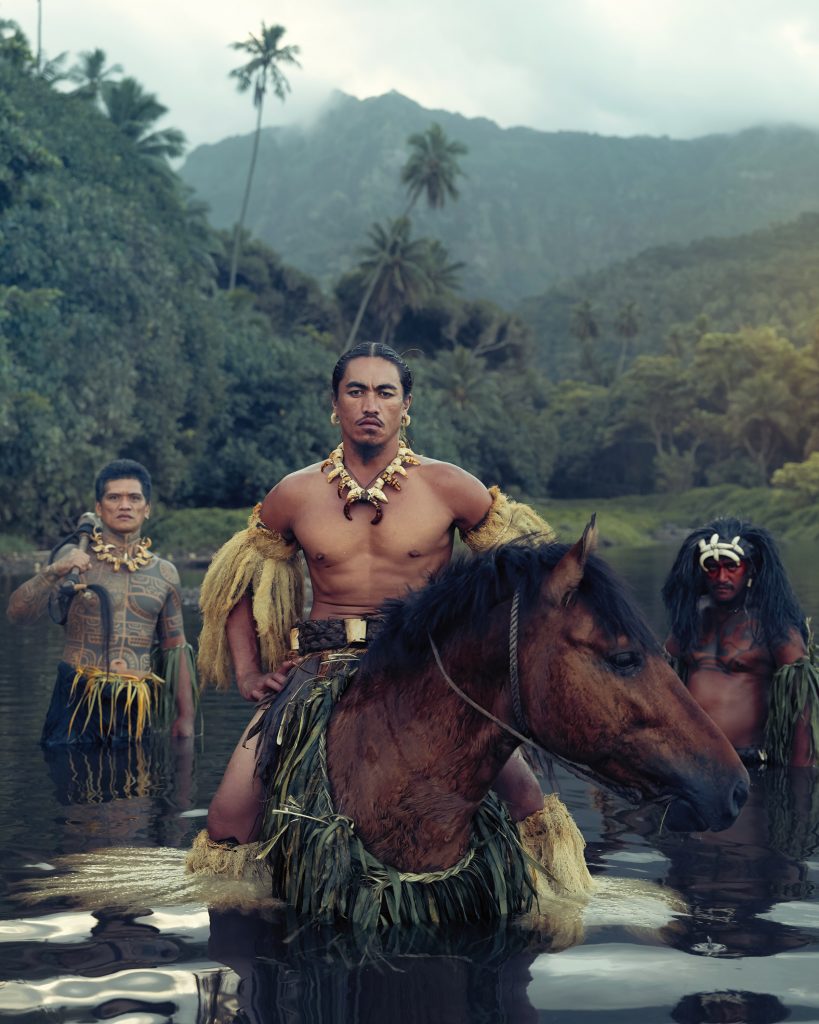 The Marquesan people, the Marquesas Islands, Polynesia
When Captain Cook and his crew arrived at the Marquesas Islands — a volcanic chain in the southern Pacific — in the late 1700s, they were struck by the appearance of the inhabitants. A crew member said they were "the most beautiful … people I ever beheld." Unfortunately, Cook and co. (and subsequent European settlers) ended up bringing disease and conflict to the people they so admired. In a matter of years, the Marquesan population shrunk from 80,000 to 2,000 — today, the population of the 15 islands totals just over 9,000 people.
"The native inhabitants are known in the local language as Enanaa, meaning 'people,'" says Nelson. "Traditionally, Marquesans wore clothing made of leaves and grasses that were decorated with animal teeth and beads. Today, their skirts are more likely to be made of cloth."
Historically, Enanaa had no written alphabet, so tattoos are an important part of their identities. Shapes and symbols enable people to communicate their status and their genealogy. After a child is born, parents start saving money — by raising pigs and growing crops — to pay for their child's tattoos in adulthood. Getting inked isn't just a young person's game; it's a lifelong pursuit. Subsequent tattoos are earned as people accrue wealth and achieve higher status in their community. Today, even though many Marquesans speak and write French, tattoos are still an important part of their culture.
---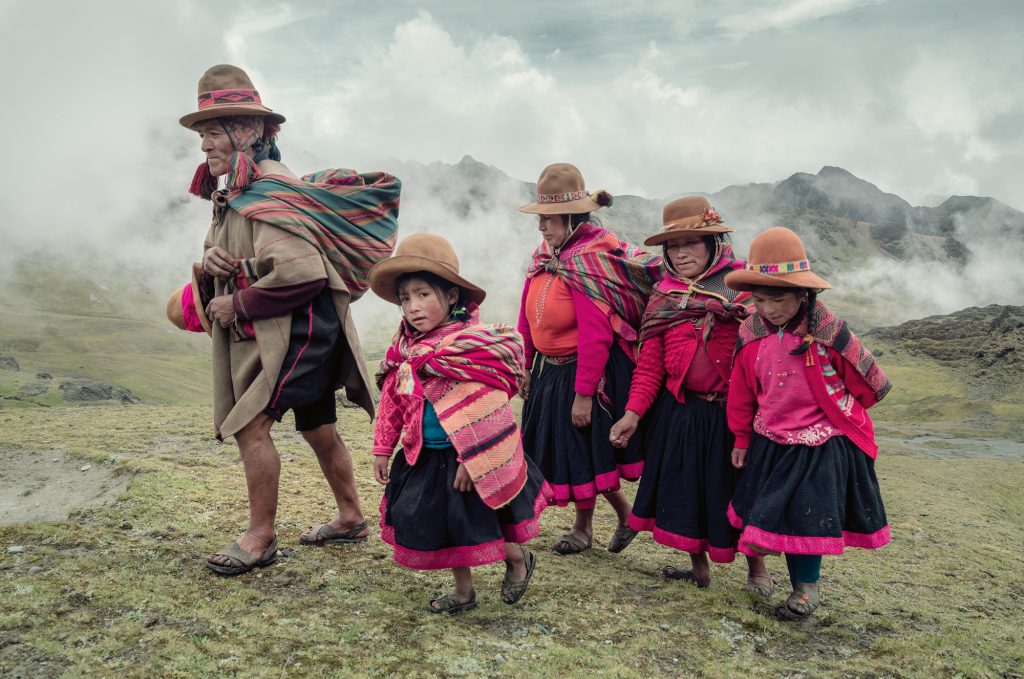 The Q'ero people, Peru
The Inca empire is believed to be the largest pre-European civilization in the Americas, numbering some 10 million. The Q'ero, shown here, are thought to be direct descendants of the Inca, and their 2,000 members live in and around the community of Qochamoqo, located in eastern Peru and perched over 14,000 feet above sea level in the Andes Mountains.
Considered part of the Quechua population group — with whom they share a language — "the Q'ero are one of the most isolated Andean communities, moving with the seasons to live and work at various altitudes, growing potatoes, corn and bamboo," says Nelson. "They are known for their weaving techniques, with which they make the colorful unkuña carrying cloths." The cloth is made from a blend of alpaca, sheep and llama wool, and the fabrics' designs communicate their people's history and mythology.
Some of the Q'ero's other traditions aren't as visible. "We still believe there should always be equal exchange, a sacred reciprocity we call ayni: I do something for you today; you do something for me tomorrow," says Fredy Flores Machacca, 30, the youngest-ever president of the Q'ero nation, to Nelson. Added Machacca, "We Q'eros live close to nature and we sleep close to the earth. I want to protect it like it protects us. That is ayni."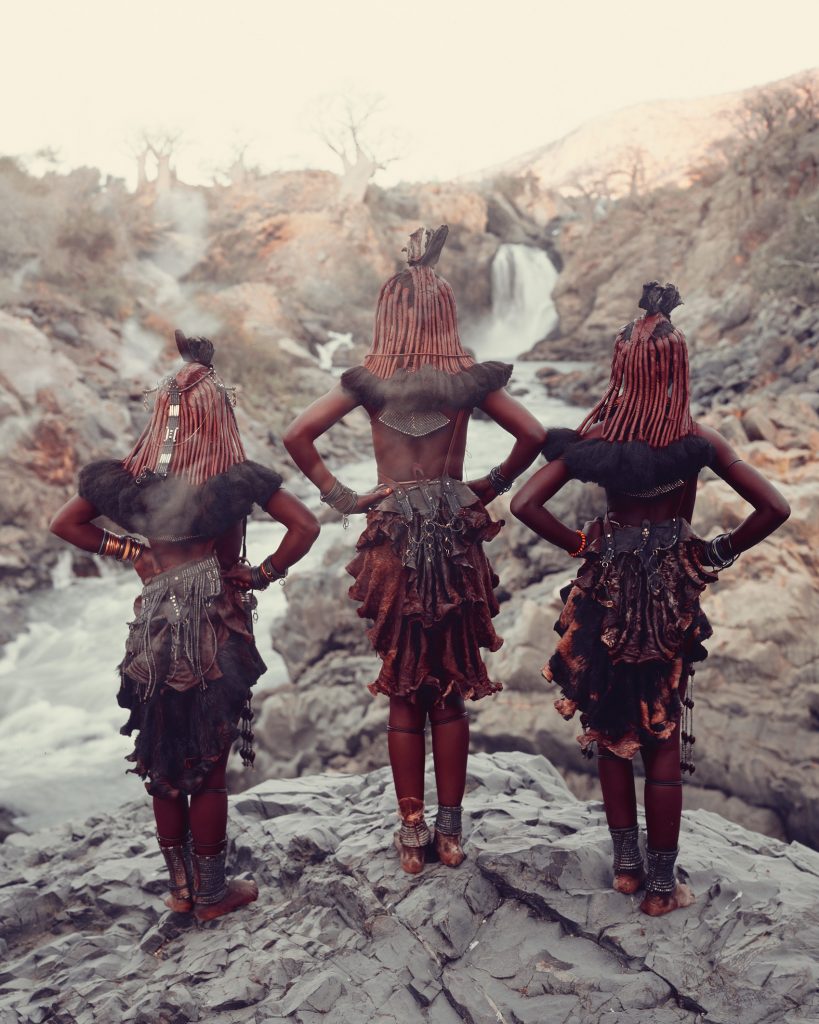 The Muchimba people, Angola/Namibia
In recent times, the Kaokoveld Plateau in southern Africa has become known for rare minerals such as shattuckite and dioptase. Yet the culture of its native inhabitants — which includes the semi-nomadic Muchimba people — is similarly rich. They spend much of their time along the Cunene River, which is an important resource for them and their herds of cattle and goats, and live in dome-shaped houses made from sticks, clay, straw and cow dung.
Since water is so scarce, the Muchimba reserve it for livestock. To keep clean, says Nelson, "the women cover their skin and hair in a mixture of butterfat and ochre pigment known as otjize, which also protects them from the sun." Additional bonus: Otjize acts as a moisturizer and insect repellant, too. Only the women wear it — not the men — and they use it in their hair as well. "We rub the wet [ochre] paste into our hair to make long braids. A few times a year, we wash it all out and redo it," Mucathalepa Tchombo, a Muchimba woman, tells Nelson. "If there's a special occasion coming up, we put on more ochre. It's a kind of makeup.
---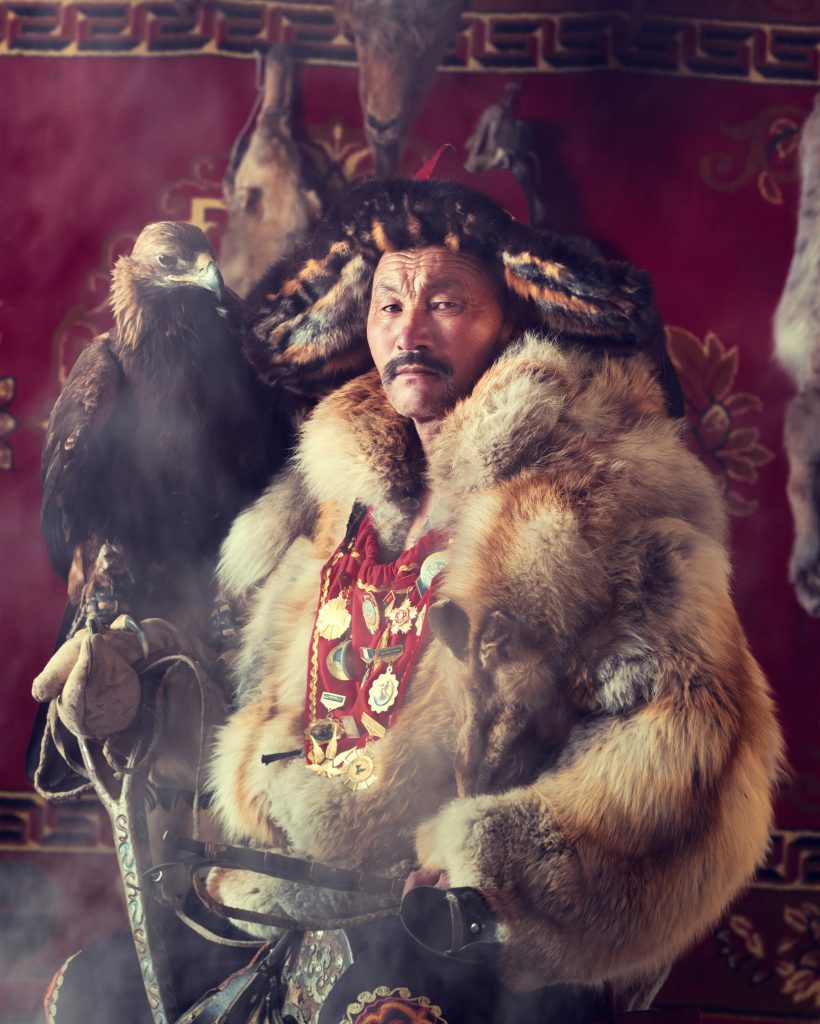 The Kazakh people, Mongolia
Dalaikhan Boskay, the man shown here, is an eagle hunter and one of the Kazakhs, the largest ethnic minority group in Mongolia. The term doesn't mean that he hunts down eagles; rather, he hunts red foxes, rabbits and wolves withthe assistance of these powerful birds of prey. His thick coat and hat are made from animal hides, fur and felt; whenever a Kazakh hunts and kills an animal, they are careful to use every piece of it — for utility and as a sign of respect to the creature.
The Kazakhs, who live in northwestern Mongolia, rely primarily on golden eagles. And while this kind of falconry was once the domain of men, the thousands-year-old tradition is open to change — women, girls and boys are now taking it up. People start training their eagles as fledglings, so human and bird develop an intense bond. "Hunters usually keep their eagles for around 10 years, which is about a third of their lifespan. We can feel when it's time to give them back to the wild," Boskay tells Nelson. "We only use female eagles, and it's important to release them so they can have offspring and keep the natural balance."
---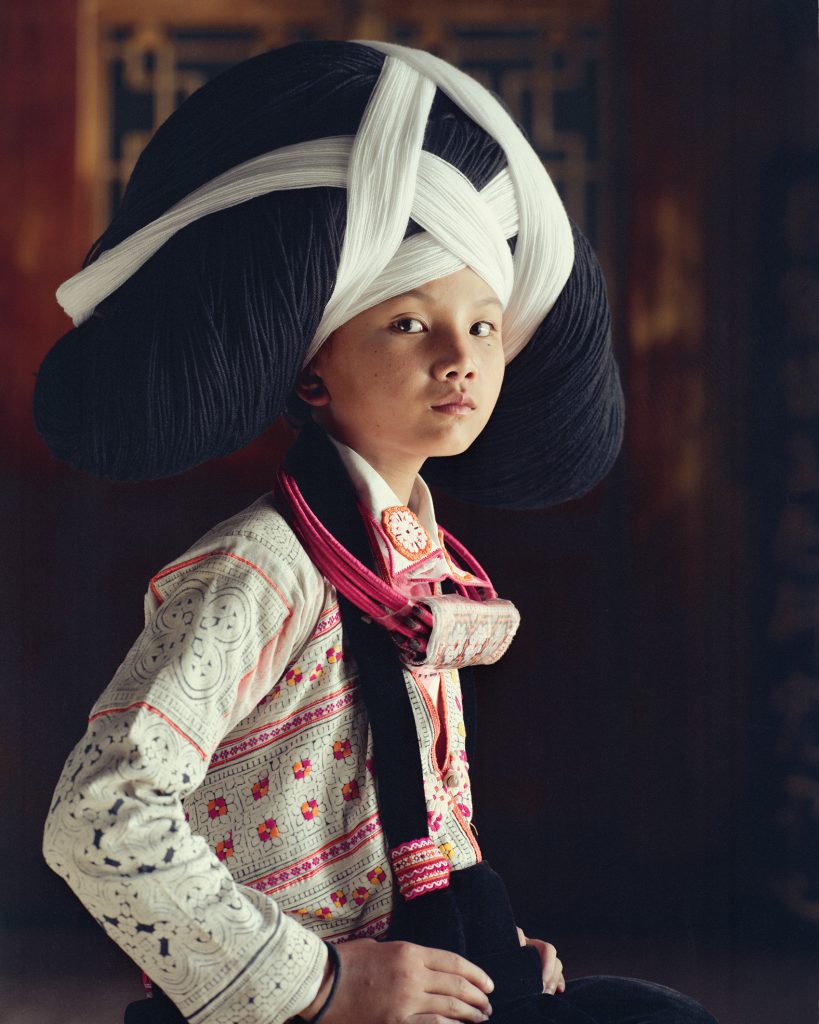 The Miao people, China
The mountainous province of Guizhou in southwest China is home to more than 50 minority groups. However, few of them still follow traditional customs, but among those who do are the Miao people (sometimes called the Hmong or Guizhou people). But the 7 million-strong Miao are not all the same — they're split among distinct groups.
Shown is an 11-year-old girl, who is one of the Longhorn Miao. "They're named for their impressive headpieces, which were originally made from the hair of their ancestors in order to keep them close," says Nelson. "Nowadays most headpieces are made of wool. Their shape is derived from the oxen and water buffalo that play such an important part in their agricultural life." To form that distinctive shape, wool is wrapped around a horn-shaped wooden comb. The headpieces are worn by the Miao during their spiritual rituals. Most Miao people are animists and believe that rocks, trees, rivers and human creations all possess their own spirits.
Watch Jimmy Nelson's TED talk here:
About the author
Elian Silverman is a writer based in New York City who covers science and technology.
https://www.scientificamerican.com/article/can-scientists-predict-fire-tornadoes/
Can Scientists Predict Fire Tornadoes?
Inside the effort to understand wildfire season's scariest phenomena
December 1, 2019

AUTHOR Jason M. Forthofer
Jason M. Forthofer is a firefighter and mechanical engineer at the U.S. Forest Service's Missoula Fire Sciences Laboratory in Montana. His research involves field, laboratory and computational studies of heat transfer and fluid flow related to wildland fires. Credit: Nick Higgins
In Brief
Fire tornadoes, vortices of fire with tornadolike wind speeds, are exceedingly rare but deadly. The Carr Fire tornado near Redding, Calif., killed up to four people.
Apart from fire itself, generation of a fire tornado requires a source of rotation in the atmosphere. The fire can concentrate this vorticity into a spinning tube of air and stand it up.
Scientists understand the physics of fire tornadoes rather well, but they cannot yet predict when and where one might appear.
As the plane began its descent into Medford, we dropped into the blanket of smoke that covered southwestern Oregon and northern California. It was late July 2018, and several major fires were burning in the region. I was en route to join a Cal Fire (California Department of Forestry and Fire Protection) team investigating a fatal incident that had taken place two days earlier. What the group leader told me over the phone had sent chills up my spine: "A firefighter has been killed in a fire tornado. His vehicle was thrown hundreds of feet across the ground."
I, perhaps more than anyone, had known that this might happen someday. Ten years earlier I had gotten my first look at the aftermath of a fire tornado. The object, almost 1,000 feet in diameter, had moved out of the Indians Fire in California and overrun a group of firefighters. So strong was the wind that trying to get to safety felt like running through chest-deep water, one of the survivors told me. Fortunately, the men were standing on a paved two-lane highway, which probably saved their lives: had they been even 10 feet away and among the trees and grass, they would have died. When I reached the site, massive oak branches lay all around, and the ground had been scoured of pebbles.
The scene left me impressed and worried. A fire tornado could evidently harm firefighters taking refuge in areas usually thought to be safe. It had been a close call. Many of us had seen fire whirls, dust-devil-sized rotating columns of fire, and did not regard them as particularly dangerous. In contrast, fire tornadoes—which combine the destructive power of fire with that of winds as ferocious as in an actual tornado—were so rare as to be almost mythical. Even I, a firefighter since 1996 and a fire-behavior researcher for eight years, had heard of only one, from a story a veteran firefighter told me.
On returning to my home base at the Missoula Fire Sciences Laboratory in Montana, I conducted a literature survey. It turned up reports, most rather sketchy, of several fire tornadoes that had occurred around the world in the near and distant past. So scant was the information on the subject that scientists did not even agree on what qualified as a fire tornado. Massive forest fires can generate so-called pyrocumulonimbus (pyroCb) clouds at high altitudes. These are ice-capped thunderclouds that condense from the moisture released above a fire—from the vegetation it consumed, from the water vapor in the atmosphere and as a by-product of combustion itself. A few researchers held that only those fire vortices that connect to overhead pyroCb clouds are true fire tornadoes. By that definition, only one had ever been documented, in a 2003 firestorm near Canberra, Australia. It had left a damage path almost 15 miles long.
That framework seemed far too restrictive to be of much use to firefighters, however. Using the working definition of a fire tornado as a fire whirl with tornadolike wind speeds, my colleague Bret Butler and I had gathered up whatever documentation we could find and consolidated it into firefighter-training manuals and classes. But now I found myself driving south toward the Carr Fire just outside Redding, Calif., to investigate the death of a firefighter in a fire tornado—a tragedy I had long sought to avert.
The Carr Fire Tornado
The site looked like a war zone. Neither the famous tornado researcher Josh Wurman, whom I had recruited for the investigation, nor I had ever seen anything like this. Entire blocks of homes had been leveled, with only the foundations remaining. Roofing and other debris littered the area, and vehicles had been rolled multiple times over the ground. Trees were uprooted or broken off, and flying particles of sand and rock had stripped them of their bark. Three power-line towers built of metal lattice, each roughly 100 feet tall, had been blown down, with one of them having been lifted off its base and carried 1,000 feet through the air. A 40-foot shipping container had been torn apart, and a steel pipe was wrapped around downed power poles.
We estimated that the winds could have reached 165 miles per hour, a speed that occurs in class 3 tornadoes on the Enhanced Fujita scale. (This scale rates tornadoes on a scale ranging from 0 to 5, with 5 indicating the fastest and most destructive winds.) In California, only two regular tornadoes of this strength had ever been recorded. Peak temperatures of the burning gases inside the fire tornado may have reached almost 2,700 degrees Fahrenheit. The object was more than 1,000 feet wide at its base and, according to radar imagery, three miles high. It lasted for at least 40 minutes, during which time it moved slowly across the ground, leaving a path of destruction nearly a mile long.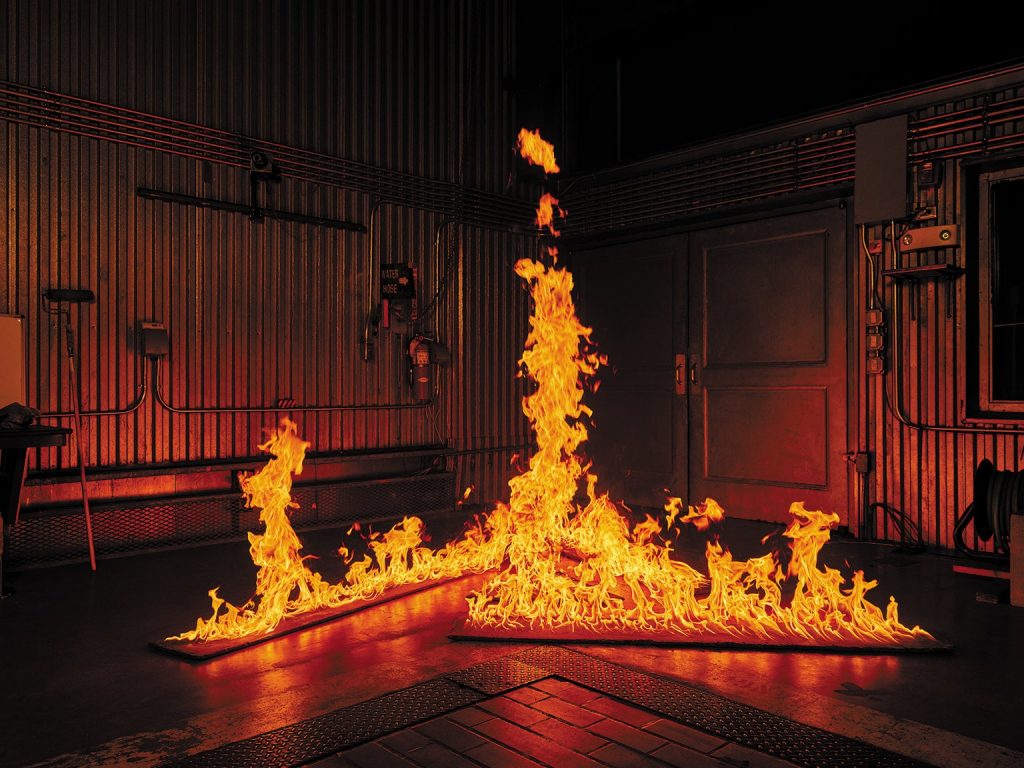 Burning boards arranged in a rough triangle allow air to swirl into the central area, where another fire gathers the rotation into a vortex. Forest or urban fires of certain shapes can similarly generate fire tornadoes. Credit: Spencer Lowell
Our team interviewed witnesses and collected video evidence in the hope of learning from the event. The fire tornado occurred on the evening of July 26, 2018, in the course of a forest fire covering thousands of acres northwest of Redding. So extensive and intense was the fire that it generated pyroCb clouds at altitudes higher than three miles. Suddenly, at around 5:30 P.M., the flames raced eastward, killing firefighting bulldozer operator Don Smith, as well as a civilian in his home. As the wildfire neared the outskirts of Redding, it spawned a number of fire whirls and threw embers more than a mile ahead of the fire and across the Sacramento River. These started several "spot," or small, isolated fires near two subdivisions at the end of a dead-end road. An extremely chaotic scene unfolded as firefighters tried to evacuate homeowners and save houses even as their escape route was being cut off. People were literally running for their lives.
Redding firefighter Jeremy Stoke headed to the scene to help. Just as he was arriving, at about 7:30 P.M., the fire tornado formed over the road, trapping residents and firefighters at the subdivisions. It apparently caught Stoke on the road. He transmitted a mayday call on his radio before powerful winds rolled his truck multiple times; it eventually came to rest against a tree hundreds of feet away. Stoke was found hours later, dead from traumatic injuries.
Two Cal Fire vehicles being driven down the road had most of their windows blown out and were battered by flying debris. Strangely, one of the trucks was damaged mostly on the driver's side and the other on the passenger side—even though they were only 150 feet apart and facing the same direction—indicating the rotating motion of the air. The occupants huddled on the floorboards to save themselves from projectiles. Three nearby bulldozers also had their windows blown out, with one operator getting glass in his eye and another receiving serious burns to his hands. A retired police officer who was driving out realized his truck bed was on fire and pulled over; he survived but sustained burns to his airways. Most tragically, on the outer edge of the revolving inferno two children and their great-grandmother perished inside their burned home.
In the Laboratory
What can we learn from an event like this? Can we predict when and where a fire tornado will occur so that we can evacuate residents and firefighters? What causes fire tornadoes? A first step toward answering these questions is to look back in history. In 1871 a town in Wisconsin was devastated by what was probably a fire tornado, judging by the massive amount of debris—which included a house—thrown around. In 1964 the Polo Fire in California spawned one that injured four people and destroyed two homes, a barn, three cars and an avocado orchard. One of the most horrific occurred during the World War II incendiary bombing of Hamburg, Germany: the resulting firestorm generated a fire tornado that, according to geographer Charles Ebert, was up to two miles wide and three miles tall. More than 40,000 civilians died in the conflagration.
Credit: Bryan Christie Design
This is what a lethal fire tornado looks like
Nov 21, 2019 Scientific American
Fire tornadoes are terrifying forces of nature. They're rare, but as wildfires become bigger and more frequent, they may grow more common. Thankfully, scientists are getting closer to predicting when and where these lethal vortices will appear. Read the full story this hellish phenomenon: https://bit.ly/2O4xJIK
Category Science & Technology
In 1923 a major earthquake sparked an urban fire in Tokyo. As it spread from building to building, residents evacuated to an open area between the structures. A large fire tornado formed over this area, killing an estimated 38,000 people in 15 minutes. For more than half a century the accepted explanation for this terrible event was that a regular tornado happened to form at the exact same time and location as the fire. But in the 1980s and 1990s engineers S. Soma and K. Saito of the University of Kentucky used historical records to construct a small-scale model of the actual fire, painstakingly reproducing its geometry and ambient winds. Their laboratory fire generated a vortex—proving that the original one was not a coincidence but was caused by the fire itself.
This research built on pioneering lab work conducted two decades earlier, when George Byram and Robert Martin of the U.S. Forest Service Southern Research Station created small fire whirls at their facility in Macon, Ga. Their apparatus consisted of a small circular pool of burning alcohol surrounded by cylindrical walls with vertical slits, which forced drafts into the fire to enter in a rotating motion. Significantly, the resulting fire whirl caused the fuel to burn—and its energy to be released—up to three times faster than in a nonrotating fire. The rotating wind appears to have increased the rate of burning by pushing the flames down toward the surface of the alcohol, heating it up. Subsequent research has found the energy-release rate to be enhanced by up to seven times in such fires.
Something similar occurs in wildfire whirls and fire tornadoes. A heated piece of wood generates hundreds of different flammable gases, the further combustion of which yields flames. The strong horizontal, rotating winds in the fire tornado can force the flames down into the vegetation, causing it to burn more fiercely.
In 1967 Howard Emmons and Shuh-Jing Ying of Harvard University surrounded a stationary lab fire with a cylindrical wire screen that could be spun at various speeds, imparting rotation to the air flowing into the flames. The researchers measured the wind velocity and temperature distribution of the fire whirl thus generated, getting a glimpse into its inner workings. They found that, apart from fire itself, the formation of such a vortex requires a source of rotation and a mechanism to intensify it.
A fire tornado has essentially the same hydrodynamics. Significant vorticity often exists in the atmosphere—generated by wind curling around mountains or dragging along the ground or by variations in density and pressure. The fire itself carries out two other crucial functions: it concentrates the rotation and stands it up, so that a tight tube of air ends up spinning around a vertical axis.
First the hot air rising above the fire pulls in replacement air at the base, thereby gathering rotating air from the surroundings. Some of the vorticity might originally be around a horizontal axis, but once air is sucked up into the fire plume, its hot, buoyant upward stream causes the axis to tilt to a vertical orientation. Second, although the upwardly moving air starts out slow when it is near the ground, it heats up as the gases in it burn. The air pressure all around the vortex forces the hot, light air within the core upward. The accelerating air in the fire plume stretches the fire whirl or fire tornado vertically along its axis, reducing its diameter, much as pulling apart a clump of dough causes a long, thin neck to form. The reduced diameter drives the air to turn faster to conserve its angular momentum—the same effect seen when a spinning ice skater draws in his or her arms.
It appears that when a fire whirl or fire tornado moves over a burning area, it stretches to a considerable height and spins tight and fast, but when it moves over an already burned area, it spreads out and slows down into a diffuse cylinder of smoke. Sometimes the rotating object is so wide and slow that firefighters fail to perceive it. The direction of motion of the vortex across the ground depends on ambient winds and details of terrain in ways that we have yet to understand.
Emmons and Ying also found that fire vortices are remarkably efficient at conserving their rotational energy, which makes them (unfortunately) rather long-lived. The Indians Fire tornado, for example, lasted for about an hour. As the fire tornado spins up, two opposing forces in the radial direction strengthen: centrifugal force pulling a parcel of rotating air outward and, in opposition, low pressure in the core pulling it inward. The resulting balance limits the movement of air in the radial direction and therefore the loss of energy from the vortex. In contrast, nonrotating fires exchange roughly 10 times more energy with the surrounding atmosphere. This mechanism also makes fire whirls thinner and taller than nonrotating fires because with practically no air being drawn in, except at the base, less oxygen is available for combustion. Thus, some of the fuel gases must travel high up the core before they encounter sufficient oxygen to burn.
Just as dangerous, the towering column of hot, low-density gases induces very low pressure at the base of the whirl. Drag near the ground slows the rotation, reducing the centrifugal force pushing the air outward. Because the inward force generated by pressure remains the same, however, the wind near the ground streams into the fire tornado. It ends up acting like a giant vacuum cleaner, sucking air and, often, burning debris into the base, forcing it vertically up the core at extreme velocities and spitting it out from high up—unpredictably generating spot fires.
In the Field
Despite all this knowledge about the physics of fire tornadoes, we still cannot predict where and when one will occur. One thing is clear, however: given how rare fire tornadoes are even though a large, intensely burning fire always has the capacity to concentrate rotation, the essential factor for their appearance seems to be the presence of a strong source of rotation.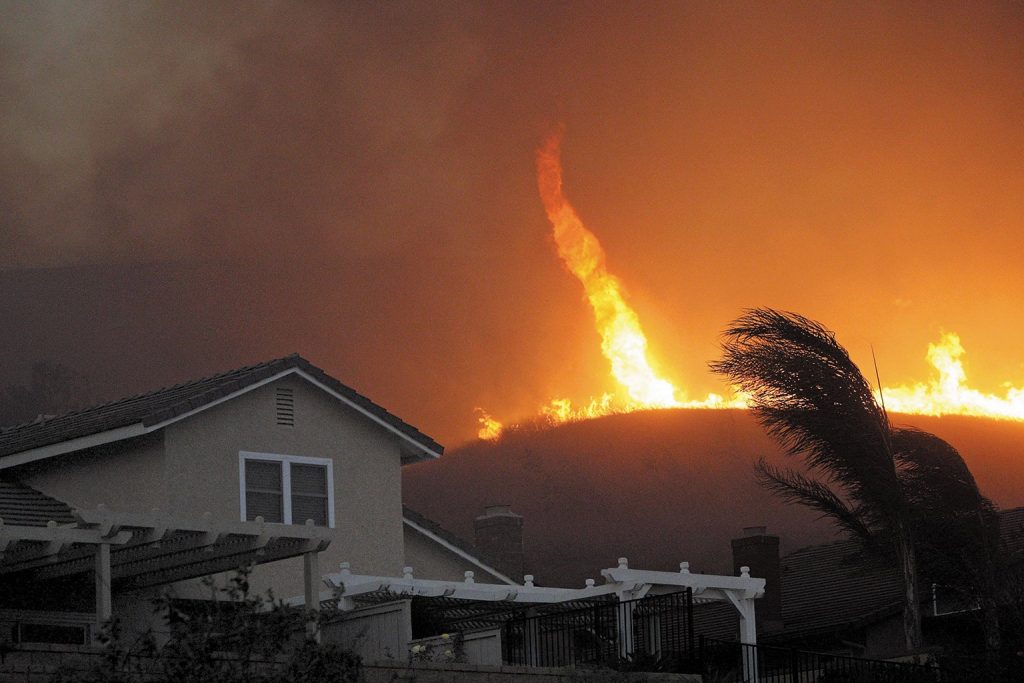 Corona fire in Yorba Linda, Calif., in November 2008 generated a flaming vortex—possibly a fire tornado—that threatened homes. Credit: David McNew Getty Images
We know from case studies, for example, that one of the likeliest locations for fire tornadoes to form is on the lee side of a mountain. Wind blowing around the mountain causes swirling motions on the downwind side, like water moving around a large rock in a river. A fire burning there can gather and stretch this rotation into a fire tornado. But matters are in fact more complicated: Fiery vortices can also show up on flat ground and in calm wind conditions. For example, a large fire whirl in Kansas was likely generated by a cold front that collided with warm ambient air as it passed over a fire in a field. And a 2007 study by Rui Zhou and Zi-Niu Wu of Tsinghua University in Beijing showed that multiple fires burning in certain specific configurations—which can happen when a fire throws embers ahead of itself, starting new fires—may even generate their own rotation by inducing jets of air to flow along the ground between them.
So where did the rotation that caused the deadly Carr Fire tornado come from? Given the several fire whirls that preceded the fire tornado, an abnormally high amount of rotation obviously existed in the area. On a hunch, I asked Natalie Wagenbrenner, a colleague at the Missoula Fire Sciences Laboratory, to run some specialized computer simulations of the weather that day. Her studies showed that cool, dense air from the Pacific Ocean was being pushed eastward and over the top of a mountain range west of Redding. This cool air was much heavier than the hot air in the Sacramento Valley: the Redding airport reported a peak temperature that day of 113 degrees F, a record. So gravity caused the air to accelerate as it moved down the slopes toward the valley, much like water flowing downhill. Oddly, these strong surface winds stopped abruptly—right where the fire tornado formed.
What happened to the wind? Finally, I realized that a hydraulic jump was occurring—the atmospheric equivalent of what happens to water when it flows down the spillway below a dam. When the fast-moving water hits the low-speed pool below, the surface of the water jumps upward, forming a breaking wave that stays in place and marks the boundary between the two flows. This region contains intense swirling motions. In much the same way, the cold, dense air speeding down the mountainside hit the slow-moving pool of air in the Sacramento Valley, most likely generating the powerful rotation that formed the Carr Fire tornado [see graphic above]. N. P. Lareau of the University of Nevada and his colleagues speculated in a 2018 paper that the pyroCb clouds overhead, which reached altitudes of up to seven miles even as the fire tornado formed, helped to stretch the vortex to a great height, thereby thinning it and spinning it up even more.
If wildfires continue to become more extensive, we may encounter such lethal objects more frequently. The silver lining is that lessons learned from studying them carefully might help prevent future tragedies. I am hopeful that further research into fire tornadoes, combined with advances in weather prediction and computing power, will, in the near future, give us the ability to issue fire tornado warnings—possibly saving lives.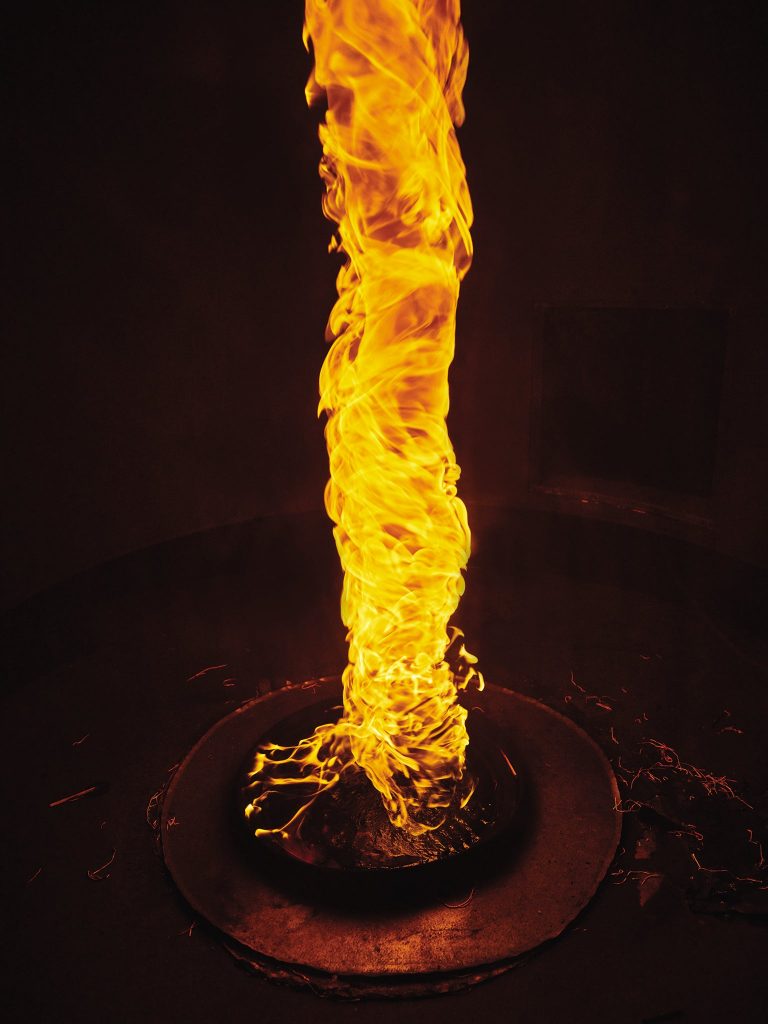 Fire whirl is formed by rotating air drafting into a pan of burning alcohol at the Missoula Fire Sciences Laboratory in Montana. Credit: Spencer Lowell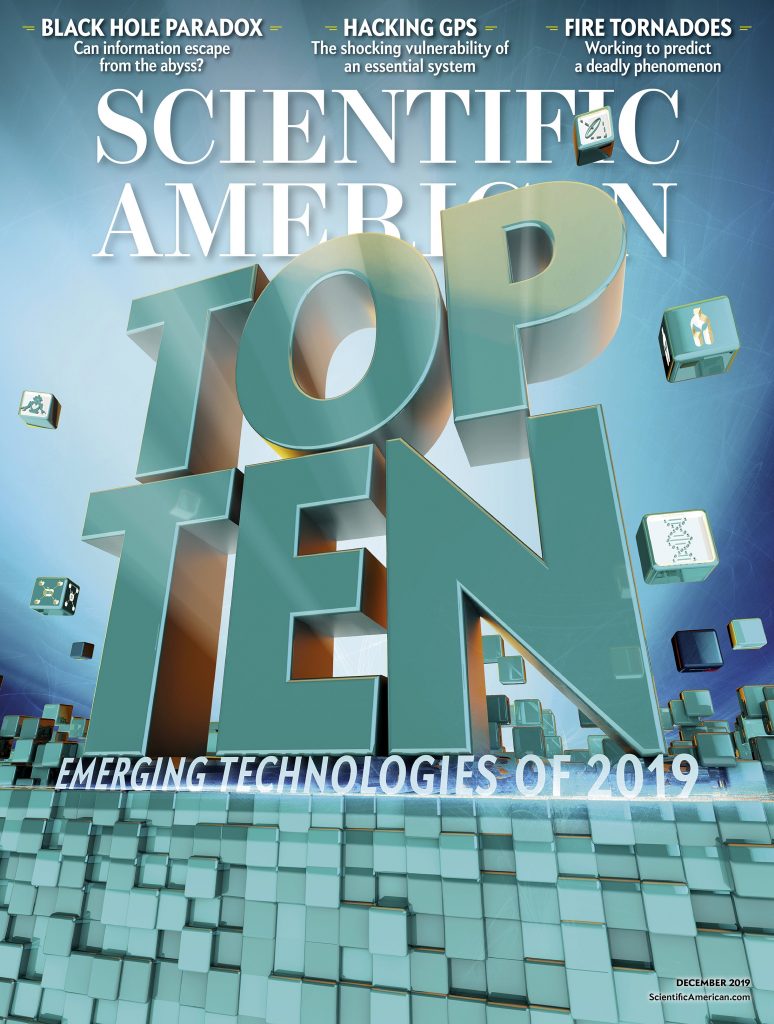 This article was originally published with the title "Fire Tornadoes" in Scientific American 321, 6, 60-67 (December 2019)
doi:10.1038/scientificamerican1219-60 View This Issue