PBS News: November12-17, 2019, Why Jane Fonda is putting herself on the line to fight climate change, Blockbuster da Vinci exhibition showcases the master's 'endless curiosity', and Why German divisions remain, 30 years after fall of the Berlin Wall
TED Talks: Paul A Kramer Our immigration conversation is broken here' s how to have a better one?, Juan Enriquez A personal plea for humanity at the us Mexico border, Jon Lowenstein Family hope and resilience on the migrant trail, and Will Hurd A wall won't solve America's border problems
Pocket Worthy: How Einstein Learned Physics
New Small Joys: Sand Sculptures
Ing's Peace Project: Peace artwork 2 – The Peace and Art Parade and festival run by the Barat Foundation in Newark on 10.23.2011, organized by Chandri and Gary Barat. Finished artwork, after the written comments by Ing-On Vibulbhan-Watts
PBS NewsHour Weekend full episode November 17, 2019
Nov 17, 2019 PBS NewsHour
On this edition for Sunday, November 17, public hearings in the ongoing impeachment inquiry enter a second week, a long-awaited project in Italy that could help keep Venice afloat, and how Australia is trying to save the almost-extinct koalas. Karina Mitchell anchors from New York. Stream your PBS favorites with the PBS app: https://to.pbs.org/2Jb8twG Find more from PBS NewsHour at https://www.pbs.org/newshour Subscribe to our YouTube channel: https://bit.ly/2HfsCD6
PBS NewsHour Weekend full episode November 16, 2019
Nov 17, 2019 PBS NewsHour
On this edition for Saturday, November 16, key takeaways from hearings in the impeachment inquiry. Also, a look at Kernza, a little-known grain with several environmental benefits. Karina Mitchell anchors from New York. Stream your PBS favorites with the PBS app: https://to.pbs.org/2Jb8twG Find more from PBS NewsHour at https://www.pbs.org/newshour Subscribe to our YouTube channel: https://bit.ly/2HfsCD6
PBS NewsHour full episode November 15, 2019
Nov 15, 2019 PBS NewsHour
Friday on the NewsHour, a second day of public impeachment hearings, featuring former U.S. Ambassador to Ukraine Marie Yovanovitch. Plus: President Trump's longtime associate Roger Stone is found guilty of witness tampering and lying to Congress, protests in Hong Kong enter a new phrase, analysis of the latest political news with Shields and Brooks and rebuilding Notre Dame Cathedral. Stream your PBS favorites with the PBS app: https://to.pbs.org/2Jb8twG Find more from PBS NewsHour at https://www.pbs.org/newshour Subscribe to our YouTube channel: https://bit.ly/2HfsCD6
PBS NewsHour full episode November 14, 2019
Nov 14, 2019 PBS NewsHour
Thursday on the NewsHour, Speaker of the House Nancy Pelosi accuses President Trump of committing bribery with his handling of Ukraine policy. Plus: Controversial emails from presidential adviser Stephen Miller, an exclusive look behind Taliban lines, fighting superbugs, businesses try to retain older employees, a book on elitism, artist Delano Dunn and student letters to the late Gwen Ifill. Stream your PBS favorites with the PBS app: https://to.pbs.org/2Jb8twG Find more from PBS NewsHour at https://www.pbs.org/newshour Subscribe to our YouTube channel: https://bit.ly/2HfsCD6
PBS NewsHour full episode November 13, 2019
Nov 13, 2019 PBS NewsHour
Wednesday on the NewsHour, a historic day in Washington with the first public hearing in the impeachment inquiry of President Trump, featuring witnesses William Taylor and George Kent. Plus: Reaction to the diplomats' testimonies from House members as well as legal and foreign policy experts, and why Turkish President Erdogan was welcomed at the White House despite U.S.-Turkey tensions over Syria. WATCH TODAY'S SEGMENTS: What Taylor and Kent said in public impeachment hearings https://www.youtube.com/watch?v=U5BPx… Collins says 'nothing new' in 1st public impeachment hearing https://www.youtube.com/watch?v=PqFks… Speier says Mulvaney, Bolton should testify on Ukraine saga https://www.youtube.com/watch?v=7Z5fG… Experts analyze testimonies of William Taylor, George Kent https://www.youtube.com/watch?v=aFvj3… Despite Syria tensions, Trump offers Erdogan a warm welcome https://www.youtube.com/watch?v=ZXM9t… News Wrap: Israeli airstrikes kill dozens in Gaza https://www.youtube.com/watch?v=zSspQ… Stream your PBS favorites with the PBS app: https://to.pbs.org/2Jb8twG Find more from PBS NewsHour at https://www.pbs.org/newshour Subscribe to our YouTube channel: https://bit.ly/2HfsCD6
PBS NewsHour full episode November 12, 2019
Nov 12, 2019 PBS NewsHour
1.47M subscribers
Tuesday on the NewsHour, the Supreme Court hears arguments around President Trump's move to end Deferred Action for Childhood Arrivals, or DACA. Plus: Impeachment hearings go public, holding gun manufacturers liable for mass shootings, how we got to impeachment, life on Israel's Lebanon and Gaza borders, and how media giants are competing for Americans' streaming entertainment dollars. WATCH TODAY'S SEGMENTS: Supreme Court considers whether DACA termination was legal https://www.youtube.com/watch?v=JrSdO… News Wrap: Bolivia's Morales goes into exile in Mexico https://www.youtube.com/watch?v=jyNVV… Democratic and Republican messages as public hearings begin https://www.youtube.com/watch?v=eDuWj… Could Remington lawsuit shape state consumer protections? https://www.youtube.com/watch?v=YrBPT… The key events that led to the Trump impeachment inquiry https://www.youtube.com/watch?v=-6sXq… For Israelis along the border, violence is a constant threat https://www.youtube.com/watch?v=x1QNh… Why more media companies want in on 'streaming revolution' https://www.youtube.com/watch?v=217_t… Stream your PBS favorites with the PBS app: https://to.pbs.org/2Jb8twG Find more from PBS NewsHour at https://www.pbs.org/newshour Subscribe to our YouTube channel: https://bit.ly/2HfsCD6
Why Jane Fonda is putting herself on the line to fight climate change
Nov 7, 2019 PBS NewsHour
Jane Fonda has been a household name for decades due to her prolific acting career, both on-screen and on stage. She has also drawn sustained attention for her enduring — and sometimes controversial — activism. Judy Woodruff sits down with Fonda to discuss her climate advocacy, what it's like to spend the night in jail and how young activists like Greta Thuneberg are shaping a new movement. Stream your PBS favorites with the PBS app: https://to.pbs.org/2Jb8twG Find more from PBS NewsHour at https://www.pbs.org/newshour Subscribe to our YouTube channel: https://bit.ly/2HfsCD6
Blockbuster da Vinci exhibition showcases the master's 'endless curiosity'
Nov 8, 2019 PBS NewsHour
The blockbuster exhibit of the year celebrates Leonardo da Vinci, 500 years after his death. People are flocking to the Louvre Museum in Paris to see the work of the master, who was born in Italy, died in France and personified the expression Renaissance man. Jeffrey Brown went to see firsthand why da Vinci's art is drawing massive crowds. Stream your PBS favorites with the PBS app: https://to.pbs.org/2Jb8twG Find more from PBS NewsHour at https://www.pbs.org/newshour Subscribe to our YouTube channel: https://bit.ly/2HfsCD6
Why German divisions remain, 30 years after fall of the Berlin Wall
Nov 8, 2019
It's been 30 years since one of the 20th century's biggest historic events: the fall of the Berlin Wall. Although the East German dictatorship subsequently collapsed, cultural and political divisions remain, more than a generation after reunification. Special correspondent Malcolm Brabant reports on the wall's legacy, the polarizing issue of immigration and the lingering stain of anti-Semitism. Stream your PBS favorites with the PBS app: https://to.pbs.org/2Jb8twG Find more from PBS NewsHour at https://www.pbs.org/newshour Subscribe to our YouTube channel: https://bit.ly/2HfsCD6
How did the US immigration debate get to be so divisive? In this informative talk, historian and writer Paul A. Kramer shows how an "insider vs. outsider" framing has come to dominate the way people in the US talk about immigration — and suggests a set of new questions that could reshape the conversation around whose life, rights and thriving matters.
This talk was presented at an official TED conference, and was featured by our editors on the home page.
About the speaker
Paul A. Kramer · Historian, writer
Paul A. Kramer's work focuses on the changing relationships between the United States and the wider world.
More Resources
The Blood of Government: Race, Empire, the United States, and the Philippines
Paul A. Kramer
The University of North Carolina Press (2006)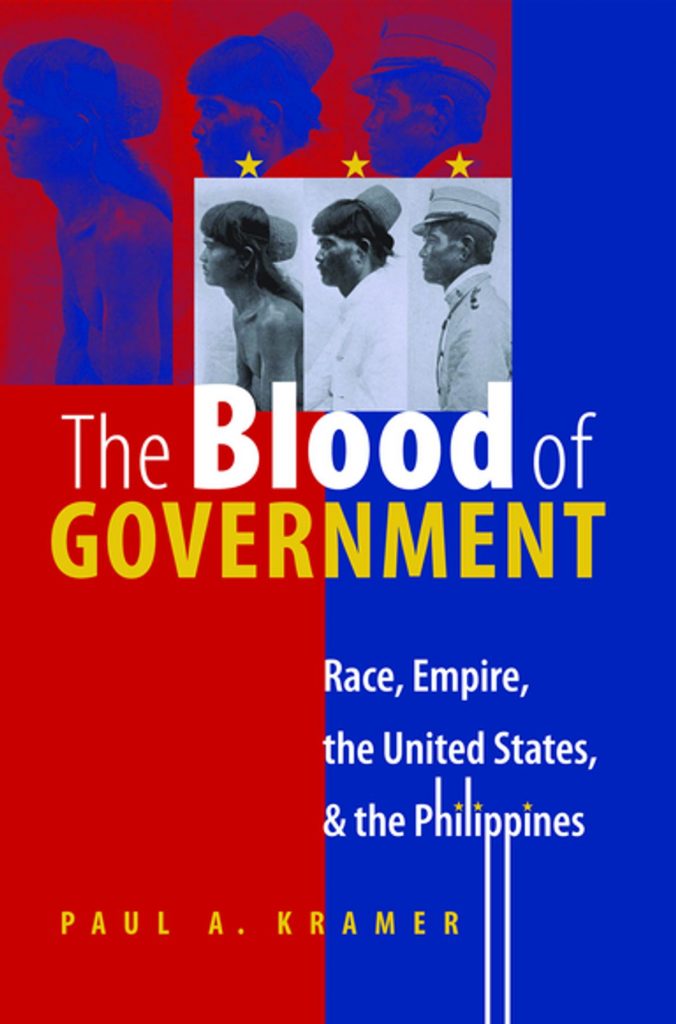 762,372 views
TED Salon: Border Stories | September 2019
In this powerful, personal talk, author and academic Juan Enriquez shares stories from inside the immigration crisis at the US-Mexico border, bringing this often-abstract debate back down to earth — and showing what you can do every day to create a sense of belonging for immigrants. "This isn't about kids and borders," he says. "It's about us. This is about who we are, who we the people are, as a nation and as individuals."
This talk was presented at an official TED conference, and was featured by our editors on the home page.
About the speaker
Juan Enriquez · Author, academic, futurist
Juan Enriquez thinks and writes about the profound changes that genomics and brain research will bring about in business, technology, politics and society.
More Resources
The Untied States of America: Polarization, Fracturing, and Our Future
Juan Enriquez
Crown (2005)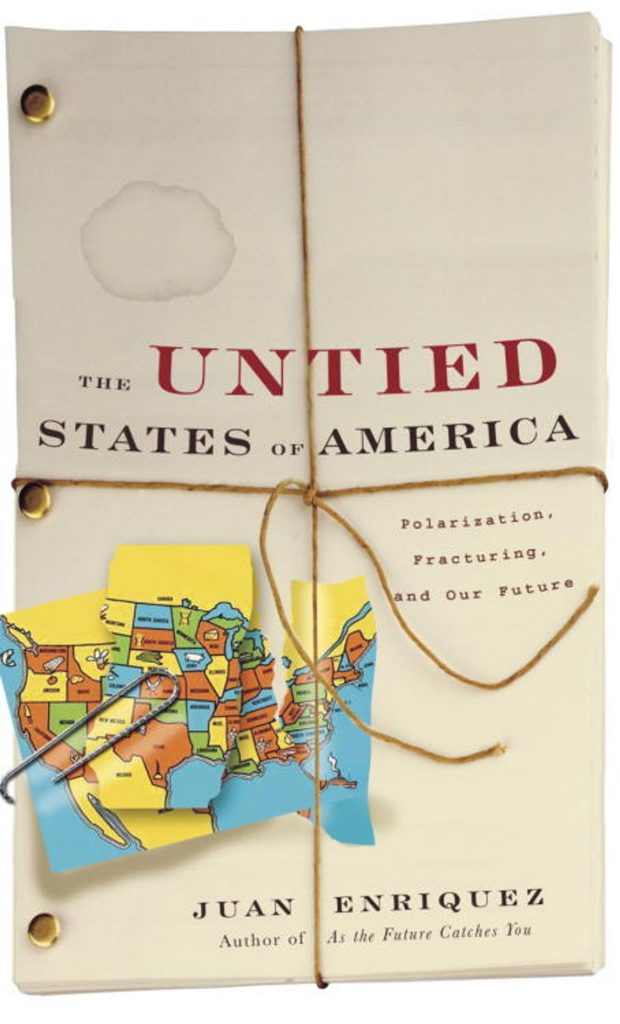 TED Salon: Border Stories | September 2019
For the past 20 years, photographer and TED Fellow Jon Lowenstein has documented the migrant journey from Latin America to the United States, one of the largest transnational migrations in world history. Sharing photos from his decade-long project "Shadow Lives USA," Lowenstein takes us into the inner worlds of the families escaping poverty and violence in Central America — and pieces together the complex reasons people leave their homes in search of a better life.
This talk was presented at an official TED conference, and was featured by our editors on the home page.
About the speaker
Jon Lowenstein · Documentary photographer, filmmaker, visual artist
TED Fellow Jon Lowenstein is a documentary photographer, filmmaker and visual artist whose work reveals what the powers that be are trying to hide.
More Resources
Jon Lowenstein
PREORDER NOW (2020)
Take Action
learn
Learn more about Jon Lowenstein's work.
participate
Support Shadow Lives, a decade-long project documenting the experiences and lives of the millions of people along the migrant trail.
1,336,380 views
TEDSummit 2019 | July 2019
"Building a 30-foot-high concrete structure from sea to shining sea is the most expensive and least effective way to do border security," says Congressman Will Hurd, a Republican from Texas whose district encompasses two times zones and shares an 820-mile border with Mexico. Speaking from Washington, DC in a video interview with former state attorney general Anne Milgram, Hurd discusses the US government's border policy and its controversial detention and child separation practices — and lays out steps toward a better future at the border. (Recorded at the TED World Theater in New York on September 10, 2019)
This talk was presented at an official TED conference, and was featured by our editors on the home page.
About the speakers
Congressman Will Hurd represents the 23rd District of Texas in the U.S. House of Representatives, serving constituents across 29 counties and two time zones from San Antonio to El Paso.
Anne Milgram · Criminal justice reformer
Anne Milgram is committed to using data and analytics to fight crime.
TED Salon: Border Stories | September 2019
https://getpocket.com/explore/item/how-einstein-learned-physics?utm_source=pocket-newtab
Pocket Worthy Stories to fuel your mind.
How Einstein Learned Physics
Einstein was a student long before he became a celebrity. There is a lot to glean from his education and unique approach to learning.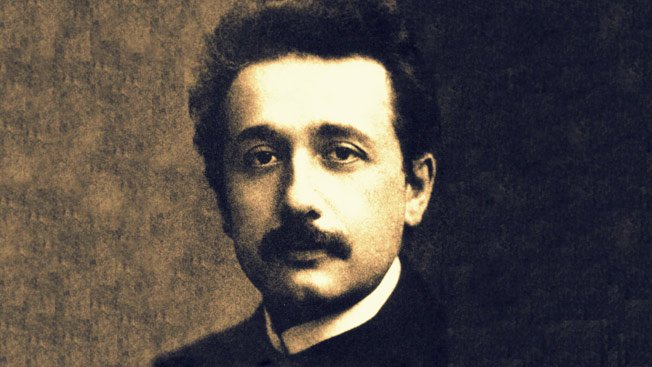 Wanting to understand how Einstein learned physics may, at first, seem as pointless as trying to fly by watching birds and flapping your arms really hard. How do you emulate someone who is synonymous with genius?
However, I think the investigation can still bear fruits, even if you or I might not have the intellectual gifts to revolutionize physics. Whatever Einstein did to learn, he clearly did something right, so there's merit in trying to figure out what that was.
How Smart Was Einstein? (Did He Really Fail Elementary Mathematics?)
One of the most common stories about Einstein is that he failed grade school math. I think this is one of those ideas that sounds so good it has to get repeated, regardless of whether it is true or not.
Unfortunately, it's not true. Einstein was a strong math student from a very young age. He himself admits:
"I never failed in mathematics. Before I was fifteen, I had mastered differential and integral calculus."
While the story about Einstein being an early dullard is certainly false, it's not the case that he was universally regarded as a genius, either.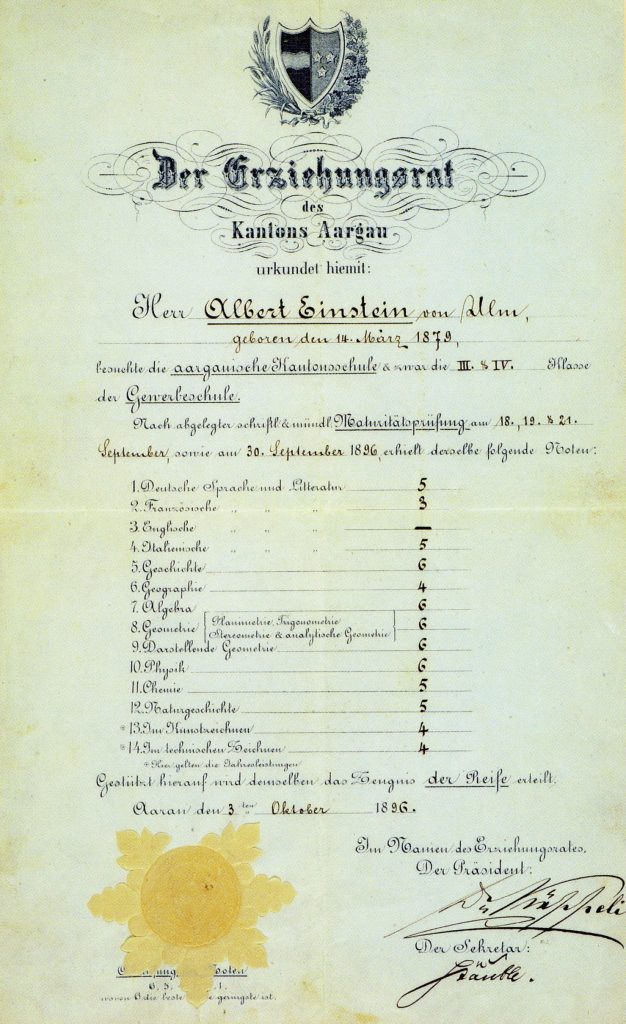 Einstein's grades (highest grade = 6).
In college, Einstein often struggled in math, getting 5s and 6s (out of a possible 6) in physics, but getting only 4s in most of his math courses (barely a passing grade). His mathematics professor, and future collaborator, Hermann Minkowski called him a "lazy dog" and physics professor, Jean Pernet, even flunked Einstein with a score of 1 in an experimental physics course.
At the end of college, Einstein had the dubious distinction of graduating as the second-to-worst student in the class.
The difficulty Einstein had was undoubtedly due in part to his non-conformist streak and rebellious attitude, which didn't sit well in an academic environment. This would follow him in his future academic career, when he was struggling to find teaching jobs at universities, even after he had already done the work which would later win him the Nobel prize.
Einstein's discoveries in physics were truly revolutionary, which certainly earns him the title of "genius" by any reasonable standard. However, the early picture of Einstein is more complicated than that. All of this indicates to me, at least, that it can often be very easy to judge the genius of someone after the fact, but perhaps harder to predict in advance.
How Did Einstein Learn Math and Physics?
Given Einstein's enormous contributions to physics, I think it's now worthwhile to ask how he learned it.
Throughout the biography, I took notes whenever his methods of learning and discovery were mentioned. Then, I tried to synthesize these observations into several methods or behaviors that appeared to have enabled both Einstein's revolutionary discoveries and his deep understanding of the subject matter.
1. Learning comes from solving hard problems, not attending classes.
One thing that becomes apparent when looking at Einstein's early schooling was both his distaste for rote memorization and attending classes. The physics professor that flunked him, did so, in no small part, because Einstein often skipped class. As he claims, "I played hooky a lot and studied the masters of theoretical physics with a holy zeal at home."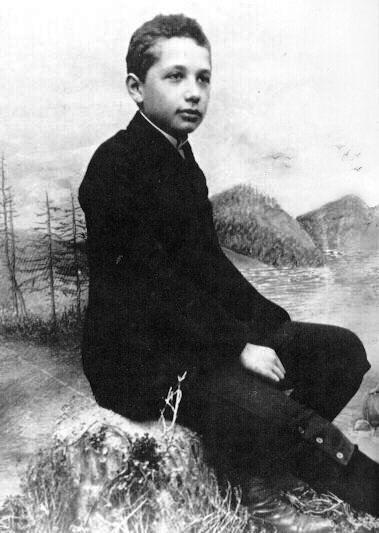 Einstein as a boy.
This habit of skipping classes to focus on solving hard problems in his spare time was one cultivated by his uncle, Jakob Einstein, who first introduced him to algebra. By the time he was 12, Einstein already had a, "predilection for solving complicated problems in arithmetic," and his parents bought him an advanced mathematical textbook he could study from during the summer.
Einstein learned physics, not by dutifully attending classes, but by obsessively playing with the ideas and equations on his own. Doing, not listening, was the starting point for how he learned physics.
2. You really know something when you can prove it yourself.
How do you know when you really understand something? Einstein's method was to try prove the proposition himself! This began at an early age, when Uncle Jakob, challenged him to prove Pythagoras's Theorem:
"After much effort, I succeeded in 'proving' this theorem on the basis of the similarity of triangles," Einstein recalled.
Isaacson explains that Einstein, "tackled new theories by trying to prove them on his own." This approach to learning physics, which came naturally to Einstein, was driven by a strong curiosity both to know how things actually work, and a belief that, "nature could be understood as a relatively simple mathematical structure."
What's important to note here is not only the method of proving propositions to learn physics, but also the drive to do so. It's clear that Einstein's curiosity wasn't merely to perform adequately, but to develop a deep understanding and intuition about physical concepts.
3. Intuition matters more than equations.
Einstein was a better intuitive physicist than he was a mathematician. In fact, it was only when he struggled for years in developing general relativity, that he became more enamored with mathematical formalisms as a way of doing physics.
An early influence which encouraged this intuitive approach to physics was a series of science books by Aaron Bernstein. These books presented imaginative pictures to understand physical phenomenon, such as, "an imaginary trip through space," to understand an electrical signal and even discussing the constancy of the speed of light, a matter which would later underpin Einstein's discovery of special relativity.
Swiss education reformer Pestalozzi emphasized learning through images, not by rote.
Einstein's later education in Aarau, Switzerland, was heavily influenced by the philosophy of Swiss educational reformer, Johann Heinrich Pestalozzi. Pestalozzi claimed, "Visual understanding is the essential and only true means of teaching how to judge things correctly," adding, "the learning of numbers and language must definitely be subordinated."
Were these early influences causal factors in Einstein's later preferred style of visualization to solve physics problems, or were they merely a welcome encouragement for a mind that was already predisposed to reasoning in this way? It's hard to tell. Whatever the case, I think it can be argued that developing intuitions of ideas, particularly visual intuitions, has an invaluable role in physics.
How does one develop those intuitions? Einstein's own thoughts were that "intuition is nothing but the outcome of earlier intellectual experience." Einstein's hard work building understanding through proofs and solving problems undoubtedly supported his ability to visualize as much as it benefited from it.
4. Thinking requires a quiet space and deep focus.
Einstein was a master of deep work. He had an incredible ability to focus, his son reporting:
"Even the loudest baby-crying didn't seem to disturb Father," adding, "He could go on with his work completely impervious to noise."
Although overlooked for academic positions, it was his intellectually unstimulating job at the Bern patent office, which gave him time and privacy to unravel the mysteries of relativity. Einstein remarks:
"I was able to do a full day's work in only two or three hours. The remaining part of the day, I would work out my own ideas."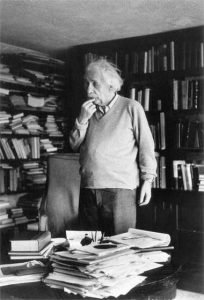 Einstein in his home office.
The obsessive focus Einstein applied to solving problems as a young boy, eventually served him well in cracking general relativity, culminating in an "exhausting four-week frenzy." This intensity sometimes impacted his health, with him developing stomach problems in his strain to unravel the difficult mathematics of tensor field equations.
Einstein's ability to focus, combined with a reverence for solitude, allowed him to do some of his best work in physics. Even as he aged, he still spent many hours on his boat, idly pushing the rudder seemingly lost in thought, interrupted by bursts of scribbling equations in his notebook.
5. Understand ideas through thought experiments.
Einstein's most famous method for learning and discovering physics has to be the thought experiment.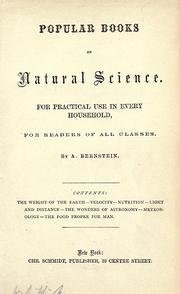 Books such as this were Einstein's first introduction to the power of thought experiments.
One of his most famous was imagining riding on a beam of light. What would happen to the light beam as he rode alongside it at the same speed? Well, it would have to freeze. This, to Einstein, seemed impossible by his faith in Maxwell's electromagnetic equations. But if the light doesn't freeze, what must happen?
These thought experiments were built on his intuitive understanding of physics, which in turn was built on his experience with working through theories and problems. Their strength, however, was to draw attention to contradictions or confusions that may have been missed by a less intuitive physicist.
His ability to engage in thought experiments even served him when he ended up being wrong about the underlying physics. It was exactly this type of thought experiment that he suggested to refute the current understanding of quantum physics in what is now known as the ERP paper, which showed that quantum mechanics could create changes in a system instantaneously, violating the speed of light. In this case, however, Einstein's intuition was wrong—quantum mechanical systems do behave in such bizarre ways—which is now known as quantum entanglement.
6. Overturn common sense … with more common sense.
Special and general relativity stand out as being some of the most mind-bending scientific discoveries of all time. With special relativity, Einstein discovered that there is no absolute time—that two people moving at different speeds can disagree about the passage of time—with neither being right or wrong. With general relativity, Einstein went further, showing that gravity bends space and time.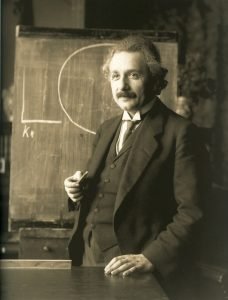 Einstein at age 42, the year he won the Nobel prize.
It would be reasonable to assume, therefore, that to overturn such commonsense principles would require some departure from common sense. However, Einstein's genius was to reconcile two commonsense principles—relativity and the constancy of the speed of light—by discarding a third (the idea of absolute measurements of space and time).
Einstein's talent, it would seem, lay in his ability to defend what he thought were the most reasonable ideas, even if that meant discarding ones which had a longer tradition of being thought to be correct.
This skill of overturning commonsense with other intuitions may have also eventually been behind his inability to accept quantum mechanics, a very successful theory of physics that he himself helped create. His intuitions about strict determinism, led him to champion an unsuccessful and quixotic quest to overturn the theory for much of his life.
This practice also suggests a method for learning the many, counter-intuitive principles of math and physics—start by building off of a different commonsense premise.
7. Insights come from friendly walks.
While solitude and focus were essential components of how Einstein learned and did physics, it was often conversations with other people that provided his breakthroughs.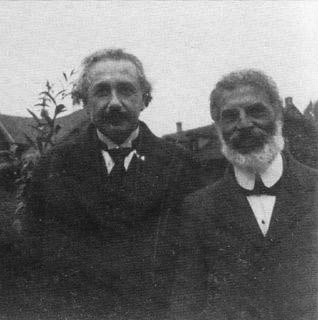 Albert Einstein with Michele Besso.
The most famous example of this was a walk with longtime friend Michele Besso. During his struggles with special relativity, he walked with his friend trying to explain his theory. Frustrated, he declared that, "he was going to give up," working on the theory. Suddenly, however, the correct insight came to him and the next day he told Besso that he had, "completely solved the problem."
Discussing ideas aloud, sharing them with others, can often put together insights that were previously unconnected. Einstein made great use of this technique of discussing tricky problems with friends and colleagues, even if they were merely a sounding board rather than an active participant in the discussion.
8. Be rebellious.
Einstein was never much of a conformist. While his rebellious streak probably hurt his earlier academic career when he was struggling to find work in physics, it is also probably what enabled his greatest discoveries and accentuated his later celebrity.
This rebelliousness likely helped him in learning physics as he pushed against the traditions and orthodoxy he didn't agree with. He hated the German educational system, finding in Isaacson's words, "the style of teaching—rote drills, impatience with questioning—to be repugnant." This rejection of the common educational method encouraged him to learn physics on his own through textbooks and practice.
Later, the same rebelliousness would be essential in revolutionizing physics. His research on the quantization of light, for instance, had been first discovered by Max Planck. However, unlike the older Planck, Einstein saw the quantization as being a physical reality—photons—rather than a mathematical contrivance. He was less attached to the predominant theory of the time that light was a wave in the ether.
Where many students would have been happy to conform to predominant educational and theoretical orthodoxies, Einstein wasn't satisfied unless something made sense to him personally.
9. All knowledge starts with curiosity.
"Curiosity has its own reason for existing," Einstein explains. "One cannot help but be in awe when one contemplates the mysteries of eternity, of life, of the marvelous structure of reality."
Einstein, curious until the end.
This curiosity is probably Einstein's most defining quality, after his intelligence. His love of physics started as a boy when he was given a compass and fascinated by the idea that the needle moved because of an unseen force.
Curiosity was his motivation for learning physics. Einstein, who could be quite lazy and obstinate when a matter didn't interest him, nonetheless had an intense passion for understanding the things, "the ordinary adult never bothers his head about." Curiosity was also, in his own mind, the greatest reason for his accomplishments.
Einstein believed that, "love is a better teacher than a sense of duty." Love of learning and knowledge is, perhaps, a more important skill to cultivate than discipline.
Learning as Einstein Did
Einstein's approach towards learning cannot be entirely separated from who he was. Was his obsessive focus a result of his intelligence or his curiosity? Did his ability to easily visualize thought experiments come from encouragement in an unusual Swiss education system, extensive practice or natural ability? Was his revolution in physics a product of genius, rebelliousness, luck or maybe all three? I'm not sure there are clear answers to any of those questions.
What is clear, however, was Einstein's reverence for nature and the humbled attitude to which he approached investigating it. As he wrote:
"A spirit is manifest in the laws of the universe—a spirit vastly superior to that of man, and one in the face of which we with our modest powers must feel humble."
And, so even if Einstein's genius may lay outside the reach of most of us, his curiosity, humility and tenacity are still worth emulating.
For more information please visit the following link:
https://getpocket.com/explore/item/how-einstein-learned-physics?utm_source=pocket-newtab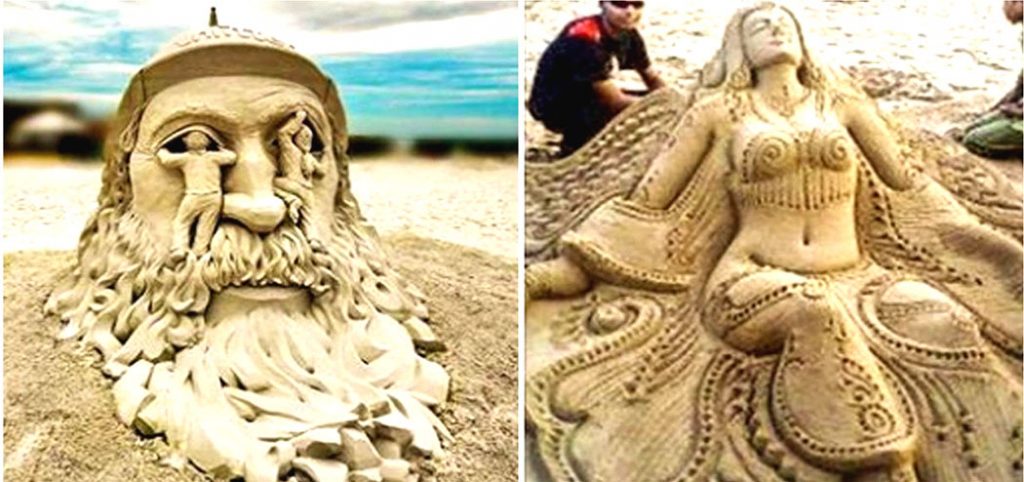 40+ Amazing Sand Sculptures That Breathes Life Into Sand
If you're at the beach and done with swimming what can you do? Most will build sand castles and sculptures, but some decide to go ahead and create art.
Sand art, or sand sculptures, in particular, have been quite popular and competitions and exhibitions are regularly held across the world. Of course, sand castles are the most known form of sand sculptures as kids just love building them.
It turns out to create more professional looking and detailed sand sculptures, just sand, and water will suffice – but it's important that special sculpture sand is being used in order to maintain a stable structure.
Below is a list of 55 most amazing sand sculptures across the world that will probably give you a whole new perspective on using sand to build art.
1) Wonderland
With a beautiful sand castle like this, people would immediately want to jump in and accompany Alice on her journey to Wonderland.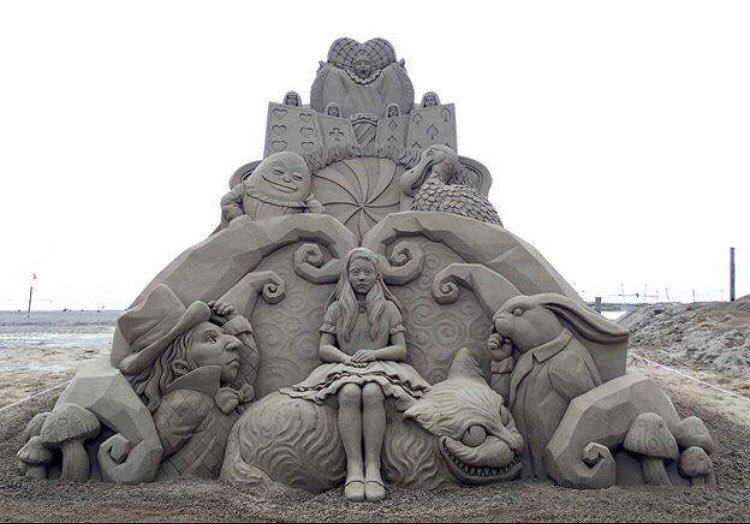 2) Rebel, rebel
Sometimes, statues are just a little bit too mainstream. Sand statues are just so much cooler! Someone made this amazing sculpture in David Bowie's honor. The king of pop rock would definitely be proud.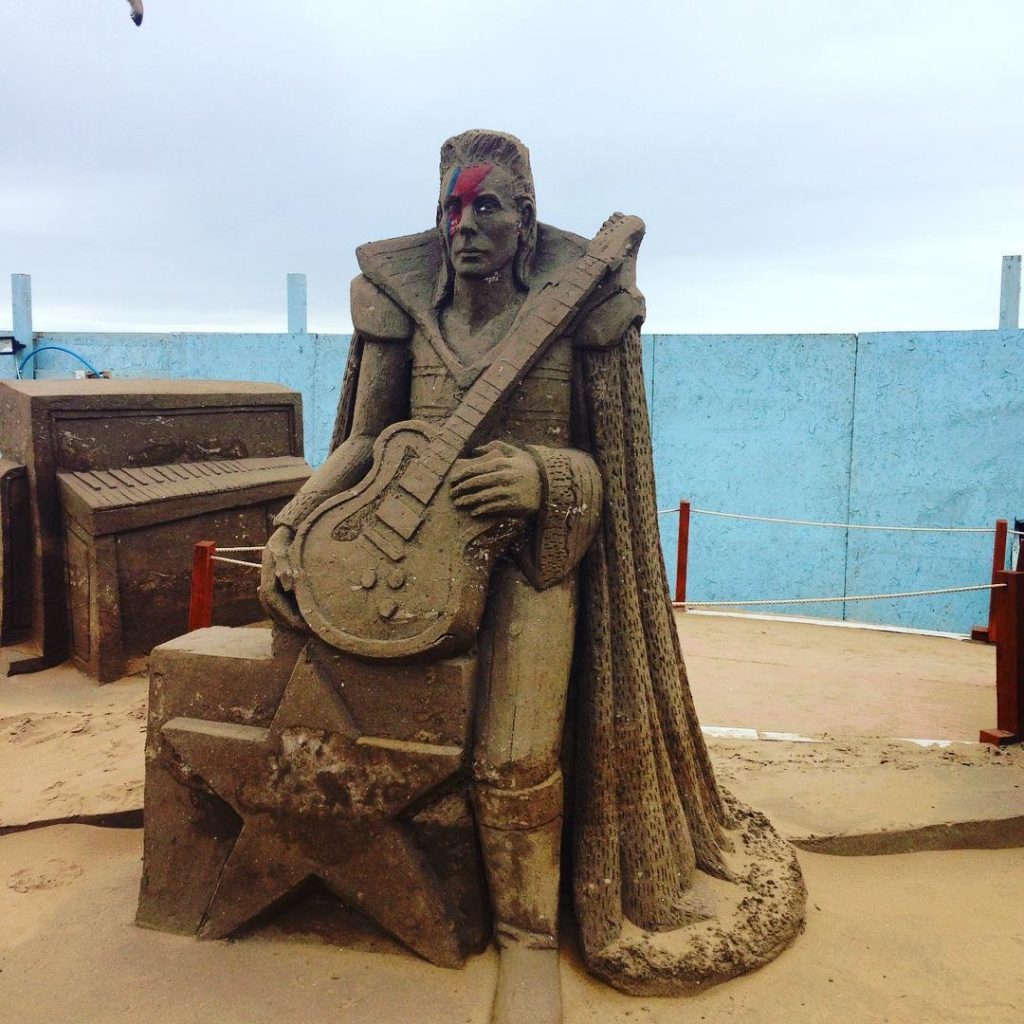 3) Sand Dragon
Just look at the details of this wonderfully crafted dragon! Everything has been meticulously created, from his teeth up to his eyes and even the woman standing before the dragon's very eyes. A true work of art.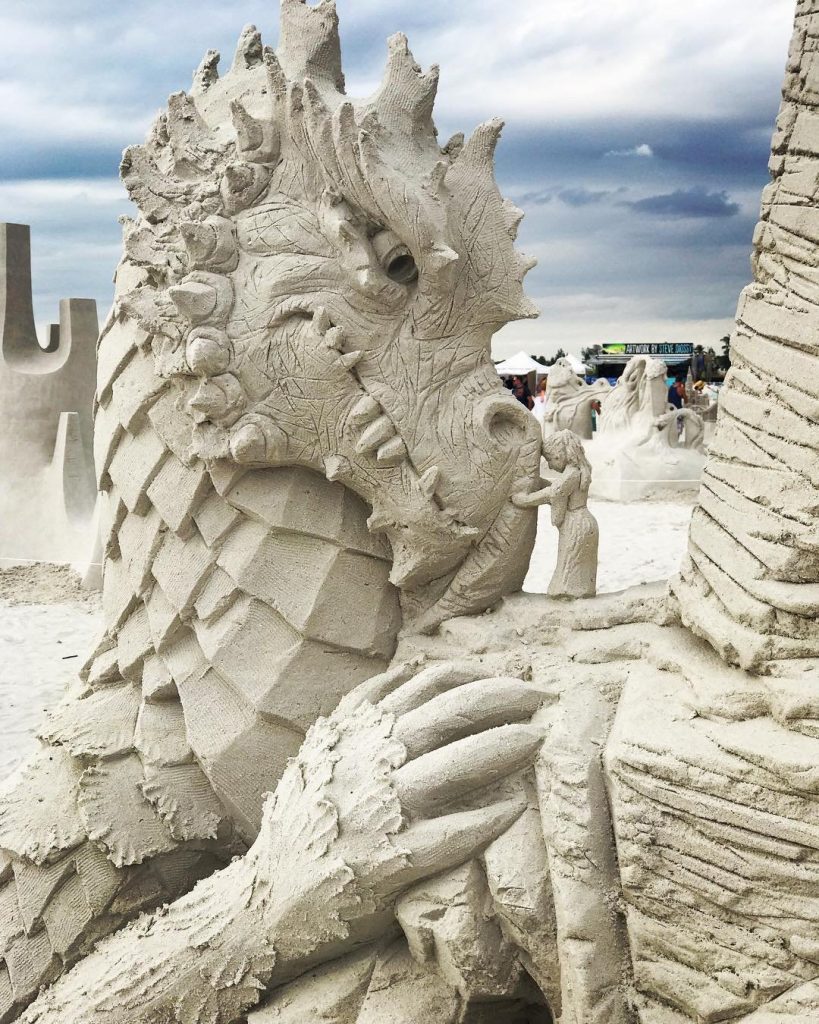 Source: See The World With Green Eyes
4) Arabian Nights
This beautiful sculpture of Sheherazade was built in the Netherlands. The story of 1001 Nights or Arabian Nights has been told over many centuries, and this is an amazing representation of that story, created with sand.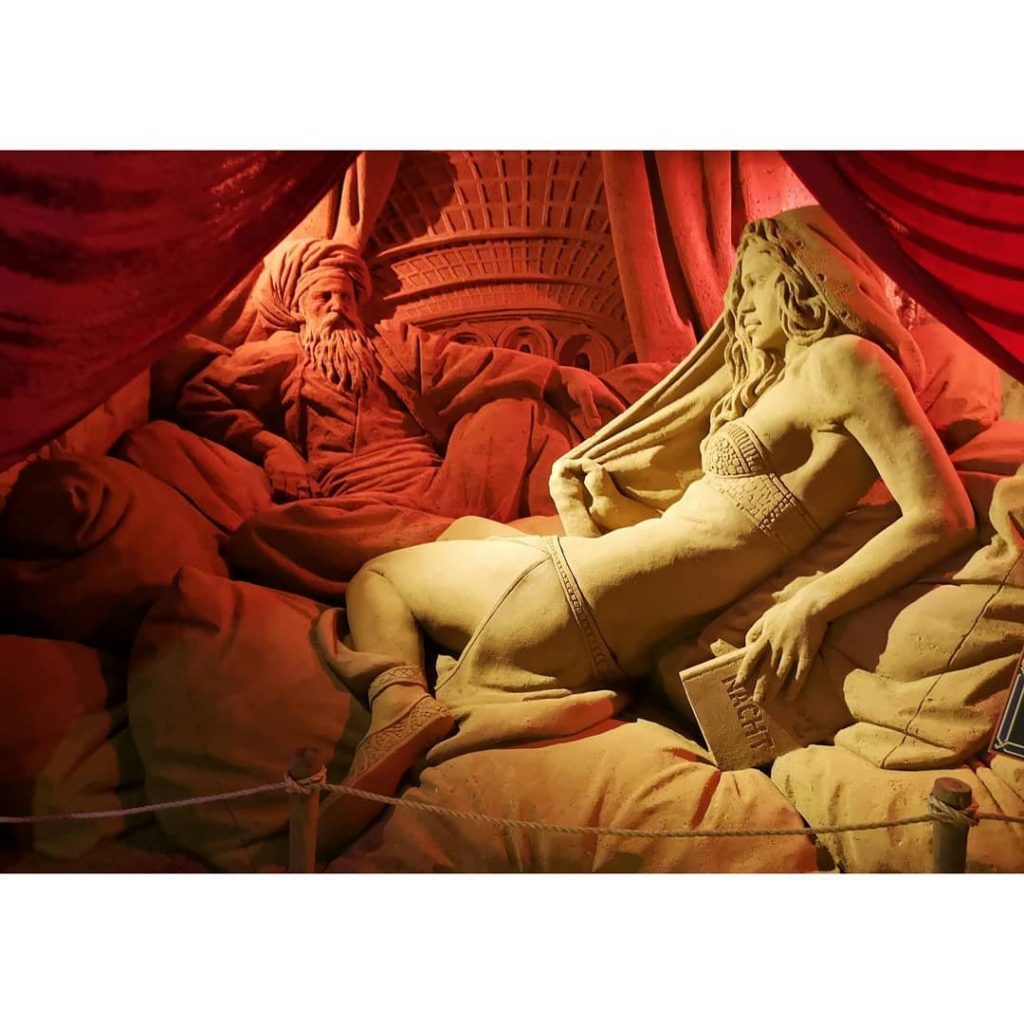 5) Hey Mickey
Every year, the coastal city of Ostend in Belgium organizes a summer sand sculpture festival. One year, the main theme was Disney, so this welcoming Mickey Mouse was standing near the entry to say hello to all visitors!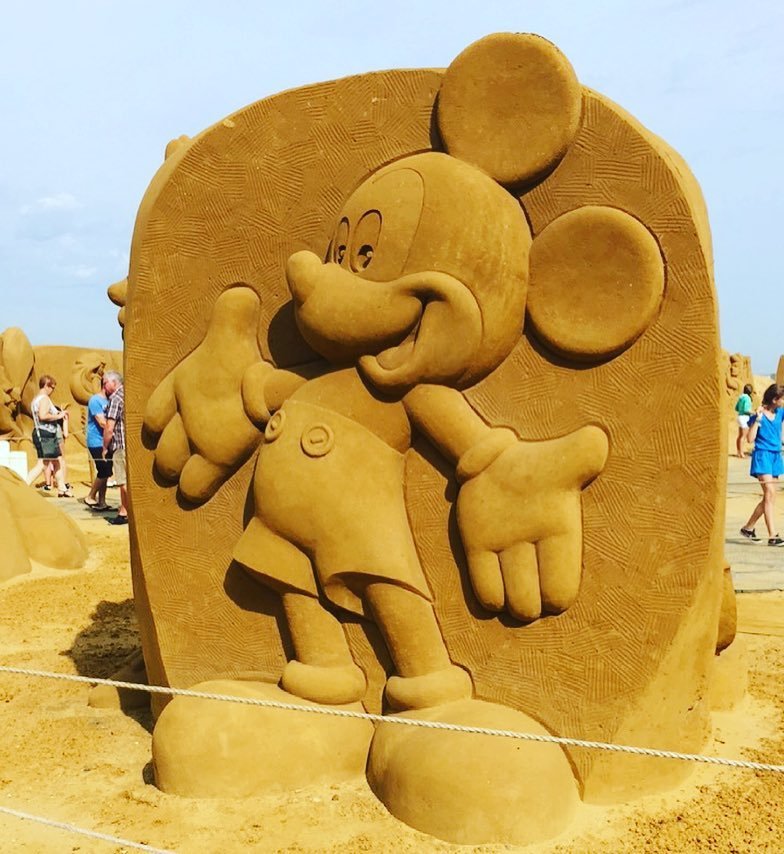 6) Welcoming hands
There is only one word to describe this sand sculpture: beautiful. The details are incredible, as you can see the ridges of the fingerprints, for example. And who wouldn't want to welcome a cute baby like this with both hands?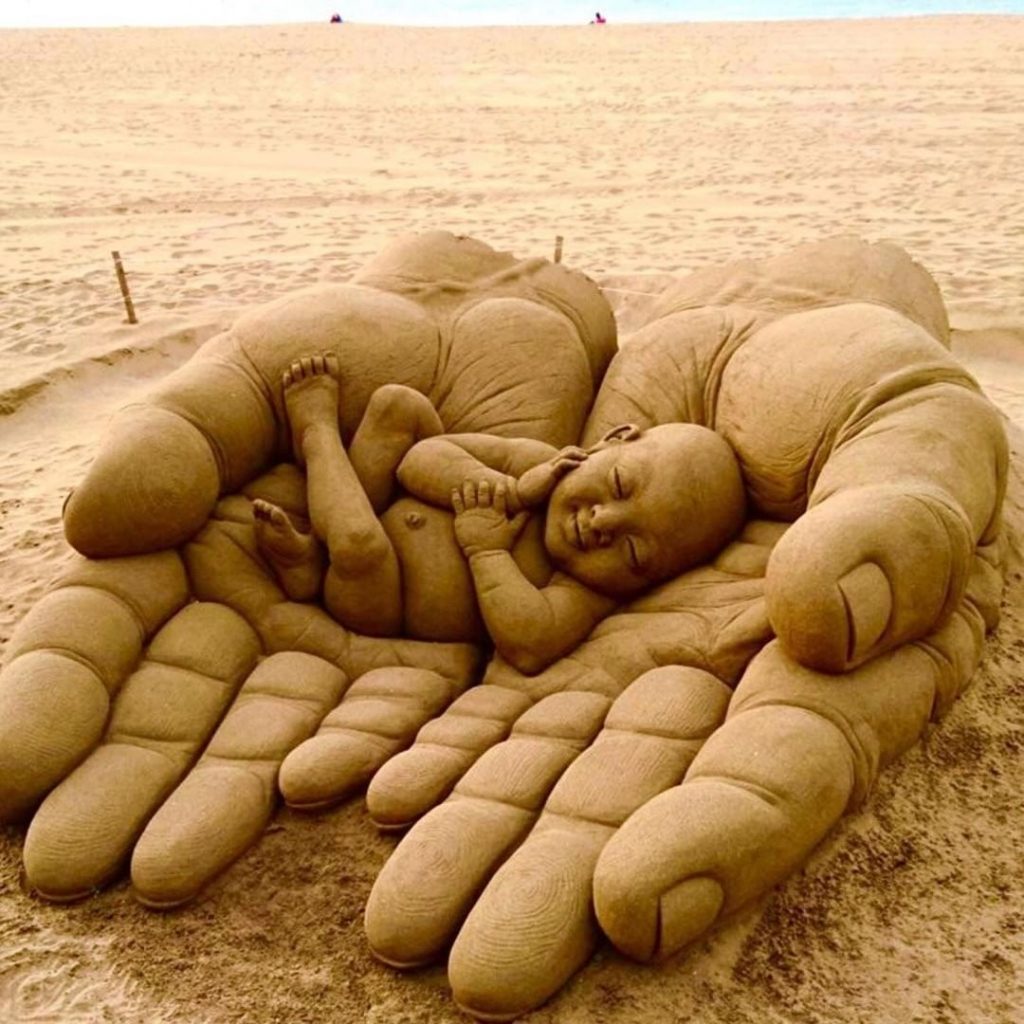 7) Ready to ride
This picture was taken at an Oktoberfest event in Germany. Aside from drinking lots of beer during the festivities, you can apparently also spot great sand sculptures such as this one!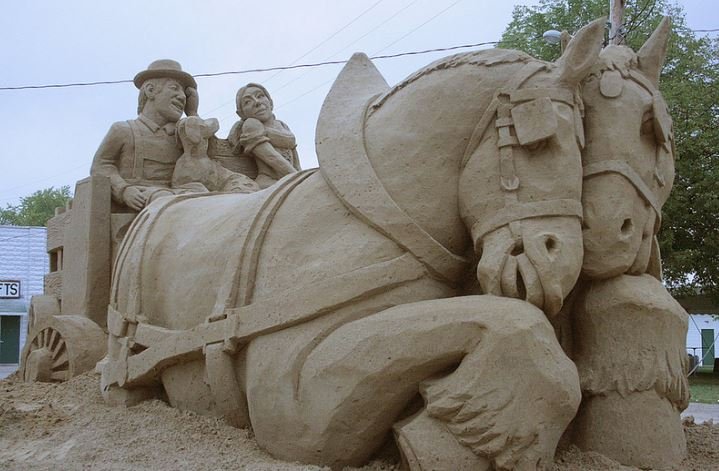 8) Sandglobes
These balls of sand are known as 'sandglobes', and putting them in formations such as these makes for a really appealing structure. This particular work of art was created by sand artist Naija Fatima.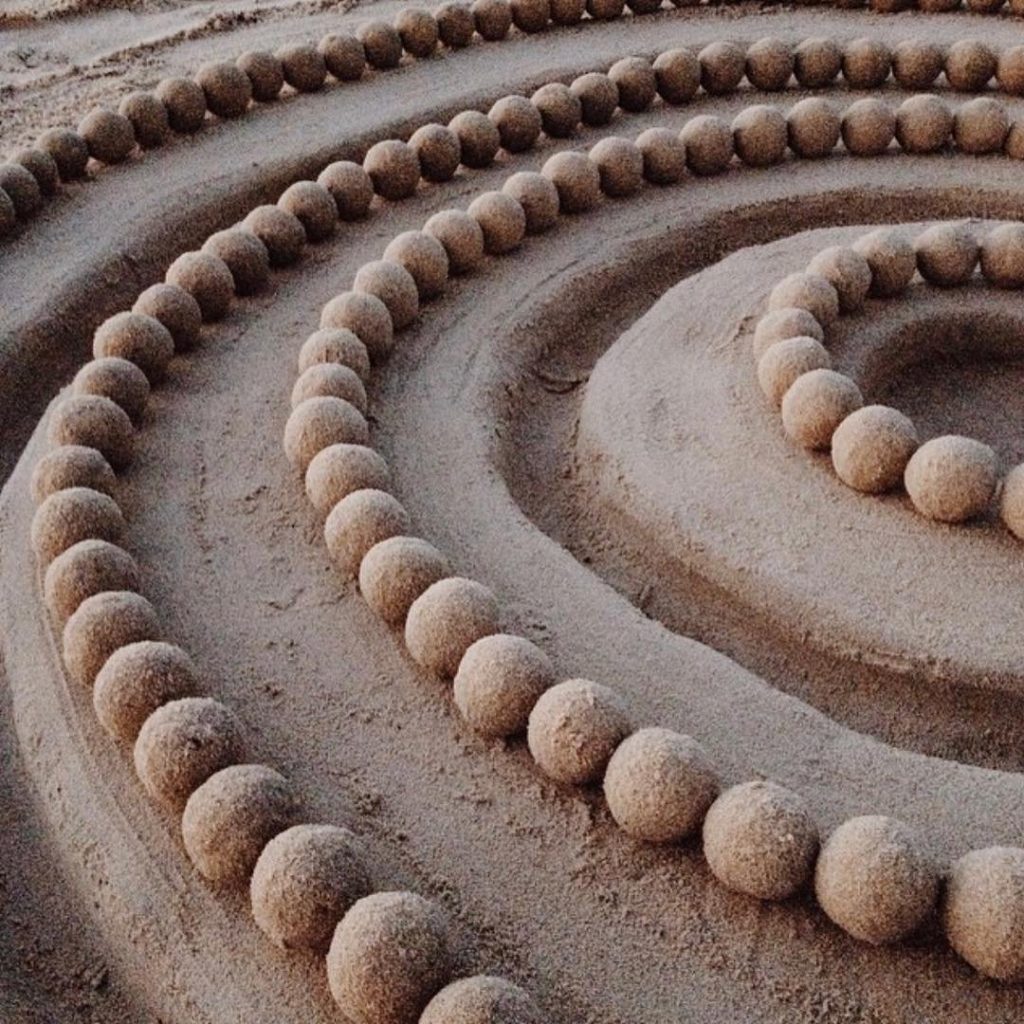 9) For the GoT fans
If you've ever watched Game of Thrones, you'll immediately recognize these two. The sand sculpture version of Daenerys Targaryen and her dragon looks amazing!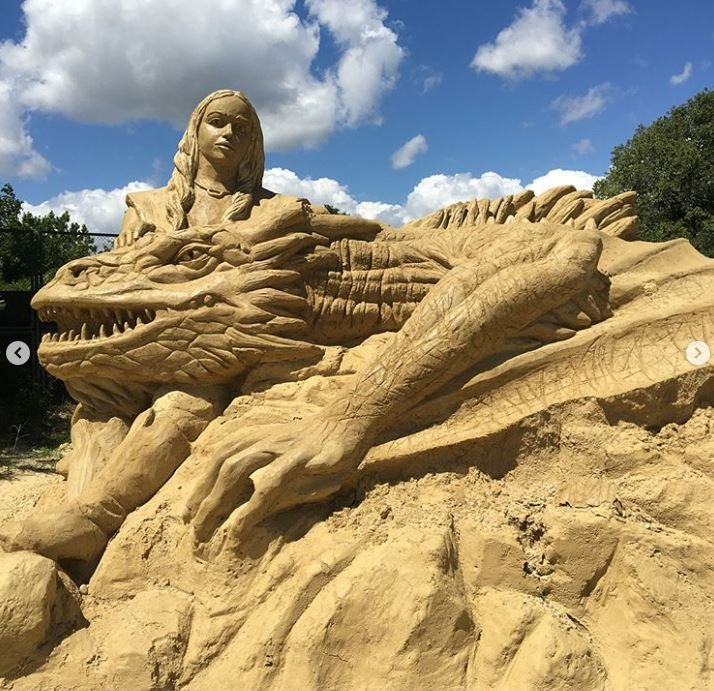 10) Miniature city
Not every sand sculpture needs to be humongous and imposing, smaller pieces such as this one manage to capture the finesse of sand art perfectly too. This small and charming sand city in Australia looks like a real-life painting!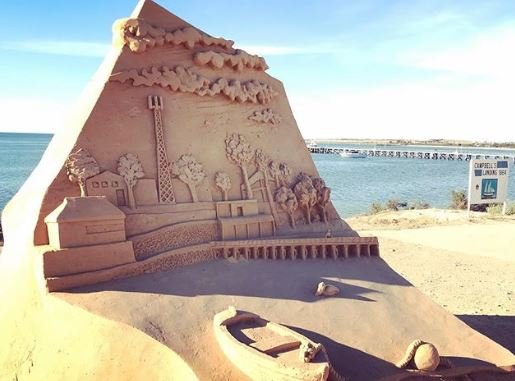 Source: georgie_girl_by_sandra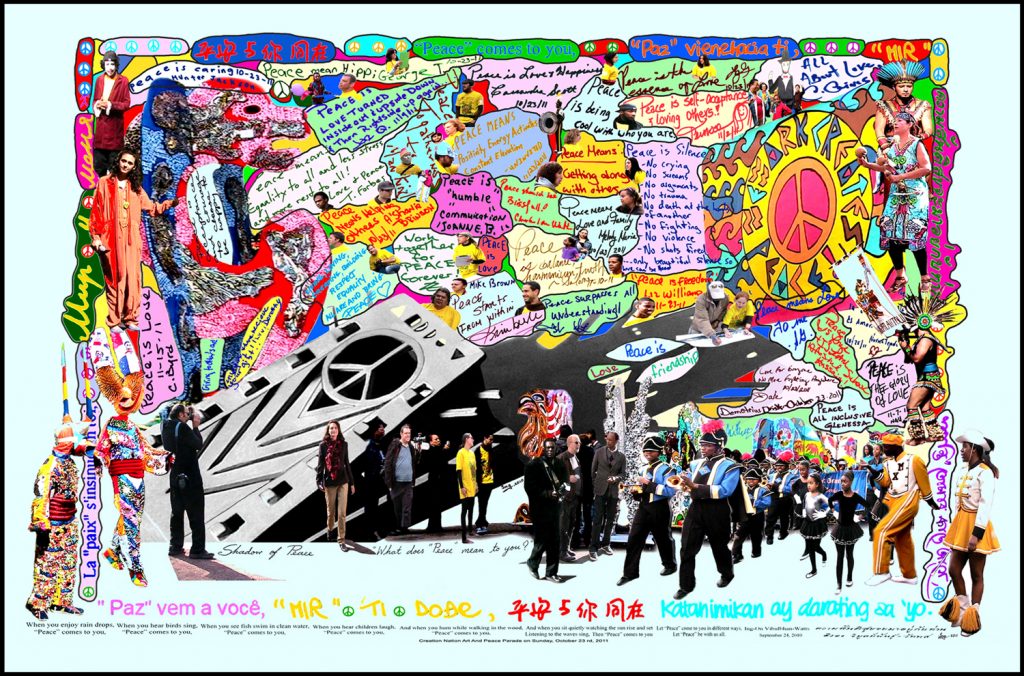 Ing's Peace Project: Peace artwork 2
The Peace and Art Parade and festival run by the Barat Foundation in Newark on 10.23.2011, organized by Chandri and Gary Barat. Finished artwork, after the written comments by Ing-On Vibulbhan-Watts
It took me a while to be able to complete this project. I spent some time to compose this second finished artwork for the Peace Project. The writings were the comments from the people on "What does Peace mean to you?" at the Washington Park and some of the people who participated in the Creation Nation Art and Peace Parade on Sunday, October 23, 2011, Newark, New Jersey, USA.
Link to Peace Project and Creation Art Peace Parade Page: