PBS News: May 20 – 24, 2020 and How Yo-Yo Ma's 'Songs of Comfort' are inspiring musical collaboration
 africanews Live
Sky News live
CNA 24/7 LIVE
Roylab Stats [LIVE] Coronavirus Pandemic: Real Time Counter, World Map, News
Google News: COVID-19 resources
The New York Times:  The Morning, May 21, 2020
 Doctor Mike Hansen: 12 Autopsy Cases Reveal TRUTH About How Patients Die From Coronavirus | COVID-19
 TEDX: Marah J Hardt The quirky sex lives of ocean creatures, and TED-Ed Aaron Reedy Sex determination more complicated than you thought
 Colossal: Fierce Feathered Portraits of Brooding Birds by Josie Morway
https://www.youtube.com/watch?v=-3DW6wZ2V14
PBS NewsHour Weekend full episode May 24, 2020
May 24, 2020  PBS NewsHour
On this edition for Sunday, May 24, a look at how contact tracing works in the fight against the coronavirus, how the federal stimulus is providing alternatives to layoffs through a work-sharing agreement, and climate activism pivots online amid COVID-19 concerns. Hari Sreenivasan anchors from New York. Stream your PBS favorites with the PBS app: https://to.pbs.org/2Jb8twG Find more from PBS NewsHour at https://www.pbs.org/newshour Subscribe to our YouTube channel: https://bit.ly/2HfsCD6
PBS NewsHour Weekend live show May 23, 2020
Streamed live 9 hours ago  PBS NewsHour
On this edition for Saturday, May 23, federal policy is driving some immigrants to drop their healthcare coverage in the middle of the outbreak, Brazil is on track to become the newest hotspot in the global coronavirus pandemic, and some tips for getting back together as social distancing restrictions loosen up in the United States. Hari Sreenivasan anchors from New York. Stream your PBS favorites with the PBS app: https://to.pbs.org/2Jb8twG Find more from PBS NewsHour at https://www.pbs.org/newshour Subscribe to our YouTube channel: https://bit.ly/2HfsCD6
PBS NewsHour full episode, May 22, 2020
May 22, 2020  PBS NewsHour
Friday on the NewsHour, Americans prepare for Memorial Day while mourning the 95,000 people lost to the COVID-19 pandemic. Plus: Beijing seeks to limit pro-democracy activity in Hong Kong, the debate over the origins of the novel coronavirus, testing for COVID-19 antibodies, political analysis with Mark Shields and David Brooks, remembering COVID-19 victims and a lifesaving British water mill. WATCH TODAY'S SEGMENTS Americans prepare for a Memorial Day transformed by COVID-19 https://www.youtube.com/watch?v=s4gkK… News Wrap: Passenger jet crashes in Pakistan  https://www.youtube.com/watch?v=_t_KS… China is proposing to limit Hong Kong's autonomy. Why now? https://www.youtube.com/watch?v=TMuVe… Why virus research is a tension point for the U.S., China https://www.youtube.com/watch?v=z41Ul… What we know about COVID-19 antibodies — and what we don't https://www.youtube.com/watch?v=r4PSk… Shields and Brooks on Trump's call to reopen, mail-in voting https://www.youtube.com/watch?v=iltfg… Remembering 5 more victims of the COVID-19 pandemic https://www.youtube.com/watch?v=GxDTI… This medieval mill is providing a British county with bread https://www.youtube.com/watch?v=J40lr… Stream your PBS favorites with the PBS app: https://to.pbs.org/2Jb8twG Find more from PBS NewsHour at https://www.pbs.org/newshour Subscribe to our YouTube channel: https://bit.ly/2HfsCD6
PBS NewsHour full episode, May 21, 2020
May 21, 2020  PBS NewsHour
Thursday on the NewsHour, the U.S. sees millions more jobless claims, although they appear to be plateauing. Plus: Modeling the spread of COVID-19 if Americans had locked down earlier, Gov. Ralph Northam on reopening Virginia, U.S. plans to withdraw from another nuclear treaty, pandemic implications for retail, the risks faced by transportation workers and Ask Us about coronavirus transmission. WATCH TODAY'S SEGMENTS U.S. sees another 2.4 million jobless claims amid pandemic https://www.youtube.com/watch?v=gJNa4… New COVID-19 model shows why early action matters https://www.youtube.com/watch?v=lmZ27… News Wrap: Powerful cyclone batters India, Bangladesh https://www.youtube.com/watch?v=Emun2… Why Gov. Ralph Northam delayed reopening parts of Virginia https://www.youtube.com/watch?v=XCHDD… U.S. cites Russian treaty violations as cause for withdrawal https://www.youtube.com/watch?v=o7OLT… How the pandemic has pushed U.S. retail to brink of collapse https://www.youtube.com/watch?v=epl6e… Can transit workers be kept safe among crowds of passengers? https://www.youtube.com/watch?v=A6MTU… A virologist answers questions on coronavirus transmission https://www.youtube.com/watch?v=OQHiT… Stream your PBS favorites with the PBS app: https://to.pbs.org/2Jb8twG Find more from PBS NewsHour at https://www.pbs.org/newshour Subscribe to our YouTube channel: https://bit.ly/2HfsCD6
PBS NewsHour full episode, May 20, 2020
May 20, 2020  PBS NewsHour
Wednesday on the NewsHour, all 50 states have begun lifting restrictions put in place to slow the spread of COVID-19. Plus: The firing of a State Department inspector general investigating Mike Pompeo, a cyclone slams India and Bangladesh, child deportations during COVID-19, Brazil's coronavirus crisis, modeling infectious disease, government preparation for pandemic and trucking through COVID-19. WATCH TODAY'S SEGMENTS All 50 states have now begun the process of reopening https://www.youtube.com/watch?v=JrNbg… Pompeo says he didn't know fired IG was investigating him https://www.youtube.com/watch?v=lncVV… Strongest cyclone in a decade slams India, Bangladesh https://www.youtube.com/watch?v=HfBJV… News Wrap: Record floodwaters in Michigan are still rising https://www.youtube.com/watch?v=Yfp1s… How Trump is leveraging COVID-19 to tighten immigration https://www.youtube.com/watch?v=DWq0e… Brazil's Lula slams Bolsonaro for downplaying coronavirus https://www.youtube.com/watch?v=BPxDE… The value — and the limitations — of COVID-19 models https://www.youtube.com/watch?v=wLa97… Why U.S. federal government was unprepared for pandemic https://www.youtube.com/watch?v=8gIPe… A truck-driving couple on surviving COVID-19 https://www.youtube.com/watch?v=3YNEP… Stream your PBS favorites with the PBS app: https://to.pbs.org/2Jb8twG Find more from PBS NewsHour at https://www.pbs.org/newshour Subscribe to our YouTube channel: https://bit.ly/2HfsCD6
africanews Live
Started streaming on Feb 20, 2020
Africanews is a new pan-African media pioneering multilingual and independent news telling expertise in Sub-Saharan Africa. Subscribe on ourYoutube channel : https://www.youtube.com/c/africanews?… Africanews is available in English and French. Website : www.africanews.com Facebook : https://www.facebook.com/africanews.c… Twitter : https://twitter.com/africanews
Category  News & Politics
Watch Sky News live
Started streaming on Nov 2, 2019 Sky News
Today's top stories: Boris tells adults the best present they can give their mother for Mother's Day is to stay away, the health secretary has said 4,500 retired healthcare workers have signed up to help battle coronavirus and lockdown in the Italian region of Lombardy has been tightened as the country confirmed more than 53,500 cases of COVID-19. ? Boris Johnson warns of 'stark' and 'accelerating' coronavirus numbers ahead of Mother's Day https://trib.al/lrbMq77 ? 4,500 retired doctors and nurses sign up to battle COVID-19 pandemic https://trib.al/LYsfa83 ? Lockdown tightens in parts of Italy hardest hit by COVID-19 https://trib.al/oBdZFdy SUBSCRIBE to our YouTube channel for more videos: http://www.youtube.com/skynews Follow us on Twitter: https://twitter.com/skynews and https://twitter.com/skynewsbreak Like us on Facebook: https://www.facebook.com/skynews Follow us on Instagram: https://www.instagram.com/skynews Sky News videos are now available in Spanish here/Los video de Sky News están disponibles en español aquí https://www.youtube.com/skynewsespanol For more content go to http://news.sky.com and download our apps: Apple https://itunes.apple.com/gb/app/sky-n… Android https://play.google.com/store/apps/de…
Category  News & Politics
[CNA 24/7 LIVE] Breaking news, top stories and documentaries
Started streaming on Jan 1, 2020 CNA
Watch CNA's 24-hour live coverage of the latest headlines and top stories from Singapore, Asia and around the world, as well as documentaries and features that bring you a deeper look at Singapore and Asian issues. CNA is a regional broadcaster headquartered in Singapore. Get the programming schedule here: https://www.channelnewsasia.com/news/… Subscribe to our channel here: https://cna.asia/youtubesub Subscribe to our news service on Telegram: https://cna.asia/telegram Follow us: CNA: https://cna.asia CNA Lifestyle: http://www.cnalifestyle.com Facebook: https://www.facebook.com/channelnewsasia Instagram: https://www.instagram.com/channelnews… Twitter: https://www.twitter.com/channelnewsasia
[LIVE] Coronavirus Pandemic: Real Time Counter, World Map, News
Started streaming 14 hours ago  Roylab Stats
Coronavirus Live Streaming: Breaking news, world Map and live counter on confirmed cases and recovered cases. I started this live stream on Jan 26th. Many people are worried about the spread of coronavirus. For anyone that wants to know the real-time progression of the worldwide spread of this virus, I offer this live stream. The purpose is not to instill fear or panic, nor is it to necessarily comfort; I just want to present the data to help inform the public of the current situation. The purpose of this stream is to show basic information and data to understand the situation easily. For detail information, please visit our reference sites.
Google News
https://news.google.com/covid19/map?hl=en-US&gl=US&ceid=US:en
Cases
Sorted by Confirmed in descending order
Location
Confirmed
Cases per 1M people
Recovered
Deaths
New cases (last 60 days)
Worldwide
5,435,789
699
2,184,995
345,442
United States
1,684,273
5,111
346,492
98,169
Brazil
365,213
1,728
149,911
22,746
Russia
353,427
2,408
118,798
3,633
United Kingdom
259,559
3,907
—
36,793
Spain
235,823
5,007
150,376
28,773
Italy
230,158
3,820
141,981
32,877
Germany
180,523
2,171
162,648
8,389
Turkey
156,827
1,886
118,694
4,340
France
144,921
2,161
64,617
28,367
India
138,845
102
57,721
4,021
Iran
137,724
1,653
107,713
7,451
Peru
119,959
3,733
49,795
3,456
Canada
85,104
2,241
44,207
6,453
Mainland China
82,985
59
78,268
4,634
Chile
73,997
3,873
29,302
761
Mexico
68,620
542
47,424
7,394
Belgium
57,342
4,976
15,297
9,312
Pakistan
56,349
257
17,482
1,167
Netherlands
45,445
2,604
—
5,830
Ecuador
36,756
2,106
3,560
3,108
Sweden
33,843
3,275
4,971
4,029
Portugal
30,788
2,996
17,822
1,333
Switzerland
30,746
3,581
28,100
1,642
Ireland
24,698
5,018
21,060
1,608
Indonesia
22,750
85
5,642
1,391
Poland
21,631
564
9,276
1,007
Ukraine
21,245
507
7,234
623
Colombia
21,175
429
5,016
727
Romania
18,283
942
11,630
1,193
Egypt
17,265
172
4,807
764
Philippines
14,319
132
3,323
873
Argentina
12,063
268
3,719
452
Denmark
11,360
1,951
9,900
562
Algeria
8,503
198
4,747
609
Source:Wikipedia·
About this data
Description
Coronavirus disease (COVID-19) is an infectious disease caused by a new virus.
The disease causes respiratory illness (like the flu) with symptoms such as a cough, fever, and in more severe cases, difficulty breathing. You can protect yourself by washing your hands frequently, avoiding touching your face, and avoiding close contact (1 meter or 3 feet) with people who are unwell.
HOW IT SPREADS
Coronavirus disease spreads primarily through contact with an infected person when they cough or sneeze. It also spreads when a person touches a surface or object that has the virus on it, then touches their eyes, nose, or mouth.
For informational purposes only. Consult your local medical authority for advice.
Source: World Health OrganizationLearn more

Resources from Google
Google tools and resources to help you stay informed and connected 
COVID-19 resources
The New York Times   The Morning  May 21, 2020
Good morning. Vaccine research is making progress. Chinese leaders have regained their swagger. And a new study shows the severe costs of delayed U.S. action on the virus.
By the final days of February, many public health experts were sounding the alarm about the coronavirus, and some people were listening.
In the San Francisco area, major employers began directing their employees to stay home. Washington State declared a state of emergency. South Korea, Vietnam and other countries ordered aggressive measures.
President Trump did not.
On Feb. 26, he said — incorrectly — that the number of cases was "going very substantially down, not up." As late as March 10, he promised: "It will go away. Just stay calm. It will go away."
If the U.S. had enacted social-distancing measures a week earlier than it did — in early March rather than mid-March — about 36,000 fewer Americans would have died, the study found. That's more than one third of the current death toll, which is about 100,000.
If the measures had been in place two weeks earlier, on March 1, the death toll would be 54,000 lower.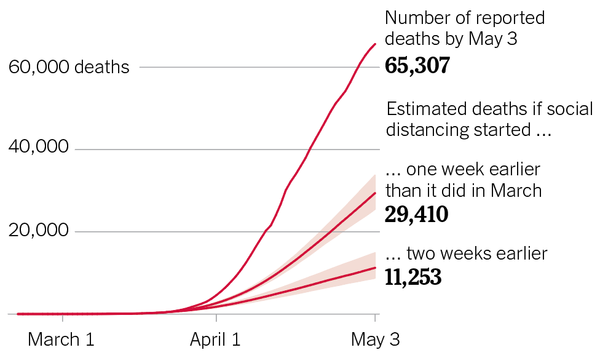 These are hypothetical estimates, of course, and they're unavoidably imprecise. But they are consistent with real-world evidence from places that responded to the virus more quickly, including San Francisco, Washington State, South Korea and Vietnam — where per capita deaths have been much lower than the U.S. average.
Jeffrey Shaman, the leader of the Columbia research team, told The Times: "It's a big, big difference. That small moment in time, catching it in that growth phase, is incredibly critical in reducing the number of deaths."
Related: Trump and some top White House officials are arguing that the reported virus death toll is overstated, The Times reports. Public health experts overwhelmingly reject this view.
A simple way to understand why experts believe the official count is actually understated: The number of Americans who have died in recent weeks is much higher than normal.
FOUR MORE BIG STORIES
In other virus developments:
2. Flooding in Michigan after dams burst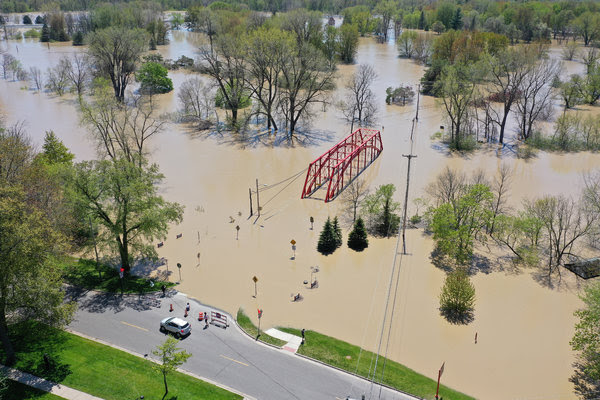 The evacuations complicate the state's social-distancing efforts. "It's hard to believe that we're in the middle of a 100-year crisis, a global pandemic, and we're also dealing with a flooding event that looks to be the worst in 500 years," Gov. Gretchen Whitmer said.
NBC News reported this week that the Pompeos had used taxpayer money to pay for lavish dinners that included Fox News hosts, a NASCAR driver and the chairman of Chick-fil-A.
"Trump's purge of inspectors general is unprecedented," Jen Kirby writes in a Vox article explaining the history and role of the job.
When a mask makes a statement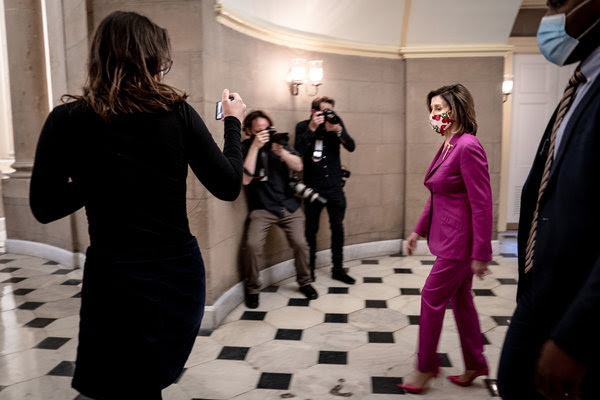 House Speaker Nancy Pelosi (D-CA) on Capitol Hill in Washington.Erin Schaff/The New York Times
12 Autopsy Cases Reveal TRUTH About How Patients Die From Coronavirus | COVID-19
May 14, 2020  Doctor Mike Hansen
This is the link to the main study in this video: https://www.acpjournals.org/doi/10.73… 12 Autopsy Cases Reveal TRUTH About How Patients Die From Coronavirus | COVID-19 #coronavirus #covid19 #covid_19 Coronavirus | COVID-19 YouTube Video Playlist: https://www.youtube.com/playlist?list… In all 12 cases, the cause of death was found within the lungs or the pulmonary vascular system. For the ones who did not die of large pulmonary emboli, they died of the extensive inflammation within the lungs, meaning pneumonia with ARDS. In these cases, the lungs were wet and heavy, much like a sponge that is saturated with water. The surfaces of the lung often had a distinct patchy pattern, with pale areas alternating with slightly protruding and firm, deep reddish-blue hypercapillarized areas. This is indicative of areas of intense inflammation, with endothelial dysfunction that can be seen at the microscopic level. When they look at slices of the lungs under the microscope, they found diffuse alveolar damage in 8 cases. Specifically, they saw hyaline membrane formation, and tiny clots in the capillaries, and capillaries that were engorged with red blood cells, and other inflammatory findings. All these findings represent ARDS. They also found lymphocytes, a type of white blood cell, infiltrated these areas of infiltration. This fits the picture of viral pathogenesis. They also looked at the pharynx of these patients, meaning in their throat. The lining of the throat, or mucosa, was hyperemic, meaning very red and irritated, and at the microscopic level, they saw lymphocytes invading there, which is consistent with a viral infection. In one case, a patient had lymphocytes invade his heart muscle, findings that are consistent with what we call viral myocarditis. More than half of the patients in this study had large blood clots. One-third of the patients had pulmonary embolism as the direct cause of death. All the others died of intense inflammation in their lungs related to pneumonia with ARDS (Acute Respiratory Distress Syndrome). Recently there's been studies showing that about 1/3rd of patients with severe COVID have blood clots. Another study of 191 patients with coronavirus aka COVID-19, half of those who died had clots, compared with 7% of survivors. And levels of D-dimer that were greater than 1000 µg/L were associated with a fatal outcome. So it's pretty clear now that the SARS-CoV-2 virus is causing a lot of clots to form in moderate to severe COVID disease. How is this happening? It's likely a combination of reasons, that has to do with downregulation of the ACE2 receptor in the lung alveoli, with a subsequent shift towards having more angiotensin II in the lungs, and less angiotensin 1-7 and 1-9 in the lungs, and when this happens, this leads to more cytokine storm with more inflammation, more constriction of pulmonary arteries, and more clots that develop. That, in turn, leads to more endothelial dysfunction in the capillaries that surround the alveoli. Also, there is evidence that the virus attaches to the ACE2 receptors of those endothelial cells that line those capillaries, which further propagates inflammation and clotting. And in the cytokine storm that develops there, RANTES, a chemokine, binds to the CCR5 receptor of CD4 and CD8 lymphocytes, and that causes those lymphocytes to infiltrate those areas of inflammation, and in doing so, further contributes towards the inflammatory reaction. This is why we are seeing low levels of CD4 and CD8 lymphocytes in severe COVID. Endothelial damage can also lead to the development of antiphospholipid antibodies, and these antibodies are bad because they trigger the formation of blood clots. That's why patients who have clots with the diagnosis of antiphospholipid antibody syndrome need to be on blood thinners. Also, 11 out of the 12 patients in this study had underlying heart disease and were obese. These are known risk factors not just for cardiovascular disease, but also known risk factors for endothelial dysfunction, and are known risk factors for COVID. So the big takeaways from the findings in this study are that most people who die of COVID, it's primarily a lung problem. Either related to inflammation with ARDS and/or blood clots. Antiphospholipid syndrome might be a commonality among patients with thrombosis in COVID-19 patients. Dr. Mike Hansen, MD Internal Medicine | Pulmonary Disease | Critical Care Medicine Website: https://doctormikehansen.com/ Instagram Account: http://instagram.com/doctor.hansen/ #coronavirus #covid19 #covid_19
Category  Education
The ocean plays host to a peculiar party of wild, marine sex life that's perhaps quirkier (and kinkier) than you can fathom. But is human behavior interrupting these raunchy reproductive acts? Take a deep dive with marine biologist Marah J. Hardt to discover what exactly goes down under the sea — and why your own wellness depends on the healthy sex lives of fish.
This talk was presented to a local audience at TEDxMileHigh, an independent event. TED's editors chose to feature it for you.
ABOUT THE SPEAKER
Marah J. Hardt · Marine scientist and storyteller
Marah J. Hardt keeps one foot wet in the field while the other wanders the crossroads of science, storytelling and strategy.
MORE RESOURCES
Marah J. Hardt
St Martin's Press (2016)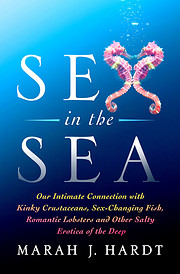 TAKE ACTION  LEARN
Find out the many ways we can help make the oceans more sex-friendly.
Learn more ?  ABOUT TEDX
TEDx was created in the spirit of TED's mission, "ideas worth spreading." It supports independent organizers who want to create a TED-like event in their own community.
From something as small and complex as a chromosome to something as seemingly simple as the weather, sex determination systems vary significantly across the animal kingdom. Biologist and teacher Aaron Reedy shows us the amazing differences between species when it comes to determination of gender. [Directed by Buzzco Associates, Inc., narrated by Aaron Reedy].
MEET THE EDUCATOR
Aaron Reedy · Teacher
Aaron Reedy teaches at Thomas Kelly High School in Chicago, where he uses innovative projects to connect his classroom to the wider world of science.
ABOUT TED-ED
TED-Ed Original lessons feature the words and ideas of educators brought to life by professional animators.
How Yo-Yo Ma's 'Songs of Comfort' are inspiring musical collaboration
May 13, 2020  PBS NewsHour
The 'Songs of Comfort' project world-renowned cellist Yo-Yo Ma launched on social media continues to expand in new directions. Jeffrey Brown looks at the growing collaboration in these mini performances, as tough times bring people together through music — and technology. It's part of our ongoing arts and culture series, Canvas. Editor's note: For the record,  one of the talented musicians shown in this piece singing harmony with herself is NewsHour producer Ali Rogin, at 3:11. Thanks to all of the performers for sharing with us. Stream your PBS favorites with the PBS app: https://to.pbs.org/2Jb8twG Find more from PBS NewsHour at https://www.pbs.org/newshour Subscribe to our YouTube channel: https://bit.ly/2HfsCD6 Follow us: Facebook: http://www.pbs.org/newshour Twitter: http://www.twitter.com/newshour Instagram: http://www.instagram.com/newshour Snapchat: @pbsnews Subscribe: PBS NewsHour podcasts: https://www.pbs.org/newshour/podcasts Newsletters: https://www.pbs.org/newshour/subscribe
Category News & Politics
Fierce Feathered Portraits of Brooding Birds by Josie Morway
Fierce Feathered Portraits of Brooding Birds by Josie Morway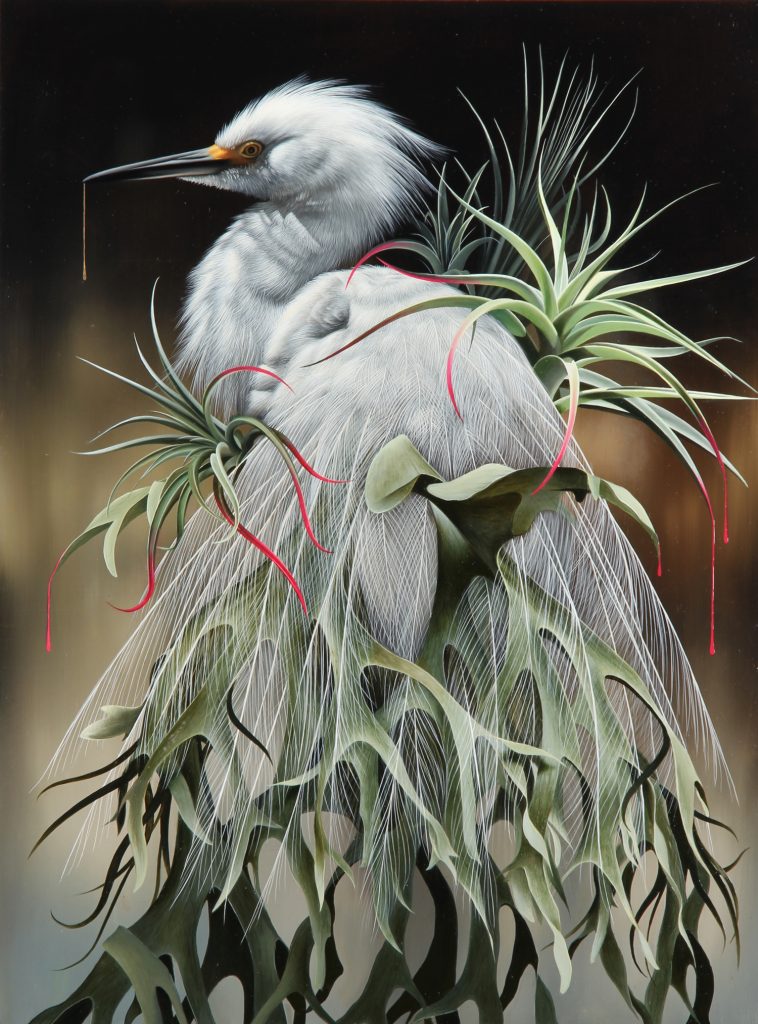 Artist Josie Morway creates fierce portraits of wildlife set in abstracted apocalyptic environments and interspersed with geometric linework, colorful paint drips, and mysterious Latin text. Morway often features birds in her oil and enamel paintings, using the graceful shapes of the animals' elongated necks and sweeping wings to draw the viewer's eye around the artwork. Many of Morway's works also interweave plants: ferns, succulents, and blossoming flowers emerge from around her animal subjects' bodies.
The artist shares with Colossal that the Latin lettering that embellishes some of her paintings is heavily abstracted from old mottos. "I don't mean for them to be read too literally, but rather hope they lend a certain feeling of portentousness to the pieces," Morway explains. "I like referencing religious icon paintings and other forms of 'serious' historic painting, but using animals and birds in the place of saints, etc. I'm going for the feeling of narrative realism, but working with a narrative that's mysterious, missing some information, open to the viewer's interpretation."
Morway will have a piece on view at Antler Gallery in Portland starting June 9, 2018, as part of PDX/LAX II, a collaborative exhibit with Los Angeles gallery Thinkspace Projects, as well as a two person show in October. You can also find her work in Australia at Beinart Gallery's group show starting July 13. The artist shares updates on her work via Instagram.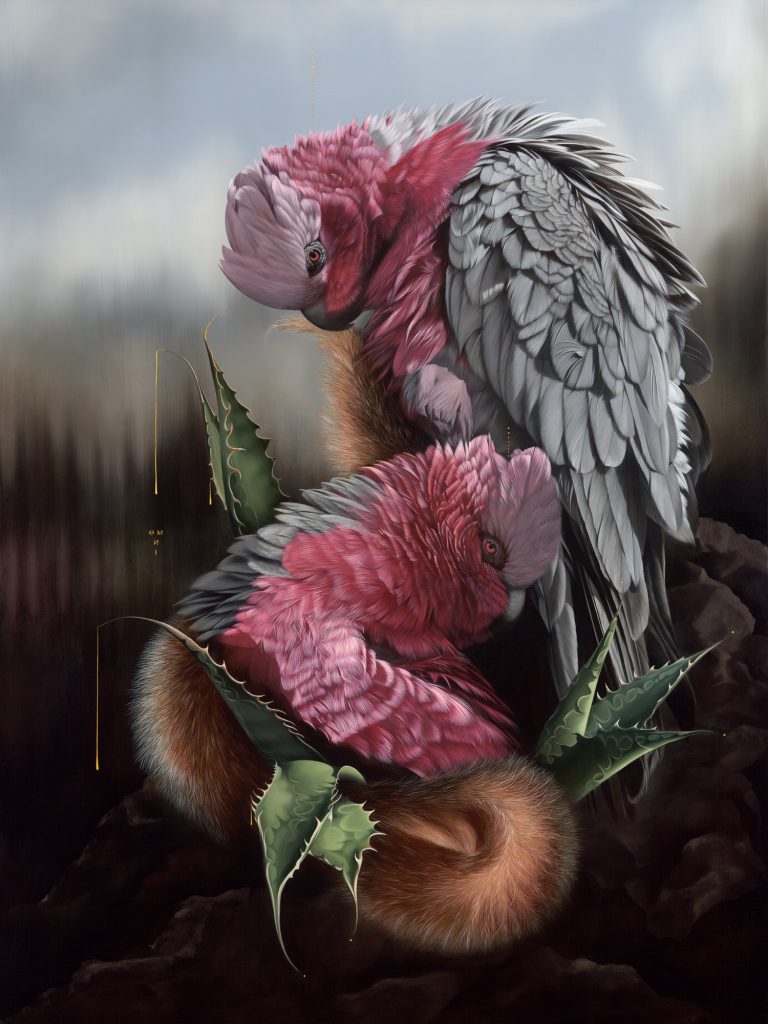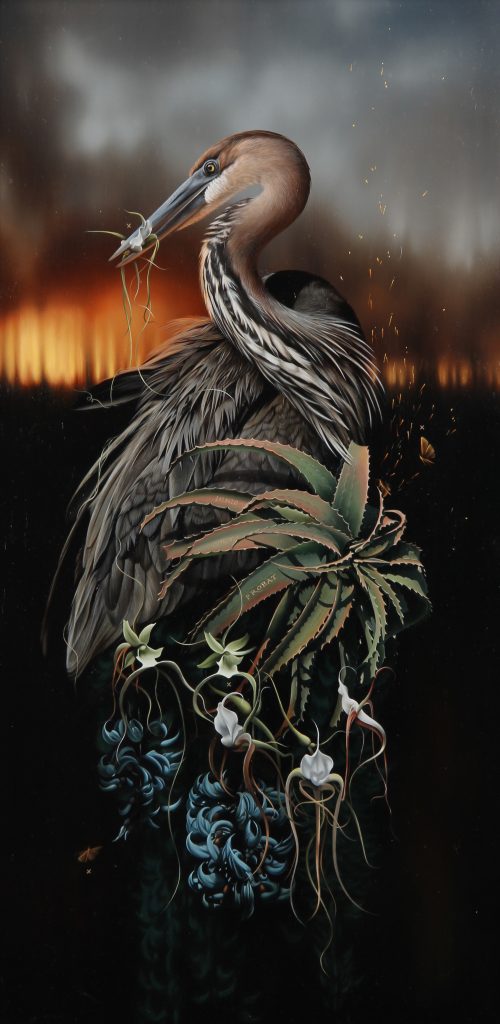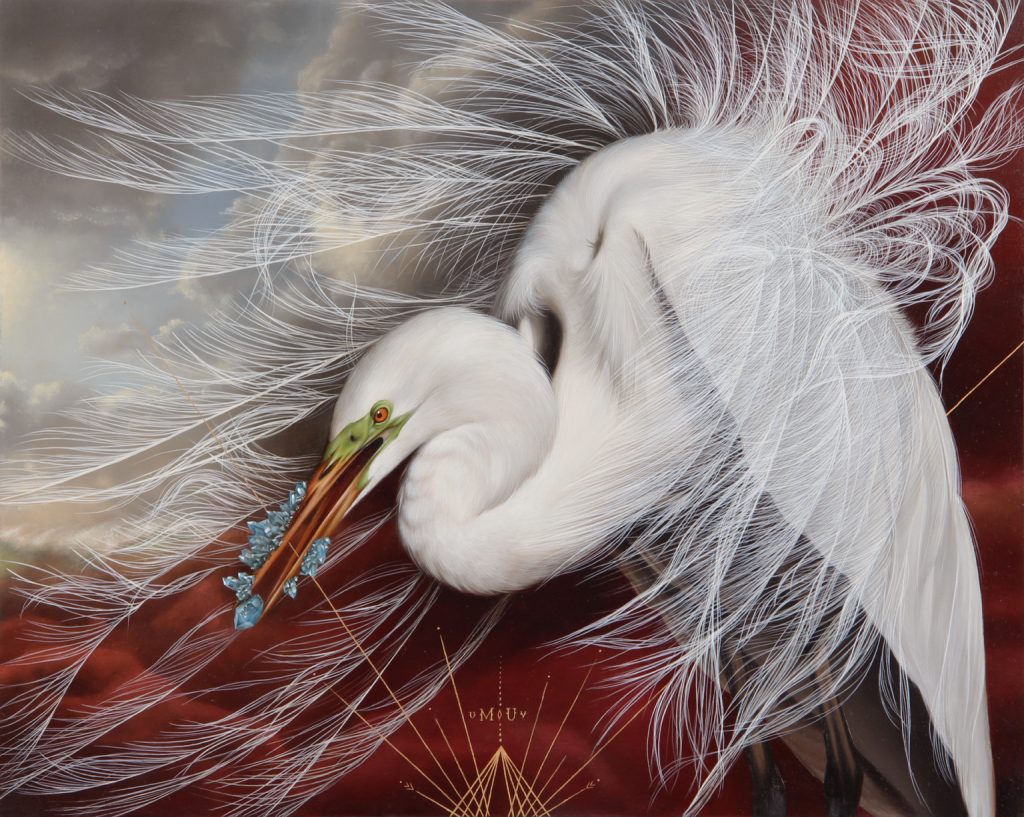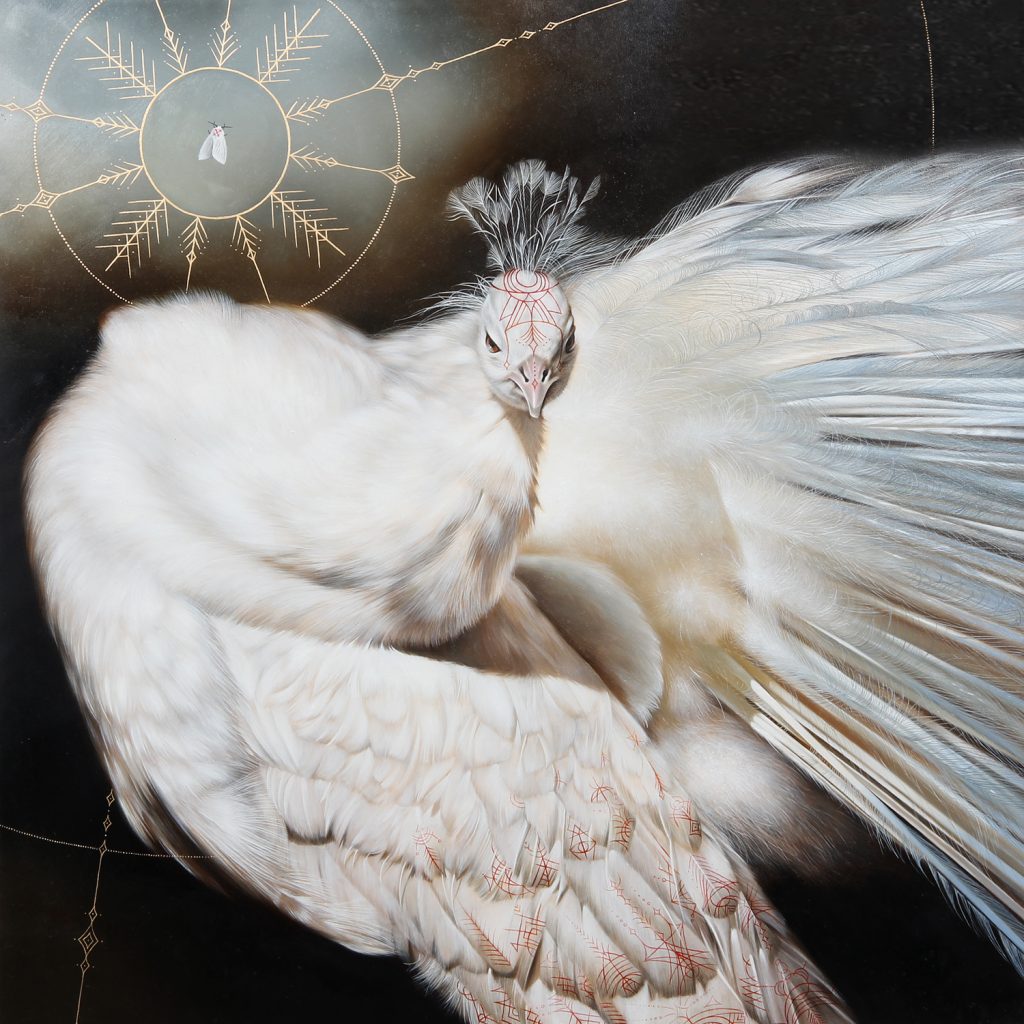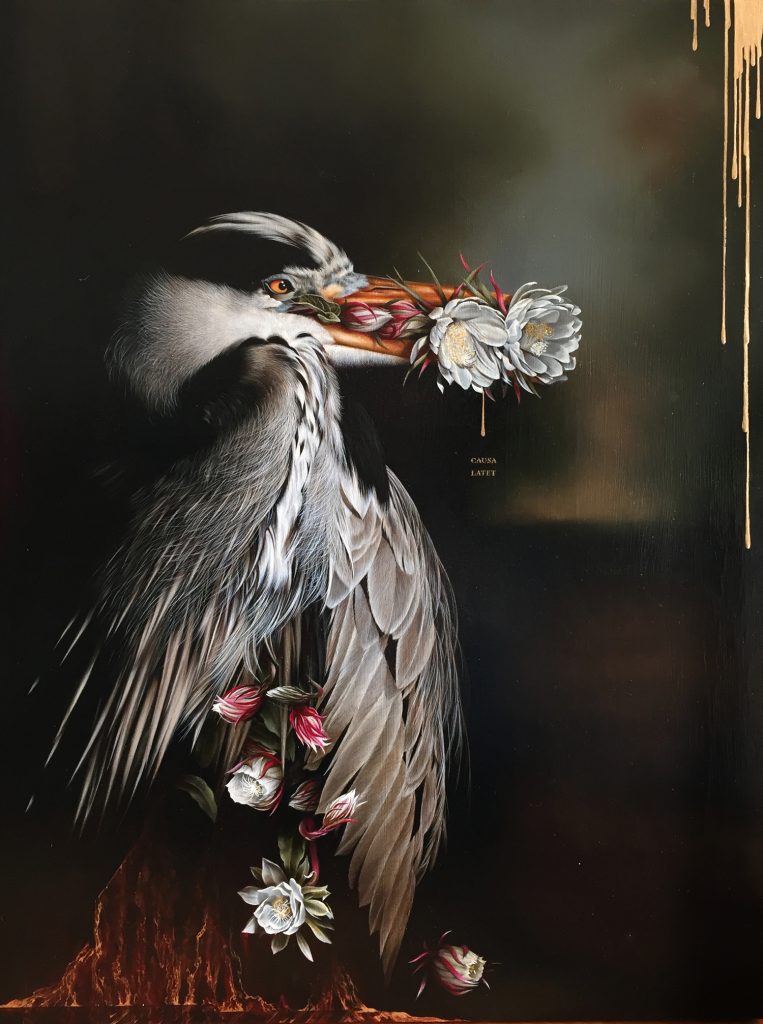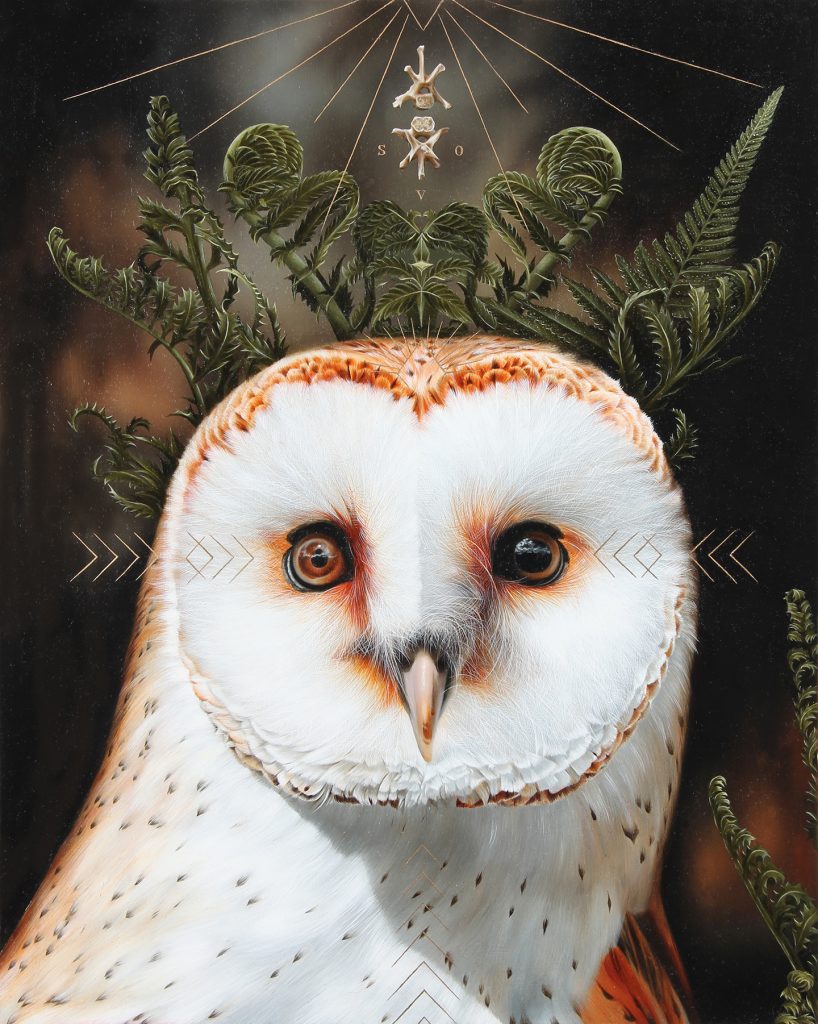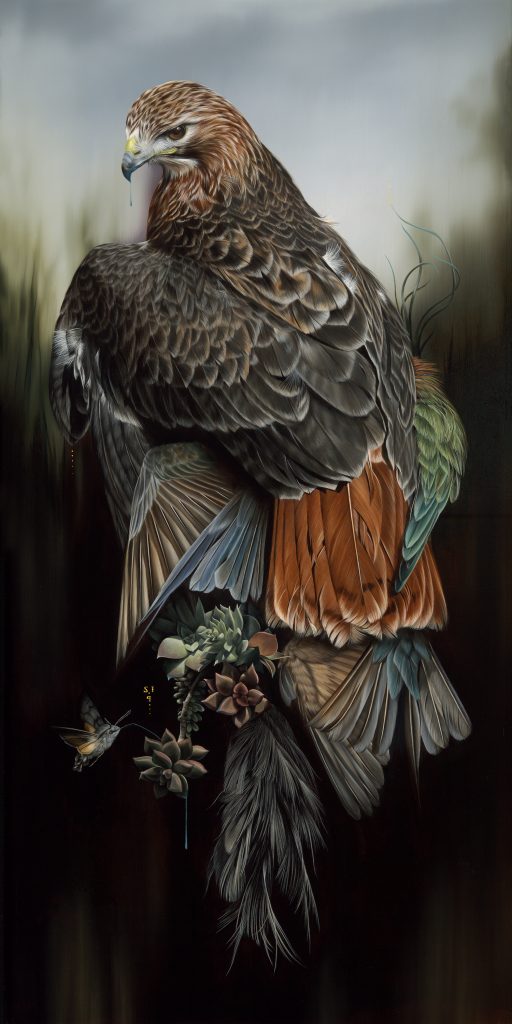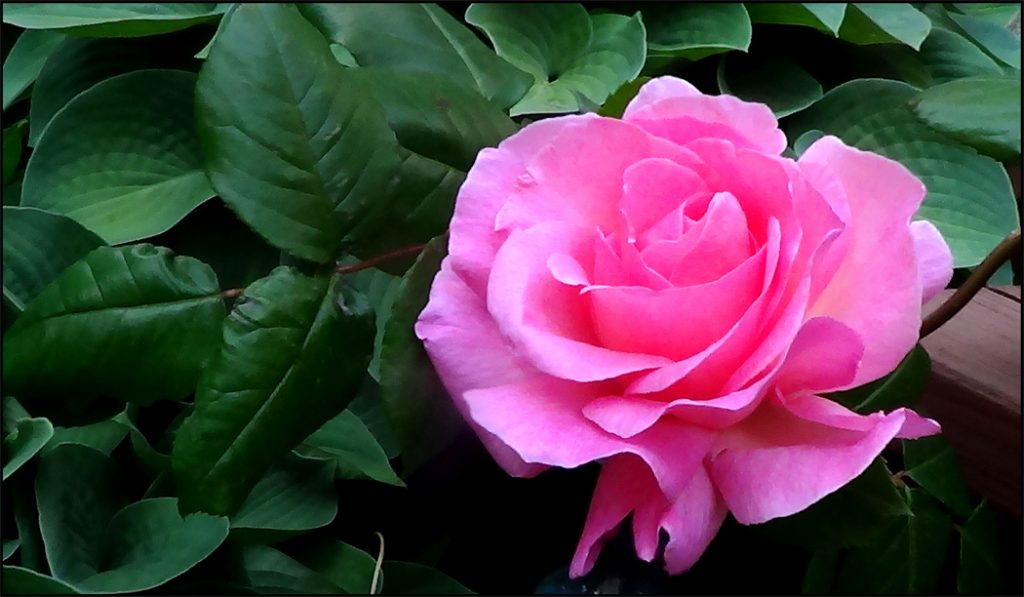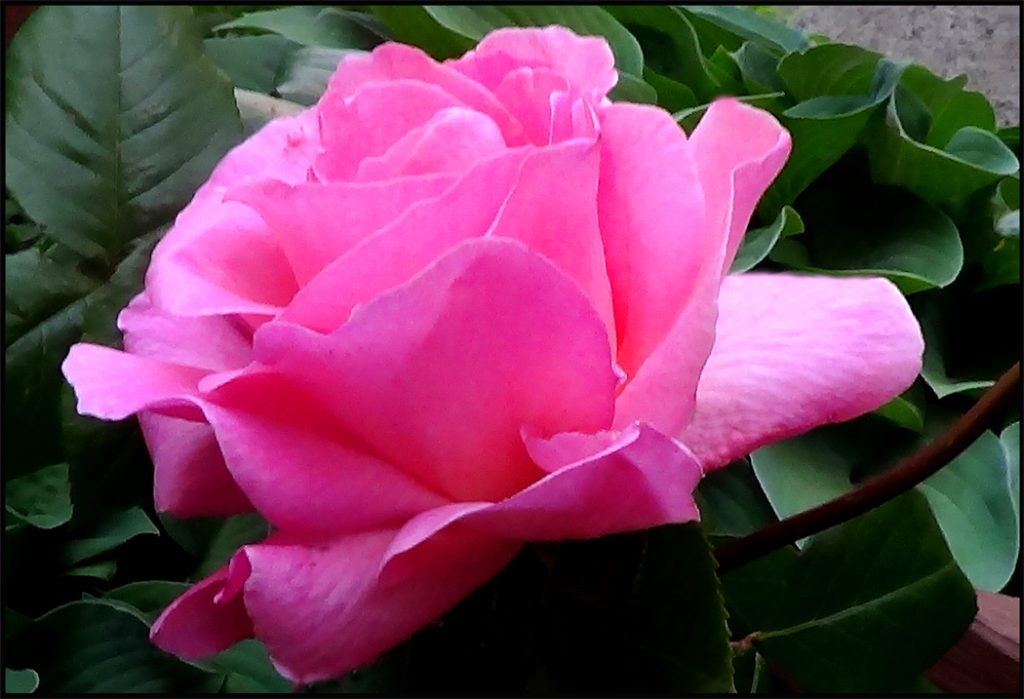 This is the first large pink rose bloom in our garden, Downtown Newark, New Jersey, USA.  No matter how many unpleasant events happen in this world, if we are cultivating the garden, nature will always give us happiness.  I was trapped in our apartment for two months and thirteen days, due to COVIT-19 (Corona-virus).  But when I see flowers blooming in our garden, I feel more lively seeing the freshness and beauty comes alive.
Ing-On Vibulbhan-Watts, Monday, May 25, 2020