Ing and John's Street Art and International Street Art-Part2
International Street Art
New Works from Banksy at the The Jungle Refugee Camp in Calais
December 11, 2015 Christopher Jobson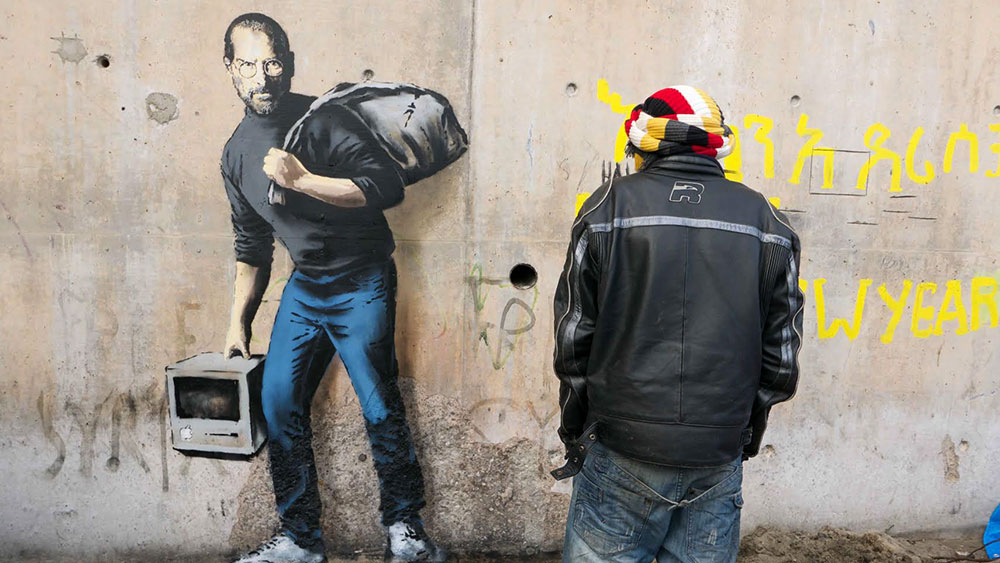 "The Son of a Migrant from Syria"
Based on an update to his website this morning it appears Banksy visited the Jungle Refugee Camp in Calais, France, one of the largest refugee camps in western Europe. The artist left behind four new artworks, most notably a piece featuring Steve Jobs carrying an early Macintosh computer and a sack over his shoulder noting his background as a "son of a migrant from Syria," (Jobs was adopted, but his biological father was from Syria). In another piece he references Géricault's famous Raft of Medusa painting, depicting an imperiled group of people on a sinking raft as they hail a modern cruise ship just on the horizon. The artist previously brought attention to the refuge crisis in a piece at Dismaland earlier this year.
In addition to the artworks, part of Banksy's team installed 12 permanent structures and a makeshift playground inside the squalid Jungle camp using materials left behind from Dismaland, a project he refers to as Dismal Aid.
One of the best ways you can help Syrian refugees is through donations to the UN Refugee Agency.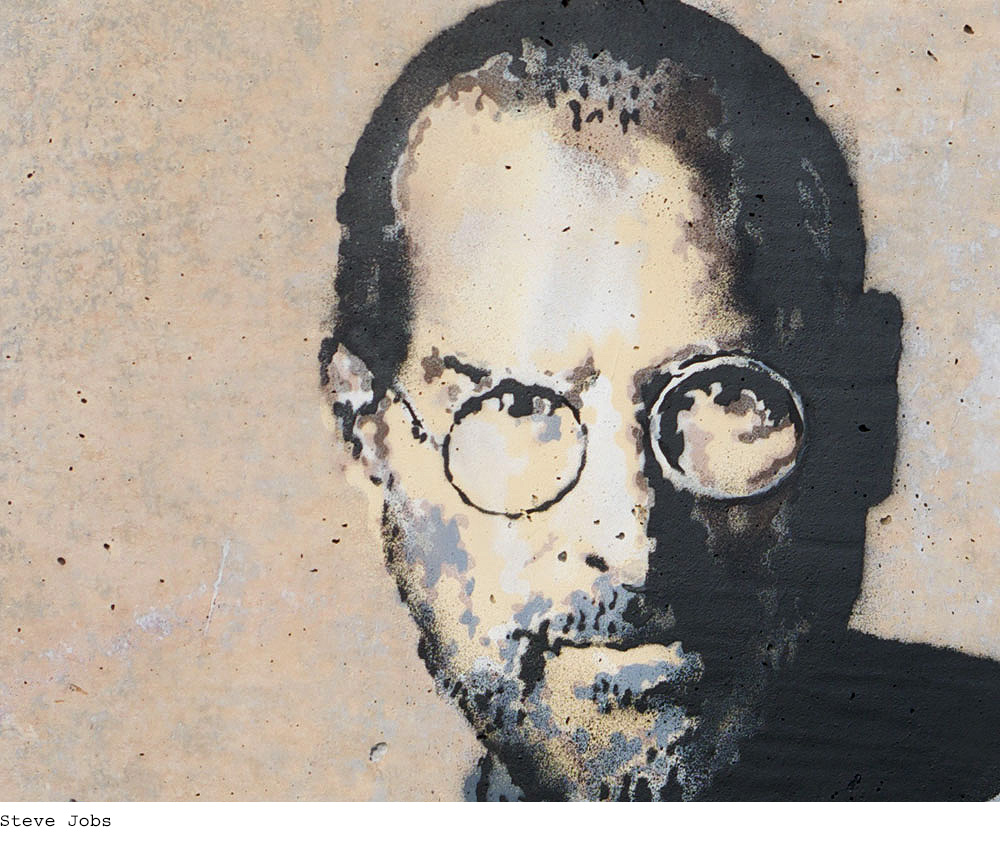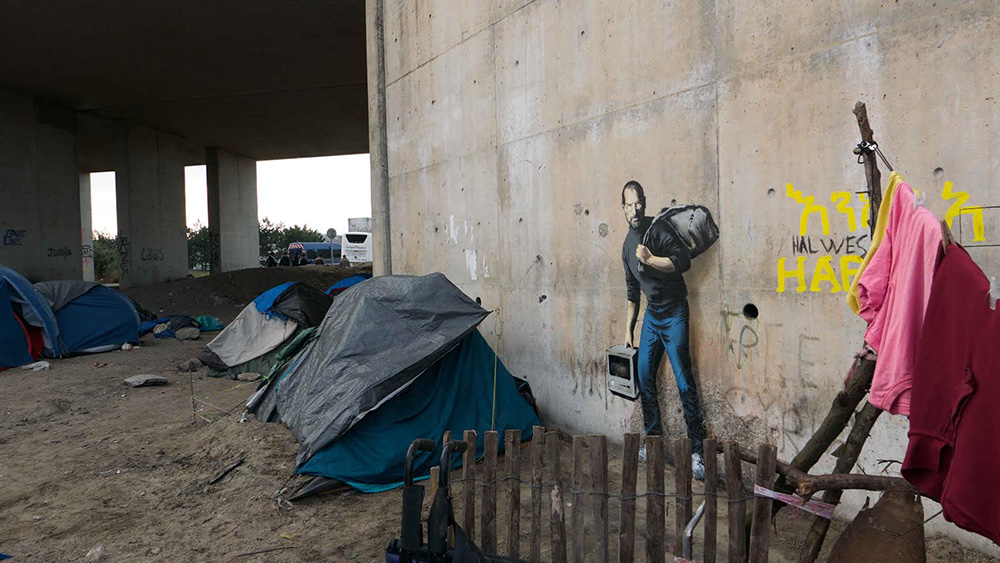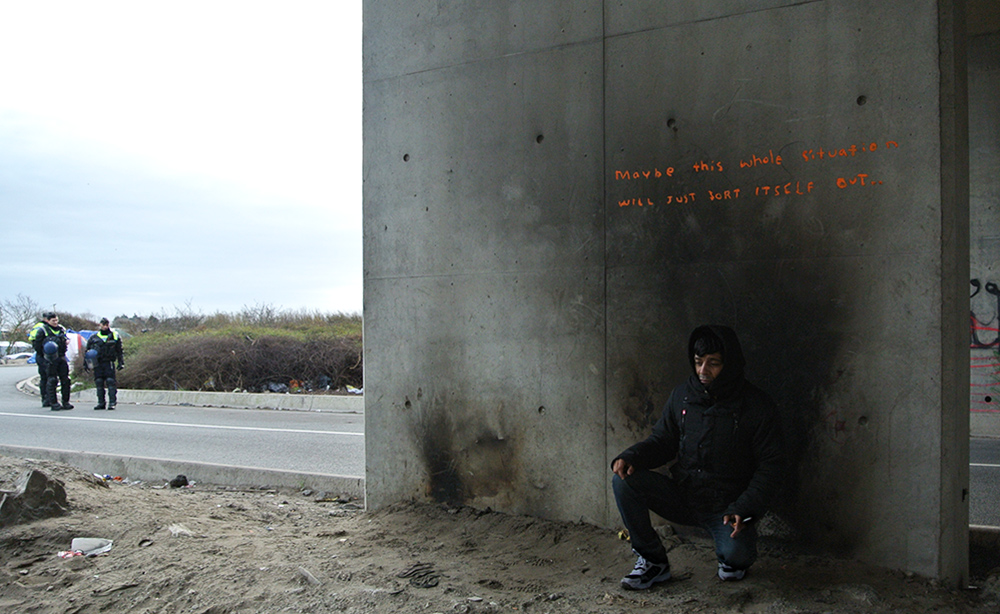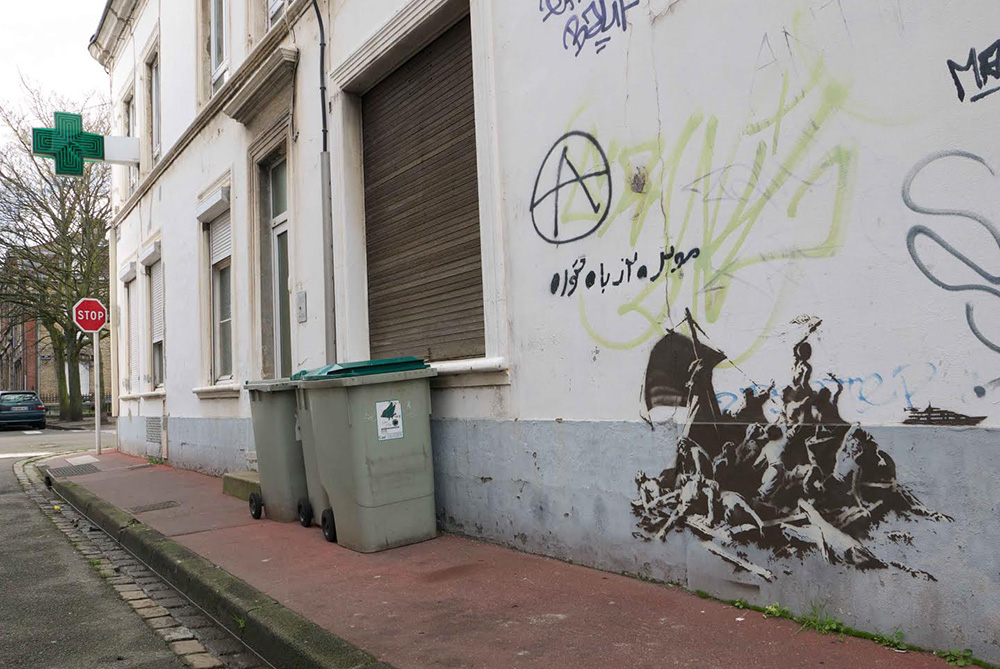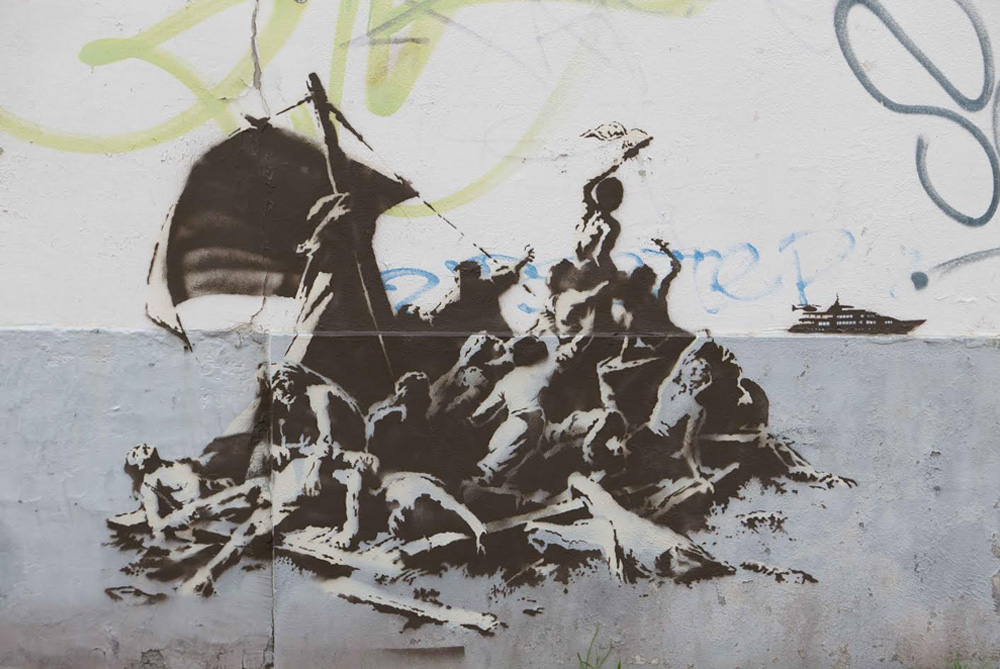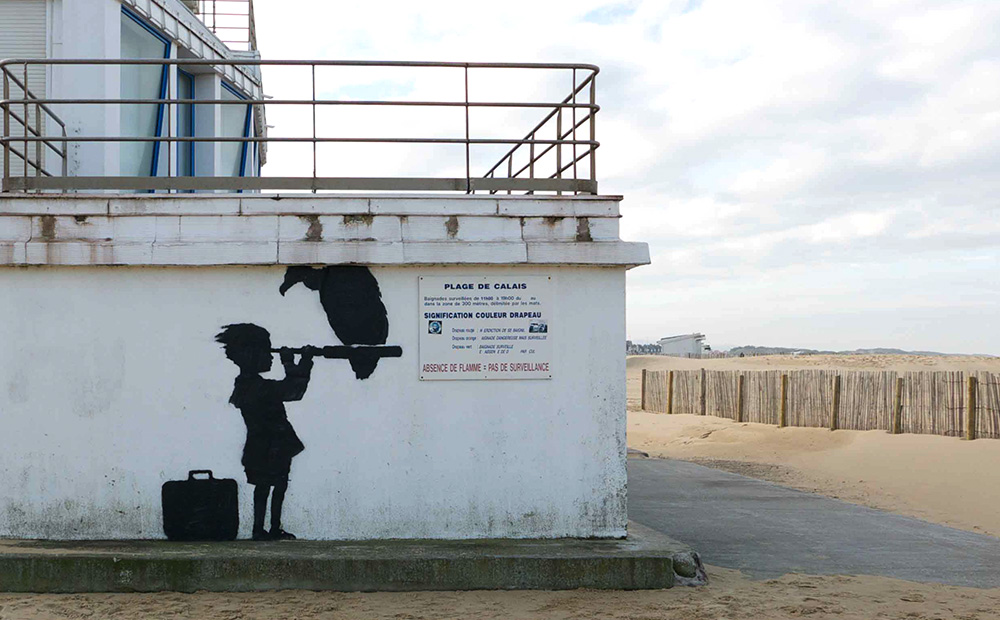 Banksy is an anonymous England-based street artist, vandal, political activist, and film director, active since the 1990s.[1] His satirical street art and subversive epigrams combine dark humour with graffiti executed in a distinctive stenciling technique. His works of political and social commentary have been featured on streets, walls, and bridges of cities throughout the world.[2] Banksy's work grew out of the Bristol underground scene, which involved collaborations between artists and musicians.[3] Banksy says that he was inspired by 3D, a graffiti artist who later became a founding member of the English musical group Massive Attack.[4]
Banksy displays his art on publicly visible surfaces such as walls and self-built physical prop pieces. Banksy no longer sells photographs or reproductions of his street graffiti, but his public "installations" are regularly resold, often even by removing the wall they were painted on.[5] A small number of Banksy's works are officially, non-publicly, sold through Pest Control.[6] Banksy's documentary film Exit Through the Gift Shop (2010) made its debut at the 2010 Sundance Film Festival.[7] In January 2011, he was nominated for the Academy Award for Best Documentary for the film.[8] In 2014, he was awarded Person of the Year at the 2014 Webby Awards.[9]
For more information please visit the following link:
https://en.wikipedia.org/wiki/Banksy
Banksy Could Help Revitalize One Of The Most Polluted Cities In The U.K. (HBO)
Feb 24, 2019 VICE News
Residents of a small town on the southern shore of Wales woke up one morning, just days before Christmas, to a surprise. A renowned anonymous street artist had painted a mural on the garage of a local steelworker. Banksy had come to Port Talbot. Known for his meticulous stencils, humor, and politically conscious messages, Banksy confirmed the work, titled "Season's Greetings," on his Instagram page. The mural straddles two walls on the garage's corner in Port Talbot, one of the most polluted cities in the UK. On one side, a boy with his sled looks at the sky with his mouth open to catch snowflakes. On the other, an industrial heater spews flames and a plume of smoke into the air. And just a few miles behind the garage onlookers can see chimneys from the local steelworks peeking out from behind homes. "It says quite a lot about things that people have raised about the pollution in Port Talbot, so it's actually really good. I hope it raises some awareness about that to be honest," Joanne Ryan, who grew up in Port Talbot, said when visiting the mural. Subscribe to VICE News here: https://bit.ly/Subscribe-to-VICE-News Check out VICE News for more: https://vicenews.com Follow VICE News here: Facebook: https://www.facebook.com/vicenews Twitter: https://twitter.com/vicenews Tumblr: https://vicenews.tumblr.com/ Instagram: https://instagram.com/vicenews More videos from the VICE network: https://www.fb.com/vicevideo
Category News & Politics
New Solo Exhibition by Seth Globepainter Fills a Historic Chateau in Bordeaux, France
September 1, 2019 Andrew LaSane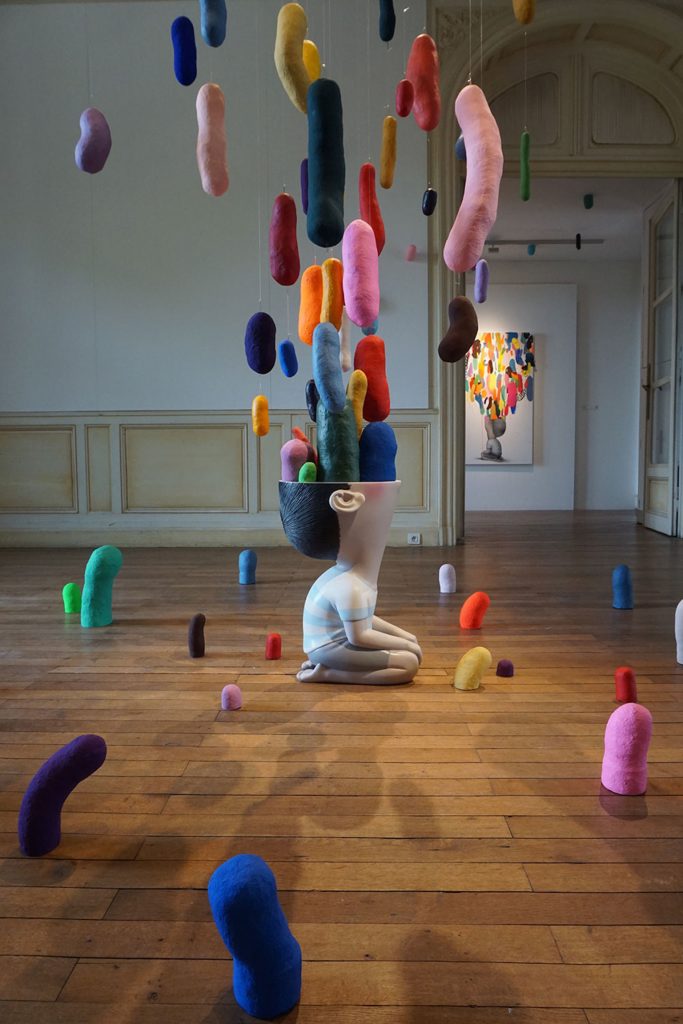 Collaboration with Pascal Vilcollet
French artist Julien Malland, aka Seth Globepainter (previously), has spent the summer exhibiting a large body of work inside and outside of the Institut Culturel Bernard Magrez. Located in Bordeaux, France, the historic chateau was built in the 18th century and now doubles as a cultural center.
Malland's takeover includes dozens of paintings, installations, and sculptures that have transformed the castle into a colorful record of his travels and a look into his mind.
Titled 1,2,3, Soleil, the exhibition features over 50 of the artist's faceless characters. Each room in the chateau has a theme that represents one of Malland's previous projects in countries around the world. Vibrant colors and geometrical shapes are complicated by themes of conflict and loneliness. The exhibition includes site-specific installations as well as collaborative pieces made with artists Mono Gonzalez and Pascal Vilcollet.
The walk through Malland's world will remain on view in France through October 7, 2019. In addition to his solo show, Malland also recently completed two murals in Denmark as part of Kirk Gallery's annual Out in the Open mural initiative. To keep up with the artist's latest projects, follow him on Instagram.
© Julien-Malland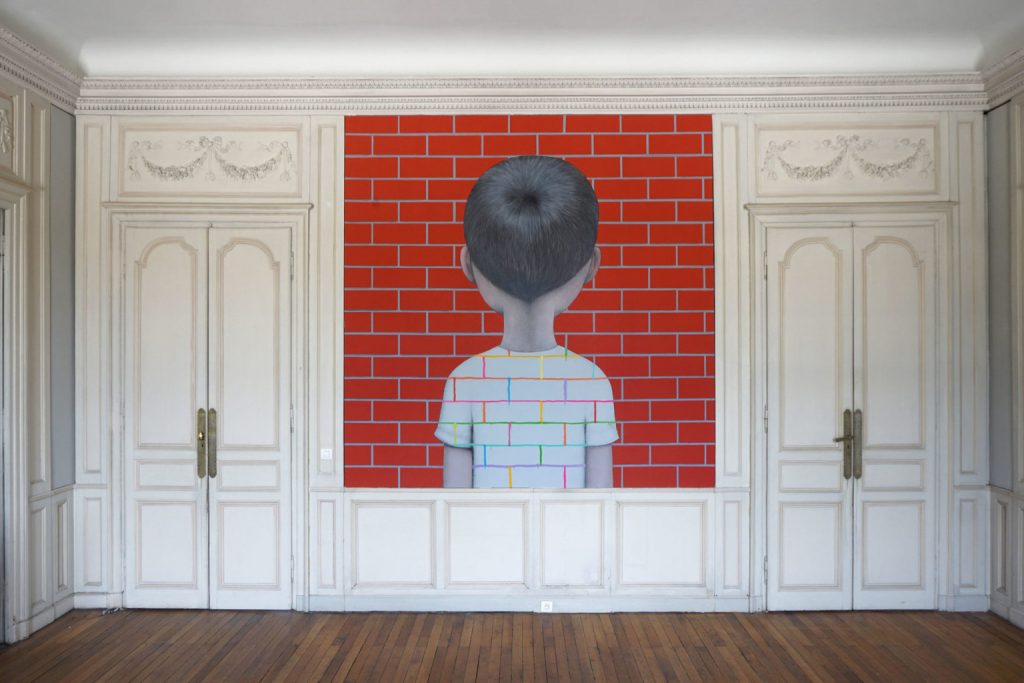 © Julien-Malland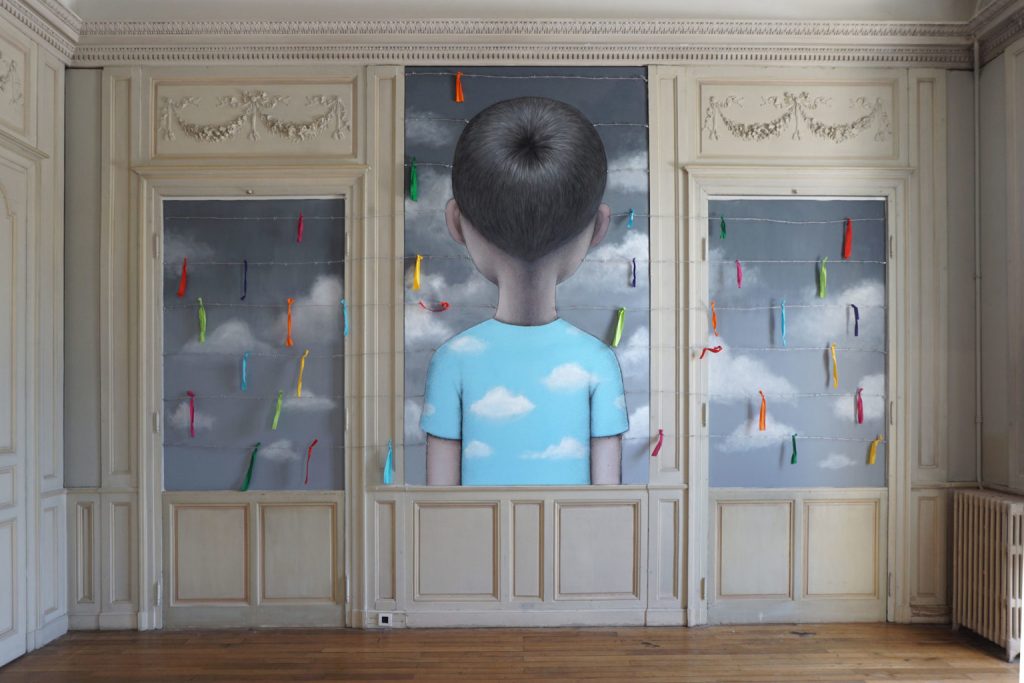 © Julien-Malland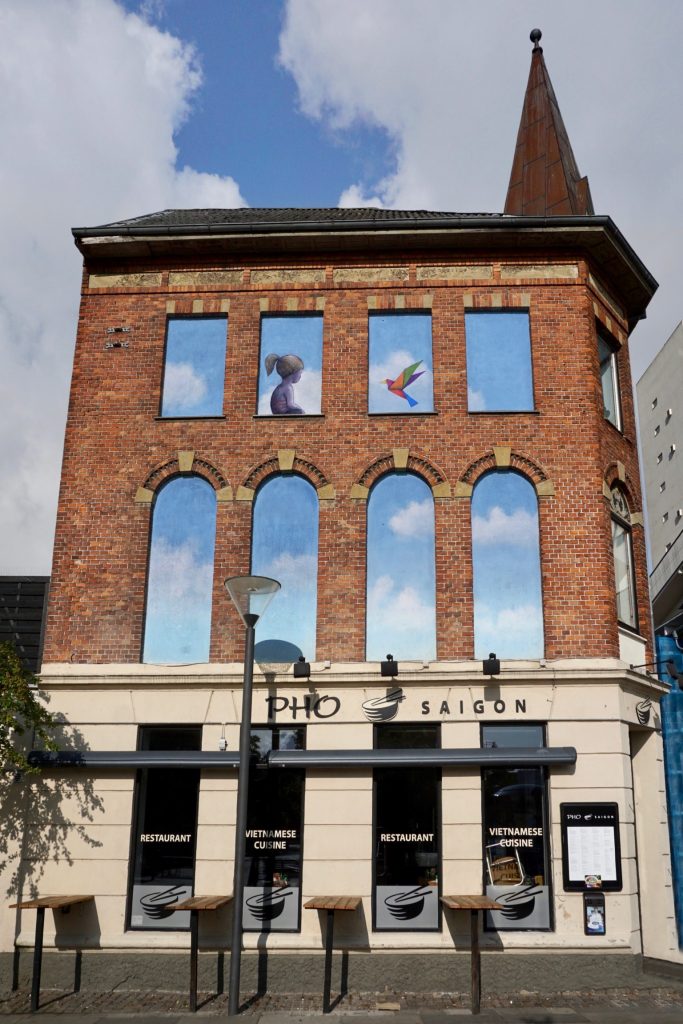 Seth | 'The Phoenix' | Østerbro 22 | Aalborg (Photo: Seth)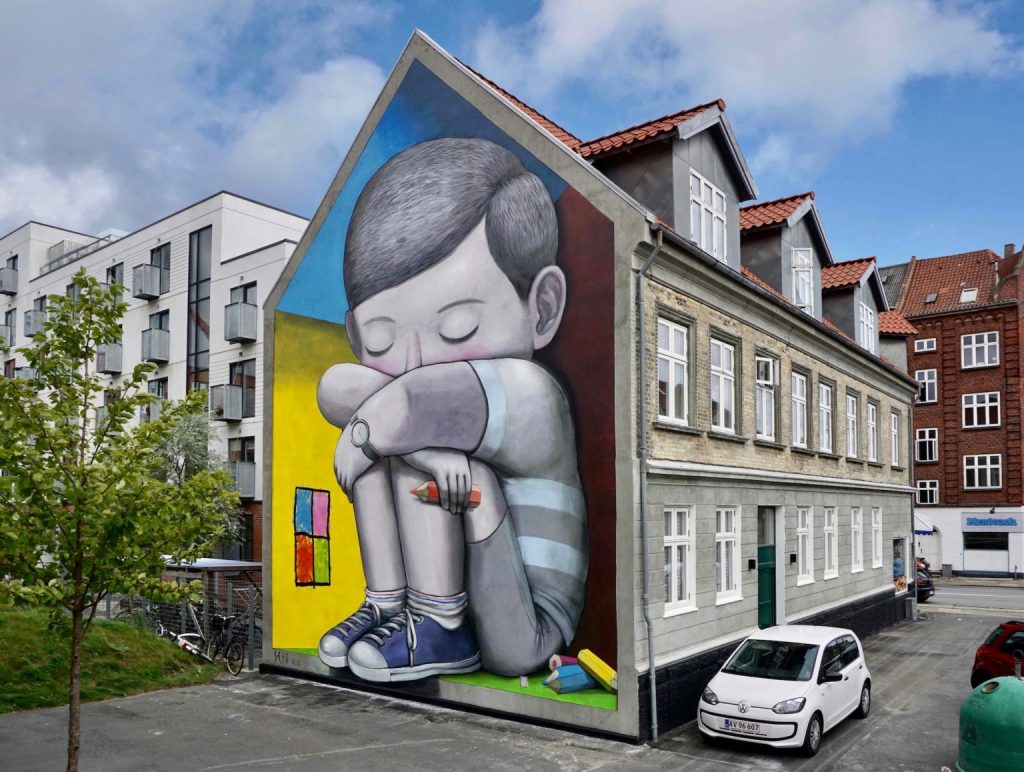 Seth | 'Jack in the Box' | Østerbro 41 | Aalborg | Denmark
Julien Malland, better known under the pseudonym of "Seth" who first signed "Set", born in Paris in 1972, is a Parisian urban artist known for many murals of characters, often children, seen in three. quarter back (or three quarter back).
Seth is a globetrotter artist, styling himself, under the original name of "globe-painter" and known to the general public as a writer and host of television shows through reports devoted to the urban art in many countries. Some of his reports were broadcast, as part of a weekly broadcast, on the French television channel Canal +.
He is also the author of books devoted to this subject and the co-founder of the publishing house ("The Eye of Horus"). Seth is the initiator of the "Wasted Talent" collection, which offers a series of artist monographs from the graffiti1 urban culture movement.
The artist also collaborated, as a draftsman, on the comics Lascars, from the animated series of Canal + 2 and he is finally the author of a personal website that presents the essence of his career3 .
"Seth" began his career as an urban artist in 1996. High school student, he began to take an interest in street art by photographing graffiti in the streets of Paris. Invited by friends, he launched a first artistic action: he made drawings and his friends the lettering. His first bomb compositions were made on the walls of the twentieth arrondissement of Paris. Seth, according to his own statements, immediately began to create highly stylized characters.
The artist is a graduate of ENSAD in 20005. The realization of characters is his specialty and his travels around the world (2003), the discovery of customs and contacts with local urban artists open other artistic perspectives and evolve his style.
One of his latest books, called Globe Painter, sums up his vision and his ideal: it is a travel diary combining photos, drawings and illustrations tracing the route of this mural painter who sought to meet street art artists from around the world (Rio de Janeiro, São Paulo, Santiago de Chile, Valparaiso, Sydney, Hong Kong, Tokyo). In this collection, Seth tackles another way of traveling and living the pictorial activities of the street6.
For more information please visit the following link:
https://fr.wikipedia.org/wiki/Julien_Malland_(Seth)