1 Ing's Peace Project
And  Academy Street Firehouse Youth
Comments and artworks
                                                             Spring 2012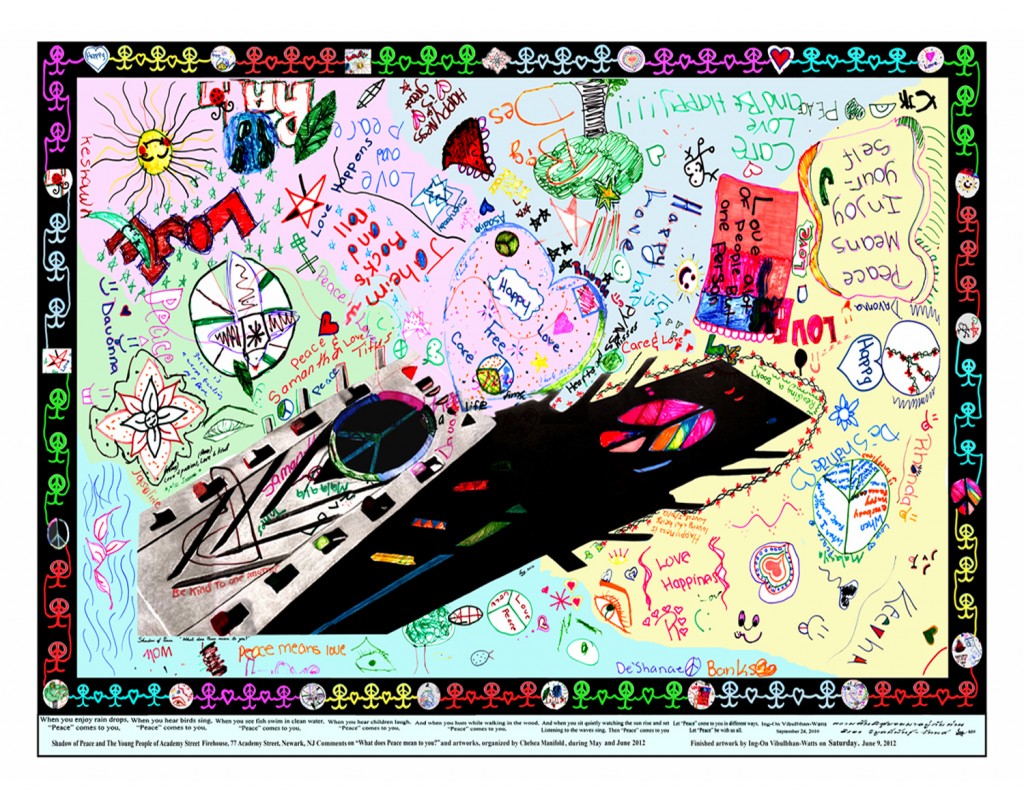 .
Finished "Peace" artwork 5   Academy Street Firehouse Youths Comments and artworks and the youth also explored the concept of peace through animation and created a documentary about the process of making movies, Newark NJ, during May – June 2012,   organized  by Chelsea Manifold,  Stop Motion Animation and teaching artist
Finished artwork, after the written comments by Ing-On Vibulbhan-Watts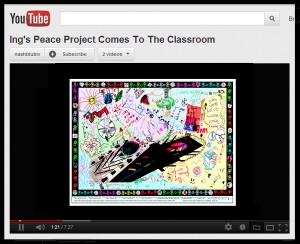 Link to YouTube : Peace Project Comes to the Classroom Video
https://www.youtube.com/watch?v=MjeT5qn7hRA
Ing's Peace Project Comes to the Classroom Description
 I am glad that more people are taking my peace project to use in the classroom.  Children will replace us as the adults of the future and need to be aware of their lives and feelings.  We as adults should take the initiative to cultivate the minds of our children to think in peaceful ways.  For example in this video animation, "Shadow of Peace and the Young People of Academy Street Firehouse", these children express their feelings with love and happiness.  I spotted one child simply writing the word, "Mom".  This young one is probably longing for mother.  Some say, "Peace means enjoying yourself".  One youngster at the 4-H Youth Development RCE of Essex County wrote, "Peace means love for all".  I particularly liked the phrase of one child, "Never hate, and just eat cake".  I hope that schools and other institutions will use my idea of, "Take ten minutes a year to cultivate children to have peace for life".   
Ing-On Vibulbhan-Watts, Wednesday, August 22, 2012, 12:05 P.M.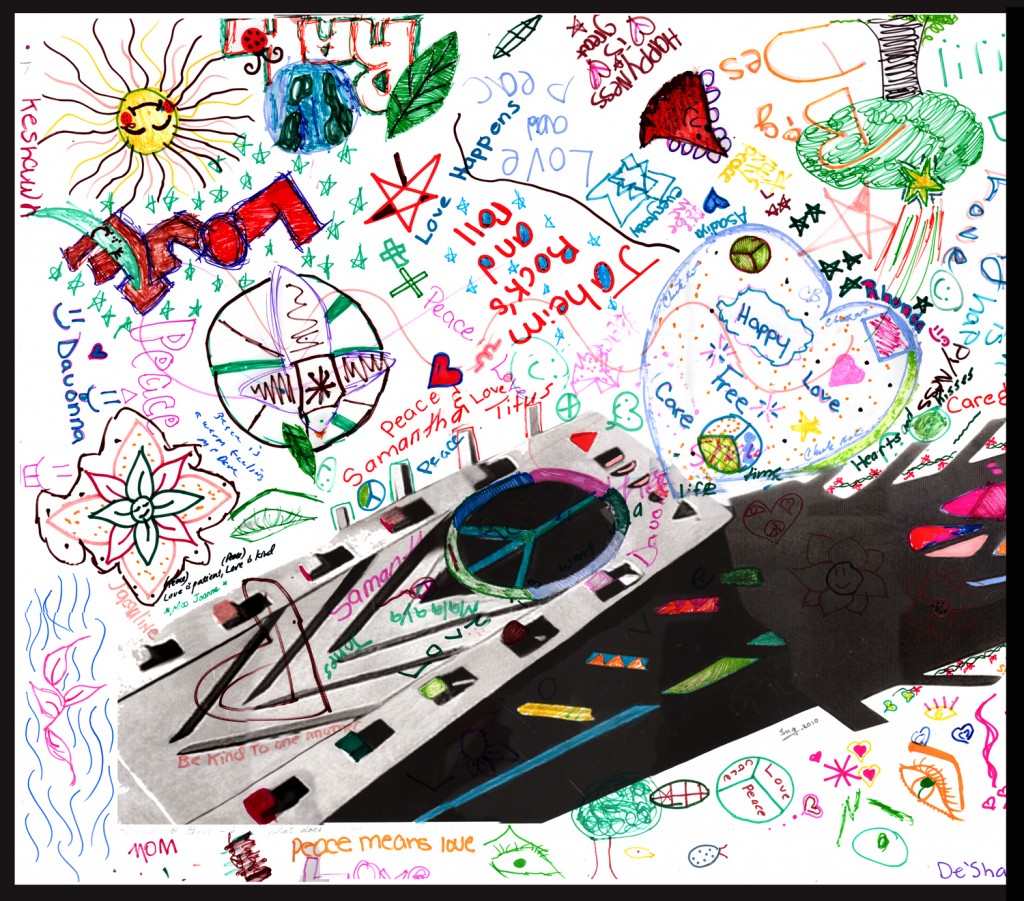 Academy Street Firehouse Youths Comments and artwork on
"What does Peace mean to you?" Shadow of Peace poster 1:
 Love
 Peace is a warm feeling
 Peace … Love is patient, Peace, Love & Kind
 MOM
 Be kind to one another
 Peace means Love
 Peace, Love, Care
 Peace & Love
 Peace & Love
 Rock's & Roll
Love happens
 Love & Peace
 Happiness is great
 Love my Peace
 Happy, Love, Free, Care
Academy Street Firehouse Youths Comments and artwork on
"What does Peace mean to you?" Shadow of Peace poster 2:
  Love, Happiness
 Happiness is loving and being love
 Care & Love
 Love
 Reading a book
 Heart & Kisses
 Love is Happiness
 Happy, Love
 Care, Love and be Happy
 Love a lot of people but one person
 Love
 Peace means enjoy yourself
 Love
 Happy
 When I am nice peace come to me.  When everybody happy peace come to me.  Relaxing at the beach peace come to me.  When I am (sorry) peace come to you. 
Comments from Chelsea Manifold about the program at Academy Street Firehouse:
The orgs website is below:
https://www.aidsresource.org/site/PageServer?pagename=Serv_academy
 I have been working for the past few months with a group of young people
between the ages of 7-12 years old. Learning the basics of film making from
pre-production (storyboarding, script writing) to production (shooting the
projects) and post-production (editing). The young people of the Academy St
Fire House made PSA's (Public Service Announcements) that related to issues
they felt strongly about. Focusing on bullying, eating healthy, and gun
violence. The youth also explored the concept of peace through animation
and created a documentary about the process of making movies.
I'm so excited to be working on this with you! I'm so pleased to have
finally done your peace project, and to share it with such amazing kids.
-Chelsea
 June 8, 2012
 Here is the questionnaire all filled out! Thank you for a wonderful visit
today, as always it's a pleasure spending time together.
 1. Why do you use Ing's Peace Project as a lesson for your students?
 I'm a teaching artist and am always looking for projects with a strong
tactile element that also have a larger meaning or lesson to be learned. I
found in the Peace Project a way for my students to express themselves
creatively by drawing and writing, and where given a safe place to share
their personal thoughts and feelings about peace. We also created a simple
animation while filling in the peace project so it appears the students
comments are writing themselves. In this way the Peace Project fit into our
classes theme of digital media while also focusing on personal reflection
and social conciseness's.
2. What kind of students do you have and what are their ages?
 For this training I was working with a co-ed group of young people between
the ages of 7-12 in an after school setting.
 3. What are the student's reactions toward the Peace Project?
 At first they did not want to write on the poster, they thought they would
'ruin it'. But as we talked before hand and shared our feelings and
personal thoughts on peace the students became much more eager to put down
their own thoughts and ideas. They wanted to make the poster as full and
colorful as possible!
 4. Do you have any difficulty presenting the material to students?
 I did not have trouble presenting the Peace Project to the students. I
started by sharing the website ingpeaceproject.com. We looked at some of
the other Peace Projects and then broke into small groups to discuss the
concept of peace and read the poem.
 5. Do the students pay attention to the other students comments?
We did this project over two classes and the students did read and comment
on each others writing and drawing.
 6. Do the students enjoy drawing and expressing their comments?
 They loved drawing and writing on the large Peace Poster. They wanted their
poster to be colorful and full of words and pictures, they worked hard in
the two days we had dedicated to this project at filling in as much of the
poster as they could.
 7. How many sessions does it require to fill the poster with students'
comments?
 We did it in two sessions of an hour and thirty minutes each. First class
we looked at the website and talked about what peace meant to us personally
before starting to fill in the poster. The second class was dedicated to
finishing things up and completing the poster.
 8. What is the students reaction over all?
 As stated above we animated the process of filling in the poster so at the
end of the training each student got a DVD with a copy of the project on
it. They were very proud of the work they had done and were pleased to
have a copy to remember it by. The finished Peace Poster is now prominently
displayed in the Firehouse's theater and students pass it daily.
 9. What do you think about the Peace Project and the participation with
students?
 I loved this project and would be thrilled to do it again with future classes. It helps to encourage good communication skills as students talk about and share their thoughts and feelings about peace. It promotes self expression through the written word and drawing and it opens the door to the idea of bringing peace into our lives and promoting it in our communities.
 10. Would you like to introduce the Peace Project to other teachers or other groups of people?
 Yes I would, I'm looking forward to the next time I can work it into my curriculum!
 11. What is your advice to improve and spread the Peace Project to more people?
 A web presence would be helpful, posting more videos online where people
can find them.
 12. Does anyone help you to organize the project? If yes please write their
names. Please write your name, address and date.
This training was made possible through the partnership between Arts To
Grow and the Academy street Firehouse.
 -Chelsea Manifold
Harrison NJ   7-24-2012
 Hi Chelsea,
You beat me by a minute; I just sent you an email that you are asking for and your email just came right after that.  I read your response to my Peace Project questionnaire.  You are a very good teacher and a good writer.  People can learn a lot from the content of your response.  Thanks a million for your speedily response.  You are the first person who has explained in detail about how to present my peace project to a group of students.  This is valuable for me and other people who want to utilize my peace project.
 I am glad you showed my Peace Project website to the students and discussed the subject.  I will tell people who want to do my Peace Project to follow your way of teaching.
 Please let me know if you need any more information.
Looking forward to see you next week.
 Take care,
 Ing   (7.24.2012)
Chelsea responded:
 I'm so happy that the answers are useful! It was a great project to offer
the students and I was thrilled to share something so special with them.
The amount of work you put into these posters is enormous, you offer the
students and the organization a one of a kind, lovingly crafted print of
their words and thoughts. And you ask nothing for it, just to share a
message and out of a kindness of spirit. I wish we could have paid you for
what you shared with the students, you gave them such a wonderful gift, in
both the artwork and the message.
 Thank you again.
 -Chelsea(7.24.2012)
 Hi Chelsea,
Thanks for your kind words.  You and others did a lot of good deeds by sacrificing your time to promote my Peace Project.  That action is more than I deserve.  I am happy and have hope for mankind that there are more people who are generous and willing to do more for society as a whole rather than just for themselves.  Thanks to your mother also who cultivated you and your sister to be who you are.
 Take care,
 Ing   (7.24.12)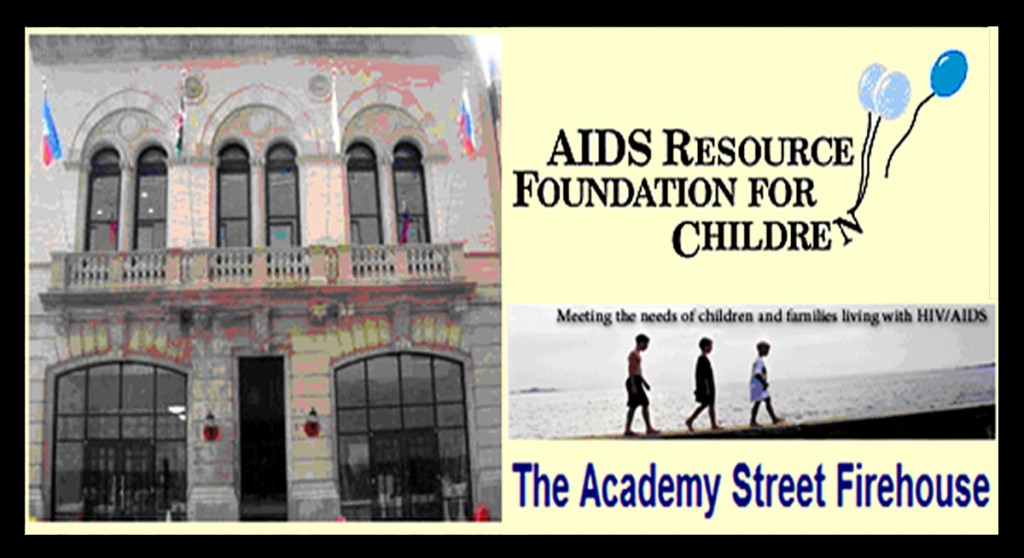 The Academy Street Firehouse
In continuing its mission to serve HIV/AIDS affected youth, ARFC purchased a historic firehouse from the city of Newark and has renovated it to make the Academy Street Firehouse the first single location in New Jersey to address the specific educational, social, and medical needs of children and adolescents who are dealing with the loss of a parent due to AIDS.
Educational and health care programs at the Firehouse enhance the lives of youth participants by aiding them in receiving a high school diploma, preparing them for life after high school (be it in college or the work force), educating them to engage in healthy lifestyles, exposing them to the arts, and providing them with necessary mental health services.
HOUSING AS HEALTHCARE
 
The AIDS Resource Foundation for Children is taking exciting new steps toward addressing the housing shortage in our area, especially for vulnerable families who need supportive care.  In May 2009, the ARFC purchased an additional 9 units of affordable and desirable housing in theNewarkarea which will be supported by our comprehensive services.  The families in ARFC's homes will continue to receive holistic assistance and have access to community resources, as well as medical and mental health services.
 As our organization continues to serve the medically fragile children of NJ and provide help to families impacted by HIV/AIDS, we continue to adapt and address the timely and relevant needs of our communities.  The problem of chronic homelessness, and the fear of becoming homeless, has grown over thea past several years.  When instability in housing is coupled with health concerns and a strict treatment regimen requiring refrigeration and regular meals, the issue of losing one's home becomes truly life-threatening.
The ARFC's housing initiative is working to address those concerns with partners on the State, County, and City levels, as well as private entities who understand the mission and have offered their assistance.  The organization has plans to see over 45 units of affordable housing become available in the coming year, all with support services for the families moving in.  It is our hope that with appropriate housing and assistance, our families will be stronger, more stable, and better equipped for self-sufficiency.  This undertaking would not be possible without the collaborative effort from all stakeholders and community members.
If you want to learn more or would like to join our supporters in making this initiave a success, please contact us at info@aidsresource.org.
Link to 4-H Youth Development RCE of Essex County page:
https://ingpeaceproject.com/1-academy-street-firehouse-youth/2-4-h-youth-development-rce-of-essex-county/