International Street Art Part 20
JR Reproduces Images of More Than 1,000 NYC Residents in Massive New Mural
JR Reproduces Images of More Than 1,000 NYC Residents in Massive New Mural
FEBRUARY 4, 2020  GRACE EBERT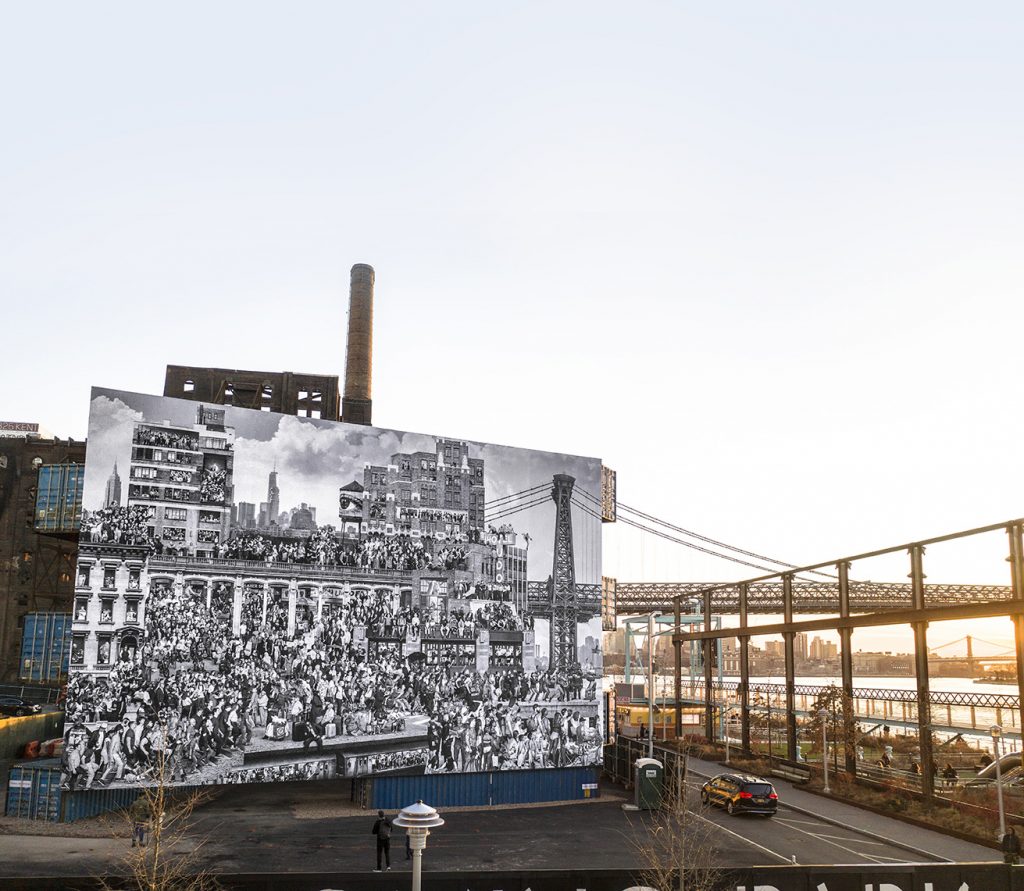 "The Chronicles of New York City" (2020). Photos by Marc Azoulay. All images © JR-ART.net, shared with permission
French artist JR (previously) is back in New York, transforming pockets of the city with his latest work. Installed on stacked shipping containers, "The Chronicles of New York City" is a compilation of images depicting more than 1,000 New York residents, who the artist photographed and reproduced for the large-scale work. Created in Williamsburg's Domino Park, the black-and-white mural is JR's biggest public project to date in the city. It overlooks the East River and features people living in all five boroughs gathered in a public space that mimics the newly built park.
Since opening his exhibition "JR: Chronicles" in October of 2019, the artist has been transforming areas throughout the city, like a space at the Kings Theatre in Flatbush and the Brooklyn Academy of Global Finance in Bedford Stuyvesant. "The Chronicles of New York City" is the centerpiece of the exhibition, which is on view through May 3, 2020, at Brooklyn Museum, and is accompanied by audio recordings of those portrayed in the monochromatic mural. The public installation was a collaboration with architectural firm LOT-EK, which is known for its sustainable design and helped in creating the site.
"Working at the intersections of photography, social engagement, and street art, JR collaborates with communities by taking individual portraits, reproducing them at a monumental scale, and wheat pasting them—sometimes illegally—in nearby public spaces," says a statement about the exhibition.  See where JR's work pops up next by following him on Instagram and peek in his shop to check out what's available for purchase.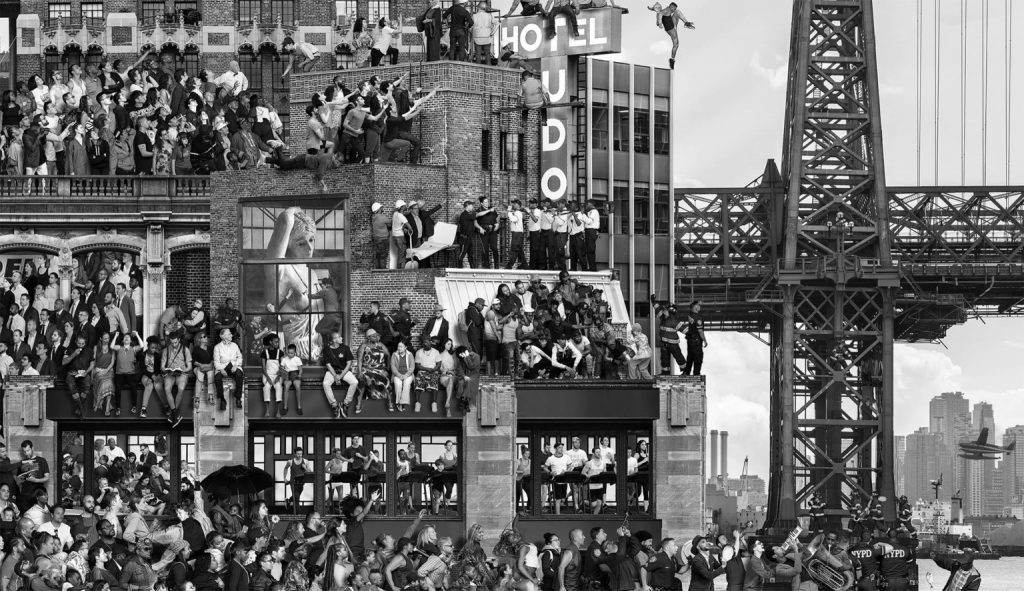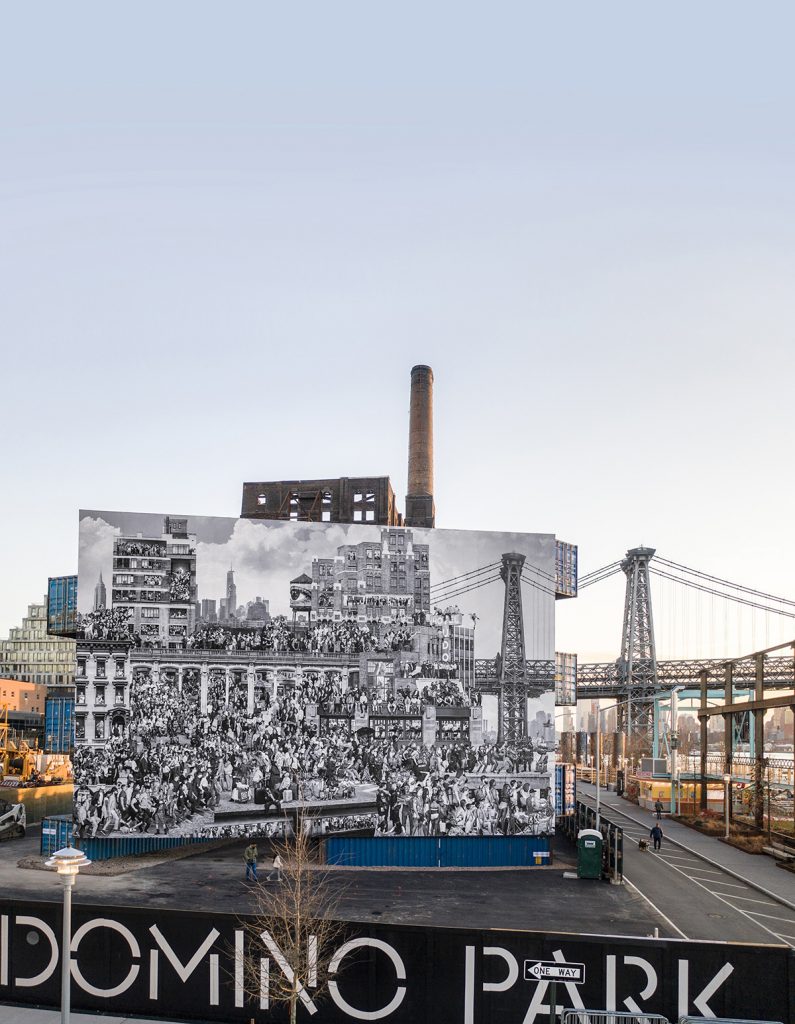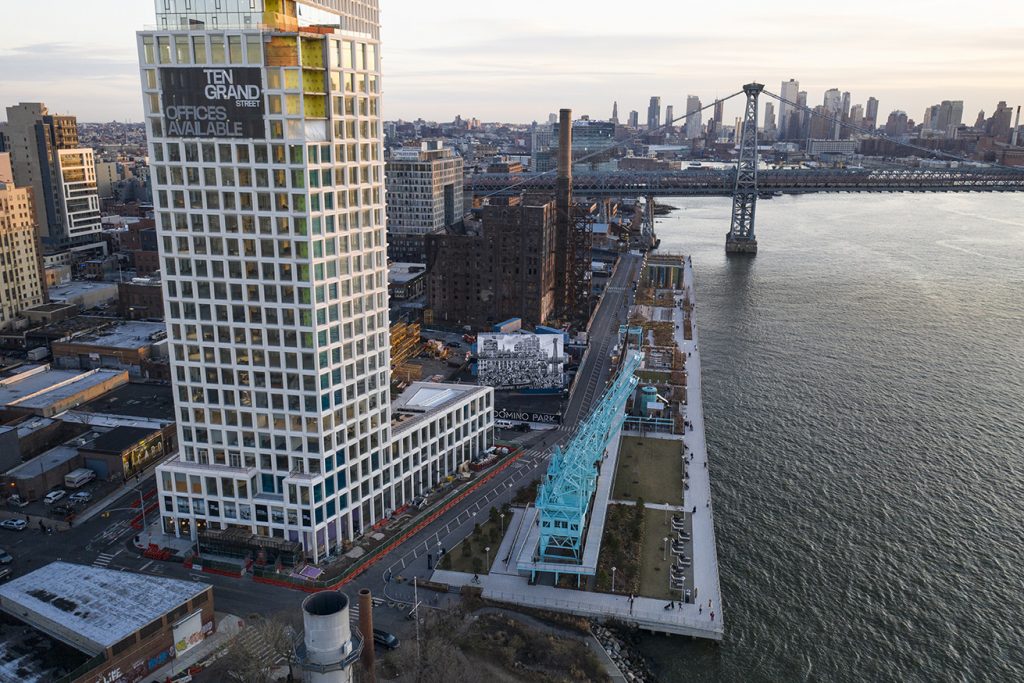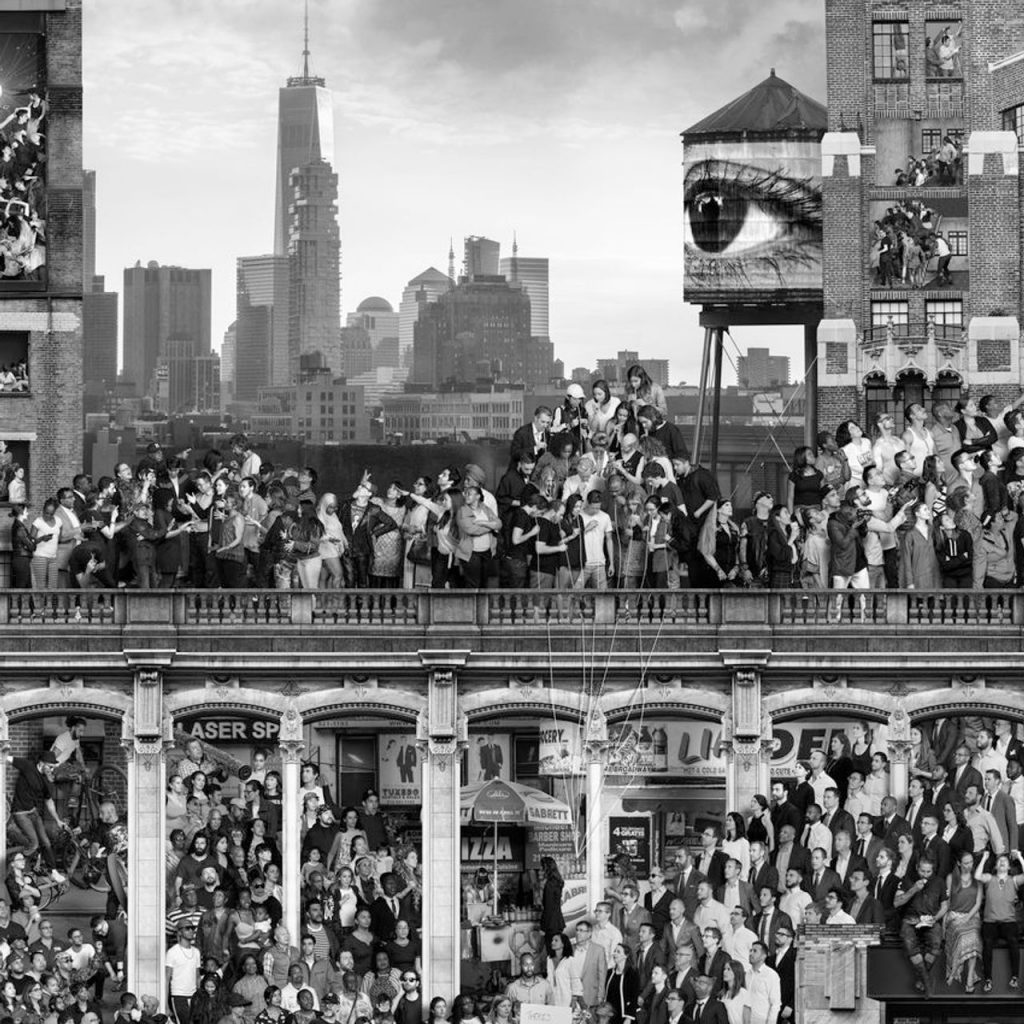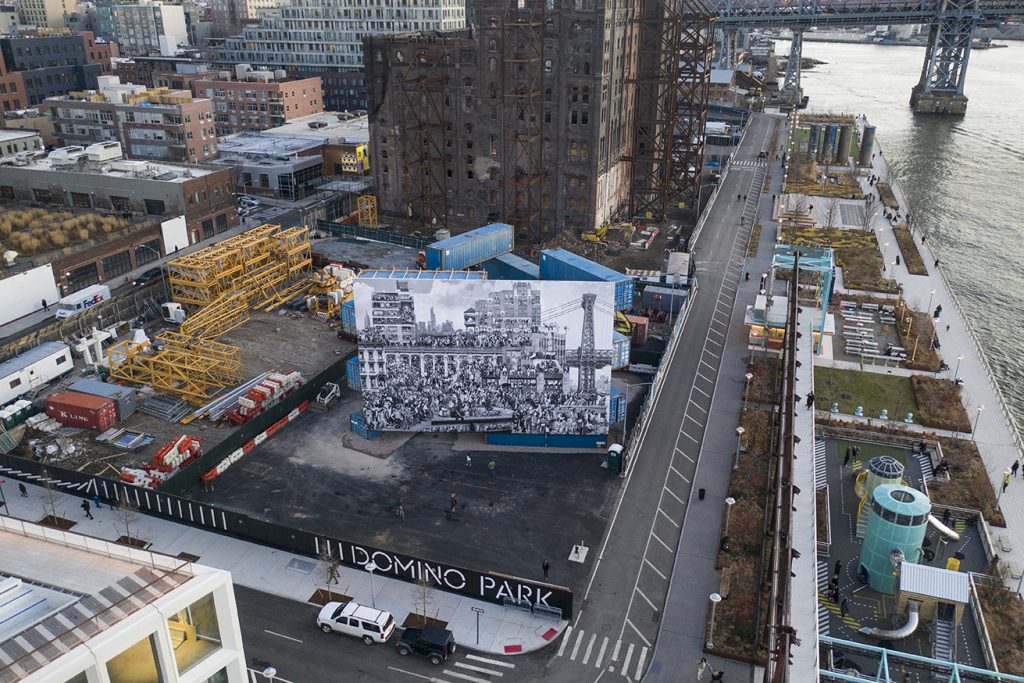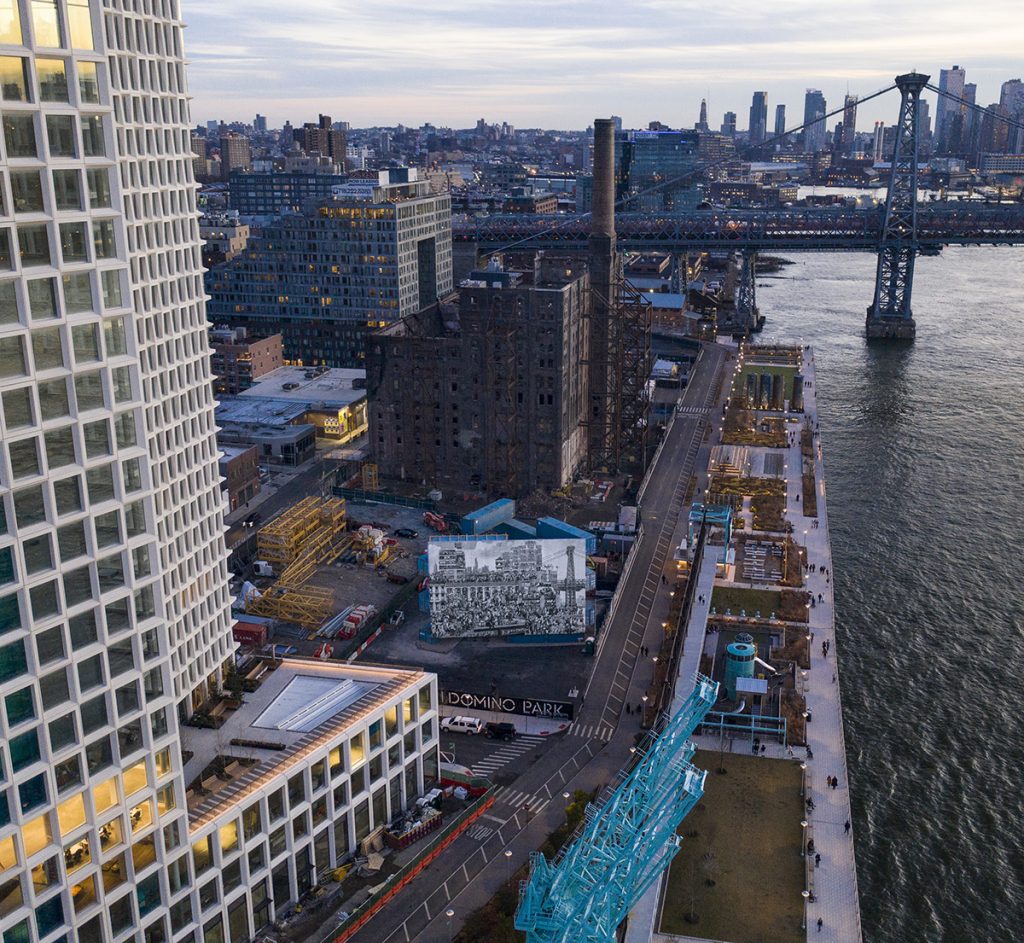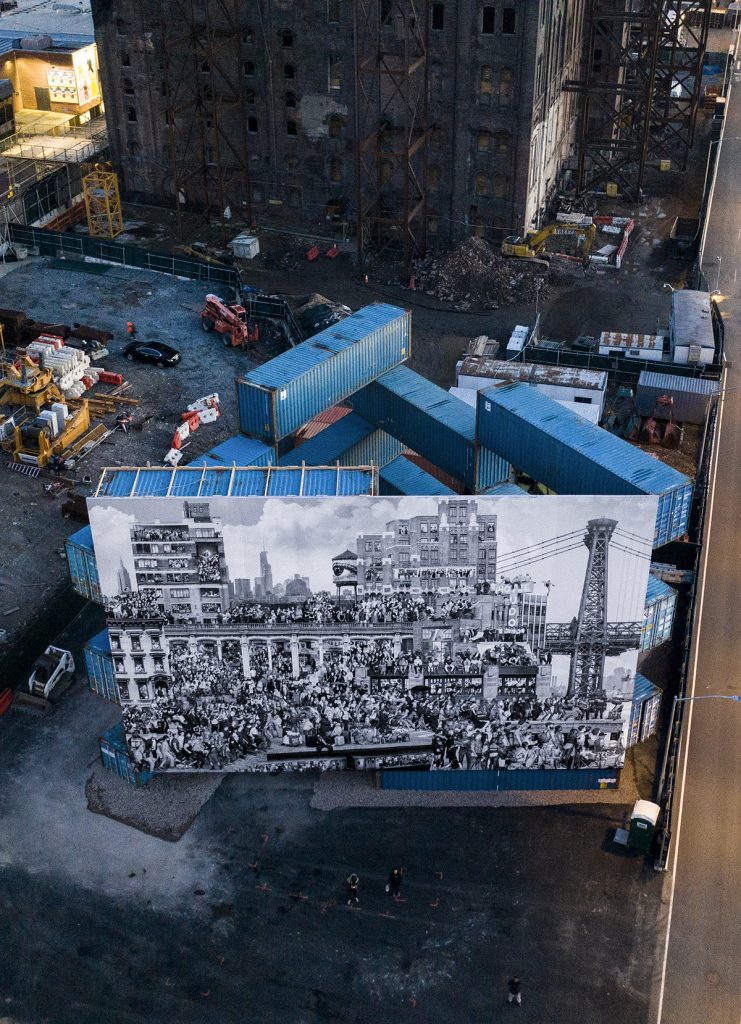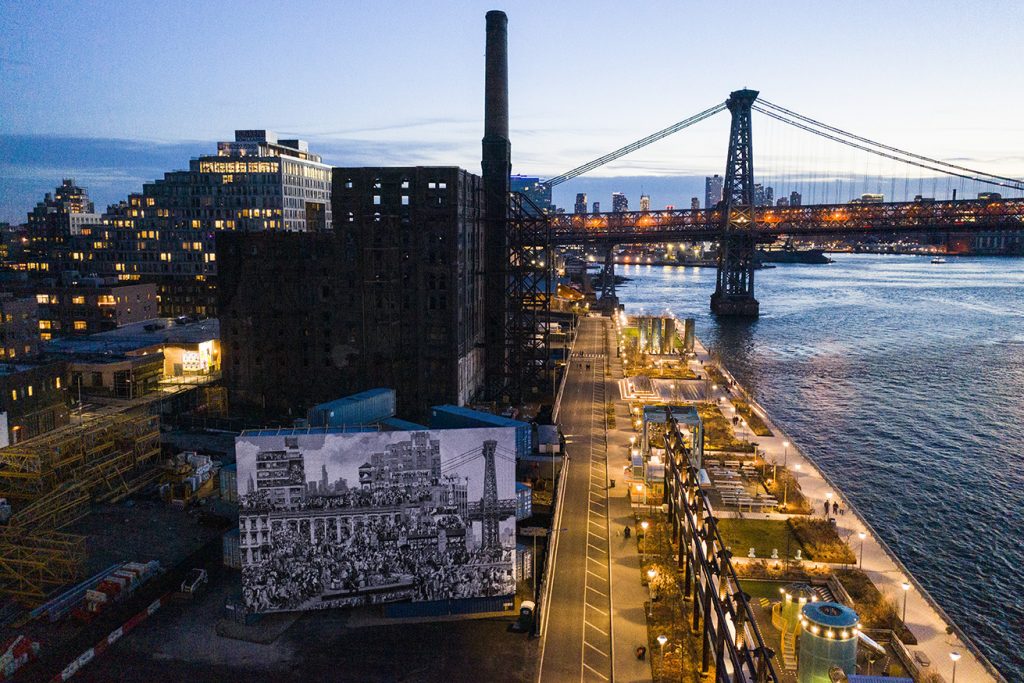 Illustrative Murals in Shades of Grey by Paola Delfín Characterize Human Bonds
 Illustrative Murals in Shades of Grey by Paola Delfín Characterize Human Bonds
JANUARY 29, 2020  GRACE EBERT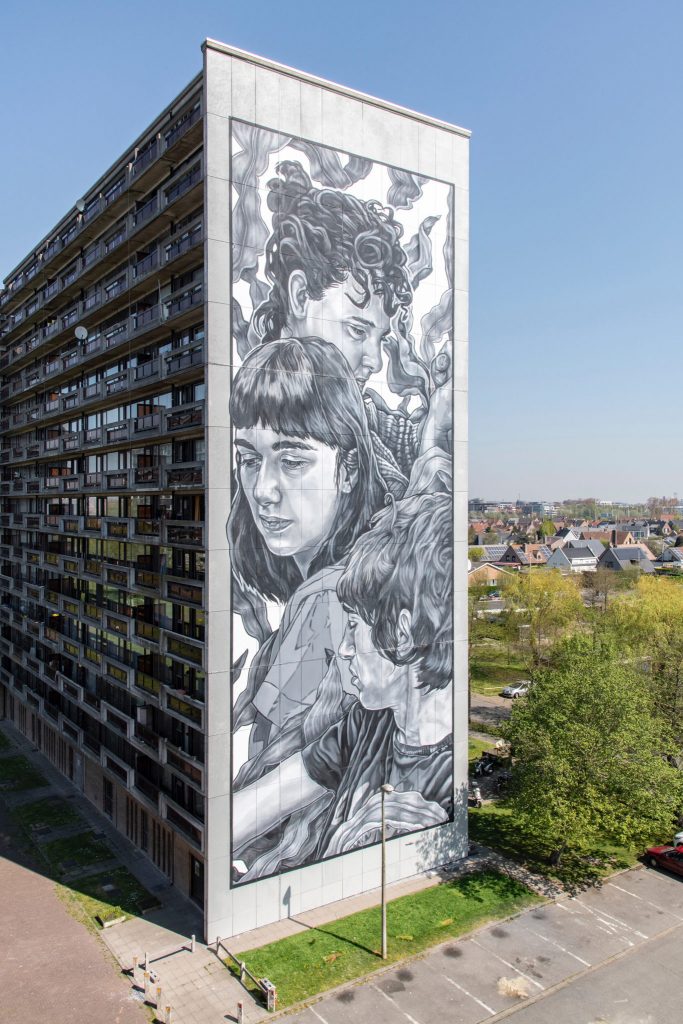 "Èèn" (2019), for The Crystal Ship, Oostende, België. Photo by Arne Deboosere. All images © Paola Delfín, shared with permission
Paola Delfín's monochromatic murals found in Cancun, St. Petersburg, and cities worldwide all share a message of unity and community. The Mexico-based artist often creates impeccably detailed and stylized profile views, which show her subjects looking down or into the distance, joined by plants, grasses, and flowers of the local environment.
Her lifelike works center on ideas of women's strength and their ability to build community, in addition to the ways families are bound together and remember their ancestors?—although Delfín tells Colossal she has a more personal connection to the Cancun mural, which depicts a couple staring forward as they cradle a small boat.
My family, uncle and aunt, are part of (the) pioneers. They moved to this city almost 40 years ago and watched it grow. They started a school. My uncle worked on a ship for many years. Now the younger generations are trying to bring more culture since this city transformed into a tourist paradise, and sometimes we forget this was the place where centuries ago the great Mayan culture (rose).
The artist finds murals challenging because of her desire to "leave something meaningful" for those who pass by her work. Before she begins creating in any location, she studies the history and culture of the neighborhood she's working in and talks to its residents to learn their stories. For "Familia/Suku," the artist spoke with Tampere residents to understand how immigrants and natives across generations form a community in the Finnish city. In the horizontal piece, Suham, an Iranian expat, leans toward elderly Maya, who has lived in the country for 50 years, while Suham's daughter Sofia stands in front of them.
Head to Delfín's Instagram for more of her large- and small-scale projects, and check out Street Prints to see her work in progress.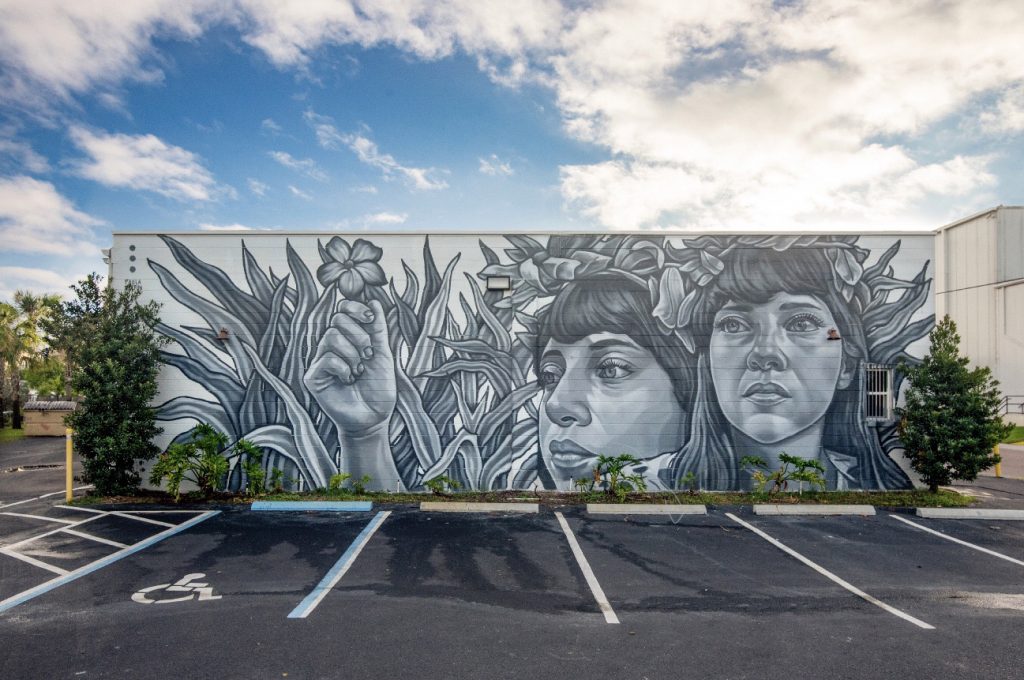 "La emperatriz" for Shine Festival in St. Petersburg, Florida. Photo by Michelle Tannu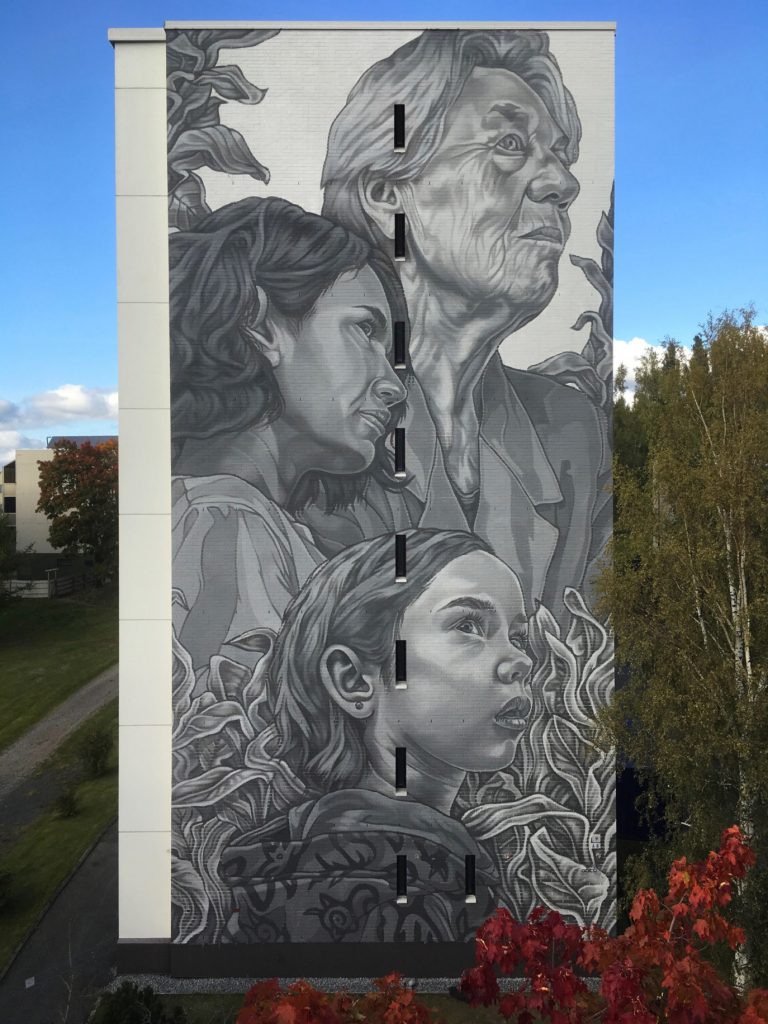 "Familia/Suku" (2019), for Upeart Festival, Tampere, Finland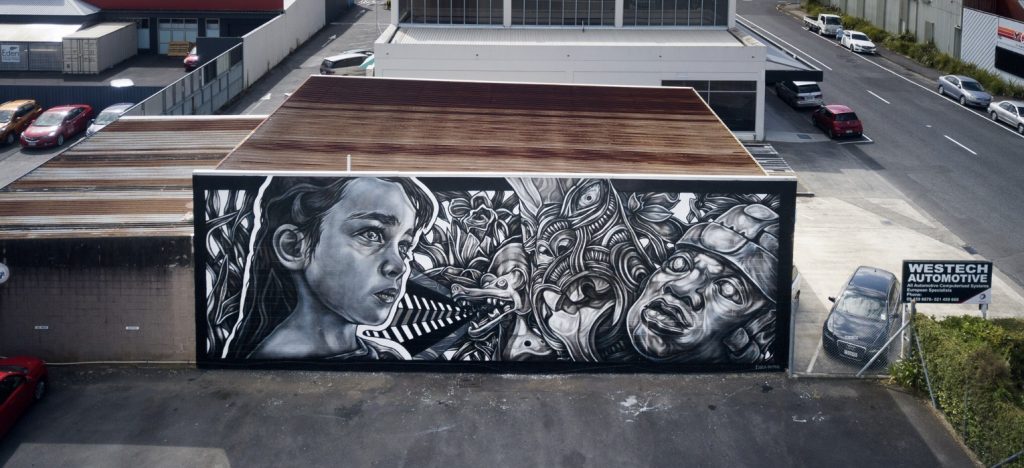 "Kotahi/Uno," Whangarei , New Zealand. Photo by Street Prints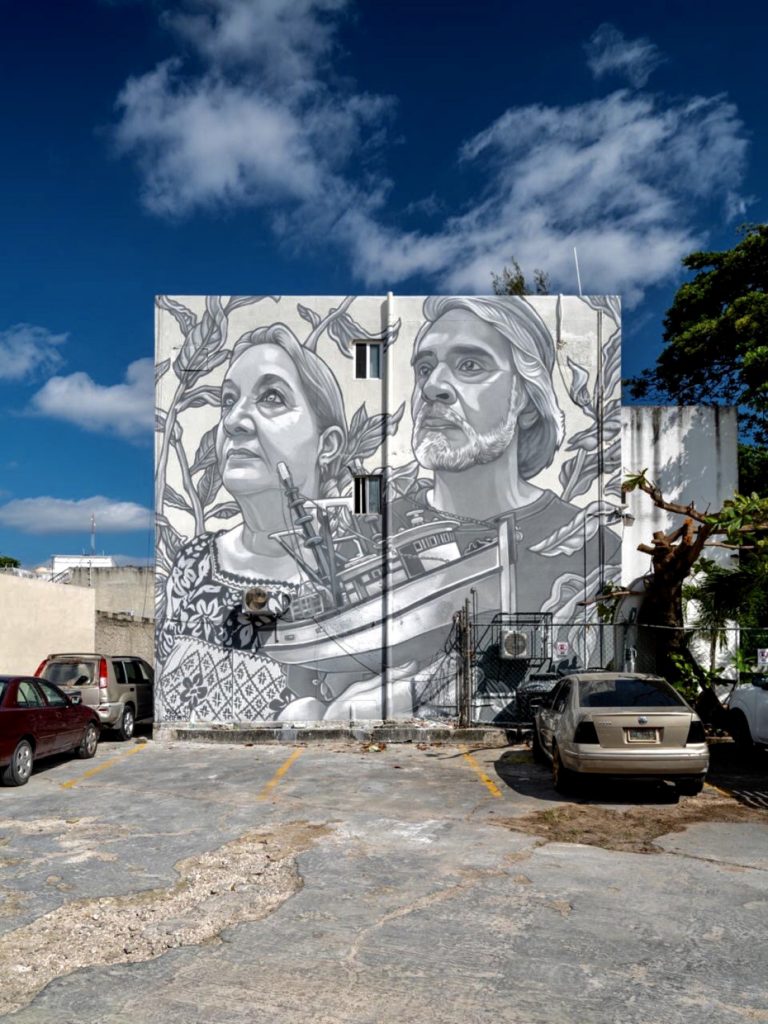 2019, for Proyecto Panorama, Cancun, Mexico. Photo by Gino Caballero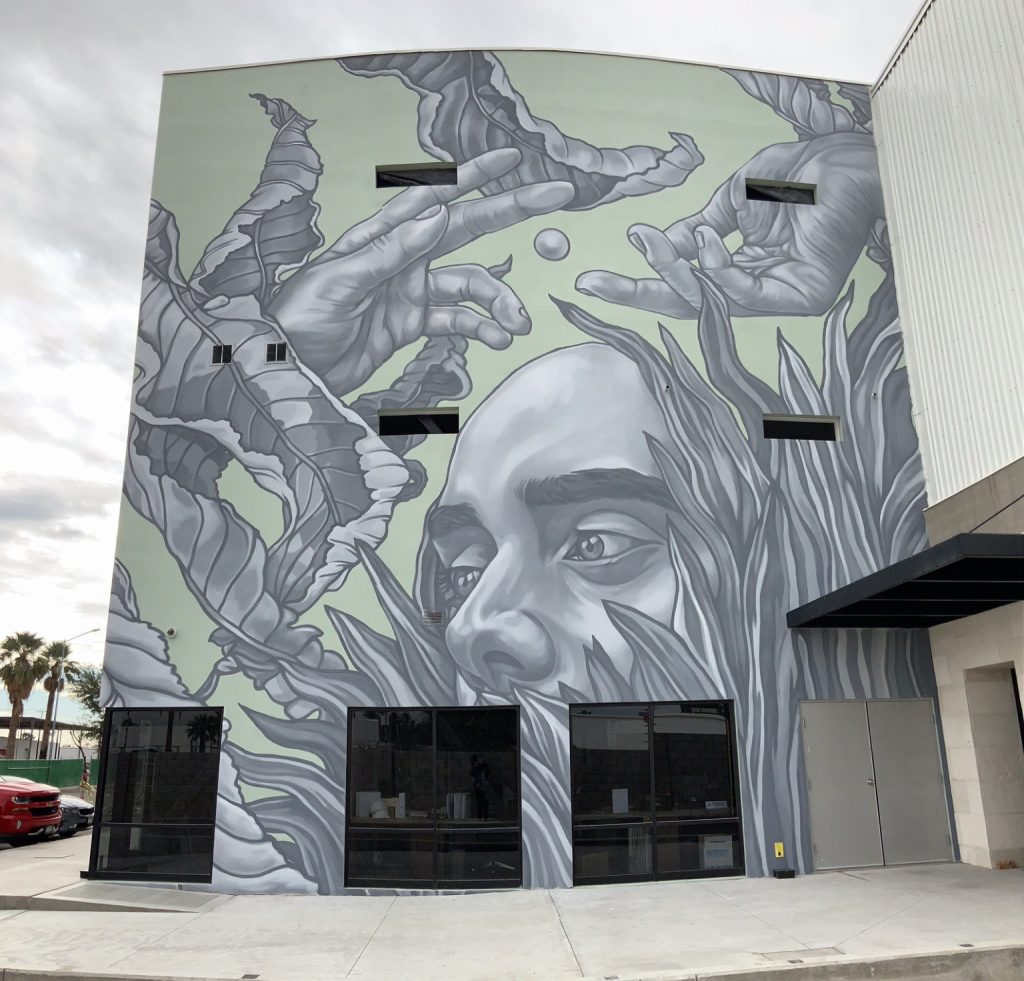 2019, Mexicalli, Mexico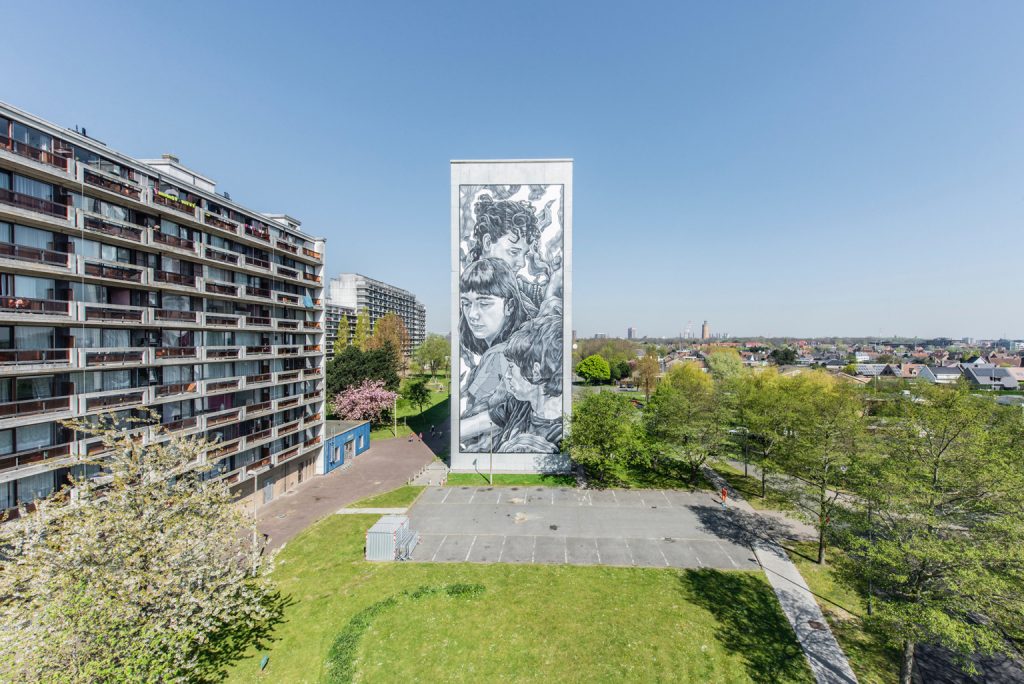 "Èèn" (2019), for The Crystal Ship, Oostende, België. Photo by Arne Deboosere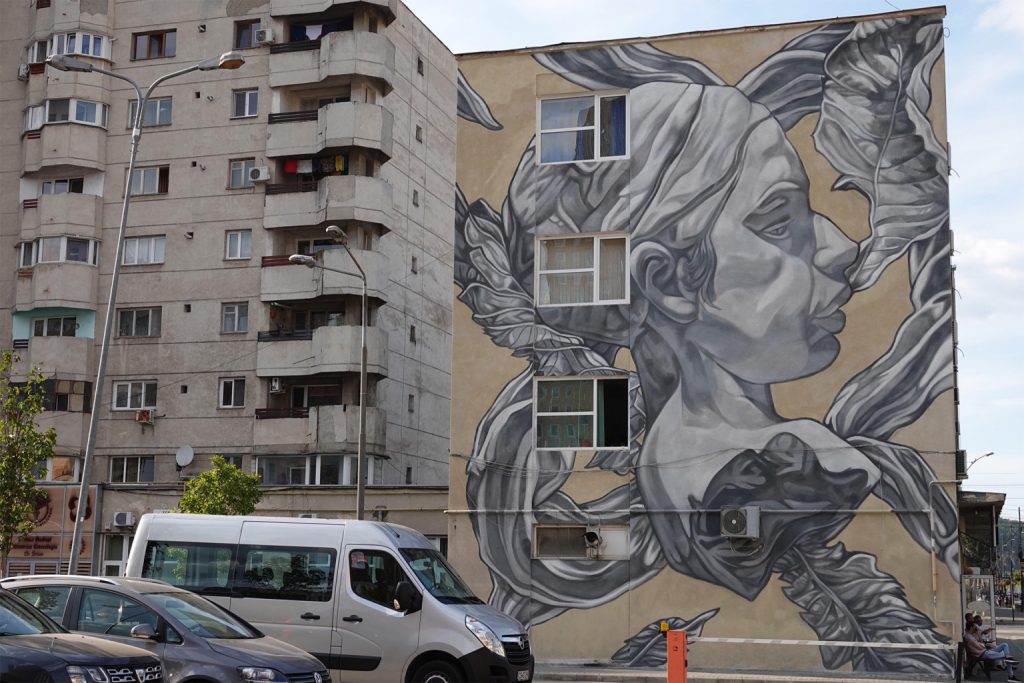 (2019), Resita, Romania. Photo by Sergio Morariu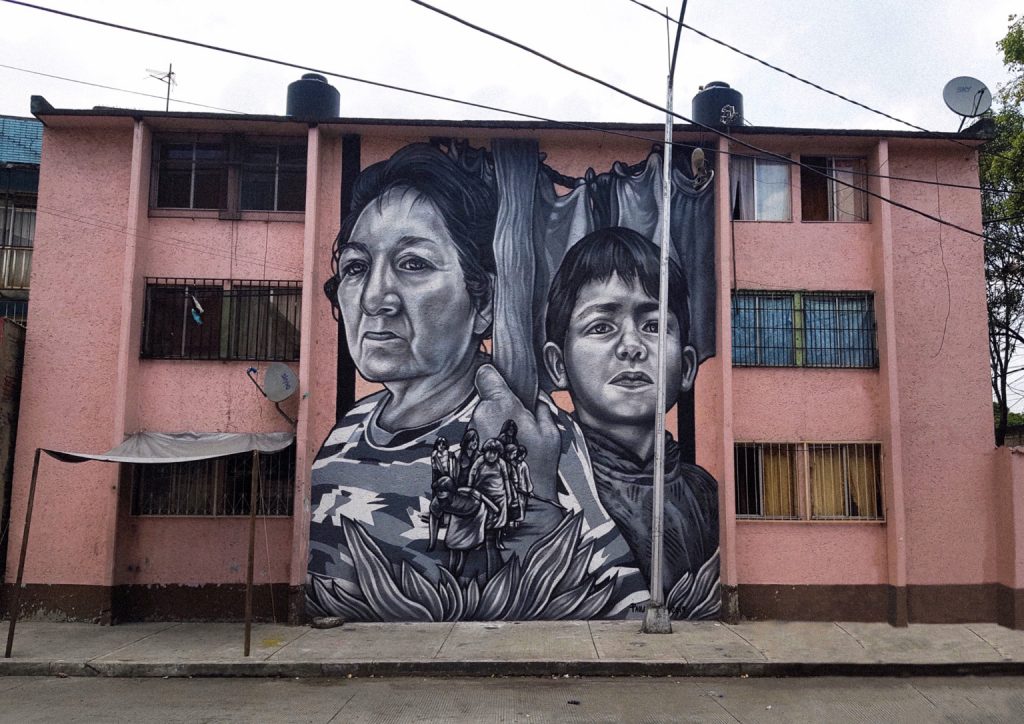 "Juntos" (2019), Paulino Navarro, Mexico City. Photo by Edgar Olguin
 Art Floating Worlds Drift By in Murals by Cinta Vidal
JANUARY 16, 2020  GRACE EBERT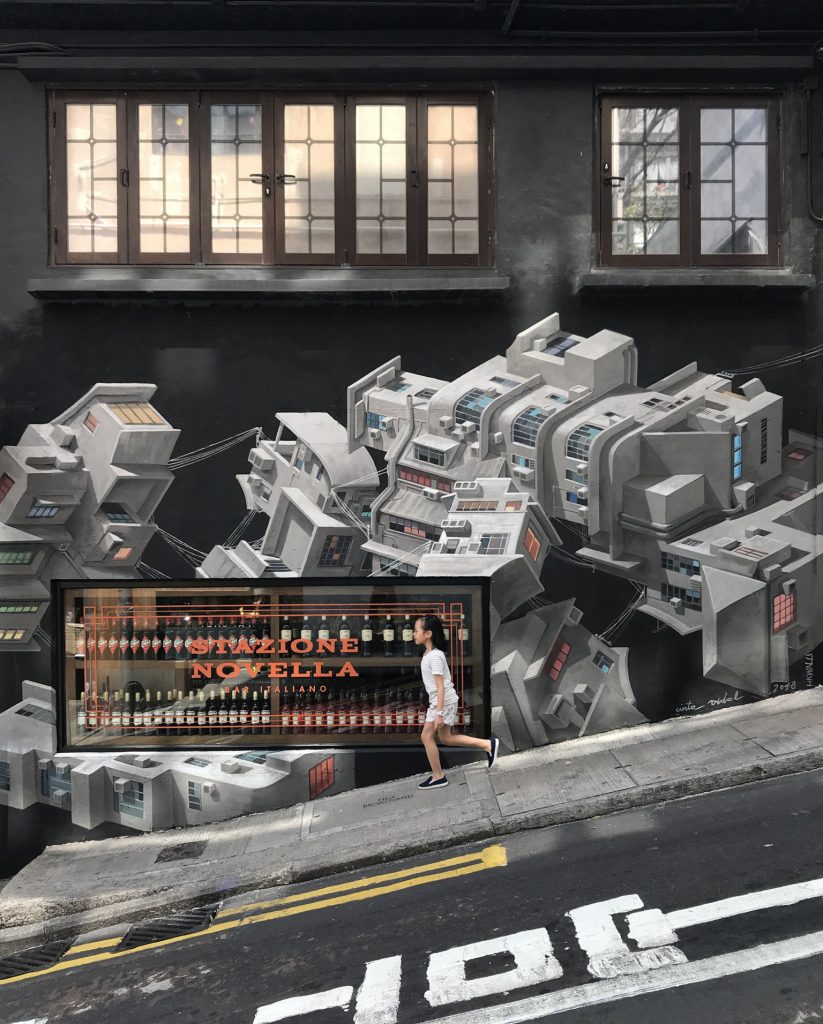 In Hong Kong. All images © Cinta Vidal, shared with permission
For Cinta Vidal, everything depends on how you look at it. The Barcelona-based artist is known for her gravity-defying projects that manipulate architecture and household objects to create inverted environments dissimilar to daily life. Like her smaller-scale inverted works, Vidal's murals are concerned with human subjectivity and feature both peculiarly arranged architecture and objects like books, chairs, and even a canoe floating through the air. They cover walls throughout Los Angeles, Hong Kong, and Barcelona, among other cities around the world.
Whether it be a young girl seated on an oversized globe or a man peering over a balcony that's tipped at a 90-degree angle, the works consider how perspectives are informed by a subject's position.
Everyone has their own view on the world, and my work is my way of expressing this idea: it's impossible to view something from every perspective at the same time. There's always a choice, a perception. In my work there also lies a desire to take things out of context, releasing them into the air and, by doing so, giving them new value.
The artist tells Colossal that once she chooses a location to paint a mural, she studies the areas nearby. Vidal intends each project to become part of the existing environment, often prompting her utilize the color already on the building's surface as her background. "Paint(ing) a mural is about interact(ing) with the wall and everything that surrounds it," she writes. To get the latest on the artist's creations, follow her on Instagram.
International University Barcelona.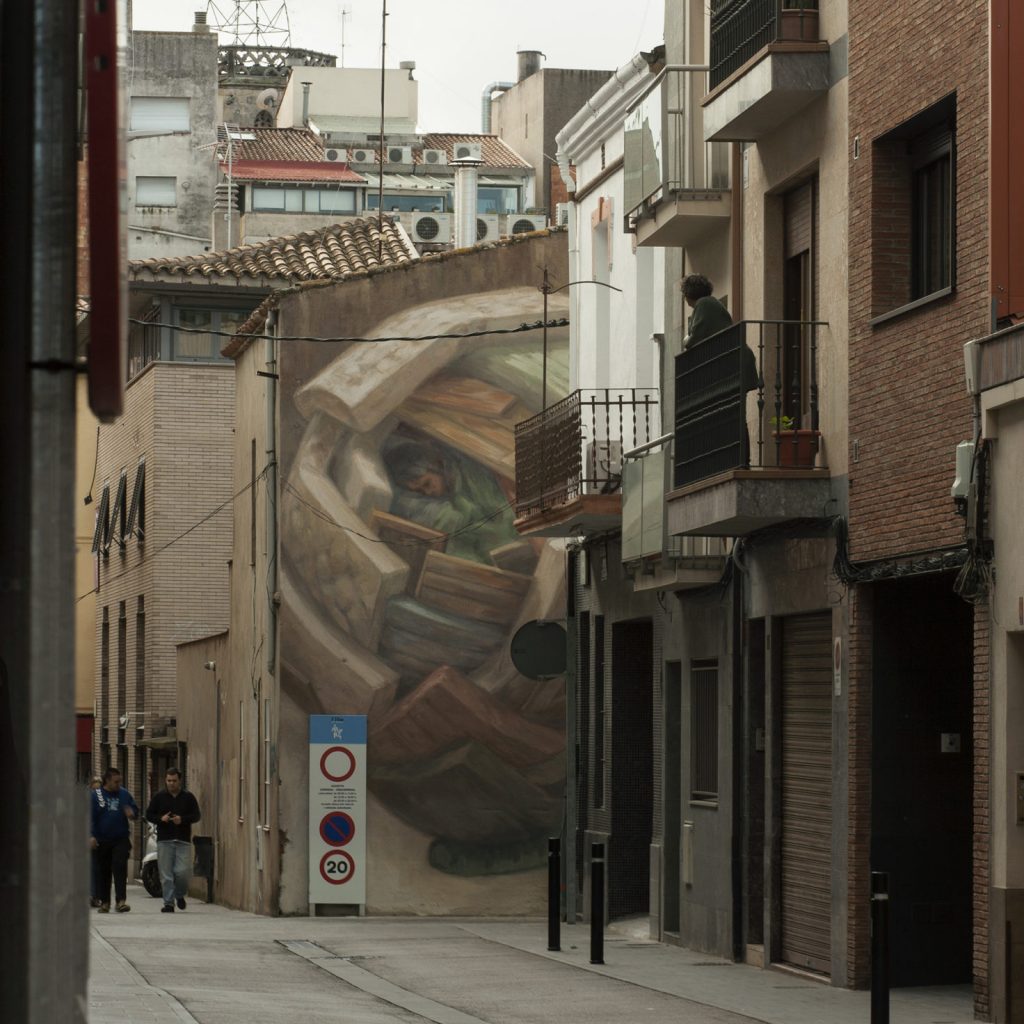 "Refuge"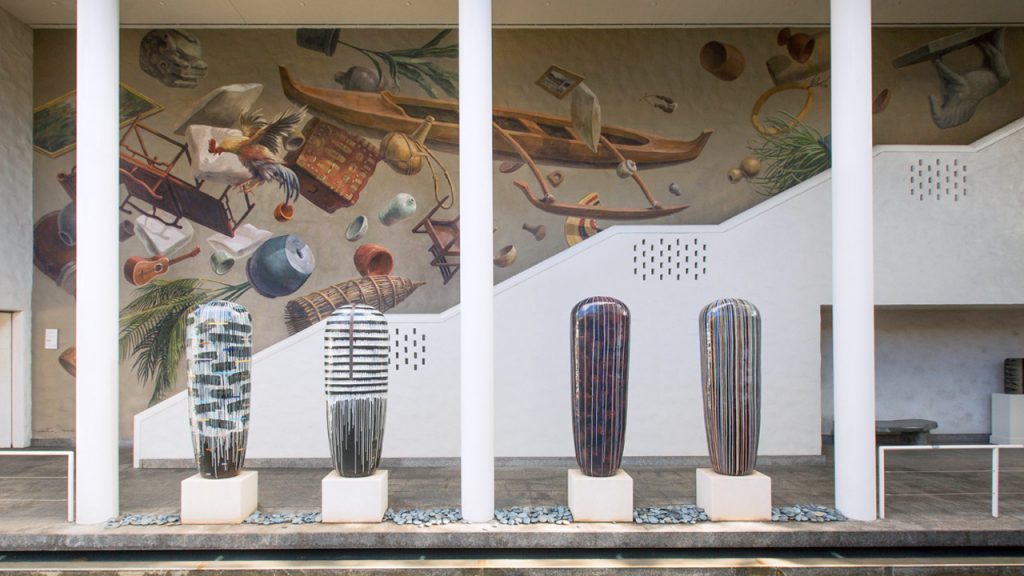 At the Honolulu Museum of Art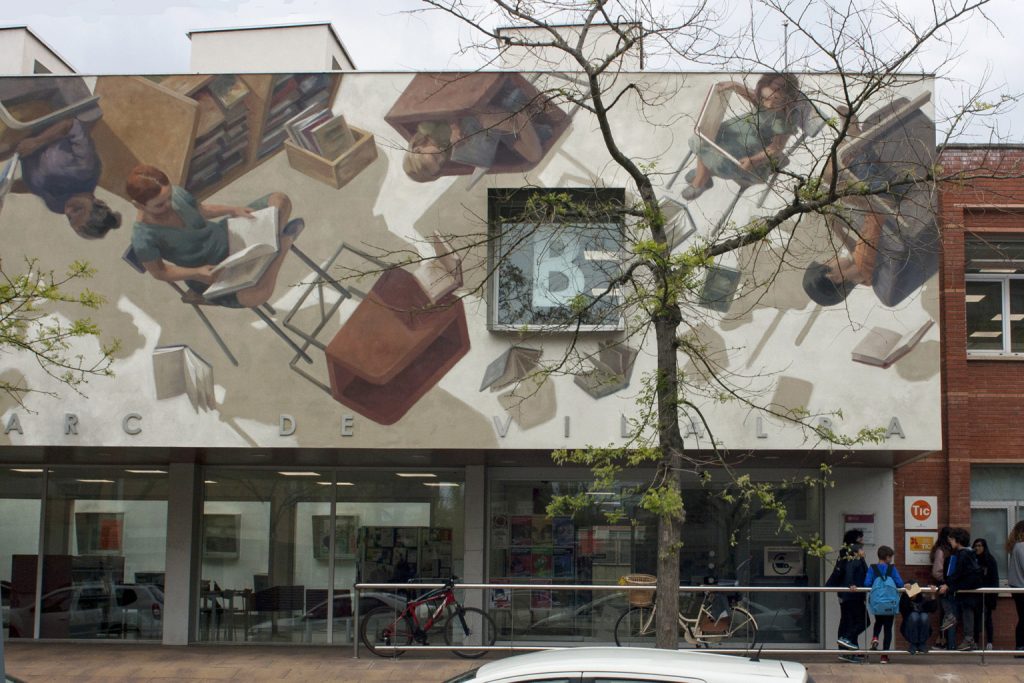 At a public library in Cardedeu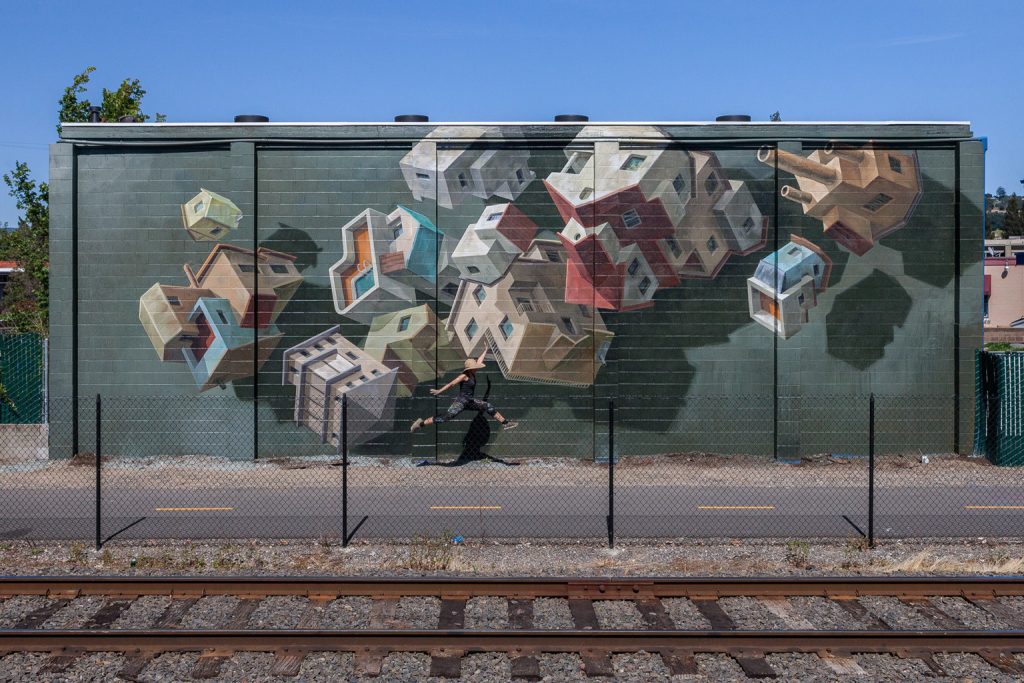 "Floating Napa" in Napa Valley, California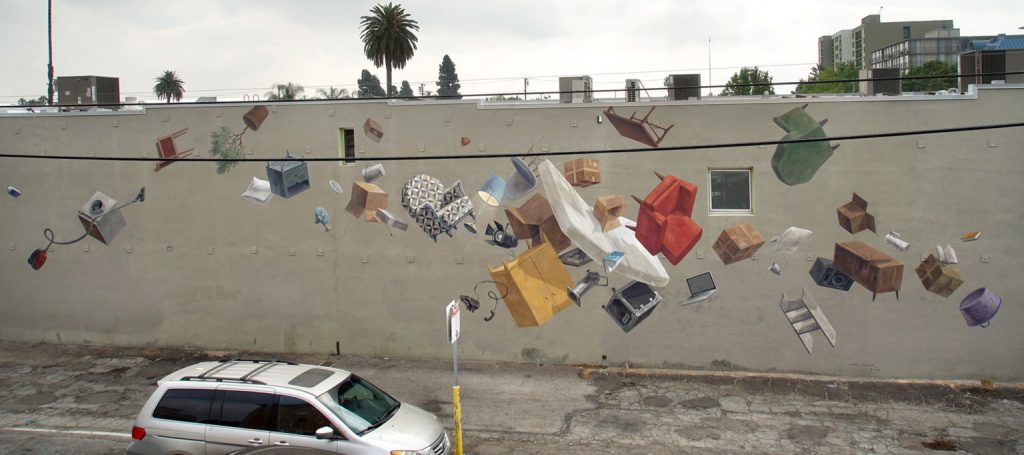 In Calgary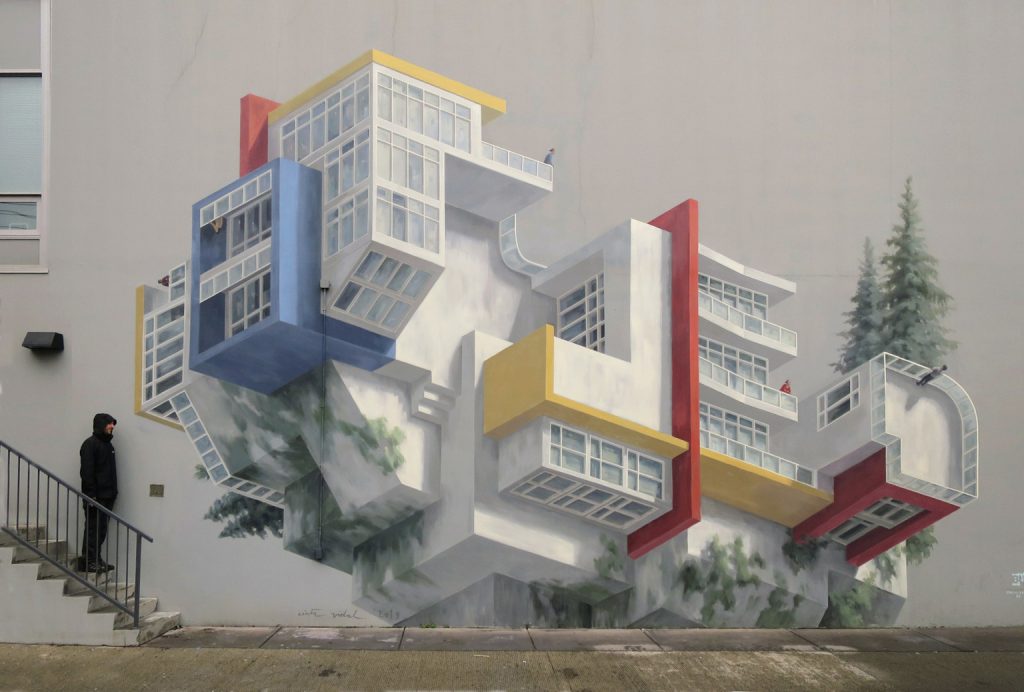 "Backstage" in Long Beach
"Viewpoints" for Thinkspace in Los Angeles
https://www.thisiscolossal.com/2013/08/caltagirone-light-and-flowers/
A Historic Staircase in Caltagirone, Sicily Used as a Backdrop for Light and Flower Festivals
AUGUST 12, 2013  CHRISTOPHER JOBSON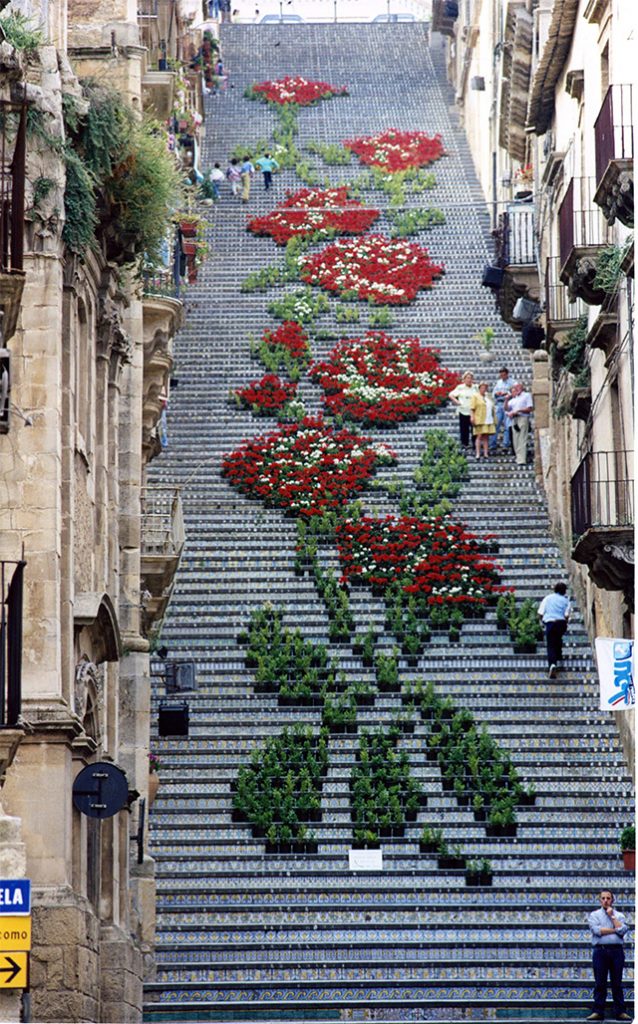 Photo by Andrea Annaloro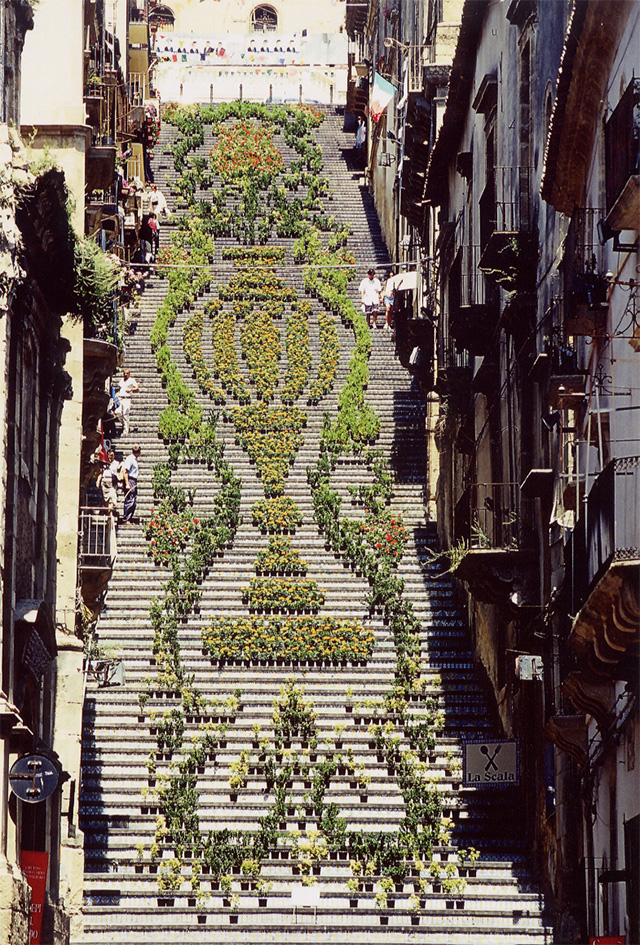 Photo by Andrea Annaloro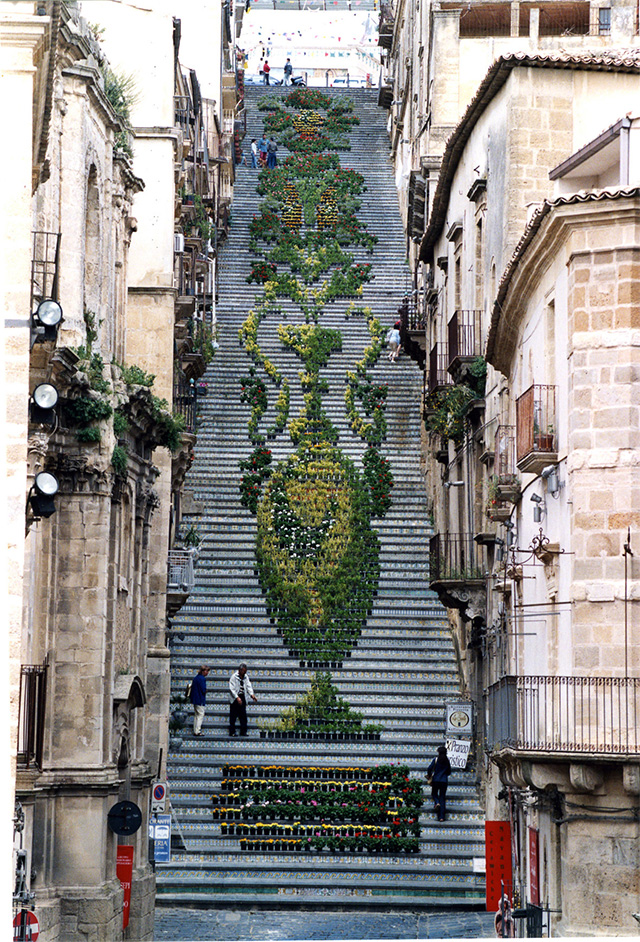 Photo by Andrea Annaloro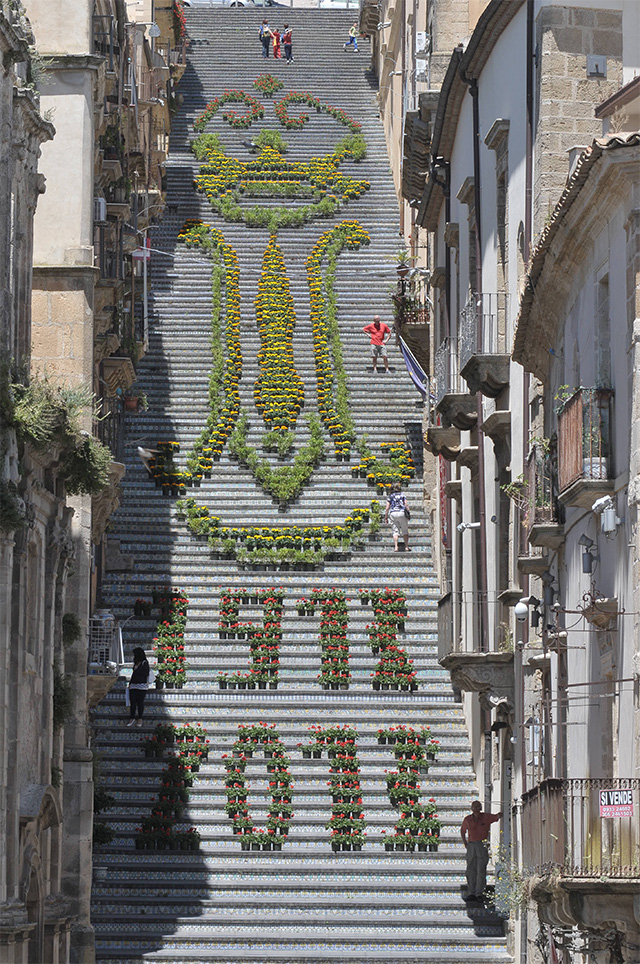 Photo by Andrea Annaloro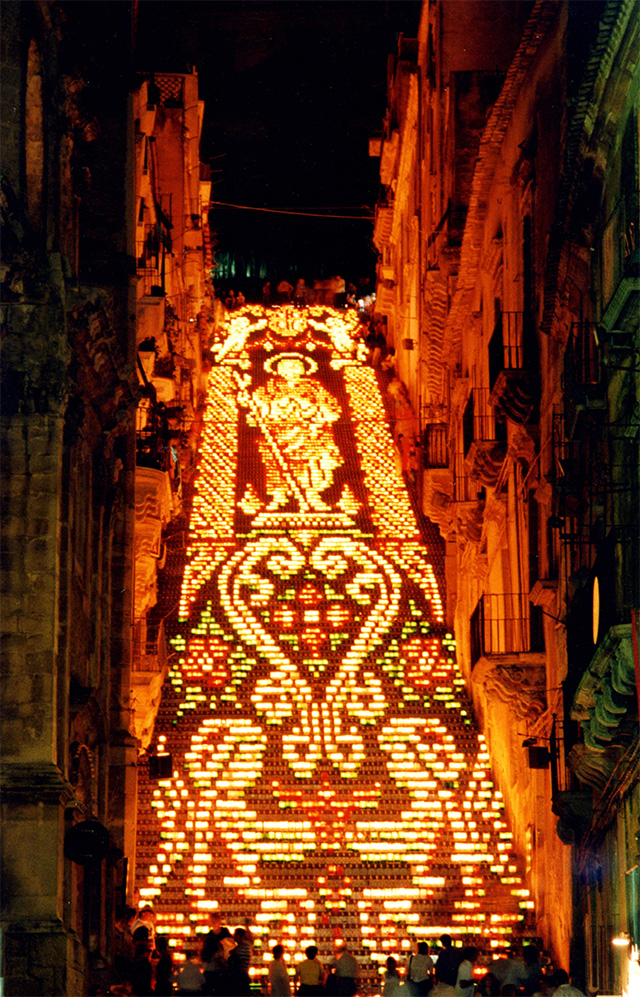 Photo by Andrea Annaloro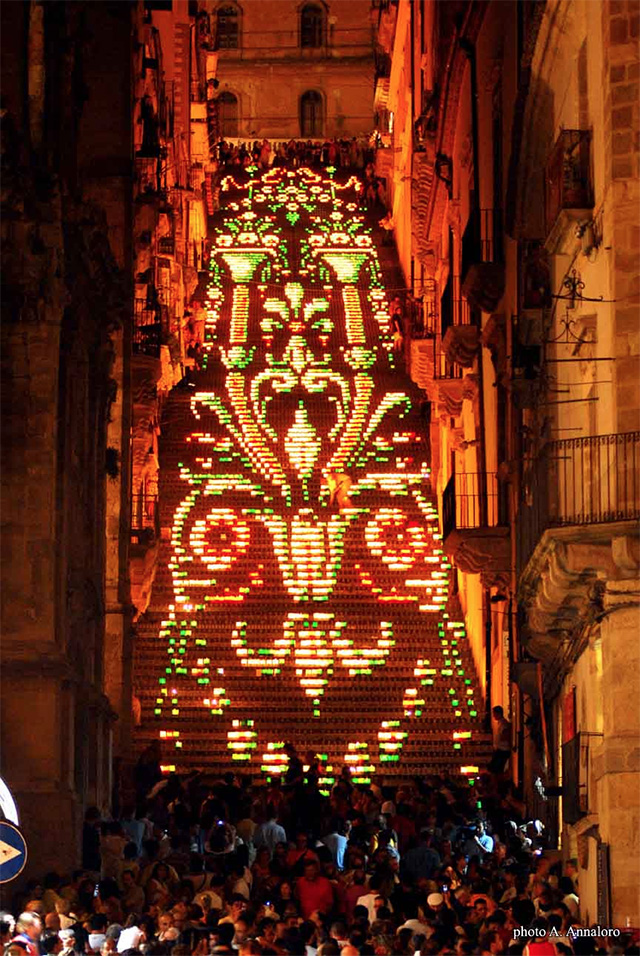 Photo by Andrea Annaloro
Built in 1608, the Staircase of Santa Maria del Monte is a 142-step staircase in Caltagirone, Sicily made from thousands of ceramic tiles, one design per step, as a fitting tribute to a city known for its design and production of ceramics and terra-cotta sculptures. For centuries the stairs have been used as a backdrop for various festivals for which images of patron saints and other local themes are illustrated using thousands of flowers or candles. You can learn more about the La Scala Flower Festival over on My Modern Met, or the light festival called the Scala Illuminata. Photos by Andrea Annaloro. (via My Modern Met)
Link to Ing & John's Street Art & The International Street Art Part 21:
Ing & John's Street Art & The International Street Art Part 21