Ing's Peace Project 
Comments on 
What does Peace means to you? 
By Newark Tech and Bloomfield Tech Students 
Fall 2013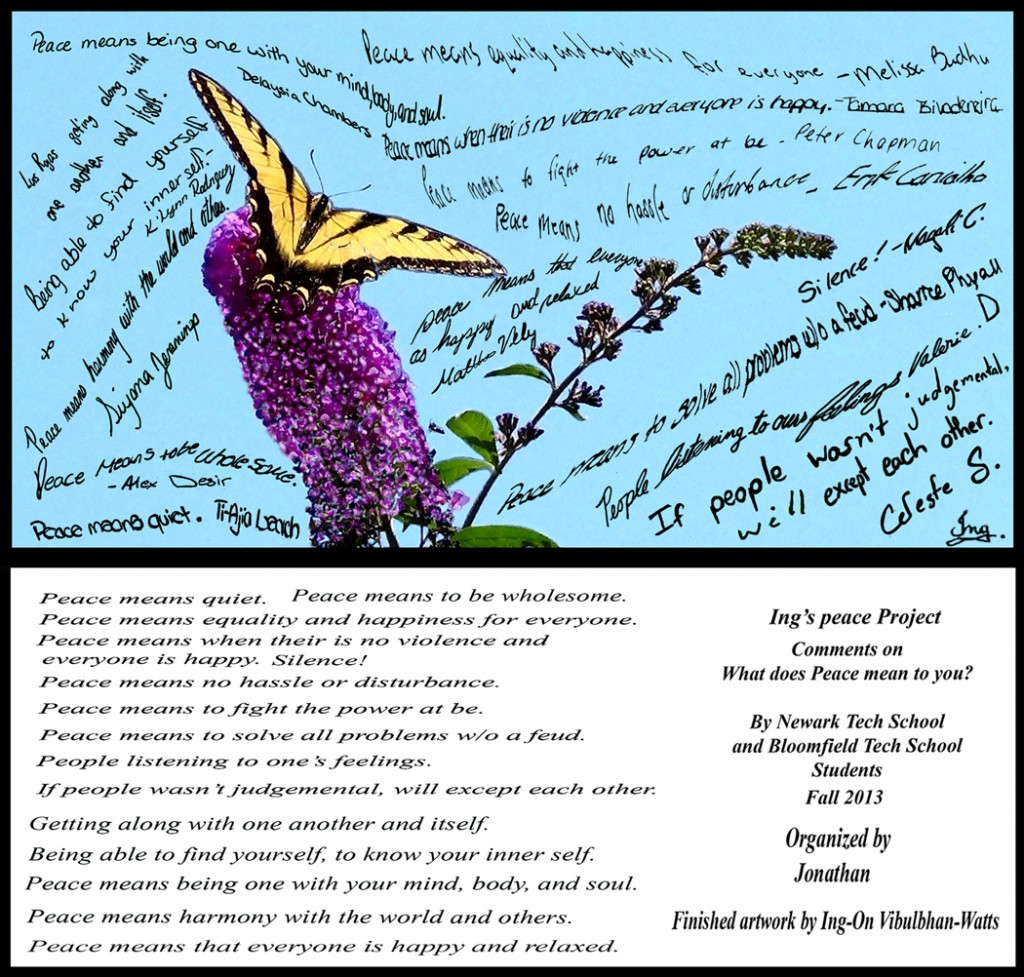 Peace is as Free as Butterflies and Bees
Words of peace float in the air
Flying about the butterflies and bees
Helping to block trouble and sad news
That comes from the air
Listening to Newark, and Bloomfield Tech Students
Express what Peace means to them
 These words are real
Expressed from their Hearts
Peace means:
 Love, Unity and Cooperation
Positive actions and attitudes
Happiness, living Tranquil
Harmony and Balance, Nice
Serenity, Calmness, to be Peaceful
To be free and kind to everybody
Freedom, feel Free, no Worry
Enjoy the goodness things in Life
To be happy and relax
You happy with their life and everyone in it
To feel comfortable with everyone around you
Equality and live of harmony internally and externally
To be comfortable in your own skin, being you and nobody else
You know who you are and are okay with it,
When you have peace you are okay with yourself and others
Get along with one another and itself
Being able to find yourself, to know your inner self
Equality, Happiness, Tranquility, to be happy and don't fight
No violence, loving each and every person
No war or fighting
Peace is love without war
No fighting nor hate nothing but love
Respecting and to act in a civilized manner
No one is fighting everything is calm and put together
Togetherness all as one, one for all
No violence (Guns, knives and etc.)
Peace comes from love with yourself and others
Peace is everything that calm you, that keep your heart warm
Peace is Life
Peace is absence of war and hate
Harmony with the world and others
Equality between people
To have a world without war
There are many more comments
Learning and listening from others
Is what we should do
Understanding other's feelings
In our hearts and our minds
Together we will survive
Let us tell each other how we feel
No guessing
 No doubts or fears
Free as Butterflies and Bees
That is what a peaceful society should be 
Ing-On Vibulbhan-Watts, Friday, December 13, 2013, 6:07 pm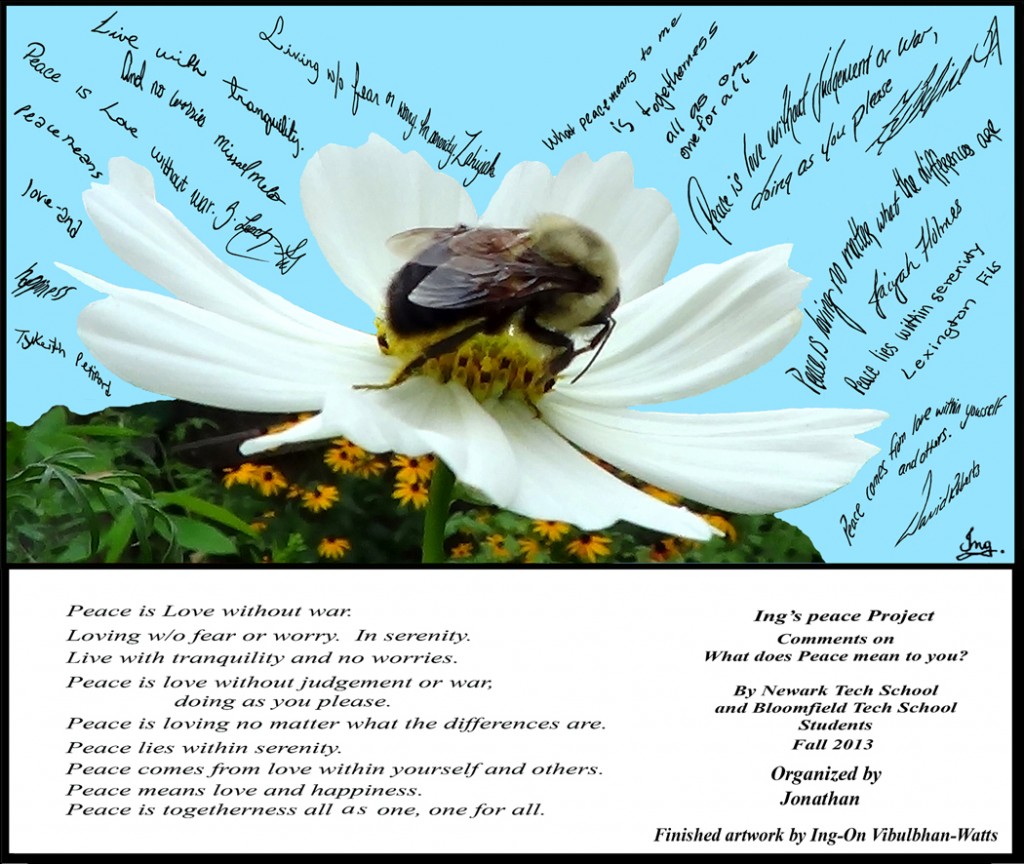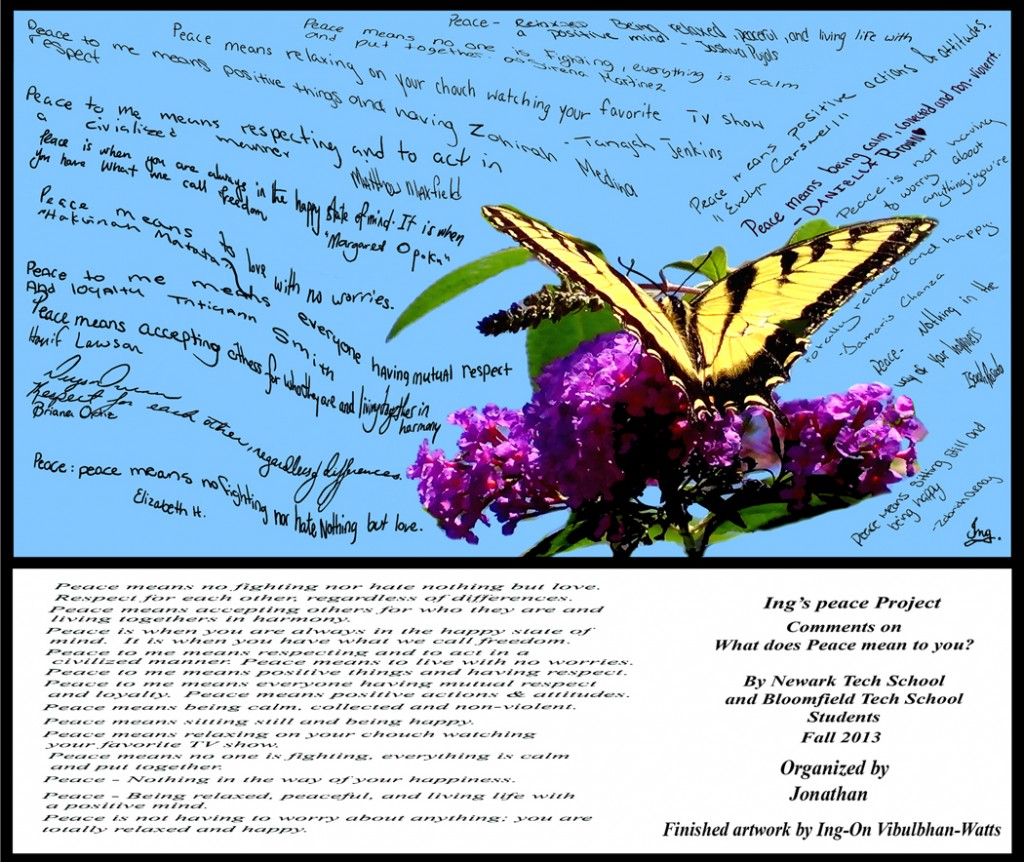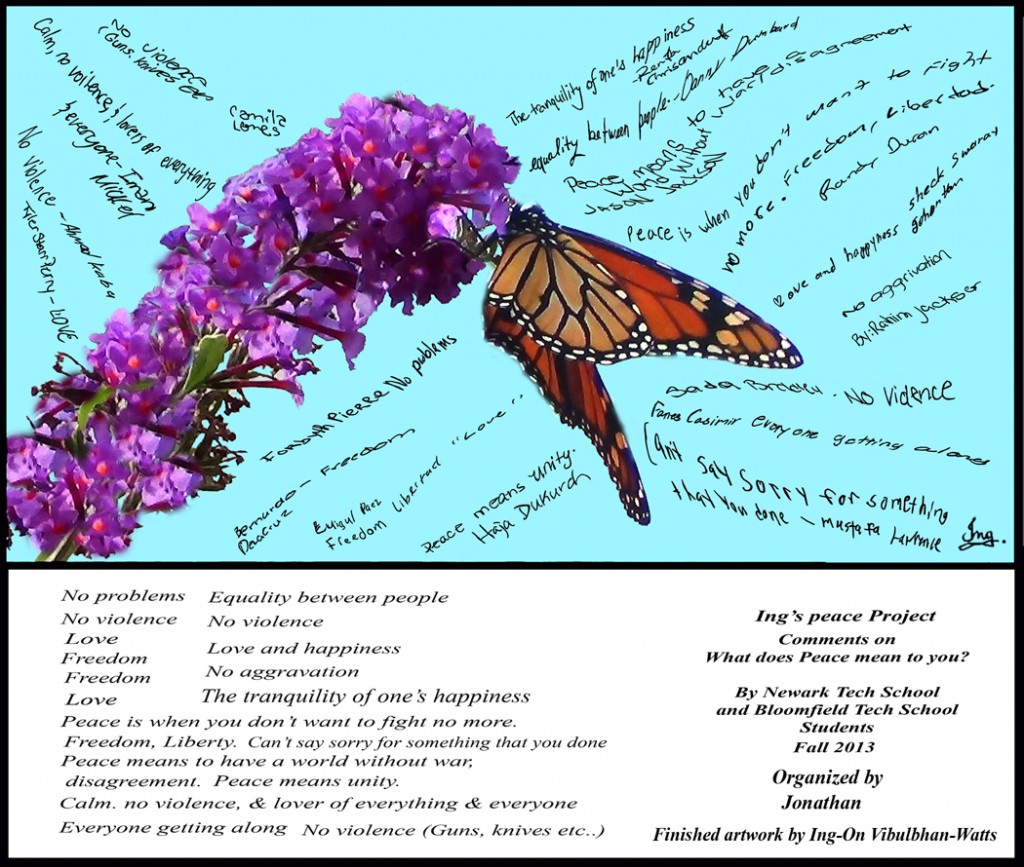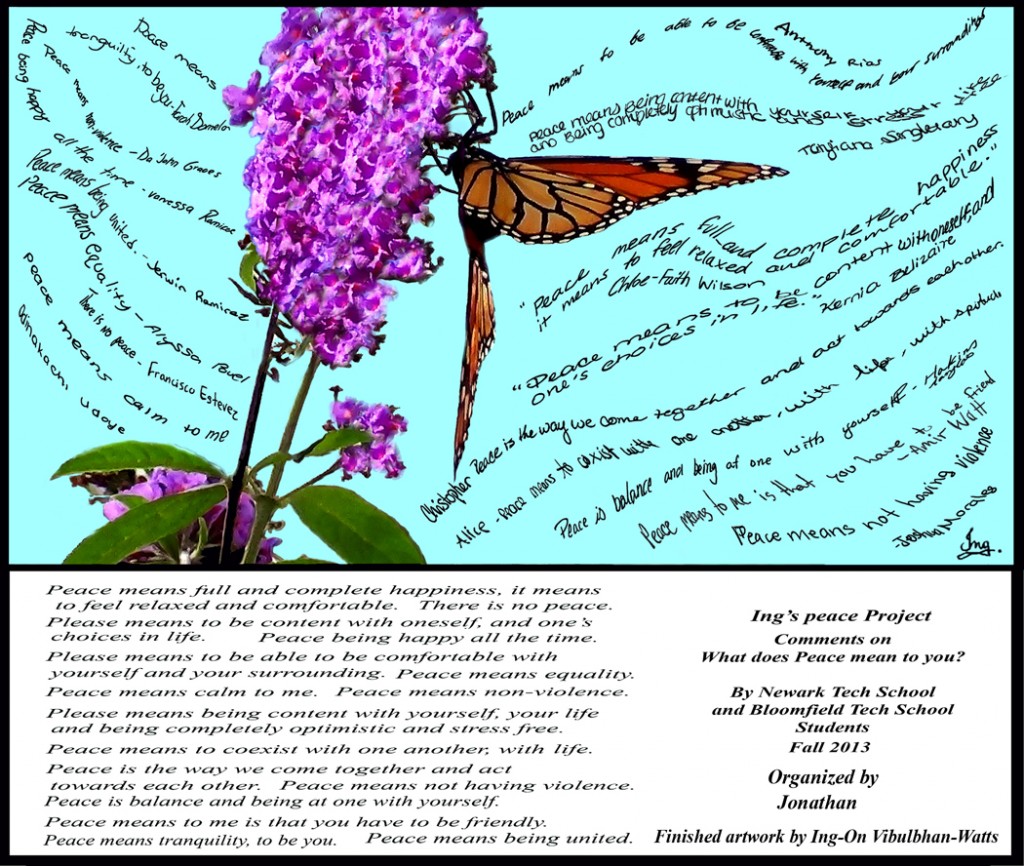 Cultivated Peace
One Bloomfield Tech Student expresses his thought
There is no Peace
Sadness is in my heart hearing his belief
If I could tell my child about peace
Walking on empty land
With no plants and no trees
Lucky me, finding some seeds in my pocket
Let us make some holes
And put some seeds in the soil
Water them everyday when we pass by
Surprisingly, two green leaves peek out of the soil
Walk carefully not to step on the baby tree
Let's pour more water and some plant food
Put some fence for protection
From animals eating the baby plants
Time passes by with love and care
The plant grows tall with beautiful crested flowers
And fragrant aroma the air
Oh my, the plant is taller than me
Look! The bees are drinking the nectar
One wonderful day I see a beautiful swallowtail butterfly
Drinking nectar from the flowers
Gladly we spent time to grow the trees
Cultivate them with patience and love
Enjoying the trees
Bring bees and butterflies for us to see
To have Peace we need to cultivate
Just like planting the trees
But Peace comes from the internal and external
One has to have peace in oneself
Before looking for peace outside
If you are able to calm yourself
You can enjoy food and music
Reading books and discussions
Feel good and appreciate knowledge
That one gains from teachers, friends, and family
Helping family and friends
Greeting them with smiles
The returning smiles and nice conversation
Will make the day brighter
 Three simple philosophies I practice
Try my best to take care of myself
Physically and mentally
With good health and wealth I have
Secondly I try to branch out to help others
As best as I can
Kind words and smiles
Will help others to feel good too
Thirdly I try to make my heart pure
By not judging people
Before I recognize the real reasons
Why one behaves certain ways
This practice is more difficult than others
Because my judgment is impaired by fear of the unknown
If one can find peace in oneself
One can smile, get up and go to school or to work
Helping oneself and others
Peace from outside is difficult to find
Troubles come from neighborhood violence
Wars take place all over the world
Natural disasters cause trouble and hardship for people
 That we cannot control
But if you have Peace in yourself
No one can take it away
Then you can think about
How to make your surroundings more peaceful
Find someone that needs help
Using knowledge from your education
Finding out about other institutions
That can help you, your family
 Friends or neighbors
President Barack Obama saw his father only once
When he was ten years old
His grandparents took care of him
When he was a teenager
He educated himself and able to help others
By working as a community organizer in Chicago
We know by now how he can help more people
While he is a President
If you have peace in yourself
You can form your ideas
How to help others to have peace
Even little things one can achieve
Help a child who cries from falling
Calm the child and help take care of the little wound
This will make one feel good, lively and happy
We all cannot all become president like President Barack Obama
Because we all have different abilities
But if one tries one's best  
Then whatever one achieve
It is good enough
Two more things that I practice
Trying to understand people and show kindness
Kindness makes the world go round
A kind heart will make a happy person
And people will be happy to see you
As the old Asian proverb says
A rigid tall tree
Will break with strong wind
But soft blade of grass
Will withstand the harsh wind
And live on for another day
Ing-On Vibulbhan-Watts, Sunday, December 15, 2013

The Golden Swallowtail Butterfly was captured by me on Saturday, August 17, 2013 at our backyard garden in downtown Newark, New Jersey 
GoldenSwallowtailButterfly 
Link to YouTube:  https://youtu.be/KuFOnDoUMJc  (8:15 minutes) 
Link to Golden Swallowtail Butterfly and White Cosmos Flower & Bees Ing's Poem Page: 
Golden Swallowtail Butterfly & White Cosmos Flowers and Bees

WhiteCosmos&Bees 
Link to YouTube: https://youtu.be/aDrq06y_GPQ  (5:15 minutes)
Hibiscus and Jasmine plants are topical.  Their flowers will bloom in the summer time.  When I was young in Thailand we planted them and we loved to see the gorgeous flowers blossom.  We like Jasmine flowers that give out a very nice fragrance.  I planted jasmine here in the US but if I leave the plants outside during winter the plants will die.  I take my plants inside and give them some light from florescent bulbs and water them with plant food.  It is December now and the weather outside is below freezing but my hibiscus plants have produced some beautiful red flowers.  I also counted about one hundred the little white jasmine flowers.  Everyday a few jasmine flowers blossom giving a very nice fragrance when I walk by the plants which makes me happy and peaceful thinking of my homeland.
 I cultivate my plants to enjoy the flowers and fragrance.  It gives me happiness and peace.    One will achieve something if one puts effort and time to pursue one's goal.  If one does nothing one receives nothing.
 Ing-On Vibulbhan-Watts, Tuesday, December 17, 2013, 2:55 am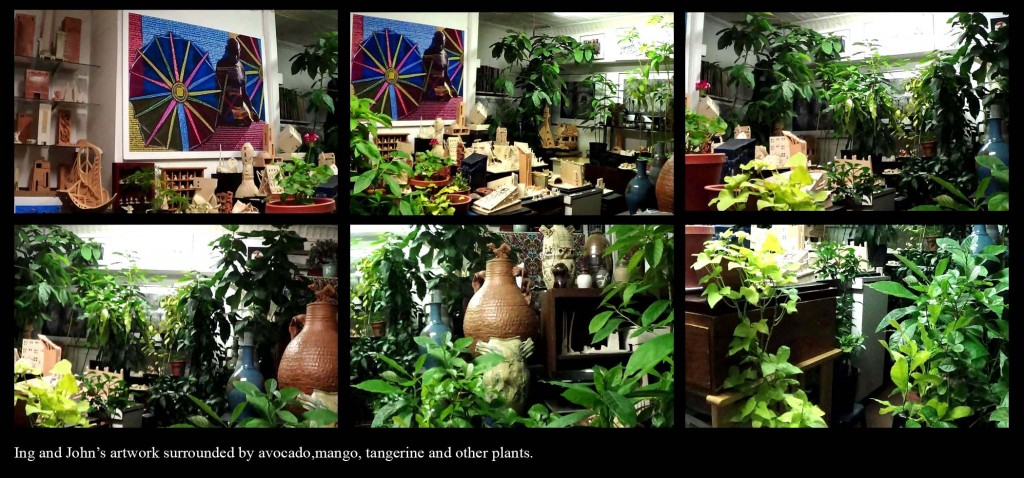 Remember Nelson Mandela
One Bloomfield Tech Student commented:
Peace?  Trust no one
I can understand how you feel
There was disappointment and trouble in my younger life
But I never lost hope
At least I trusted myself
And behaved in such a way that others could trust me
If I want to trust others
I have to show others are able to trust me
We all go through life
Knowing some bad and good people
We learn and change
If we show kindness to others
There is a chance to receive kindness in return
I was sad about some of my troubles in life
But when I study about Nelson Mandela
Who passed away this month at the age of 95
I feel that I am a lucky person
He was jailed for twenty seven years
But was able to walk tall when he was freed
He overcame his bitterness
Trusted people and people trusted him
Mr. Mandela became the first black president of South Africa
People all over the world praised his good deeds
He is honored and admired
Just as Gandhi and Dr. King were admired
By being only a one term president
Mr. Mandela showed he was not greedy to hold on to power
He could have been President of South Africa as long as he wished
He prevented civil war between black and white South Africans
He helped to raise funds to educate poor African children
And encouraged the fight against Aids
He led very meaningful life
An example for others to follow
 Mr. Mandela said his 27 years in prison gave him time to think
He educated other prisoners and cultivated a little garden
 Growing tomatoes and other vegetables
His conduct earned him the respect of his jailers
President Barack Obama commented that
When you are with Nelson Mandela
You want to be a better person
I too want to be a better person
 After studying the life of Nelson Mandela
Please reconsider your comment
Peace? Trust no one
If you help others to the best of your ability
You will find others you can trust
Who in turn will trust you
And give help when it is needed
Then you will achieve a successful life
With happiness and peace in your heart
Ing-On Vibulbhan-Watts, Friday, December 13, 2013, 11:56 pm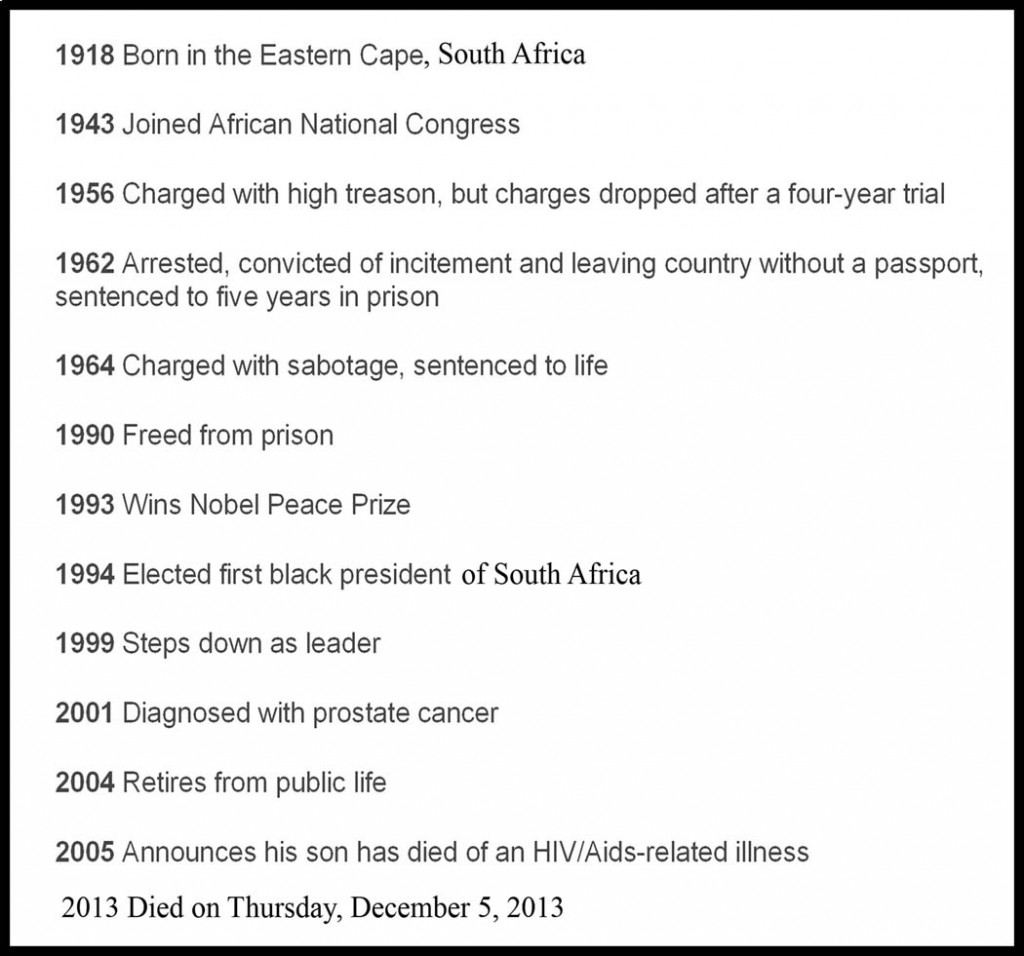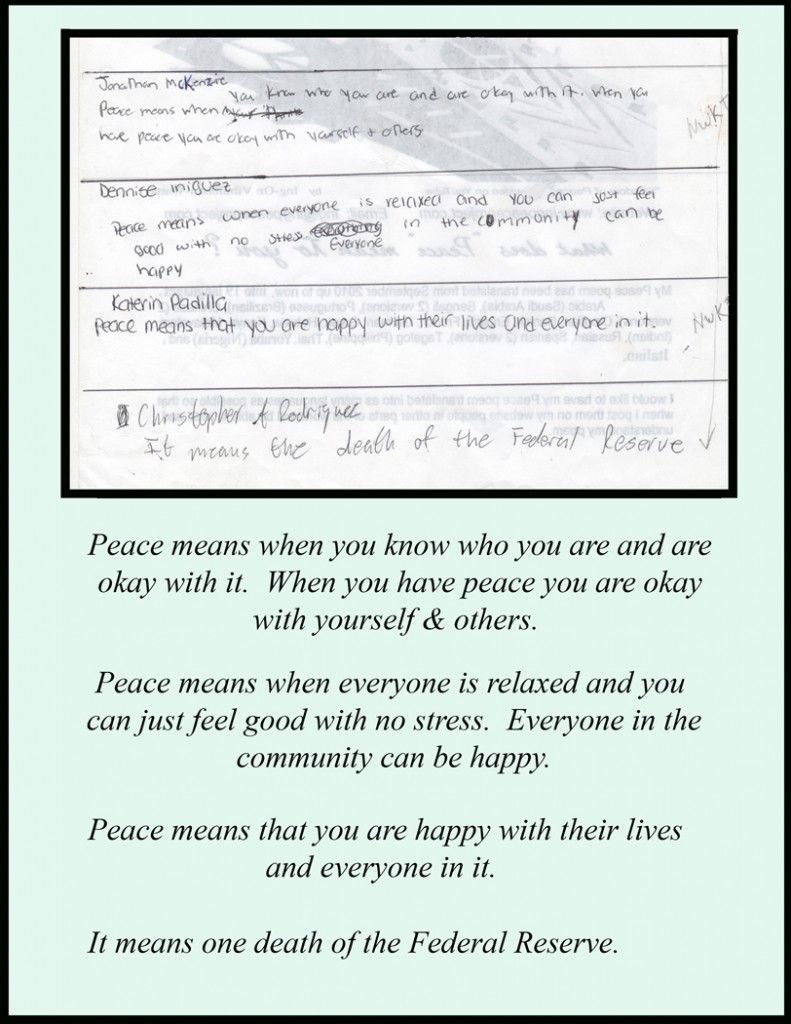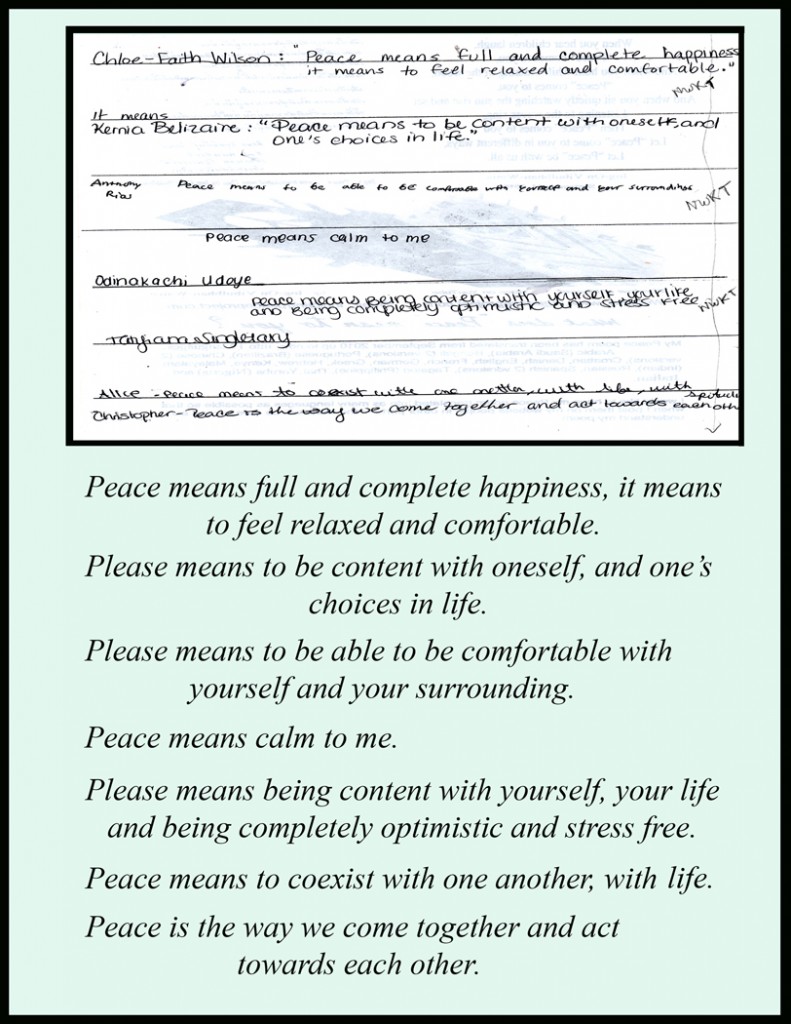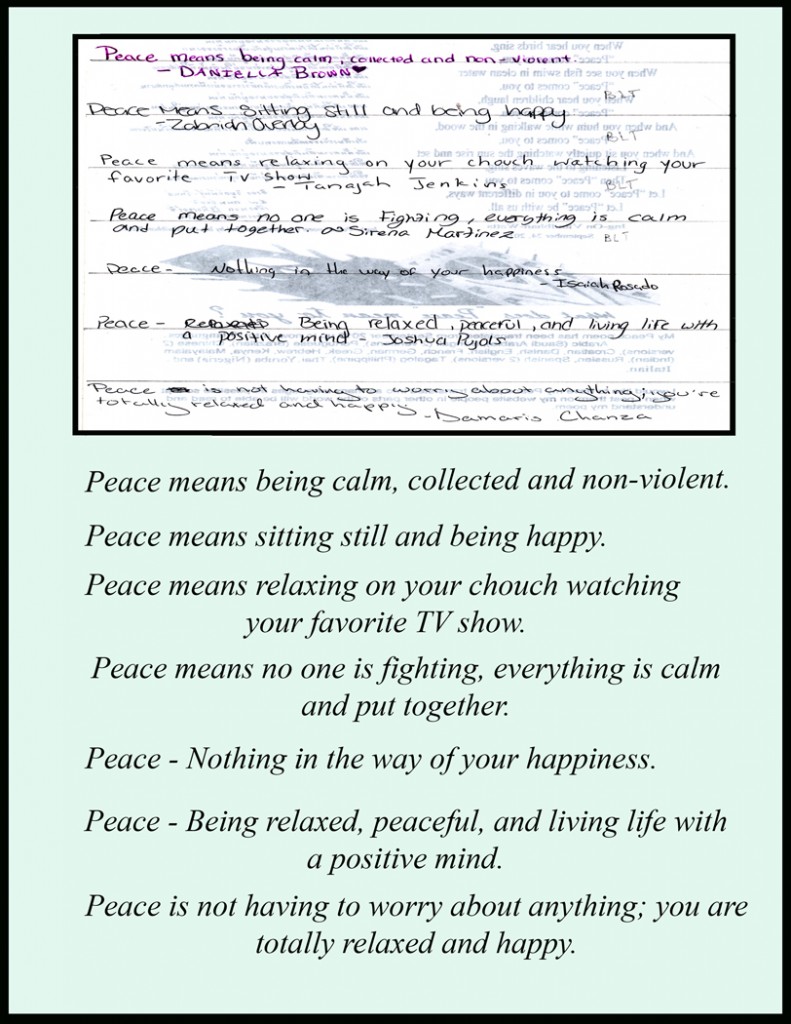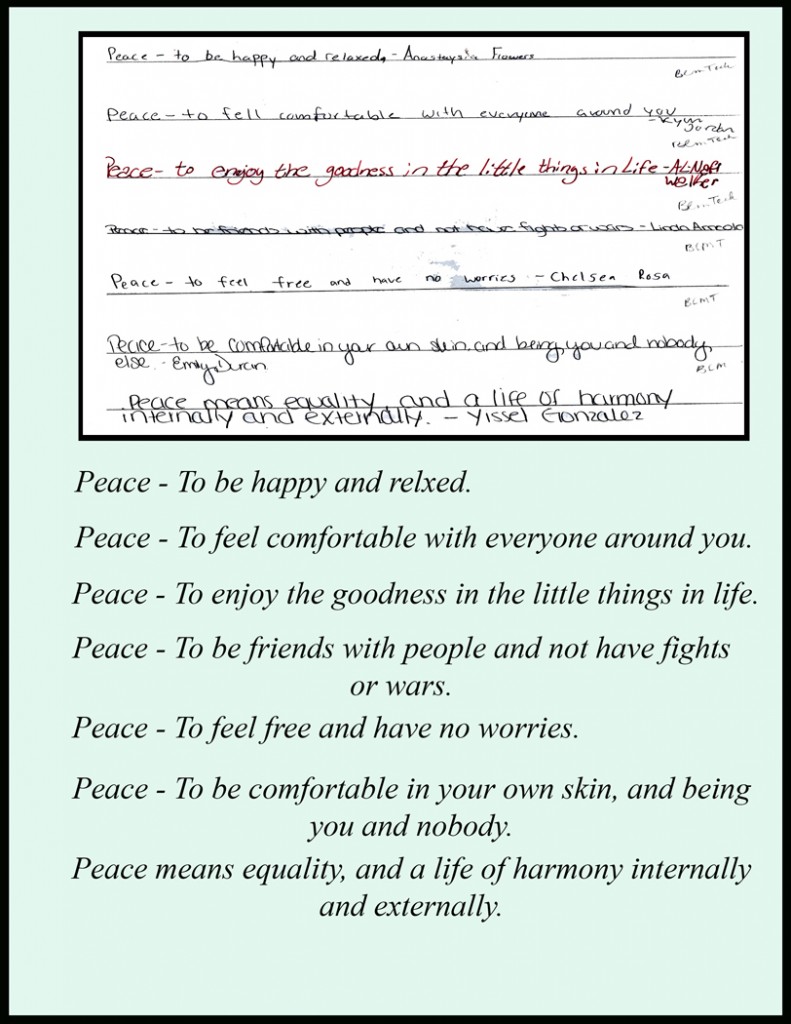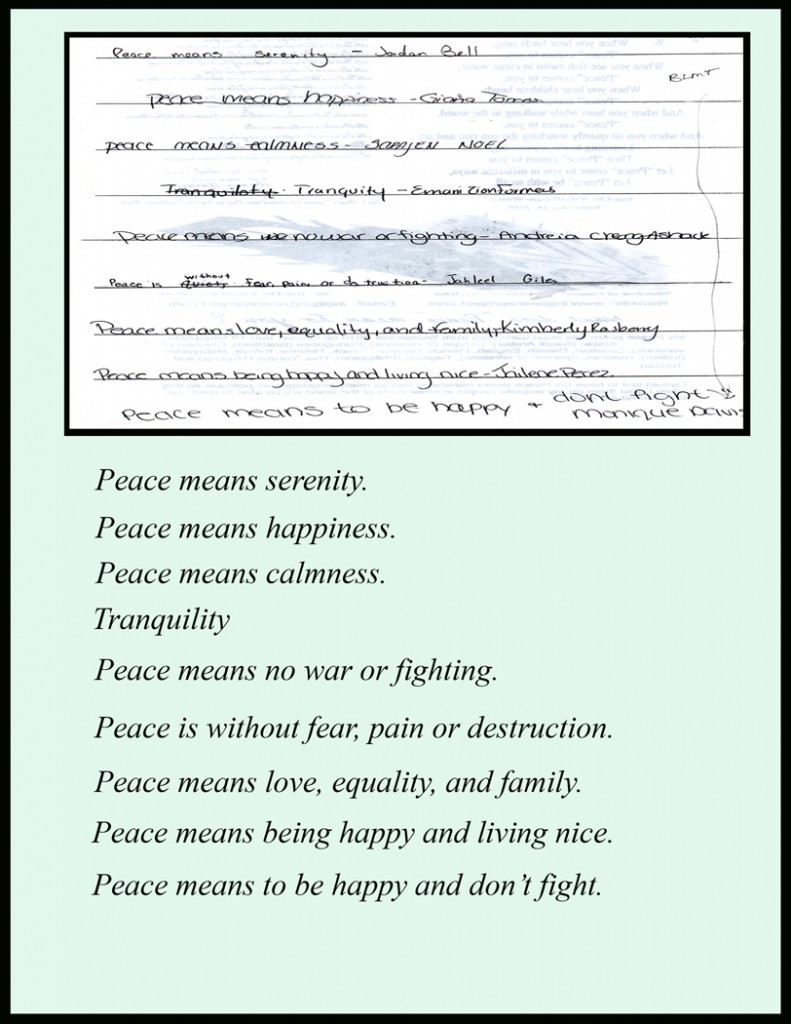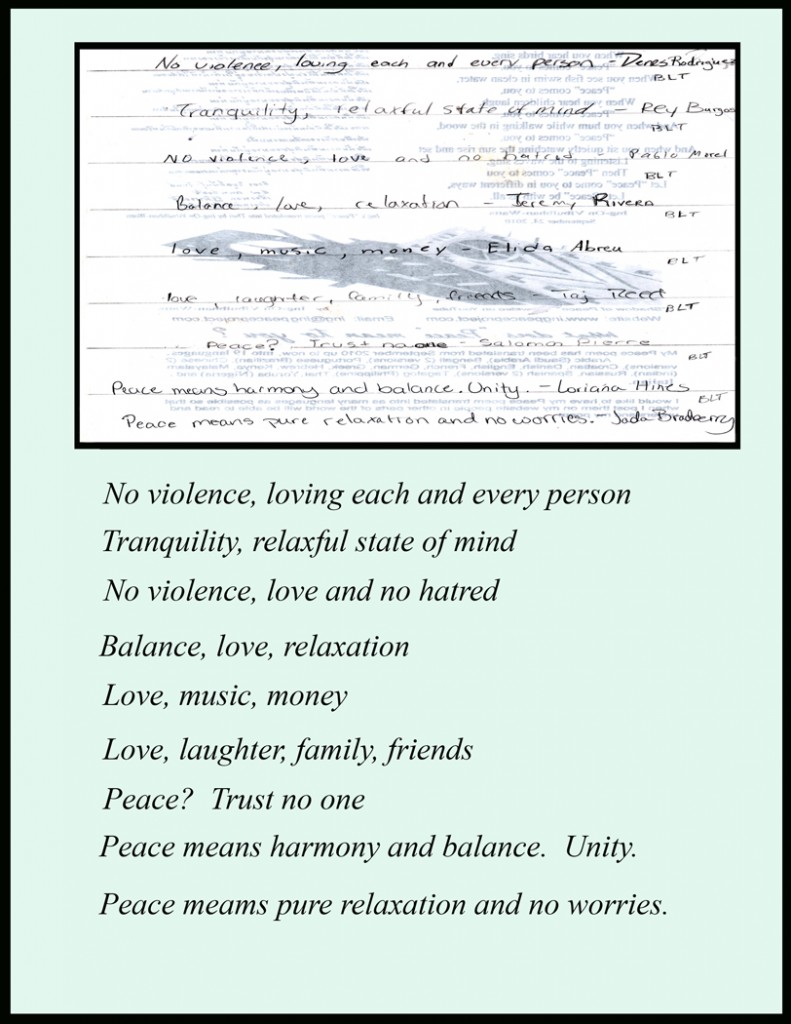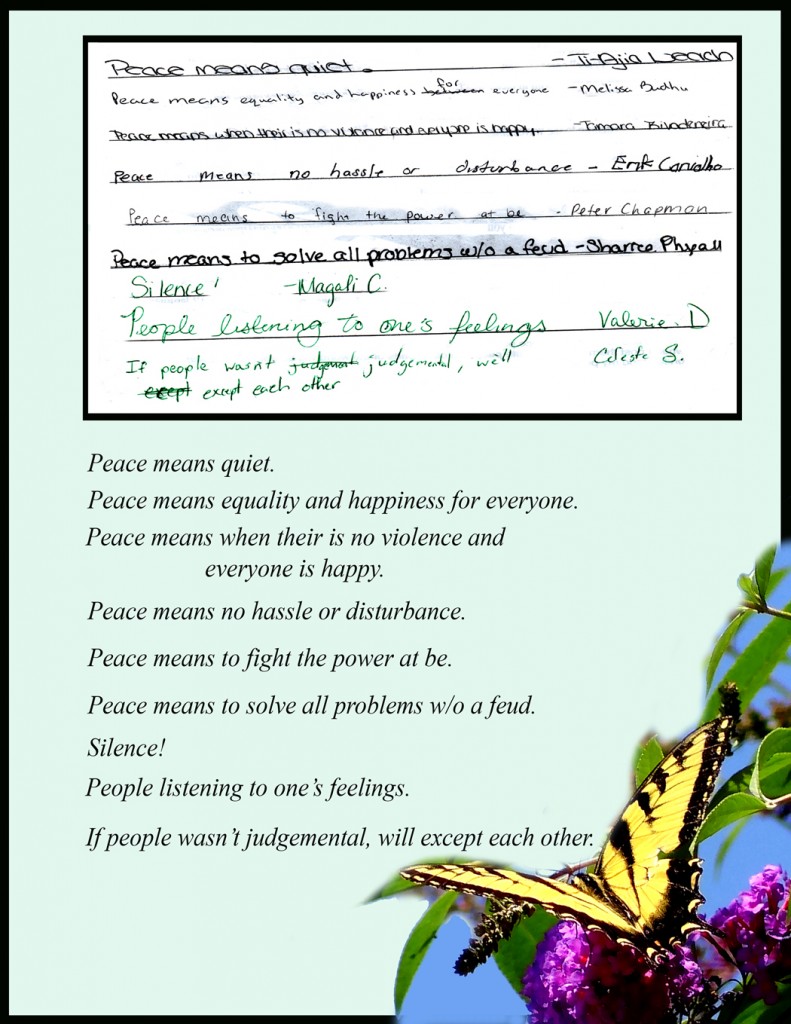 Thanks to Mr. Jonathan who helped to organize all the comments from Newark and Bloomfield Tech students.  Good teachers show concern and do more to advance their students both mentally and physically by preparing the students for future challenges.  
Ing-On Vibulbhan-Watts, Sunday, December 15, 2013
Please visit the following links for more information: 
https://en.wikipedia.org/wiki/Newark_Tech_High_School 
Link to LGBTQ Youth at Hetrick-Martin-Institute page:
https://ingpeaceproject.com/1-academy-street-firehouse-youth/lgbtq-youth-at-hetrick-martin-institute/