Ing and John's Street Art, Downtown Newark, New Jersey, USA- Part 1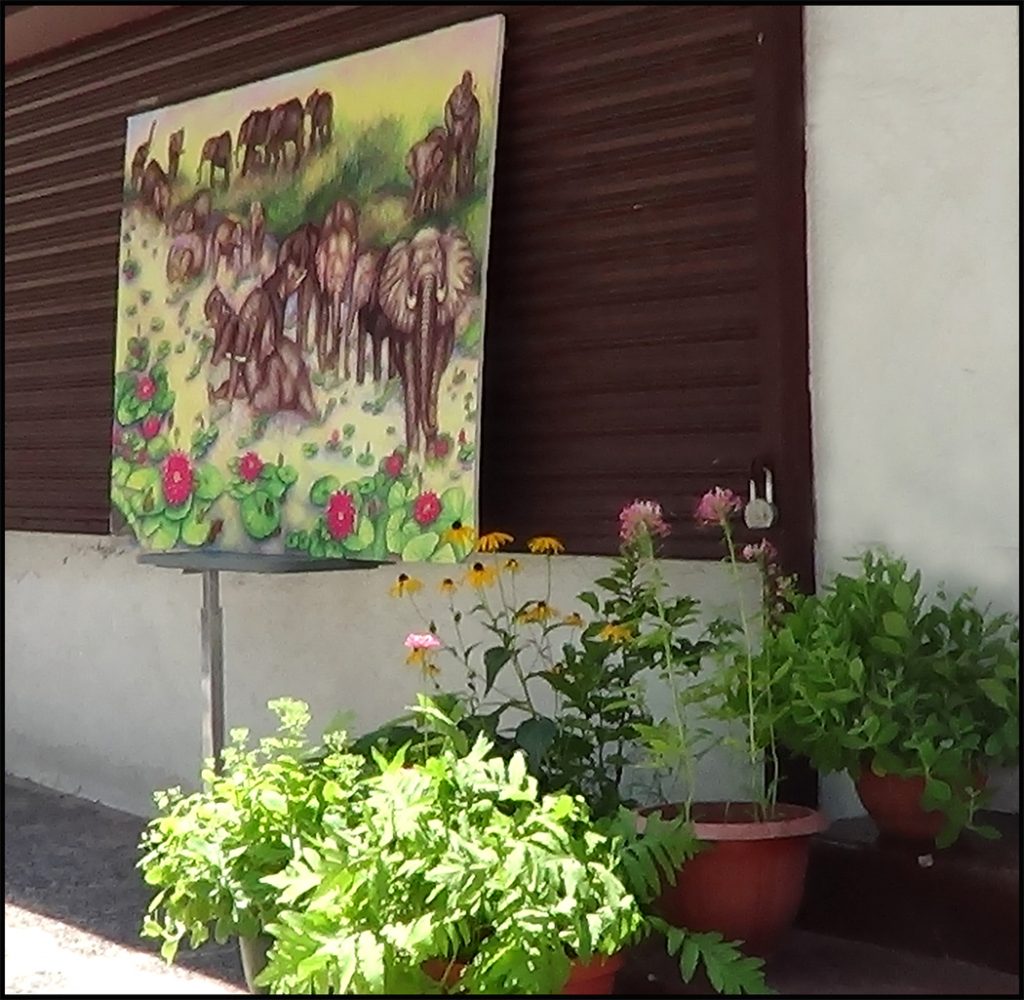 I love street art for many reasons. First of all, the artwork is there for the public. It is for everyone who passes to their destination. Without spending time visiting art galleries or museums, they can see art while they are going to work or getting lunch. Some may pay attention to the artwork and some may not. Some may ask questions about the artwork. I hope, at least the artwork will activate the thought process of those passing by.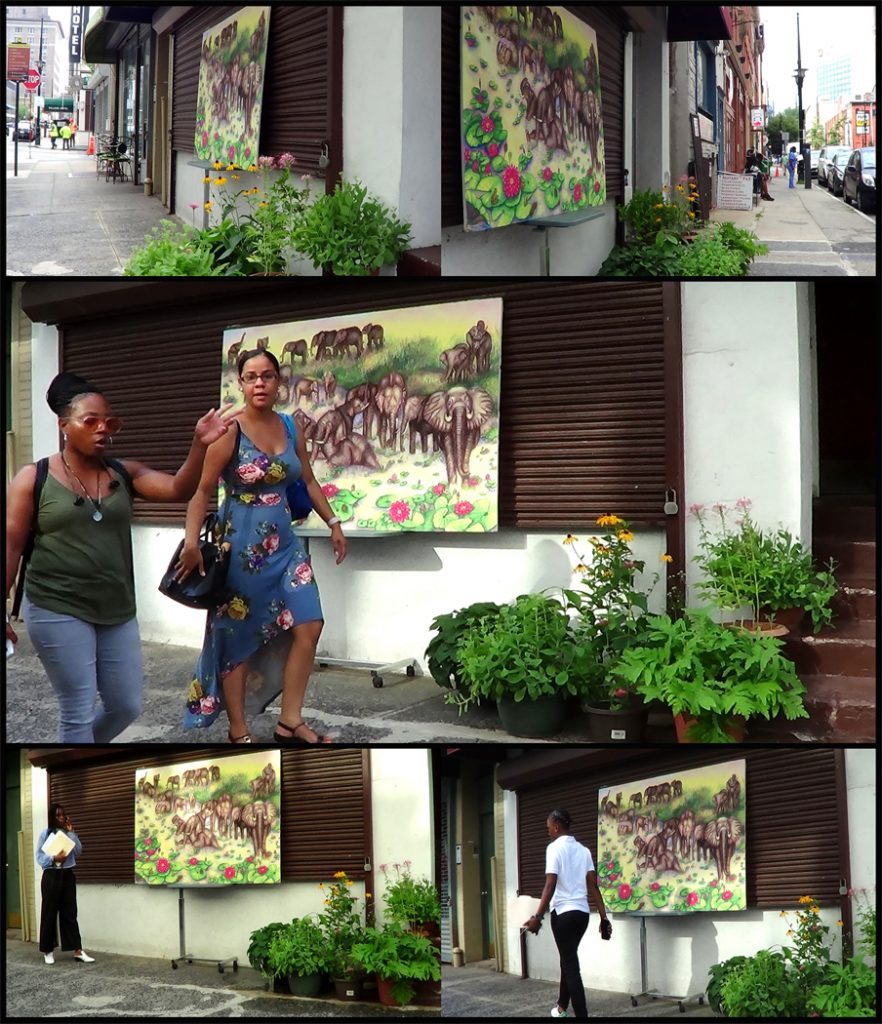 I love plants and flowers. It makes me happy when I see the freshness of green leaves and beautiful flowers blooming. Our shop is closed temporally, and the window gate is down. I thought that if I display our artwork and some of the plants from our backyard garden in front of the shop gate, it would make it more pleasant for the people who pass by. I am happy to do it, and I hope the artwork and the plants will help the downtown office workers or others feel fresh and lively.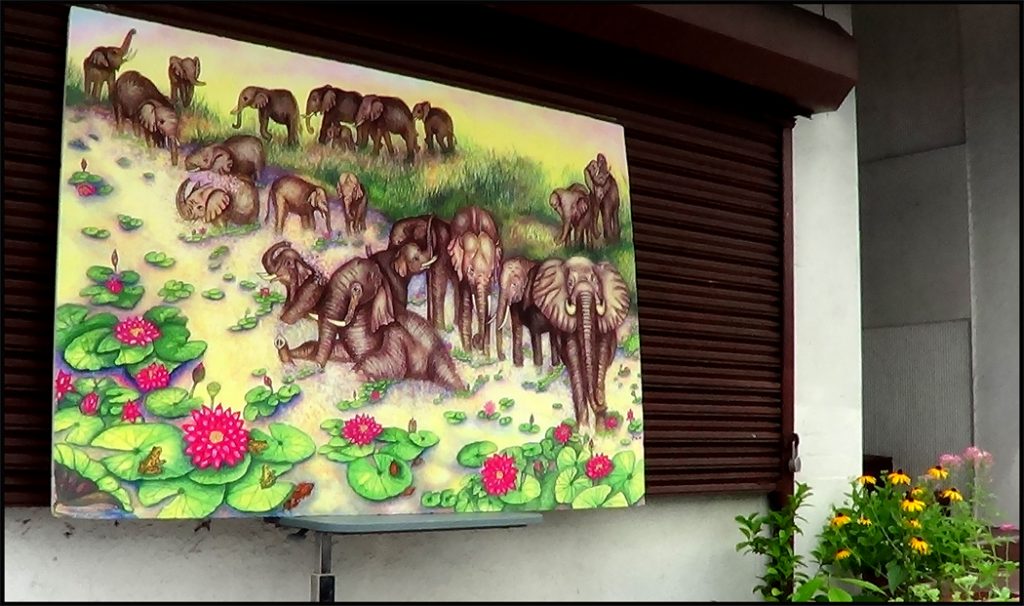 My first day of Street art was on Friday, July 26, 2019. I took some plants from our backyard garden to display in front of our shop. I started my first display of artwork with "Elephants at the Water Lily Pond" I produced in 1999. There are always people walking by our place, but more during lunch time. Most of them are the office workers. Also, in the evening, people walk by going home from work. Some people are interested in the artwork, and ask questions, while others are oblivious to the artwork that I display.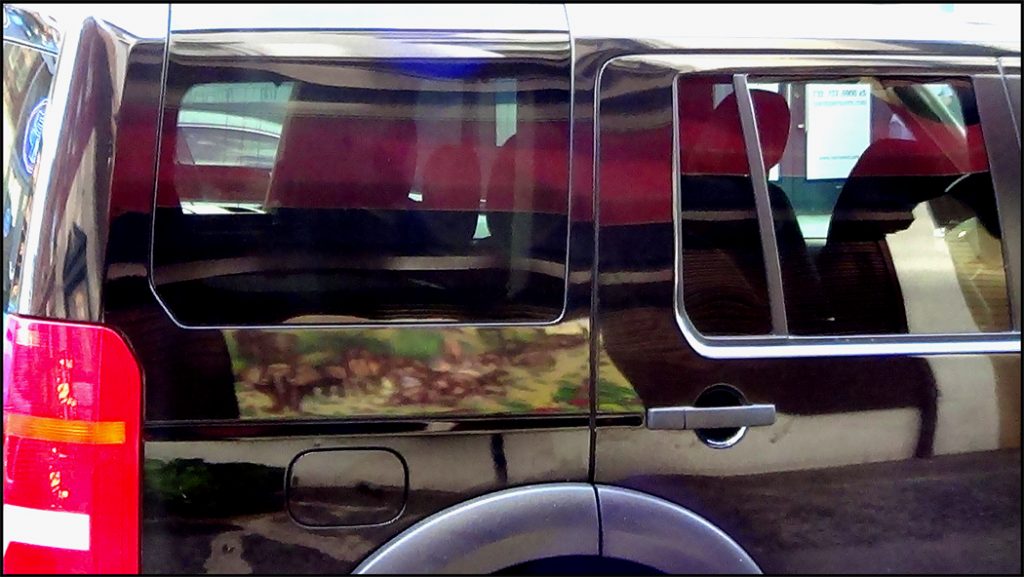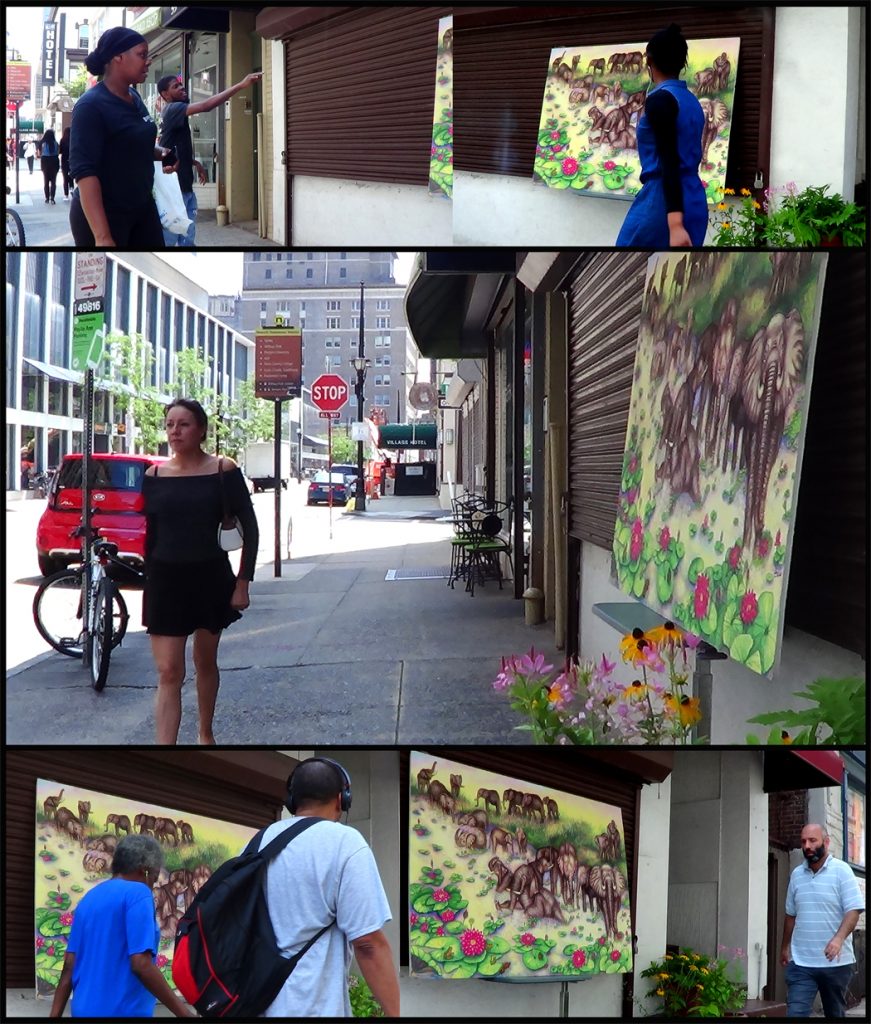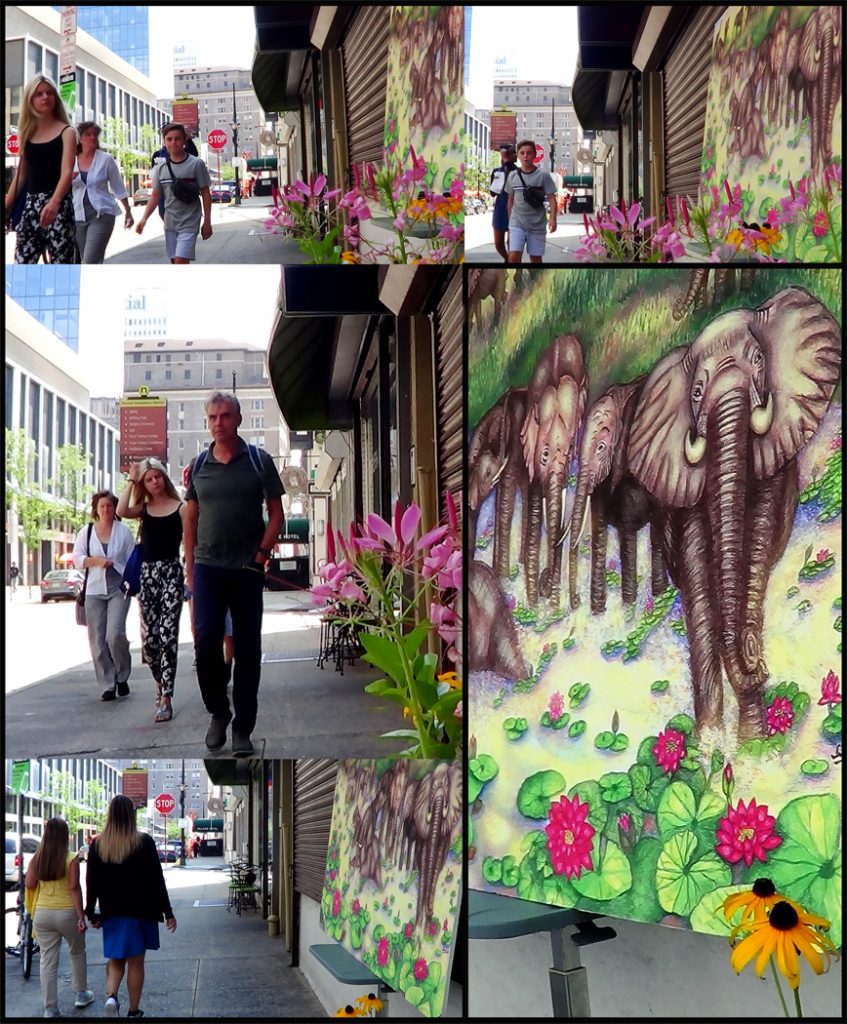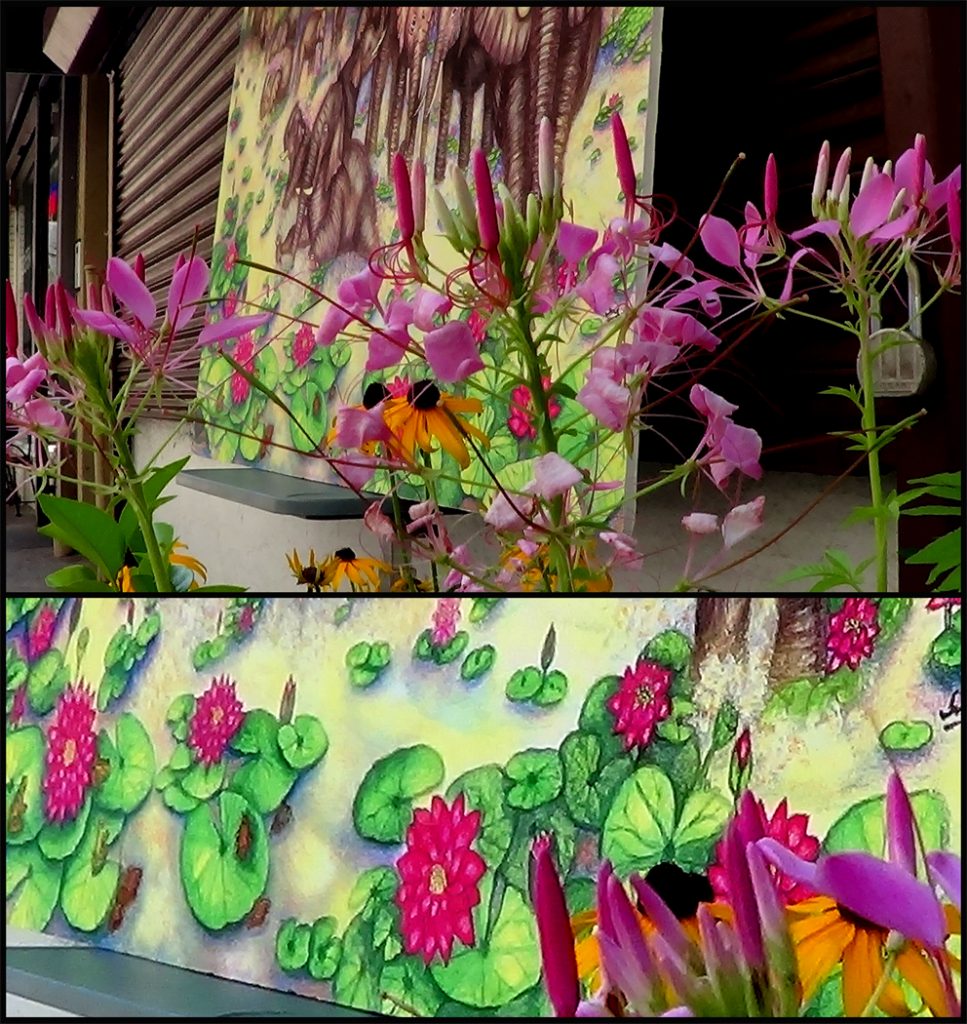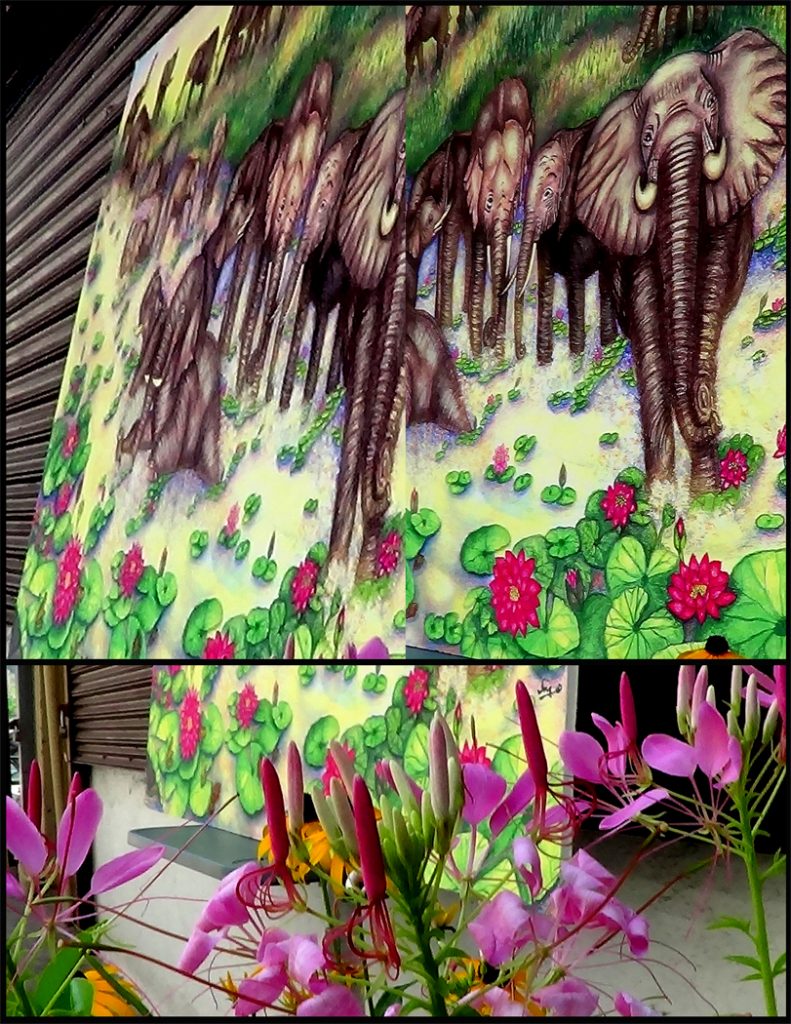 One week later I changed my artwork to, "By the Water Lily Pond", which produced in 1998. I added more plants to my display, when the pink blossom flowers of Rose Queen were in full bloom.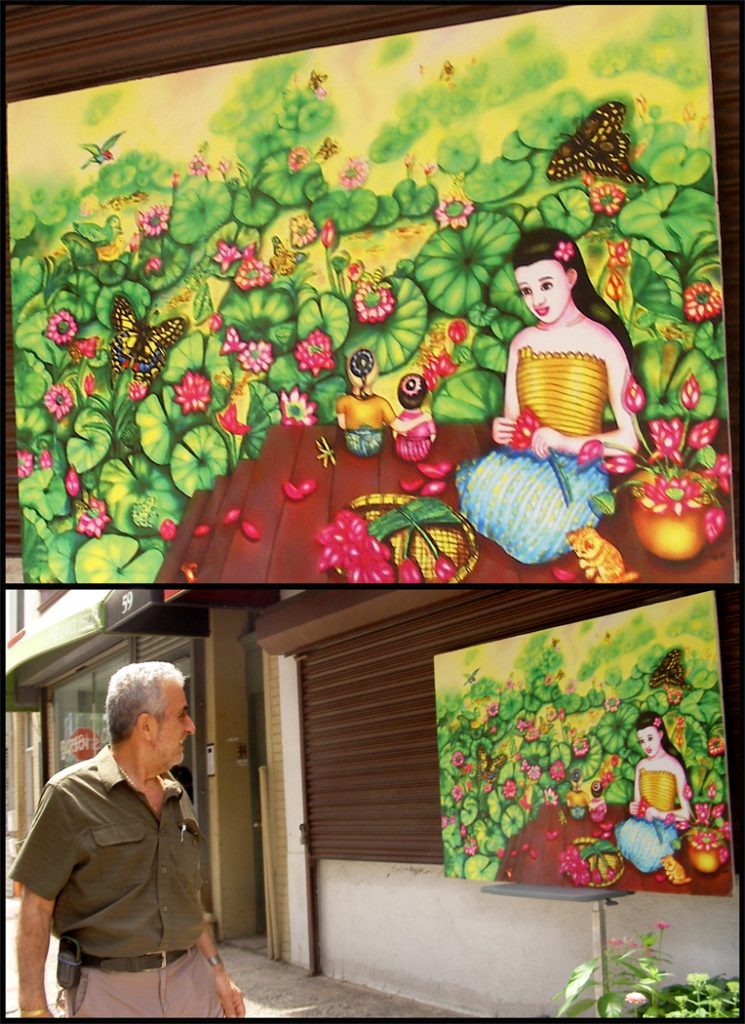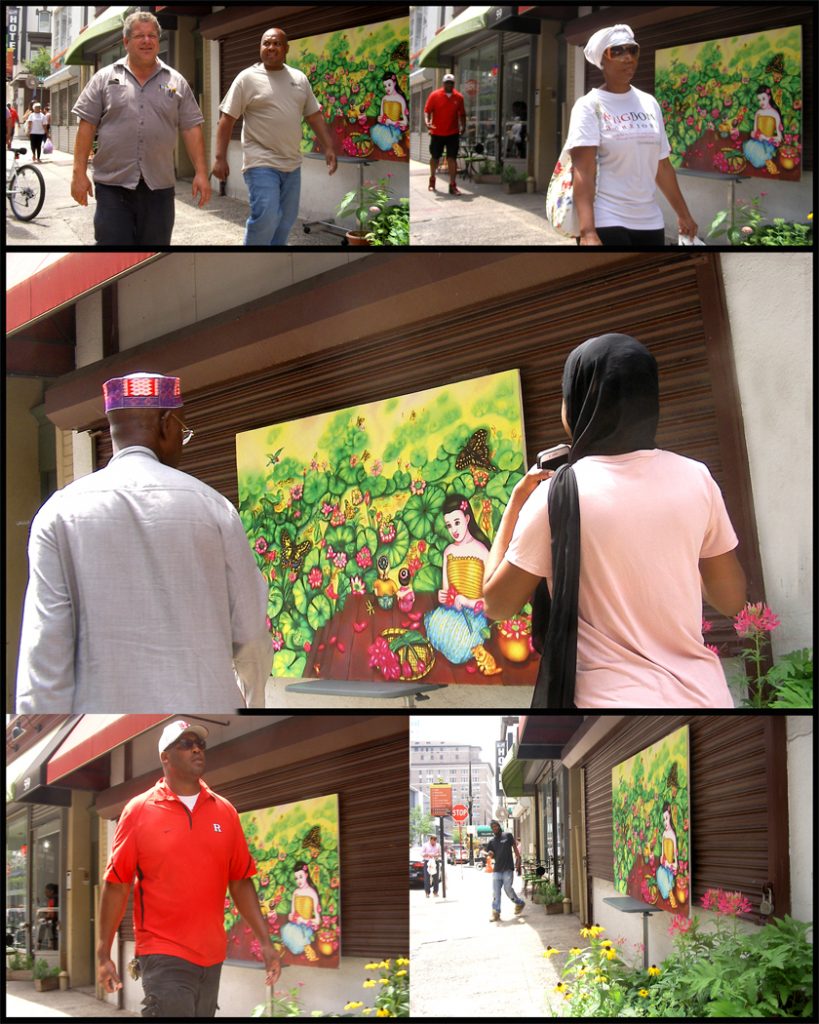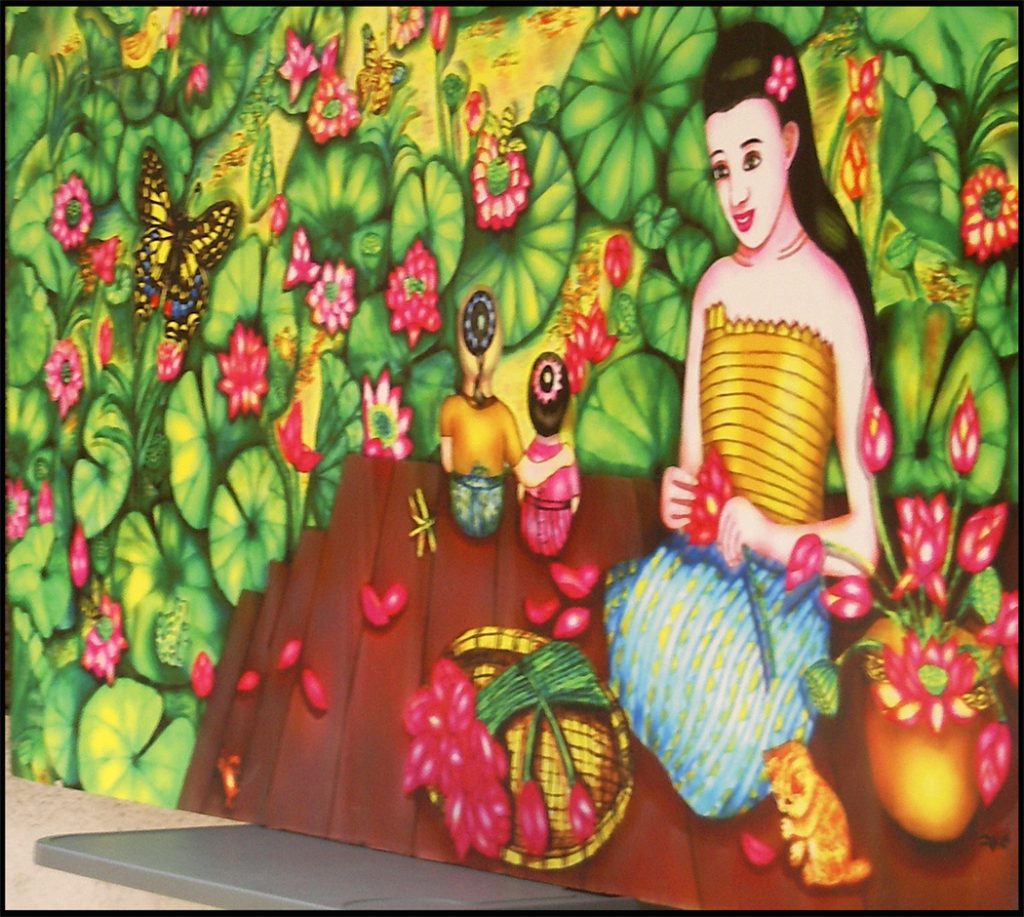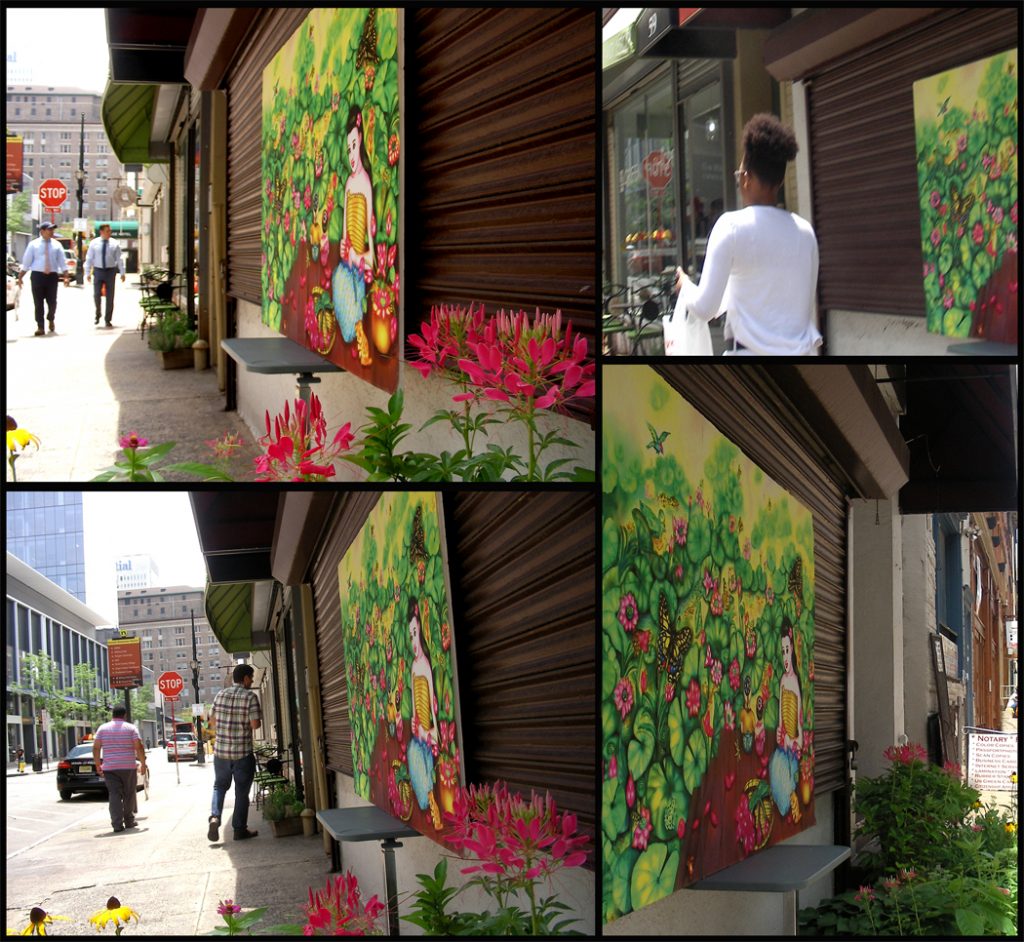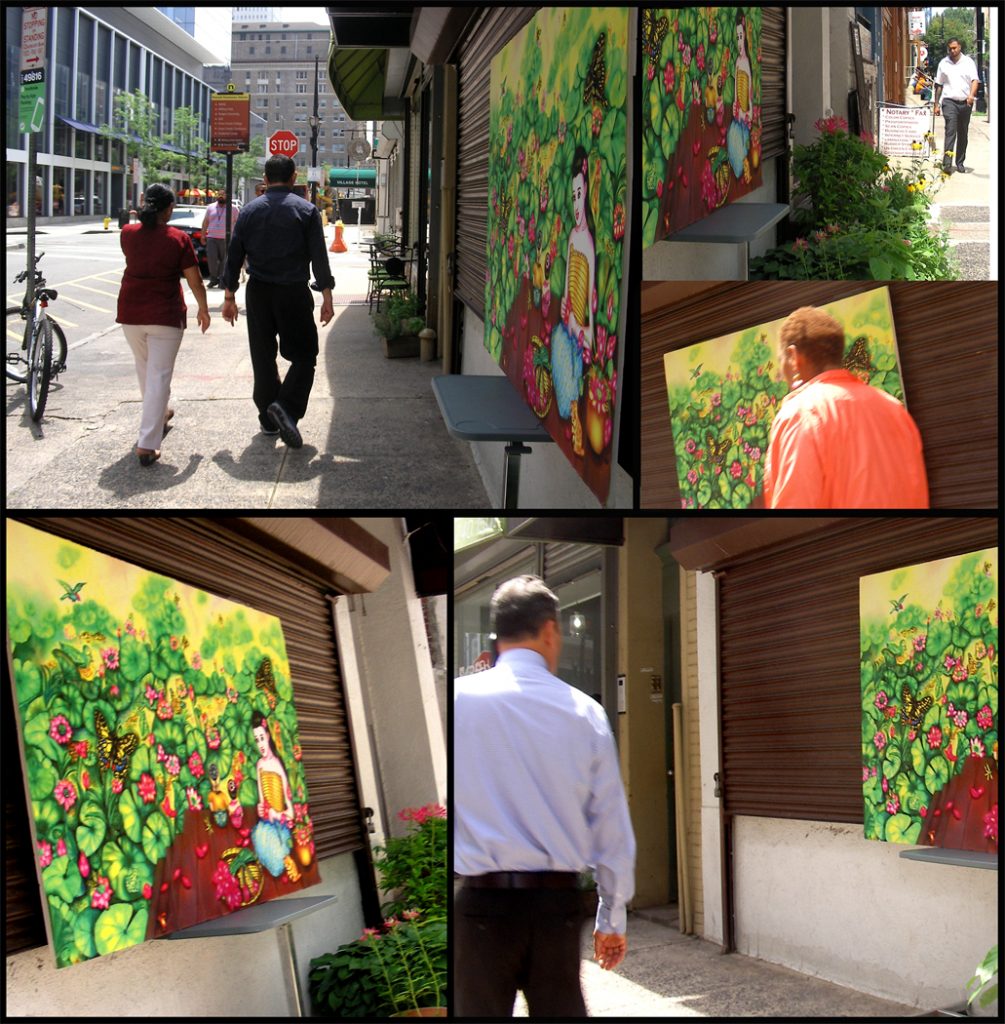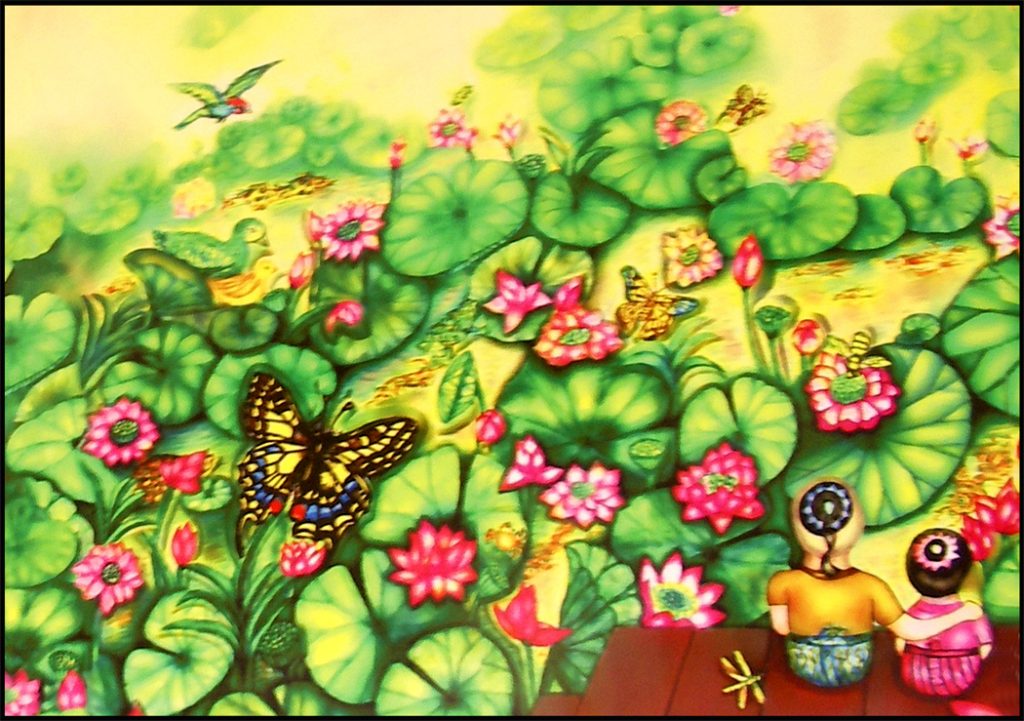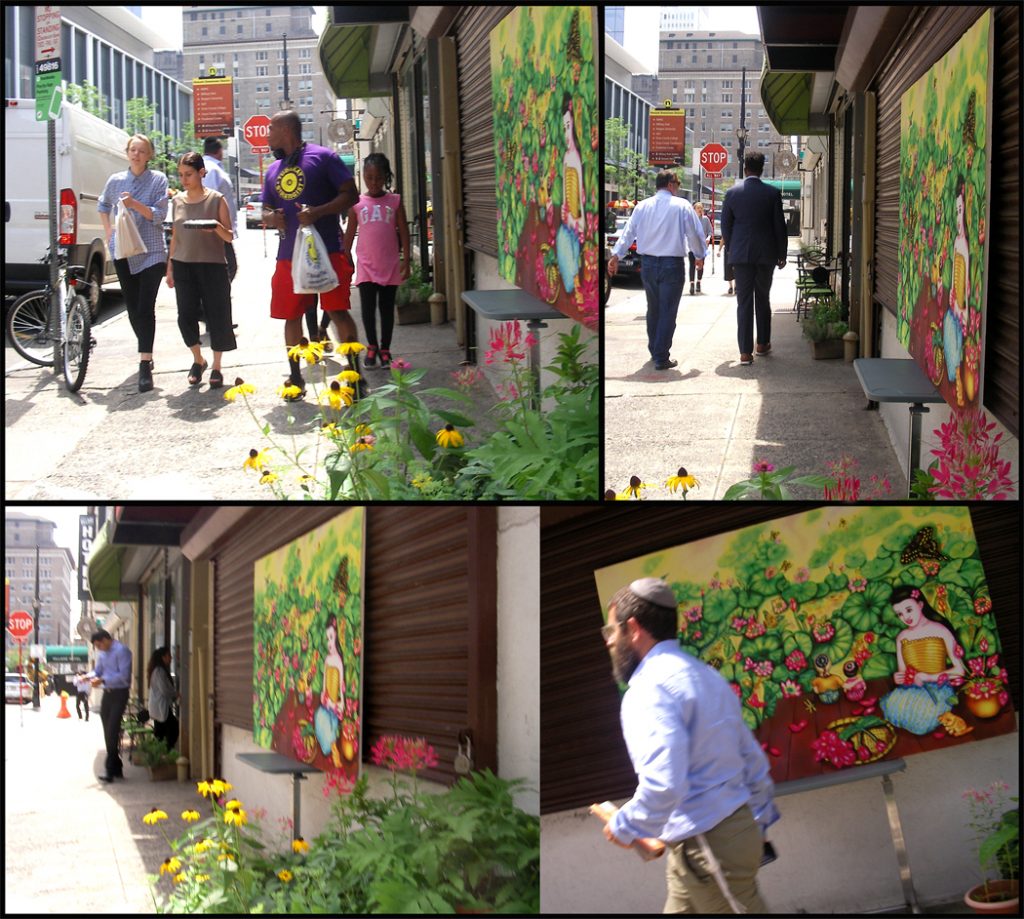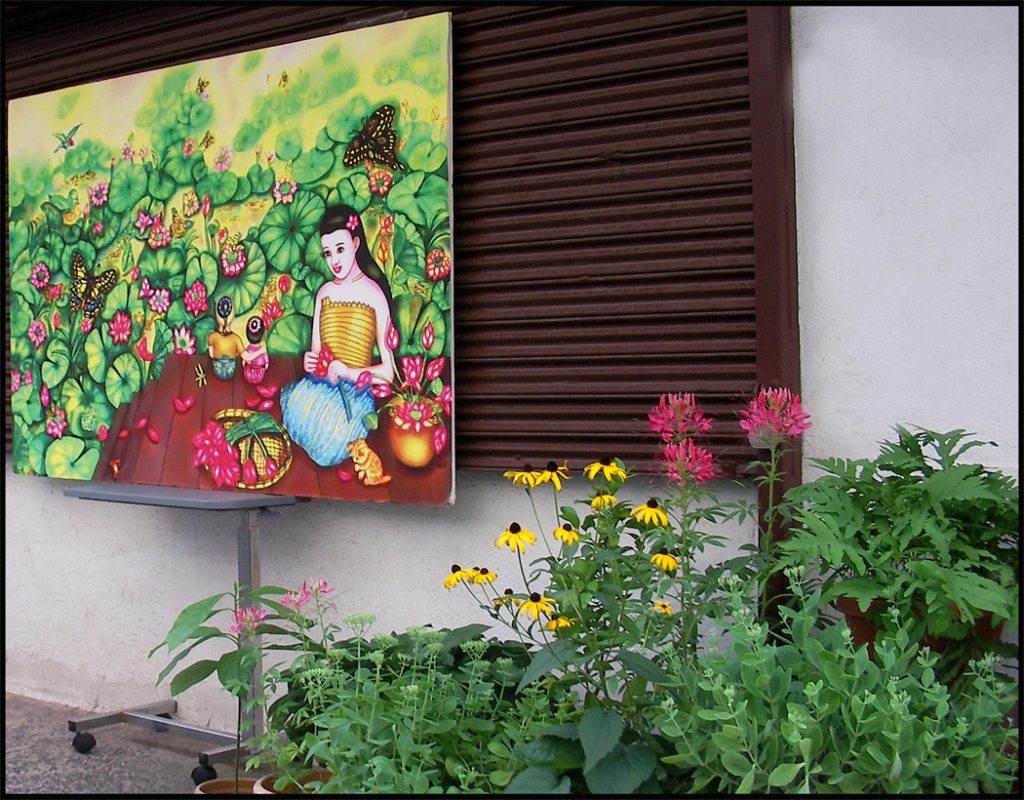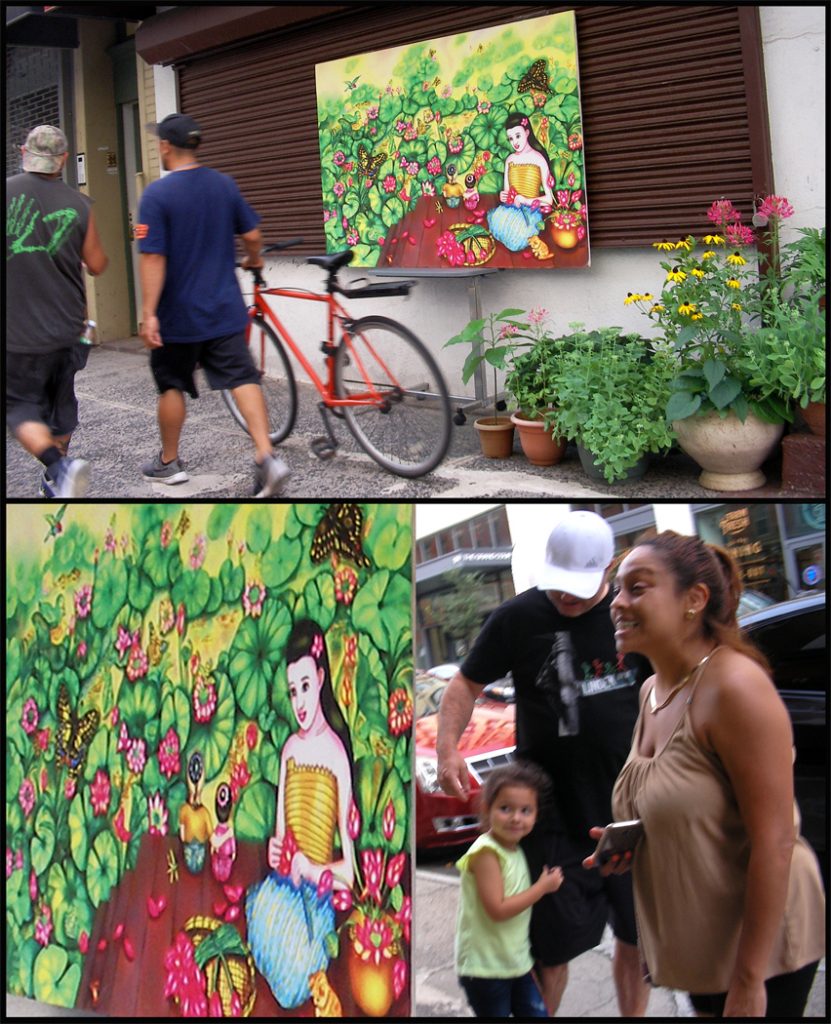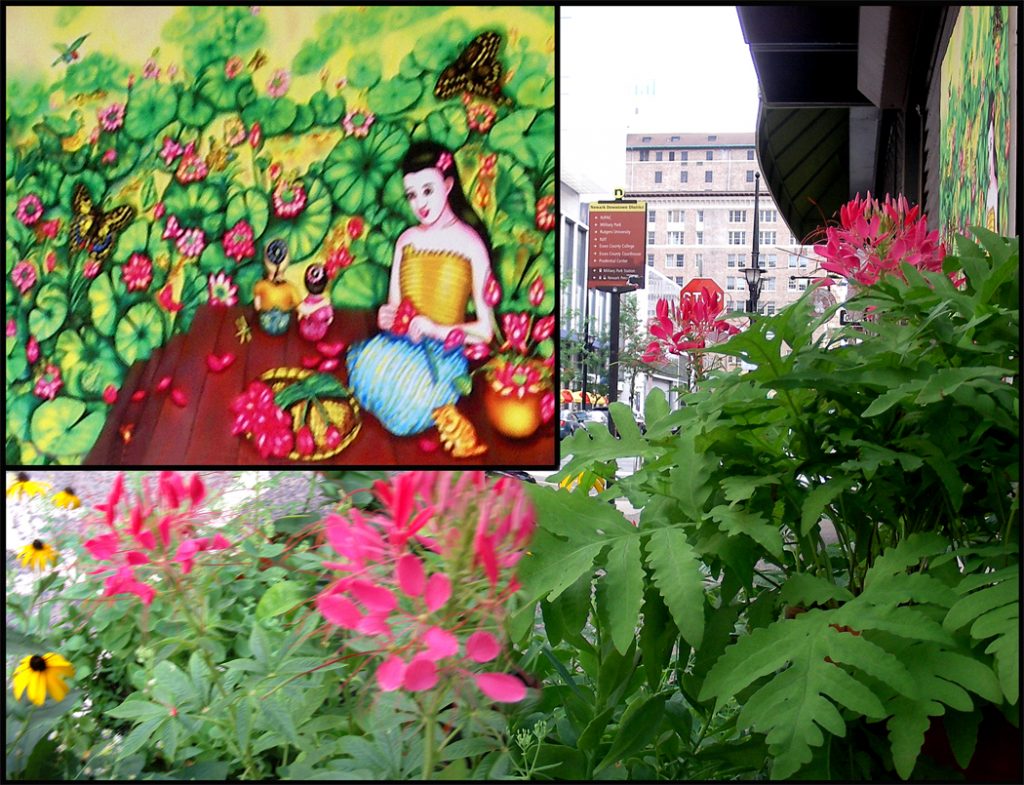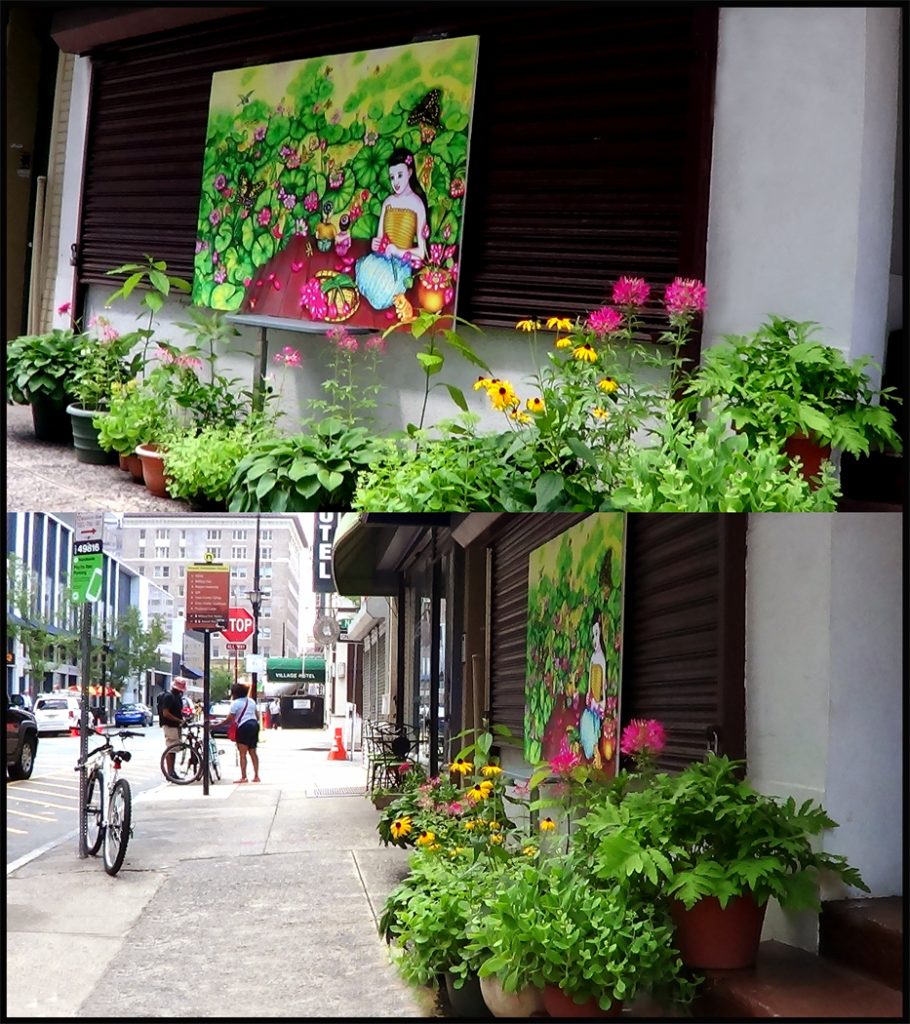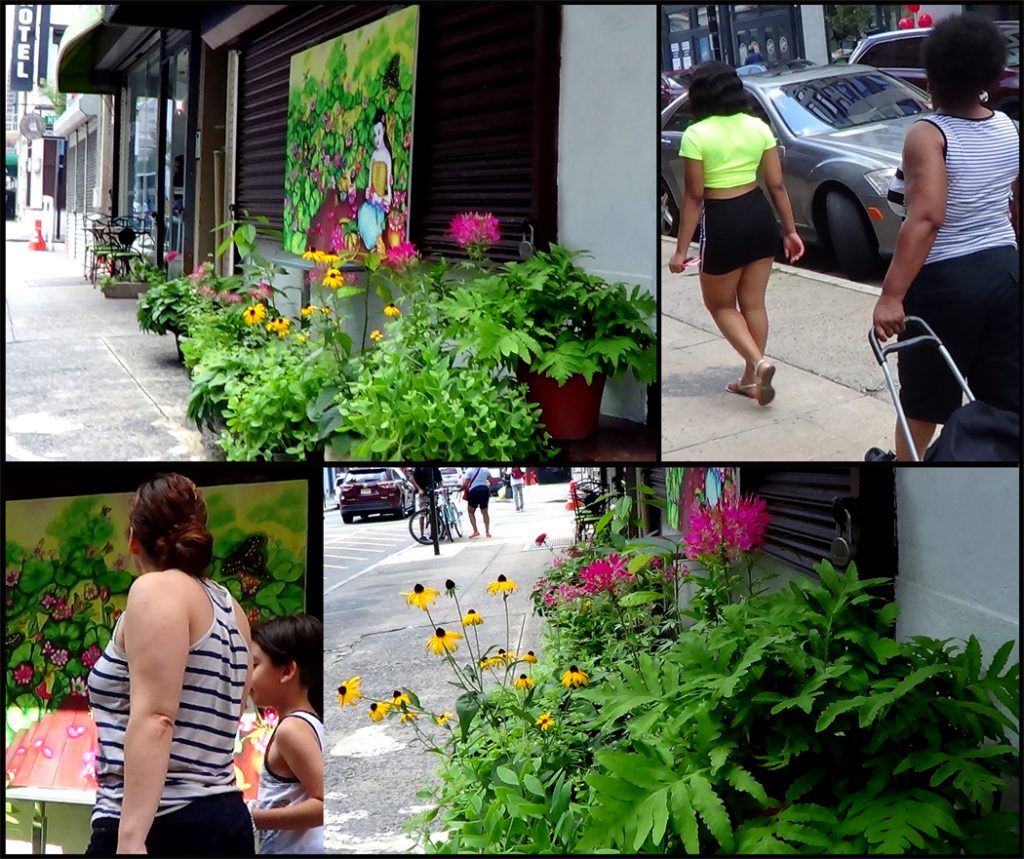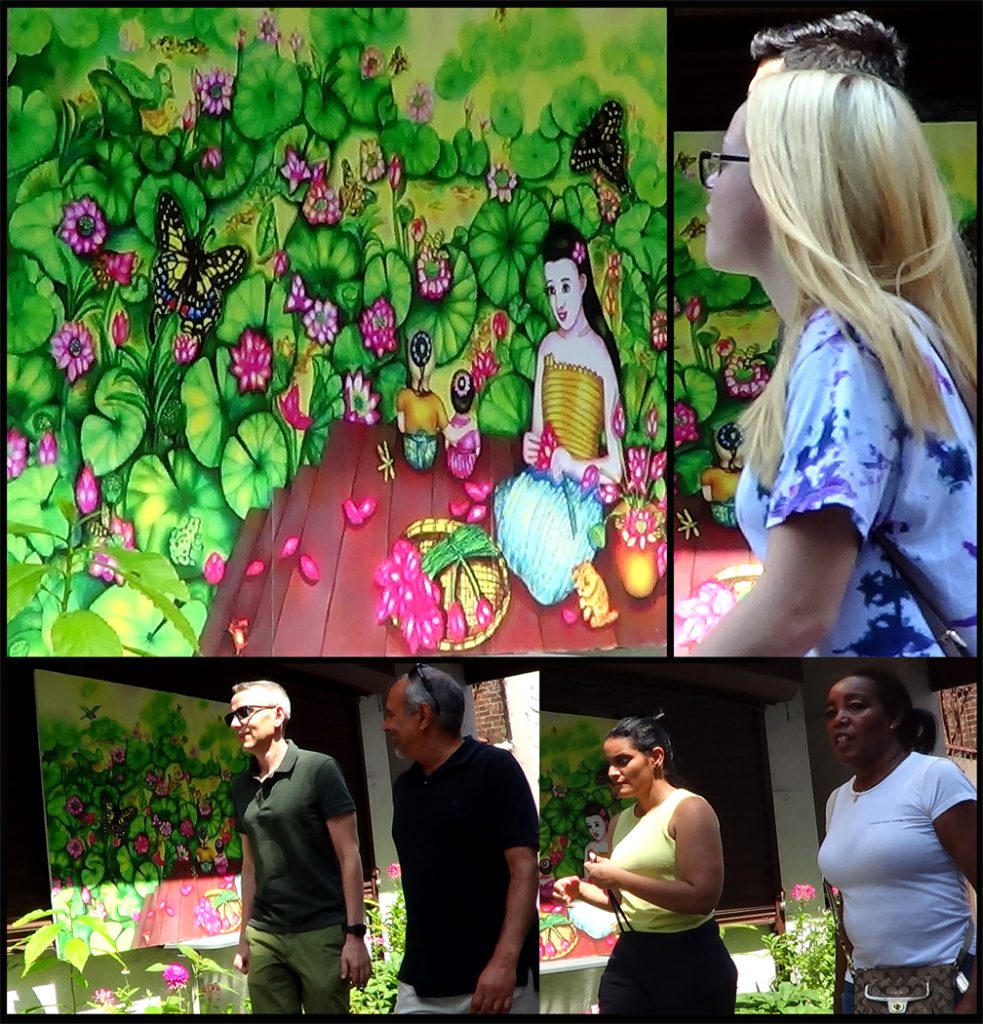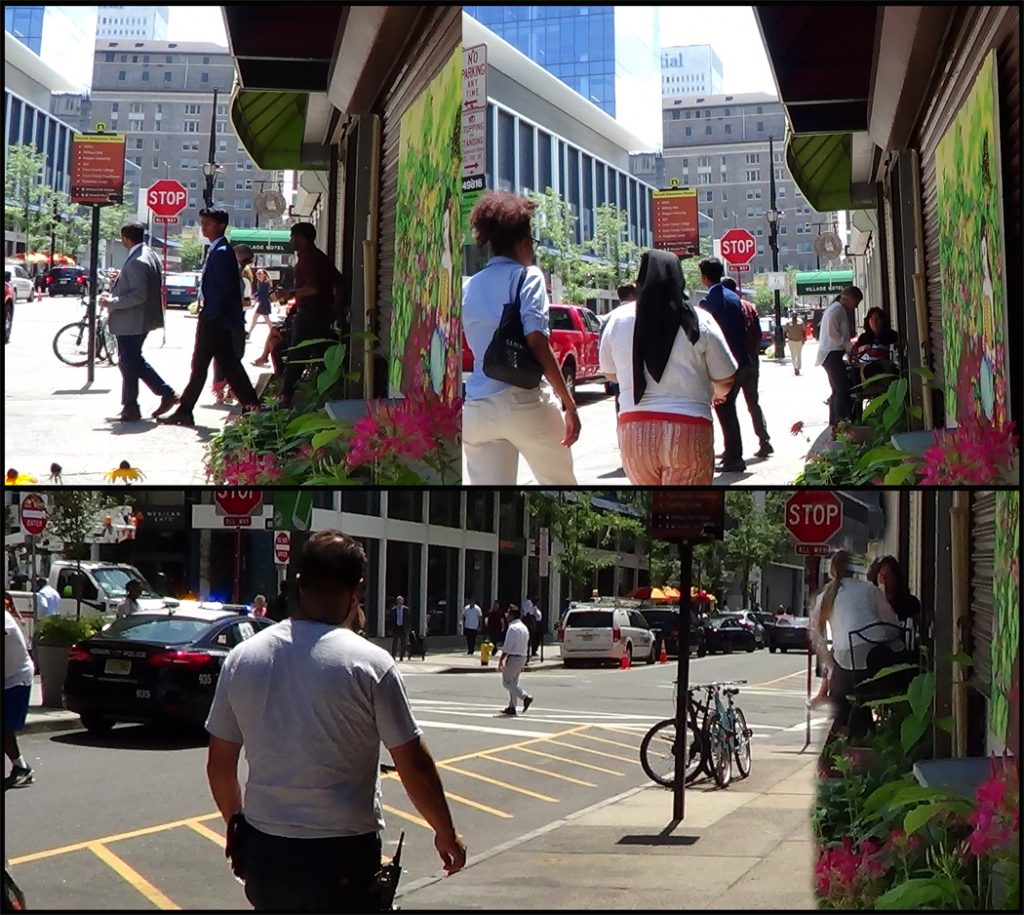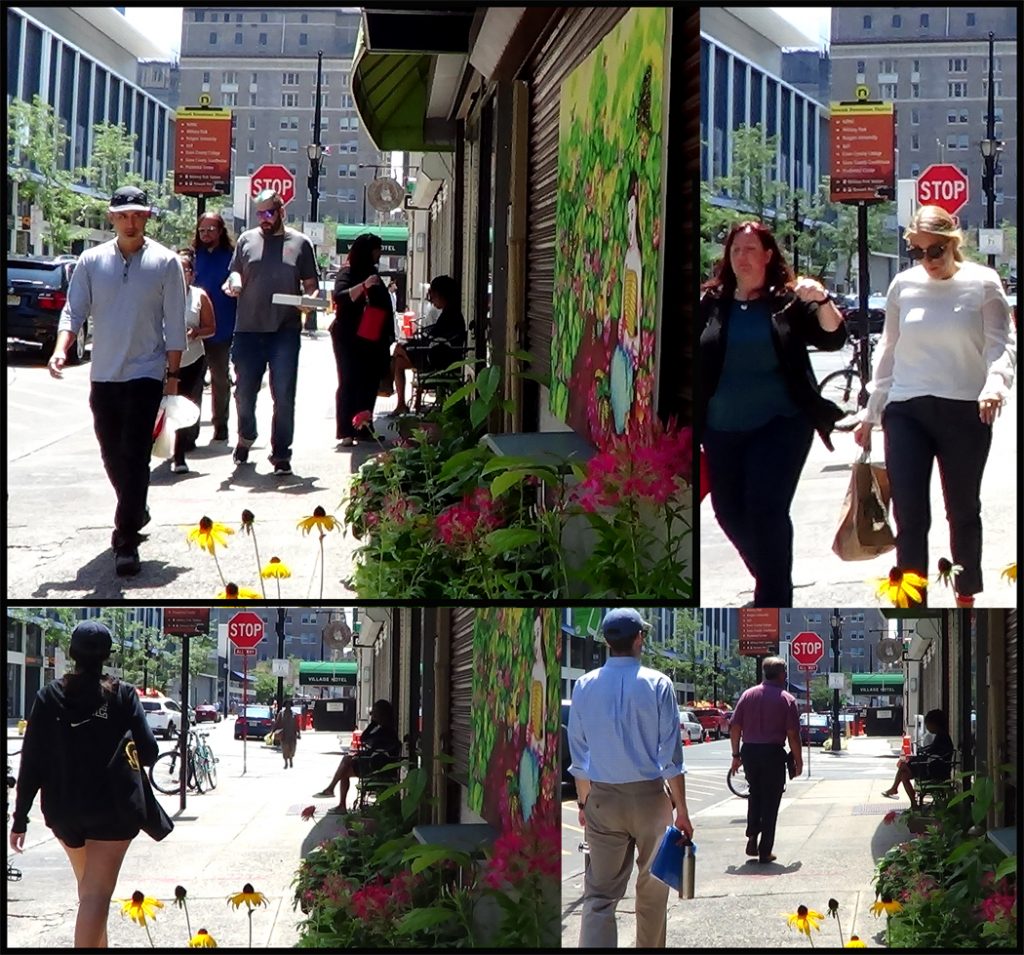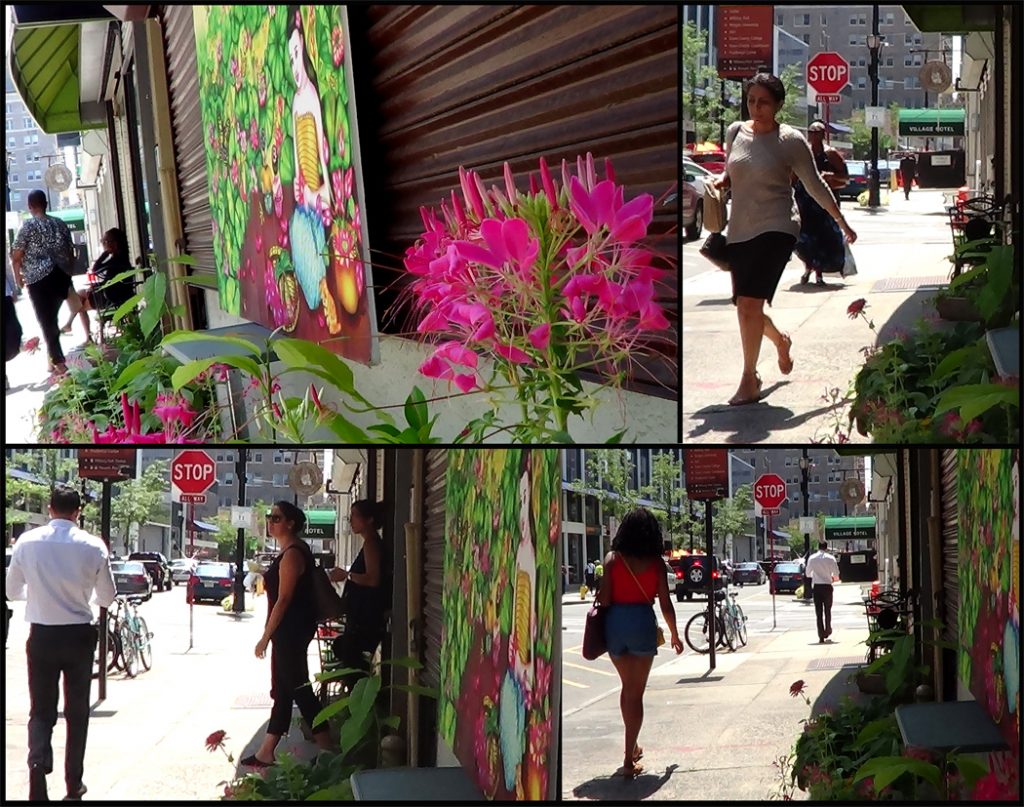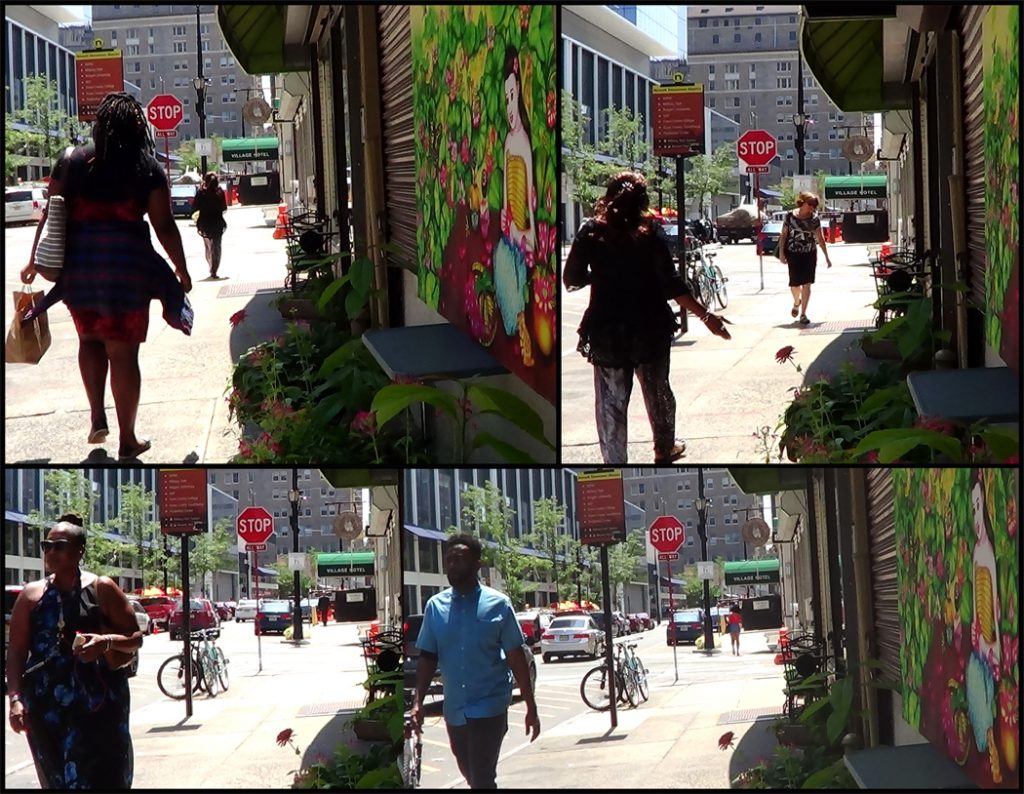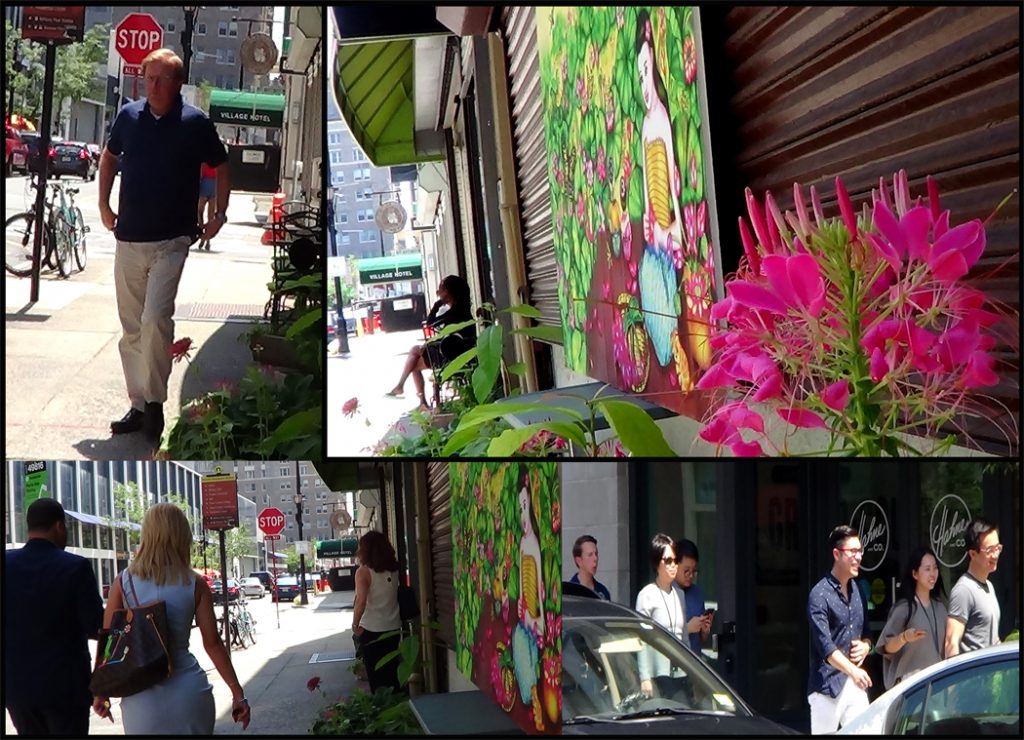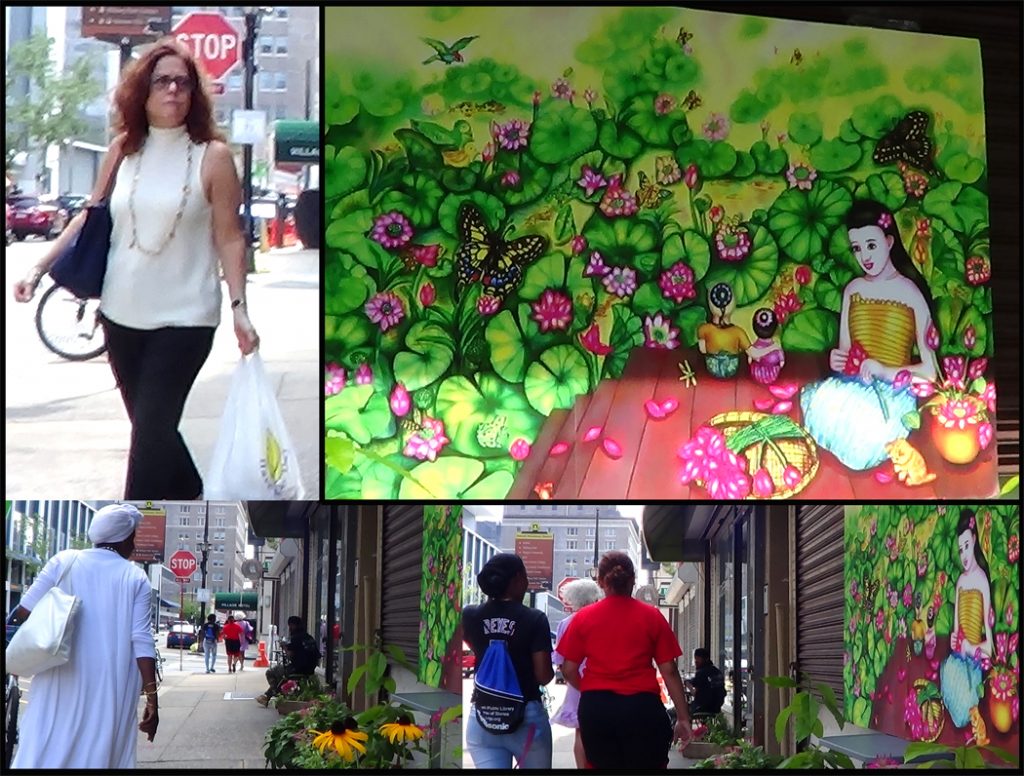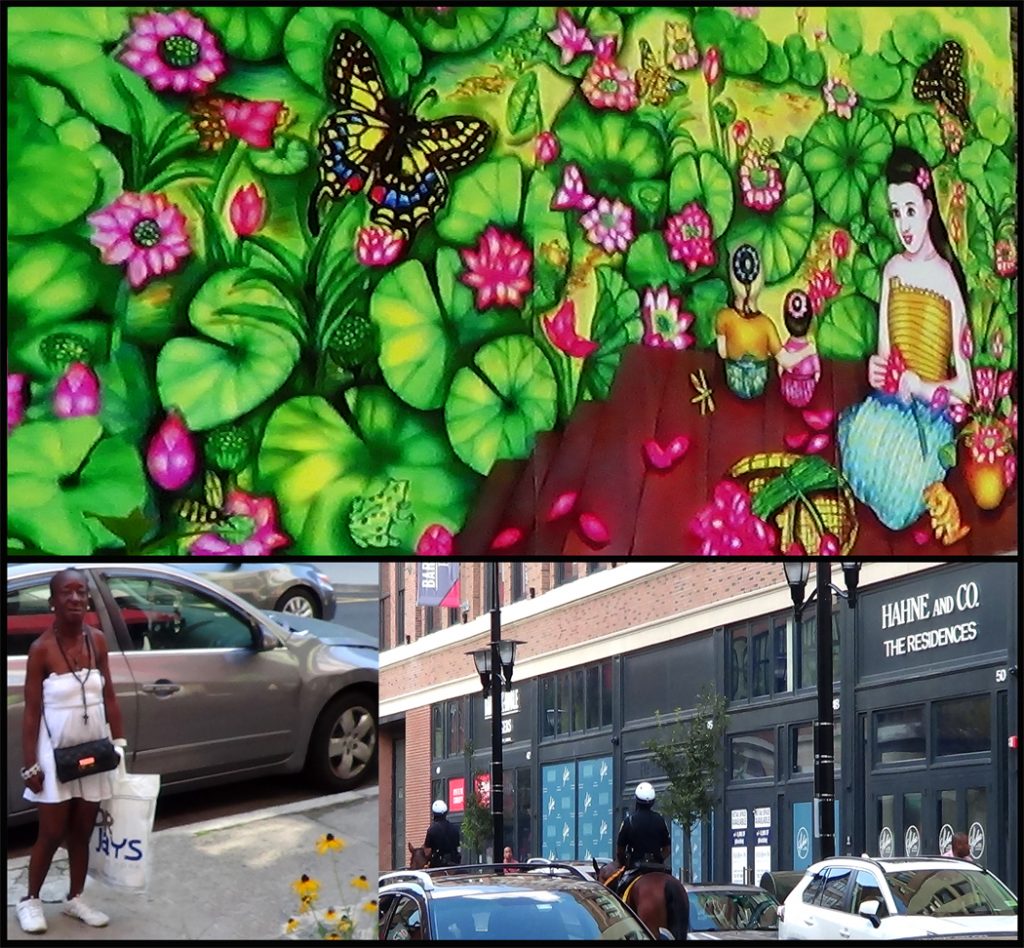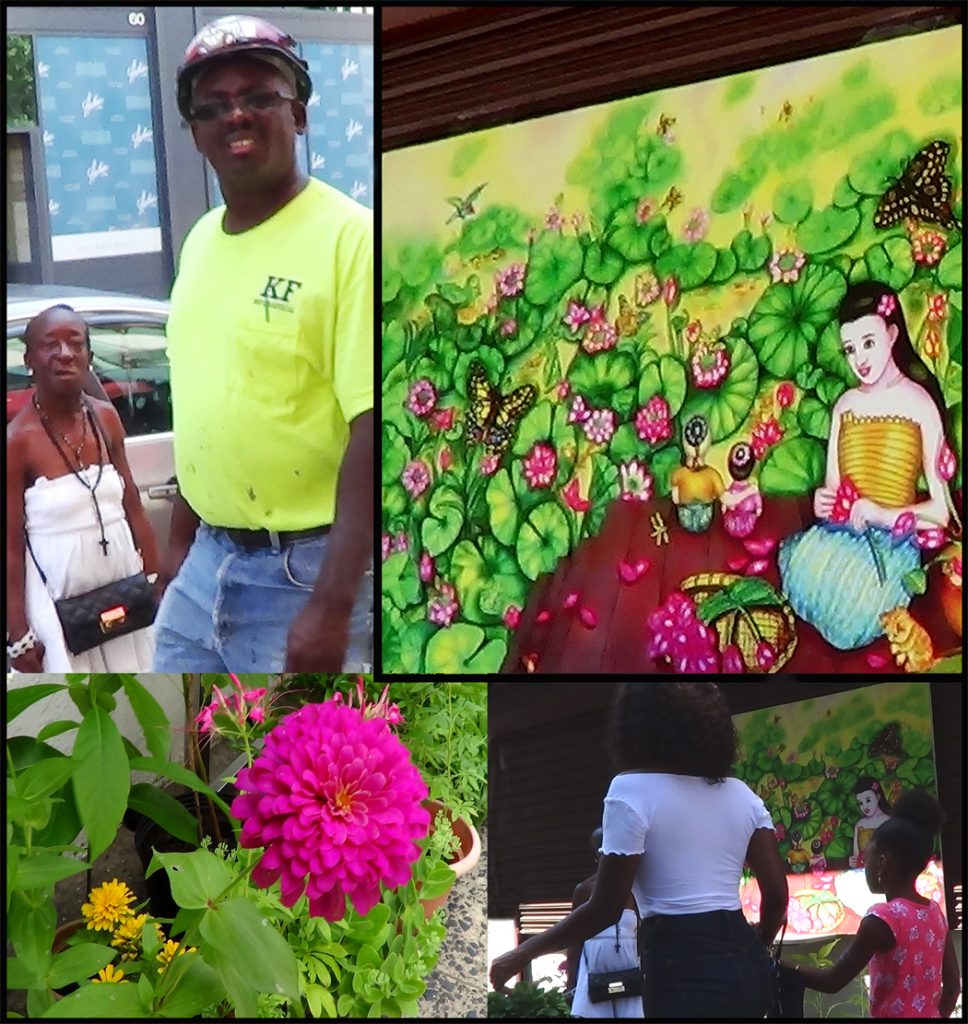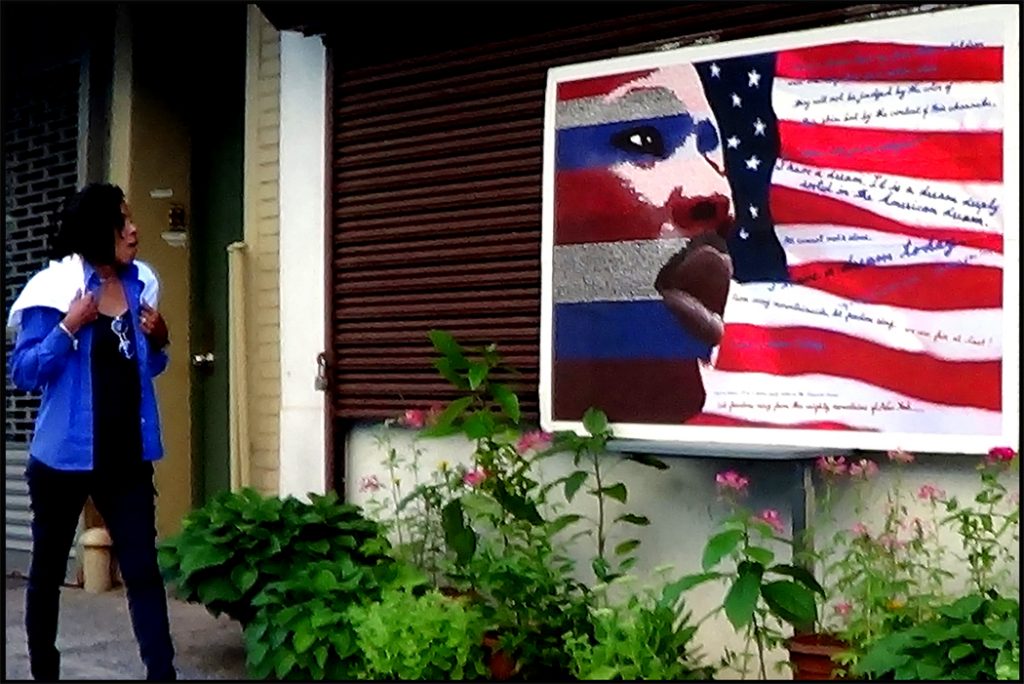 This artwork of mine titled, "I Have A Dream – Dr. Martin Luther King, Jr", I displayed from, Wednesday, August 14, 2019, to August 21, 2019. I produced this work in 2010. I also added more plants to fill the front of shop space.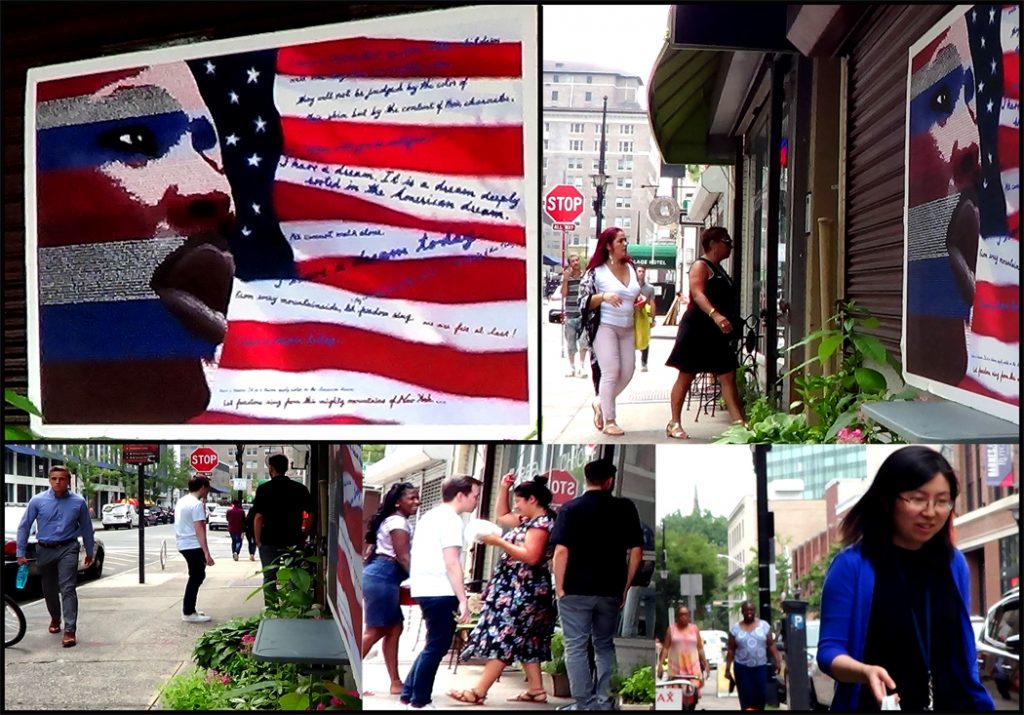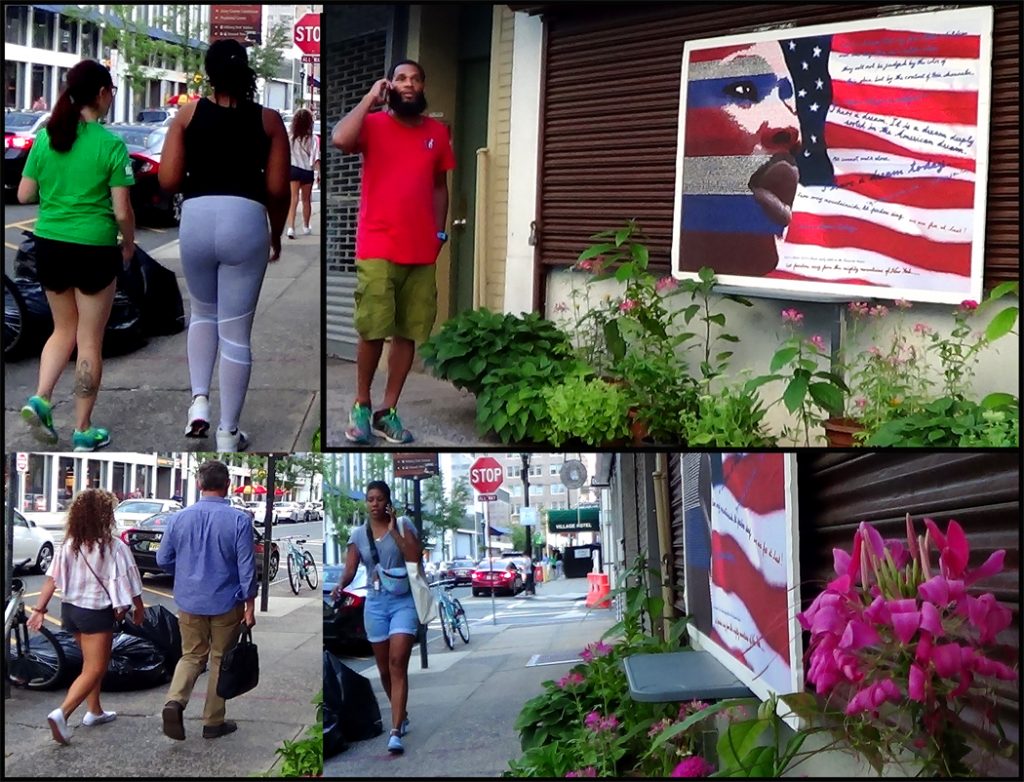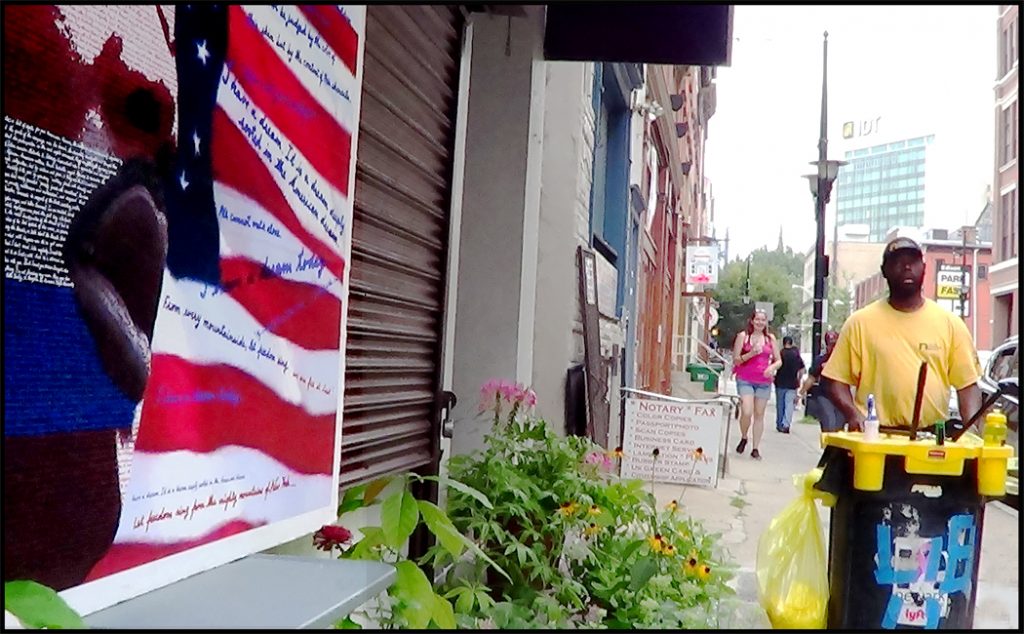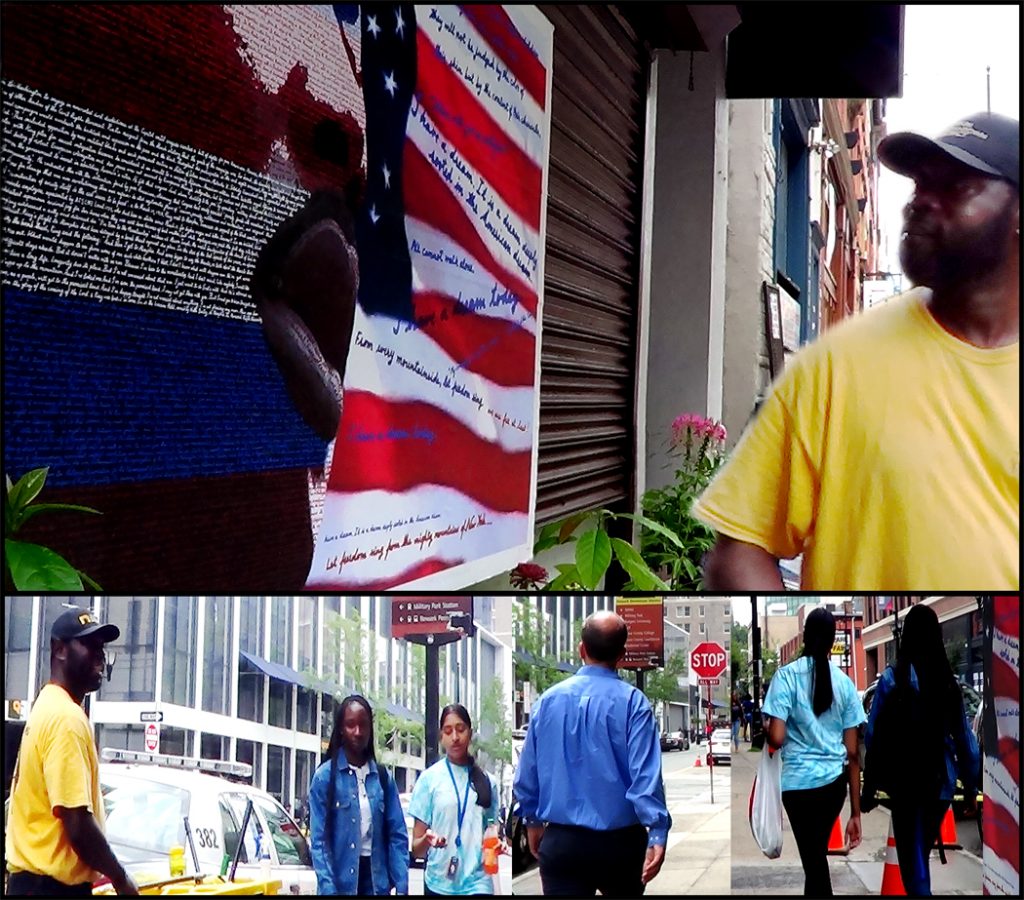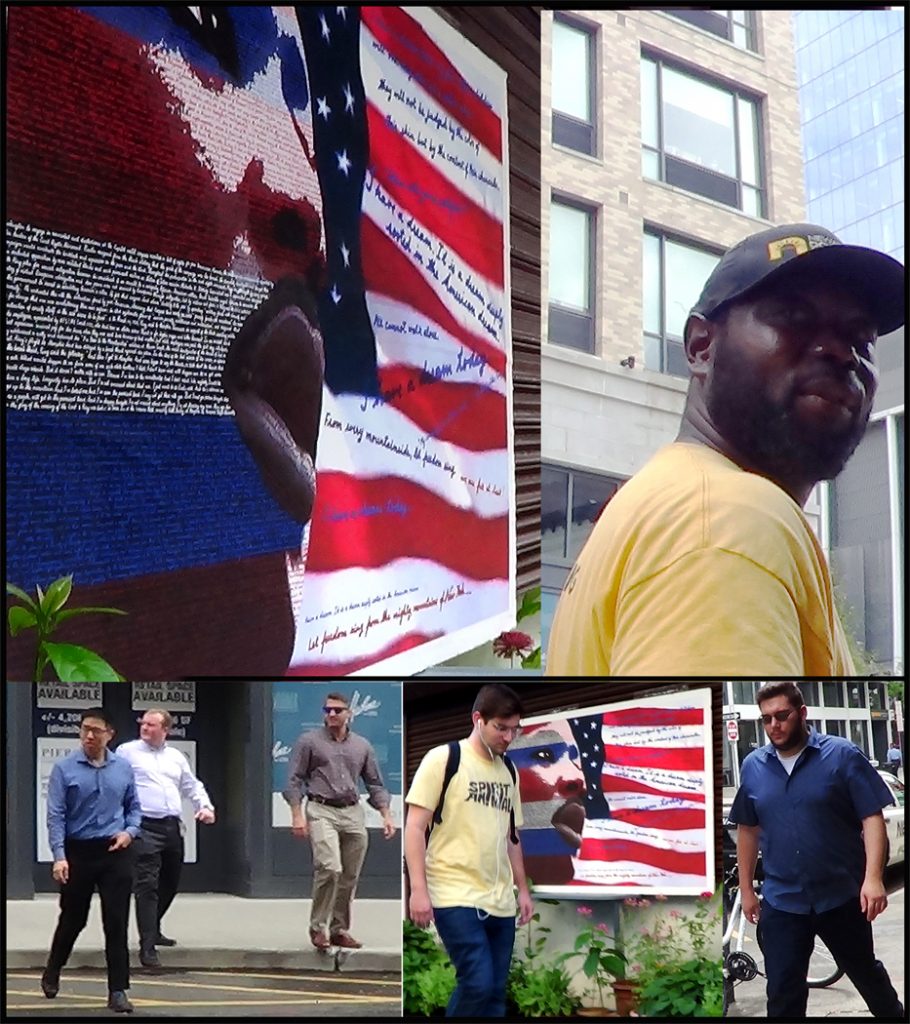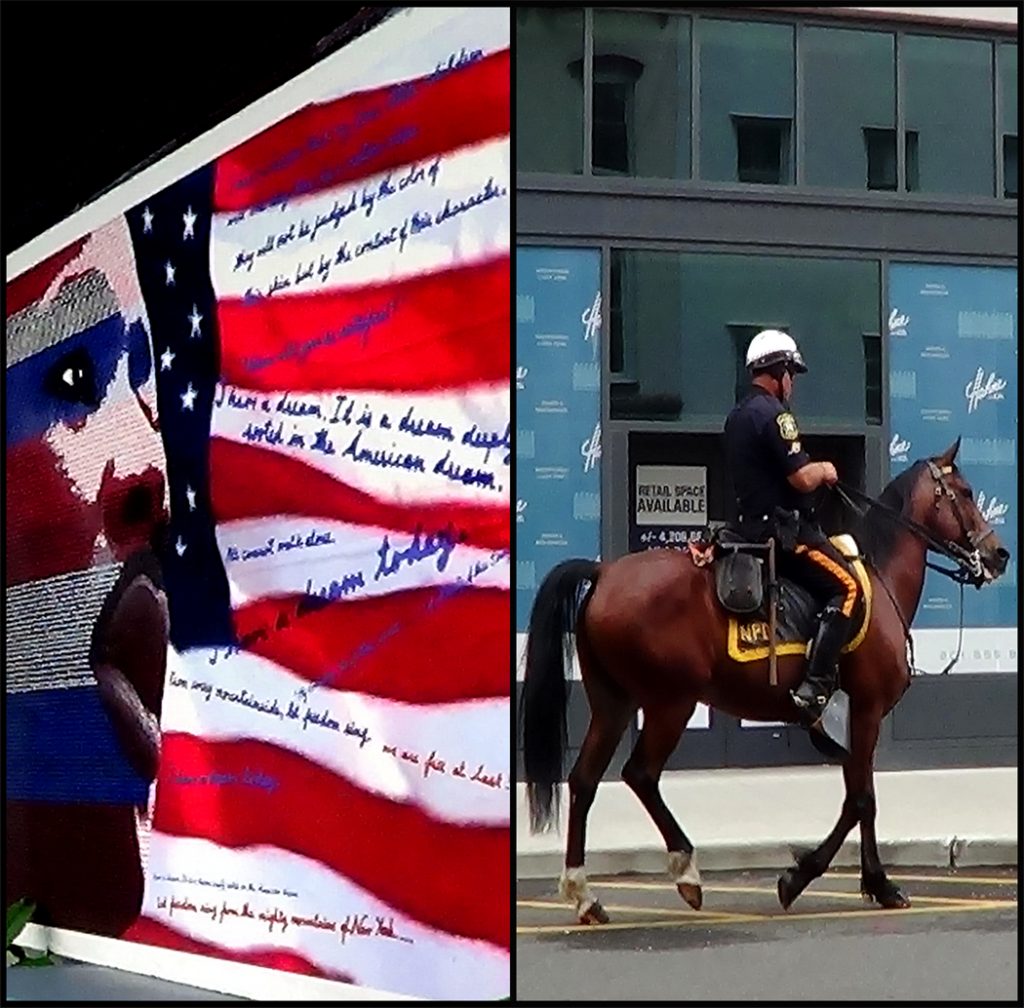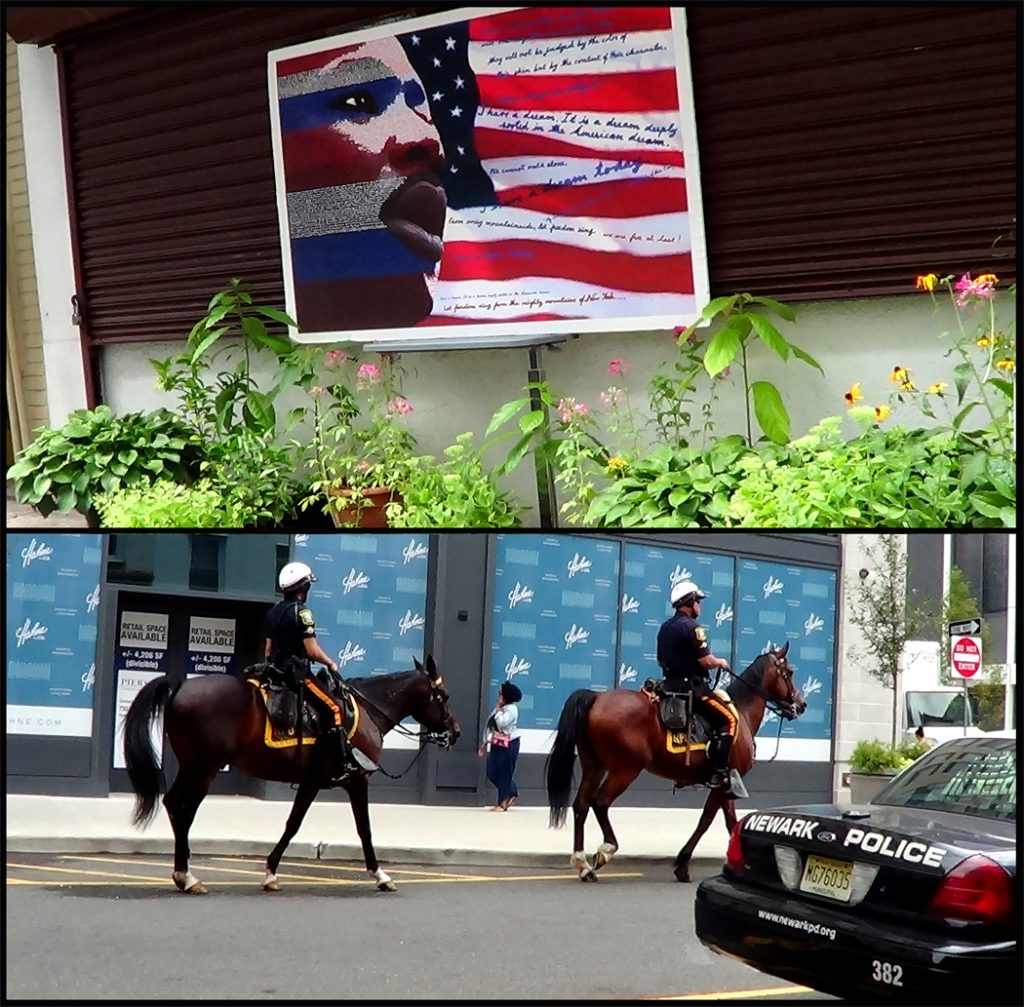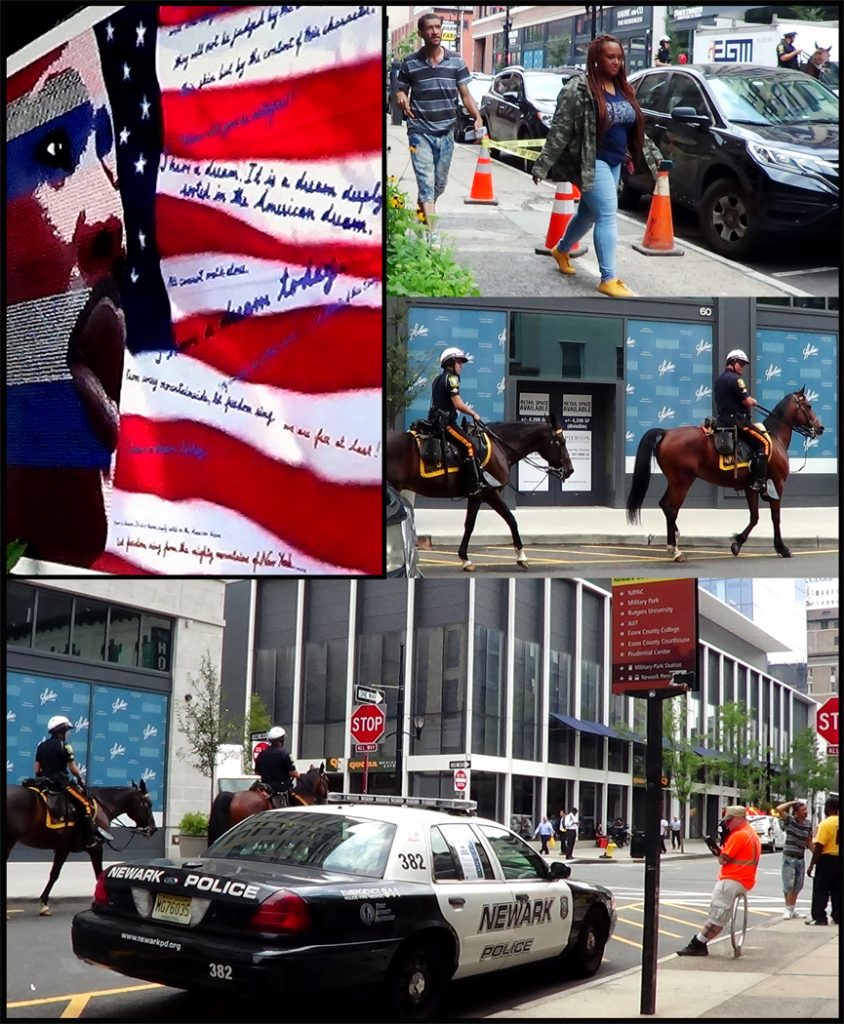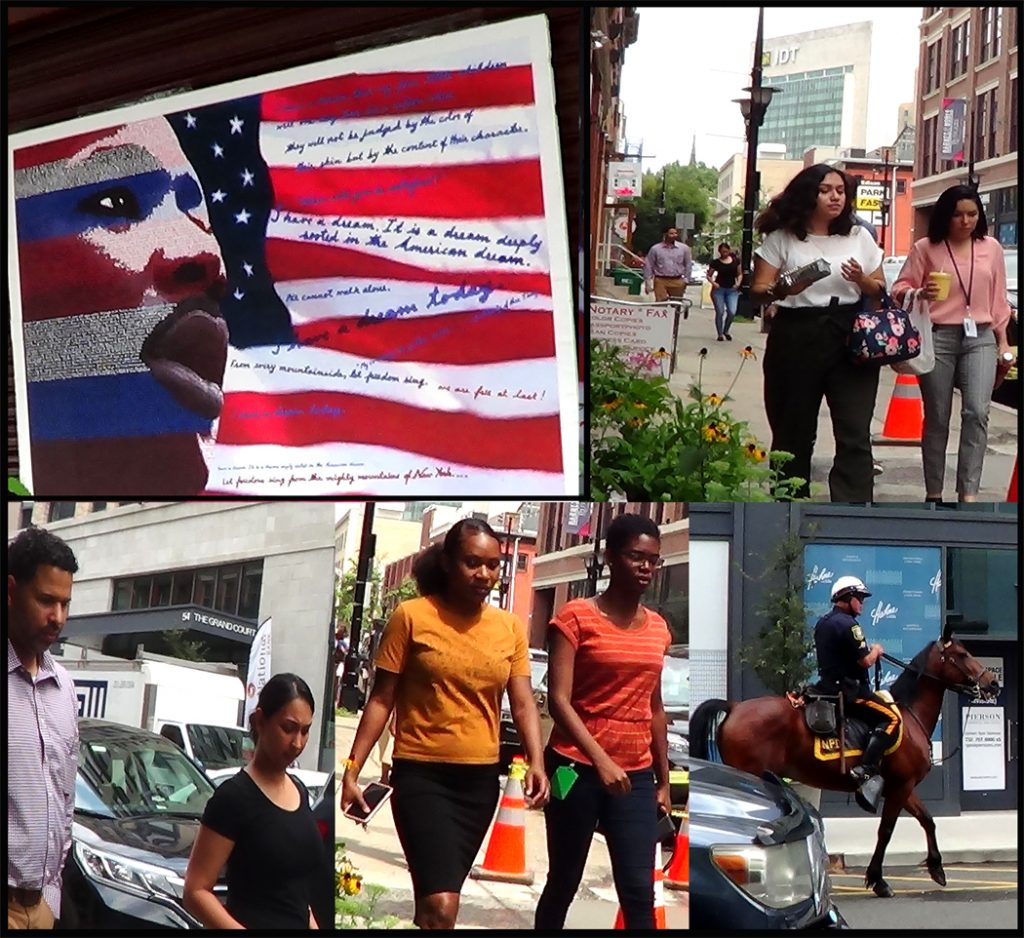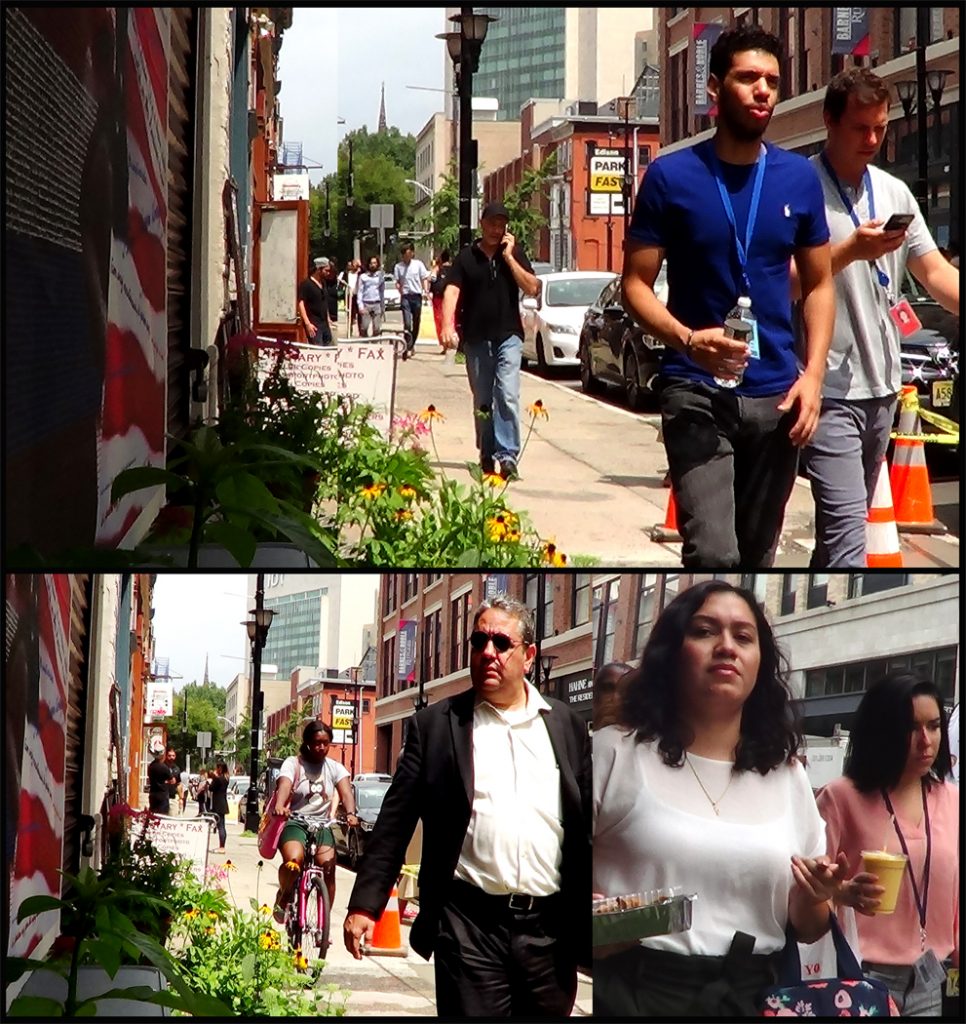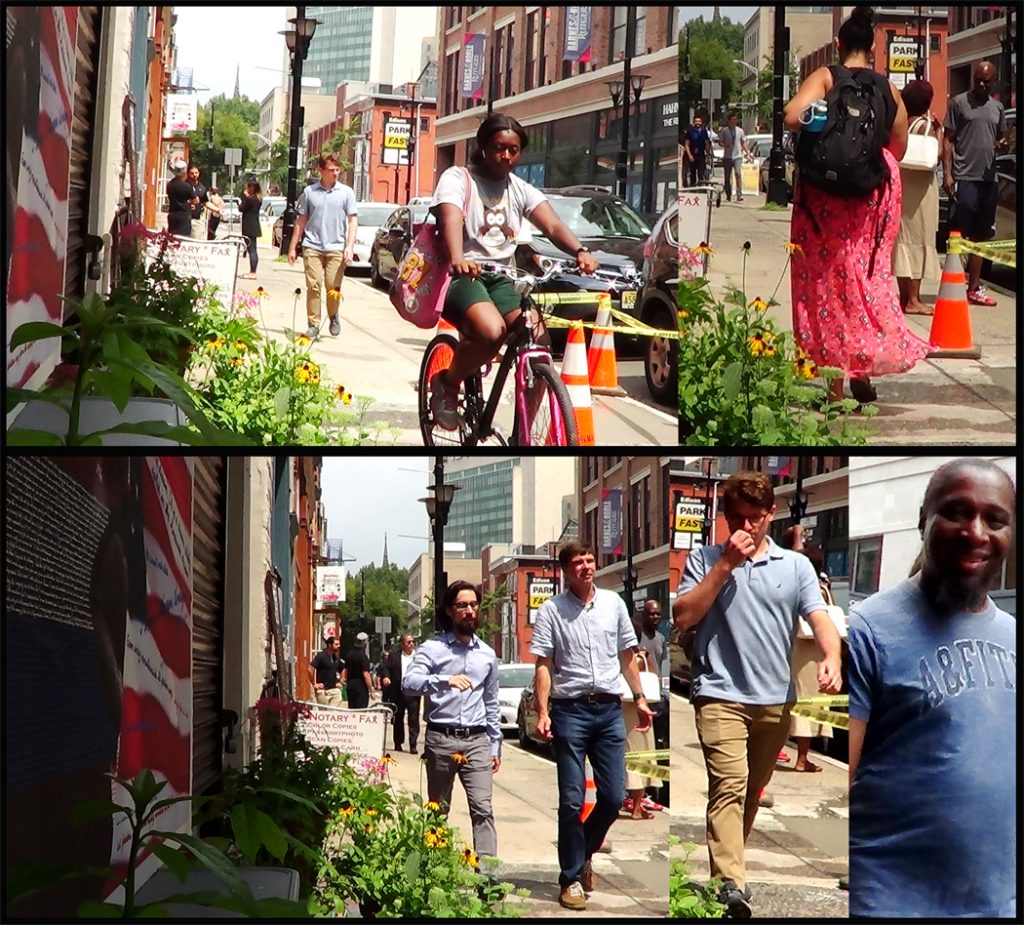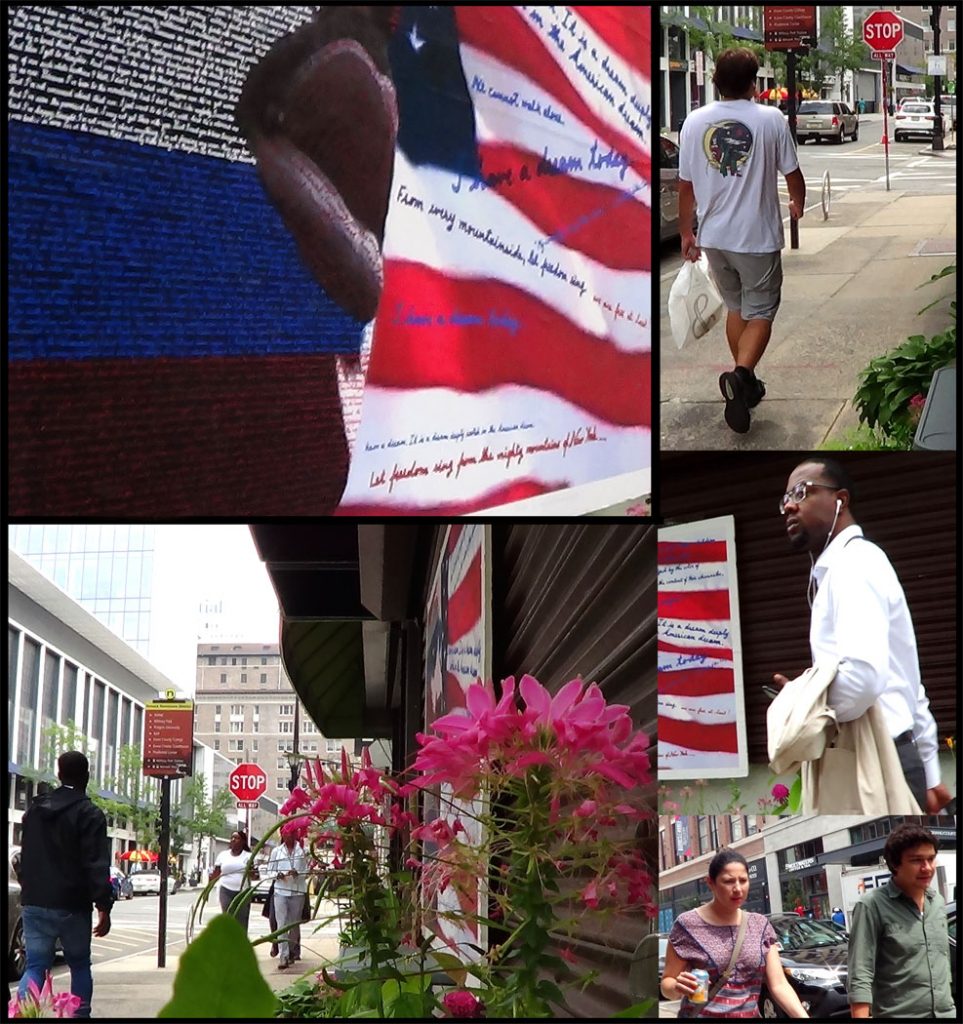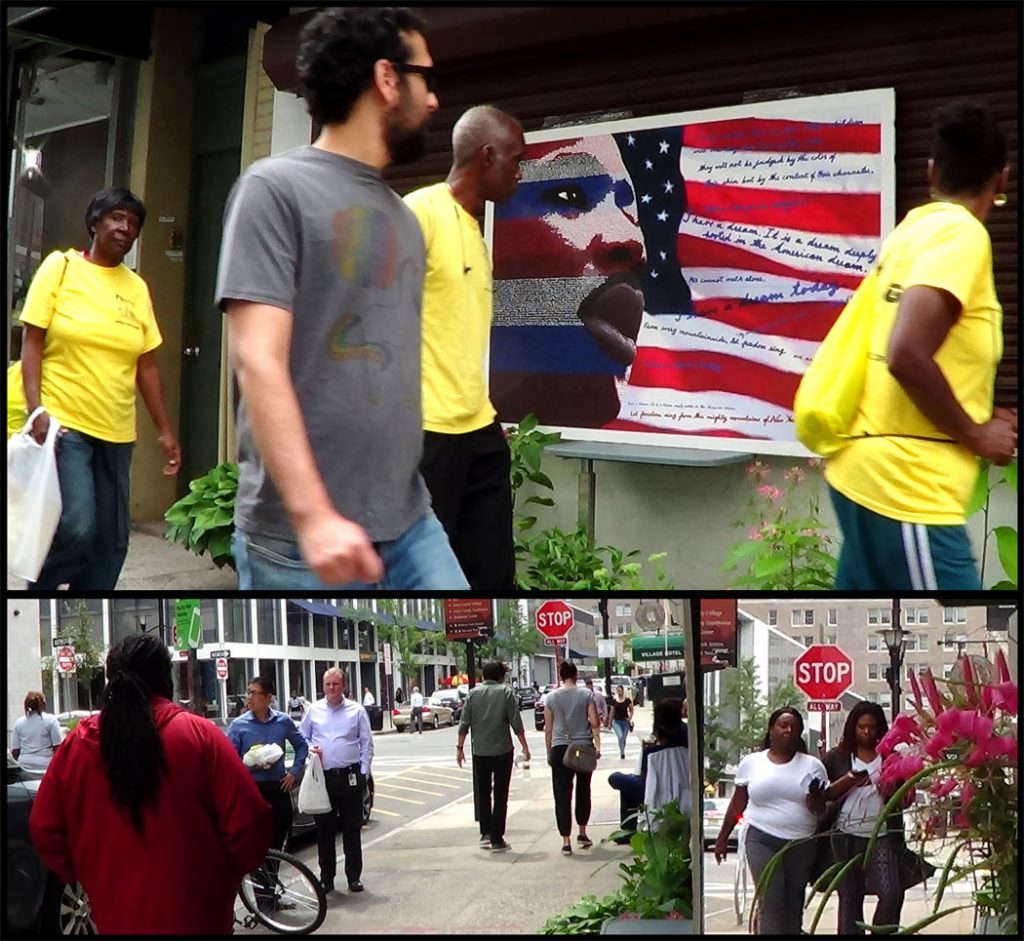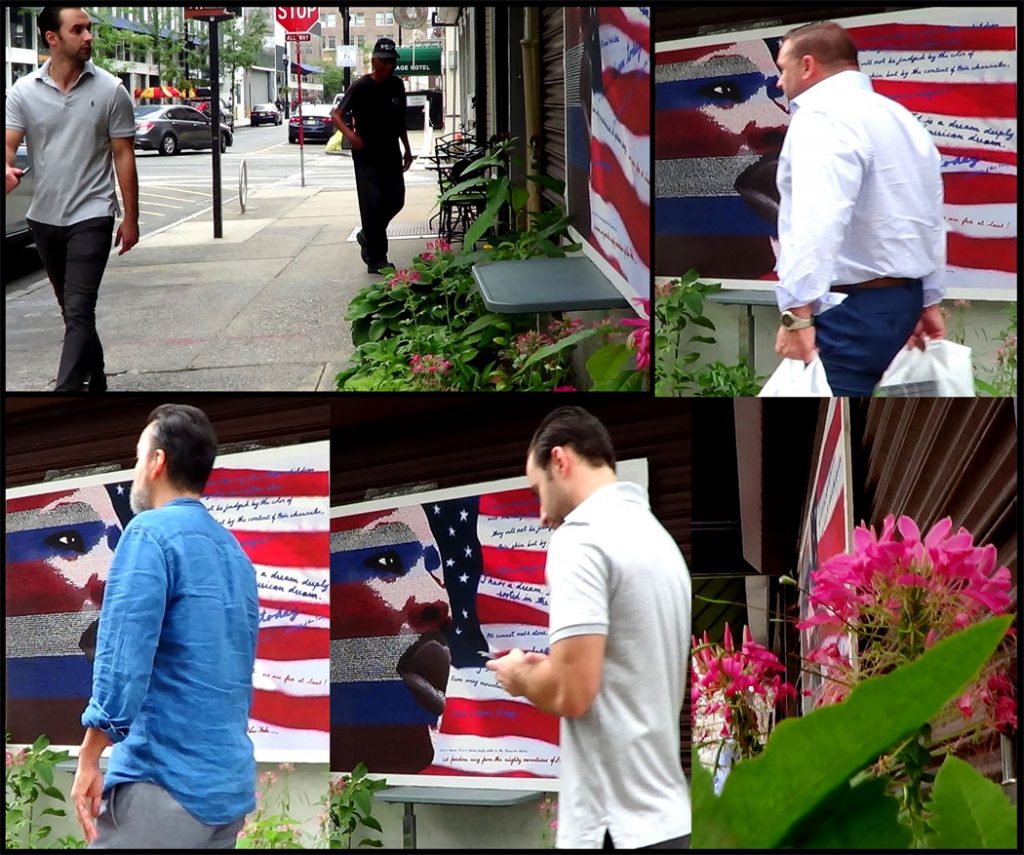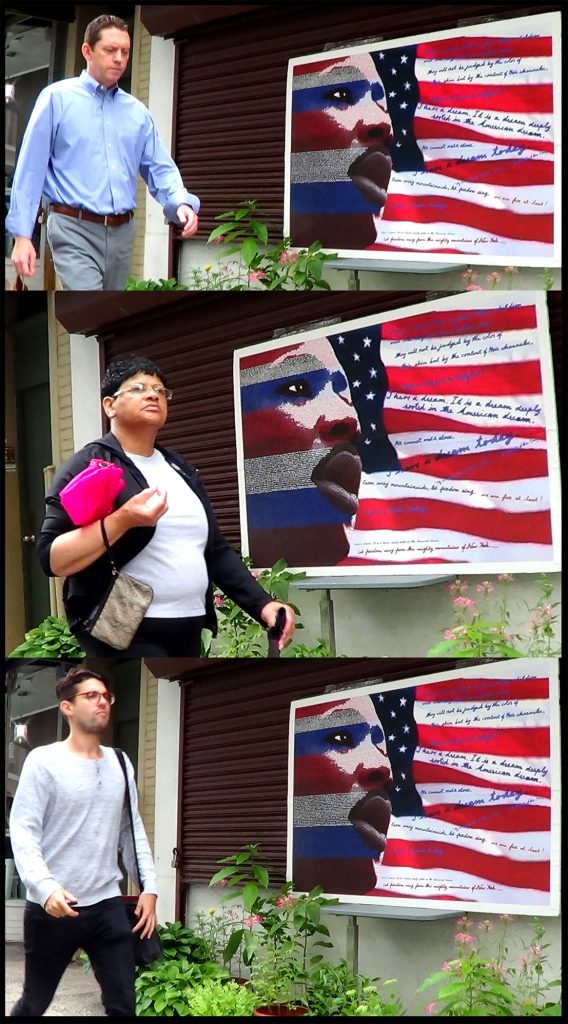 49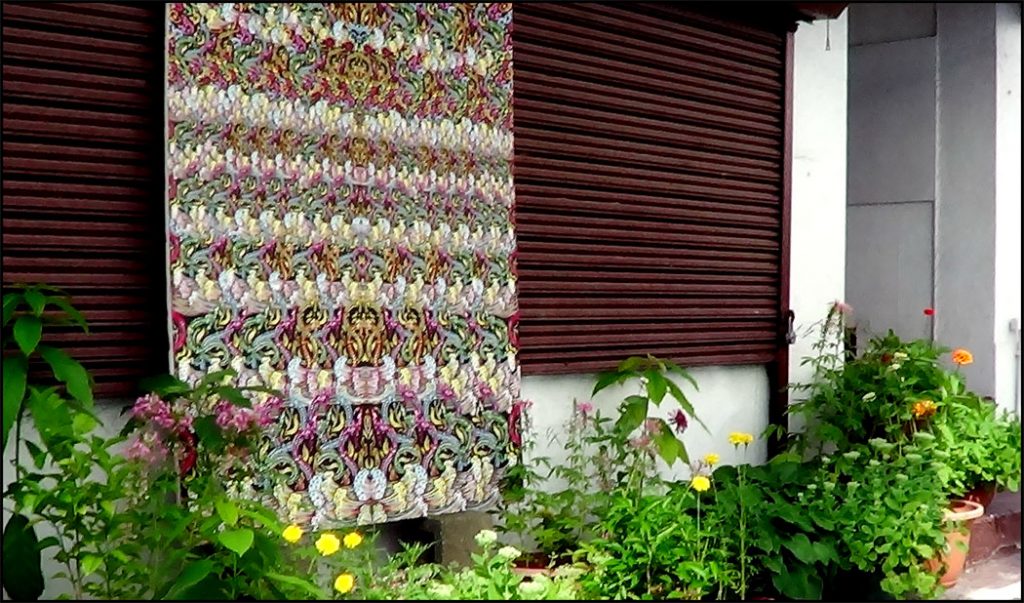 My Thai classical artwork was displayed on Thursday, August 22, 2019. I produced this artwork in1994.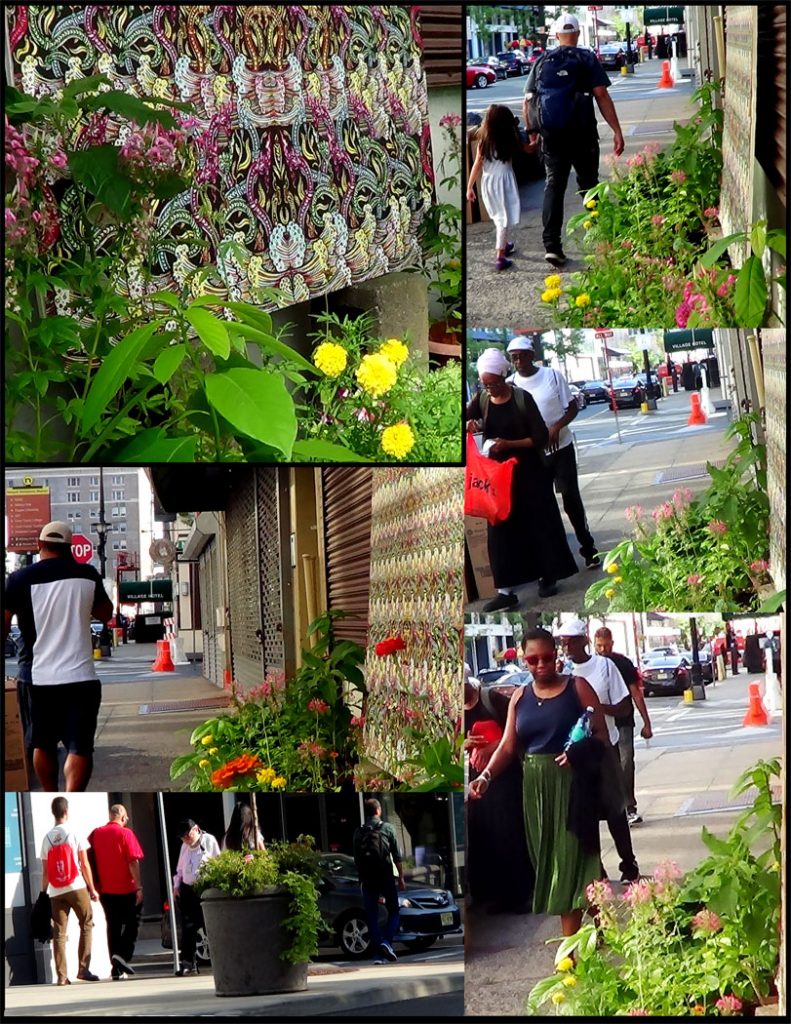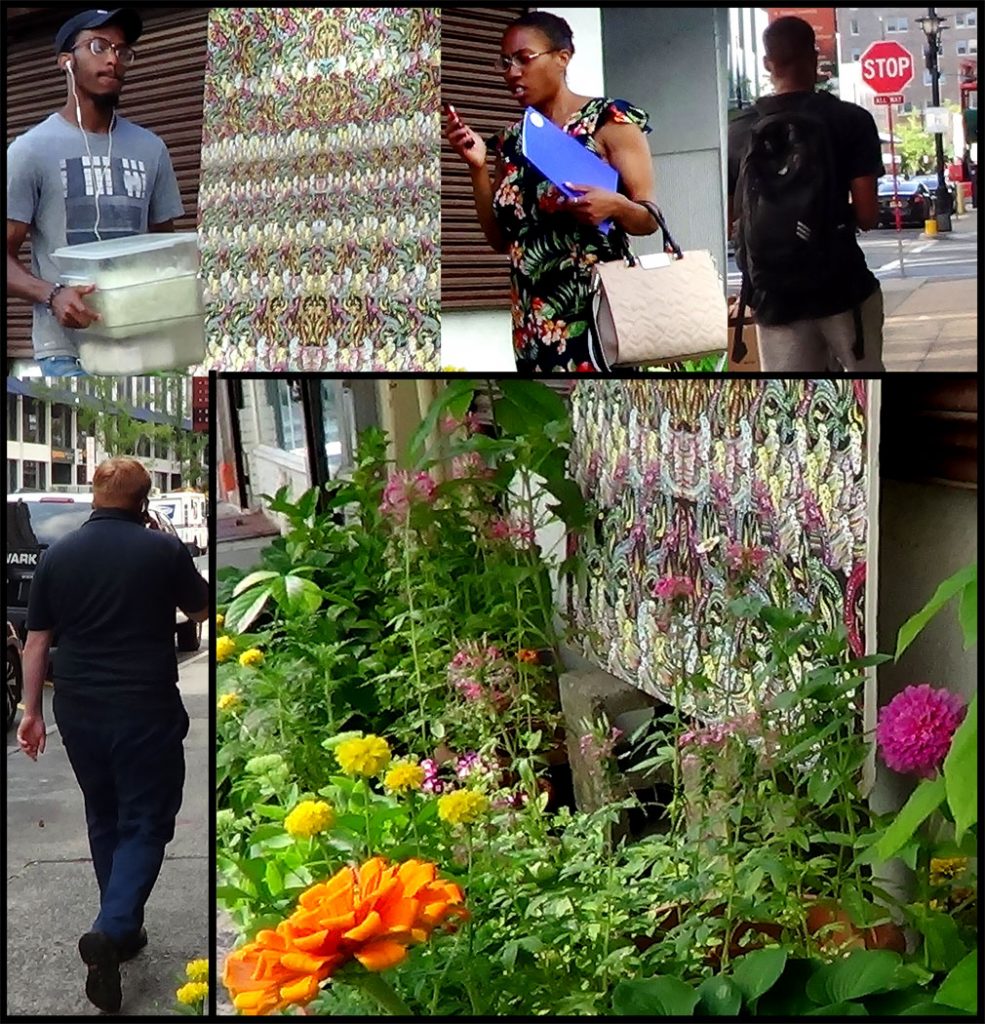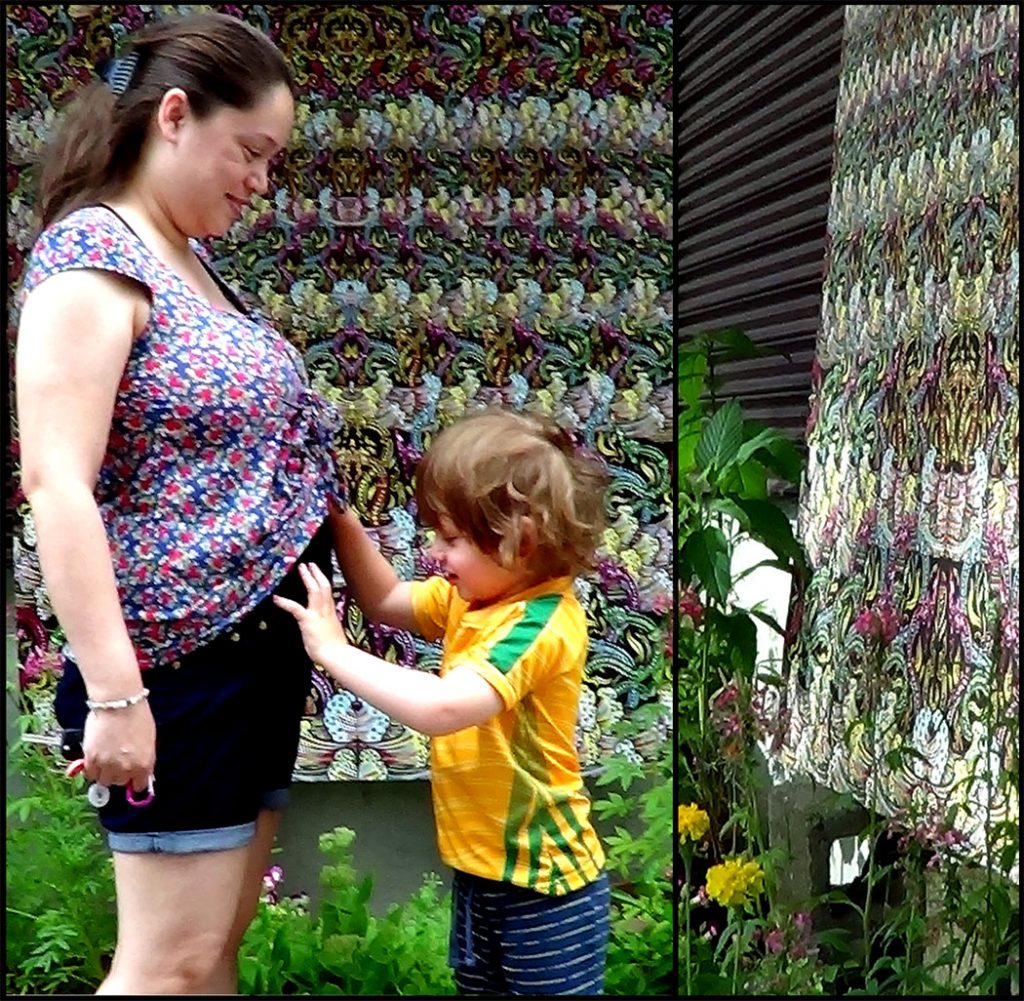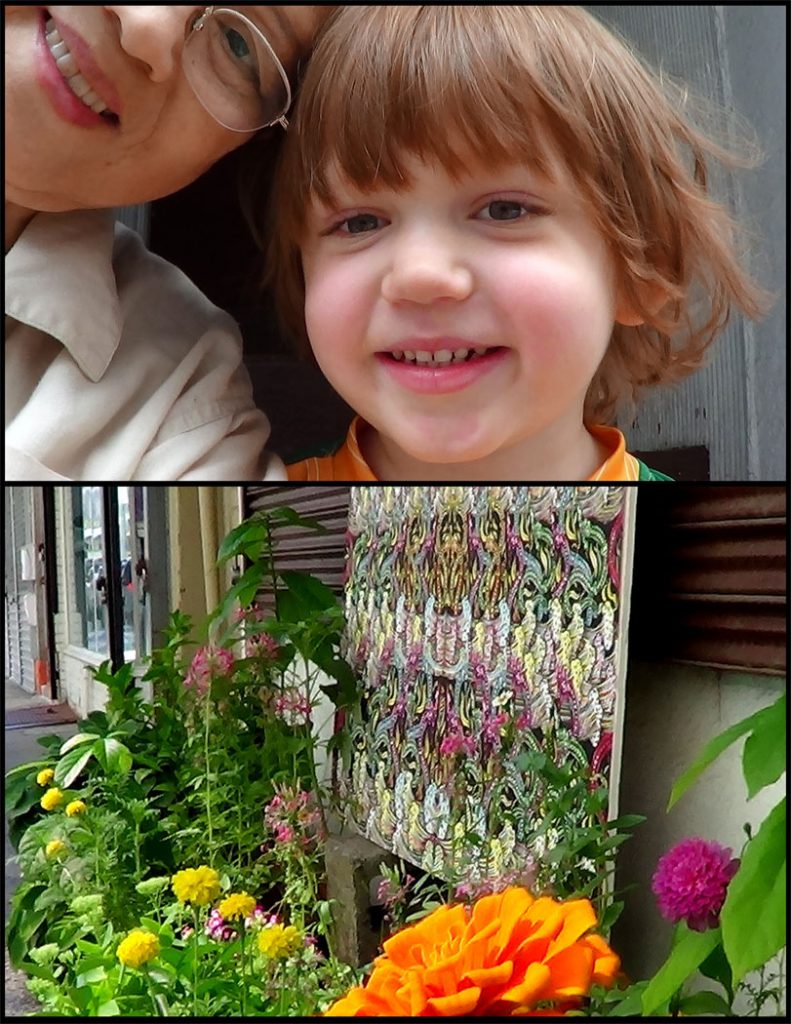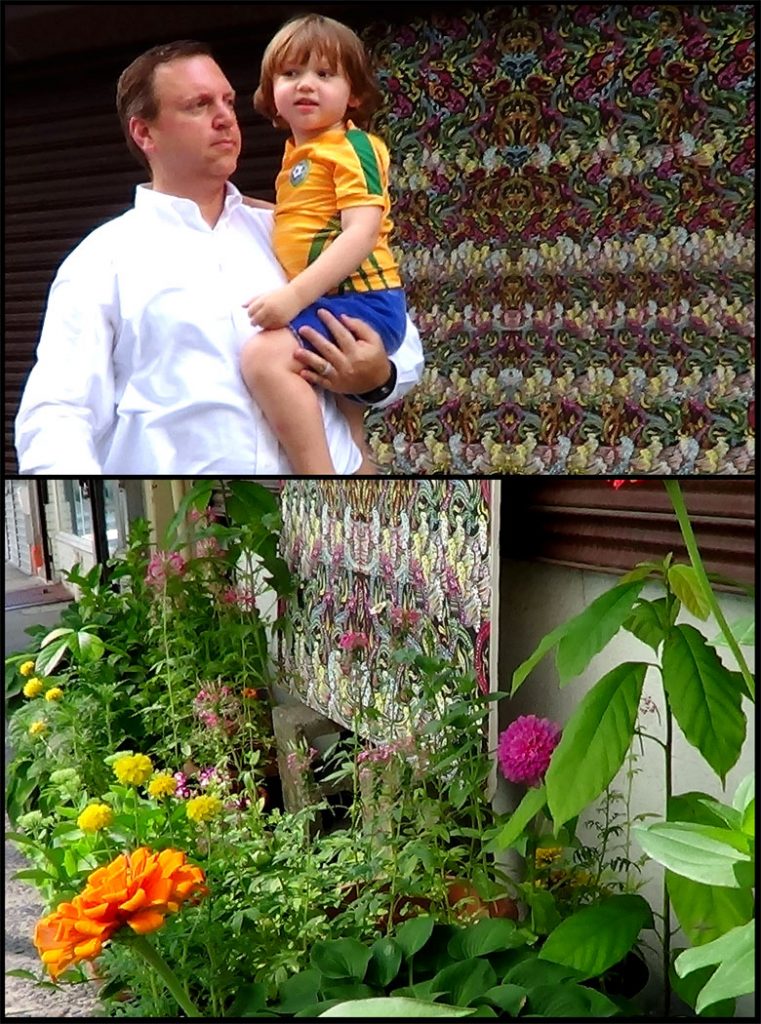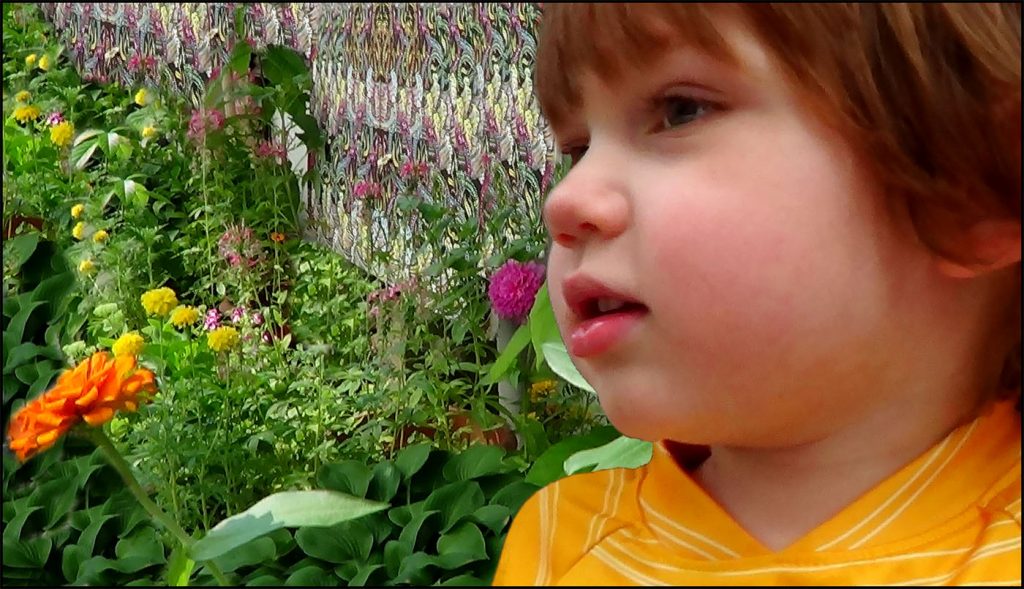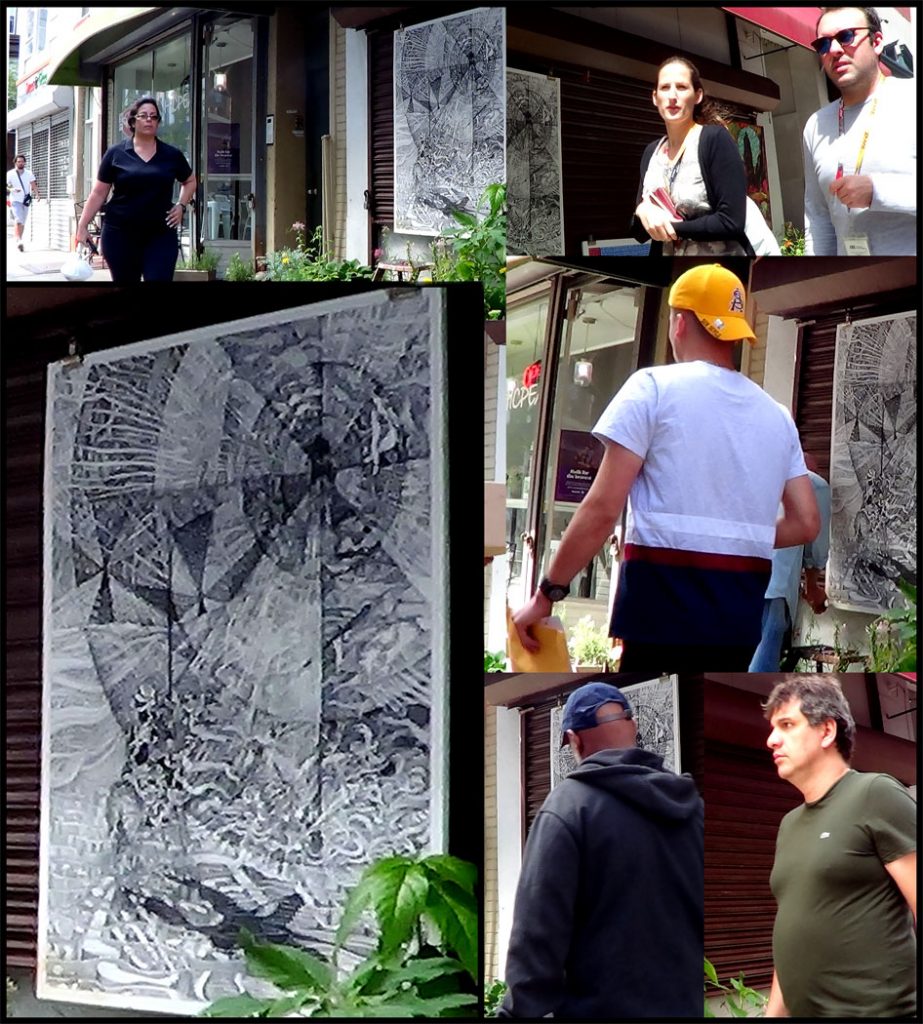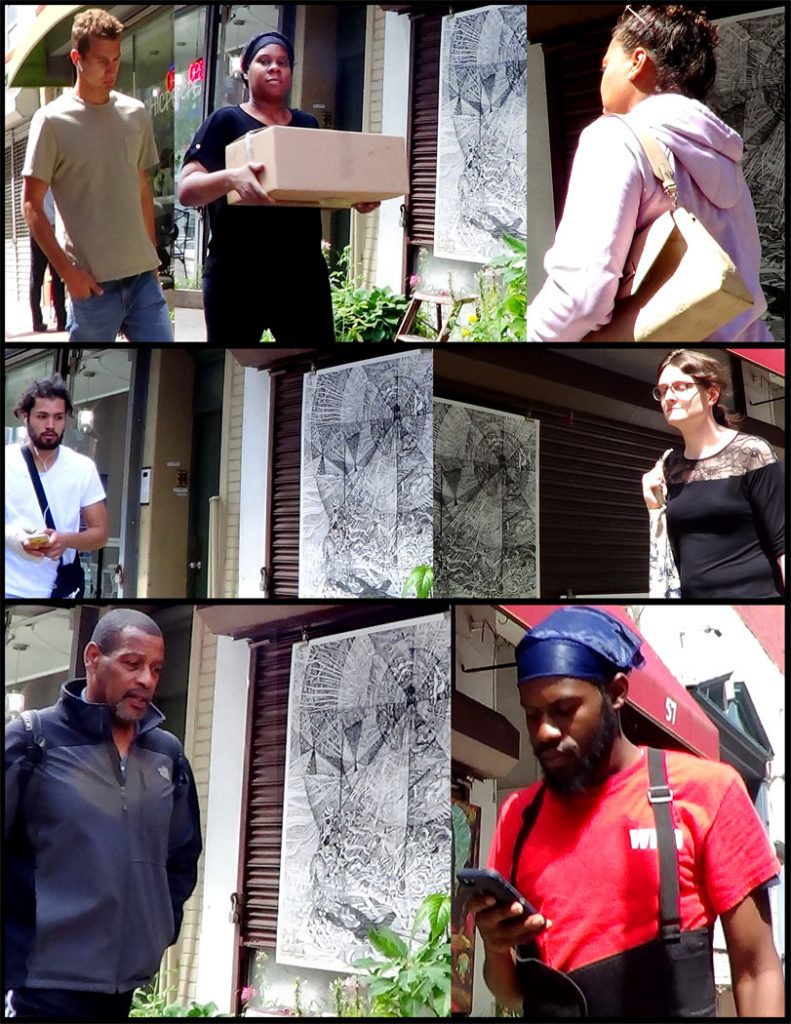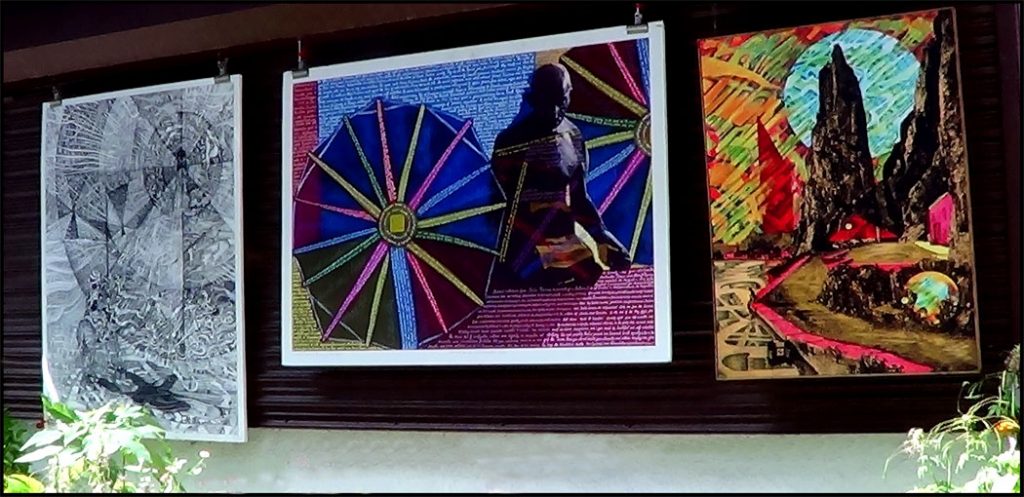 On Monday, August 28, 2019 John added his work to the display.  John's artwork is on the far left, "Impossible Dreamer".  "Gandhi Man of Peace", in the middle is my artwork, which I produced in 2010.  The far right is John's artwork "Beneath the Lake".  Thanks to John Watts, my husband, for helping to display the artwork in a better presentation.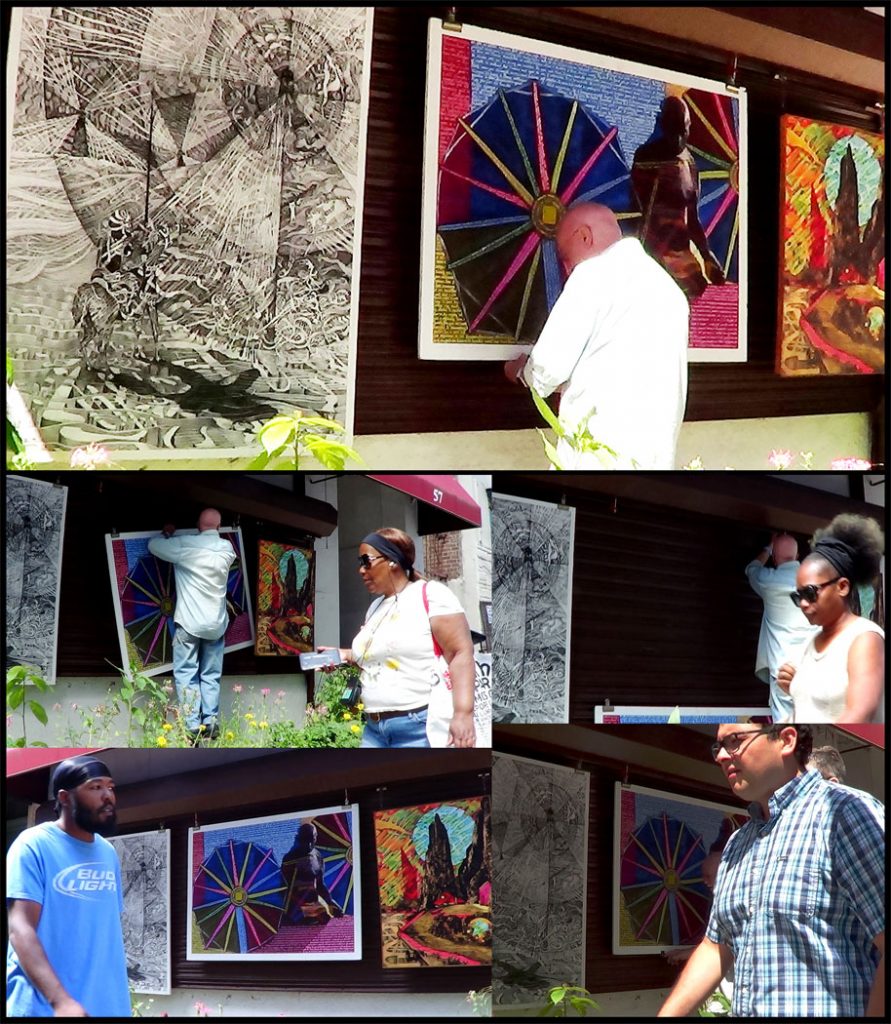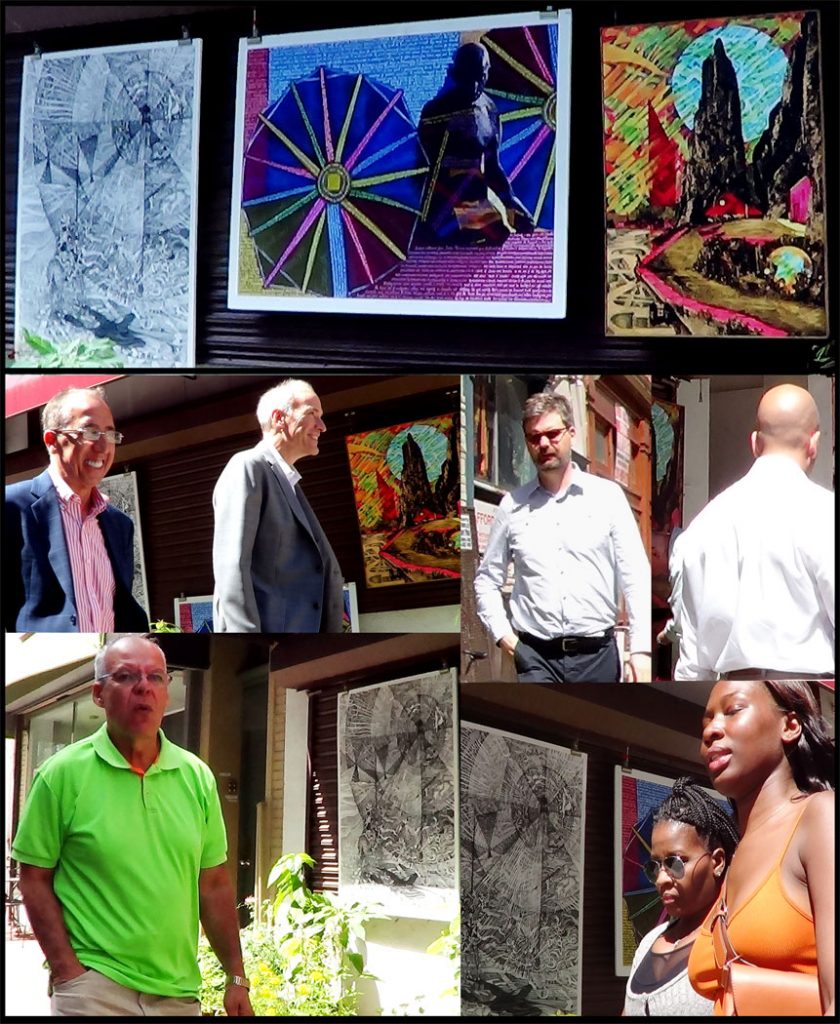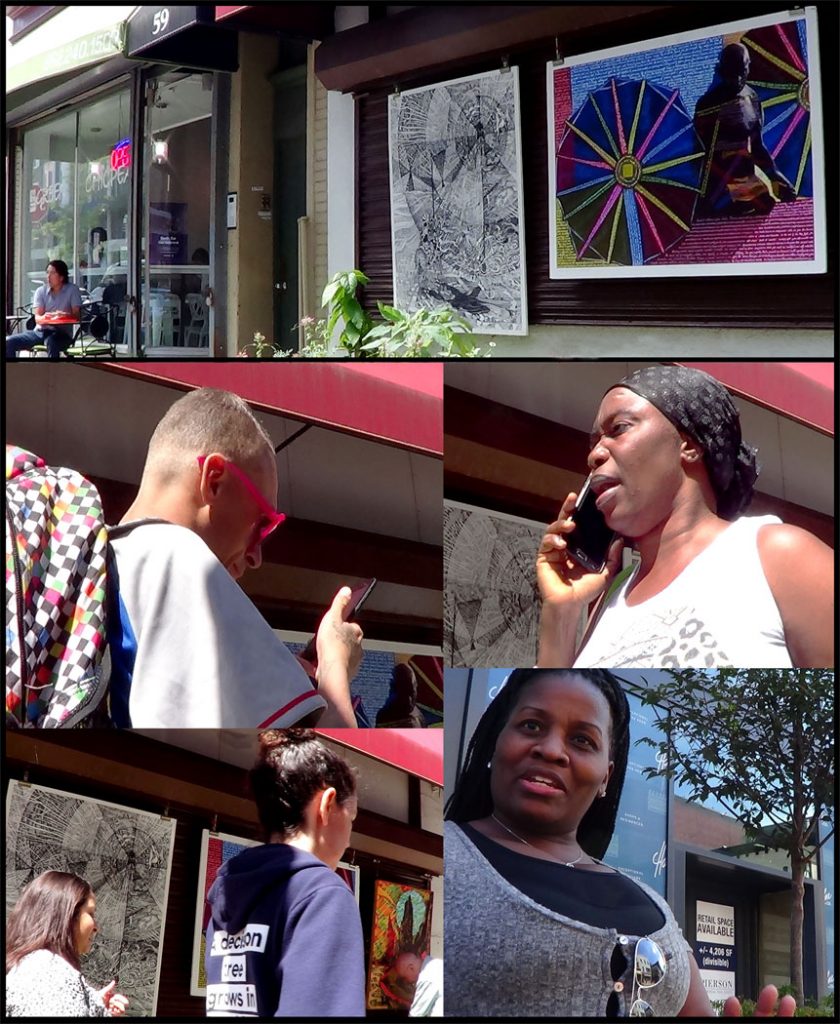 I am happy to display our artworks in public. There seems to be a positive reaction from the people who view them. People comment about the beautiful plants and unique artwork.
Ing-On Vibulbhan-Watts and John Watts, Monday, October 7, 2019