Peace Project at Washington Park  on Sunday, October 23, 2011
And Creation Nation Art & Peace Parade
A Few days before the parade Chandri Barat came to see me and told me that she would like to have my peace project poster to be included in the Creation Nation Art and Peace Parade.  I was very glad she was interested in my peace project.  The next day in the afternoon I called Chandri to be sure that she would be in her office when I delivered my peace poster.  I met Chandri in her office with her husband Mr. Gary Barat, their daughters, Athena and Ariana.  I explained my intention and how to set up my Peace Project to Mr. Barat.  He liked the idea and wanted to have few more of my posters for people to write comments about "What does Peace mean to you?"  John helped me deliver two more of my large, 24 inches time 40 inches posters the next day.
 On Sunday, October 23, 2011, the parade day, I went to take pictures of the parade.  From Bank Street I followed the parade along Broad Street to Washing Park.  John and I had to come home after watching the group of Aztec dancers.  I went to the Washington Park again and saw Kareisha Avestel sitting by the table that displayed my Peace Project poster.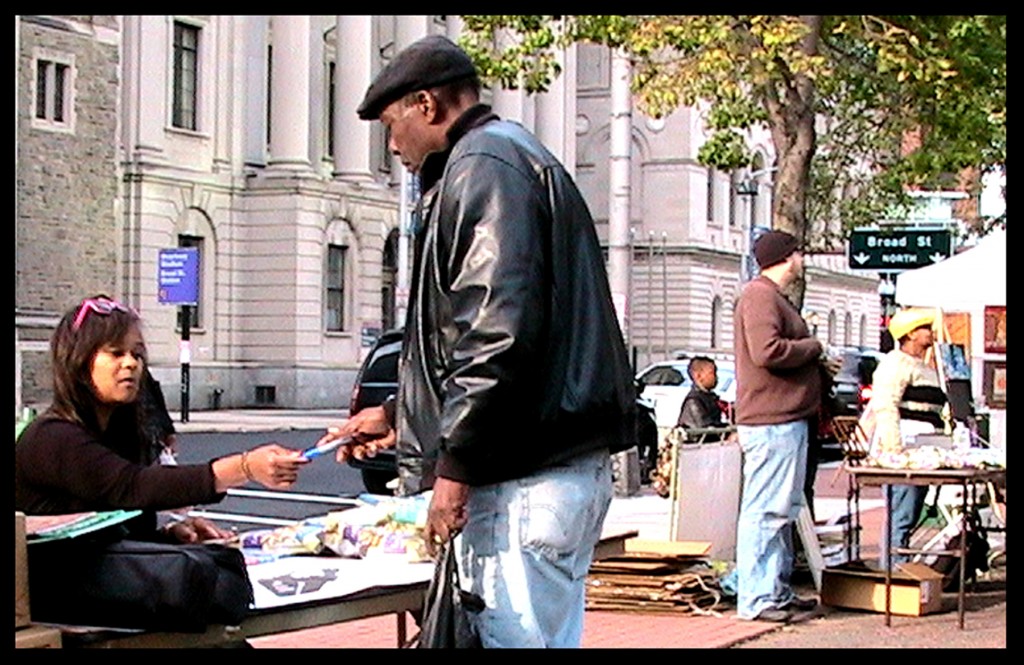 Kareisha Avestel was a Barat Youth Initiative volunteer who took care of my Peace Project.  She was very nice inviting people passing by to write their comments on "What does Peace mean to you?"

 The park was bit lonely because most of the parade participants had left.  But there were still some people with families in the park.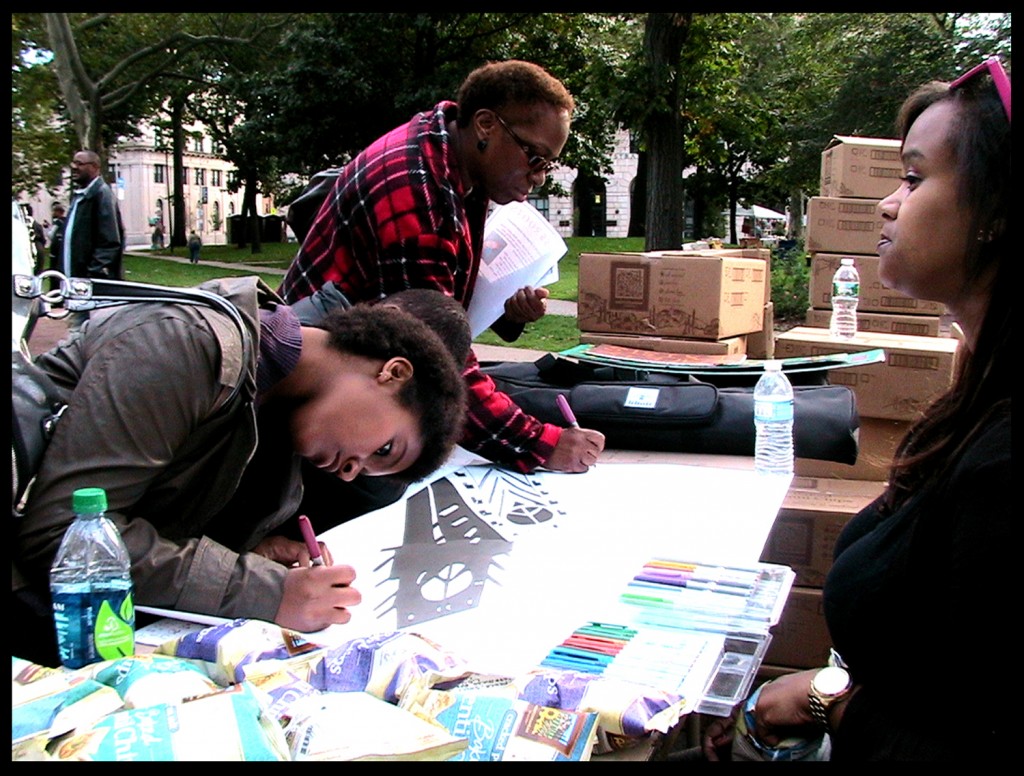 Only a few people passing by in the park were curious about my Peace Project.  But with the help of Kareisha explaining, most of them were willing to participate and share their thought of Peace with others.

Thanks to Kareisha's help I was able to have time to take some pictures of the people who recorded their feelings of Peace.  While I was organizing my photographs I came across a picture of this young lady.  I love her beautiful face and her smile.  She influenced me to write the poem.  I named my poem, "Beautiful Face".
Beautiful Face
 Beautiful face
And beautiful smile
Looking back at the past
After expressing her meaning of peace
She is happy now
Knowing that what gives her peace
As it glows on her beautiful face
Ing-On Vibulbhan-Watts, Saturday, January 07, 2012, 12:20 am

This young boy came with his grandma; he seemed to concentrate very hard on what was in his mind.  Thank you to all the grandparents who were kind enough to show the young lives around parade and fair.  This youngster will learn to love and remember the time he spent with his grandma when he grows up after she is long gone.  Every pleasant experience with an adult will be good for the young ones.  His experience with his grandma at this moment is a very precious not only for both of them but it was a precious moment to me also to see his grandma showing the peace in her and him.  It was a great gift of happiness for me to be with them at this moment.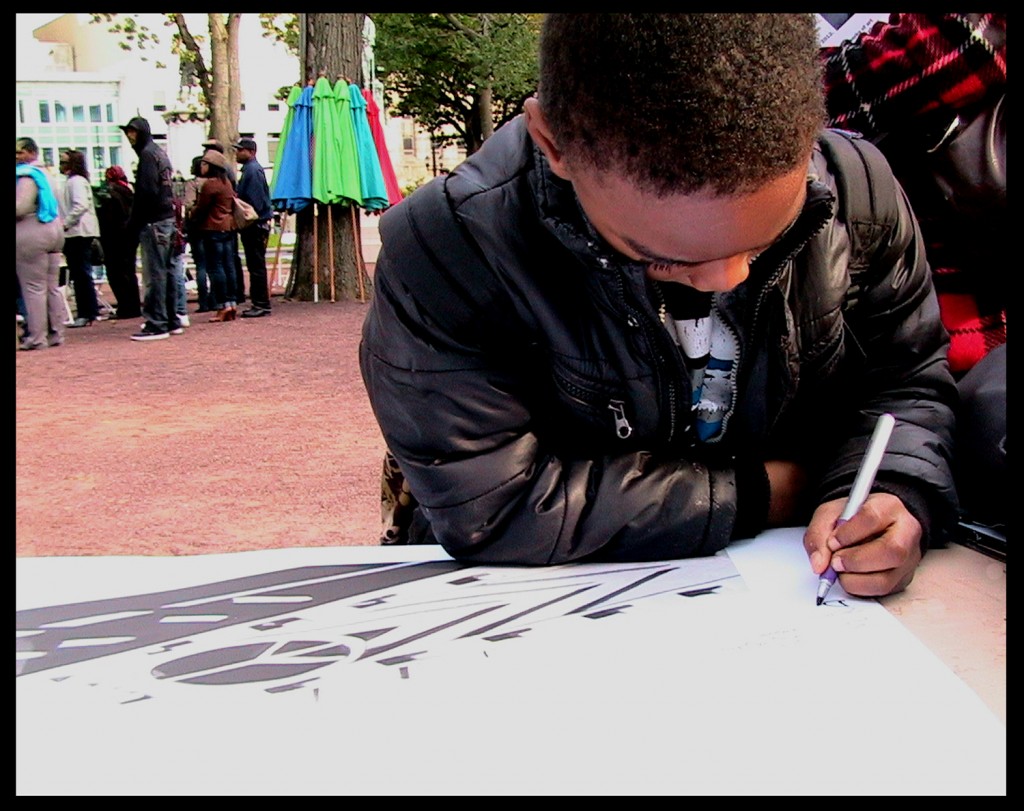 Put the Seeds of Peace in a young brain
 Watching grandma scribing her Peace
The little boy imprints this in his mind
Eyes looking out
But his brain is working
What gives me Peace grandma?
I want to write it down
Young brain puts the seeds of Peace
To grow in his life
We are proud to show him
Living in Peace
Ing-On Vibulbhan-Watts, Saturday, January 07, 2012, 12:41 am
Hunter came to the park with his mother and grandma.  He saw that the other boy was writing his comment about peace.  Hunter wanted to join in to write his comments also.  Hunter is very lucky to have a very good mother and grandma.
 The Domino Effect of Peace
One little boy composes his meaning of Peace
The other one watches intently
Begging for a pen to write
Copying the first
Showing of his expression
The domino effect of Peace
To the other young one
One, two, three, four, five——–
And more learning from the others
As adults behave
Give children the ways to learn
What we did is copied
By the young ones
Ing-On Vibulbhan-Watts, Saturday, January 07, 2012, 2:20 am
Hunter is very smart boy at his age of six years.  He can read and write very well.  Beside him being very smart, I have to give credit to his mother who spends time to cultivate him.  He is an only child so his mother can devote most of her time to him.  But if he has more brothers and sisters then his mother would need to divide her time to care for the other children. I think it is always wise to have one or only a few children to care for.  Those who have as many as nature can give then the wives or women will become baby making machines. They will have no life of their own except for taking care of children. The world's population has grown to seven billions and will continue to grow even larger.  The world is not going to get bigger to support more people and natural resources are getting less.  If we do not change our way of life we can cause a suicidal cycle that will end our way of life.  I hope that knowledgeable and powerful people will think twice or think deeper if they love humankind and revive beliefs and rules about family planning.  We are in a different age; some believes cannot remain the same as when we were in caves or three thousand years ago.

Smiling face and kind words can make life more pleasant and it does not cost much to do this.  The kind and gentle face of this lady made me smile back to her as if she said "How are you? And have a nice day." 
Smiling Face
 Smiling face of happiness
With simple things in life
Giving out her smile
No matter what
This moment of blissfulness
Makes her precious face
The most pretty of all
 Ing-On Vibulbhan-Watts, Saturday, January 07, 2012, 8:24 pm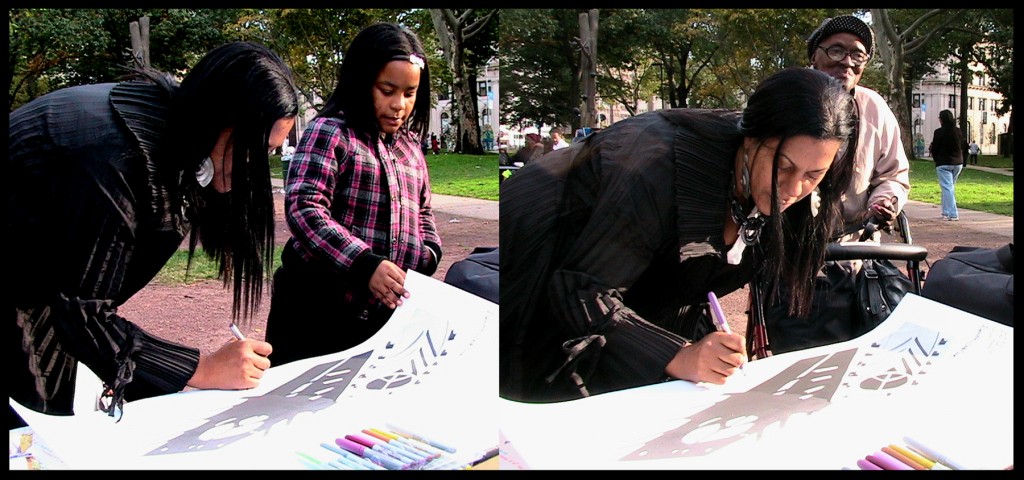 Three Generations
 Three generations concerned about Peace
Mother gently scribes with her thought
Grandma smiles pleased with feelings of Peace
Granddaughter curious checking what people did
Three generations have the same thought
Peace and Happiness that what we decide
 Ing-On Vibulbhan-Watts, Saturday, January 07, 2012, 10:49 pm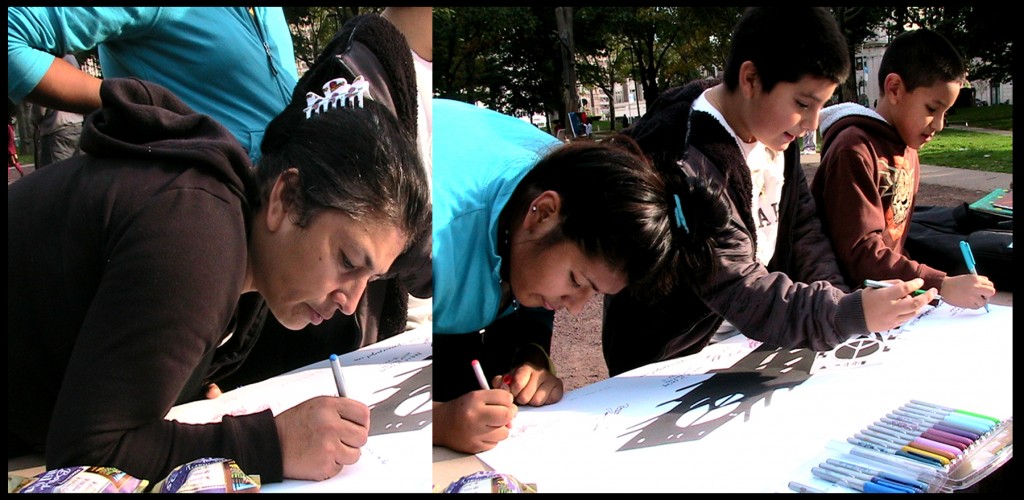 This family came right to the counter willing to share their thoughts of peace.  I told people who came to our shop about my Peace Project that at a present time, especially in this country people's lives are hectic.  Most of us rush to work or do thing to keep up our life style to survive.  We do not have time to think much about peace.  The intention of my Peace Project is to find peace in oneself not externally.  I do not want to preach about finding peace outside of ourselves.  If we can find peace within then we may become a happier person.  We can smile and be pleasant to others and others will be able to feel it generating a better atmosphere.  But we still may not know what makes others peaceful.  If we record our thoughts then others can see what we have in common or how we are different.  Then we can begin a dialogue to understand one another and find common ground helping one another to achieve peace and happiness, especially with people who close to us such as family or co-workers.  
Lost Innocence
 It is a wonderful sight
To see a family of five
Enjoy recording their love of Peace
In general people are glad to participate
But some who are rich and professional
Their words and their thoughts
Become more cautious
And are given more value
They lose the innocence
Of sharing even their thoughts
In my observation for more than a year
Sharing and joyfulness is more easily achieved by
 The working class and the poor
 Ing-On Vibulbhan-Watts, Sunday, January 08, 2012, 2:13 am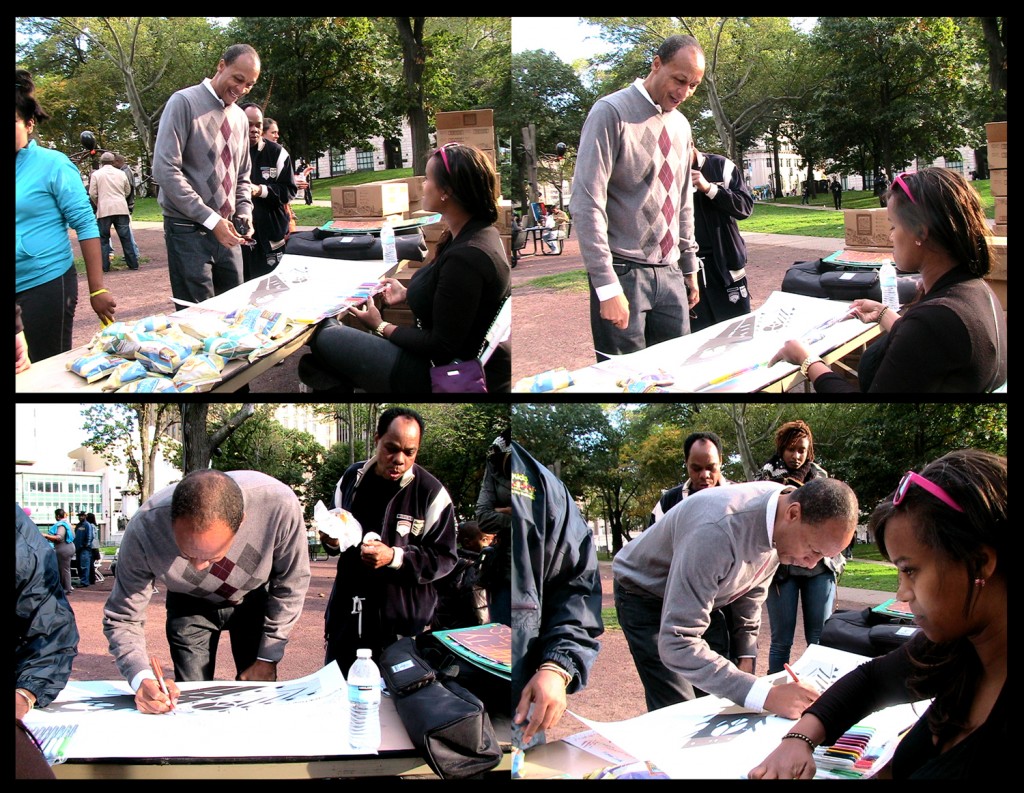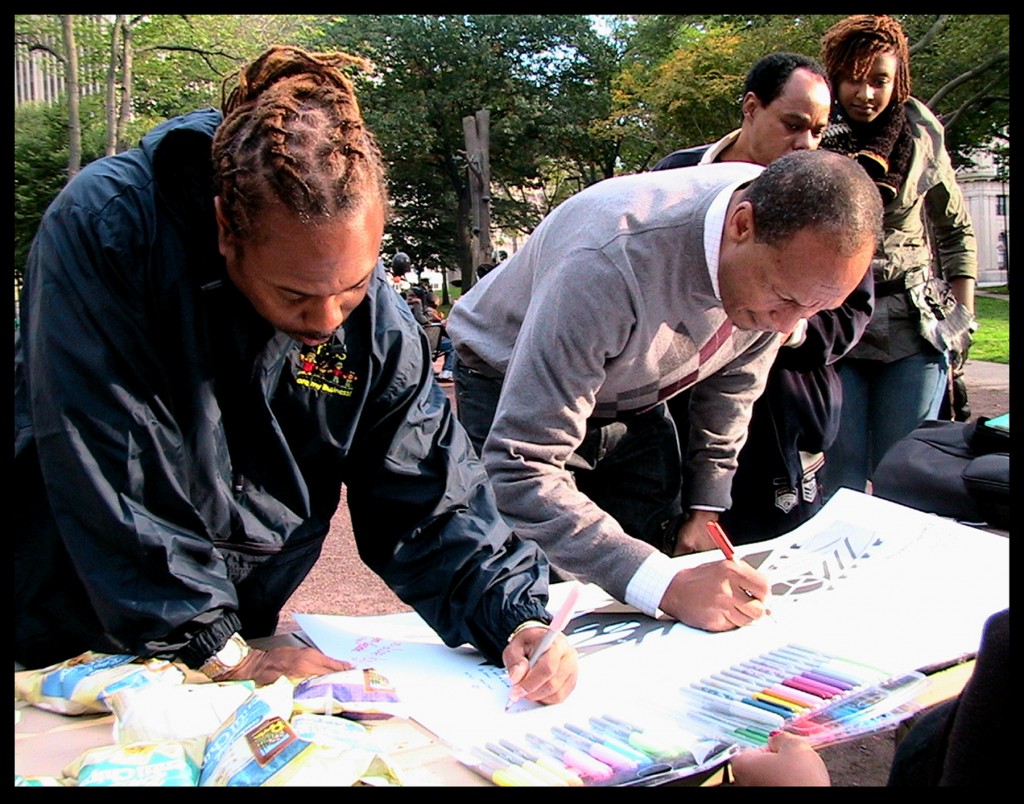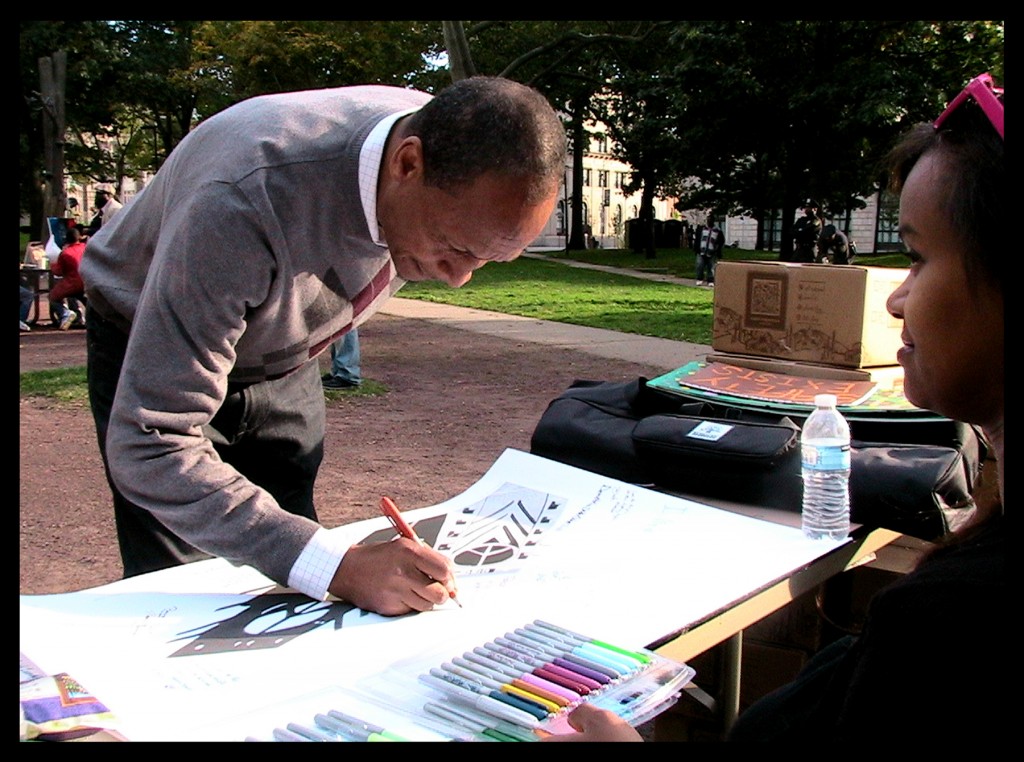 Mr. Linwood Oglesby, executive director of Newark Art Council came by the counter to record his thoughts of peace.  He was a very busy person.  I saw him on the float at the Creation Nation Art and Peace Parade.  He stayed in the park until now, about 4-5 pm.  I saw him again at the art exhibition at night at the closing of the open doors event.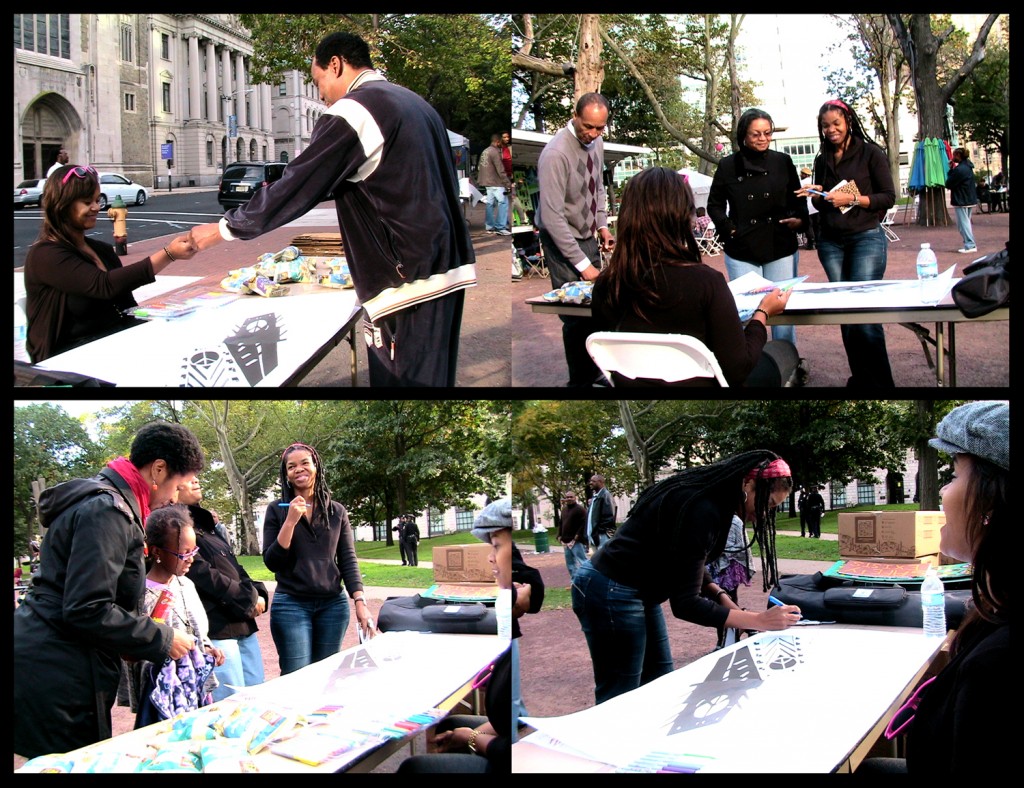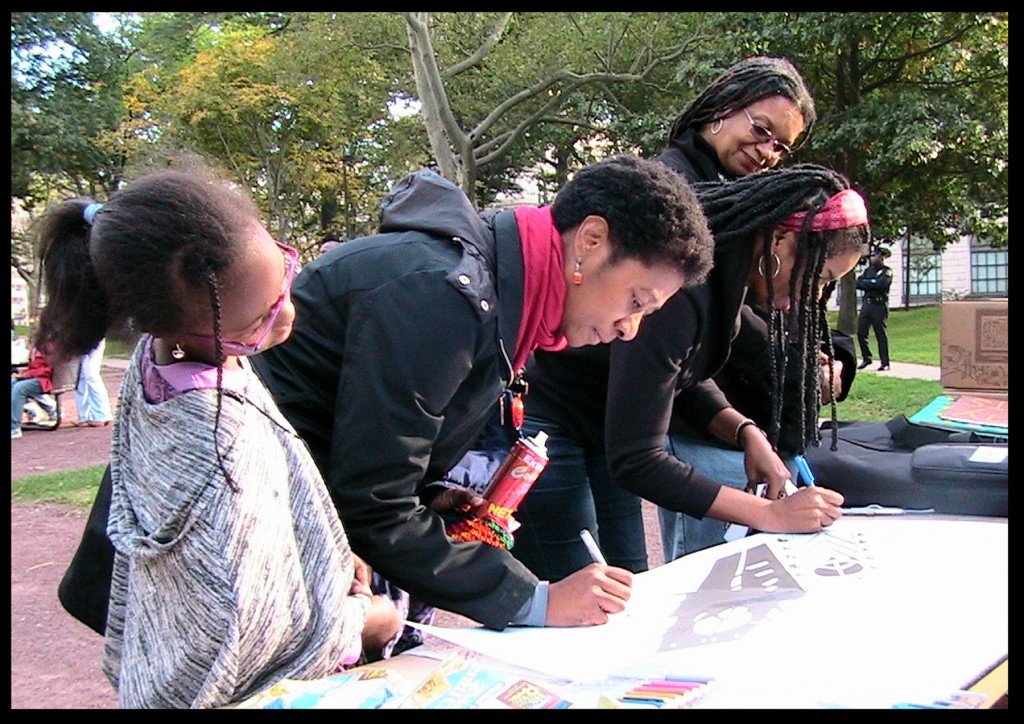 Little girl was watching the family recording their thought of peace and hopefully she would absorb the influence of the adult activity as a lesson in her life.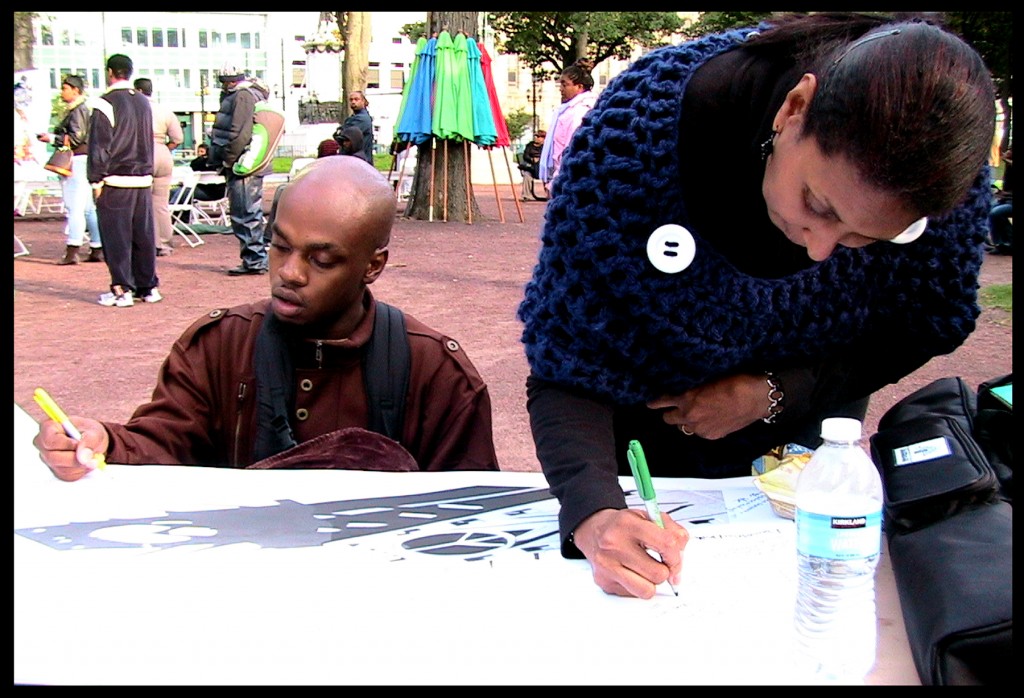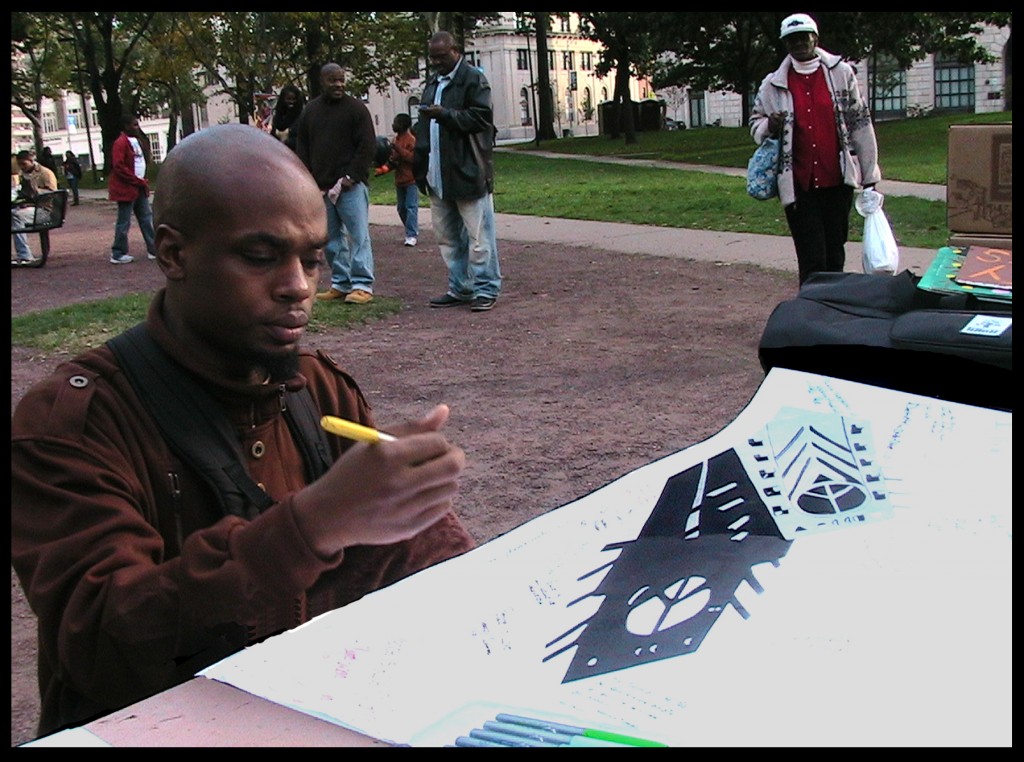 This young man seemed to be very conscious and concentrated of what he was going to compose it down to written words.  I wondered for a while and when I peered close to him I saw he was carrying a baby on his chest.  He is a father now, and all his thoughts and his words are significant for the young one.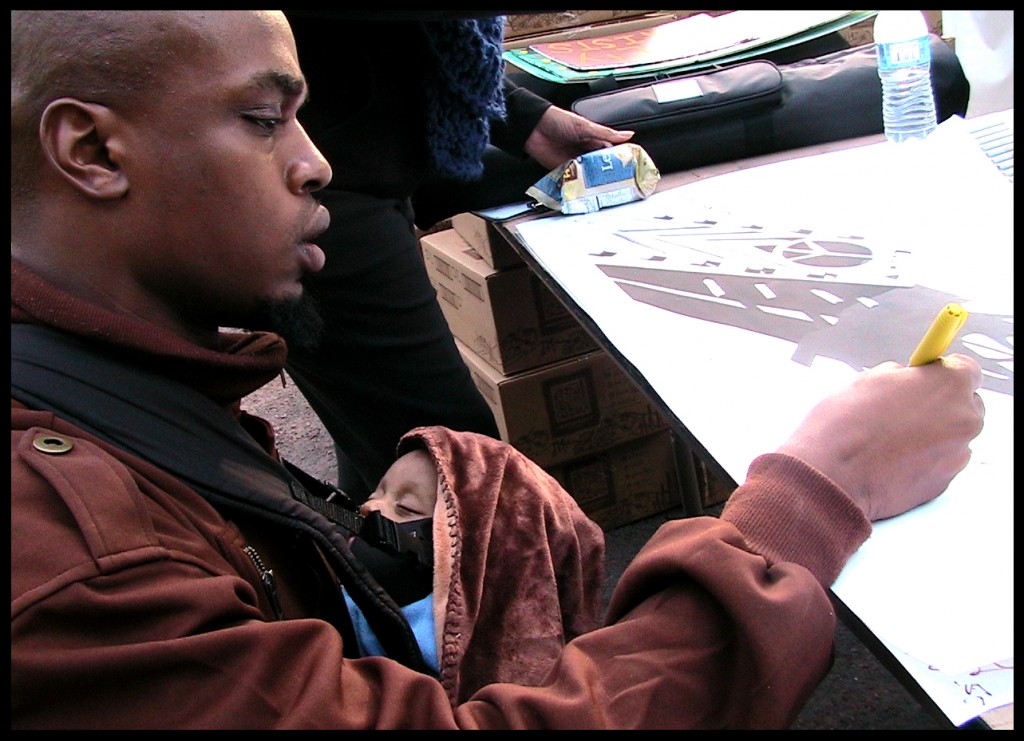 Father Love & Father Care
 Father love
Promise to care for you
To keep peace with myself
And peace for you
Father care
Holding you close to my heart
We will never be apart
As long as I live
I will keep peace for you
 Ing-On Vibulbhan-Watts, Monday, January 09, 2012, 4:13 am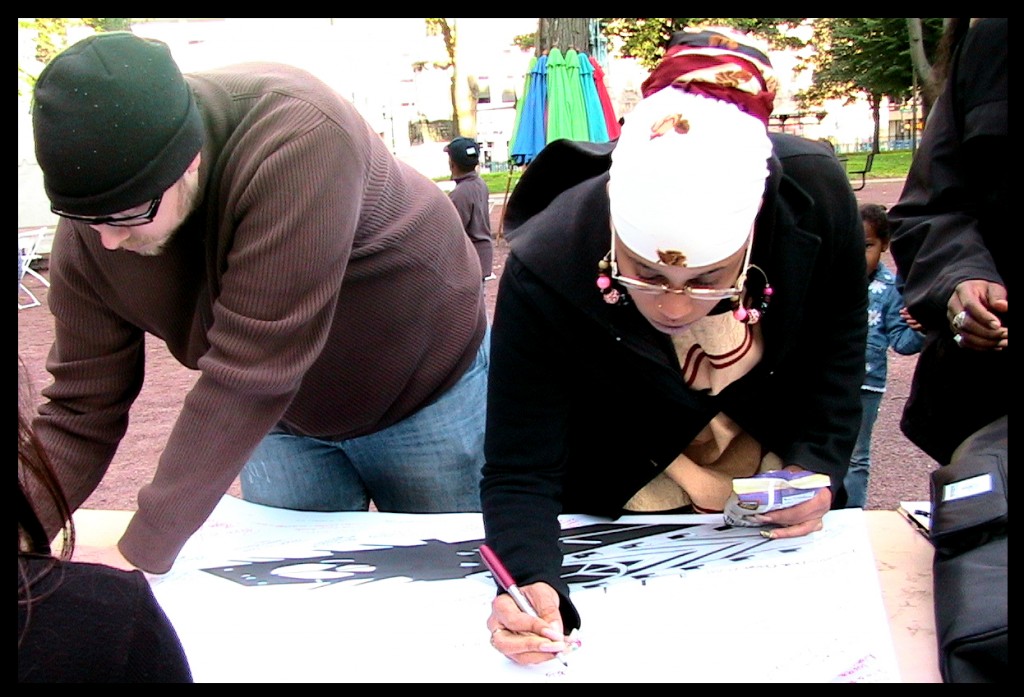 I was glad to see people were so generous and happy to share their thoughts of peace.  Can you imagine if people all over the world writing their comments about peace and share to everybody to see? If we discuss to understand each other, we might not have to killeach other and have no more wars.  Do I hope too much for humankind?  I can only say that I will try to get more people to participate in my Peace Project.  We might wake up some day hearing no more bad news on radio or television.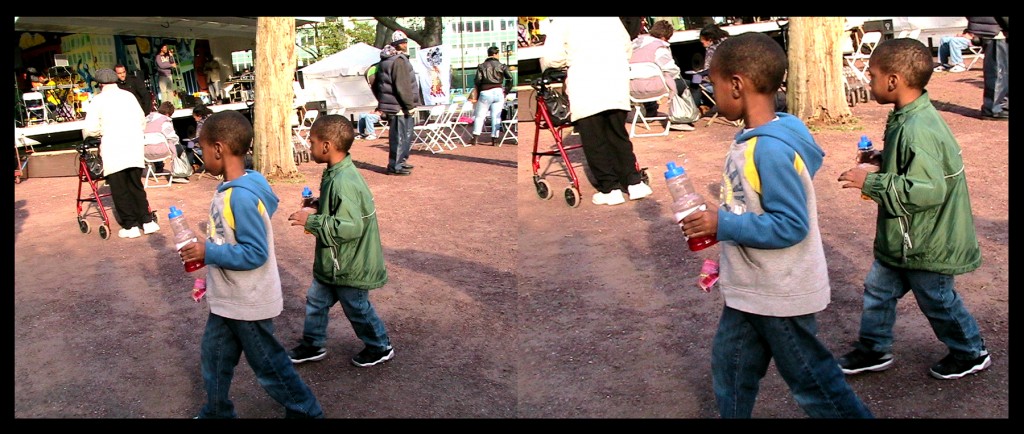 Two Little Boys in the Park
 Come on Man!
Listen to the music!
Do you have any more cookies?
I finished mine
Want some of my drink?
Thanks Man!
We walk free in the park
No one bothers us
It's fun to be together
I'm really having a good time!
 Ing-On Vibulbhan-Watts, Wednesday,January 11 , 2012, 6:12 pm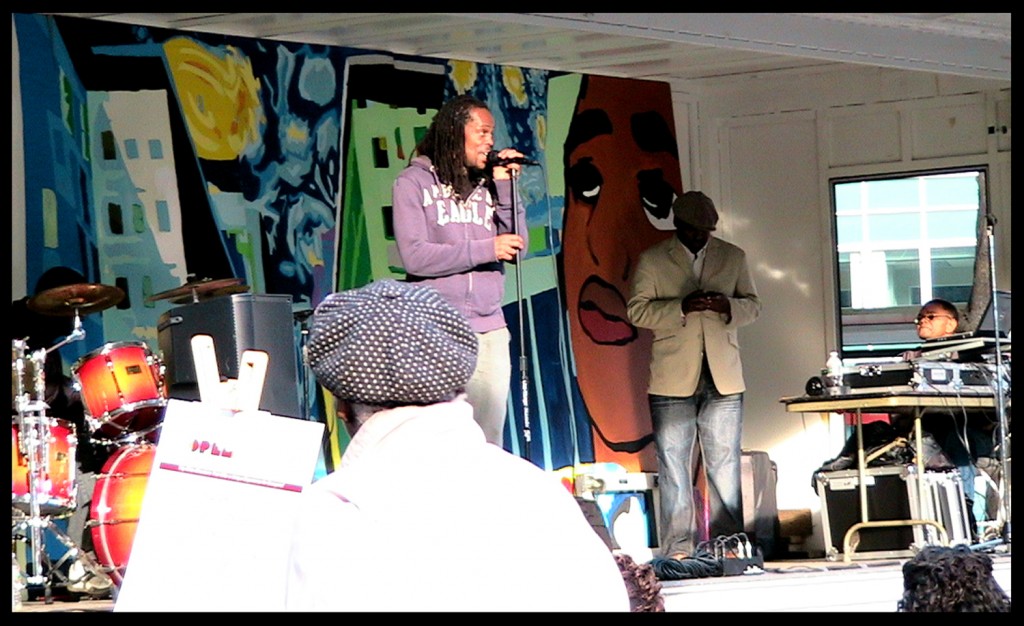 Even though there were only few audiences members remaining to listen to this singer he still did his best no matter what circumstance.  After he finished his performance he stopped by and learned about my Peace Project.  He was glad to participate in recording his inner peace.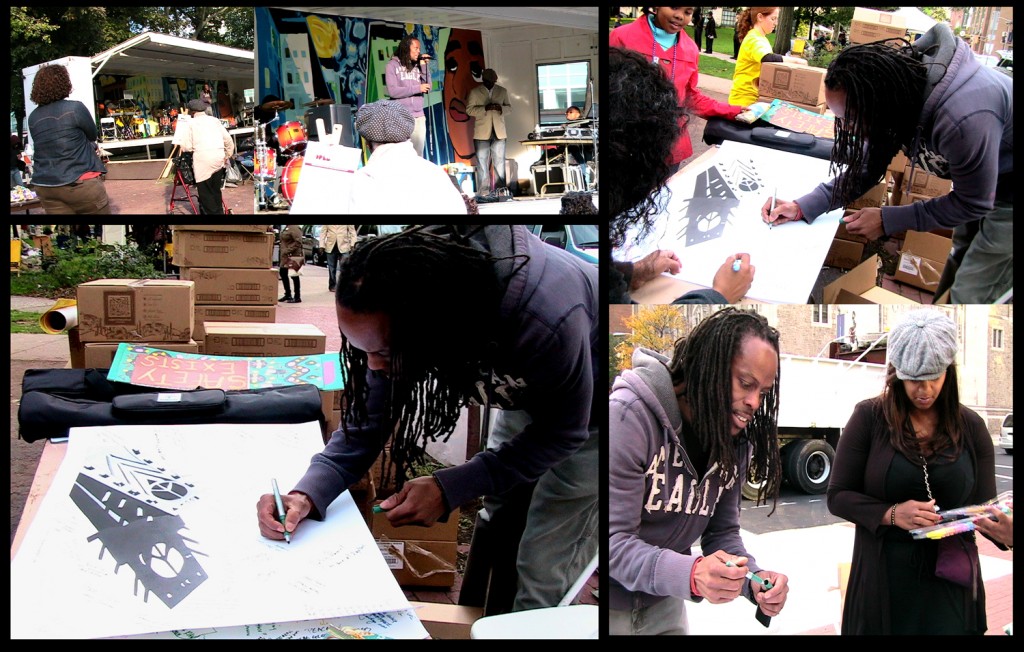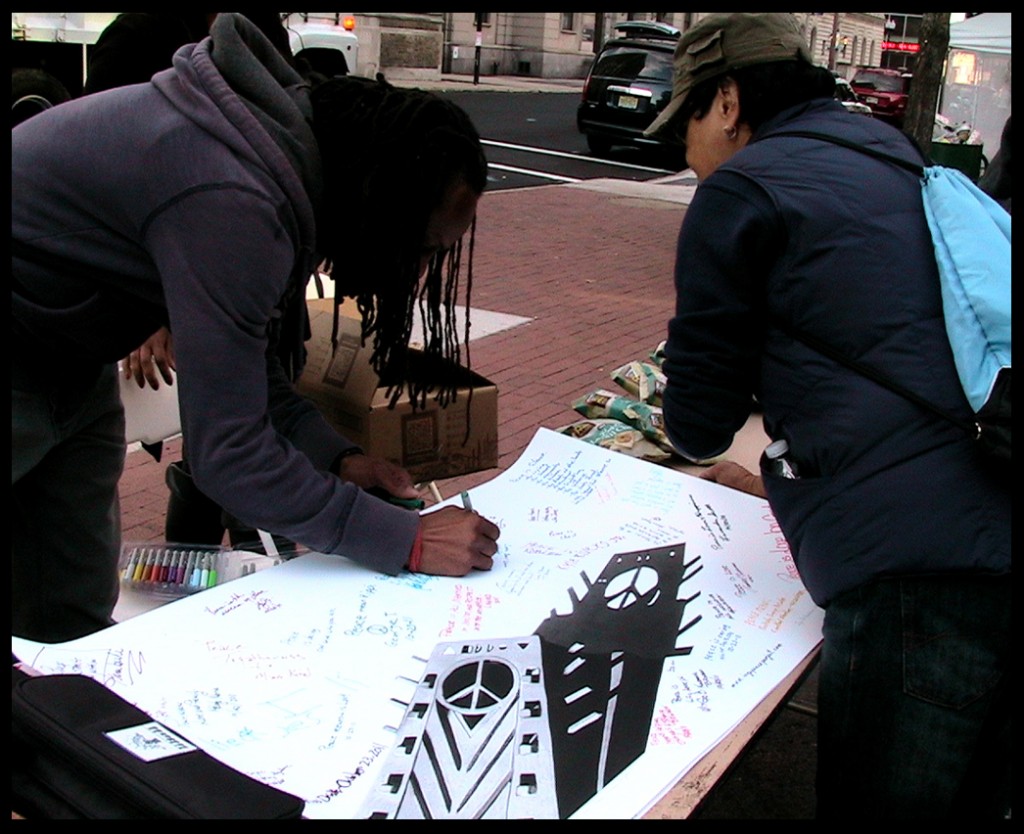 The Singer
 The singer gives himself to others
With his love of music
He gives all he can
Serenading others
Giving Peace and happiness to the crowd
At the end bowing
To the clapping aloud
But does he find
Peace and happiness in himself?
Or merely obligation as a professional
He stops by to describe his soul
Composing his own music of Peace
As Peace within
And to complete
Giving out Peace at his performance
 Ing-On Vibulbhan-Watts, Wednesday, January 11, 2012, 10:42 pm
This is a wonderful mother.  She explained to her young son while she was writing her thoughts of peace on my peace poster.  The little one was very smart she watched every move and every word that mother told her brother.  She then asked for a pen to write as her mother, older sister and brother did.  To be a good mother is to be able to guild your offspring in a positive direction, to spent time and be patient that is what a good mother should be.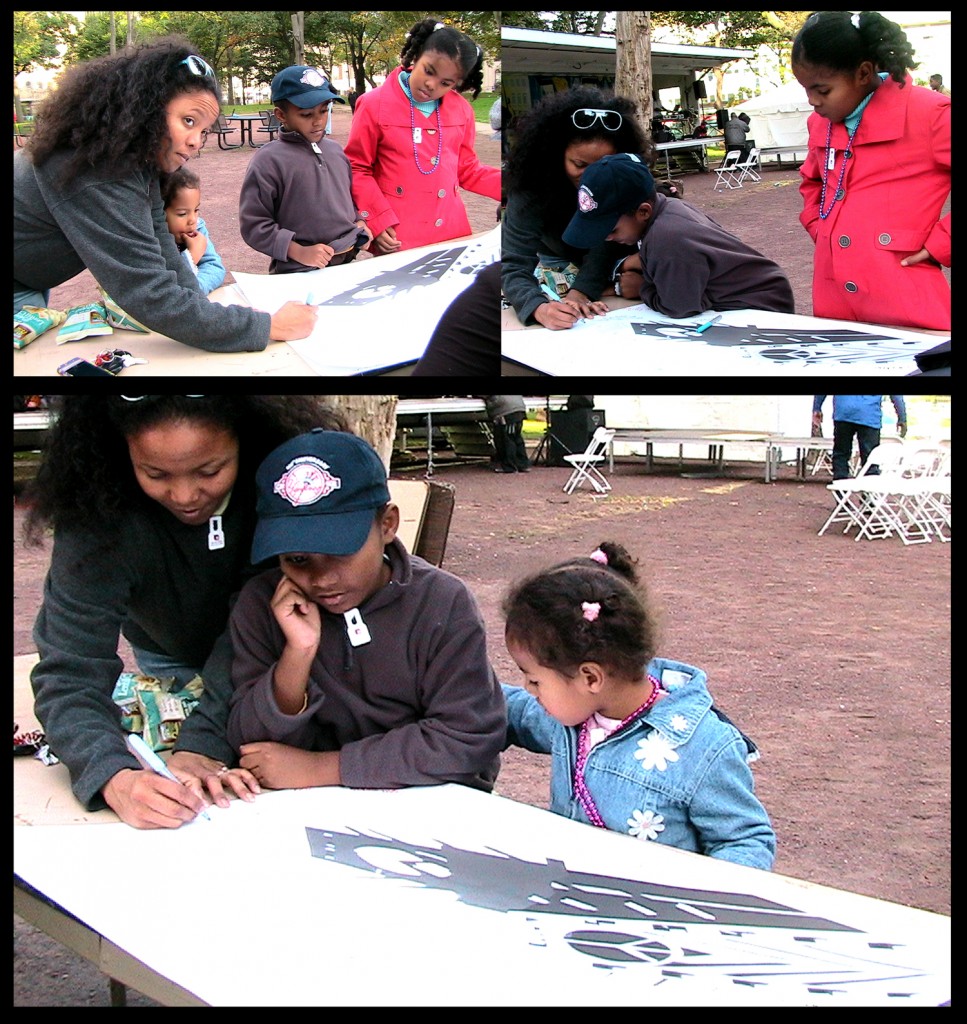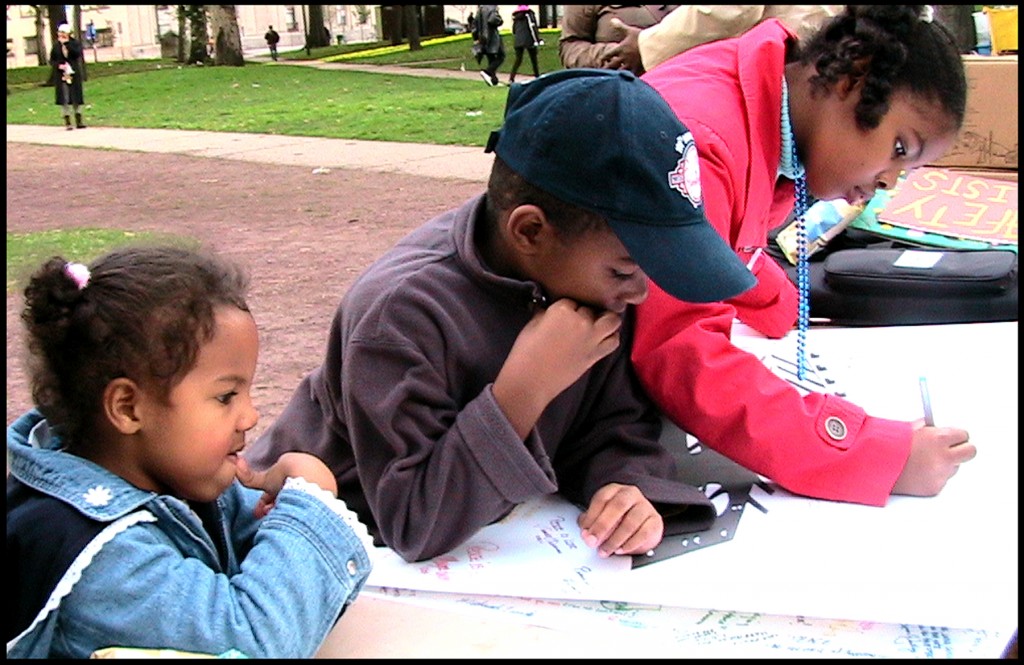 Mother Shows the Way
 What are you doing Mommy?
Can I do it too?
Oh! Peace that what you're writing?
Let me write too!
The little one grabs the pen
Do you want to write something?
The mother asks her son
Mother starts
Older daughter follows
The youngest child thinks
It is fun to practice her A, B, C, —
The boy wants to prove
His understanding of Peace
Mother looks with pleasure
This is her Peace
To see the children
Having a good time
Thinking about Peace
 Ing-On Vibulbhan-Watts, Wednesday, January 11, 2012, 8:41 pm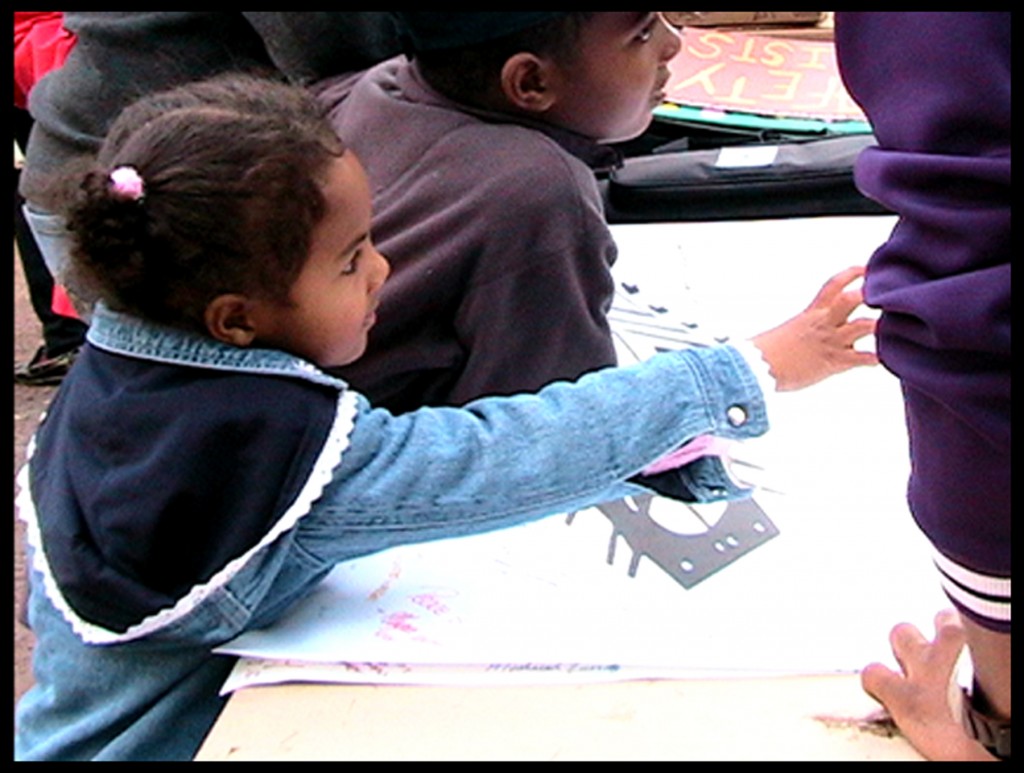 Give Me Peace!
 Give Me Peace!
Give Me Life!
Mommy, give me a pen
I will record to the world
We are the younger generation
We want Peace in our lifetime
And for the next generations as well
Stop producing weapons for profit
And stop fighting!
Most of all do not send us to be killed
Or to kill in the future
We do not want war!
We want Peace!
I hope
You!
Older people!
Everywhere in the world can hear us
Please give us Peace Now!!!!!
Ing-On Vibulbhan-Watts, Wednesday, January 11, 2012, 6:12 pm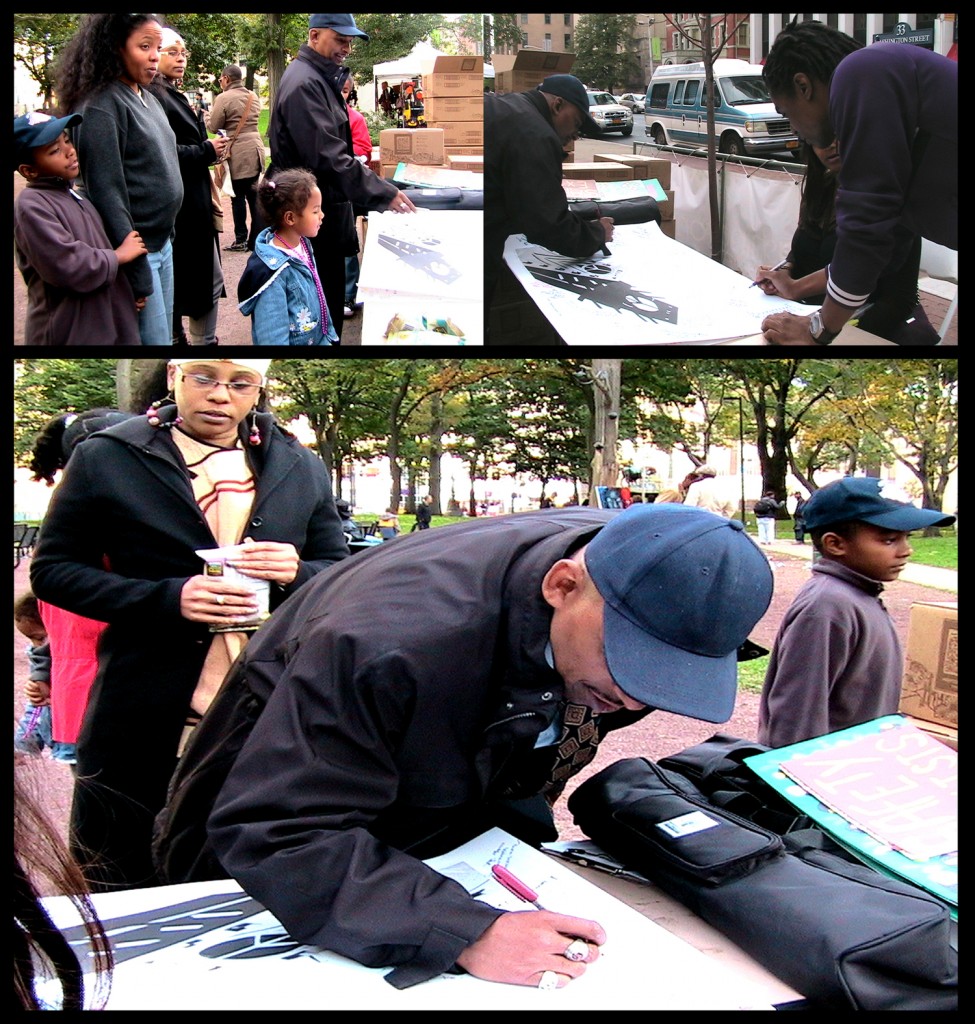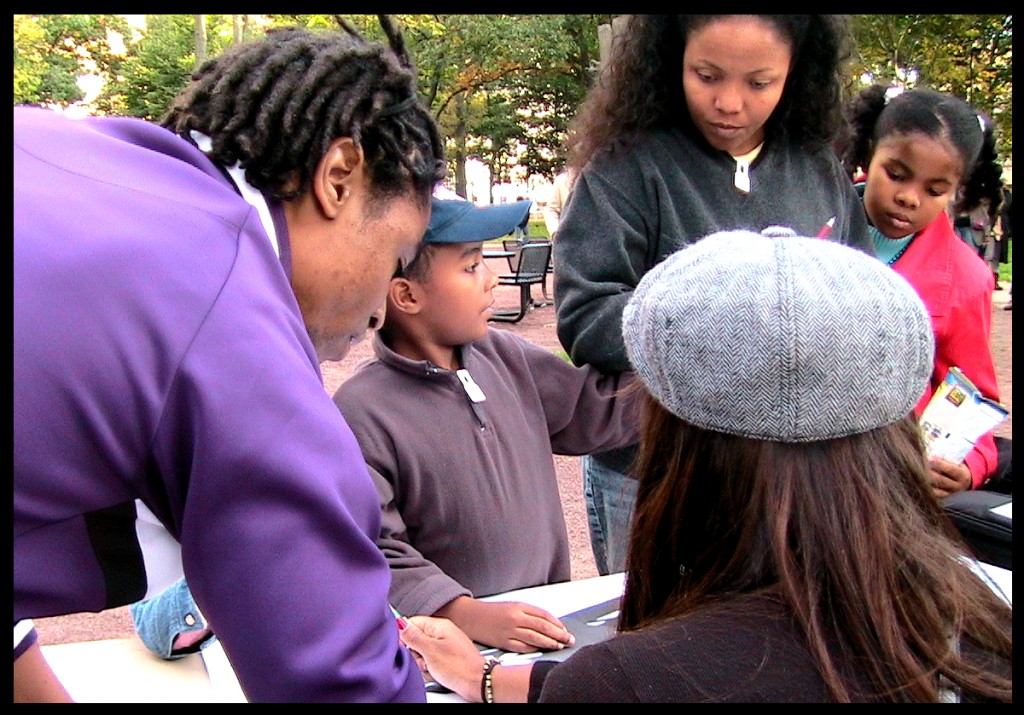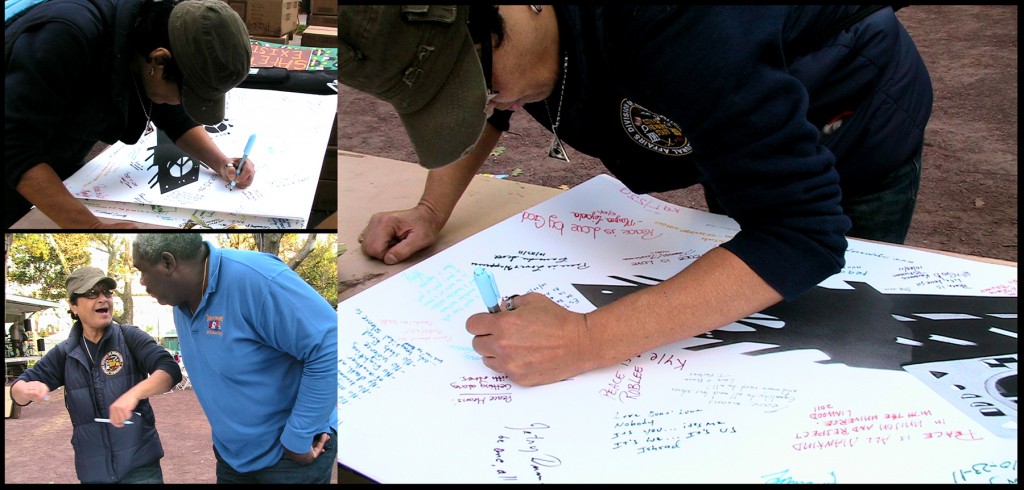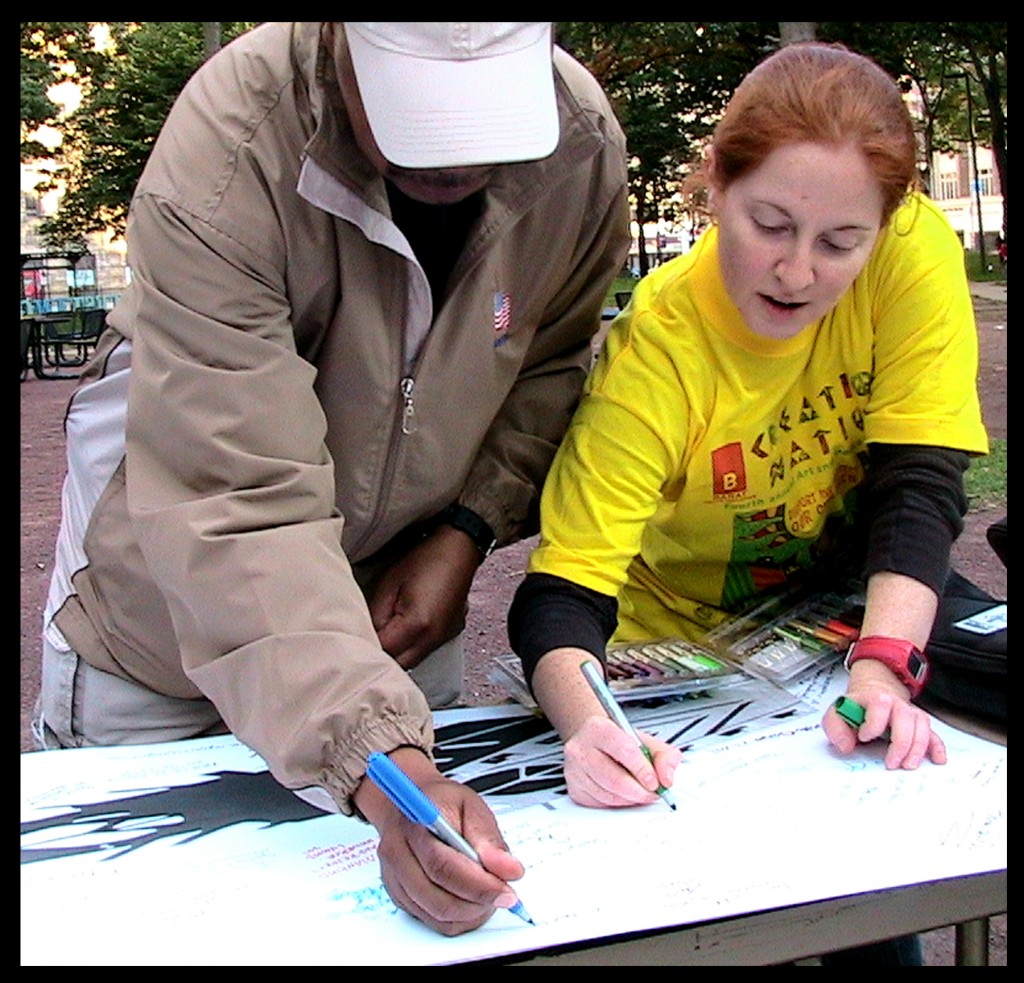 Black and White Side By Side
Black man and white girl
Side by side
White hand and Black hand
Side by side
Holding a pen each
On the same sheet of paper
Side by side
Both in the same direction
Finding peace within oneself
Side by side
Peace and Happiness
Conquer the mind
No more separation of what they are
Black and White are the same
When both seek peace
Side by side
 Ing-On Vibulbhan-Watts, Wednesday, January 25, 2012, 3:56 am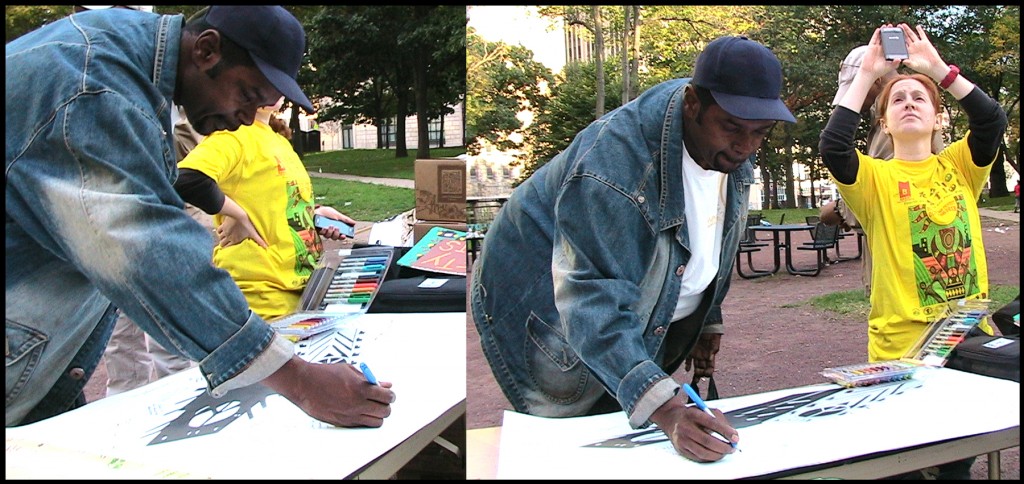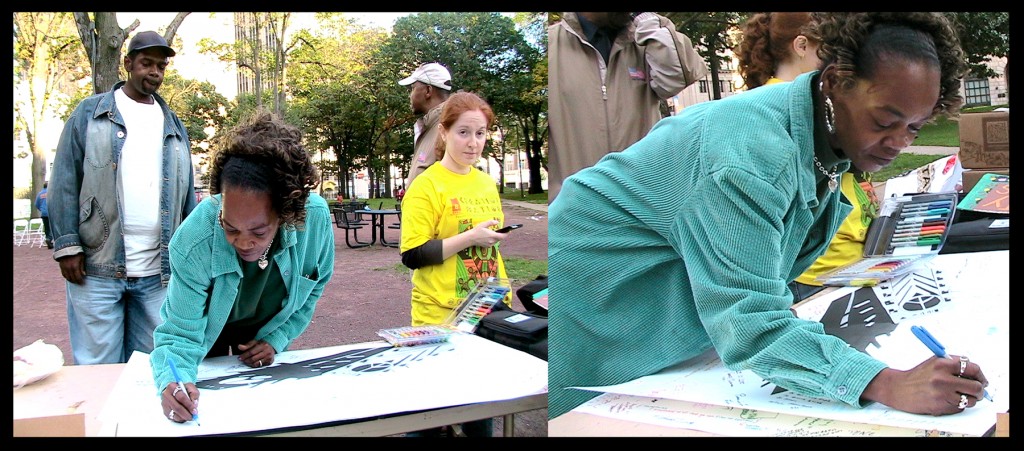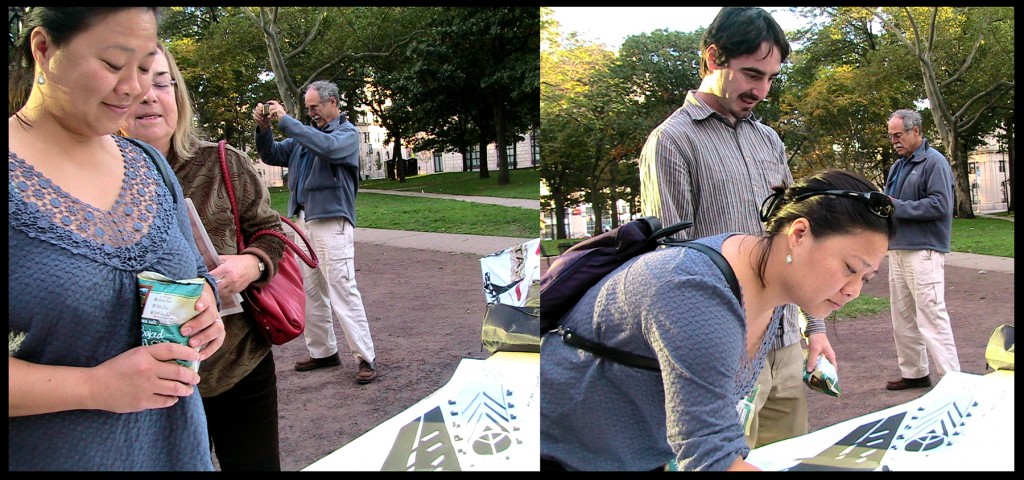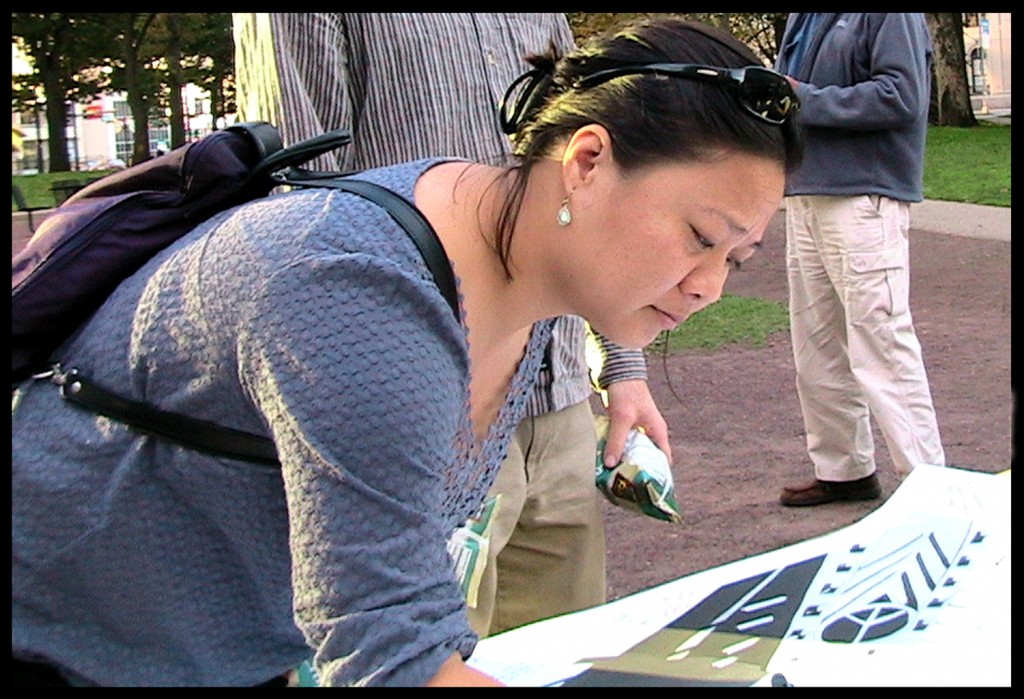 I appreciate and am thankful to Chandri and Gary Barat for asking me to have my Peace Project as part of their Creation Nation Art and Peace Parade.  As I am alone I cannot do much.  Everybody can have an idea but to achieve the goal it needs cooperation or collaboration from a lot of people, especially from the people who are in the position of the leadership that have influence and authority to inspire to more people.
  It took me a while to be able to complete this project.  I spent some time to compose this second finished artwork for the Peace Project.  The writings were the comments from the people on "What does Peace mean to you?" at the Washington Park and some of the people who participated in the Creation Nation Art and Peace Parade on Sunday, October 23, 2011, Newark, New Jersey, USA.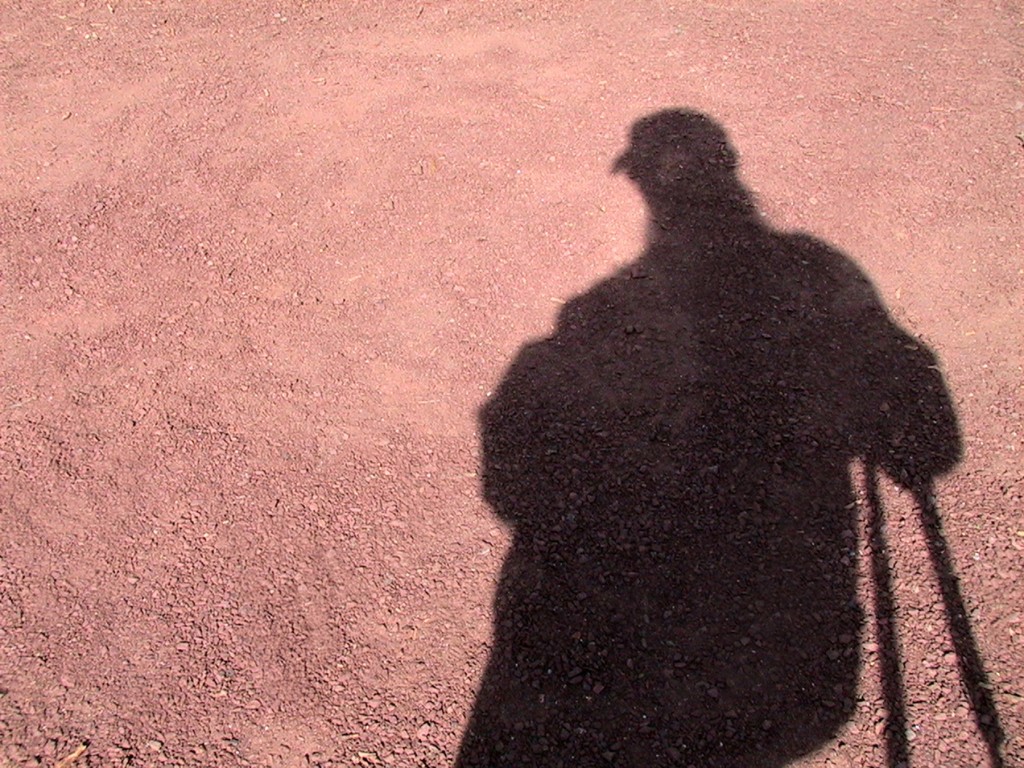 Who's Shadow on the Ground?
 After all my photos
  More than 500 pictures
I caught a shadow
On the ground
I walk on
Hoping to get away
But the shadow
Follows me around
Traveling the same path as I go
How can I get away of this shadow?
Realizing that
As long as I am still here
The shadow will always be my company
 Ing-On Vibulbhan-Watts, Wednesday, January 4, 2012, 4:42 pm
Link to Peace Project Comes to Salon Creative Lounge NYC Page:
https://ingpeaceproject.com/peace-project-participations/salon-creative-lounge-nyc/