Ing's Peace Project Comes to Schools
 Ing's Peace Project comes To Far Brook School and ST. Phillips Academy in Newark, NJ, Ben's 2nd grade and two 4th grade classes also, the adults organized by Joanne Leone, Rebecca Campbell.
Shadow of Peace Poster 1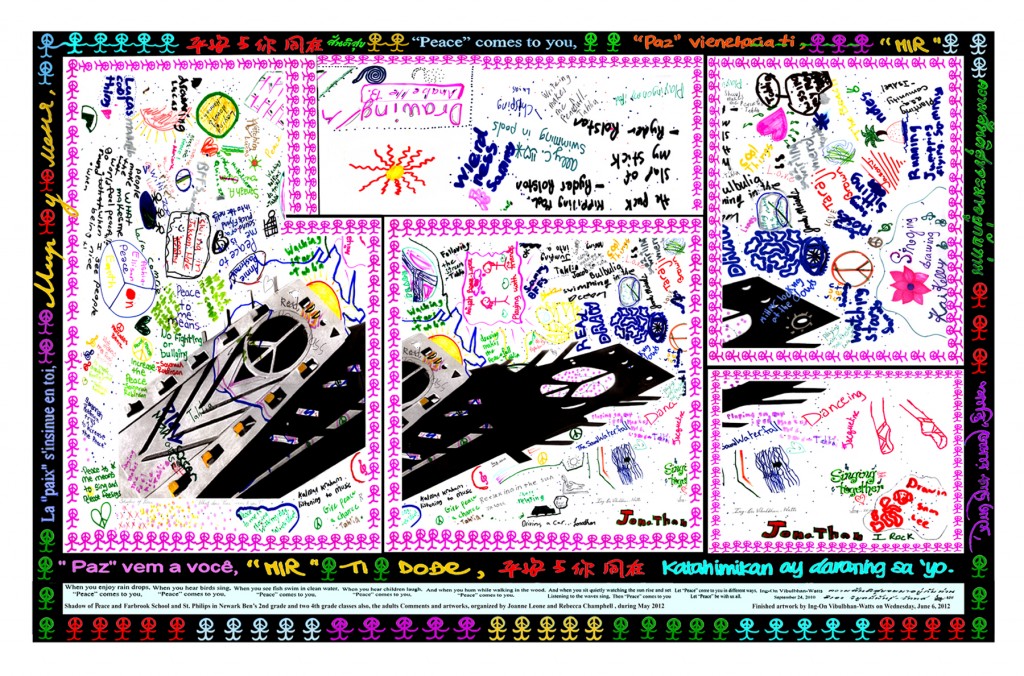 Finished "Peace" artwork 4 
Far Brook School and ST. Phillips Academy in Newark, Ben's 2nd grade and two 4th grade classes also, the adults Comments and artworks during May 10-15, 2012, organized by Joanne Leone and Rebecca Champbell.  Finished artwork, after the written comments by Ing-On Vibulbhan-Watts 
Shadow of Peace Poster 1's Comments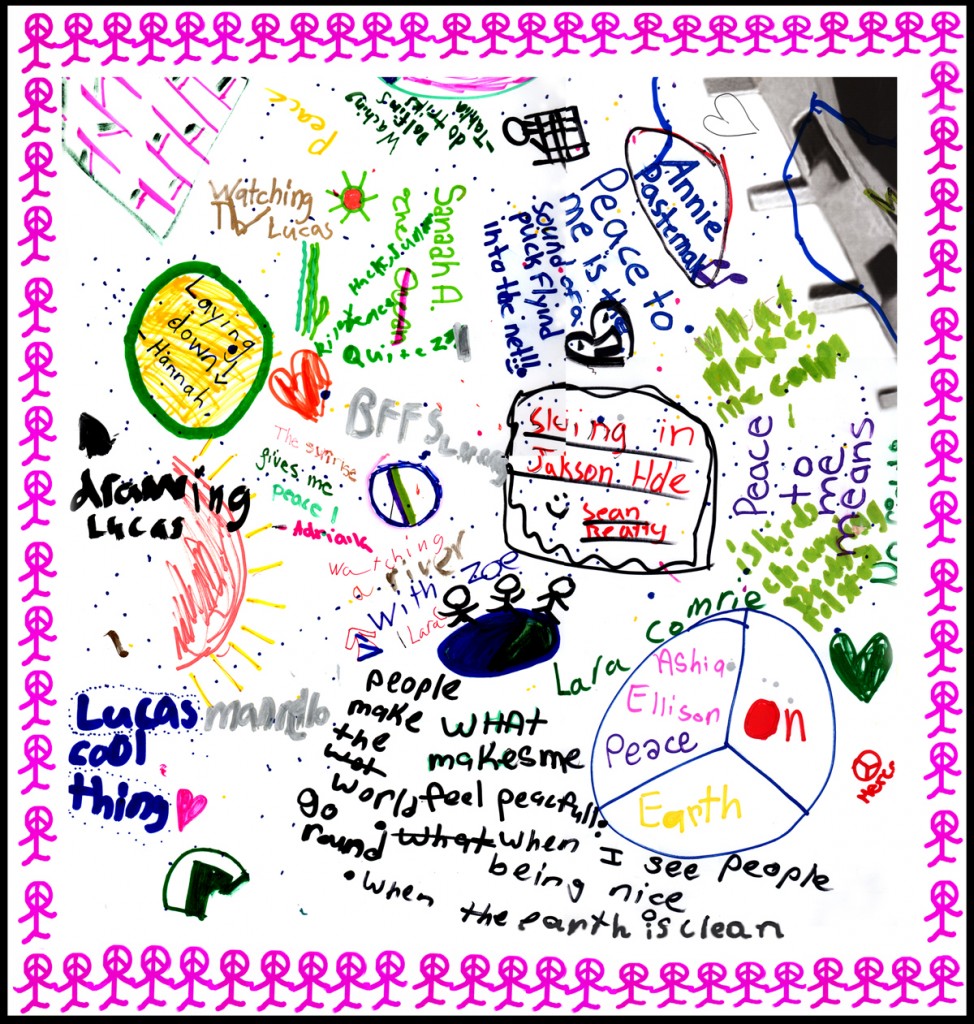 Far Brook School and ST. Phillips Academy in Newark, NJ, Ben's 2nd grade and two 4th grade classes also, the adults Comments and artwork on "What does Peace mean to you?" Shadow of Peace poster 1:
People make the world go round.
What make me feel peaceful when I see people being nice. 
When the earth is clean.
Drawing
The sunrise gives me peace.
Watching a river with Zoe
Skiing in Jakson Hole
Laying down
Peace to me is sound of a puck flying into the net.
Watching TV
Watching Dolfins do triks
What makes me calm
Peace is bird chirping.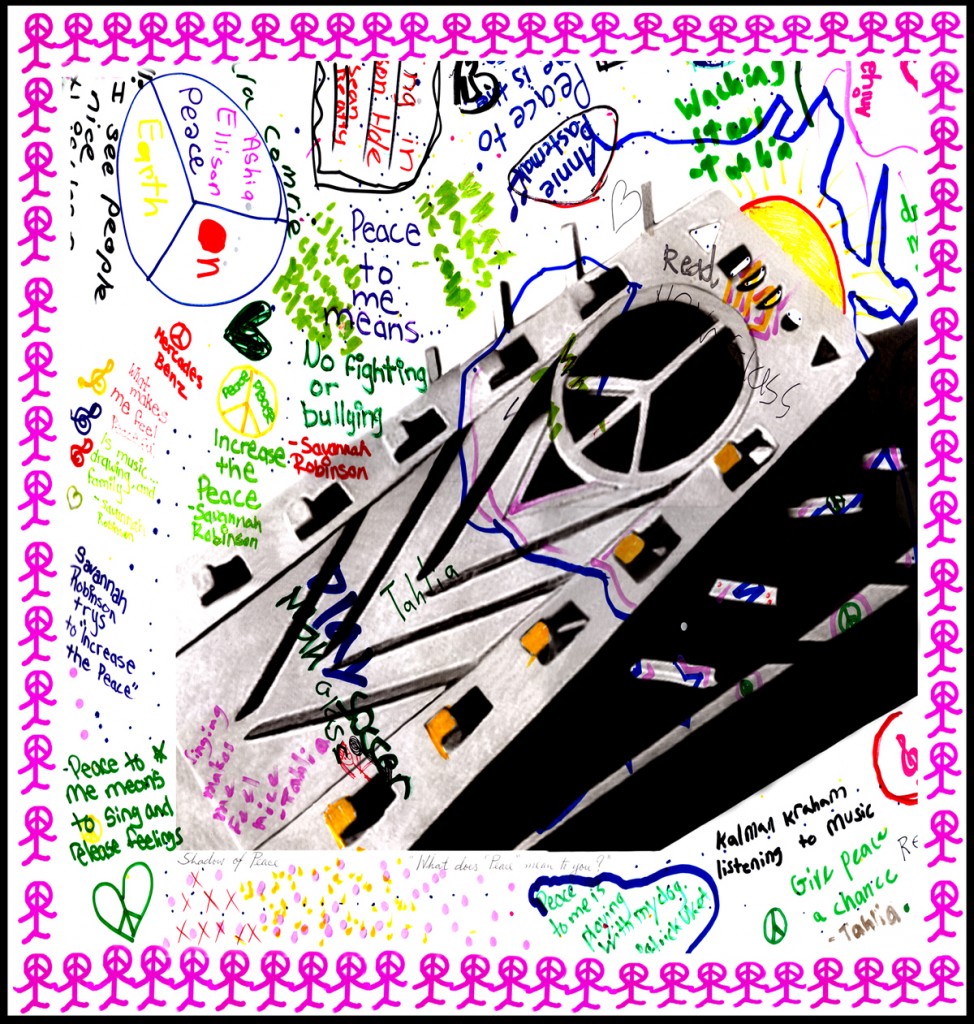 Peace to me means No Fighting or bulling.
  Increase the Peace
  Peace on Earth
  What makes me feel Peaceful is music …., drawing, and family
  Trys to "Increase the Peace"
  Peace to me means to sing and release feelings.
  Singing makes me feel nice
  Play soccer
  Read
  Peace to me is playing with my dog.
  Listening to music
  Give Peace a chance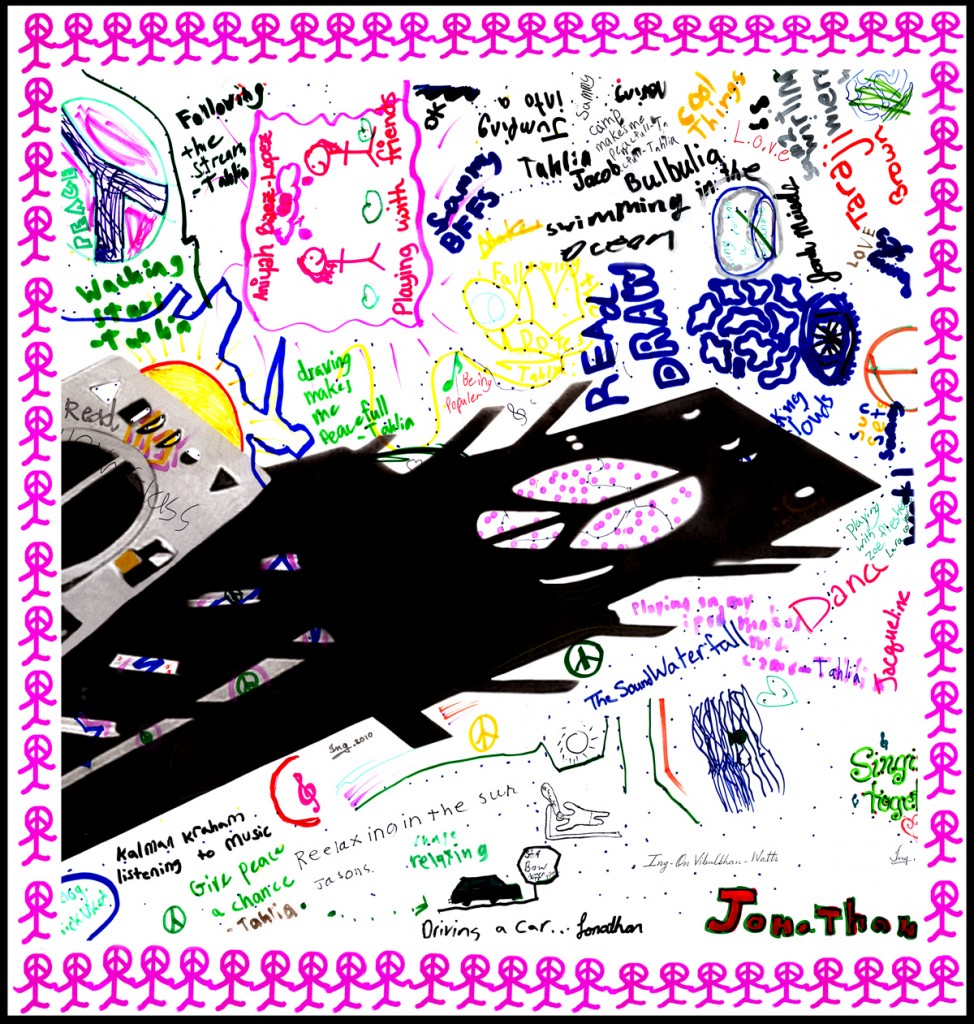 Following the stream
  Watching stars
  Playing with friends
  Drawing makes me peaceful
  Being popular
  Jumping in a Rippiling pool.
  Camp makes me peaceful
  Cool thing
  Bulbuling swimming in the ocean
  Sitting in a rocking chair
  Looking at the clouds
  L. O. V. E.
  Writing weird words
  Love
  Sun set
  Playing with Zoe
  Playing on my ipod makes me ….
  The Sound Waterfall
  Relaxing in the sun
  Driving a car
  Relaxing
  Singing, drawing
  Running, Jumping, Flying
  Planting as a community
  The Beach
  Notes
  Kissing my Mom
  School makes me peaceful
  Sitting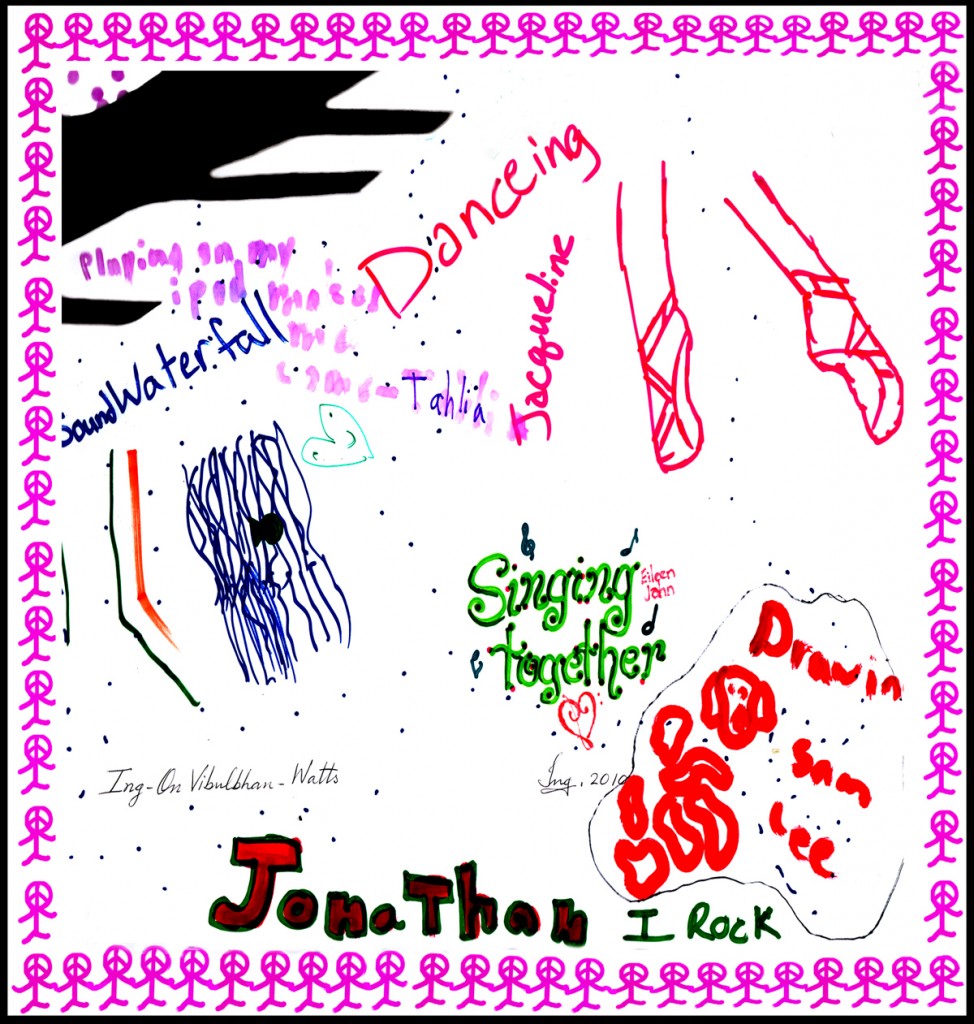 Dancing
  Singing together
  Drawing
  I Rock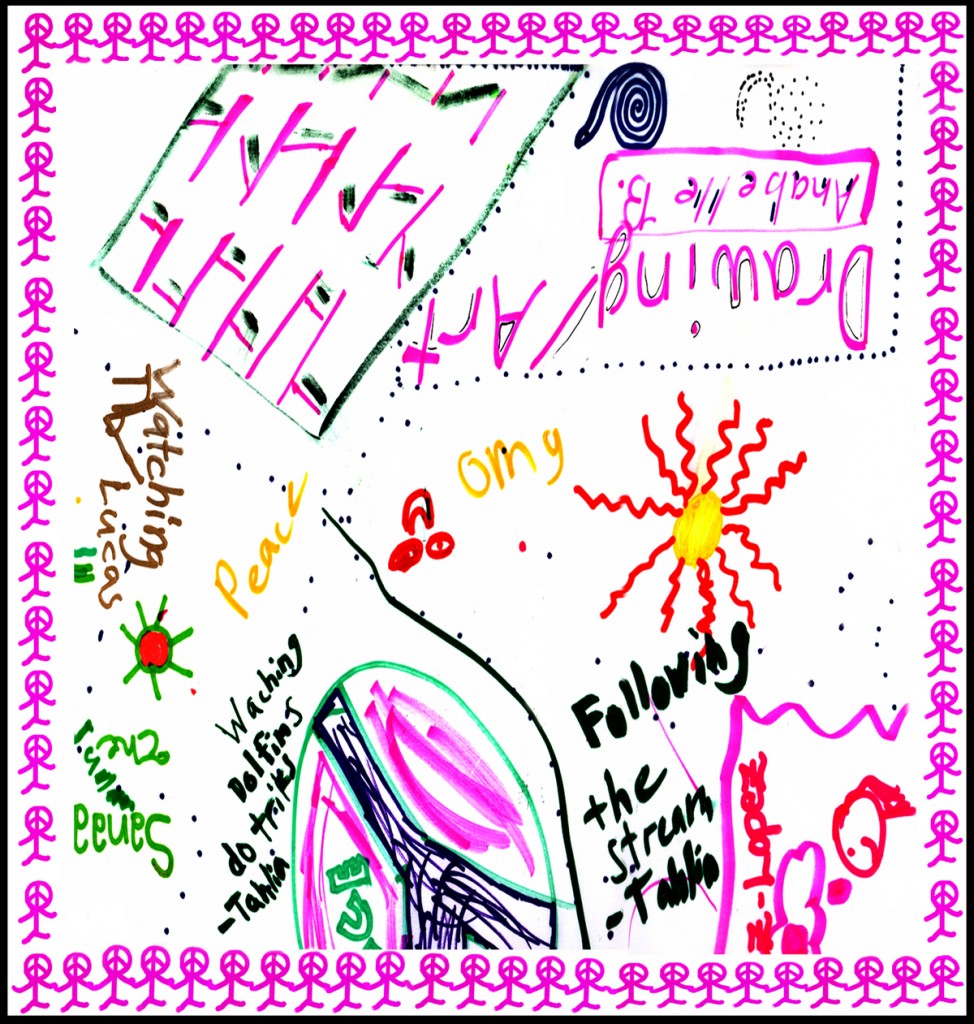 Drawing Art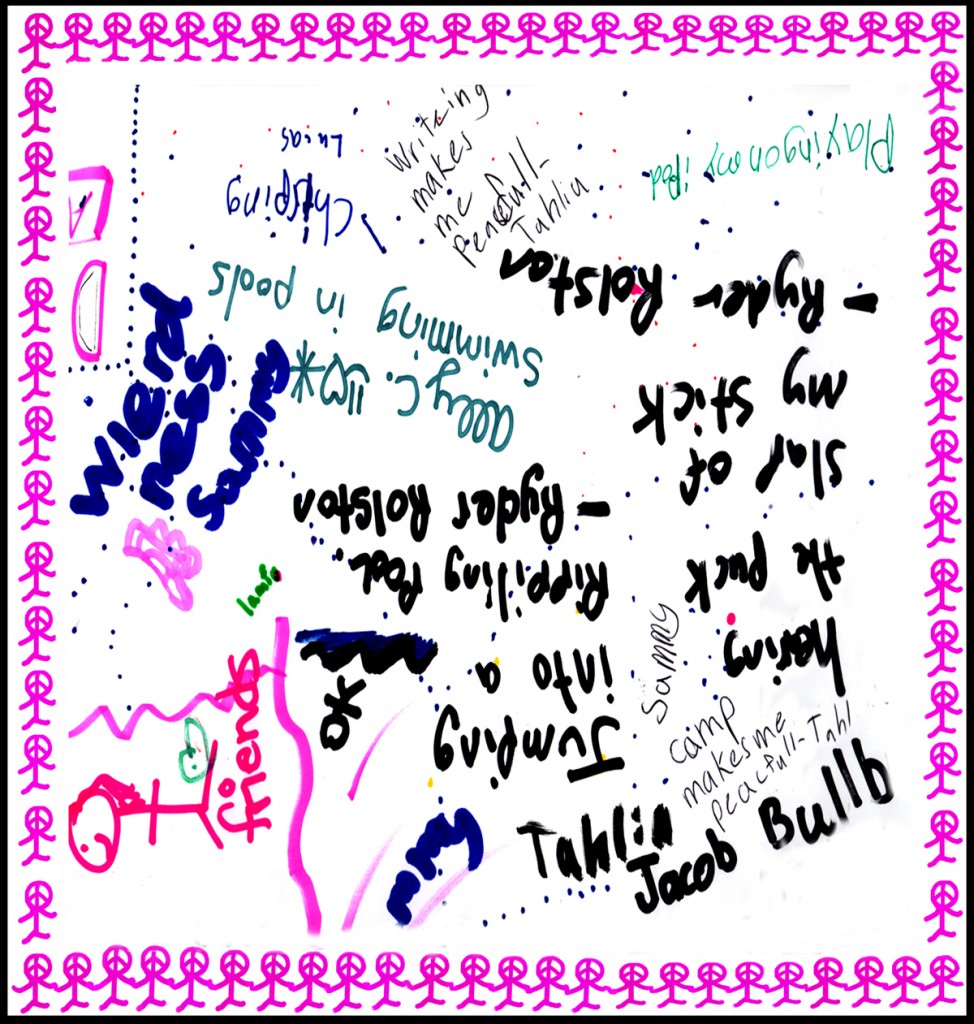 Playing on my ipod
  Hearing the puck slap of my stick
  Swimming in pools
  Camp makes me peaceful
  Wierdness
  Writing makes me peaceful  
 I wish I could go to the schools to observe the children doing the artwork, and seeing the children thinking and writing their comments on "What does Peace mean to them?"  But I cannot go everywhere.  And I would like to encourage the teachers and others to participate.  My Peace Project is not just for me but for everybody.  I started my Peace Project in September 2010 and have been working it until now May 2012.  Having more people helping to talk and teach children about Peace is better than my doing it alone.
I have received a response from two people who were generous enough to complete the project themselves.  The first person was Karma Cloud, an art teacher from Lincoln School in Newark, NJ.  She completed my Peace Project and at the end of September 2010 and returned the Shadow of Peace poster to me including the written comments from the fourth and eighth grade students.  The second person was Joanne Leone, our good friend.  She helped to complete the Peace Project with these two written comments and the artwork posters from a number of students in May 2012.  I am very happy and grateful to Karma Cloud and Joanne Leone who spent time and energy to introduce the Peace Project to youngsters.  This is not my Peace Project but rather it is the result of the work done by Karma Cloud and Joanne Leone.
Most of the people who came to our shop and listened to me telling them about the Peace Project were willing to express their thought on Peace and understand the significance of spreading the word of peace to more people.  But I think most of the people are busy with their works and have no time to do more than that.  Some took my Shadow of Peace posters to work, to schools and to their communities.  But so far they have not returned any written comments or completed posters. I do not want to email or call these people because I do not want them to feel uncomfortable.  I like them to be free to operate on their own time schedule. 
 I feel fortunate that I can promote the Peace Project in different places in addition our shop.  At least I have Karma Cloud and Joanne Leone having devoted their time to do the project.  It is possible that in the future more people will be willing to participate and take my Peace poster to their communities, especially schools and universities.
 Ing-On Vibulbhan-Watts, Thursday, May 24, 2012, 2:49 AM
 Shadow of Peace Poster2
 Far Brook School and ST. Phillips Academy in Newark, Ben's 2nd grade and two 4th grade classes also, the adults Comments and artworks on "What does Peace mean to you?" Shadow of Peace poster 2: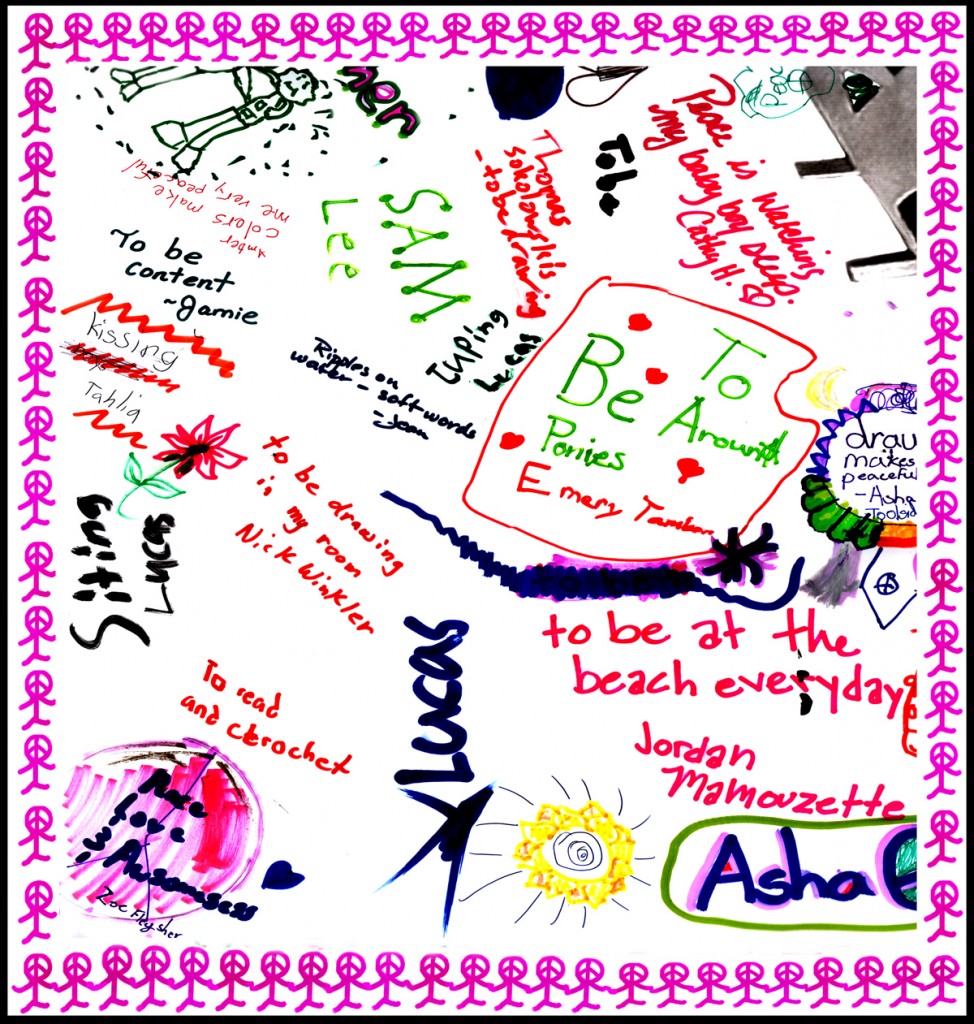 To be at the beach everyday
To read and crochet
To be drawing in my room
To be content
Kissing
Ripples on water – soft words
Tuping
Drawing makes me peaceful
Sokolow skis – to be drawing
Colors make me very peaceful
Peace is watching my baby boy sleep
Kissing my puppy make me peaceful
Swimming
To me peace means quiet and hanging outside with friends
Peace sign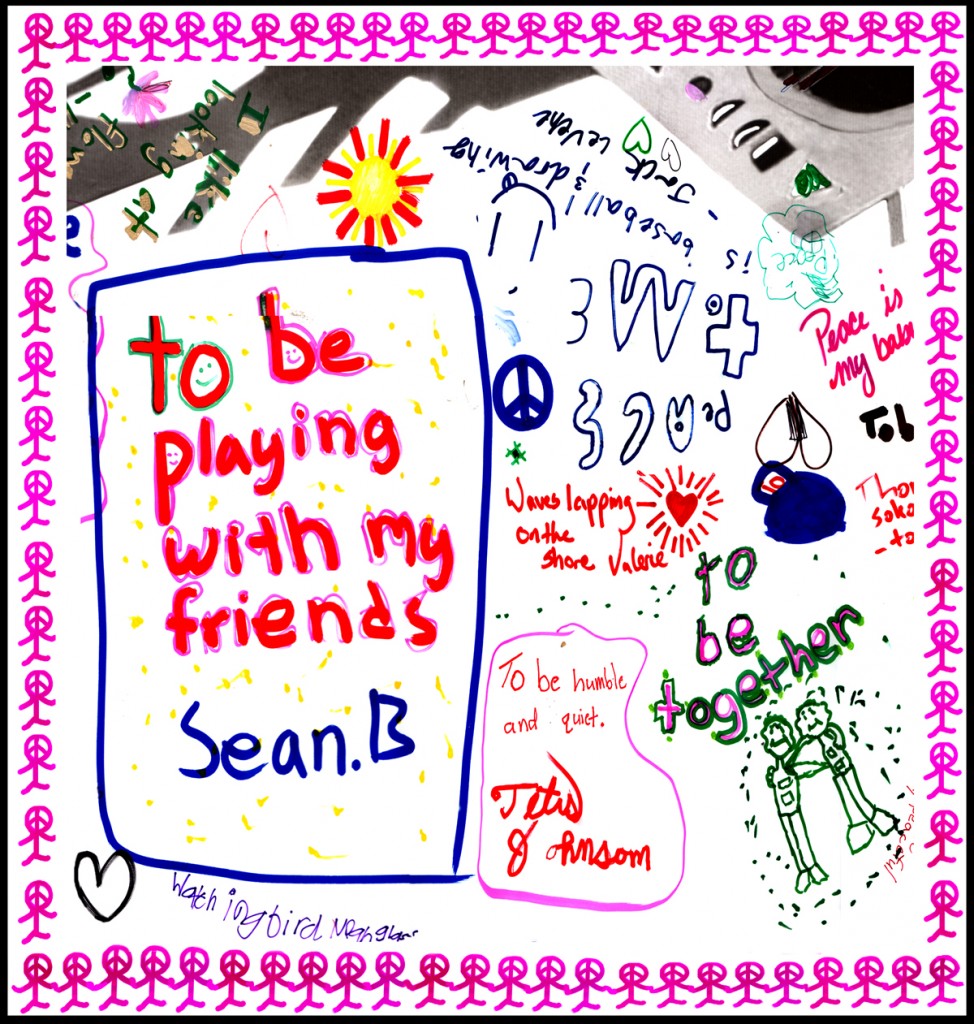 Watching bird
To be playing with my friends
To be together
To be humble and quiet
Waves lapping on the shore
Peace to me is baseball & drawing
I like looking at flowers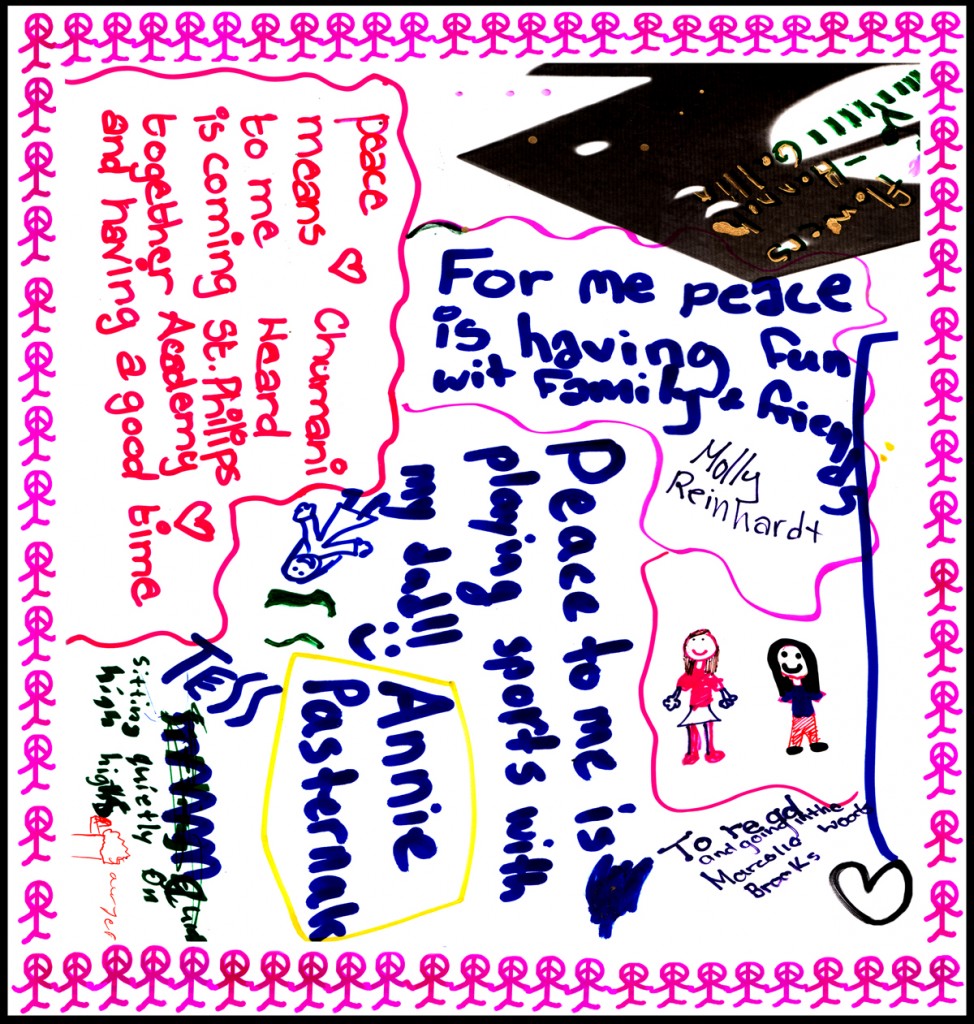 To read and going in the wood
Peace to me is playing sports with my dad
For me peace is having fun with family and friends
Peace means to me is coming St. Phillips Academy together and having a good time
Sitting quietly on high high
 To play with my puppy
Writing
Watching the clouds move
Playing with my dog
Peace means to have peace
Swimming in my pool
Peace to me is exploring the world.  PS. It is my dream.
To play lax at the beach with my dad
Watching the stars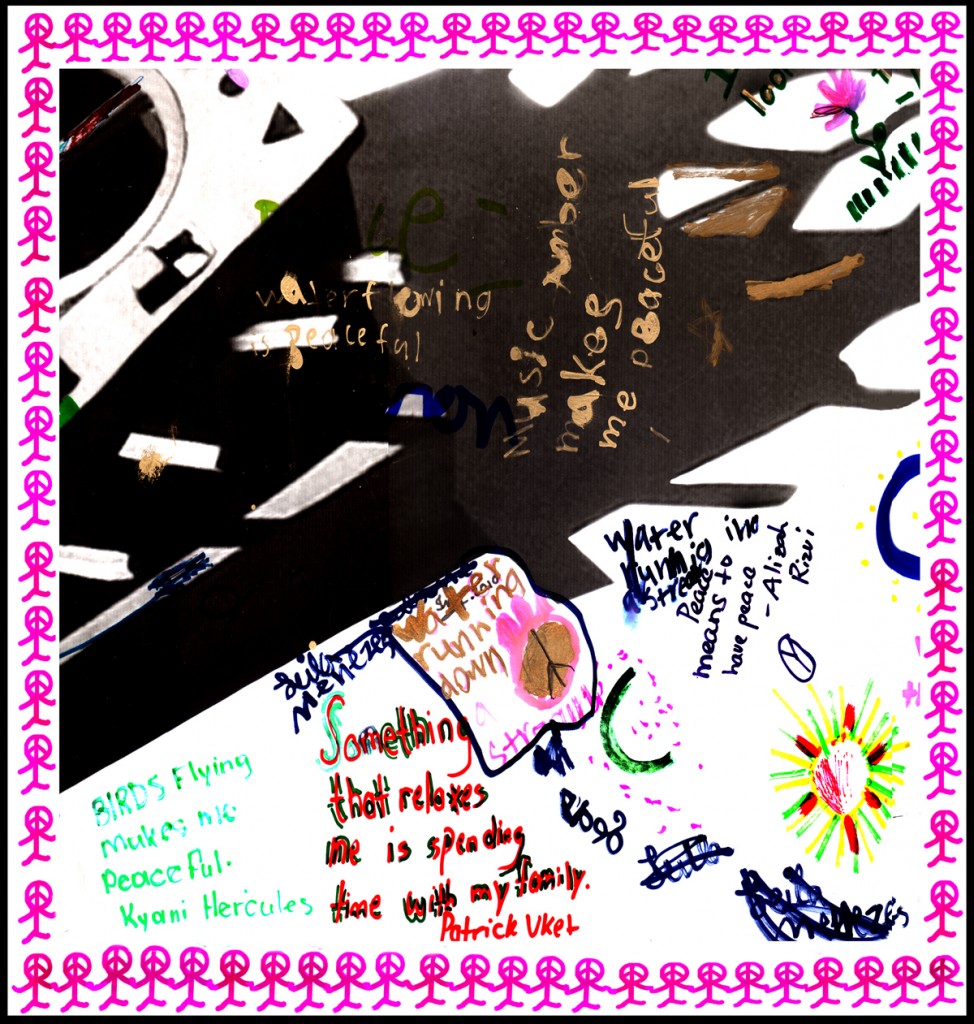 Birds flying makes me peaceful
Something that relaxes me is spending time with my family
Water running down a stream
Water running in a stream
Music makes me peaceful
Water flowing is peaceful
Hi Joanne,
It was nice to have you and Tess today.  Tess is so cute and smart.  I wish we had more time together.  We enjoyed having both of you.
Thank you so much for helping me corrects my writing on "Happy Mother's Day!  Roses for All Mothers", I just posted the article on my website.  Would you please forward this connection      www.ingpeaceproject.com on" Happy Mother's Day!  Roses for All Mothers" page to Rebacca and Marie for both mothers also.  Please send this connection to other mother's friends that you know if you wish.
 You are the second person who returned the writing comments and artwork on my Peace Project Posters.  The retuned posters mean so much to me because you make me feel good about human behavior as a whole.  There are a lot of people who did not think it is important enough for them to spend time to follow up or complete the work.  You, Rebecca and others spent your valuable time helping children and others who came across to get involve with the Peace conscious subject.  You guide the children into questioning the importance of peace in their lives.  If we adults ignore teaching our children about peace we can only be blame ourselves when the next generation does not understand "What does Peace mean to them?"
Please send me all the information you can organize.  Take your time you do not have to rush.  I still have more work to do.  Please tell Becky and others who participated in my Peace Project that I am very glad to receive the finished peace posters.  They are interesting and beautiful.  I hope after I put everything together it will be a good example for other to use to produce a project.  I appreciate and thank you so much for your hard work.
We are looking forward to see you soon.
Happy Mother's Day our dear friend!
Love,
Ing   5.11.12
 HI ING…..WE ARE still INHALING THE BEAUTIFUL RED ROSE….THANK YOU AGAIN FOR THE WONDERFUL AFTERNOON……….THE SPECIFIC PHOTOS OF THE CHILDREN WORKING ON YOUR PROJECT WILL BE FORWARDED AS SOON AS I GET THEM OFF OF REBECCA'S CAMERA….the ones enclosed are what I took.   We worked on the peace project on 3 different occassions…with Ben's 2nd grade and two 4th grade classes….also, the adults included teachers, parents, and administrators…..from Farbrook School and ST. Philips in Newark…….have a good week=end and I'll be in touch this week…love, joanne   5.19.12
 Date: Thu, 21 Jun 2012 20:03:35 +0000
DEAR ING…….LOOK FOR FARBROOK SCHOOL…..UNDER PRINTS. POEMS, AND POSTCARDS…..4TH GRADE COLLABORATE…………FROM THIS ARTICLE…….'students added their contributions to a collaborative art project titled…." WHAT DOES PEACE MEAN TO YOU?"   THIS INVOLVED A MIXED MEDIA ARTWORK, TITLED "SHADOW OF PEACE" WHICH WAS BEGUN BY ARTIST, ING-ON-VIBULBHAN-WATTS AND COMPLETED BY THE STUDENTS WRITING ON THE ARTWORK THEIR PERSONAL DEFINITIONS AND EXPERIENCES OF PEACE….QUOTES FROM THE DAY…….WORKING TOGETHER WE DISCOVERED WE CAN MAKE ANYTHING POSSIBLE"……..WE WORKED TOGETHER BY PUTTING TOGETHER OUR IDEAS AND OUR DIFFERENCES"………..WE WORKED TOGETHER BY LISTENING TO ONE ANOTHER AND FINDING WE ARE BASICALLY THE SAME"………….HOPE THIS HELPS…LOVE, JOANNE   
 Hi Joanne,
How are you and everyone?  I hope you all are ok.  How was the trip to UMDNJ art exhibition?  Did you like the show?  I am sorry I could not go with you because my right arm is still very bad but is improving.  I cannot stop doing the work so I use my left hand.  I just finished copying the comments from the two posters that you returned to me.  What do you think about how I designed of each section with my little Peace head figures?  Please see the attachments.
Please let me know about the over all presentation.  If you think is ok I will fill in more of the information that you gave to me and post it on my website.  Then you can show it to the people who participated in the Peace Project or you can email them my website.  Did you have any pictures of the students working on the project?  It would be nice if there are some pictures with these comments and artworks.
Thank you so much for doing the Peace Project.  I would like to use this article as an example to the other schools, if you do not mind.
Please say thanks to Rebecca and others who helped to do the project and also the children who did great artworks and gave very nice comments.
Love,
Ing  5.25.12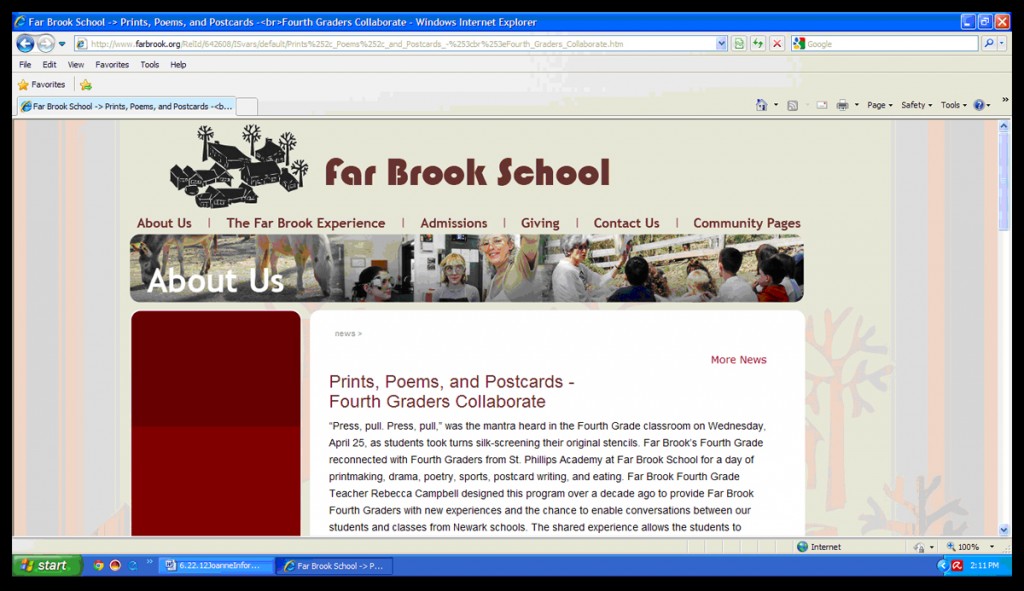 "Press, pull. Press, pull," was the mantra heard in the Fourth Grade classroom on Wednesday, April 25, as students took turns silk-screening their original stencils. Far Brook's Fourth Grade reconnected with Fourth Graders from St. Phillips Academy at Far Brook School for a day of printmaking, drama, poetry, sports, postcard writing, and eating. Far Brook Fourth Grade Teacher Rebecca Campbell designed this program over a decade ago to provide Far Brook Fourth Graders with new experiences and the chance to enable conversations between our students and classes from Newark schools. The shared experience allows the students to explore and celebrate their similarities and differences through creative endeavors.
 The eager students divided into small groups of 6-10 for varied activities. In one classroom over looking the wetlands, students brainstormed in partnerships to write spring-themed Tanka poems. The students' knowledge of Haiku poetry gave them a foundation on which to build their Tanka poems, capturing these fleeting experiences on paper.
As the small groups circulated through the activities, individual students had the opportunity to use original stencil designs which they had created previously in the silk-screening process. Students explored possibilities as they experimented with printing on paper, t-shirts, and fabric panels that will become an art installation at Far Brook School and at Seton Hall University.
 While awaiting their turn to use the silk-screening squeegee, students added their contributions to a collaborative art project titled, "What does Peace mean to you?" This involved a mixed media artwork, titled "Shadow of Peace," which was begun by artist Ing-On Vibulbhan-Watts and completed by the students writing on the artwork their personal definitions and experiences of peace.
 Students wrote poetic wishes for friends, which they expressed on postcards decorated with colorful designs made by dipping the ends of beautifully shaped vegetables in paint and then pressing them onto the postcards. Snacks, lunch, and a variety of creative partnership games and activities helped the children make personal and group discoveries.
 It was an inspiring and interactive afternoon at Far Brook, one that Fourth Graders from both schools will long remember.
 Quotes from the day:
Working cooperatively we discovered that we can make anything possible.
When we looked at our finished work we realized that combining our ideas can be more interesting.
We worked together by putting together our ideas and our differences.
We were surprised that we had so much in common with our partners. We are basically the same.
We worked together by listening to one another and staying together.
 52 Great Hills Road, Short Hills, NJ 07078 | tel: 973-379-3442 | fax: 973-379-9237
Link to Mrs. Trujillos 4th Grade Class New Mexico Comments page:
https://ingpeaceproject.com/1-academy-street-firehouse-youth/4-mrs-trujillos-4th-grade-class-new-mexico-comments/