Despite spending much of his life without the company of children, Mandela became famous for his ability to make connections with the very young.  Here he helps a blind child to find out what he looks like.  The village of Qunu, not much changed from the days when Mandela spent his childhood here.  This is the house he stayed in, the property of Thembu Paramount Chief Jongintaba Dalindyebo, who took in the boy and his mother after Mandela's father, also a chief, was deprived of his property following a disputed with magistrate.  Mandela's father had four wives; his mother Noqaphi Noscheni was the third wife.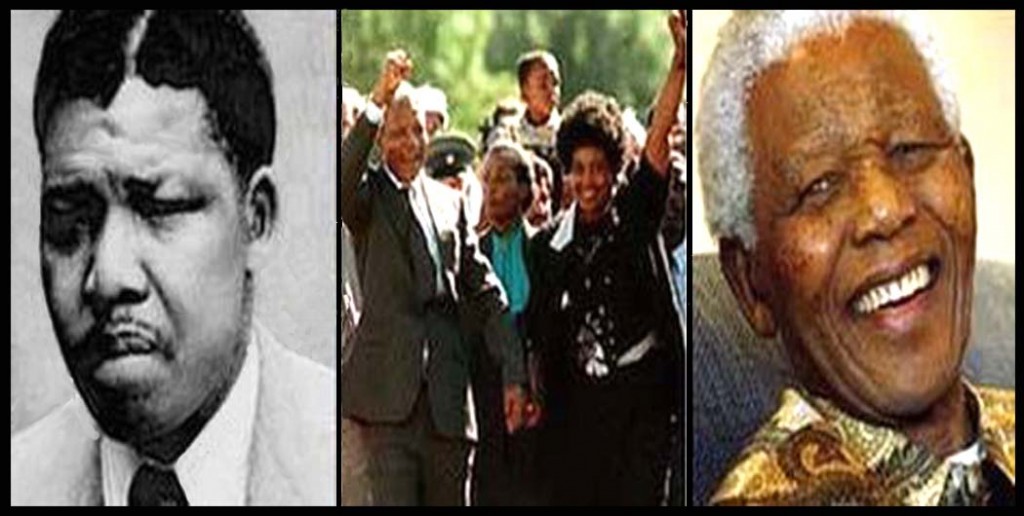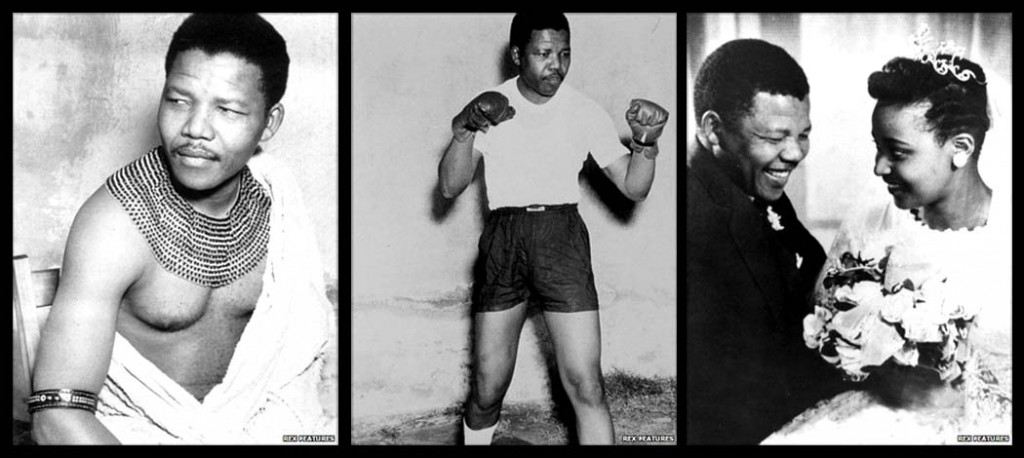 Rolihlahla Dalibhunga Mandela was born in 1918 and raised in the village of Qunuin the Transkei, a small village in South Africa's eastern.  He was one of 13 children, a youngest son of a counselor to the chief of the Thembu clan.
"He was only nine when his father died of tuberculosis. Always closer emotionally to his mother, Mr. Mandela described his father as a stern disciplinarian. But he credited his father with instilling the instincts that would help carry him to greatness.
Years later Mr. Mandela would write that "my father possessed a proud rebelliousness, a stubborn sense of fairness…" His death changed the course of the boy's life.
The young Mandela was sent from his home village to live as a ward of the Thembu royal house, where he would be groomed for a leadership role.
This meant he must have a proper education. He was sent to a Methodist school, where he was given the name Nelson. He was a diligent student and in 1939 went to Fort Hare University, then a burgeoning centre of African nationalism."
He ran away toJohannesburg, where he became a lawyer and joined the African National Congress fight against apartheid. He is pictured in about 1950, six years after he founded the African National Congress (ANC) Youth League (ANCYL) with Oliver Tambo and Walter Sisulu.  
He married Evelyn Ntoko Mase, his first wife.  They have four children: Thembekile (1945); Makaziwe (1947 – who dies after nine months); Makgatho (1950); Makaziwe (1954). 
As a young man, Nelson Mandela was a keen boxer.  , Long Walk to Freedom. "Boxing is egalitarian.  In the ring, rank, age, color and wealth are irrelevant." he wrote in his autobiography
Nelson Mandela married his second wife Winnie Madikizela in 1958, and they have two daughters.  They never enjoyed much of a family life as they were both in and out of jail.  They divorce in 1996.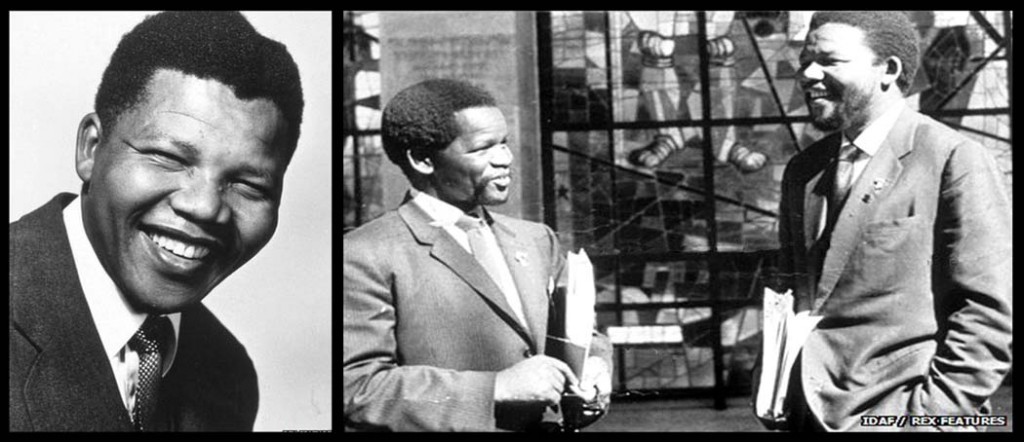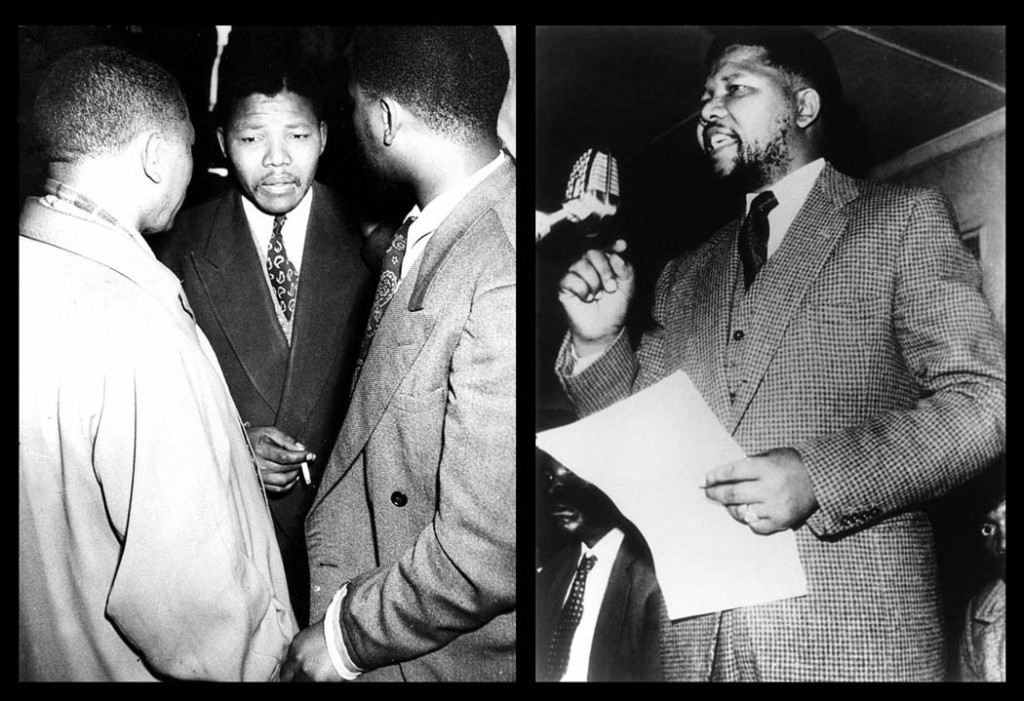 Right-Nelson Mandela gives a speech to the African Congress in 1961. The ANC had been outlawed the previous year and Mandela went underground, leaving South Africain 1962 to undergo military training and gather support abroad.

Left- Winnie Mandela raises her fist in a black power salute on July 17, 1988, as she announces that a massive pop concert will be held to mark the 70th birthday of her jailed husband. As Mandela languished in prison, the international community tightened the sanctions first imposed on South Africa's apartheid regime in 1967.  In 1990, President FW de Klerk lifted the ban on the ANC. 
Right-Mandela (2nd from right) returns to court in 1956.  Alongside 155 other activist Mandela was charged with high treason, but the charges against him were dropped after a four-year trial.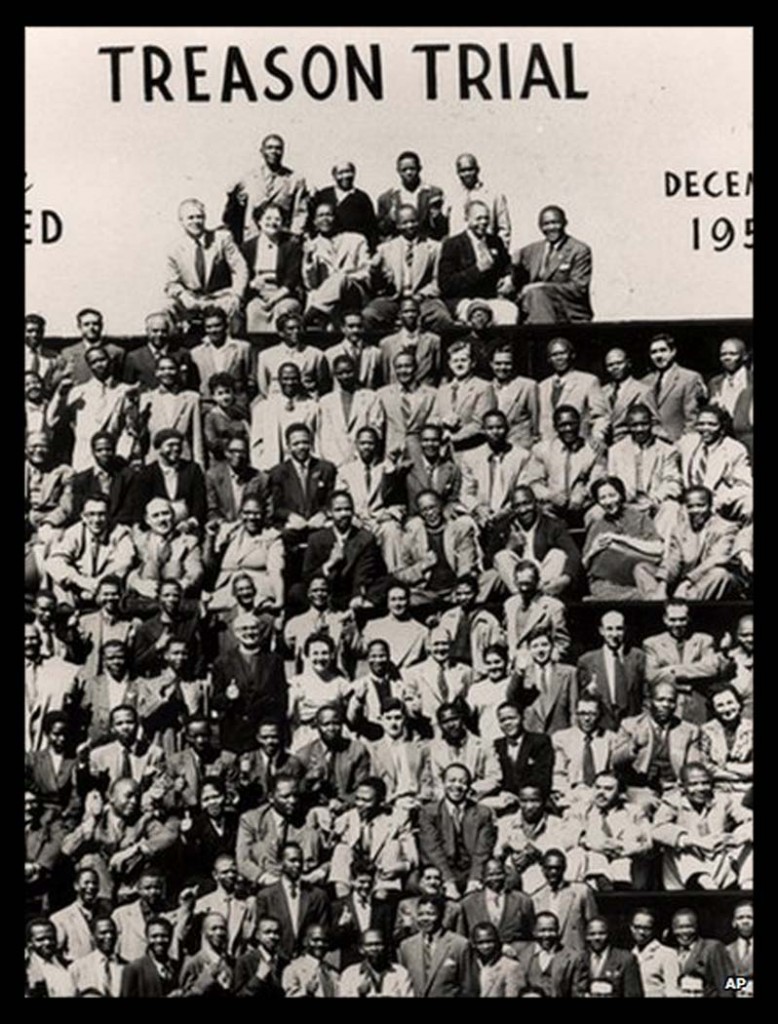 Left-Returning to South Africa, Nelson Mandela was captured and sentenced to five years for incitement and illegally leaving the country.  In 1964 he was among eight men sentenced to life imprisonment in the Rivonia trial after being convicted of conspiracy and sabotage.  In this picture taken in June 1964, the eight men leave the palace of justice in Pretoria, their fists raised in defiance through the barred windows of the prison van.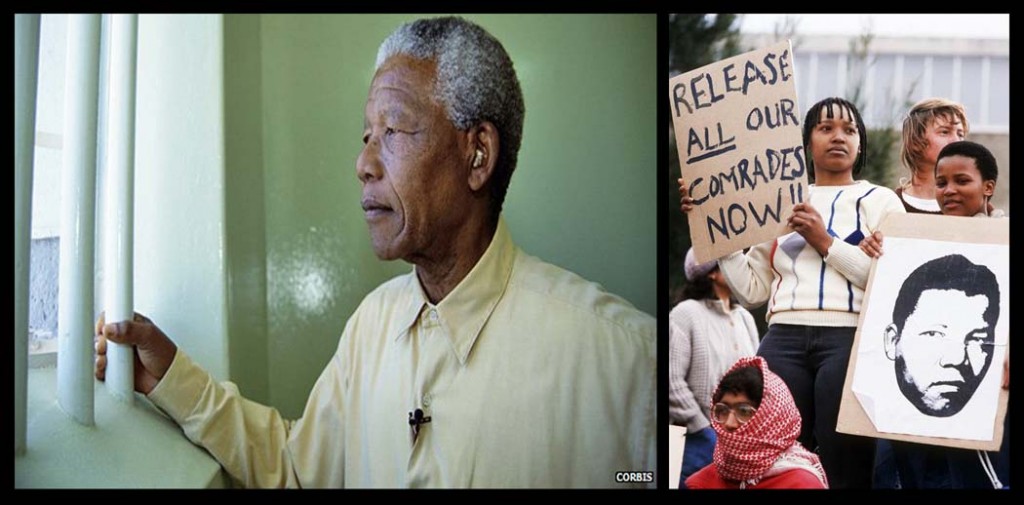 Right-Nelson Mandela revisited his cell several times after his release. 
Left-Mandela's daughter Zinzi, center, and other Cape Town University students stage a demonstration on August 29, 1985 demanding the release of jailed ANC activists.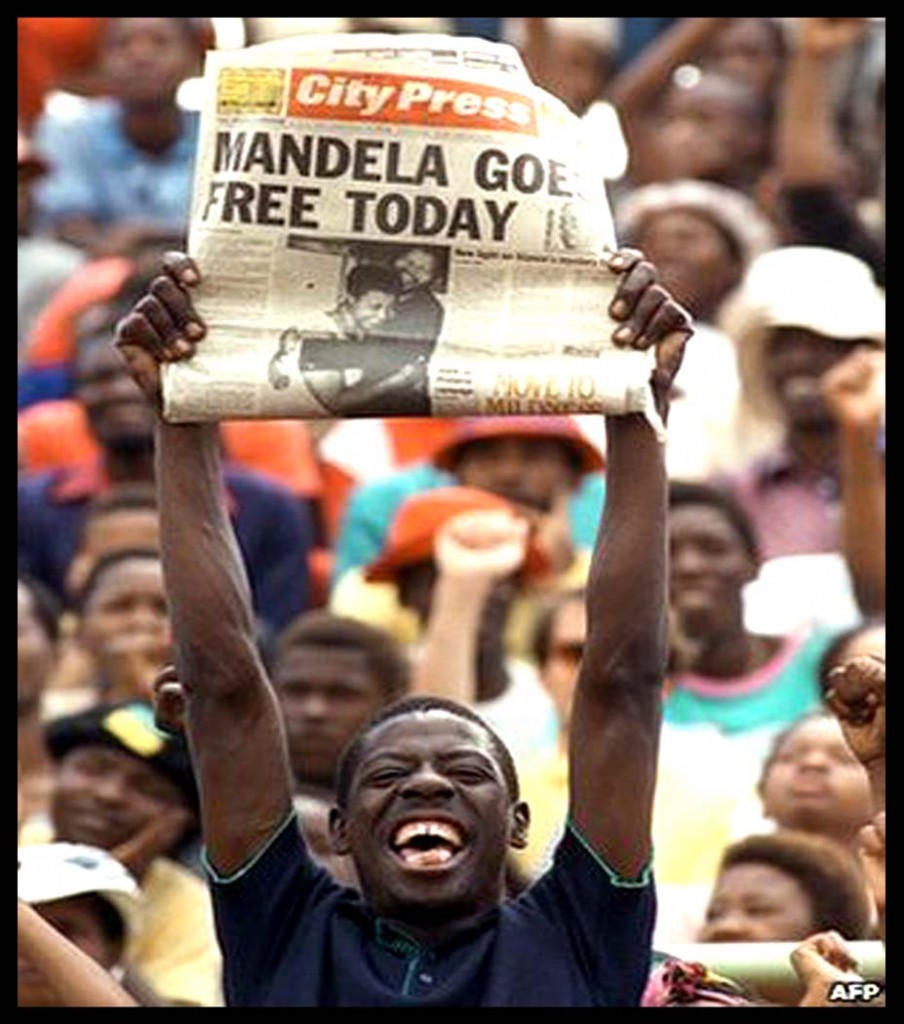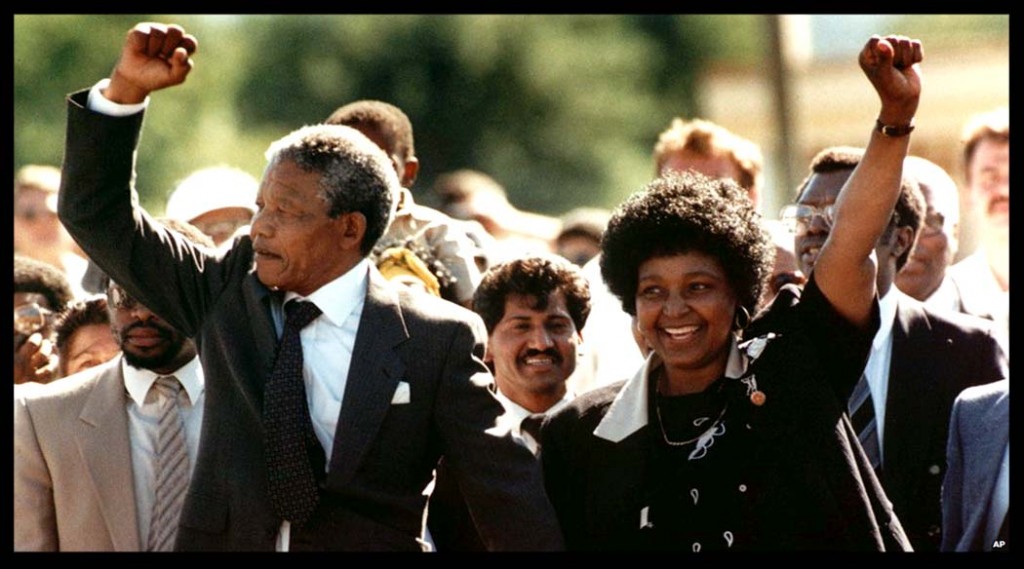 After more than 27 years in detention, Mandela walks out of Victor-Verster Prison in Paarl on February 11, 1990, accompanied by his wife Winnie.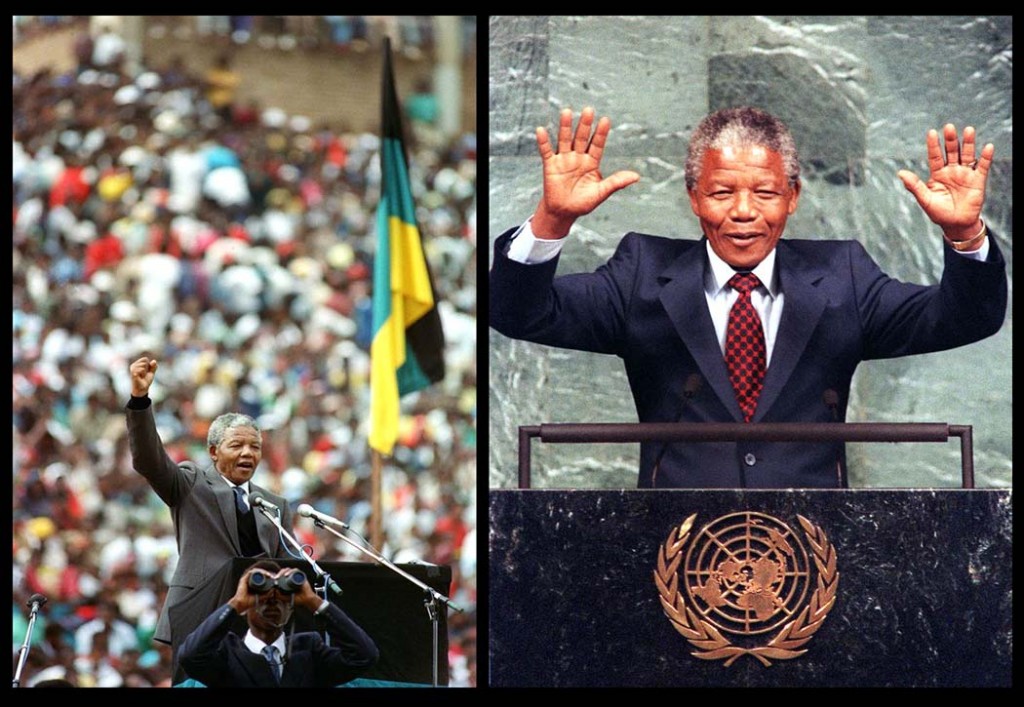 Right-Two days after his release, Mandela addresses a rally attended by over 100,000 people at Soccer City Stadium inSowetoon February 13, 1990.  "The march towards freedom and justice is irreversible." He told the crowd. 
Left-Mandela acknowledges the applause during a speech to the United Nations in New York on June 22, 1990.  Mandela urged the UN to maintain sanctions against South Africa until apartheid was abolished.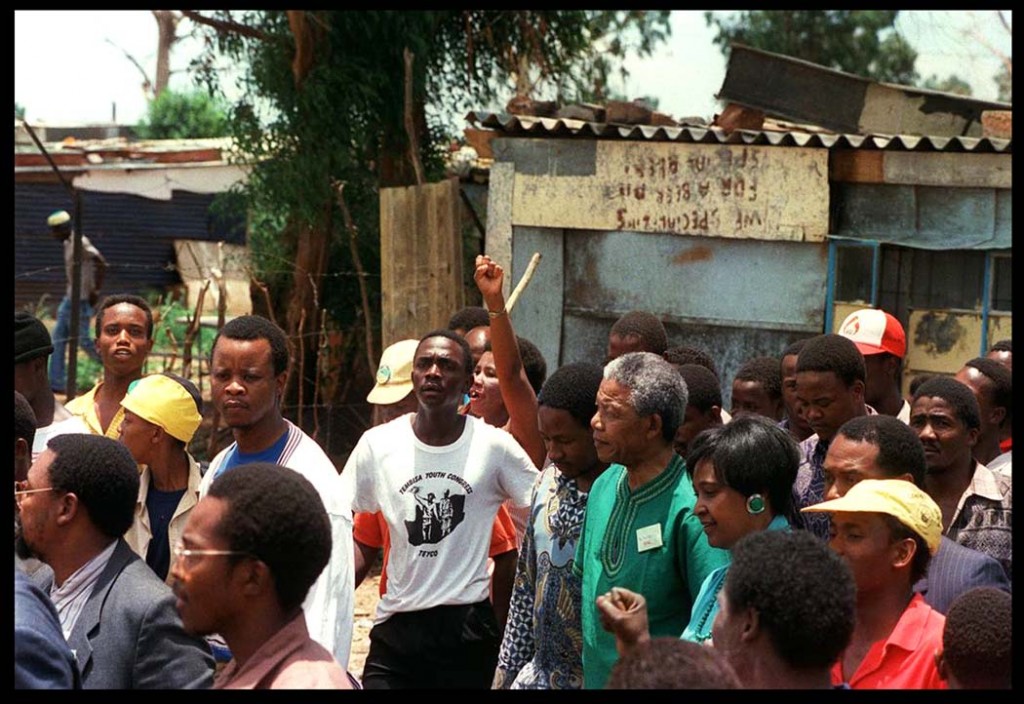 Nelson and Winnie Mandela join a group of clergymen and embassy officials on a visit to theTokoza Township on December 12, 1990, in an effort to bring peace to the area where 83 people had lost their lives in clashes between Zulu and Xhosa factions in the previous five days.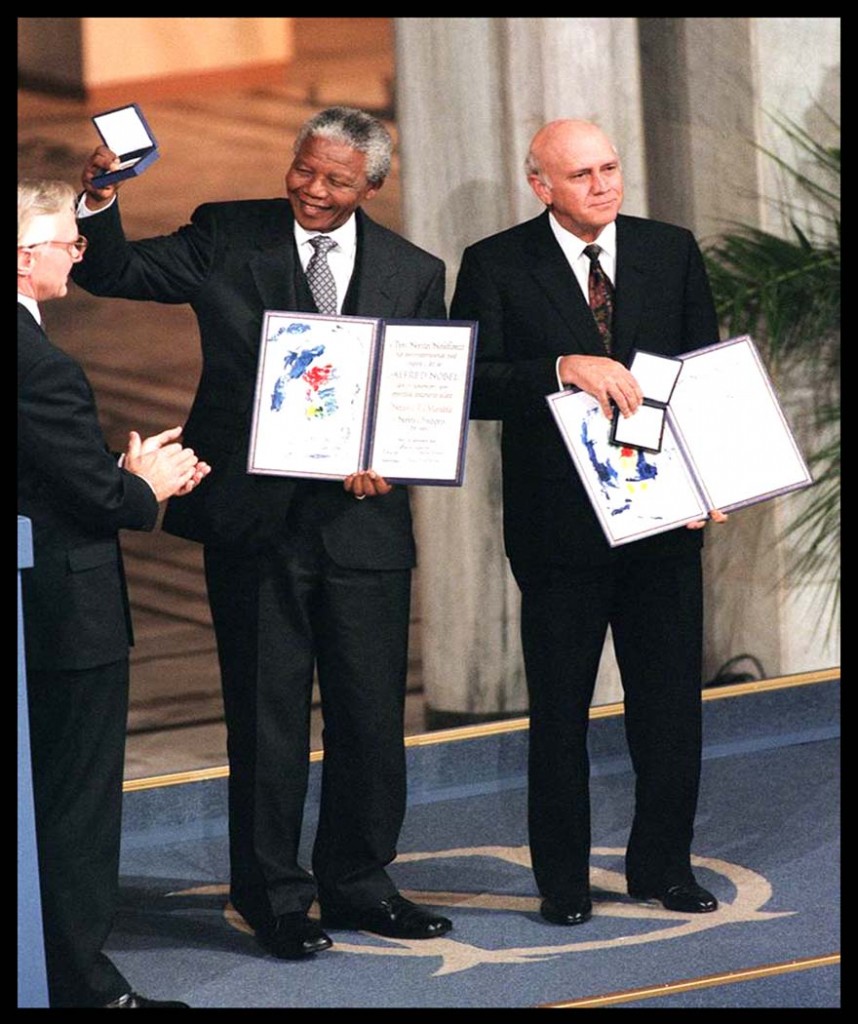 Nelson Mandela and FW de Klerk were jointly awarded the Nobel Peace Prize at a ceremony in Oslo,Norwayon December 10, 1993 for their roles in ending apartheid.  FW de Klerk would go on to serve as one of Mandela's deputy presidents.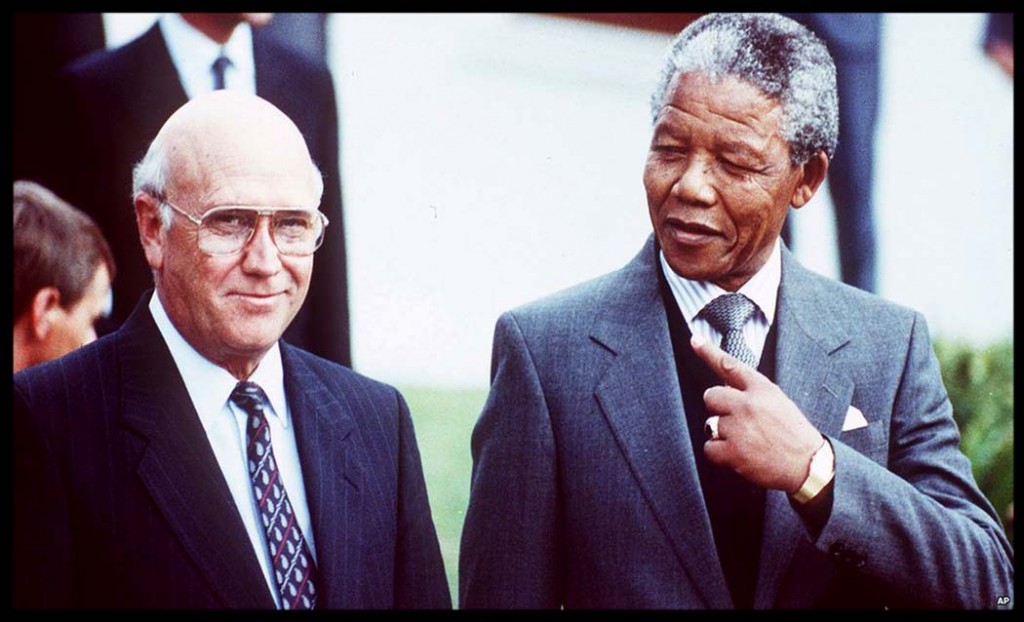 Tough negotiations followed before South African President FW de Klerk agreed to elections under one-person, one-vote.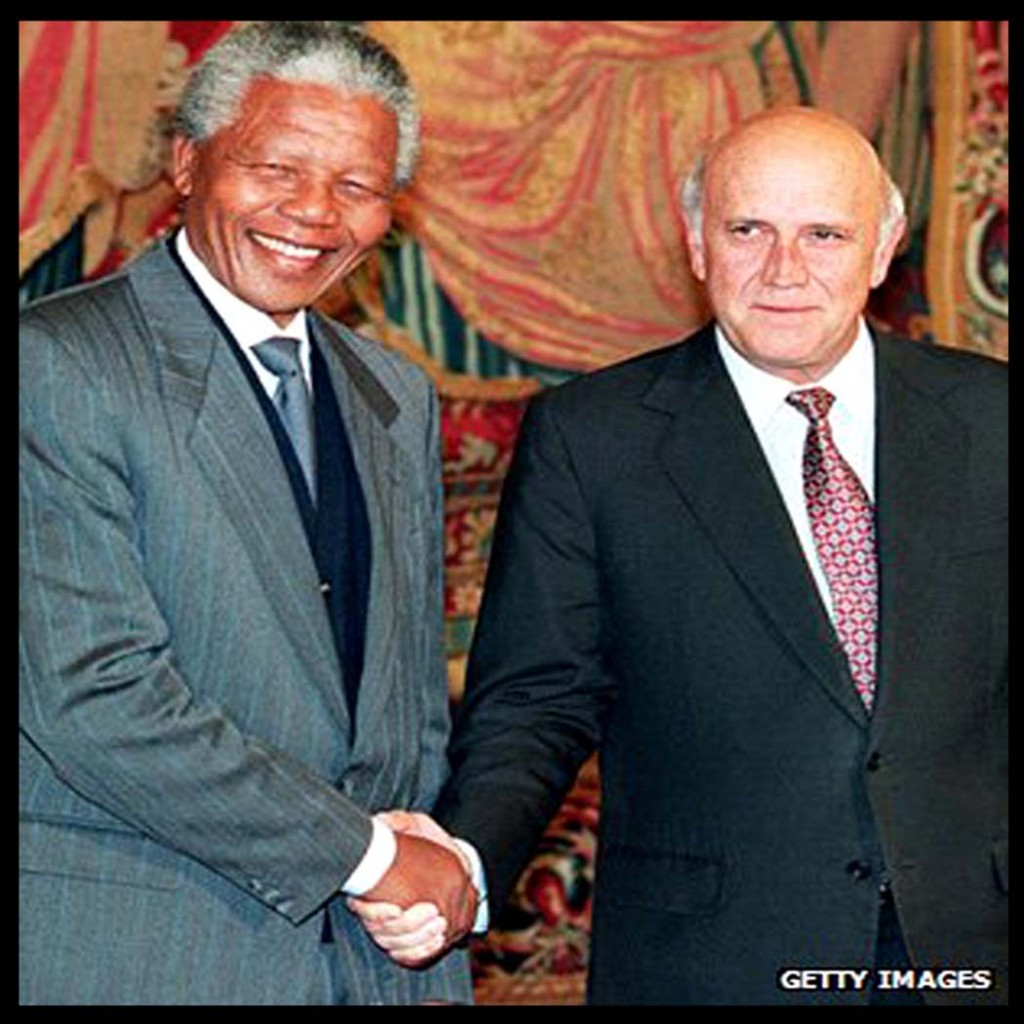 No bitterness, Nelson Mandela and FW de Klerk
To the wider world he represented many things, not least an icon of freedom but also the most vivid example in modern times of the power of forgiveness and reconciliation. Back in the early 1990s, I remember then President, FW de Klerk, telling me how he found Mandela's lack of bitterness "astonishing".
His fundamental creed was best expressed in his address to the sabotage trial in 1964.
"I have fought against white domination, and I have fought against black domination," he said.
"I have cherished the ideal of a democratic and free society in which all persons live together in harmony and with equal opportunities. It is an ideal which I hope to live for and to achieve. But if needs be, it is an ideal for which I am prepared to die."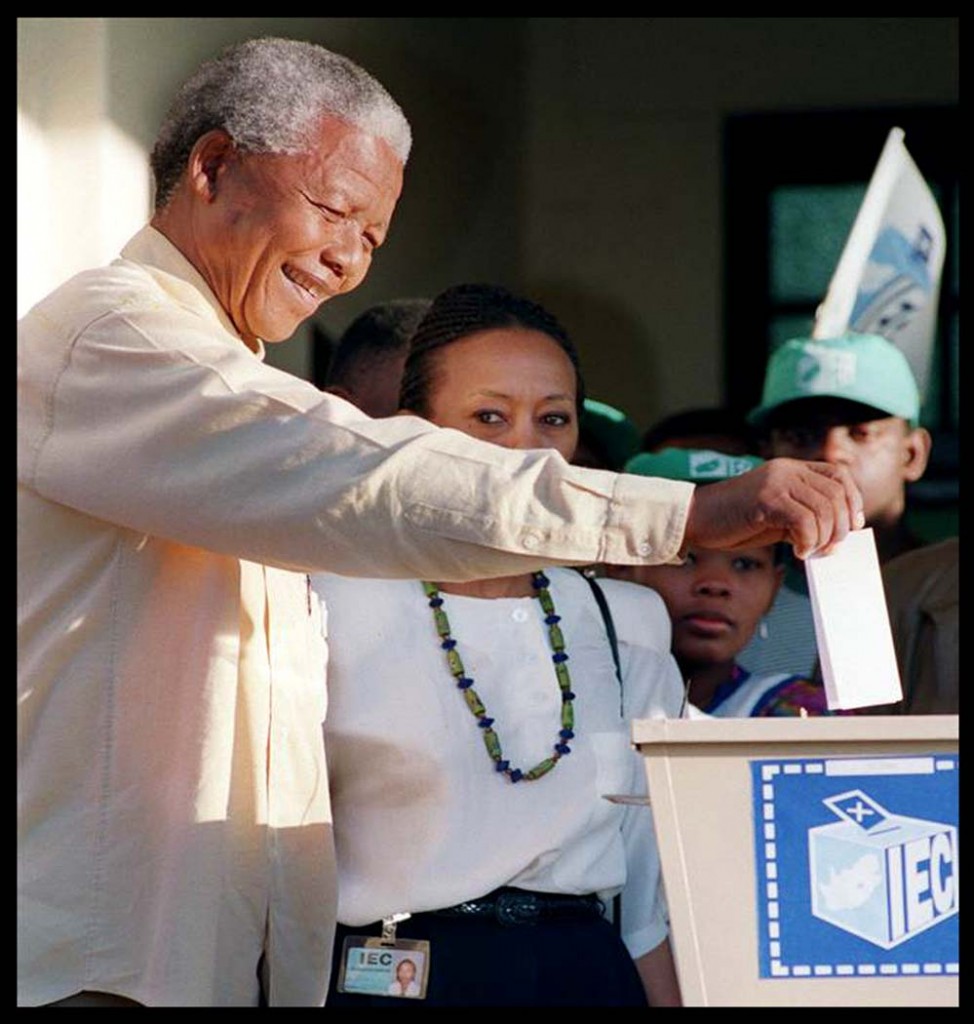 Mandela smiles broadly as he casts his vote in Oshlange, a black township near Durban, in the historic election on April 27, 1994.

Right-South Africa's first democratic elections were held on 27 April 1994.  Black South Africans long lines to cast their ballots for the first time.  The ANC won a landslide and Nelson Mandela became the first black president. 
Mandela takes the oath on May 10, 1994, during his inauguration in Pretoria as the country's first back president. "The time for the healing of the wounds has come," Mandela said.  "The moment to bridge the chasms that divide us has come.  The time to build is upon us."

Right-Mandela retired from public office after serving five years as president.  On June 16, 1999 he attended the inauguration of his successor Thabo Mbeki, left, at the Union Buildings in Pretoria. 
Left-Nelson Mandela served just a single term as president and in 1999 became one of the few African leaders to stand down voluntary.  Thabo Mbeki (l) was given the almost impossible task of succeeding Nelson Mandela as leader of both South Africa and ANC.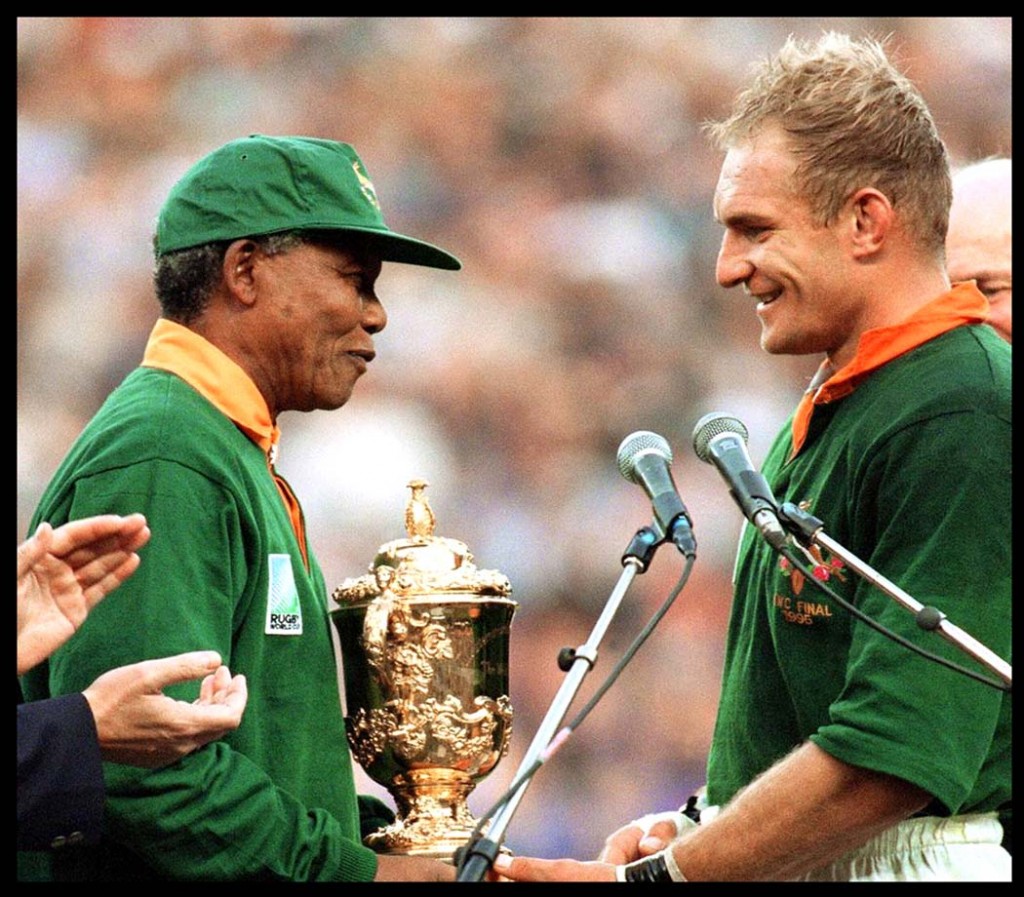 Mandela congratulates South Africa's rugby captain Francois Pienaar Before handing him the William Webb trophy after his team's victory over New Zealandin the final of the Rugby World Cup at Ellis Park in Johannesburgon June 24, 1995.  "It was on that day that he captured the hearts of whiteSouth Africa." Said the author John Carlin, who wrote a book, later turned into an Oscar-nominated movie, about the significance of Mandela's embrace of the largely-white rugby team. 
Nelson Mandela's legacy of unifying the nation of South Africaafter the division of apartheid endures.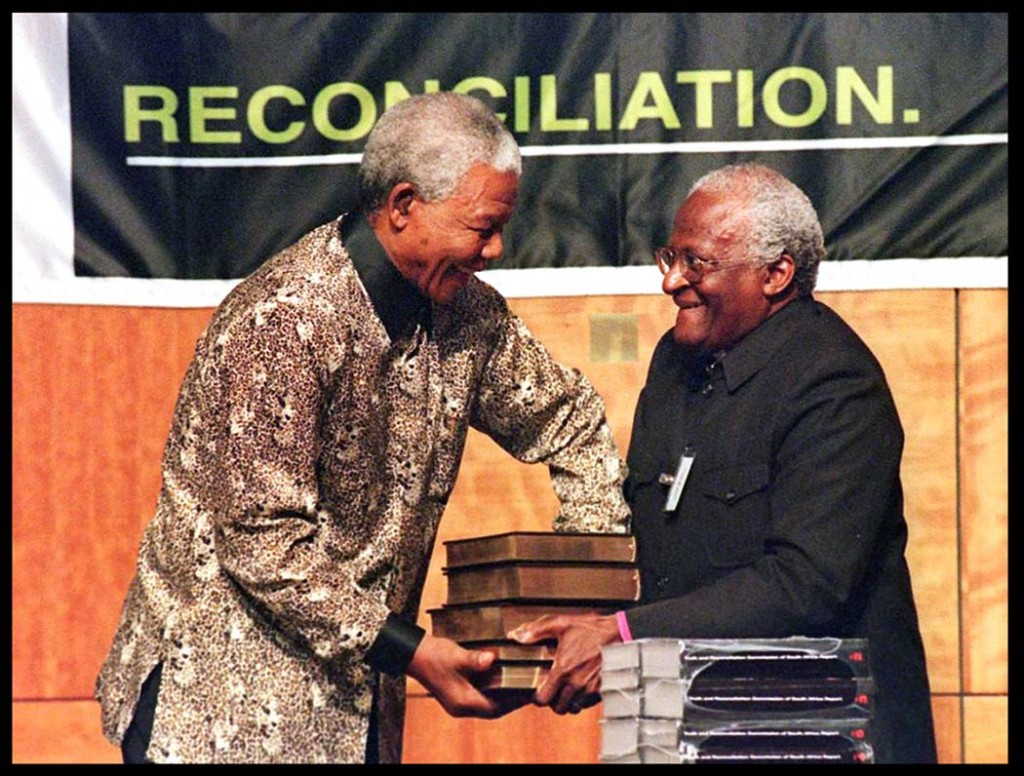 Archbishop Desmond Tutu, right, hands Mandela the five-volume report produced by his Truth and Reconciliation Commission (TRC) on October 29, 1998.  The report revealed human rights abuse by various political parties during apartheid.  Accepting the report, Mandela acknowledged that the wounds of the period of repression and resistance were too deep to have been healed by the TRC alone.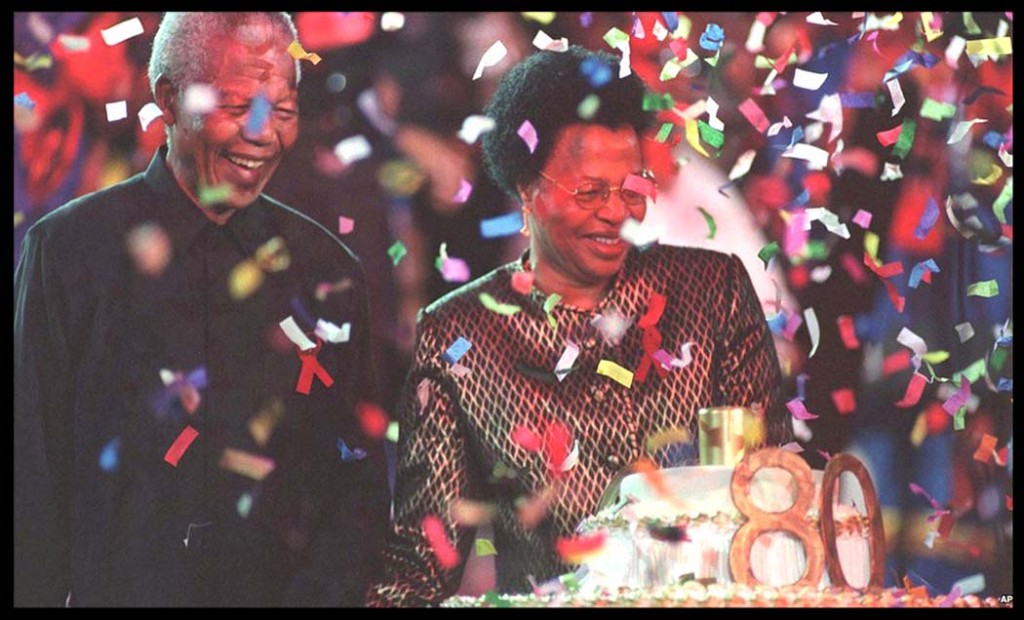 After an acrimonious divorce from Winnie, Nelson Mandela married Graca Machel on his 80th birthday, in 1998. Ms Machel is the widow of Mozambique's former leader Samora Machel. Nelson Mandela and Graca Machel set up a fund to help deprived African children.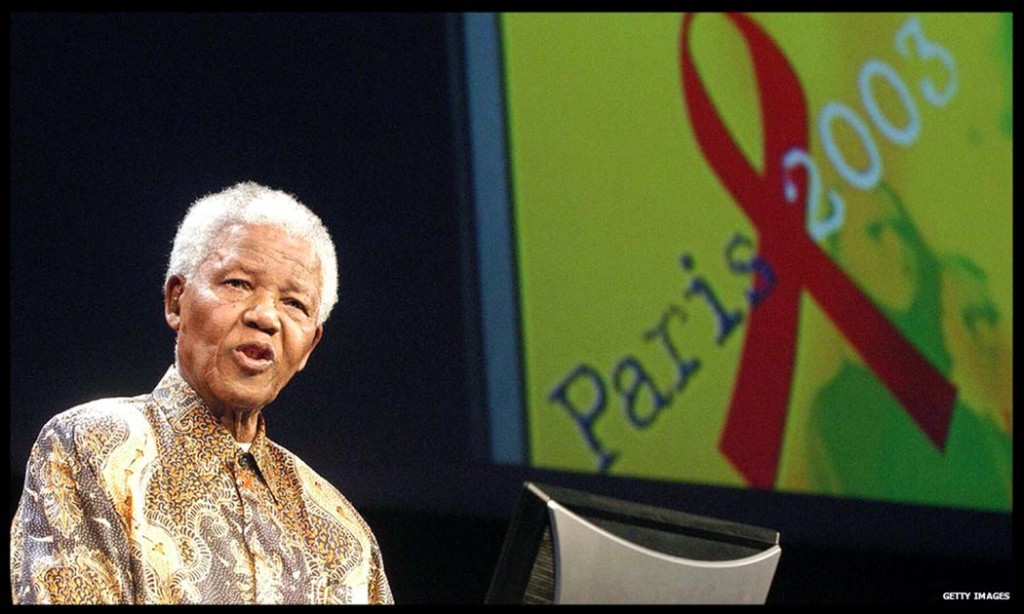 After step down as president in 1999, Nelson Mandela becameSouth Africa's hightest-profile ambassador, campaigning against HIV/Aids and securing his country's right to host the 2010 football World Cup.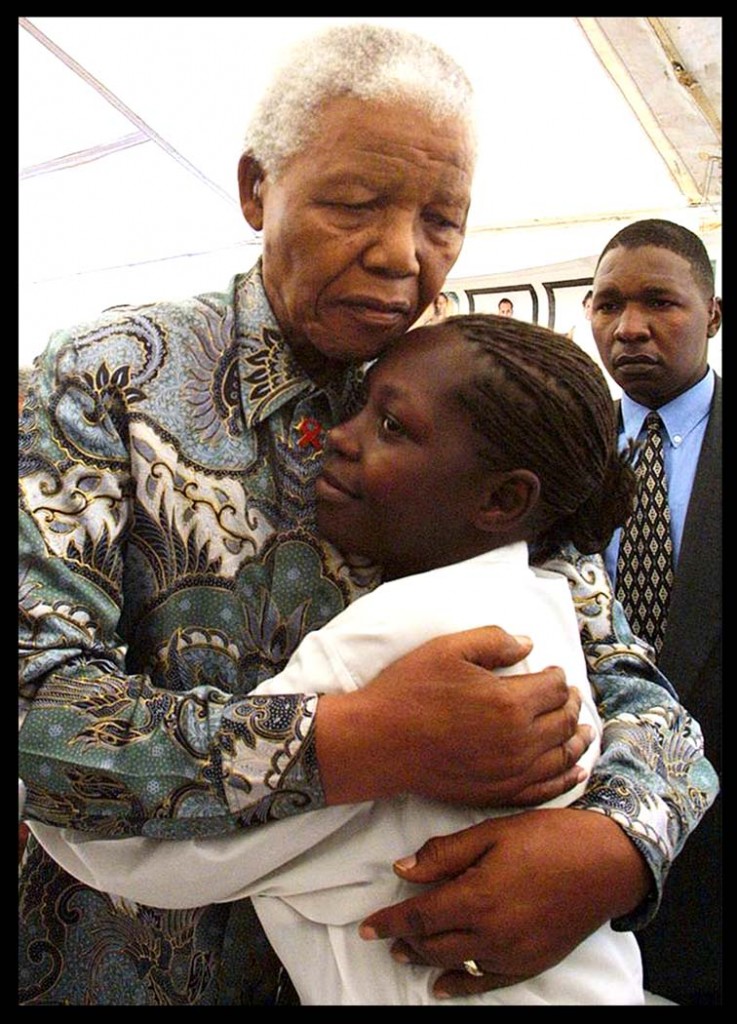 Mandela hugs Babalwa Tembani, 20, who was infected with the HIV virus after being raped by her uncle at the age of 14, on a visit to the Nolungile Clinic in Khayelitsha,Cape Townon December 12, 2002. In 2005 Mandela's oldest son Makgatho died of an AIDS-related illness.  Announcing Makgatho's dead, Mandela said "Let us give publicity to HIV/AIDS and not hide it, because (that is) the only way to make it appear like a normal illness."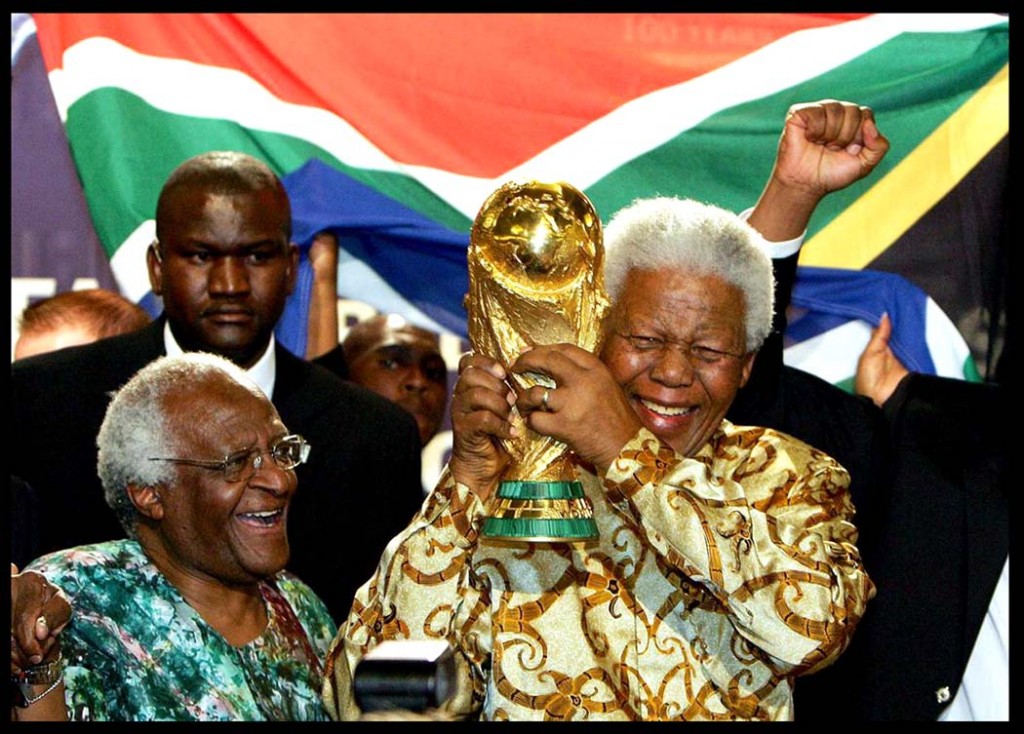 Mandela holds the World Cup trophy alongside Desmond Tutu on May 15, 2004 in Zurich, Switzerland, after South Africawon the right to host the soccer tournament in 2010.  Mandela played a key role in South Africa's bid for the event, and appeared at the closing ceremony.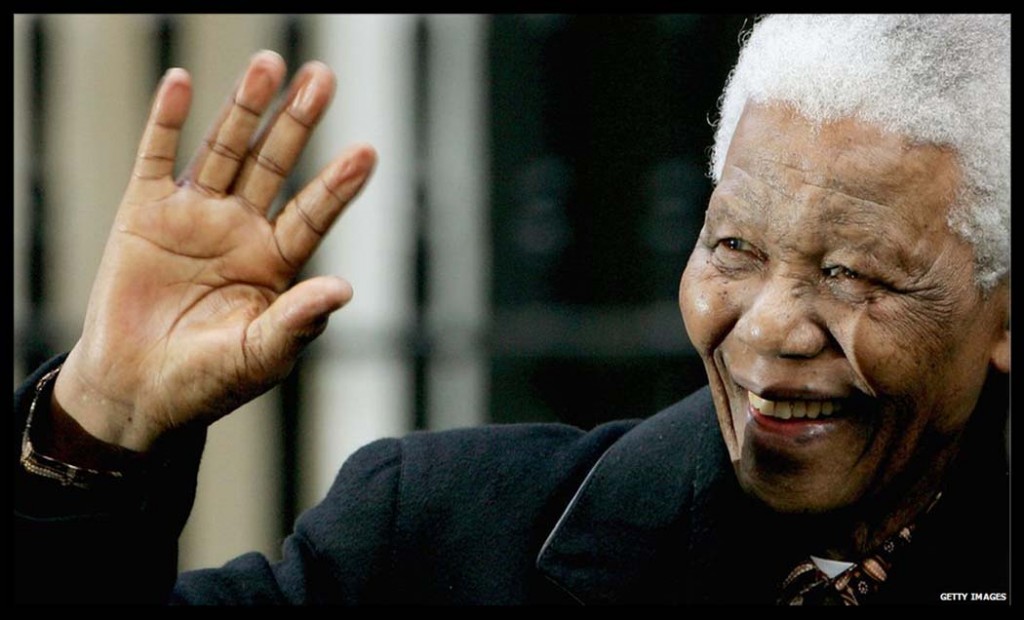 In 2004 at the age of 85, Nelson Mandela retired from public life to spend more time with his family and friends and engage in "quiet reflection".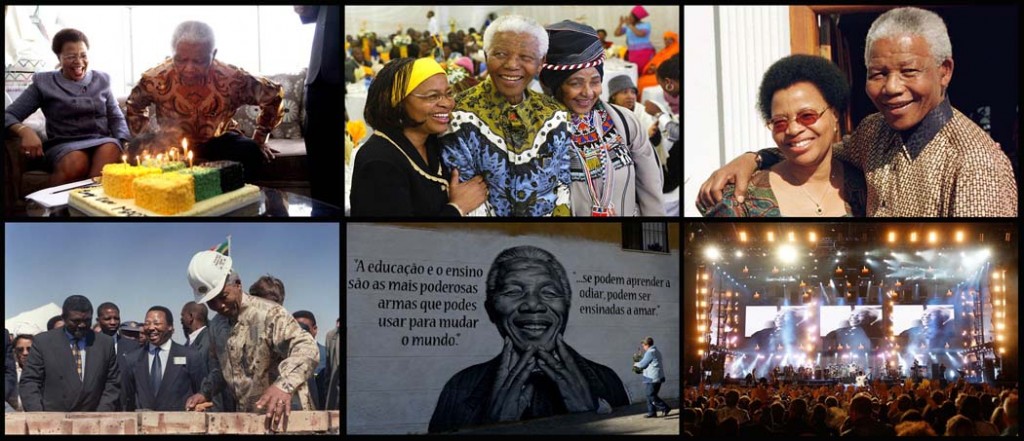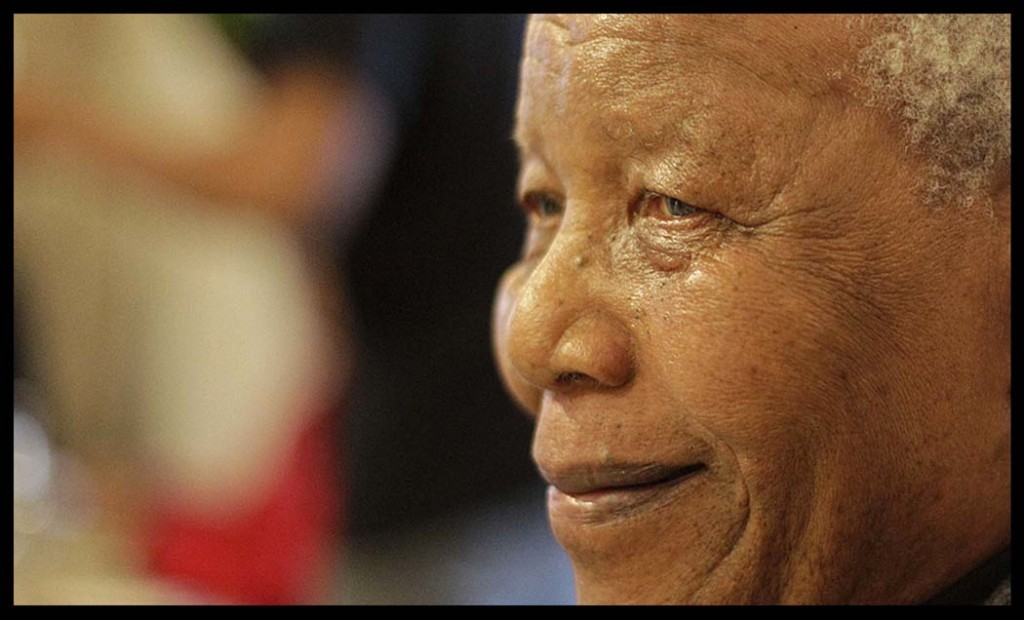 Nelson Mandela celebrating his 94th birthday in 2012.  In 2009 the UN adopted his birthday as the Nelson Mandela International Day.  Every 18th of July people all over the world are asked to honor his life by devoting 67 minutes of their time – one for each year of his political career – to helping their local communities.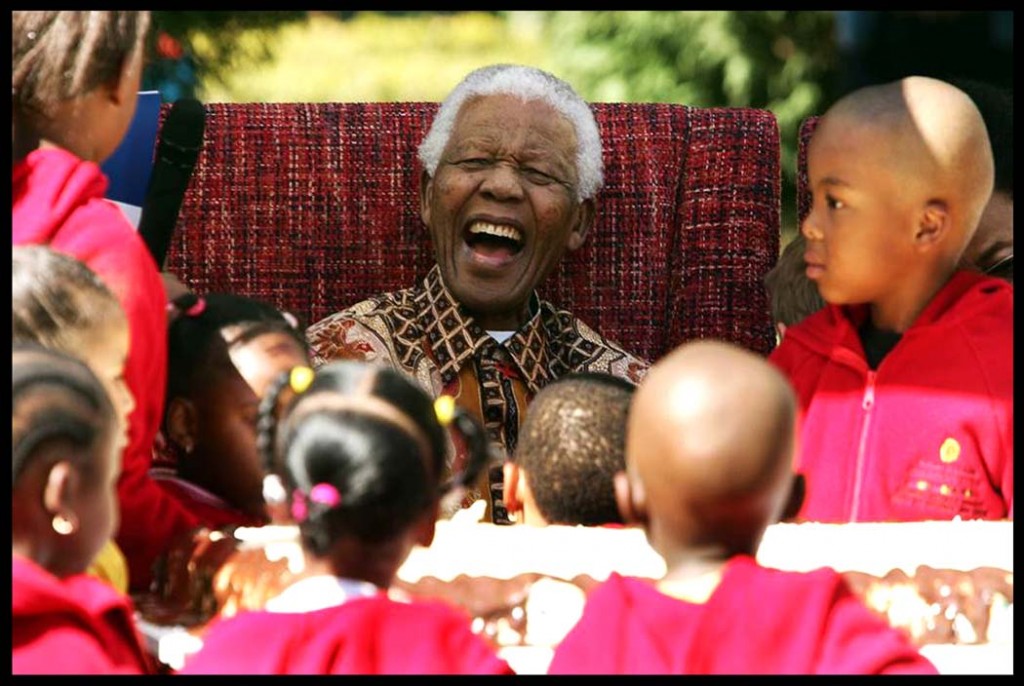 Mandela celebrates his 89th birthday with a group of young people at the Nelson Mandela Children's Fund in Johannesburg on July 24, 2007.  After his retirement from politics Mandela remained involved in social issues through the Children's Fund and the Nelson Mandela Foundation, a charity set up in 1999.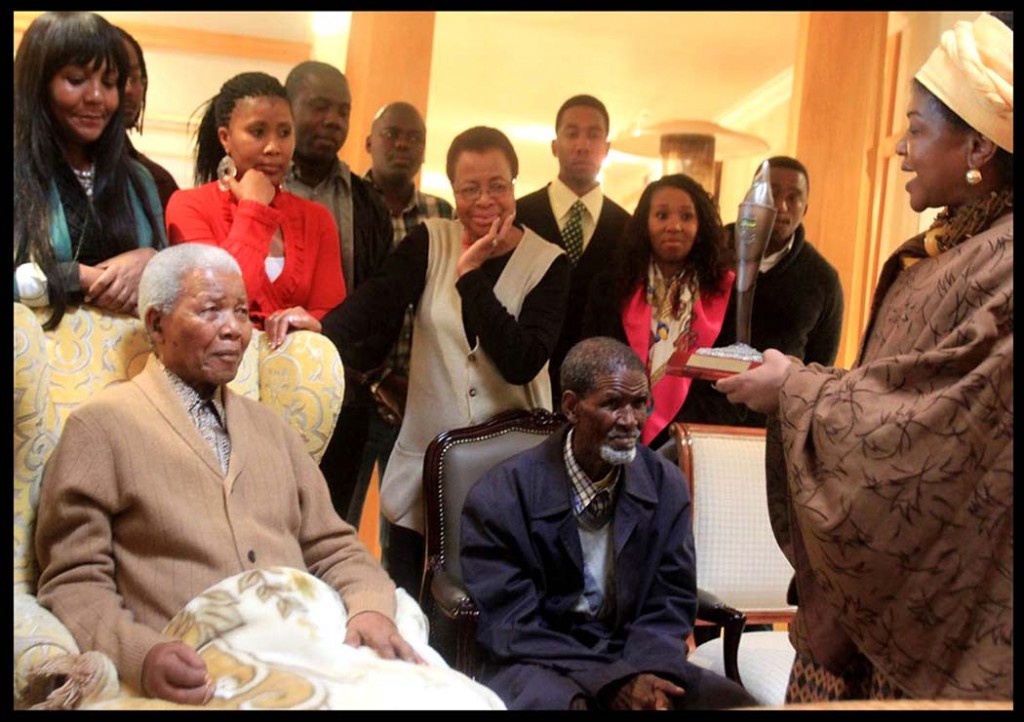 A government statement recalled the former president' own thoughts when asked how he wished to be remembered. 
"It would be very egotistical of me to say how I would like to be remembered." Mr. Mandela said. 
"I'd leave that entirely to South Africans.  I would just like a simple stone on which is written, "Mandela'."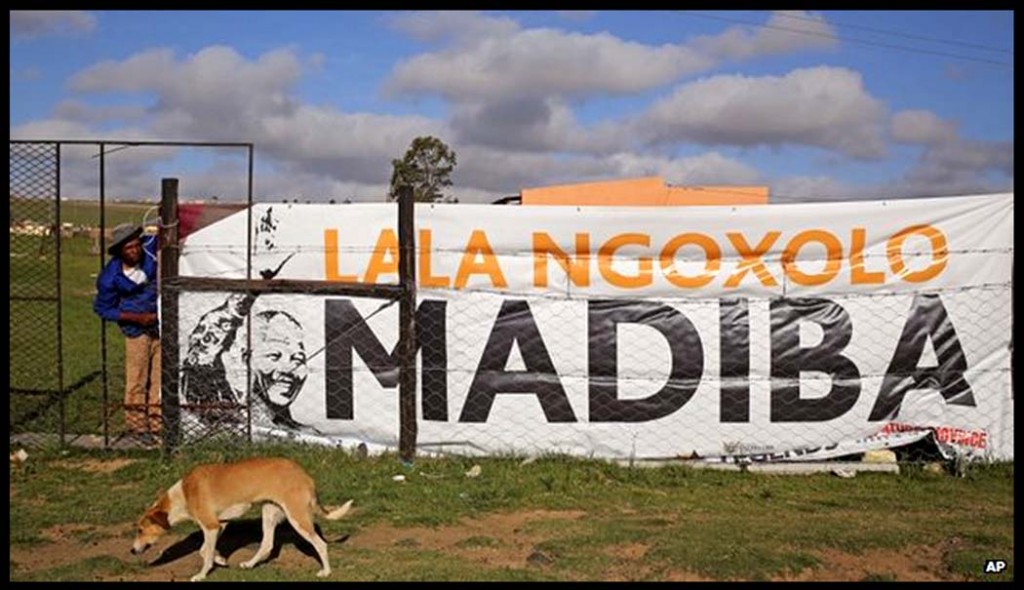 In Qunu, where Nelson Mandela will be buried, a banner has been put up reading "Rest in peace Madiba"  Madiba was Nelson Mandela' clan name.
One Bloomfield Tech Student commented:
Peace?  Trust no one
I can understand how you feel
There was disappointment and trouble in my younger life
But I never lost hope
At least I trusted myself
And behaved in such a way that others could trust me
If I want to trust others
I have to show others are able to trust me
We all go through life
Knowing some bad and good people
We learn and change
If we show kindness to others
There is a chance to receive kindness in return
I was sad about some of my troubles in life
But when I study about Nelson Mandela
Who passed away this month at the age of 95
I feel that I am a lucky person
He was jailed for twenty seven years
But was able to walk tall when he was freed
He overcame his bitterness
Trusted people and people trusted him
Mr. Mandela became the first black president of South Africa
People all over the world praised his good deeds
He is honored and admired
Just as Gandhi and Dr. King were admired
By being only a one term president
Mr. Mandela showed he was not greedy to hold on to power
He could have been President of South Africa as long as he wished
He prevented civil war between black and white South Africans
He helped to raise funds to educate poor  African children
And encouraged the fight against Aids
He led very meaningful life
An example for others to follow
 Mr. Mandela said his 27 years in prison gave him time to think
He educated other prisoners and cultivated a little garden
 Growing tomatoes and other vegetables
His conduct earned him the respect of his jailers
President Barack Obama commented that
When you are with Nelson Mandela
You want to be a better person
I too want to be a better person
 After studying the life of Nelson Mandela
Please reconsider your comment
Peace? Trust no one
If you help others to the best of your ability
You will find others you can trust
Who in turn will trust you
And give help when it is needed
Then you will achieve a successful life
With happiness and peace in your heart
Ing-On Vibulbhan-Watts, Friday, December 13, 2013, 11:56 pm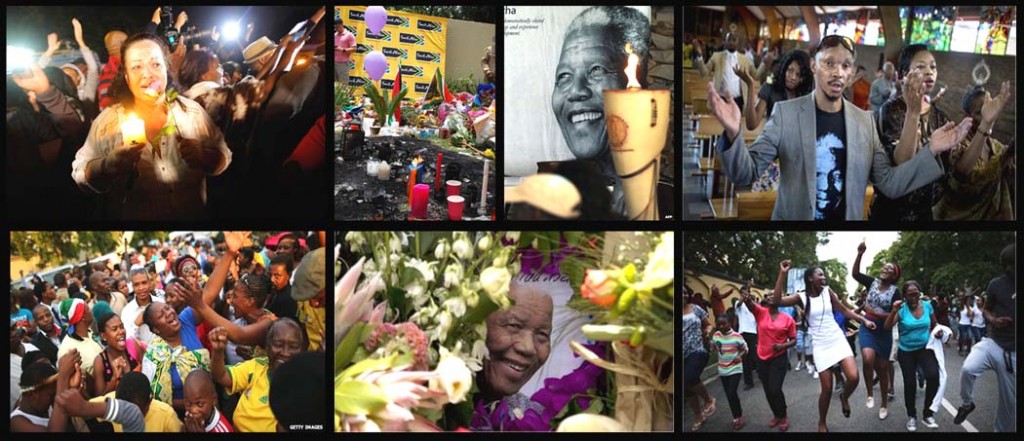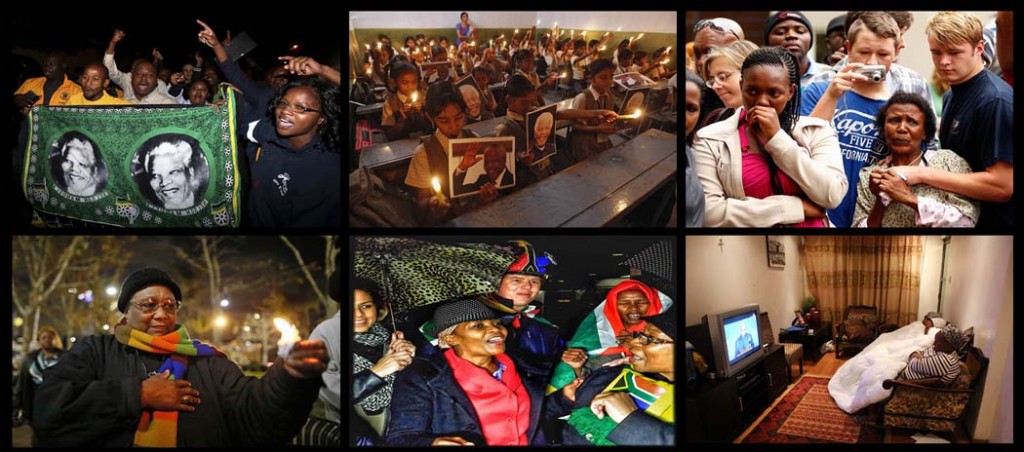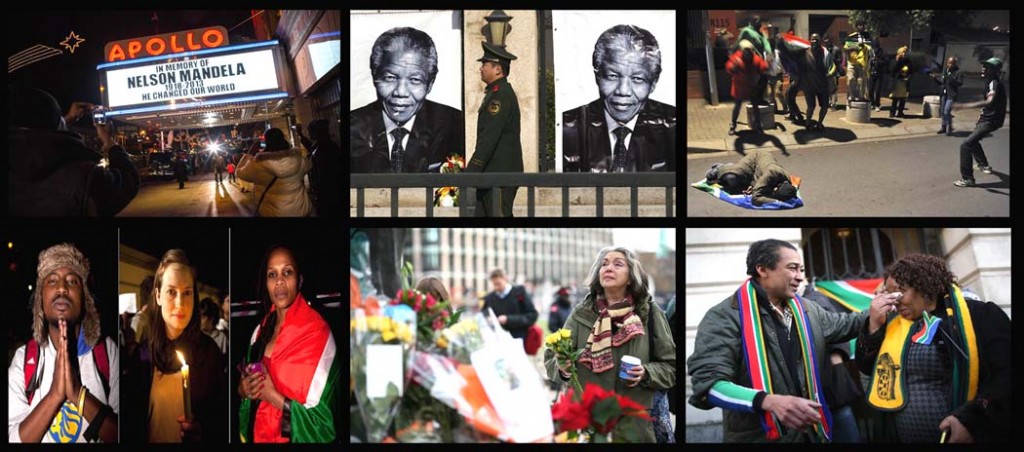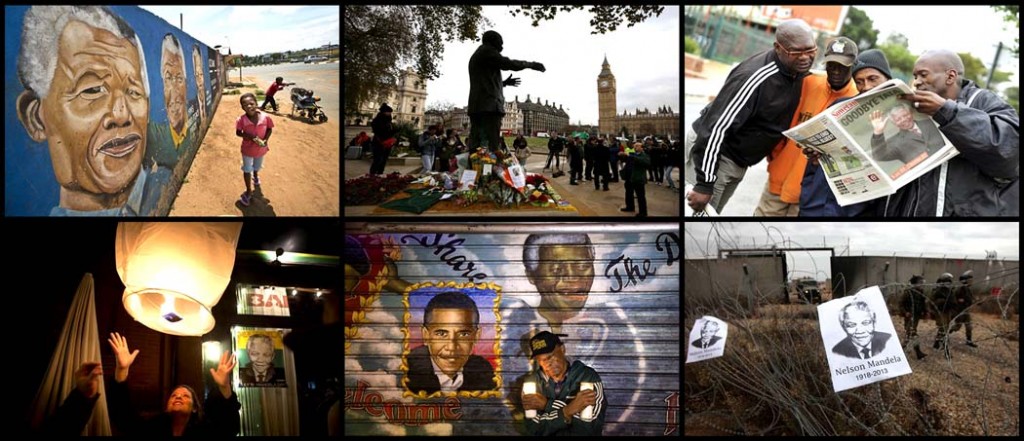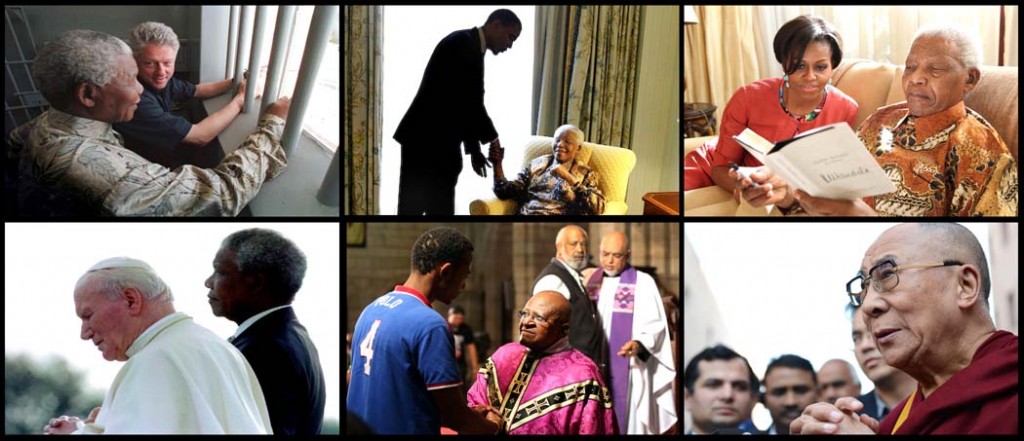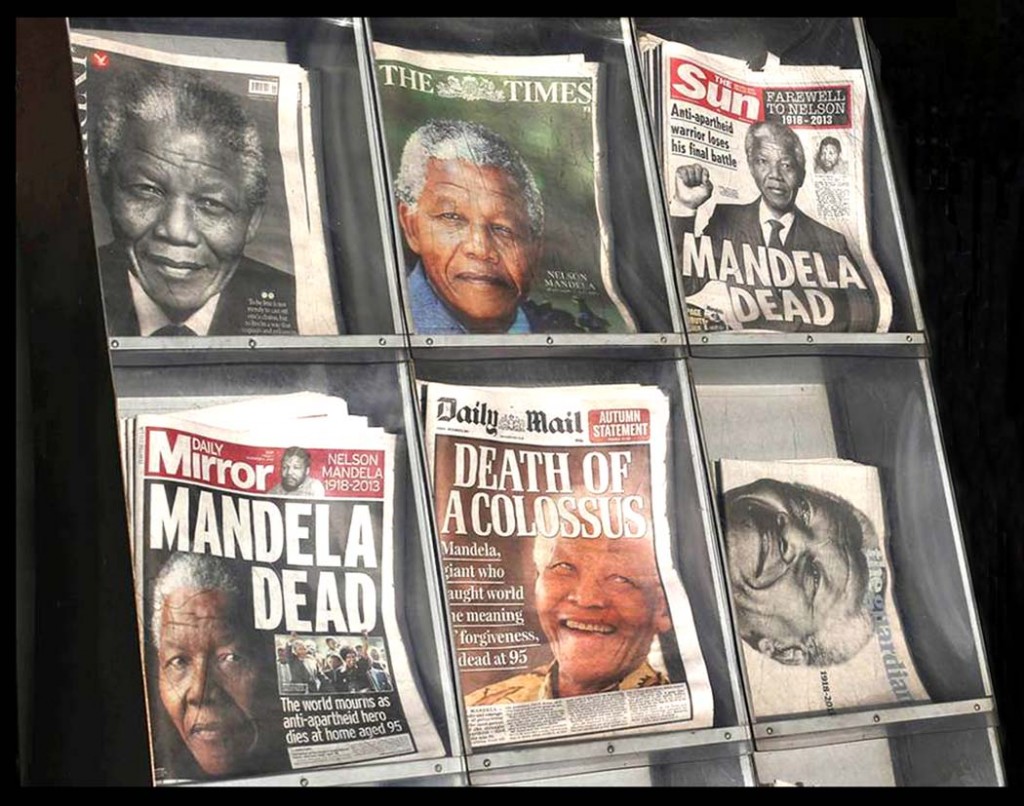 Walk With Nelson Mandela 
We come and go
To somewhere no one knows
Left on earth is what we did
When we were still alive
Nelson Mandela has gone
And billions mourn
Wishing he would live forever
Hitler has gone
No one mourns
Wishing he had gone sooner
Or was never born
What will people think when
Bashar Hafez al-Assad of Syria
Robert Mugabe of Zimbavwe
And others who want to keep
The power over people forever
 have gone
 What will people say?
 Ten, fifty, or a hundred years is only a drop
Of human civilization
We will be gone sooner or later
For we do not live forever
What are you doing Bashar Hafez al-Assad?
Killing kids, women and men
They are your people
They are Syrians
Please, I beg you not to create
A Twenty First Century Holocaust
Robert Mugabe
You are eighty nine years old
You still want to be president
What are you thinking?
That you will live forever?
 Oh, yes both of you will live
Thousands years or longer in history
 Will both of you and others hungry for power
Be good examples for future generations?
Or will future generations learn from Nelson Mandela
You who are alive
Please think harder
About what you are doing
Be part of those that keep peace
Just like the way Mandela prevented civil war
Between black and white in his country
Please make the world better
For the next generation
If only one day you think of Mandela
Make him proud to be part of the same human race as you
Please hear this from
Nelson Mandel's inauguration speech
"Time for the healing of the wounds has come.
The moment to bridge the chasms
That divide us has come.
The time to build is upon us. —– 
We understand it still that
There is no easy road to freedom.
We know it well that
None of us is acting alone can achieve success.
We must therefore act together as a united people,
For national reconciliation,
For nation building,
For the birth of a new world.
Let there be justice for all.
Let there be peace for all.
Let there be work, bread, water and salt for all.
Let each know that for each the body,
The mind and the soul have been freed to fulfill themselves.
 Never, never and never again shall it be that this
Beautiful land will again experience the oppression
Of one by another and suffer the indignity
Of being the skunk of the world."  
Ing-On Vibulbhan-Watts, Sunday, December 22, 2013, 12:17 am
 Thanks to BBC News,South Africa website, NBC News and other news organizations for the information. 
Please visit BBC News for more information 
 Obituary: Nelson Mandela     by Fergal Keane BBC News
https://www.bbc.co.uk/news/world-africa-22892784 
https://www.bbc.co.uk/news/world-africa-25251570 
https://www.bbc.co.uk/news/world-africa-22892784
https://www.bbc.co.uk/news/world-africa-25287412 
https://www.nbcnews.com/id/53750113/displaymode/1247?beginSlide=1 
https://worldnews.nbcnews.com/_news/2013/12/05/17500450-he-is-now-at-peace-nelson-mandela-dead-at-95 
Please visit South Africa website for more information 
https://www.southafrica.info/mandela/?gclid=COTl2tXlvLsCFaHm7AodQ2IADg 
https://www.brandsouthafrica.com/news/1000-nelson-mandela-a-photographic-tribute 
https://www.nelsonmandela.org/ 
https://www.anc.org.za/show.php?id=3132 
 Please visit NBC News website for more information 
https://www.nbcnews.com/id/53750113/displaymode/1247?beginSlide=1