Ing's Garden
On Sunday, May 12, 2013 Part 1 
In downtown Newark, New Jersey
I listen to the radio and watch TV, most of the time reporting about corruption, war and other trouble all over the world and domestic trouble in the country.  Sometimes I just want to close my eyes and ears and not hear or watch the trouble all around us.  But I cannot stop needing to know what is going on around me and around the world.  
Just today, Mother's Day, I want to do as Voltaire said in his play, Candid, "Cultivate".  I spent most of my day in the garden.  I clean and organize the sitting area of table and chairs.  I transfer plants into larger pots and cut dead branches. 
Earlier today I opened John's Facebook; there was a lot of writing by people giving thanks to their mothers.  I thought of my mother, John's mother, my adopted mother, Theresa Caulfield and other mothers as I do everyday.  But when I am working on my garden I think of nature.  Mother Nature needs to be thanked and taken care of as much as our mothers. 
As a matter of fact, mother earth is the mother of us all.  Without mother earth we will not be here.  I told John that mother earth is the mother of all creatures.  John said how about the father?  For a minute I said I think the sun should be the father of all because without the sun there will not be living things on earth either. 
I enjoy cultivating my garden and love to see the plants grow.  So I am going to open, "Ing's Garden" page, on my website.  I will record plants growing every week or so.  I will study some of the plants in details and write about them on my website.  I think it is a good idea to honor mother earth, showing her that we will not destroy nature but cultivate her to the best of our ability. 
Have A Happy Mother's Day Everyone!  
Ing-On Vibulbhan-Watts, Sunday, May 12, 2013,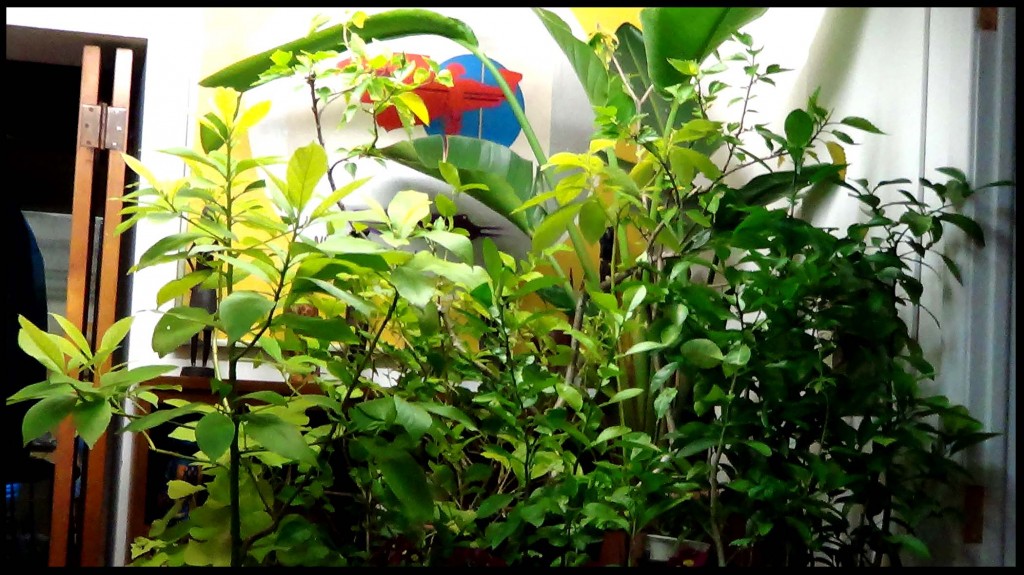 Indoor plants in our apartment.  We brought these plants from our backyard garden to protect the plants from freezing because of the cold temperature in winter, from October 2012 – April 2013.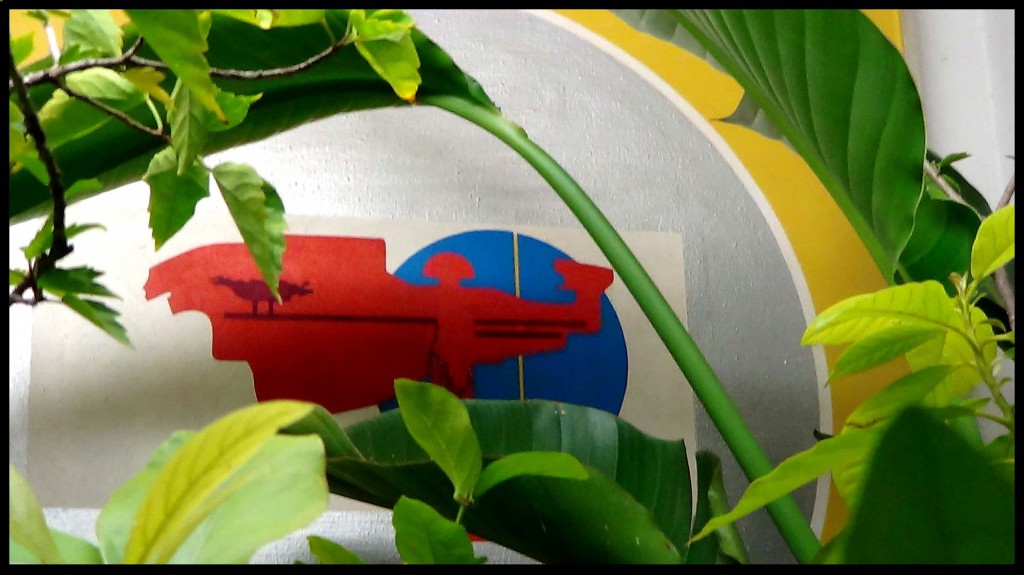 John's painting, on the wall with red, blue yellow and silver tones contrast with the light and dark green leaves making it a good composition for a still life.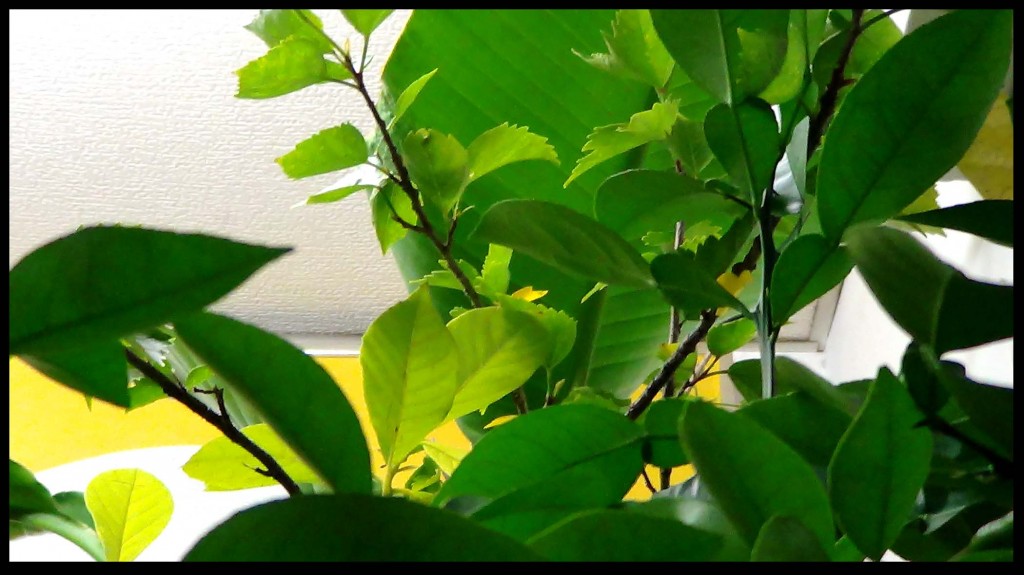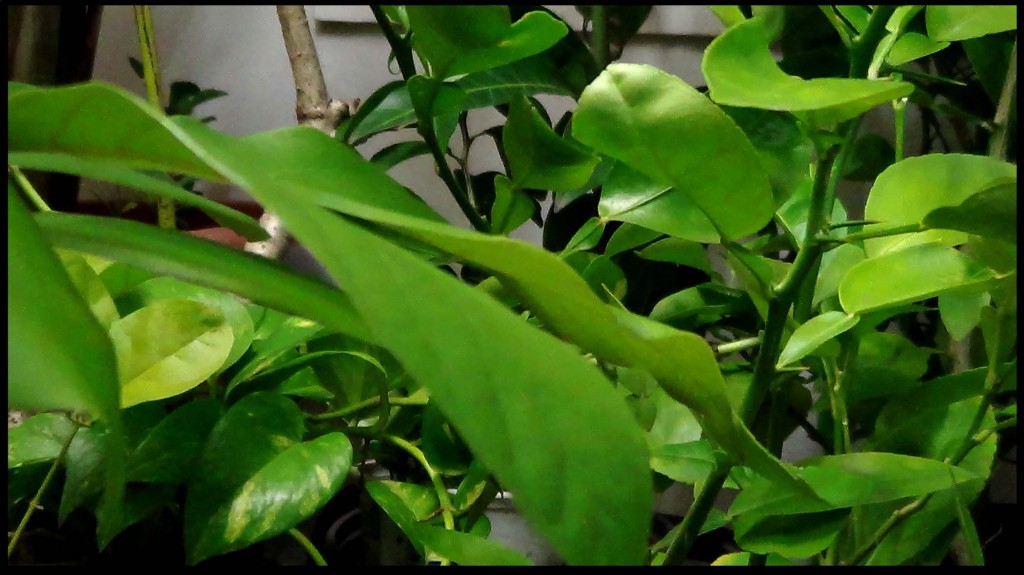 Mixture of leaves from hibiscus, tangerine, mango and others plants give us not only pleasure to see, but also take in carbon dioxide that we breath out and give us oxygen.  The water that I give to the plants will help the room from becoming too dry from the heat that warms the building in winter.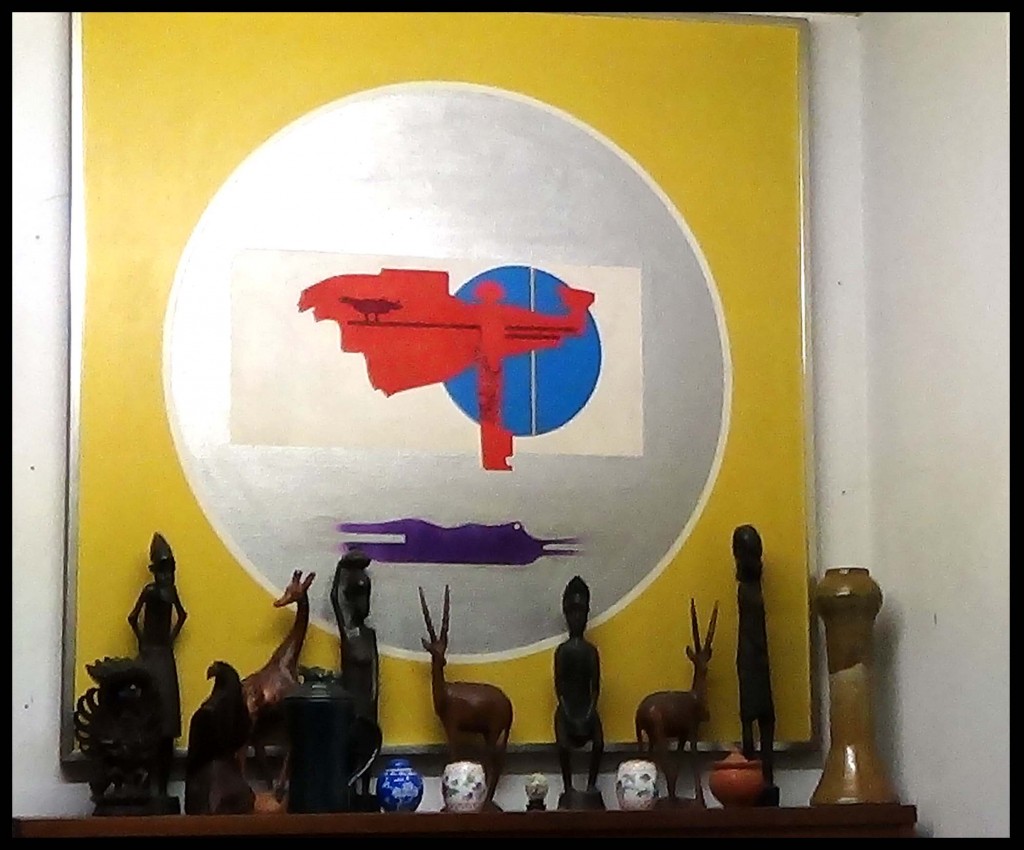 John's Painting, African figurines and some of Chinese pottery revealed after I took out all the plants to the backyard garden in the early April 2013.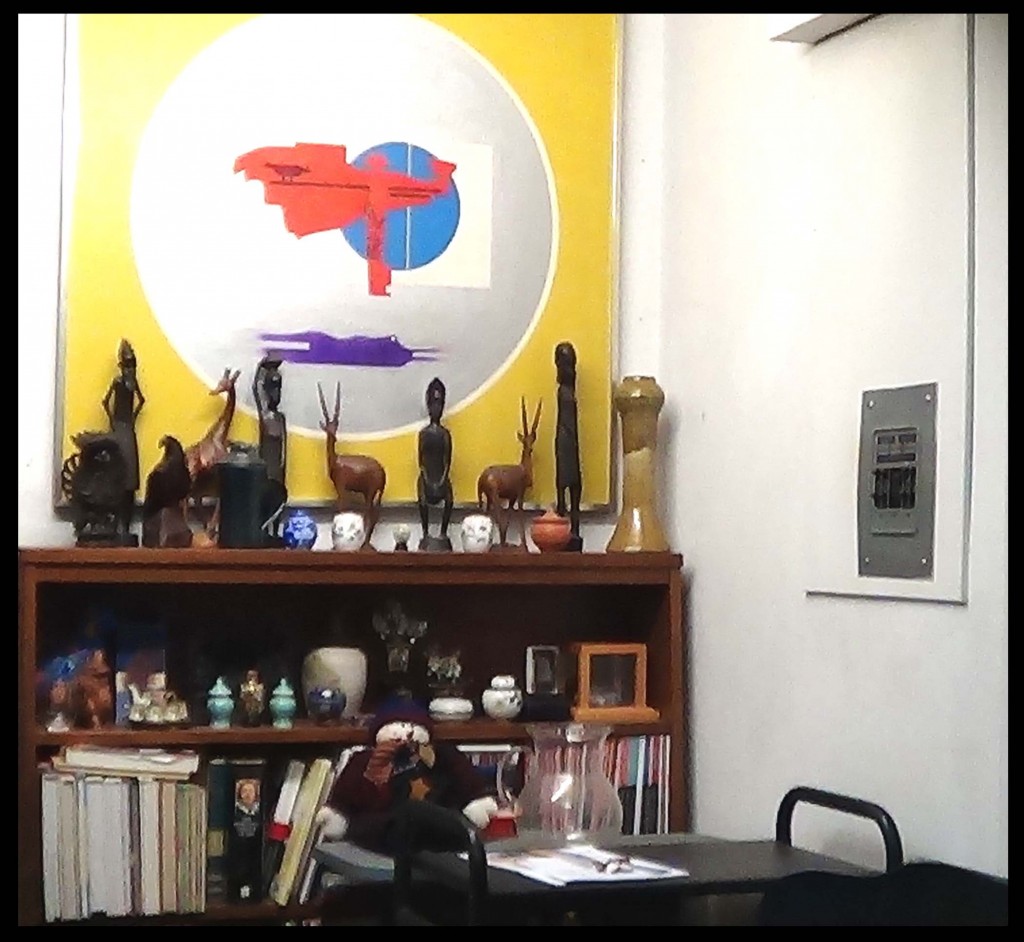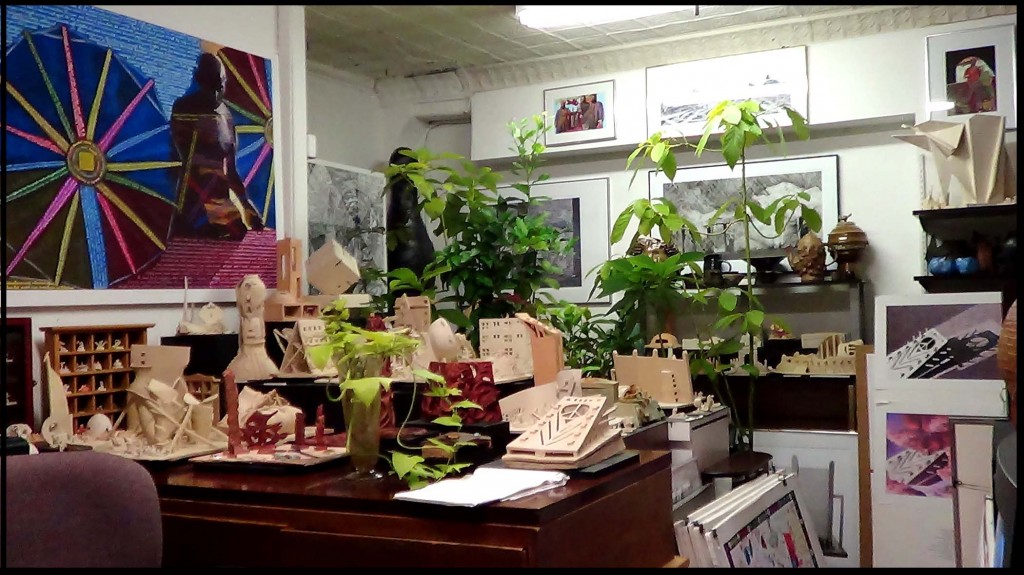 I also kept some plants in our sculptures and artwork room.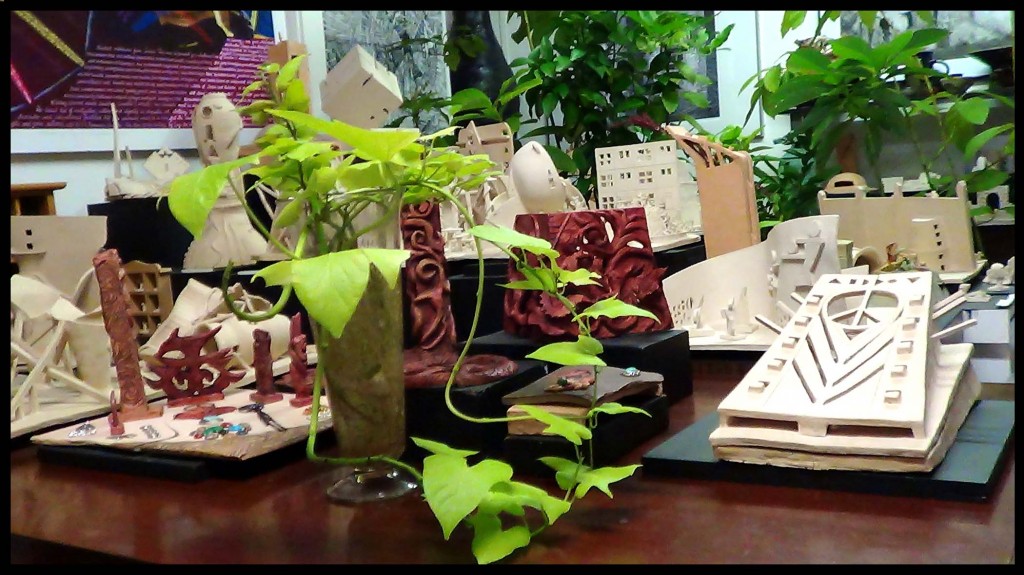 My sculptures look more lively with green leaves all around.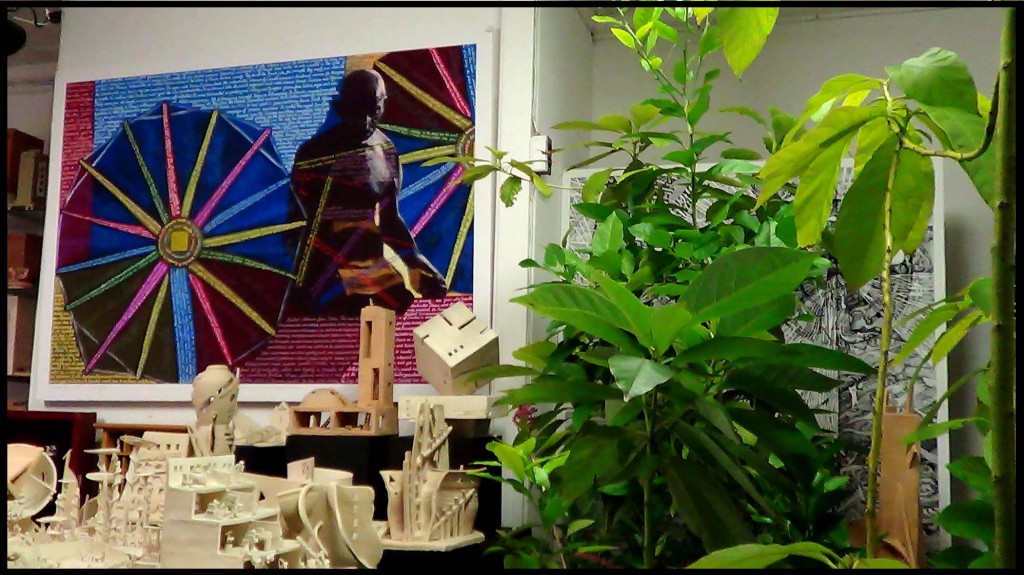 My artwork, Gandhi, Man of Peace and sculptures contrast to my three years old avocado and other plants.  I always look at them with a smile on my face.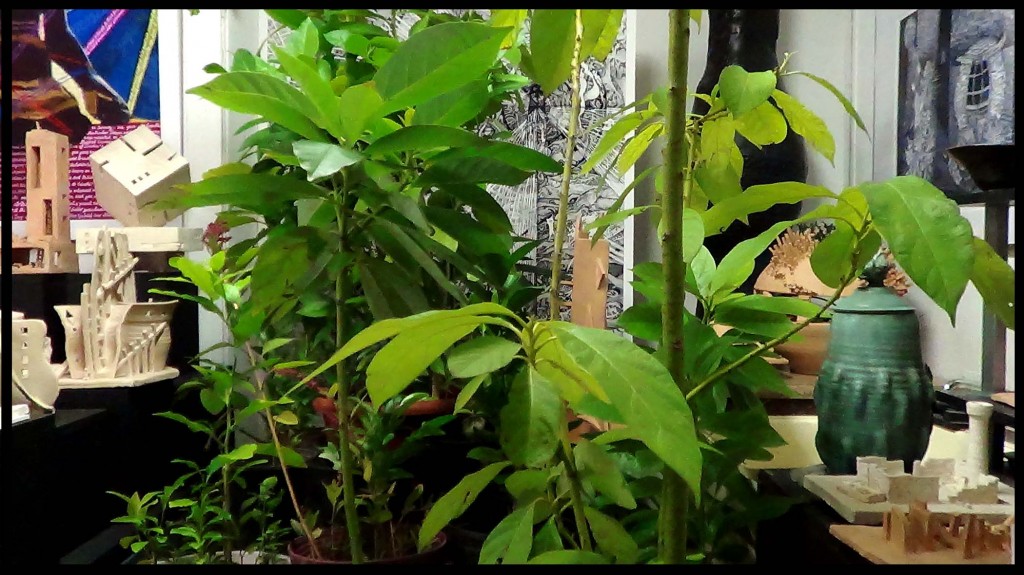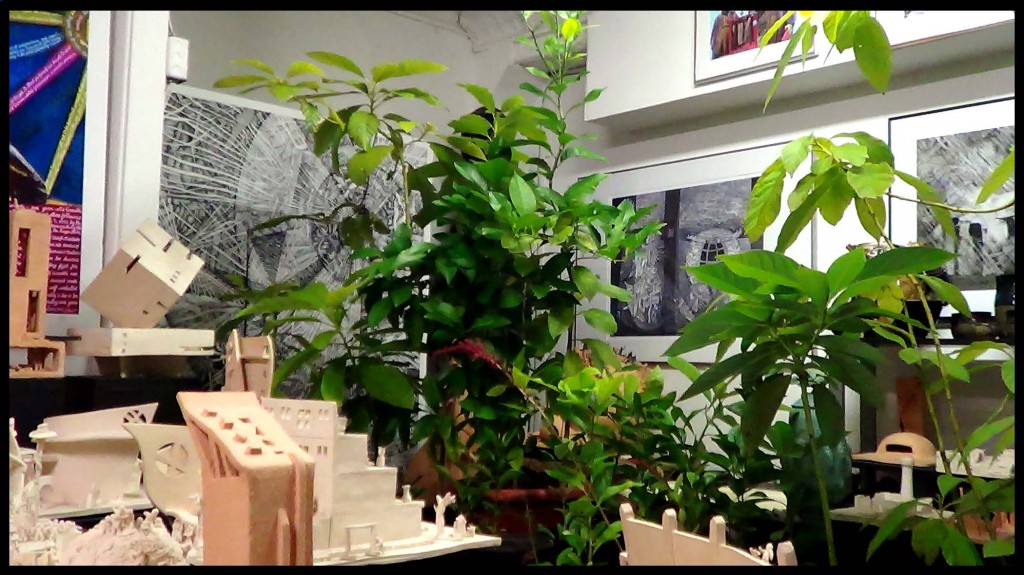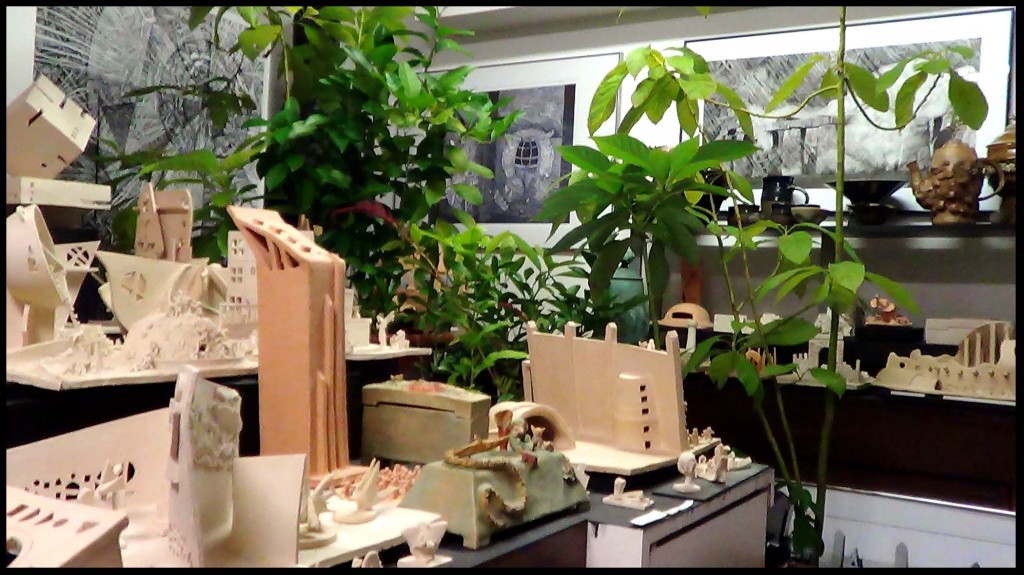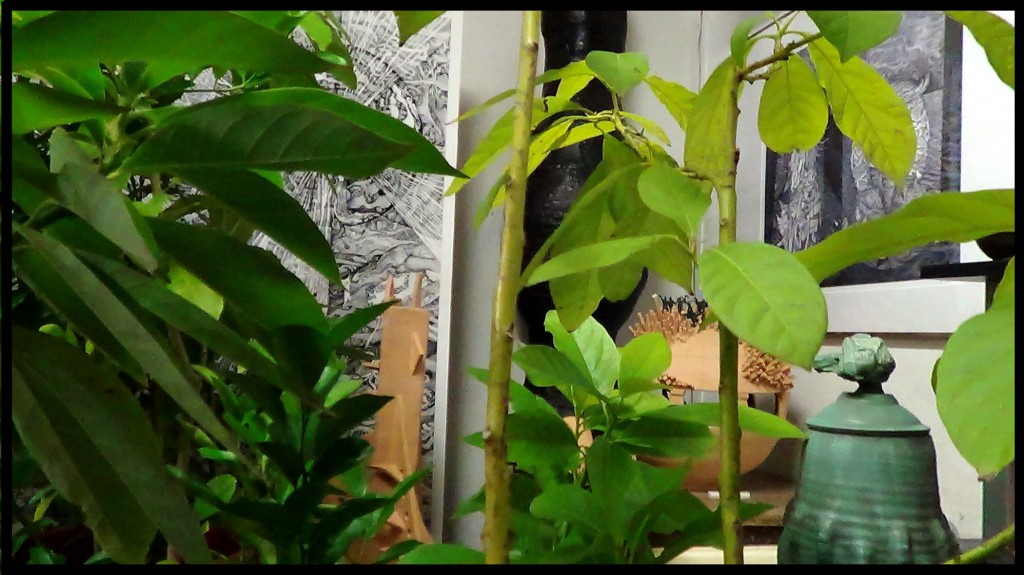 Indoor plants in our gallery space, winter 2012 – 2013.  Seen through the green avocado, mango and grapefruit leaves are John artwork, "Impossible Dreamer", and "Wonderland".  Also there is his large light green covered jar and my, "Over Population", and "Tower of Freedom", sculptures.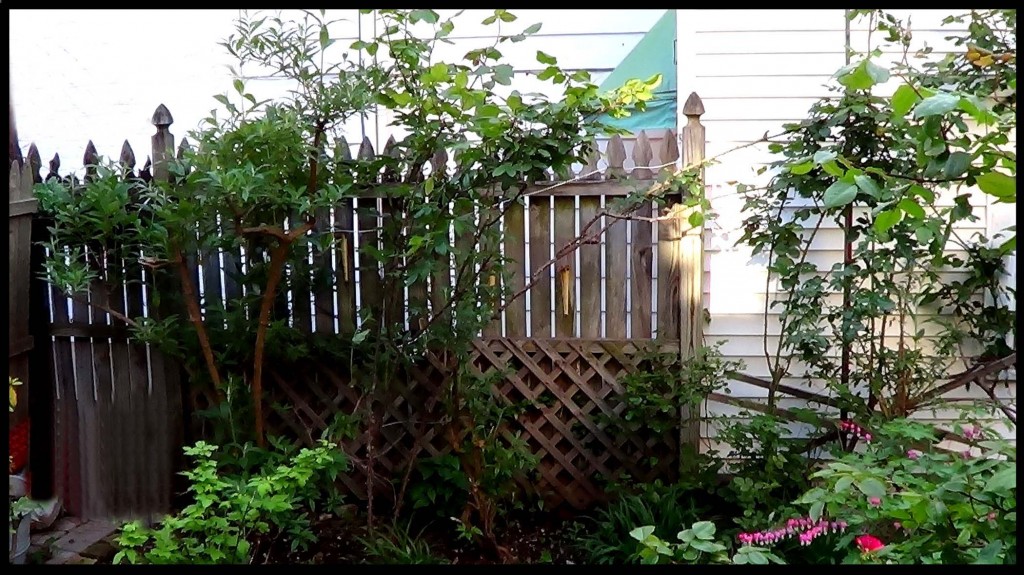 Our backyard garden shows a lot of greenery on Sunday, May 12, 2013.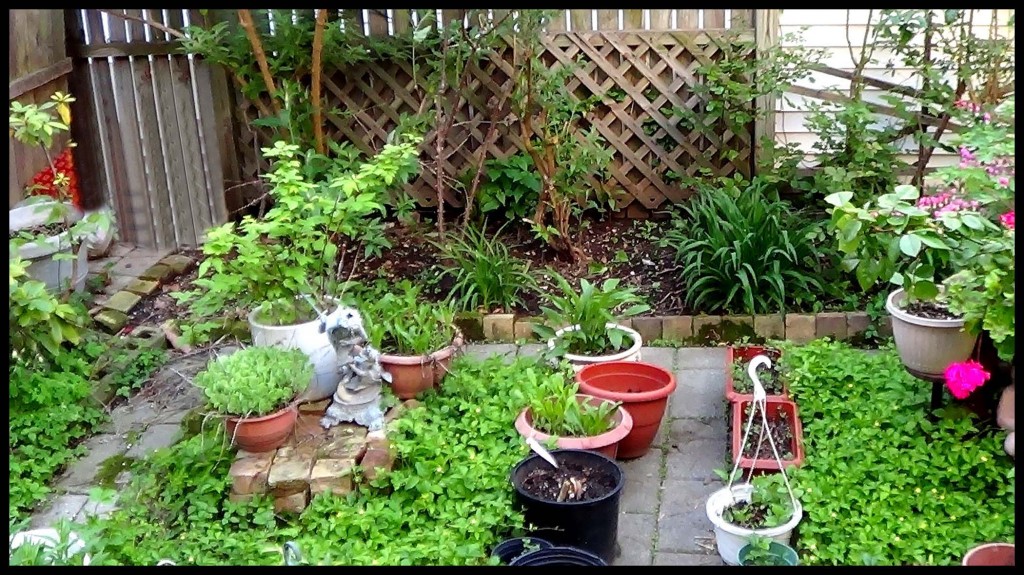 Some of the plants are growing well.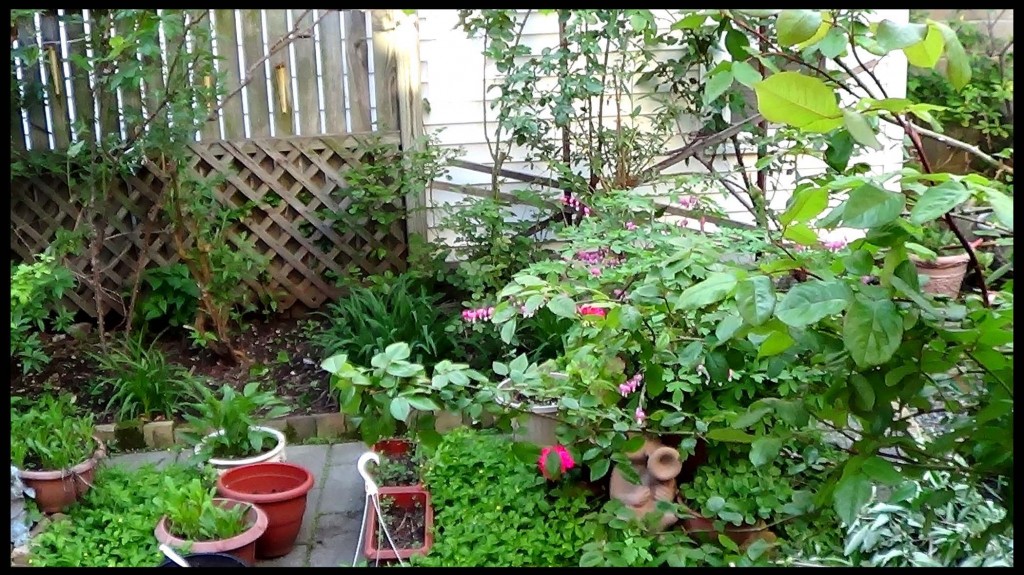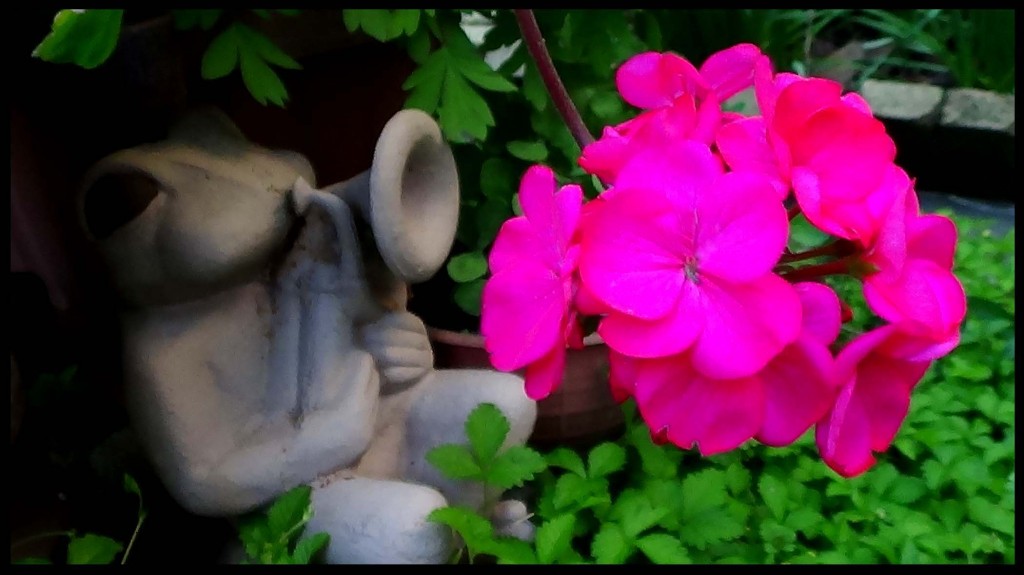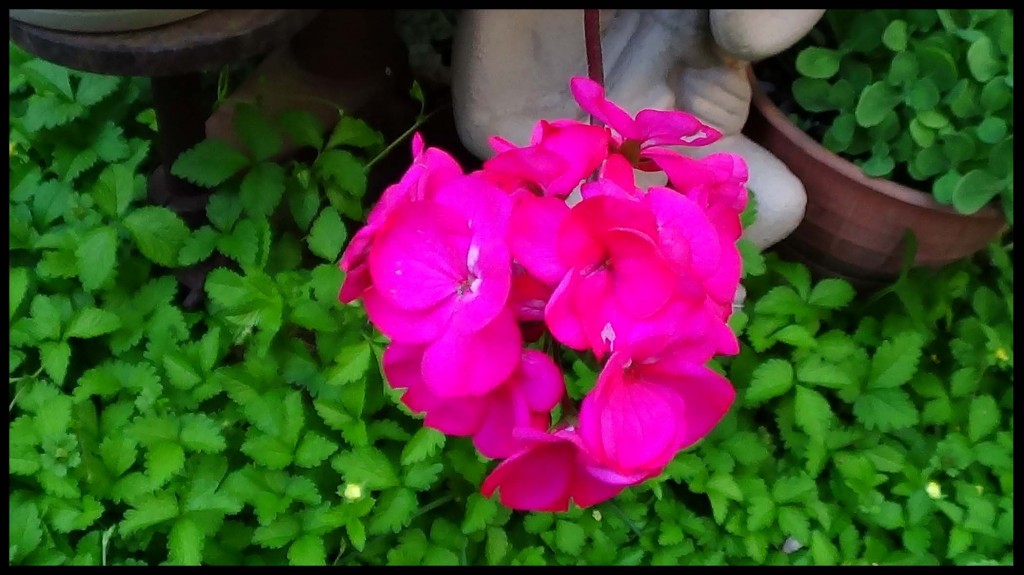 This beautiful bright pink geranium floats over the decorative green leaves of strawberry plants and next to it is, Mr. Frog, the musician sitting nearby and a pot of Jade plants.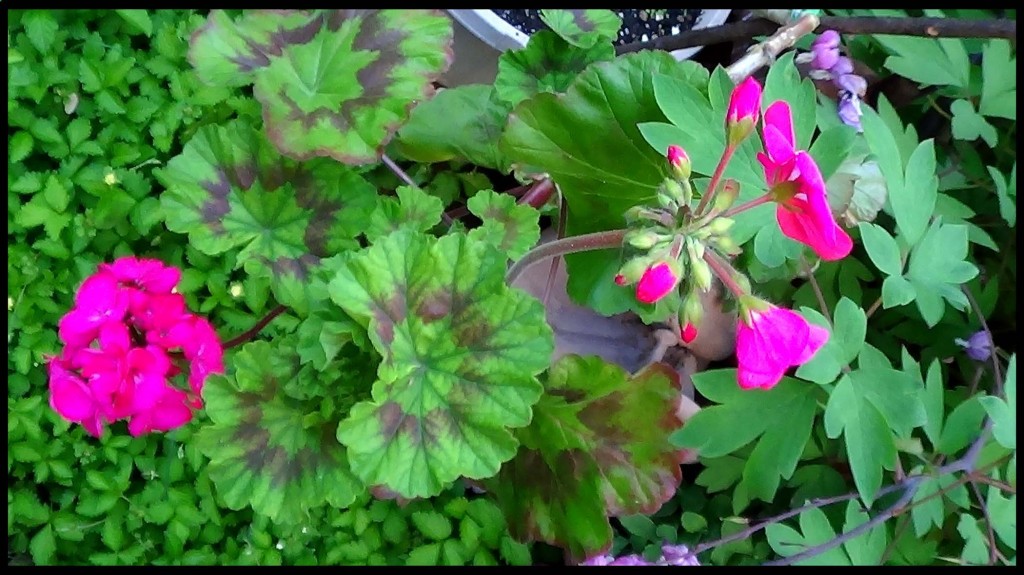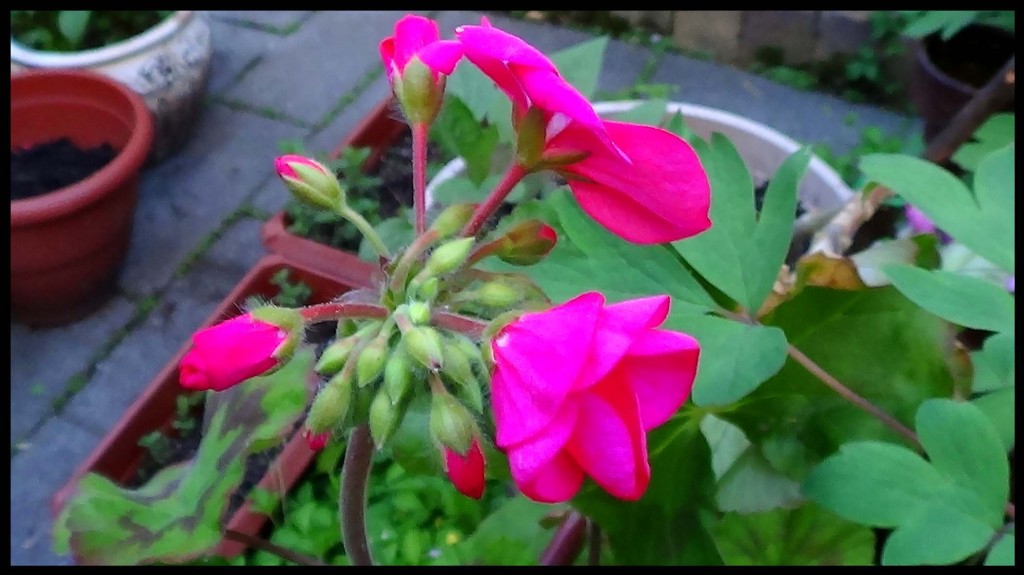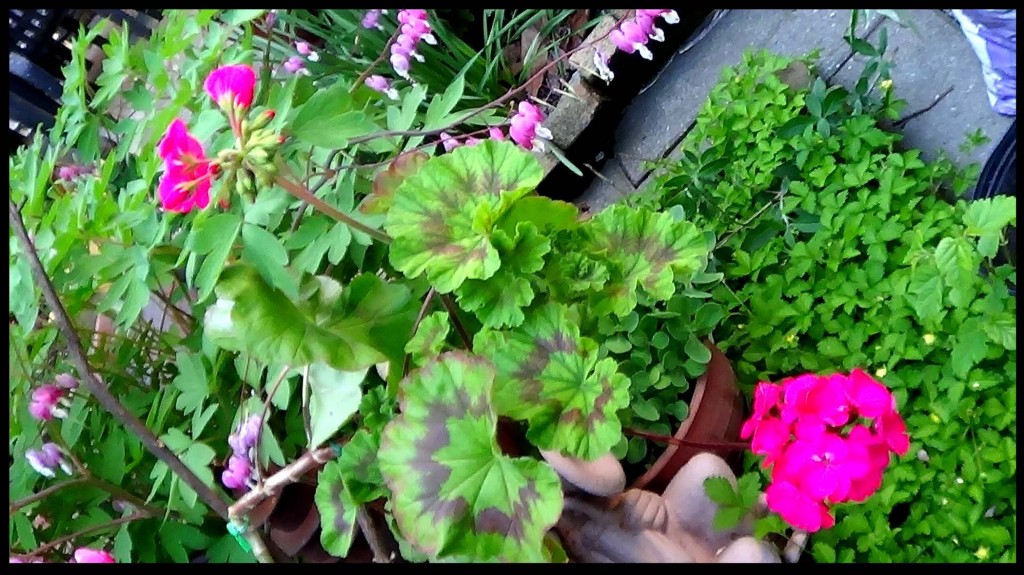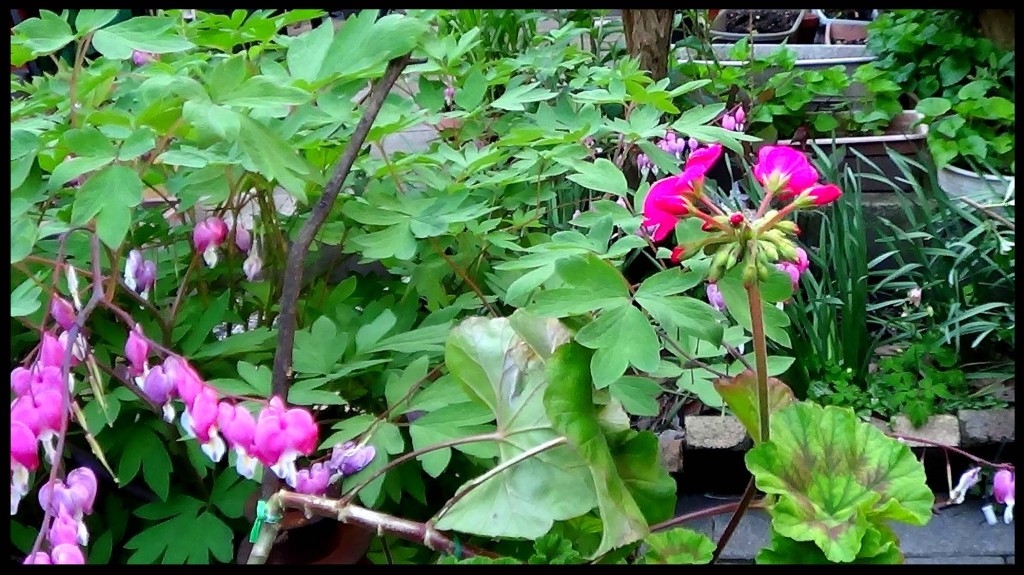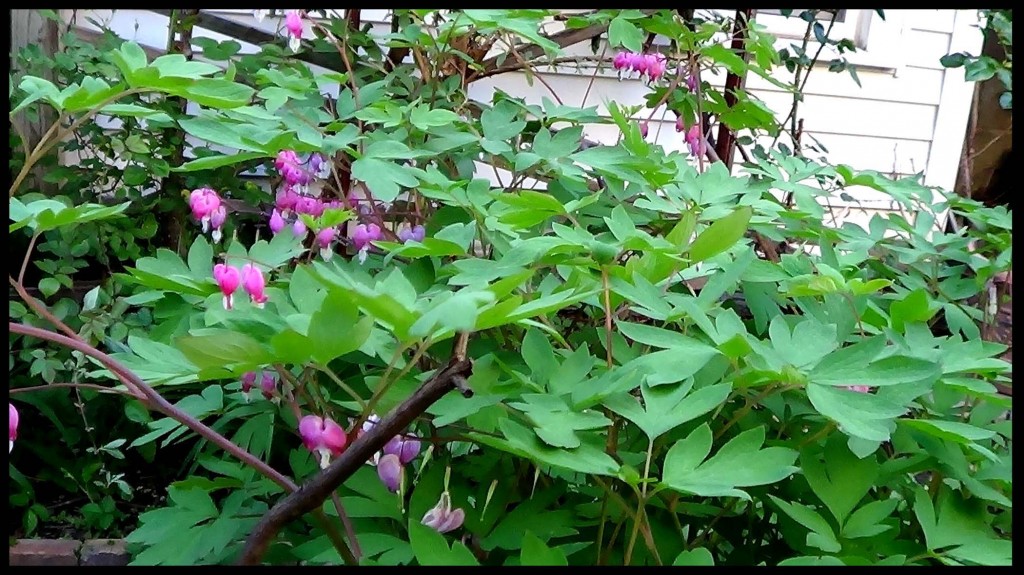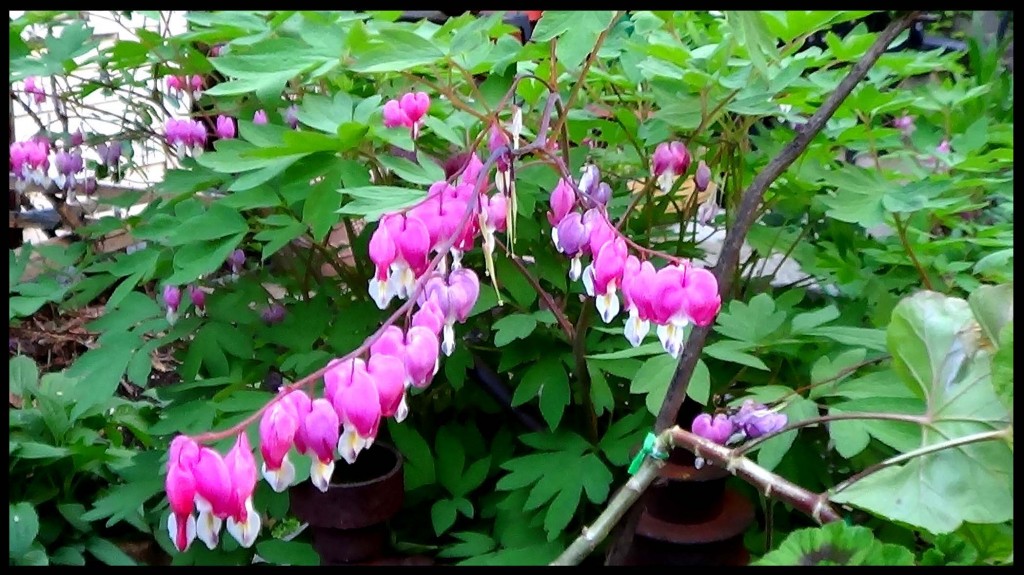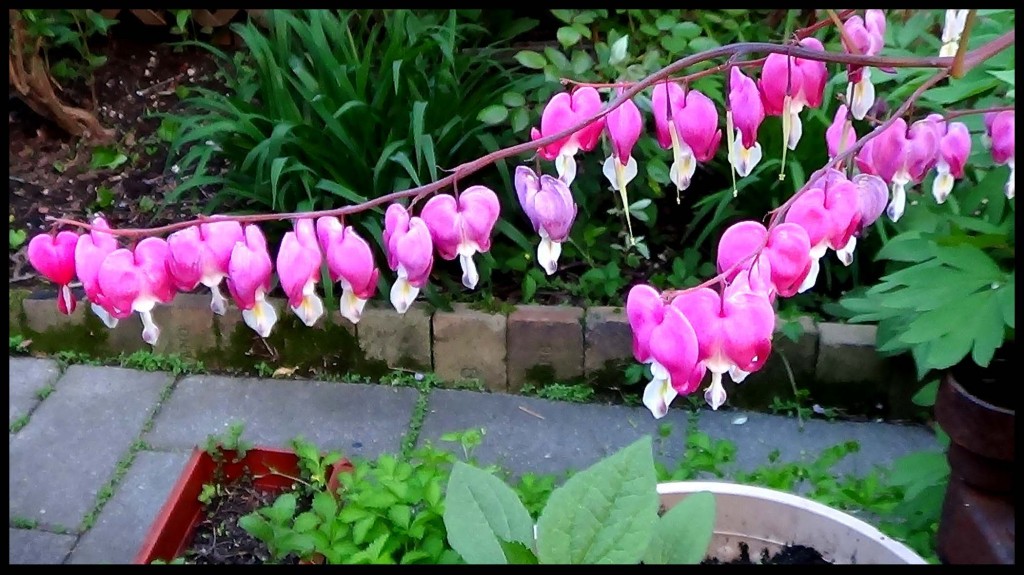 The first flowers to bloom are from my bleeding heart plant with beautiful pink flowers.  This year, 2013 the plant produced more leaves and less flowers compare to last year, 2012.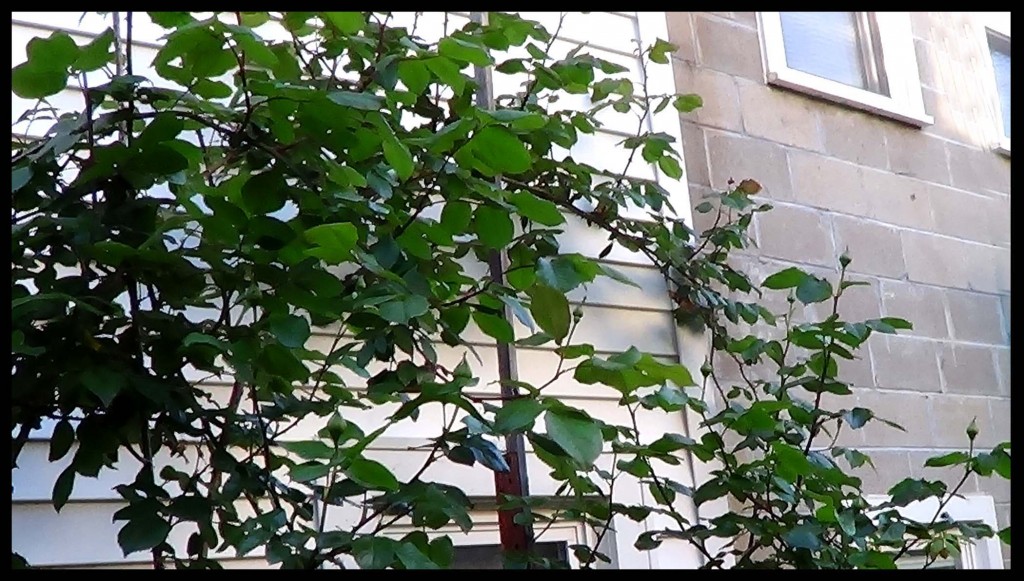 The rose buds gladly come out to greet the early spring.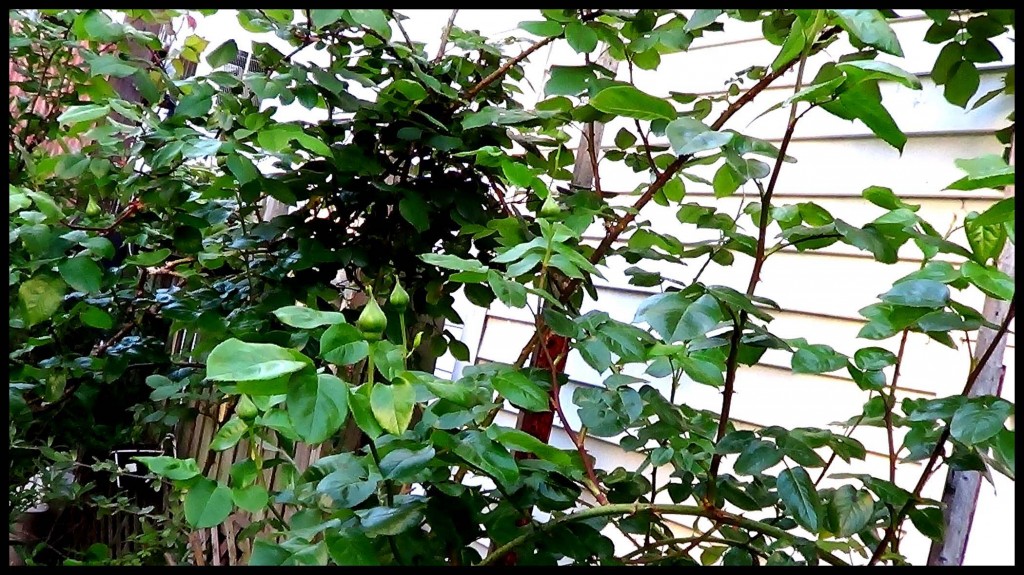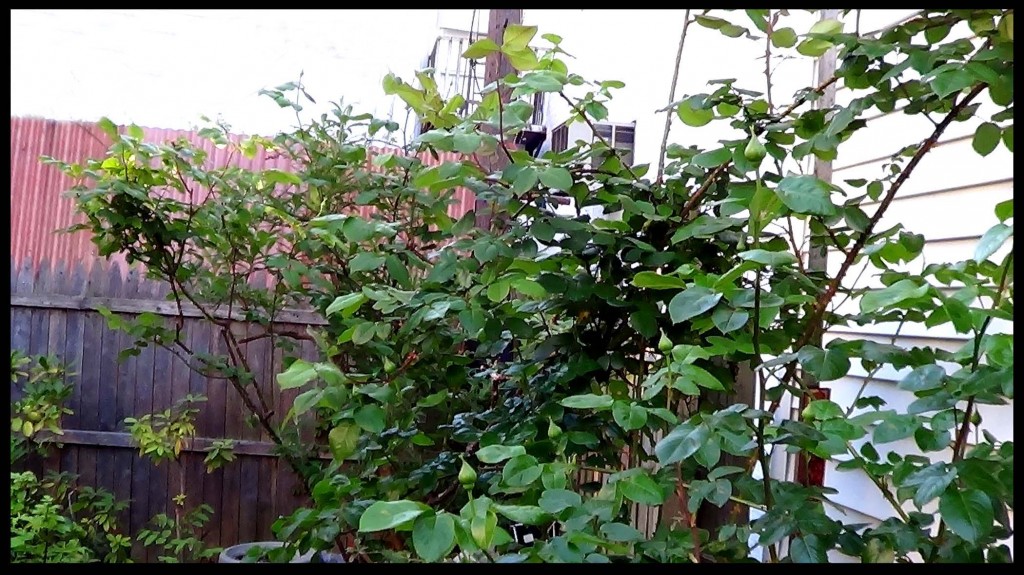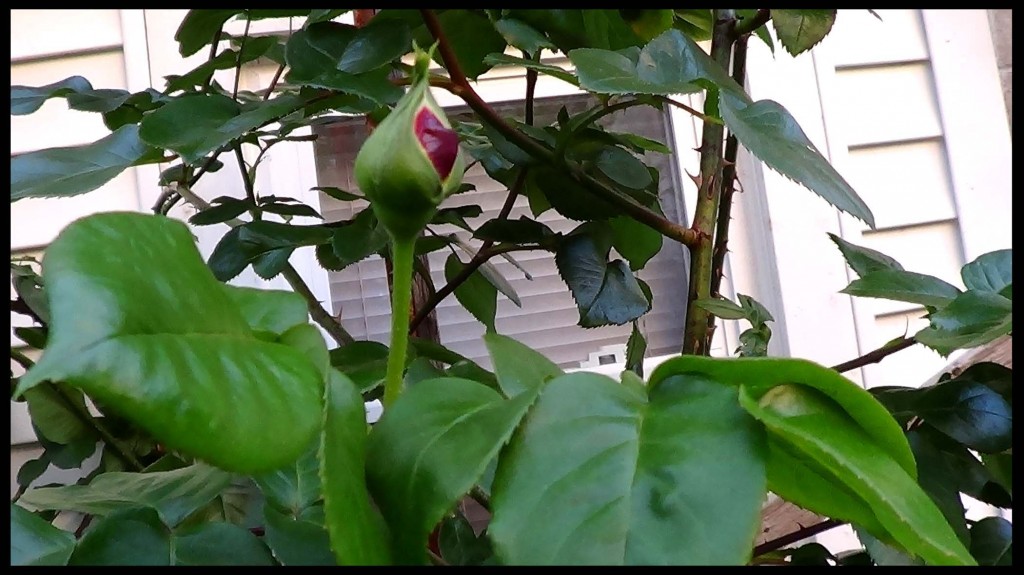 I saw quite a few of very healthy rose buds.  I can hardly wait for the buds to mature to very pretty rose flowers.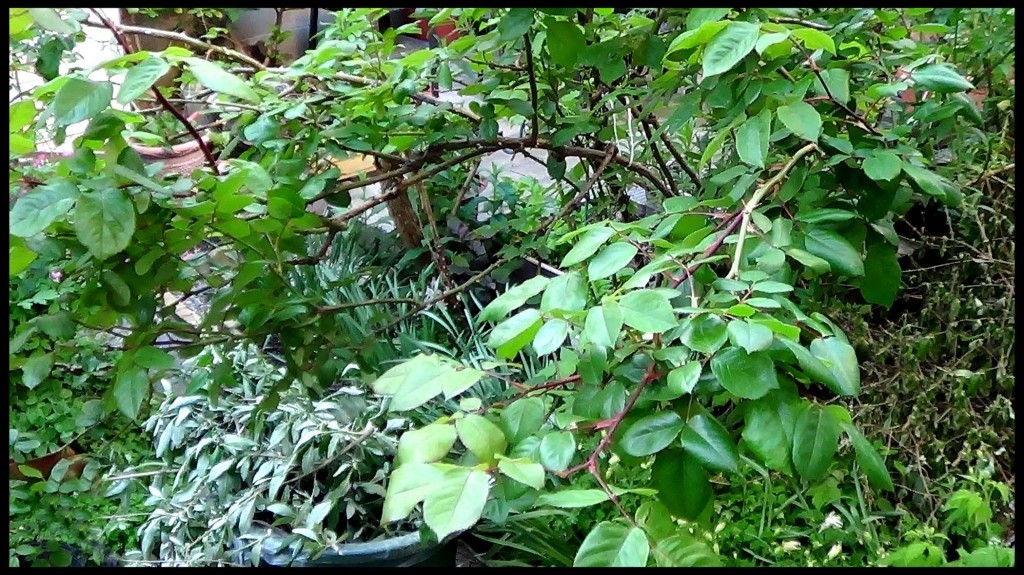 I do not remember the name of this plant that blossoms with beautiful light pink flowers.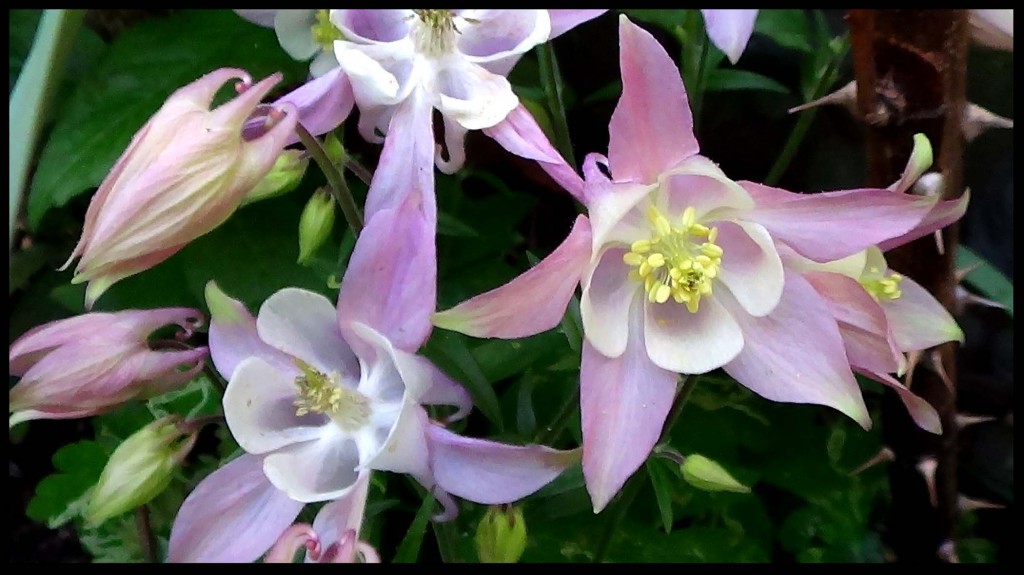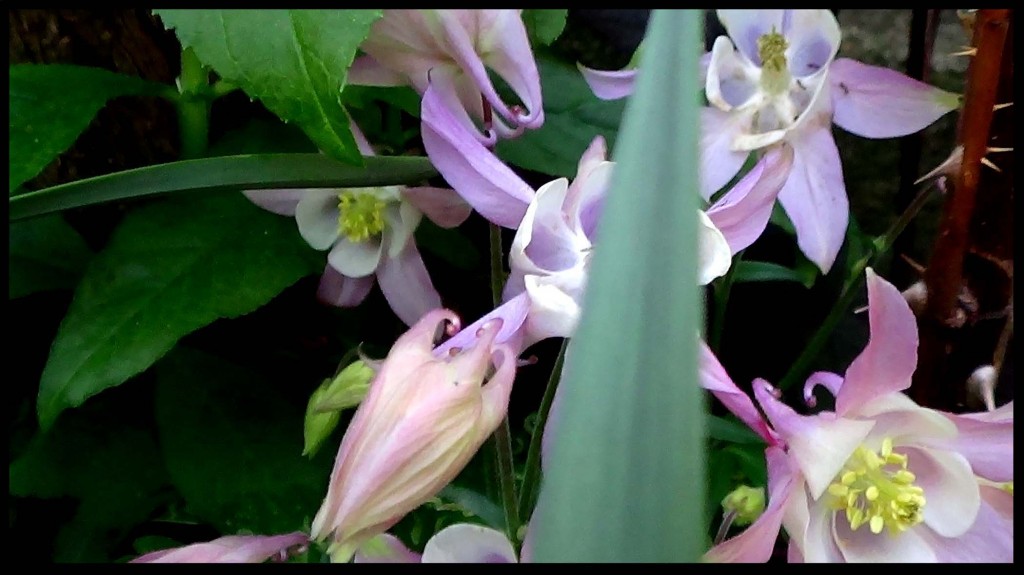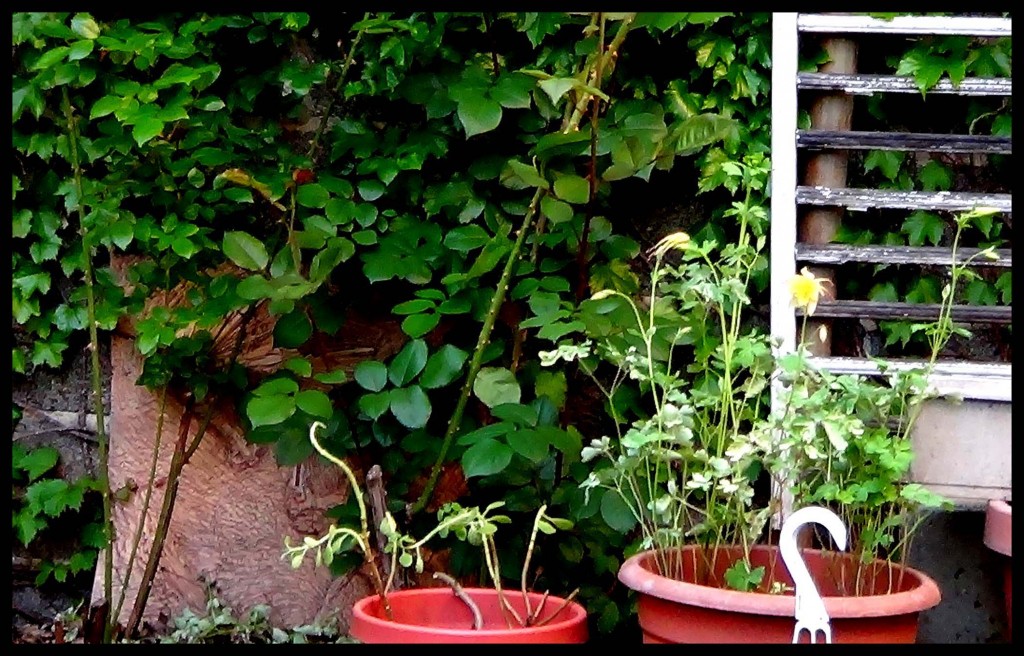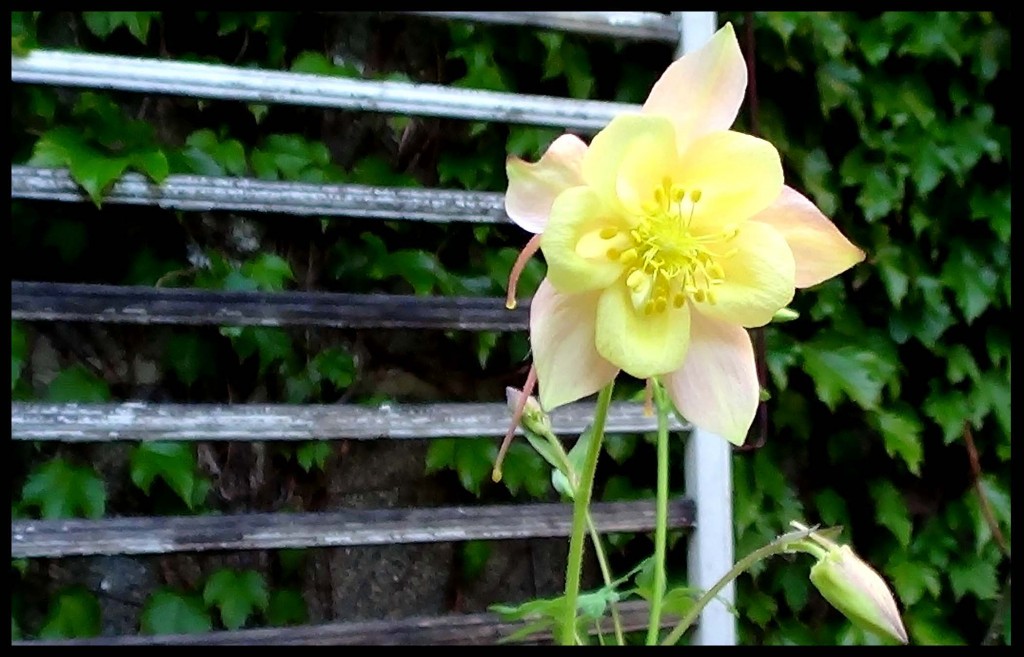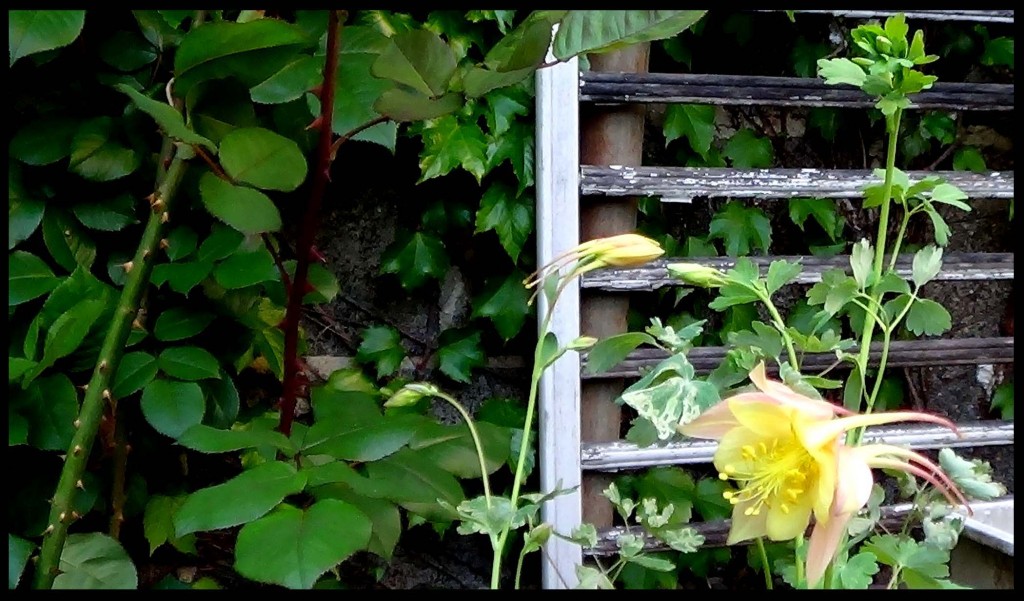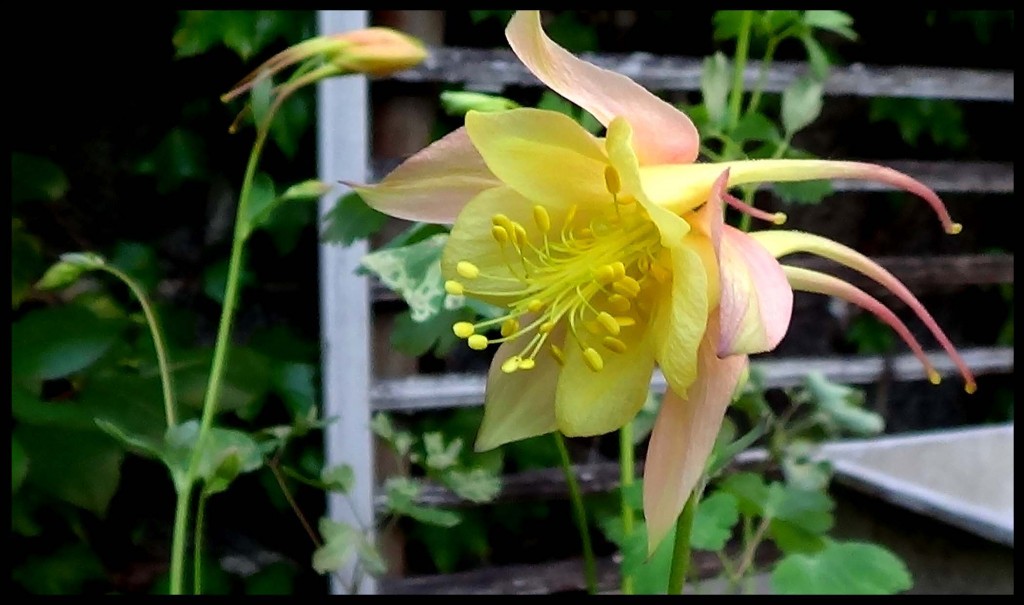 I love how this light yellow mixes with light pink in the flower.  It is a very beautiful sculptural shape.  I have to study more about this kind of plant.  I know that it is a perennial because the plant comes every year.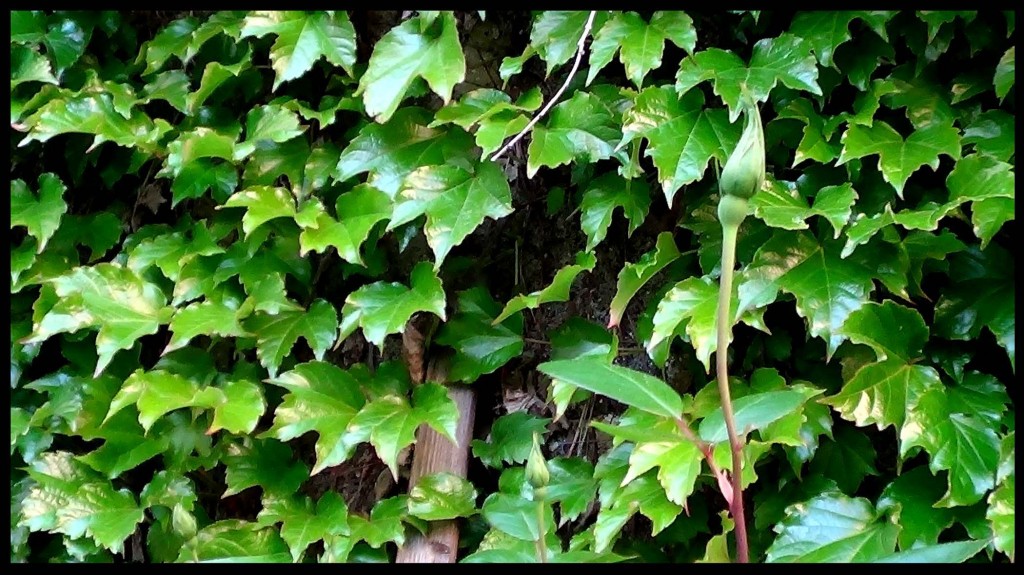 Pretty Ivy Wall
Ivy on the Wall Spread out
Covering the dark grey wall
Dark shiny green leaves
Layer by layer turn to the sun
Producing fast and healthy
With strong roots that grab everything
 Please!
 Ivy stays on the wall
Allow other plants to grow on the ground
Sharing space with others
You will be glad
 Seeing other plants
Sharing space
 Growing in the sun 
Ing-On Vibulbhan-Watts, Thursday, May 16, 2013, 5:05 pm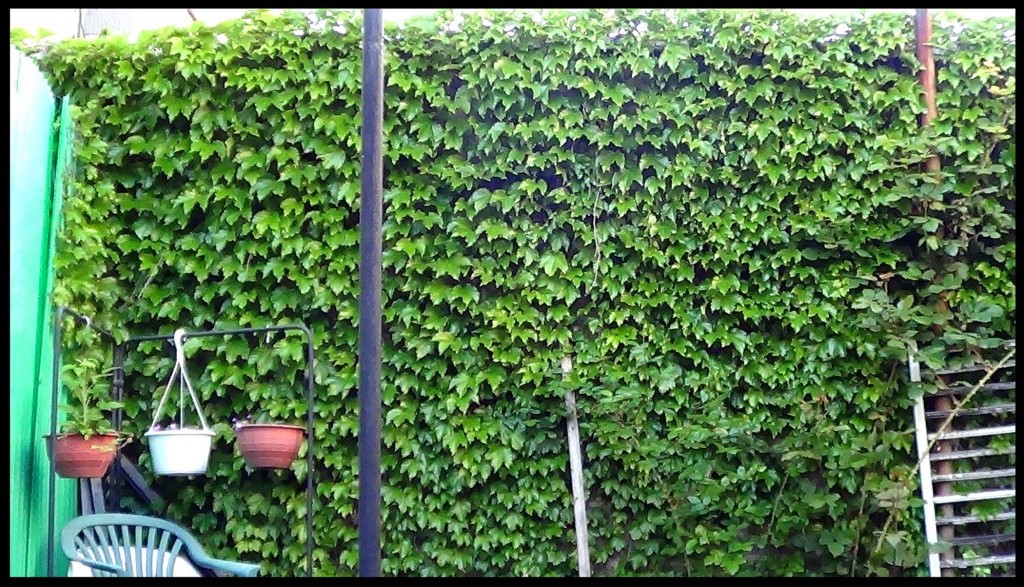 Link to Ing's Garden on Sunday, May 12, 2013 Part 2:
https://ingpeaceproject.com/ings-garden/ings-garden-sunday-may-12-2013-part-2/