Ing's Peace Project
Comes to,
Thomson Reuters, NYC,
June 2012, part 1
Organized by Radhika Menon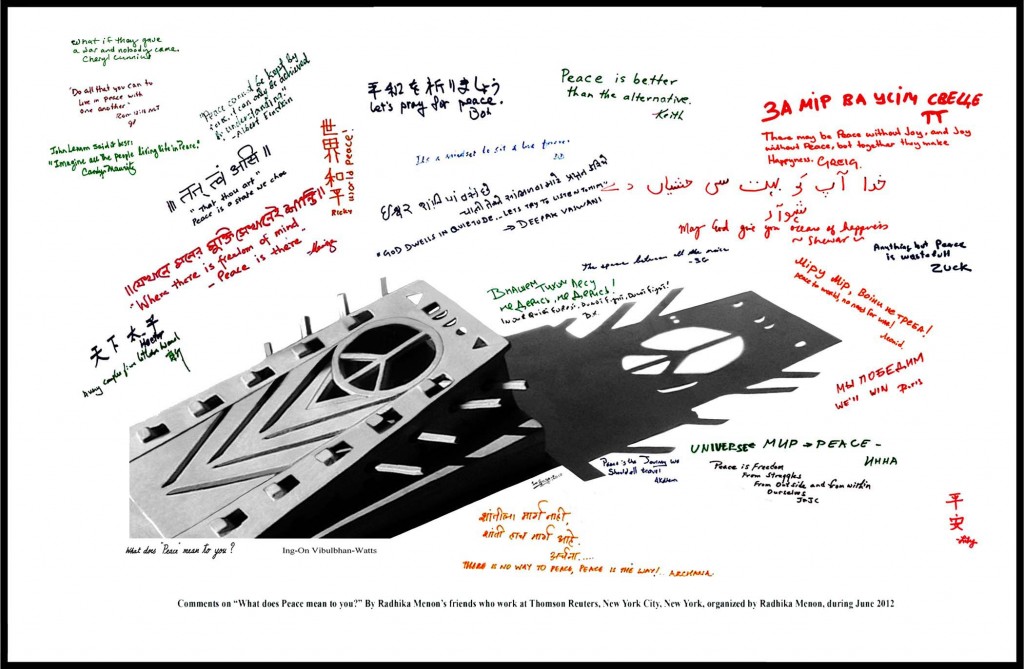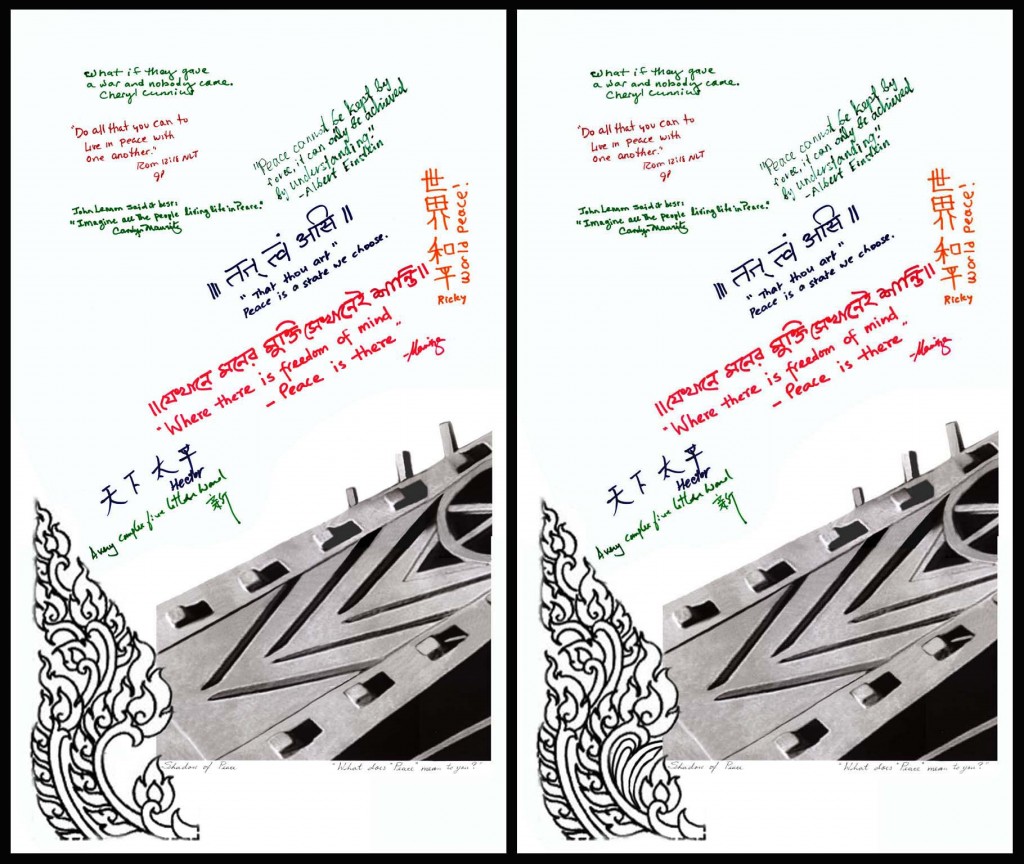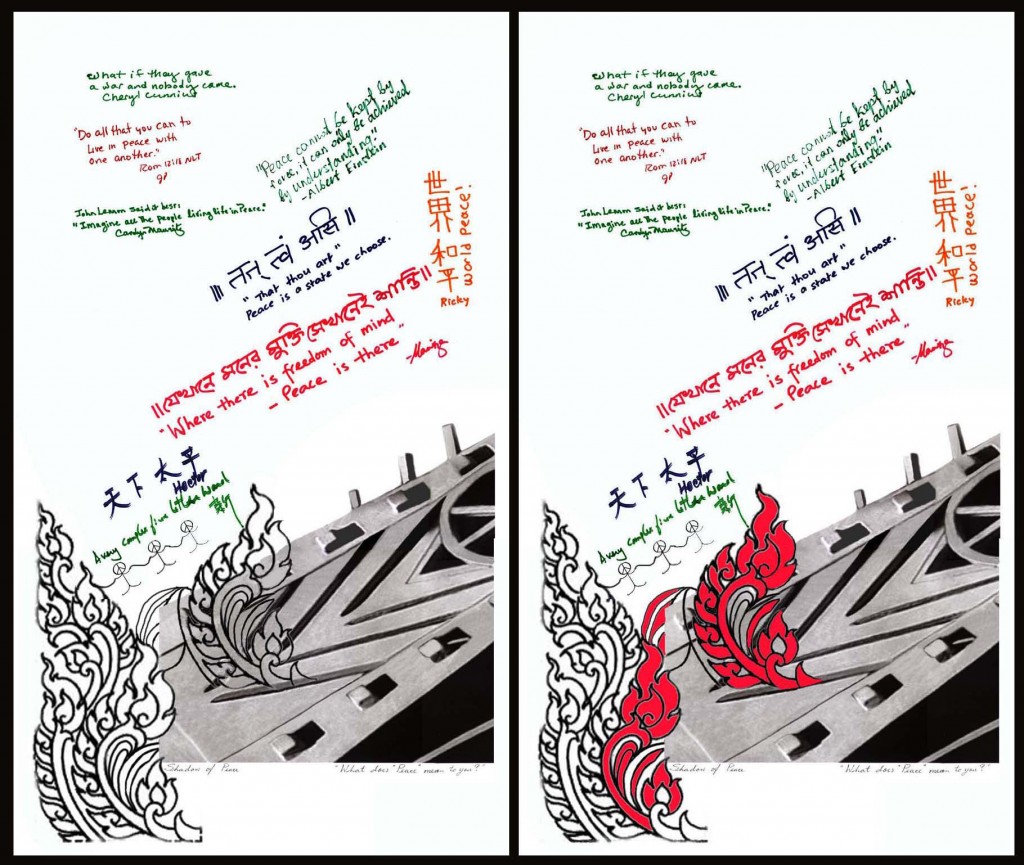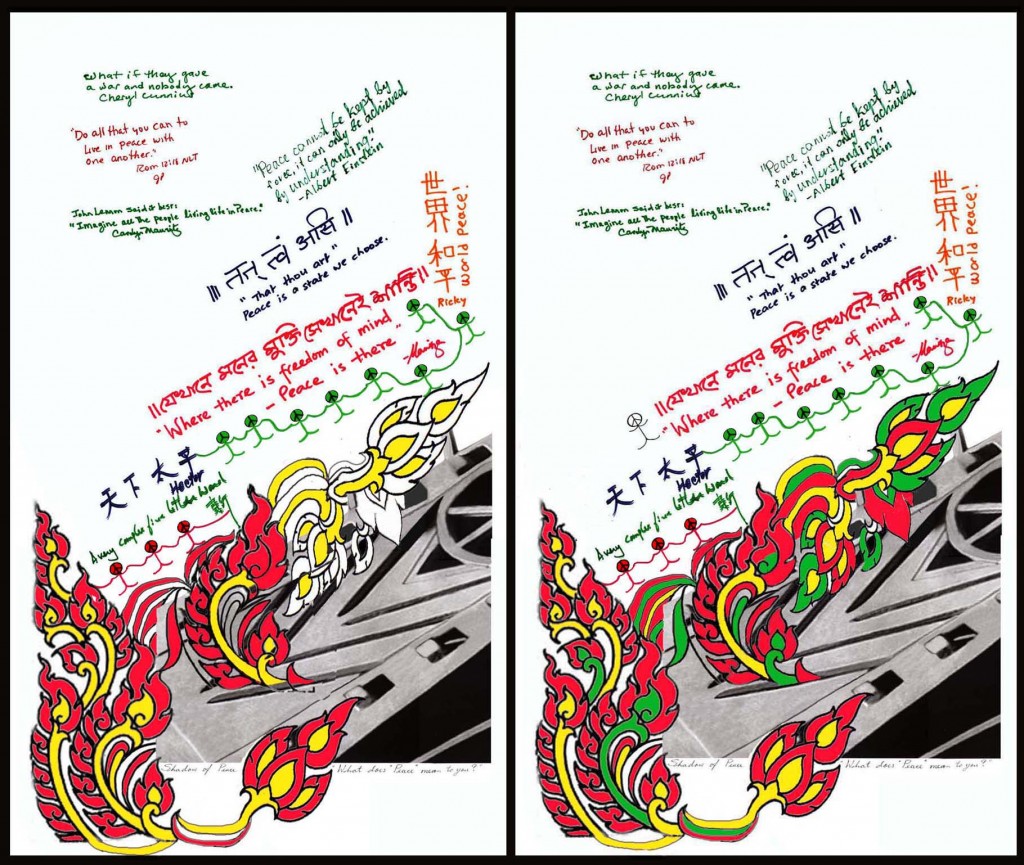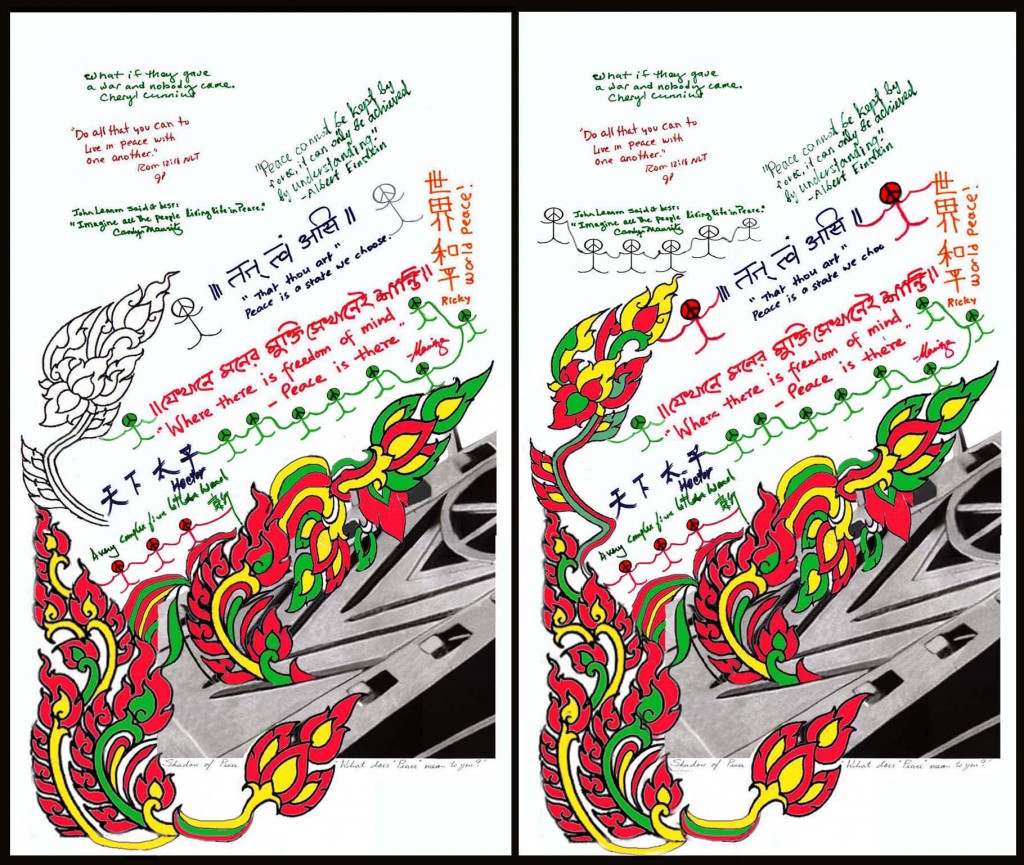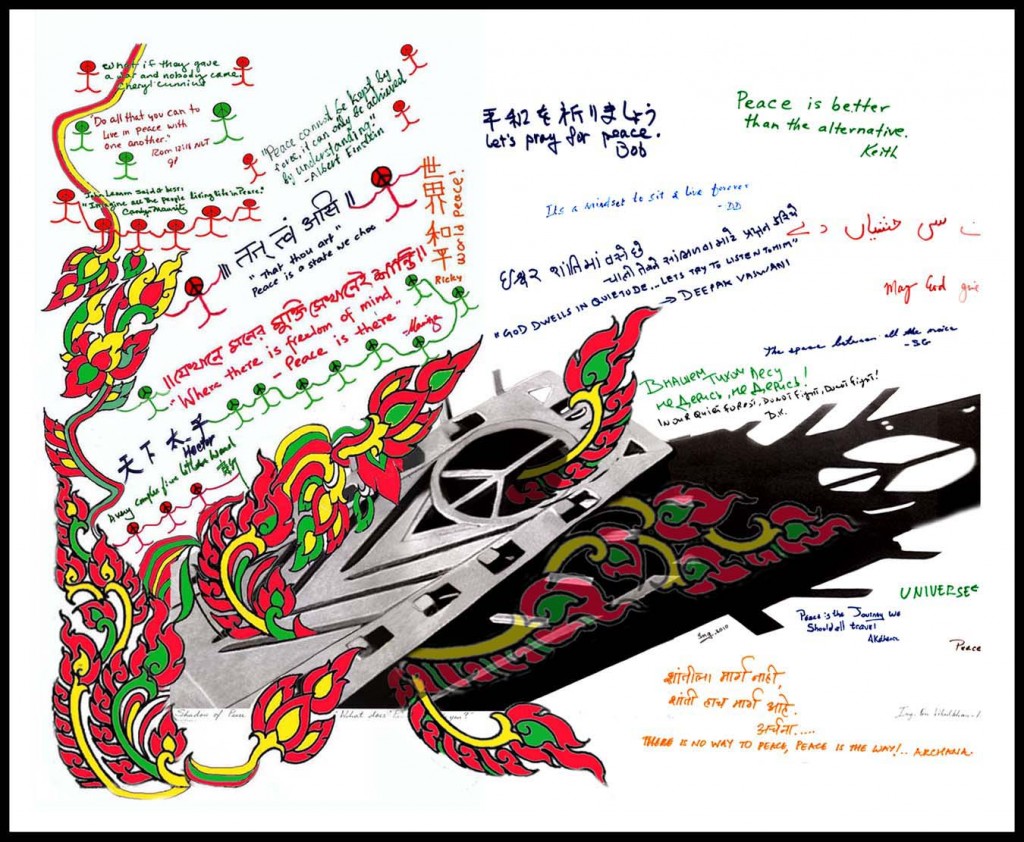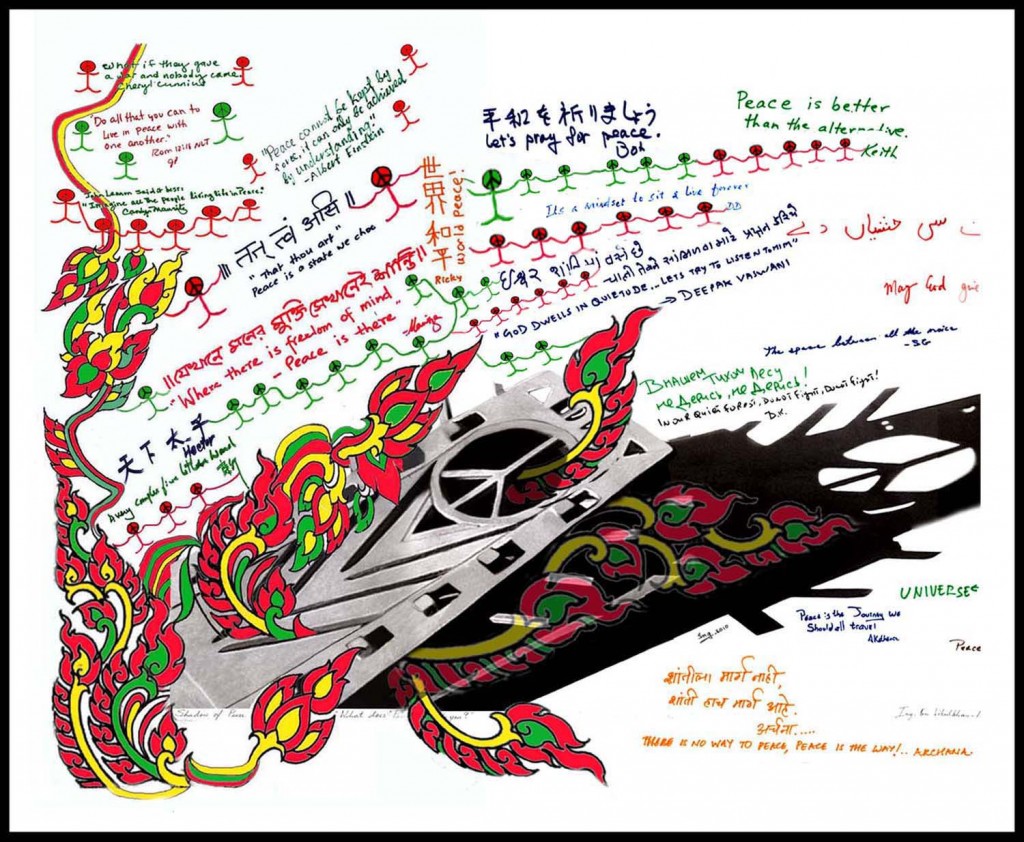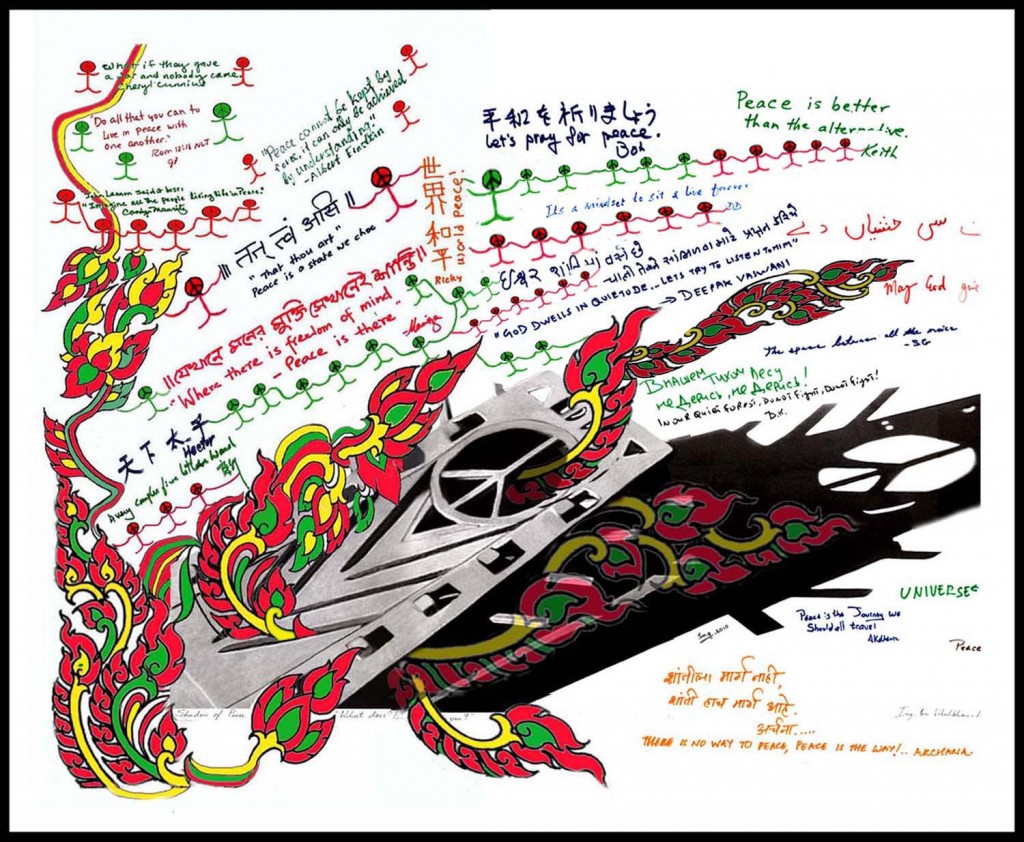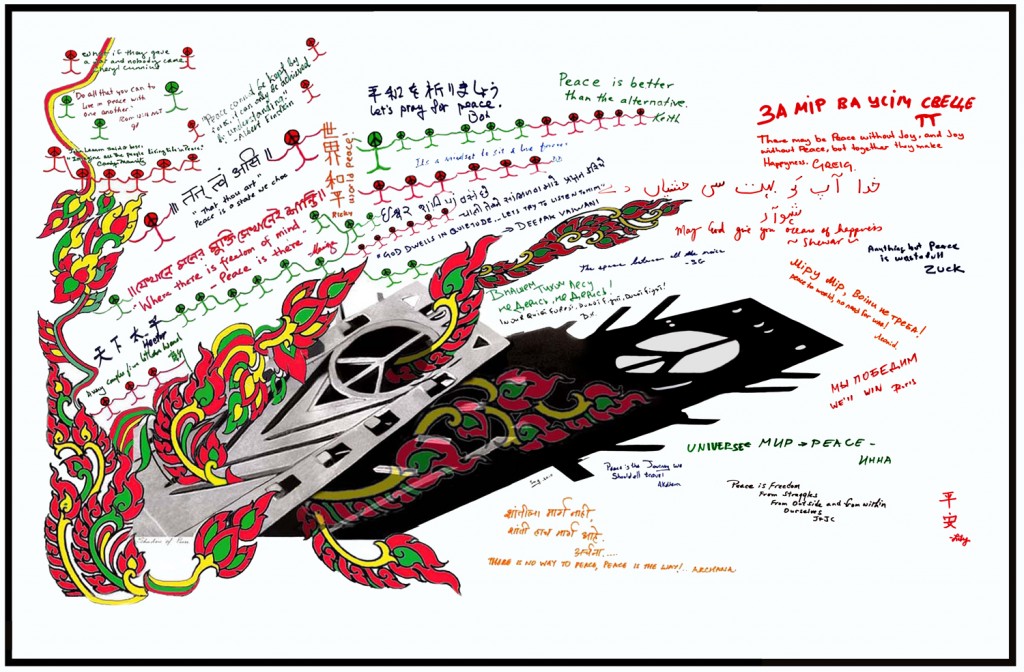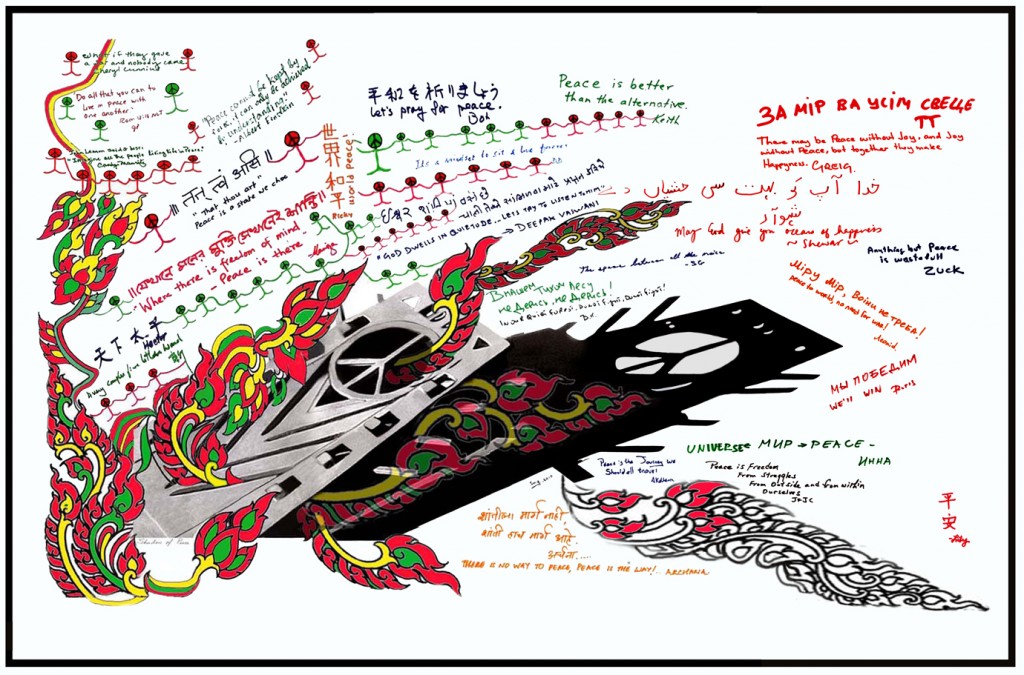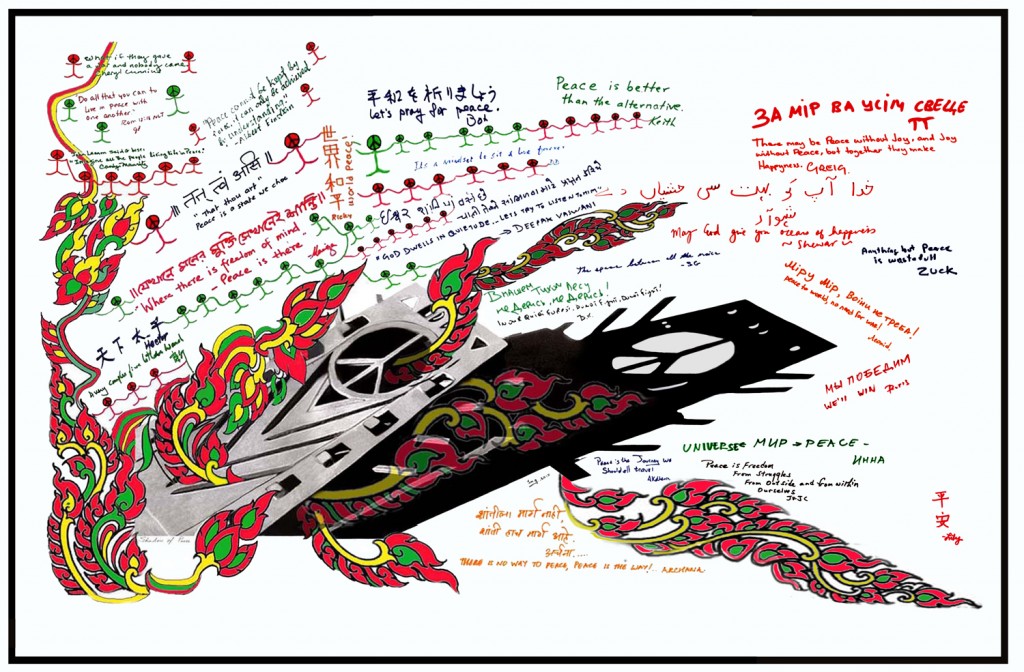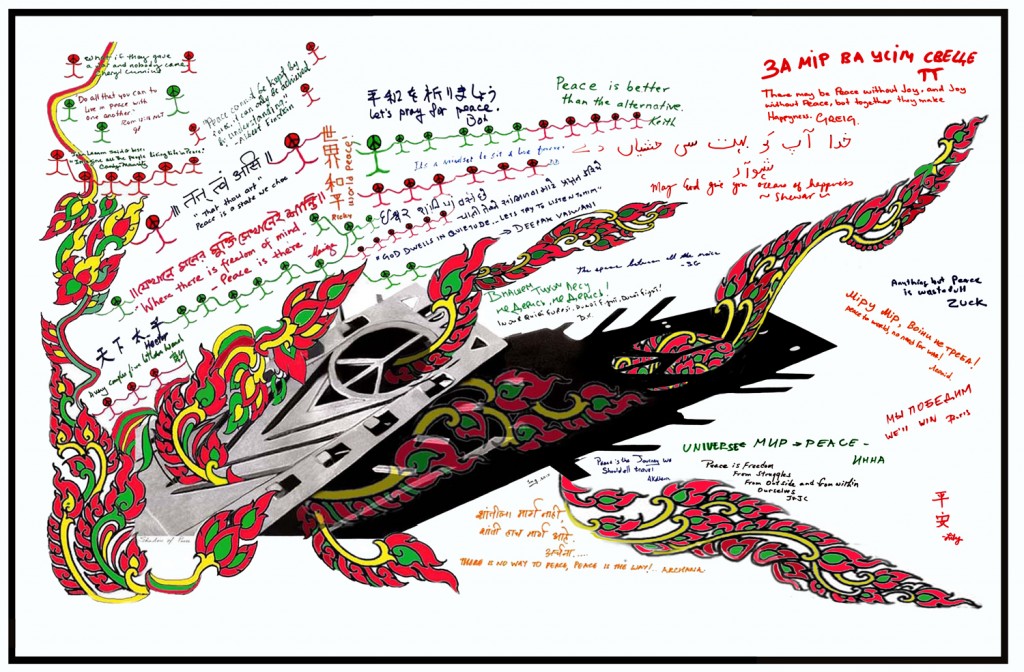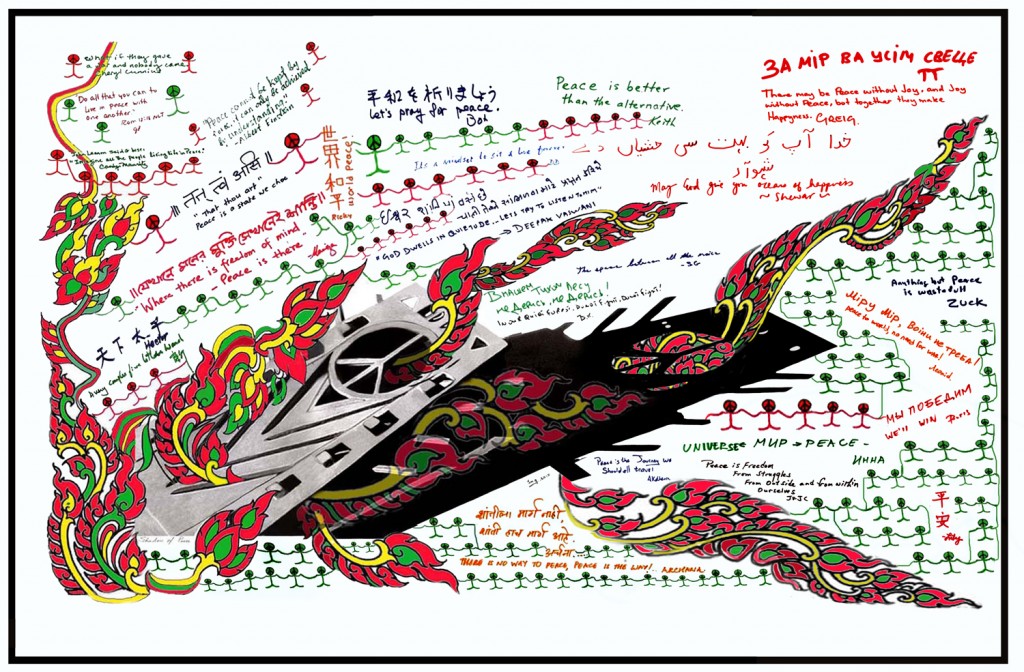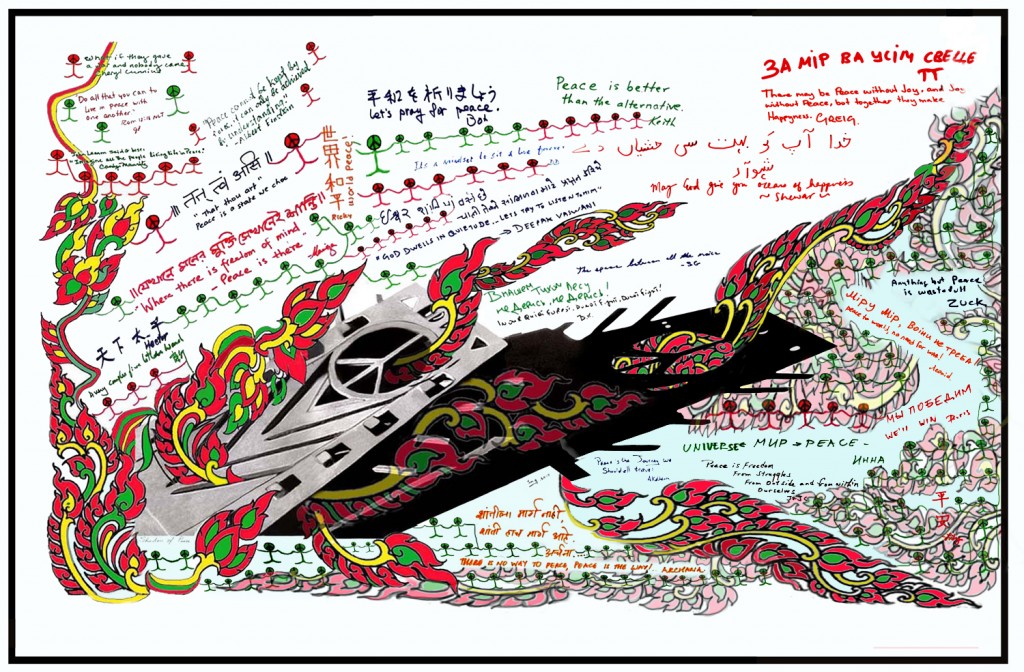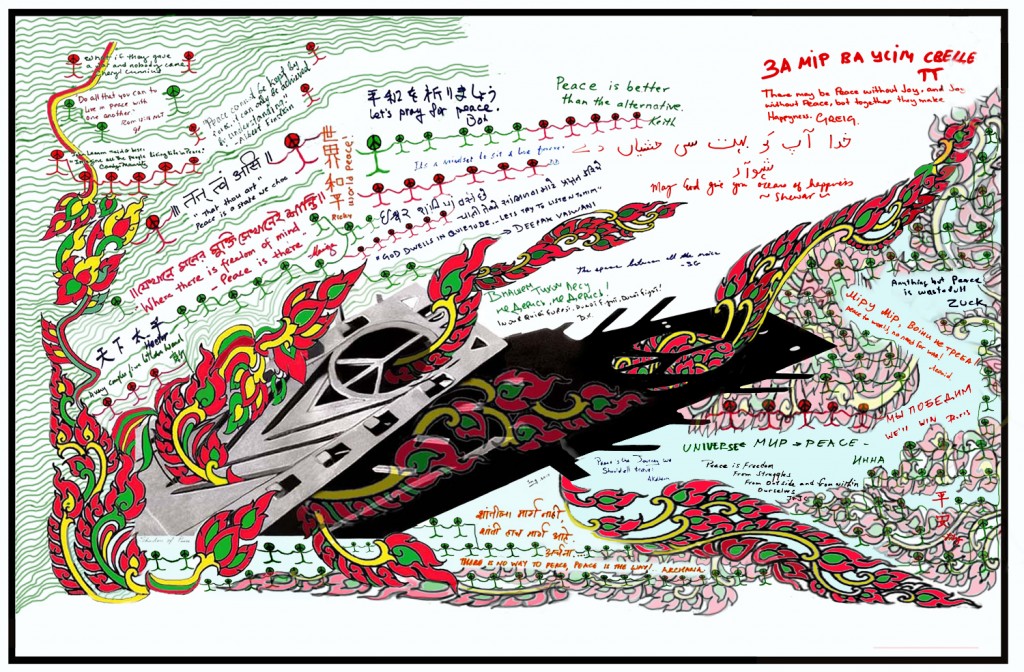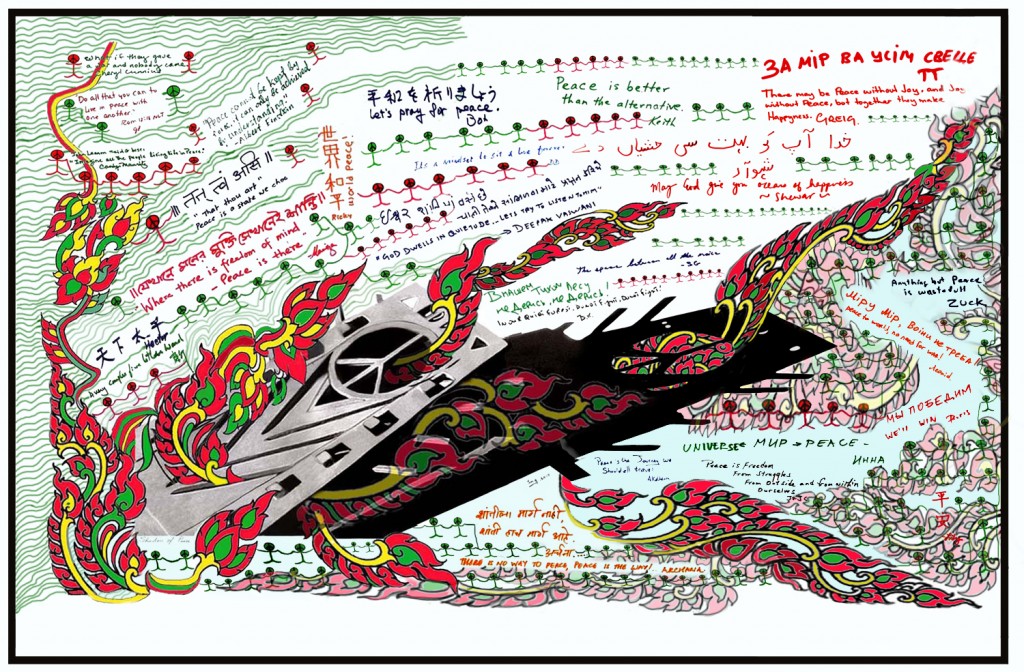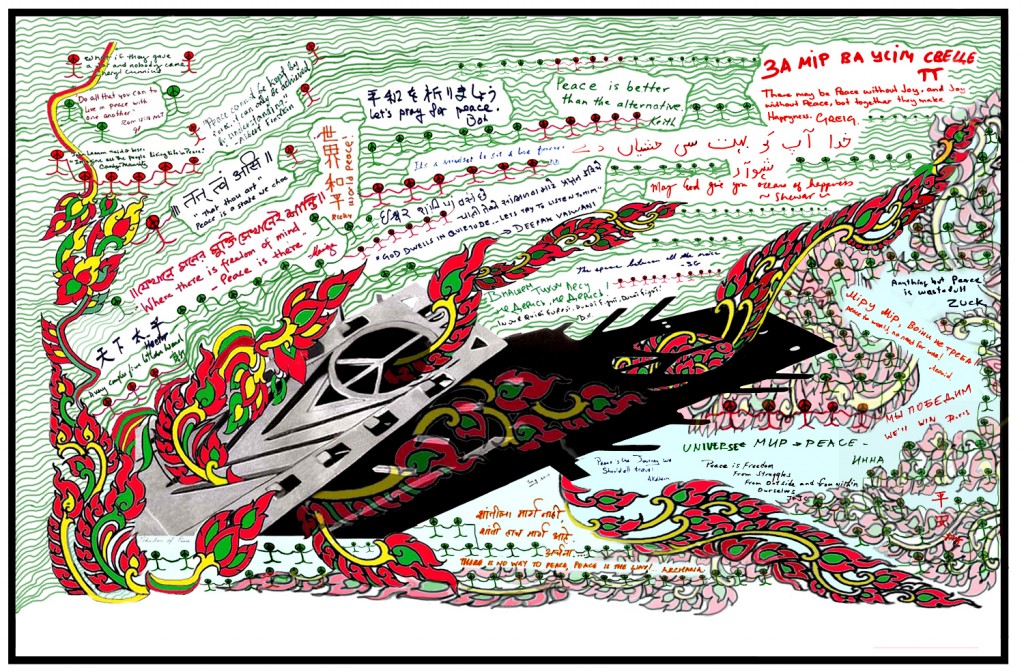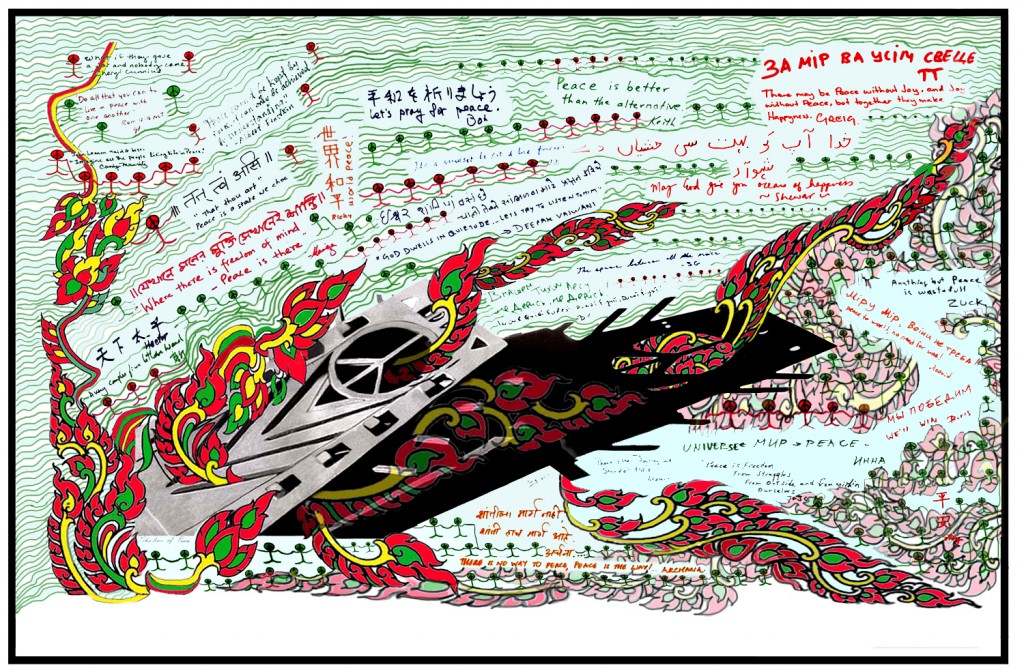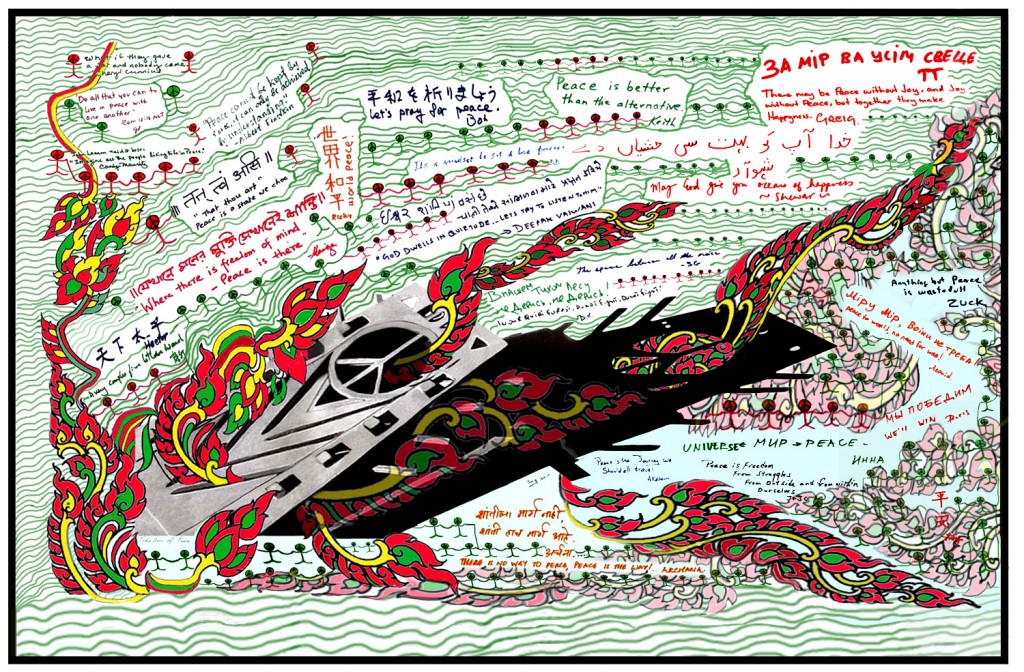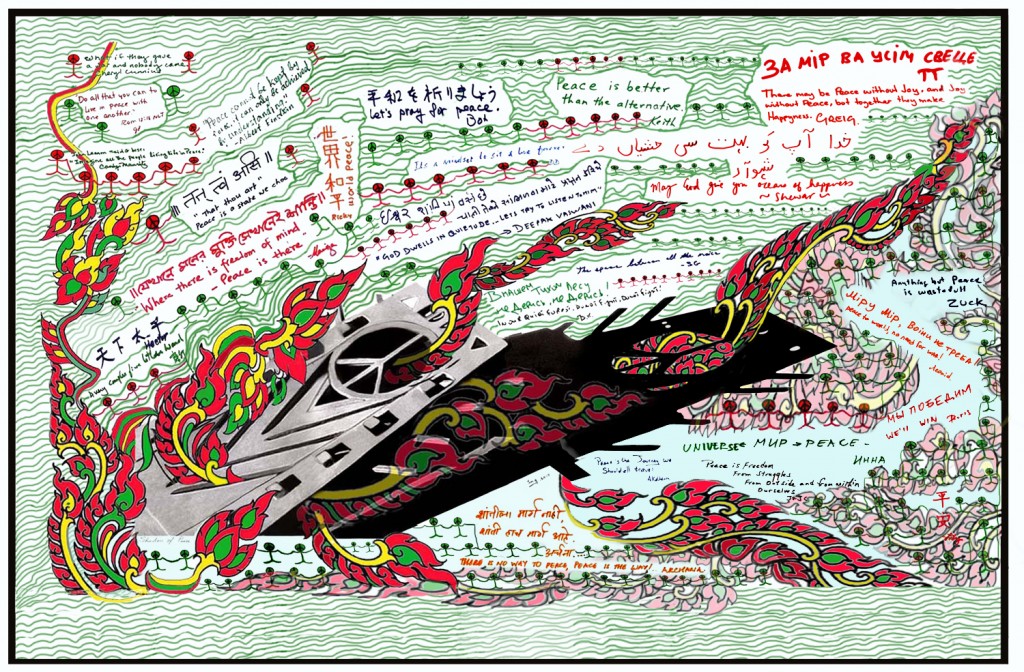 Subject: Peace poster done!
From:    Radhika Menon
Date:    Fri, June 29, 2012
Ing,
 I have brought back the poster from work, and will be bringing it over to
you sometime during the weekend. One of my friends is visiting from the UK,
and some plans are being made; so can't say exactly when at this point.
 And good news about the plants. My next door neighbor has offered to come
and water them in my home. So I can leave them  where they are
sitting right now. Thanks again for the offer to look after them. 
Attaching a picture of the poster sitting in my office. See you soon.
Regards,
Ria
Hi Ria,
I am glad to hear from you.  You must be busy with all kind of things for preparing to go home.  It is nice that you have a friend from UK visiting you.  What is the area from UK she came from?  If you have time I can make Pad Thai for all of us if you and your friend have free time to visit us sometime on the weekend.
 The Peace poster's picture looks quite nice.  Thank you very much for spending you valuable time to do it.  I can hardly wait to see the actual poster.  If in case your time is limited we can pick up the Peace poster at your place.  But we would love to see you before you leave for India.
 You are lucky to have a very nice neighbor taking care of your plants.
 I wonder how you are going to get to the airport.  John can drive you to airport if you are going byNewarkairport.  I do not think our old horse, meaning the car not John, can make to Kennedy airport. 
Talk to you soon.
 Ing                    6.29.12
Ing's Peace Project and Ria's Office of International Worker's Comments
On "What does Peace mean to you?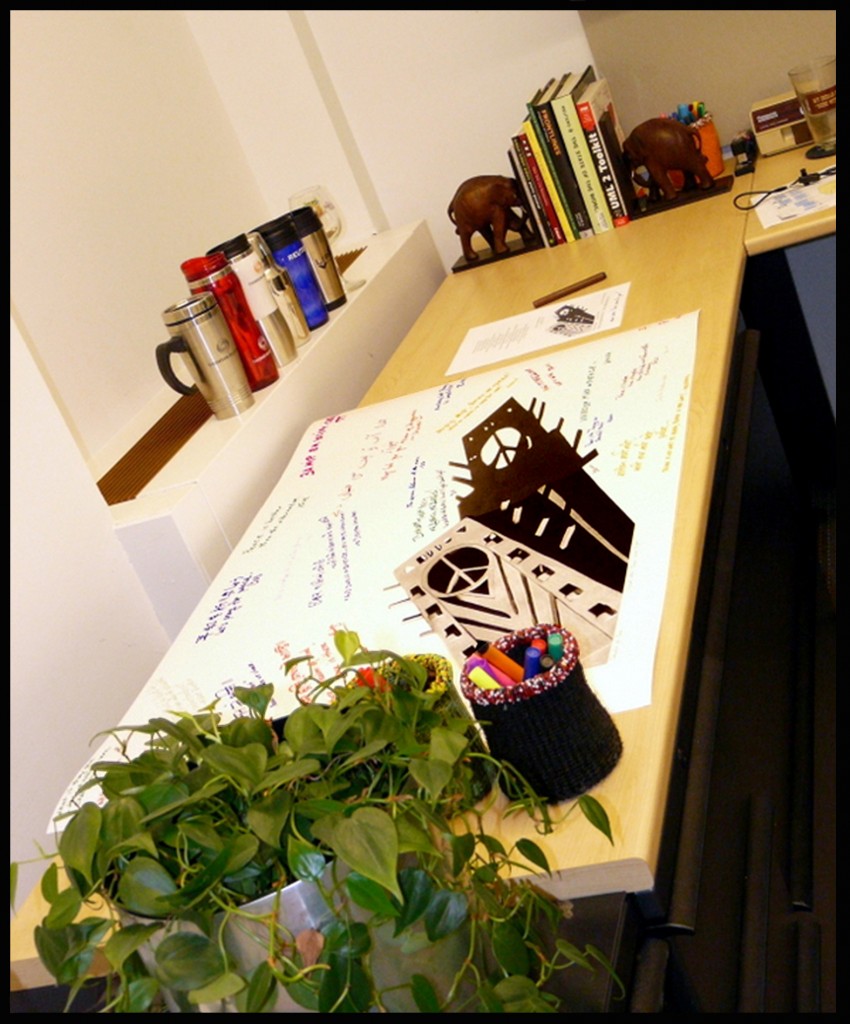 Ing,
Forgot to write to you about this before I left. Please feel free to use
the poster as you wish; there is no need for you to wait for my opinion.
The statements on the poster were collected from my friends who work at
Thomson Reuters. I put it in my office and sent out an email to friends to
come and write their thoughts on the poster. And they did so, though some
of them needed a reminder. 🙂 If you need more information than that, do
let me know.
 Hope you are doing well.
 Regards,
Ria              7.9.2012
Hi Ria,
 Thanks for your information and trusting me with the poster.
 Please enjoy your trip and your family.  Talk to you when you get back.
 Ing            7.10.12
 PS. I forwarded the information on UMDNJ-Fall Arts Festival 2012 information in case you would like to exhibit your pottery.        
 Link to Thomson Reuters, NYC June 2012 Part 2 page: 
 https://ingpeaceproject.com/peace-project-participations/thomson-reuters-nyc-june-2012-part-2/