Peace Comes To 5th Annual Arts & Music Fair at Elwood Park
 
 One day, two months ago John told me that Mr. Carlos Maldonado Pastrana called him.  Mr. Pastrana would like to invite John to do a demonstration of pottery at the 5th annual arts and crafts and music fair is being held from 12 noon to 8 pm on Saturday, August 6, 2011 at Elwood Park in Newark,New Jersey.  Mr. Pastrana is the President of the Association of Barranquitenos.  John said he would like to do the demonstration because the families can come out to enjoy the artworks and also seeing how the pottery is made.  He loves to see children stand in a circle watching him throw pots.  I told John that "Would you please call Mr. Pastrana tells him about my Peace Project and I would like to bring my Peace Project to the fair also."  John called Mr. Pastrana and also emailed my website to him.  I was glad when John told me that it is OK to bring my Peace Project to the fair.  Mr. Pastrana also said the more the better.
We packed our goodies in the van and headed to the Elwood Park by about noon time of Saturday, August 6.  We were very lucky to have Patricia Meidel one of John's Pottery students and friend, come to help us.  We got help from Mr. Pastrana and few more of his associates bringing John's pottery wheel and other heavy items to our designated area.  Mr. Pastrana also provided John with the water and the electric generator for John's pottery wheel. I was busy setting up my Peace Project table and I also brought some of my large artworks of Dr. Martin Luther King, Gandhi and others to the fair.  I appreciate the invitation and the help from Mr. Pastrana and especially the help of Patricia.  She helped me to setting up and displaying my artwork.  Without her I would have a tough time. Patricia is Puerto Rican; Spanish language is her native tongue.  She was helping me to translate my Peace Project into Spanish for some of the viewers.  I am really grateful for the help from our good friend, Patricia who devoted her time helping us all afternoon. 
Over all the fair was quite successful.  There were a lot of families with wives, husbands, parents and children that came to the fair.  Young men and women seemed to have a good time walking about seeing the artworks by different artists and some artists came from Puerto Rico.  I had a chance to walk around the fair ground.  I enjoyed seeing the artworks from different artists but what I liked the most were the masks. This is the quote from Lucy SanTos, Newark Historic Places Examiner:
  "Ana Padilla, another active participant in the event, explained that the mask at the top of the house is called, "Bejigante" and was used to scare off the witches.  According to Padilla, there is a folkloric dance in which people wear those masks."
"This festivity includes arts and crafts on sale, which are handmade by artisans that celebrate culture.  There is also lively Latin music at the event and vendors selling fresh food.  Individuals from various organizations are also at this event informing people about a variety of issues that are significant for the community. La Casa de Don Pedro, an organization that assists the community, has members informing Newarkers about important topics such as traffic safety and safe practices for  pedestrians and for people who ride bicycles."   
"Not only does the fair address pertinent issues for the community, but it also celebrates the culture of Puerto Rico.  There is a picturesque house at the event that is called, "La Casa del Jibaro," which in the English translation is the house of the hillbilly.  Martha Rodriguez, who actively participates in the fair, explained the house is a tradition of Puerto Ricoand symbolizes the beautiful island. "Long ago, people from the countryside lived in these homes when they had no electricity, bathrooms or running water," Rodriguez said."
 Peace Project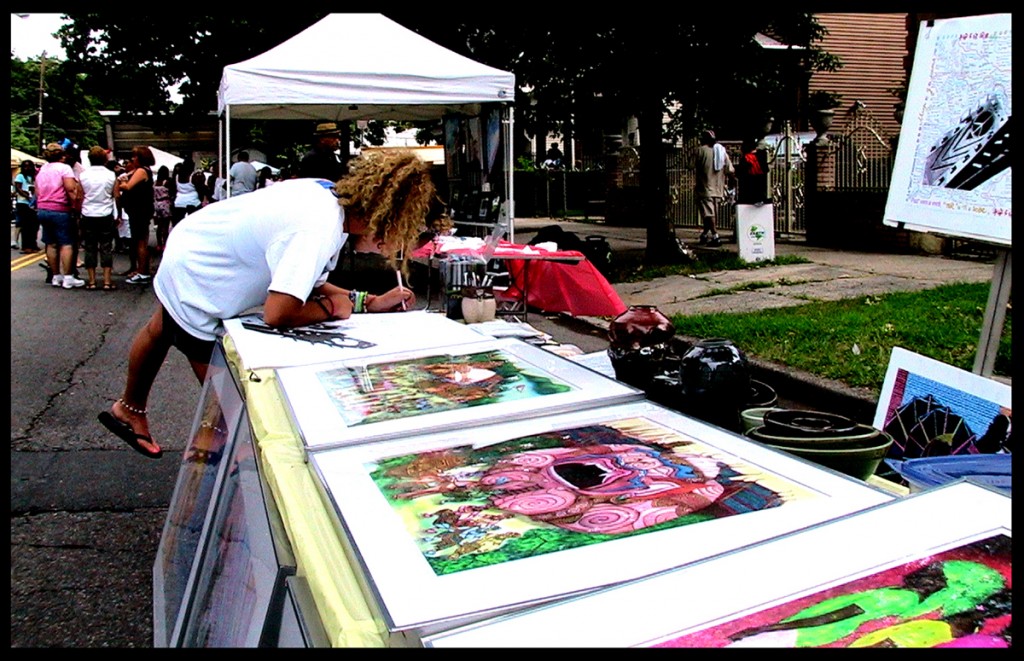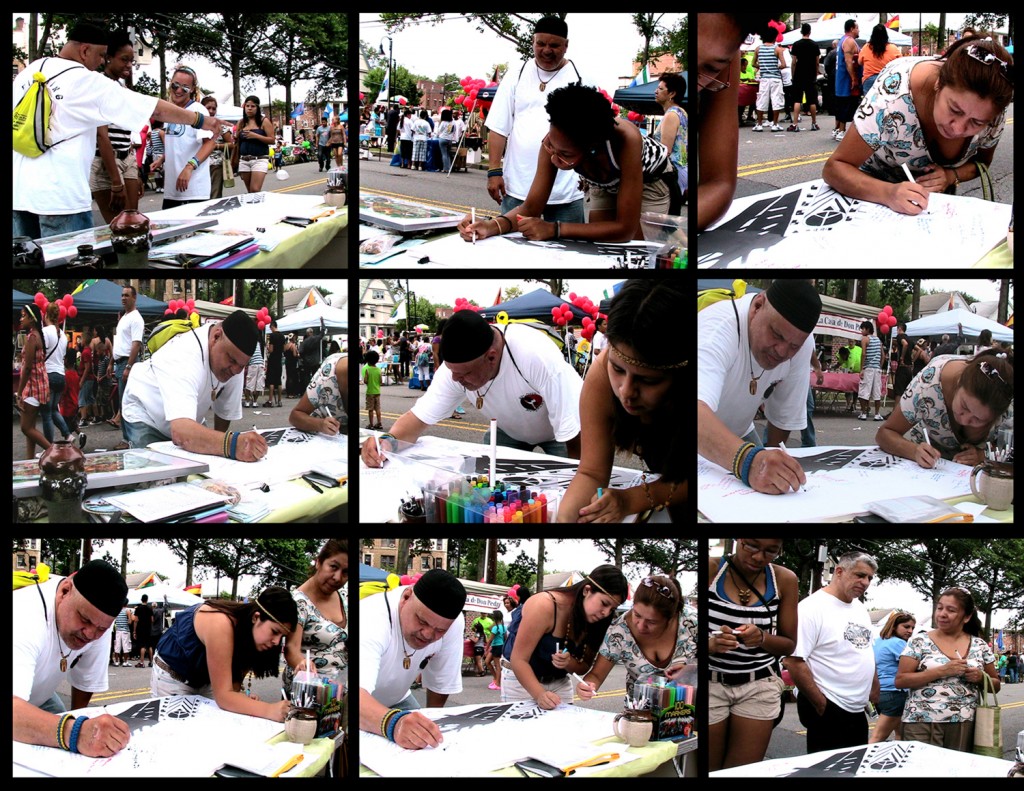 I invited people to write, expressing, "What does Peace mean to you?"  I explained that if one finds out what make one peaceful and tries to achieve it then one may be happier.  If you are peaceful and happy the same as the one next to you and the others and others and so on, then we may have harmony in society. Hopefully there will be no cheating or corruption.  This seems almost impossible at the present time.  But we have to start some time and now is the best time for us to exam ourselves.  Most of people were willing to participate.  Some were expressed themselves in English and some in Spanish.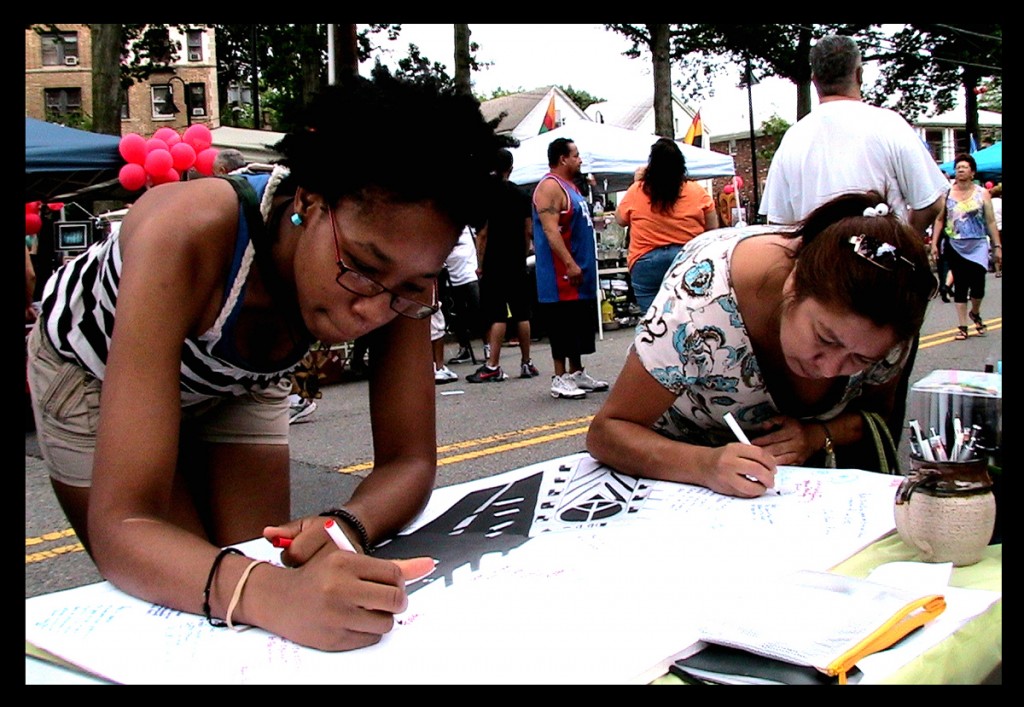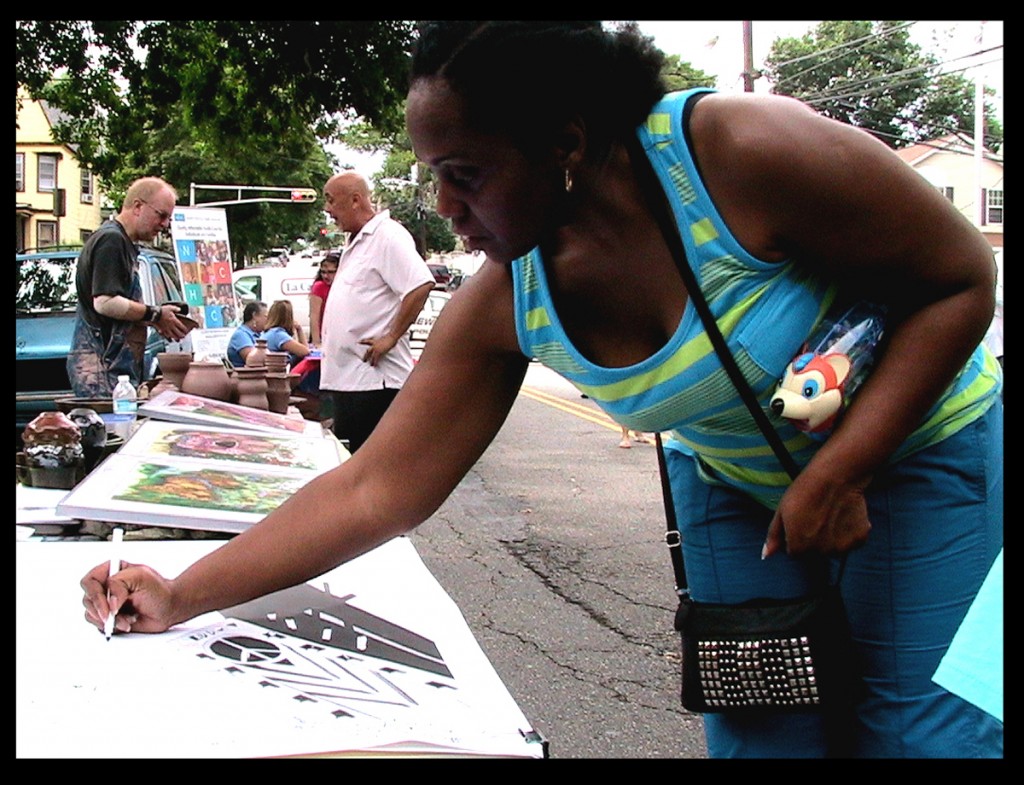 I noticed that Mr. Pastrana came to talk to John a couple times; I asked John what Mr.Pastrana talked about.  John told me that Mr. Pastrana said people liked our activities and he loves them too.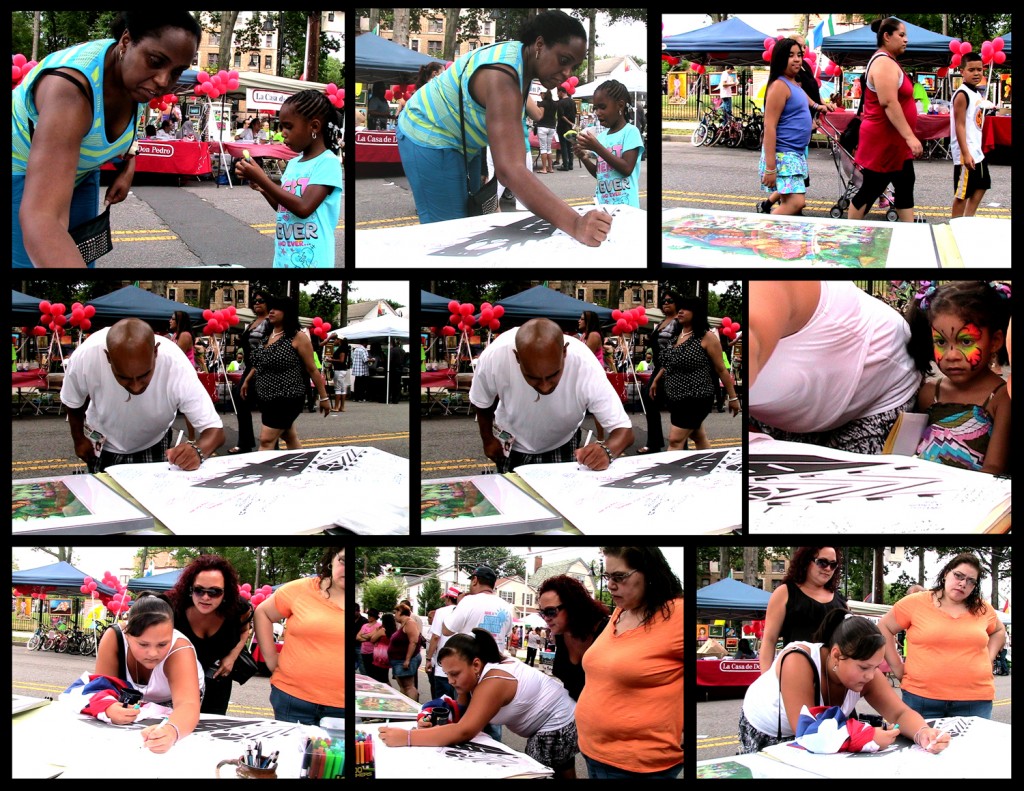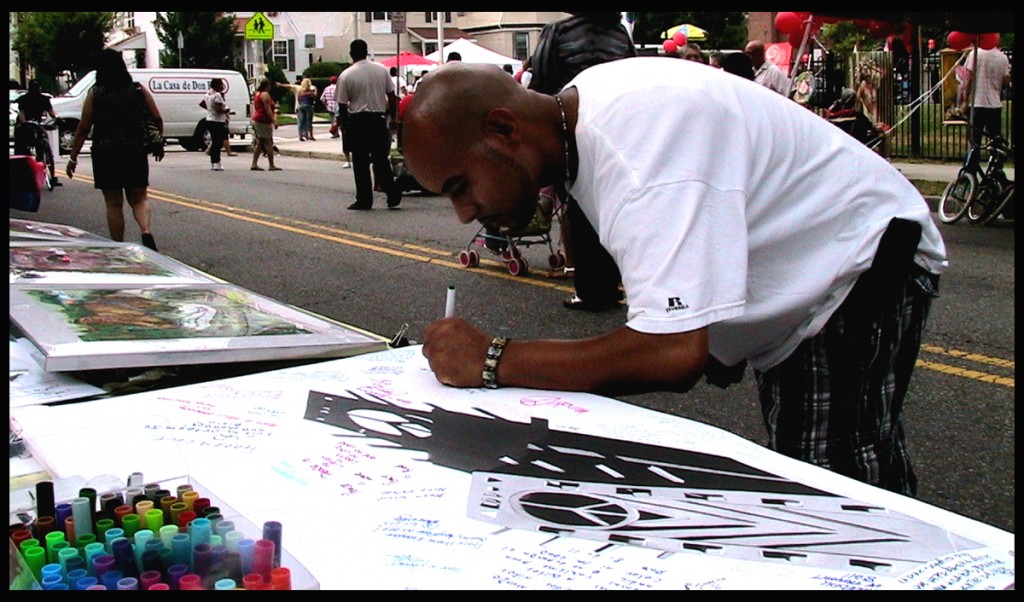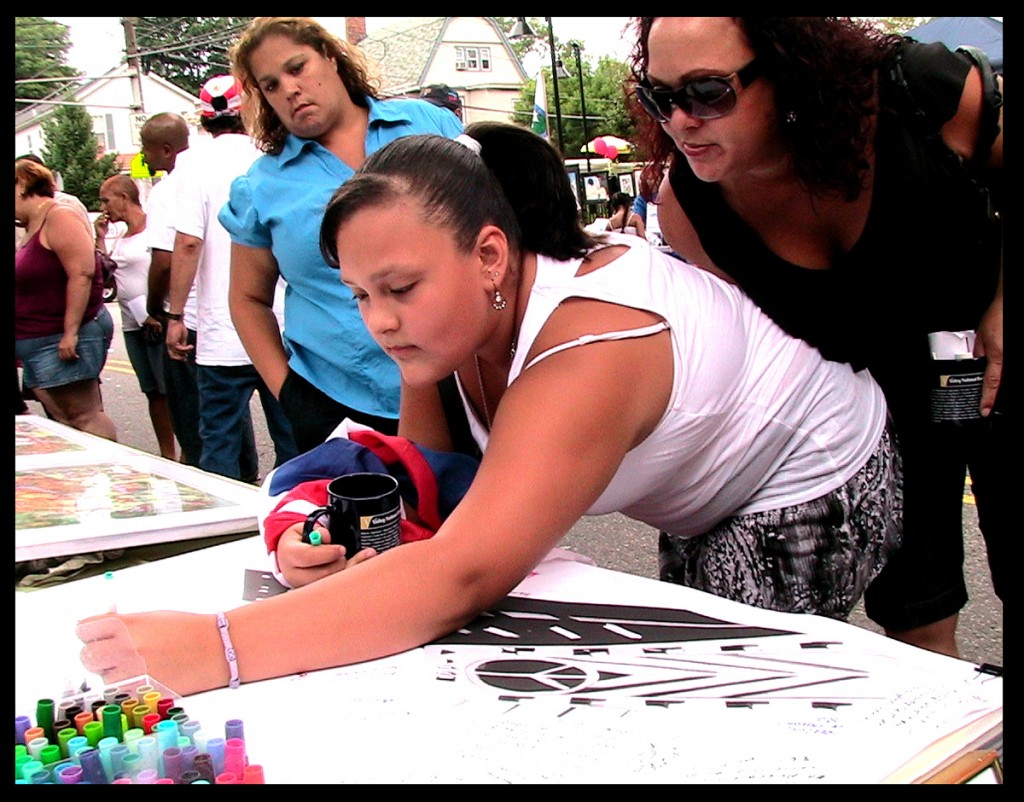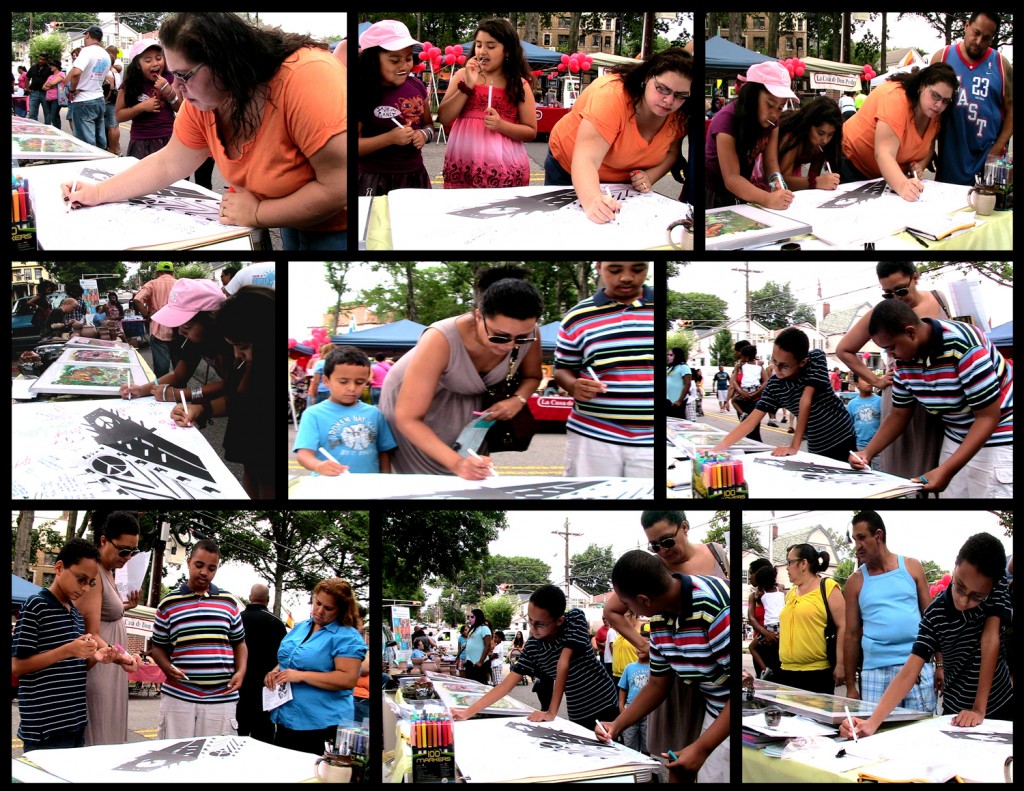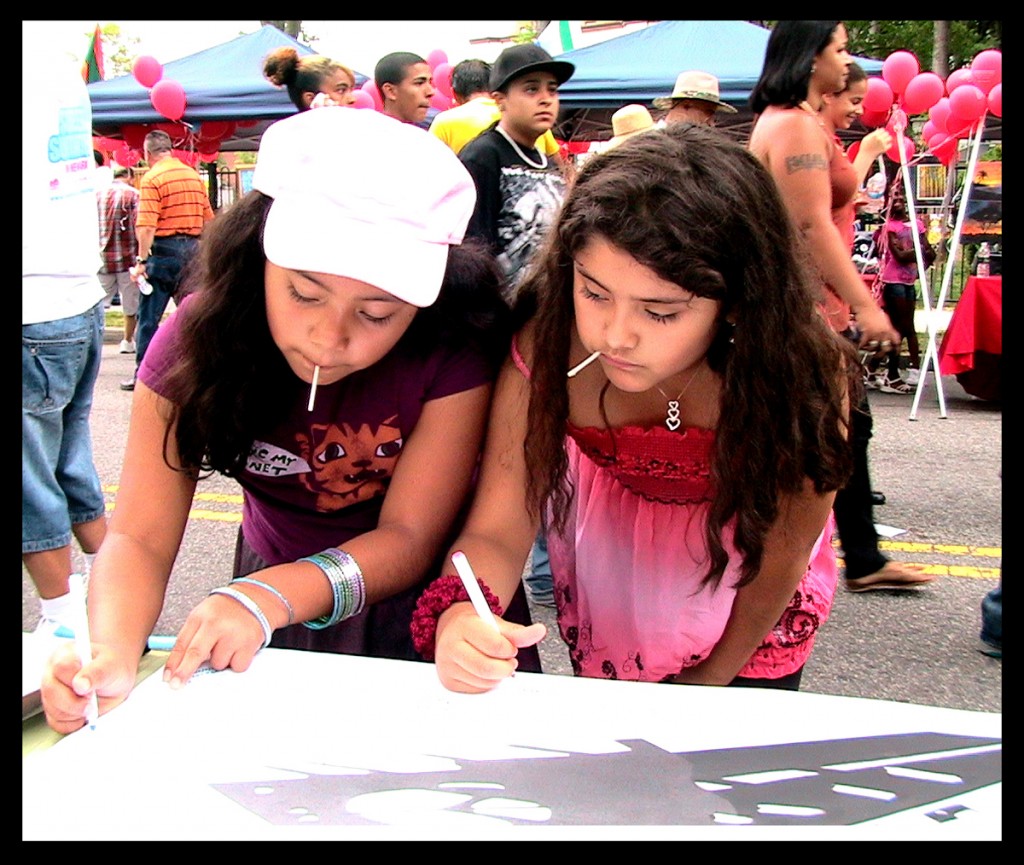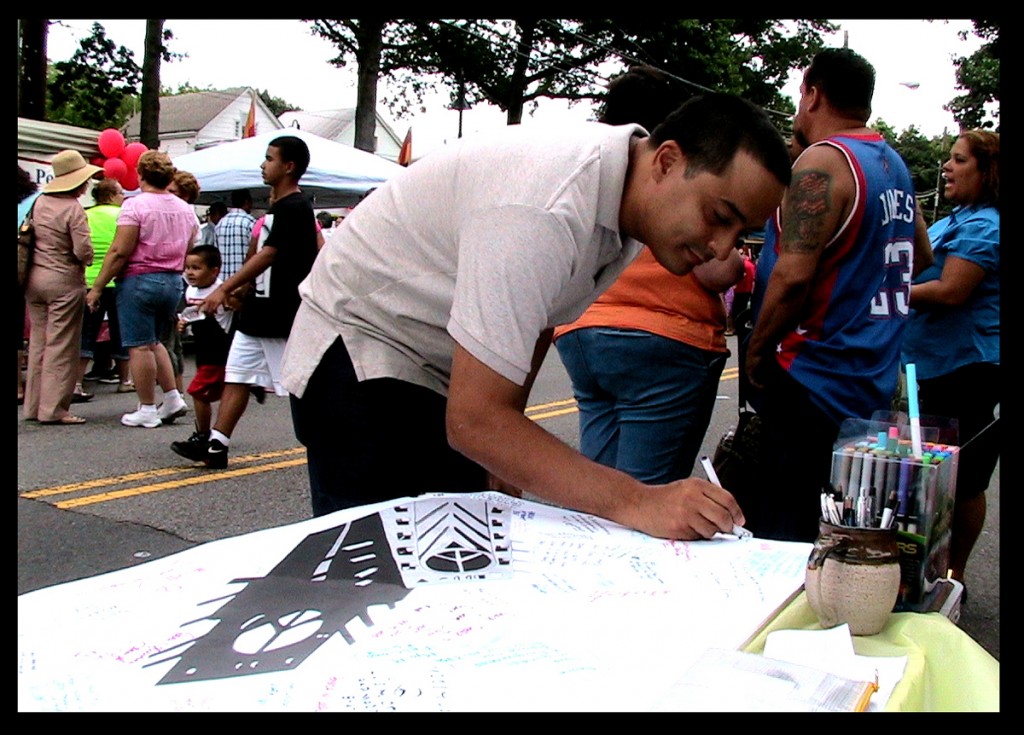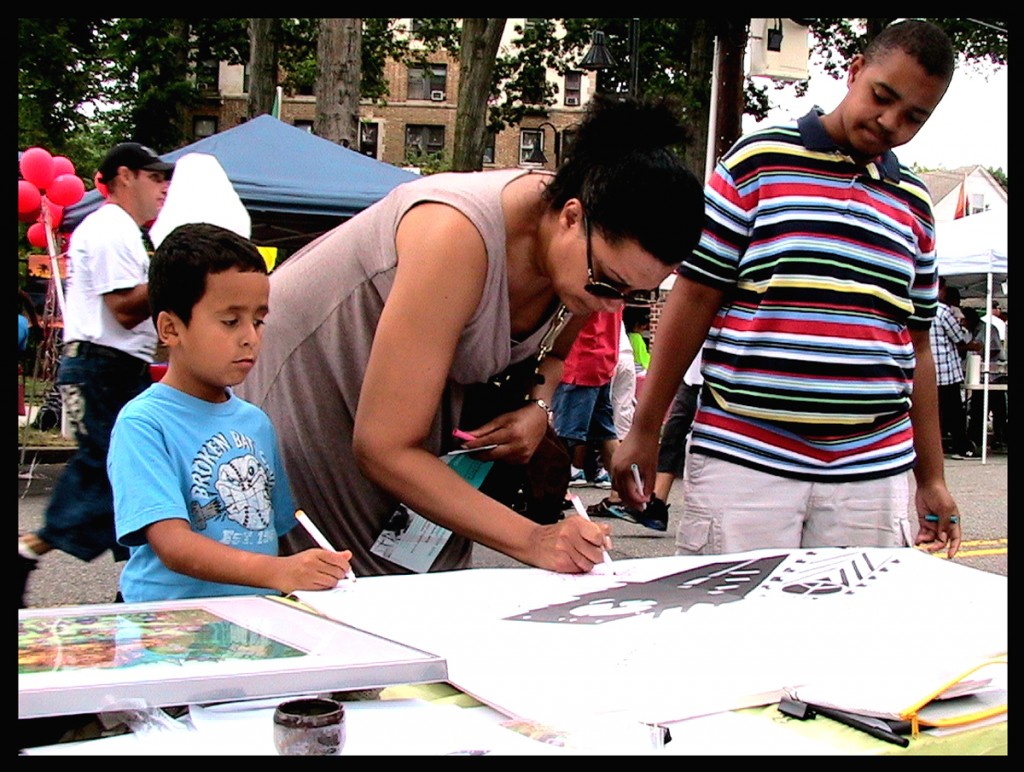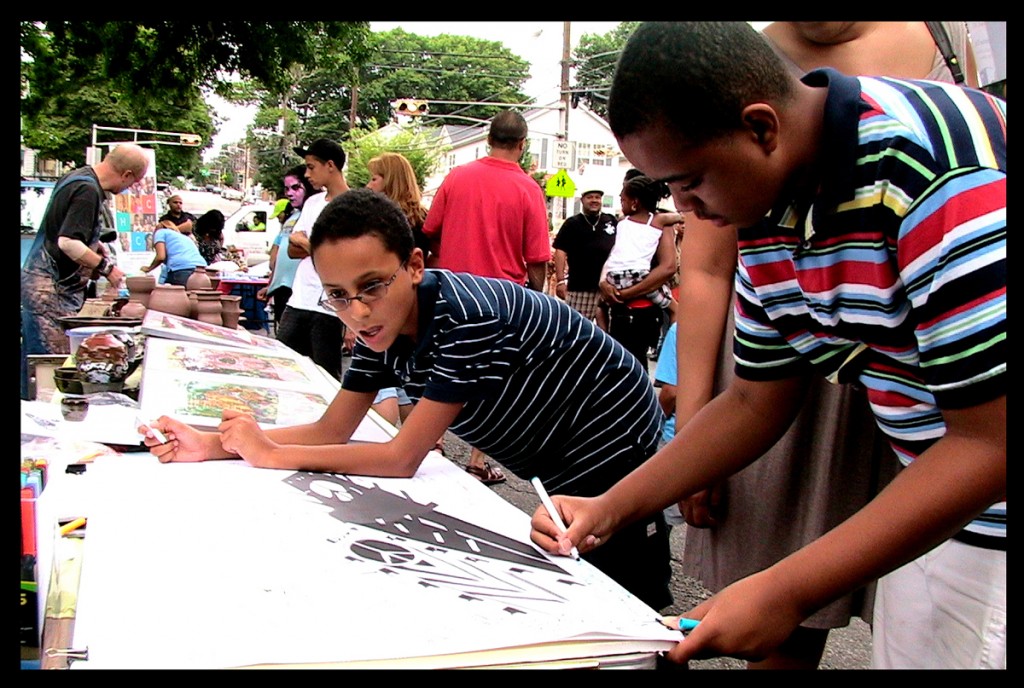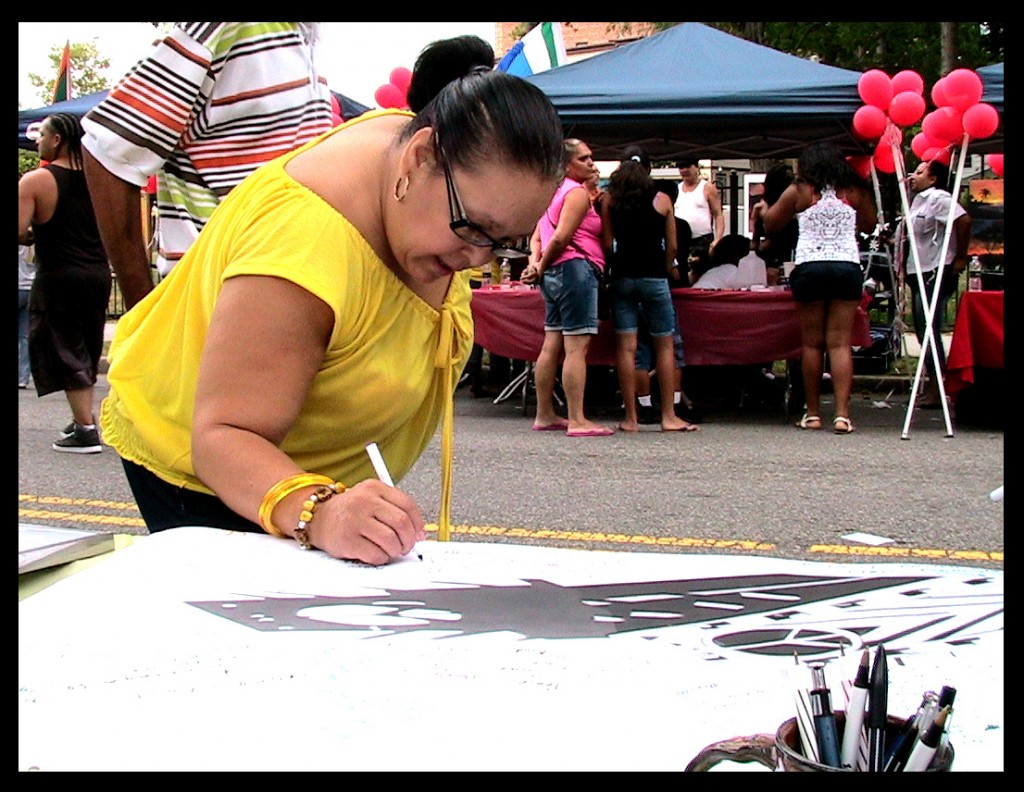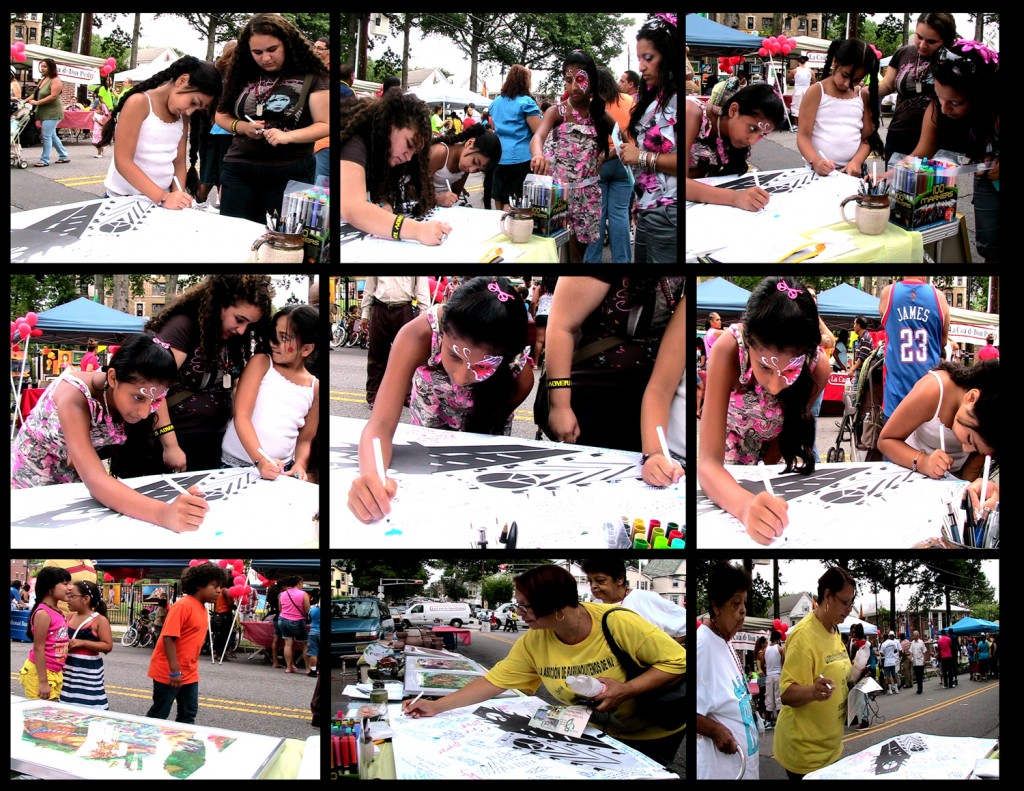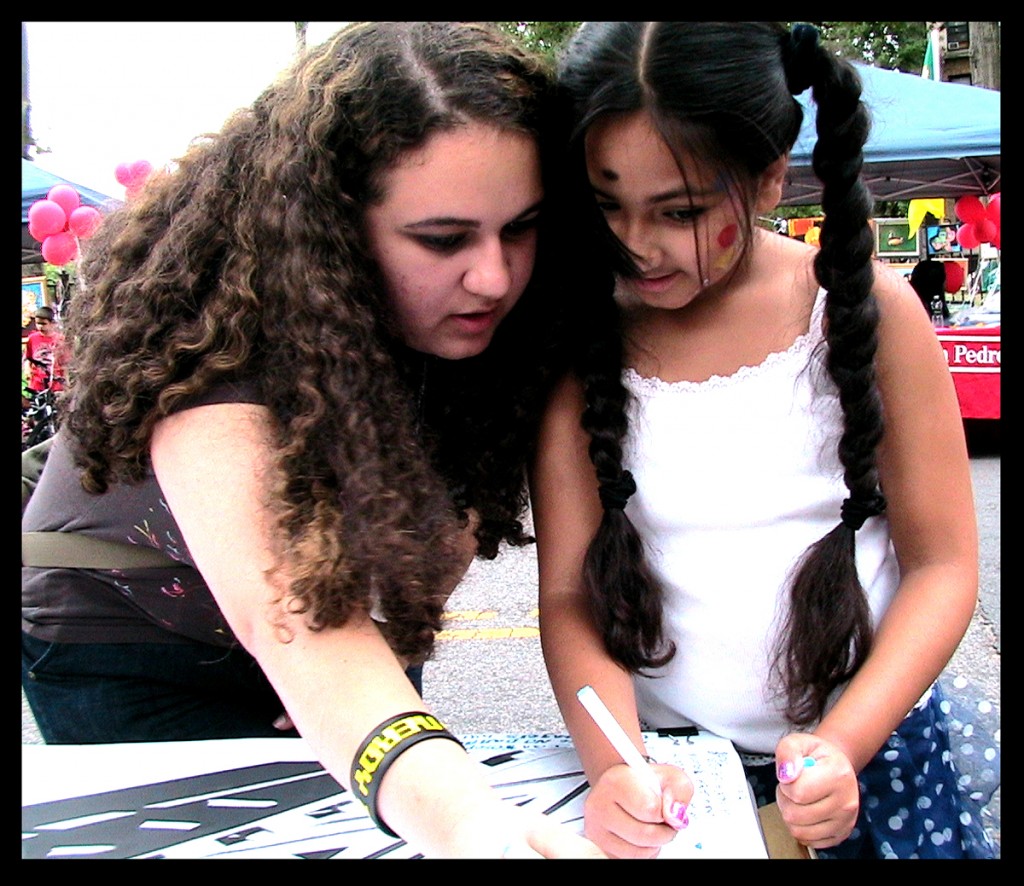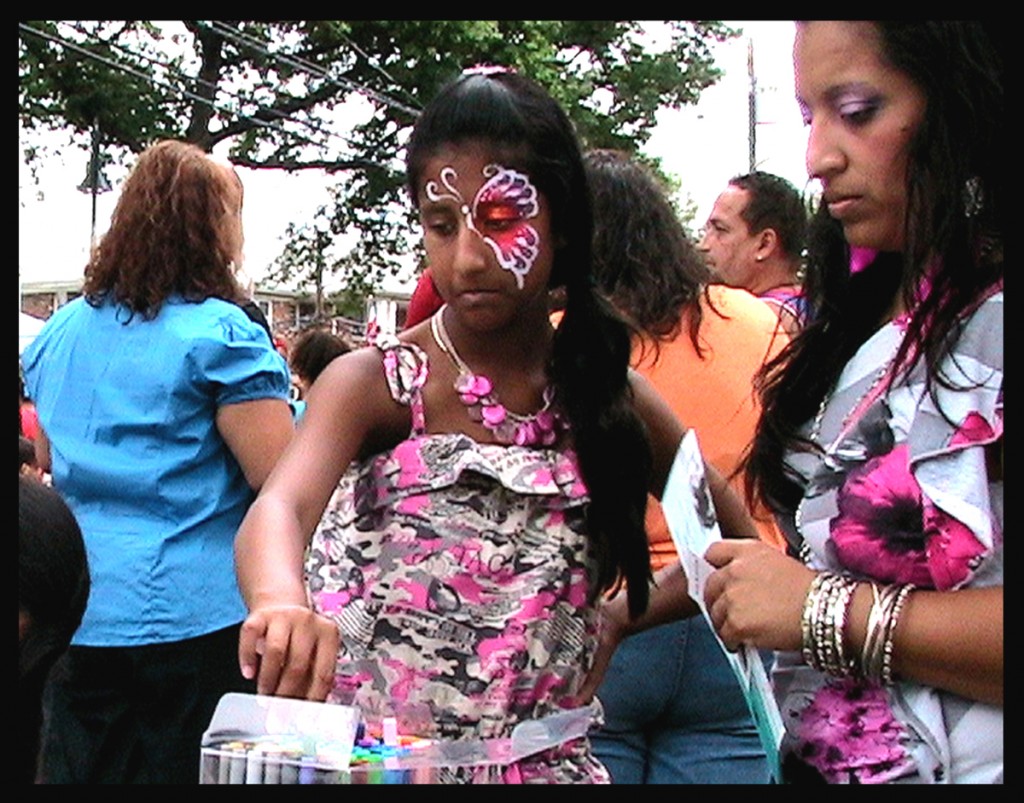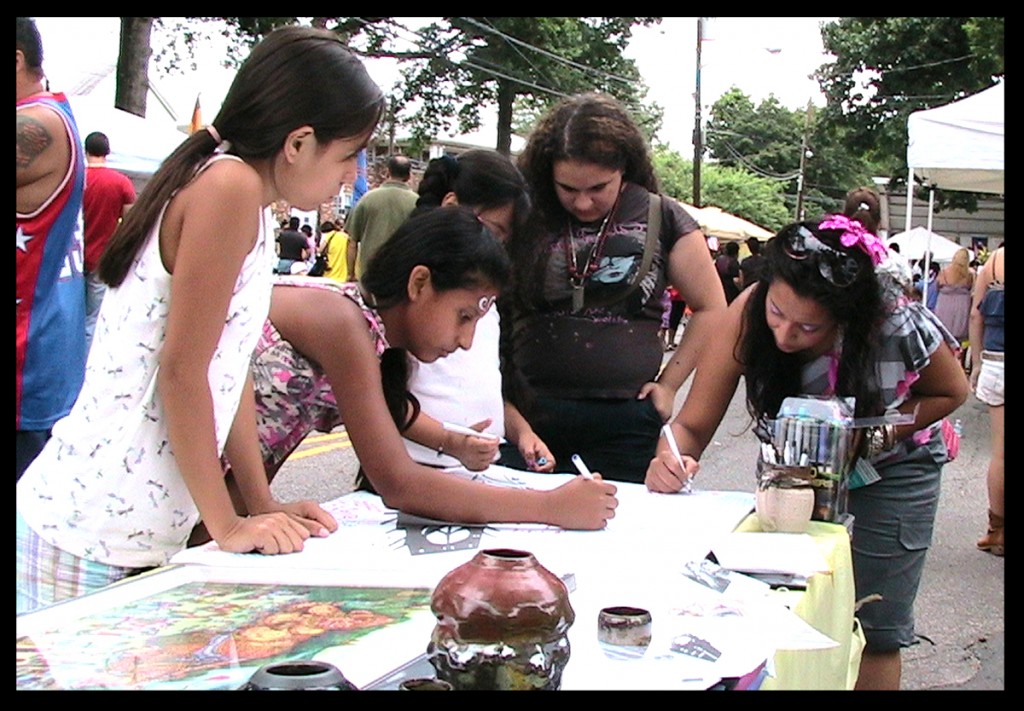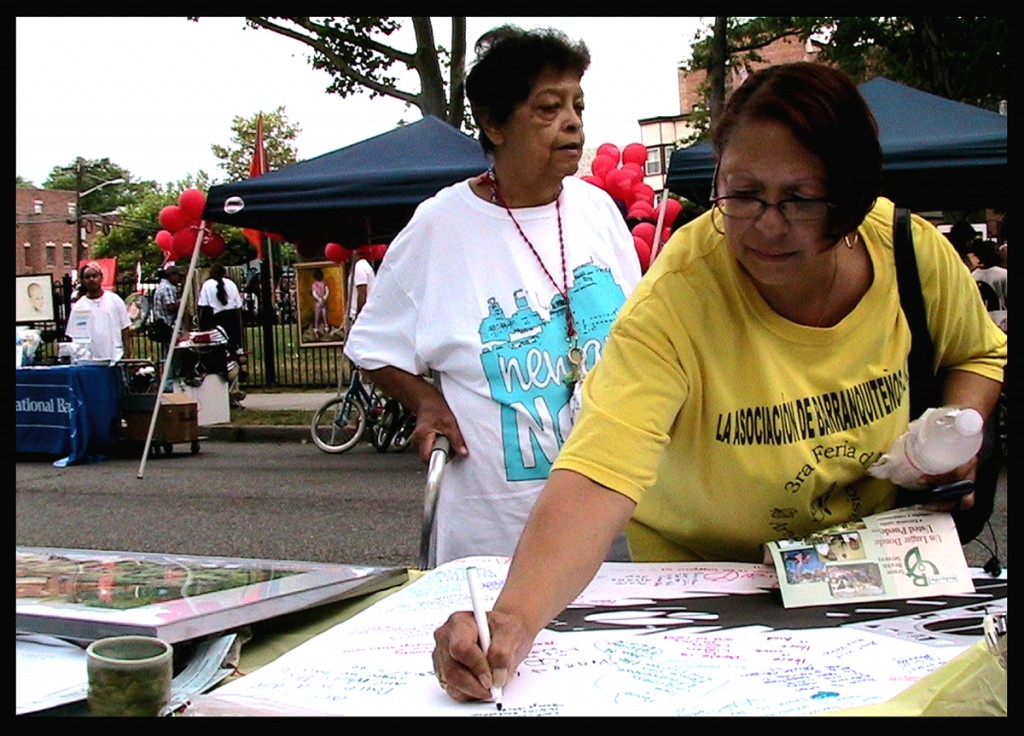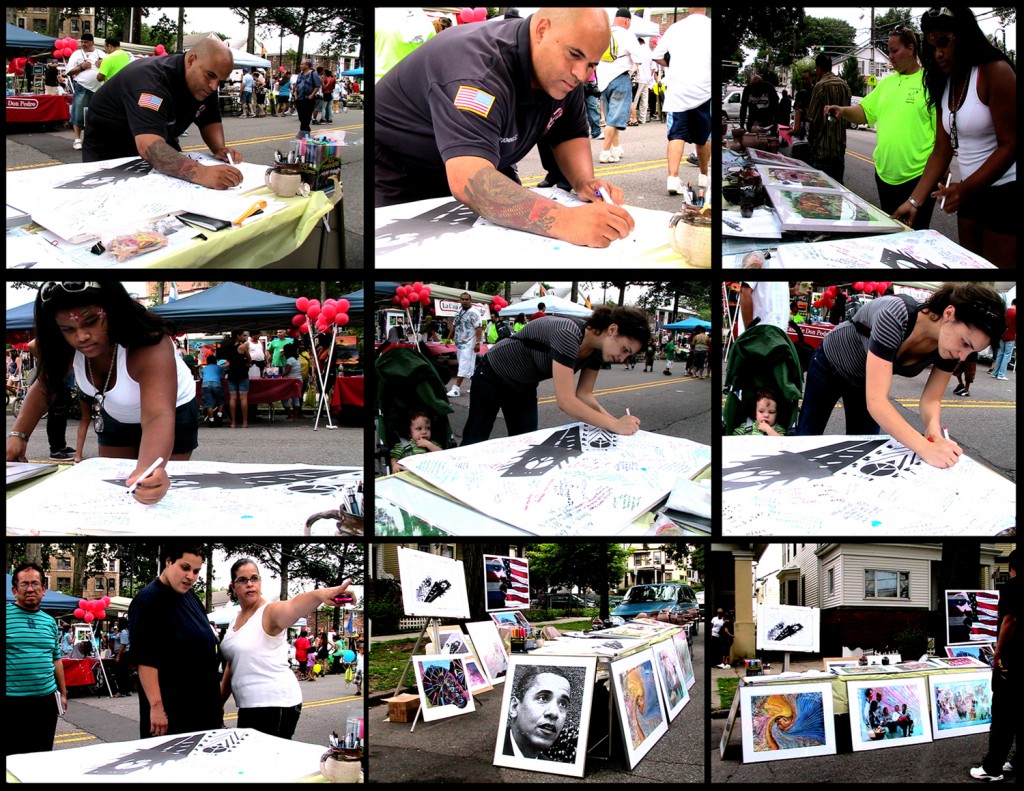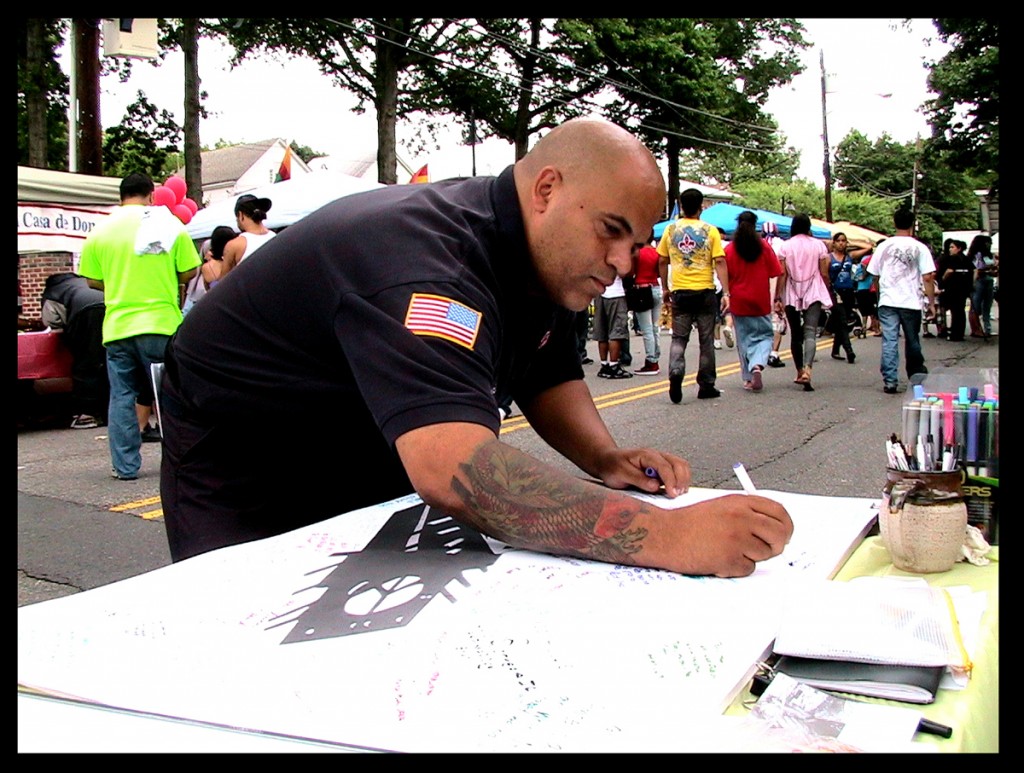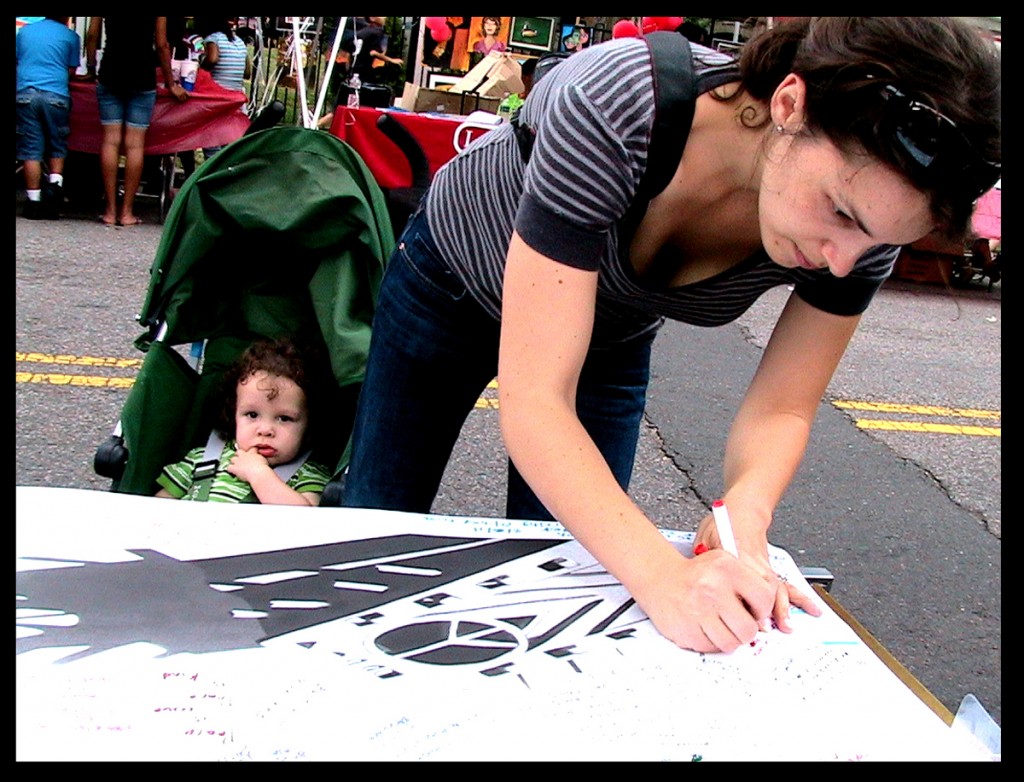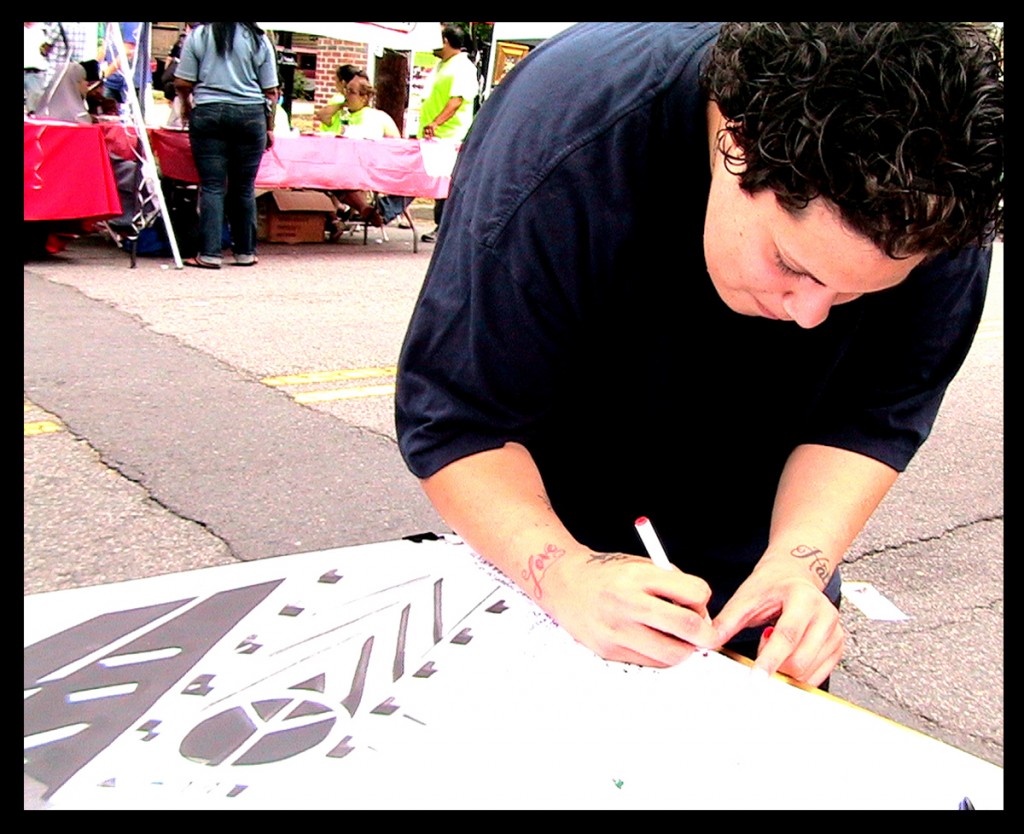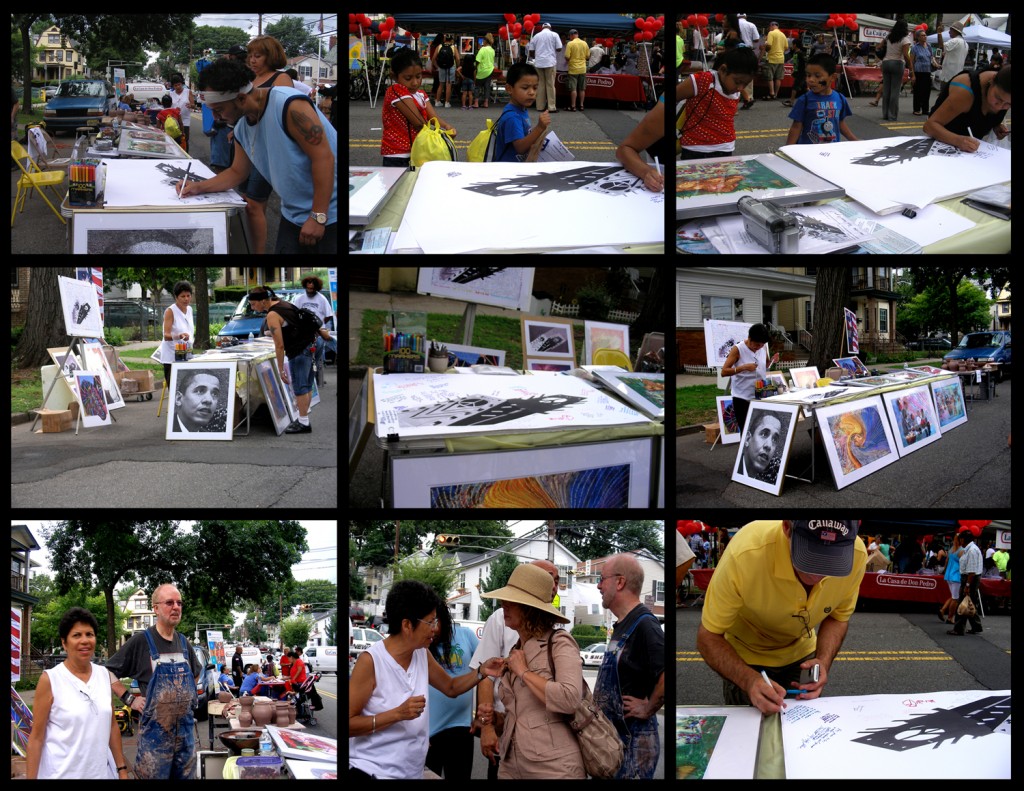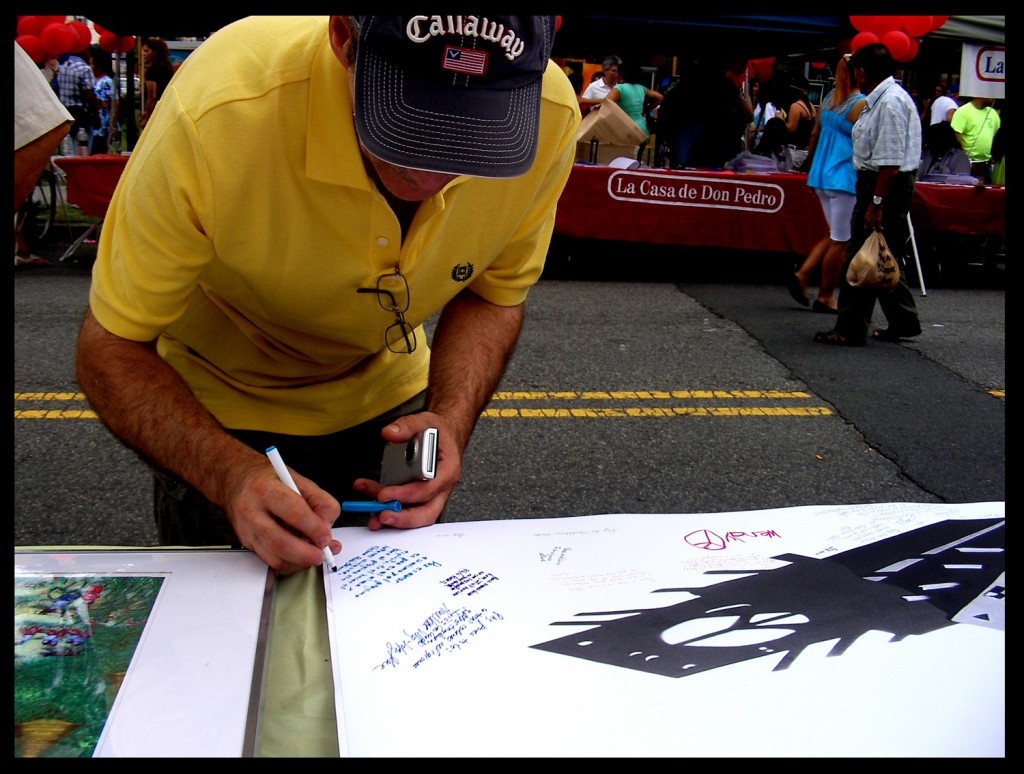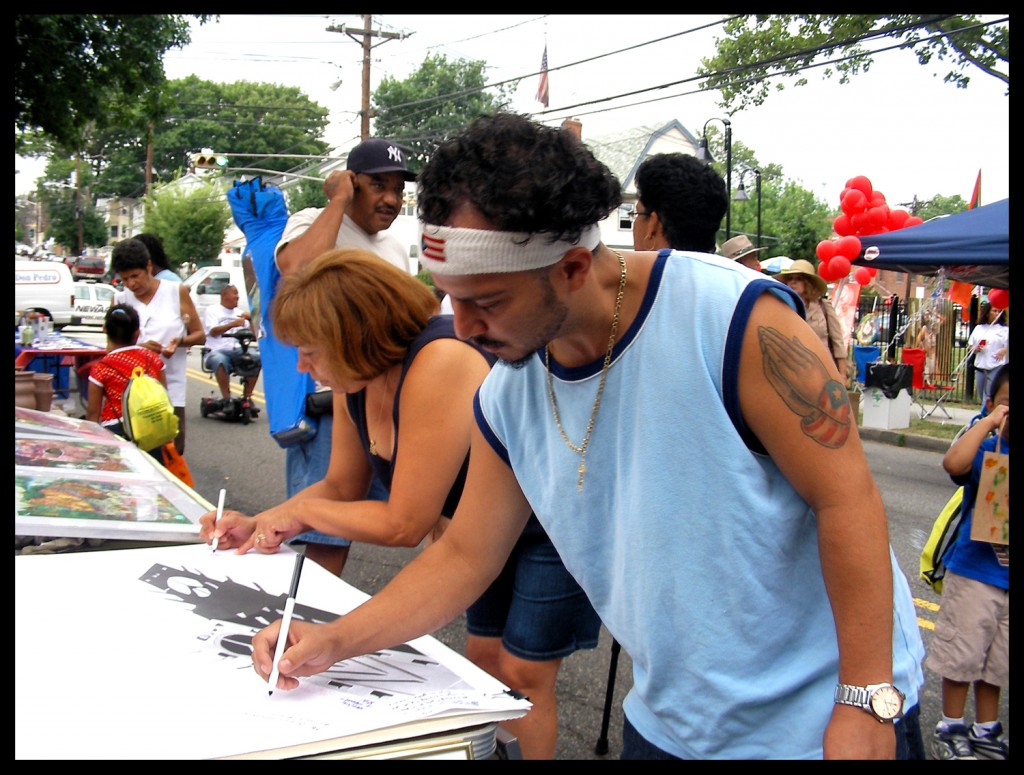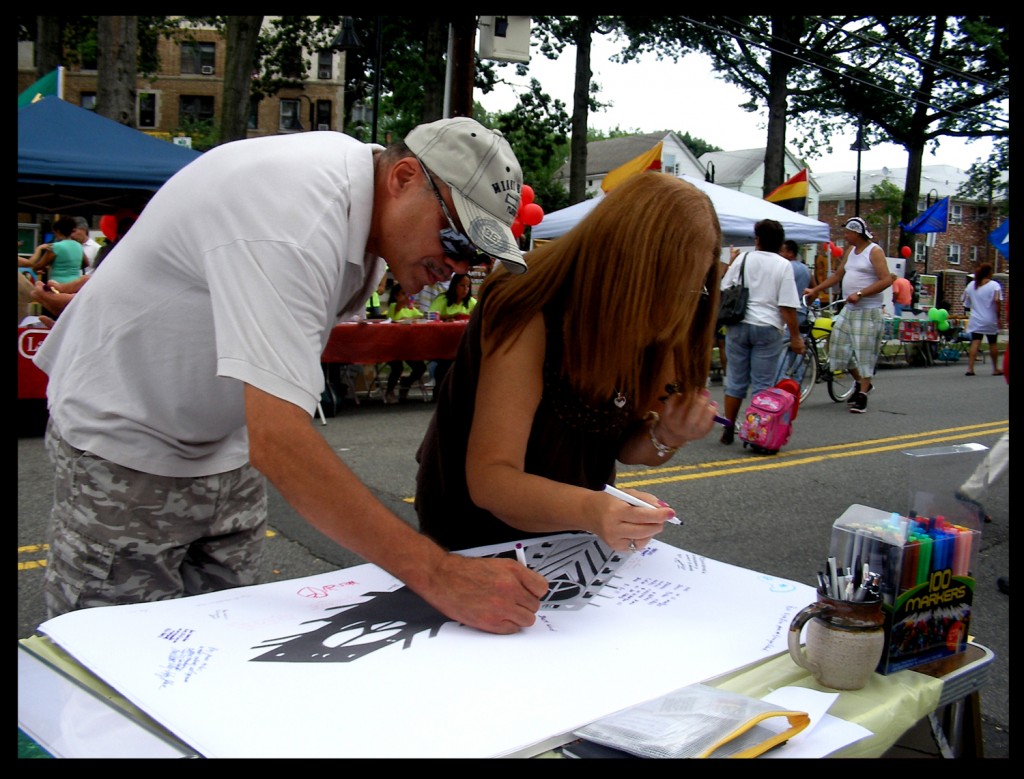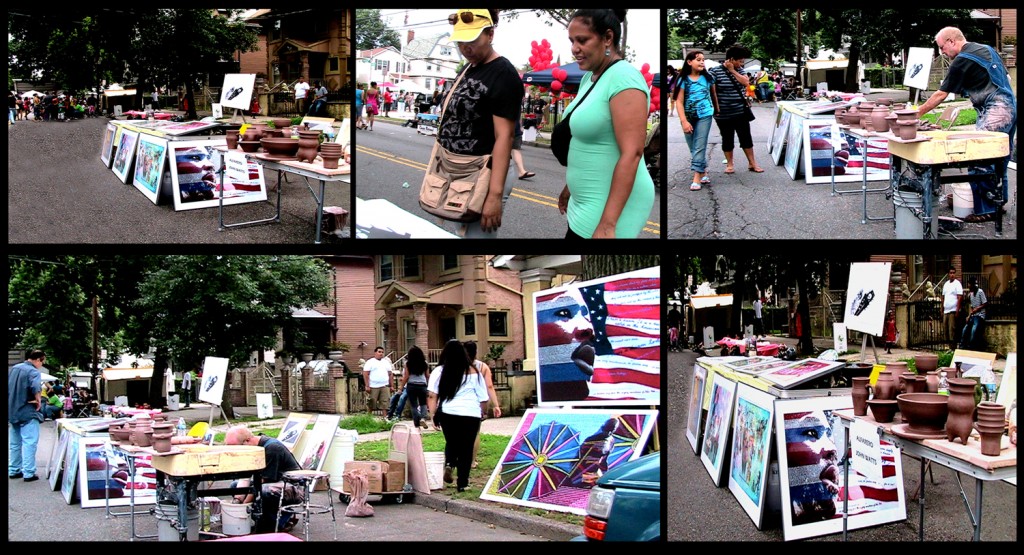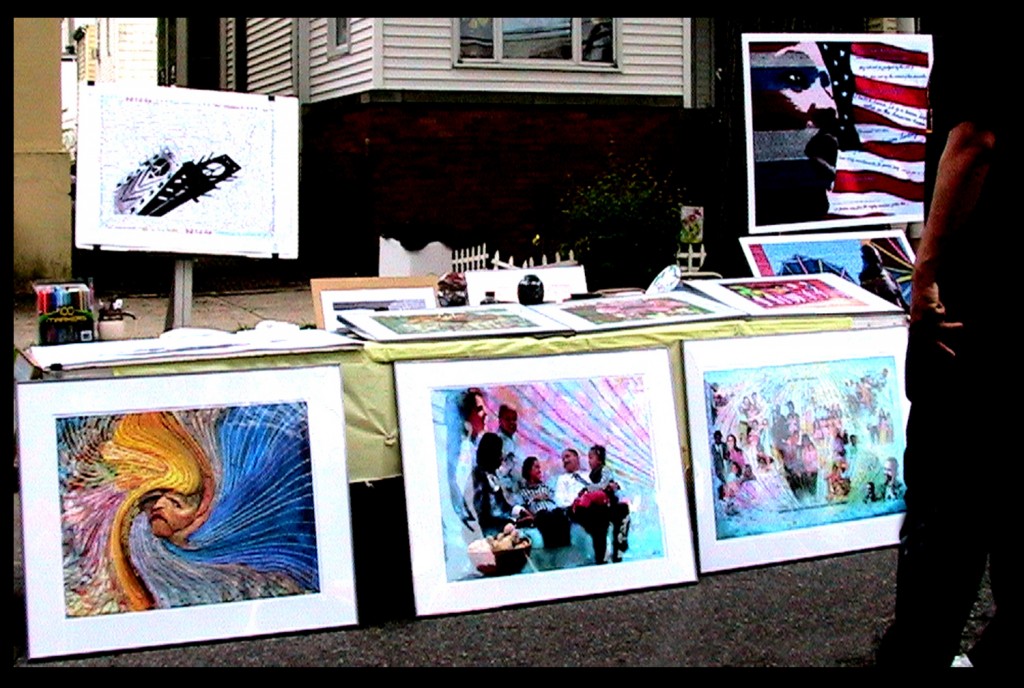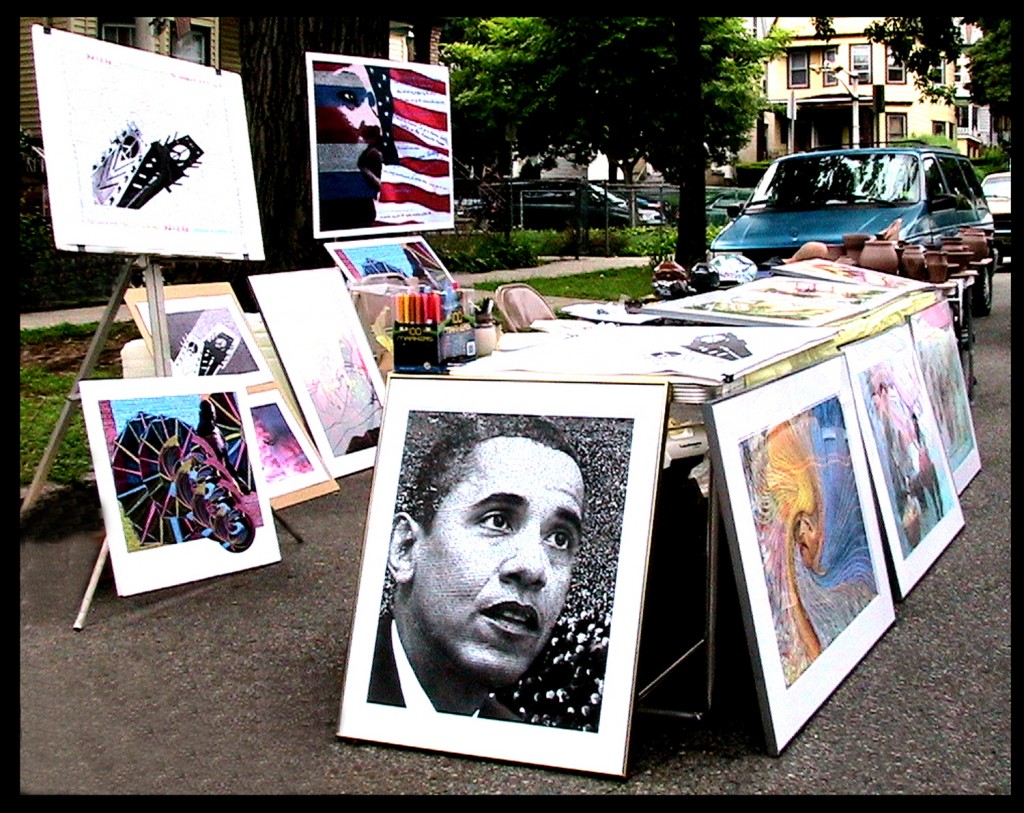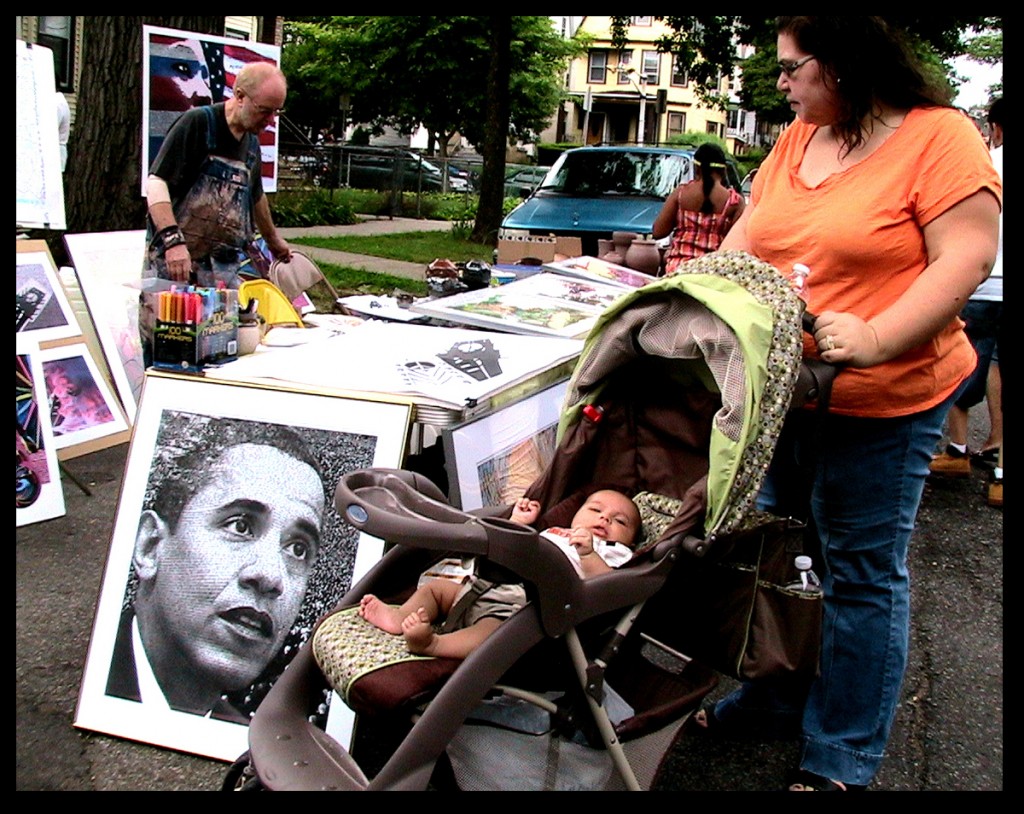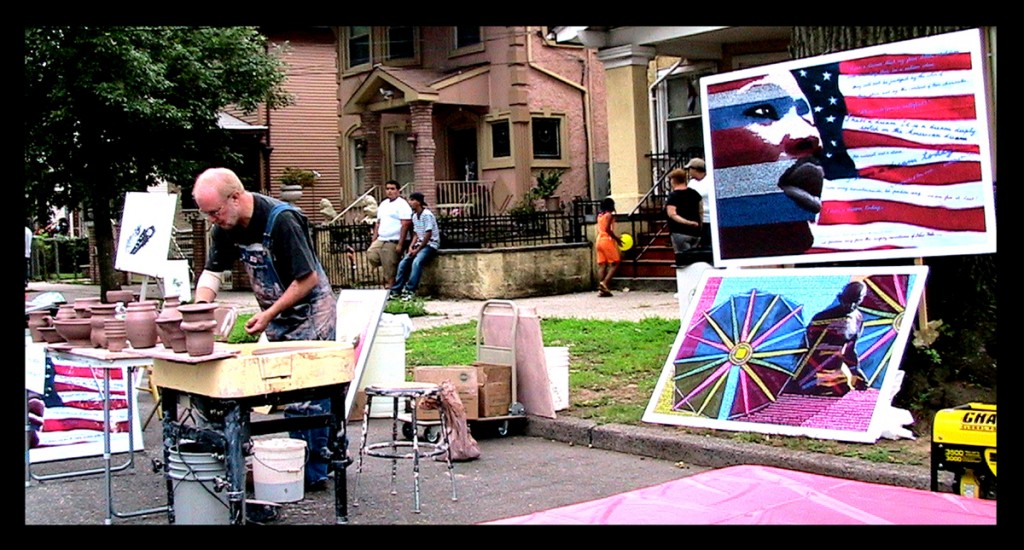 My Peace Project was very successful.  Adults and older children came to my table; I explained the intention of my Peace Project.  I also talked about Gandhi and Dr. King who believed in nonviolence and became good examples for people at the present and the future to follow, in order to achieve peace for mankind as a whole.  Otherwise we will have to spend billions and trillions more for wars.  A lot of fathers, mothers, wives, and husbands have lost their lives because of war.  Remaining are many soldiers with disabilities and children that grow up without their parents.
Link to Peace Project Came to UMDNJ Art Gallery 2nd Page:
https://ingpeaceproject.com/peace-project-participations/peace-project-participations-peace-project-came-to-umdnj-art-gallery-2nd/