View on the Roof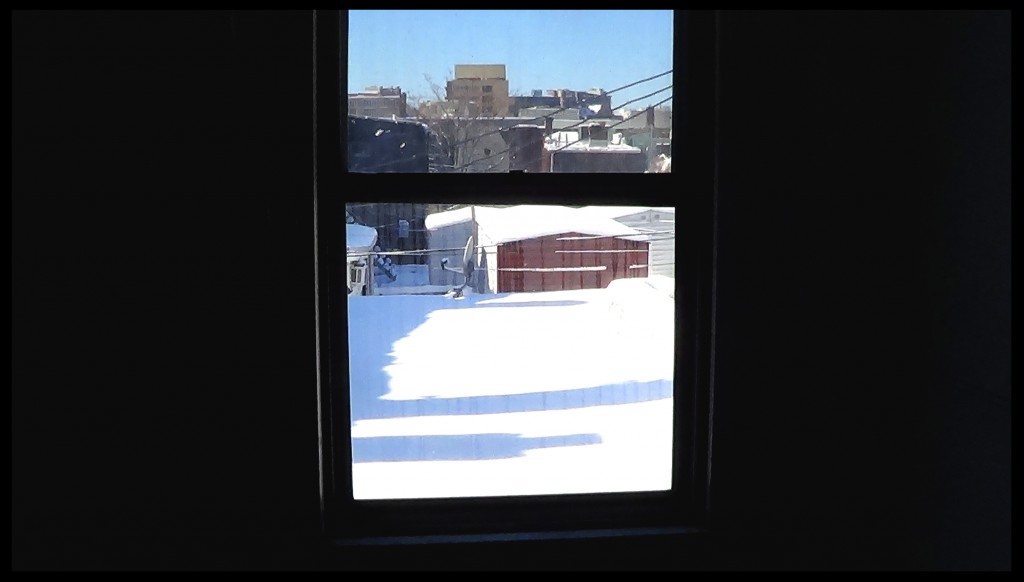 Human Race Forward or Backward 
View on the Roof
Quiet time to prove
Beyond the eyes up high
 The tower clock
Tells us time
From the Rutgers Law School building
 Time of then and time of now
Humans strive for equality and justice
Now and then
Flocks of men and women
Educate themselves with whole hearts
Of love for mankind
Justice then and justice now
Now some are learning laws
To find loopholes
To angle themselves
To become Millionaires and Billionaires
Where is the justice now?
If loopholes are big enough
Rich criminals can get away
From being punished
Justice now or money now!
The scale of balance is tipped to one side
Even five US Supreme Court Justices said O.K.
For rich corporations
To finance political campaigns
Money pours in drowning the airways to get their way
How can the poor population compete
With the millions and billions of the wealthy?
What is justice now?
What was justice then?
And what will justice in the future become?
Does the human race go forward or backward?
Ing-On Vibulbhan-Watts, Monday, March 11, 2013, 4:23 pm
Please read more on Supreme Court's decision to uphold limitless political donations from corporations below and the links to the site as the following:
 https://en.wikipedia.org/wiki/Citizens_United_v._Federal_Election_Commission#mw-head#mw-head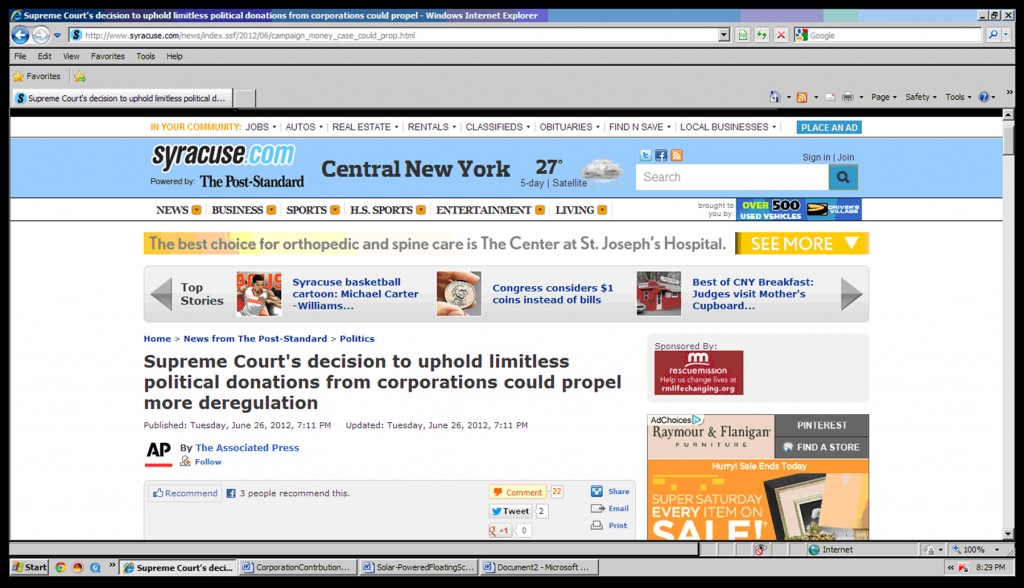 https://www.syracuse.com/news/index.ssf/2012/06/campaign_money_case_could_prop.html 
WASHINGTON (AP) — If you thought the money race in the presidential campaign was already the Wild West, you haven't seen anything yet.
The Supreme Court's decision to uphold limitless political donations from corporations sets the stage for campaigns and outside groups to press boundaries even further. Hundreds of millions of dollars in outside spending will continue to pour into the presidential election as super political committees, or super PACs, are emboldened by the court's ruling and feckless federal regulators.
Super PACs are increasingly blurring the lines between their ability to spend freely on political campaigns and the legal prohibition against coordinating directly with politicians. There are renewed calls for new federal rules that would permit unlimited contributions directly to candidates or anonymous large donations.
And the U.S. watchdog agency responsible for enforcing the rules — the Federal Election Commission — has been ineffectual. The FEC's six members — three Democrats and three Republicans — have been deadlocked, unable to decide just how far super PACs can coordinate with campaigns.
Monday's court ruling, part of a challenge to aMontanalaw banning corporate contributions, ends for now a controversial saga in the court's 2010 Citizens United case. That case and other federal rulings have stripped away restrictions on political contributions from corporations, labor unions and millionaires and billionaires.
The case is already making its mark: Super PACs and their nonprofit arms have brought in more than $200 million in combined donations this election, with most of that going to GOP groups. The new rules have allowed major players like casino mogul Sheldon Adelson to contribute more than $20 million to support Republican candidates.
President Barack Obama's campaign said Tuesday it is feeling the pressure of outside groups, pointing out that Obama would be the first incumbent president to be outspent by Republican Mitt Romney and super PACs working in Romney's favor. Obama, of course, has his own super PAC working toward his re-election.
"From now until November, the other side will spend more money than at any time in American history," the president said Monday in Durham, N.H. "And almost all of it will be on ads that tell you, 'The economy is bad, it's all Obama's fault.'" The next day, Obama — who himself broke money records by bringing in $750 million four years ago — emailed supporters a fundraising plea with the subject line, "I will be outspent."
The court reaffirmed that political speech is protected under the First Amendment even when its source is a corporation. And in an election already brimming with cash from super PACs, the decision leaves no ambiguity that the practice will continue. In effect, the decision left Citizens United standing and "the enormous damage it is doing to our democracy and political system," said Democracy 21 President Fred Wertheimer, a frequent critic of super PACs and limitless money in politics.
Lines are blurring between the activities of super PACs and the campaigns that they are supporting. Obama has agreed to allow some senior political staff and even Cabinet members to attend fundraisers organized by Priorities USA Action, the super PAC supporting his re-election. When Romney hosted a lavishUtahretreat this weekend for his top campaign donors, officials from Republican super PACs — including Karl Rove of American Crossroads — spoke on panels or met with Romney's campaign staff.
Those activities don't violate election laws, which prohibit coordination of advertising between PACs and the campaigns they support. The two camps can talk with each other, and the candidates can appear at super PAC events. But the court's ruling will embolden groups to strip away those esoteric distinctions.
Practically speaking, super PACs and candidates have long coordinated during this election. Super PACs working in a candidate's favor employ their former advisers familiar with strategy. Some also use the same media and marketing companies.
The court's decision was a victory for those who support few restrictions, saying the First Amendment affords them the right to spend as much as they want to support or defeat a candidate. Reformers vowed to press on, hoping to craft new laws to curb what they call the corrupting influence of money in politics.
The court could have used theMontanacase to revisit the issue of corporations giving money to candidates. Justice Stephen Breyer said campaign spending since 2010 "casts grave doubt on the court's supposition that independent expenditures do not corrupt or appear to do so."
Instead, the opposite happened: The high court did not revisit Citizens United. And campaign finance experts said the court's new decision makes it clear that states must follow it.
Campaign finance reform in the United States
From Wikipedia, the free encyclopedia 
Please read more on Supreme Court's decision to uphold limitless political donations from corporations below and the links to the site as the following:
https://en.wikipedia.org/wiki/Campaign_finance_reform_in_the_United_States
The following content is from part of the article: 
Bipartisan Campaign Reform Act of 2002
The Congress passed the Bipartisan Campaign Reform Act (BCRA), also called the McCain-Feingold bill after its chief sponsors, John McCain and Russ Feingold. The bill was passed by the House of Representatives on February 14, 2002, with 240 yeas and 189 nays, including 6 members who did not vote. Final passage in the Senate came after supporters mustered the bare minimum of 60 votes needed to shut off debate. The bill passed the Senate, 60-40 on March 20, 2002, and was signed into law by President Bush on March 27, 2002. In signing the law, Bush expressed concerns about the constitutionality of parts of the legislation but concluded, "I believe that this legislation, although far from perfect, will improve the current financing system for Federal campaigns … Taken as a whole, this bill improves the current system of financing for Federal campaigns, and therefore I have signed it into law." The bill was the first significant overhaul of federal campaign finance laws since the post-Watergate scandal era. Academic research has used game theory to explain Congress's incentives to pass the Act.[3]
The BCRA was a mixed bag for those who wanted to remove big money from politics. It eliminated all soft money donations to the national party committees, but it also doubled the contribution limit of hard money, from $1,000 to $2,000 per election cycle, with a built-in increase for inflation. In addition, the bill aimed to curtail ads by non-party organizations by banning the use of corporate or union money to pay for "electioneering communications," a term defined as broadcast advertising that identifies a federal candidate within 30 days of a primary or nominating convention, or 60 days of a general election. This provision of McCain-Feingold, sponsored by Maine Republican Olympia Snowe and Vermont Independent James Jeffords, as introduced applied only to for-profit corporations, but was extended to incorporate non-profit issue organizations, such as the Environmental Defense Fund or the National Rifle Association, as part of the "Wellstone Amendment," sponsored by Senator Paul Wellstone.
The law was challenged as unconstitutional by groups and individuals including the California State Democratic Party, the National Rifle Association, and Republican Senator Mitch McConnell (Kentucky), the Senate Majority Whip. After moving through lower courts, in September 2003, the U.S. Supreme Court heard oral arguments in the case, McConnell v. FEC. On Wednesday, December 10, 2003, the Supreme Court issued a ruling that upheld the key provisions of McCain-Feingold; the vote on the court was 5 to 4. Justices John Paul Stevens and Sandra Day O'Connor wrote the majority opinion; they were joined by David Souter, Ruth Bader Ginsburg, and Stephen Breyer, and opposed by Chief Justice William Rehnquist, Anthony Kennedy, Clarence Thomas, and Antonin Scalia.
Since then, campaign finance limitations continue to be regulated in the Courts. In an interesting case, in 2005 in Washington state, Thurston County Judge Christopher Wickham ruled that media articles and segments were considered in-kind contributions under state law. The heart of the matter focused on the I-912 campaign to repeal a fuel tax, and specifically two broadcasters for Seattle conservative talker KVI. Judge Wickham's ruling was eventually overturned on appeal in April 2007, with the Washington Supreme Court holding that on-air commentary was not covered by the State's campaign finance laws. (No New Gas Tax v. San Juan County).
In 2006, the United States Supreme Court issued two decisions on campaign finance. In Federal Election Commission v. Wisconsin Right to Life, Inc., it held that certain advertisements might be constitutionally entitled to an exception from the 'electioneering communications' provisions of McCain-Feingold limiting broadcast ads that merely mention a federal candidate within 60 days of an election. On remand, a lower court then held that certain ads aired by Wisconsin Right to Life in fact merited such an exception. The Federal Election Commission appealed that decision, and in June 2007, the Supreme Court held in favor of Wisconsin Right to Life. In an opinion by Chief Justice John Roberts, the Court declined to overturn the electioneering communications limits in their entirety, but established a broad exemption for any ad that could have a reasonable interpretation as an ad about legislative issues.
Also in 2006, the Supreme Court held that a Vermont law imposing mandatory limits on spending was unconstitutional, under the precedent of Buckley v. Valeo. In that case, Randall v. Sorrell, the Court also struck down Vermont's contribution limits as unconstitutionally low, the first time that the Court had ever struck down a contribution limit.
In March 2009, the U.S. Supreme Court heard arguments about whether or not the law could restrict advertising of a documentary about Hillary Clinton.[4] Citizens United v. Federal Election Commission was decided in January 2010, the Supreme Court finding that §441b's restrictions on expenditures were invalid and could not be applied to Hillary: The Movie.
[edit] DISCLOSE Act of 2010
The DISCLOSE Act (S. 3628) was proposed in July 2010. The bill would have amended the Federal Election Campaign Act of 1971 to prohibit foreign influence in federal elections, prohibit government contractors from making expenditures with respect to such elections, and it established additional disclosure requirements with respect to spending in such elections. The bill would impose new donor and contribution disclosure requirements on nearly all organizations that air political ads independently of candidates or the political parties. The legislation would require the sponsor of the ad to appear in it and take responsibility for it. President Obama argued that the bill would reduce foreign influence over American elections. Democrats needed at least one Republican to support the measure in order to get the 60 votes to overcome GOP procedural delays, but were unsuccessful.[5][6]
Occupy movement-inspired constitutional amendments
In response to the Occupy Wall Street protests and the worldwide occupy movement calling for U.S. campaign finance reform eliminating corporate influence in politics, among other reforms, Representative Ted Deutch introduced the "Outlawing Corporate Cash Undermining the Public Interest in our Elections and Democracy" (OCCUPIED) constitutional amendment on November 18, 2011.[24][25] The OCCUPIED amendment would outlaw the use of for-profit corporation money in U.S. election campaigns and give Congress and states the authority to create a public campaign finance system.[26] Unions and non-profit organizations will still be able to contribute to campaigns.[27] On November 1, 2011, Senator Tom Udall also introduced a constitutional amendment in Congress to reform campaign finance which would allow Congress and state legislatures to establish public campaign finance.[28] Two other constitutional campaign finance reform amendments were introduced in Congress in November, 2011.[29] Similar amendments have been advanced by Dylan Ratigan,[30] Karl Auerbach,[31] Cenk Uygur,[32] and others.[33][34]
Harvard law professor and Creative Commons board member Lawrence Lessig had called for a constitutional convention[35] in a September 24–25, 2011 conference co-chaired by the Tea Party Patriots' national coordinator,[36] in Lessig's October 5 book, Republic, Lost: How Money Corrupts Congress – and a Plan to Stop It,[37] and at the Occupy protest in Washington, DC.[38] Reporter Dan Froomkin said the book offers a manifesto for the Occupy Wall Street protestors, focusing on the core problem of corruption in both political parties and their elections,[39] and Lessig provides credibility to the movement.[40] Lessig's initial constitutional amendment would allow legislatures to limit political contributions from non-citizens, including corporations, anonymous organizations, and foreign nationals, and he also supports public campaign financing and electoral college reform to establish the one person, one vote principle.[41] Lessig's web site convention.idea.informer.com allows anyone to propose and vote on constitutional amendments.[42] On October 15, the Occupy Wall Street Demands Working Group, published the 99 Percent Declaration[43] of demands, goals, and solutions, including a call to amend the U.S. Constitution to reform campaign finance.[44][45][46] Occupy movement protesters have joined the call for a constitutional amendment.[47][48][49][50]
[edit] Citizens United v. Federal Election Commission
In Citizens United v. Federal Election Commission, on Jan, 2010, the US Supreme court ruled that corporations and unions can not constitutionally be prohibited from promoting the election of one candidate over another candidate.[51]
[edit] Ruling
Justice Kennedy's majority opinion[52] found that the BCRA §203 prohibition of all independent expenditures by corporations and unions violated the First Amendment's protection of free speech. The majority wrote, "If the First Amendment has any force, it prohibits Congress from fining or jailing citizens, or associations of citizens, for simply engaging in political speech."
Justice Kennedy's opinion for the majority also noted that since the First Amendment (and the Court) do not distinguish between media and other corporations, these restrictions would allow Congress to suppress political speech in newspapers, books, television and blogs.[53] The Court overruled Austin v. Michigan Chamber of Commerce, 494 U.S. 652 (1990), which had held that a state law that prohibited corporations from using treasury money to support or oppose candidates in elections did not violate the First and Fourteenth Amendments. The Court also overruled that portion of McConnell v. Federal Election Commission, 540 U.S. 93 (2003), that upheld BCRA's restriction of corporate spending on "electioneering communications". The Court's ruling effectively freed corporations and unions to spend money both on "electioneering communications" and to directly advocate for the election or defeat of candidates (although not to contribute directly to candidates or political parties).
The majority argued that the First Amendment protects associations of individuals as well as individual speakers, and further that the First Amendment does not allow prohibitions of speech based on the identity of the speaker. Corporations, as associations of individuals, therefore have speech rights under the First Amendment.
[edit] Dissent
Justice Stevens, J. wrote, in partial dissent:
The basic premise underlying the Court's ruling is its iteration, and constant reiteration, of the proposition that the First Amendment bars regulatory distinctions based on a speaker's identity, including its "identity" as a corporation. While that glittering generality has rhetorical appeal, it is not a correct statement of the law. Nor does it tell us when a corporation may engage in electioneering that some of its shareholders oppose. It does not even resolve the specific question whether Citizens United may be required to finance some of its messages with the money in its PAC. The conceit that corporations must be treated identically to natural persons in the political sphere is not only inaccurate but also inadequate to justify the Court's disposition of this case.
In the context of election to public office, the distinction between corporate and human speakers is significant. Although they make enormous contributions to our society, corporations are not actually members of it. They cannot vote or run for office. Because they may be managed and controlled by nonresidents, their interests may conflict in fundamental respects with the interests of eligible voters. The financial resources, legal structure, and instrumental orientation of corporations raise legitimate concerns about their role in the electoral process. Our lawmakers have a compelling constitutional basis, if not also a democratic duty, to take measures designed to guard against the potentially deleterious effects of corporate spending in local and national races.[51]
Justice Stevens also wrote: "The Court's ruling threatens to undermine the integrity of elected institutions across the Nation. The path it has taken to reach its outcome will, I fear, do damage to this institution. Before turning to the question whether to overrule Austin and part of McConnell, it is important to explain why the Court should not be deciding that question."[54]
[edit] Public response
Senator McCain, one of the two original sponsors of campaign finance reform, noted after the decisions that "campaign finance reform is dead" – but predicted a voter backlash once it became obvious how much money corporations and unions now could and would pour into campaigns.[55]
Mitch McConnell said "Our democracy depends upon free speech, not just for some but for all."[56]
In a Washington Post-ABC News poll in early February 2010 it was found that roughly 80% of Americans were opposed to the January 2010 Supreme court's ruling. The poll reveals relatively little difference of opinion on the issue among Democrats (85 percent opposed to the ruling), Republicans (76 percent) and independents (81 percent).[57] In response to the ruling, a grassroots, bipartisan group called Move to Amend was created to garner support for a constitutional amendment overturning corporate personhood and declaring that money is not speech.[58]
This page was last modified on 10 March 2013 at 02:51. 
Link to My Snow Gardem:
https://ingpeaceproject.com/ings-poems/my-snow-garden/