Ing's Peace Project
Comes to,
Thomson Reuters, NYC,
June 2012, part 2
Organized by Radhika Menon
Below are Shadow of Peace, Thai Art and Comments on "What does Peace mean to you?" By Radhika Menon's friends who work at Thomson Reuters, New York City, organized by Radhika Menon, during June 2012  Finished artwork, after the written comments                   by Ing-On Vibulbhan-Watts 
I enjoyed experimenting with different designs.  I cannot decide which one to pick for this project.  So I decided to put all the  designs of artwork that I worked on.  I will let you, the viewer; select the one that you prefer the most from these  artworks.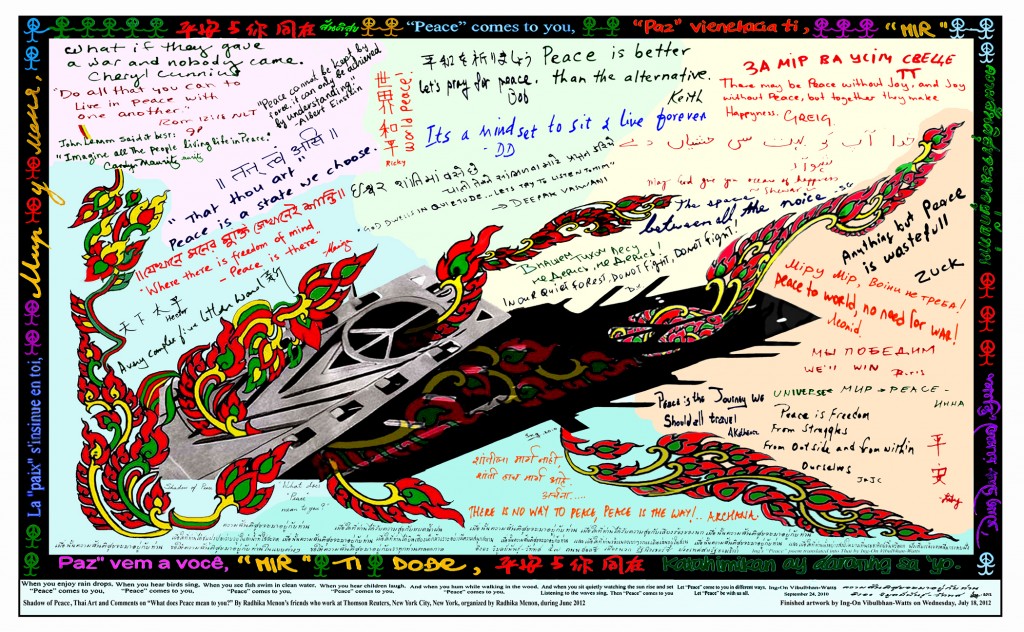 The following is Thomson Reuters information from Wikipedia :
Thomson Reuters Building in Times Square, Midtown Manhattan.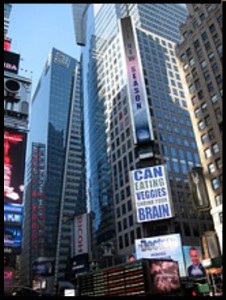 3 Times Square, as seen from 43rd Street and Broadway in New York City.
Thomson Reuters Corporation is a business data provider and was created by the Thomson Corporation's purchase of Reuters Group on 17 April 2008.[2] Thomson Reuters is headquartered at 3 Times Square, Manhattan, New York City, New York, United States. The Woodbridge Company, a holding company for the Thomson family of Canada, owns 53% of the group,[3] which operates in 100 countries, and has over 55,000 employees. Thomson Reuters was ranked as Canada's "leading corporate brand" in the 2010 Interbrand Best Canadian Brands ranking.[4] Thomson Reuters operates in two divisions: Professional and Markets.
Link to UMDNJ Art Gallery Sunday, May 15, 2011 page:
https://ingpeaceproject.com/peace-project-participations/peace-project-participations-peace-comes-to-umdnj-art-gallery-sunday-may-15-2011/