Tear Drops of the Past 
Remembering twenty five year ago
I was young once
Standing here as younger ones do
Working very hard, talking to everyone
And going everywhere
With my determination and believes
Helping me through
Hey Mom I made it
For the second time
Even though they tried to humiliate me
 Shouting at me "You lie!"
You taught me to be patient and have perseverance
I remember you kept me straight
Your voice is always with me
Just hope that I have dad's voice too
Gramps and Toot
Where are you?
I look around I see no one
At least I see my little sister
Cheering me on
Life leads you in unexpected ways
I made it
Now history can be told
I hope I can do the best for the country
More people need me
They have chosen me
I have work to do
As I raise my hand
Wiping away my tears
Looking at all the young ones
Who believe in me
I cannot give up
Not now
Not ever
I will work for them and for all
Ing-On Vibulbhan-Watts, Sunday, November 11, 2012, 8:51 P.M.
This poem expresses my feelings as if I put myself in his shoes.  I might be misreading what President Barack Obama thinks.  Forgive me for portraying his character, as actors emulate real life as their own.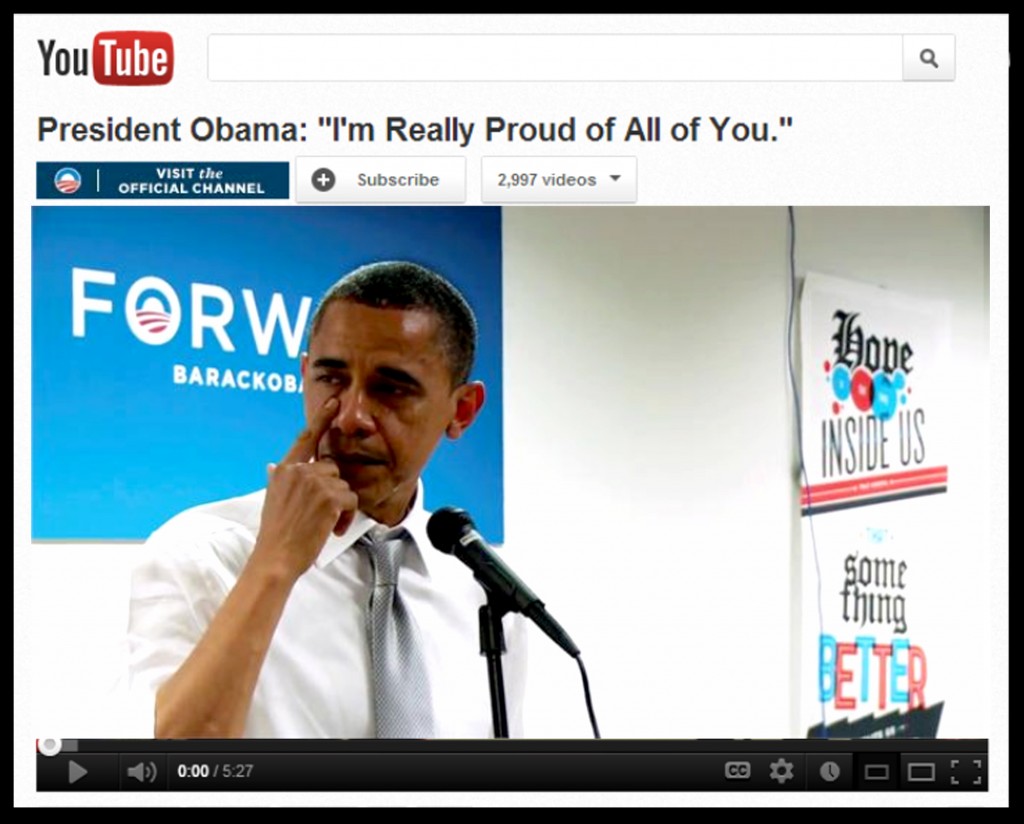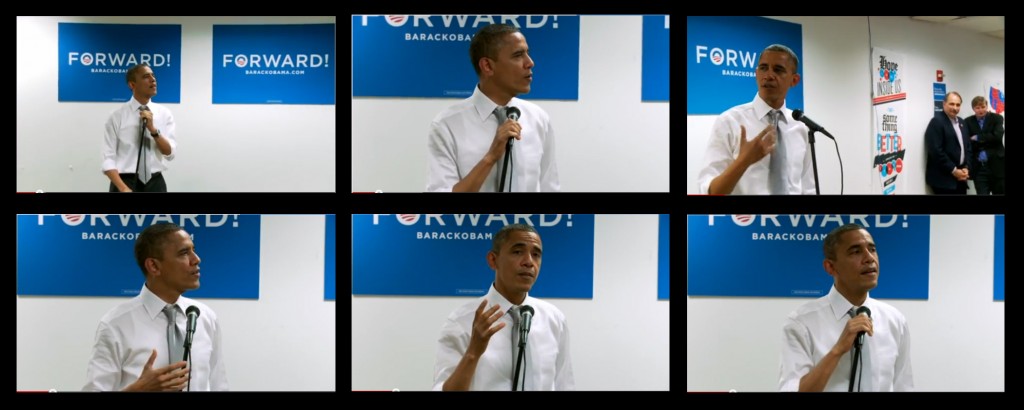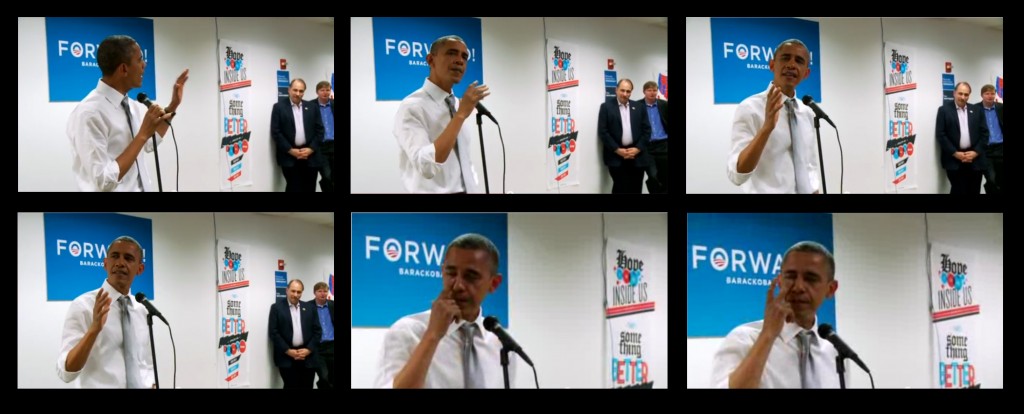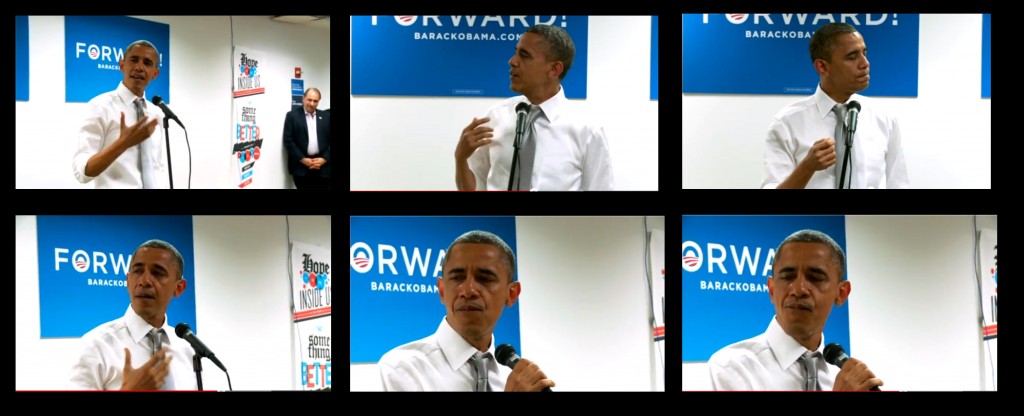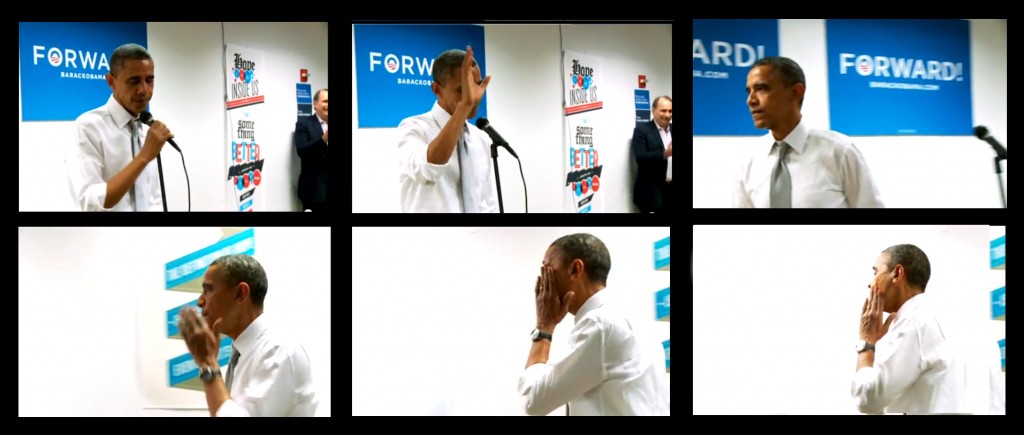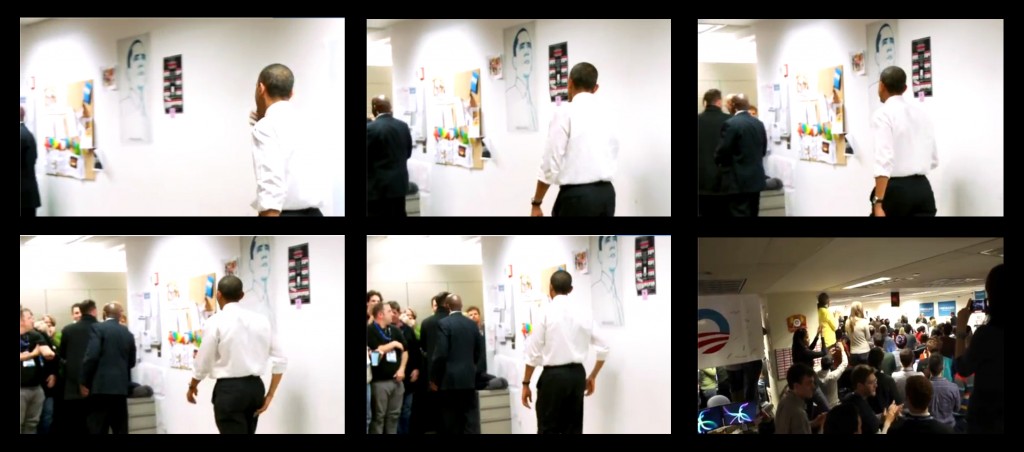 https://www.youtube.com/watch?v=pBK2rfZt32g 
Published on Nov 8, 2012 by BarackObamadotcom
Thank you. This is your victory.
Share this: https://OFA.BO/KGcZrd
Tweet this: https://OFA.BO/oXu4tq
License:     Standard YouTube License
Transcript                   https://www.bangkokpost.com/learning/learning-from-news/320365/obama-to-visit-bangkok
Ladies and Gentlemen, the re-elected president of the United States.
So, you guys…you know, I try to picture myself when I was your age when I first moved to Chicago at the age of 25 and I had this vague inkling about making a difference. I didn't really know how to do it. I didn't have a structure and there wasn't a presidential campaign at the time that I could attach myself too – Ronald Reagan had just been re-elected and was incredibly popular and….so I came to Chicago knowing that somehow I wanted to make sure that my life attached itself to helping kids get a greater ?? or helping people living in poverty to get decent jobs and be able to work and have dignity, to make sure that people didn't have to go to the emergency room for health care.
And, I ended up being a community organiser out on the southside of Chicago, it was something the local churches were willing to hire me and I didn't know at all what I was doing. And the work that I did in those communities changed me much more than I changed the communities because it taught me the hopes and aspirations of and the grit and resilience of ordinary people. And it taught me that under the surface differences we all have common hopes and common dreams and it taught me something that…how I handled disappointment and what it meant to work hard on a common endeavour and I grew, I became a man during that process.
And so I come here and I look at all of you, what comes to mind, it's not that you guys actually remind me of myself, it's the fact that you are so much better than I was… in so many ways. You're smarter, you're better organised and you're more effective and, so I'm absolutely confident that all of you are going to amazing things in your lives. And, the – what Bobby Kennedy called the "ripples of hope" that come out when you throw a stone in a lake, that's going to be you. I'm just looking around the room and I'm thinking where will you guys end up – in whatever states and whatever capacities, whether you're in the private sector, in the not-for-profit or if some of you decide to go into public service, you're just going to do great things.
And that's why, even before last night's results, I felt the work that I had done in running for office had come full circle because what you guys have done means that the work that I'm doing is important. And I'm really proud of that. I'm really proud of all of you.
And what you describe…what you guys accomplished will go on in the annals of history and people will read about it and will marvel about it, but the most important thing you need to know is that your journey is just beginning. You're just starting. And whatever good we do in the next four years will pale in comparison to what you guys end up accomplishing for years and years to come. And that's been my source of hope. That's why in the last four years when people ask me about how do you put up with this or that and the frustrations of Washington, I just think about you. I think about what you guys are going to do. And that's the source of my hope. That's the source of my strength and my inspiration. And I know that you guys won't disappoint me because I've already seen who you guys are and you guys are all remarkable people and you've lifted me up each and every step of the way. Thank you guys.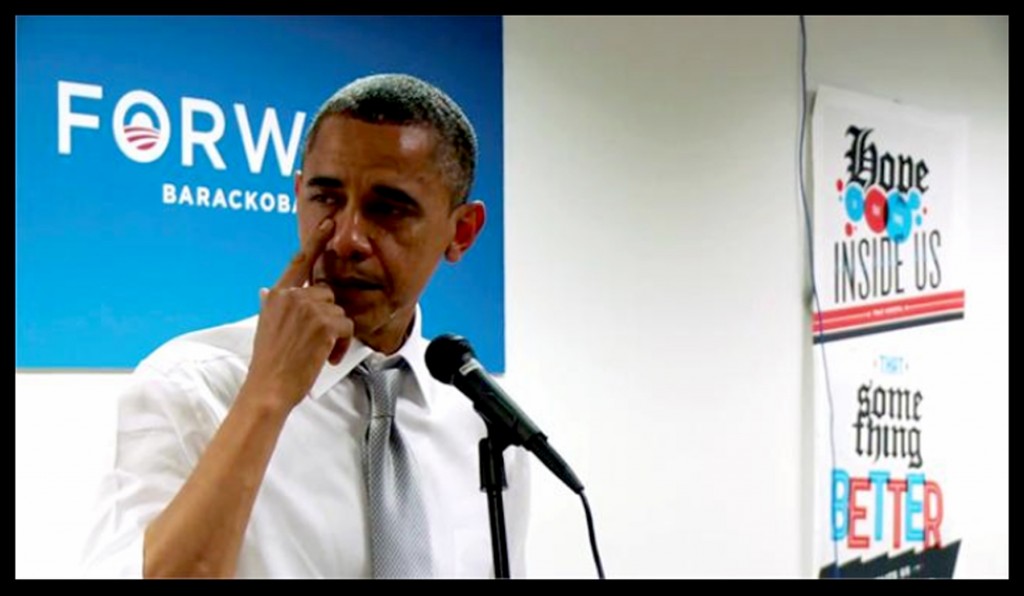 By Ken Thomas        https://news.msn.com/politics/obama-tears-up-while-speaking-to-staff
In a speech to his campaign staff in Chicago, President Obama told the staffers and volunteers that they will do "amazing things" in their lives.
WASHINGTON— In a new video released by his campaign, President Barack Obama wipes away tears as he thanks members of his campaign staff and volunteers.
Obama's campaign released a five-minute video of the president's address Wednesday to members of his staff at his Chicago headquarters. The short speech came a day after he won re-election.
The president talks about his work as a community organizer in Chicago and tells staffers and volunteers that they will do "amazing things" in their lives.
Obama becomes emotional when he says that even before the election results, he felt the work he had done "had come full circle." He tells staff members that he is proud of the work they did, then pauses to wipe away tears.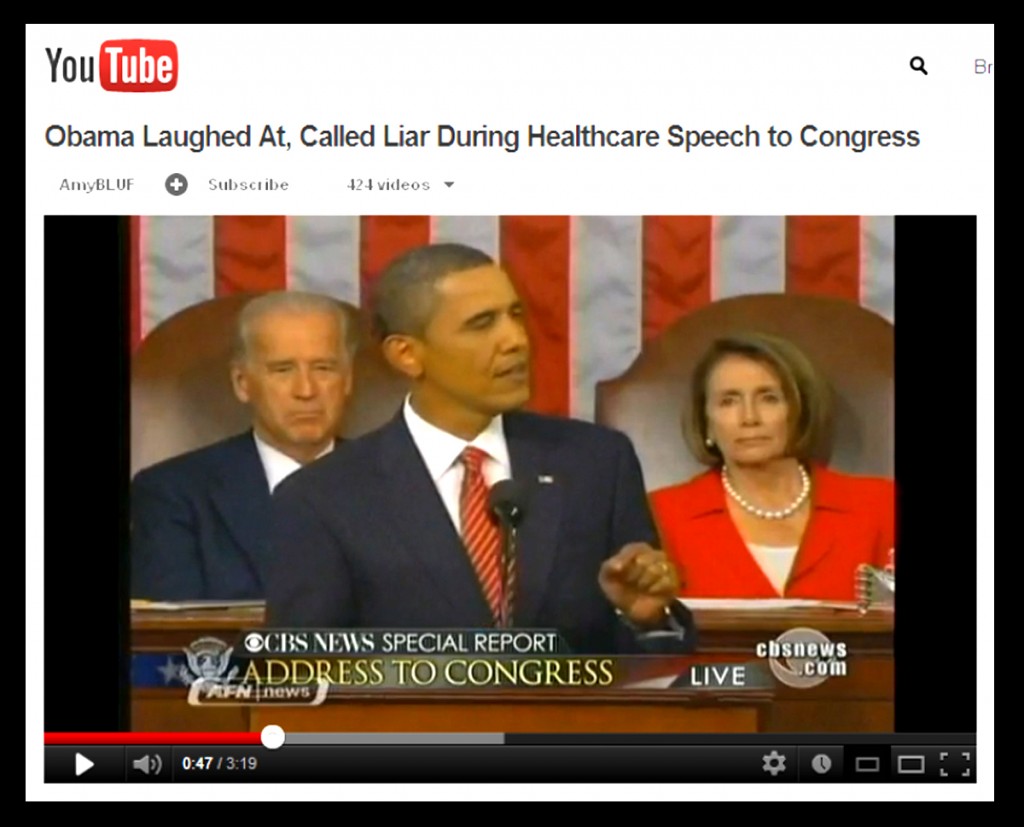 Link:  https://www.youtube.com/watch?feature=endscreen&v=Odkk4VD4p6Q&NR=1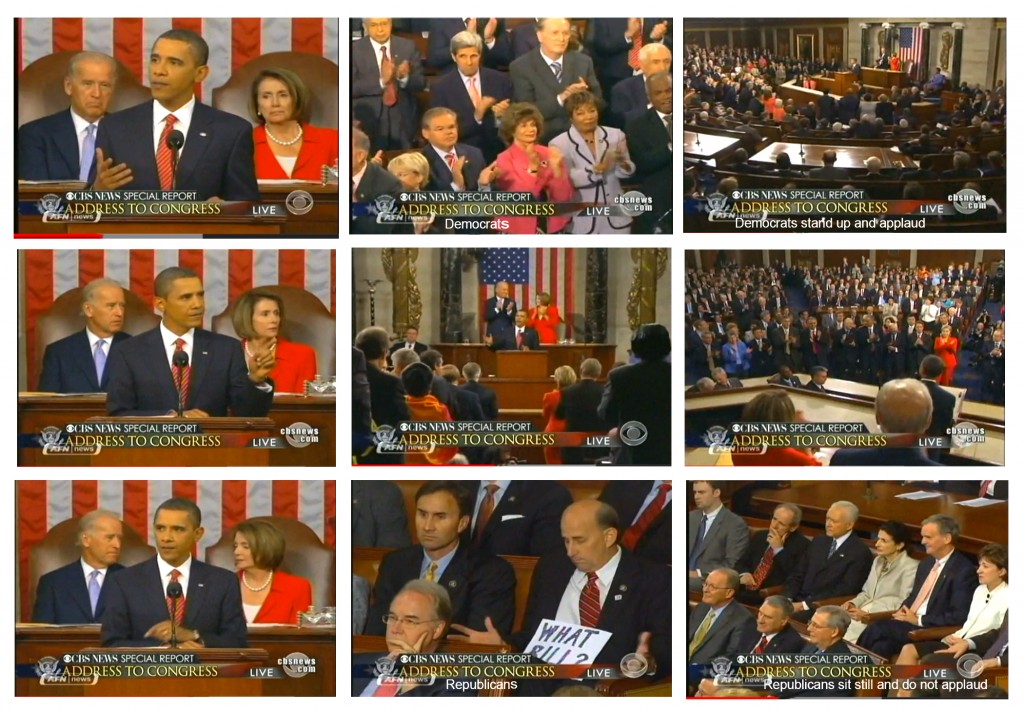 Joe Wilson says outburst to Obama speech 'spontaneous'
 September 10, 2009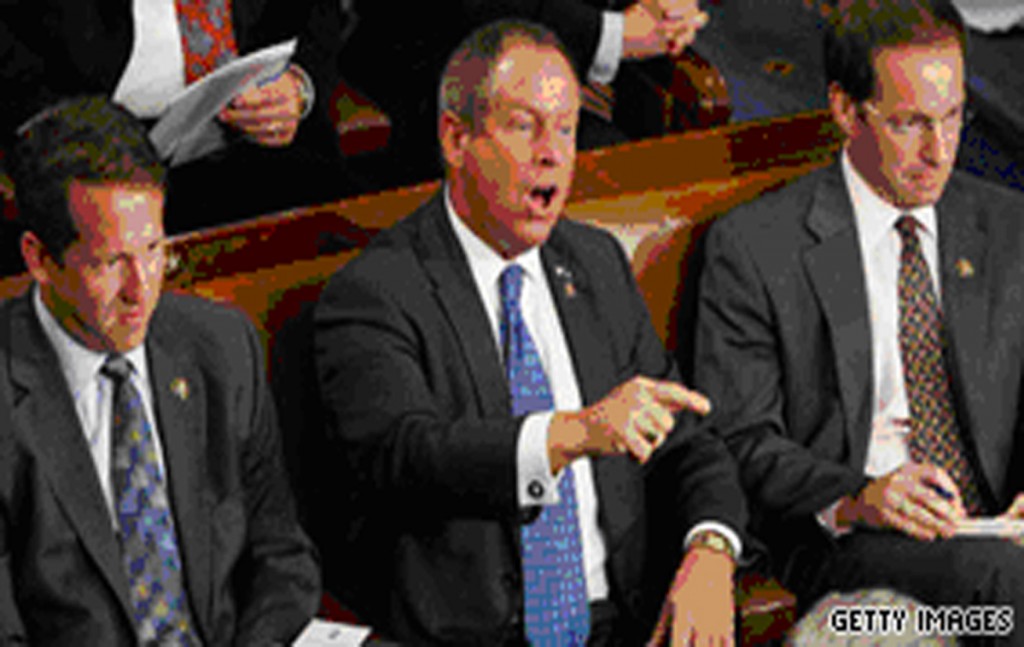 Rep. Joe Wilson shouts, "You lie!" after President Obama denies the health plan would cover illegal immigrants.
The GOP congressman from South Carolina who shouted out during President Obama's health care address to Congress insisted Thursday that his outburst was "spontaneous."
Rep. Joe Wilson shocked many observers Wednesday night when he shouted, "You lie!" after the president denied that health care legislation would provide free coverage for illegal immigrants.
Some people using Twitter suggested that Wilson's retort was planned and pointed to a comment the lawmaker posted on Labor Day:
"Happy Labor Day! Wonderful parade at Chapin, many people called out to oppose Obamacare which I assured them would be relayed tomorrow to DC," the tweet fromWilson's account said.
Joe Wilson says outburst to Obama speech 'spontaneous'
       Story Highlights
       NEW: President Obama says he accepts Rep. Joe Wilson's apology
      Wilson says GOP leadership told him to call White House, apologize
      Wilson issued apology to president over "You lie!" outburst during speech
       Outburst came when Obama denied health care plan covered illegal immigrants
Addison Graves "Joe" Wilson, Sr. is the U.S. Representative for South Carolina's 2nd congressional district, serving since 2001. The district stretches from the state capital, Columbia, to the resort towns of Beaufort and Hilton Head Island. Wikipedia
However, on the way to his office Thursday morning, Wilson said his outburst wasn't planned.
"It was spontaneous. It was when he stated, as he did, about not covering illegal aliens, when I knew we had those two amendments, and I say that respectfully,"Wilson said.
He was referring to two amendments on one version of proposed health care legislation, which he said would have provided for verification of citizenship. Both of the amendments were defeated, he said. Fact check: Will plan cover illegal immigrants?
Don't Miss
                       Lawmaker's heckle raises hackles online
                       iReport.com: Did Obama's speech hit the mark?
Wilson also cited a report by the Congressional Research Service that he said showed the health care proposals would include illegal aliens.
"And I think that is wrong," he said.
"We need to be discussing issues specifically to help the American people. And that would not include illegal aliens. These are people — I'm for immigration — legal immigration. I've been an immigration attorney. But people who have come to our country and violated laws, we should not be providing full health care services," he said.
A CNN review of the Congressional Research Service report found that the health care legislation does address illegal immigrants. It says that noncitizens who can be considered "resident aliens" under tax law, which doesn't distinguish between legal and illegal immigrants, would be required to buy health insurance.
Yet the proposal clearly says that federal subsidies would go only to U.S.citizens and immigrants who are in the United States legally.
Republican congressional leaders told Wilsonon Wednesday night that they wanted him to tell the White House that his comments were "inappropriate," Wilsonsaid Thursday. Watch the lawmaker describe his call to the White House »
Shortly after Obama's speech,Wilson called the White House and issued a statement apologizing for his "inappropriate and regrettable" comments.
According to Wilson, administration officials said they appreciated his call and emphasized the need for "a civil discussion."
"I certainly agree with that,"Wilson said.
Obama told reporters at a Cabinet meeting Thursday morning that he accepted Wilson's apology. Watch the president say he appreciates the apology »
Democrats and Republicans have criticized the South Carolina congressman for what they described as disrespect for the president. Watch the outburst and the chamber's response »
Wilson's shout wasn't the only demonstration of displeasure that Republicans made during the speech.
Rep. Louie Gohmert, R-Texas, wore a sign around his neck that said, "What bill?" And when Obama asked Republicans to share their ideas to overhaul health care, a small group raised up a stack of papers above their heads. iReport.com: "You are disrespectful, sir"
After the speech, Sen. John McCain ofArizona, the Republican presidential candidate last year, called Wilson's out burst "totally disrespectful" and said he should apologize.
McCain told CNN's "Larry King Live" there was "no place for it in that setting or any other and he should apologize immediately."
Other Republicans also criticized Wilson, along with the expected Democratic condemnation.
"It was crude and disrespectful," said Senate Majority Whip Dick Durbin, D-Illinois. "I think the person who said it will pay a price."
House Majority Whip Jim Clyburn, D-South Carolina, said, "I was always taught that the first sign of a good education is good manners. I think that what we saw tonight was really bad manners.
"And having a spirited debate is one thing, exercising bad manners is another. That was beyond the pale — and I would hope that he would publicly apologize on that same floor to the president of the United Statesfor that insult."
And Wilson's outburst may come with a steep political price. iReport.com: Share your take on the speech
The five-term lawmaker represents the 2nd Congressional District, which includes the state capital, Columbia, and stretches to Beaufort and Hilton Head Island.
Wilson's likely 2010 Democratic challenger, Rob Miller, has raised more than $200,000 from 5,000 donors since Wednesday night, the Democratic Congressional Campaign Committee said.
Miller accused Wilson of "engaging in childish name-calling and disrespecting our commander in chief." 
Wilson's shout prompted Democrats on the Internet to direct donors to Miller's Web site and to a Democratic fundraising site, ActBlue. iReport.com: Share your take on the speech
Miller gave Wilsonthe toughest re-election challenge of his career last year in one of the country's most conservative congressional districts. Miller lost by 8 percentage points. He plans to challenge Wilson again next year.
 Share this on:
Mixx Facebook Twitter Digg del.icio.us reddit MySpace StumbleUpon
CNN's Peter Hamby and Deirdre Walsh contributed to this report.
All About Barack Obama • Joe Wilson (Politician)