Darkness When Sandy Comes
 Hurricane Sandy
No clock strikes
When darkness consumes
Waiting for the sunlight
When morning rises
For now only flash light
Walks us through
The spot light strikes
On the circular Gandhi portrait
That hangs on the wall
The rest is as dark as New Jersey and New York
When Sandy visits
On Monday, October 29, 2012
People who live near the seashore
Are running away from Hurricane Sandy
She came with force
Bringing strong wind and water
To the seashore and upland
New York City subways are flooded
Water rises to ceilings
New Jersey Path Stations and tunnels fill with water
She destroys homes, cars & others
With ferocious power
Those who evacuate to higher land are safe
But poor souls who stay on suffer the consequence
We are managing quit well
We still have water and gas for stove to cook
Plenty of food we prepare
We cook some eggs
And pack food from the frig
To leave outside on our porch
The weather outside is
Below 50 degree Fahrenheit
Our food can survive
For a couple of days till electric lights and power reappear
We are surprised when Chelsea and friend visit us
Just a cup of Jasmine tea from John's hand made mug
 With an image of Han Solo frozen in clay
And my homemade jam with whole wheat pita bread
And roasted nuts we share
We were glad to see them
Telling them to hurry home before dark
We clean, we cook, we organize
 Before sunset comes
Luckily our radio with batteries
Gives us the news
We feel lucky that Sandy's ferocious temper
Gives us little affect
But sorry we are for the unfortunate
Who suffer more with flood and lose of life
President Barack Obama
 Governors Chis Christie and Andrew Cuomo
And mayors from New Jersey and New York manage diligently
The Red Cross and other organizations are ready
Helping one another when trouble comes
We will manage and our lives will go on as usual
But we will grow a little bit more after Sandy is gone
We know life is unpredictable
Good things and bad things are lessons we learn
But if we are sure
Whatever events come
We humans are ready to help one another
For a better life will come in the next day
The sun is gone
 John is in bed
I am ready for bed
For there is no computer to keep me awake
Until five A.M. to do my artwork
I will sneak in bed and sleep by his side
Till sun rise
Now we are together
With darkness enveloping us and beyond
Ing-On Vibulbhan-Watts, Tuesday, October 30, 2012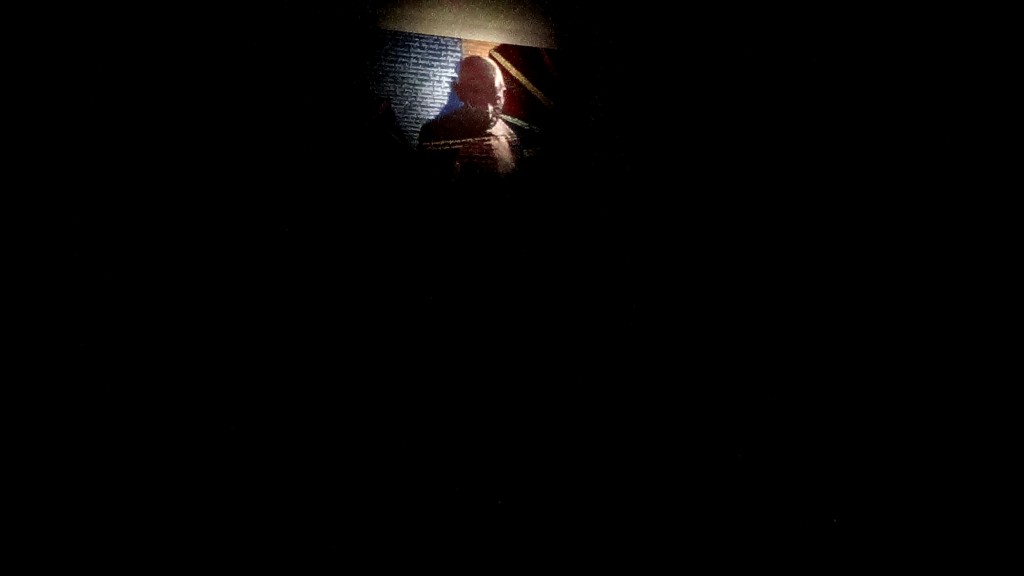 Gandhi in the Dark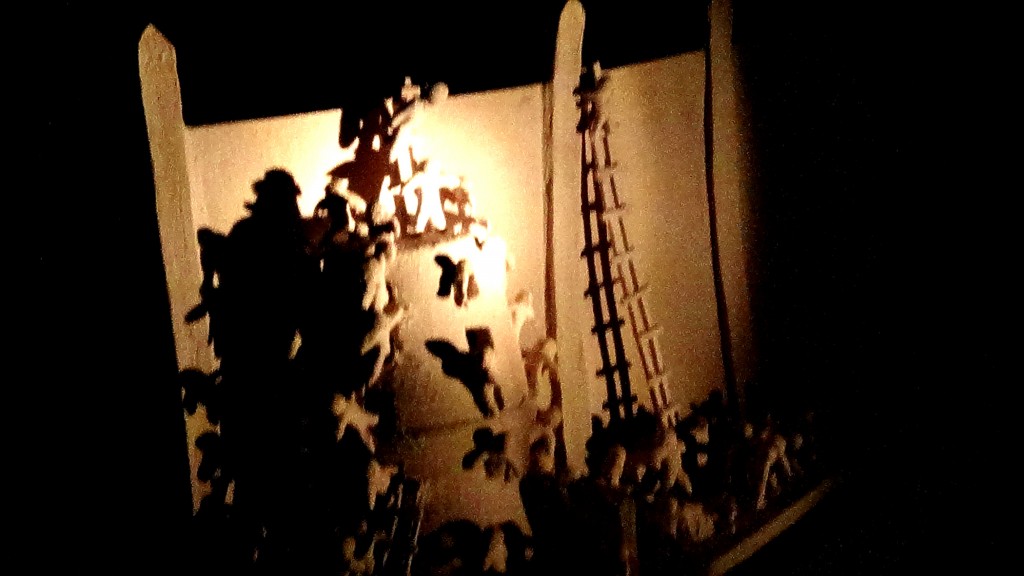 The Wall in the Dark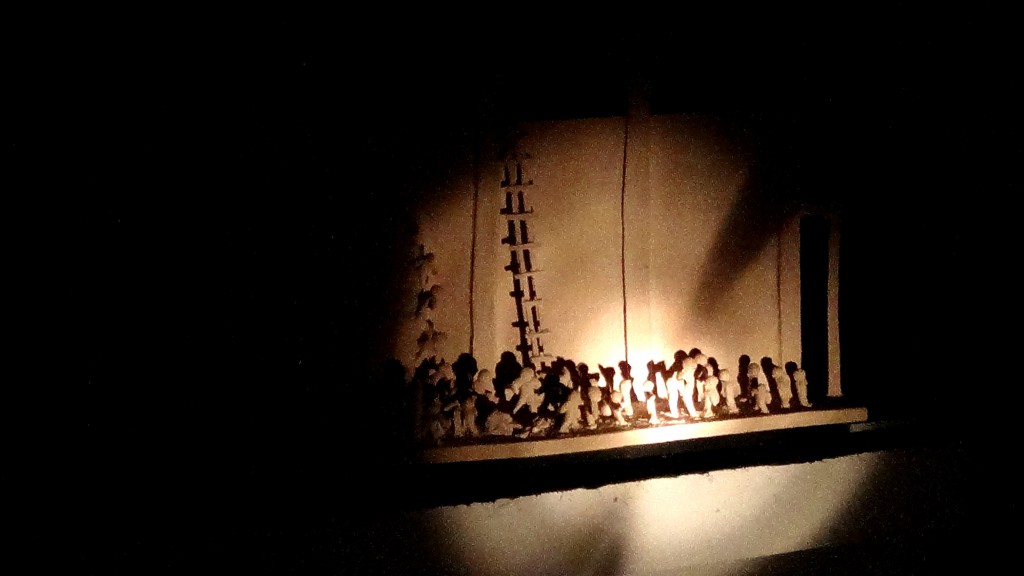 Peace in the Dark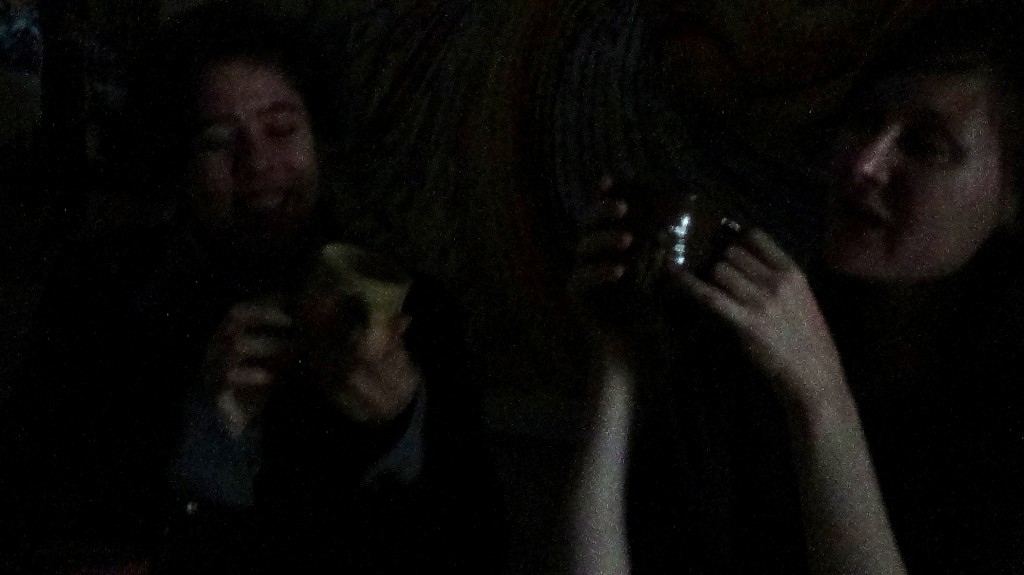 Chelsea and friend in the Dark

John and Ing in the Dark
Hurricane Sandy Part 1
From Wikipedia, the free encyclopedia
Jump to: navigation, search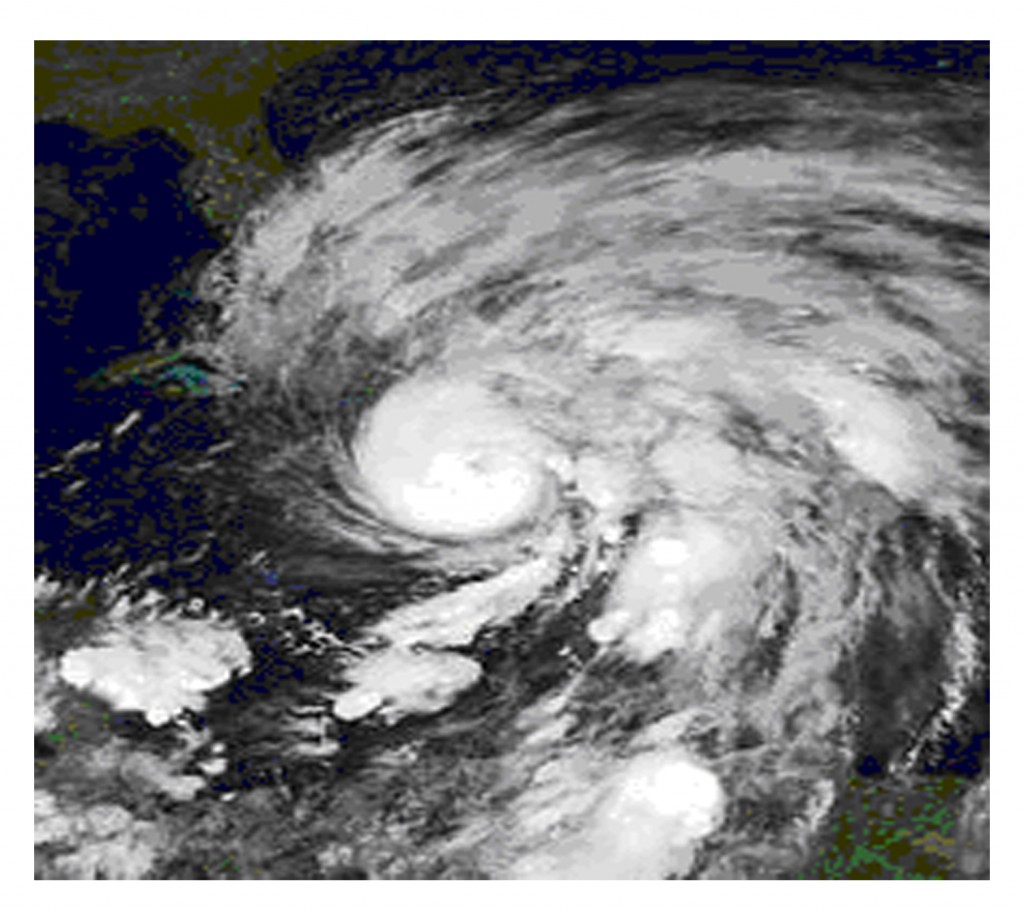 Hurricane Sandy  Category 2 hurricane (SSHS)
Hurricane Sandy at peak intensity on Thursday, October 25, 2012
Formed                 Monday, October 22, 2012
Dissipated            Wednesday, October 31, 2012 
                             (Extratropical after Monday, October 29, 2012)
Highest wind         One minute sustained 110 mph (175 km/h)
Lowest pressure   940 mbar (hPa); 27.76 inHg
Fatalities                170 (up to Tuesday, October 30, 2012)
Damage                 At least 50 billion (2012 USD)
Areas affected       Greater antilles, Bahamas, most of the eastern United  States  (especially the coastal Mid-Atlantic States and New England), Bermuda, eastern Canada
Part of the 2012 Atlantic hurricane season
Sandy developed from a tropical wave in the western Caribbean Sea on Monday, October 22. It became a tropical depression, quickly strengthened, and was upgraded to a tropical storm six hours later. Sandy moved slowly northward toward the Greater Antilles and gradually intensified. On Wednesday, October 24, Sandy was upgraded to a hurricane, shortly before making landfall in Jamaica. Upon moving farther north, Sandy re-entered water and made its second landfall in Cuba during the early morning of Thursday, October 25 as a Category 2 hurricane. During the late evening of Thursday, October 25, Sandy weakened to Category 1 strength; in the early hours of Friday, October 26, it headed north through the Bahamas.[7] Sandy began to show some characteristics of both tropical and extratropical cyclones on Friday, October 26.[8] Sandy briefly weakened to a tropical storm in the early morning hours of Saturday, October 27, then restrengthened to a Category 1 hurricane later that morning. Just before 8 a.m. EDT on Monday, October 29, Sandy turned to the north-northwest and started to make its expected approach towards the U.S. coast. At 7 p.m. EDT that evening, Sandy was declared a post-tropical cyclone, while still maintaining Category 1 strength.[9] Sandy made its final landfall 5 miles (8.0 km) southwest of Atlantic City, New Jersey at about 8 p.m. EDT on Monday, October 29.[10]
In the United States, Hurricane Sandy affected at least 24 states, from Florida to New England, with tropical storm force winds stretching far inland and mountain snows in West Virginia. The cyclone brought a destructive storm surge to New York City on the evening of Monday, October 29, flooding numerous streets, tunnels and subway lines in Lower Manhattan, Staten Island, Coney Island, the Rockaways and other areas of the city and cutting off electricity to parts of the city and its suburbs, especially Zone A areas near waterways which were issued evacuation orders.[11] Severe damage occurred in New Jersey, especially in the communities along the Jersey Shore.[12]
Hurricane Sandy was a tropical cyclone that severely affected portions of the Caribbean, Mid-Atlantic and Northeastern United States in late October 2012, with lesser impacts in the Southeastern and Midwestern states and eastern Canada. In diameter, it was the largest Atlantic hurricane on record, with winds spanning 1,100 miles (1,800 km).[3][4] The eighteenth tropical cyclone and named storm and tenth hurricane of the 2012 Atlantic hurricane season, Sandy is estimated in early calculations to have caused damage of at least $20 billion (2012 USD).[5] Preliminary estimates of losses that include business interruption surpass $50 billion (2012 USD), which, if confirmed, would make it the second-costliest Atlantic Hurricane in American history.[6]
In the case of Hurricane Sandy two important factors contributing to the size and strength of the storm are unusually warm ocean surface temperatures and an increase in blocking patterns, both of which are expected to occur more frequently due to global warming.[33][34] Mark Fischetti of Scientific American proposed a more explicit link, arguing that the melting of Arctic ice caused a negative North Atlantic Oscillation, which fueled the expansion of Sandy by pushing the jet stream South.[35] Mayor Bloomberg of New York said that he believes that climate change had contributed to the storm.[36]
 This page was last modified on 30 October 2012, at 20:34.
Thanks to Wikipedia for the above information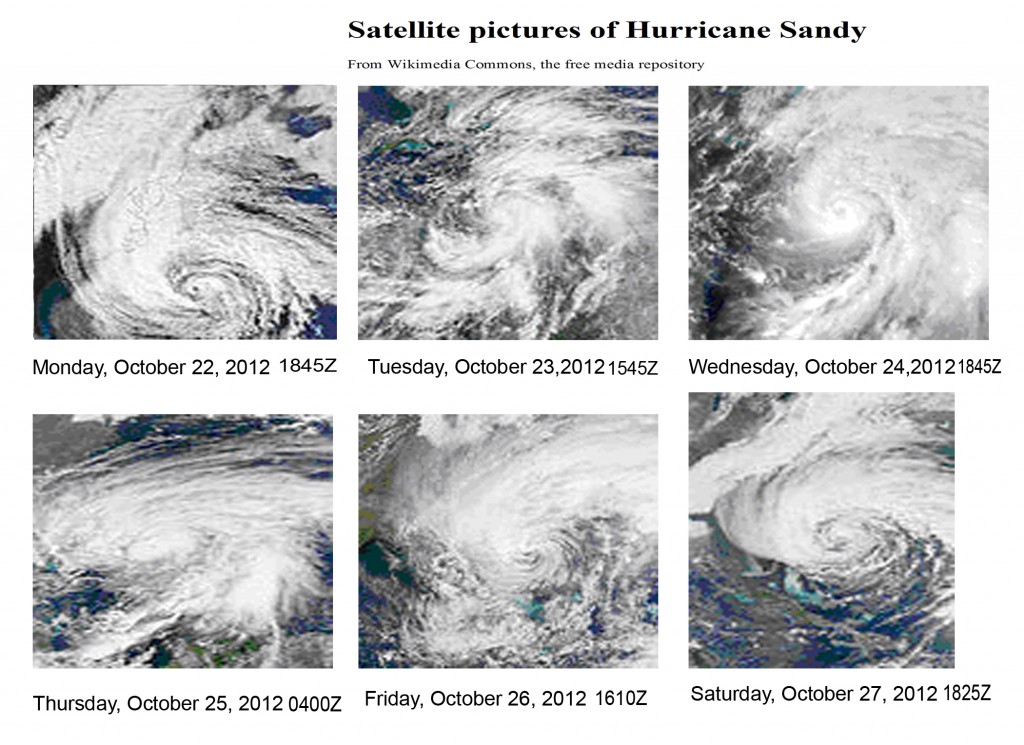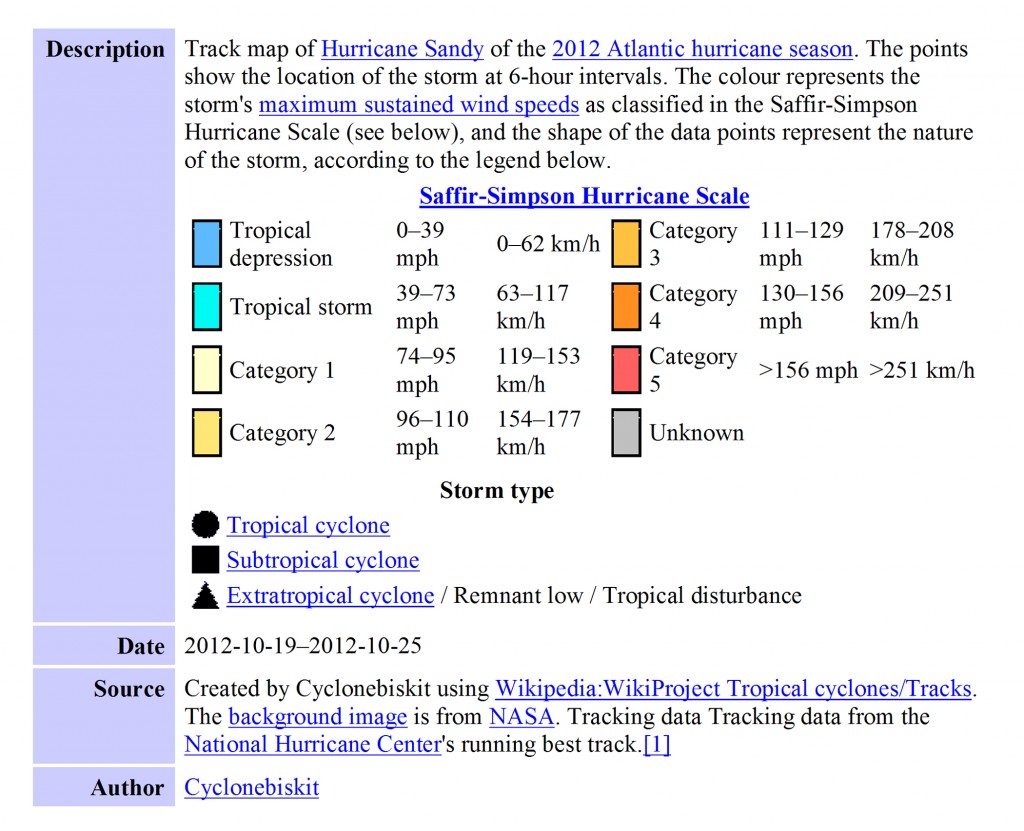 +++ Please view the pictures of Hurricane Sandy's impact on Hurricane Sandy Part 2