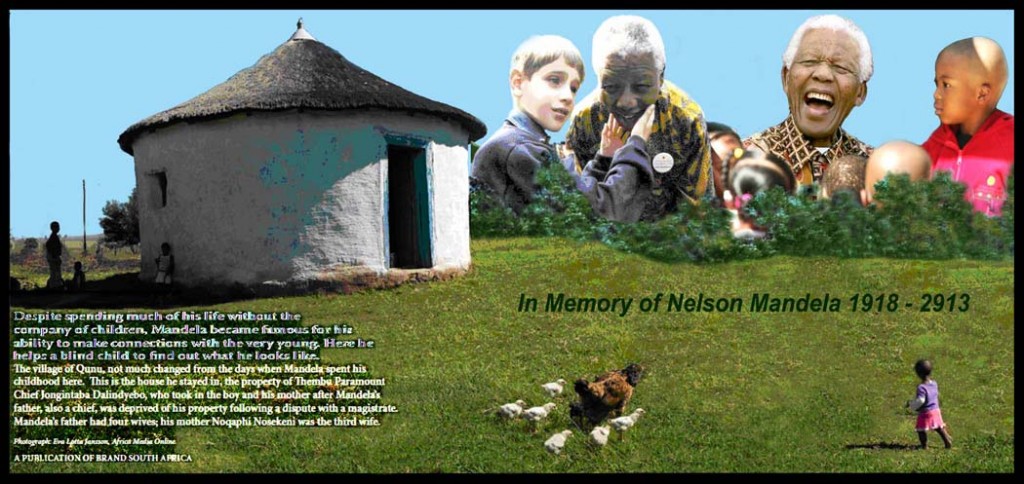 Despite spending much of his life without the company of children, Mandela became famous for his ability to make connections with the very young.  Here he helps a blind child to find out what he looks like.  The village of Qunu, not much changed from the days when Mandela spent his childhood here.  This is the house he stayed in, the property of Thembu Paramount Chief Jongintaba Dalindyebo, who took in the boy and his mother after Mandela's father, also a chief, was deprived of his property following a disputed with magistrate.  Mandela's father had four wives; his mother Noqaphi Noscheni was the third wife.
Remember Nelson Mandela
One Bloomfield Tech Student commented:
Peace?  Trust no one
I can understand how you feel
There was disappointment and trouble in my younger life
But I never lost hope
At least I trusted myself
And behaved in such a way that others could trust me
If I want to trust others
I have to show others are able to trust me
We all go through life
Knowing some bad and good people
We learn and change
If we show kindness to others
There is a chance to receive kindness in return
I was sad about some of my troubles in life
But when I study about Nelson Mandela
Who passed away this month at the age of 95
I feel that I am a lucky person
He was jailed for twenty seven years
But was able to walk tall when he was freed
He over came his bitterness
Trusted people and people trusted him
Mr. Mandela became the first black president of South Africa
People all over the world praised his good deeds
He is honored and admired
Just as Gandhi and Dr. King were admired
By being only a one term president
Mr. Mandela showed he was not greedy to hold on to power
He could have been President of South Africa as long as he wished
He prevented civil war between black and white South Africans
He helped to raise funds to educate poor African children
And encouraged the fight against Aids
He led very meaningful life
An example for others to follow
 Mr. Mandela said his 27 years in prison gave him time to think
He educated other prisoners and cultivated a little garden
 Growing tomatoes and other vegetables
His conduct earned him the respect of his jailers
President Barack Obama commented that
When you are with Nelson Mandela
You want to be a better person
I too want to be a better person
 After studying the life of Nelson Mandela
Please reconsider your comment
Peace? Trust no one
If you help others to the best of your ability
You will find others you can trust
Who in turn will trust you
And give help when it is needed
Then you will achieve a successful life
With happiness and peace in your heart
Ing-On Vibulbhan-Watts, Friday, December 13, 2013, 11:56 pm
Rolihlahla Dalibhunga Mandela was born in 1918 and raised in the village of Qunuin theTranskei, a small village in South Africa's eastern.  He was one of 13 children, a youngest son of a counselor to the chief of the Thembu clan.
He ran away to Johannesburg, where he became a lawyer and joined the African National Congress fight against apartheid. He is pictured in about 1950, six years after he founded the African National Congress (ANC) Youth League (ANCYL) with Oliver Tambo and Walter Sisulu.  
He married Evelyn Ntoko Mase, his first wife.  They have four children: Thembekile (1945); Makaziwe (1947 – who dies after nine months); Makgatho (1950); Makaziwe (1954). 
As a young man, Nelson Mandela was a keen boxer.  "Boxing is egalitarian.  In the ring, rank, age, color and wealth are irrelevant." he wrote in his autobiography, Long Walk to Freedom. 
Nelson Mandela married his second wife Winnie Madikizela in 1958, and they have two daughters.  They never enjoyed much of a family life as they were both in and out of jail.  They divorce in 1996.

Right-Nelson Mandela revisited his cell several times after his release.

After more than 27 years in detention, Mandela walks out of Victor-Verster Prison in Paarl on February 11, 1990, accompanied by his wife Winnie.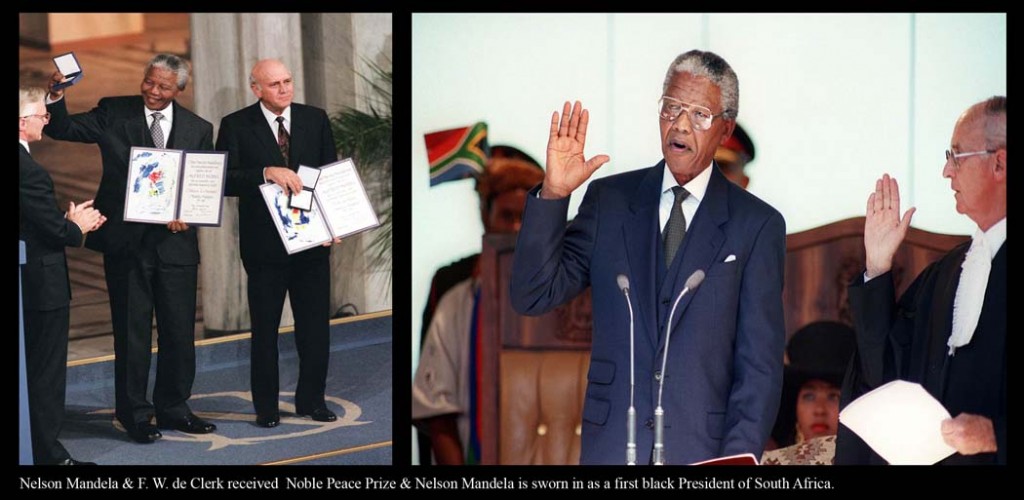 Right- Nelson Mandela and FW de Klerk were jointly awarded the Nobel Peace Prize at a ceremony in Oslo,Norway on December 10, 1993 for their roles in ending apartheid.  FW de Klerk would go on to serve as one of Mandela's deputy presidents. 
Left-Mandela takes the oath on May 10, 1994, during his inauguration in Pretoriaas the country's first back president. "The time for the healing of the wounds has come," Mandela said.  "The moment to bridge the chasms that divide us has come.  The time to build is upon us."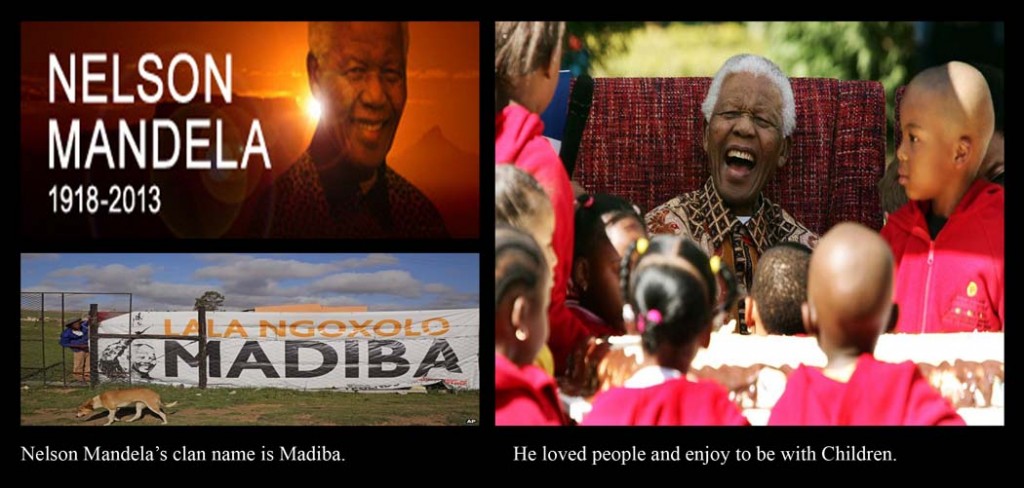 Right-Mandela celebrates his 89th birthday with a group of young people at the Nelson Mandela Children's Fund inJohannesburg on July 24, 2007.  After his retirement from politics Mandela remained involved in social issues through the Children's Fund and the Nelson Mandela Foundation, a charity set up in 1999.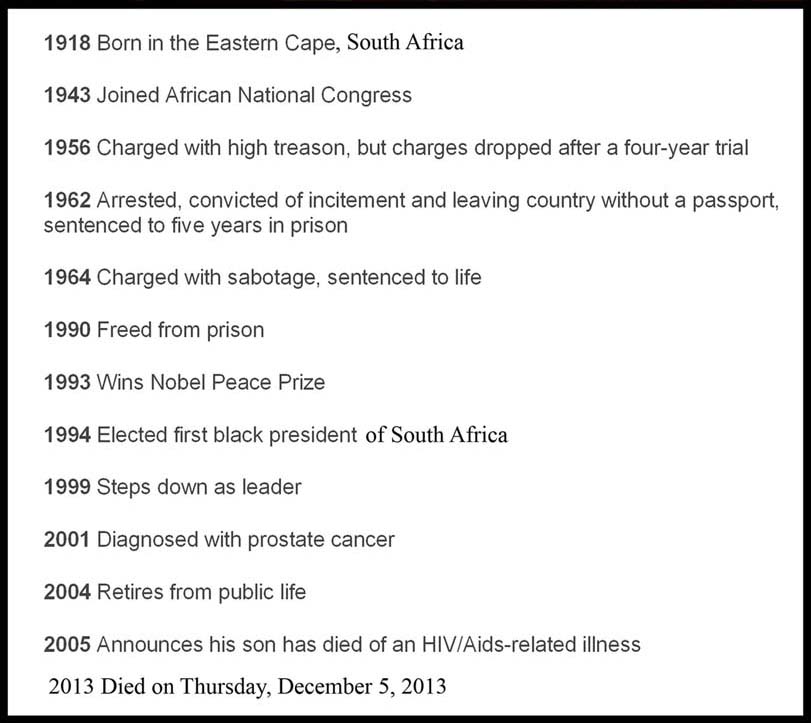 Walk With Nelson Mandela
We come and go
To somewhere no one knows
Left on earth is what we did
When we were still alive
Nelson Mandela has gone
And billions mourn
Wishing he would live forever
Hitler has gone
No one mourns
Wishing he had gone sooner
Or was never born
What will people think when
Bashar Hafez al-Assad of Syria
Robert Mugabe of Zimbavwe
And others who want to keep
The power over people forever
 have gone
 What will people say?
 Ten, fifty, or a hundred years is only a drop
Of human civilization
We will be gone sooner or later
For we do not live forever
What are you doing Bashar Hafez al-Assad?
Killing kids, women and men
They are your people
They are Syrians
Please, I beg you not to create
A Twenty First Century Holocaust
Robert Mugabe
You are eighty nine years old
You still want to be president
What are you thinking?
That you will live forever?
 Oh, yes both of you will live
Thousands years or longer in history
 Will both of you and others hungry for power
Be good examples for future generations?
Or will future generations learn from Nelson Mandela
You who are alive
Please think harder
About what you are doing
Be part of those that keep peace
Just like the way Mandela prevented civil war
Between black and white in his country
Please make the world better
For the next generation
If only one day you think of Mandela
Make him proud to be part of the same human race as you
Please hear this from
Nelson Mandel's inauguration speech
"Time for the healing of the wounds has come.
The moment to bridge the chasms
That divide us has come.
The time to build is upon us. —– 
We understand it still that
There is no easy road to freedom.
We know it well that
None of us is acting alone can achieve success.
We must therefore act together as a united people,
For national reconciliation,
For nation building,
For the birth of a new world.
Let there be justice for all.
Let there be peace for all.
Let there be work, bread, water and salt for all.
Let each know that for each the body,
The mind and the soul have been freed to fulfill themselves.
 Never, never and never again shall it be that this
Beautiful land will again experience the oppression
Of one by another and suffer the indignity
Of being the skunk of the world."  
Ing-On Vibulbhan-Watts, Sunday, December 22, 2013, 12:17 am
Please visit In Memory of Nelson Mandela page for more information and pictures: 
https://ingpeaceproject.com/in-memory-of-nelson-mandela-1918-2013/