May Peace Be With All of US
And Hope for A Peaceful World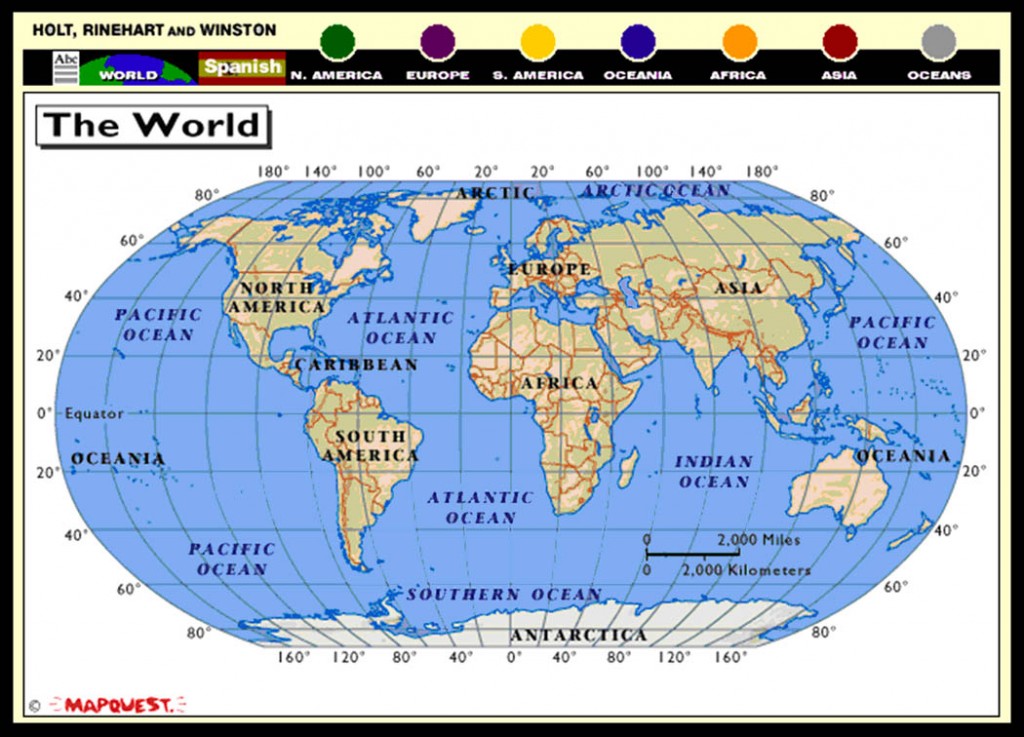 Fireworks explode over the heads of tourists and locals as the clock hits midnight to celebrate the New Year on the waterfront in the New Zealandtown of Queenstown early on January 1, 2014.  (Marty Melville/AFP/Getty Images)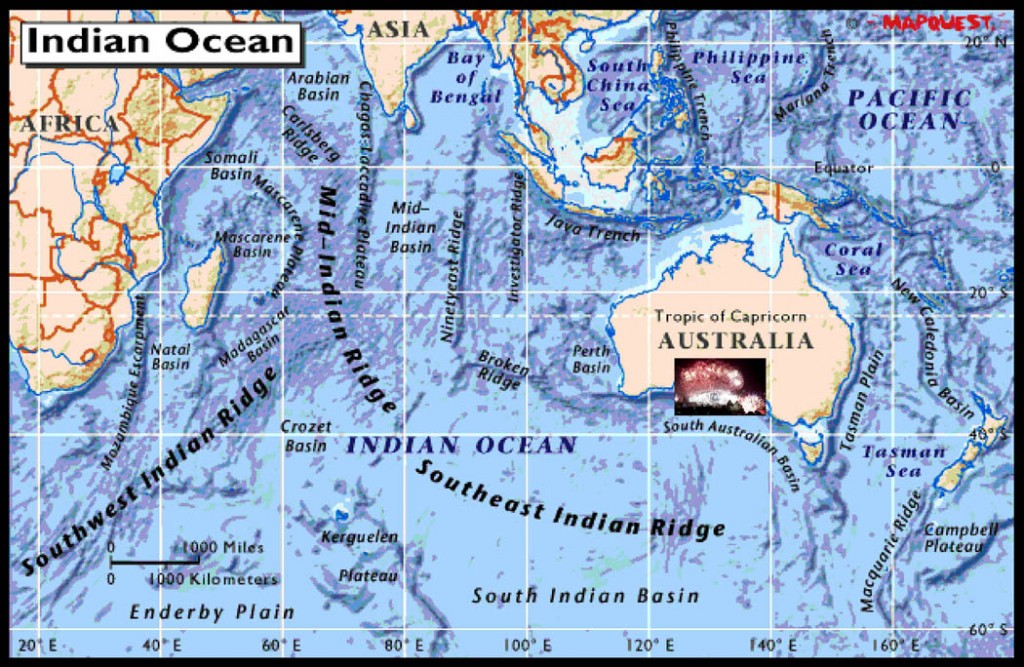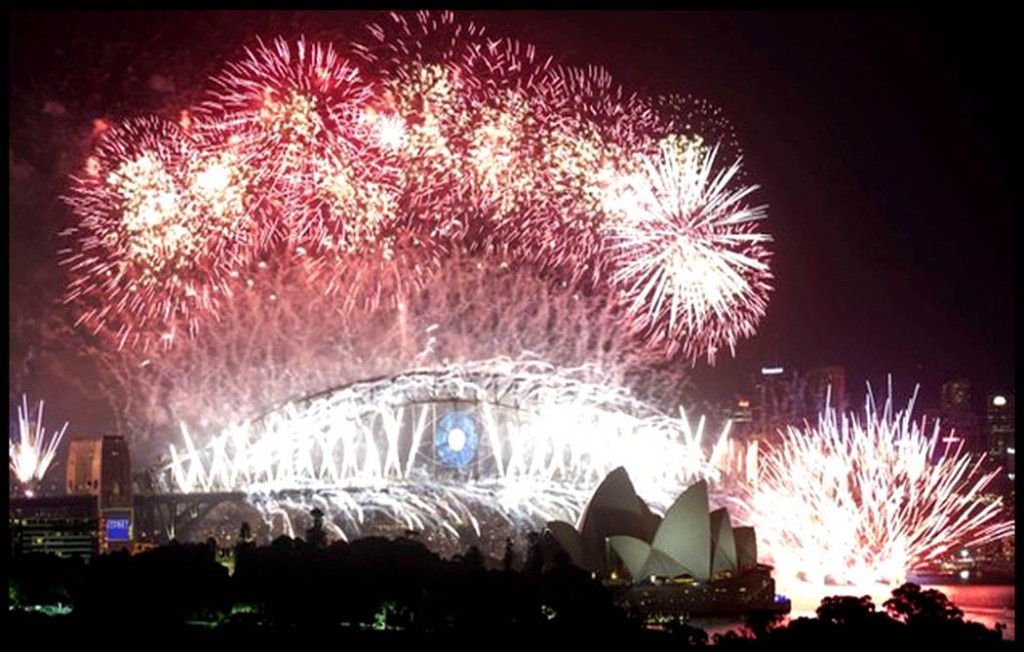 Sydney Habour Australia displays beauty and sparking fireworks with fantastic lights for a prosperous New Year 2014
 Fireworks light up the sky as thousand of people gather to watch in the main business district on New Year's Eve in Jakarta, Indonesia.  Photo: Tatan Syuflana, AP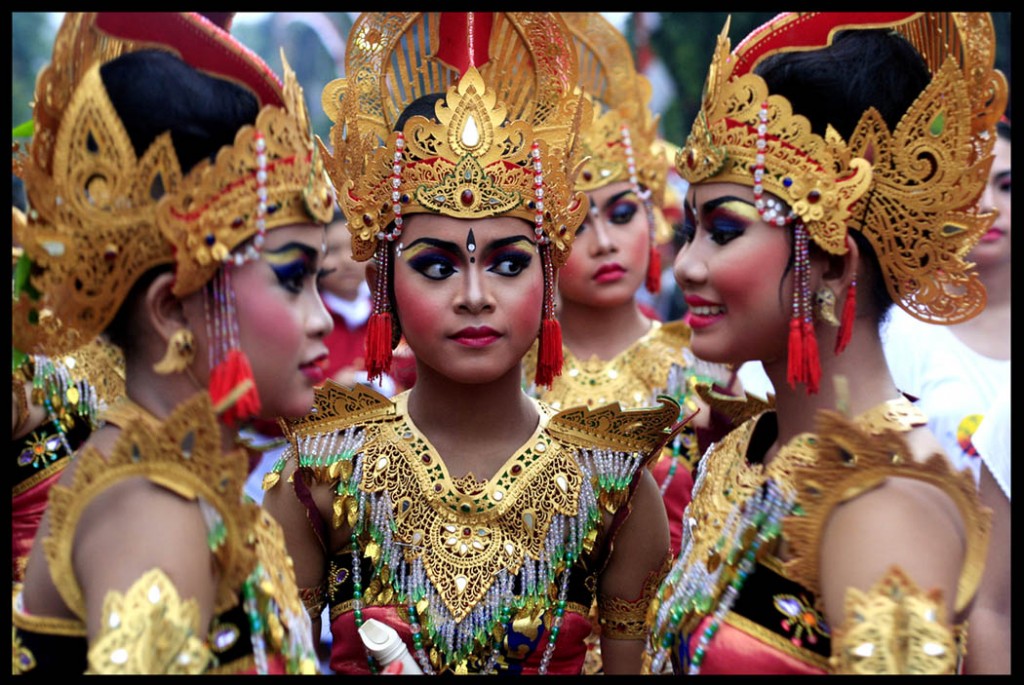 Balinese girls in tradition costumes gather during a parade for this year's last sundown in Bali island, Indonesia on New Year's Eve, Tuesday, December 31, 2013.  (AP photo/ Firdia Lisnawati)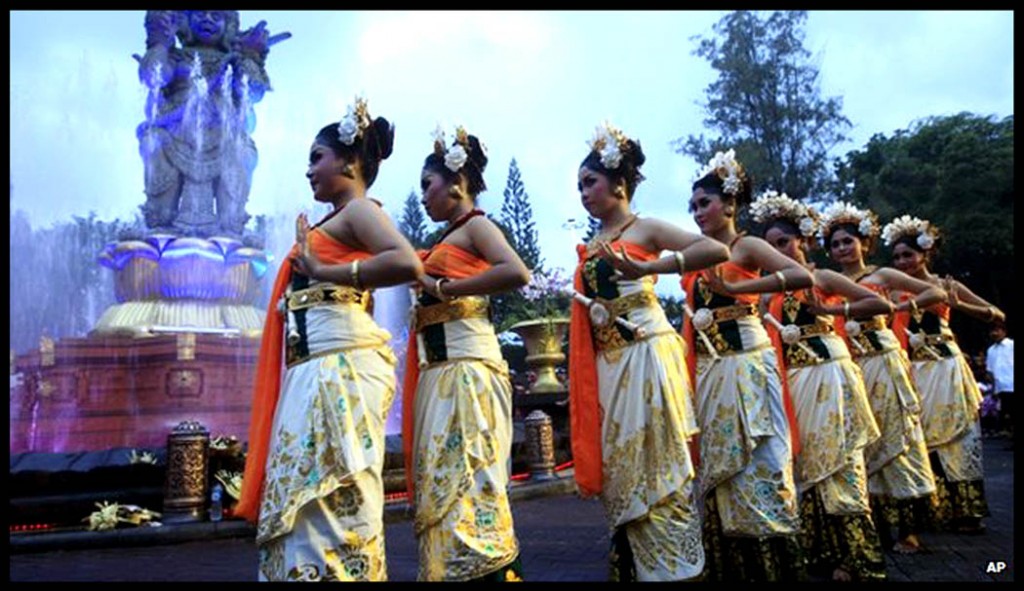 Woman in traditional costumes danced during a parade for 2013's last sundown on Bali, Indonesia.
Fireworks explode over the financial district at midnight in Singapore.  Wong Maye-E, AP 
Fireworks explode near Malaysia's landmark Petronas Towers in Kuala Lumpur.  Photo: Ahmad Yusni, epa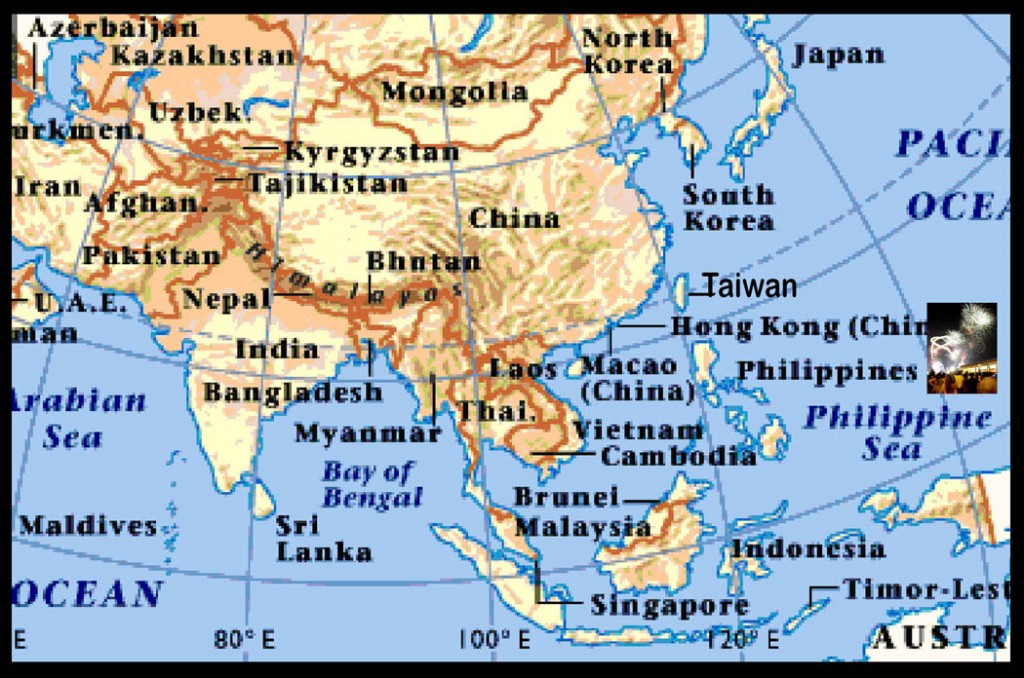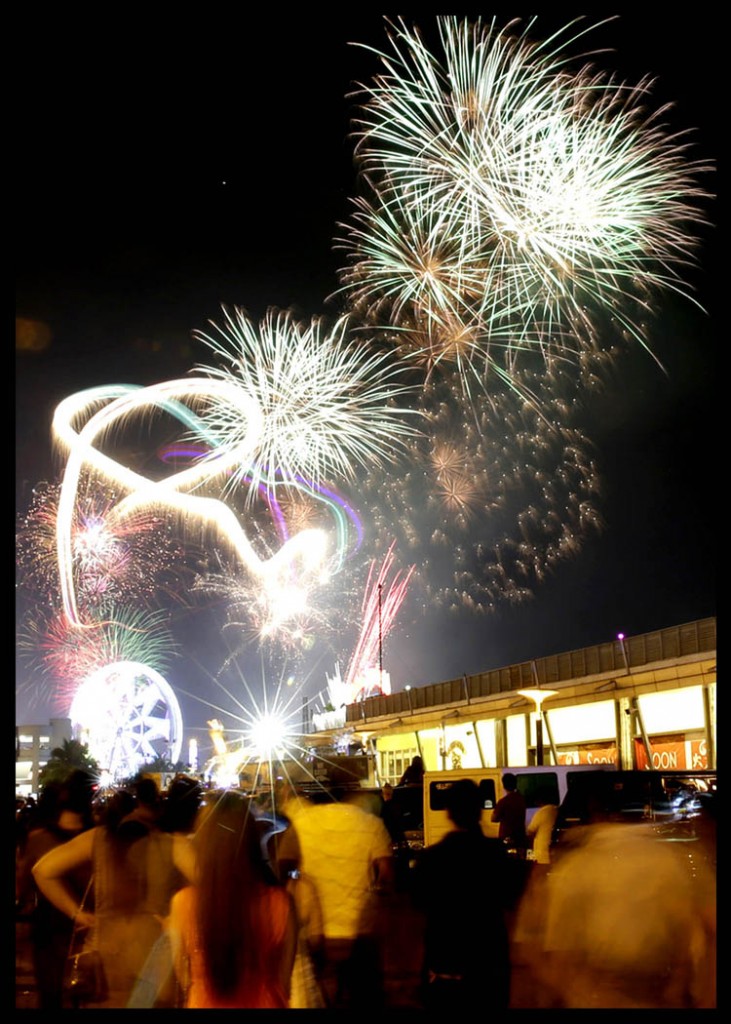 Fireworks light up the sky as Filipinos welcome the New Year Wednesday, January 1, 2014in Manila, Philippines.  (AP Photo/Bullit Marzuez)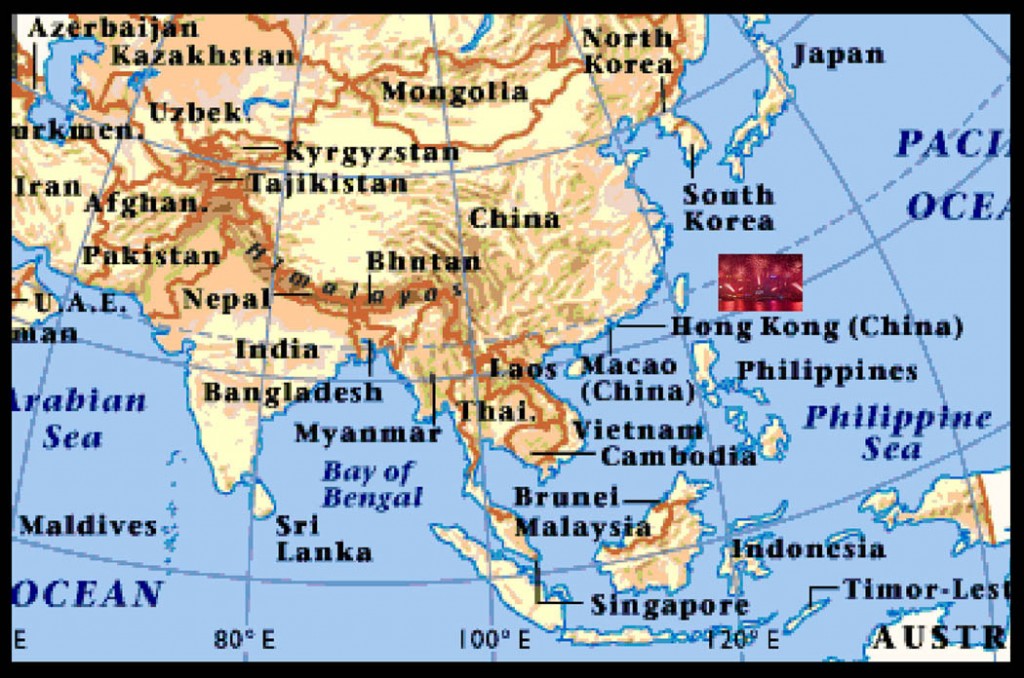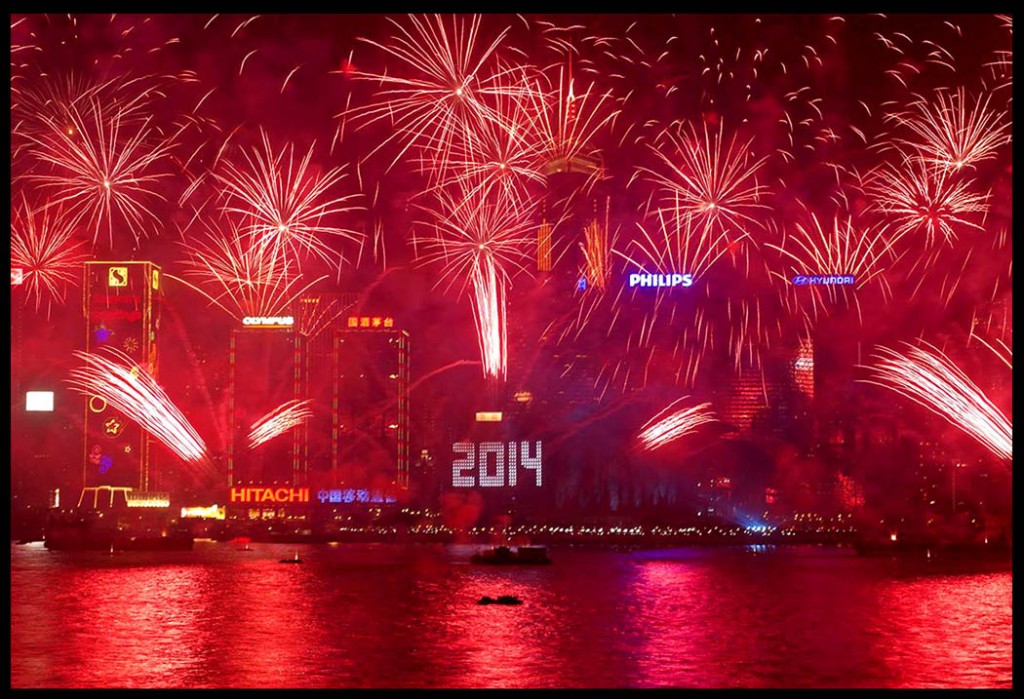 Fireworks light up the Hong Kong Convention and Exhibition Center.  Photo:  Kin Cheung, AP   
Fireworks explode from Taiwan's tallest skyscraper, the Taipei 101 during 2014 New Year celebration in Taipei.  Photo: Stringer/Taiwan/ Reuters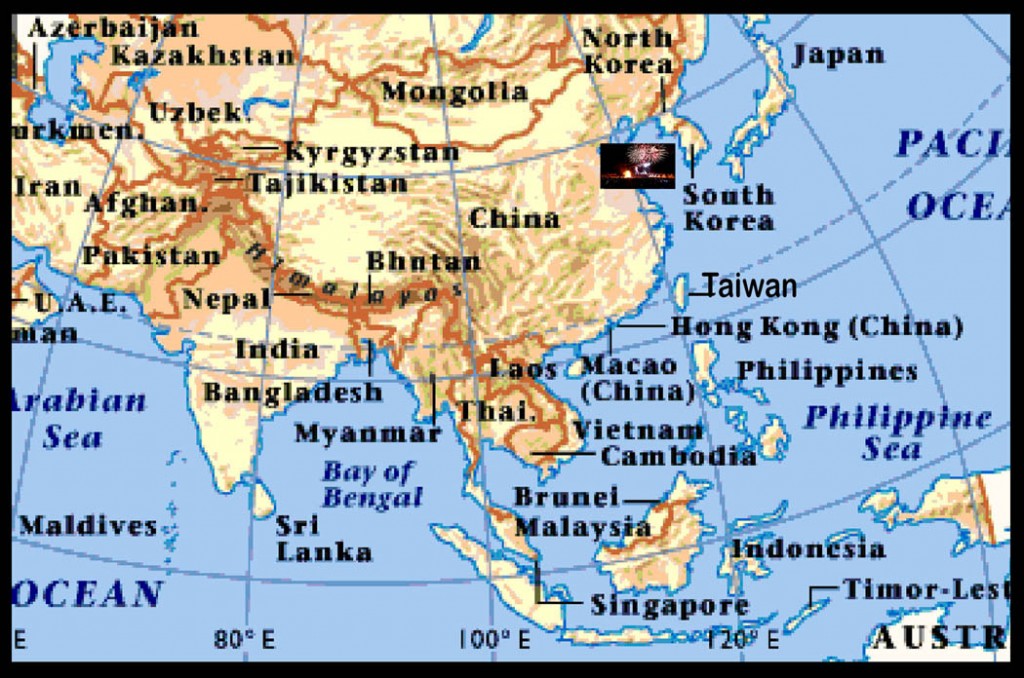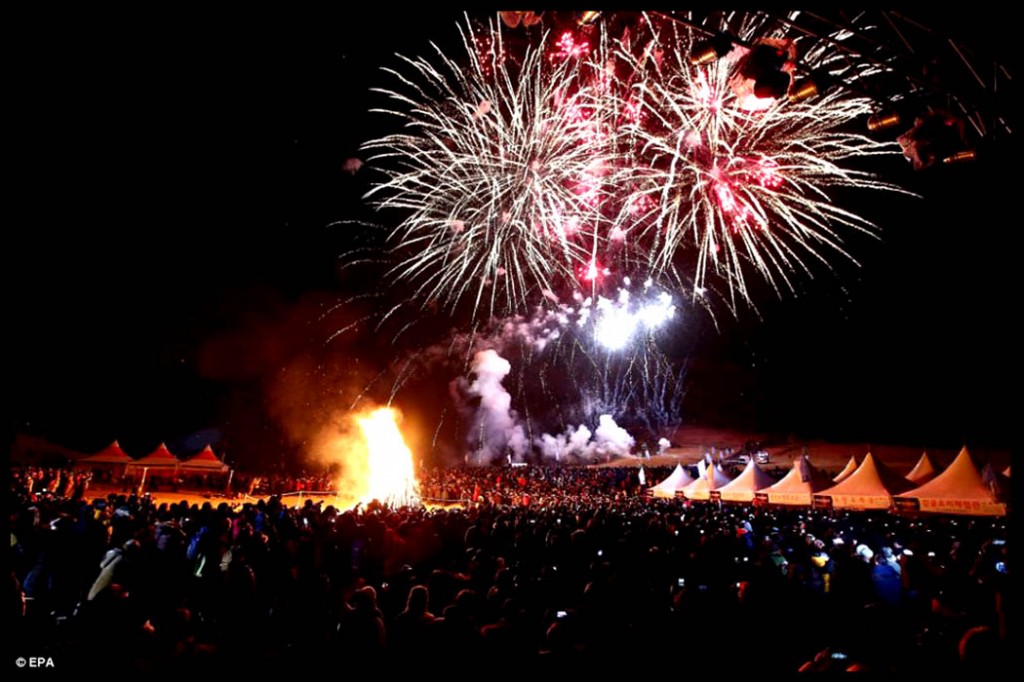 South Koreans gaze up at the bright display above their heads as they hail the start of 2014 on Jeju island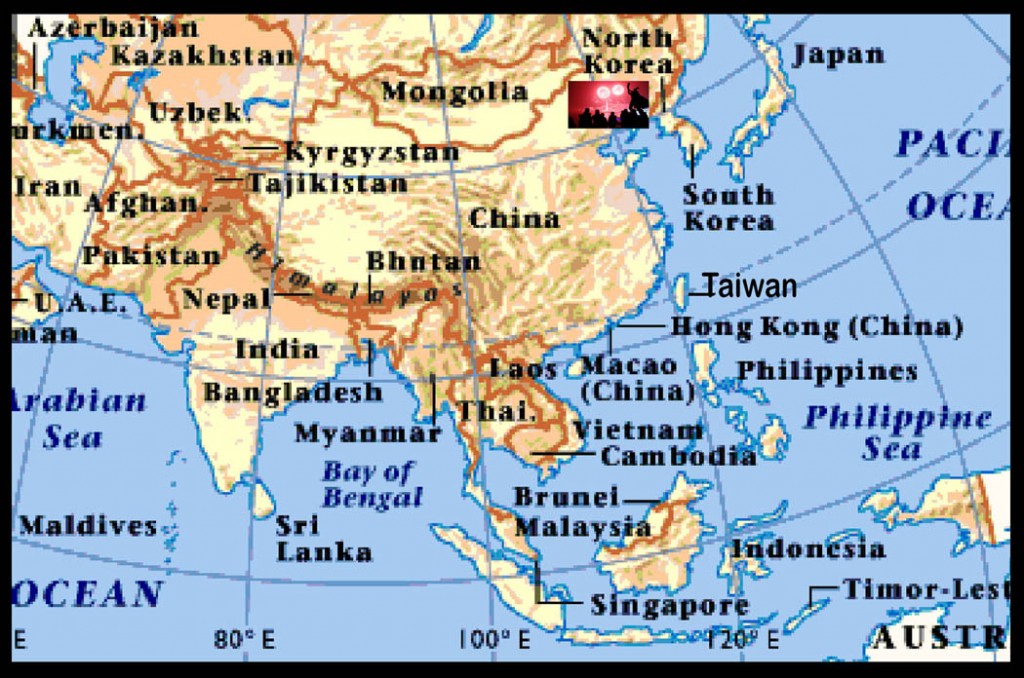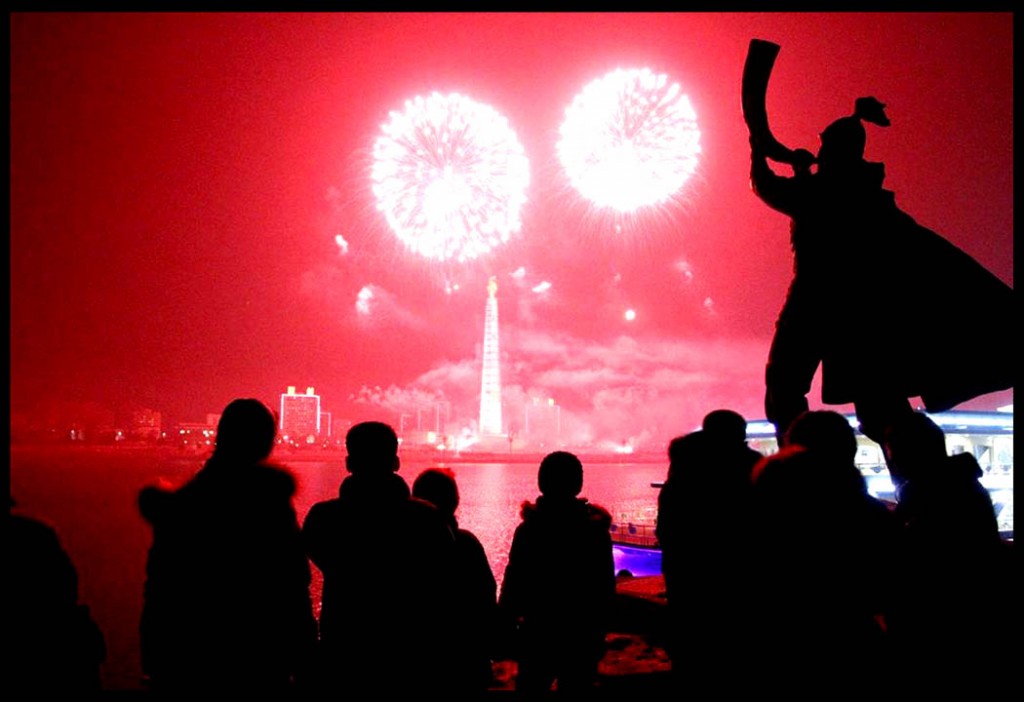 Fireworks explode over Juche Tower and the Taedong Riverin Pyongyang, North Koreato cerebrate the New Year on Wednesday, January 1, 2014. (AP photo/ Kim Kwang Hyon)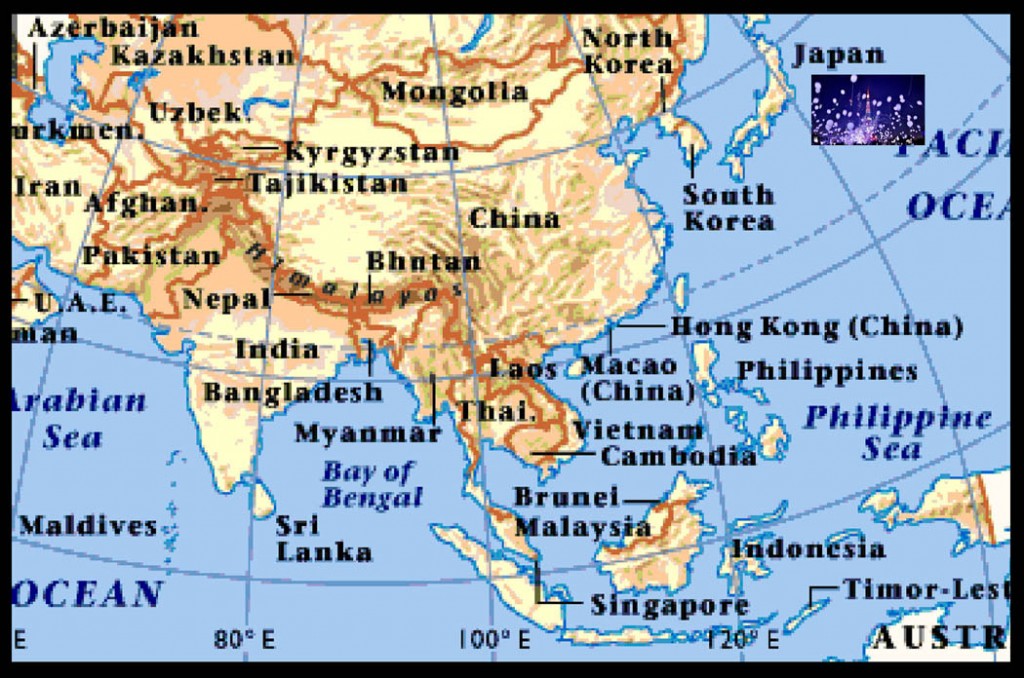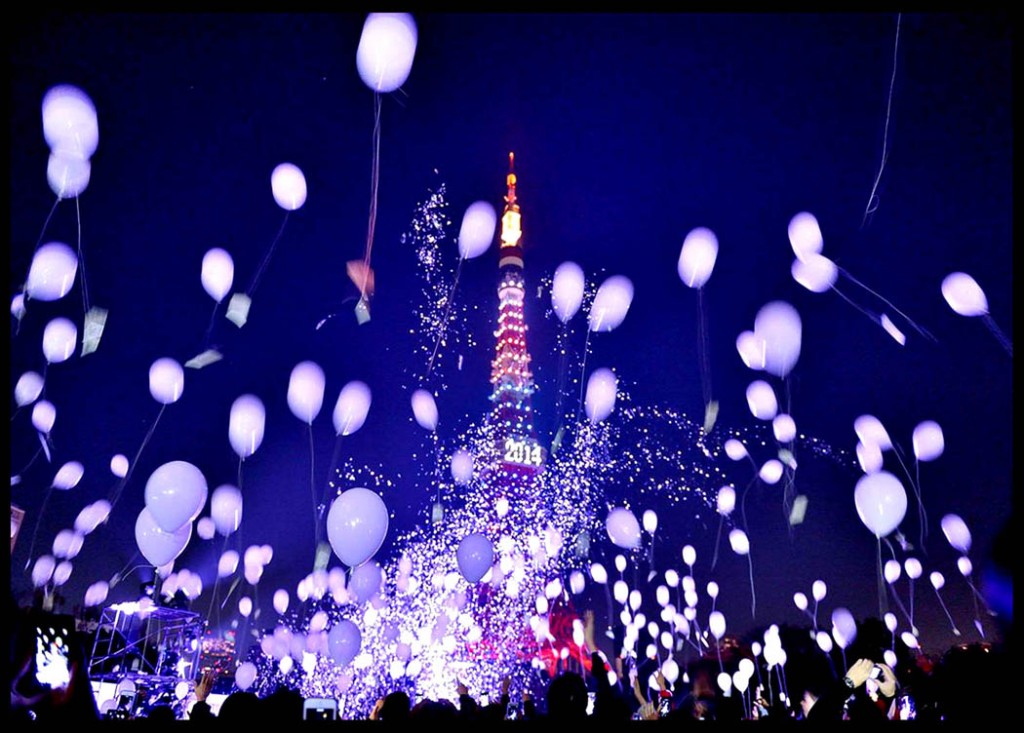 People release balloons to celebrate the New Year in Tokyoon January 1, 2014.  About 2000 balloons were release in the air.  Kazuhiro Nogl, AFP/Getty Images   
A Japanese Shinto maiden (right) greets worshippers as they enter the Kanda shrine to celebrate the New Year in Tokyoon January 1, 2014.  Million of Japanese people visit shrines and temples to pray for the well-being of their families at the New Year.  (Yoshikazu Tsuno/AFP/Getty Images)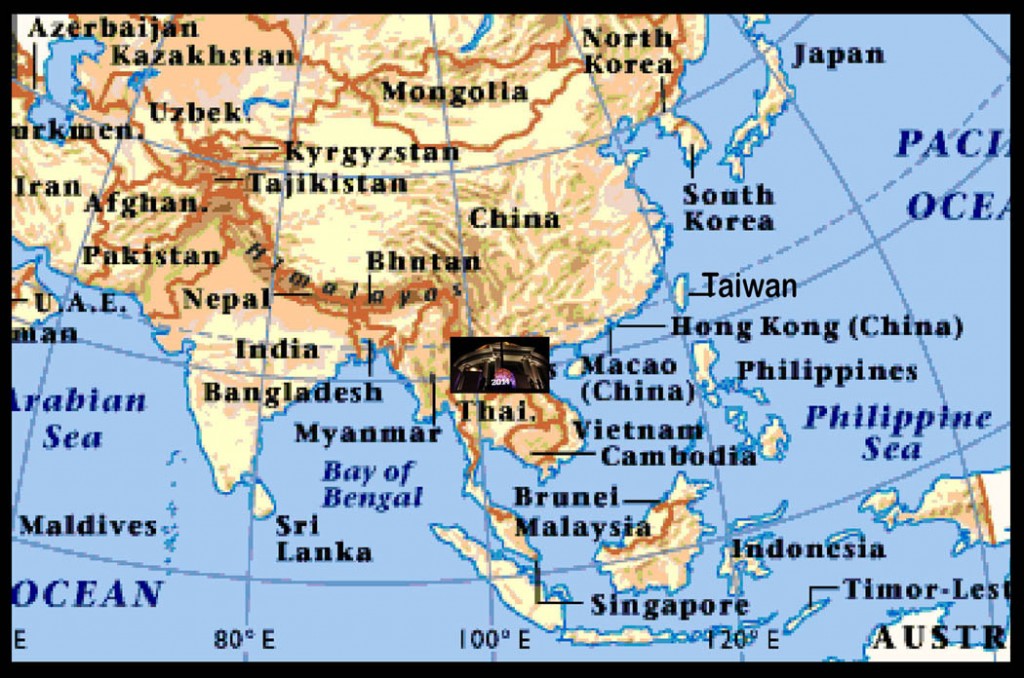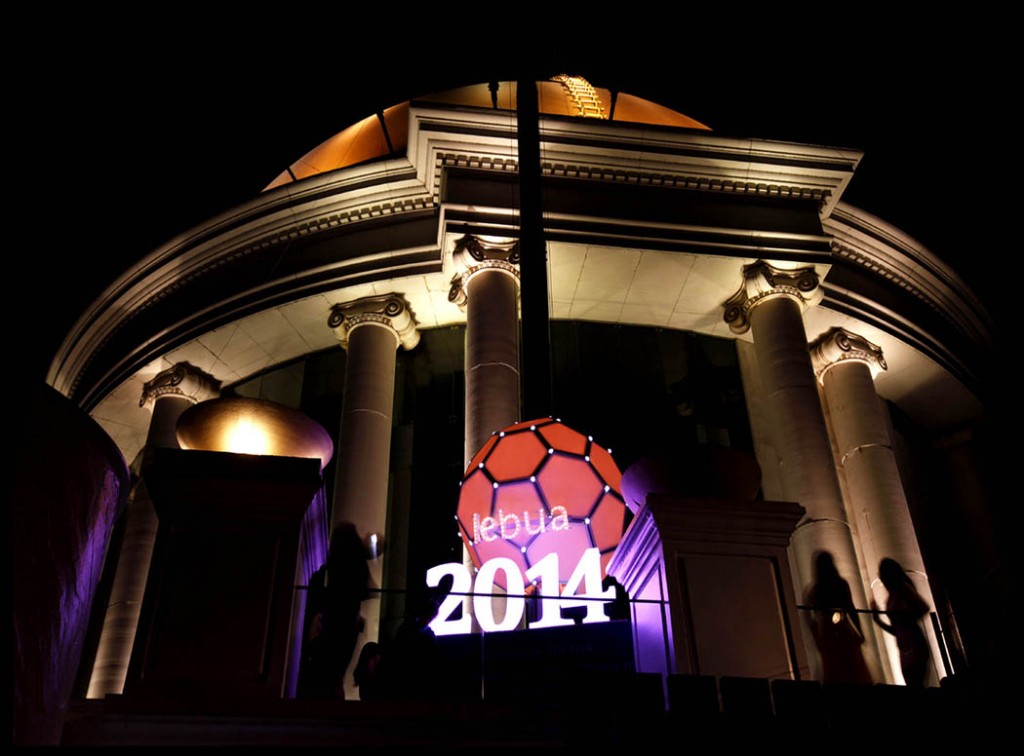 The first-ever Bangkok Ball Drop at lebua – the world's highest New year's Eve ball Drop on Wednesday, January 1st, 2014, Thailand.  Photo: Luke Duggleby/AP  
Laser lights shoot from a tower during a New Year's Eve count down to 2014 held at the Great Wall of China in Beijing, China, Tuesday, December 31, 2013.  (AP Photo/Ng Han Guan)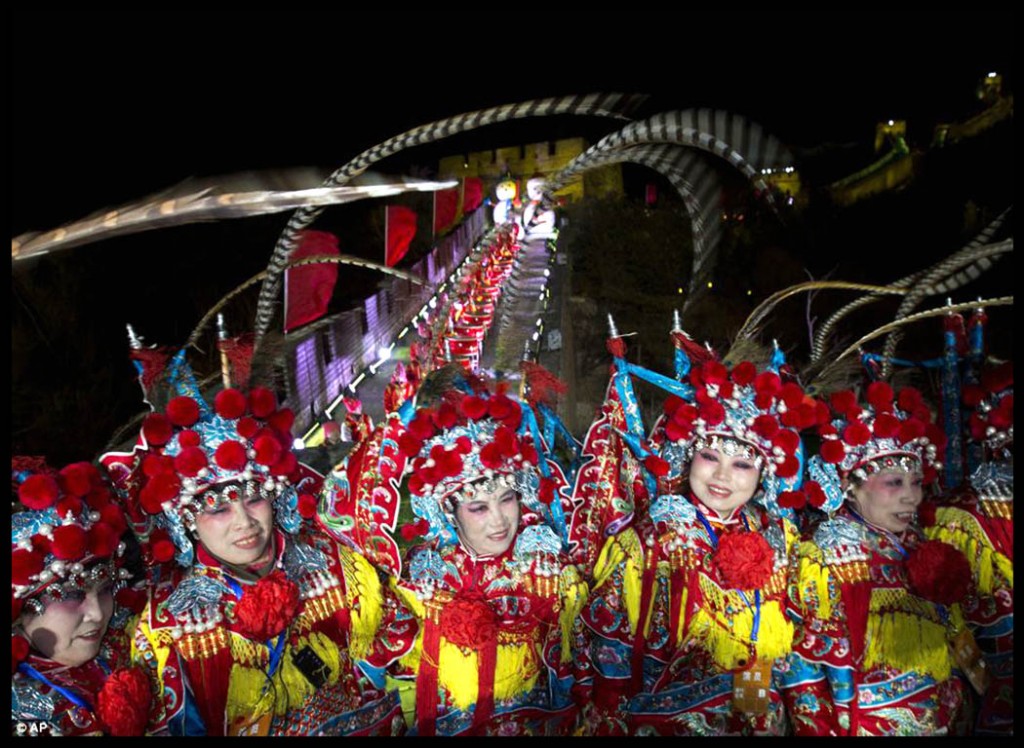 All together now, happy New Year!  Performers gather for a group photo after the end of a New Year's Eve count down to 2014 in Beijing,China.  (AP)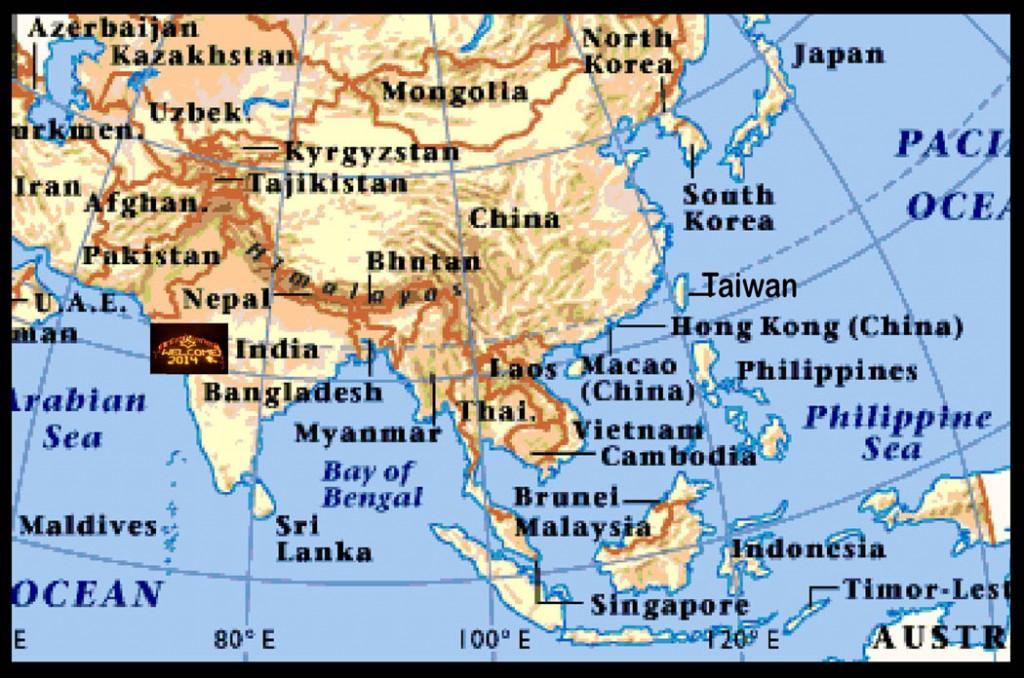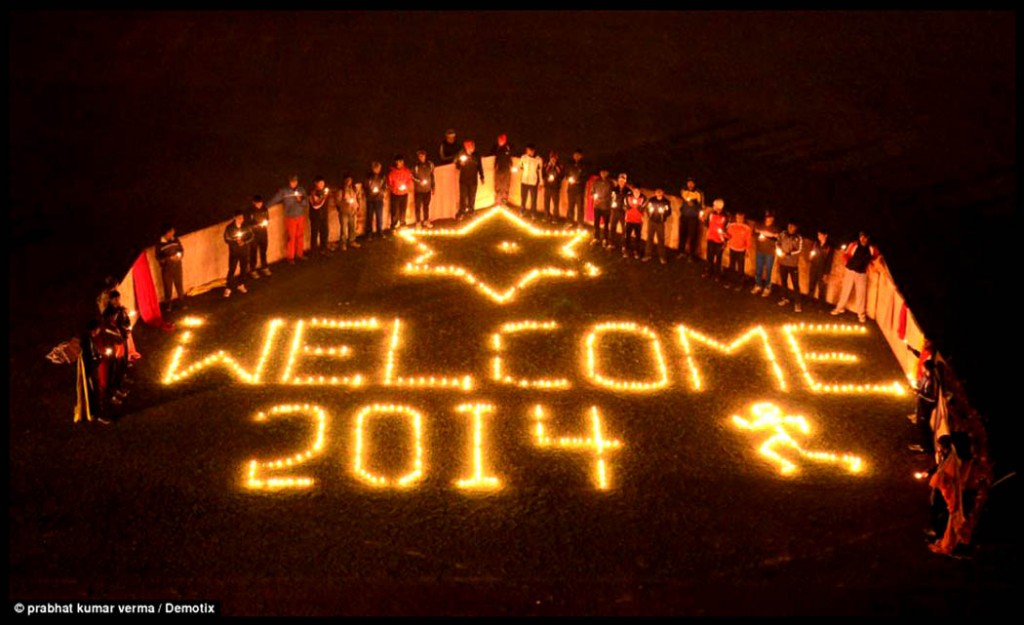 Sportsmen in Allahabad, India light candles to celebrate New Year's Eve at Madan Mohan Malviya Stadium.  Prabhat Kumar Verma/Demotix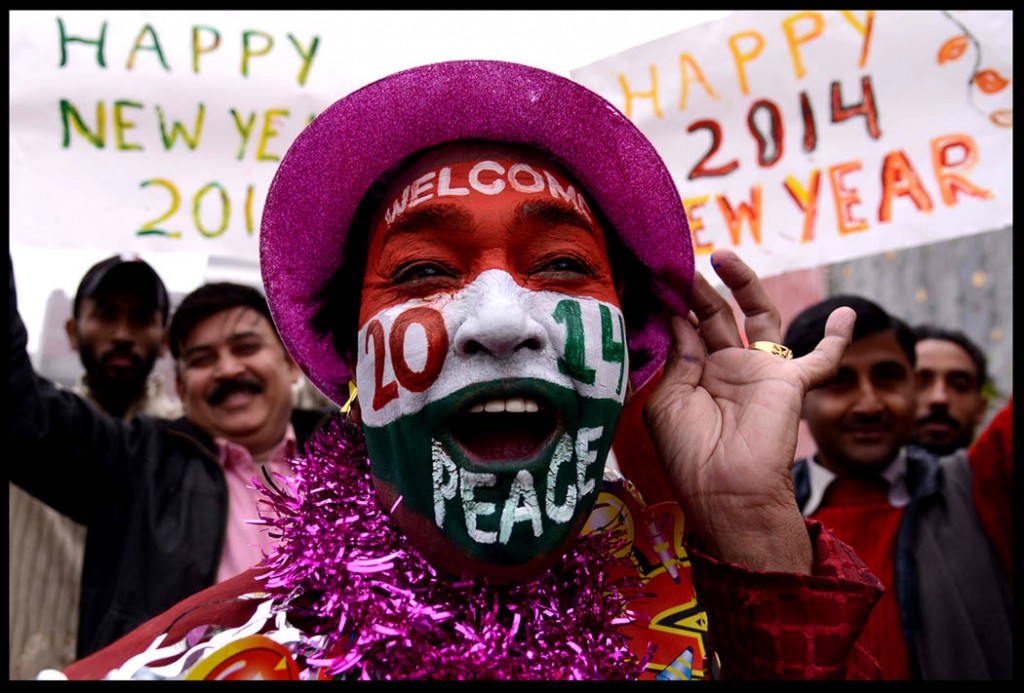 An Indian reveller poses on New Year's Eve in Amritsaron December 31, 2013. (Narinder Nanu/AFP/Getty Images)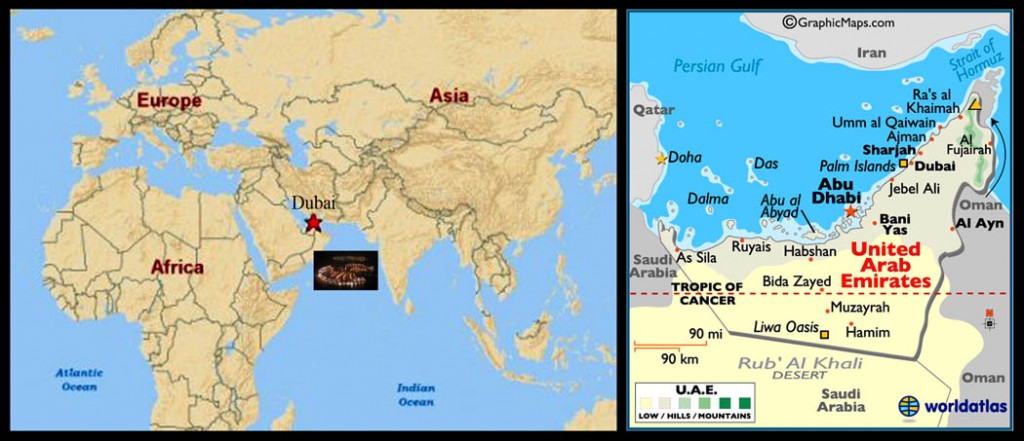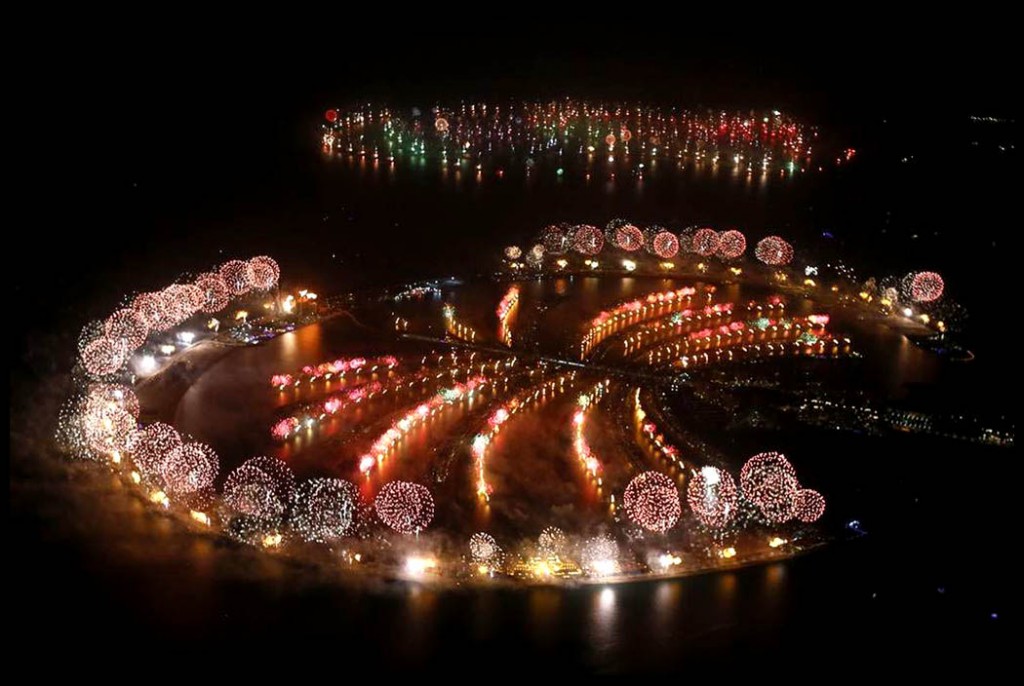 Fireworks explode over Palm Jumeirah in Dubai on January 1, 2014 to celebrate the New Year. Dubai kicked off New Year with a dazzling bid for a new world record of cap those the Gulf city state already holds for its mammoth property developments.  The glittering fireworks display that lasted around six minutes spanned over 100 kilometers (60 miles) of the Dubai coast, which boasts an archipelago of man-made island and Burj Khalifa, the world's tallest tower.  AFP Photo/ Karim Sahib/AFP – Getty Images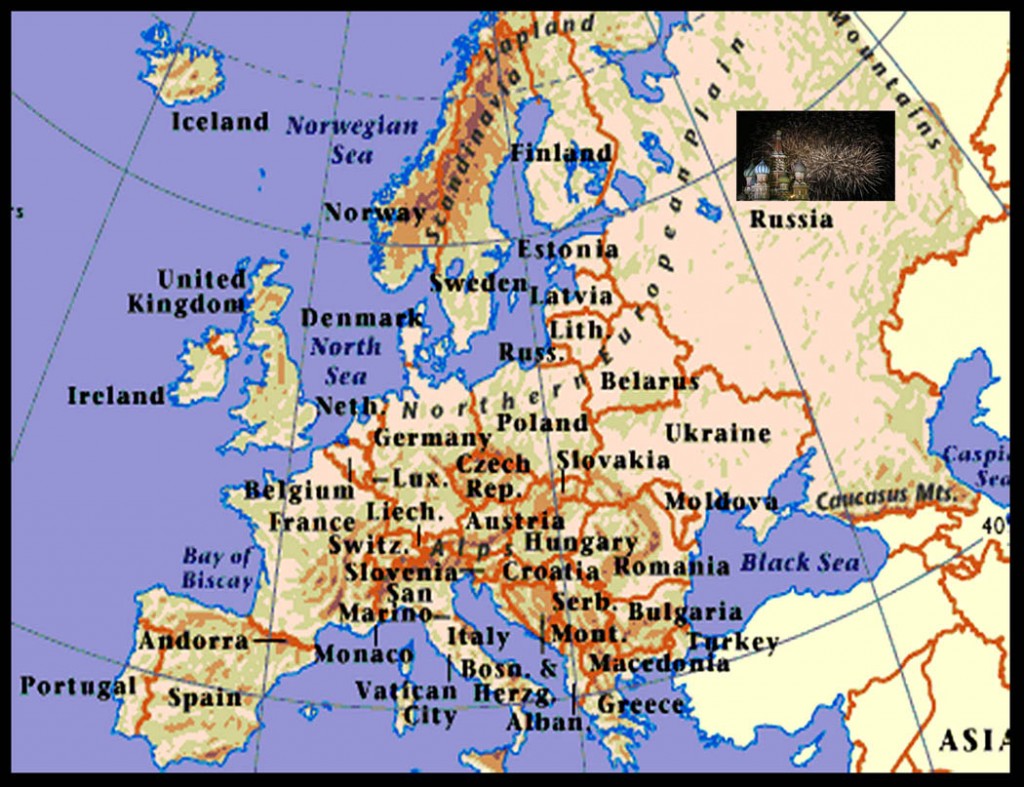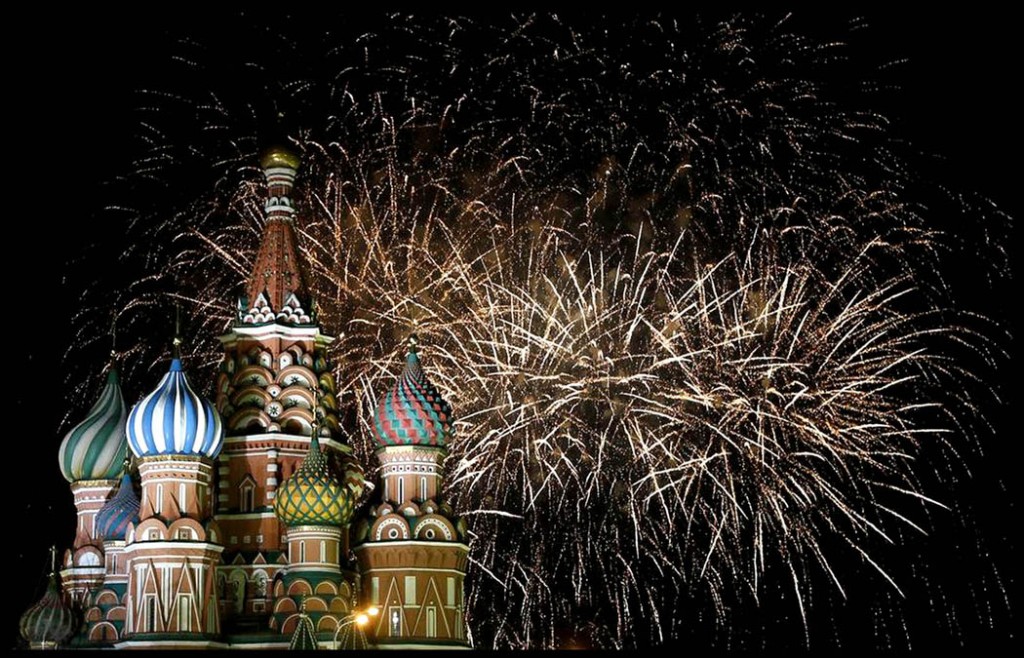 The Russians greet the 2014 New Year at Red Square in Moscowwith impressive fireworks and hope that the New Year will bring more peace, equality and freedom for all Russians and for all mankind.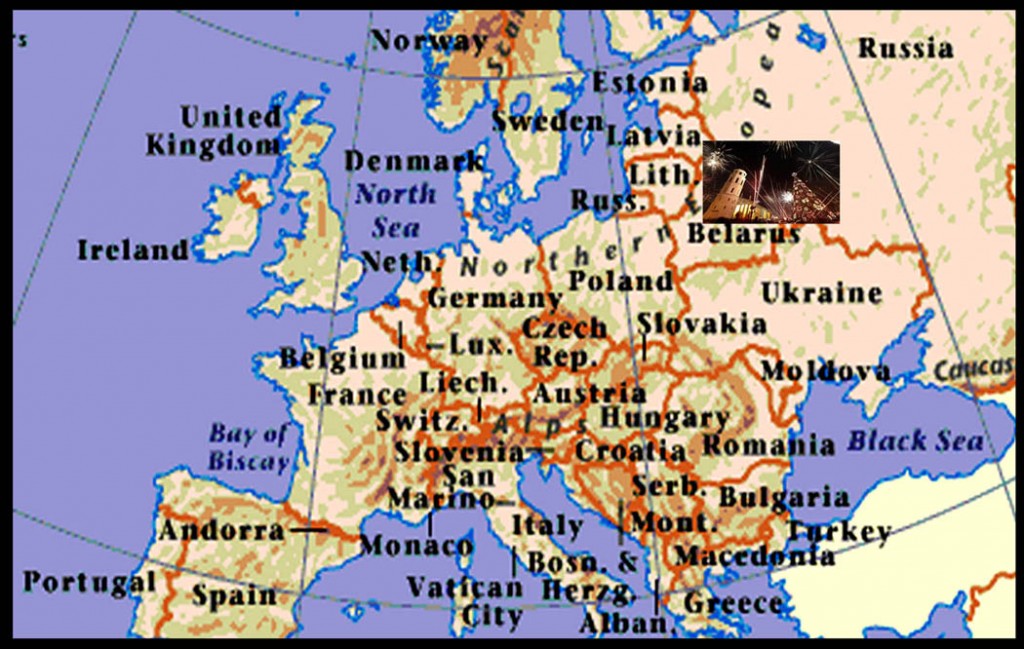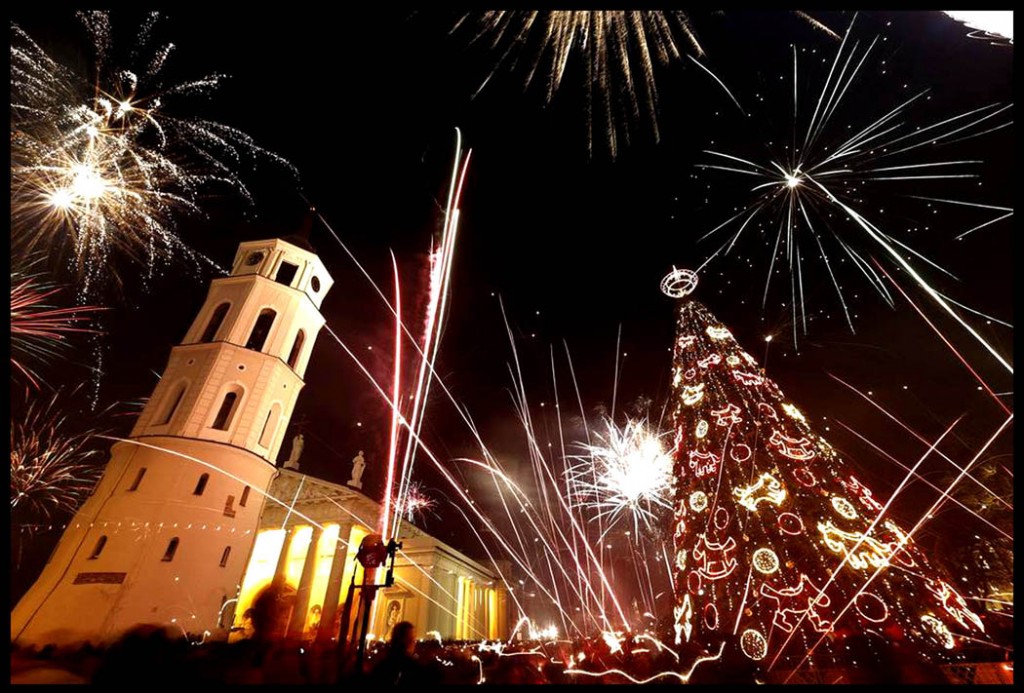 January 1, 2014 Fireworks light the sky above the Cathedral Square in Vilnius, Lithuania shortly after midnight during the New Year Celebrations. (AP)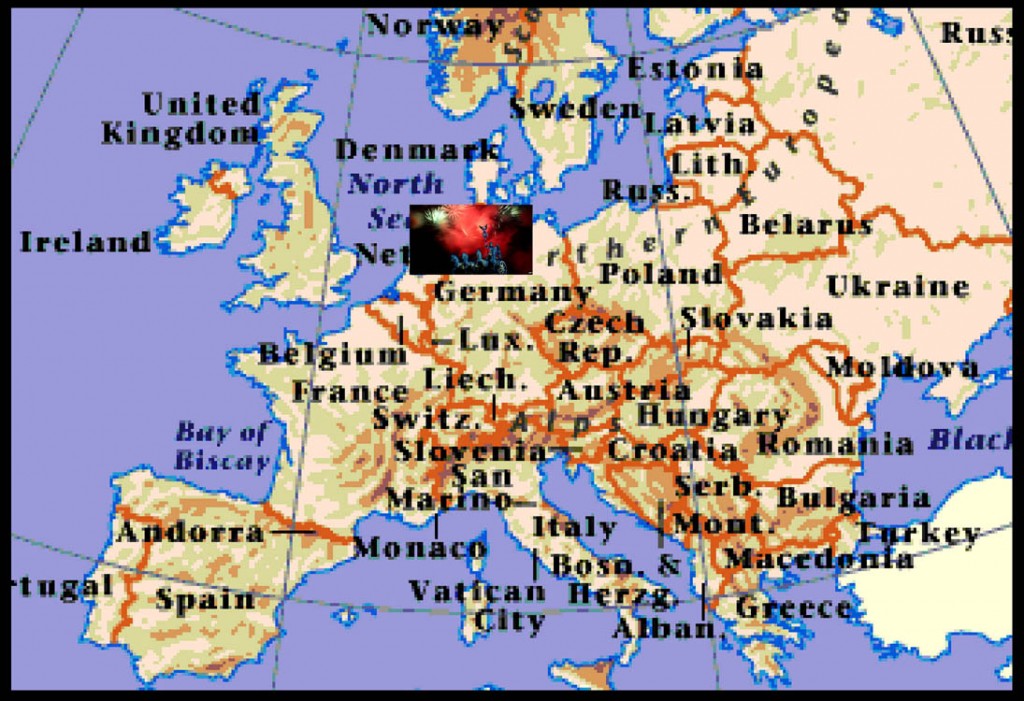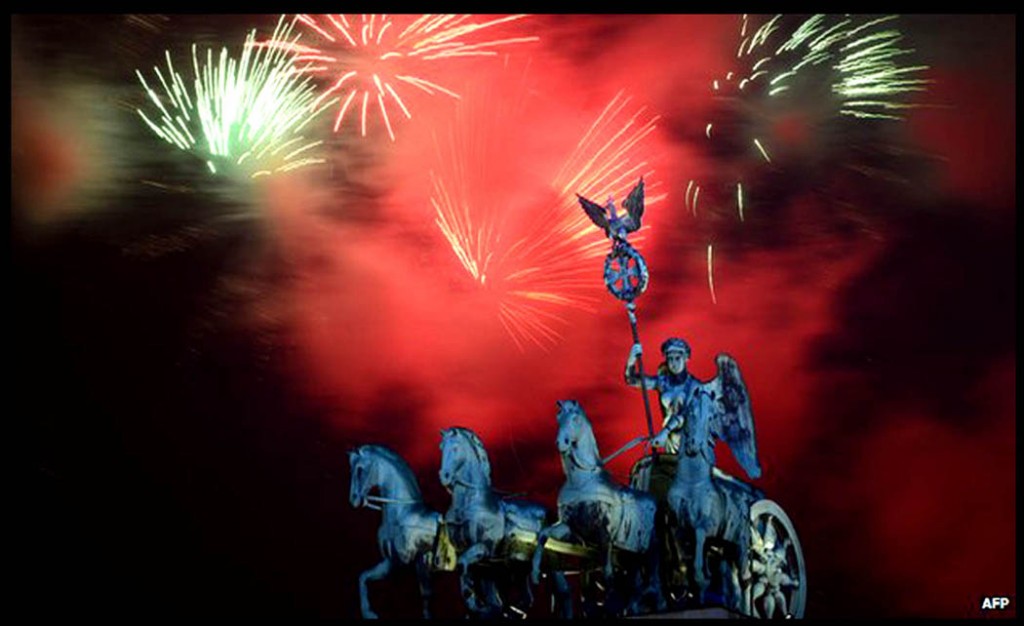 Berlin's Brandenburg Gate, Germany, Europe lights up with fireworks when the clock strikes midnight and moves on to the new drawn of 2014, New year for the European Union to be joined firmly together with peace and happiness for all.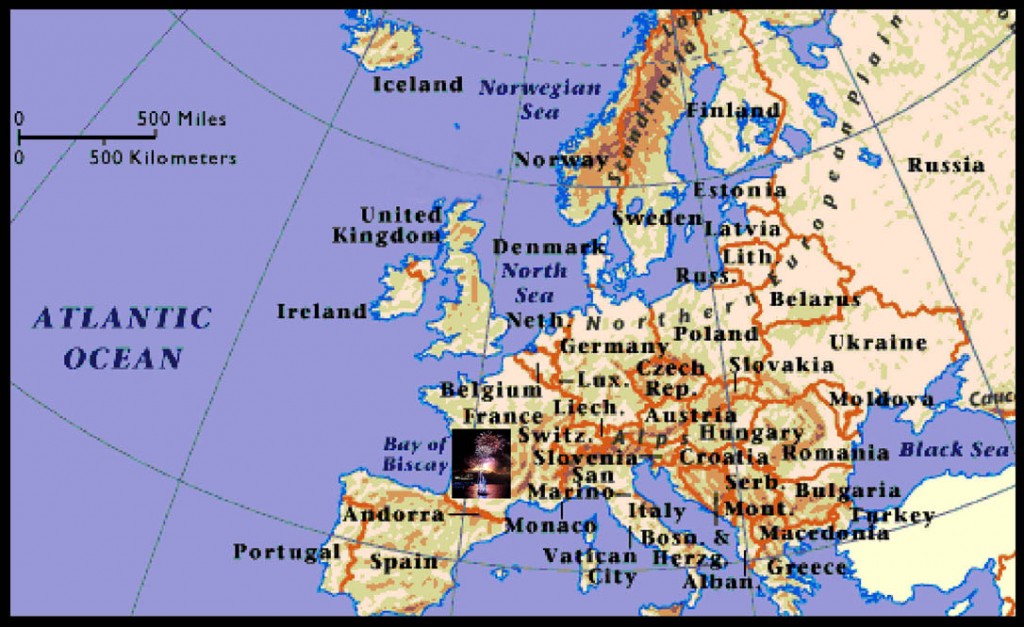 Pyrotechnic show company "Group F" performs with fireworks in the Vieux Port (Old Port) of Marseille, southern France, on January 1, 2014, as part of New Year celebrations on the last day of the Marseille-Provence 2013 European Capital of Culture. Anne-Christine Poujoulat/AFP Getty – Images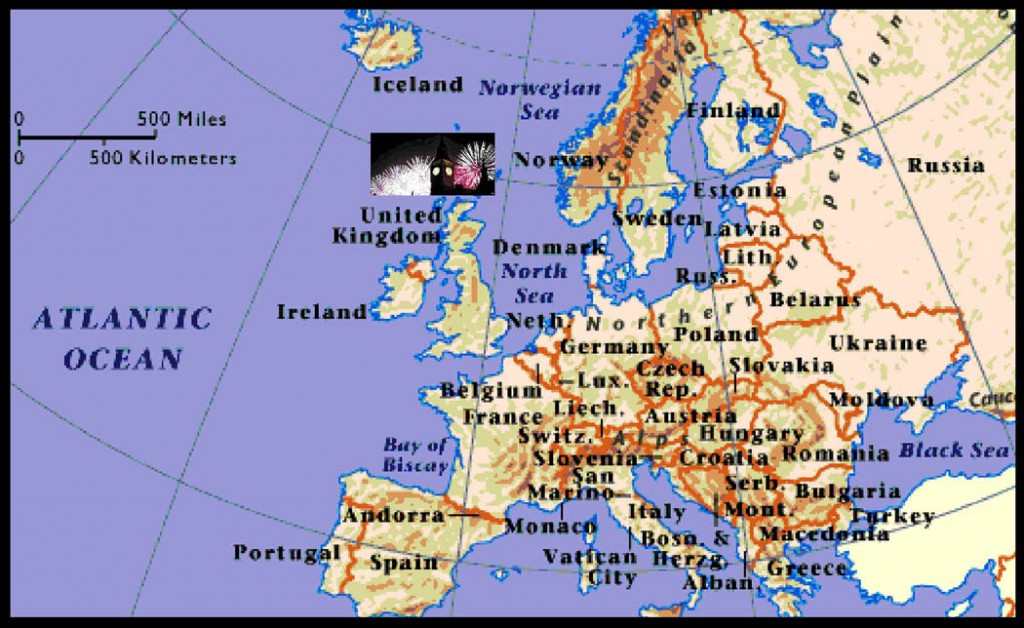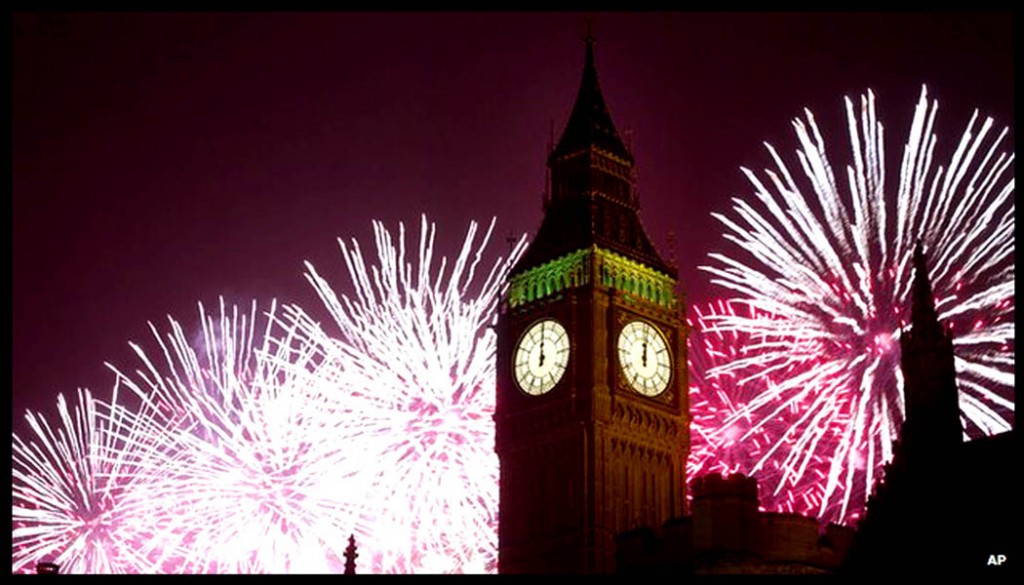 London,United Kingdom awakes with colorful firework to welcome New Year of 2014.  Picture from ( AP)  
In Scotland, about 80,000 people are expected in Edinburgh city center for the famous Homanay street party   (Reuters)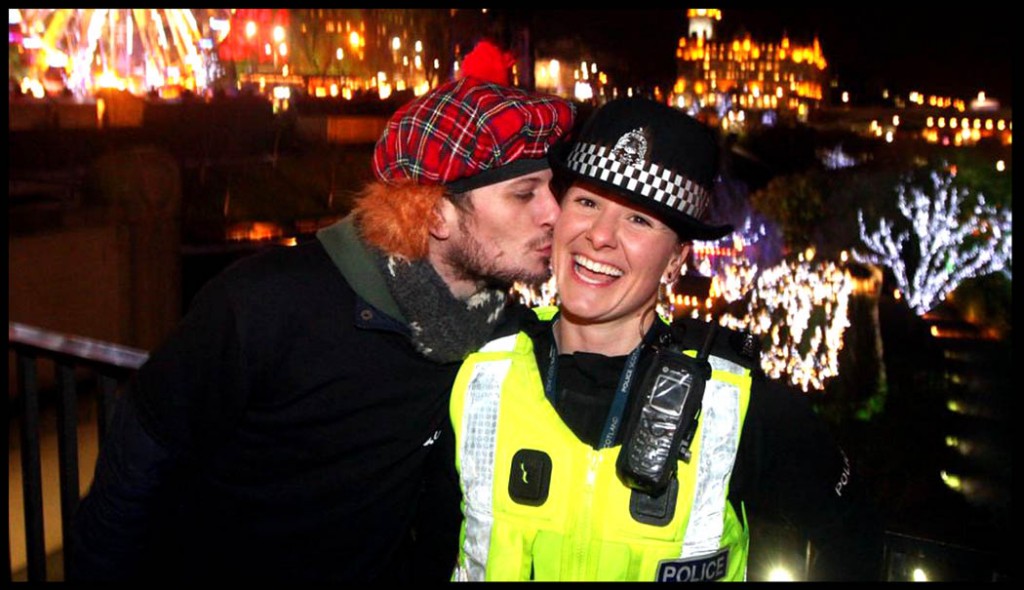 What a happy start to the New Year!  Alex Thomson steals a kiss from PC Heather Clark of Police Scotland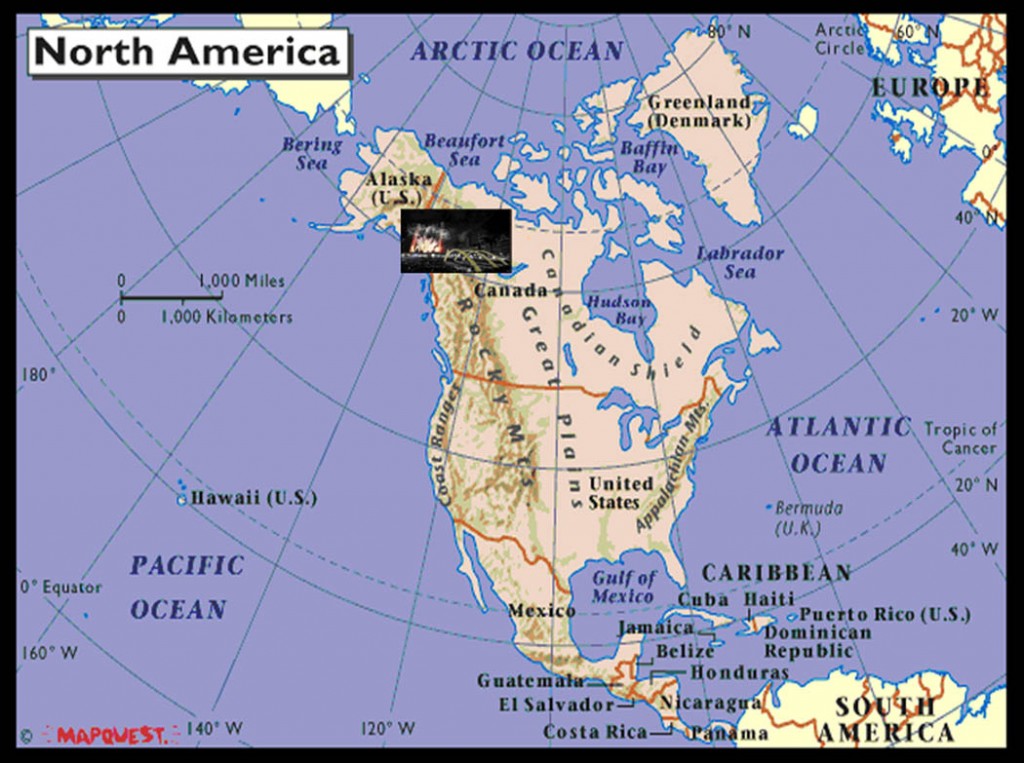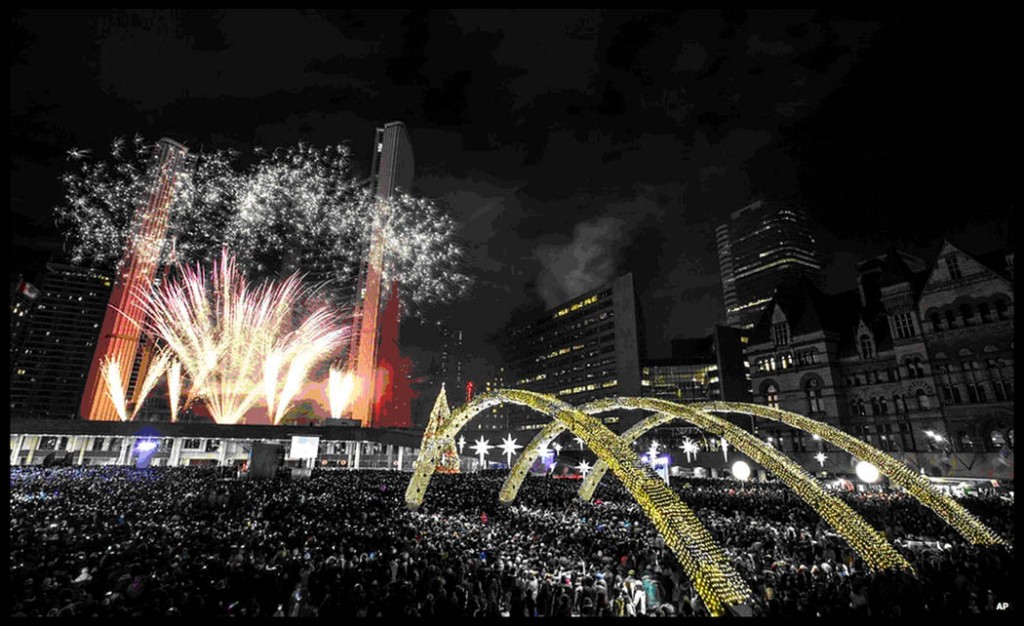 Fireworks lit up Nathan Phillips Square inToronto,Canada. 
 New York'sTimes Squarea countdown and ball drop triggered celebrations for 2014 New Year.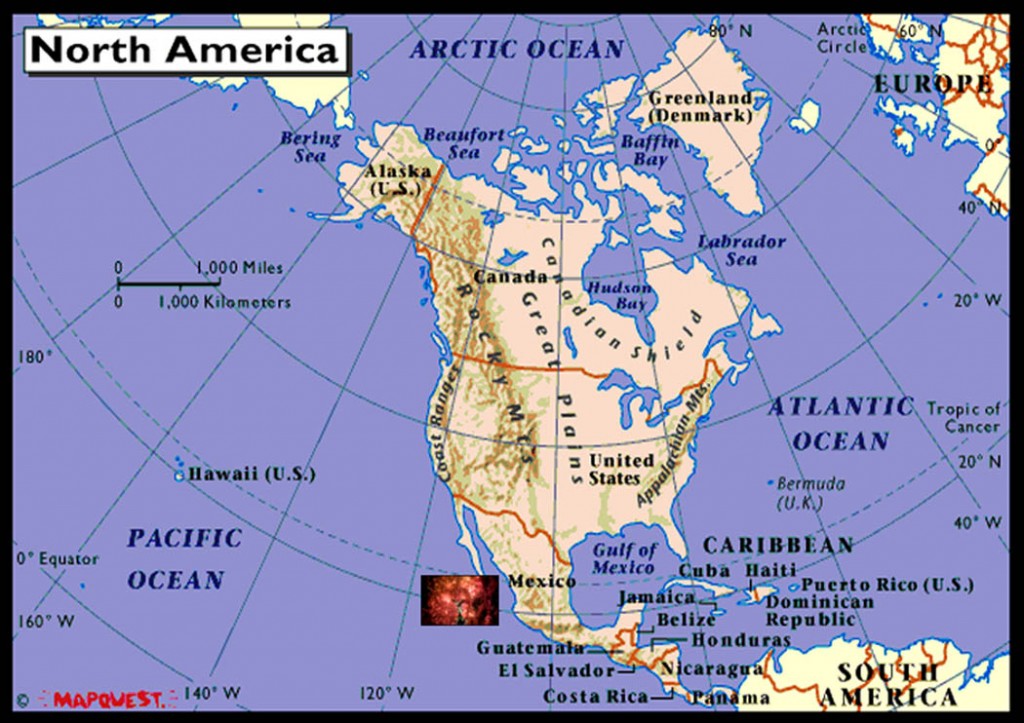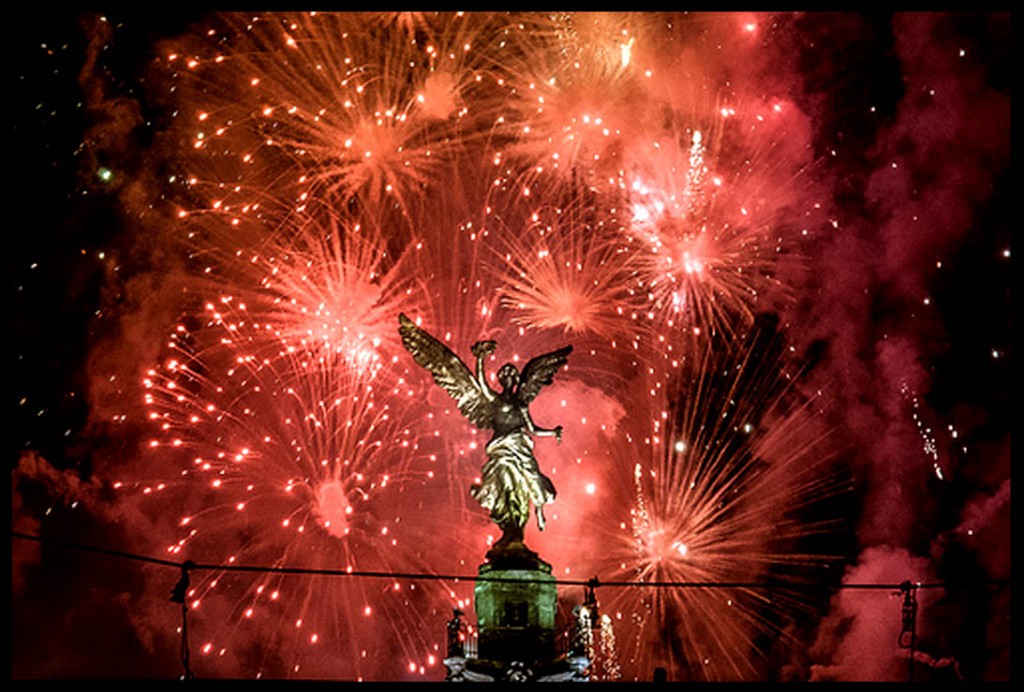 Grape Expectations In Mexico City
Locals head to the Zocalo,Mexico City's main square to shout "Feliz ano Nuevo!" And when the clock strikes 12, they'll pop a grape in their mouth at each chime and make a wish for each one.
As they nibble, it gets noisy as fire crackers, sparklers and fireworks light up the night sky.  Afterwards, energetic types head to the city's night clubs and dance until dawn.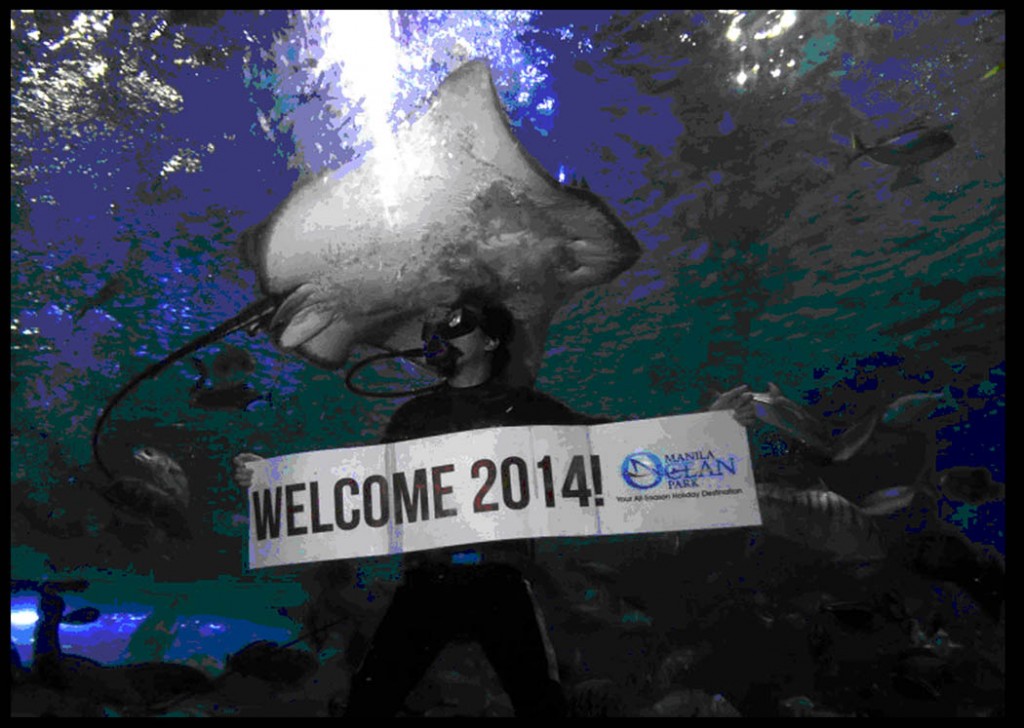 A professional diver holds a "Welcome 2014" banner while swimming next to a stingray during New Year celebrations inside a large aquarium at an ocean park in Manila December 31, 2013.  Neither an earthquake nor a super typhoon have dampened the country's optimism as 94 percent are entering the New Year with hope instead of fear, according to a new survey by pollster Social Weather Stations reported on Tuesday.  (REUTERS/Romeo Ranoco) 
Please visit links below for more pictures and information 
https://worldnews.nbcnews.com/_news/2013/12/31/22121860-new-years-eve-global-revelers-ring-in-2014-with-booms-and-flashes?lite 
https://www.bbc.co.uk/news/world-25557023 
https://www.huffingtonpost.com/2013/12/31/new-years-2014-celebratio_n_4523272.html?utm_hp_ref=new-years-2012 
https://www.abcactionnews.com/dpp/news/world/watch-as-various-countries-celebrate-new-years-eve-around-the-world 
https://publicholiday.org/calendar/new-years-eve/ 
https://www.dailymail.co.uk/news/article-2531642/Happy-New-Year-Midnight-strikes-nations-world-hail-start-2014-bright-bursts-fireworks-dancing-streets.html 
https://www.euronews.com/2013/12/31/cities-of-the-world-celebrate-new-year-20144/ 
https://www.wjla.com/articles/2013/12/new-year-s-2014-australia-new-zealand-celebrate-98696.html 
https://globalnation.inquirer.net/95529/global-fireworks-party-welcomes-2014 
https://www.google.com/#q=the+order+of+new+year+starting+around+the+world&tbm=nws