PBS News: May 4 – 8, 2020, and Coronavirus Pandemic (full film) | FRONTLINE
Al Jazeera English | Live
 DW News Livestream | Latest news and breaking stories
 Roylab Stats: [LIVE] Coronavirus Pandemic: Real Time Counter, World Map, News
 Google News: Coronavirus disease (COVID-19) information
Scientific America: Stopping Deforestation Can Prevent Pandemics
Destroying habitats makes viruses and other pathogens more likely to infect humans
TED Talks: Dianna Cohen Tough truths about plastic pollution, and Melati and Isabel Wijsen Our campaign to ban plastic bags in Bali
The New York Times: The Morning
Inhabitat: Inspiring rammed earth hospital brings affordable care to rural Nepal
DailyTop10s: This is the STRANGEST Caterpillar You've Ever Seen!
 Dominique Lalonde Films Nature: The life of Monarch Butterfly
PBS NewsHour full episode, May 8, 2020
May 8, 2020  PBS NewsHour
Friday on the NewsHour, as U.S. unemployment rises to its highest level since the Great Depression, more states let businesses reopen. Plus: How the government can address the economic crisis, COVID-19 in the American West, Pulitzer honors for local news, the analysis of Mark Shields and David Brooks, remembering victims of the pandemic, the 75th anniversary of VE-Day and flowers for the sick. WATCH TODAY'S SEGMENTS Can states reopen their economies safely? https://www.youtube.com/watch?v=ycq4J… Why U.S. economic crisis is even worse than it appears https://www.youtube.com/watch?v=m6O8E… News Wrap: Suspects in Ahmaud Arbery killing appear in court https://www.youtube.com/watch?v=Oysat… The western U.S. counties COVID-19 has barely reached https://www.youtube.com/watch?v=2_ZKk… 2 Pulitzer winners on the changing landscape of local news https://www.youtube.com/watch?v=iyhS1… Shields and Brooks on DOJ politics, Trump's economic hopes https://www.youtube.com/watch?v=ITSQU… Remembering Americans lost to the coronavirus pandemic https://www.youtube.com/watch?v=kzKKN… What these World War II veterans remember most about VE-Day https://www.youtube.com/watch?v=WJ4Rl… How this Calif. artist is sharing 'Flowers for Sick People' https://www.youtube.com/watch?v=aMjO1… Stream your PBS favorites with the PBS app: https://to.pbs.org/2Jb8twG Find more from PBS NewsHour at https://www.pbs.org/newshour Subscribe to our YouTube channel: https://bit.ly/2HfsCD6
PBS NewsHour full episode, May 7, 2020
May 7, 2020  PBS NewsHour
Thursday on the NewsHour, facing lost tax revenue and budget shortfalls, more U.S. states start to reopen. Plus: The Justice Department wants to drop the case against Michael Flynn, a public health expert on U.S. testing for COVID-19, Americans lose health insurance along with their jobs, pandemic in India, outcry over Ahmaud Arbery's death and Ask Us questions about working during the pandemic. WATCH TODAY'S SEGMENTS Pandemic's economic damage spreads to all corners of U.S. https://www.youtube.com/watch?v=c-ZK6… Why does DOJ want to drop its case against Michael Flynn? https://www.youtube.com/watch?v=nMBqP… News Wrap: Supreme Court overturns 'Bridgegate' convictions https://www.youtube.com/watch?v=szGZi… Public health expert fears states are reopening too soon https://www.youtube.com/watch?v=dj1hZ… For many Americans, layoff means loss of health insurance https://www.youtube.com/watch?v=Hw1vx… How COVID-19 is inflaming India's religious tensions https://www.youtube.com/watch?v=h-Q3i… Ahmaud Arbery's shooting a 'hate crime,' says his father https://www.youtube.com/watch?v=H3STD… Viewer questions about workplace safety during the pandemic https://www.youtube.com/watch?v=qaCWf… Stream your PBS favorites with the PBS app: https://to.pbs.org/2Jb8twG Find more from PBS NewsHour at https://www.pbs.org/newshour Subscribe to our YouTube channel: https://bit.ly/2HfsCD6
PBS NewsHour full episode, May 6, 2020
May 6, 2020  PBS NewsHour
Wednesday on the NewsHour, more countries lift pandemic restrictions in the face of historic economic loss. Plus: Outcry over a black man's shooting death in Georgia, the Supreme Court hears major cases remotely, the political battle over funding states and cities, South Dakota Sen. John Thune on pandemic response, new rules around campus sexual assault, COVID-19 in conflict zones and much more. WATCH TODAY'S SEGMENTS The new life emerging after pandemic restrictions expire https://www.youtube.com/watch?v=-XG2R… News Wrap: New reports of pandemic fallout in North Korea https://www.youtube.com/watch?v=866PE… Video appearing to show Ahmaud Arbery killing sparks outrage https://www.youtube.com/watch?v=TFmsd… 2 major cases come before a Supreme Court operating remotely https://www.youtube.com/watch?v=WsX2p… State, local workers: Federal aid not 'a red or blue issue' https://www.youtube.com/watch?v=4XEB-… Sen. Thune on funding states, PPP and safety in the Senate https://www.youtube.com/watch?v=w8y0h… What Trump's Title IX rules mean for survivors, the accused https://www.youtube.com/watch?v=yooa3… Are people in medical crisis avoiding ER due to COVID-19? https://www.youtube.com/watch?v=A7y0z… In Libya and Yemen war zones, COVID-19 adds a 2nd front https://www.youtube.com/watch?v=dwPsE… Southwest Airlines CEO on 'worst economic environment' ever https://www.youtube.com/watch?v=01M7E… Stream your PBS favorites with the PBS app: https://to.pbs.org/2Jb8twG Find more from PBS NewsHour at https://www.pbs.org/newshour Subscribe to our YouTube channel: https://bit.ly/2HfsCD6
PBS NewsHour full episode, May 5, 2020
May 5, 2020  PBS NewsHour
Tuesday on the NewsHour, President Trump makes his first cross-country trip since the pandemic took hold of American life. Plus: Arkansas Gov. Asa Hutchinson on reopening his state, when critical COVID-19 care arrives by helicopter, the global competition for scarce protective medical gear, what the pandemic means for mental health, high mortality for British people of color and quarantine DIY. Correction: Due to an editing error in Malcolm Brabant's segment on the United Kingdom, we incorrectly said that country was now second to the United States in per capita rate of deaths due to COVID-19. The UK is second in total deaths to the United States, per official counts. The NewsHour regrets the error. WATCH TODAY'S SEGMENTS Traveling to Arizona, Trump dismisses new death projections https://www.youtube.com/watch?v=BXe0x… News Wrap: DNI pick Ratcliffe vows to avoid political bias https://www.youtube.com/watch?v=Lra6W… Gov. Asa Hutchinson on he's ready to reopen Arkansas https://www.youtube.com/watch?v=_Bx8F… When lifesaving COVID-19 care arrives by helicopter https://www.youtube.com/watch?v=6vCuA… Why the U.S. has struggled to source enough PPE https://www.youtube.com/watch?v=j0Dh7… The ominous impact of COVID-19 on American mental health https://www.youtube.com/watch?v=fLYiM… An intimate portrait of a British family's COVID-19 loss https://www.youtube.com/watch?v=-rJdU… Stuck at home, some Americans are mastering new skills https://www.youtube.com/watch?v=deZal… Stream your PBS favorites with the PBS app: https://to.pbs.org/2Jb8twG Find more from PBS NewsHour at https://www.pbs.org/newshour Subscribe to our YouTube channel: https://bit.ly/2HfsCD6
Coronavirus Pandemic (full film) | FRONTLINE
Premiered Apr 21, 2020  FRONTLINE PBS | Official
An investigation into the U.S. response to COVID-19, from Washington State to Washington, D.C. This journalism is made possible by viewers like you. Support your local PBS station here: http://www.pbs.org/donate How did the U.S. become the country with the worst known coronavirus outbreak in the world? FRONTLINE and veteran science reporter Miles O'Brien investigate the American response to COVID-19, and examine what happens when politics and science collide. #Coronavirus #Documentary #COVID-19 Love FRONTLINE? Find us on the PBS Video App where there are more than 250 FRONTLINE documentaries available for you to watch any time: https://to.pbs.org/FLVideoApp Subscribe on YouTube: http://bit.ly/1BycsJW Instagram: https://www.instagram.com/frontlinepbs Twitter: https://twitter.com/frontlinepbs Facebook: https://www.facebook.com/frontline FRONTLINE is streaming more than 200 documentaries online, for free, here: http://to.pbs.org/hxRvQP Funding for FRONTLINE is provided through the support of PBS viewers and by the Corporation for Public Broadcasting. Major funding for FRONTLINE is provided by the John D. and Catherine T. MacArthur Foundation and the Ford Foundation. Additional funding is provided by the Abrams Foundation, the Park Foundation, The John and Helen Glessner Family Trust, and the FRONTLINE Journalism Fund with major support from Jon and Jo Ann Hagler on behalf of the Jon L. Hagler Foundation.
Category  News & Politics
Al Jazeera English | Live
@Al Jazeera English, we focus on people and events that affect people's lives. We bring topics to light that often go under-reported, listening to all sides of the story and giving a 'voice to the voiceless'. Reaching more than 270 million households in over 140 countries across the globe, our viewers trust Al Jazeera English to keep them informed, inspired, and entertained. Our impartial, fact-based reporting wins worldwide praise and respect. It is our unique brand of journalism that the world has come to rely on. We are reshaping global media and constantly working to strengthen our reputation as one of the world's most respected news and current affairs channels. Subscribe to our channel: http://bit.ly/AJSubscribe Follow us on Twitter: https://twitter.com/AJEnglish Find us on Facebook: https://www.facebook.com/aljazeera Check our website: http://www.aljazeera.com/ #AlJazeeraEnglish #BreakingNews #AlJazeeraLive
Category  News & Politics
DW News Livestream | Latest news and breaking stories
Started streaming on Jan 21, 2019  DW News
DW News goes deep beneath the surface, providing the key stories from Europe and around the world. Exciting reports and interviews from the worlds of politics, business, sports, culture and social media are presented by our DW anchors in 15-, 30- and 60-minute shows. Correspondents on the ground and experts in the studio deliver detailed insights and analysis of issues that affect our viewers around the world. We combine our expertise on Germany and Europe with a special interest in Africa and Asia while keeping track of stories from the rest of the world. Informative, entertaining and up-to-date – DW News, connecting the dots for our viewers across the globe. Deutsche Welle is Germany's international broadcaster. We convey a comprehensive image of Germany, report events and developments, incorporate German and other perspectives in a journalistically independent manner. By doing so we promote understanding between cultures and peoples. #dwNews #LiveNews #NewsToday
Category  News & Politics
[LIVE] Coronavirus Pandemic: Real Time Counter, World Map, News
Started streaming 15 hours ago   Roylab Stats
Coronavirus Live Streaming: Breaking news, world Map and live counter on confirmed cases and recovered cases. I started this live stream on Jan 26th, and since Jan 30th I have been streaming this without stopping. Many people are worried about the spread of coronavirus. For anyone that wants to know the real-time progression of the worldwide spread of this virus, I offer this live stream. The purpose is not to instill fear or panic, nor is it to necessarily comfort; I just want to present the data to help inform the public of the current situation. The purpose of this stream is to show basic information and data to understand the situation easily. For detail information, please visit our reference sites.
Google News: Coronavirus disease (COVID-19) information
https://news.google.com/covid19/map?hl=en-US&gl=US&ceid=US:en
Cases
Sorted by Confirmed in descending order
Location
Confirmed
Cases per 1M people
Recovered
Deaths
Worldwide
3,955,984
509
1,319,306
275,188
United States
1,318,289
4,000
182,930
78,244
Spain
223,578
4,747
133,952
26,478
Italy
217,185
3,605
99,023
30,201
United Kingdom
211,364
3,181
—
31,241
Russia
198,676
1,354
31,916
1,827
Germany
170,588
2,052
138,214
7,510
Brazil
145,894
690
59,297
10,017
France
138,421
2,064
55,782
26,230
Turkey
135,569
1,630
86,396
3,689
Iran
104,691
1,256
83,837
6,541
China
82,887
59
78,046
4,633
Canada
66,434
1,749
30,226
4,569
Peru
61,847
1,925
19,012
1,714
India
59,662
44
17,847
1,981
Source:Wikipedia·
About this data
Description
Coronavirus disease (COVID-19) is an infectious disease caused by a new virus.
The disease causes respiratory illness (like the flu) with symptoms such as a cough, fever, and in more severe cases, difficulty breathing. You can protect yourself by washing your hands frequently, avoiding touching your face, and avoiding close contact (1 meter or 3 feet) with people who are unwell.
HOW IT SPREADS
Coronavirus disease spreads primarily through contact with an infected person when they cough or sneeze. It also spreads when a person touches a surface or object that has the virus on it, then touches their eyes, nose, or mouth.
For informational purposes only. Consult your local medical authority for advice.
Source: World Health OrganizationLearn more
Resources from Google

Google tools and resources to help you stay informed and connected
https://www.scientificamerican.com/article/stopping-deforestation-can-prevent-pandemics/?utm_source=newsletter&utm_medium=email&utm_campaign=earth&utm_content=link&utm_term=2020-05-06_top-stories&spMailingID=64678544&spUserID=NDQwNDA3NDcwNDMzS0&spJobID=1880744581&spReportId=MTg4MDc0NDU4MQS2
Stopping Deforestation Can Prevent Pandemics
Destroying habitats makes viruses and other pathogens more likely to infect humans
By THE EDITORS on May 1, 2020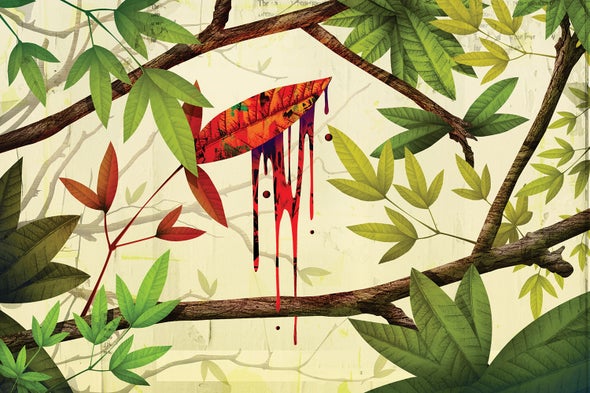 Credit: Taylor Callery
SARS, Ebola and now SARS-CoV-2: all three of these highly infectious viruses have caused global panic since 2002—and all three of them jumped to humans from wild animals that live in dense tropical forests.
Three quarters of the emerging pathogens that infect humans leaped from animals, many of them creatures in the forest habitats that we are slashing and burning to create land for crops, including biofuel plants, and for mining and housing. The more we clear, the more we come into contact with wildlife that carries microbes well suited to kill us—and the more we concentrate those animals in smaller areas where they can swap infectious microbes, raising the chances of novel strains. Clearing land also reduces biodiversity, and the species that survive are more likely to host illnesses that can be transferred to humans. All these factors will lead to more spillover of animal pathogens into people.
Stopping deforestation will not only reduce our exposure to new disasters but also tamp down the spread of a long list of other vicious diseases that have come from rain forest habitats—Zika, Nipah, malaria, cholera and HIV among them. A 2019 study found that a 10 percent increase in deforestation would raise malaria cases by 3.3 percent; that would be 7.4 million people worldwide. Yet despite years of global outcry, deforestation still runs rampant. An average of 28 million hectares of forest have been cut down annually since 2016, and there is no sign of a slowdown.
Societies can take numerous steps to prevent the destruction. Eating less meat, which physicians say will improve our health anyway, will lessen demand for crops and pastures. Eating fewer processed foods will reduce the demand for palm oil—also a major feedstock for biofuels—much of which is grown on land clear-cut from tropical rain forests. The need for land also will ease if nations slow population growth—something that can happen in developing nations only if women are given better education, equal social status with men and easy access to affordable contraceptives.
Producing more food per hectare can boost supply without the need to clear more land. Developing crops that better resist drought will help, especially as climate change brings longer, deeper droughts. In dry regions of Africa and elsewhere, agroforestry techniques such as planting trees among farm fields can increase crop yields. Reducing food waste could also vastly lessen the pressure to grow more; 30 to 40 percent of all food produced is wasted.
As we implement these solutions, we can also find new outbreaks earlier. Epidemiologists want to tiptoe into wild habitats and test mammals known to carry coronaviruses—bats, rodents, badgers, civets, pangolins and monkeys—to map how the germs are moving. Public health officials could then test nearby humans. To be effective, though, this surveillance must be widespread and well funded. In September 2019, just months before the COVID-19 pandemic began, the U.S. Agency for International Development announced it would end funding for PREDICT, a 10-year effort to hunt for threatening microbes that found more than 1,100 unique viruses. USAID says it will launch a new surveillance program; we urge it to supply enough money this time to cast a wider and stronger net.
In the meantime, governments should prohibit the sale of live wild animals in so-called wet markets, where pathogens have repeatedly crossed over into humans. The markets may be culturally important, but the risk is too great. Governments must also crack down on illegal wildlife trade, which can spread infectious agents far and wide. In addition, we have to examine factory farms that pack thousands of animals together—the source of the 2009 swine flu outbreak that killed more than 10,000 people in the U.S. and multitudes worldwide.
Ending deforestation and thwarting pandemics would address six of the United Nations' 17 Sustainable Development Goals: the guarantee of healthy lives, zero hunger, gender equality, responsible consumption and production, sustainably managed land, and climate action (intact tropical forests absorb carbon dioxide, whereas burning them sends more CO2 into the atmosphere).
The COVID-19 pandemic is a catastrophe, but it can rivet our attention on the enormous payoffs that humanity can achieve by not overexploiting the natural world. Pandemic solutions are sustainability solutions.
Read more about the coronavirus outbreak here.
ABOUT THE AUTHOR(S)
THE EDITORS
Recent Articles
Artist Dianna Cohen shares some tough truths about plastic pollution in the ocean and in our lives — and some thoughts on how to free ourselves from the plastic gyre.
This talk was presented at an official TED conference, and was featured by our editors on the home page.
ABOUT THE SPEAKER
Dianna Cohen · Artist and activist
Dianna Cohen co-founded the Plastic Pollution Coalition, which is working to help end our cycle of plastics use.
Mission Blue Voyage | April 2010
Plastic bags are essentially indestructible, yet they're used and thrown away with reckless abandon. Most end up in the ocean, where they pollute the water and harm marine life; the rest are burned in garbage piles, where they release harmful dioxins into the atmosphere. Melati and Isabel Wijsen are on a mission to stop plastic bags from suffocating their beautiful island home of Bali. Their efforts — including petitions, beach cleanups, even a hunger strike — paid off when they convinced their governor to commit to a plastic bag-free Bali by 2018. "Don't ever let anyone tell you that you're too young or you won't understand," Isabel says to other aspiring activists. "We're not telling you it's going to be easy. We're telling you it's going to be worth it."
This talk was presented at an official TED conference, and was featured by our editors on the home page.
ABOUT THE SPEAKER
Melati and Isabel Wijsen · Activists
Sisters Melati and Isabel Wijsen are on a mission to ban plastic bags in Bali.
TEDGlobal>London | September 2015
The New York Times    The Morning      May 7, 2020
More kids are going hungry. States are reopening without a declining number of coronavirus cases. And mom and dad disagree about who's doing the home schooling. Let's start with President Trump's climate agenda.
Dismantling the rules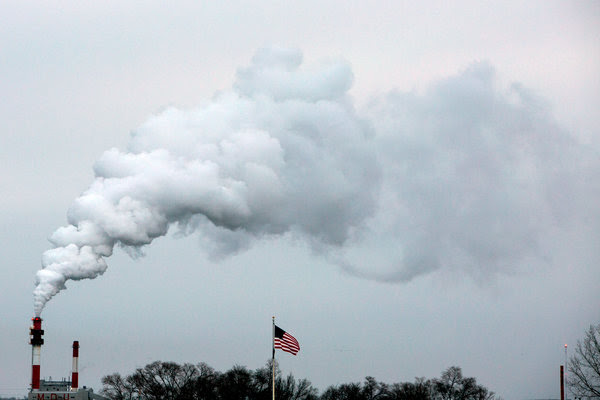 A coal-fired generating station in Sidney, Mont. Janie Osborne for The New York Times
This newsletter will often start with coronavirus news. And you'll always find plenty of news about it below. But the virus isn't the only story we're going to cover in depth.
Today, we're going to start with another one of the world's vital stories: the battle over climate policy.
Shortly after taking office, President Trump and congressional Republicans found an innovative way to reduce business regulations, one of their top policy priorities. They began using a 1996 law — called the Congressional Review Act, and rarely used before — that allowed them to reverse rules enacted by the Obama administration in its final few months.
Now that Trump's first term is winding down, administration officials realize that the same law could undo some of their policies — if the Democrats win in November. So the administration has been hurrying to finish as many regulations as possible this spring, to make sure they are not vulnerable to reversal under the Review Act.
And the administration has been particularly focused on the environment. As Nadja Popovich, Livia Albeck-Ripka and Kendra Pierre-Louis of The Times report: Trump's drive to dismantle major climate and environmental policies is now mostly complete.
This agenda, Trump and his aides say, helped to speed up economic growth (before the coronavirus lockdown) by giving companies more flexibility to behave as they want. Many climate and health experts counter that the rule changes are leading to more pollution-related illnesses and are accelerating climate change.
braking systems on trains hauling flammable liquids
dumping of coal-mining debris into streams
chlorpyrifos, a pesticide linked to developmental disabilities in children
species endangered by climate change
1. More kids are going hungry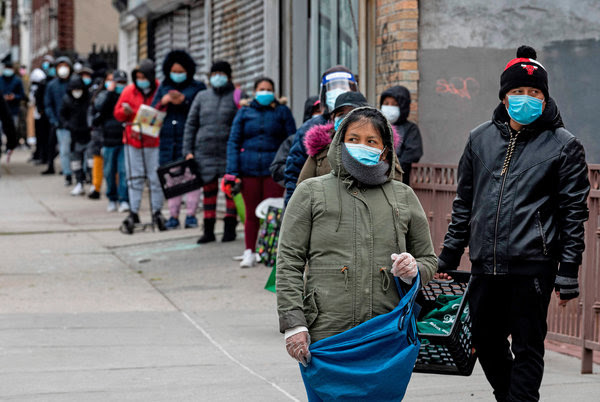 A food distribution center in Queens.Johannes Eisele/Agence France-Presse — Getty Images
The coronavirus pandemic is creating a hunger crisis: More than 17 percent of young children in the United States lack sufficient food, according to research — a rate three times higher than during the worst of the Great Recession.
The most likely explanations are the rise in unemployment and the interruption in school meal programs. "I've eaten a lot less just to make sure they get what they need," said one Ohio woman, who is trying to make $170 in monthly food stamps go far enough to feed her grandchildren.
Here's what else is happening
Ian Prasad Philbrick, Lara Takenaga, Tom Wright-Piersanti and Sanam Yar contributed to The Morning. You can reach the team at themorning@nytimes.com.
Inhabitat: Inspiring rammed earth hospital brings affordable care to rural Nepal
https://inhabitat.com/inspiring-rammed-earth-hospital-brings-affordable-care-to-rural-nepal/
written by Lucy Wang  on April 28,2020
Photography by Elizabeth Felicella via Sharon Davis Design
An inspiring beacon of humanitarian architecture has arrived to one of the poorest and most remote regions of Nepal — the new Bayalpata Hospital in Accham. Opened earlier this month to replace an aged and overrun clinic, the new hospital is a model of sustainable rural health made possible through a collaboration between the government of Nepal and NGO Possible Health. New York City-based Sharon Davis Design crafted the 7.5-acre campus, which is built primarily from locally sourced rammed earth and powered by rooftop solar panels. oearth and powered by rooftop solar panels.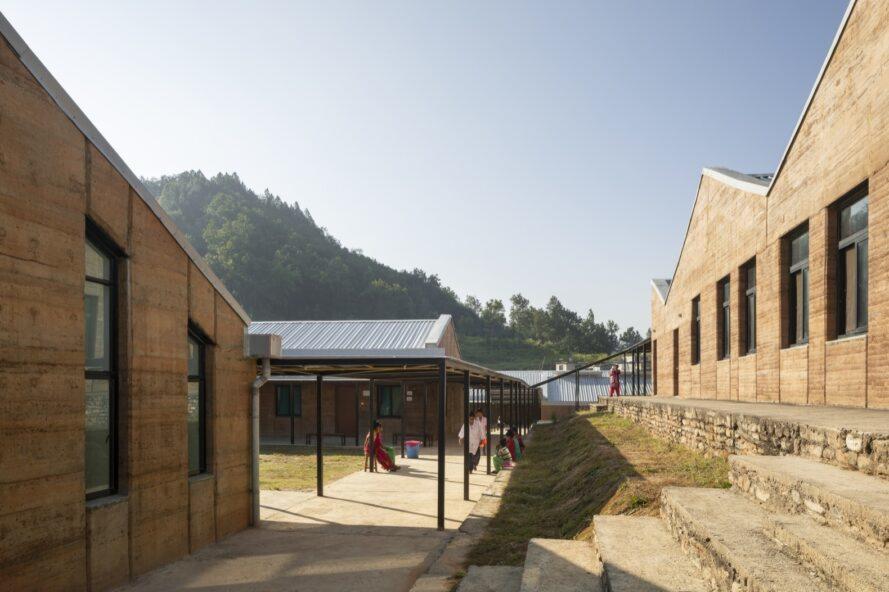 Located on a hilltop surrounded by the terraced slopes of the Seti River Valley, the new Bayalpata Hospital is expected to provide low-cost, high-quality care to more than 100,000 patients a year from Accham and its six surrounding districts — a number that's more than eight times its original capacity. The hospital comprises five medical buildings with outpatient, inpatient, surgery, antenatal and emergency facilities for 70 beds as well as clinical functions such as pharmacy, radiology and laboratory spaces. The campus also includes an administration block for offices, a 60-seat cafeteria and 10 single-family houses plus an eight-bedroom dormitory to house the hospital staff and their families.
Related: Rammed earth Kopila Valley School is the "greenest school in Nepal"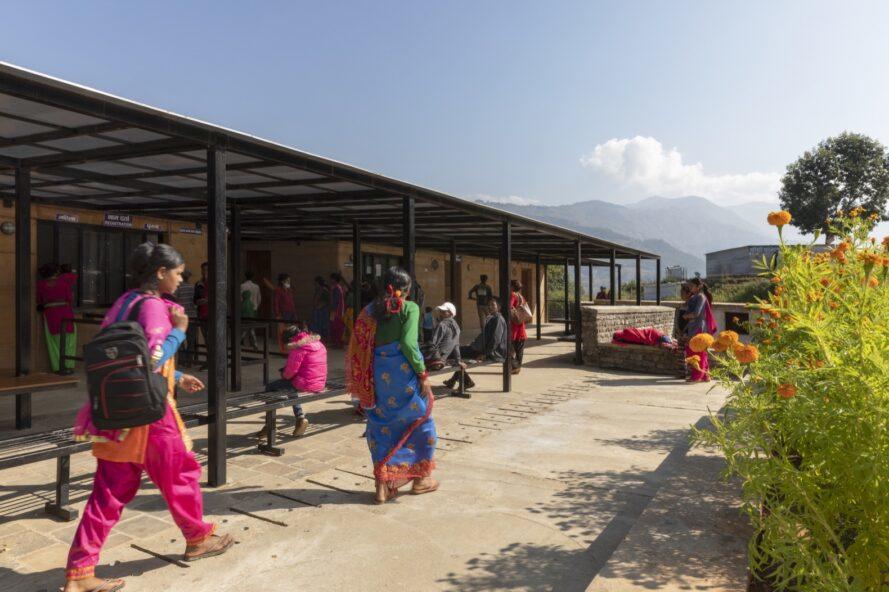 Because of the site's remote and mountainous location, the hospital is primarily built from rammed earth using a low-tech construction method and local labor. Soil from the site was mixed with 6% cement content for stabilization and seismic resistance. This mixture was then formed into blocks with reusable plastic formwork and set atop foundations constructed from local stone, which was also used for pathways and retaining walls.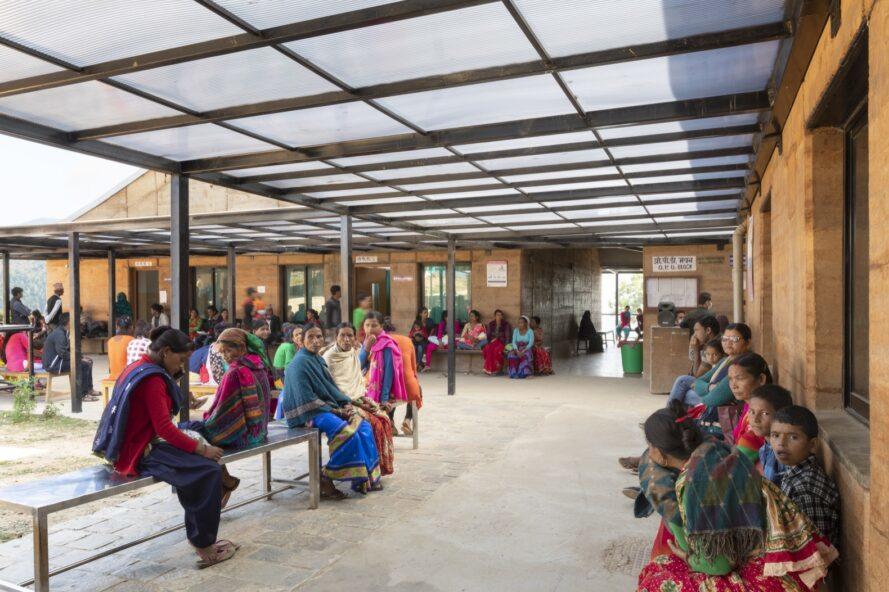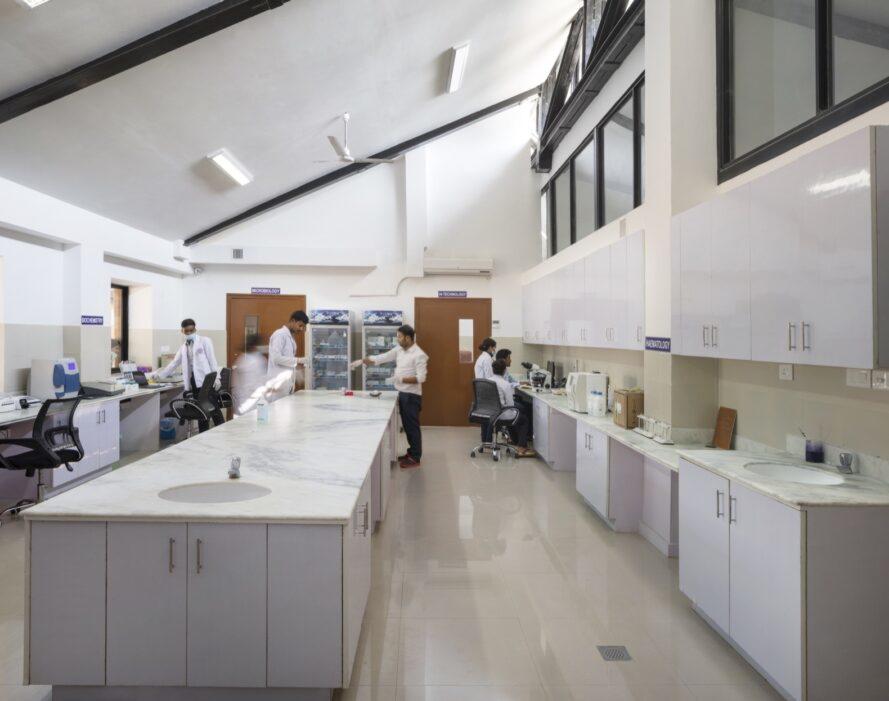 Local Sal wood was used for built-in furniture, exterior doors and louvers. In addition to the thermal mass of the massive rammed earth walls, passive heating and cooling design strategies were used to keep the hospital comfortable year-round. The campus also includes a new water supply and storage, wastewater treatment facilities and bioswales to manage monsoon-driven erosion. The hospital's south-facing roofs are topped with a grid-connected 100 kW photovoltaic array that is powerful enough to generate all of the campus' electricity needs.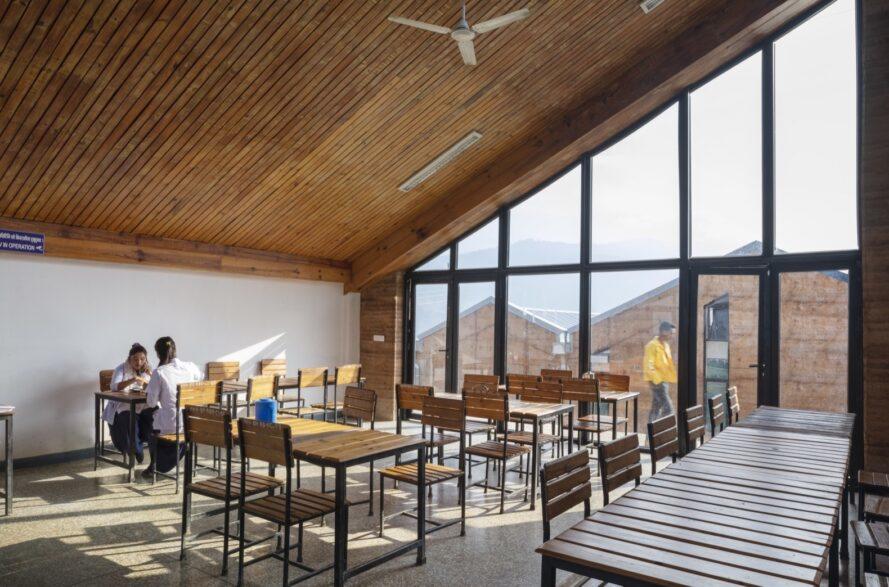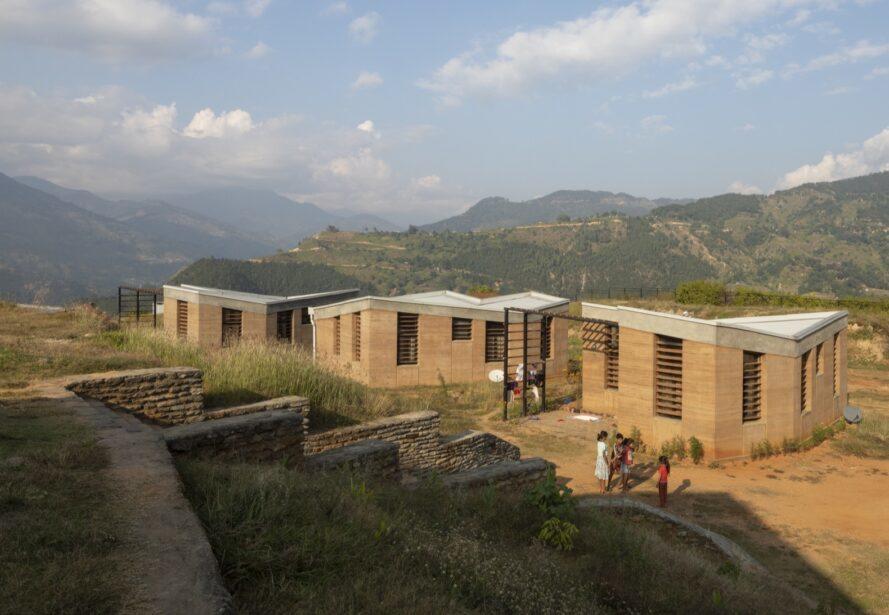 "We see this project as a model of how rammed earth, and other vernacular materials, can be utilized to create modern architecture," said Sharon Davis, principal of Sharon Davis Design. "Without local materials, this project may not have been possible because of its incredibly remote location — a 10-hour drive from the nearest regional airport and a three-day drive on narrow, mountainous roads from the nearest manufacturing centers around Kathmandu."
Photography by Elizabeth Felicella via Sharon Davis Design
This is the STRANGEST Caterpillar You've Ever Seen!
Aug 6, 2019  DailyTop10s
The world is home to thousands of species of caterpillars, and some of them are very unique indeed. These are the strangest caterpillars on the planet! DailyTop10s brings you fun and informative top ten lists in a variety of different topics. Join us and sub for regular posts. If you have a top ten topic you'd like us to do make a video on, let us know in the comments! We usually focus on top tens that bring educational / informational value to the viewer. Thanks for watching DailyTop10s!
Category  Entertainment
The life of Monarch Butterfly
Sep 12, 2015  Dominique Lalonde Films Nature
Discover the life of the monarch. Adult female monarchs lay their eggs on the underside of milkweed leaves. Each female can lay 400 eggs. These eggs hatch, depending on temperature, in three to five days. Monarchs spend the caterpillar stage of their lives eating and growing. The young caterpillar measures about 2 mm and reaches a length of 50 mm. After about two weeks, the caterpillar will be fully-grown and find a place to attach itself so that it can start the process of metamorphosis. Witness the monarch's transformation. It is the only one North American butterfly who migrate, each year, in large number. Probably no other insect on the Earth make such a migration. The Monarch can fly more than 100 km in a single day. Copyright Dominique Lalonde Subscribe : https://www.youtube.com/user/Explorat…
Category  Pets & Animals