Roylab Stats: [LIVE] Coronavirus Pandemic: Real Time Counter, World Map, News
Al Jazeera English – Live
DW News Livestream – Latest news and breaking stories
FRANCE 24 English: LIVE – International Breaking News & Top stories – 24/7 stream
TED Talks: Seth Berkley HIV and flu the vaccine strategy
Kurzgesagt – In a Nutshell: The Coronavirus Explained & What You Should Do
WEHImovies: DNA animations by wehi.tv for Science-Art exhibition
The New York Times: Coronavirus Map – Tracking the Global Outbreak Updated April 1, 020, 1:05 A.M. E.T.
PBS NewsHour full episode, Mar 31, 2020
Mar 31, 2020 PBS NewsHour
Tuesday on the NewsHour, the death toll from novel coronavirus in the U.S. has now exceeded that in China. Plus: Food banks struggle to feed the newly unemployed, teachers and students adapt to distance learning, unlocking the science of the virus, President Trump relaxes fuel efficiency standards, an update from the White House, how the military is handling the outbreak and Now Read This. WATCH TODAY'S SEGMENTS The U.S. novel coronavirus death toll now tops China's https://www.youtube.com/watch?v=9effA… News Wrap: Dow Jones concludes worst quarter since 1987 https://www.youtube.com/watch?v=hLqbW… How food bank are trying to cope with a surge in demand https://www.youtube.com/watch?v=Ul96q… How learning changes when school happens at home and online https://www.youtube.com/watch?v=Q9Thm… What scientists know about COVID-19 — and what they don't https://www.youtube.com/watch?v=RO37V… Trump hastens deregulation with fuel efficiency rollback https://www.youtube.com/watch?v=oPe7Y… Trump tells Americans to brace themselves for more pain https://www.youtube.com/watch?v=TGFaK… U.S. Navy says it won't evacuate ship with infected sailors https://www.youtube.com/watch?v=Hy2ta… 'Inheritance' author Dani Shapiro answers your questions https://www.youtube.com/watch?v=ImIHT… Stream your PBS favorites with the PBS app: https://to.pbs.org/2Jb8twG Find more from PBS NewsHour at https://www.pbs.org/newshour Subscribe to our YouTube channel: https://bit.ly/2HfsCD6
PBS NewsHour full episode, Mar 30, 2020
Mar 30, 2020
Monday on the NewsHour, COVID-19 continues to burn through the U.S. population, with New York as the most severe national hot spot. Plus: Why U.S. coronavirus testing is still problematic, Illinois' surging number of cases, a Greek refugee camp poised for disaster, U.S. delivery workers fear for their health, President Trump's update, Politics Monday and one family's story of coping with pandemic. WATCH TODAY'S SEGMENTS More states lock populations down as COVID-19 cases climb https://www.youtube.com/watch?v=F-Ki3… How 'constrained' virus testing has crippled U.S. response https://www.youtube.com/watch?v=NPmWa… 'Everyone is afraid' as Illinois virus cases spike https://www.youtube.com/watch?v=8azIz… At Greek refugee camp, few defenses against COVID-19 threat https://www.youtube.com/watch?v=3TQsl… News Wrap: Van Gogh painting stolen from Dutch museum https://www.youtube.com/watch?v=ozC06… As more people order delivery, workers fear virus exposure https://www.youtube.com/watch?v=wmWrt… How the president's coronavirus approach has changed https://www.youtube.com/watch?v=Gh5rT… Tamara Keith and Amy Walter on Trump and COVID-19 https://www.youtube.com/watch?v=4XTsI… The particular pain of losing a loved one during quarantine https://www.youtube.com/watch?v=m6xKV… Stream your PBS favorites with the PBS app: https://to.pbs.org/2Jb8twG Find more from PBS NewsHour at https://www.pbs.org/newshour Subscribe to our YouTube channel: https://bit.ly/2HfsCD6
[LIVE] Coronavirus Pandemic: Real Time Counter, World Map, News
Started streaming on Jan 29, 2020 Roylab Stats
Novel coronavirus Live Streaming: Breaking news, world Map and live counter on confirmed cases, recovered cases(COVID-19). I started this live stream on Jan 26th, and since Jan 30th I have been streaming this without stopping. Many people are worried about the coronavirus spreading. For anyone that wants to know the numbers and progression of the worldwide spread of this virus, I offer this live stream. The purpose is not to instill fear or panic, nor is it to necessarily comfort; I just want to present the data to help inform the public of the current situation. At first, I tried to show only official data from governments without any manipulation. But many people wanted to apply an up-to-date format of data to stream. I added a procedure to manually manipulate data with my computer. After seeing the inflicted countries numbers had sharply increased, I realized that I could no longer keep up with new information from 100 countries. So I made another procedure which enables moderators the ability to manipulate the numbers on screen remotely. Not only the moderators who willingly accepted the hard work, but also everyone that gave us reliable information were able to add streaming data. The role of this streaming is to show basic information to undertand situation easily. For detail information, please visit our reference sites. References: 1. WORLDOMETER: https://www.worldometers.info/coronav… 2. BNO News: https://bnonews.com/index.php/2020/02… 3. JHU CSEE: https://gisanddata.maps.arcgis.com/ap… 4. 1point3acres (for USA/CAN):https://coronavirus.1point3acres.com/en 5. RiskLayer (DEU): http://www.risklayer-explorer.com/eve… 6. MorgenPost (DEU): https://interaktiv.morgenpost.de/coro… 7. DXY (CHN): https://ncov.dxy.cn/ncovh5/view/pneum… 8. J.A.G Japan (JPN): https://jagjapan.maps.arcgis.com/apps… 9. VG (NOR): https://www.vg.no/spesial/2020/corona… 10. Wiki – Brazil page (BRA): https://en.wikipedia.org/wiki/2020_co… I majored in life science and joined bioinformatics laboratory for master degree. At that time I used python. Since I decided to change my career as dentist, I have been stopped programming for 15 years. Now, I start to learn more about python with googling. Because my job doesn't allow mistakes, I won't try something new works. Still I am wondering how can i start this live streaming. Sometimes python program doesn't work as i intended. If I can devote all my free time to this live stream, I would give more accurate and faster information. But please understand that I can't manipulate data all day. While I am working and sleeping, data gathering is done automatically. I live in South Korea. At the beginning of streaming, the number of confirmed cases were not so high in South Korea. After sudden appearing local transmission that can't be trackable, the number has been dramatically increased. Please be warned that COVID-19 is highly contagious disease. Although the stream started off crude and basic, many people have supported me in improving and maintaining this. It is because of your support that I am encouraged to keep streaming. I especially appreciate all moderators for willingly accepting the role. They have given their precious time to making this live stream better – Max Mustermann, Stephanie Hughes, Random, Entrenched Trader, Droid Knight, Craft Fan, Fries, jlpowell73, The NCV, Josh Leathers,The Eldritch God, srpk khin, Hitz1001, Red Chiref, GildArt by Gilda, emmamec, lambi, AmberLeanne, DukeHeart, Green Rock Films, Charlie and amithist57. I hope this live stream can be a useful source of information for you. Please keep track of the numbers that impact you and let them inform the decisions you make when you have to make them. Please take care. Keeping good immunity is very important!!! Please sleep, eat and rest fully for resilience. Keep those affected by this unfortunate outbreak in your thoughts. Data1 – screen numbers https://docs.google.com/spreadsheets/… Data2 – Daily numbers https://docs.google.com/spreadsheets/… Eyes_of_Glory/ Heaven_and_Hell / Heaven_and_Hell_Part_2 / Hero_Down/ Into_the_Sky / Lonely_Troutman / Lonely_Troutman_II / Parzival / Mountain/The_Heartache Hero Down: http://incompetech.com/ from www.bensound.com from www.epidemicsound.com
Category News & Politics
Al Jazeera English | Live
Started streaming on Jan 15, 2020 Al Jazeera English
@Al Jazeera English, we focus on people and events that affect people's lives. We bring topics to light that often go under-reported, listening to all sides of the story and giving a 'voice to the voiceless'. Reaching more than 270 million households in over 140 countries across the globe, our viewers trust Al Jazeera English to keep them informed, inspired, and entertained. Our impartial, fact-based reporting wins worldwide praise and respect. It is our unique brand of journalism that the world has come to rely on. We are reshaping global media and constantly working to strengthen our reputation as one of the world's most respected news and current affairs channels. Subscribe to our channel: http://bit.ly/AJSubscribe Follow us on Twitter: https://twitter.com/AJEnglish Find us on Facebook: https://www.facebook.com/aljazeera Check our website: http://www.aljazeera.com/ #AlJazeeraEnglish #BreakingNews #AlJazeeraLive
Category News & Politics
DW News Livestream | Latest news and breaking stories
Started streaming on Jan 21, 2019 DW News
DW News goes deep beneath the surface, providing the key stories from Europe and around the world. Exciting reports and interviews from the worlds of politics, business, sports, culture and social media are presented by our DW anchors in 15-, 30- and 60-minute shows. Correspondents on the ground and experts in the studio deliver detailed insights and analysis of issues that affect our viewers around the world. We combine our expertise on Germany and Europe with a special interest in Africa and Asia while keeping track of stories from the rest of the world. Informative, entertaining and up-to-date – DW News, connecting the dots for our viewers across the globe. Deutsche Welle is Germany's international broadcaster. We convey a comprehensive image of Germany, report events and developments, incorporate German and other perspectives in a journalistically independent manner. By doing so we promote understanding between cultures and peoples. #dwNews #LiveNews #NewsToday
Category News & Politics
FRANCE 24 English – LIVE – International Breaking News & Top stories – 24/7 stream
Started streaming on Jan 24, 2020 FRANCE 24 English
Watch FRANCE 24 live in English on YouTube for free Subscribe to France 24 now https://f24.my/YouTubeEN Watch France 24 live news: all the latest news live broadcasted from Paris, France. Le DIRECT France 24 en français : https://f24.my/YTliveFR France 24 EN VIVO en Español: https://f24.my/YTliveES ????? 24 ???? ??????? https://f24.my/YTliveAR Like us on Facebook: https://f24.my/FBen Follow us on Twitter: https://f24.my/TWen Watch our stories on Instagram: https://f24.my/IGen FRANCE 24 INTERNATIONAL NEWS 24/7 https://www.france24.com/en/
Category News & Politics
Seth Berkley explains how smart advances in vaccine design, production and distribution are bringing us closer than ever to eliminating a host of global threats — from AIDS to malaria to flu pandemics.
This talk was presented at an official TED conference, and was featured by our editors on the home page.
Seth Berkley · Vaccine visionary
Epidemiologist Seth Berkley is leading the charge to make sure vaccines are available to everyone, including those living in the developing world.
TED2010 | February 2010
The Coronavirus Explained & What You Should Do
Mar 19, 2020 Kurzgesagt – In a Nutshell
Get Merch designed with ? from https://kgs.link/shop Join the Patreon Bird Army ? https://kgs.link/patreon ?? More infos and links are just a click away ?? A huge thanks to the experts who helped us on short notice with the video. Especially "Our World in Data", the online publication for research and data on the world's largest problems – and how to make progress solving them. Check out their site. It also includes a constantly updated page on the Corona Pandemic. In December 2019 the Chinese authorities notified the world that a virus was spreading through their communities. In the following months it spread to other countries, with cases doubling within days. This virus is the "Severe acute respiratory syndrome-related coronavirus 2", that causes the disease called COVID19, and that everyone simply calls Coronavirus. What actually happens when it infects a human and what should we all do? Sources & further reading: https://sites.google.com/view/sources… OUR CHANNELS ?????????????????????????? German Channel: https://kgs.link/youtubeDE by FUNK Spanish Channel: https://kgs.link/youtubeES by WIX HOW CAN YOU SUPPORT US?
DNA animations by wehi.tv for Science-Art exhibition
Jul 16, 2018 WEHImovies
Edit of wehi.tv's DNA animations. Created for V&A exhibition "The Future Starts Here" 2018 No narration, Yes sound and text.
Category Science & Technology
https://www.nytimes.com/interactive/2020/world/coronavirus-maps.html?campaign_id=9&emc=edit_NN_p_20200331&instance_id=17204&nl=morning-briefing&regi_id=105496626&section=topNews&segment_id=23382&te=1&user_id=b26f10713ff3e74bb579e77159591c7d
Coronavirus Map: Tracking the Global Outbreak
By The New York Times Updated April 1, 2020, 1:05 A.M. E.T.
World, U.S., Europe, Asia, Tips
The coronavirus pandemic has sickened more than 873,200 people, according to official counts. As of Wednesday morning, at least 41,624 people have died, and the virus has been detected in at least 171 countries, as these maps show.
Where cases are rising fastest
Avg. number of new cases each day (for the last 7 days)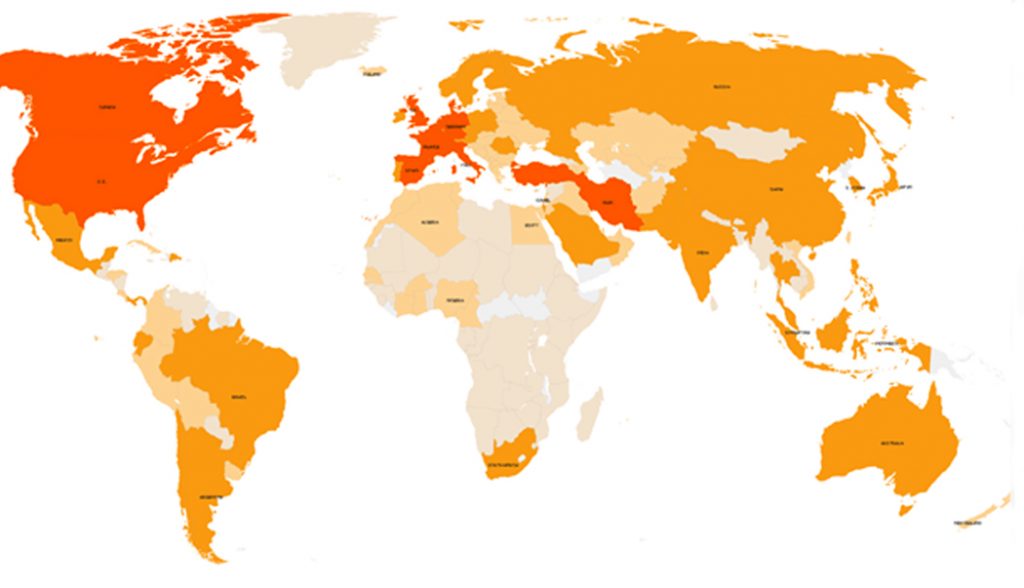 Sources: Local governments; The Center for Systems Science and Engineering at Johns Hopkins University; National Health Commission of the People's Republic of China; World Health Organization.
There is evidence on six continents of sustained transmission of the virus. The C.D.C. has advised against all non-essential travel throughout most of Europe, and to South Korea, China and Iran. And the agency has warned older and at-risk Americans to avoid travel to any country.
There is evidence on six continents of sustained transmission of the virus. The C.D.C. has advised against all non-essential travel throughout most of Europe, and to South Korea, China and Iran. And the agency has warned older and at-risk Americans to avoid travel to any country.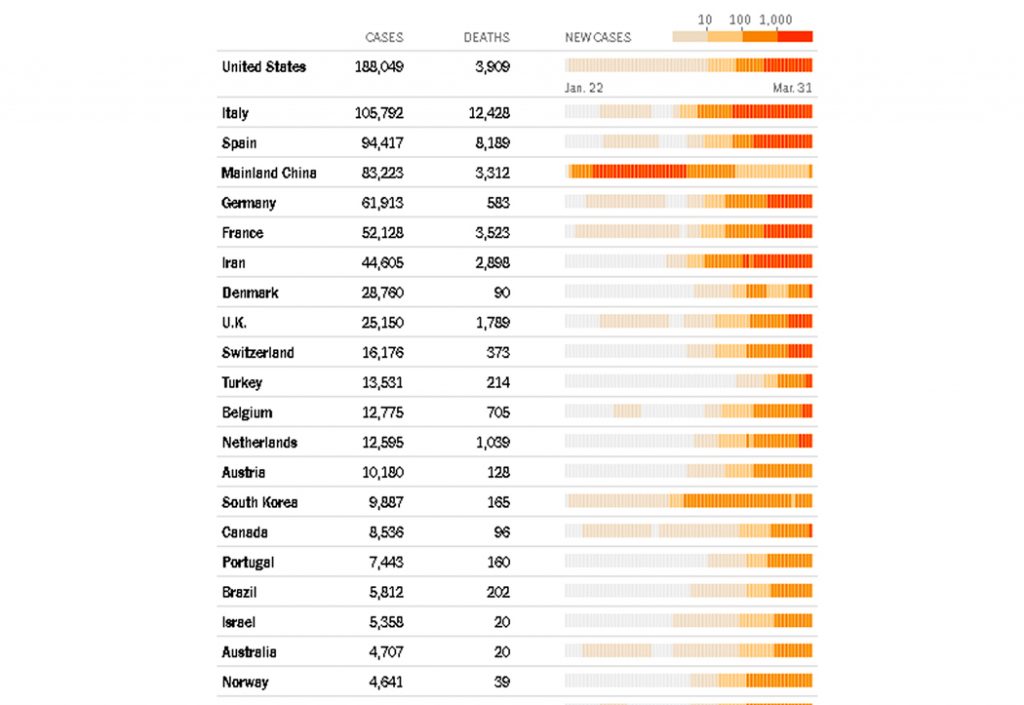 CASES
DEATHS
NEW CASES
United States
188,049
3,909
Jan. 22 Mar. 31
Italy
105,792
12,428
Spain
94,417
8,189
Mainland China
83,223
3,312
Germany
61,913
583
France
52,128
3,523
Iran
44,605
2,898
Denmark
28,760
90
U.K.
25,150
1,789
Switzerland
16,176
373
Turkey
13,531
214
Belgium
12,775
705
Netherlands
12,595
1,039
Austria
10,180
128
South Korea
9,887
165
Canada
8,536
96
Portugal
7,443
160
Brazil
5,812
202
Israel
5,358
20
Australia
4,707
20
Norway
4,641
39
Sweden
4,435
180
Czech Republic
3,308
31
Ireland
3,235
71
Japan
2,874
64
Malaysia
2,766
43
Chile
2,738
12
Russia
2,337
17
Poland
2,311
33
Ecuador
2,302
79
Romania
2,245
82
Luxembourg
2,178
23
Philippines
2,084
88
Pakistan
1,938
26
Thailand
1,651
10
Saudi Arabia
1,563
10
Indonesia
1,528
136
Finland
1,418
17
India
1,397
35
South Africa
1,353
5
Greece
1,314
49
Mexico
1,215
29
Panama
1,181
30
Iceland
1,135
2
Dominican Rep.
1,109
51
Peru
1,065
30
Argentina
1,054
27
Singapore
926
3
Colombia
906
16
Serbia
900
16
Croatia
867
6
Slovenia
802
15
Qatar
781
2
Estonia
745
4
Algeria
716
44
Hong Kong
714
4
Egypt
710
46
New Zealand
708
1
Iraq
694
50
U.A.E.
664
6
Ukraine
645
17
Morocco
617
36
Bahrain
567
4
Lithuania
537
8
Armenia
532
3
Hungary
492
16
Lebanon
470
12
Bosnia and Herzegovina
420
13
Bulgaria
399
8
Latvia
398
0
Tunisia
394
10
Andorra
376
12
Slovakia
363
0
Moldova
353
4
Kazakhstan
348
2
Costa Rica
347
2
Uruguay
338
1
North Macedonia
329
9
Taiwan
322
5
Azerbaijan
298
5
Kuwait
289
0
Jordan
274
5
Cyprus
262
8
Burkina Faso
261
14
Albania
243
15
San Marino
236
26
Vietnam
212
0
Cameroon
193
6
Oman
192
1
Cuba
186
6
Ivory Coast
179
1
Senegal
175
0
Afghanistan
174
4
Honduras
172
10
Uzbekistan
172
2
Faroe Islands
169
0
Malta
169
0
Ghana
161
5
Belarus
152
1
Sri Lanka
143
2
Mauritius
143
5
Channel Islands
141
3
Nigeria
135
2
Venezuela
135
3
Brunei
129
1
West Bank & Gaza
119
1
Bolivia
115
7
Kosovo
112
1
Georgia
110
0
Cambodia
109
0
Montenegro
109
2
Kyrgyzstan
107
0
Congo
98
8
Trinidad and Tobago
87
4
Rwanda
75
0
Gibraltar
69
0
Liechtenstein
68
0
Paraguay
65
3
Isle of Man
60
0
Kenya
59
1
Madagascar
57
0
Aruba
55
0
Monaco
52
1
Bangladesh
51
5
Uganda
44
0
Guatemala
38
1
Jamaica
38
2
Zambia
36
0
Barbados
34
0
Niger
34
3
Togo
34
1
Bermuda
32
0
El Salvador
32
1
Djibouti
30
0
Mali
28
2
Ethiopia
26
0
Guinea
22
0
Republic of the Congo
19
0
Tanzania
19
1
Maldives
18
0
Gabon
16
1
Bahamas
15
0
Eritrea
15
0
Equatorial Guinea
15
0
Haiti
15
0
Myanmar
15
1
Cayman Islands
14
1
Saint Lucia
13
0
Dominica
12
0
Guyana
12
2
Mongolia
12
0
Namibia
11
0
Curaçao
11
1
Greenland
10
0
Libya
10
0
Macau
10
0
Seychelles
10
0
Suriname
10
0
Syria
10
2
Benin
9
0
Grenada
9
0
Laos
9
0
Eswatini
9
0
Guinea-Bissau
8
0
Saint Kitts and Nevis
8
0
Mozambique
8
0
Zimbabwe
8
1
Antigua and Barbuda
7
0
Angola
7
2
Sudan
7
2
Chad
7
0
Cape Verde
6
1
Mauritania
6
1
Vatican City
6
0
Sint Maarten
6
0
Fiji
5
0
Montserrat
5
0
Nicaragua
5
1
Nepal
5
0
Somalia
5
0
Turks and Caicos Islands
5
0
Bhutan
4
0
Botswana
4
1
Gambia
4
1
Belize
3
0
Central African Republic
3
0
Liberia
3
0
British Virgin Islands
3
0
Anguilla
2
0
Burundi
2
0
Papua New Guinea
1
0
Sierra Leone
1
0
Timor-Leste
1
0
Saint Vincent and the Grenadines
1
0
Notes: New cases are represented as seven-day averages. Japan's count includes 696 cases and seven deaths from a cruise ship that docked in Yokohama. The data excludes cases on the Zandaam cruise ship, which has not yet docked. France and the U.S. figures include overseas territories.
While the outbreak is a serious public health concern, most people who contract the coronavirus do not become seriously ill, and only a small percentage require intensive care. Older people and those with existing health conditions, like heart or lung disease, are at higher risk.
Follow the latest updates on the coronavirus outbreak.
United States
The number of known coronavirus cases in the United States continues to grow quickly. As of Wednesday morning, at least 188,049 people across every state, plus Washington, D.C., and four U.S. territories, have tested positive for the virus, according to a New York Times database, and at least 3,909 patients with the virus have died.
Reported cases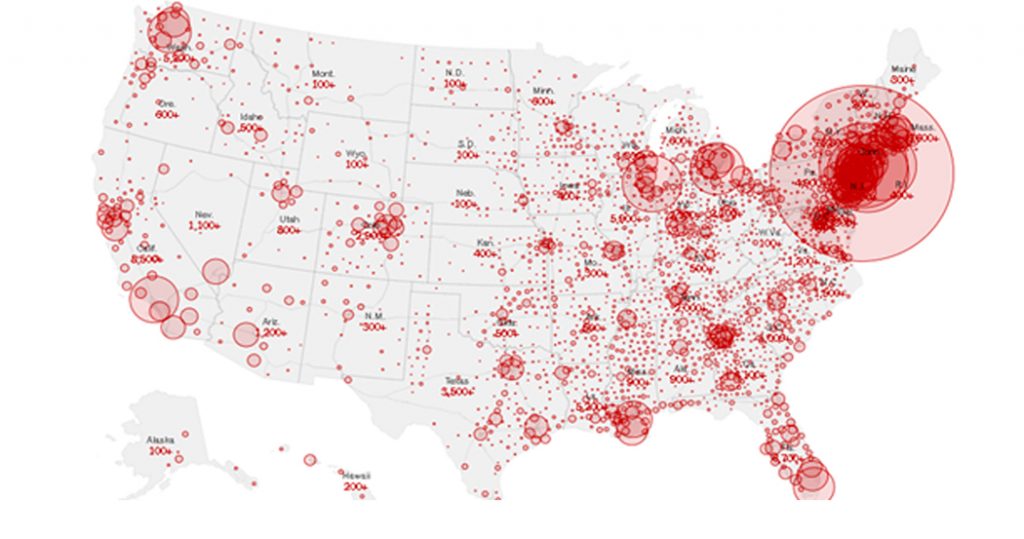 Ala.900+
Alaska100+
Ariz.1,200+
Ark.500+
Calif.8,500+
Colo.2,900+
Conn.3,100+
Del.300+
D.C.400+
Fla.6,700+
Ga.4,100+
Hawaii200+
Idaho500+
Ill.5,900+
Ind.2,100+
Iowa400+
Kan.400+
Ky.500+
La.5,200+
Maine300+
Md.1,600+
Mass.6,600+
Mich.7,600+
Minn.600+
Miss.900+
Mo.1,300+
Mont.100+
Neb.100+
Nev.1,100+
N.H.300+
N.J.18,600+
N.M.300+
N.Y.75,800+
N.C.1,500+
N.D.100+
Ohio2,100+
Okla.500+
Ore.600+
Pa.4,900+
R.I.400+
S.C.1,000+
S.D.100+
Tenn.2,000+
Texas3,500+
Utah800+
Vt.200+
Va.1,200+
Wash.5,200+
W.Va.100+
Wis.1,300+
Wyo.100+
Note: The map shows the known locations of coronavirus cases by county. Circles are sized by the number of people there who have tested positive, which may differ from where they contracted the illness. Some people who traveled overseas were taken for treatment in California, Nebraska and Texas. Puerto Rico and the other U.S. territories are not shown. Sources: State and local health agencies, hospitals, C.D.C.
See our page of maps, charts and tables tracking every coronavirus case in the U.S.
The New York Times is engaged in a comprehensive effort to track details about every confirmed case in the United States, collecting information from federal, state and local officials around the clock. Many people are infected despite having no known connection to previous cases, which suggests local, person-to-person spread of the virus.
Europe
As the coronavirus pandemic continues to surge across Europe, there are now more total confirmed cases outside of China than inside China, the country where the virus first spread.
Total confirmed coronavirus cases
Sources: Center for Systems Science and Engineering at Johns Hopkins University; Local governments.
Many of the cases across Europe have been traced back to Italy, which has one of the world's largest outbreaks. At least 105,792 people have tested positive as of Wednesday morning.
Confirmed cases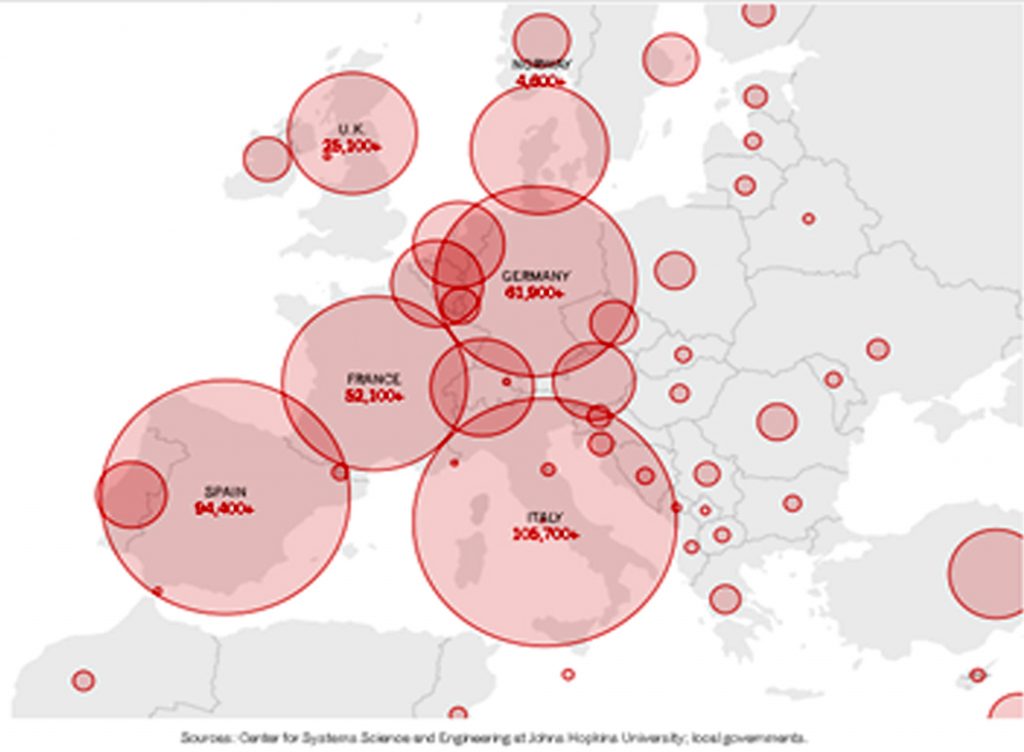 Wuhan
ITALY105,700+
SPAIN94,400+
GERMANY61,900+
FRANCE52,100+
U.K.25,100+
NORWAY4,600+
Sources: Center for Systems Science and Engineering at Johns Hopkins University; local governments.
Asia
The outbreak is believed to have begun in a seafood and poultry market in Wuhan, a city of 11 million people in central China. The virus seems to spread very easily, especially in confined spaces, making containment efforts difficult. It is difficult to know how many people who contract the virus die, but some early estimates put the fatality rate at roughly 1 percent.
Confirmed cases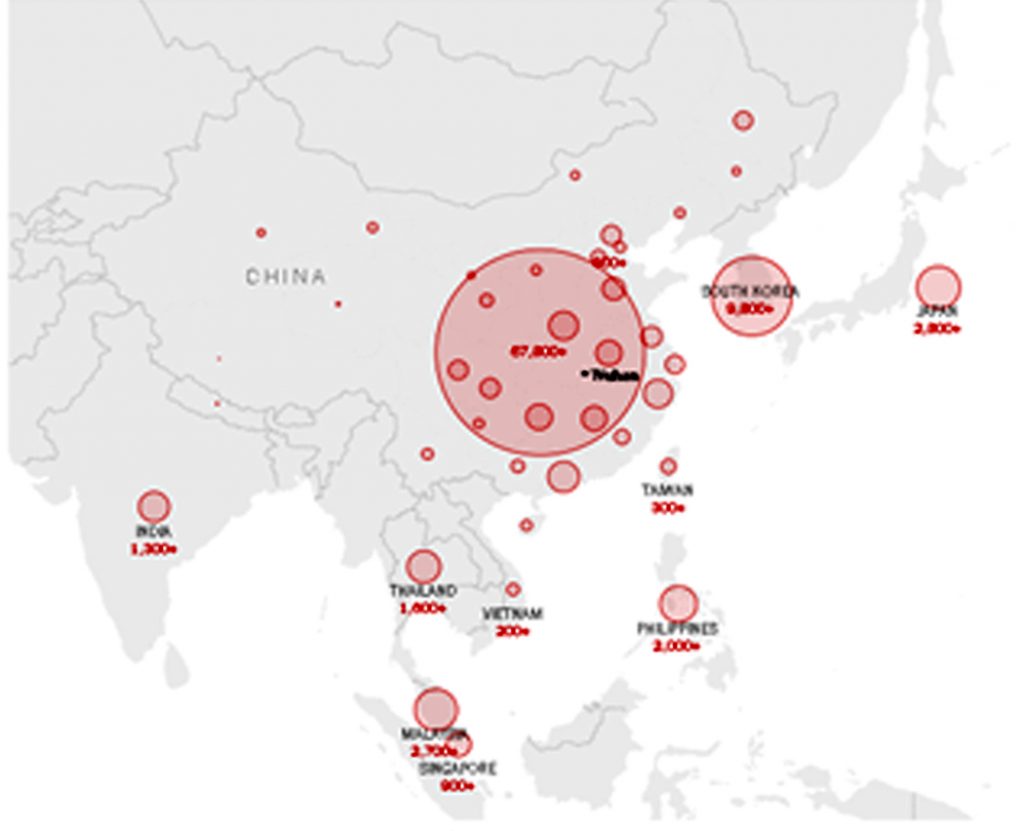 Wuhan
SOUTH KOREA9,800+
JAPAN2,800+
MALAYSIA2,700+
PHILIPPINES2,000+
THAILAND1,600+
INDIA1,300+
MEXICO1,200+
ICELAND1,100+
SINGAPORE900+
NEW ZEALAND700+
TAIWAN300+
VIETNAM200+
NIGERIA100+
500+
67,800+
CHINA
Sources: Center for Systems Science and Engineering at Johns Hopkins University; National Health Commission of the People's Republic of China; local governments.
The precise dimensions of the outbreak are hard to know. Not all infected people have received a diagnosis, and some countries, like Singapore, have more proactive testing and containment efforts than others do.
Tips
Experts' understanding of how the virus spreads is still limited, but there are four factors that likely play a role: how close you get; how long you are near the person; whether that person projects viral droplets on you; and how much you touch your face.
If your community is affected, you can help reduce your risk and do your part to protect others by following some basic steps:
Wash your hands! Scrub with soap and water for at least 20 seconds, and then dry them with a clean towel or let them air dry.
Keep distance from sick people. Try to stay six feet away from anybody showing flu- or cold-like symptoms, and don't go to work if you're sick.
Prepare your family, and communicate your plan about evacuations, resources and supplies. Experts suggest stocking at least a 30-day supply of any needed prescriptions. Consider doing the same for food staples, laundry detergent and diapers, if you have small children.
Here's a complete guide on how you can prepare for the coronavirus outbreak.
Note: Data are based on reports at the time of publication. At times, officials revise reports or offer incomplete information.
By Jin Wu, Allison McCann, Keith Collins, Karen Yourish, Sarah Almukhtar, Rich Harris, Jon Huang, K.K. Rebecca Lai, Derek Watkins, Anjali Singhvi, Jugal K. Patel and Scott Reinhard. · Mitch Smith, Amy Harmon and Mike Baker contributed reporting.
For more information please visit the following link:
https://www.nytimes.com/interactive/2020/world/coronavirus-maps.html?campaign_id=9&emc=edit_NN_p_20200331&instance_id=17204&nl=morning-briefing&regi_id=105496626&section=topNews&segment_id=23382&te=1&user_id=b26f10713ff3e74bb579e77159591c7d