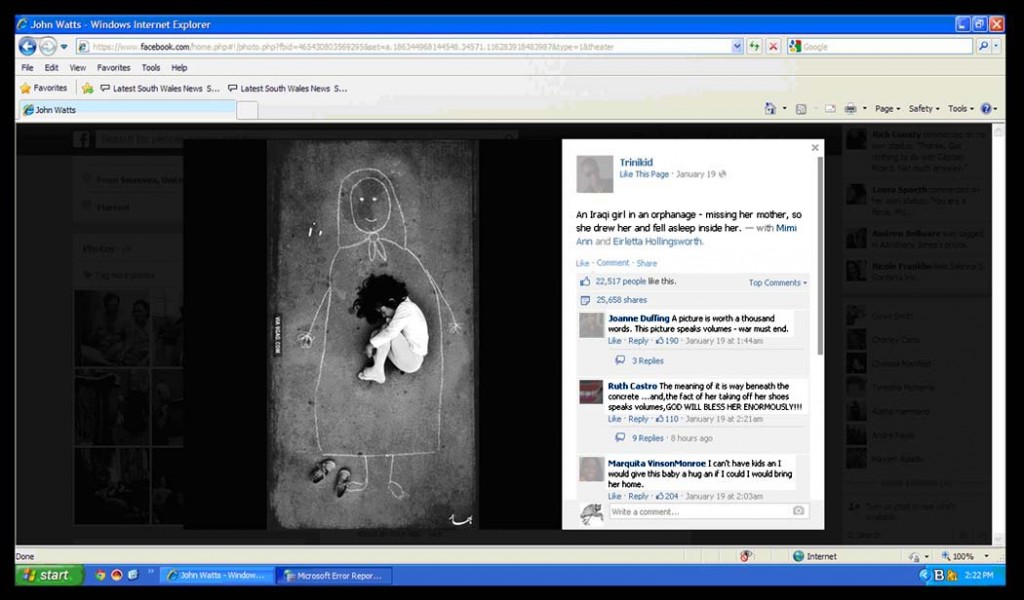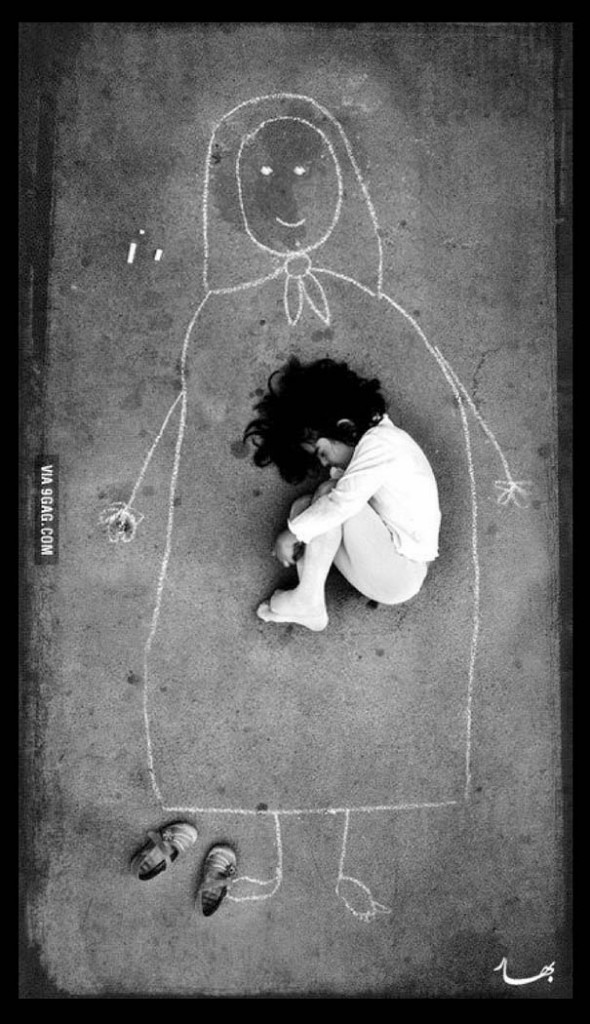 An Iraqi girl in an orphanage – missing her mother, so she drew her and fell asleep inside her.
Who Took My Mother Away
 Mommy
I am in your womb
Curl up comfortingly
Drinking juice and nutrition
From your placenta
Rocking in your liquid
Just like swimming in the sea
I came out to the world
But I see you no more
Where are you?
Mother I want to go back to your womb
 Ing-on Vibulbhan-Watts, Tuesday, January 28, 2014, 2:40 pm 
"Ing, you should see this picture from Facebook that Lauren put it up", John told me while I was cooking in the kitchen.  "What is it?" I asked.  "I am not going to tell you. You should see it yourself". "You should read the content also."  He said.  "John, please open it for me, my computer is on", I asked.  He opened his Facebook page on my computer for me, and then he went to rest on the bed. I went to my computer to look and read.  My tears came pouring down with deep, deep sadness, wishing to embrace that little girl.  I wanted to hug her and hold her, wishing I am her mother, telling her that mother is here. 
I picked up the pen and the words pouring out.  After I finished writing I went to the bed room and read my poem to John.  I could not stop crying while I was reading.  John was crying also.  He reached to my arm and said "Come, lie with me for a little while.  We held each other, crying and calming each other in the midst of sadness in our troubled world.
 Mommy, who took you away from me
Who sold the weapons that used to kill each other ?
 Who put the poisoned words in people's minds?
To hate and to kill
Who?  Who?  Who?
Who sent the young men and women to the wars?
  Who?  Who?  Who?
 If you are the ones
Stop now!!!!
Please give my mother back
I want her love
I want her hugs
I want her to sing lullabies
To put me to sleep
Did you see my mother?
I am in the warmness
Of my mother womb
Ing-on Vibulbhan-Watts, Tuesday, January 28, 2014, 6:43 pm
 Thanks to the person who took the picture and the person who posted it on the Facebook.  You stir our consciousness. Let us help each others so that no one suffers such a cruel incident as this.
Lauren https://childreninshadow.wordpress.com/2013/06/15/362/ John: Share this link with Ing. I am dashing off to work, and I just saw Ing's beautiful email to me. I miss you guys too! As I am sure you can understand, I have been way too busy. Anyway, another friend of mine posted that the real story is that the image is that of an artist using photography to raise awareness about the plight of children in Iraq. I just didn't want to be engaged in any misinformation. 
XXXXXXXXXXXXXXXXXXXXXXXXXXXXXXXXXXXXXXXXXXXXXXXXX
THANK YOU FOR THIS PHOTOGRAPH! IF YOU,  DEAR ARTIST, WANT A DONATION FOR YOUR MIRACULOUS IMPRESSION-PHOTO, PLEASE LET ME KNOW. I COULDN´T STAND AGAINST TO PUBLISHING THIS IMAGE!
THANK YOU! Annamaria – blogmaker –
THIS APPEARED IN COMMENT TO THIS PHOTO:
Hi, I really loved this photo and found the artist. Her name is Bahareh Bisheh and here's what she says about the photo: "This little girl is my cousin and she actually fell asleep on the asphalt just outside my house. She must have played for some time and just lied to rest and fell asleep. im used a chair to stand on in order to take this shot. There is no orphanage involved and no tragic story behind this. i took this opportunity to be creative.
It is a style of photography
You can use my photos in your webblag If you mention my name as the photographer of this photo.
thanks to all for the consideration ."
I found some links to her work here:
https://www.flickr.com/photos/khatt-khatti/page1/
https://www.facebook.com/media/set/?set=a.157301267647982.31611.111614528883323&type=3
Thanks again for discovering this artist for us! Xox
XXXXXXXXXXXXXXXXXXXXXXXXXXXXXXXXXXXXXXXXXXXXXXXXX