I just uploaded my, "City Birds Eating Bread", video on, YouTube.  The link and the description are following.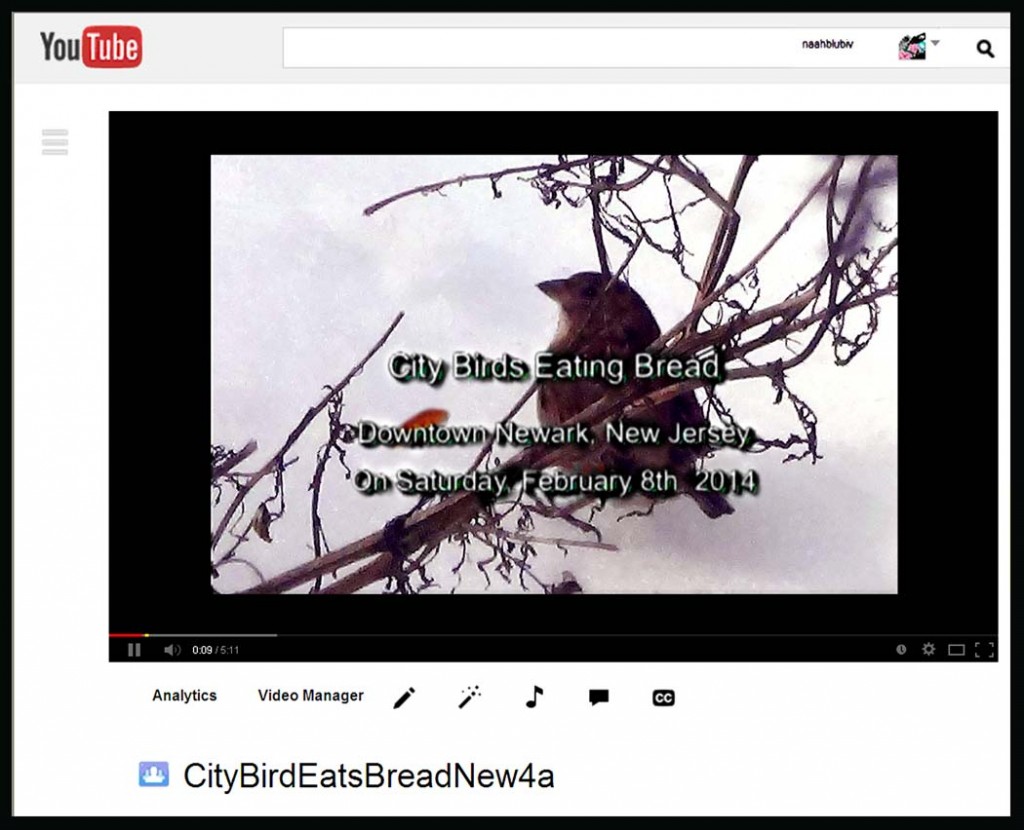 City Birds Eating Bread (5:11minutes) 
Link to YouTube: https://www.youtube.com/watch?v=1ihz1S9cCFI                                          
Good morning sunshine
I peek out the window
See our snow garden
In our backyard
Hey! Mr. Bird
May I have some bread?
It looks like
A very delicious breakfast
City birds you are clever
You get your breakfast
Without cooking
After eating bread
You can eat the snow
Giving you juice
Mixing with your meal
Where is your partner?
I saw you two love birds
In the summer time
Don't tell me that
Your partner is gone
And you are alone with your meal
Hey!  I see the other one coming
Oh you make me happy
Seeing you sharing
Bread with each other
Hey!  I have to go
To have my breakfast
With my partner too
Ing-On Vibulbhan-Watts, Saturday, February 8, 2014 
This little bird's behavior inspired me to translate this into the human condition.  A happy individual makes a happy couple.  A happy couple makes a happy family.  A happy family makes a happy society. 
Let us find ways to produce happy individuals for us to achieve a happy society.  If we all want to be in a happy society then we have to take care of everyone to our best ability.  A happy society will have no poor families; no one will go without food, no children will be without food and go hungry.  There will be no abuse to one another. 
I dream of this happy society
Seeing birds sharing food
Should we humans do the same?
Surely we can
If we work at it
I am waiting
For my dream to come true
A happy bird
A happy couple
A happy family
Makes
A happy
And
Peaceful society
 Ing-On Vibulbhan-Watts, Monday, March 10, 2014