Supermoon and The Three US Flags
In downtown Newark, New Jersey
On Saturday, July 12, 2014
Between two buildings
In downtown Newark. New Jersey
The three US flags
Wave with gentle wind
Moving along
The supermoon shows her beauty
Greeting the earth
With the flags waving on
Hello, Supermoon
We welcome you
Supermoon radiating your beauty
To be admired
Supermoon drifting
Into the darkness
The cloud swallows her
Bit by bit till
She is gone
Lonely
Three US flags
Without the moon
Still waving
With the wind
Waiting for the next evening
The moon will arrive
Hoping that the US flags
Will be waving along
Supermoon and the Three US Flags
Supermoon rises
Between two buildings
In downtown Newark. New Jersey
The three US flags
Wave with gentle wind
Moving along
The supermoon shows her beauty
Greeting the earth
With the flags waving on
Hello, supermoon
We welcome you
Supermoon radiating your beauty
To be admired
Supermoon drifting
Into the darkness
The cloud swallows her
Bit by bit till
She is gone
Lonely
Three US flags
Without the moon
Still waving
With the wind
Waiting for the next evening
The moon will arrive
Hope that the US flags
Will be waving along
Ing-On Vibulbhan-Watts, Sunday, July 13, 2014, 1:02 pm
On Saturday, July 12, 2014 John and I went to do some food shopping after we closed our shop after 6:00 pm.  I told John that I would like to go to Jersey City by the Hudson River to video the super moon rising.  But after we finished our shopping we looked at the sky.  It was so cloudy; looking like it was going to rain any minute.  So we changed our plan and tried to think of where we should go in Newark to be able to view the super moon.  John suggested that high ground is better than lower ground.  John needed to go to the pottery studio to cover the clay he used in teaching his summer pottery class at Rutgers University.  The pottery studio is on the fifth floor of Bradlely Hall, the art building.  John said the pottery studio will be a good place to see the super moon.  The pictures above were viewed from Rutgers University pottery studio on the fifth floor of art building where john teaches a summer pottery class.  Some of the pictures are poor quality due to my inexpensive camcorder and visible obstructions from cloud and moisture in the sky, I used Adobe Photoshop to enhance and intensify some of the photos for clarity.
Please visit the following links for more information:
https://ingpeaceproject.com/education-for-all/supermoon/
 https://www.google.com/#q=super+moon+2014
 https://www.space.com/26517-supermoon-photos-wow-stargazers.html
https://en.wikipedia.org/wiki/Supermoon#mw-navigation#mw-navigation
"Supermoon" my video on YouTube I produced last year.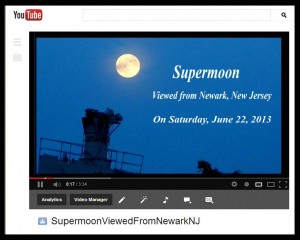 Link to YouTube:
https://www.youtube.com/watch?v=0q3lg4eW7UE&feature=youtu.be (3:34 minutes)
"Fly me to the moon, and let me play among the stars. Let me see what spring is like, on Jupiter and mars. In other words, hold my hand, ———–"  While I was editing my pictures for the Supermoon video Nat King Cole's recording of, Fly me to the moon was echoing in my ears.  I love his voice and music.  It is my honor to combine my video with his song. 
I was lucky taking the picture of the Supermoon on Sunday, June 22, 2013.  I tried to take pictures of Supermoon again on Monday, June 23 which was supposed to be the best day of the full moon but the sky was so cloudy because of so much moisture in the air.  I saw no moon.  I tried again until June 26 there was no moon appearing in the sky only dark blankets of clouds.