A Late Gift for Father's Day
A Black Swallowtail Butterfly
In the Garden Downtown Newark New Jersey
On Monday, June 22, 2015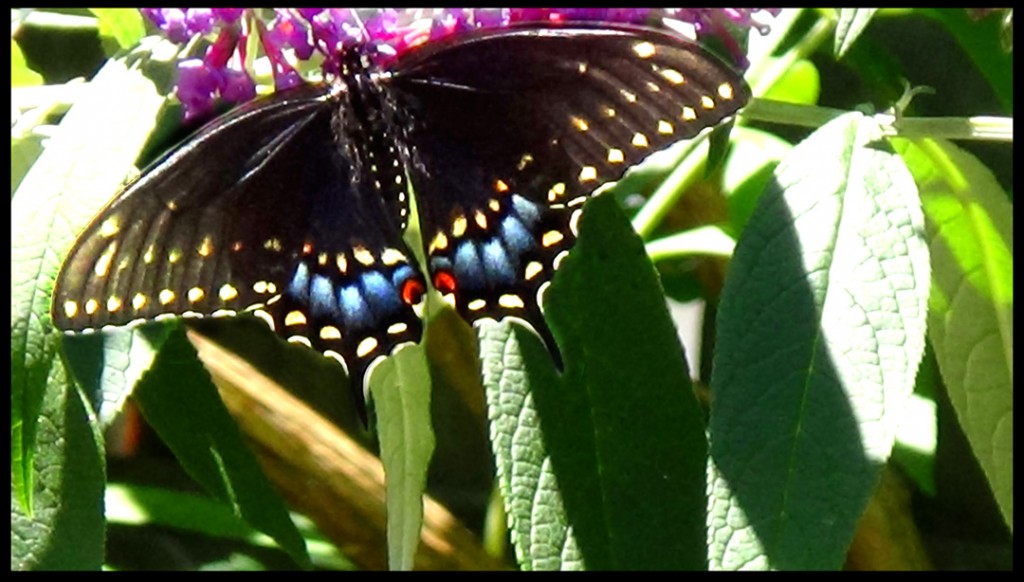 Happy Father's Day to all Fathers
The weather turned hot to 90 degrees Fahrenheit
On Monday at noon
I went out to water the plants in our backyard garden
Giving some moisture and coolness
Refreshing the plants from the hot sun
I enjoy seeing first flowers of the year
The butterfly bush trees are healthy and strong
One of the trees produced very large
And nice first bunch of flowers of this year 2015
I was glad to see my colorful and beautiful little garden
But I was sad that I did not have time to do
Any project for Father's Day
Suddenly I saw something moving
In one of the butterfly bush trees
"Oh, I have my first butterfly this year!!!"
"A Black Swallowtail Butterfly!!!"
I cried
"So glad to see you!!!"
"You are a gift from nature!!!"
This black swallowtail butterfly is a nice
Late gift for Father's Day
Happy Father's Day John!
Happy Father's Day President Barack Obama!
With your two lovely daughters
Happy Father's Day for every father on earth!
And Happy Father's Day Mr.Bashar Hafez al-Assad of Syria!
Please go home to your wife and your children
Hug them and tell them that
They are going to have a bright future
They can come outside to run and play
Having a good time
They do not have to hide
Please Mr. Assad, send your soldiers to their homes
For they can hug their children
And tell them
How much the love of fathers is for their children
And the war is end
The soldiers can be home to cultivate their gardens and children
And please tell your citizens who ran away from fighting
Becoming refugees in other lands
Please tell them to come home
You will make peace with everyone
Please!  You still can do it
Stop the war and fighting
Please all fathers put down your weapons
Your arms are for hugging your children
Your duty is to cultivate your children
To be with them at home
Not in a war zone
That is my wish for A Happy Father's Day
Fathers please come home!!!
No more wars!!!
Children need your hug and love
Do not go away from home
Look!  A Beautiful Black Swallowtail Butterfly
It is a gift for Father's Day
It is a gift from peaceful nature
John, and all the fathers
"Have A Happy Father's Day and Always"
  🙂 🙂 🙂

Ing-On Vibulbhan-Watts, Monday, June 22, 2015