British astronaut Tim Peake is flying alongside Russian cosmonaut Yuri Malenchenko (centre) And US astronaut Tim Kopra: 16:40 GMT                    (Reuters Image)
British Tim Peake, Russian Yuri Malenchenko and American Tim Kopra
Space journey to the International Space Station
On Tuesday, December 15, 2015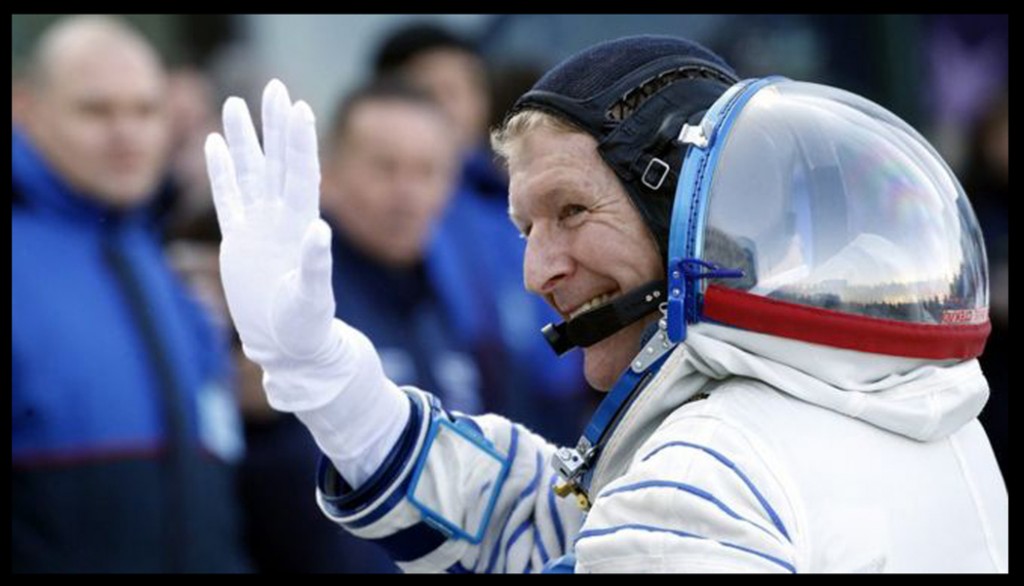 British astronaut Tim Peake waved goodbye before boarding the rocket at Baikonur Cosmodrome in Kazakhstan. (EPA Image)
The former Army helicopter pilot waved to his children before setting off for the International Space Station where he will spend six months.  (Reuters Image)
Major Tim Peake says goodbye to his children ahead of launch  Photo: KIRILL KUDRYAVTSEV/AFP/Getty Images
Tim Peake gestures to his children from the bus taking the astronauts to the launch site  Photo: AP Photo/Dmitry Lovetsky
(From bottom) British astronaut Tim Peake, U.S. astronaut Tim Kopra and Russian cosmonaut Yuri Malenchenko prior to launch  Photo: AP Photo/Shamil Zhumatov
Britain Tim Peake, Russian cosmonaut Yuri Malenchenko (top) and US astronaut Tim Kopra board the Soyuz TMA-19M spacecraft at the Russian-leased Baikonur cosmodrome, prior to blasting off to the International Space Station (ISS)  Photo: SHAMIL ZHUMATOV/AFP/Getty Images
Tim Peake inside Soyuz as the spacecraft is checked for leaks before launch   Photo: ESA
The Soyuz spacecraft departed at 11:03 GMT from the launch pad where, in 1961, Yuri Gagarin became the first human in space.  (EPA Image)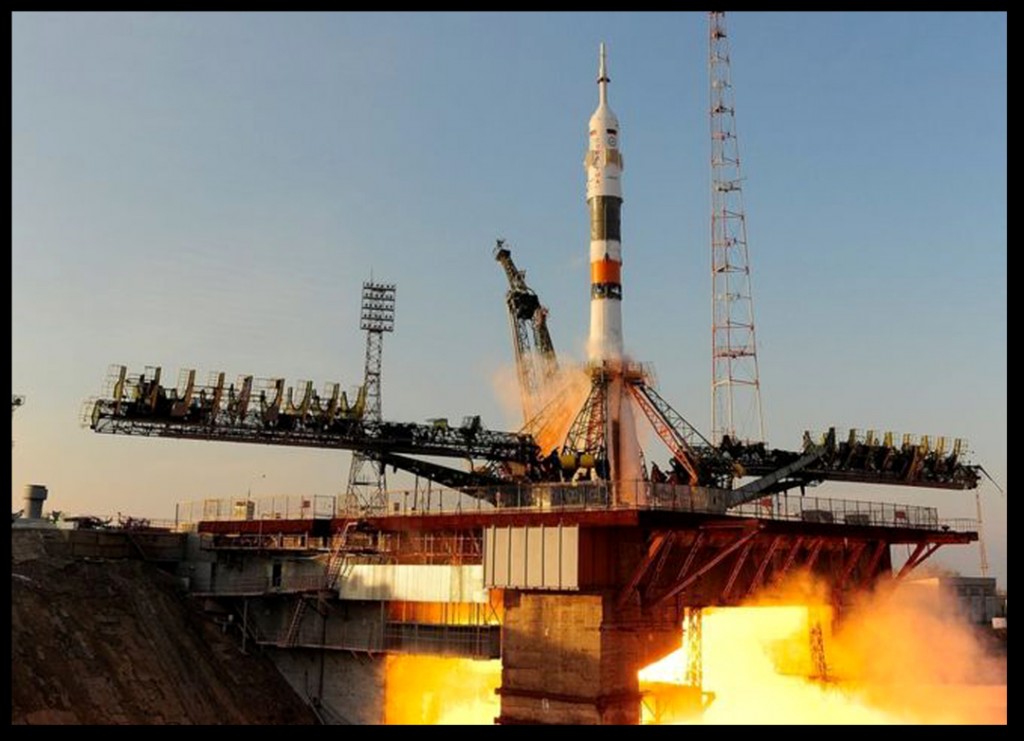 The time of launch was calculated based on the precise location of the International Space Station in its orbit.  (ESA Image)
At blast-off, the rocket generated 422.5 tones of thrust-equivalent to 26 million horse power. (AP Image)
From his ringside side in the Kazakhstan desert, the BBC's Paul Rincon said the rocket blasting off was "so bright you couldn't even look at it".  (NASA Image)
Tim Peake's wife Rebecca (centre) and their son Thomas were among those who watched the launch in Kazakhstan.  (PA Image)
This picture, taken with long-time exposure, shows the trajectory of the Soyuz as it takes the new crew towards the International Space Station.  (AP Image)
Photographers gathered to capture the moment the rocket blasted off.  (Reuters Image)
People gathered in Tim Peake's home village of Westbourne, West Sussex, to watch coverage of the launch.  (Getty Images)
It was also was broadcast at the Science Museum in London.  (Getty Images)
Children celebrate at the Science Museum in London
Crowds gathered in the Science Museum in London to witness the liftoff, with thousands of people including around 2,000 schoolchildren breaking into screams and waving British flags as giant screens set up in the exhibition hall showed the rocket blasting off.
Meanwhile, Prime Minister David Cameron was also watching the launch.  (@David_Cameron Image) 
The final approach to the International Space Station for Soyuz TMA19M Photo: ESA
200 m from the International Space Station flying 28 800 km/h: 17:05 GMT   Photo: ESA
International Space Station comes into view – Soyuz prepares for docking
Major Tim Peake is now just minutes away from docking at the International Space Station. The floating lab came into view on the screen of the computer as the Soyuz approached, nearly six hours after take off from the Baikonur Cosmodrome.
"We have the go to issue the final approach command," mission control told the crew.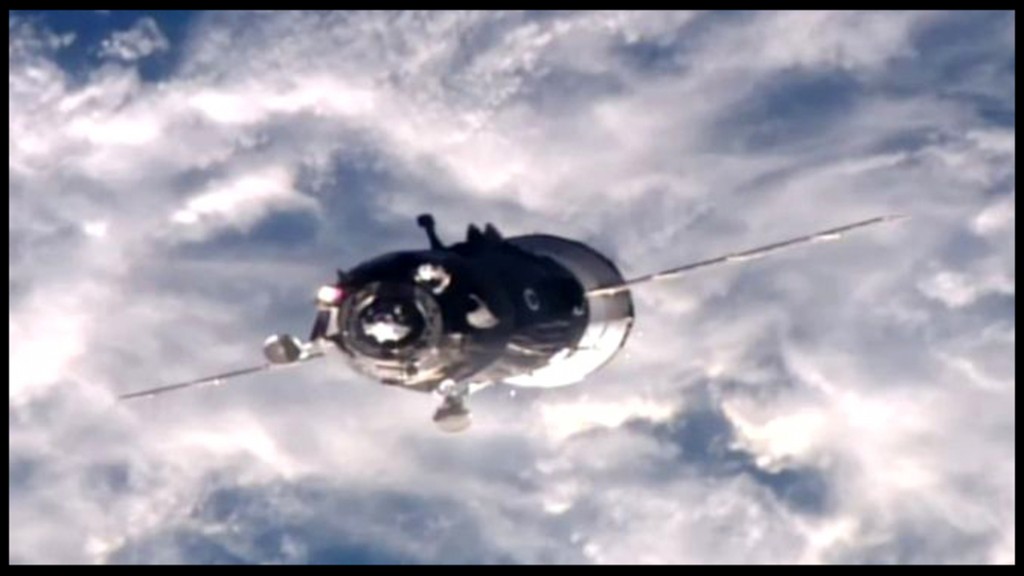 It took four orbits of Earth and over six hours to reach the International Space Station.  (European Space Agency Image)
Soyuz TMA19M backing away to go for manual docking  Photo: ESA
The thrusters firing on the Soyuz TMA19M as it aligns itself for docking: 17:15 GMT   Photo: ESA
Docking problems leave crew forced to take control manually
Major Tim Peake was struggling to dock at the International Space Station following a six hour flight.
Commader Yuri Malenchenko was heard confirming that he had visual contact with the space station and mission control said that "Crosshairs are aligned" at 25metres a sign that the Soyuz was dead on target.
However just moments later the Soyuz floated past the station and Commander Malenchenko confirmed he had been forced to switch to manual control.
After two unsuccesful attempts, mission control said it had lost contact with the craft.
The Soyuz was seen floating over the Earth as it closed in on the floating laboratory, lit up by the Sun. The Soyuz has already seen four sunrises today, after orbiting the Earth four times.
Time of docking: 17:33 GMT under manual control. It followed complications with the usual automatic docking procedure.  (ESA Image)
Crosshairs aligned 30m from docking port: 17:35 GMT  Photo: ESA
Major Tim Peake arrives at ISS following tense docking
After a nail-biting docking, in which Commader Yuri Malenchenko was forced to take control manually, Major Tim Peake arrived at the International Space Station this afternoon.
The crew made three attemps to dock before they were able to give the final command.
Mission Control confirmed that contact occurred at 5.33pm, around nine minutes later than expected.
The crew train extensively for problems with automated docking.
The Soyuz safely docked at the International Space Station: 17:45 GMT Photo: ESA
Commander Yuri Malenchenko forced to take manual control after Soyuz plots bad approach
The Telegraph's Roland Oliphant was in Baikonur for the tense docking in which Commander Yuri Malenchenko was forced to take manual control. Here is his dispatch from the scence:
"They say nothing in space flight is routine, and the plan on this mission has changed already.
"Apparently unhappy with the approach to the ISS plotted by the automated docking system, Commander Yuri Malenchenko took manual control of the Soyuz and backed the craft back from the station, opting to pilot the ship in himself.
"Colonel Malenchenko has about 10,000 hours on a simulator and has done some piloting on previous missions. He is also, of course, an experienced fighter pilot in the Russian airforce – he's used to tricky manoeuvres.
"Chatting through the manoeuvre with ground controllers at Roscosmos' mission control centre in Korolyov, the headquarters of the Russian space program outside Moscow, Col Malenchenko brought the Soyuz craft back to a position about 100 meters from the station until he could line up with the docking port.
"He then gently guided the craft back to the station, and finally docked with the ISS at 20:34 Baikonur time, somewhere over India."
The crews are now checking for leaks before they pressurize the cabin and open the hatch to the ISS.
 Space Station astronauts getting ready to welcome the new arrivals  Photo: NASA
He's arrived…. Mr. Peake emerged from the Soyuz space capsule to a warm welcome from ISS's existing crew members.   (ESA Image)
Tim Peake boards the International Space Station
Thumbs up for Mr. Peake, who spoke to his wife and parents from space. His mother told him: "I think you would call today a spectacular day in the office".  (ESA Image)

Tim Peake and Soyuz rocket blast off
15 December 2015 Last updated at 15:22 GMT
Tim Peake has launched into space on a Russian Soyuz rocket to become Britain's first official astronaut on board the International Space Station
Astronaut Tim Peake answers your questions
15 March 2014 Last updated at 10:14 GMT
The UK's first official astronaut, Major Tim Peake, has been answering your questions about all things space.
Tim is going to spend six months on board the International Space Station next year carrying out scientific experiments.
He's currently in a training camp in Russia, but Nel managed to touch base with him and put some of the questions you sent in to Tim.
Check out what he had to say…
Footage courtesy of Nasa and Esa
https://www.bbc.com/newsround/26592243

For more information please visit the following links:
https://www.bbc.com/news/uk-35103837
https://www.telegraph.co.uk/news/science/space/12050401/Tim-Peake-launch-British-astronaut-blasts-off-towards-International-Space-Station-live.html

I am very glad to spend time reading about the "British Tim Peake, Russian Yuri Malenchenko and American Tim Kopra Space journey to the International Space Station on Tuesday, December 15, 2015" It is just about time we hear some positive news among the overwhelming negative news in the country and around the world.  I am proud of human achievements.  We need to spend more time and money for research and discovery of things that can advance humanity and protect the other creatures that live with us on earth. 
Please citizens of the world and especially the leadership in any discipline, stop fighting with each other.  You can believe whatever you want but keep it to yourself.  Let us treat each other as equal human beings first and help each other. Make heaven on earth before you die and go to an unknown heaven through your faith.  Fighting in the Middle East, Africa, Asia, and other places, you killed your own brothers and sisters.  You are just the same race, why kill each other and make your lives and other lives miserable creating hell on earth.
Please come, be part of educators, educating yourselves and the younger generation to improve the situation for the better for yourselves and others.  Some of us abuse technologies that are supposed to be good for all mankind.   Please come be a part of invention and discover something that will make you happy and proud.  Please do not abuse or destroy, it only makes you unhappy.  If you cannot make yourself, your family and your society peaceful and happy on earth how you can expect to go to heaven after you die.
In the previous projects I wrote about "The countries that buy and sell the most weapons" I examined the data recorded about the funding of selling and buying weapons.  It is in billions or trillions of dollars.  Can we convert those funds to inventions, such as space exploration or ocean exploration or find cures for some diseases and have some left to solve the problem of homelessness of the poor?
Ing-On Vibulbhan-Watts, Thursday, December 17, 2015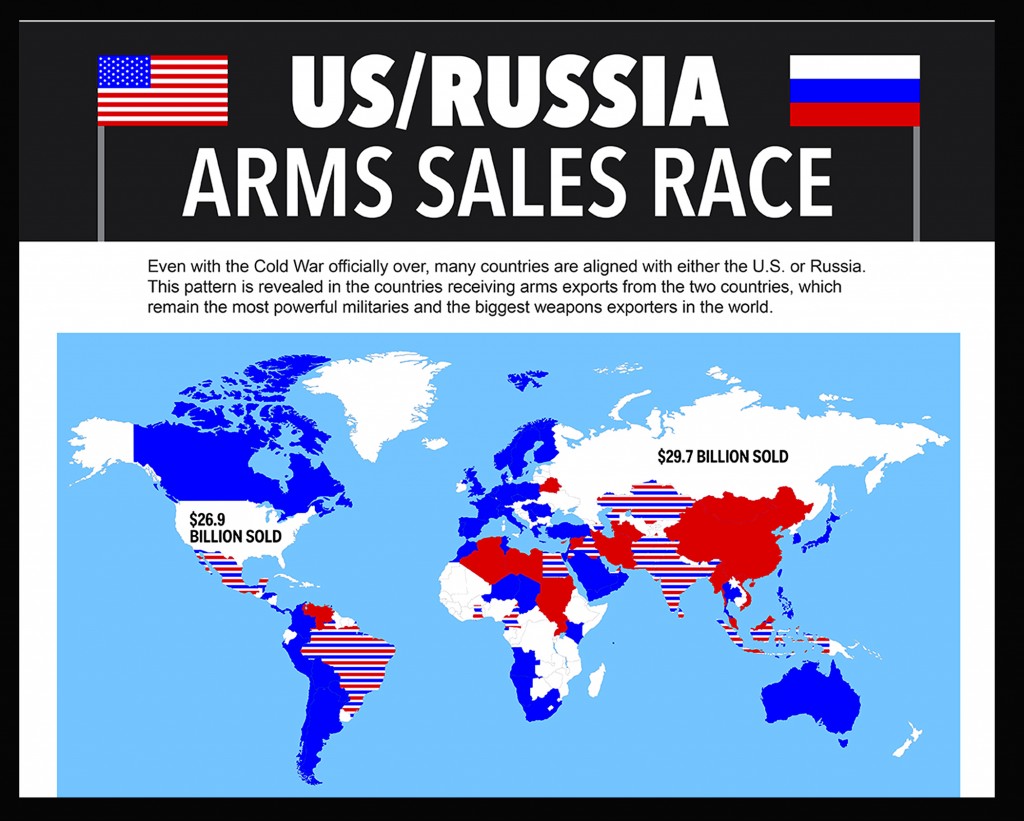 Here is the list of the world's top 10 arms exporters, along with their respective shares of global exports between 2010 and 2014, from SIPRI:
United States: 31%
Russia: 27%
China: 5%
Germany: 5%
France: 5%
U.K.: 4%
Spain: 3%
Italy: 3%
Ukraine: 3%
Israel: 2%
https://www.cheatsheet.com/business/the-worlds-10-largest-arms-exporters.html/?a=viewall
https://www.businessinsider.com/arms-sales-by-the-us-and-russia-2014-8
https://www.businessinsider.com/arms-sales-by-the-us-and-russia-2014-8
https://www.businessinsider.com/arms-sales-by-the-us-and-russia-2014-8
https://www.upi.com/News_Photos/Features/Worlds-Top-5-arms-exporters/3105/
The end part of "Peace to Syria for Little Aylan Kurdi And all the Syrians", the link is:
https://ingpeaceproject.com/2015/10/01/peace-to-syria-for-little-aylan-kurdi-and-all-the-syrians/
Ing's comments on Internal Arms Sale
Reading the information about international arms sales makes me more confused and troubled than ever.  If we want to have peace in the world then why there are so many sophisticated weapons being produced and sold all over the world.  How are we going to stop wars if anyone can purchase weapons in the world market?  In the US, kids in poor areas or drug dealers can buy gun anytime anywhere to kill each other and innocent people.
Rich and poor countries spent billions of dollars buying weapons.  If we can produce something more beneficial to humanity with all the money that is used to produce and purchase weapons then we will be a more civilized and peaceful society.  There will be no more homelessness and famine in any countries.  Our world will be a better world than now for all the creatures on earth.
Ing-On Vibulbhan-Watts, Tuesday, October 1, 2015