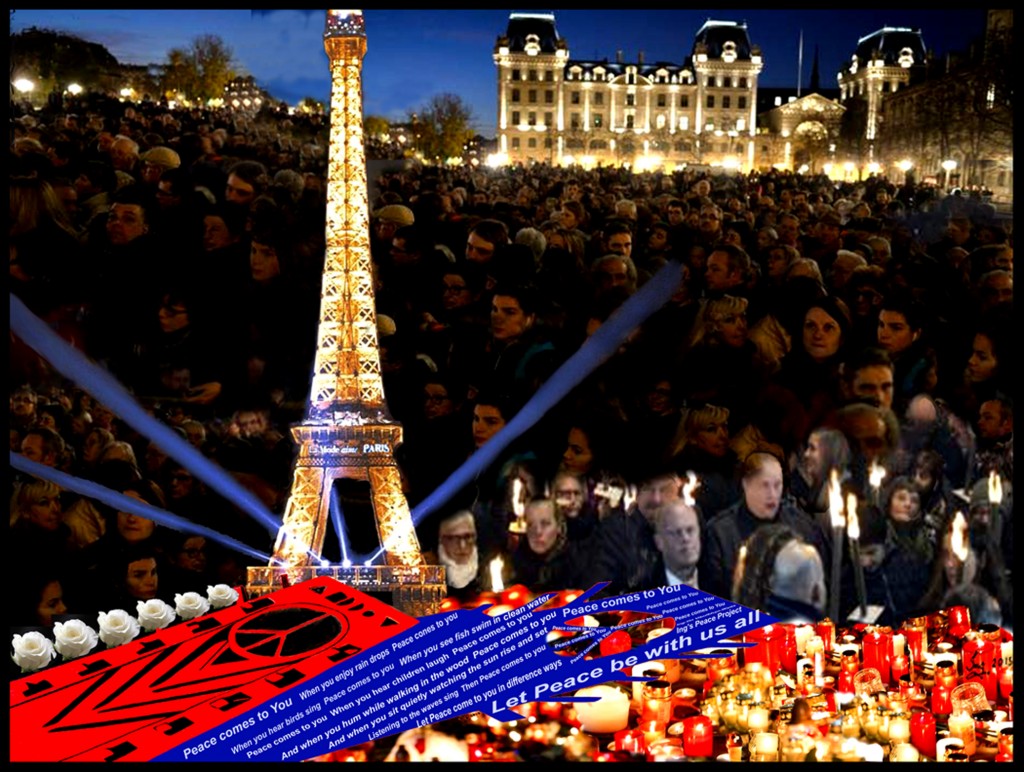 Let Peace Be With Us All                 Artwork by Ing-On Vibulbhan-Watts
Let Peace Be With Us All  
Artwork by Ing-On Vibulbhan-Watts
                                           Tuesday, December 01, 2015      
Remember the innocent victims of terroristic attacks
By Roberta Miscia, an English teacher from Italy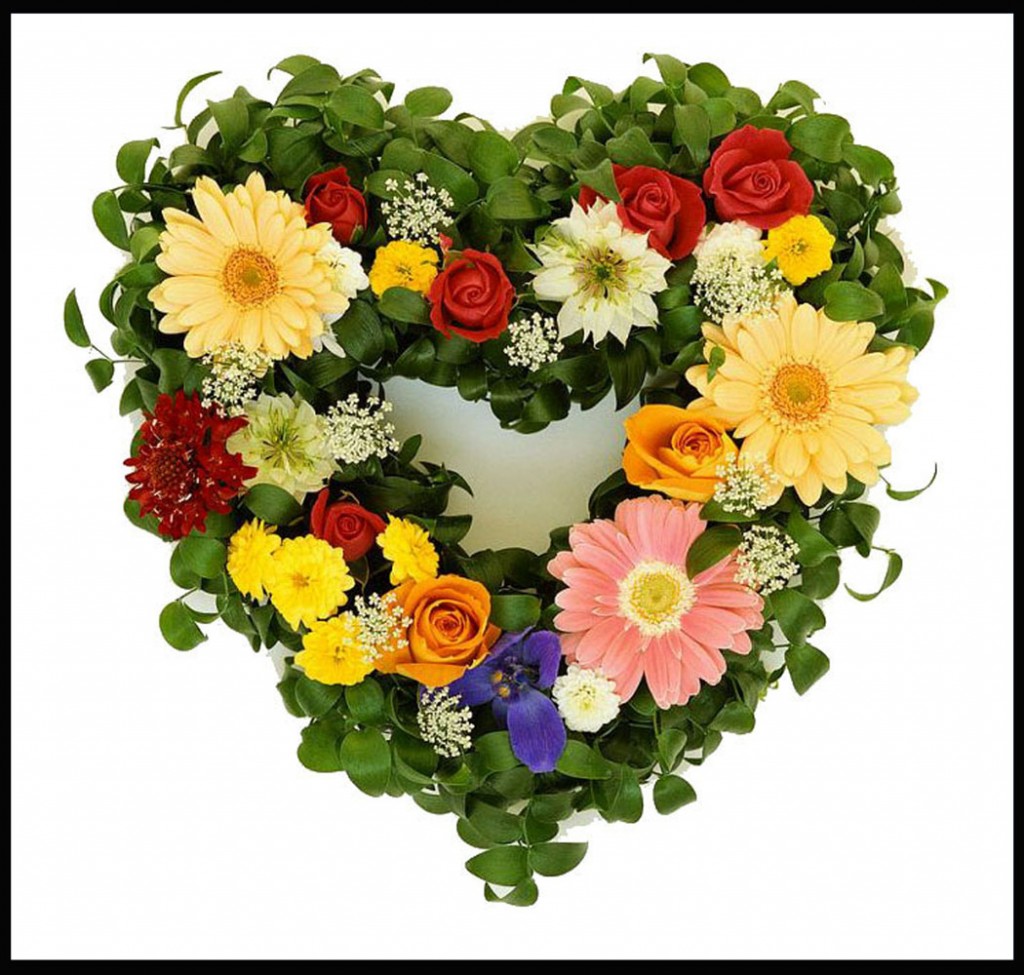 To remember the innocent victims of terroristic attacks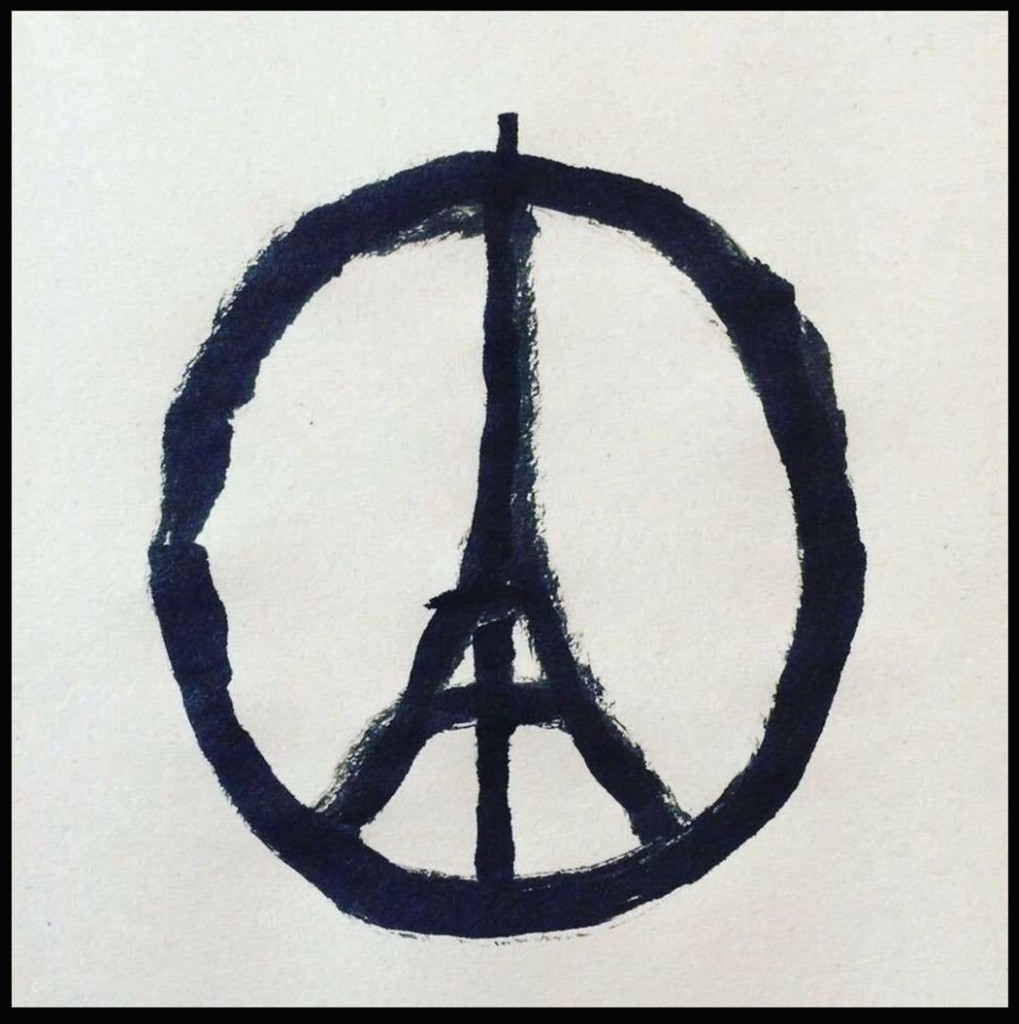 (Jean Jullien)
A French illustrator's poignant peace sign after the Paris terror attacks has been shared widely on social media.
Graphic designer Jean Jullien, who's been featured in The New Yorker, told The Telegraph that it was his "most direct reaction."
"It was just my way of sharing my reaction, of sharing a need for peace and solidarity in the face of such a disaster," he said.
The drawing has clearly resonated with thousands of people mourning the victims of the attacks.
Hi Ing,
how are you and John? I hope well. I'm writing to you to share a few considerations regarding the latest tragic events in Paris. You'll find my letter in attachment.
A big hug,
🙂 Peace is in our frail hands,
let's never tire of working for it!
Attachments area
Preview attachment: About the latest French terroristic attacks
Dear Ing,
We share a world where bands of reckless and totally irresponsible people are doing their best to make it and our lives a hell and they "seem to succeed" in their foolish enterprises. My twenty-four year old niece lives in Paris, just close to the places (she usually attends…) where the terroristic attacks have been made. She is still shocked and freaked out by the absurd violence and the cruelty of the massacres. She could have been one of the victims, if she had gone out that evening…!!Today, more than in the past, our call for peace must be extended to the whole world and, along with it, our urge to a mutual responsibility, to make our world more livable for all. Let's make our towns spaces where everyone is left free to make his/her voice heard and respected, regardless of race, religion, beliefs, countries of origin. We need life, which, besides being a right, is also a duty to guarantee. We can and must multiply it through simple but authentic peace gestures of solidarity, affection and love. If daily choices of death all around the world aim to diminish human beings' hope, love and forgiveness will win in the end, I do believe it! Someday we'll forget the hurt, the reason we cried, and those who caused us pain. We will finally realize that the secret of being free is not revenge, but letting things unfold in their own way and own time. What really matters is how well we walk in this world and how many footprints of peace we leave behind us. So, in spite of any horror, let's keep on smiling, believing and loving people over and over again.  LOVE WILL WIN!
Kisses to you and John, 🙂 Roberta Miscia (Pe 16/11/2015)
Dear Roberta,
I am so glad to receive your email and your special passage on "About the latest terrorist attacks in Paris".  My mind is occupied by the tragic event that happened in Paris.  Your sadness and forgiveness letter initiates me to do something.  I am glad that your niece is safe including other people as well.
Do you mind if I post your writing on my Blog with my artwork and writing on this subject?
Thanks for your expression and encouraging comments.
Take care, Kisses & big hugs for everyone,
Ing (11.19.15)
Hi Ing,
I wish you and your family a joyful thanksgiving day. I add my 1000 "thanks", too, for what you're doing for the whole world!
A big hug and kisses,
Thank you very much.  I am doing what I love and it is my responsibility as a human being.  By being a good teacher for the students who came to your classes every year, you are doing a good deed for the whole world.
I love your Thanksgiving pictures.  We hope you and your family have a nice and happy Thanksgiving Day and every day of your life.
Very Big hugs & Kisses to everyone,
Ing & John
11.26.2015
Ing's Comments:
Dear Roberta as I always told you that I am proud of you.  You are a good teacher.  You are concerned about your students not only the subjects you are teaching but you contact  your students when they are sick.  I value good teachers because they teach students to think and analyze the subject they present.  When the students understand and can express their view point to come to the conclusions or the answers of their own then the hard work as a good teacher is successful. 
It is very important to teach people to think, especially youngsters.  In this way we can protect young or old people from becoming brainwashed.  There are bad people that give teachers a bad name.  These people come in all kinds of professions. Hitler was one, teaching and guiding the German people to believe in him and cause of destruction that killed more than eleven million people in World War two. 
Examples of US citizens who have done similar things are described below in quotes from Wikipedia:
"Jim Jones was an American religious leader. Jones was the founder and leader of the Peoples Temple, best known for the mass murder-suicide in November 1978 of 918 of its members in Jonestown, Guyana,[1] the murder of Congressman Leo Ryan, and the ordering of four additional Temple member deaths in Georgetown, the Guyanese capital".
The other one is David Koresh was the American leader of the Branch Davidians religious sect, believing himself to be its final prophet.  The subsequent siege by the FBI ended with the burning of the center, where Koresh and 79 others were found dead after the fire (Please read for more information from the links I provided at the end of comments).
It is only my observations from the information that I have read.  I am not assuming that my view points are correct or that it is the only one way to understand the problems.  But these are areas that we need to focus on and attempt to improve the situations.
What happened in Paris recently is similar to a person having a heart attack.  We have to tend to that person immediately helping him survive as best as we can.  After the imminent care we need to exam why that person had a heart attack, consumption of too much food with high cholesterol, smoking, drinking alcohol or inherited genes that can cause heart attacks. Even if this person dies the knowledge will help the others, especially younger generations.
We need to examine why young people turn to extremism and become killers.   They believe so strongly in killing others they are willing to sacrifice themselves in their cause.  They have been completely brainwashed by others to kill and be killed. If one dies or is captured there are many more youngster to fill their position. 
If we do not solve the problem of youngsters being brainwashed and turning to murder then we will not be able to stop what happened in Paris or in New York City with 9/11 or elsewhere from happening again. 
Even with the high technology fighter planes of advanced nations bombing every inch of enemy territory and killing many of the people that habitat in the land, you still cannot stop the sleeper cells of brainwash youngsters that live all over Europe and the other countries around the world.  You cannot use planes to bomb all of them and you do not know which ones are the brainwashed killers or where they are.
It was not that long ago that the US bombed every inch of North Vietnam but the Vietnamese survived and won the war. It appears to me that the US, Russia, France, the UK and others are using this air war as a means of showing the power of their weapons to potential buyers.  
 According to the news about 7 to 8 % of the French population is Muslim and there is a very high rate of unemployment among young adult Muslims.  This also reflects the the fact that the 70% of the incarcerated inmates are Muslim.  This is similar to the US, where African Americans have the highest rate of incarceration, especially the youths.  There is about a 40% unemployment  rate for African American youth.
I went on internet searching for information as to why youngsters turn themselves into killers.  The following are some of articles that I read:
"In the early 21st century there were an estimated 5 million Muslims in France"
https://en.wikipedia.org/wiki/Demographics_of_France
"Islam in France The French Have Themselves to Blame"
"——Although this violence may appear to be an extension of the civil war that has wracked Algeria since January 1992, in fact the rise of Islamism in France is not an import from Algeria but is as French as is that country's high unemployment. In large part, Islamism results from French policies toward North Africa, and particularly from the immigration policies of recent decades. To understand how this is so requires knowing something about its context — the nineteenth-century background, the bias against Muslims, the complete failure to absorb Muslims into French society, and the emergence of an ultra-nationalist and anti-immigrant movement.
The rise of Islamism in France is not an import from Algeria but is as French as is that country's high unemployment.  ——————
https://www.meforum.org/338/islam-in-france-the-french-have-themselves-to
"Islam in France"
"In 2010, a study entitled Are French Muslims Discriminated Against in Their Own Country? found that "Muslims sending out resumes in hopes of a job interview had 2.5 times less chance than Christians" with similar credentials "of a positive response to their applications.".[39]
Other examples of discrimination against Muslims include the desecration of 148 French Muslim graves near Arras. A pig's head was hung from a headstone and profanities insulting Islam and Muslims were daubed on some graves.[40] Destruction and vandalism of Muslim graves in France were seen as Islamophobic by a report of the European Monitoring Centre on Racism and Xenophobia.[41] A number of mosques have also been vandalized in France over the years.[42][43] On 14 January 2015 it was reported that 26 mosques in France had been subject to attack since the Charlie Hebdo shooting in Paris.[44]"
https://en.wikipedia.org/wiki/Islam_in_France
 "Social exclusion leaves Belgium ripe for extremism"
VERVIERS, Belgium // Ahmet Balci has never had a job since leaving school in this once flourishing textile centre.
The warehouse where his grandfather was employed when he moved to eastern Belgium from Turkey, half a century ago, now stands empty.
Mr Balci, 22, says he is like many other Muslims his age living in post-industrial Verviers, where unemployment hovers at around 20 per cent. He has no prospects of work, and feels alienated in this city of 55,000.
"I feel that people here, they have a problem with Muslims," he said. "There is a stigma."
It is a sentiment echoed across Europe which has come into focus after this month's terrorist attacks in Paris: angst from economically marginalised and socially excluded Muslim youth.
The individuals from this group, experts warn, remain vulnerable to recruitment for extremist causes, as the French gunmen were.
The growing resentments may have created an exceptional divide in Belgium, the European country currently claiming the greatest number of people per capita going to fight in Syria – and often, returning with a vengeance.  ————————————————————————————-
"When you look at the Muslim community, by and large, they are underprivileged," says Mr Privot, who is a convert to Islam. "Half of the families which have a Moroccan or Turkish background are living just at the poverty line or below the poverty line. That really is huge and gives you an idea of the situation of these communities and how far they really are from the mainstream."
The country's diverse Muslim population – about 7 per cent of the national demographic – is mostly made up of second-generation Turks and Moroccans, as well as sub-Saharan Africans, whose grandparents emigrated to work in Belgian factories during an economic boom in the 1960s.
As families established roots, opportunities for migrants faded.
A report by the government's labour oversight committee in 2013 found that 21 per cent of white Belgians were inactive, or not working for any reason, compared with 42 per cent for Belgians of North African origin and 51 per cent for Belgians with other African backgrounds.
https://www.thenational.ae/world/europe/social-exclusion-leaves-belgium-ripe-for-extremism
"We have seen in the past ten years that religion has not in fact been an overwhelming force for insecurity in France. Rather, Islamic community organisations have played vital roles in integration amidst very difficult social and economic circumstances by providing services and institutions in areas where the state is struggling to meet its obligations. Many French and European Muslim leaders and organisations have simultaneously condemned terrorism in the strongest terms and excluded those who sympathise with violence from Muslim institutions, as in the case of the Kouachi brothers.
Rather, in understanding the terrorist attacks which have hit France in 2015, it is crucial that we uncover the international, rather than domestic, factors which make such events possible: from the instability in the Middle East that supplies training and radicalisation to isolated groups of terrorists in Europe, to the trans-national crime networks profiting from supplying heavy arms to the highest bidder."
https://blogs.lse.ac.uk/europpblog/2015/11/16/paris-attacks-why-france-must-avoid-viewing-its-muslim-population-as-a-security-threat/
Ing's comments
One of the bright spots I heard on the morning of Friday, November 27, 2015 from the BBC news. It stated that Pope Paul was visiting Kenya and acknowledged that to prevent young people from becoming radicalized we have to educate and find jobs for them.  I am glad that someone with power and authority speaks out about the uneducated and unemployed youth.
James Warren "Jim" Jones (May 13, 1931 – November 18, 1978) was an American religious leader. Jones was the founder and leader of the Peoples Temple, best known for the mass murder-suicide in November 1978 of 918 of its members in Jonestown, Guyana,[1] the murder of Congressman Leo Ryan, and the ordering of four additional Temple member deaths in Georgetown, the Guyanese capital. Nearly three-hundred children were murdered at Jonestown, almost all of them by cyanide poisoning.[2] Jones died from a gunshot wound to the head; it is suspected his death was a suicide.
Jones was born in Indiana and started the Temple there in the 1950s. He later moved the Temple to California in the mid-1960s, and gained notoriety with the move of the Temple's headquarters to San Francisco in the early 1970s.
Please visit the following link for more information:
https://www.google.com/#q=Jim+Jon
David Koresh (born Vernon Wayne Howell; August 17, 1959 – April 19, 1993) was the American leader of the Branch Davidians religious sect, believing himself to be its final prophet.
Coming from a dysfunctional family background, Koresh claimed to become a Christian in the Seventh-day Adventist Church, before joining a splinter group, based at the Mount Carmel Center near Waco, Texas, which took the name Branch Davidians. Here he competed for dominance with another leader named George Roden, until Roden was jailed for murdering another rival. Koresh was then accused of seducing a 13-year-old girl, apparently with her parents' consent, a relationship that he sanctified as a 'spiritual marriage'. But it was the serving of arrest and search warrants by the U.S. Bureau of Alcohol, Tobacco, Firearms and Explosives as part of an investigation into illegal possession of firearms and explosives that provoked the historic 1993 raid on the center.[2] Four ATF agents and six Davidians were killed during the initial two hour firefight, both sides claiming the other side fired first. The subsequent siege by the FBI ended with the burning of the center, where Koresh and 79 others were found dead after the fire.[3]
Please visit the following link for more information:
https://en.wikipedia.org/wiki/David_Koresh
Timothy James McVeigh (April 23, 1968 – June 11, 2001) was an American militant who detonated a truck bomb in front of the Alfred P. Murrah Federal Building in Oklahoma City on April 19, 1995. Commonly referred to as the Oklahoma City bombing, the attack killed 168 people and injured over 600.[3] According to the United States Government, it was the deadliest act of terrorism within the United States prior to the September 11 attacks, and remains the most significant act of domestic terrorism in United States history.
McVeigh, a Persian Gulf War veteran, sought revenge against the federal government for its handling of the Waco Siege, which ended in the deaths of 76 people exactly two years before the bombing, as well as for the Ruby Ridge incident in 1992. McVeigh hoped to inspire a revolt against what he considered to be a tyrannical federal government.
Please visit the following link for more information:
https://en.wikipedia.org/wiki/Timothy_McVeigh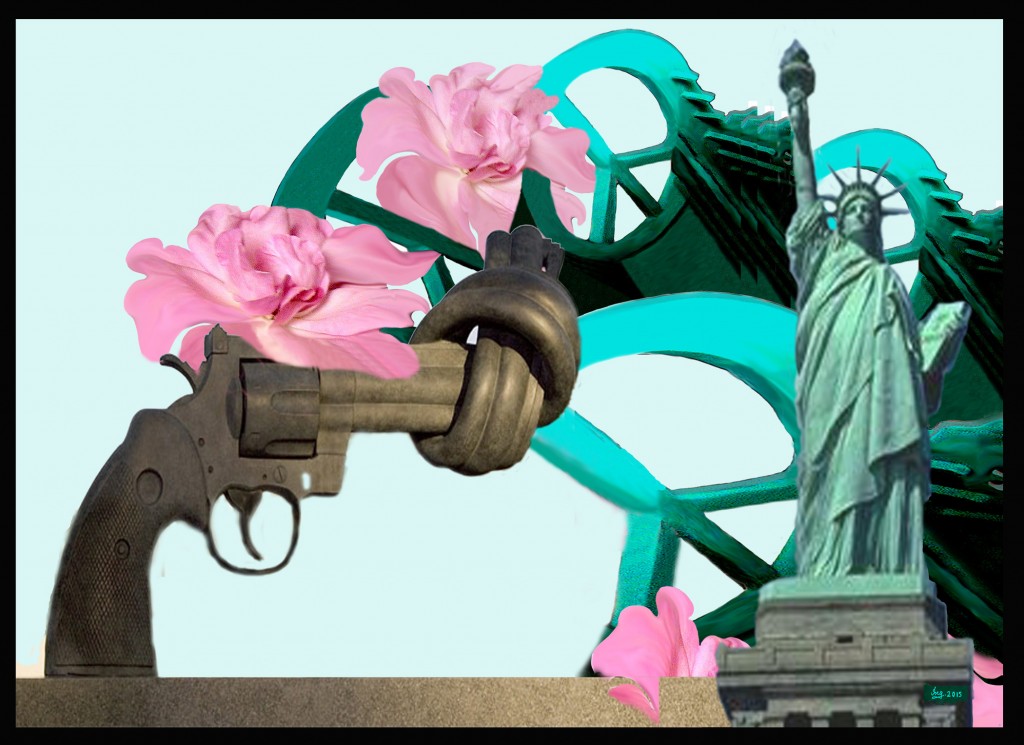 There is no Peace if so called civilized countries continue selling their high technology weapons.
There is no liberty if 60,000 homeless people and 25,000 children are homeless in New York City alone. 
But there are Billionaires in every country, rich or poor.  While there are many homeless in Paris, London and the rest of the world.
There is no beauty left in the land of selfishness and greed.
For the homeless and unemployed, especially the youth of Europe, extremist organizations can brainwash them by offering food, housing and women.  This happens at the expense of women captured by these criminal organizations and raped and sold as property.
 In their homelands  most of these unemployed youth have nothing, some of them have become petty thieves to survive, prostituted themselves or sold illegal drugs on the street.  The chance of get caught to go to jail is high.  There is hell for them at home, so these criminals offer them paradise.  And if the these brainwashed youth kill others and blow themselves up even better.  Because they believe they will achieve the ultimate reward in paradise.  
The Paris attacks caused the death of 129 people directly and  one more injured person passing away later.  Subsequently the leaders of France, Britain, Germany, the US and Russia were able to better coordinate their forces to fight the terrorists in Syria and Iraq  I wonder why the 250,000 to perhaps 500,000 Syrians, that died from civil war was not urgent or valuable enough for the international to come together much earlier to prevent more deaths. 
It was not until the refugees ran away to Europe by the hundreds of thousands that European countries decided to attempt to solve the problem.  If the countries of the world faced the issue sooner there would have been less need to deal with the issue on their own soil.
Countries that should accept these refugees now, were also reluctant to help Jewish refugees in WWII.  BBC news published an article about poor Anne Frank's family.  While they were hiding from the Nazi, Anne Frank's father applied to immigrate to USA.  But the application was denied and in the end Anne Frank died in a Nazi concentration camp.  Most people or countries will not do anything if it will not directly  benefit them or affect their own land.  But today we are all part of a global interconnected world where if one suffers others will soon follow no matter how far away.  The Ebola crisis in West Africa, and the Aids crisis which has become a world wide epidemic has proven the danger of not responding to leather issues with immediate action.
Ing-On Vibulbhan-Watts, Monday, November 30, 2015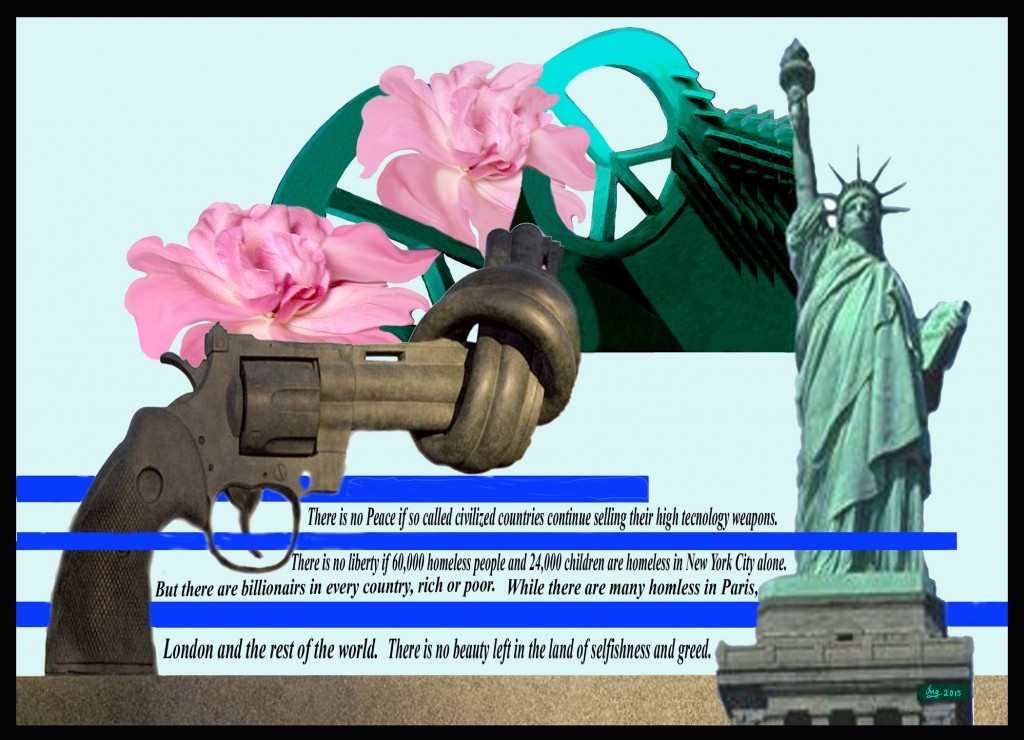 The countries that buy and sell the most weapons
FIVE countries—America, Russia, Germany, China and France—accounted for three-quarters of international arms exports over the past five years. China tripled its share in that time, overtaking France. It is on track to surpass Germany to become the third-largest arms dealer. Business is brisk. Overall, sales between 2009 and 2013 were 14% higher than the previous five-year period, according to the Stockholm International Peace Research Institute, which tracks the arms trade. China sells to 35 mainly low- and middle-income countries, but is also a big importer (two-thirds of its weapons come from Russia). America exports to over 90 nations, with aircraft making up most of its sales. Russia exports more ships than any other country. Its weapons exports have significantly increased, thanks in part to being India's biggest supplier, accounting for three-quarters of its arms purchases. As for Ukraine, it exports more weapons than Italy or Israel. But with regional tensions flaring, it may choose to keep some of those arms for itself. 
Some of people comments:
The AK-47 Assault Rifle is an Icon.
It is the single most important weapon which has changed the world in the last Century.
Cheap to make, ideal action that lasts decades, and the perfect killing machine has caused more revolutions, more assassinations, and more innocent civilian deaths than any invention in history.
It is the most manufactured firearm– EVER.
The Chinese can mass produce copies for less than $20 each.
And it survived the Fall of Communism to now empower the Islamic Revolution for the next Century.
It has caused more governments to be overthrown than any other invention.
It has assassinated more leaders and spokesmen than any other invention.
It has armed drug smugglers, pirates and criminals with overwhelming power.
It has destroyed more cities than artillery.
It has killed more humans than any invention in Modern History.
It has killed more Americans than any other modern weapon of the past century.
And more Chinese.
And more Arabs.
AND MORE RUSSIANS.
Kalishnikov is Russian in origin, but in the end the killing does not discriminate.
Radical Jihadists love it more than a cheap copy of the Koran.
It is the perfect killing machine.
It is the embodiment of Power.
It is the weapon of choice for Terrorists, Thugs and Drug Lords.
Yes the AK-47 has killed more people than nuclear weapons, chemical weapons and biological weapons—COMBINED.
Hundreds of millions!
The AK-47 is not so much a rifle as the modern Pandora's Box.
It is as common as bicycles in some nations.
And it is more deadly than nukes.
And if you get a few hundred, you can start your own revolution.
Now consider there are over 100 million copies.
For more information please visit the following links:
https://www.economist.com/blogs/graphicdetail/2014/03/daily-chart-13
The countries that buy and sell the most weapons
Here is the list of the world's top 10 arms exporters, along with their respective shares of global exports between 2010 and 2014, from SIPRI:
United States: 31%
Russia: 27%
China: 5%
Germany: 5%
France: 5%
U.K.: 4%
Spain: 3%
Italy: 3%
Ukraine: 3%
Israel: 2%
https://www.cheatsheet.com/business/the-worlds-10-largest-arms-exporters.html/?a=viewall
https://www.businessinsider.com/arms-sales-by-the-us-and-russia-2014-8
https://www.businessinsider.com/arms-sales-by-the-us-and-russia-2014-8
https://www.businessinsider.com/arms-sales-by-the-us-and-russia-2014-8
https://www.upi.com/News_Photos/Features/Worlds-Top-5-arms-exporters/3105/
The end part of "Peace to Syria for Little Aylan Kurdi And all the Syrians", the link is:
https://ingpeaceproject.com/2015/10/01/peace-to-syria-for-little-aylan-kurdi-and-all-the-syrians/
Ing's comments on Internal Arms Sale
Reading the information about international arms sales makes me more confused and troubled than ever.  If we want to have peace in the world then why there are so many sophisticated weapons being produced and sold all over the world.  How are we going to stop wars if anyone can purchase weapons in the world market?  In the US, kids in poor areas or drug dealers can buy gun anytime anywhere to kill each other and innocent people.
Rich and poor countries spent billions of dollars buying weapons.  If we can produce something more beneficial to humanity with all the money that is used to produce and purchase weapons then we will be a more civilized and peaceful society.  There will be no more homelessness and famine in any countries.  Our world will be a better world than now for all the creatures on earth.
Ing-On Vibulbhan-Watts, Tuesday, October 1, 2015
The plight of Homeless
By not helping the homeless, the desperation or starvation might cause them to resort to illegal activities.
Homeless children in the United States.[61] The number of homeless children reached record highs in 2011,[62] 2012,[63] and 2013[64] at about three times their number in 1983.[63]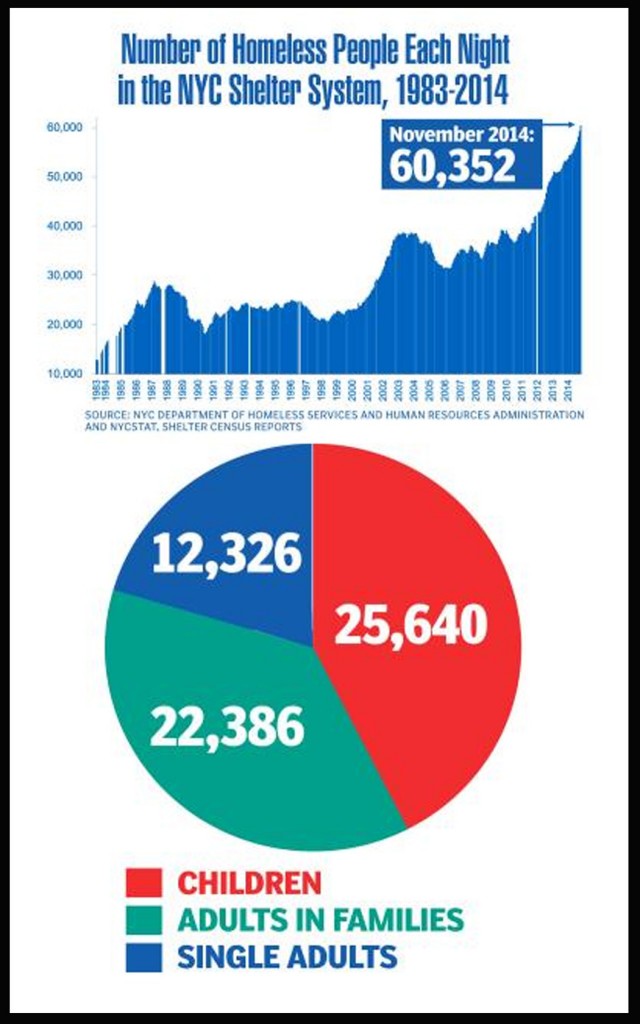 Mr. Michael Bloomberg, a billionaire, was the Mayor of NYC for 12 years from January 1, 2002-December 31, 2013.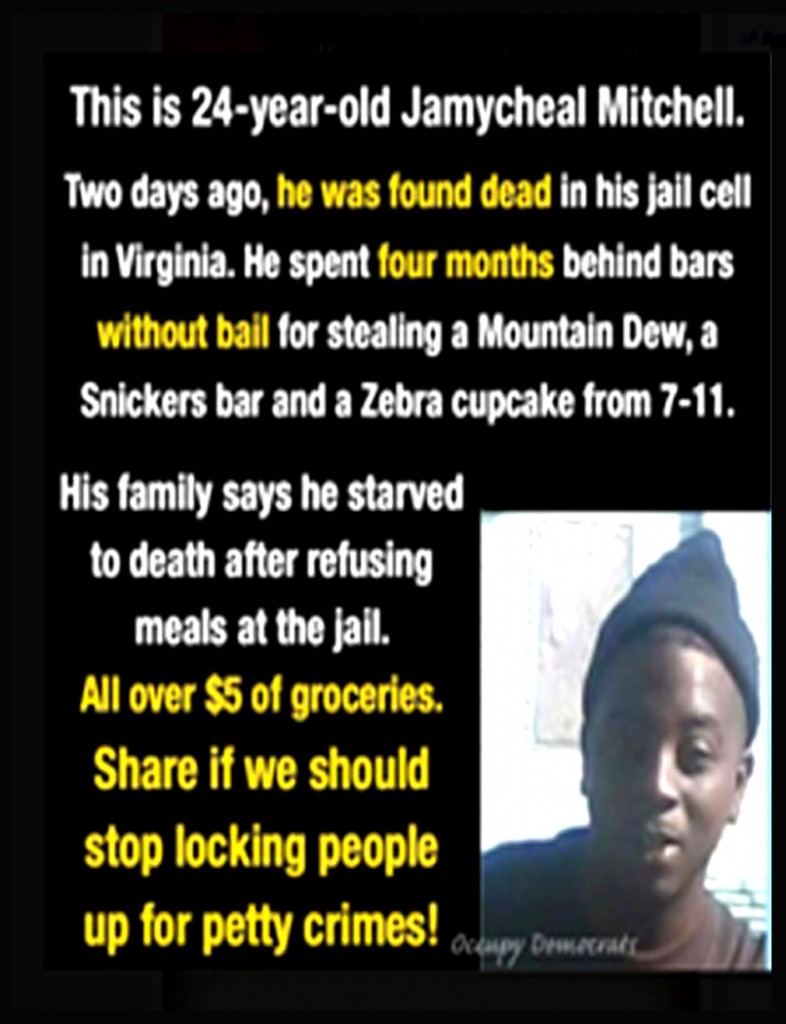 Right:Homeless man                                   Left: Homeless veteran in New York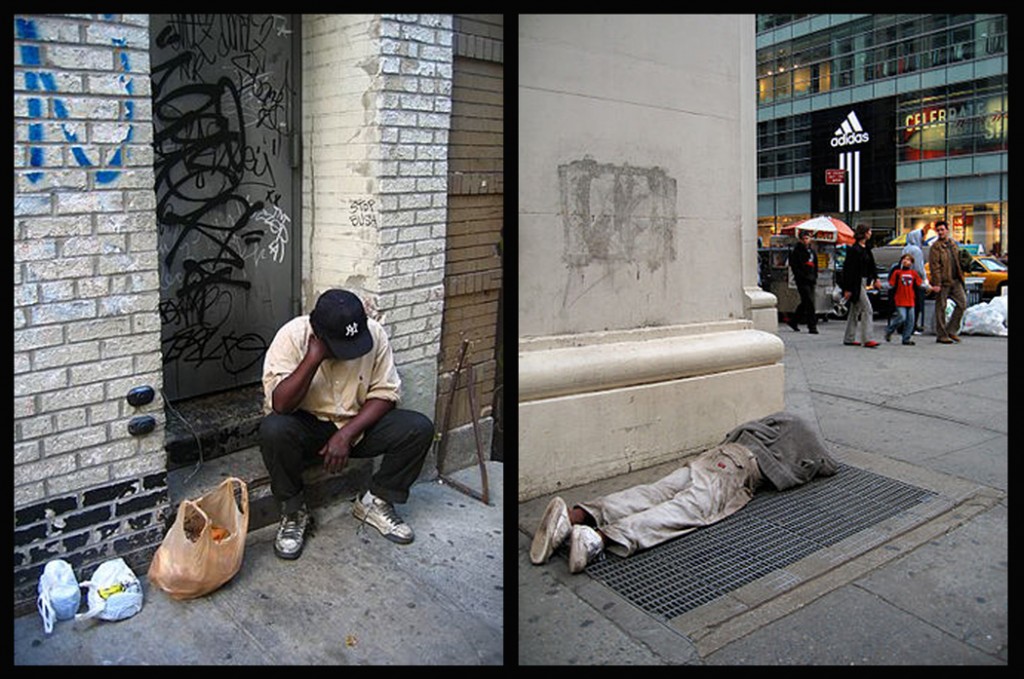 Left:  Two homeless men in New York City
Right: Juxtaposition of homeless and well off is common on Broadway, New York City
Top left: Homeless man in the East Village, New York City.
Top right: Though the Bowery was once synonymous with homelessness, it has since become a Manhattan neighborhood where high-priced luxury condominiums are being erected.
Bottom left: A homeless man sleeping in a parking lot
Bottom right: Helping the homeless in New York City (2008)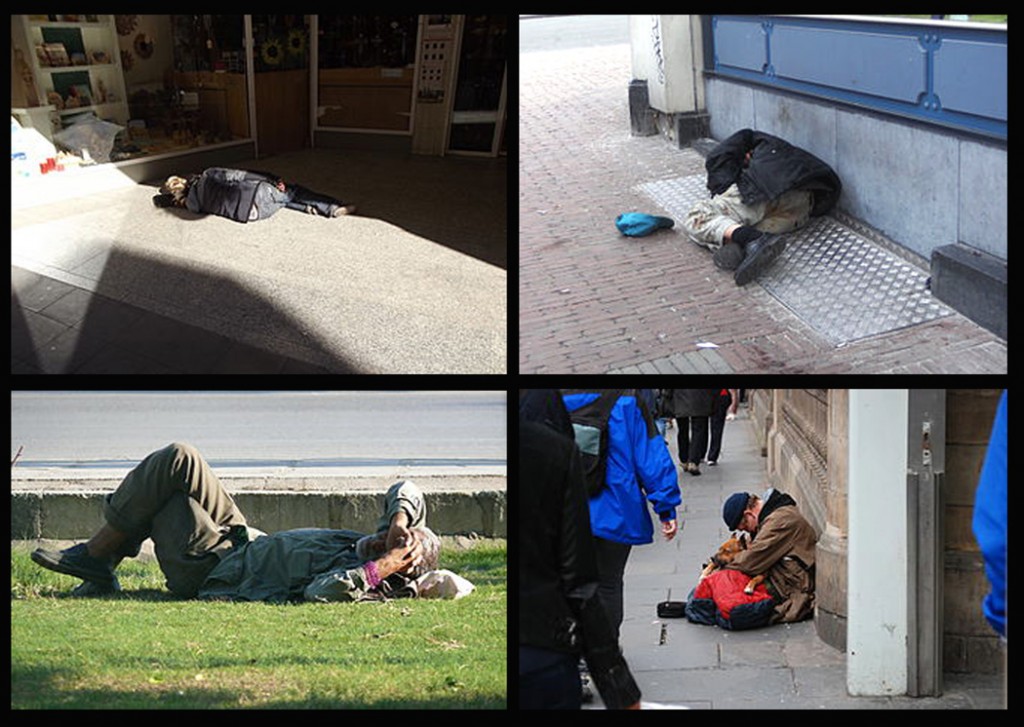 International Homeless
Homeless person sleeping in the entrance zone of a German shop
Homeless man sleeping in a street in Charleroi
A homeless person in a park in Ahvaz, Iran
A homeless man in Edinburgh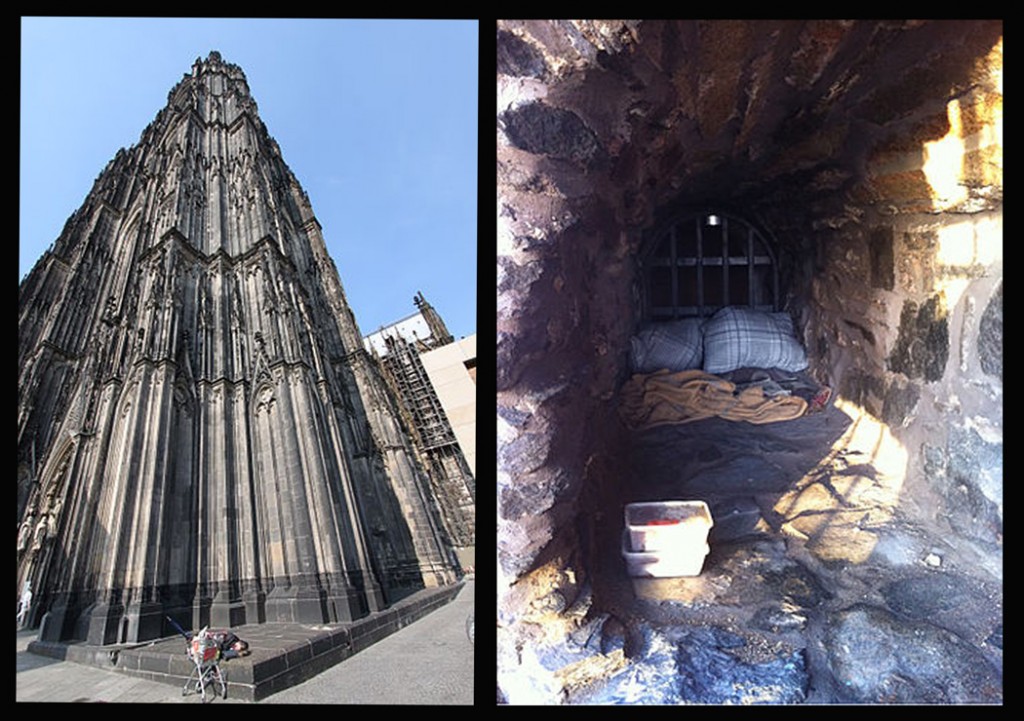 Left: Sleeping homeless person in the corner of Cologne Cathedral, Germany, 2010
Right:  A homeless person's bed in Göteborg, Sweden, 2013
Top left:  Homeless man in Prague, Czech Republic
Top right:  Girl begging in Ladakh, India on 26 July 2007
Bottom left:  Homeless person in Rome
Bottom right:  Homeless street dwellers in Mumbai, India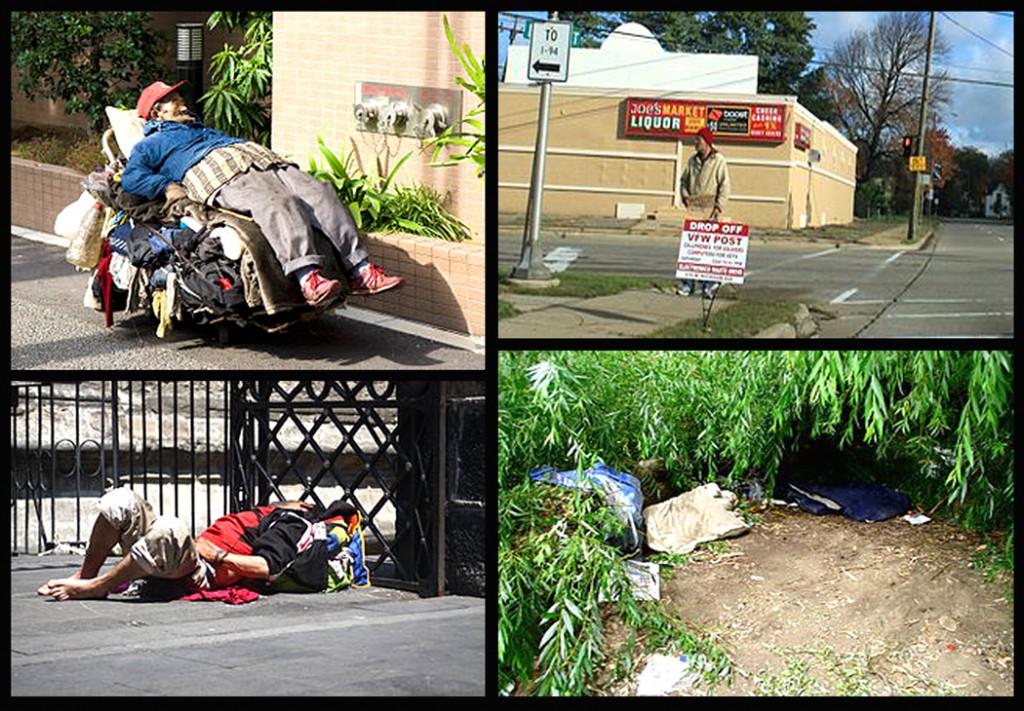 Top left:  Homeless man in Tokyo
Top right:  Homeless man soliciting employment, Ypsilanti, Michigan
Bottom left:  Homeless man sleeps by the gate

Thanks to all photographers who took the pictures below: