At the tunnel walkway
From Chambers Street to World Trade Center,
New York City, New York
On Thursday, February 18th, 2016
 And
 Cynthia's Snow Photographs
George Bowman the Musician
He greets people
Who travel to work
Or return home
From all day work
With his trumpet
He voices out a melody
How are you today?
Let me serenade you
From a hard day's work
Or travel from here to there
Have a pleasant day everyone!!!
With his horn of melody
Soothing the ears of those
Who pass by
Good morning!!!
Good afternoon!!!
Or good night!!!
His trumpet sounds
Connecting to human souls
George Bowman the Musician
Happy to serenade
The travelers who pass by
His life is fulfilled
With happiness and peace
It is a life well lived
Ing-On Vibulbhan-Watts, Saturday, February 20, 2016
George Bowman the Musician
On Thursday, February 18, 2016 about 1:30 P.M., I traveled on the E-train, subway in New York City.  I got out at Chambers Street and walked along the tunnel, underground to the World Trade Center to get the Path train heading home to Newark, New Jersey.  I saw a man standing near the wall with his trumpet in his hands.  I always want to have a conversation with the musicians who perform in the subway or out on the streets but I never have a chance.  Listening to his music, I decided to approach him; luckily there was no one there at that moment so I began asking him some questions.  We had a nice short conversation.  Then I asked if he would play one more tune or a song for me to record and told him that I would like to use the material to post on my website and Google +, post a video on YouTube.  He wrote his name and information for me before he serenaded me with his interpretation of, Somewhere Over the Rainbow tune.  I was very happy and felt privileged to know him.  I showed the video to my husband, John Watts.  He likes the music and my conversation with Mr. George Bowman.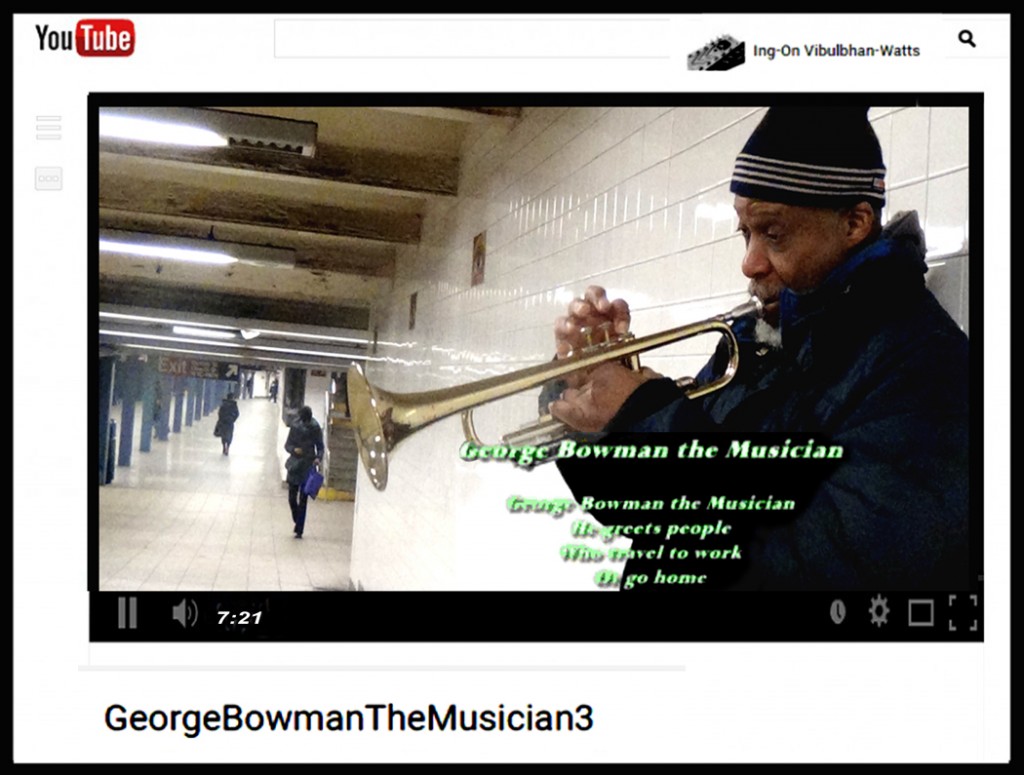 If you would like to listen to Mr. George Bowman music and our conversation please visit YouTube at the following link:
 Cynthia's Snow Photographs