On Friday and Saturday, January 23 & 24, 2016
Downtown Newark, New Jersey, USA
Snow, Ice, Water, It's All Me
Puffy snow hanging on
Clinging on the branches
Holding on for a while
Turns to ice
If Mother Nature commands
More cold
If she wants it warm
I will turn to water
Drop down to the ground
Nourishing the plants
Snow, Ice, Water
It's all me
Basically
 I am only H two O
We transform
And adapt
To the situations
That comes along
Ing-On Vibulbhan-Watts, Monday, February 3, 2014, 6:31 pm
When John and I woke up in the morning of Friday, January 23, 2016 we already saw the white blanket of snow starting to pile up on the street and on our backyard garden.  We closed our shop and spent most of the time listening on the radio and watching TV to hear the news about the snow storm around our area.  In the evening John went out cleaning the snow in front of our shop on the sidewalk that people had to walk passed.  The snow did not stop until late Saturday morning.  According to the news report, the snow fall in Newark was about 28 inches.  John worried that the snow on our second floor flat roof might cause the roof to collapse if he did not remove the snow.  He worked very hard taking all of the snow from the portion of the roof that we worried about collapsing.  I could not help John except for keeping him company and enjoying taking pictures, keeping a record of his hard work, and the accumulation of snow.  This much snow had not fallen at one time ever.  The snow storm caused great hardship, including deaths in some areas.
The followings are photos that I took on Friday and Saturday, January 23 and 24, 2016 of John cleaning the snow on the roof.  I inserted the article from USA TODAY about the snow storm in the regions that were affected.  The article was written by John Bacon.  AccuWeather.com Meteorologist  articles were written by  Brett Rathbun, and  

Alex Sosnowski

, AccuWeather.com Senior Meteorologist.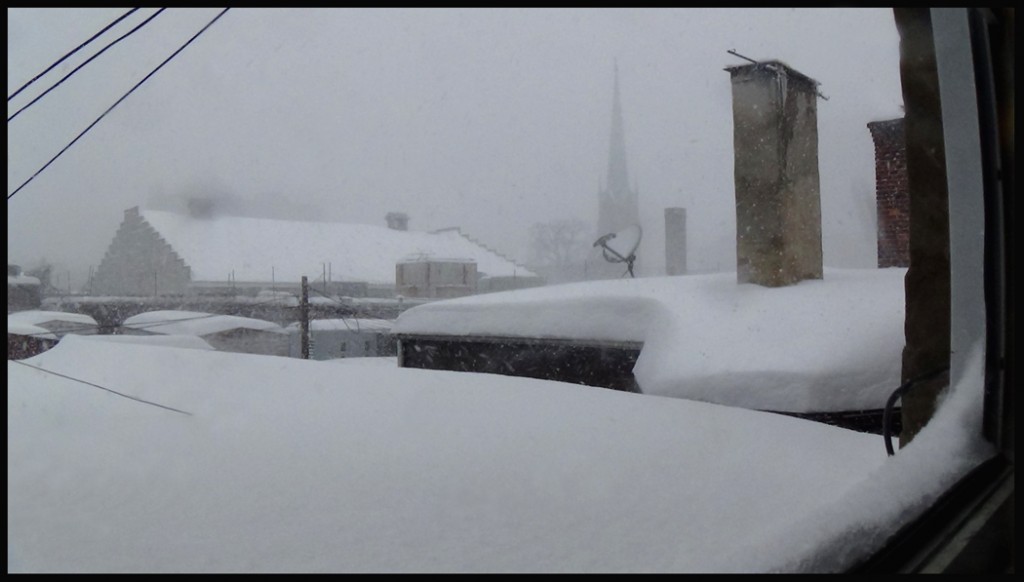 Millions remain snowbound after historic storm
 John Bacon, USA TODAY5:54 p.m. EST January 25, 2016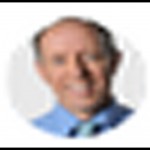 ARLINGTON, Va. — The massive storm that began its unrelenting march across the East three days ago continued to hamstring the region Monday as most schools and government offices remained closed, transportation spotty and secondary roads socked in with still-unplowed snow.
 Airports struggled to recover, with more than 1,500 flights canceled Monday, according to the FlightAware tracking website. The five-day cancellation tally was close to 13,000, causing a ripple effect across much of the nation and even around the world.
The dig-out was churning full speed across the region. Baltimore, which set a record with almost 30 inches of snow, had some subway service and a few bus lines operating Monday. Schools and government offices were closed, and  Mayor Stephanie Rawlings-Blake pleaded for patience.
"Over 3K neighborhood streets to clear," Rawlings-Blake tweeted Monday. "It's a process — can't just plow — have to move snow to alternate locations
In Washington, D.C., public schools would remain closed until Tuesday, tweeted Mayor Muriel Bowser, thought the local government would reopen on Tuesday, she also said.
In New York City, Mayor Bill de Blasio lauded the efforts of city workers for their efforts in clearing streets, but drew an outcry from many Queens residents who posted complaints and photos of unplowed roads on social media.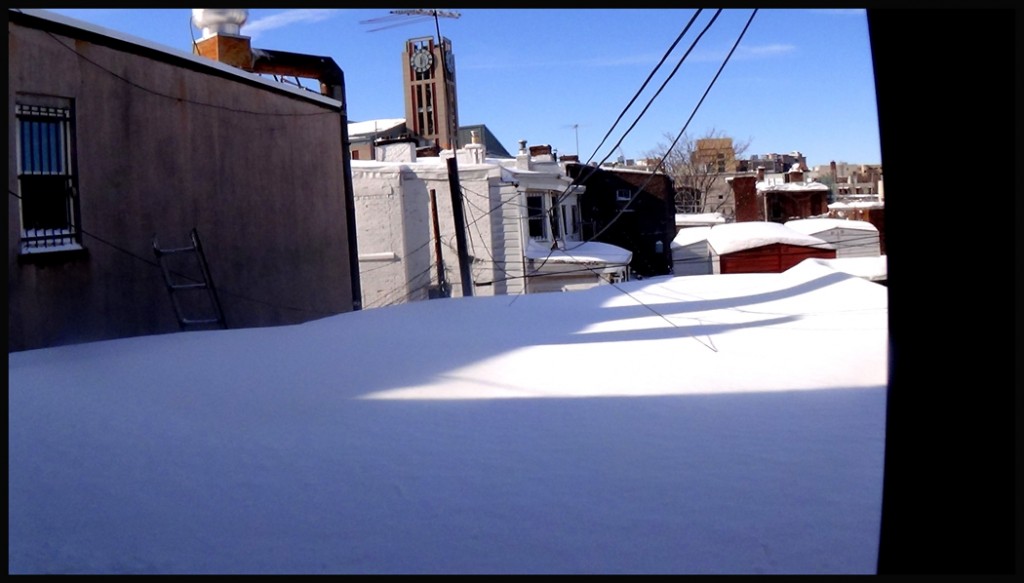 The city's schools opened Monday, but not everyone could get there. The city's public advocate, Letitia James, criticized de Blasio' decision to open them, saying they should have remained closed "for the safety of students and educators."
"We needed to do better in some parts of Queens – and it's different depending on neighborhoods," deBlasio told public radio WNYC on Monday. "We definitely need have to finish this today, get these streets in better shape."
In Washington, D.C., Bowser was out among 2,000 volunteer snow shovelers Sunday, working to dig out neighbors. Federal offices were closed Monday. Schools were also closed, although 10 buildings were open to serve breakfast and lunch to students. Much work remained to plow neighborhood streets and make the transit system fully operational.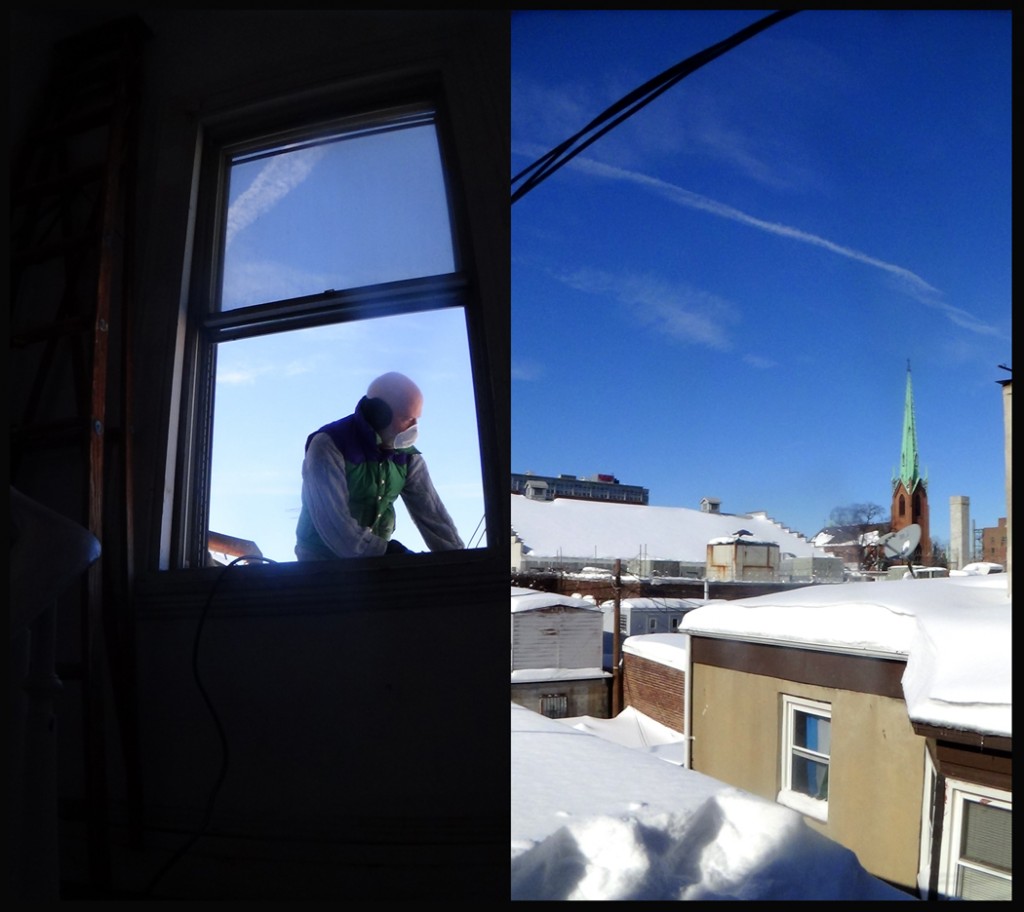 "We are going to get to every street," Bowser assured residents Monday. "We are working through our methodical process …  to get to everybody in the most efficient way possible."
https://www.accuweather.com/en/weather-news/recap-blizzard-2016-washington-dc-new-york-city-philadelphia-baltimore-northeast/54977271
Record-breaking blizzard buries mid-Atlantic with over 2 feet of snow
By Brett Rathbun, AccuWeather.com Meteorologist
January 27, 2016; 1:17 PM ET
Blizzard of 2016 rattled the mid-Atlantic states on Friday and Saturday, producing widespread snowfall totals of 1 to 3 feet.
At least 48 people were killed as a result of the storm, according to the Associated Press. Several deaths were due to heart attacks that occurred while shoveling snow.
Washington, D.C., Baltimore and New York City received more than 2 feet of snow during the event. Philadelphia received just under 2 feet. All four major cities shattered daily records for the most snow on Jan. 23.
Philadelphia received a typical entire season's worth of snowfall, 22.4 inches, from the blizzard.
In New York City's Central Park, Saturday was the snowiest day on record. The previous record was 24.1 inches from Feb. 12, 2006. Central Park fell 0.1 of an inch short of tying the previous all-time record storm total snowfall of 26.9 inches from Feb. 11-12, 2006.
"Baltimore received the most snow on record for a storm on Sunday, surpassing the old record of 26.8 inches set during the President's Day storm of 2003," AccuWeather Meteorologist Brian Edwards said.
Local emergency management reported that there were three roof collapses of weak buildings and mobile homes in Page County, Virginia, where totals were around 2 feet.
While there were widespread totals of 2 to 3 feet, a few localized locations even topped that threshold from northwestern Virginia to south-central Pennsylvania. A National Weather Service spotter reported 42 inches of snow near Glengary, West Virginia.
Strong wind gusts between 30 and 50 mph led to extensive blowing and drifting snow and near-zero visibility. Most cities were shut down with travel bans in place to keep vehicles safely off the roads.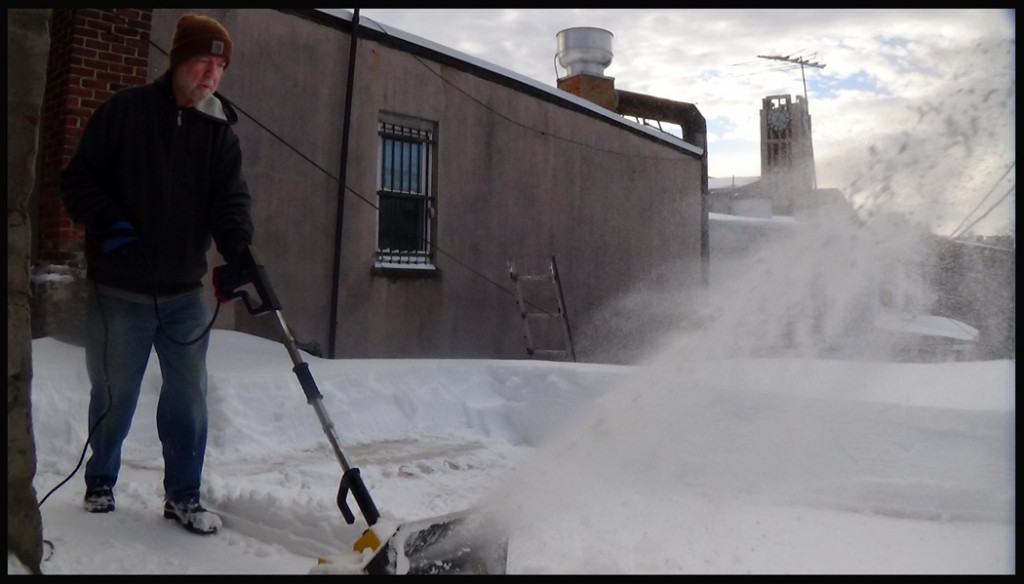 Travel bans forced those heading outdoors to travel by foot. Some people traveled by cross-country skis and a sled.
Heavy bands of snow set up across portions of the mid-Atlantic producing snowfall rates of 1 to 3 inches per hour. Snow crews were unable to keep ahead of the storm. This led to some vehicles being trapped on the roads for more than 24 hours.
Hundreds of thousands of people from the Tennessee Valley to the mid-Atlantic were without power at some point during the storm. Thousands of flights were cancelled as major hubs were shut down.
This storm also produced coastal flooding and beach erosion along the mid-Atlantic coast. Icy flood waters flowed down several roads across eastern New Jersey.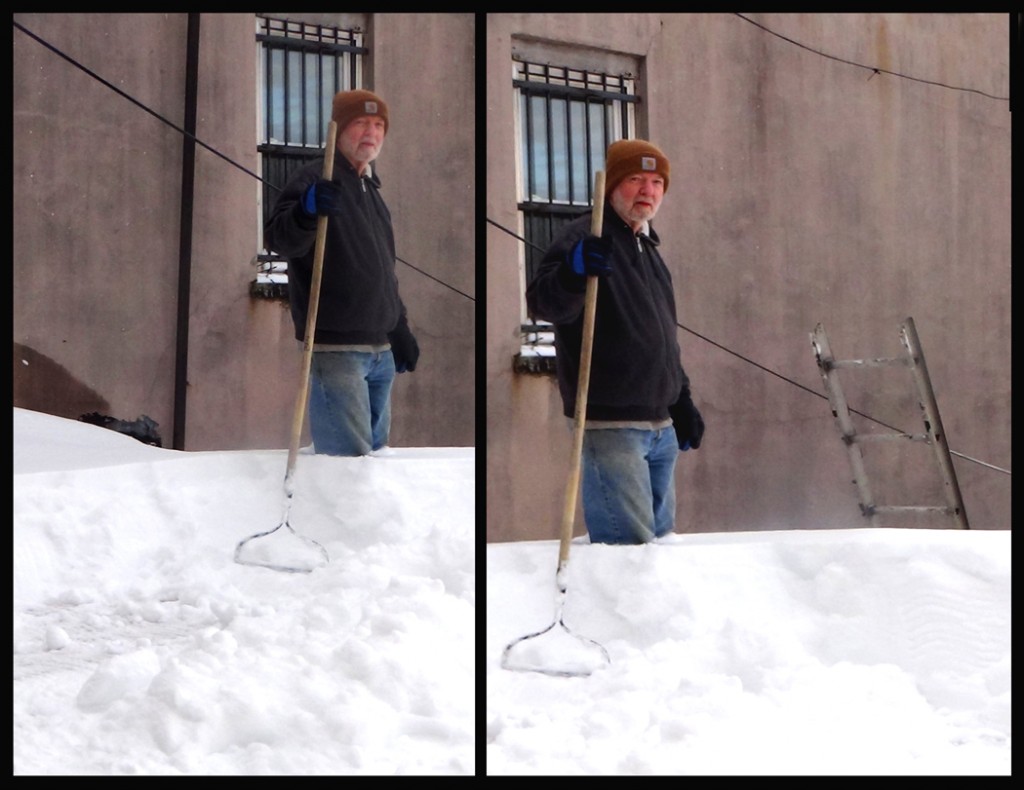 It may take days for all roads to be cleared of snow. However, calm and dry conditions will aid those digging out from the storm.
Before the storm invaded the mid-Atlantic, immobilizing snow fell across portions of Kentucky, Tennessee and Arkansas. North Carolina was also hit hard.
Portions of Kentucky received more than 1 foot of snow while over 6 inches of snow fell in Nashville and Little Rock, Arkansas, on Friday.
Snow showers even extended into portions of Florida, including Jacksonville during Saturday.
Northeastern US to dodge major snowstorm on Friday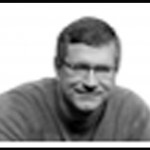 By 

Alex Sosnowski

, AccuWeather.com Senior Meteorologist
January 28, 2016; 6:56 AM ET
There is great news for the snow-weary in the wake of the Blizzard of 2016 as a storm over the Atlantic Ocean will bypass most of the eastern United States on Friday.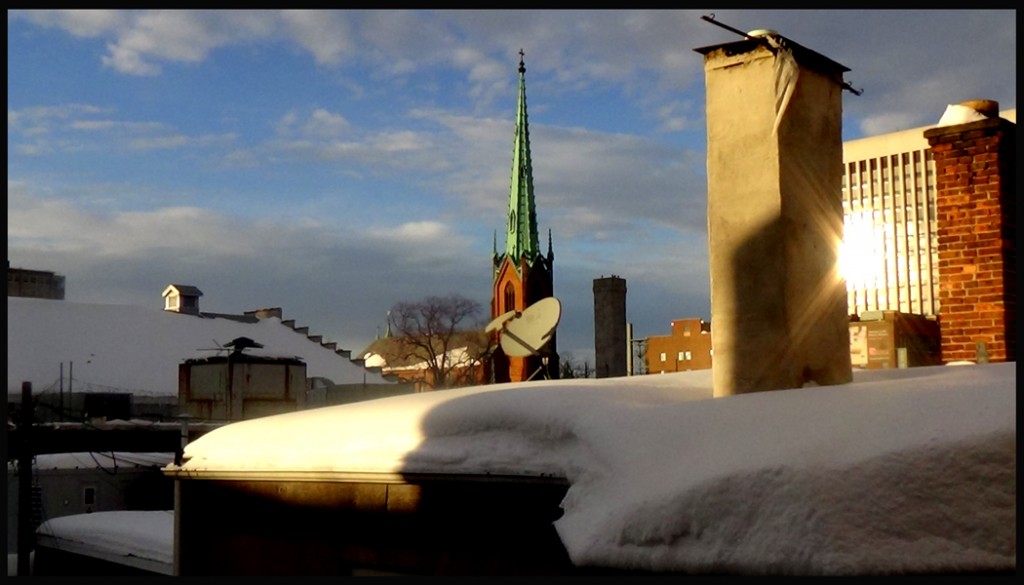 The latest indications are that while the storm will track northeastward on Friday, it will do so a couple of hundred miles offshore. The storm will strengthen slowly enough so that heavy snow misses the mid-Atlantic and much of New England. However, a weaker storm will spread flurries and snow squalls across the region.
Areas that received heavy snowfall from the Blizzard of 2016 will continue to deal with evening freeze-ups and black ice.
Weaker system to push bigger snowstorm out to sea
According to AccuWeather Chief Meteorologist Elliot Abrams, an Alberta Clipper system will be the driving force behind pushing the big storm out to sea.
An Alberta Clipper is a storm system that originates from western Canada, near the province of Alberta. These fast-moving, often moisture-starved systems can bring light to moderate snow and rain.
"The clipper storm will sweep through with snow showers in the Northeast on Friday," Abrams said.
Solar Rays on Downtown Newark, New Jersey 
Beautiful pattern of Solar Rays
Touching earth
Radiating upon the world
Since Neolithic and, Bronze ages,
Ancient Egyptians and others
Have worshiped the powerful Sun deity
 Embodied in mankind
With superstitious control
 The sun deity
Has power over man
The Aztecs and others performed human sacrifices
To gain merit from the mighty Sun deity
Now we learn and understand
What the sun is
Yes! It is powerful
But not with the super spirit of a deity
That can destroy humanity 
Even though without the sun
Life on earth would end
We learn to utilize solar energy
Without fear of superstitious beliefs
It is time to exam ourselves
What else humans believe
Causes trouble for humankind?
Believing with knowledge
Help us to understand
Believing blindly
Will destroy us in the end
Examine and learn we must
For the human race to progress
And working together
For we are all the same
 Ing-On Vibulbhan-Watts, Friday, September 27, 2013, 11:35 pm
The clipper storm can produce a brief period of accumulating snow or snow squalls from the central Appalachians to southern New England, including Boston on Friday.
The snow showers can be heavy enough in parts of the Interstate-76, I-80, I-81, I-90 and I-99 corridors to coat road surfaces. The slippery conditions are most likely to occur over the higher elevations.
A moderate snowfall is possible in parts of Maine and New Brunswick later Friday into Saturday as the two systems slowly begin to merge.
Heavy snow and wind are possible in Nova Scotia and Newfoundland during Friday night into Saturday.
Black ice danger to continue through the weekend in blizzard-ravaged areas
In the absence of additional significant snowfall, rounds of melting and freezing conditions will cause patchy black ice to form in areas hit by the Blizzard of 2016.
The icy patches will be most common over the countryside and in the suburbs but can also form in the most urban areas of the major cities.
Even as some waves of chilly air will flow into the Northeast through the weekend, temperatures in many areas will still reach or exceed the freezing mark during the daylight hours. Most locations will drop below freezing at night.
Runoff will be produced by the melting piles of snow and compacted snow and ice on side streets and parking lots during the midday and afternoon. The runoff can cause ice melting compounds to become dilute and lose effectiveness.
Motorists and pedestrians should be wary of surfaces that appear wet from the evening to the early daylight. A thin sheen of ice may be present.
Ice is more slippery at temperatures near freezing, compared to temperatures in the 20s or lower.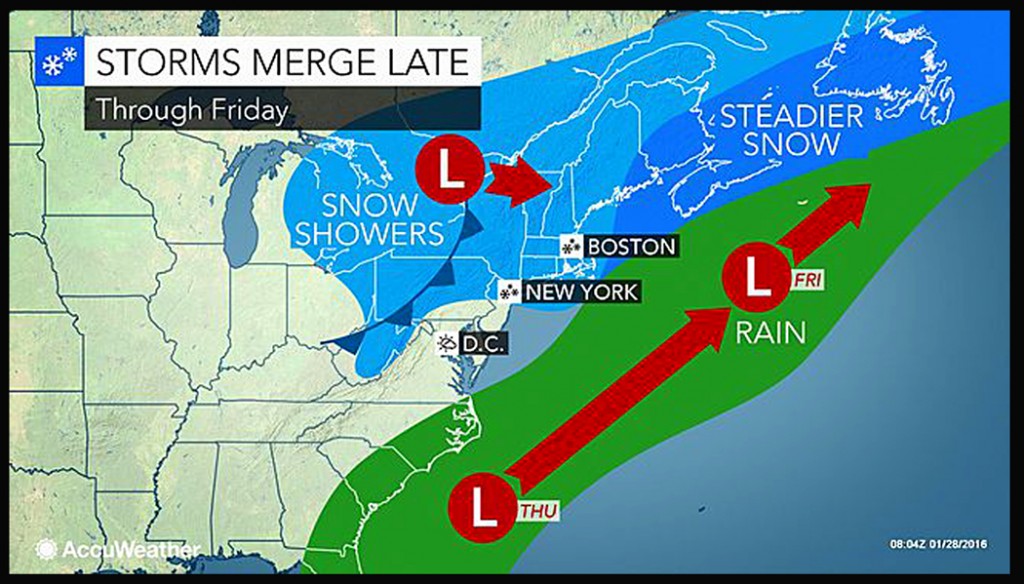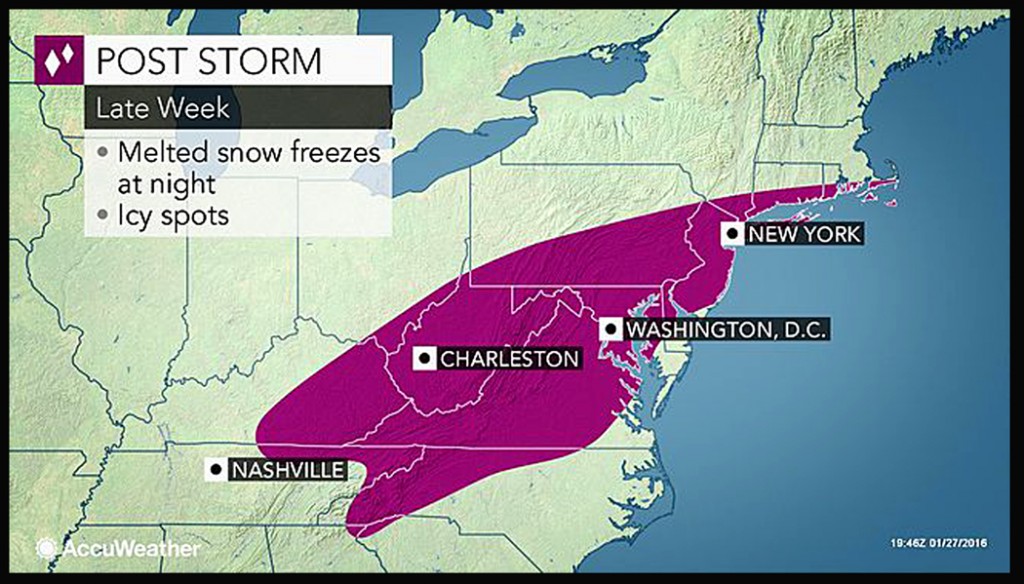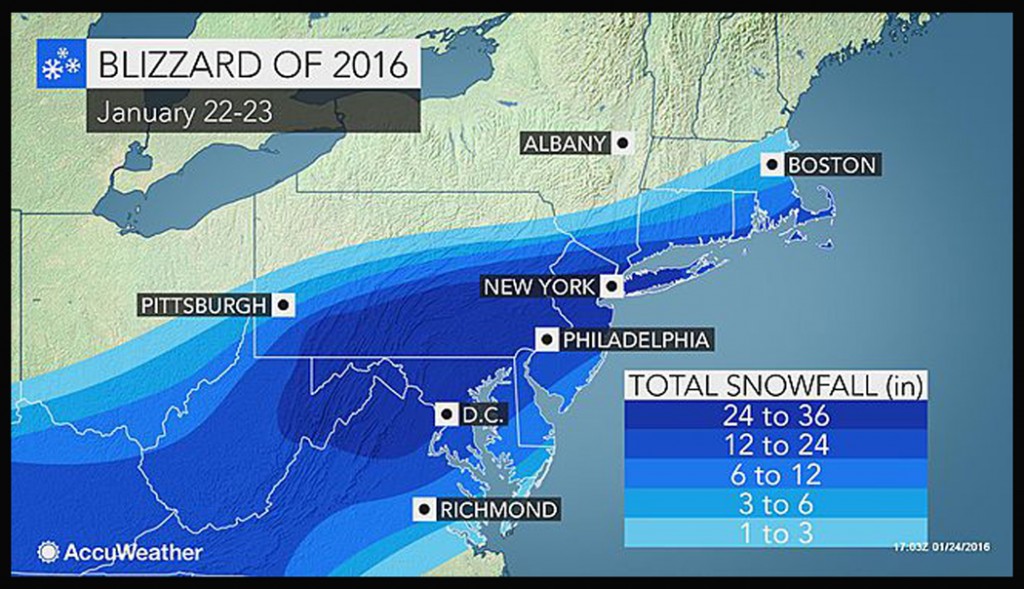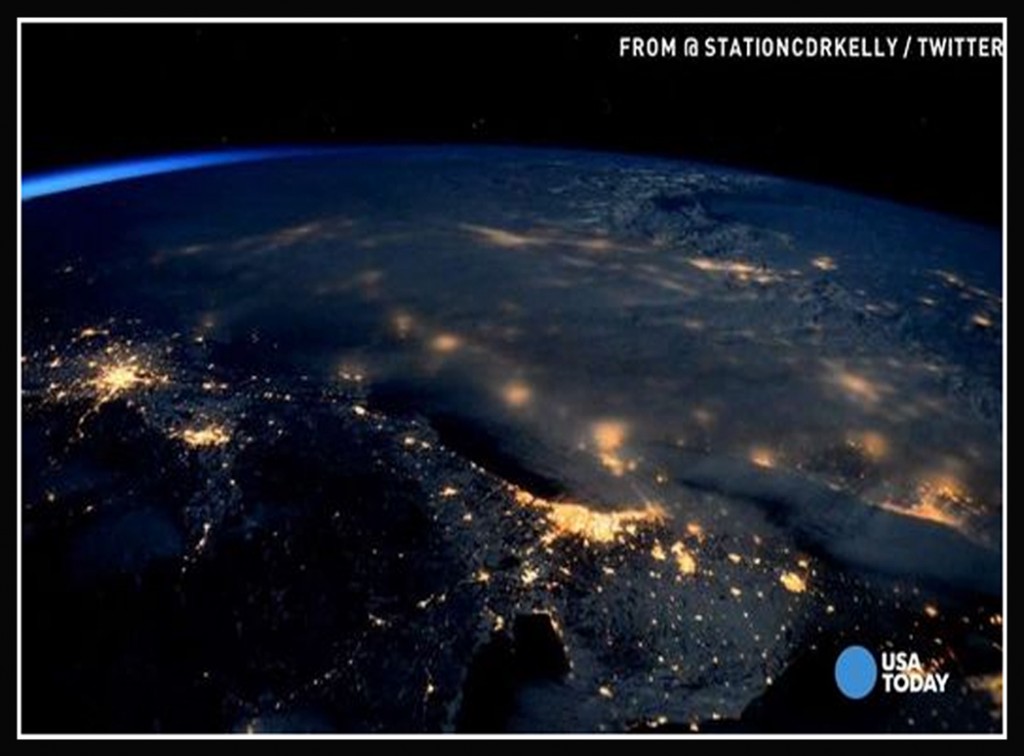 MASSIVE BLIZZARD BLANKETS EAST COAST What winter storm Jonas looked like from space | 00:31
Astronaut Scott Kelly captured breathtaking photos of winter storm Jonas from the International Space Station. VPC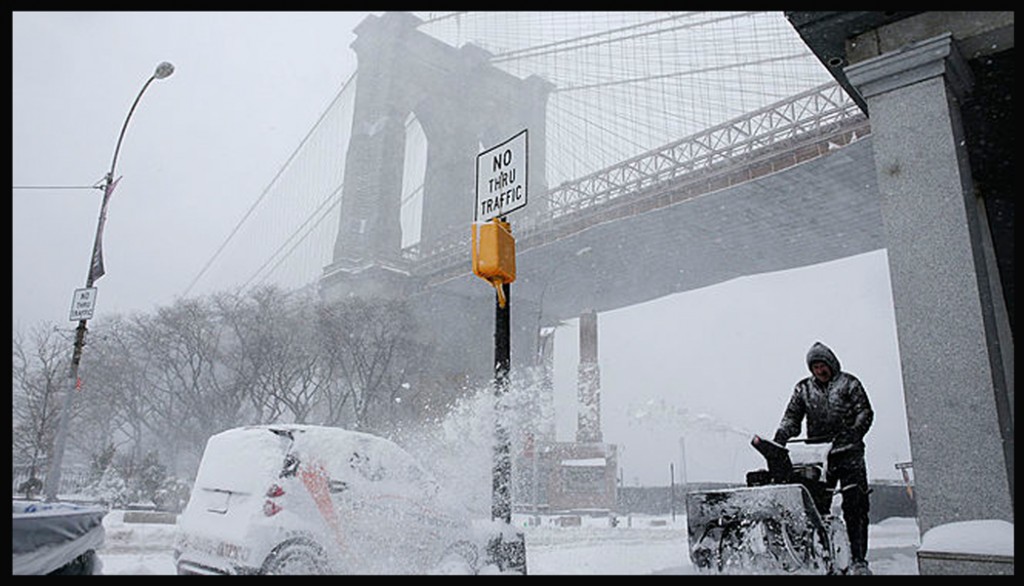 A man operates a snow blower near the Brooklyn Bridge in the borough of Brooklyn in New York on Saturday, Jan. 24, 2016. (AP Photo/Peter Morgan)
A worker clears snow from a sidewalk on January 23, 2016 Don Emmert, AFP/Getty images
 Plows clear Reston Parkway in Reston, Va, on January 23, 2016.  Sean Dougherty, USA TODAY
 The snow falls in time Square in New York.  Kena Betancur, AFP/Getty images
People dig out in Chambersburg, Pa.  Markell DeLoatch, Public Opinion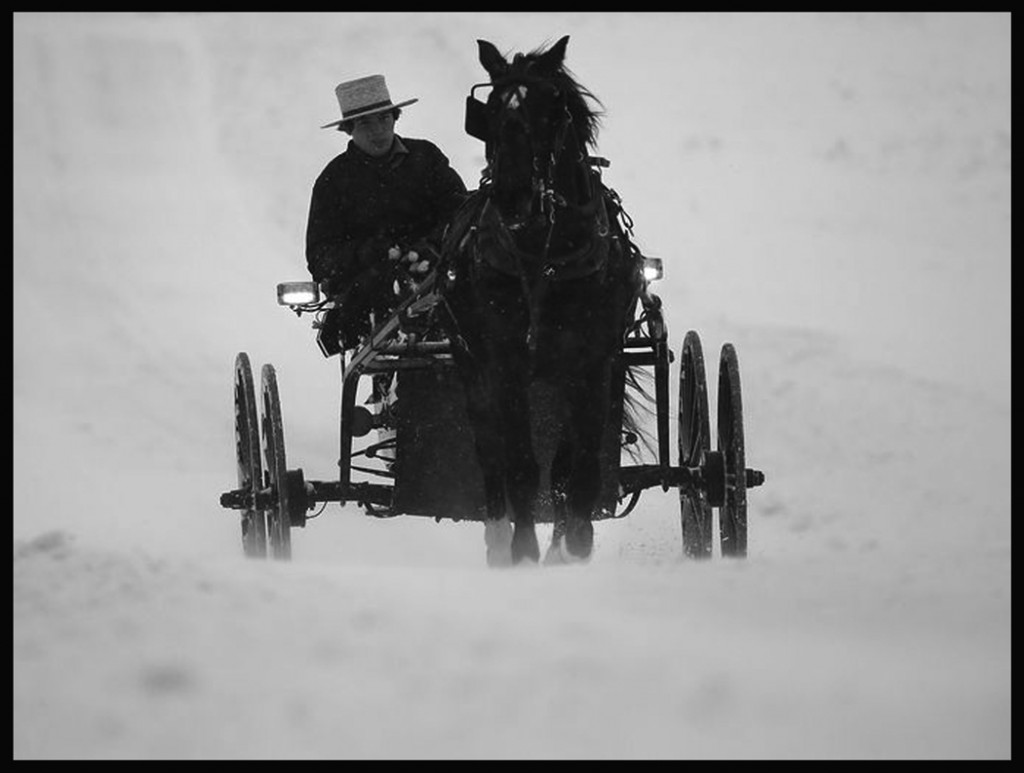 An Amish man drives his buggy through heavy snow and wind January 23, 2016, in Mechanicsville, Md.  Mark Wilson, Getty Images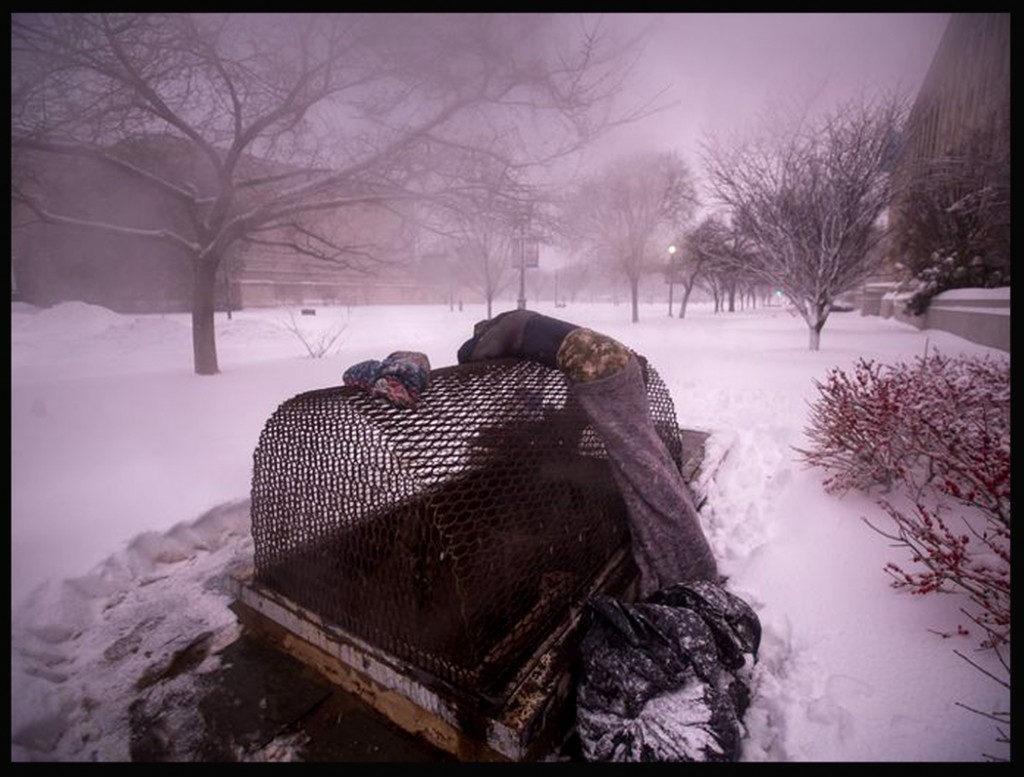 A homeless man sleeps on top of a steam grate early in the morning during a major blizzard in Washington on January 23, 2016.  Jim Lo Scalso, European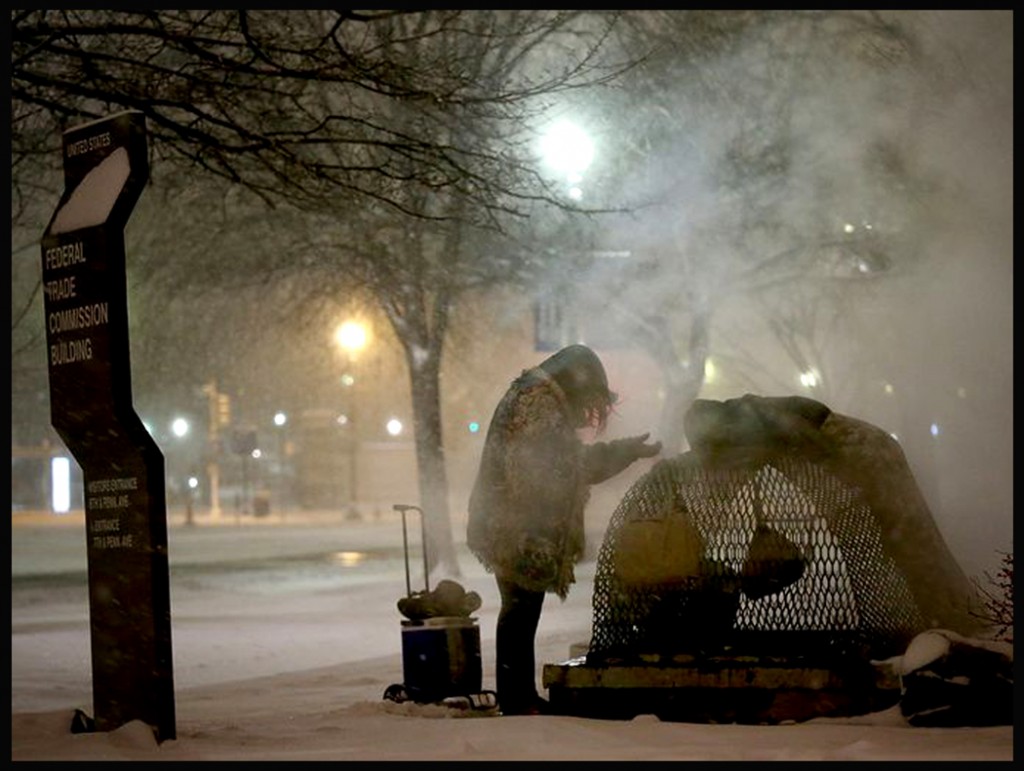 A homeless woman tries to keep warm near a steam grate on Constitution Avenue on Friday, January 23, 2016 in Washington, DC.  Win McNamee, Getty images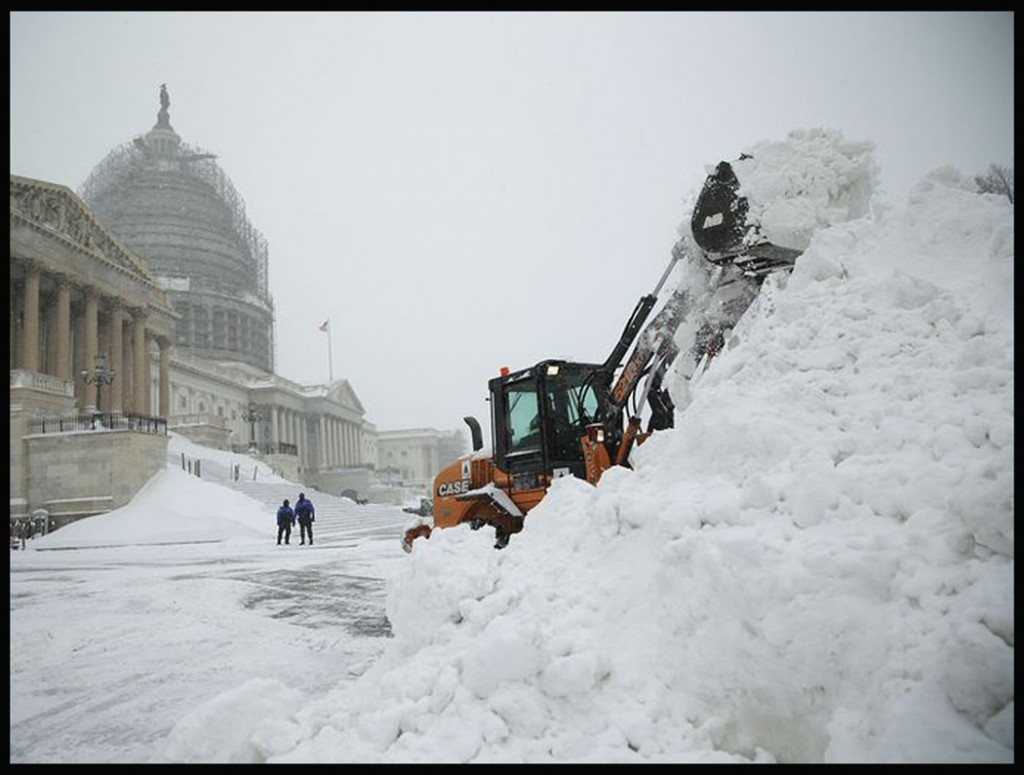 The bulldozer clears snow on the east front of the US Capitol on January 23, 2016, in Washington.  Alex Wong, Getty Images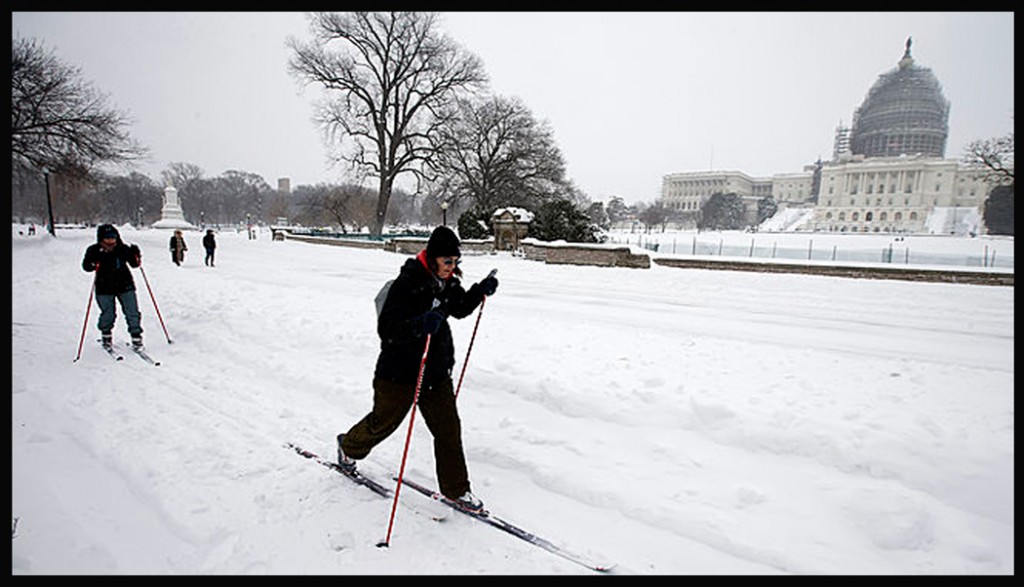 Two people use cross country skis to get around the snow in front of the U.S. Capitol, Saturday, Jan. 23, 2016 in Washington. (AP Photo/Alex Brandon)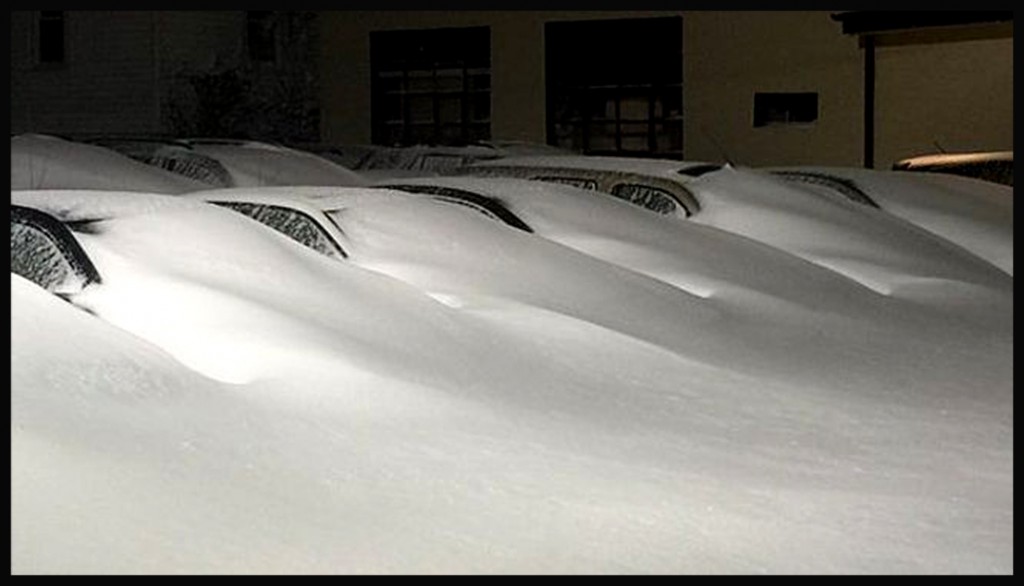 Heavy drifting snow buried Cars across the Mid-Atlantic, including these near Neptune, New Jersey. (Twitter Photo/@georgekourounis)
Snow showers even extended into portions of Florida, including Jacksonville during Saturday.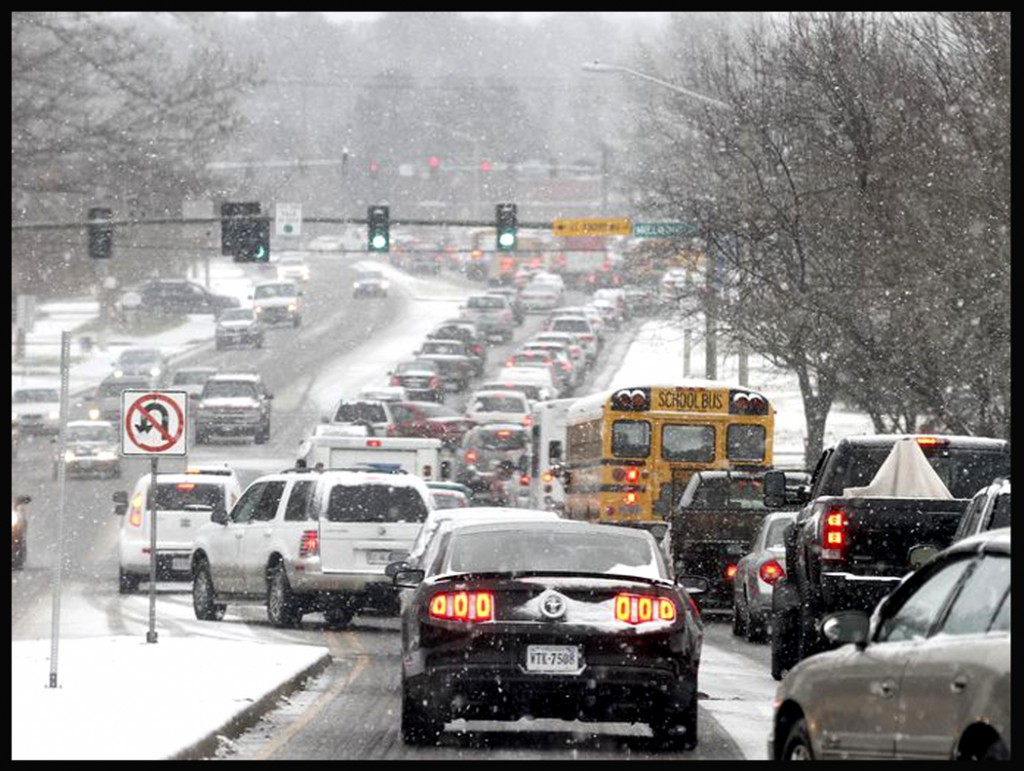 Traffics backed up to the Denbigh Blvd. overpass going toward Jefferson Ave. as snow begins to blanket the area, Friday, January 23, 2016, in Newport News, Va.  Rob Ostermaier, AP