Ing's Little Forest and Other Innovative Projects,
Plant Wall Mural in Downtown Newark, New Jersey
And
Titti's Flowers, Lemon & Orange Trees and Fruits
From Giulianova, Italy
I have plants in my studio during winter months for many years now.  The first reason is to protect my plant from freezing from the cold weather outside.  Secondly, I love plants and want to see their beauty at all times.  This is probably because I was born in Thailand where we always see green leaves and colorful flowers all year long.  At my house in Bangkok we have mangoes, bananas, lemons, pomegranates and other fruit trees, other flower bearing plants, and herb that we use in cooking such as lemon grass and different kind of chili.  Thirdly is for health purpose, because there is no window in my studio, hence air in the room is impure.  The plants take in carbon dioxide from my exhale and give oxygen from the photosynthesis.  I use fluorescent bulbs for the light sauce.  The plants can purify my working room.  I am very happy with my art gallery and working room.  I always see my avocados, mangoes, grapefruits, tangerines, and other trees with my sculptures, paintings and John's artwork every day.  I stay up working to 4 or 5 A.M. and then I go to bed.
Last year I was happy to see that the New Prudential Building has a plant wall mural on the front wall of the building on Broad Street opposite the Military Park in downtown Newark, New Jersey.  It is much livelier and prettier than regular construction material walls.  I took some pictures which are shown after, "My little forest room.
Few days ago I checked the collections on Google + found the Innovation site by The Plaid Zebra posting an article on "Moss-growing concrete absorbs CO2, insulates and is also a vertical garden".  I was very glad to know that there are many people are caring about our planet and conscious of global warming and trying to cut down carbon dioxide as much as they can.  At present, we may not receive the obvious effect of the problem that arises from global warming, but future generations are going to suffer from the consequences of our ignorance and selfishness by our not taking action now, leaving the burden to our children, grand children and generations to come.
Ing-On Vibulbhan-Watts, Sunday, March 6, 2016
Ing's Little Forest
 
 




Plant Wall Mural in Downtown Newark, New Jersey
The followings are articles from Google + Innovation collections by The Plaid Zebra, A Brief History of Global Warming, and Bing Has A Cool Interactive Solar System Map
Moss-growing concrete absorbs CO2, insulates and is also a vertical garden
October 24, 2015
https://www.theplaidzebra.com/moss-growing-concrete-absorbs-co2-insulates-and-is-also-a-vertical-garden/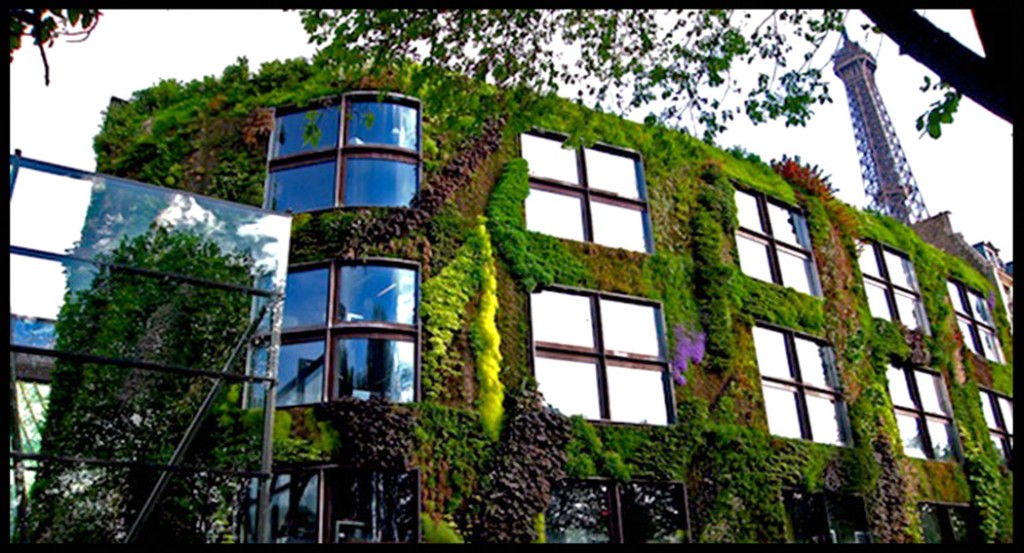 BY: SWIKAR OLI 
Sustainability has always been a game of catch up. The current energy production and construction trends mean that sustainability researchers have to come up with clever ways to lower emissions.
Researchers at Universitat Politècnica de Catalunya (UPC) in Barcelona have found a creative solution to a long-established emissions problem. They discovered how to cleverly build megastructures with a biological concretethat lowers CO2, regulates heat and is totally eye catching. Its surface grows mosses, lichens, fungi and other biological organisms.
Researchers at UPC have found a way to build structures with biological concrete, which allows biological organisms to grow on it, lowering CO2 in the air.

Buildings with this concrete can—in regions with a calm mediterranean climate—absorb CO2 and release oxygen with micro-algae and the other "pigmented microorganisms" that coat it. These vertical gardens boast aesthetic appeal, but the biological concrete's beauty also lies in its clever design.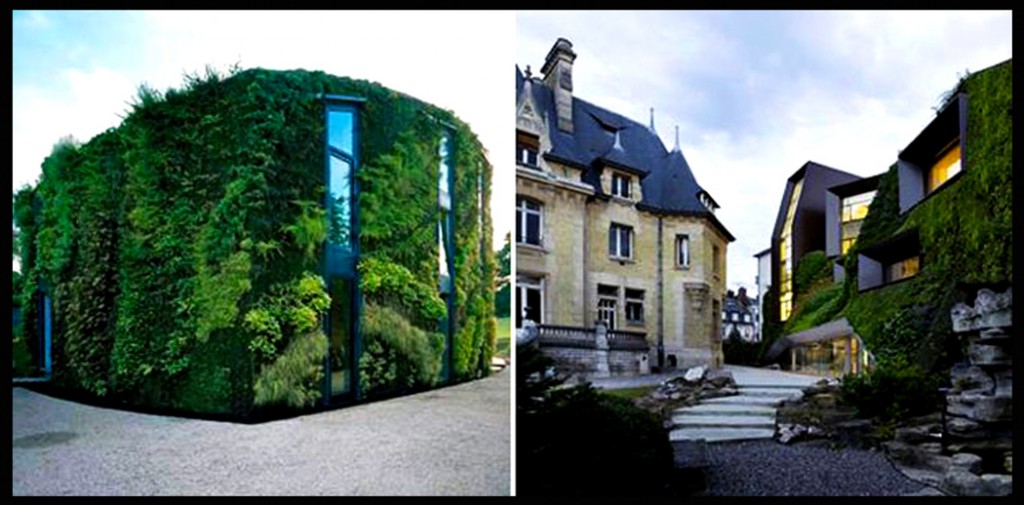 The concrete works in layers. The top layer absorbs and stores rainwater and grows the microorganisms underneath. A final layer of the concrete repels water to keep the internal structure safe. The top can also absorb solar radiation, which insulates the building and regulates temperatures for the people inside.
While concrete has high pH levels that don't allow plants to grow, this one is made more acidic, which lowers the pH to levels safer for growth.
Layers in the concrete absorb, store, and repel water at different levels, allowing for microorganisms to grow but also keep the structure of the concrete solid.

 UPC's website states that the researchers had bigger plans for the design. They say, "a further aim is that the appearance of the façades constructed with the new material should evolve over time, showing changes of colour according to the time of year."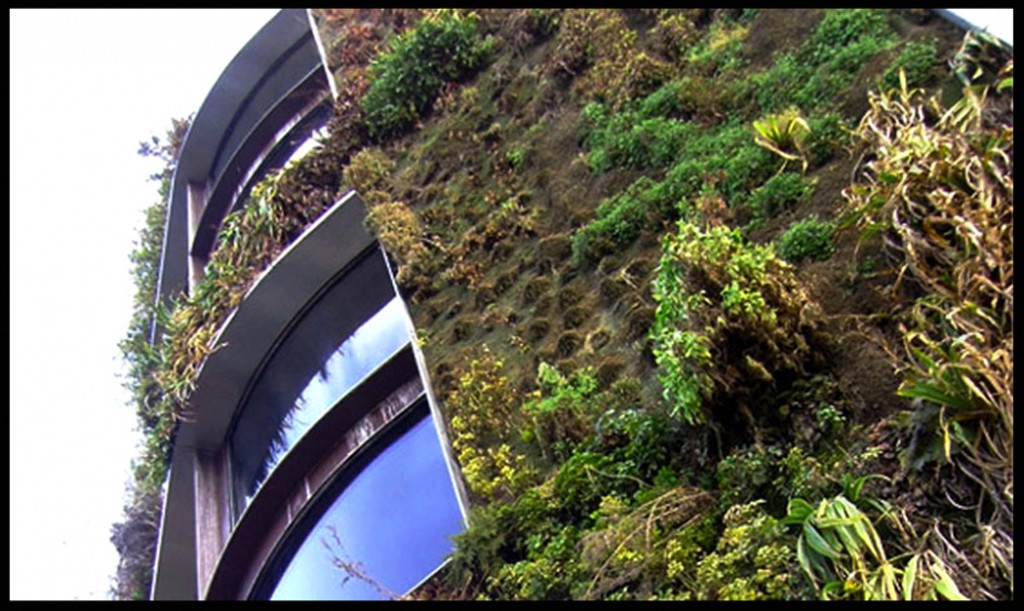 Image sources: cecilepoignant.com,  inhabitat.com,  moustachemagazine.com,  urbangardensweb.com,  greenwizard.com
A Brief History of Global Warming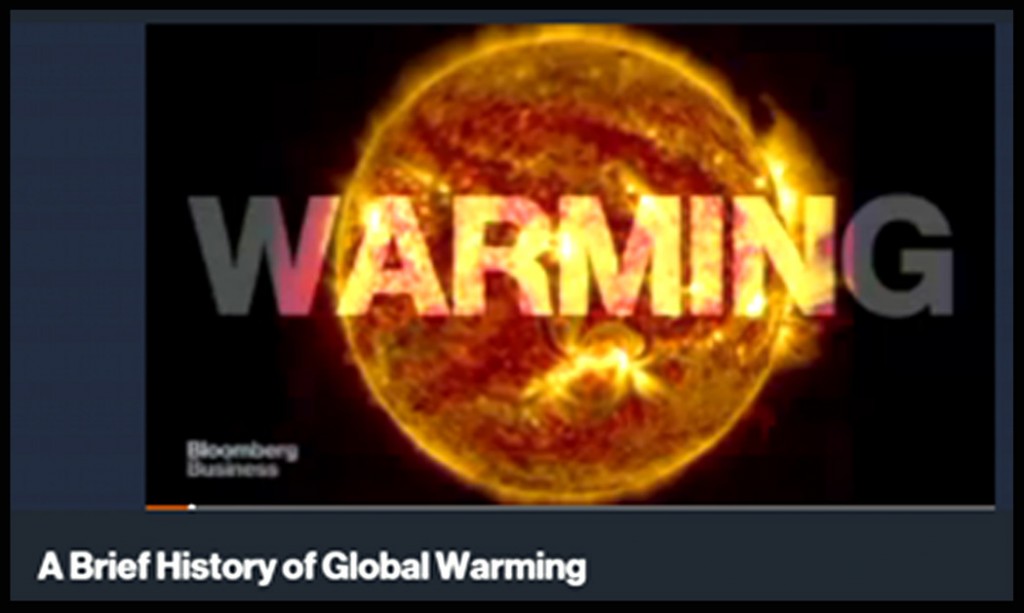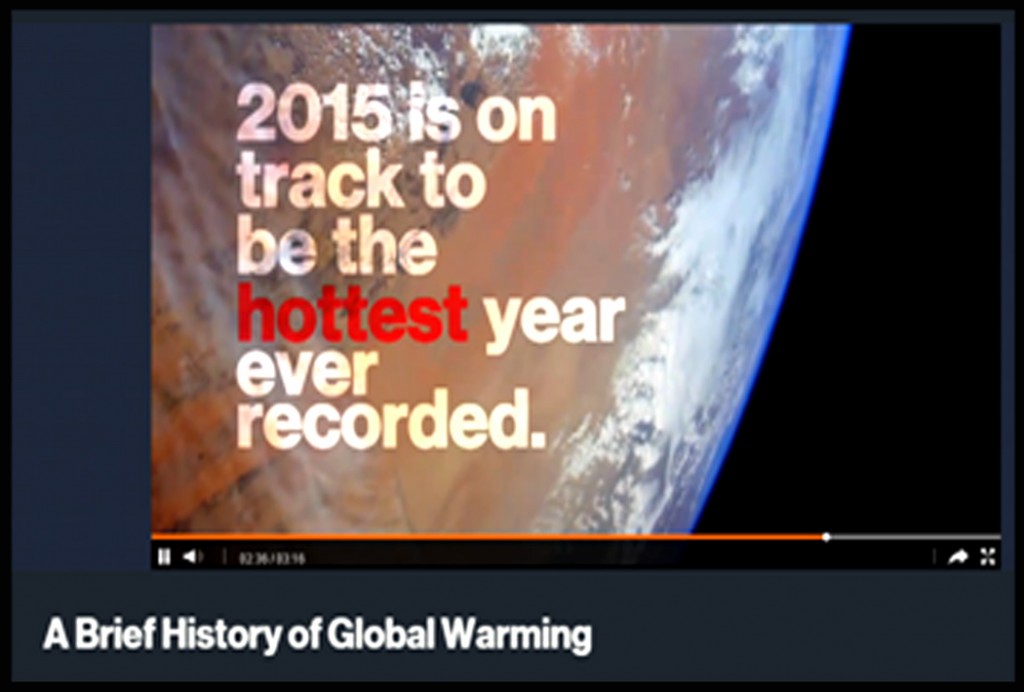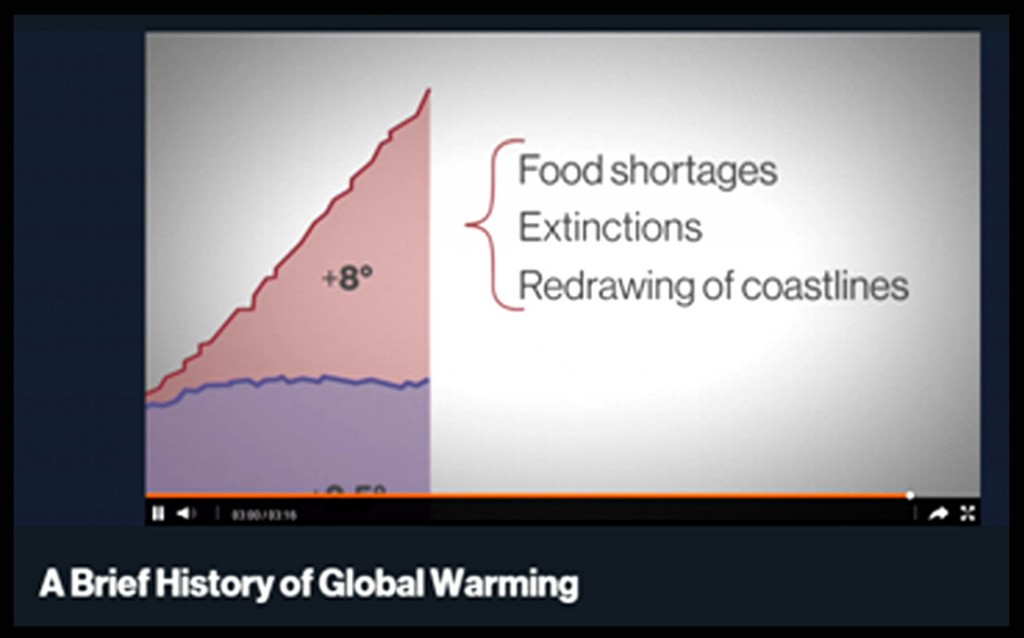 https://www.bloomberg.com/news/videos/2015-07-21/a-brief-history-of-global-warming
Global warming turns 120 next year… sort of.  Next year will be the 120th anniversary of the first time we figured out that human activity could be causing climate change.  Since then, the science has gotten firmer and the politics have gotten murkier, but the outlook for the future remains uncertain.  This is the history of manmade global warming in three minutes.  (Corrects number of hottest years in history since 1998.)(Video by: Aland Jeffries, Christian Capestany, Eric Roston)
Bing Has A Cool Interactive Solar System Map
https://www.seroundtable.com/bing-interactive-solar-system-21724.html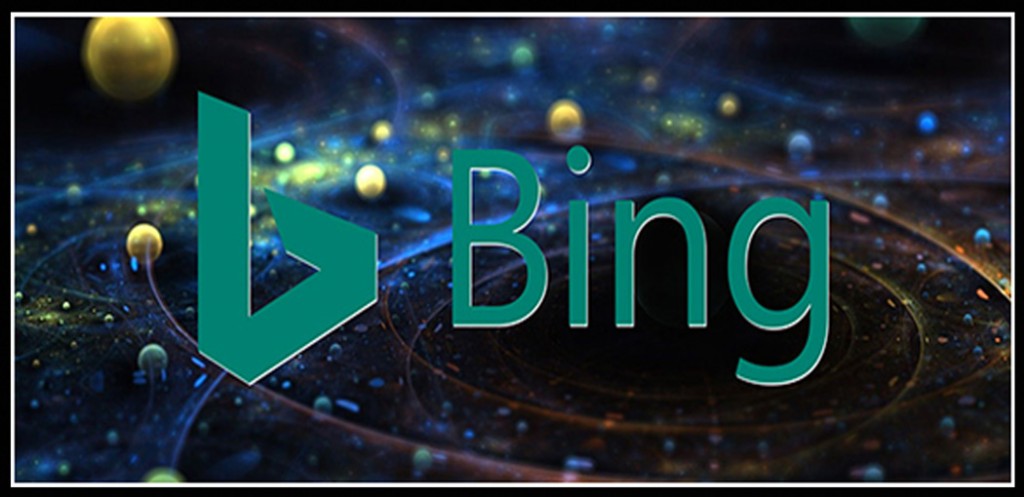 If you search for [solar system] in Bing you get this really fun and cool interactive map. The map shows the plants and stars will rotating and you can change the rotation speed and direction. You can rotate the map around and click into different planets.
Here is a photo of it: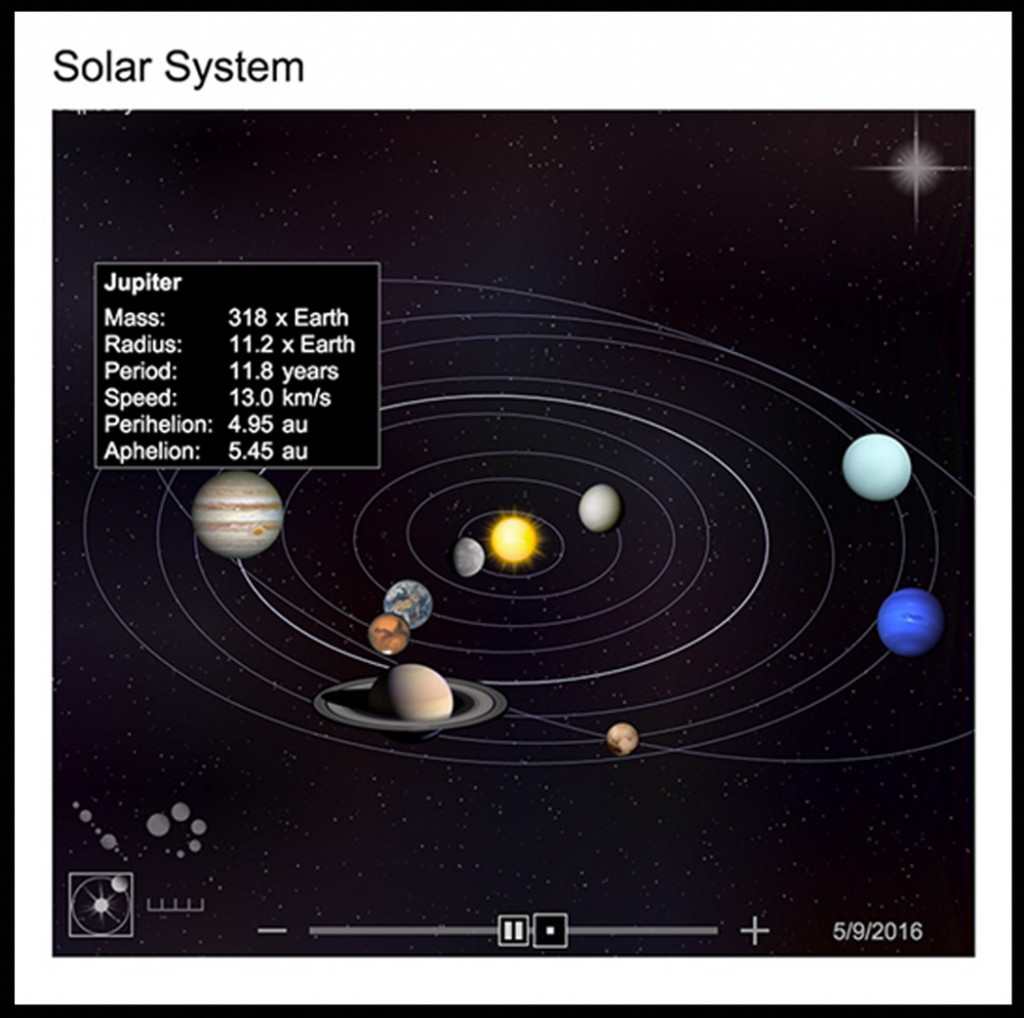 On Reddit a Microsoft person said "The developer worked really hard on it! Also, it should show up on all desktop browsers and m.bing.com on iOS and Android in any English-speaking market. We're going to be shipping this feature and our other educational features to more countries soon."
It does indeed work on mobile as well.
Give it a try.
Forum discussion at Reddit.
PREVIOUS STORY: Google Image Search Tests Colored Label Filters
Titti's Orange & Lemon Trees and Fruits Pictures from Giulianova, Italy, Saturday, March 5, 2016
Below are our emails. I correspond to one of our good friends from Italy and her two pictures of orange and lemon trees and fruits:
From blossoms to fruits
Hi, Ing
Here are my lemons and my oranges. Lots of healthy squashes and lots of beautiful coloured fruits. Sometime it seems a pity to pick them…
A nice weekend to all of you,
Titti
Hi Titti,
You really make my day.  I feel a bit sad and depressed this morning after I got up.  But after I opened your email seeing your healthy and beautiful orange & lemon trees and gorgeous fruits I felt so lively and glad to see that somewhere in this world people are peaceful, cultivating and enjoying nature.
  It is a dramatic contrast between the fighting and killing in many places that causes suffering and creates refugees which in turn causes people to flee from their troubled countries.
 The refugees get discriminated against by the countries where they arrive.  But I can understand the attitude and situations where they do not want the refugees because these countries have troubles themselves and are afraid of bad people or terrorists getting into their countries and causing more problems. As they say, "Trouble begets trouble".
 Sorry for pouring out all this sadness, but it causes me to feel depressed thinking about the human race.  Please be happy with your plants and family.  You are in the best position.  Happiness is a very difficult to acquire these days.  You are in utopia.
 Big kisses and hugs to you and your family,
Ing & John
3.5.16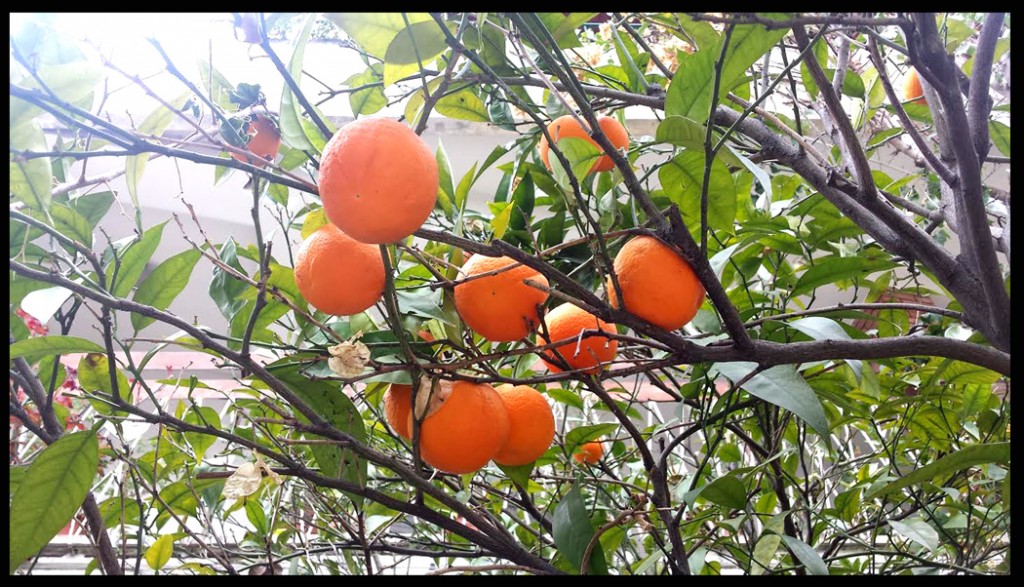 Tiiti's Flower pictures from Giulianova Italy, Sunday, August 15, 2015