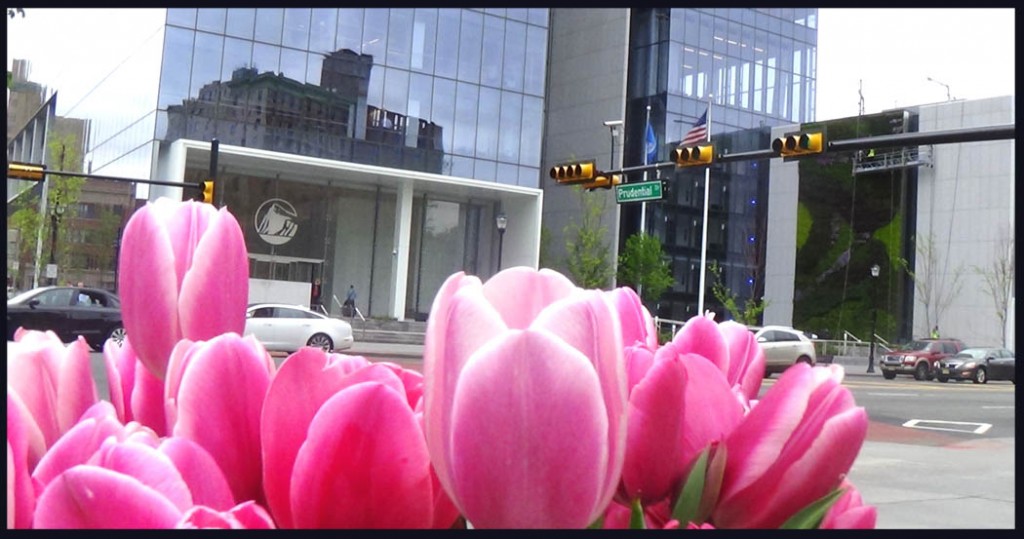 Prudential Plant Wall Mural and Military Park
Downtown Newark, New Jersey
On Thursday, May 5, 2016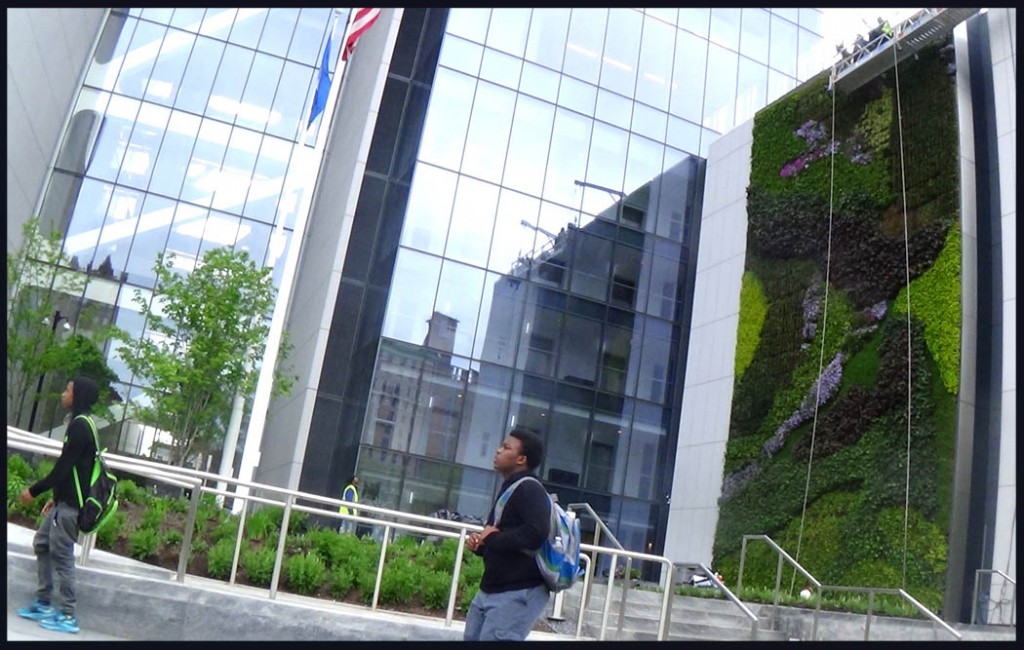 Prudential Tower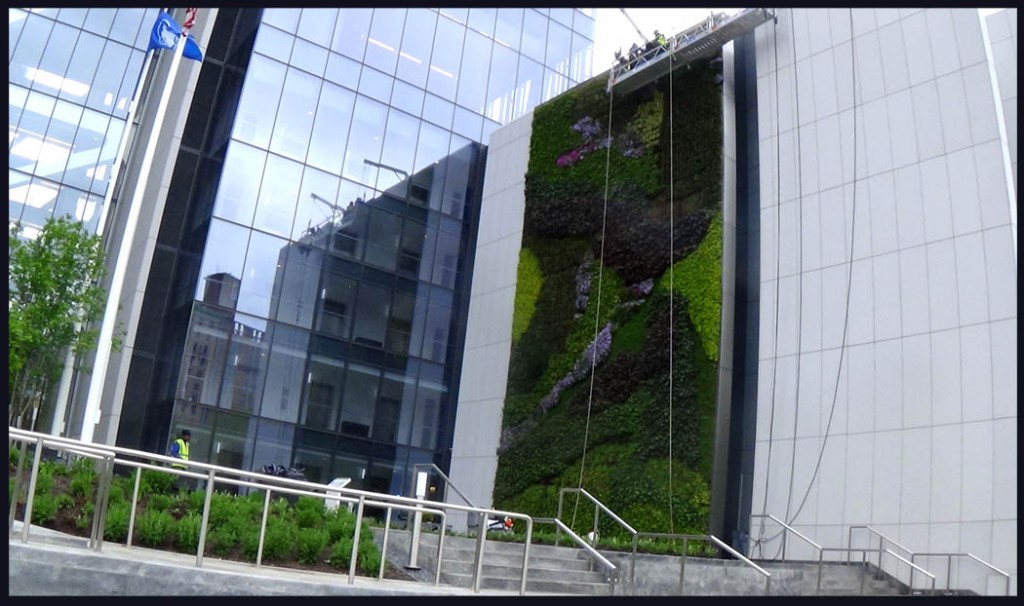 I was happy to see the gardeners were working on the Plant Wall Mural.  I had a chance talking to Mr. Francisco Diaz, supervisor, exterior service of John Mini distinctive landscapes company, managing the Plant Wall Mural for Prudential Corporation.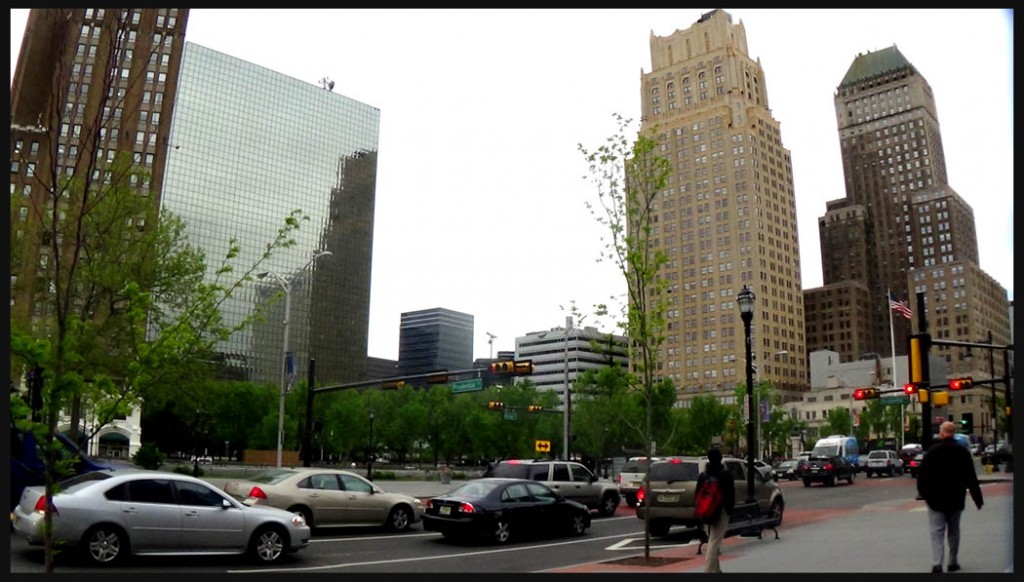 Left: PSE&G new tall glass building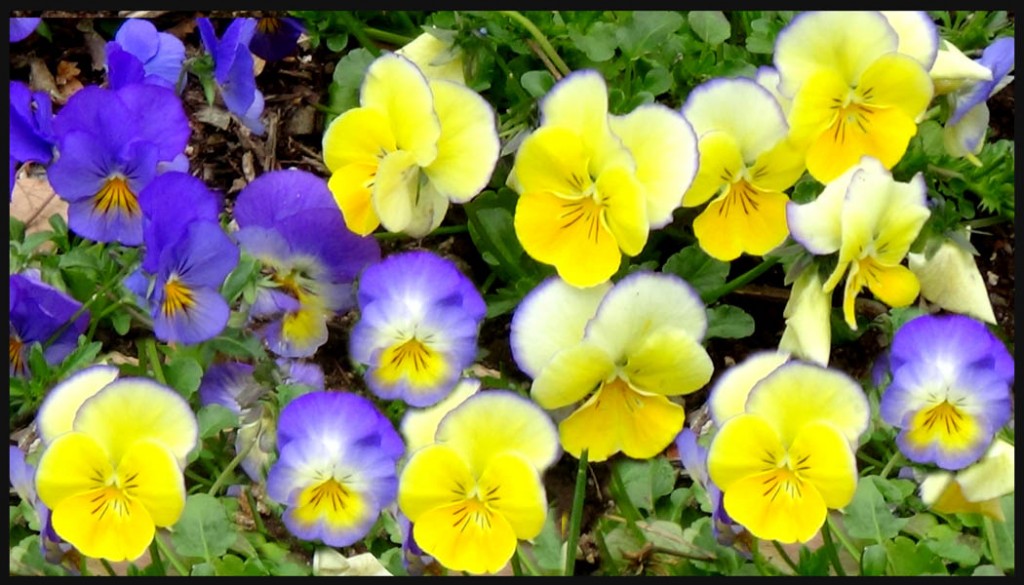 Military Park
I stopped to say thanks to the park gardeners.  I appreciate how they are cultivating the park garden so well.  I told them how downtown Newark is changing a lot, especially the buildings around Military Park.  About forty years ago during 1972-1976 I lived in Jersey City.   I took the Path train from Jersey City to Newark, Penn Station and  I walked on Raymond Boulevard from Penn station to Rutgers University on University Avenue when I studied for my undergraduate, Bachelor degree in chemistry.  There was no Public Service Electric and Gas Company ( PSE&G) new tall glass building, or Prudential Tower or New Jersey Performing Art Center ( NJPAC) at that time.  There was a small row of shops along Raymond Boulevard.  One specialty cheese shop located on Raymond Boulevard close to Broad Street sold goat milk; we usually bought goat milk for our daughter when she was a baby in 1979. 
After John read my writing he said "I remember I bought one kind of cheese that smell very strong, named Swedish Farmer's cheese.  You did not like it I had to put it outside on the windowsill."  I recall that moment.  I hardly knew much about cheese, at that time even cedar cheese or other ordinary cheese I still did not like.  But now I like them and can eat many kinds of cheese.  In the same token John did not like the smell of fish sauce.  So I use soy sauce to substitute for fish sauce.  We all like things we are accustomed to or dislike what we are not used to but we have to compromise and hope that time will allow us to try other culture to be able to understand the differences from one own culture in order to have a chance to live together in peaceful coexistence.
PSE&G new building complete in 1980, NJPAC building was completed in 1997 and Prudential Tower was completed in 2015.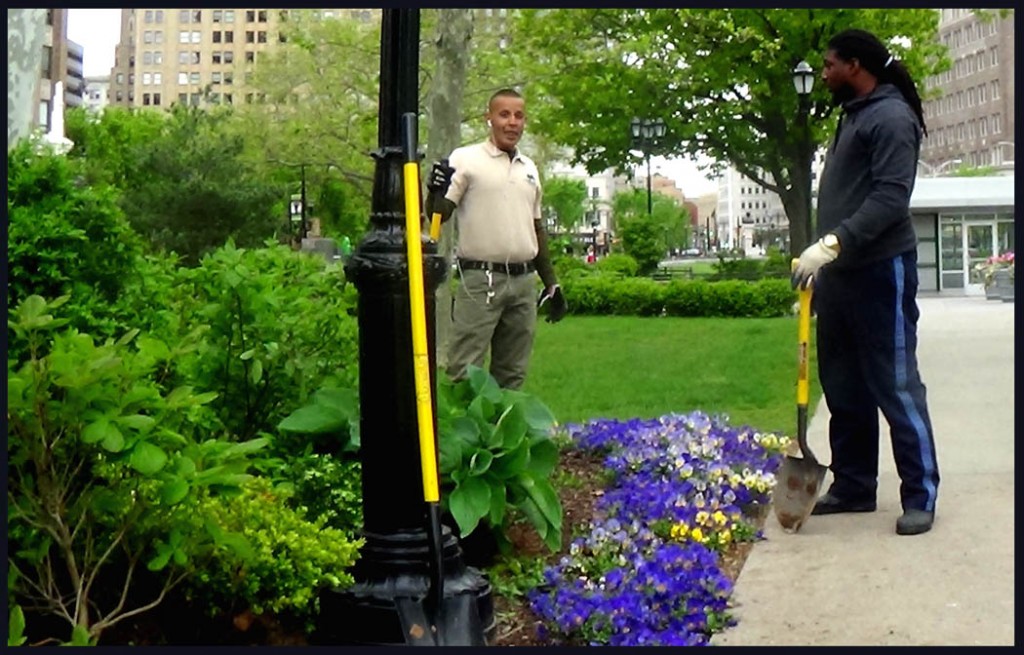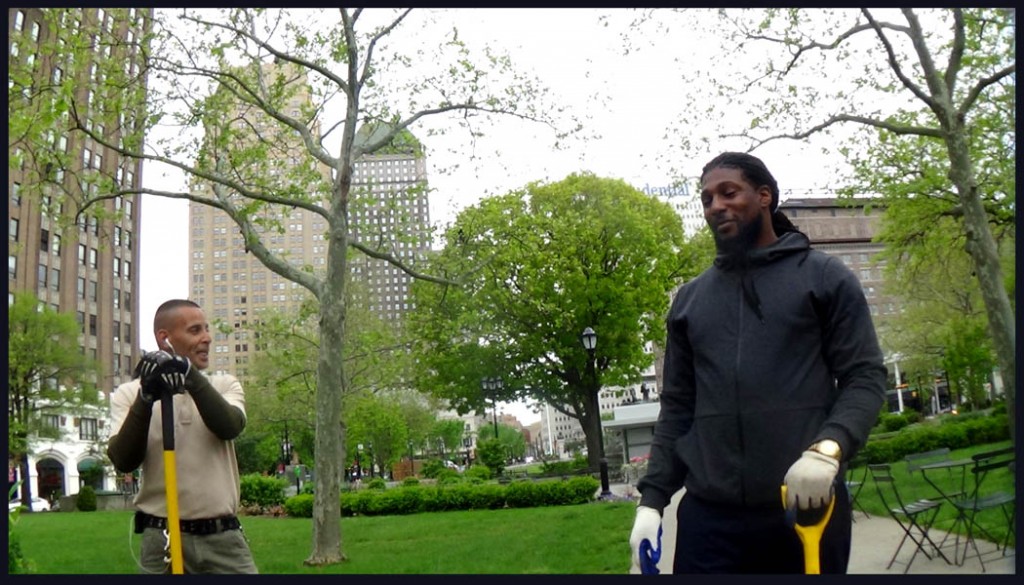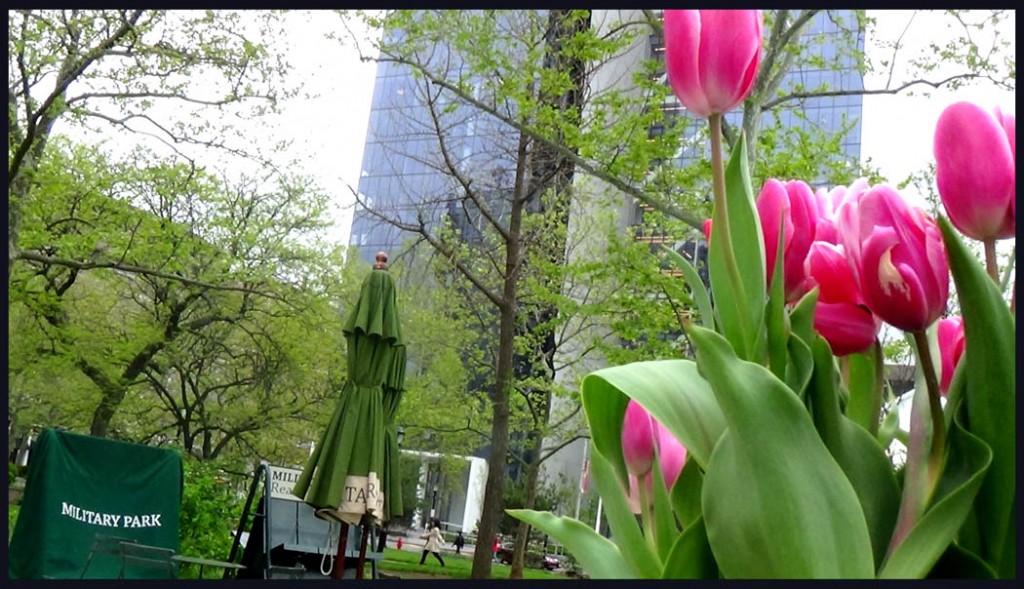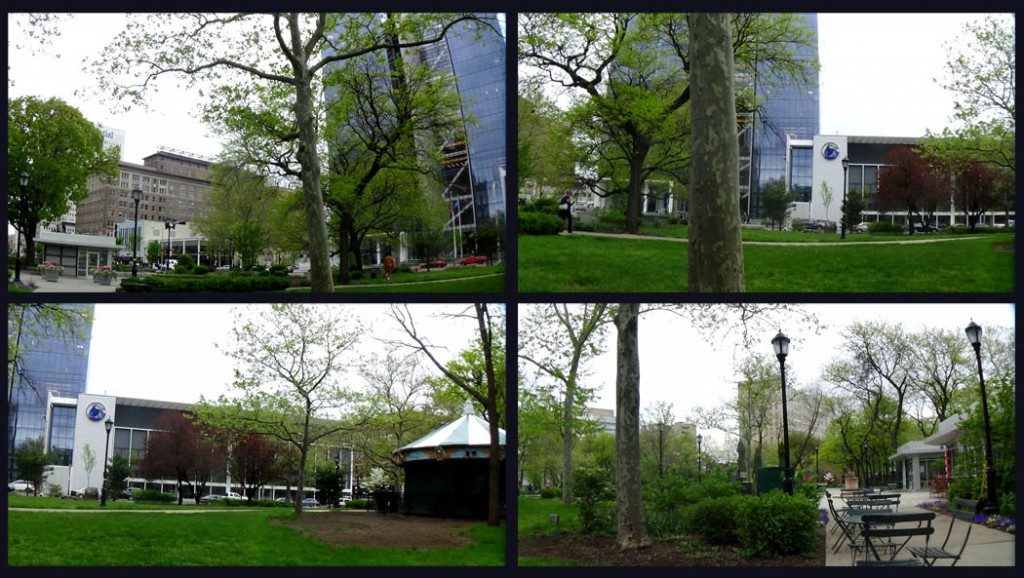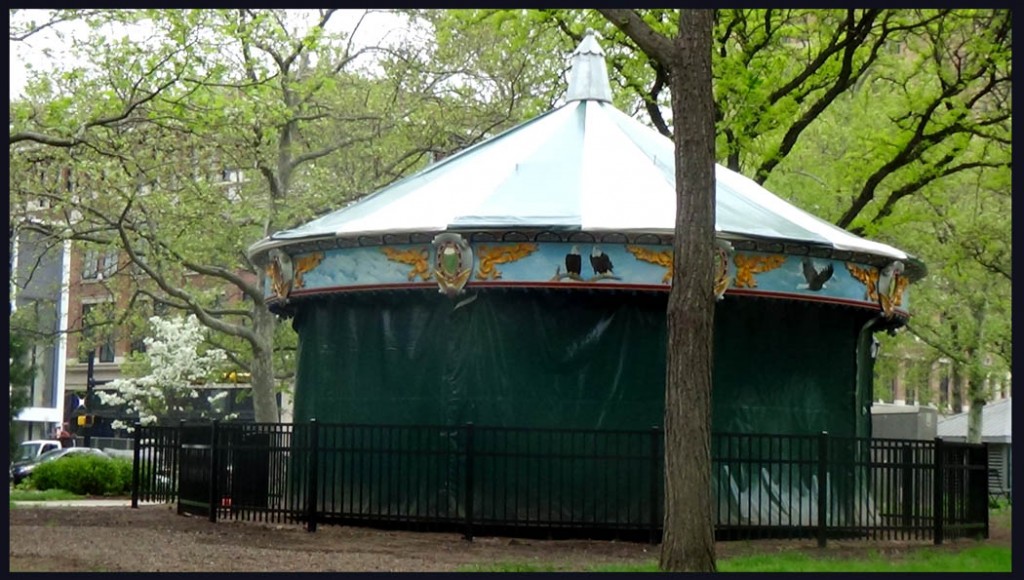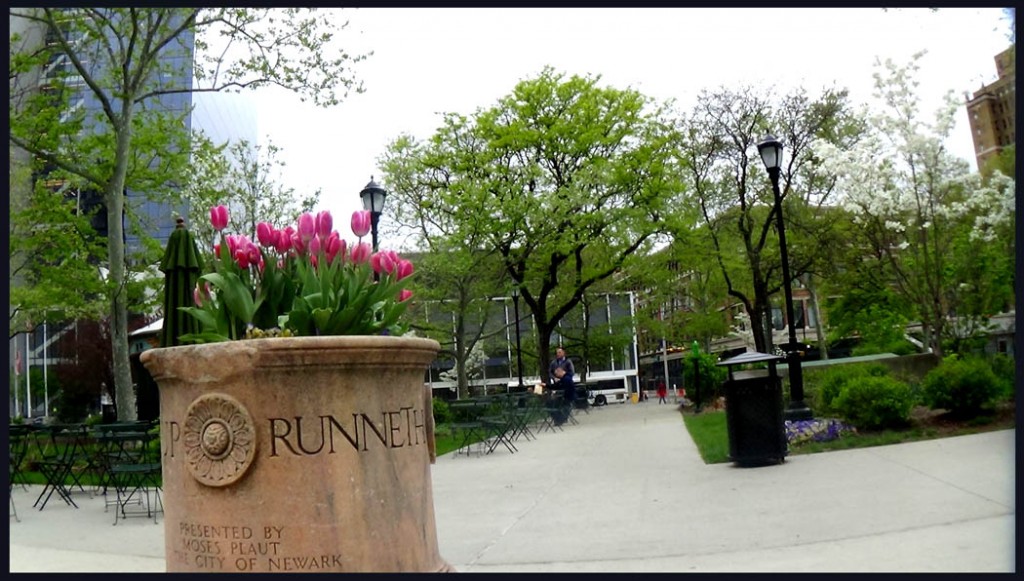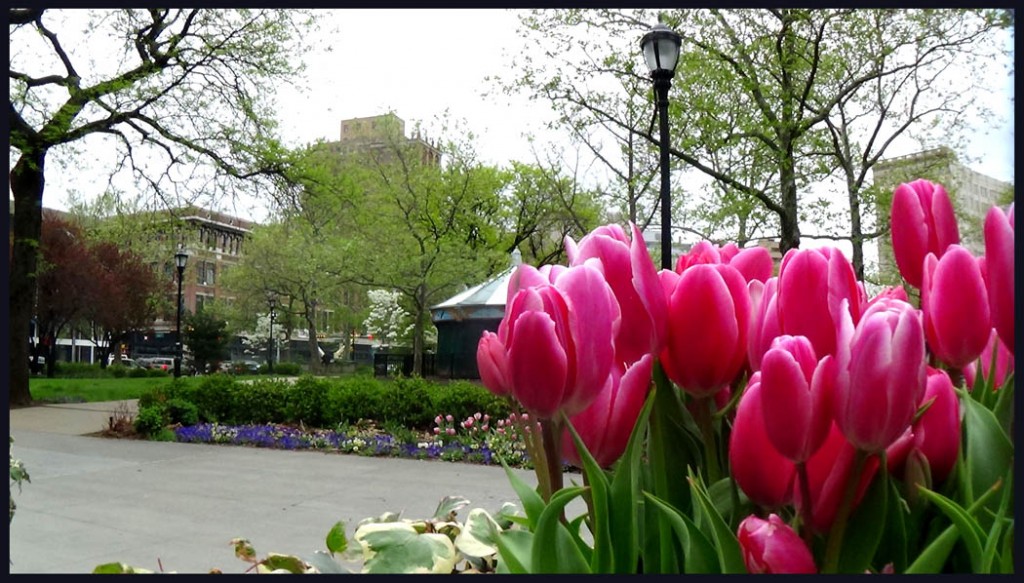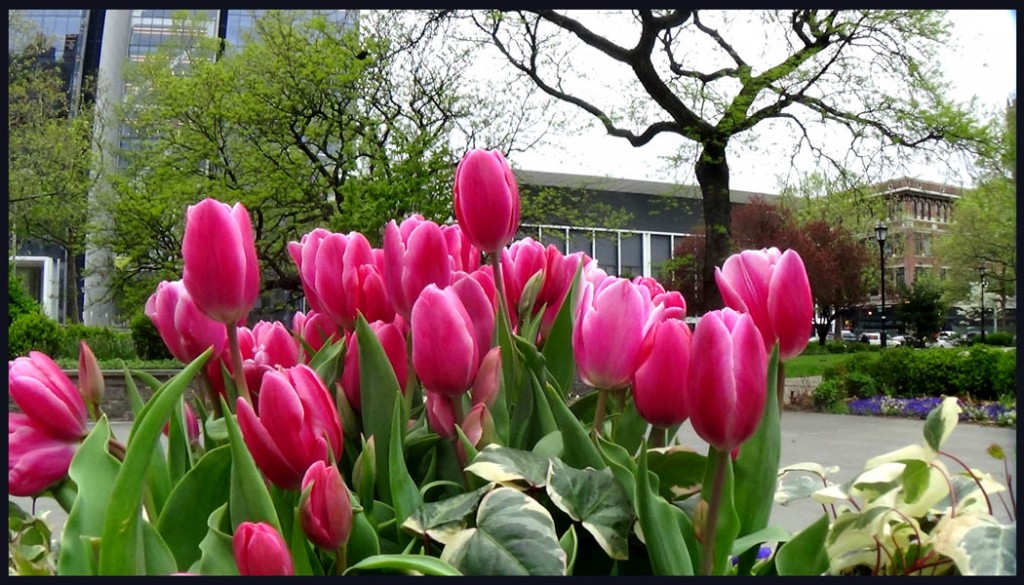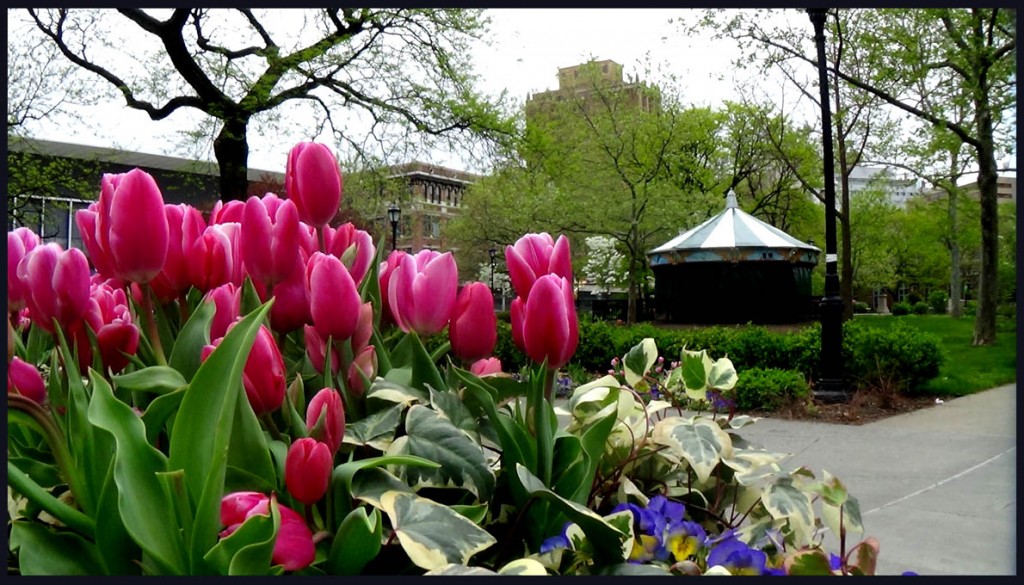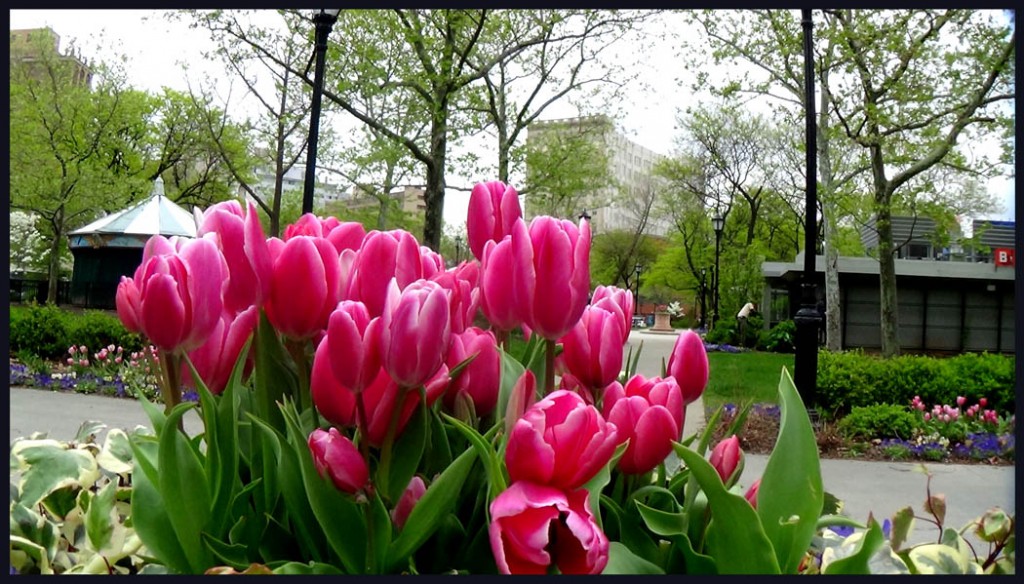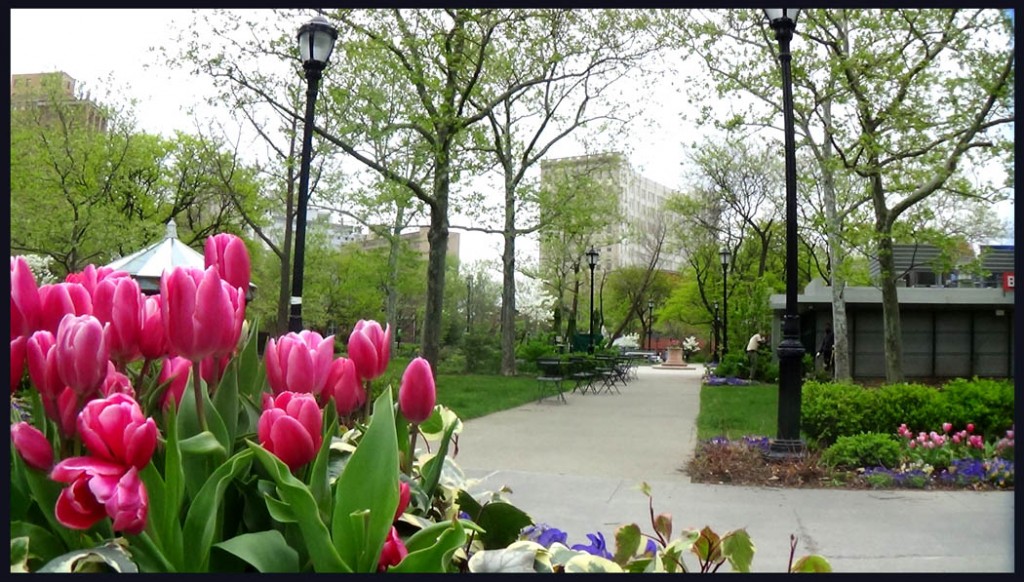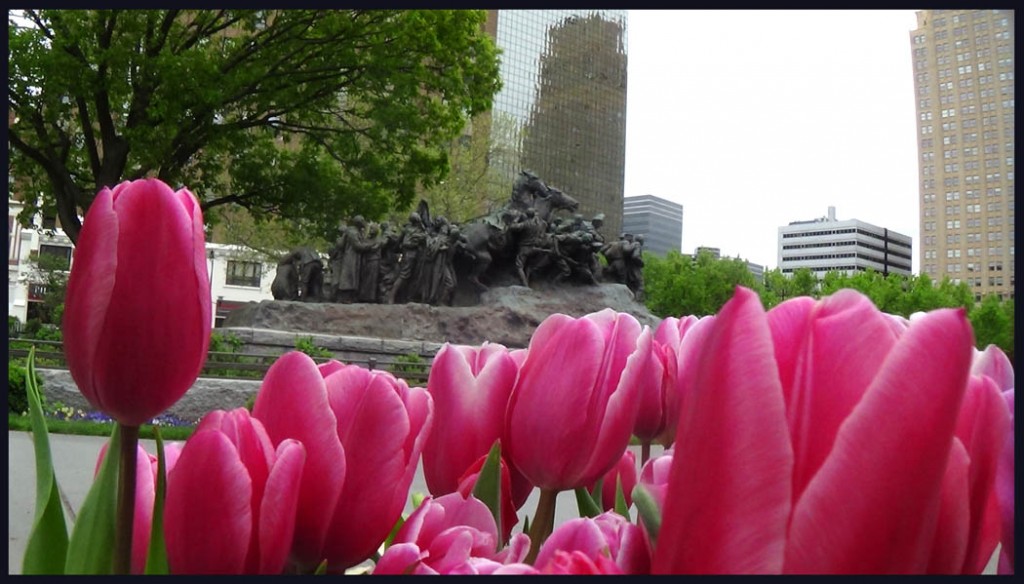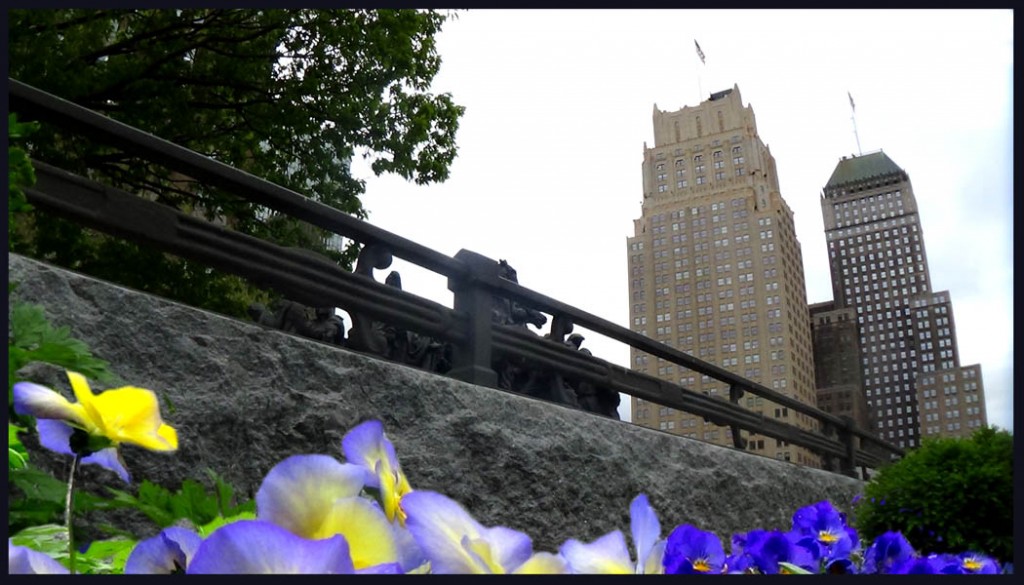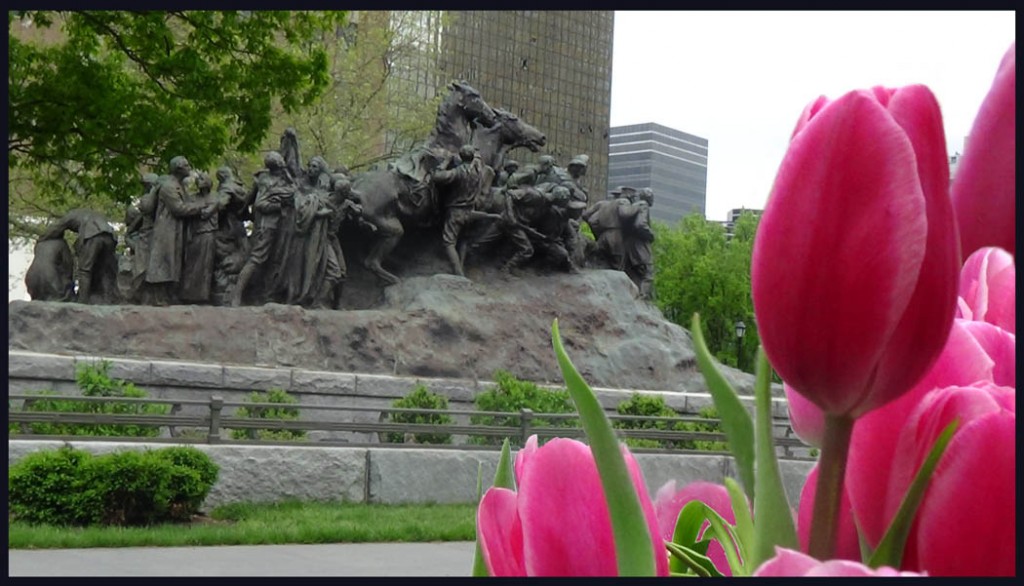 War Memorial in Military Park, Newark, New Jersey
Beautiful Dogwood flowers in Spring
Military Park is a 6-acre (24,000 m2) city park in Downtown Newark, Essex County, New Jersey, United States.  It is a nearly triangular park located between Park Place, Rector Street and Broad Street, built in 1916, Architect Ely, Wilson and John; Guilbert and Betelle,  Architectural style Renaissance, Italianate.  From 1667, when the city was planned, until 1869 it was a training ground for soldiers. In 1869 it became the town commons.
The New Jersey Historical Society, Military Park Building and the New Jersey Performing Arts Center, and the Robert Treat Center are located across Park Place from the park. A $3.25 million renovation led by Dan Biederman was announced in February 2012.[2][3] The reconstruction was expected to be completed in late 2013,[4][5] but due to harsh weather was postponed until spring 2014.[6] A restaurant, the first in the park, is planned.[7] The park reopened in June 2014.[8]   

Address: 51 Park Pl, Newark, NJ 07102
Year built: 1916
https://en.wikipedia.org/wiki/Military_Park_(Newark)
Military Park (Newark)
From Wikipedia, the free encyclopedia
Military Park Commons Historic District
U.S. National Register of Historic Places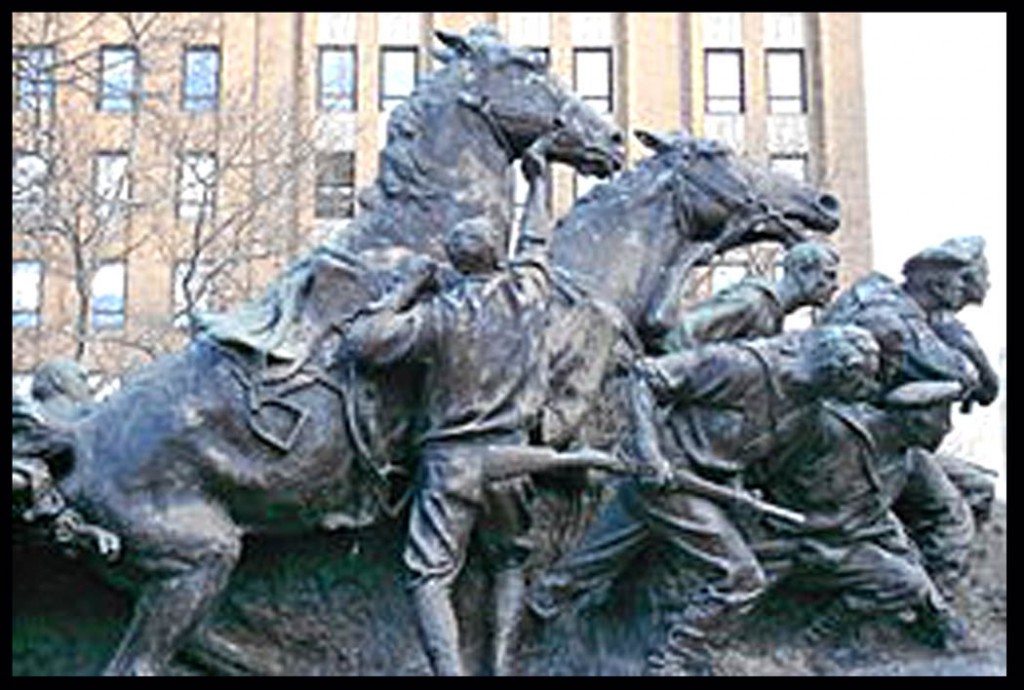 Wars of America statue
From Wikipedia, the free encyclopedia
https://en.wikipedia.org/wiki/Prudential_Headquarters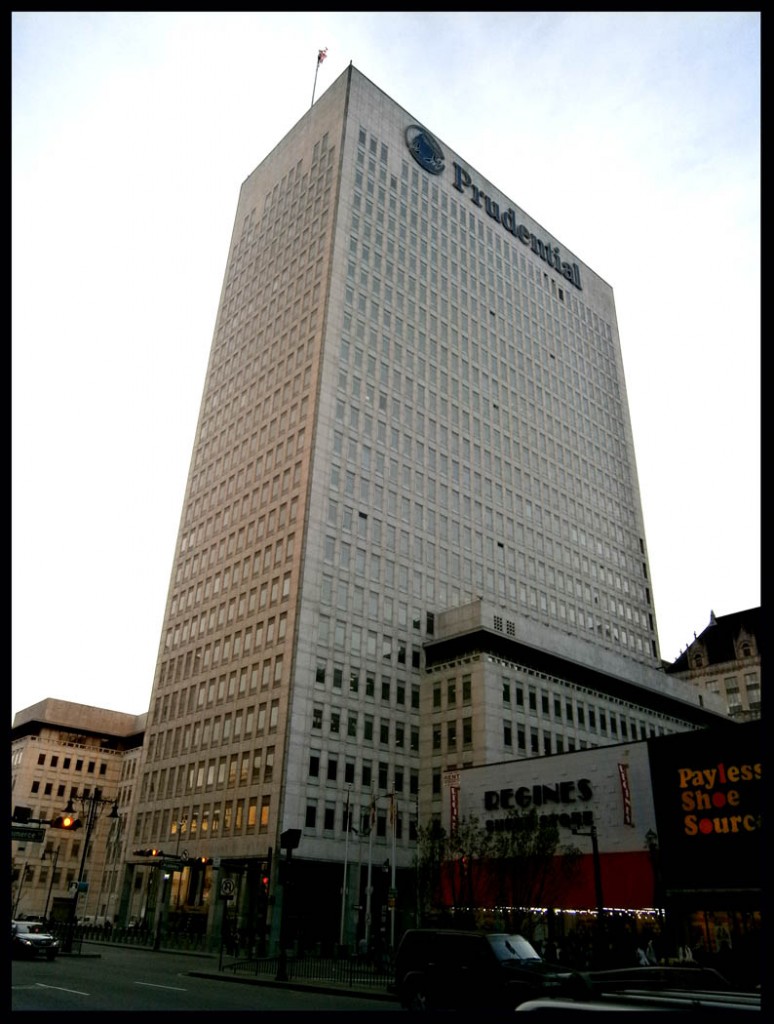 Prudential Plaza – headquarters on Broad Street – Newark, photograph by Hudconja…
General information
Completed        1956
Opening            1960
 Height:    Roof     114 m (374 ft)
Technical details:  Floor count   24 
Design and construction:
Architect Voorhees, Walker, Smith, Smith and Haines
 Prudential Tower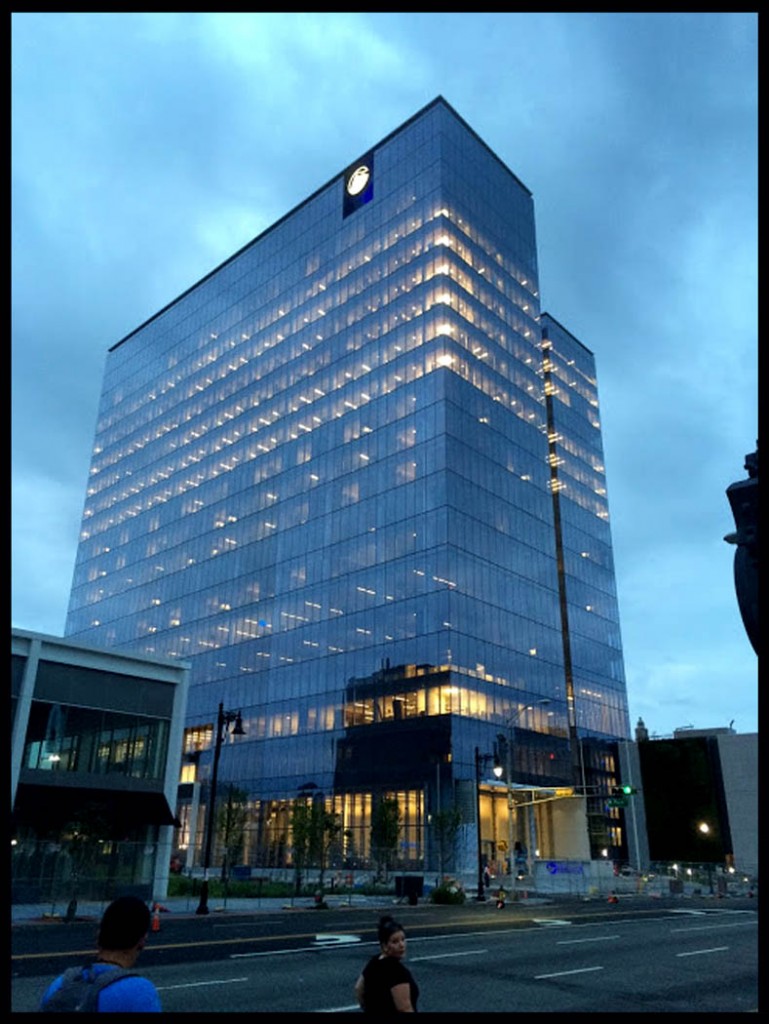 Night view of new Prudential Tower in Newark, Photograph by Deepen03
General information
Construction started    2013
Completed        2015 
Opening            2015
 Height:    Roof     45.73 m (150.0 ft)
Technical details:  Floor count 44  
Prudential Financial, as it is known today, began as The Widows and Orphans Friendly Society in 1875. For a short time it was called the Prudential Friendly Society, and for many years after 1877 it was known as the Prudential Insurance Company of America,[10] a name still widely in use. Based in Newark, New Jersey, the company has constructed a number of buildings to house its headquarters downtown in the Four Corners district.[11] In addition to its own offices, the corporation has financed large projects in the city, including Gateway Center and Prudential Center. Prudential has about 5,200 employees in the city.
The original Prudential buildings from the turn of the 20th century were early examples of steel framing in Newark, clad in gray Indiana limestone with Romanesque Gothic styling, the work of George B. Post. The four buildings were known as the Main, the North, the West, and the Northwest and were the tallest in the city at the turn of the 20th century. They were demolished in 1956 to make way for the current headquarters. The proposed 45-story Prudential Tower would have been one of the tallest in Newark had it been built.[12]
The Gibraltar Building, headquarters for the financial services company until 1986, is situated between two other office towers later built for the firm, all of which are connected by underground passage[13] The name is inspired by the company's logo, the Rock of Gibraltar. The Gothic Revival structure was designed by the architect Cass Gilbert, renowned for many works including the Woolworth Building and the United States Supreme Court Building. Gilbert was also architect for the Kinney Building at the southeast corner of Broad and Market Streets.[14] Sold in 1987 and later renovated and restored, it now is home the Superior Court of New Jersey's Essex County Vicinage Family Court, Chancery, and Tax Court, as well as other government agencies and private enterprises.[5][15] [16]
"Prudential Building" redirects here. For the building in Chicago formerly known as the Prudential Building, see One Prudential Plaza.
Shortly after Prudential Building was completed in 1942, it was taken over by the federal government for use by the Office of Dependency Benefits (ODB), which was moved to Newark from Washington during World War II. The ODB was responsible for payments to military dependents and their families. Work went on round the clock at 213 Washington Street until it was returned to Prudential in 1946.
Prudential's current headquarters, the Prudential Plaza, opened in 1960 during the New Newark era when modernist buildings were built downtown. The International style building is one the tallest and most prominent on the Newark skyline. The facade of Vermont marble includes 1600 windows set in aluminum frames. On August 1, 2004, the U.S. Office of Homeland Security announced the discovery of terrorist threats against the Plaza prompting large-scale security measures such as concrete barriers and internal security changes such as X-ray machines.[17]
The lobby of building was originally adorned with triptych of mosaics designed by Hildreth Meiere entitled "The Pillars of Hercules," The panels had been removed and put in storage, Two were formally installed at the Center for Hellenic Studiesin Washington, DC and another in Newark Museum.[18][19]
In 2011, Prudential announced plans to construct an office tower for its headquarters complex. The company had received a $250 million urban transit tax credit, from the state, which required that it create new jobs and build within walking distance of a transit hub.[20] The site of the $444 million 650,000 sq ft (60,000 m2) tower is on Broad Street just west of Military Park.[21][22][23] Construction began in July 2013.[24][25][26] The exterior of the tower was completed as of January 2015 and the building opened in July 2015.<r[27]
For more information on Plant Wall Murals please visit the following links: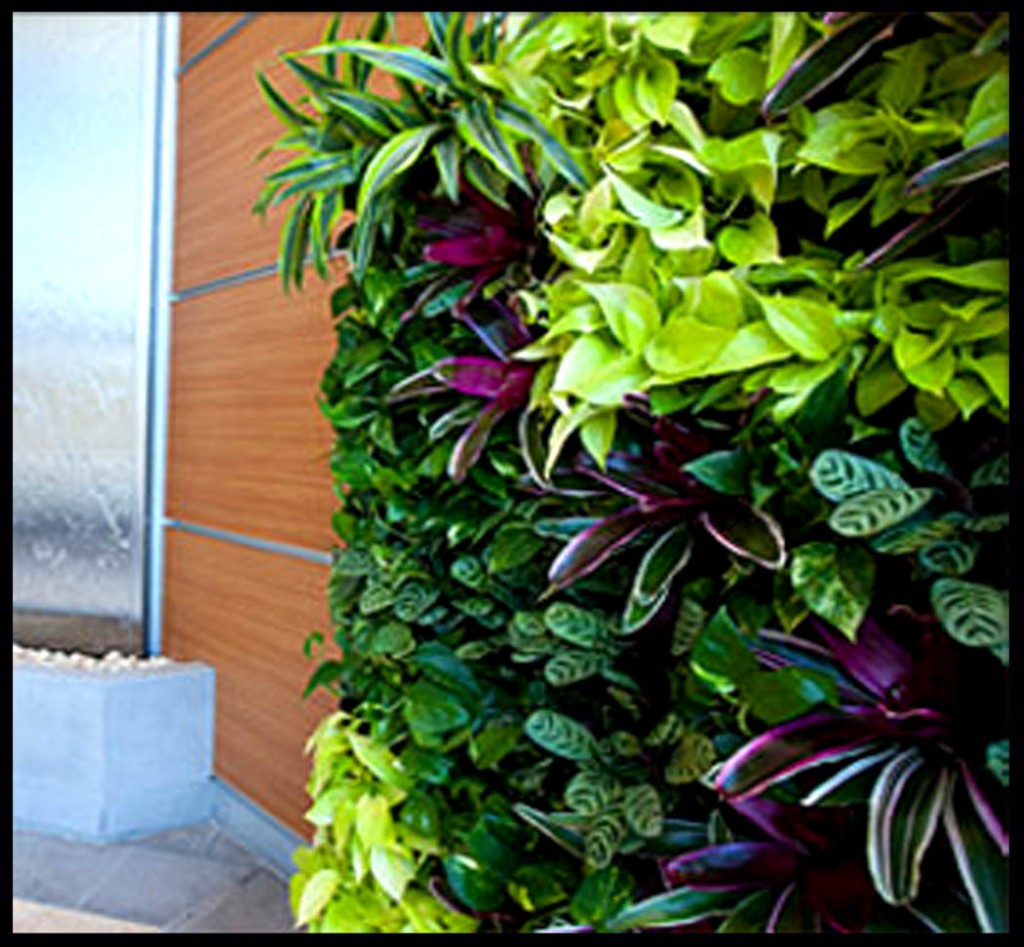 https://perfectplants.co.uk/blog/plants-that-live-off-air-alone/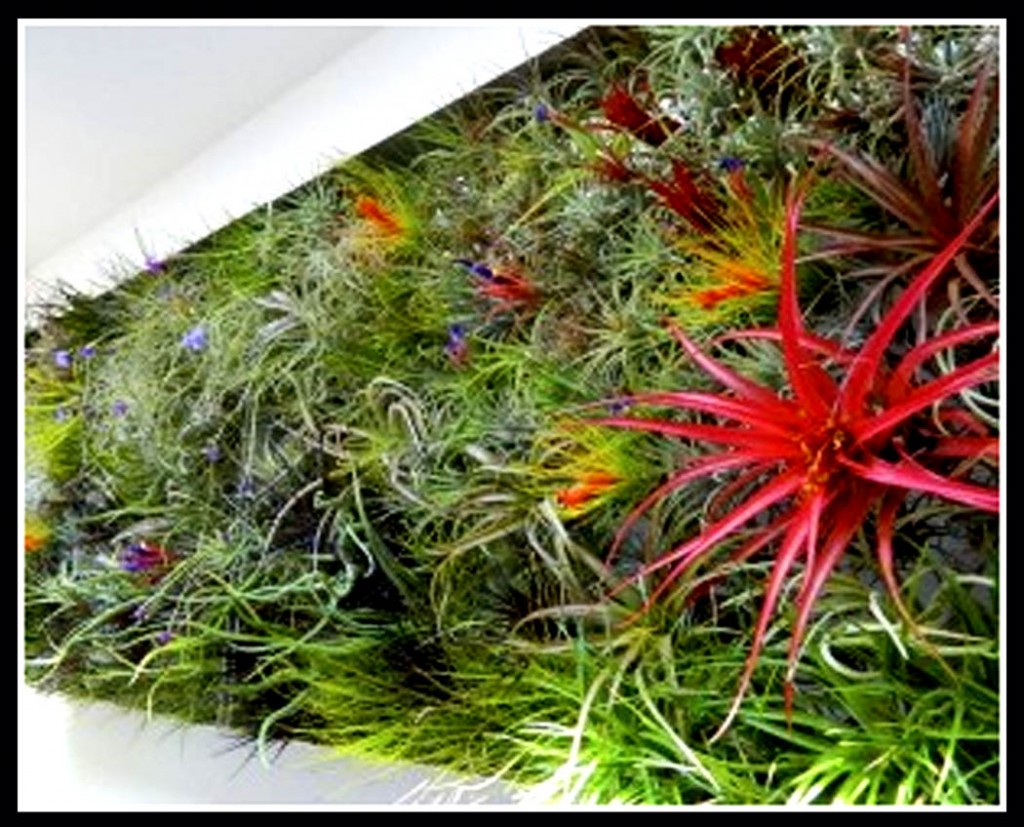 Living/Green Walls  https://www.verticalplantscapes.co.nz/livingwalls.html
Commercial

Residential

Left: Mt Maunganui installation designed by Tracey Peryman