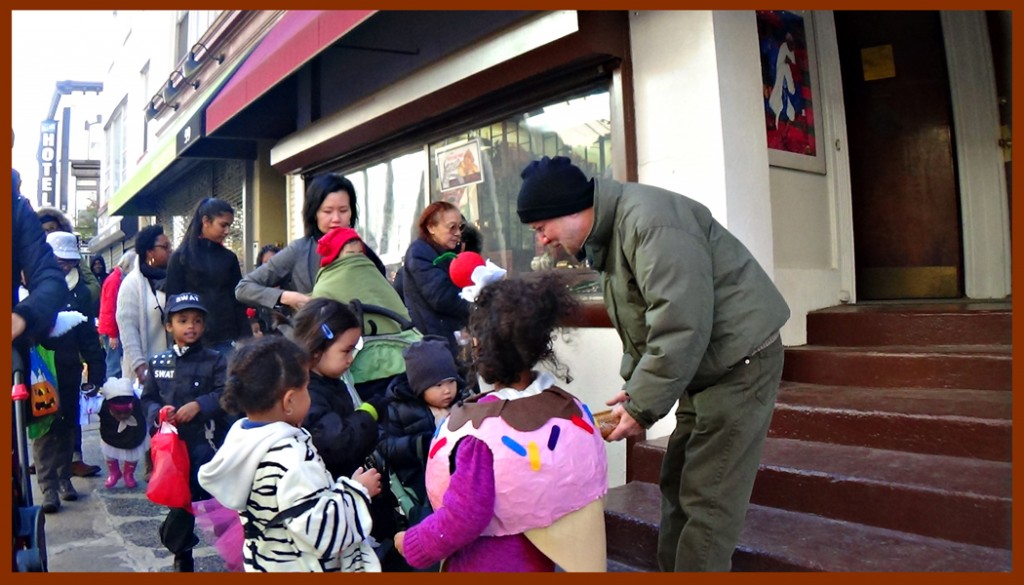 Tot Parade & Treats, Halloween on Halsey Street,
Downtown Newark, New Jersey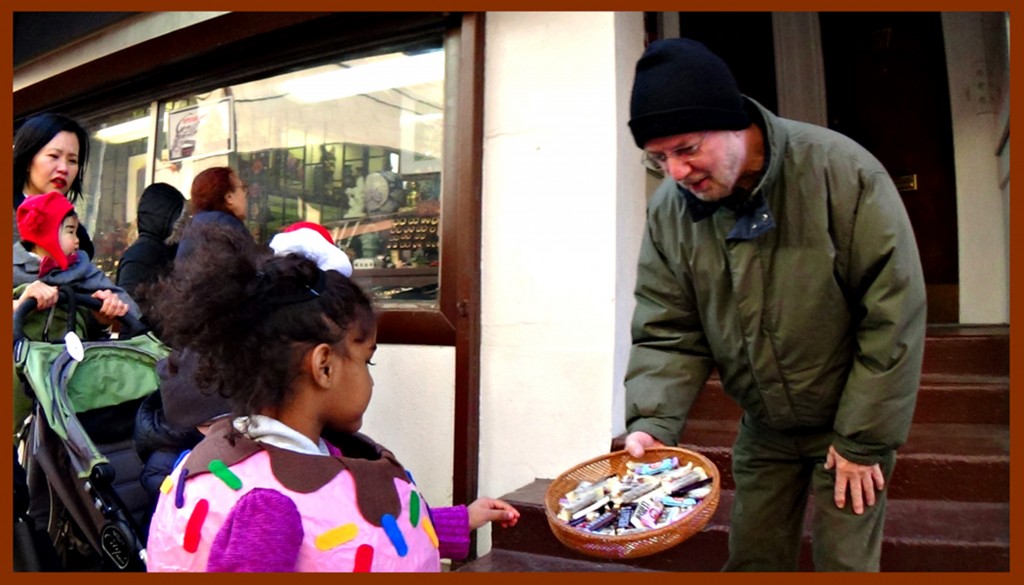 "Trick or treat!!!!
I am the great dragon!!!!
If you don't treat me I will breathe fire on you!!!!"
Little ones dress like a dragon, tiger, eagle, cat, skulk, fire man, SWAT, ice cream cone and other Halloween customs holding hands of Dad or Mom walking in the mini parade.  Some cannot walk yet hugging Mom or Dad chests in wrapping material.  The HalloWEEn on Halsey – Tot Mini Parade (5 and under) which was organized by Tamara Campbell, our neighbor.  
 "  Details
Meet other young families in Newark for a mini tot parade. Get the WEE ones dressed, Gather the family, even decorate your strollers for a short 2-block parade downtown.  3:45pm – Meet at Rutgers Law building – 123 Washington Street
4:00pm – Parade to start"
Treats and stops along the way!
– Rutgers~Newark Admissions, Art Kitchen, Burger Walla, Freetown Cafe, GlassRoots & MORE!
They also stopped at our shop.  John went out to buy some treats for the little children.  By 4 pm he already was waiting for the Tot Mini Parade in front of our shop.  Thanks for Tamara Campbell emailing  John
"John can you do treats on Friday for our tot parade at 4pm? If you can't buy anything I'm buying some extras. —-"
We were exciting to see little children dressed in Halloween costumes.  I prepared by charging the battery for my camcorder.  We were ready and eager to greet the Tot Mini Parade as we love children and the little ones were very cute and adorable.
I enjoyed seeing the children and felt the love and care of the children by the parents. It made me and John very happy. Please enjoy the photos that I took from "HalloWEEn on Halsey – Tot Mini Parade".
Ing-On Vibulbhan-Watts, Sunday, October 30, 2016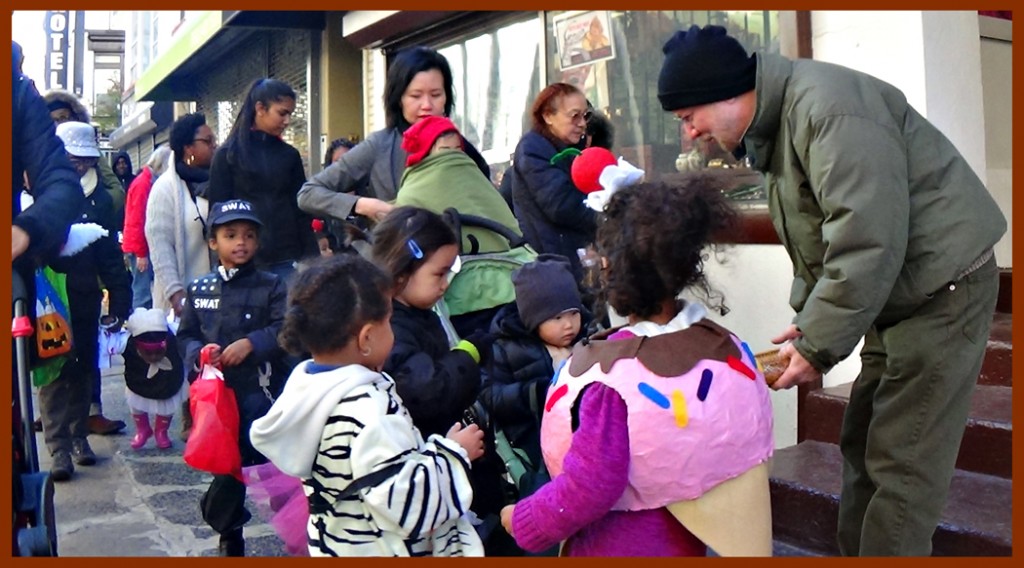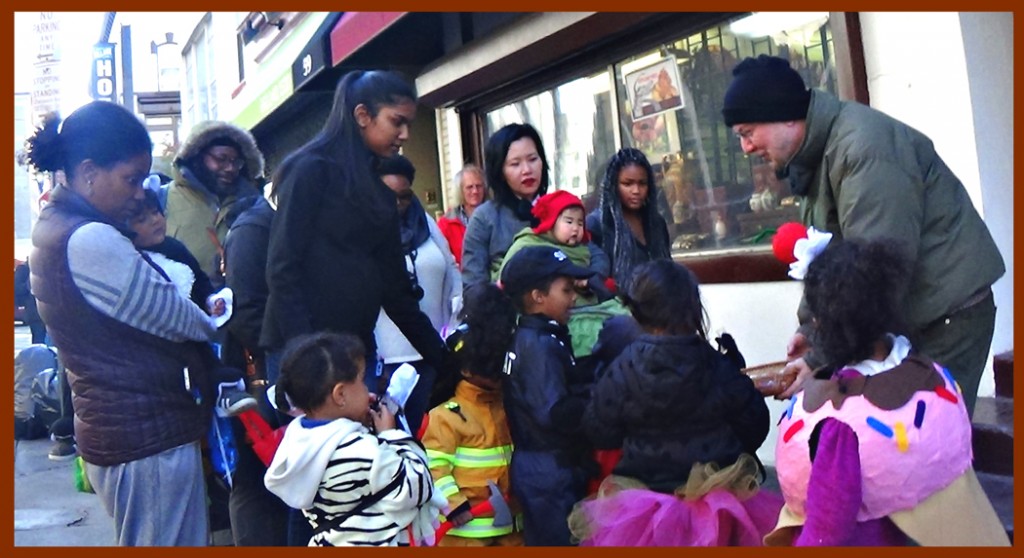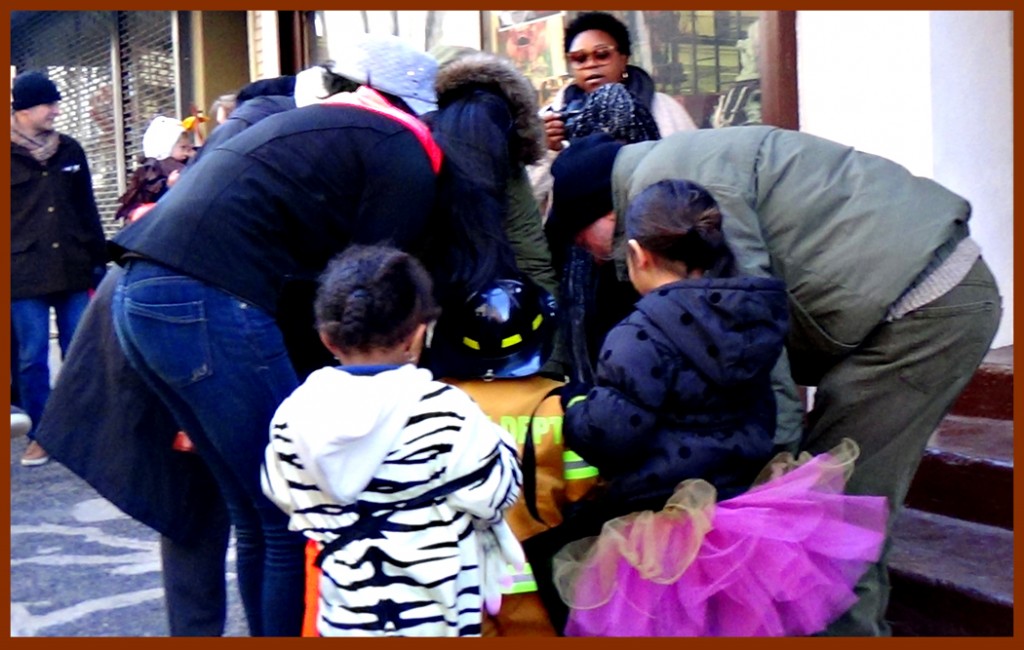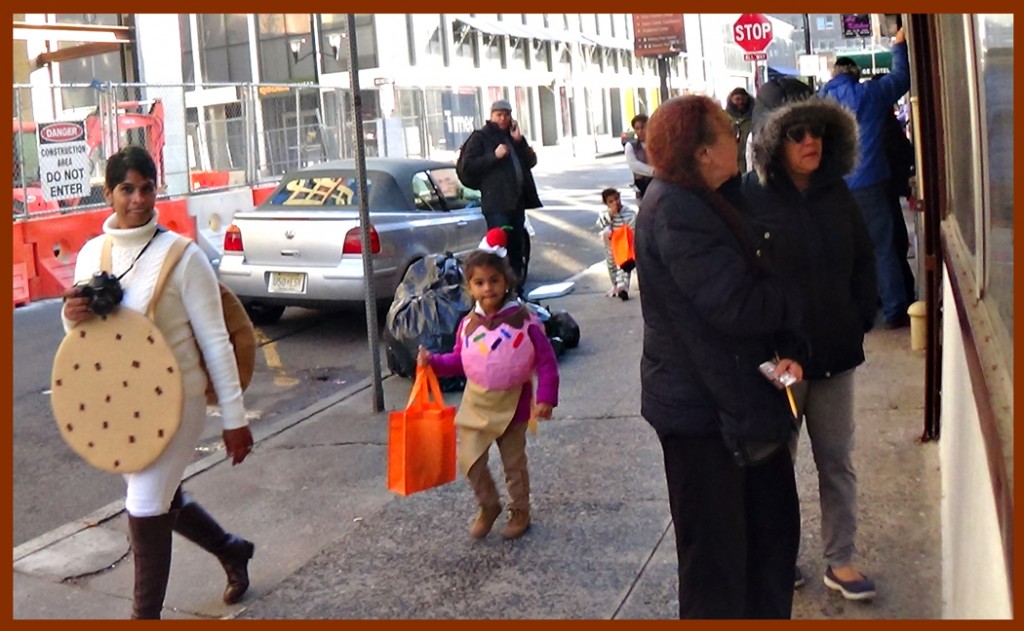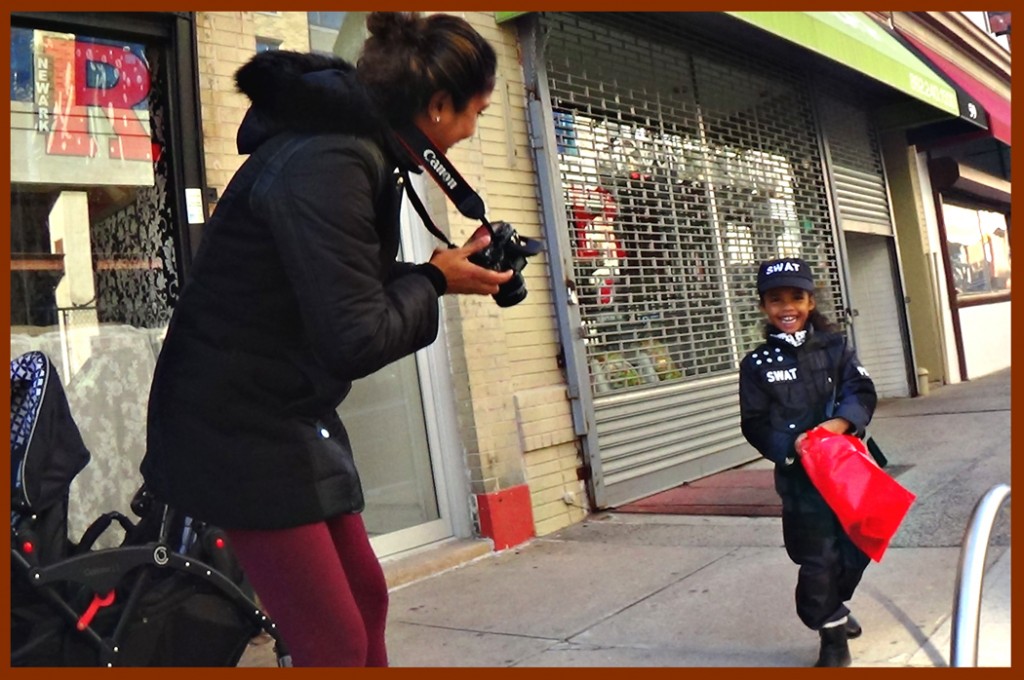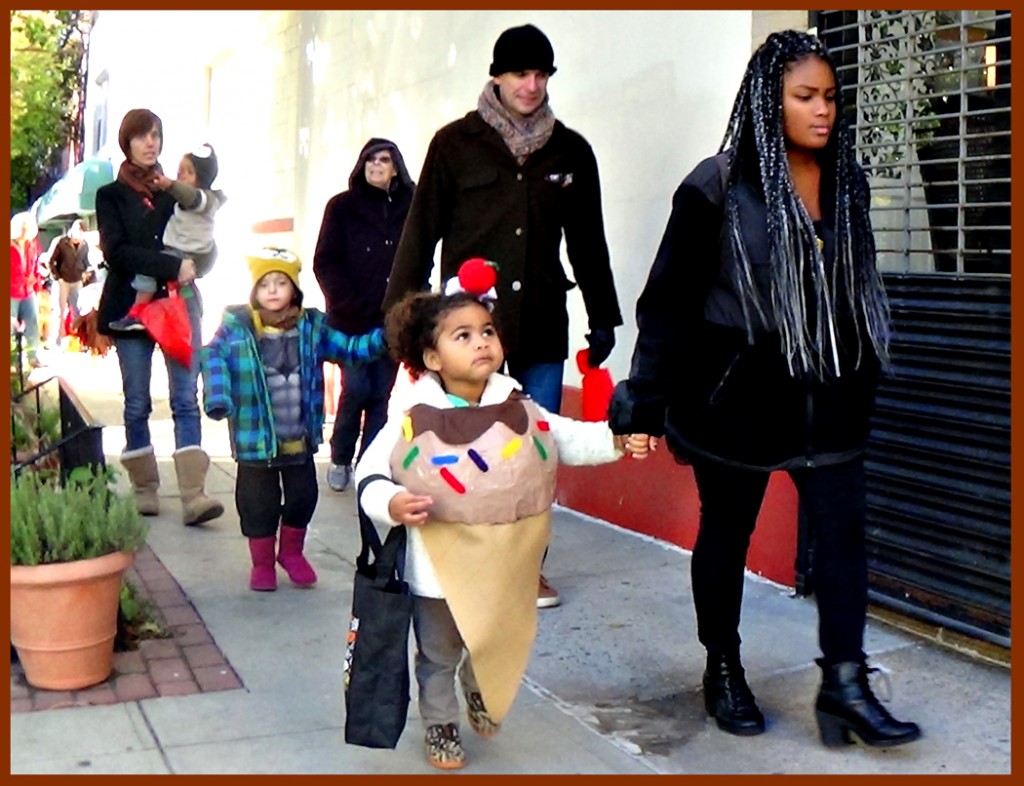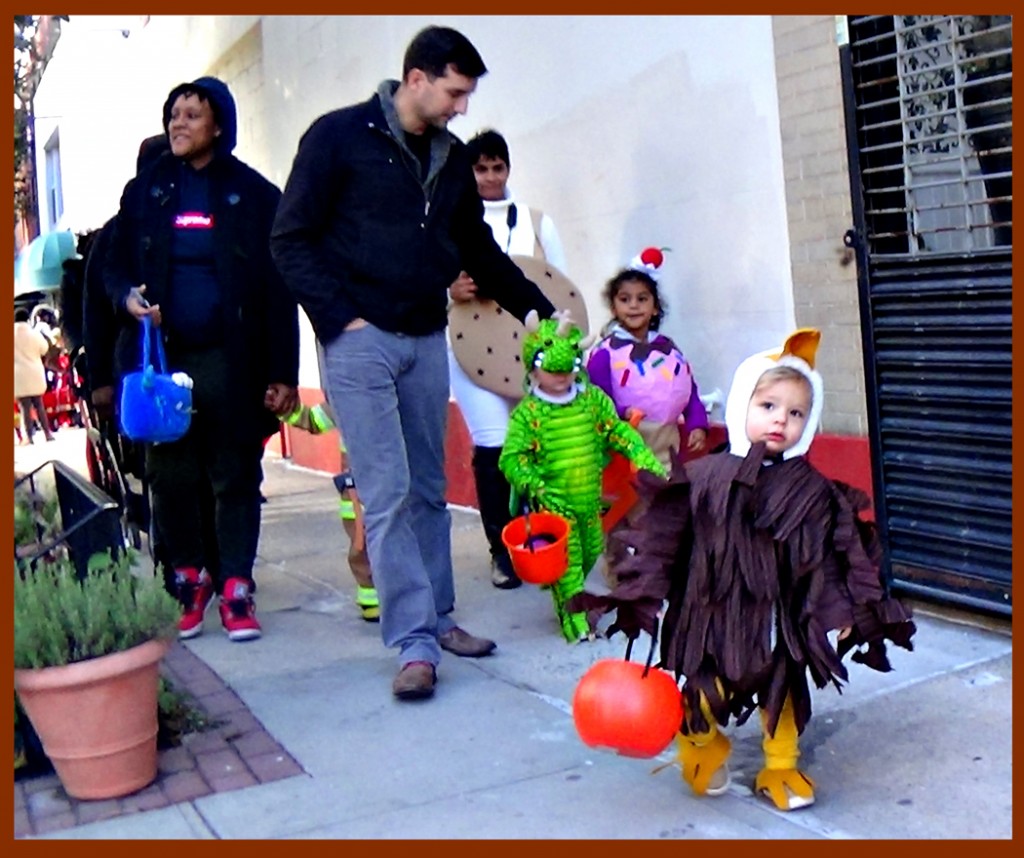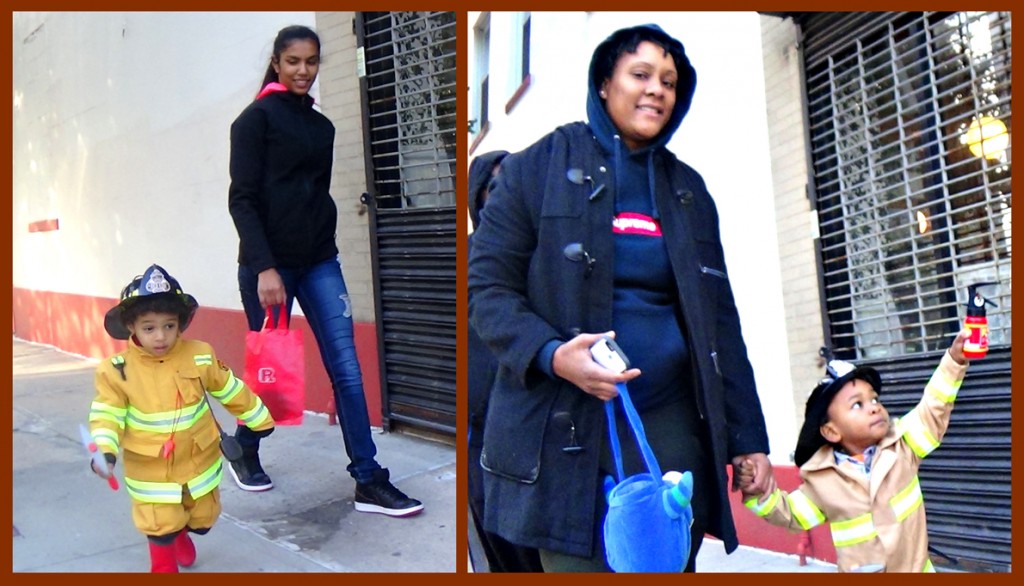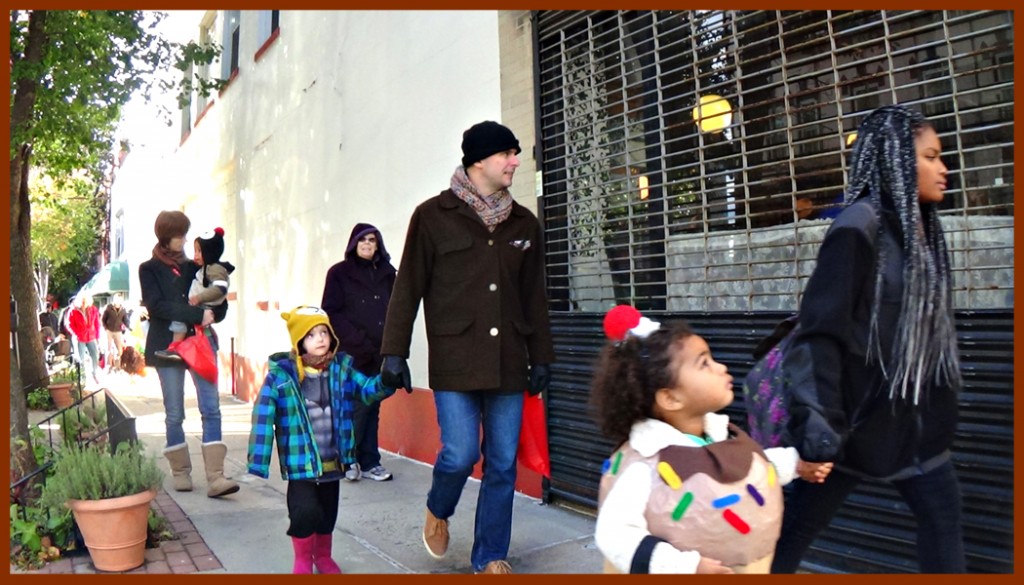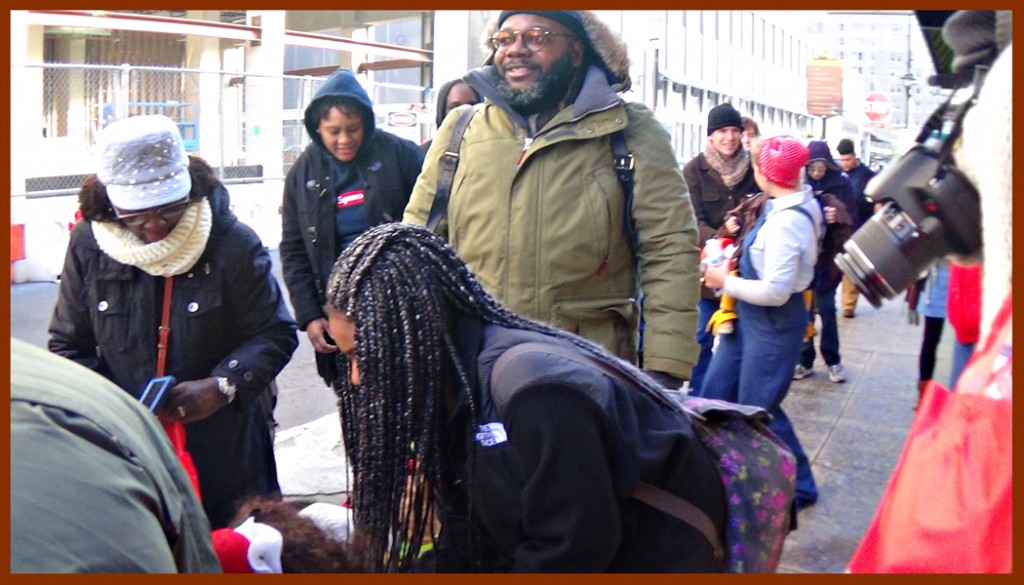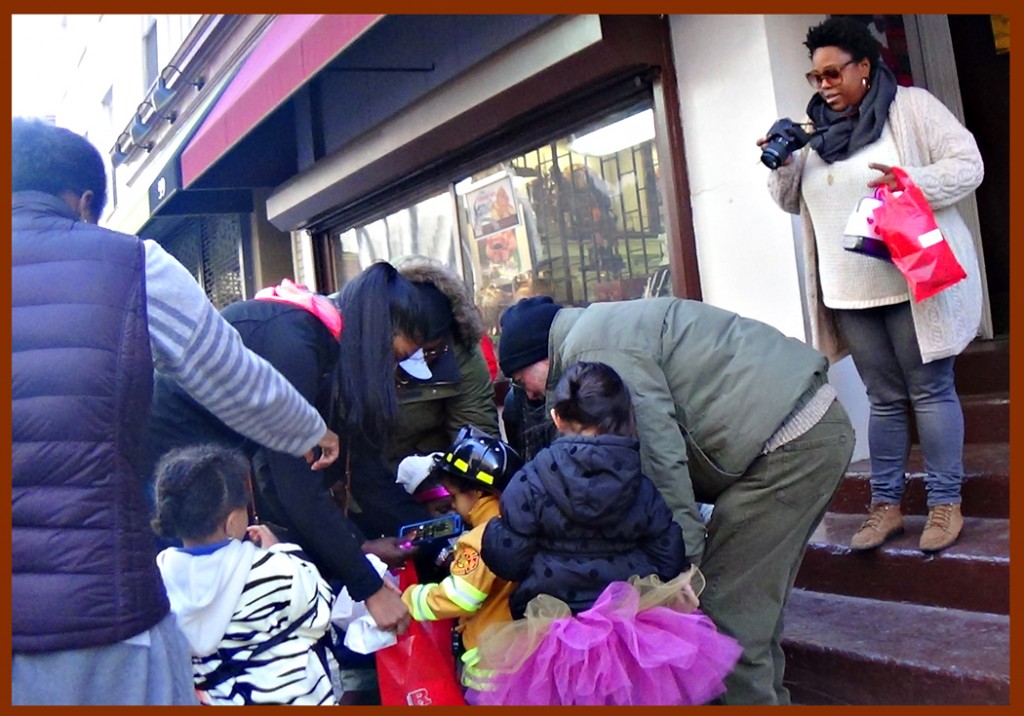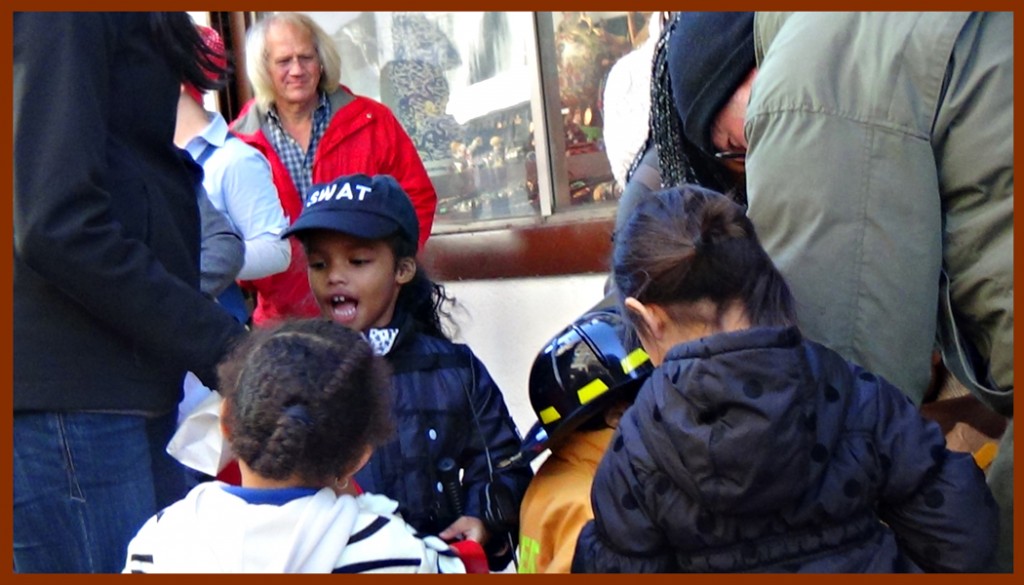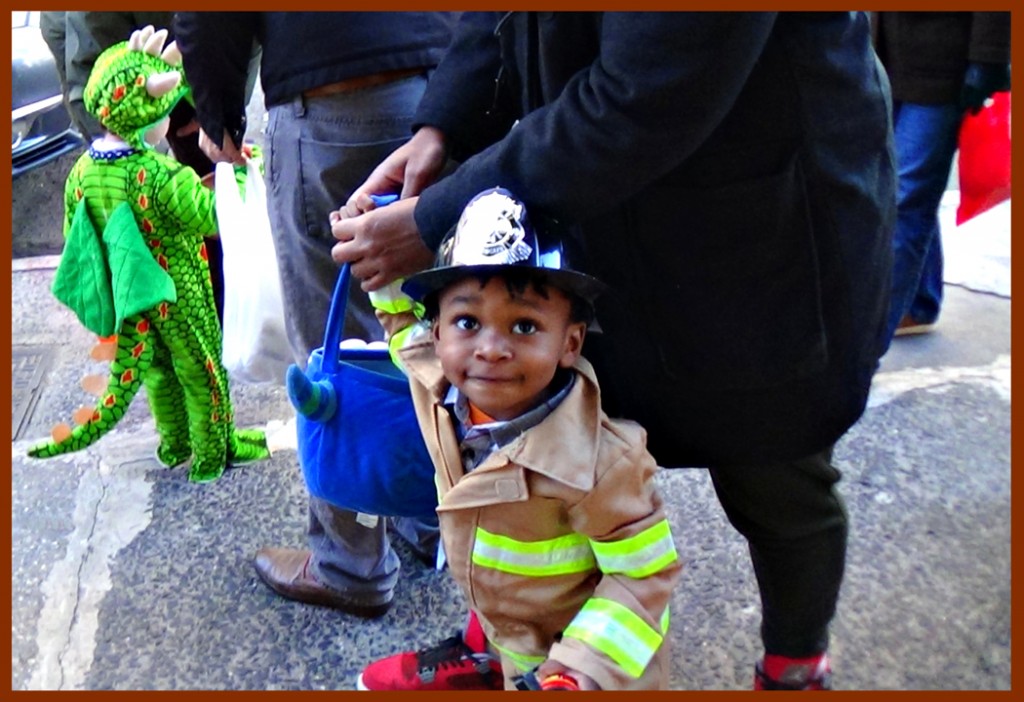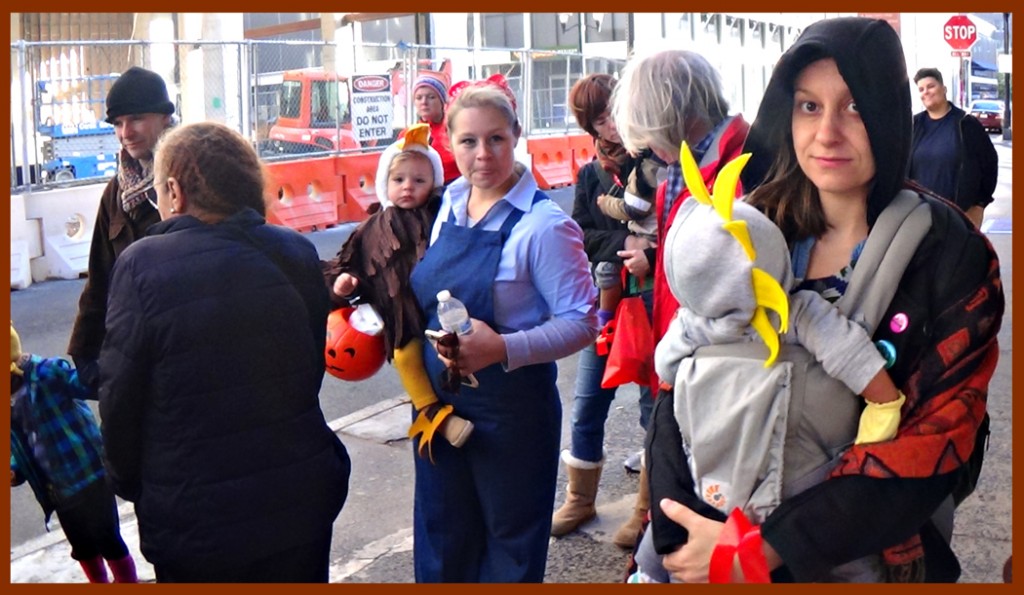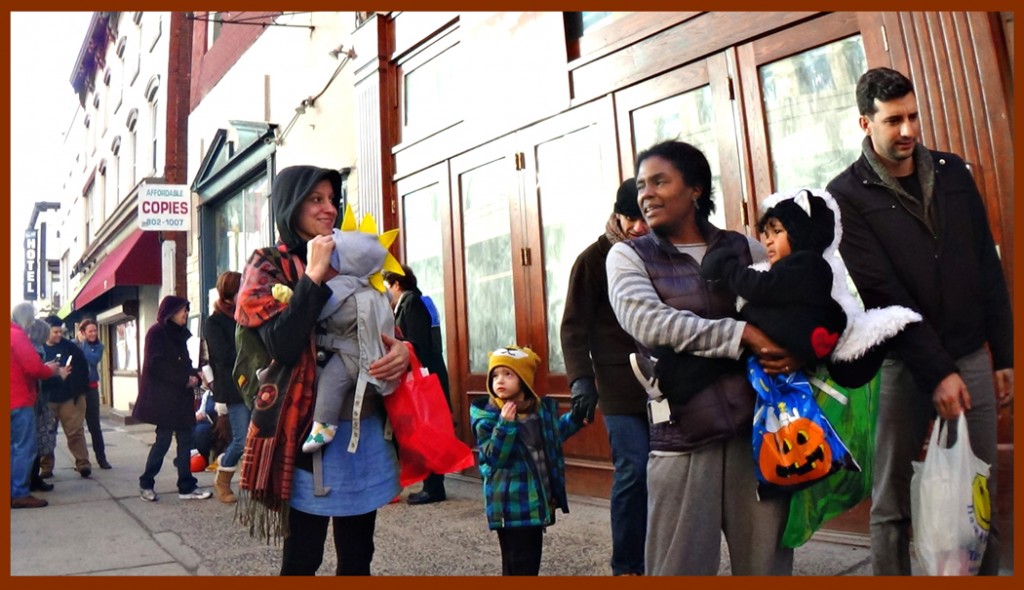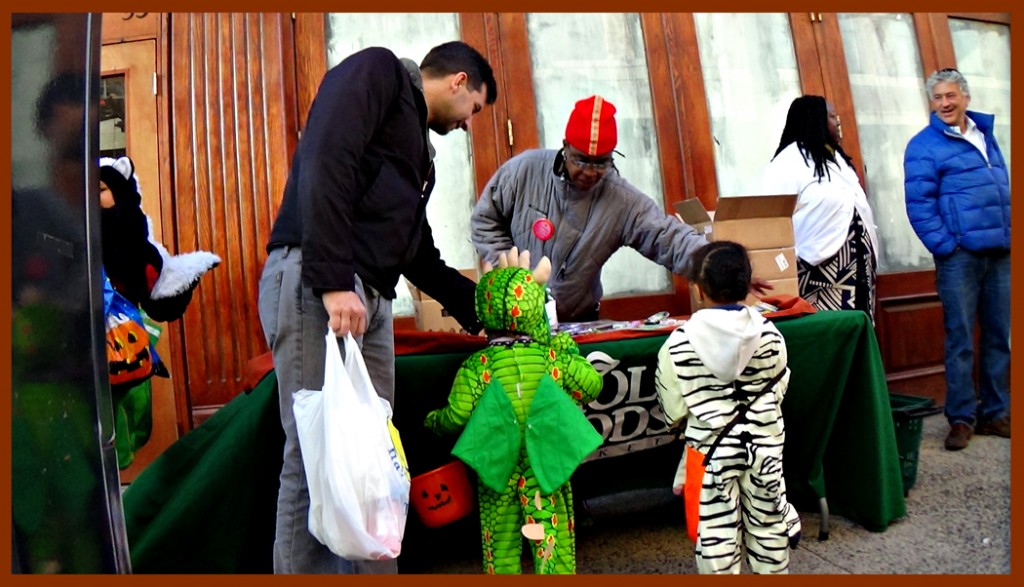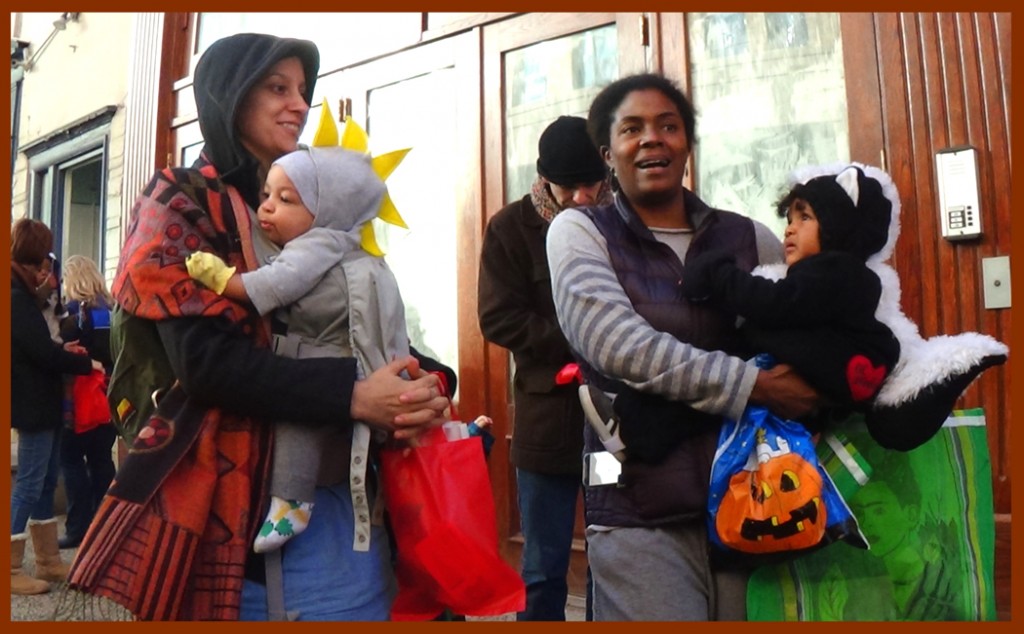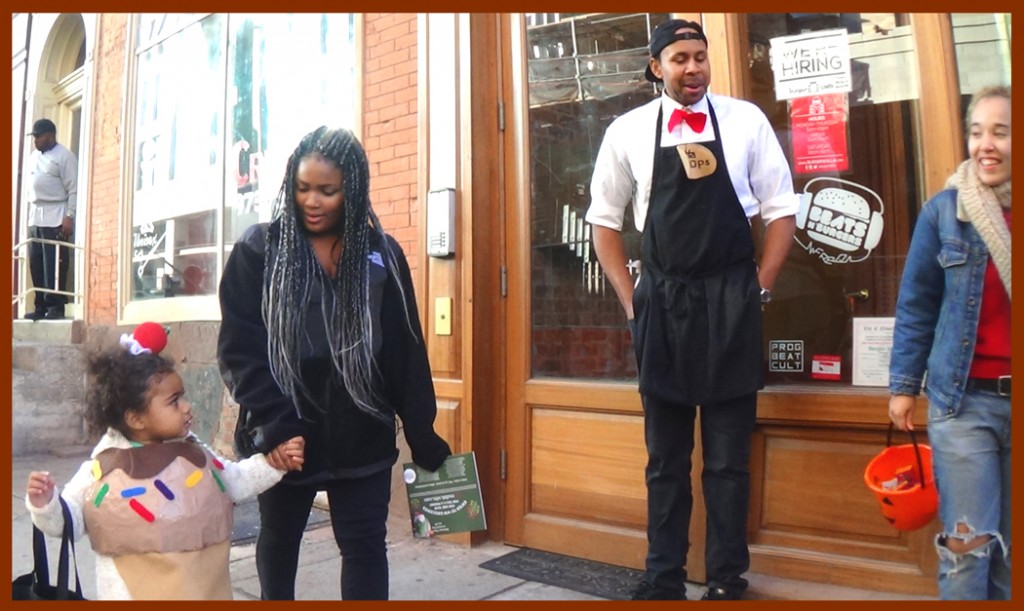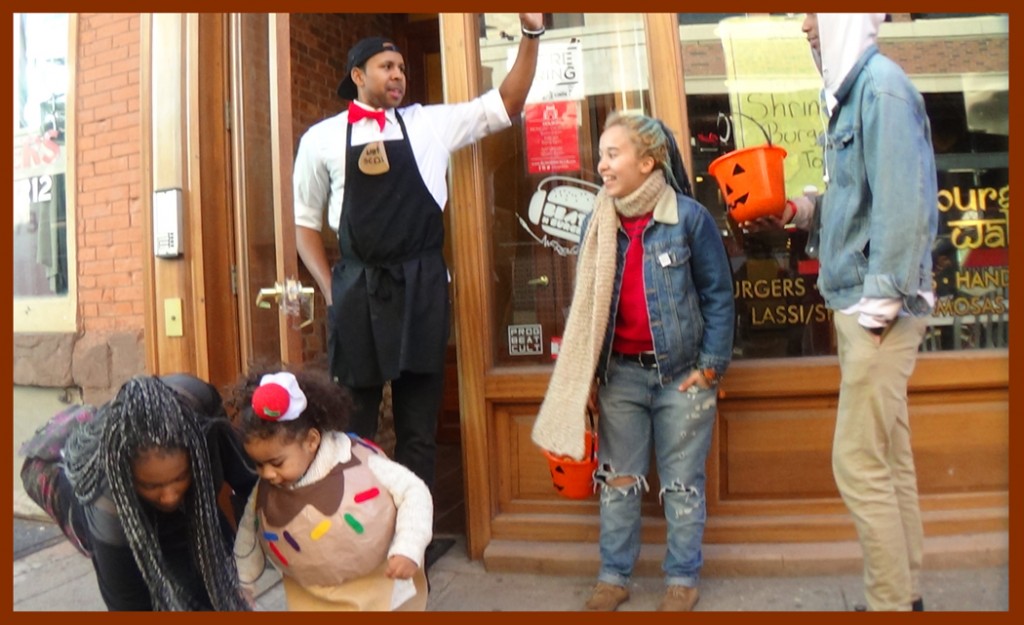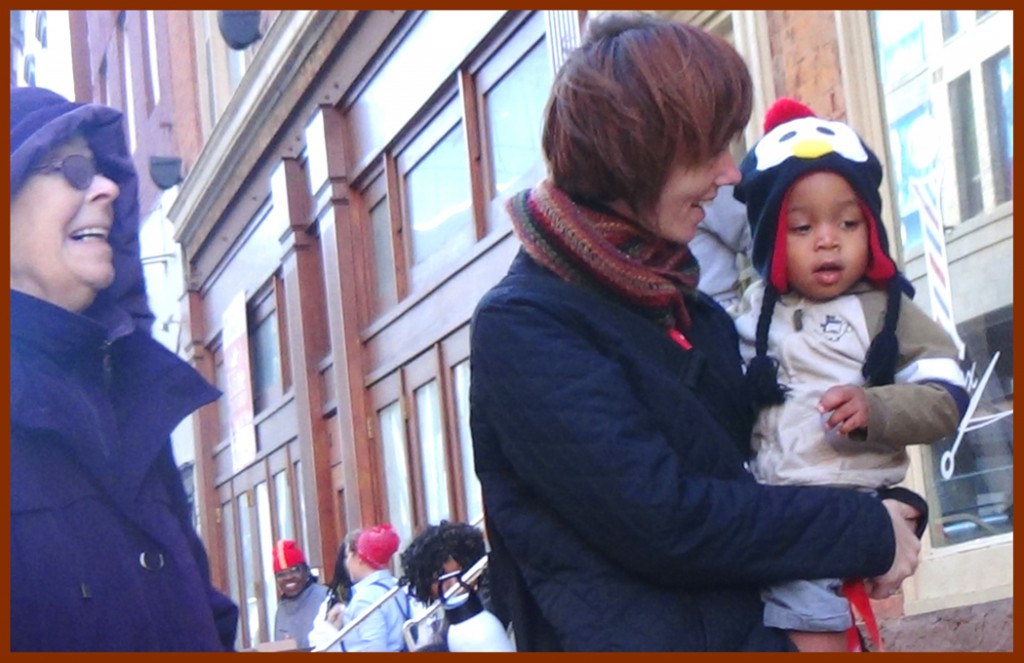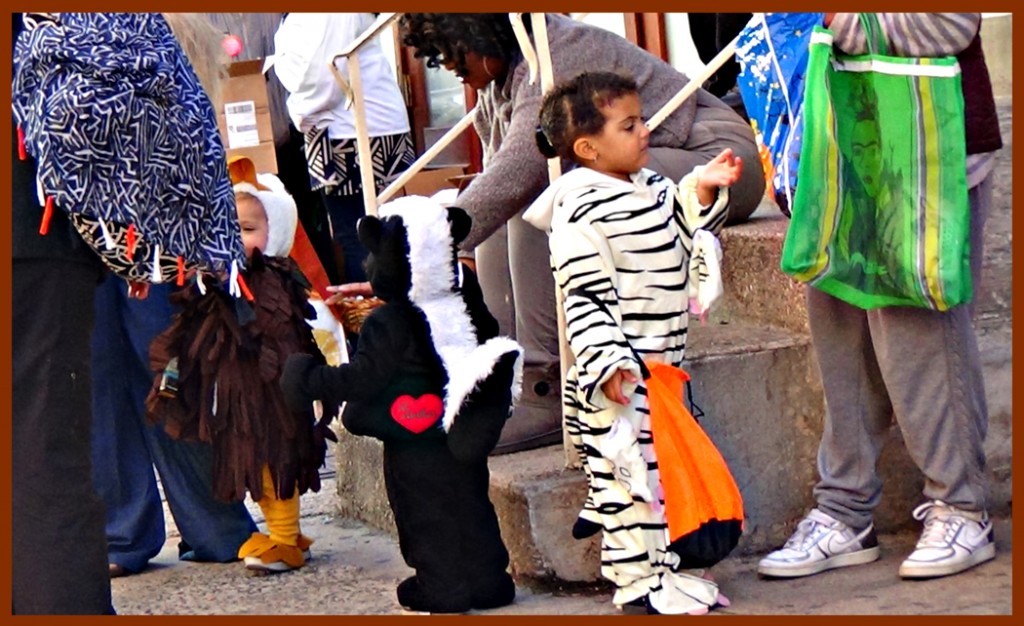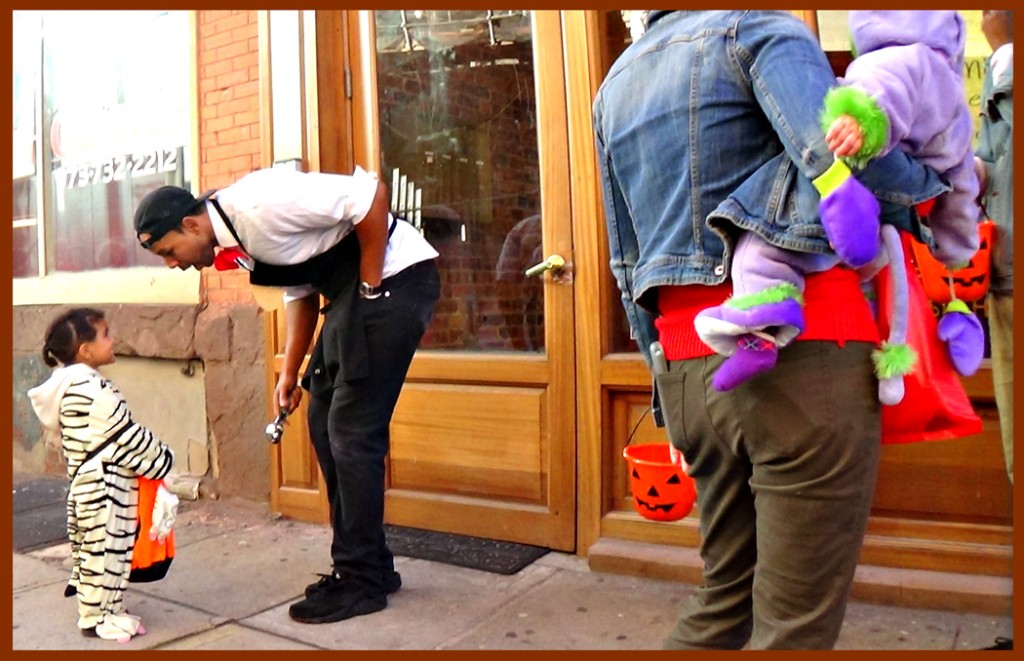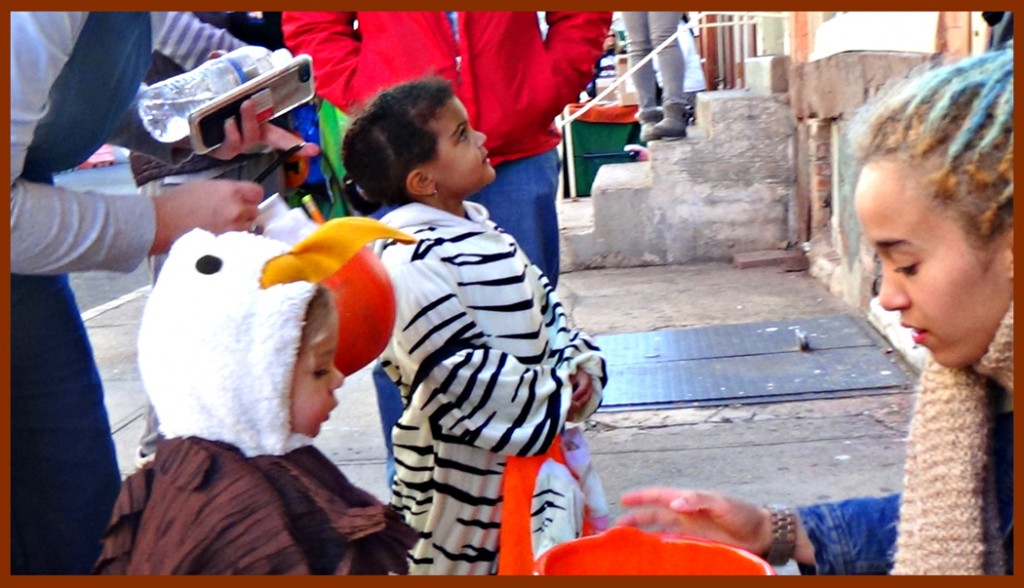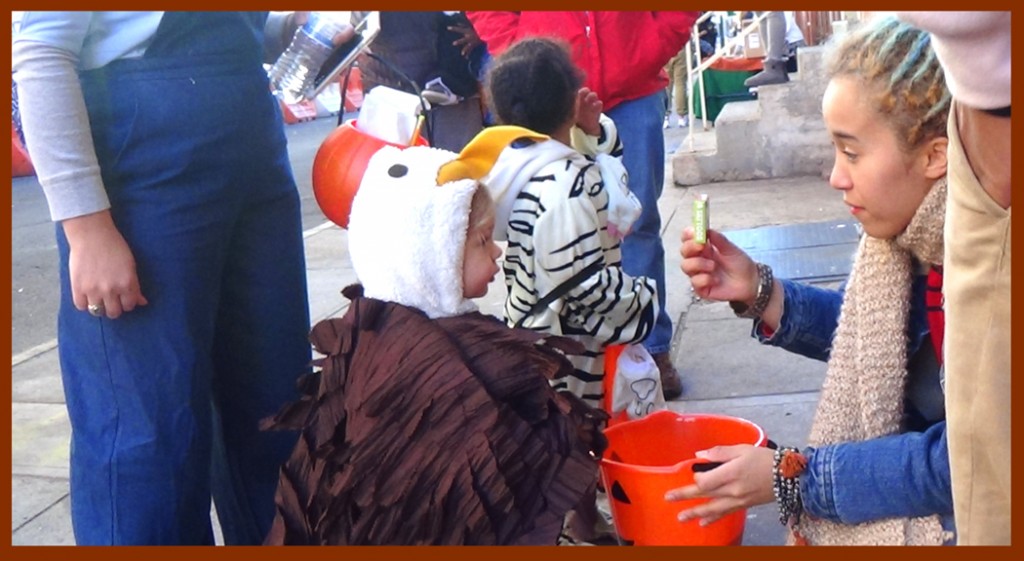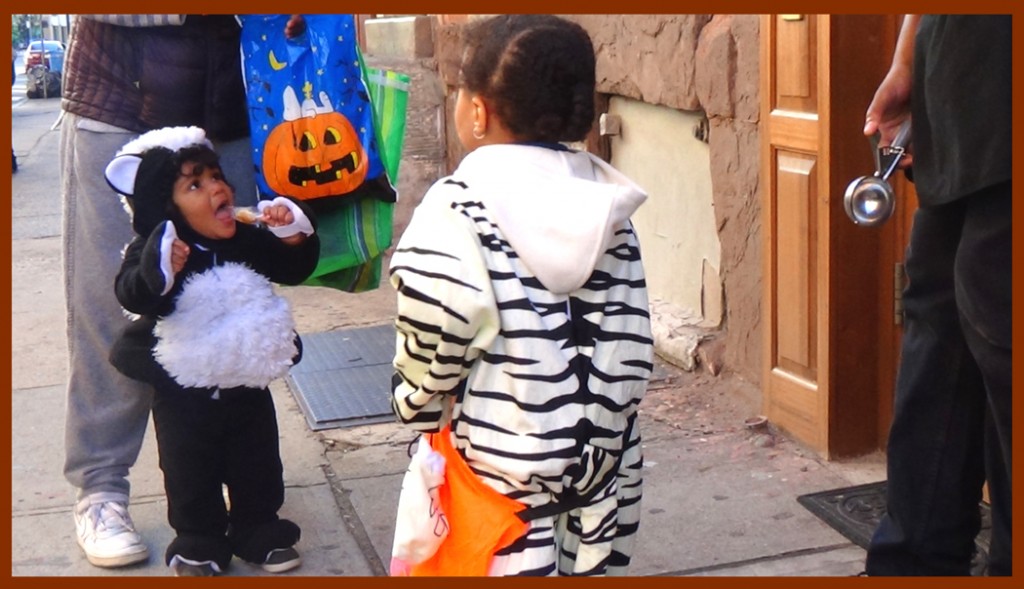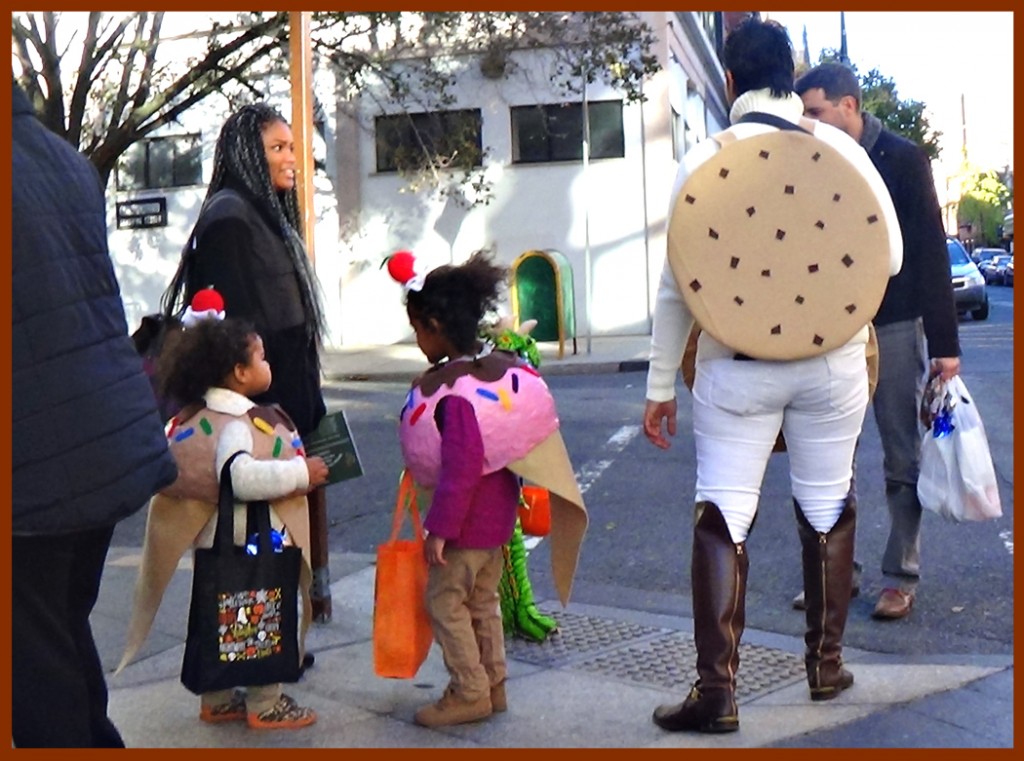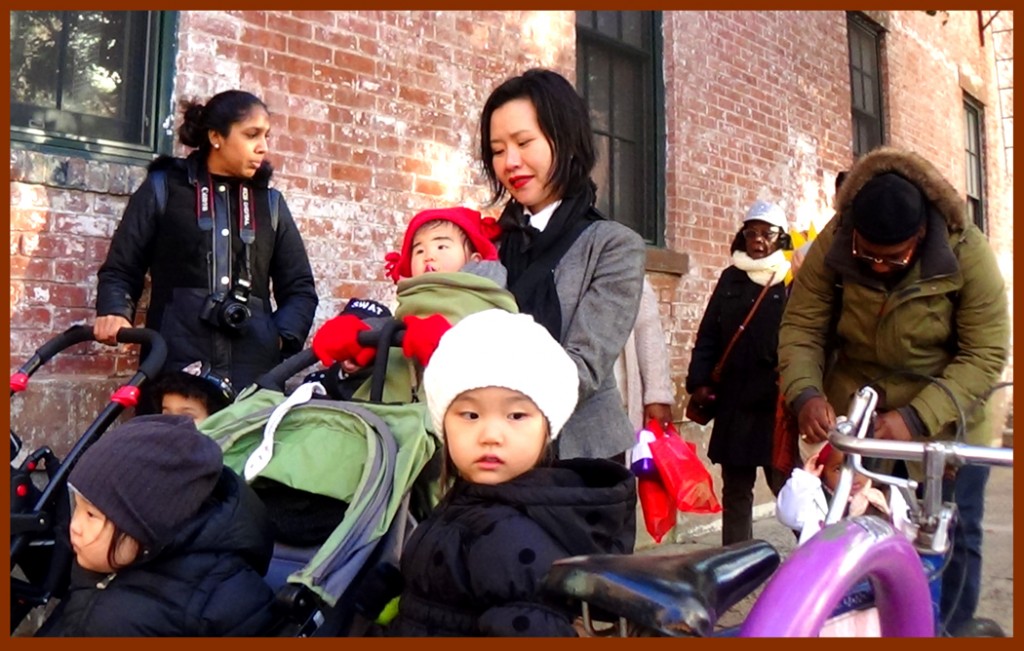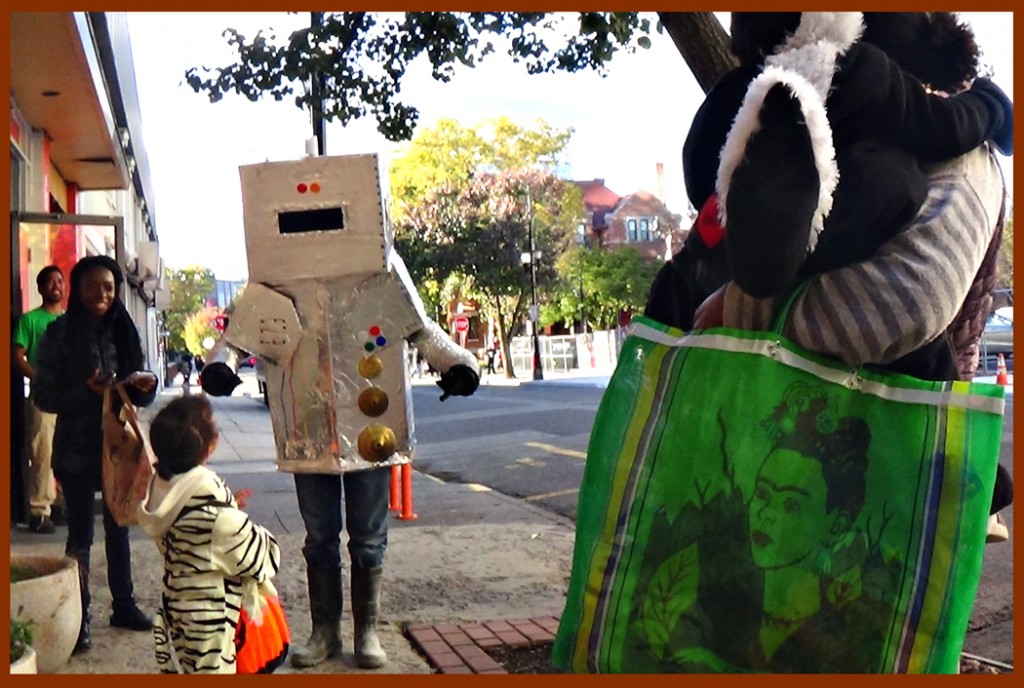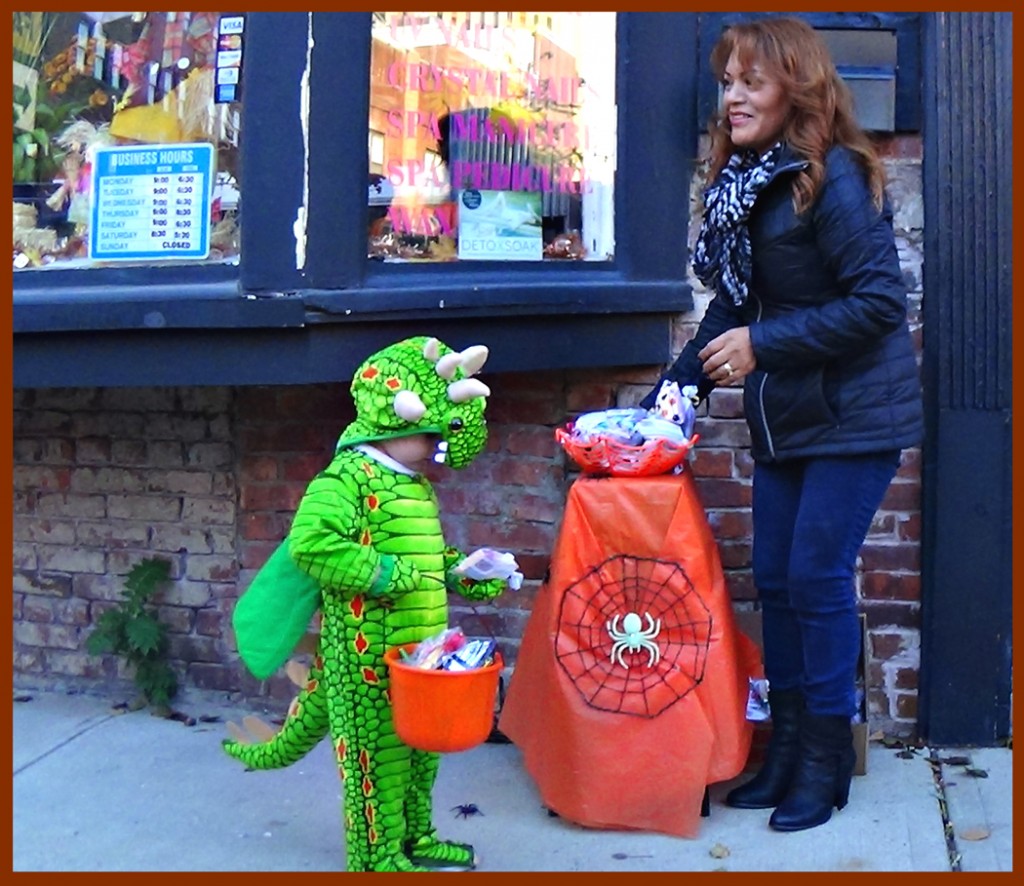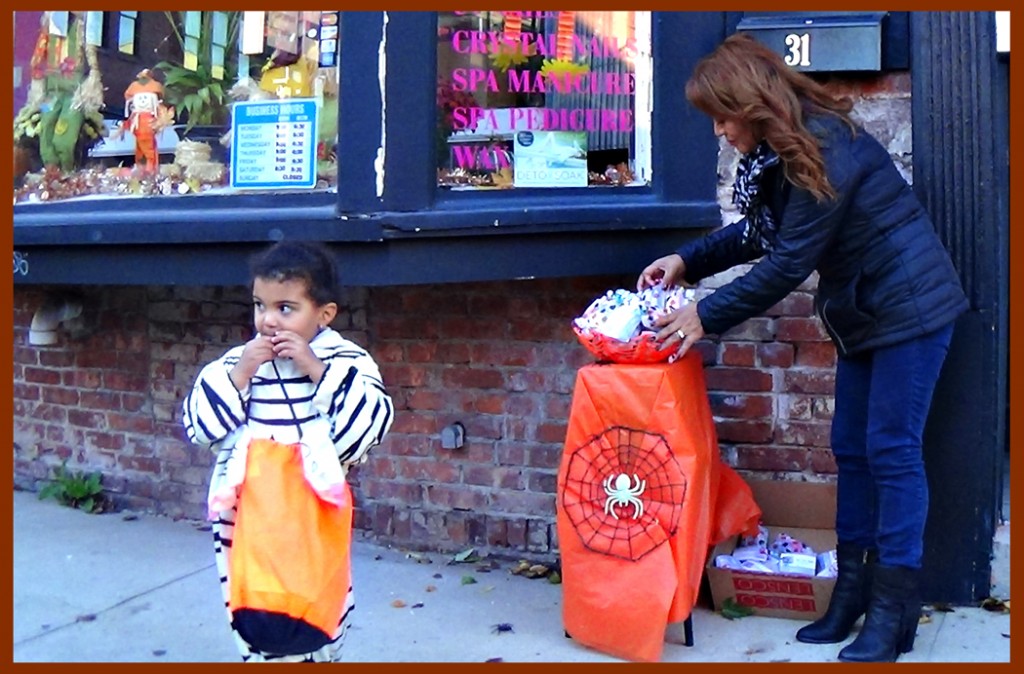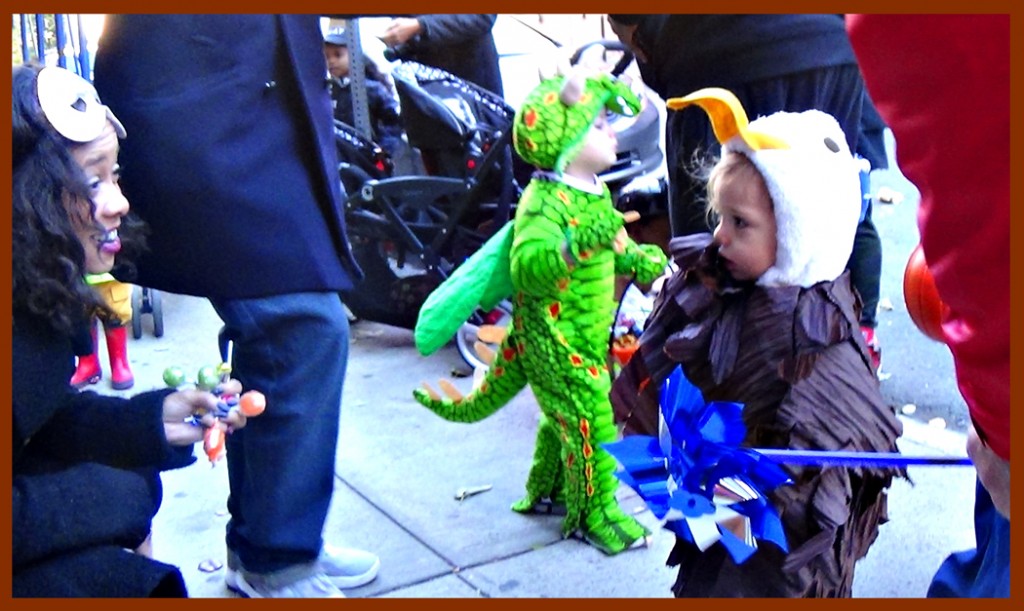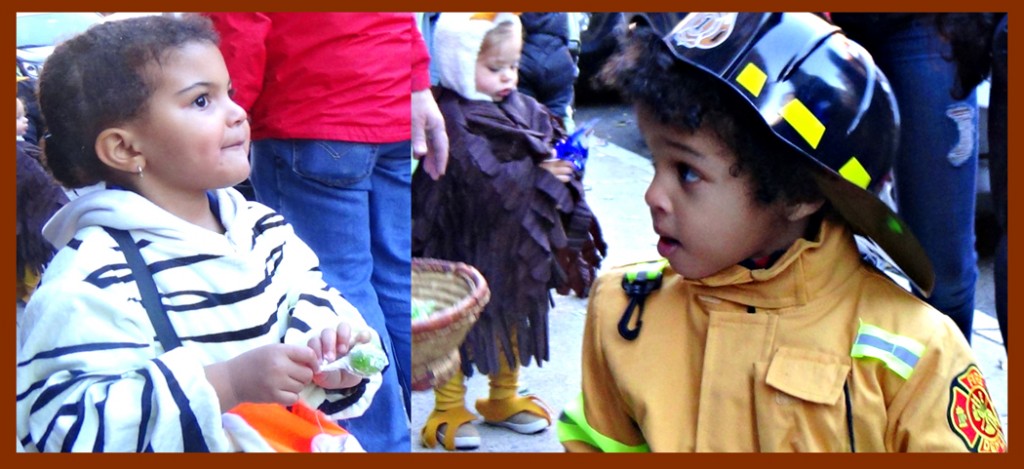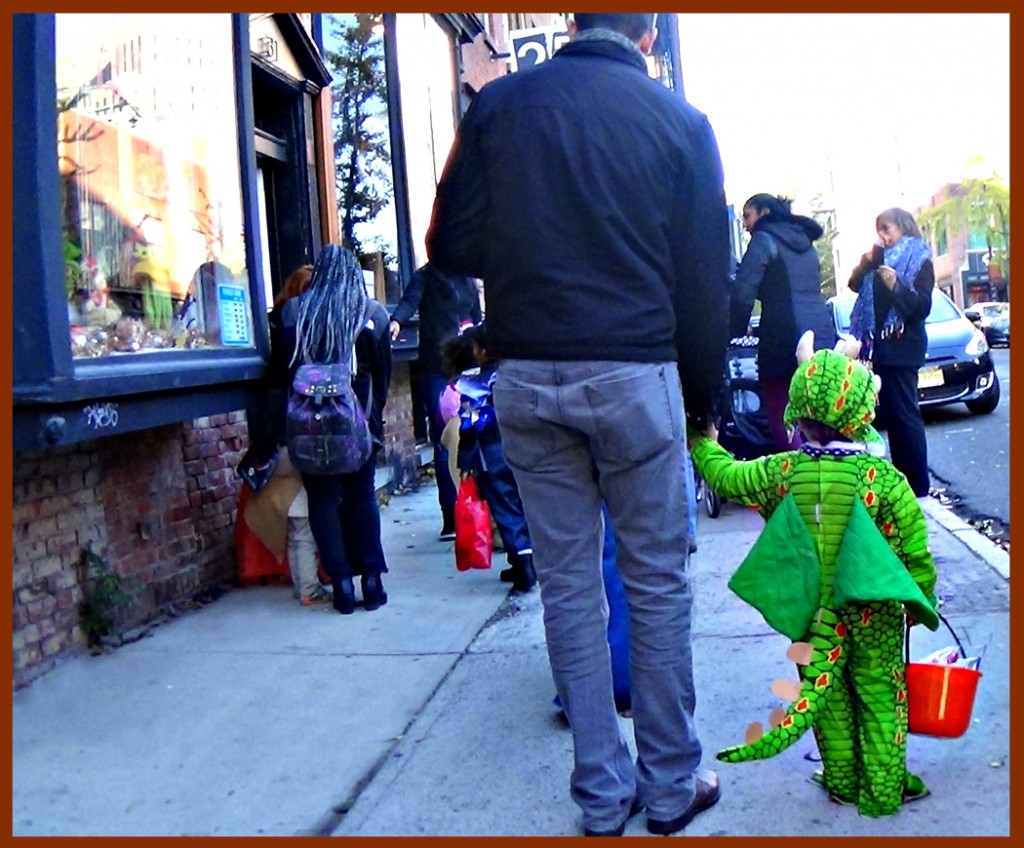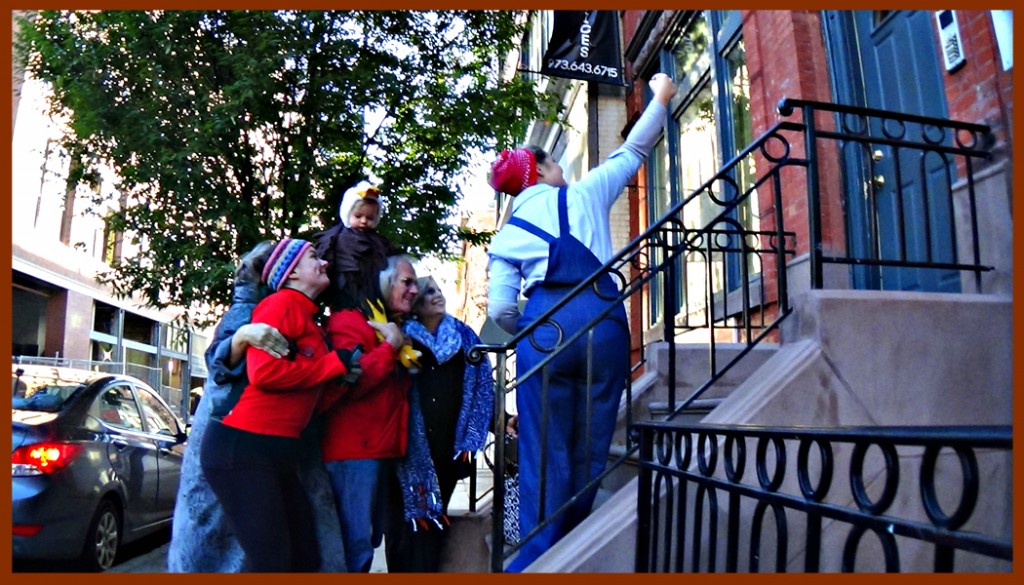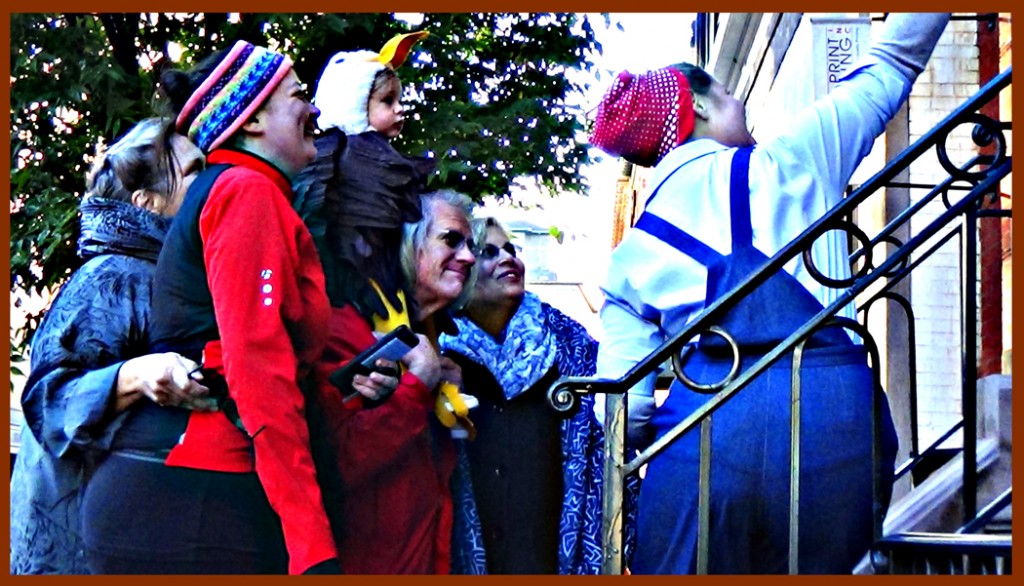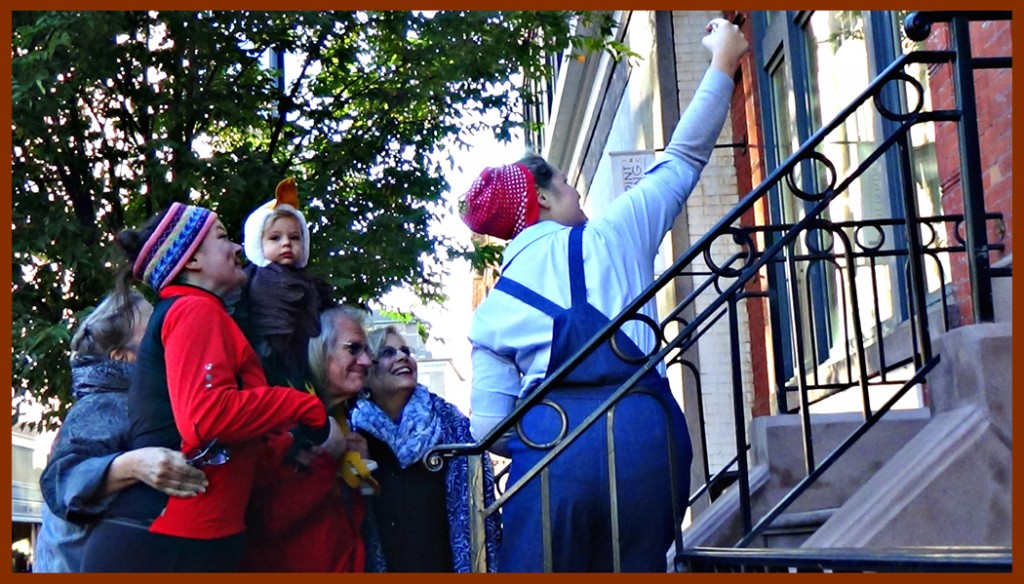 When I saw these five adults who gave love to this little child, they showed their love and happiness to have this little individual.  It is a heaven on earth for me to be able to witness this occasion. 
When the family came together with peace and happiness then they had time to cultivate the child with their best love and attention.  To do this requires a peaceful and harmonious society which brings about citizens educated enough to know their rights and select good people to govern them.  The government provides the necessity tasks to make society live in progressive, comfortable and peaceful co-existence.  This is in opposition to other kinds of government that bomb and kills their citizens.  Syria's government, for example, bombs schools and hospitals in their own city of Aleppo, where just last week twenty children and six teachers died from the bombs.
I cannot conceive that there are such humans, leaders or governments that are capable of doing such things to their citizens or any human beings.  The United Nation condemned again and again, talked and talked about the catastrophes many times.  This however never materialized into action.  Other countries in the world just watch and wait for an opportunity for their country to benefit before taking any action.   Instead they just watch and wait as they did in the genocide of the Jews in the European Holocaust, the massacre in Rwanda, Cambodia and others places in the world.
In talking about the happy family I saw giving love and attention to a child, I did not imply that the United States is a utopia.  No person or country is perfect.  We simply have to solve the problems one by one peacefully and in nonviolent ways.  Compromise and kindness will carry us through the conflicts.
When I write about trouble in Syria, it is merely an example of all countries that have similar problems at this moment.  I mention Syria's name because it is an obvious example of the horror in this world at this particular moment in time. 
The child I saw with five adults is a very lucky.  We cannot select to be born into any circumstance.  Some are lucky to be born to a happy and healthy family; some unfortunately will be born into troubled countries or families.  If we can help others or speak out for the unfortunate, it may bring us closer to a peaceful society.
 Ing-On Vibulbhan-Watts, Sunday, October 30, 2016
For more information about Syria disaster please visit the following links:
https://www.bbc.com/news/world-middle-east-37379928
https://www.cnn.com/shows/fareed-zakaria-gps
https://www.bbc.com/news/world-middle-east-37816938
How Moscow's Syria campaign has paid off for Putin
Why are Aleppo's children so badly affected?
Video Aleppo: Syria's key battleground
Syria's lost generation of children