World War 1 and American Art
The first major exhibition devoted to exploring the way in which American artists reacted to the First World War
Exhibition Info – Location: Fisher Brocks Gallery, Samuel M.V. Hamilton Building

PAFA – Pennsylvania Academy of the Fine Arts is free every Sunday during World War I and American Art courtesy of the Presenting Sponsors, Exelon Foundation and PECO.
Coinciding with the centenary of America's involvement with the war, World War I and American Art will be the first major exhibition devoted to exploring the ways in which American artists responded to the First World War.
The first major museum exhibition to revisit this unprecedented global event through the eyes of American artists, World War I and American Art will transform the current understanding of art made during the war and in its wake. The war's impact on art and culture was enormous, as nearly all of the era's major American artists interpreted their experiences, opinions and perceptions of the conflict through their work.
World War I and American Art is organized around eight themes: Prelude: The Threat of War; Hartley and Hassam: Tenuous Neutrality; Debating the War; Mobilization; Modernists and the War; Battlefields; The Wounded and the Healers; and Celebration and Mourning. Arranged to follow the narrative of the war itself, the exhibition will show how artists chronicled their experiences of the unfolding war as it crept closer to home and then involved them directly as soldiers, relief workers, political dissenters, and official war artists.
The exhibition includes numerous high-profile loans, among them John Singer Sargent's monumental painting Gassed from the Imperial War Museums in London. This painting, which has not been seen in the United States since 1999, was part of a commission to demonstrate British-American cooperation during the war.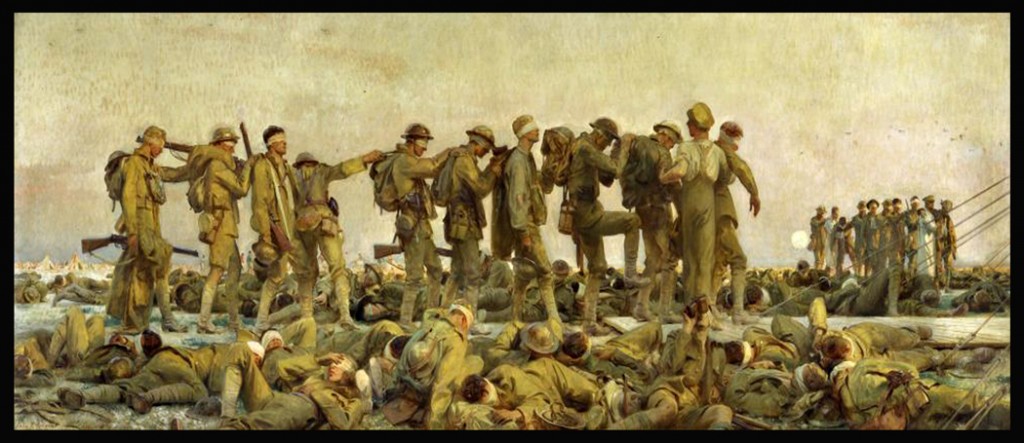 Gassed by John Singer Sargent, 1919, oil on canvas, 90 1/2 x 240 inches.  Courtesy of the Imperial War Museums, London
Gassed is based on a haunting scene the artist witnessed at an evacuation checkpoint—rows of British soldiers, their heads wrapped in gauze to protect eyes temporarily blinded by mustard gas, being led by orderlies to a dressing station. The painting, widely regarded as Sargent's late masterpiece, conveys the waste and tragedy of conflict and is one of the most disturbing humanistic commentaries on war.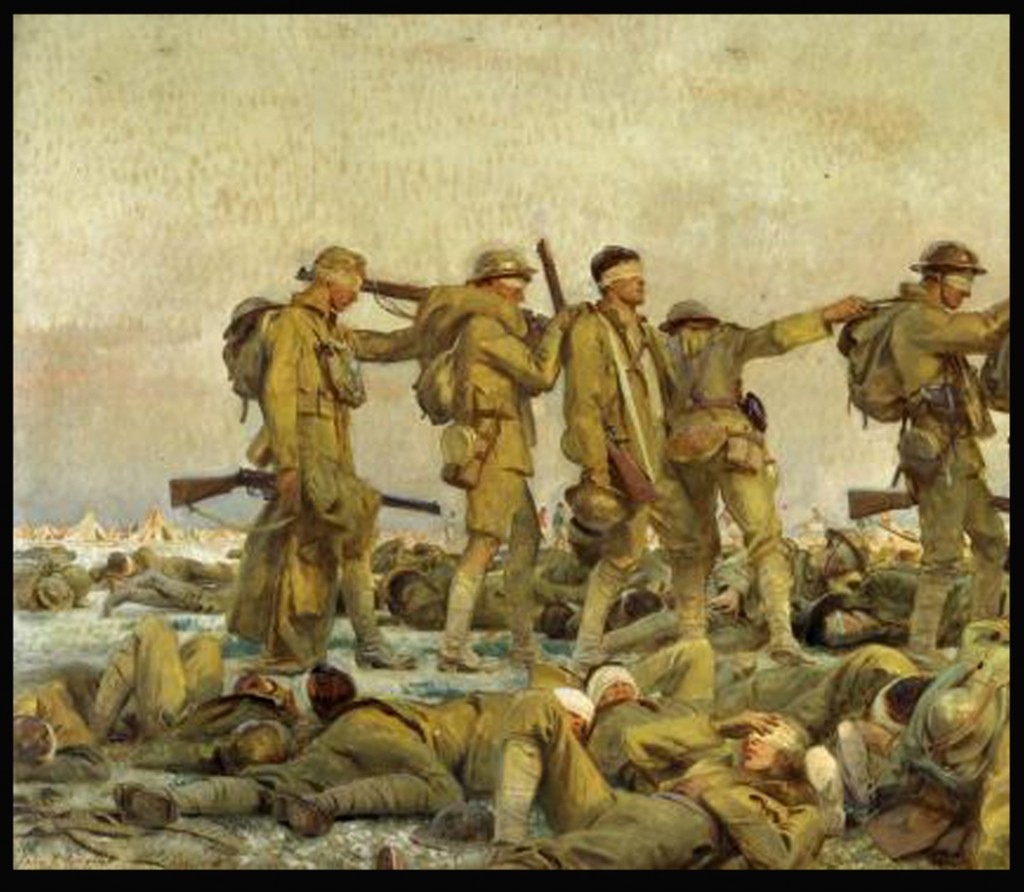 Gassed brings together many of the themes that are essential to the story of the war and this exhibition: differing perspectives on the war and its larger meanings; the camaraderie of soldiers at camp and in the field; the harrowing pain of combat, the dignity of those who sacrifice for their country, and the heartbreaking realities of war, regardless of its justification.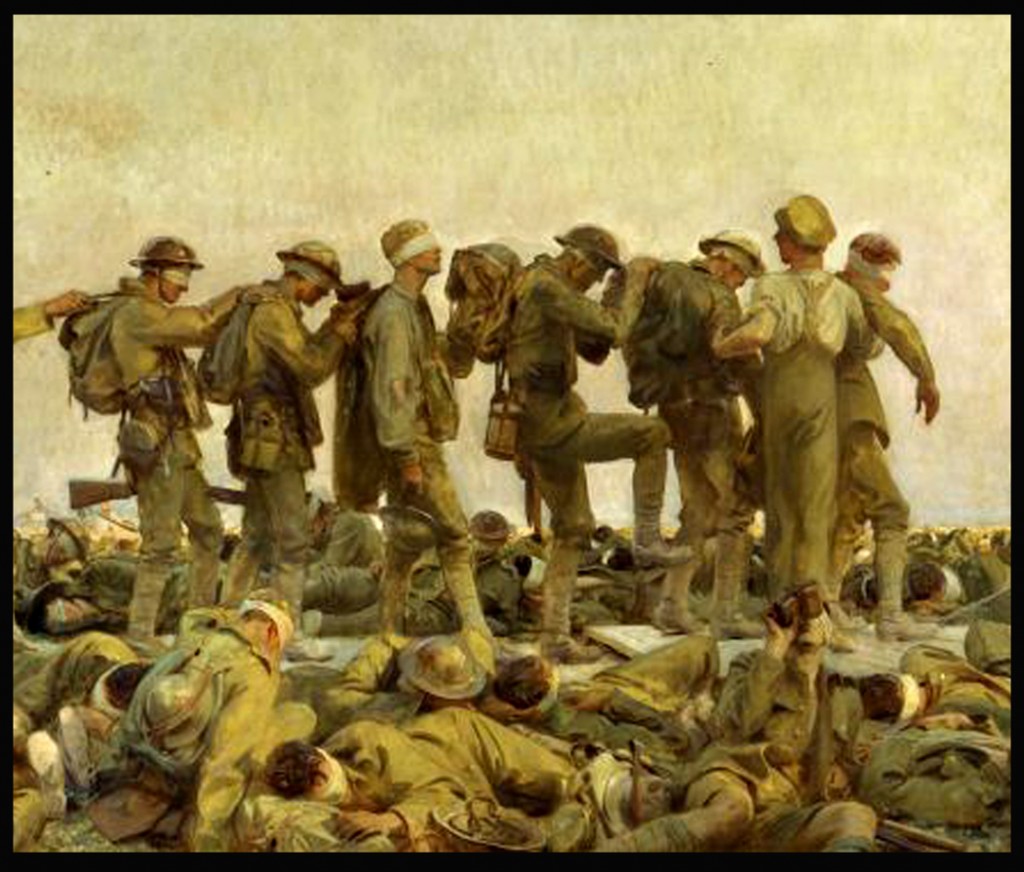 Sargent and his fellow artists had a leading role in chronicling the impact of World War I, crafting images that affected public opinion, supporting the U.S. government's mobilization efforts, and helping to shape the way soldiers were remembered in its wake. Some artists showed the efforts of the Red Cross and other relief workers, or the effect that the war had on women and families on the home front. Others witnessed the devastation brought by the war on cities and on bodies, producing work haunted by the experience. Once the war finally ended, artists produced major paintings that commemorated Armistice celebrations or memorialized its human toll.
 John Singer Sargent, Gassed, 1919, oil on canvas, 90 1/2 x 240 inches.  Courtesy of the Imperial War Museums, London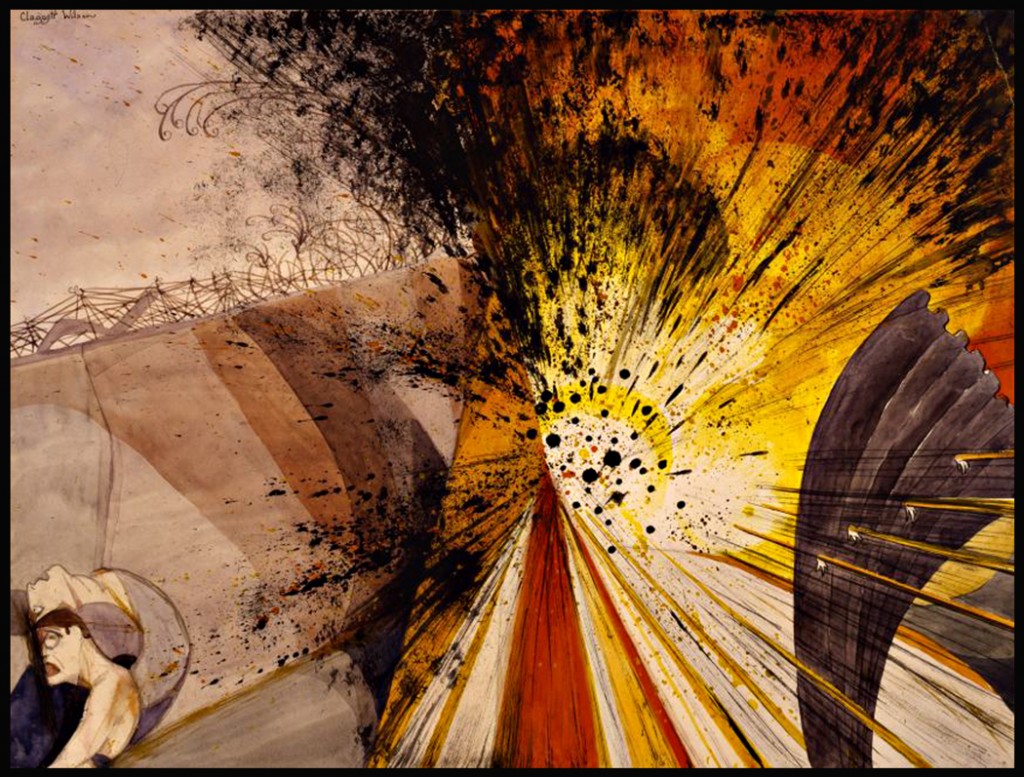 Claggett Wilson Flower of Death-The Bursting of a Heavy Shell-Not as It Looks, but as It Feels and Sounds and Smells, c.  1918-19, watercolor and pencil on paperboard, 17 x 22 7/8 inches  Smithsonian American Art Museum.
 Hugh Henry Breckenridge, The Pestilence, c. 1918, oil on canvas, 65 3/16 x 80 ¼ inches  Pennsylvania Academy of Fine Arts, Gift of the artist, 1928.10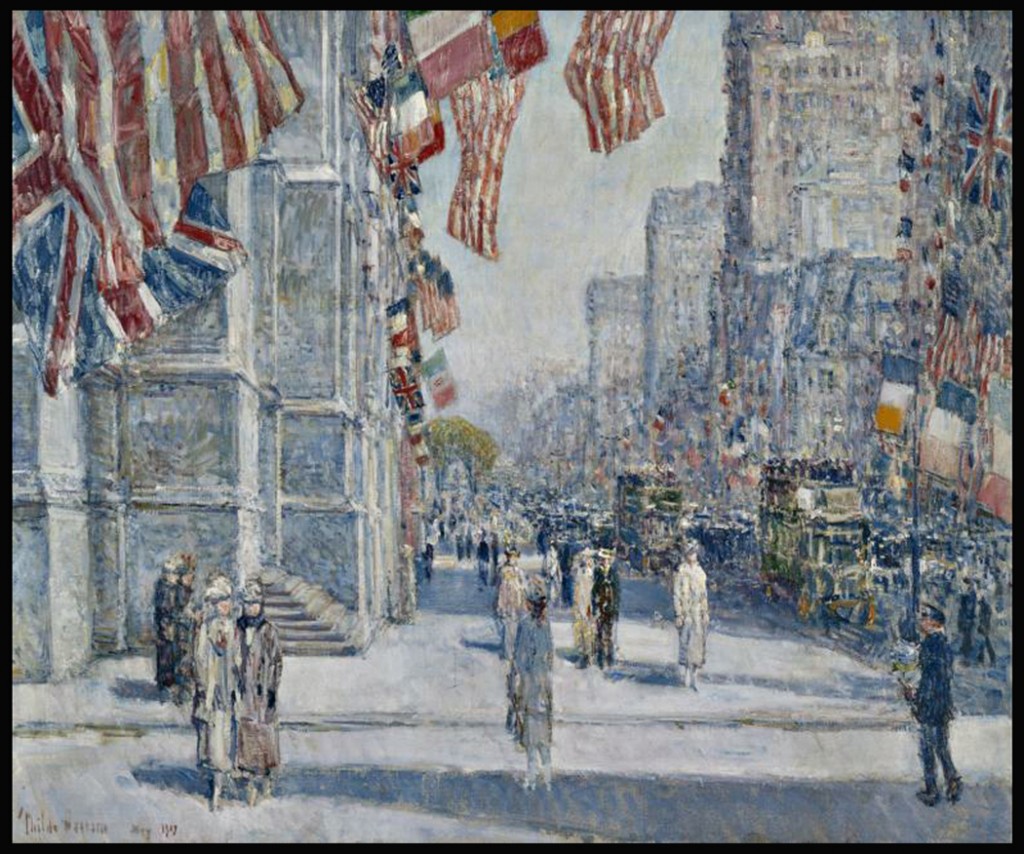 Childe Hassam, Early Morning on the Avenue in May 1917, oil on canvas, 30 1/6 x 36 1/16 inches Addison Gallery of American Art, Phillips Academy.
Kerr Eby, Where Do We Go, c. 1919, lithograph, 18 x 23 inches National Gallery of Art, Washington.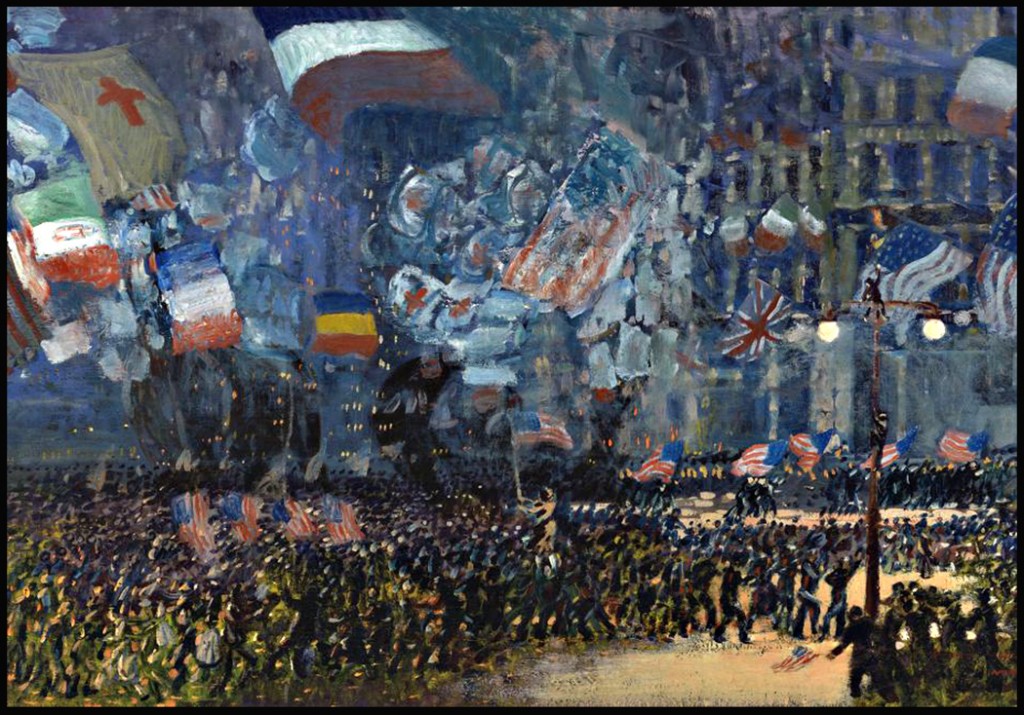 George Benjamin Luks, Armistice Night, 1918, oil on canvas, 37 x 68 2/4 inches Whitney Museum of American Art.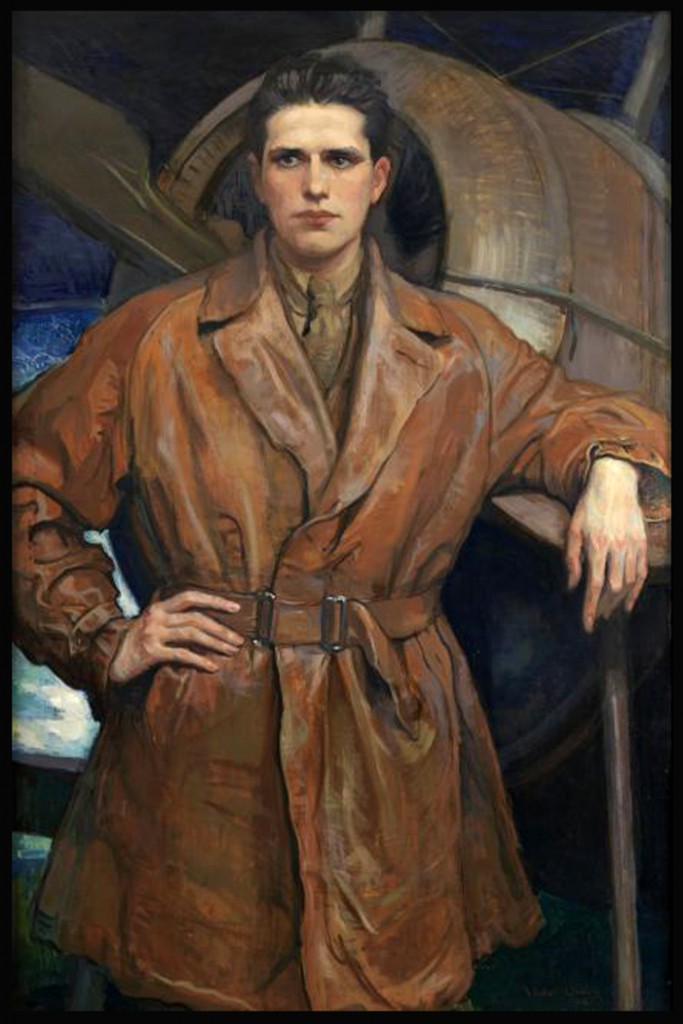 Violet Oakley, Henry Howard Houston Woodward, 1921, oil on canvas, 53 x 35 inches Pennsylvania Academy of the Fine Arts, Gift of Dr. and Mrs. George Woodward, 1924.1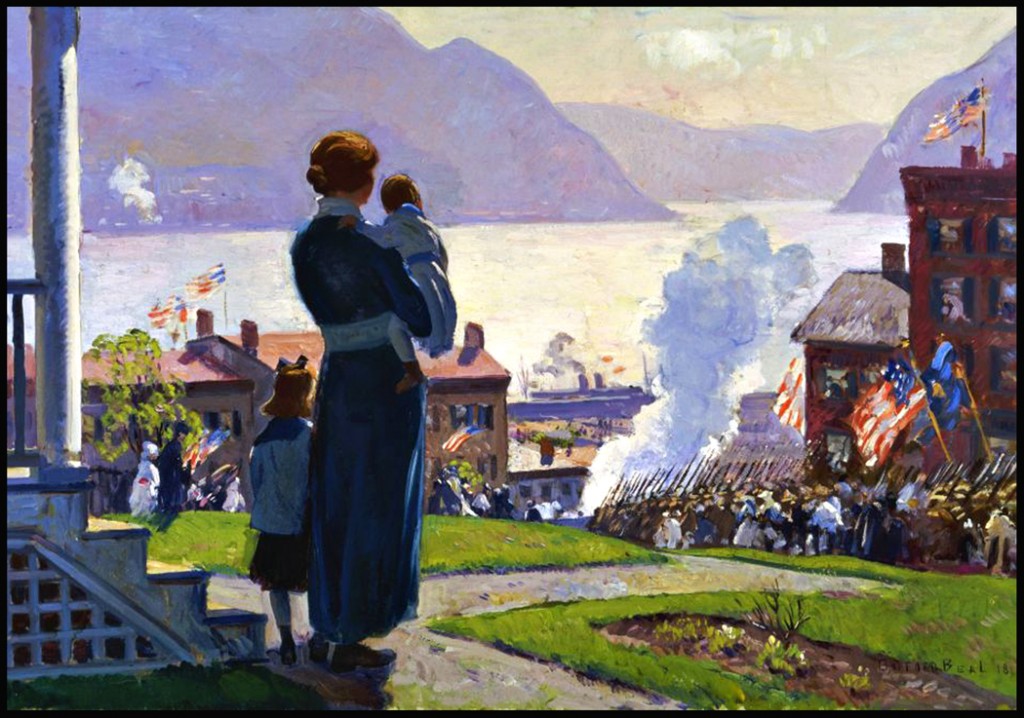 Gifford Beal, On The Hudson at Newburgh, 1918, oil on canvas, 36 x 58 ½ inches The Philips Collection, Estate of Gifford Beal, courtesy of Kraushaar Galleries, New York
World War I also unfolded when modernist art was being digested, adapted, and transformed by the American art world. Images made during the war reveal American artists in transition, using more experimental forms to capture the apocalyptic tenor of the conflict but also drawing on a straightforward realist manner to make the human experience accessible to their audience.
The exhibition features 160 works by 80 artists encompassing a broad variety of stylistic approaches, viewpoints, and experiences through paintings, drawings, sculpture, prints, photographs, posters, and ephemera. A diverse array of both well-known and under-recognized artists is represented including Ivan Albright, George Bellows, Charles Burchfield, John Steuart Curry, Howard Chandler Christy, James Montgomery Flagg, Henry Glintenkamp, Marsden Hartley, Childe Hassam, Carl Hoeckner, Mary Reid Kelley, George Luks, John Marin, Violet Oakley, Georgia O'Keeffe, Joseph Pennell, Jane Peterson, Horace Pippin, Debra Priestly, Man Ray, Boardman Robinson, Norman Rockwell, John Singer Sargent, John Sloan, Edward Steichen, and Claggett Wilson. A small selection of work by contemporary artists who have confronted World War I's legacy in their work will also appear, as well as a Fall 2016 exhibition of work by living military veterans in the Warrior Writers program in Philadelphia.
---
Community Education Programs
Born on the Battlefield: The Red Cross and World War I
February 25th, 2:00 pm (Lecture)
Observe and Create: The Artist Journal: A Scrapbook of Memories
March 8th, 15th, 22nd, 29th, April 5, 11 – 3:30pm (Workshop)
Citizen Artists: World War I and the Creative Economy
March 11th and 12th, (Symposium and tours of special collections)
Observe and Create: Stamp, Stencil and Paint
March 18th, 11 – 3:00 pm (Workshop)
Family Arts Academy: Positive Postcards 
March 26th, 2:00 pm (Family art workshop)
Shoulder Arms and On Heights All is Peace at International House
March 30th, 7:00 pm (Film Screening)
Observe and Create: Exclamation!
April 8th, 11 – 3:00 pm, (Workshop)
The Process of Creation: Sabin Howard and the National WWI Memorial
April 8th, 2:00 pm (Lecture)
---
Press Coverage
New York Times: World War I – The Quick. The Dead. The Artists.
Washington Post: What Can Artists Do When the World Turns Ugly?
CBS: Positively Philadelphia: World War I and American Art
The Art Newspaper: The Pennsylvania Academy of the Fine Arts Honors Veterans
The New Criterion Highlights World War I and American Art
Newsworks: John Singer Sargent Painting on the Horrors of War Coming to Philly
Philadelphia Inquirer: Epic, 'Harrowing' Painting of War Travels to PAFA for Exhibit
Broad Street Review: PAFA's World War I and American Art: How over there looked over here
Beyond PAFA
After the PAFA (Pennsylvania Academy of the Fine Arts) presentation, World War I and American Art will travel to additional venues:
New-York Historical Society
May 26 – September 3, 2017
Frist Center for the Visual Arts
October 6, 2017 – January 21, 2018
For more on PAFA's exhibitions on tour, click here.
Catalog: WORLD WAR I AND AMERICAN ART  (Now available for order)
For more information please visit the following link:
https://www.pafa.org/exhibitions/world-war-i-and-american-art
The total number of military and civilian casualties in World War I was more than 38 million: there were over 17 million deaths and 20 million wounded, ranking it among the deadliest conflicts in human history. The total number of deaths includes about 11 million military personnel and about 7 million civilians.
For more information please visit the following link:
https://en.wikipedia.org/wiki/World_War_I_casualties