Photograph by Ing-On Vibulbhan-Watts
I went to Thailand to visit my family for two months, from July and August 2017.  I did not visit home since 2006.  I was glad to see my family.  I enjoyed seeing all new development in Bangkok and loved eating authentic Thai food, especially Thai fruits.
I had a chance to visit my home town, Lopburi, where I was raised when I was young, before we moved to Bangkok.  I traveled to Ayutthaya to see the ruins of temples that were burned by Burmese soldiers, when the Burmese wanted to take over Thailand, The Burmese–Siamese War (1765–1767).  Ayutthaya was one of the former capitals of Thailand before moved to, Thonburi and then Bangkok.  I also traveled to, Chiang Mai, located in the Northern part of Thailand.  Chiang Mai is the second largest and second most popular city of Thailand.
John, my husband came to Thailand in August.  He joined me traveling to different part of Thailand.  I had a good time taking videos and photographs wherever I traveled around Bangkok and other part of Thailand.  I hope the viewers of my website will enjoy the photographs that I present in these projects.
Ing-On Vibulbhan-Watts, Thursday, October 26, 2017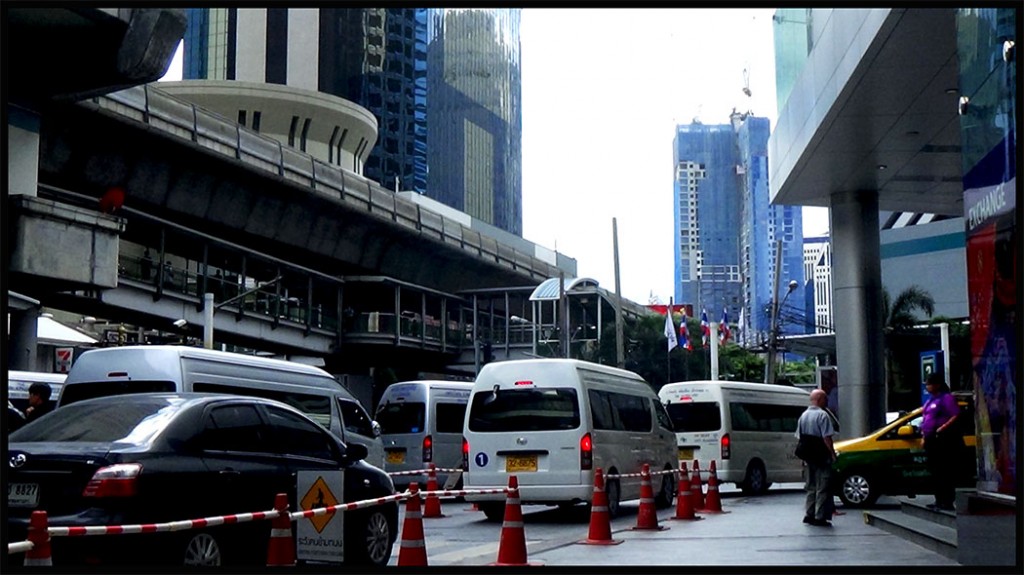 We went for a short walk to the end area of Sukhumvit Road near Erawan Shrine, Bangkok, Thailand on August 24,2017
Photograph by Ing-On Vibulbhan-Watts
"Sukhumvit is an exclusive district in Bangkok. It is home to fancy apartments, villas, restaurants, bars and clubs. Popular among foreign visitors and expats, it becomes more and more a Thai residential neighbourhood as you follow the road southeast. Khlong Toei is also dealt with here, which, by contrast, is one of the poorest neighbourhoods of Bangkok.
Sukhumvit Road is not only one of the longest boulevards in Thailand, but one of the longest boulevards in the world. Towards the west end it changes name to Phloen Chit Road and Rama I Road as it enters the Siam Square area, but to the east it runs most of the way to the Cambodian border. The sois are numbered from west to east, with odd numbers north and even numbers south of Sukhumvit Road. The sois on the north and south sides of Sukhumvit don't line up; for example, Soi 33 is opposite Soi 24. Confusing is that these sois also have names of their own (for example, Soi 55 is better known as Soi Thong Lo) and these sois can also have sois of their own (such as Thong Lo Soi 1). "
For more information please visit the following link:
https://wikitravel.org/en/Bangkok/Sukhumvit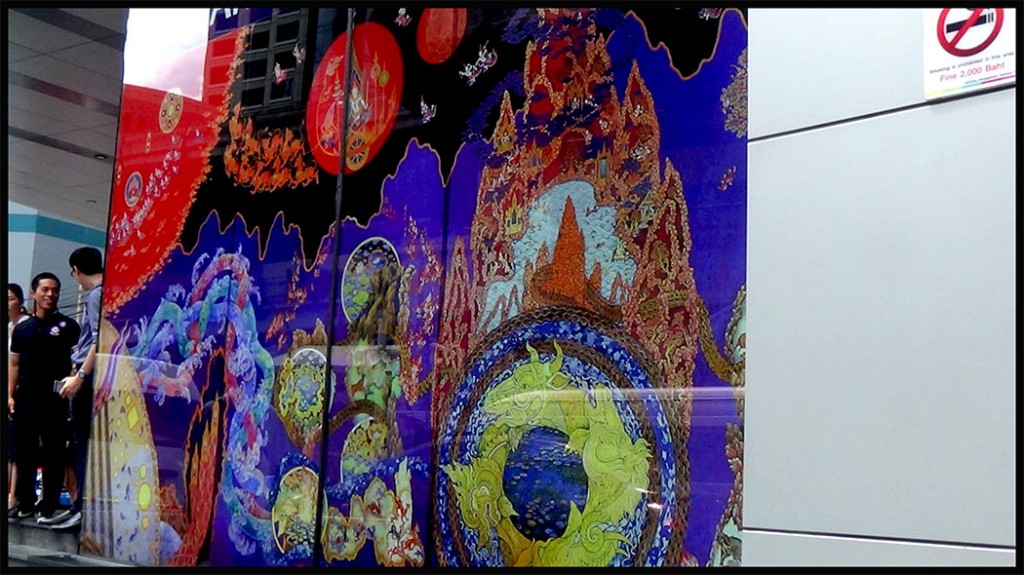 "Looking at the high-rise apartment buildings, the Skytrain and the perennial traffic jam on Sukhumvit Road, it is hard to believe that this area used to consist of rice fields until World War II. After the war, this area became developed with large contemporary villas catering to the upper class. As property values kept rising, developers have been buying more and more land and cashed them in by constructing big apartment high-rises. The construction of the BTS Skytrain in 1999, covering most of Sukhumvit Road, has increased the popularity of this district even more."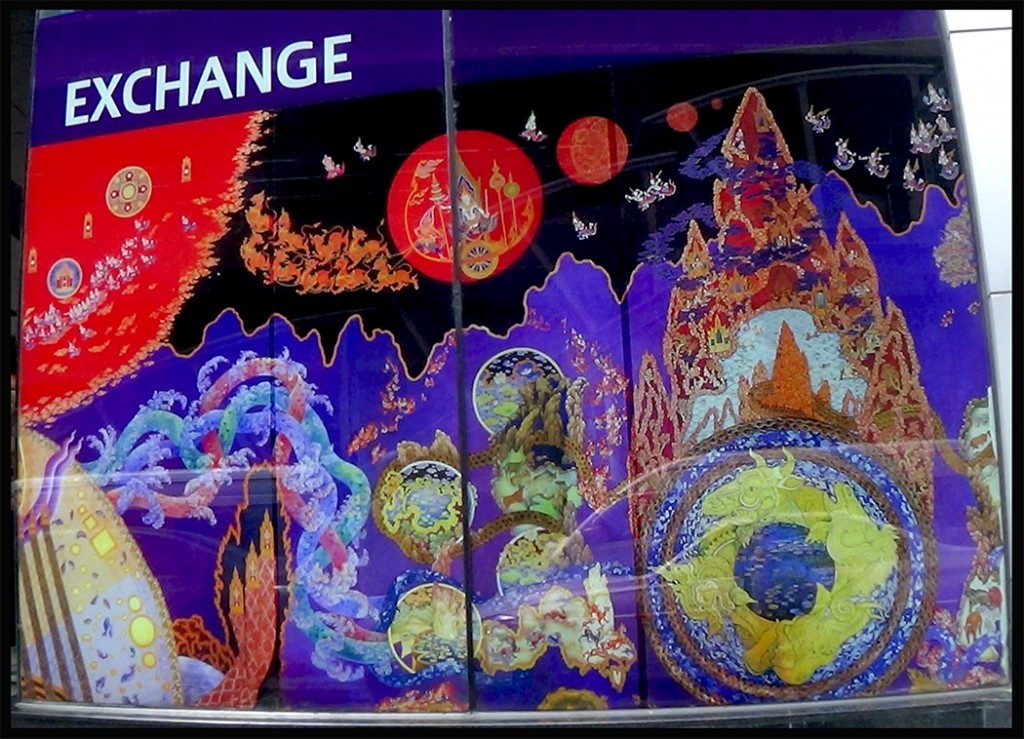 "The lowered-numbered sois (roughly between Soi 1 and 63) are a popular residential area for western expatriates and affluent Thais. It is densely packed with shopping centres, restaurants and hotels. The fleshpots of Nana Entertainment Plaza (in Soi 4) and Soi Cowboy (between Soi 21 and 23) are also in this area, as are plenty of more (and less) salubrious bars. Also, the pavement of Sukhumvit itself has become a huge market carrying everything from luggage to fake Rolex watches, and after midnight they turn into roadside bars and pubs. Sukhumvit offers the best dining in Bangkok, from five-star dining to street stands, the variety of choices and tastes are almost overwhelming. Japanese nationals can be found in the area Soi 21 and upwards, but most tend to congregate around Soi 55. Indians have settled around Soi 12, while Arabs are grouped at Soi 3/1, which informally is known as Soi Arab. After Soi 63, Thais take over again, though this might change when the Skytrain extension is completed in late 2011."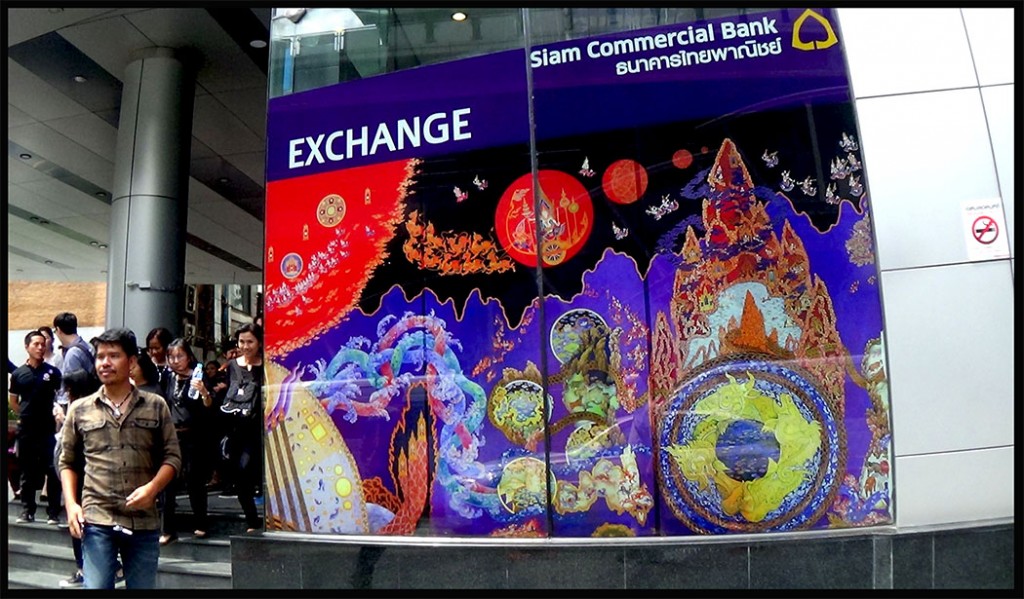 A nice commercial Mural of Siam Commercial Bank on Sukhumvit Road, Bangkok
We went for a short walk to the end area of Sukhumvit Road near Erawan Shrine, Bangkok, Thailand on August 24,2017
Photograph by Ing-On Vibulbhan-Watts
"South of Sukhumvit's sois lies Khlong Toei, which, if recognised at all, foreigners only know for the Khlong Toei Market. Khlong Toei is a borough, a market and a port, all named after the canal that flows through the area. It means "canal of pandan" as that plant used to grow along the southern bank of the canal. A large part of it was filled up to make way for Rama IV Road in 1947. South (and under) the Chalerm Maha Nakhon Expressway are the infamous Khlong Toei slums, generally unexplored by even the most adventurous travellers. At the banks of the Chao Phraya river is the Khlong Toei Port, which has a history dating back to the ninth century, when it connected Bangkok with the cities upstream the river. Since 1981, it has lost most of its economic relevance when the larger Laem Chabang Port near Pattaya took over business."
For more information please visit the following link:
https://wikitravel.org/en/Bangkok/Sukhumvit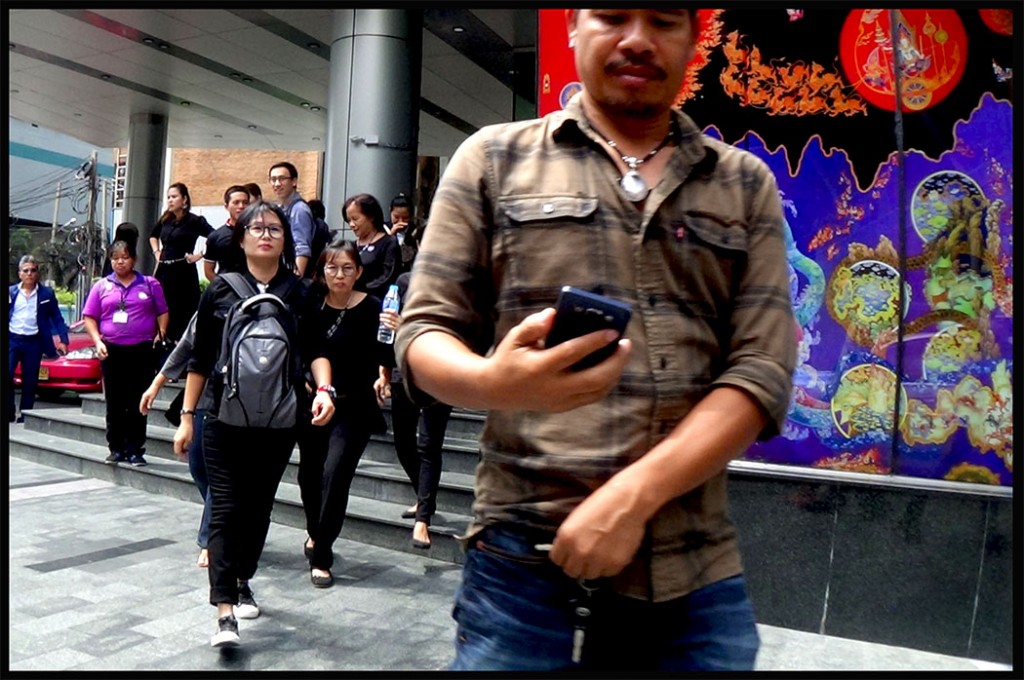 "Museums
Garden at Kamthieng House Museum
Kamthieng House Museum, 131 Sukhumvit Soi 21 (Asoke Rd) (BTS Asok or MRT Sukhumvit), ? +66 2 661-6470?, [1]. Tu-Sa 09:00-17:00. Ban Kamthieng is a 19th-century Thai stilted teak house where you definitely wouldn't expect it: right in the middle of Bangkok's high-rises. It was transported from Chiang Mai in pieces and assembled in Bangkok in 1964 to function as the headquarters of the Siam Society, an organisation that has the goal of preserving the cultural heritage of Thailand. Beside the house itself, on display are traditional tools, arts and crafts used by Lanna farmers and fishermen from northern Thailand in olden times, as well as a large selection of Thai flora in its yard. There is a heavy focus on the cultural heritage of northern Thailand, as that's where the house and most of the tools on display came from. The only downside of the museum is that it's quite small, so don't expect to spend here longer than 30 minutes (or even 15 minutes if you're quick). 100 baht."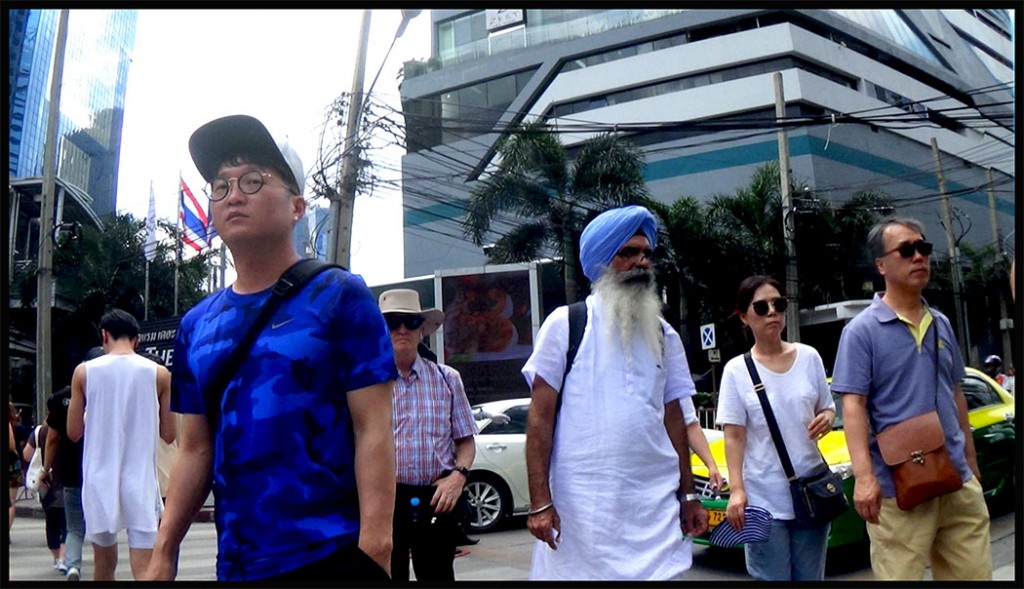 "Museums
Museum of Thai Pharmacy, 40 Sukhumvit Soi 38 (BTS Thong Lo), ? +66 2 391-6243. M-F 10:00-16:00. The museum is on the third floor of the Pharmaceutical Association of Thailand under Royal Patronage Building. It was established to publicise about traditional Thai medicine from past to present, so that later generations would learn and treasure it. The exhibition features various topics, such as the birth of pharmacy, the evolution of oriental pharmacy and basic wisdom, the evolution of western Thai pharmacy and the evolution of herbs and natural products. Make contact in advance if you are visiting with a group. Free."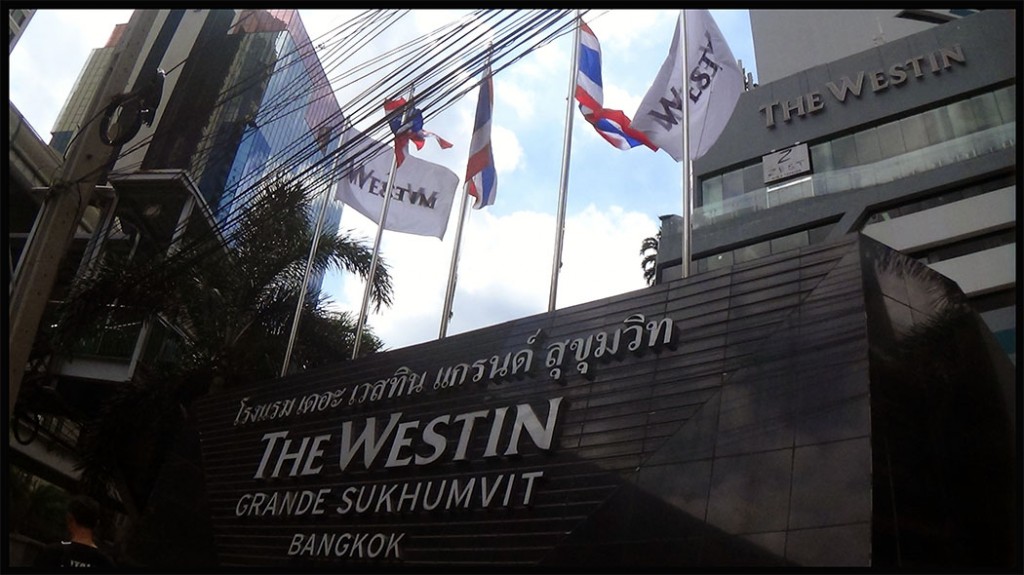 "Museums
National Science Centre for Education, 928 Sukhumvit Rd (BTS Ekkamai), ? +66 2 391-0544, [2]. Tu-Su 08:30-16:30. This is an exhibition centre about the variety of scientific knowledge. Among the attractions are a planetarium, an aquarium as well as a permanent exhibition on sports science, communication technology and natural environments. One-hour shows at the planetarium start at 11:00 and at 14:30 with additional shows on Saturdays and Sundays at 10:00 and 13:30. 20-40 baht."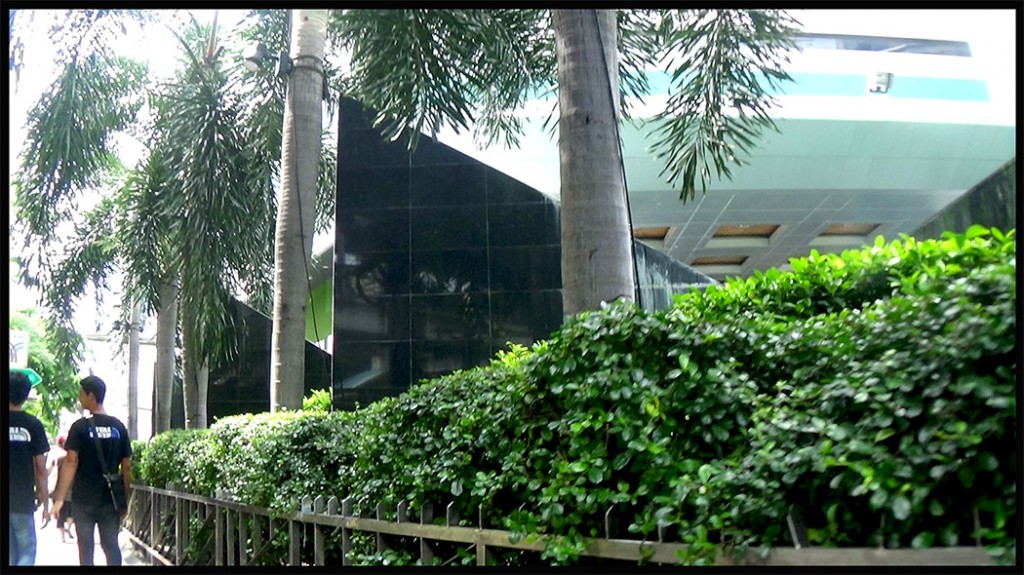 "Museums
Thailand Creative and Design Center, 6F, Emporium, 622 Sukhumvit Rd (BTS Phrom Phong), ? +66 2 664-8448, [3]. Tu-Su 10:30-21:00. There couldn't have been a better place for this design gallery, at the the Emporium, the most fashionable shopping mall of Bangkok. The TCDC, as abbreviation-loving Bangkokians call it, seeks to show and promote Thailand's design innovations. There is a permanent exhibition about the question what design actually is, and how it is influenced by factors like society, history, politics, economics, geography and religion. There is also a temporary exhibition that often changes. If you want to enter the resource centre and the library, you can get a free one-day pass. You can only do this once and you must carry your passport with you. Spend the day reading amazing design books, or just using the internet. If you want to visit the resource centre and library again later, you'll need to pay for a subscription. Free."
"Parks
Benchasiri Park, Sukhumvit Rd (BTS Phrom Phong). 05:00-20:00 daily. This compact park was built to commemorate the 60th birthday of HM Queen Sirikit in 1992. It features a huge sculpture of a commemorative coin illustrating an image of HM Queen Sirikit and 12 pieces of contemporary sculptures including children's works. Free."
"Parks
Benjakiti Park, Ratchadaphisek Rd (MRT Queen Sirikit National Convention Centre). 05:00-20:00 daily. When the Thailand Tobacco Monopoly moved all its factory operations to Chiang Rai in 2008, the lake and some adjoining land that were part of its compound, previously enjoying semi-wild vegetation, were turned into a public park. Many splendid old rain trees were cut down in order to landscape the park, in which young trees were planted instead. Adjoining the Queen Sirikit National Convention Centre, it is a neat park with dedicated cycling and walking paths, fixed exercise equipment and several monuments. Free."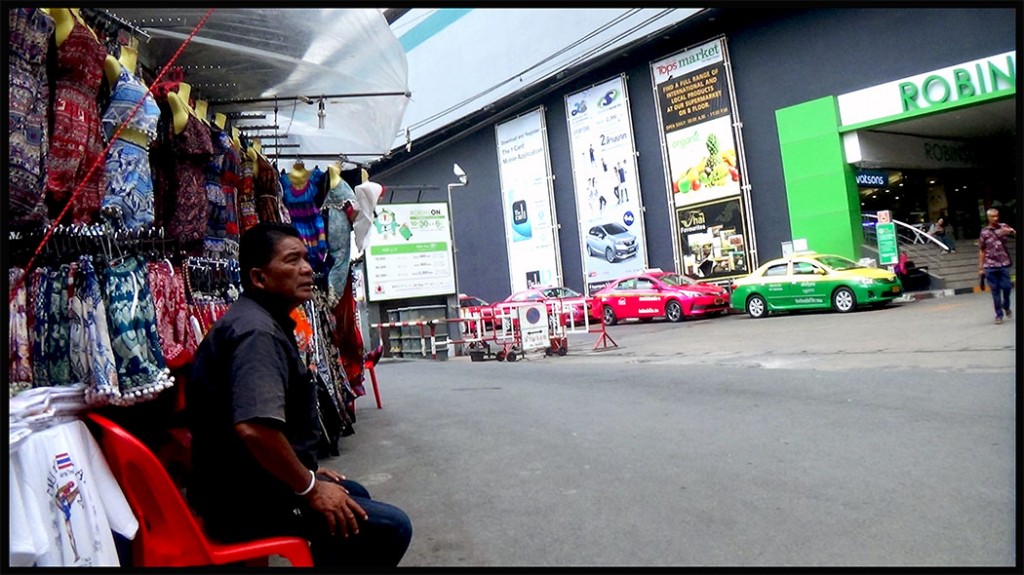 "Eat
There is a huge selection of places to eat in and around Sukhumvit and its side sois, although prices tend to be on the high side by Thai standards. With practically every cuisine in the world represented, this is the place to break your pad thai diet and sample some of the best Japanese, Lebanese or Indian food you will ever eat."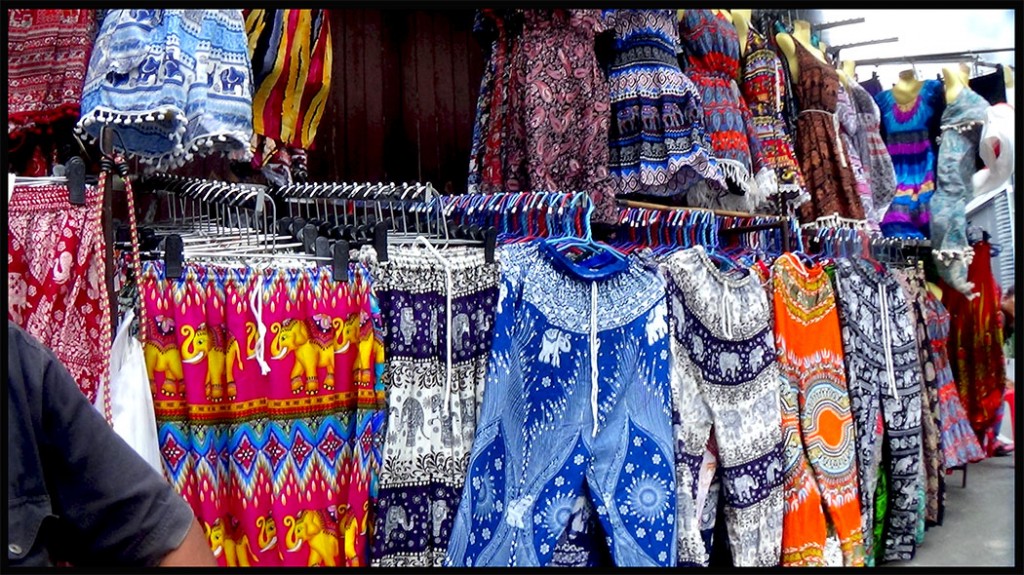 "Café
Cataholic Café, Sukhumvit 39, ? 084 269 7945. Cataholic Café is the café that has many cats (about 8-10 cats) to make you enjoy. Cataholic Café is on New Petchburi Road (Sukhumvit 39), Bangkok. Business Hours Tue-Fri: 12.00 am-9.00 pm Sat-Sun: 11.30 am – 9.00 pm Close every Monday. The restaurant is decorated in warm white color with Japanese style , used furniture like wooden tables and colorful soft cushions. The café area is not very wide. It is a small coffee shop but it has becomes one of the most popular café because of their cats service. Before enter to the cafe, you need to wash your hands with alcohol gel to clean and safety of the cat . The important concept is to make customer feel relaxing by playing with cats while you enjoy the dessert. With free Wi-Fi, you can use your camera to take a photo with cats and sharing to social network."
For more information please visit the following link:                              https://wikitravel.org/en/Bangkok/Sukhumvit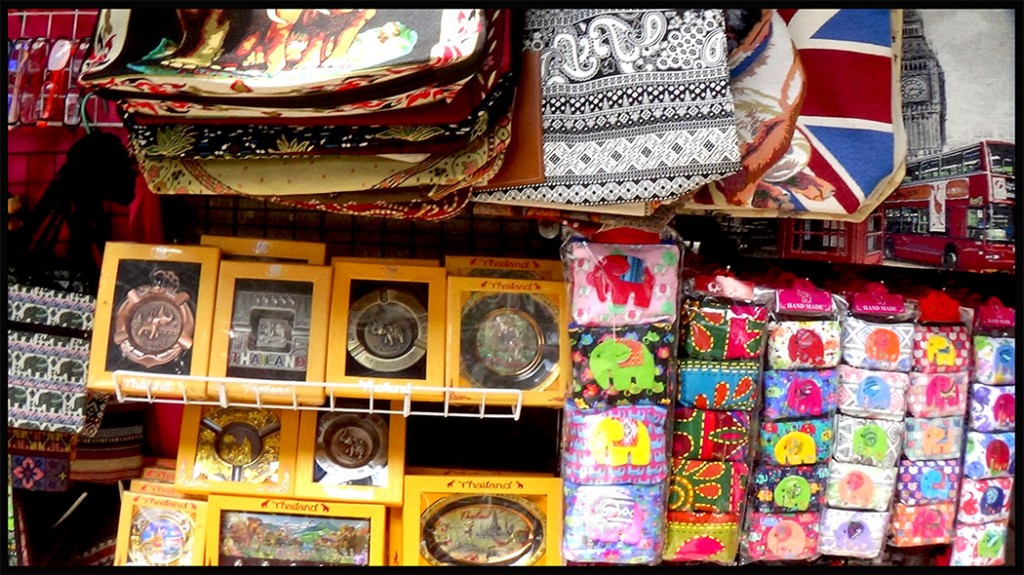 "Café
CityLight Coffee, 21/2 Sukhumvit Road Soi 4 (BTS Nana, Exit #2, left on Soi 4), ? 02-0232071, [27]. Tue-Sat 7:30am to 10:30pm. Comfortable and inviting coffee shop in Nana that uses locally sourced 100% arabica beans, Italian equipment, carrot cake, and freshly baked muffins. Some unique cold creations on the menu like the "Sukhumvit Sling" – a remarkable fizzy limeade mixed with market fresh mint leaves and passion fruit. Wall artwork showcases the Bangkok skyline. Live acoustic music most Friday evenings. drinks 45 to 125 baht."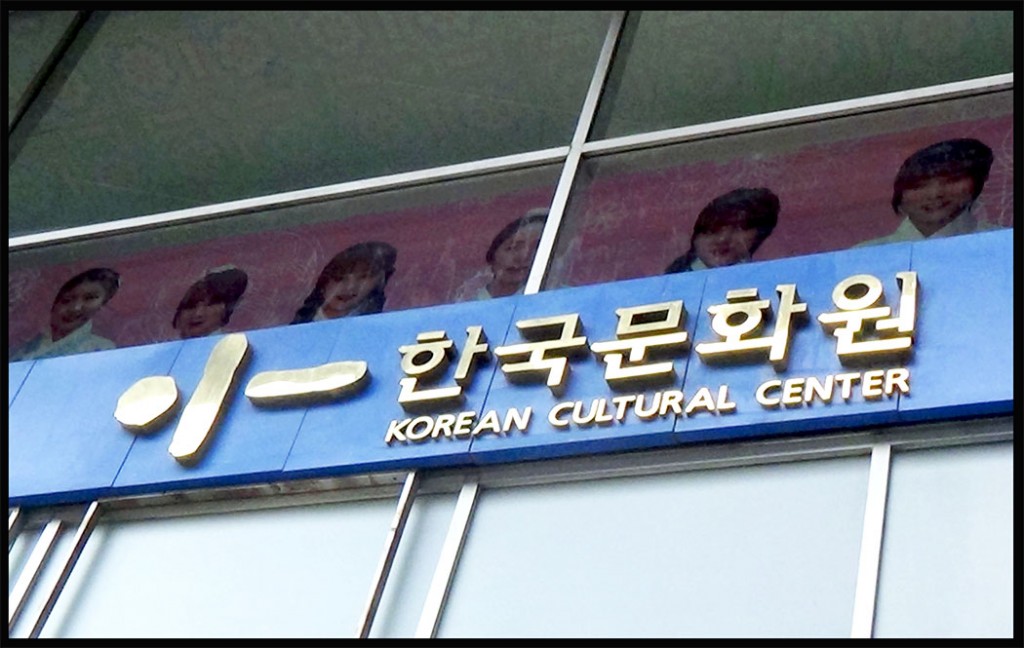 "Budget
While not as much an institution as in Siam Square, the food courts in any mall or department store are a good option if you're trying to survive Sukhumvit on budget and want air-conditioning. Just like in Siam Square, food courts come in many varieties, from basic snack places to more upscale dining. The Emporium Mall, Ploenchit Center and Robinson all have decent food courts (see Buy). Most food courts use some variation of a coupon system; unused coupons are always refunded."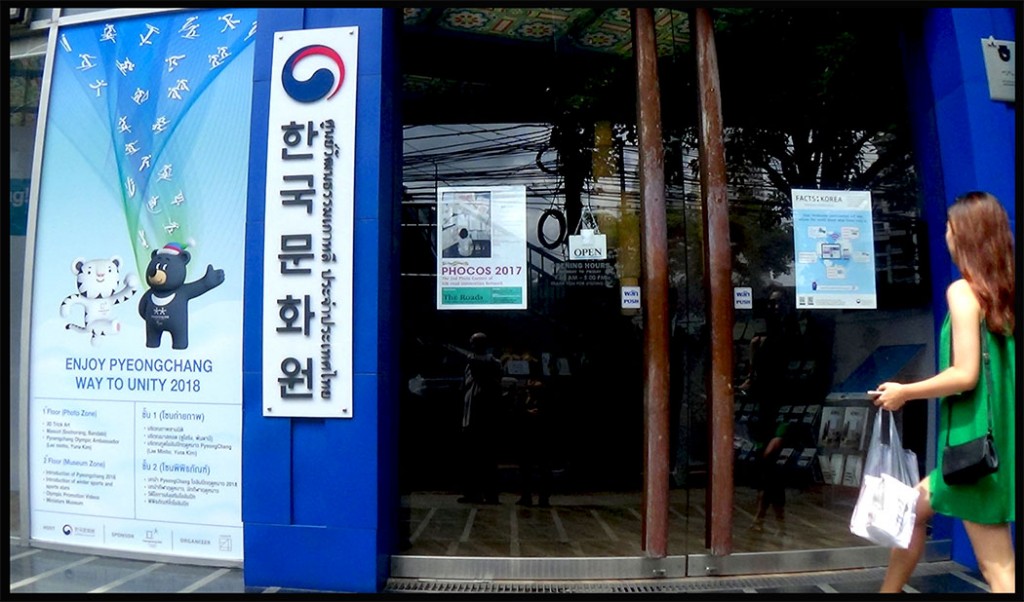 "There are some cheapie sois with excellent street food if you know where to go:
Soi 7 Seafood Market, (BTS Nana). Soi 7 is a good option for seafood. About 30 metres down the soi on the right hand side is a group of Thai seafood restaurants. The sitting area looks shared, but actually only the tables in front of the food stalls belong to that restaurant. So in case you liked the food, remember the name of "your" restaurant. Main courses go for about 150 baht, while a cold beer sets you back 65 baht."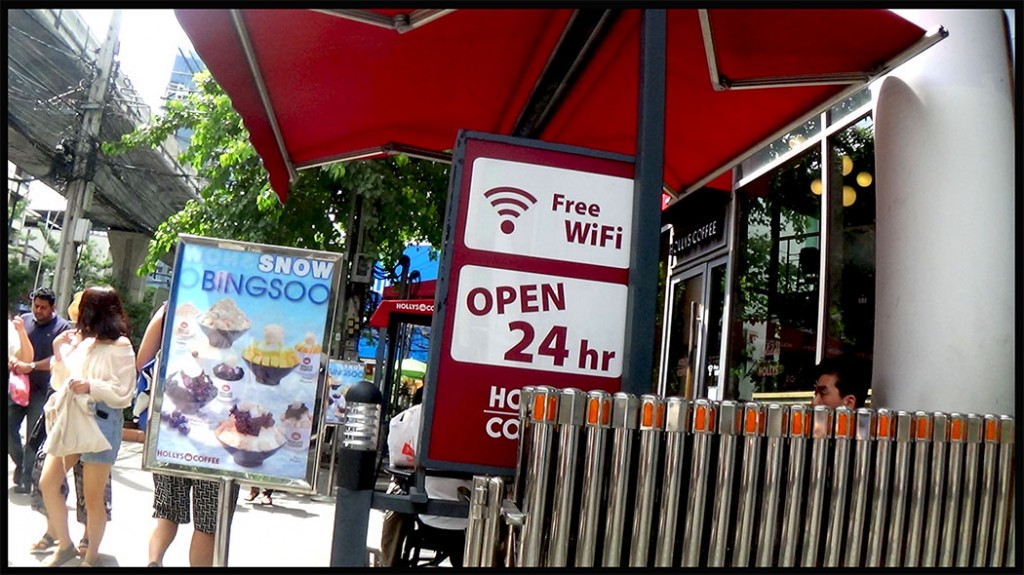 "Talat Na Sukhumvit Soi 1, Sukhumvit Rd (BTS Phloen Chit). Between Soi 1 and Soi 3 is a set of street food stalls with the best one furthest from the street. It is called Oowan Im (literally 'fatty is full'), but is sign-posted in English with just the word "Seafood" on an otherwise Thai sign. Seafood is their specialty — good things to order include the "crispy fish in chili sauce", tom yum soup and any of their Thai salads (such as mixed seafood salad). The Chinese-style fried vegetables are also delicious."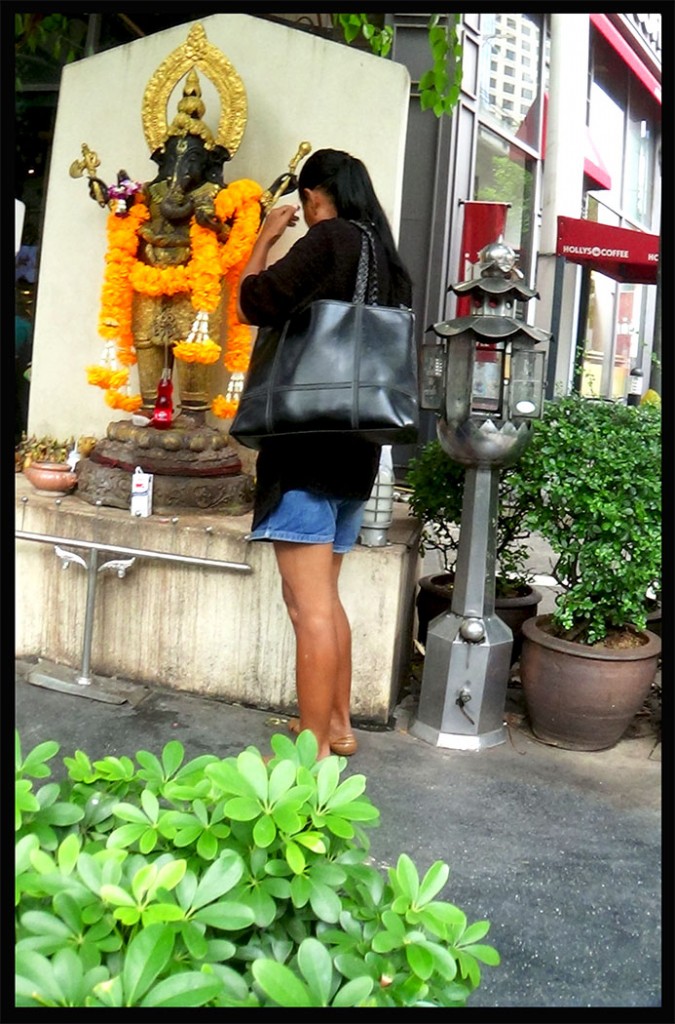 A Mural on Sukhumvit Road, Bangkok
We went for a short walk to the end area of Sukhumvit Road near Erawan Shrine, Bangkok, Thailand on August 24,2017
Photograph by Ing-On Vibulbhan-Watts
"Budget restaurants are generally hard to find, but the following are favorites among Bangkok's large expat population:
Ramen Ichiban, 3/7-9 Sukhumvit Soi 24 (BTS Phrom Phong), ? +66 2 258-6314. An authentically Japanese greasy-spoon noodle joint specializing in ramen soup. A bowl or ramen was 120 baht as of September, 2016. 80-150 baht."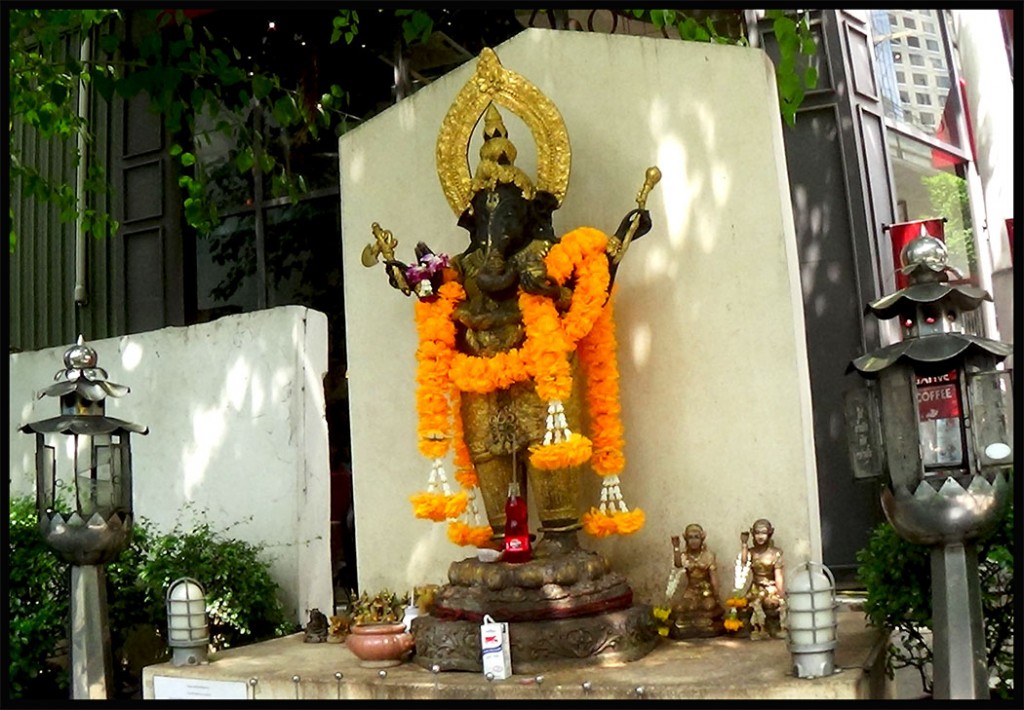 "Took Lae Dee, Nai Lert Bldg, 87 Sukhumvit Soi 5 (Soi 5, up the street ~50 m in the Foodland store), ? +66 2 254-2367, [28]. 24 hours. Took Lae Dae is a Bangkok institution. Imagine a long bar counter, only with chefs and food instead of bartenders and drinks, and a colourful cast of characters thanks to Nana Plaza across the street. The name literally means cheap and good and indeed basic fried rice starts at 40 baht, but the cheap Western dishes, many less than 100 baht, are what makes this place popular. The American breakfast (two eggs, ham, bacon or sausage, fruit juice, toast, coffee) is particularly good value at 47 baht between 06:00-09:00, or 58 baht at any other time. 50-100 baht."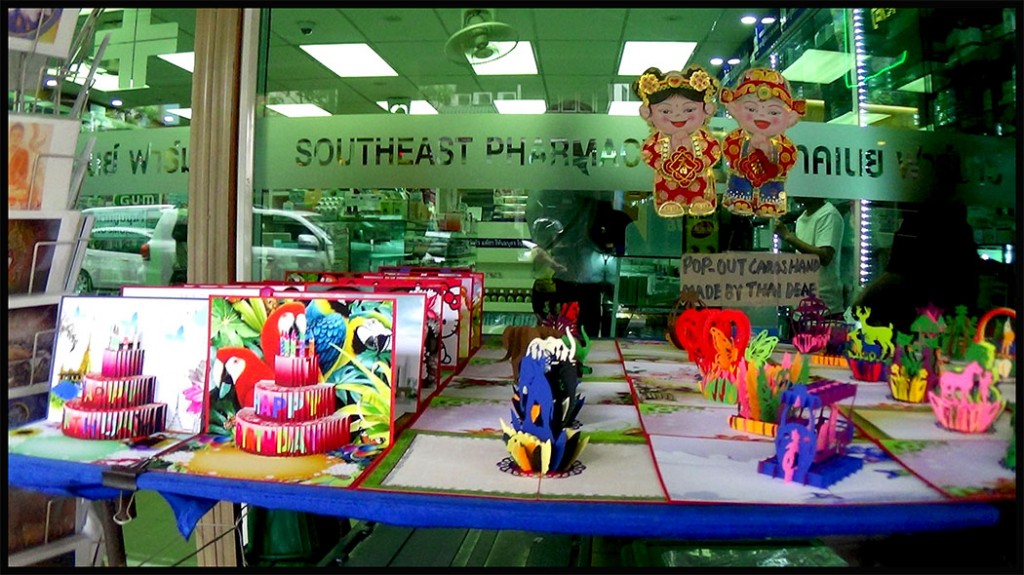 "Mid-range
Fusion
Thai food with a modern twist has become particularly popular the last years. Fusion restaurants are centred around the H1 complex on Sukhumvit Soi 55 (Soi Thong Lo).
Be your Guest' Café, 24 Sukhumvit Soi 53 (BTS Thong Lo exit 1), ? +66 8 1637-9047, [29]. 11:00-18:00 daily. Delicious diverse cooking experience with dishes from all around the world. Soup, salad, sandwich, mains, as well as a selection of typical French, Thai and fusion food are served. The café also provides a large choice of food for take away and delivery. The Villa is also a three-bedroom guest house in a relaxing tropical garden with private pool. 300 baht."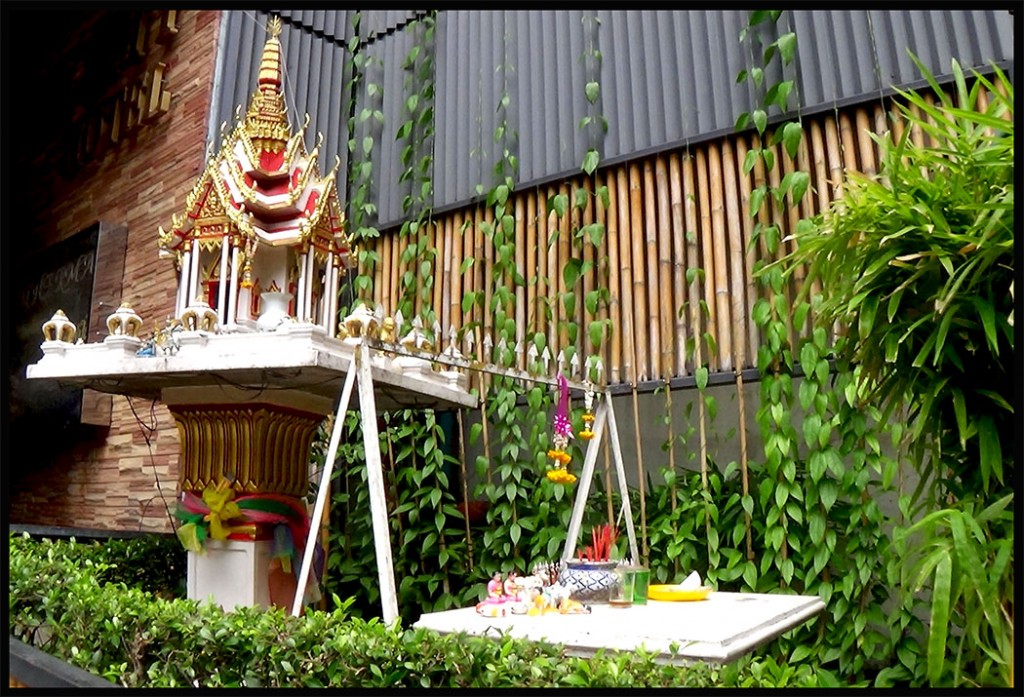 "Greyhound Café, 2F, Emporium, 622 Sukhumvit Rd (BTS Phrom Phong), ? +66 2 255-6964(-5), [30]. 10:00-22:00 daily. An extremely modern restaurant of concrete and brushed steel, offering a fusionesque menu of food ranging from authentic Thai to Italian pasta to Elvis burgers. Mains are around 300 baht, although the lunch sets are cheaper. 300 baht."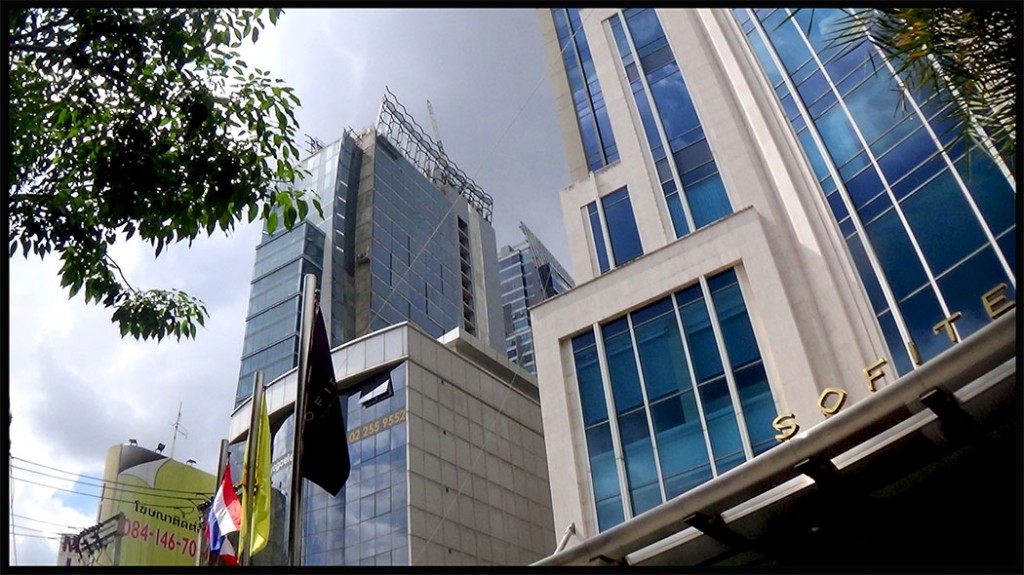 Many high rise commercial buildings on Sukhumvit Road
"Minibar Royale, Citadines Bldg, 37/7 Sukhumvit Soi 23 (BTS Thong Lo), ? +66 2 261-5533, [31]. Su-Th 11:00-00:00, F-Sa 11:00-01:00. If you're looking for a hip New York or Paris-style brasserie, this is definitely the place. The French decor is well done, and service is OK. On the menu are a mix of French and American comfort food. Drink it down with one of their cocktails and you'll have a fun night out. Prices are at the upper mid-range end. 450 baht."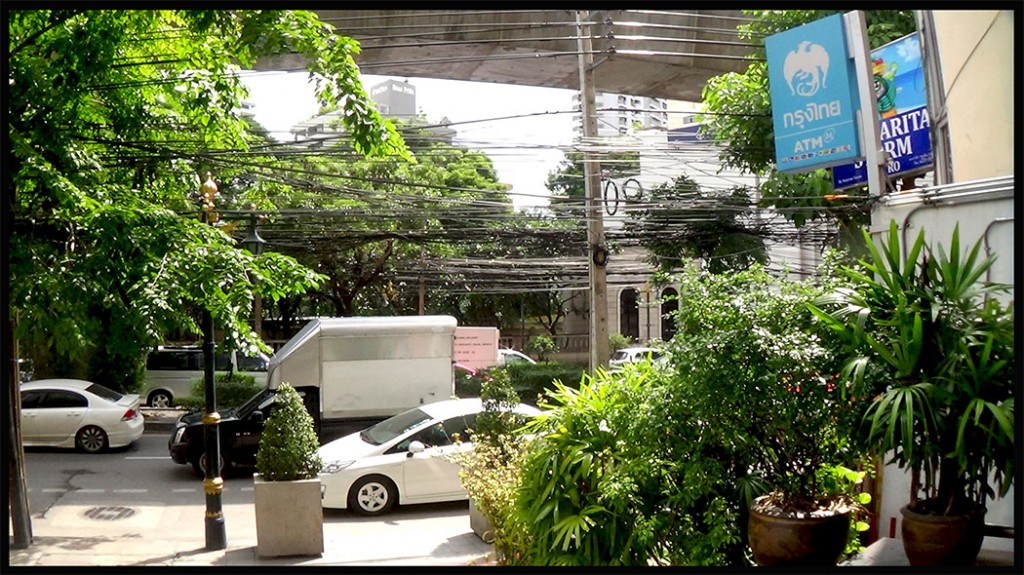 "Thyme Bistro & Martini Bar, 1F, Kingston Suites Bldg, 39/3-7 Sukhumvit Soi 15 (BTS Asok), ? +66 2 120-8288, [32]. 06:30-23:00 daily. A brand new restaurant located in Kingston Suites Bangkok, its dishes could be described as "fusion", as it offers local, international and some popular Mediterranean dishes. The asparagus rolls are recommended, as are the Martinis. 300-400 baht."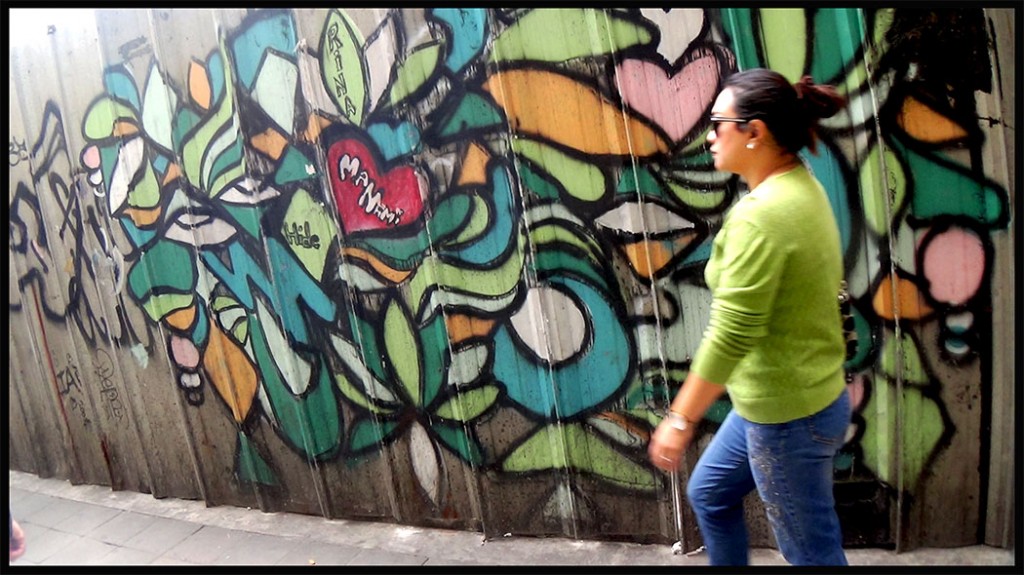 A Mural on Sukhumvit Road, Bangkok
We went for a short walk to the end area of Sukhumvit Road near Erawan Shrine, Bangkok, Thailand on August 24,2017
Photograph by Ing-On Vibulbhan-Watts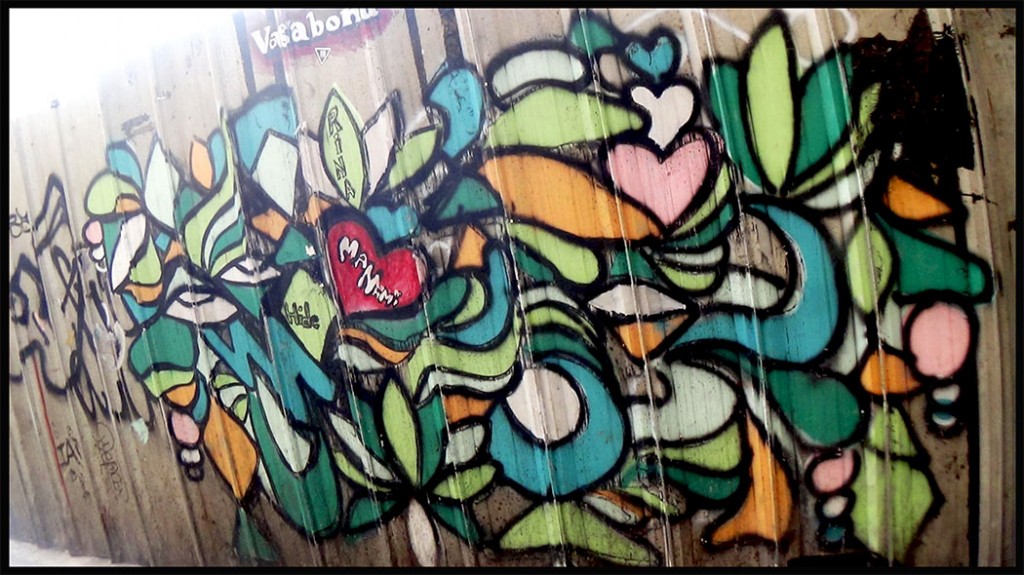 "Thai
+66 2 391-1762, [33]. 15:00-00:00 daily. This is a lovely garden restaurant with palm trees and fountains. Decent food albeit somewhat pricey. Hidden at the rear is the cool and cosy Groove Kitchen club with funky house music. Compared to the crowded clubs of Sukhumvit, this is definitely a change of pace into a more relaxed jungle atmosphere. 300-700 baht."
For more information please visit the following link:
https://wikitravel.org/en/Bangkok/Sukhumvit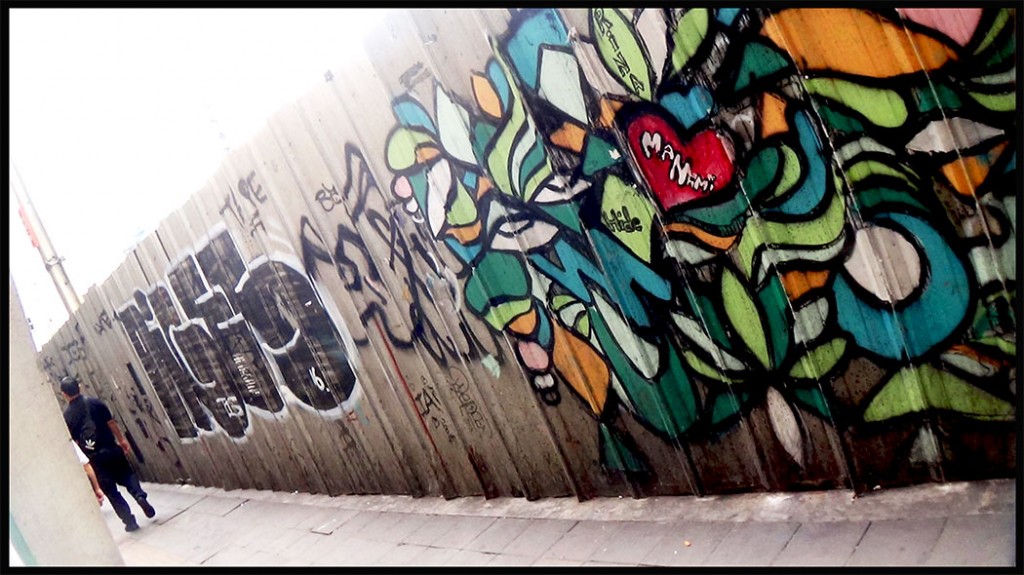 "Cabbages and Condoms, 6 Sukhumvit Soi 12 (BTS Asok), ? +66 2 229-4610, [34]. 11:00-22:00 daily. Run by Thailand's Population and Community Development Association, the odd name refers to the fact that the NGO promotes agricultural production as well as condom use; and no prizes for guessing what you'll get after dinner instead of an after-dinner mint. The food is competent but toned down for the foreign palate. A bit expensive for what you get but it's for an excellent cause. 300 baht."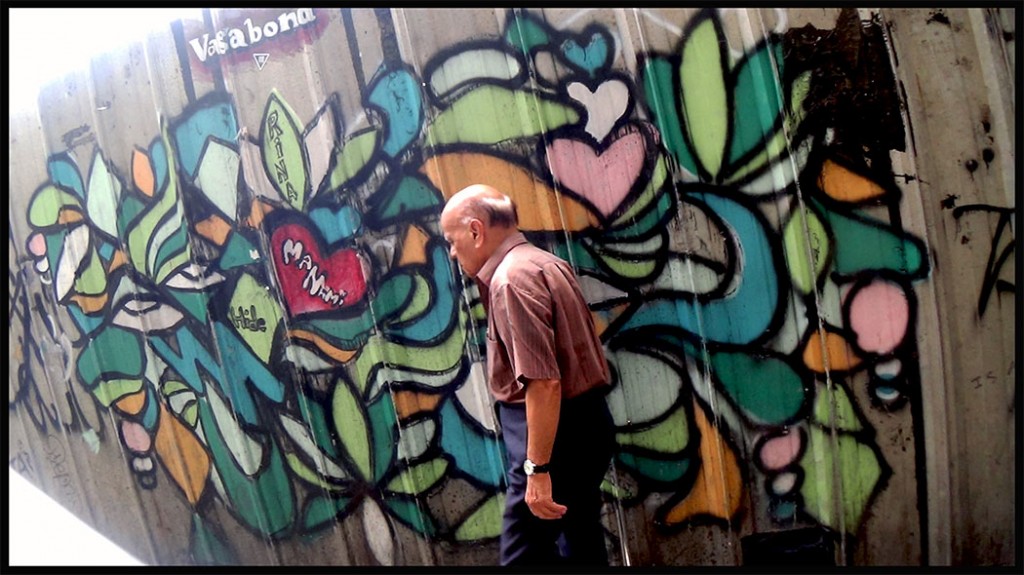 "Check Inn 99 (an Original Bangkok Cabaret Bar), b/w Sois 5 & 7 on Sukhumvit Rd (BTS Nana, tucked away between Soi 5 and 7, look for the white sign with black letters that direct you into a passageway entrance), ? +66 870737989, [35]. 17:00-02:00 daily. Previous reviews said this place was straight out of a James Bond film. However, it's closer to Rick's Café in Casablanca and is quite unique as a no hassles old style cabaret style entetainment venue for both couples and singles. Recently it is enjoying cult style following with locals after a recent management change. Check Inn 99 (previously Checkinn Garden) is an oasis amidst the chaos of the Nana area. Good Western and Thai menu, a friendly and attentive staff, and terrific entertainment every night courtesy of three delightful Philippine singers and a gifted accoustic / backing musician. At 20:45, the music starts – often light and relaxed – but the band then gradually wind up the tempo throughout the evening playing to the audience, but is a great place to relax and spend an evening and one of the few bars where there are no girlie hassles. Although not an Aussie Bar – the band perform the best classic Australian Rock from the 70's-90s you will hear. From Skyhooks,LRB, Aussie Crawl, Cold Chisel, IceHouse to Angels – got to be seen to be believed Happy hour is from 18:00-20:00. The steakhouse style restuarant whilst small is very popular and serves both European and Thai food, the steaks are consistently good. The new style management throw theme parties most Saturdays – so dont be surprised if you come in finding the staff in pajamas or Hawaiian grass skirts. 300-450 Baht no cover charge."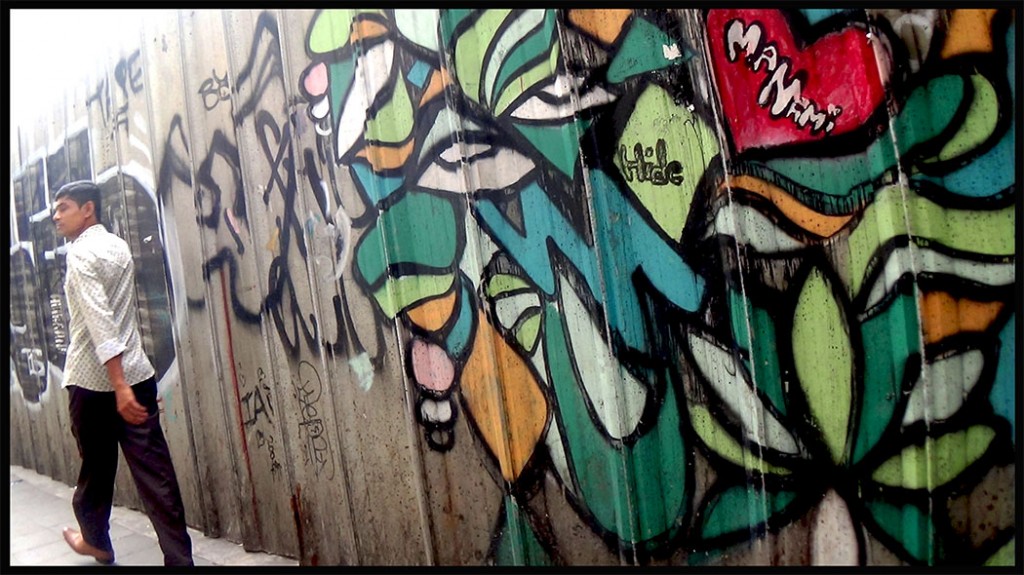 "Kinnaree, 43 Sukhumvit Soi 8 (BTS Nana), ? +66 2 256-0328, [36]. 11:30-15:00, 18:00-00:00 daily. Very nice Thai ambience and decoration, great in the evening. Lounge bar and private rooms upstairs. The different sets of lunch menus are reasonably priced. The food is excellent and includes dishes hard to find elsewhere. Some dishes could be more spicy by Thai standards though. 200-400 baht."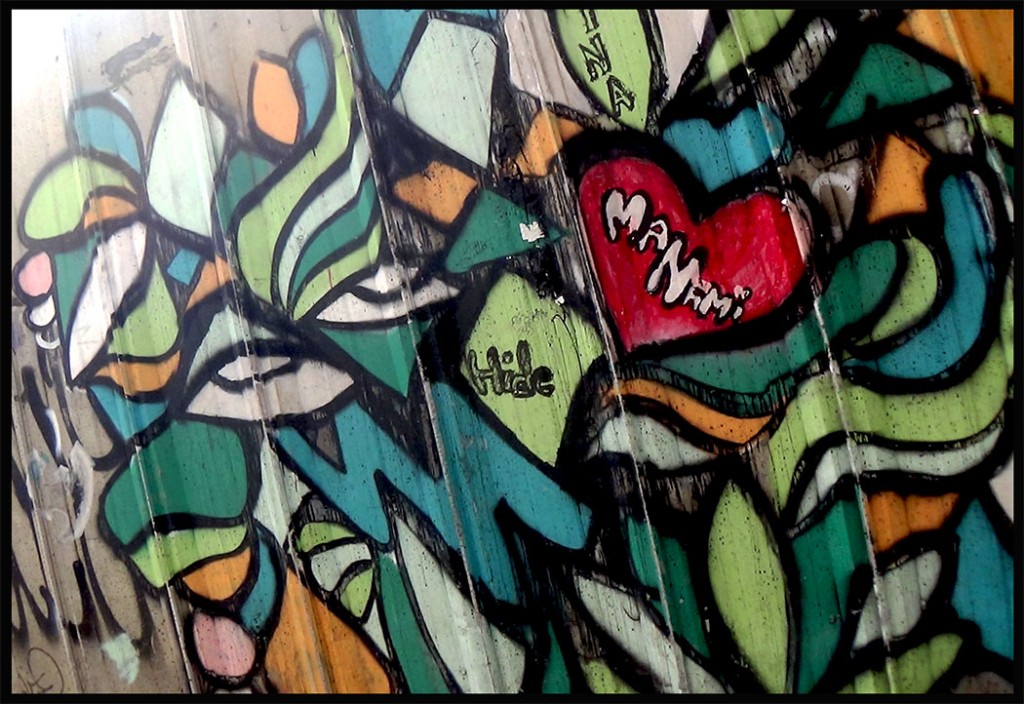 "Lemongrass, 5/1 Sukhumvit Soi 24 (BTS Phrom Phong, opposite the Emporium), ? +66 2 258-8637. 18:00-22:00 daily. This is a very good if slightly expat-oriented Thai restaurant. Located in an old tea house, the ambience is very charming and eclectic. The pomelo salad and tom yam kung  are both excellent. As is usual with popular expat places, the spicyness has been toned down somewhat. Also, the service can be a bit hasty. 350-450 baht."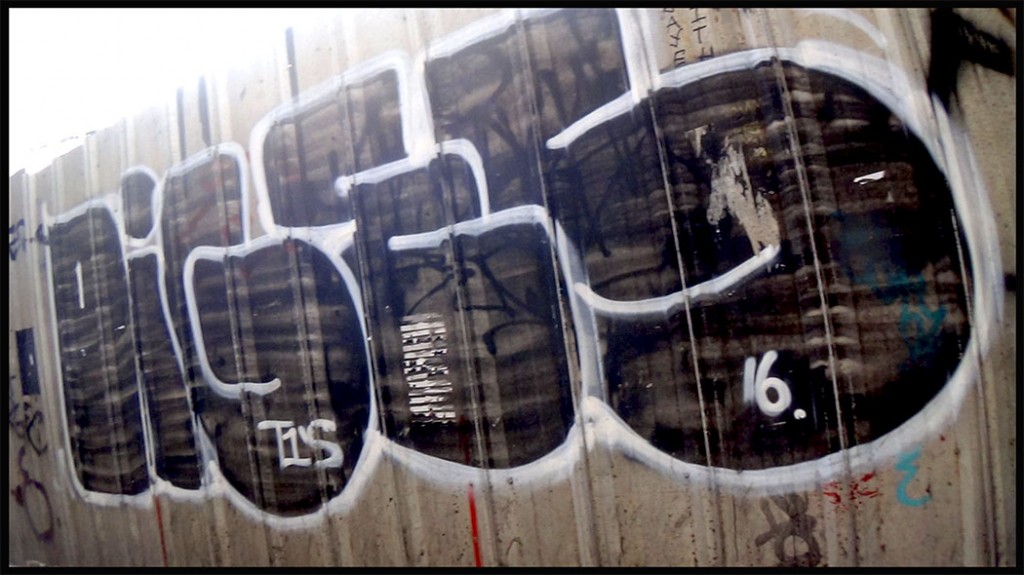 "Ruen Mallika, 189 Sukhumvit Soi 22 (BTS Phrom Phong, a far hike into Soi 22, take a right at the 7-11 and after about 300 metres it is on your right), ? +66 2 663-3211, [37]. 11:00-23:00 daily. A very good restaurant in an "antique" Thai house with a leafy outdoor section. The menu is a huge picture book which should help in ordering. The staff are very friendly and wear traditional Thai outfits to complete the ambience. 450-650 baht."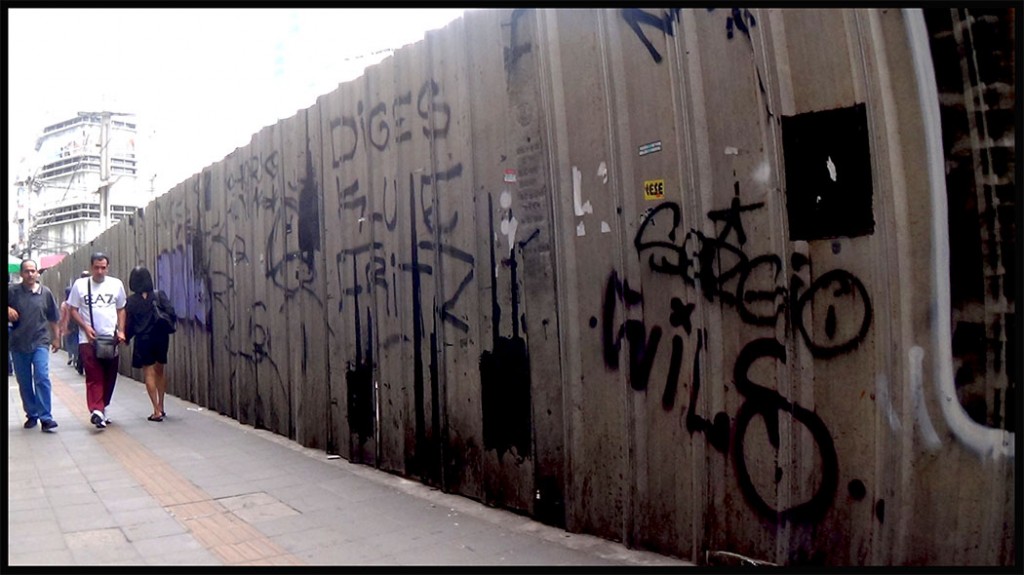 "Horapha Authentic Thai Indian Cuisine, " (BTS Phrom Phong,), ? +66 20456651, [38]. 11:00- 14:00 18:00-23:00 daily. Horapha Authentic Thai Indian Cuisine use authentic Thai and indian ingredients from Thailand, in a range of exquisite dishes served by our charming and attentive Thai staff. The appeal of Thai and indian cuisine lies in fresh flavours and in featuring some dishes that have a kick of chilli. Diners with a more European taste simply need to ask for their favourite dishes with a less spicy flavour – we will be happy to oblige. 70-250 baht."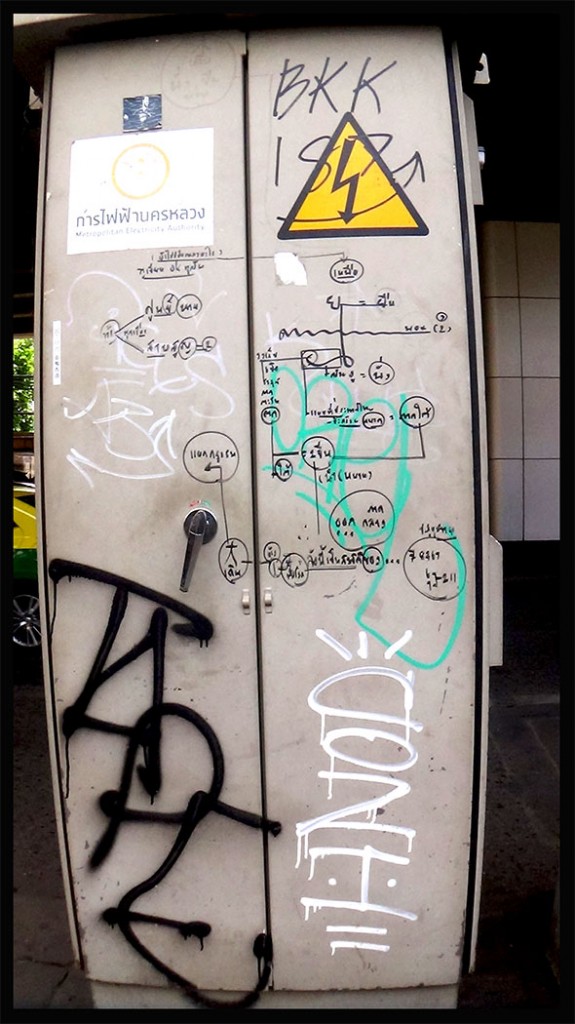 "Asian
Finding your way around the mindblowing variety in Sukhumvit might feel a bit daunting at first. One way to approach the area is to visit its ethnic food neighborhoods. Little Japan is located near Sukhumvit Soi 33 and across the street at Sukhumvit Soi 24, with Phrom Phong BTS station straddling the two. There is also a smaller concentration of Japanese restaurants along Sukhumvit Soi 55 (Soi Thong Lo), notably the Nihonmura ("Japan Village") in Thong Lo Soi 13.
Akiyoshi, 2F, Taksin Square Bldg, 1521/1 Sukhumvit Rd (BTS Phra Khanong), ? +66 2 714-0791. M-F 11:00-14:00, 17:30-22:00, Sa-Su 11:00-22:00. The two must-tries here are the Japanese-style sukiyaki and the shabu shabu. The employees will light up a burning pan on your table and you can just throw in the ingredients yourself. The food is really delicious, and they will serve until you're full. The ambience is best-suited for a group of people. But better make a reservation if you're coming after 18:00, as it's often packed. 400-500 baht."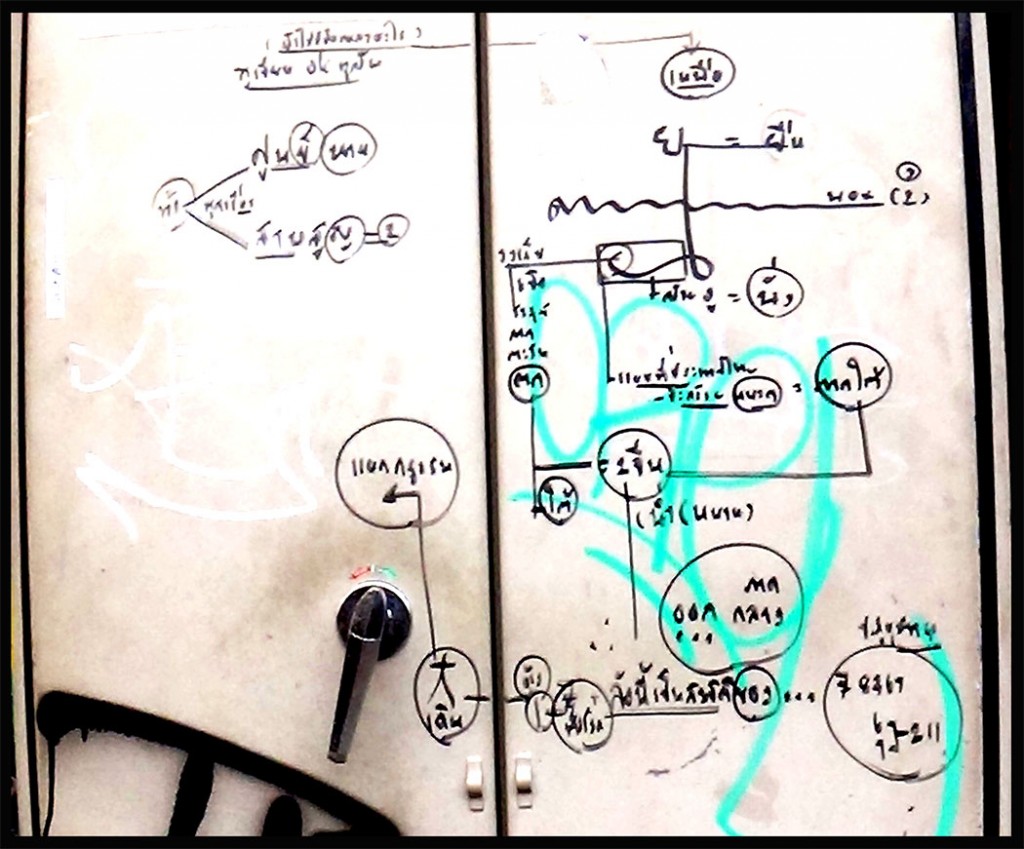 "Grande Teppanyaki and Grande Ramen, 25/17-19 Sukhumvit Soi 55 (BTS Thong Lo), ? +66 2 714-1020. Two small Japanese restaurants facing each other, popular with Thais and Japanese alike. Sub-100 baht lunch menus are particularly good value, but the beef curry with real steak is a deal at any time of the day. 130 baht, subs 80 baht.  edit
Le Dalat, 47/1 Sukhumvit Soi 23 (BTS Asok or MRT Sukhumvit), ? +66 2 258-4192. 11:00-14:30, 18:00-22:00 daily. Two Vietnamese restaurants, two locations about a block apart and across the street from each other. When it's a nice day outside, take a seat in the beautiful tropical garden which is wonderful. The traditional interior You can get lunch for about 250 baht, which is a good value. Service can be rough, be especially wary for the overcharge at the end. 450 baht."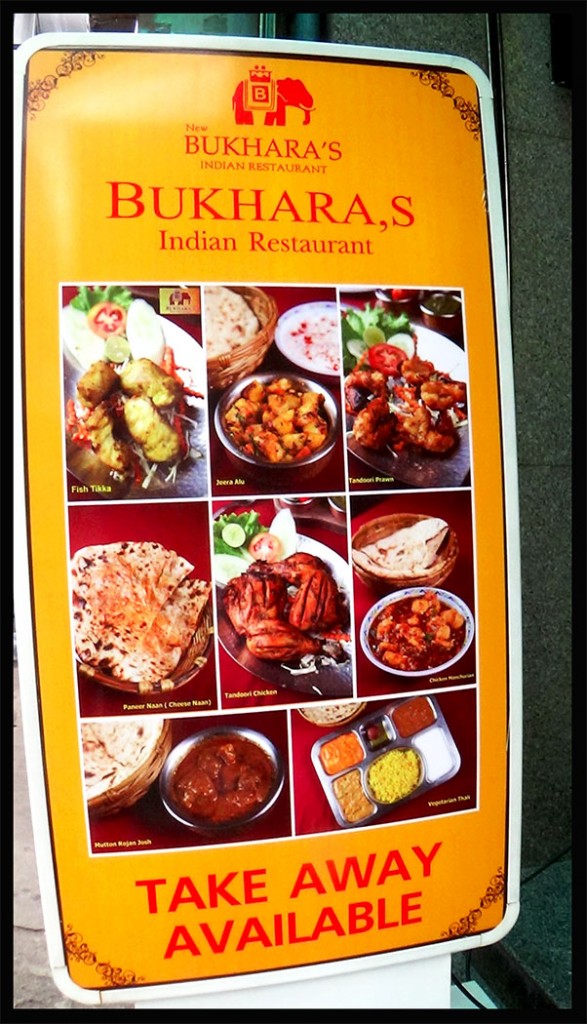 "Nihonmura, 87 Soi Thong Lo 13 (BTS Thong Lo). Nihonmura, commonly known as Japan Village, is a dining complex with about a dozen quality Japanese restaurants. Uomasa (? +66 2 392-6575) is the best joint for sashimi (raw fish). You can order the "Iso" menu, a plate full of sashimi priced at 1,600 baht. It seems expensive, but its similarly priced to the generic Japanese chain restaurants, but the sashimi here is much fresher and of better quality. 350 baht.
Nobu, 414 Sukhumvit Soi 55 (BTS Thong Lo, between Thong Lo Soi 12 and 14), ? +66 2 392-5297, [39]. 11:00-14:00, 18:00-00:00 daily. This is a nice local restaurant. They are very good for lunch with a large selection of Bento (boxed lunch) specials. Getting dinner here is a lot more expensive than lunch. It is focused on fresh seafood and dishes from the Osaka region of Japan. It's always crowded with Japanese expats that live in the area. 300 baht."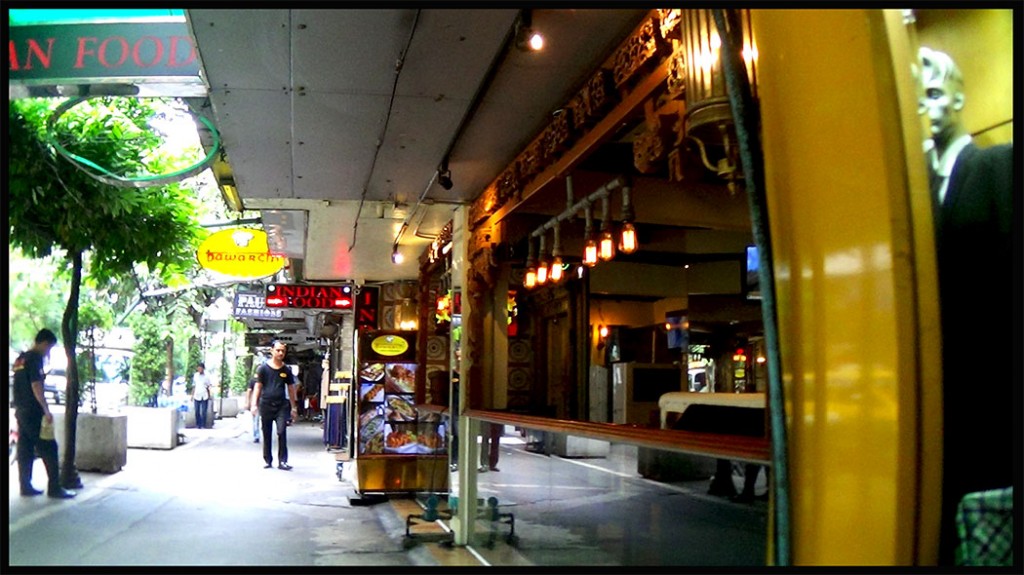 "Sukhumvit Plaza, 212 Sukhumvit Soi 12 (BTS Asok), ? +66 2 255-4178. Korean restaurants can be found scattered throughout Sukhumvit, but a particularly heavy concentration lurks in Korea Town, the informal name of Sukhumvit Plaza. There are about a dozen Korean restaurants on the ground floor of the complex. These are extremely authentic though and you may have a little trouble ordering if not familiar with Korean food. Price-wise they are on the steep side — Arirang (? +66 2 654-0177(-9), [40]) is among the more fairly priced ones. 300-500 baht.
Tenderloins, 9 Sukhumvit Soi 33 (BTS Phrom Phong), ? +66 2 258-4529, [41]. 10:00-01:00 daily. This Australian barbecue restaurant calls itself a "contemporary upmarket sports bar and steak house", and even they have to admit that it is a weird combination. They serve up a good grill, although a bit on the pricey side. Their 250-baht lunch sets might be a better idea. Reserving a table is recommended, especially at weekends. 250-500 baht."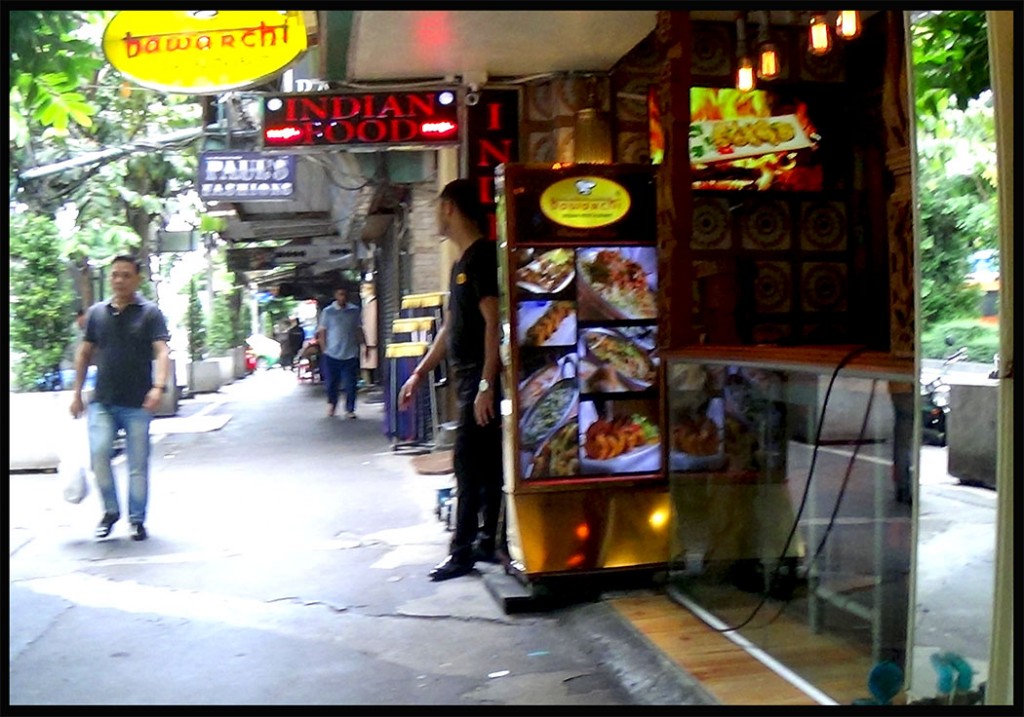 We went for a short walk to the end area of Sukhumvit Road near Erawan Shrine, Bangkok, Thailand on August 24,2017
Photograph by Ing-On Vibulbhan-Watts
"Xuan Mai, 351/3 Sukhumvit Soi 55 (BTS Thong Lo, across the street from Mercedes-Benz Thong Lo), ? +66 2 185-2619, [42]. Tu-Th 11:00-14:00, 17:00-22:00, F-Su 11:00-14:00, 17:00-00:00. Excellent and varied Vietnamese menu, served by the owner, a charming lady who was a former Vietnamese beauty queen and FBI operative before moving to Bangkok to open a restaurant. It has an open kitchen, so you can see the cooking in action. 250-450 baht.
Vientiane Kitchen, 8 Soi Napha Sap Yaek 1, Sukhumvit Soi 36 (BTS Thong Lo, at the corner of Soi 36 and Soi Napha Sap Yaek 1), ? +66 2 258-6171, [43]. 12:00-00:00 daily. This relaxed-looking Lao restaurant serves very good Lao food. It has a nice ambience featuring a band playing music from Laos. 150-300 baht."
For more information please visit the following link:
https://wikitravel.org/en/Bangkok/Sukhumvit