LGBTQ Youths Comment on Ing's Peace Project
LGBTQ Youths Comment on Ing's Peace Project & the Photographs at Military Park on Friday, June 28, 2019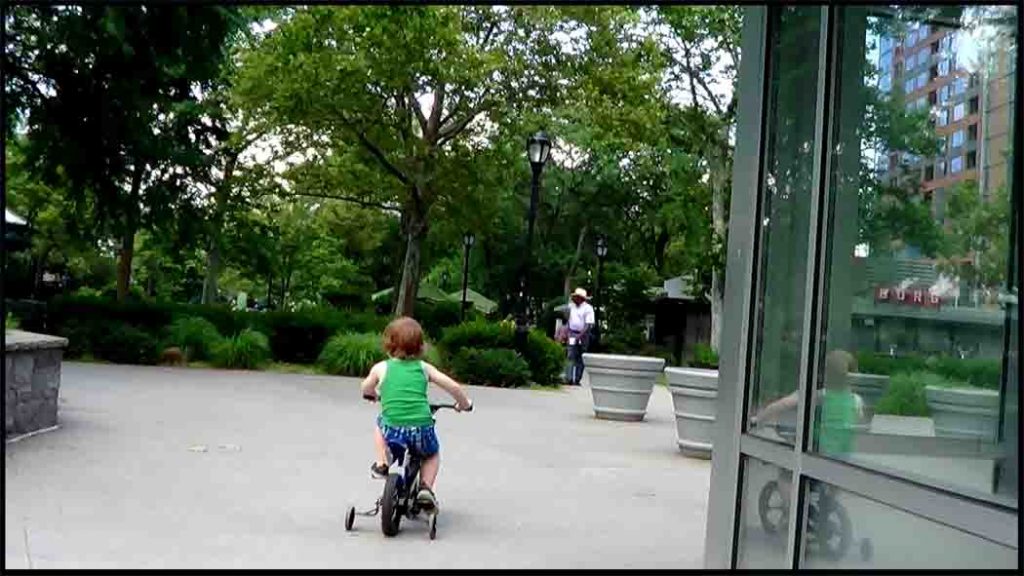 I took my grandson to ride his bicycle in the park on Friday, June 28, 2019, I saw two models, photographers and others. They were taking pictures for the LGBTQ events by Wisetastie Productions. Gmail: wisetastie@gmail.com
Photographs by Ing-On Vibulbhan-Watts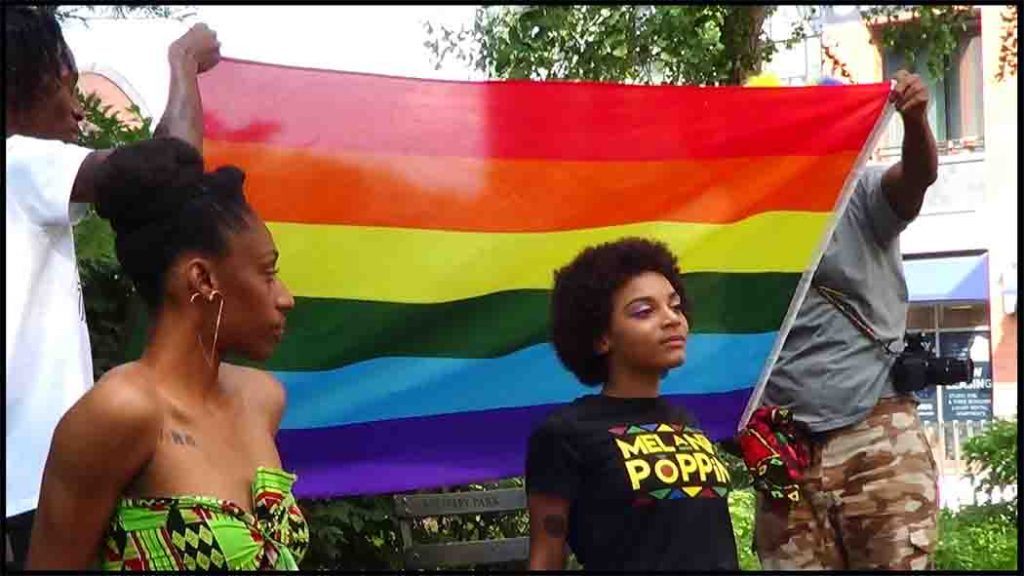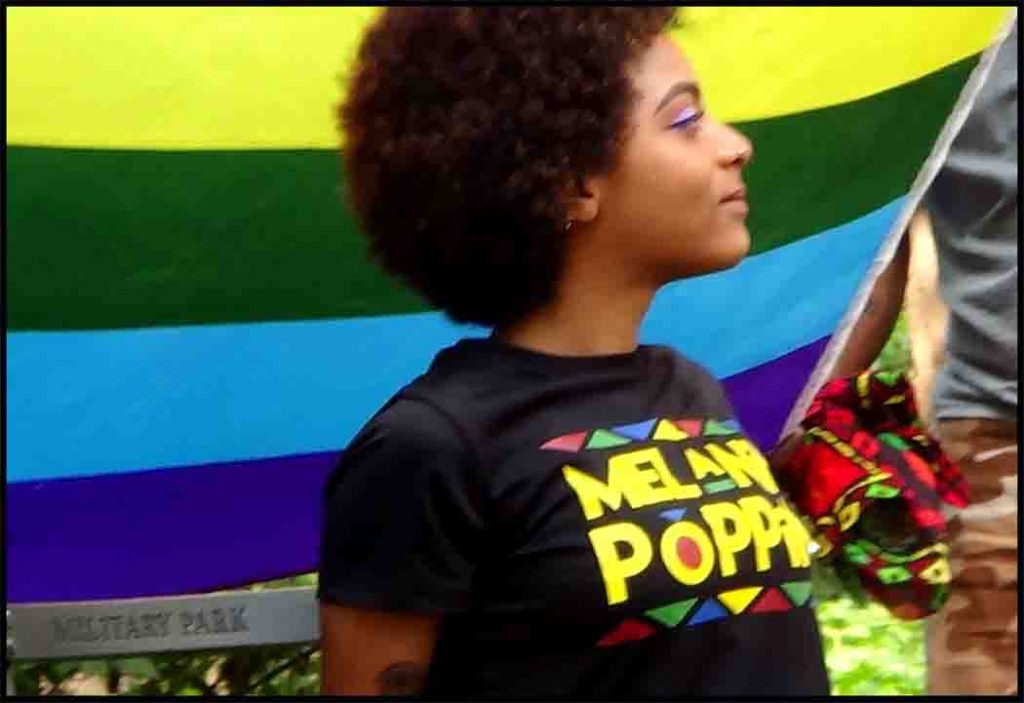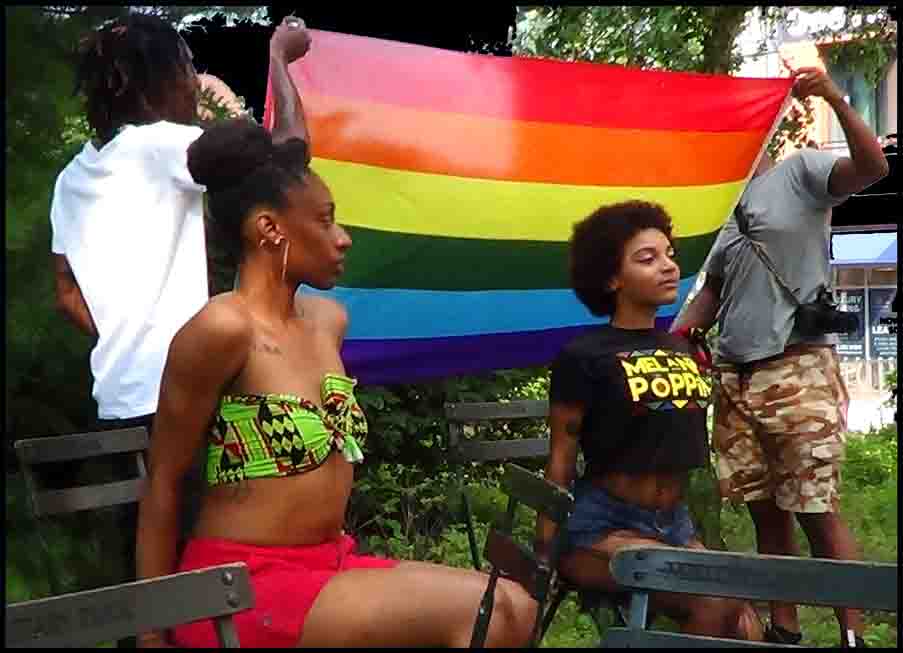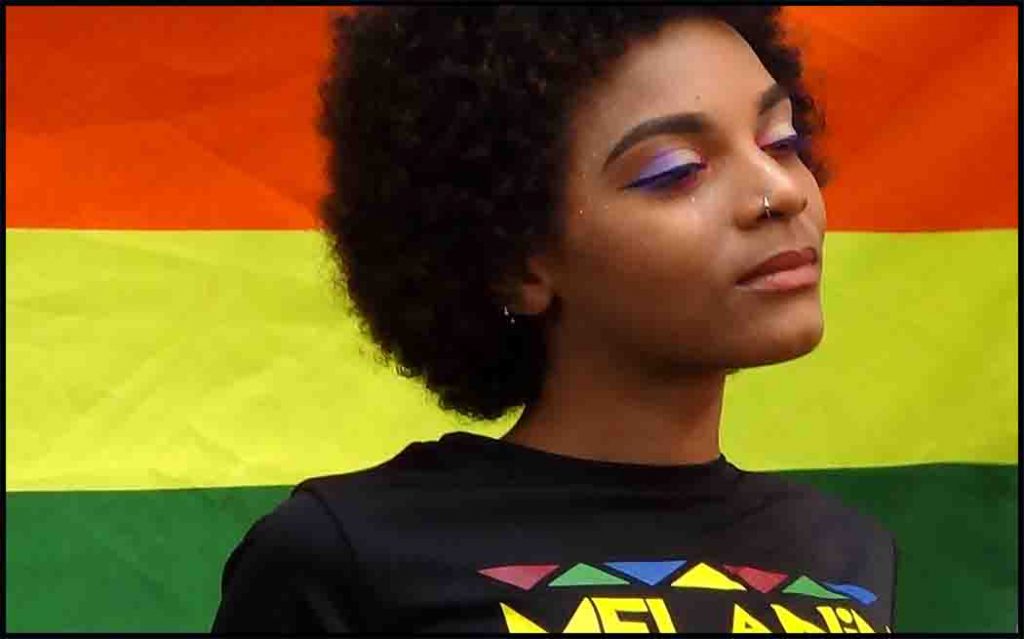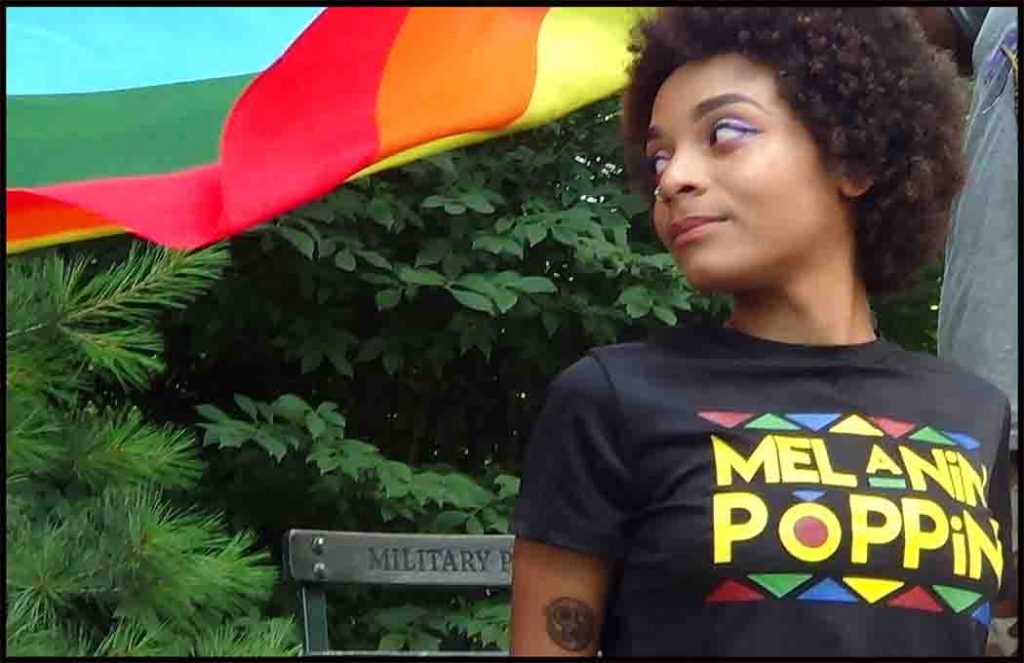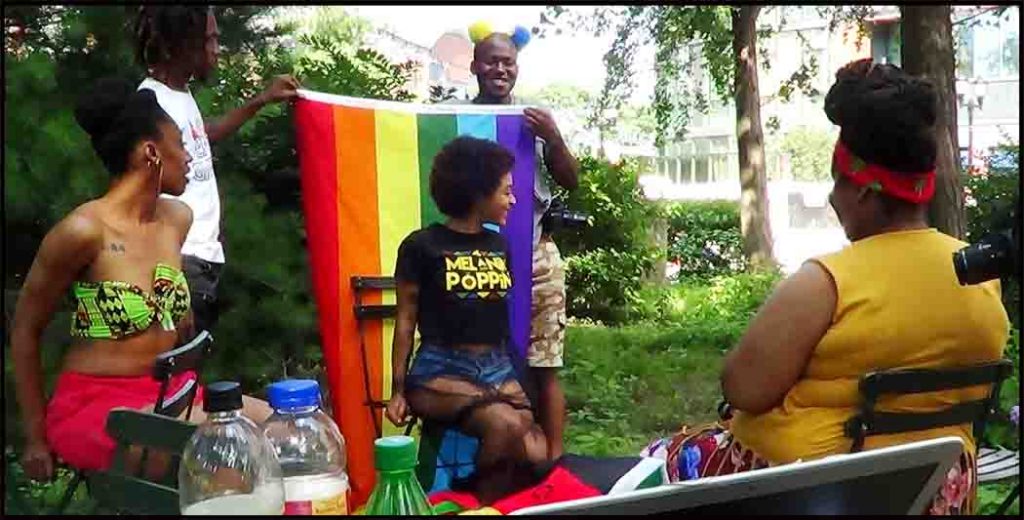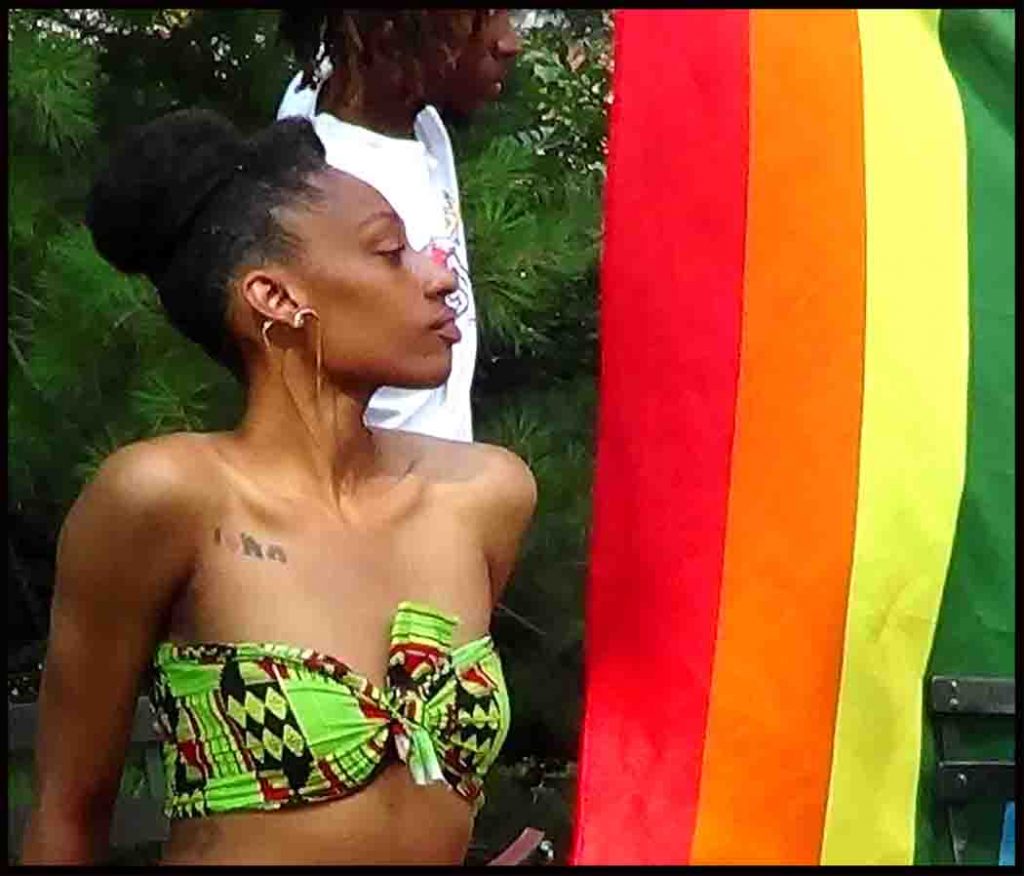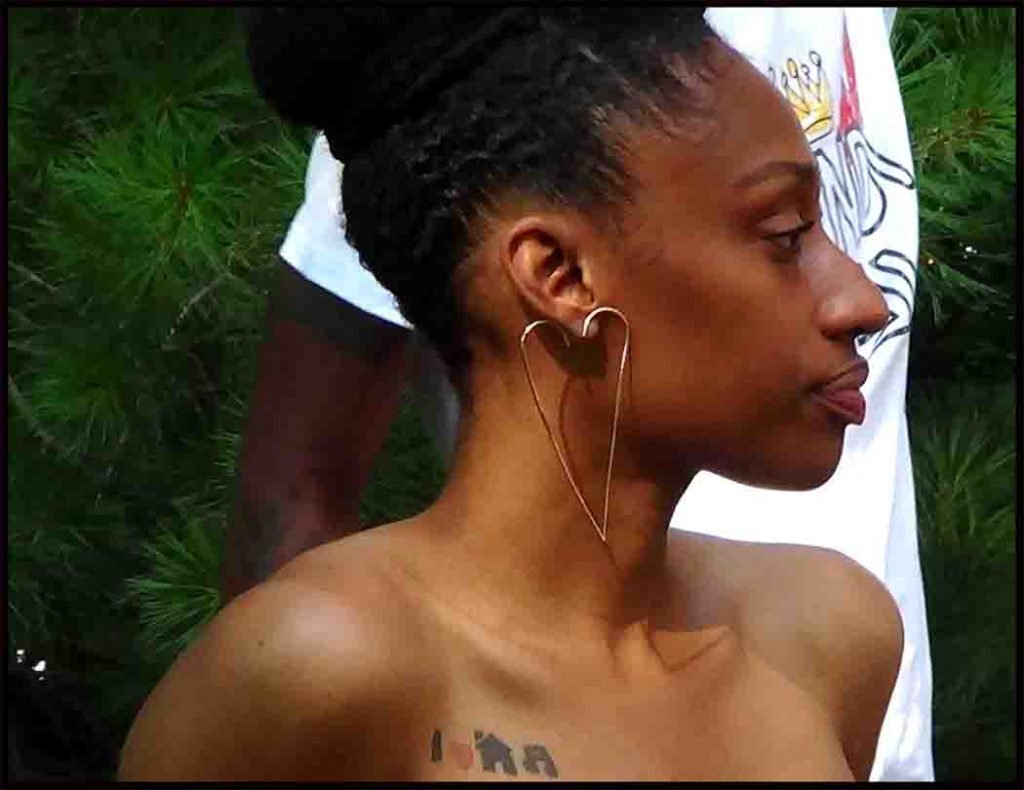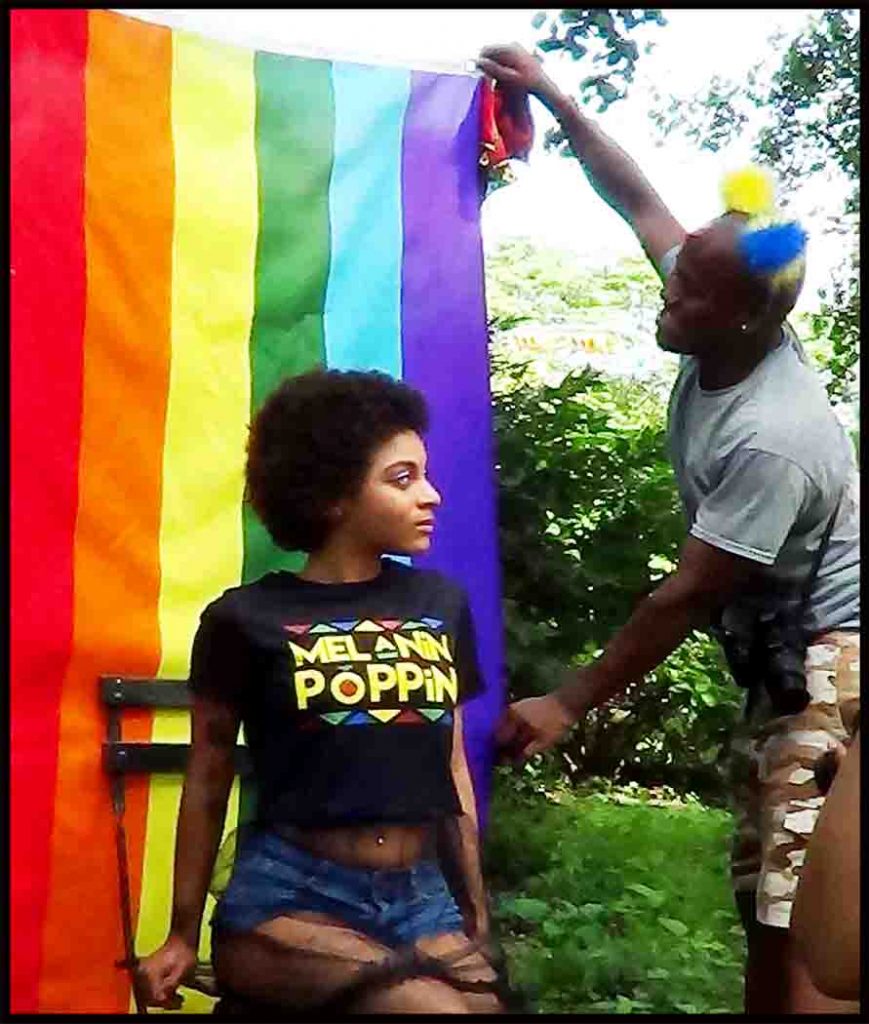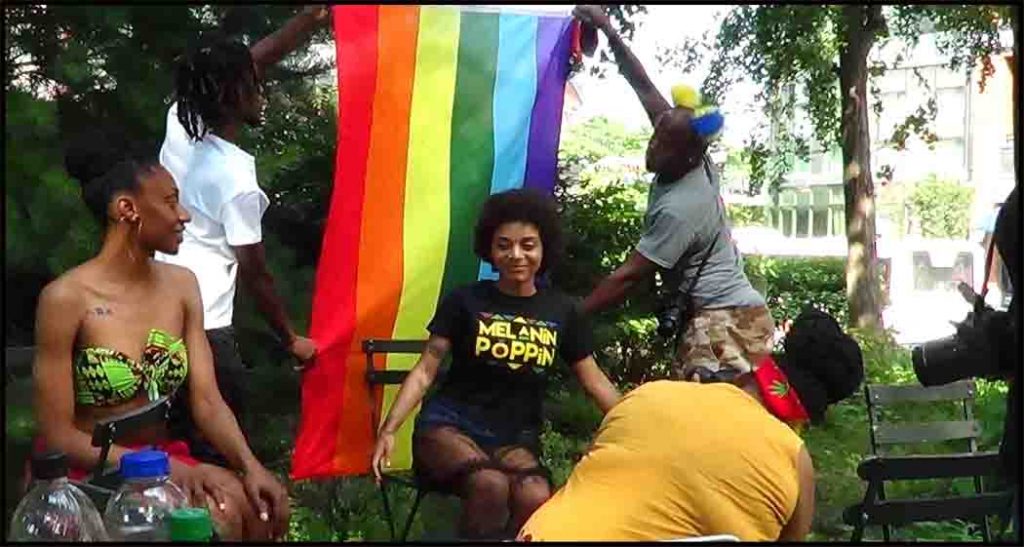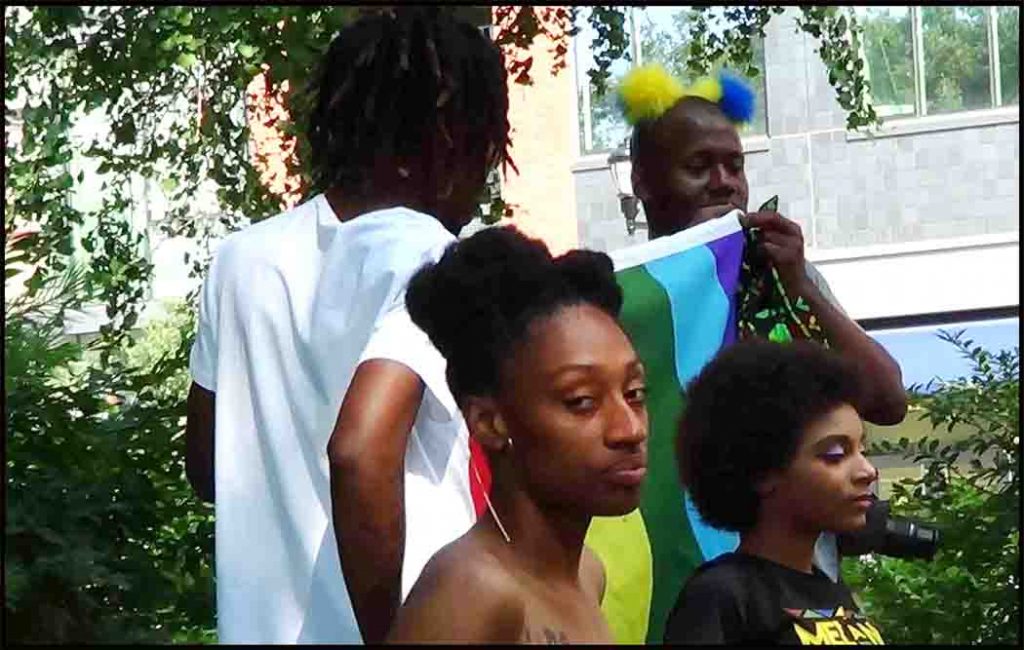 This occasion makes me think of my Peace Project with LGBTQ youths at Hetrick-Martin Institute which shows as the following: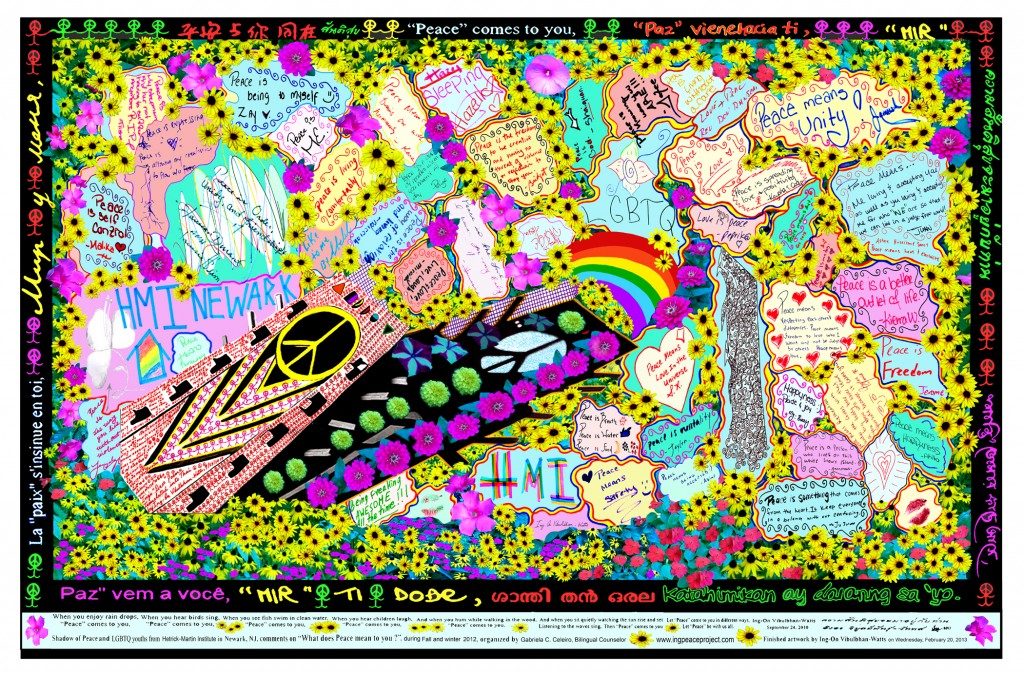 Finished "Peace" artwork 10
Shadow of Peace and LGBTQ youths from Hetrick-Martin Institute in Newark, NJ, comments on "What does Peace mean to you?" during fall and winter 2012, organized by Gabriela C. Celeiro, bilingual counselor. Finished artwork, after the written comments by Ing-On Vibulbhan-Watts
Link to LGBTQ Youth at Hetrick-Martin Institute
LGBTQ Youth At Hetrick-Martin Institute
Ing's Peace project and LGBTQ Youth
At Hetrick-Martin Institute, Newark, NJ
Comments on "What does Peace mean to you?"
And artworks, during fall and winter 2012
Organized by Gabriela C. Celeiro, Bilingual Counselor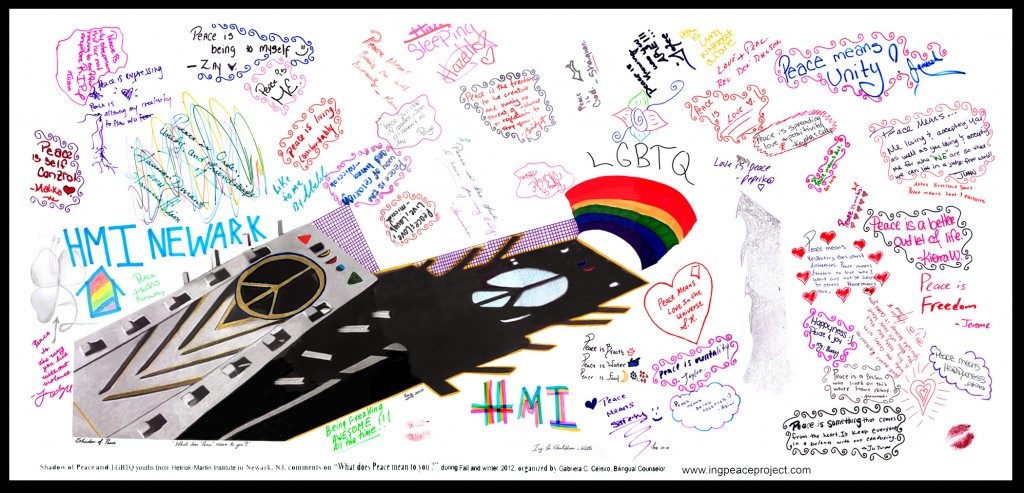 I love flowers, they are beautiful. I wait for the weather to change till spring then I can go to my backyard garden. I cultivate my garden seeing the plants rising and growing each day. Then the magic will come when the flowers show up to greet me. I can spend hours in my little garden. To keep the beauty of these flowers in winter when I long to see them I take a lot of pictures. Thanks to the evolution of digital cameras I can take the photographs and print to give to friends or make a slide show or movie.
When I sat wanting to compose the finished artwork from the LGBTQ youth comments poster I thought of something beautiful. I want this group of youths to feel beautiful just like my beautiful flowers. When we feel beautiful then we feel good. As long as we feel happy we can do a lot of things no matter what some people say.
Below are the sections of my finished artwork that show the written comments from the LGBTQ youth on "What does Peace mean to you?" on my Peace Project Poster that accompanies beautiful flower images that I took from our backyard garden.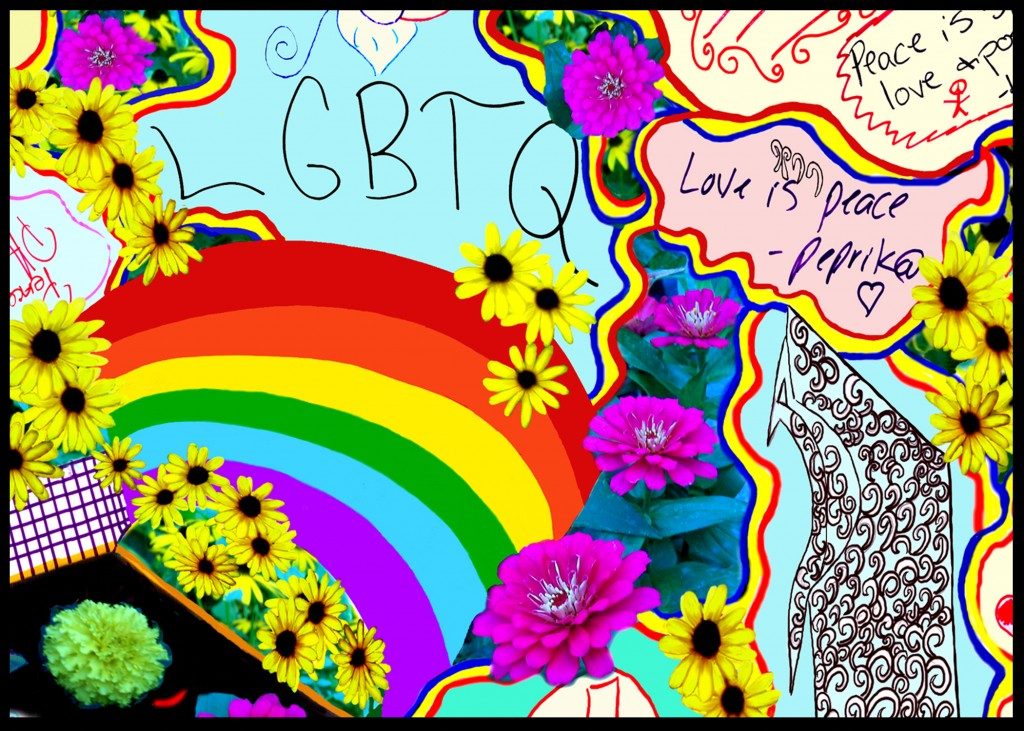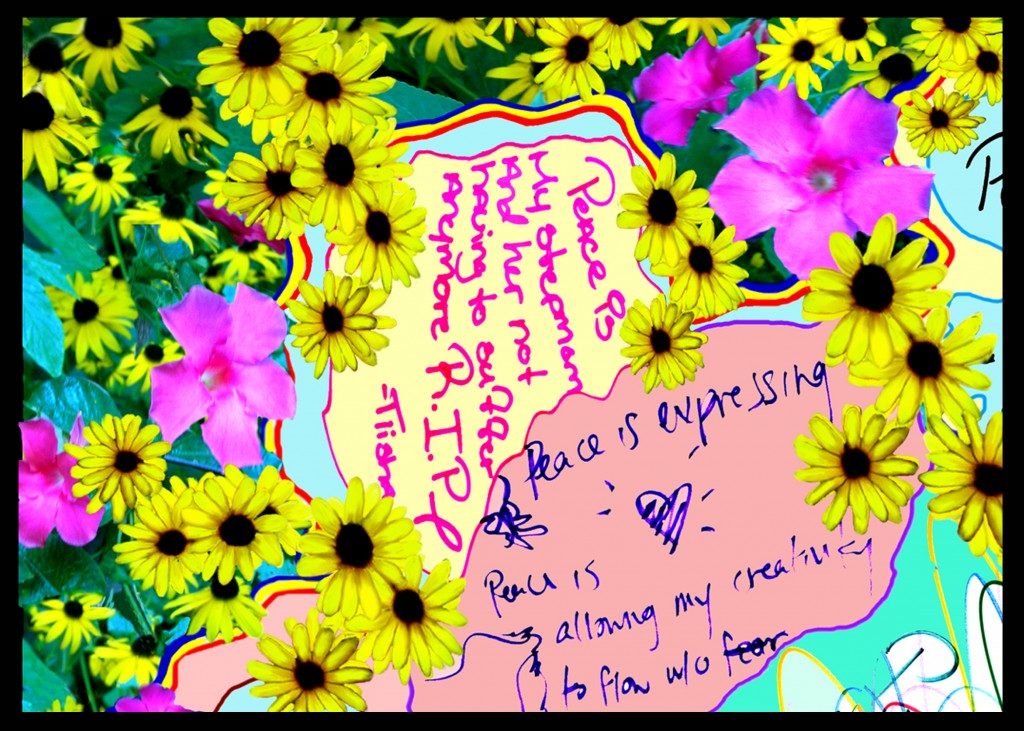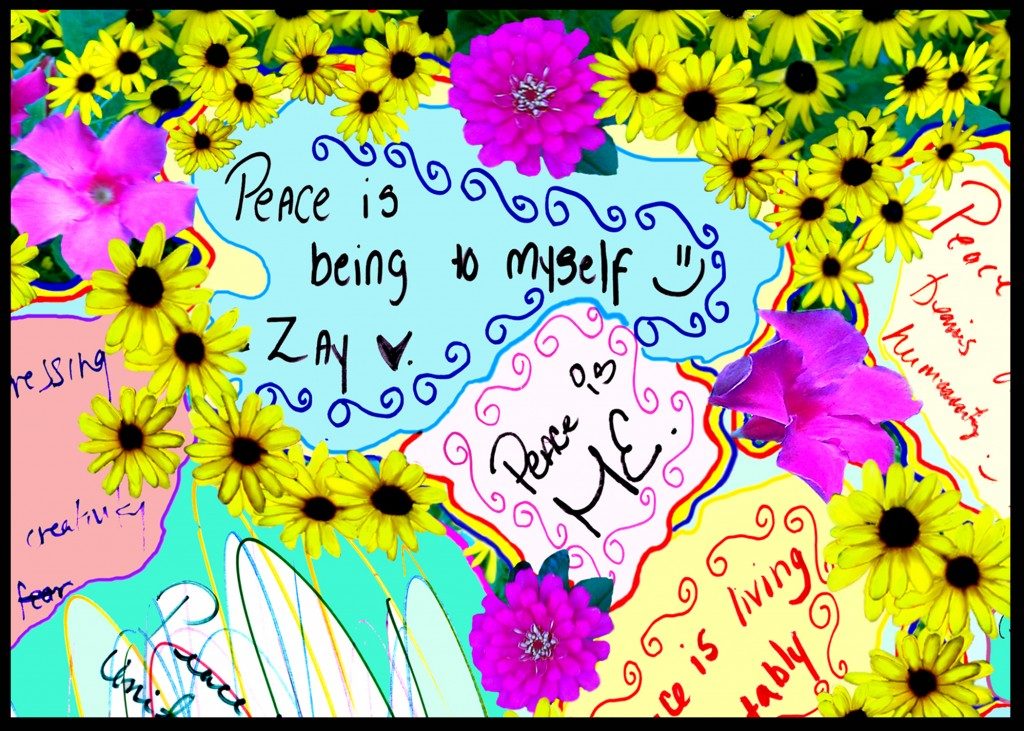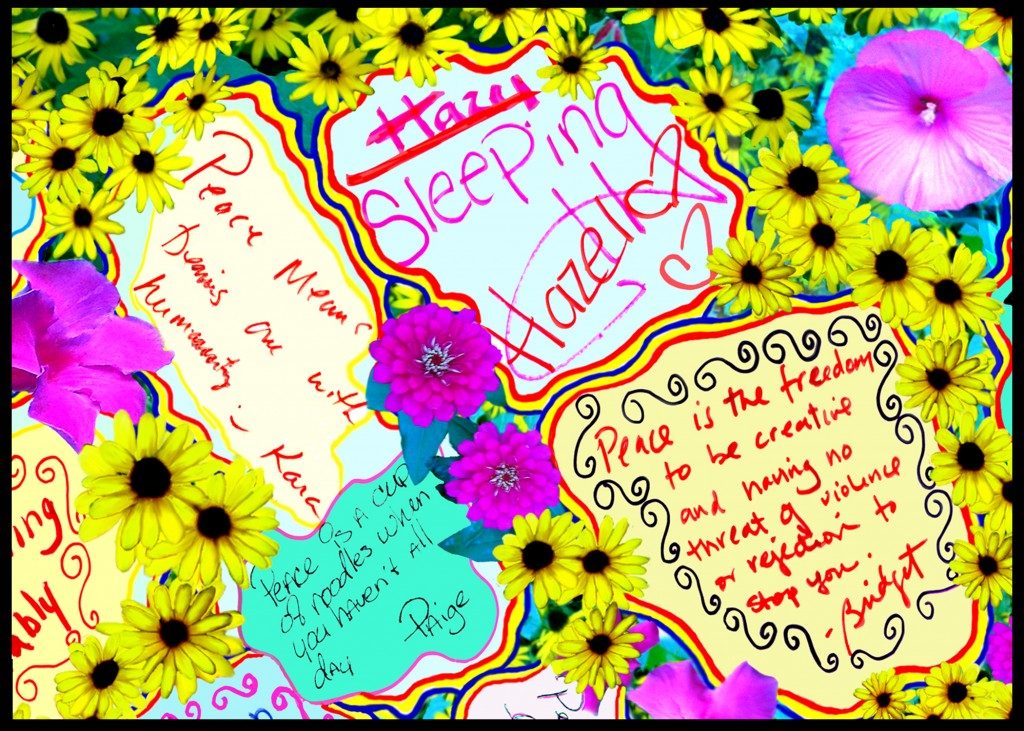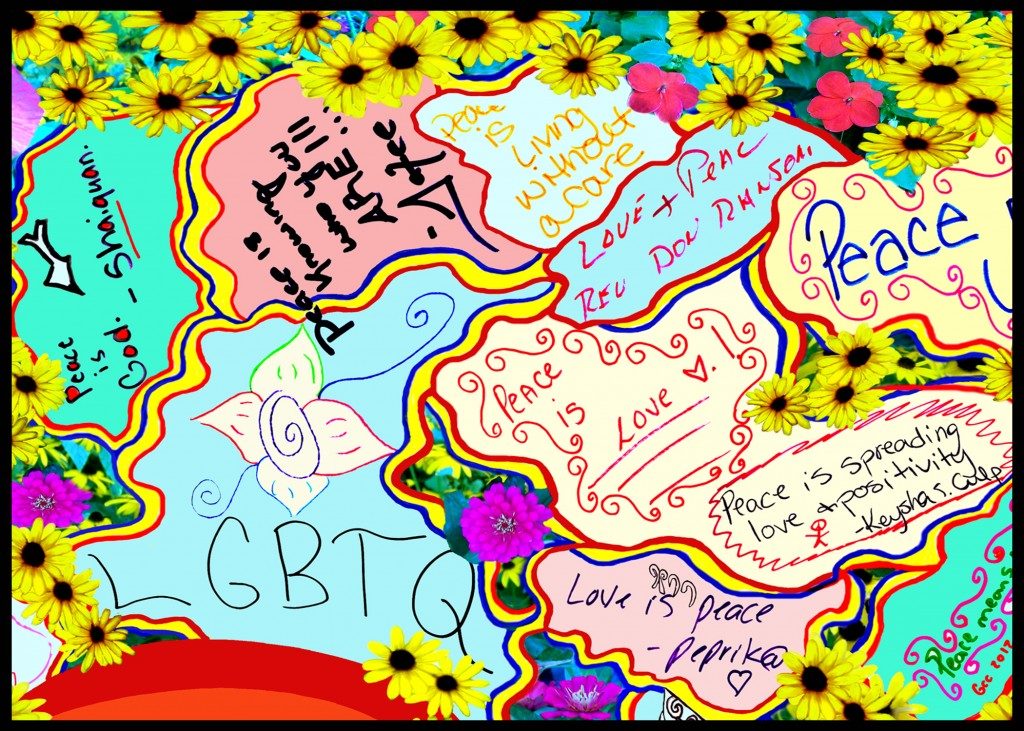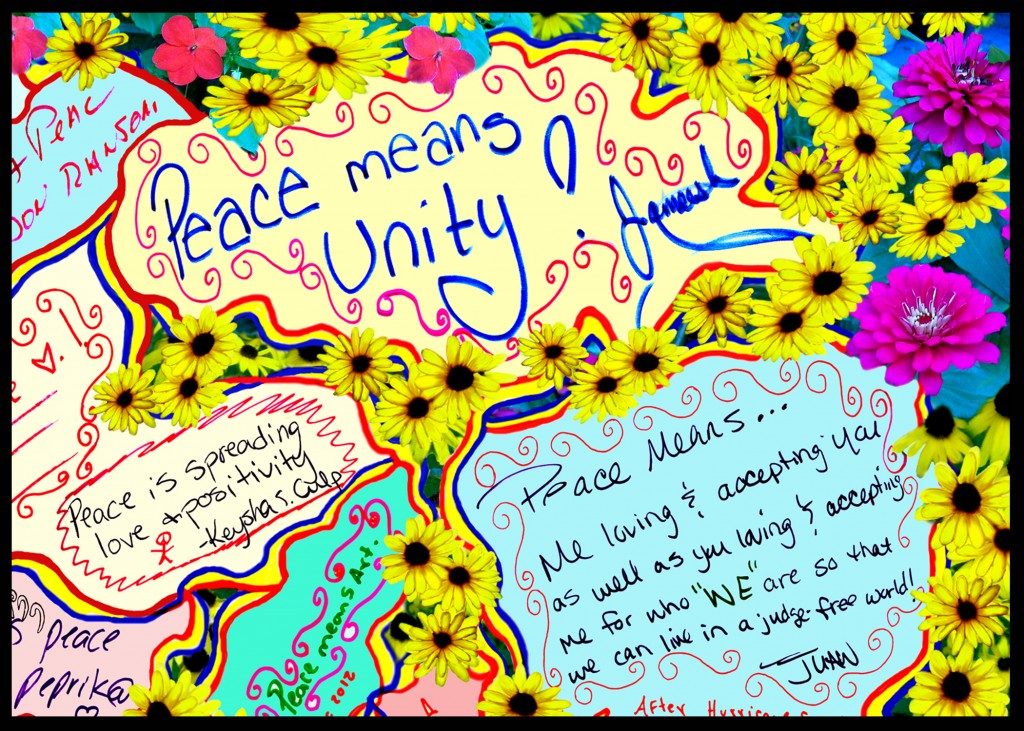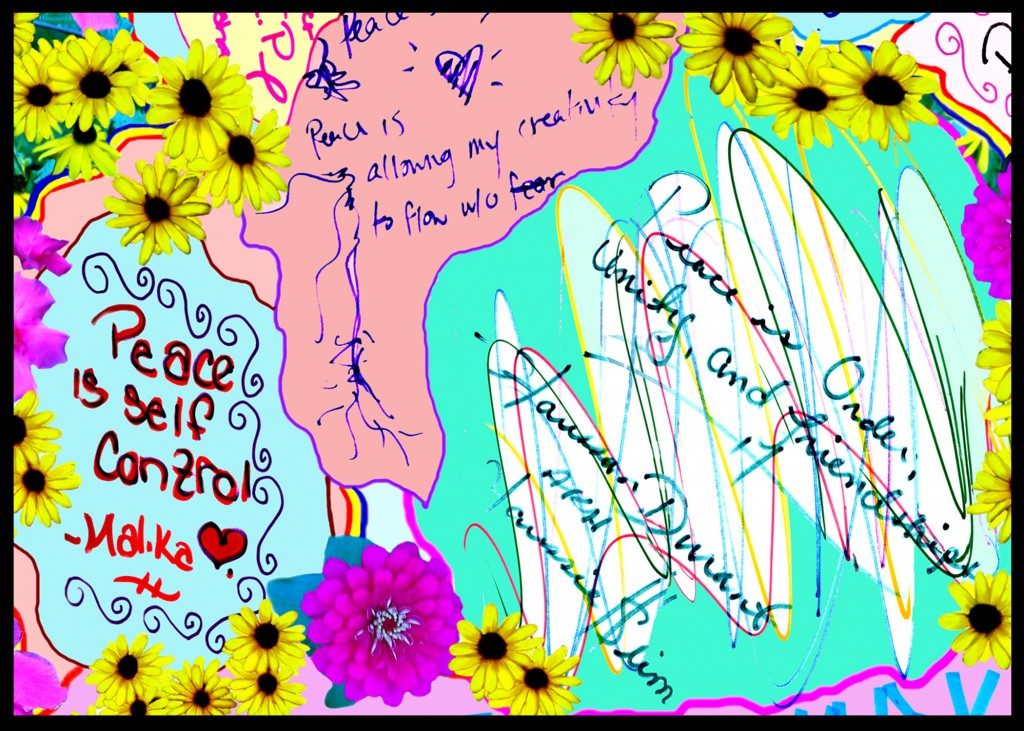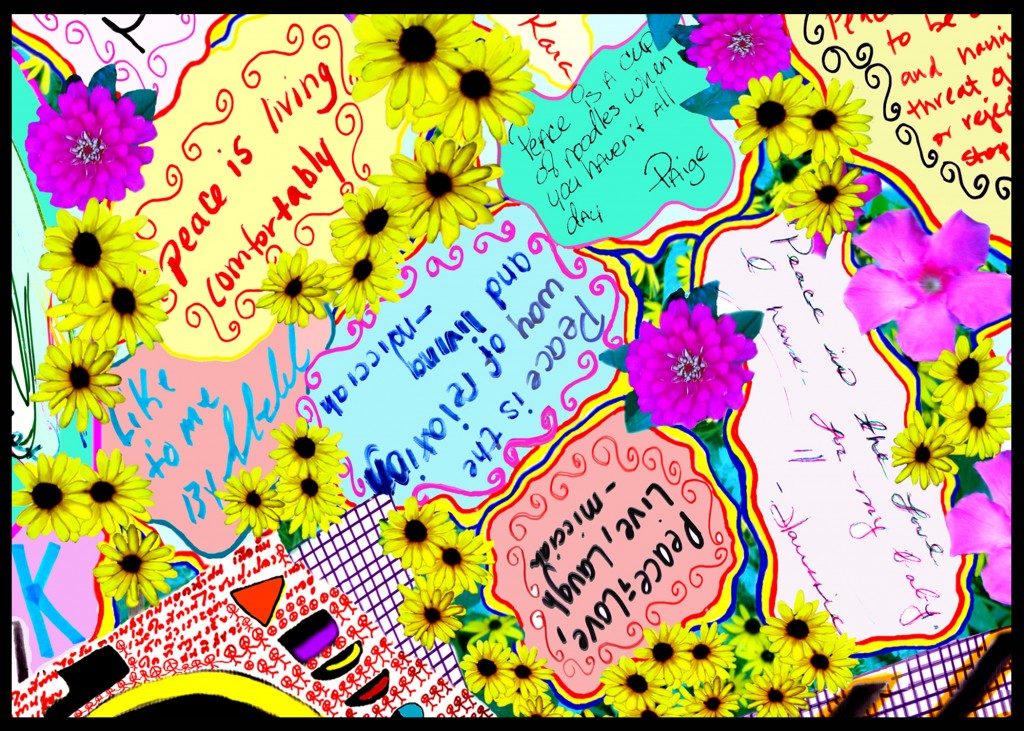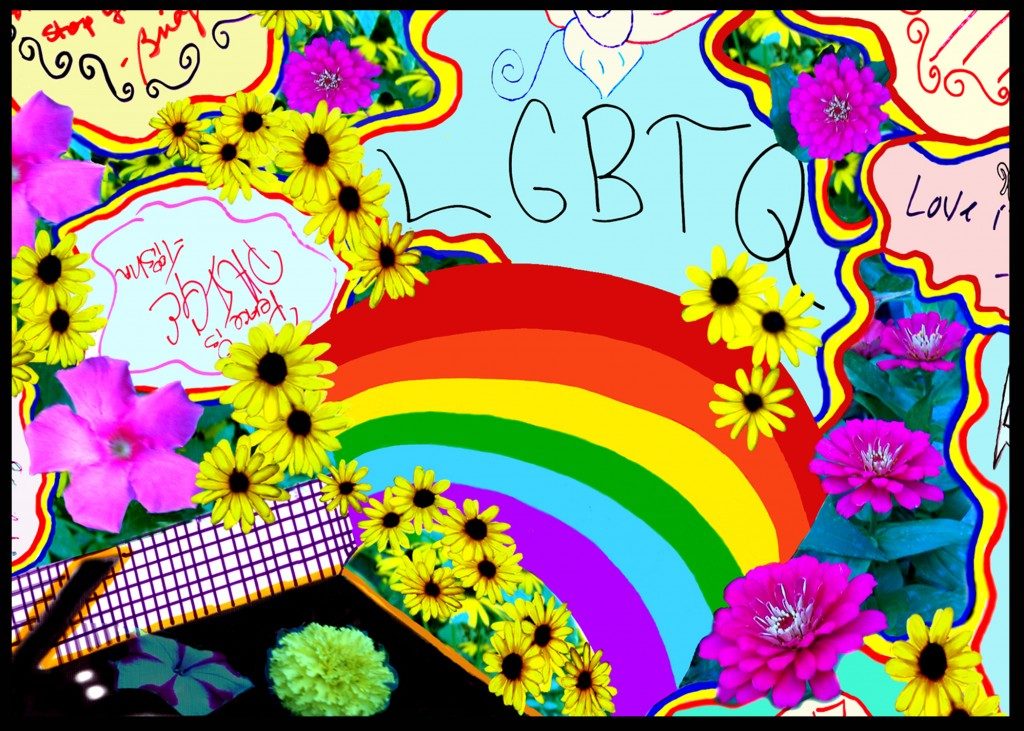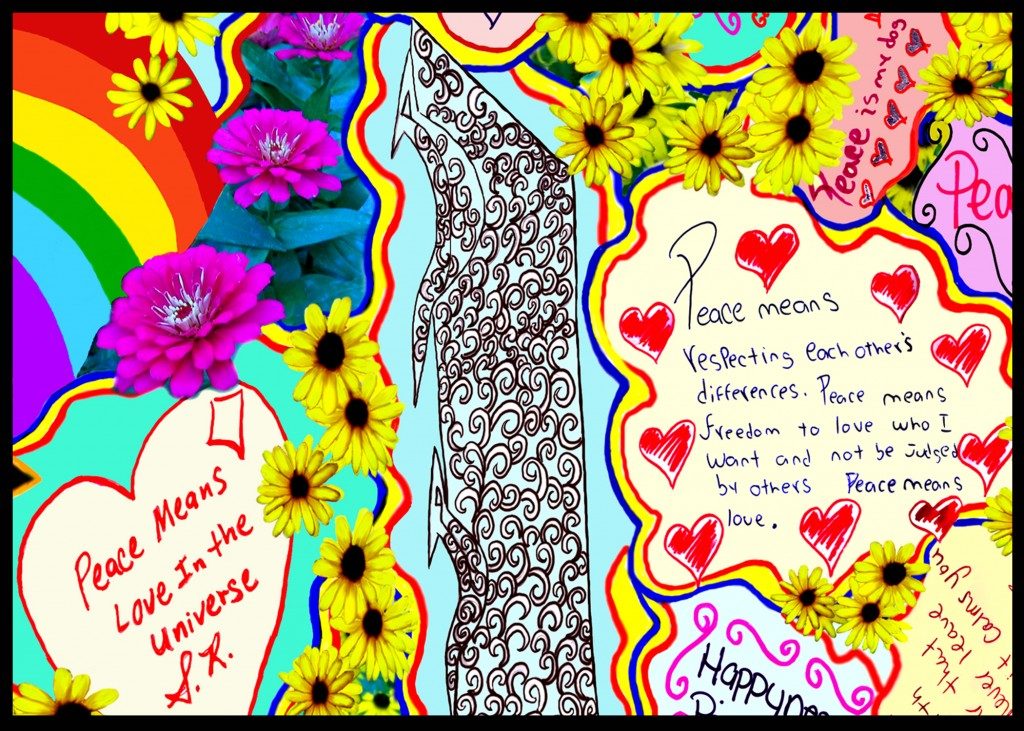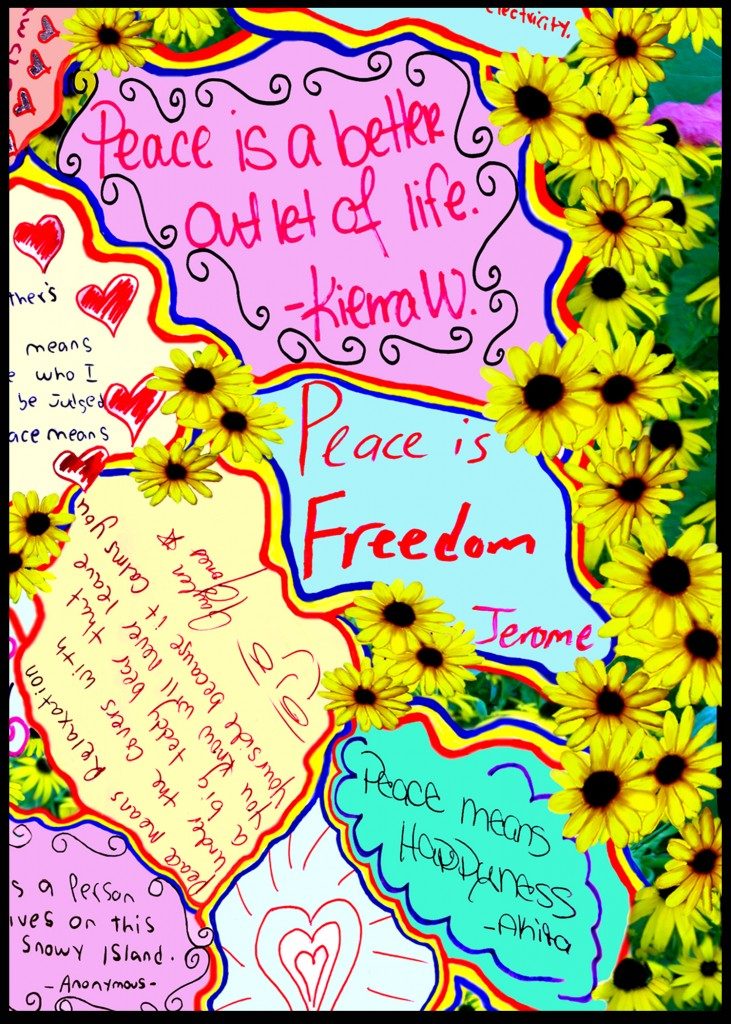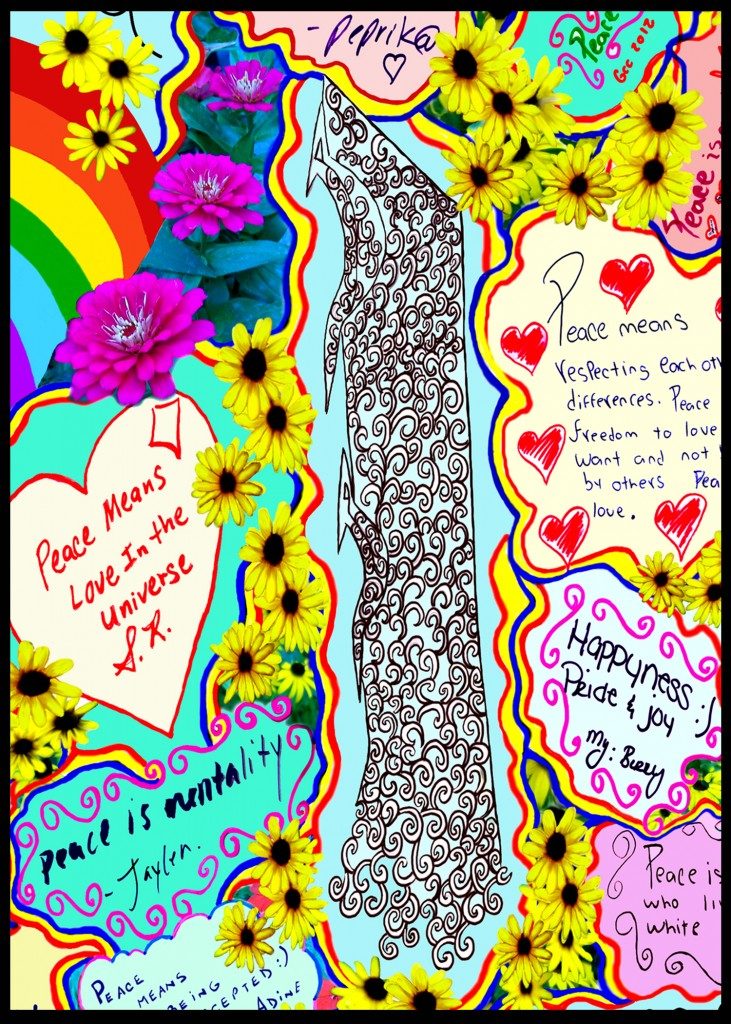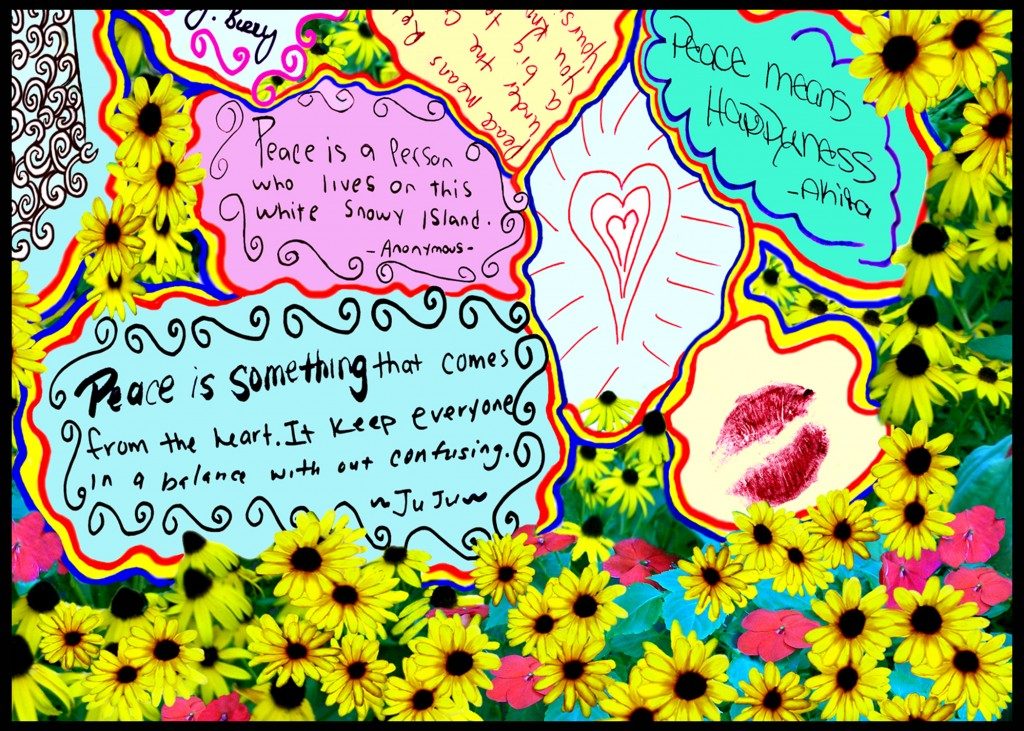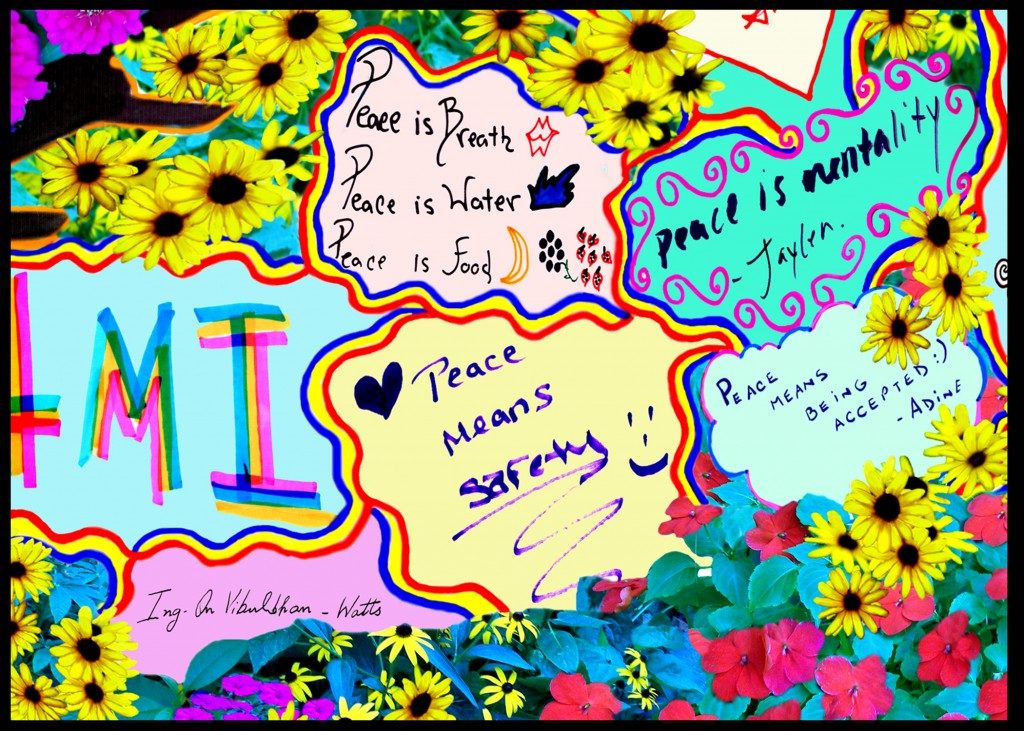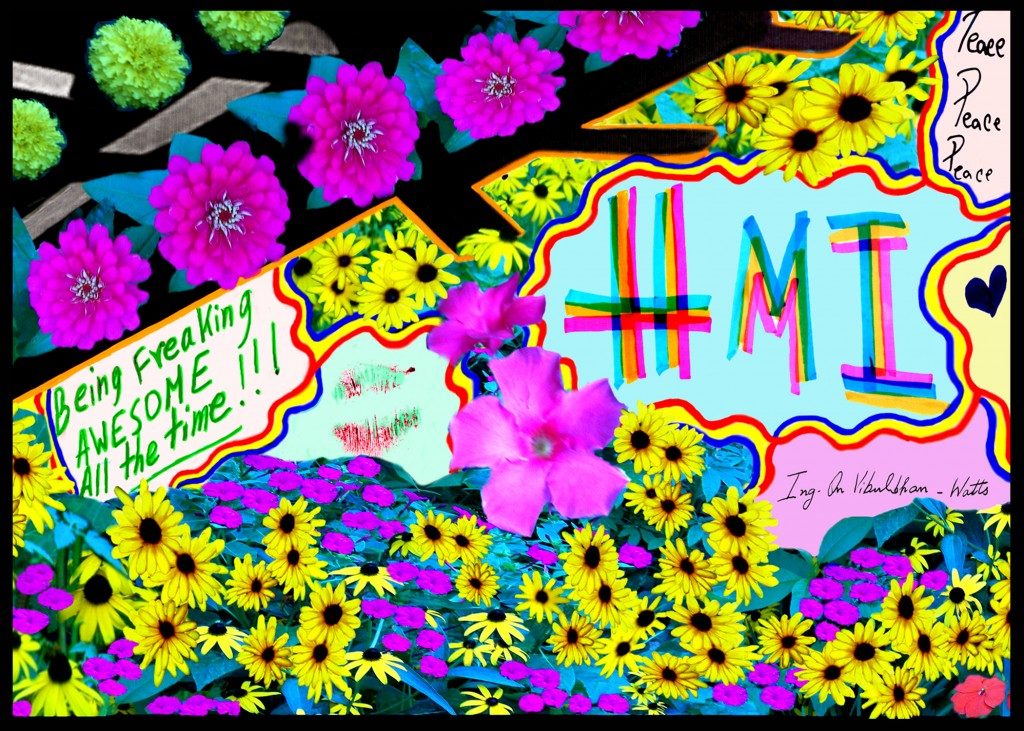 You Are Beautiful
Life is precious
Life is short
Enjoy as much as you can
Try to be independent
But ask when you need help
Help yourself as much as you can
And help the others as much as you can
That is life
As long as you try your best
Then you will be worthwhile
Be kind and be happy
Because you are beautiful
We are all beautiful
And we are all equal
Lead your life in a harmonious and peaceful way
Because you are beautiful to me
Ing-On Vibulbhan-Watts, Thursday, March 28, 2013, 10:25 pm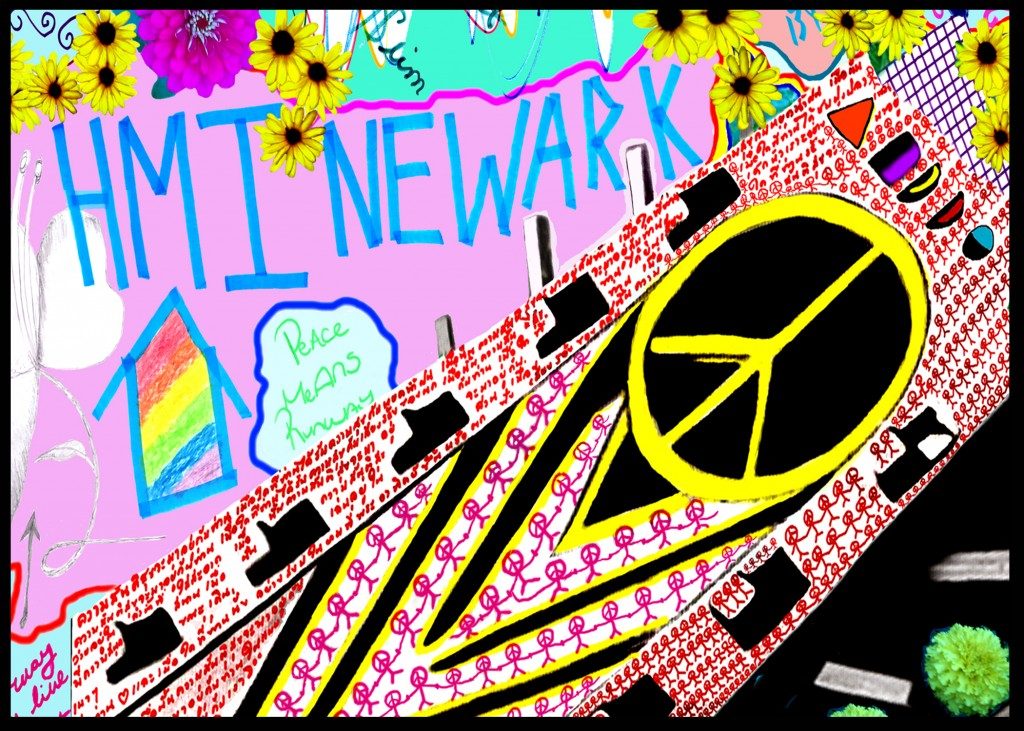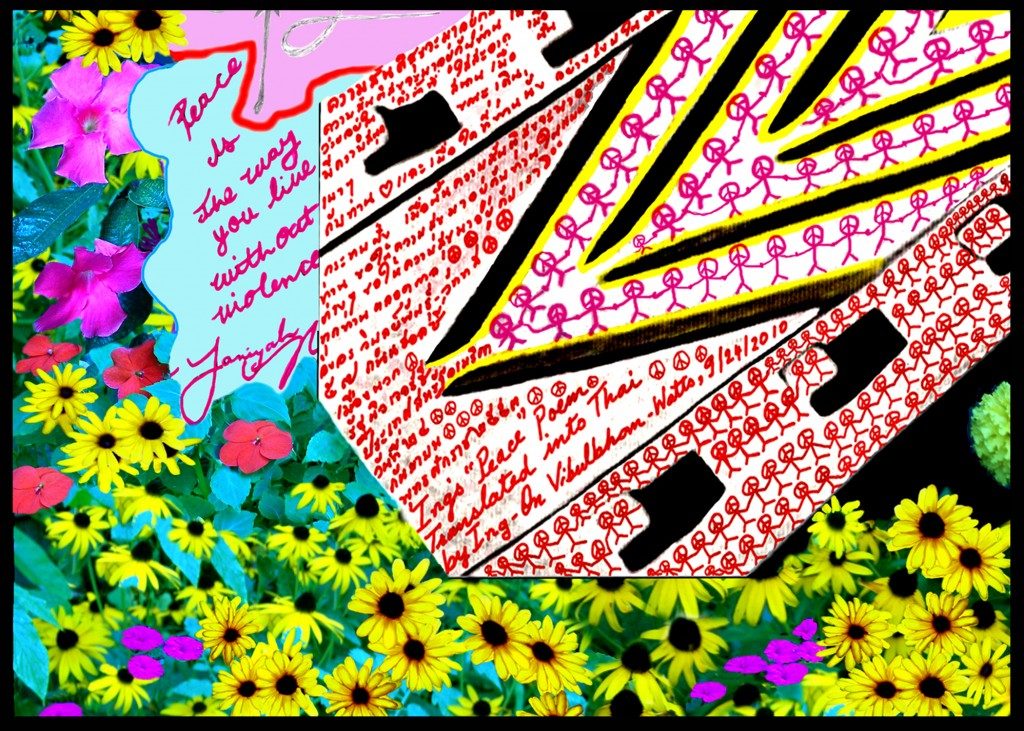 Appreciate simple things around you
Minimize luxury life styles
Be more concerned with conservation
Be generous and kind
Remove ill thought
Broaden your knowledge
Learn and do your best
Understand things beyond yourself
If you are still dissatisfied
Then sleep and after your rest
Try again the next day
Ing-On Vibulbhan-Watts, Saturday, February 9, 2013, 4:38 pm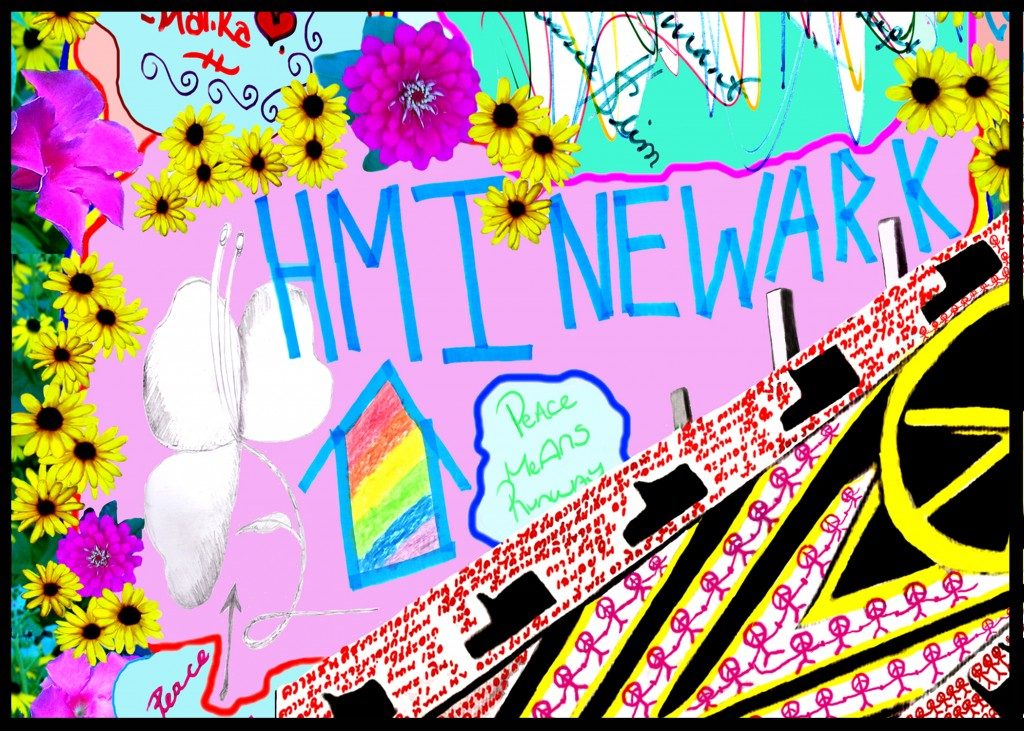 Equality for All
There will be no Peace
Without equality
If the scale of justice
Is unbalanced
There are always reasons for oppressors
To put others down
At one time women could not own property
And could not vote
And slaves of all races could be sold like cattle
And others historically were also treated wickedly
Humanity has evolved
Using our brains and our knowledge
To progress and change
Change we must!
Equality is balance
Human Rights is for all
And equality is for all
This will bring peace to the world
Ing-On Vibulbhan-Watts, Friday, March 29, 2013, 12:03 am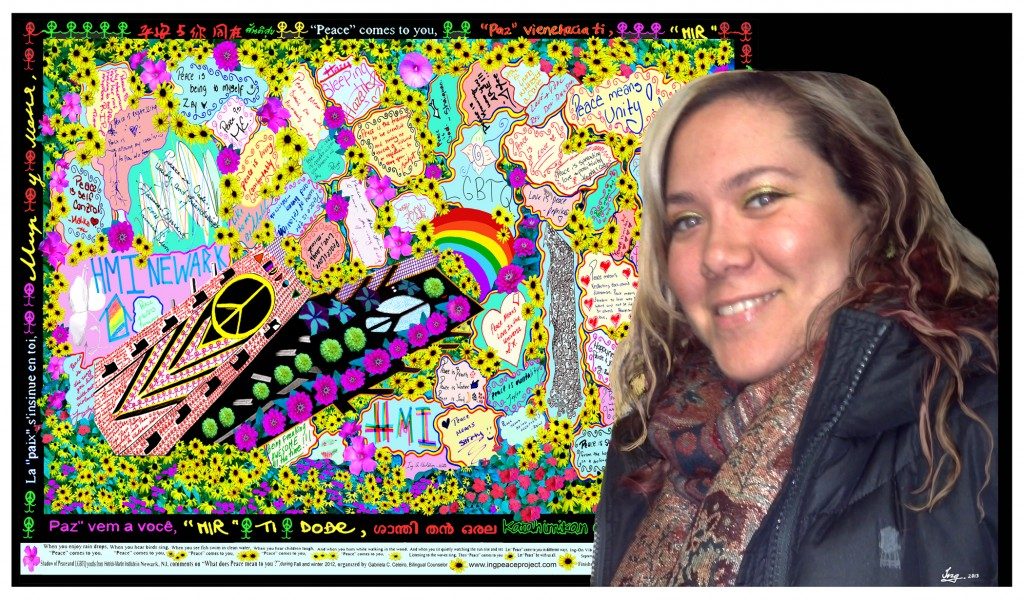 I am glad to know Gabby. I appreciate her help bringing my Peace Project to the LGBTQ youth. I even more appreciate her enthusiastic helping to educate the youth. It requires a special kind of person to undertake the work that she does.
Ing's Peace Project & LGBTQ Youth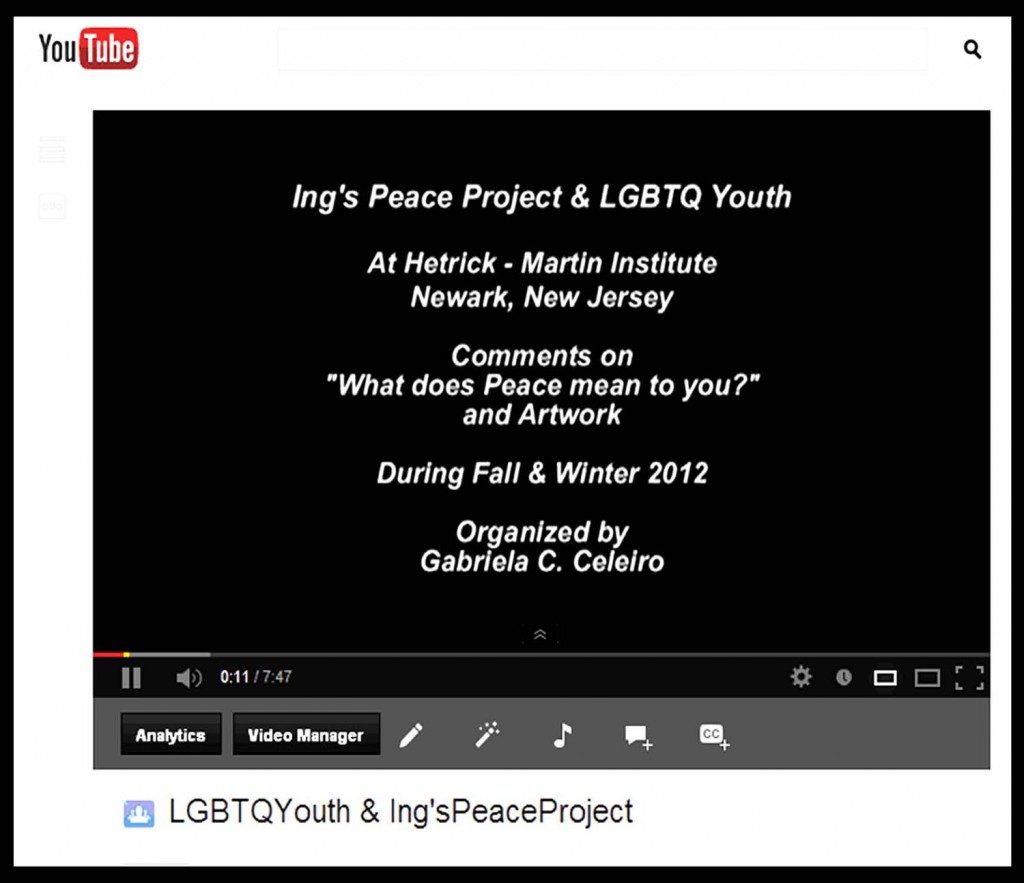 Link to YouTube: https://www.youtube.com/watch?v=Seqjsap7LQc&feature=youtu.be
(7:42 minutes)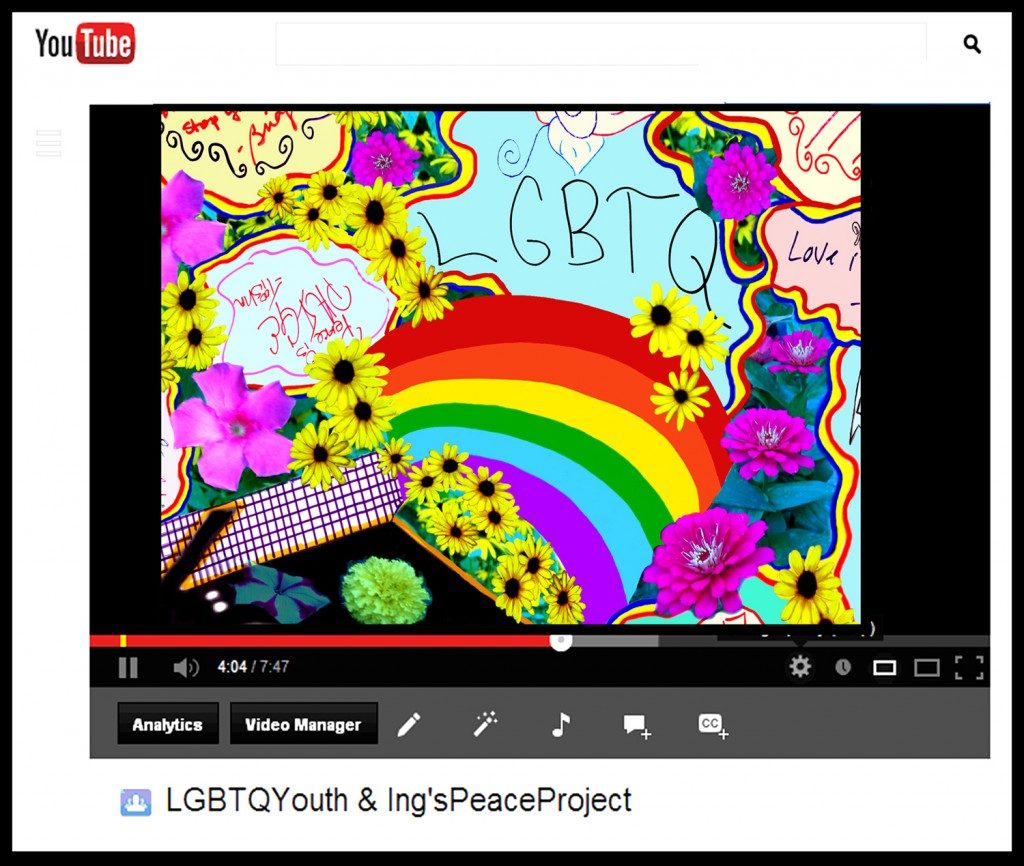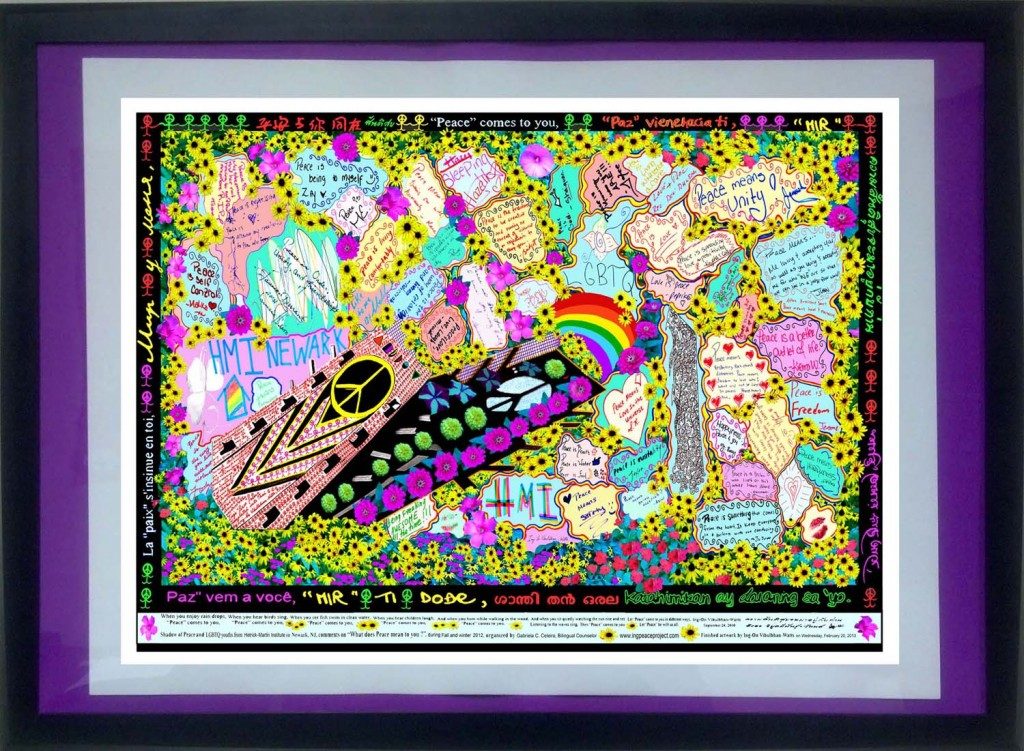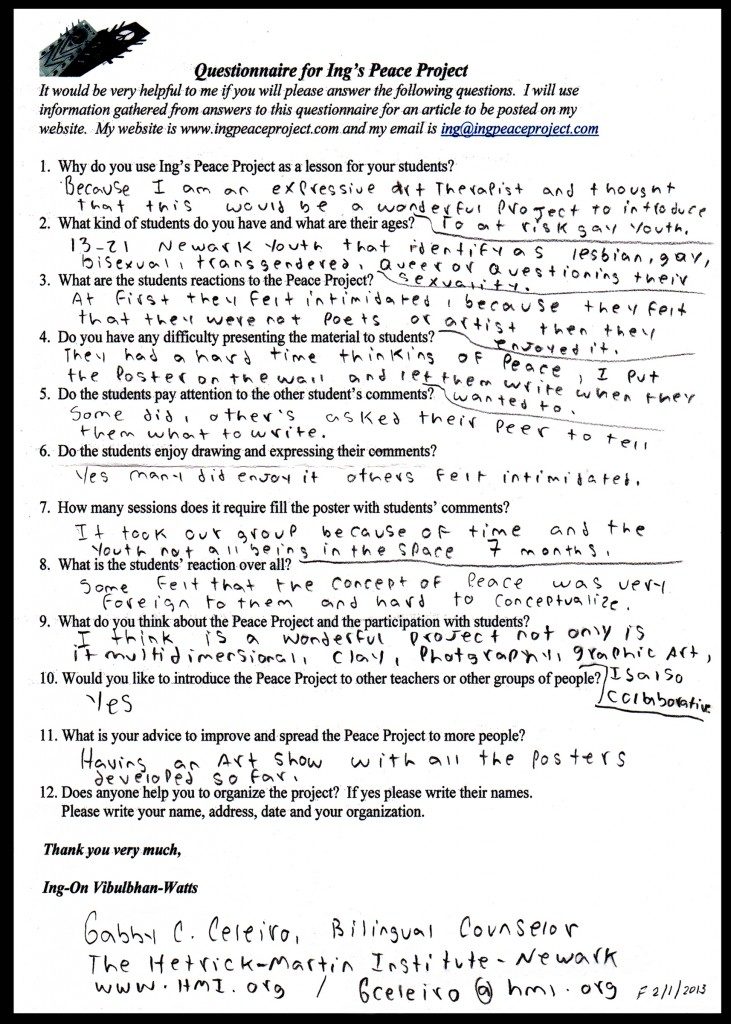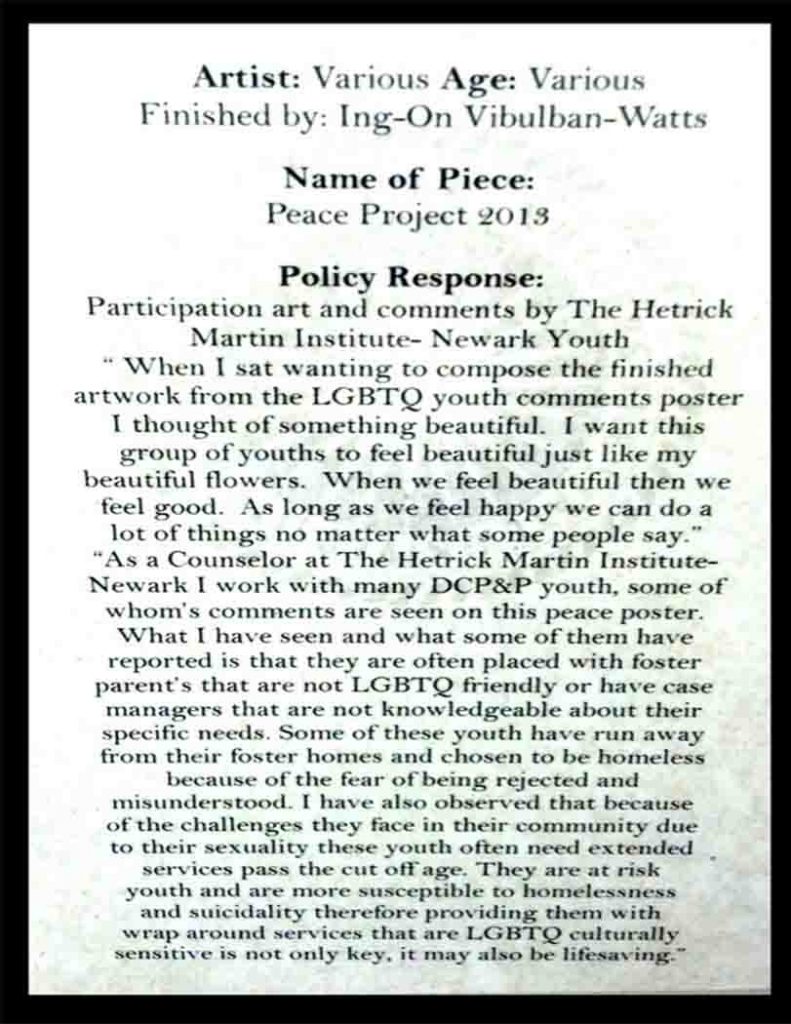 Hi Gabby,
Thanks for the attachments. I do love your composition about the LGBTQ youth. Your writing helps the readers to understand the lives of this group of youths and how they can get themselves into bad situations and become homeless. My love and my heart go out to these youths. The help that you and your organization offer to these youngsters is to be complimented and should be recognized as a good example for others to follow.
I am glad that you have the finished peace project artwork framed and exhibited.
Please let me know if you would like to work on my peace project with the new classes and the new group of youngsters again.
I hope you enjoy your summer. Please stop by when you are near our shop.
All the best,
Ing
PS. I hope you do not mind; I posted your responses to my email on my website.
7.4.2013

The Hetrick-Martin Institute believes all young people, regardless of sexual orientation or identity, deserve a safe and supportive environment in which to achieve their full potential. Hetrick-Martin creates this environment for lesbian, gay, bisexual, transgender and questioning (LGBTQ) youth between the ages of 12 and 24 and their families.
Through a comprehensive package of direct services and referrals, Hetrick-Martin seeks to foster healthy youth development. Hetrick-Martin's staff promotes excellence in the delivery of youth services and uses its expertise to create innovative programs that other organizations may use as models.
HMI:Newarkis based on the services for LGBTQ youth operated for over 30 years by the Hetrick-Martin Institute inNew York City. Offering counseling and crisis management, health and wellness programming, academic enrichment, job readiness and arts and cultural programming, HMI has implemented its first out-of-state direct service program.
Provides after-school services to LGBTQ youth in the City of Newark
•Mental Health & Supportive Services: support groups for youth-related issues including relationships and "coming out."
•Health & Wellness: health education groups and referrals for HIV testing, provided by community partners.
•Arts & Culture Programs: service learning programs with a focus on leadership and team building.
Provides a safe and supportive environment for Newark's LGBTQ youth to reach their full potential
•By collaborating with family and other support systems, we work to engage youth in their own growth and development and get them involved as responsible citizens of their community.
•Available to young people and their families.
•Open weekdays 3:00 pm – 6:30 pm, year round.
•Open to youth between the ages of 12 to 21.
HMI: Newark (A Demographic Snapshot)
•Multi-ethnic: 42% African Americans, 27% Latin , 4% Caucasian, 4% West Indian, & 22% Other.
•Serve youth fromNewark, the greaterEssexCounty, and beyond.
•Educational status comprising youth from Junior High: 9%, High School: 82%, College: 7%, & Out of School: 2%.
•53% high school graduates with 47% youth attending college next year.
HMI: Newark
Located in the Rutgers T.E.E.M. Gateway/YES Center
200 Washington Street
Newark, NJ 07101
For more information, please contact Juan Williams, LMSW, Site Supervisor, HMI: Newark at jwilliams@hmi.org or 347-501-2930.
Our Programs & Services
After School Programs
Year-round, in a safe, supportive environment, the Hetrick-Martin Institute's After-School Services Department provides its youth members (whether they are enrolled in school or not) a wide range of group activities designed to develop social and interpersonal skills and build confidence. Last year our After-School Department reached more than 2,000 LGBTQ youth and their families.
Arts and Culture programs foster self-expression through dance, film, photography, painting, theater, and more.
Health and Wellness programs range from hands-on instruction in how to cook healthy meals to learning more about STDs, fighting stress, and preventing HIV.
Academic Enrichment programs help our LGBTQ youth prep for college, do computer training, get help with homework, or join a book club (among countless activities).
Job Readiness and Career Exploration programs assist in building job skills, writing résumés, and landing internships.
Supportive Services
From the first moment a young person enters HMI, one of our team of professional Supportive Services counselors is there to:
Assess the safety of each youth.
Offer assistance in getting a meal at Café HMI, getting clothing from our pantry, and finding housing.
Provide counseling sessions based on individual needs. Individual, group, and family counseling are available.
Make referrals to LGBTQ-sensitive agencies.
Provide an opportunity for youth to develop and strengthen the skills necessary to move toward self-sufficiency, self-acceptance, and personal success.
Be a part of their care and their family.
Internships
HMI Youth Members can take their involvement to the next level through our paid-internship and experiential programs. Learn More
HMI can not accept electronic information from users under the age of 13. For more information please read our privacy policy.

Advocacy and Capacity Building
Advocacy: Educating Decision Makers on Issues Affecting LGBTQ Youth; Providing a voice for those who often go unheard.
HMI Staff works to provide information and best practices to address the needs of the often disconnected population working with policy makers, government institutions and the community-at-large, advocating on the behalf of LGBTQ youth and those that support them.
Capacity Building: Training and Resources
With over 3 decades of experience, HMI takes its best practices in LGBTQ youth service delivery on the road! We offer workshops, trainings and seminars in how to serve this unique population. Our trained staff will work with you and your organization or community to provide a custom-designed training that meets your specific needs. Workshop topics include, "Building Inclusive Communities," "Understanding Human Sexuality and Gender Identity," "Working with LGBTQ Adolescents," and much more.
PBS NewsHour full episode July 4, 2019
PBS NewsHour Published on Jul 4, 2019
Thursday on the NewsHour, the United States celebrates its birthday with pomp and presidential campaigning. Plus: Analysis of President Trump's unprecedented July 4th military display, why national economic data can mask underlying problems, a book about why there's so much hatred in contemporary politics and how to get past it and an update on President Trump's speech at the National Mall. WATCH TODAY'S SEGMENTS: Trump faces criticism for July 4th military display https://www.youtube.com/watch?v=amZLn… News Wrap: Magnitude 6.4 earthquake shakes Southern Calif. https://www.youtube.com/watch?v=KLWQM… Why Trump's 4th of July event is complicated for military https://www.youtube.com/watch?v=VXNAl… As the U.S. economy rises, so does inequality https://www.youtube.com/watch?v=sQzdQ… A book on why we hate our political enemies–and how to stop https://www.youtube.com/watch?v=NO0ge… Trump praises military in history-oriented July 4th speech https://www.youtube.com/watch?v=X31_m… Stream your PBS favorites with the PBS app: https://to.pbs.org/2Jb8twG Find more from PBS NewsHour at https://www.pbs.org/newshour Subscribe to our YouTube channel: https://bit.ly/2HfsCD6 Follow us: Facebook: https://www.pbs.org/newshour Twitter: https://www.twitter.com/newshour Instagram: https://www.instagram.com/newshour Snapchat: @pbsnews Subscribe: PBS NewsHour podcasts: https://www.pbs.org/newshour/podcasts Newsletters: https://www.pbs.org/newshour/subscribe
Category News & Politics