Ing & John's Street Art Part 5: Kai, The Artist, and Ing and John's Artwork and International Street Art Part 6: David Zinn
TED Talks: Sydney Jensen How can we support the emotional well being of teachers?, Olympia Della Flora Creative ways to get kids to thrive in school, and Anindya Kundu The boost students need to overcome obstacles
Digital Photography School: How to Create Beautiful Light Painting Images with an Illuminated Hoop
Ing & John's Street Art and International Street Art-Part 5
Ing and John's Street Art, Downtown Newark, New Jersey, USA- Part 5
Kai, The Artist, and Ing and John's Artwork
Wednesday, August 28, 2019
Photographs and Poem by Ing-On Vibulbhan-Watts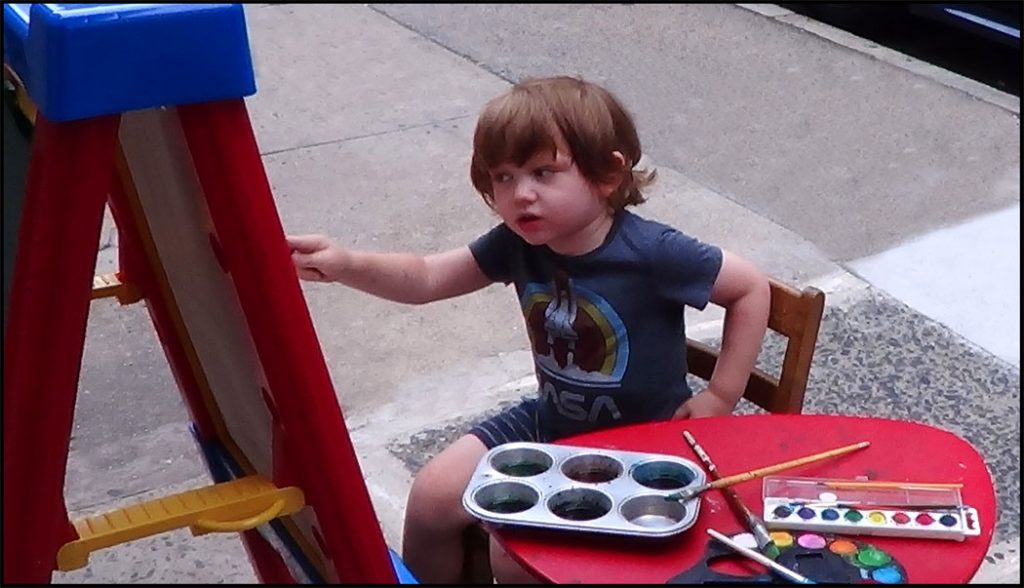 Kai, our grandson, who love to do painting. He volunteers to do artwork in front our shop.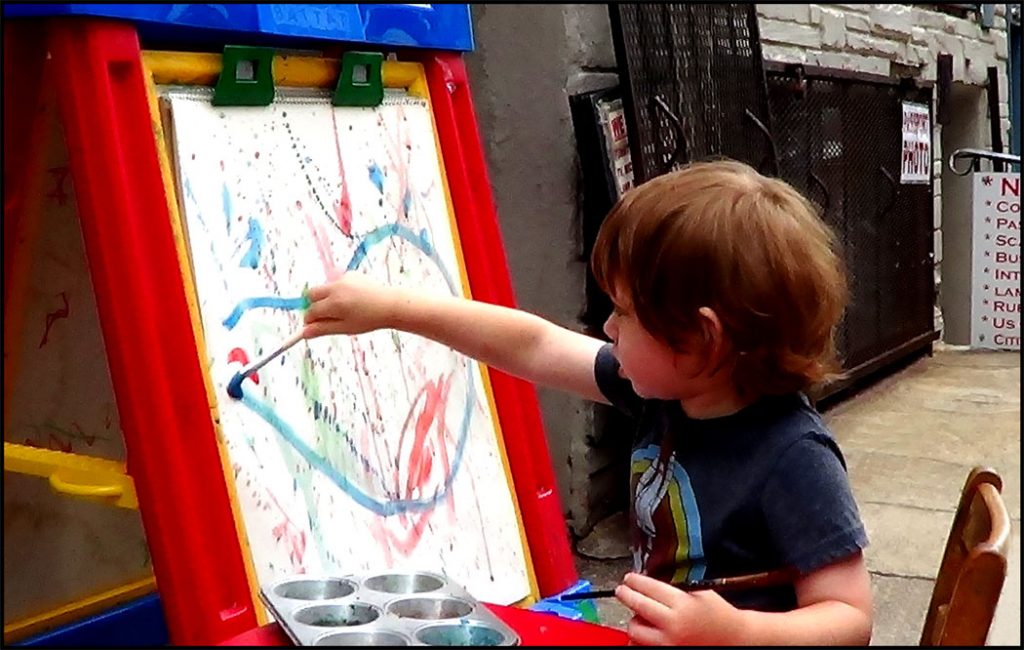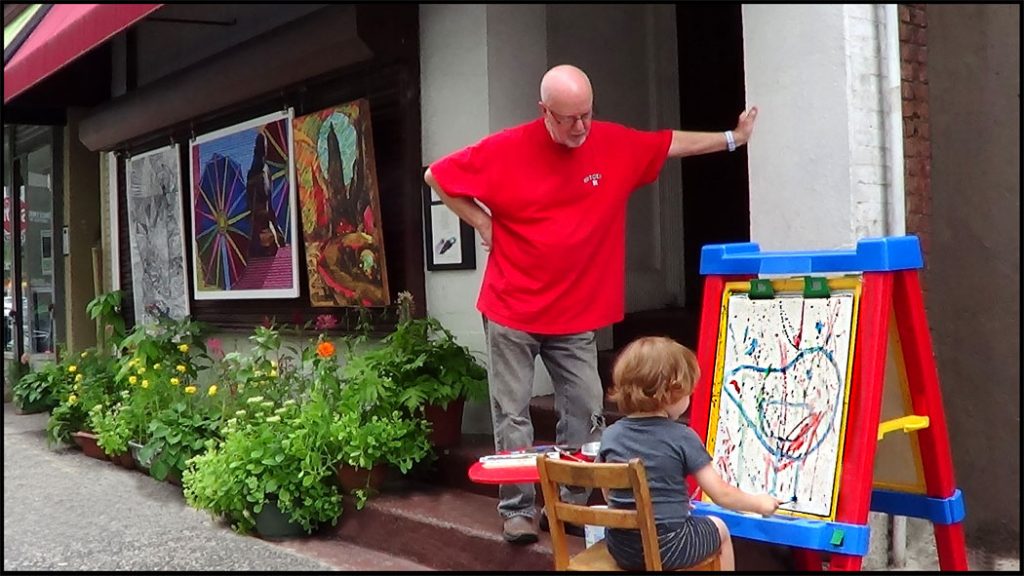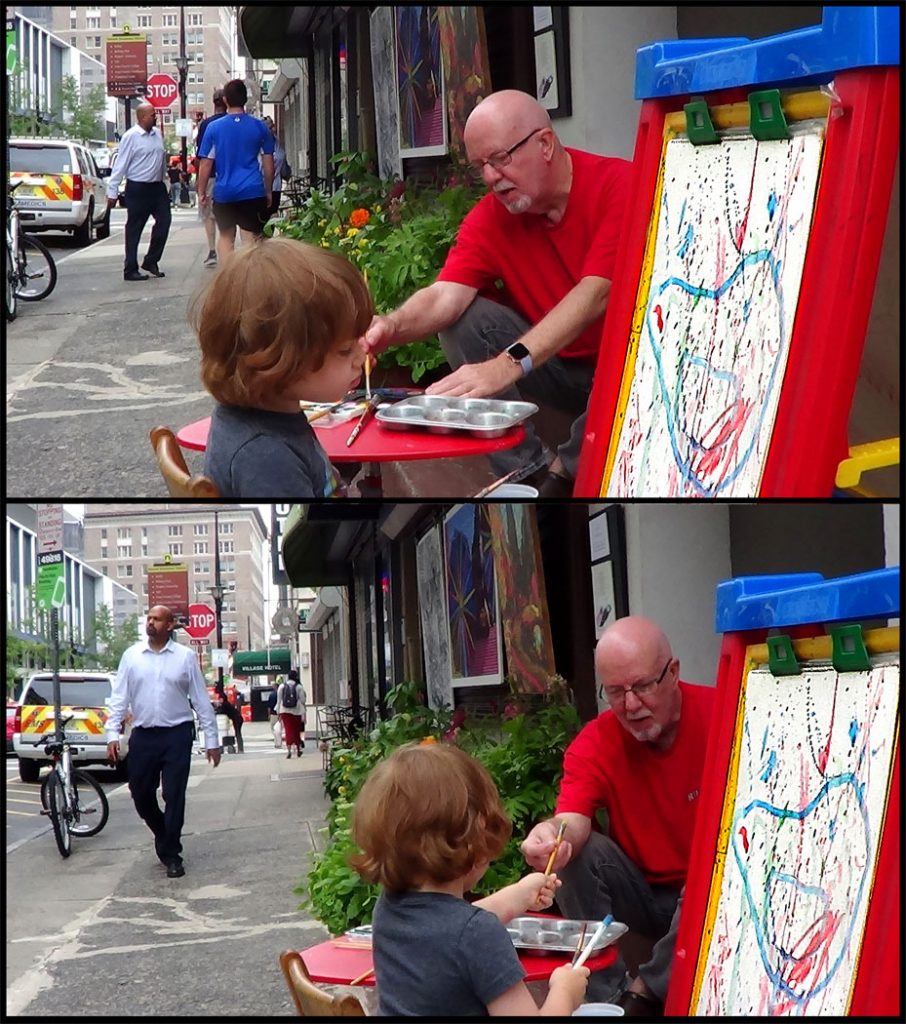 Kai had a helping hand from Grandpa John.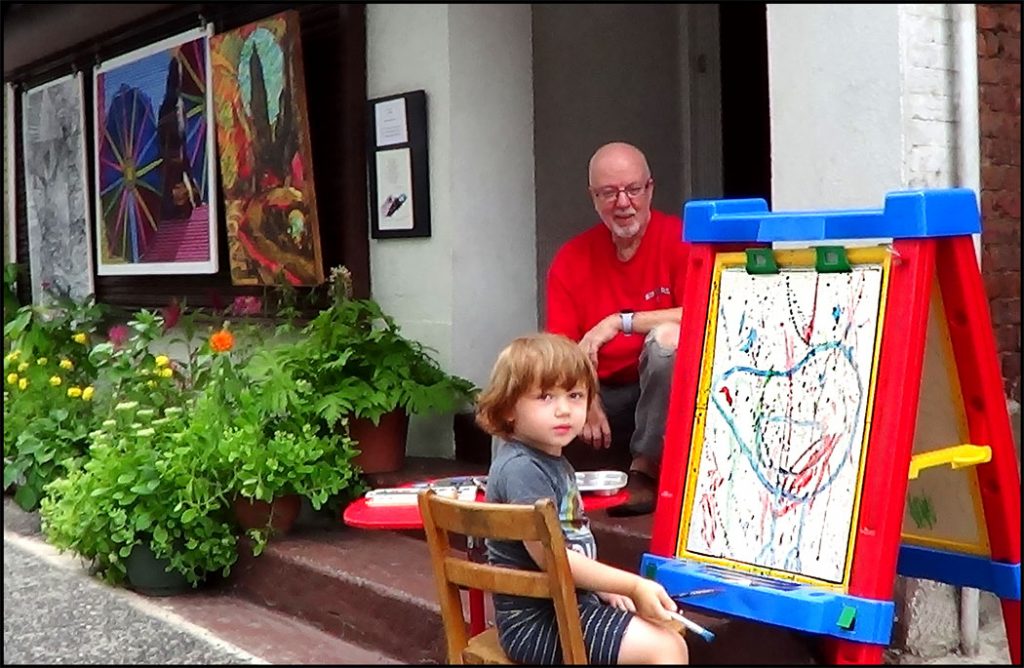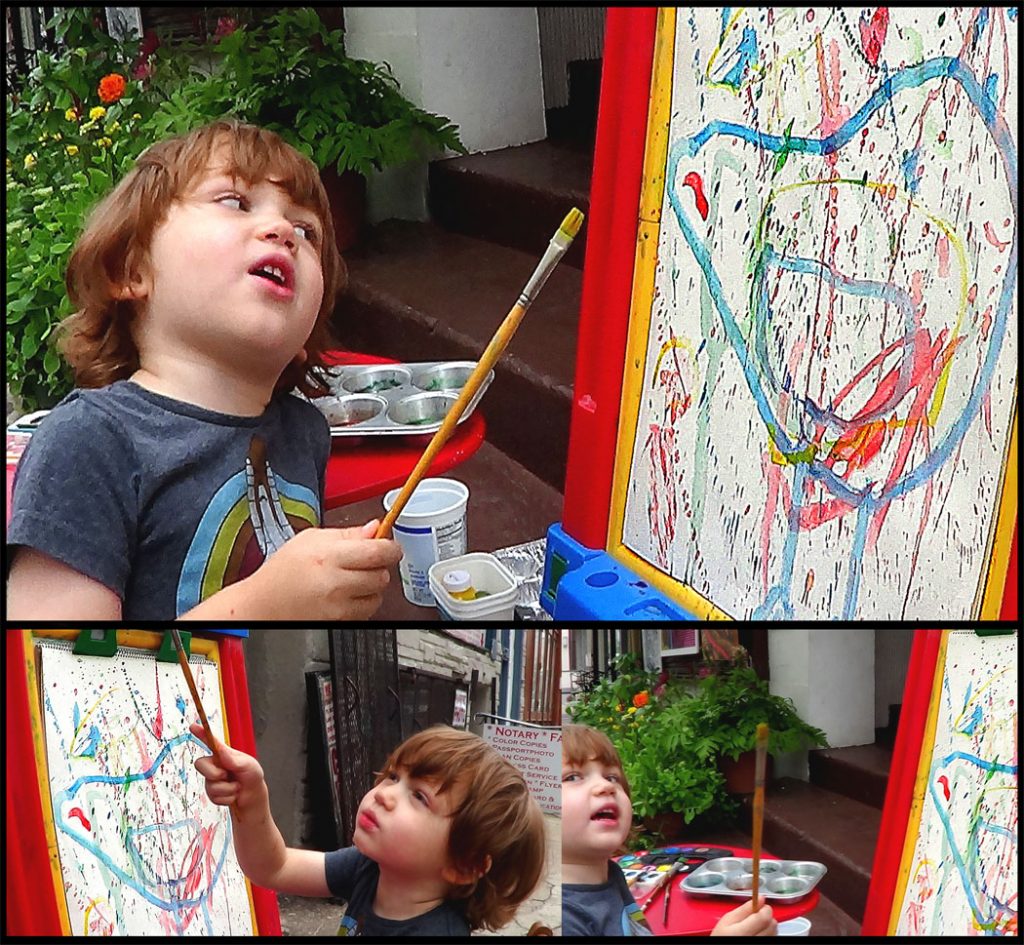 Kai, just turned four years old on Saturday, September 21, 2019.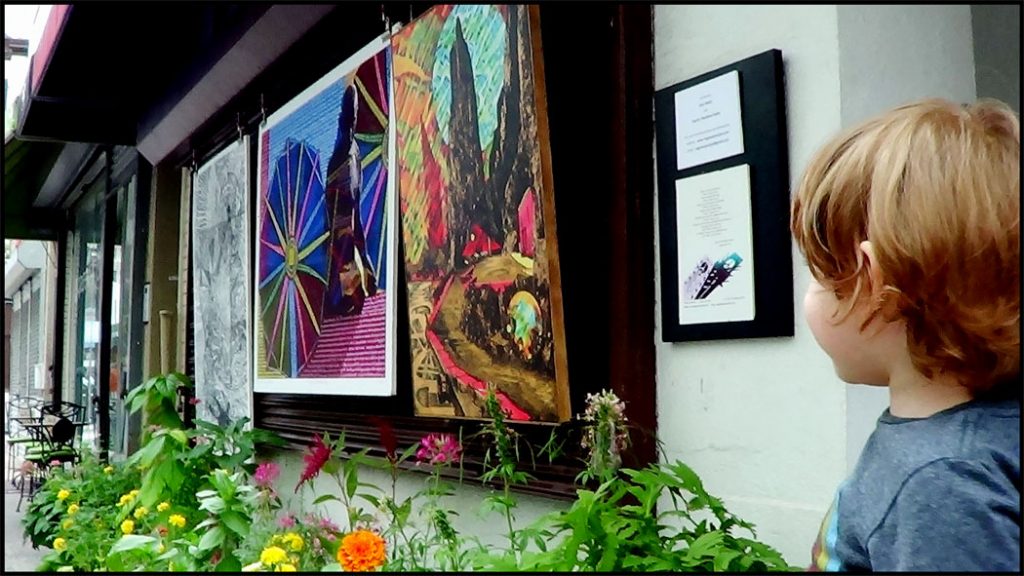 This is the nature of life. One minute we are here and the second minute we are gone. What remains' is what we did with the minutes before, while we are still alive on earth.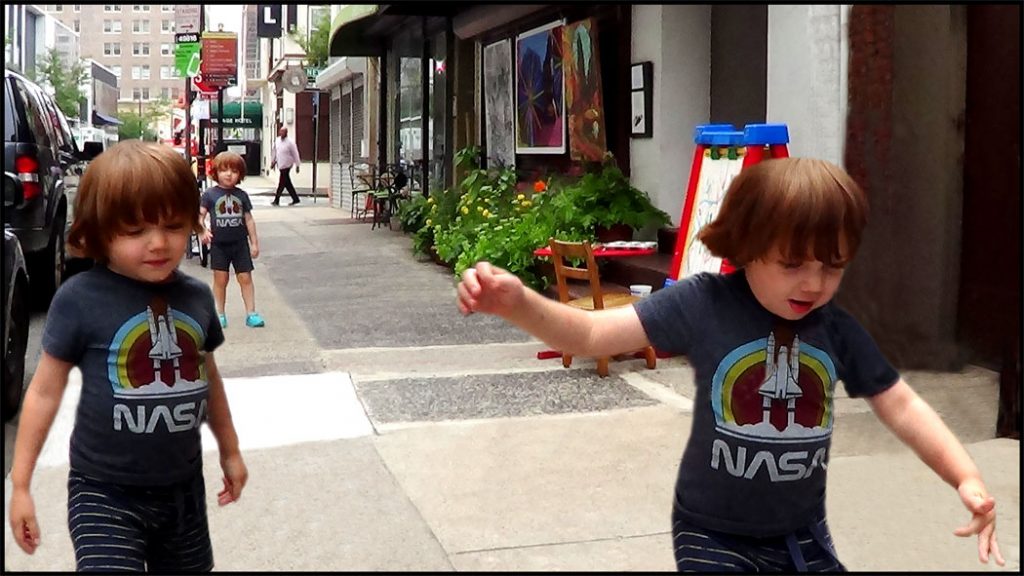 This artist prefers to play, rather than work hard on his painting.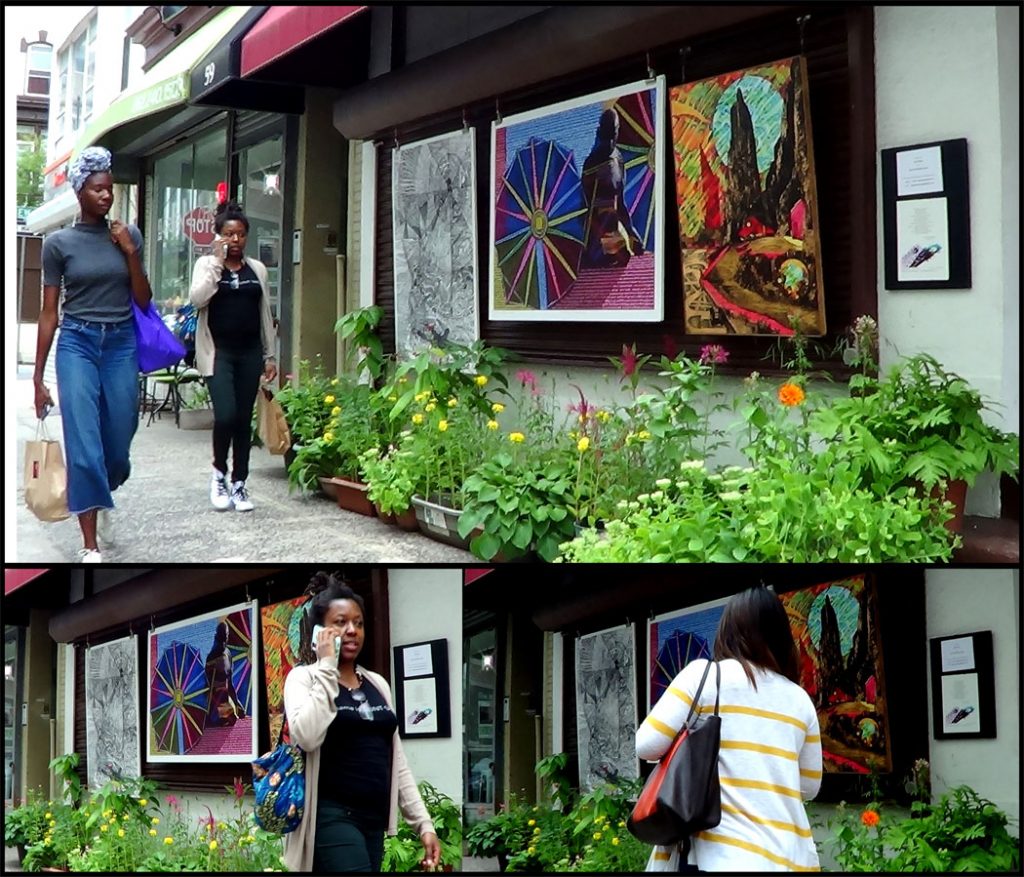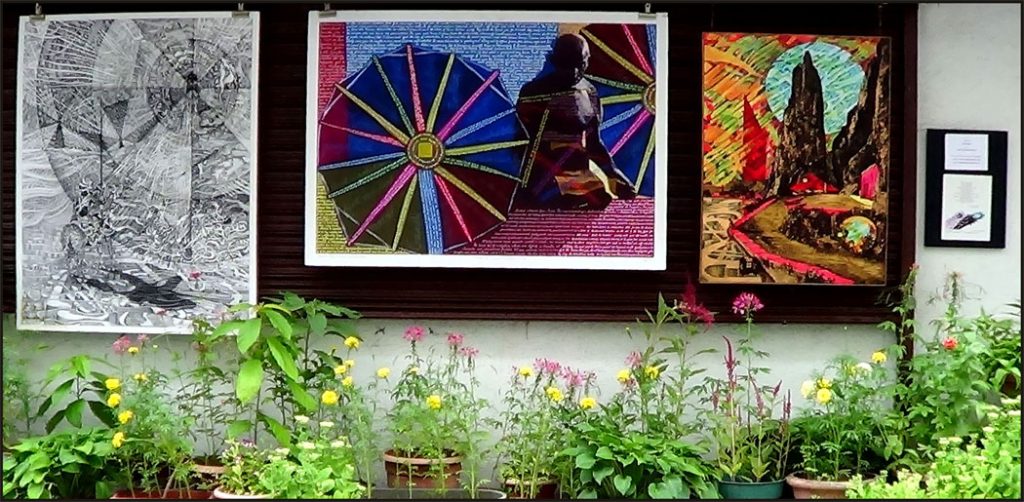 On Tuesday, September 24, 2019, while we were taking our artwork down at night time, a homeless man asked me, "Do you sell the paintings?". "No, I said, we put our artwork up for people to see, and it makes the sidewalk more pleasant to walk by." Then he pointed to my Gandhi artwork and asked "Who is this man?" I explained to him that "His name is Gandhi. He helped his country of India to gain independence from the 200-hundred-year rule by the British Empire. He achieved this by non-violent mean. Dr. Martin Luther King, Jr., who fought for human rights in this country, USA, followed Gandhi's non-violent philosophy. I felt very glad that the homeless man asked me the questions.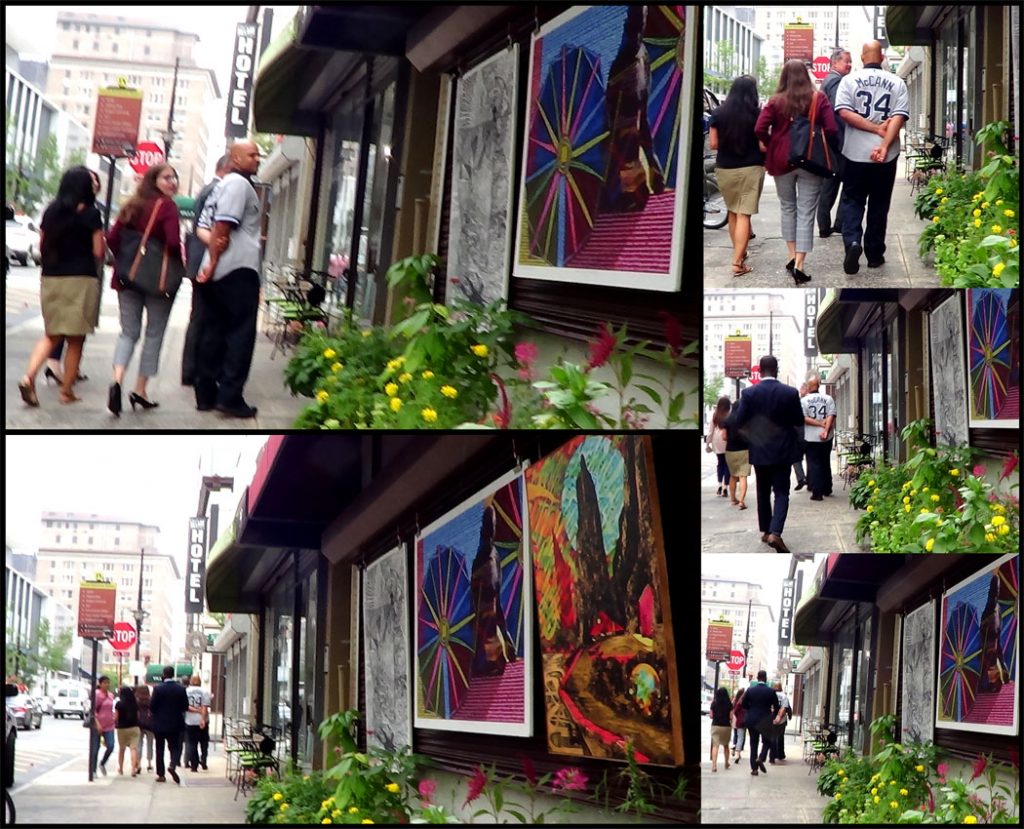 I do not think that homeless people or working-class people will have a much of an opportunity to visit art galleries or museums. This is one of the reasons that I love Street Art. The artwork is in public view. Some might like the artwork or some might not, but it can create inter action and activate the viewers to think. This thinking process helps create learning and reasoning about what others show or tell you to believe.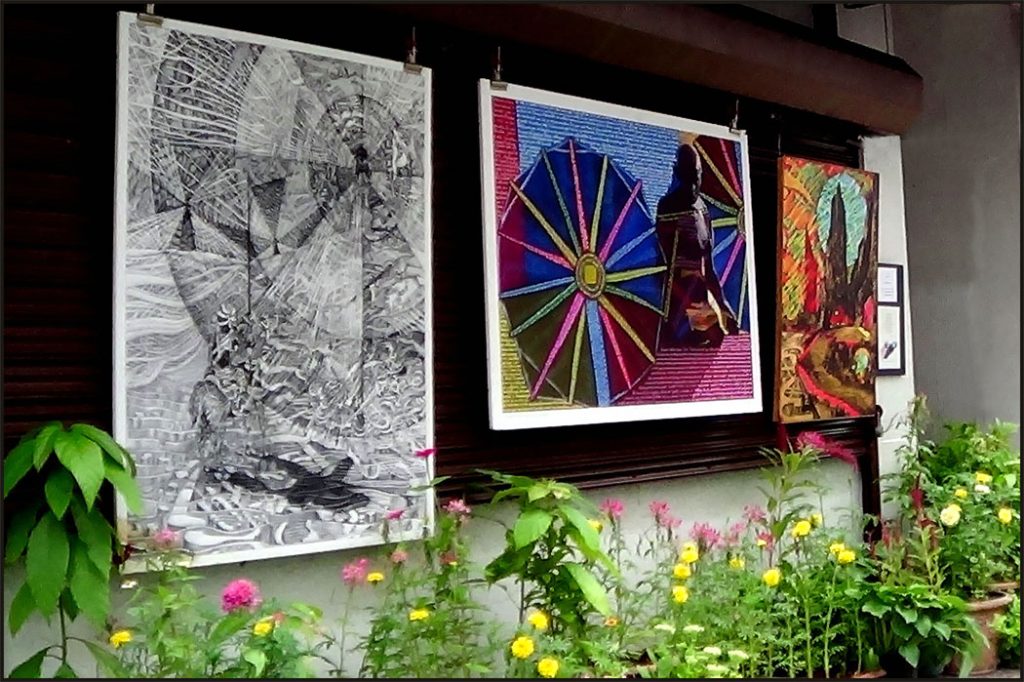 Left: Impossible Dreamer – John Watts' Artwork
Middle: Gandhi Man of Peace and His Words – Ing-On Vibulbhan-Watts' Artwork
Right: Beneath the Lake – John Watts' Artwork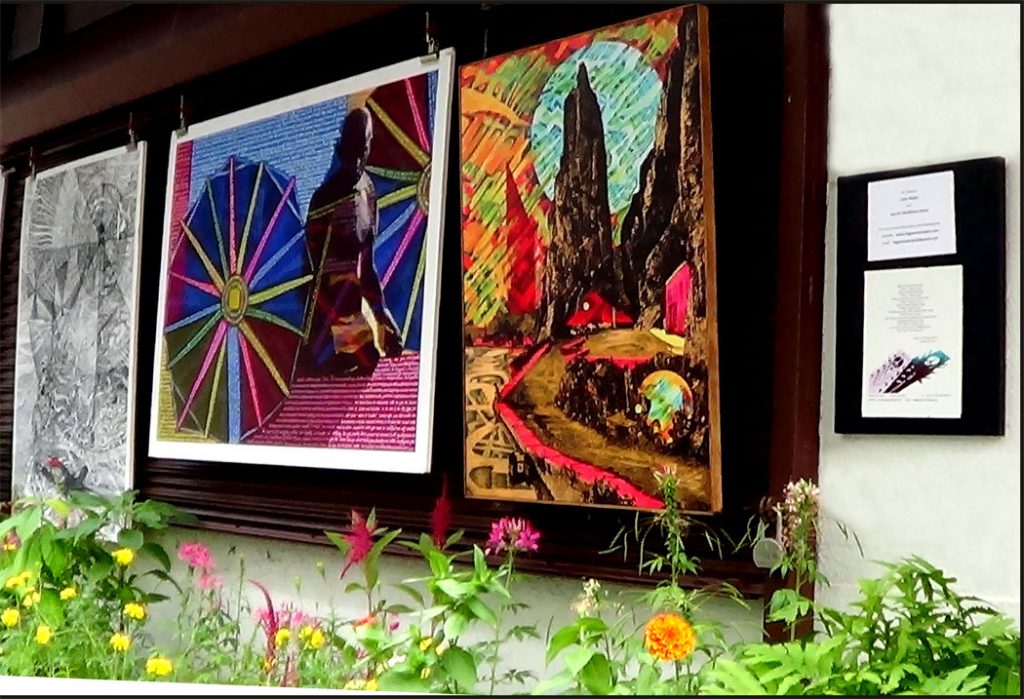 There are some people asking us about our artwork that we display in front of our building. So, we decided to post a sign to let people know who did the artwork along with my Peace Poem.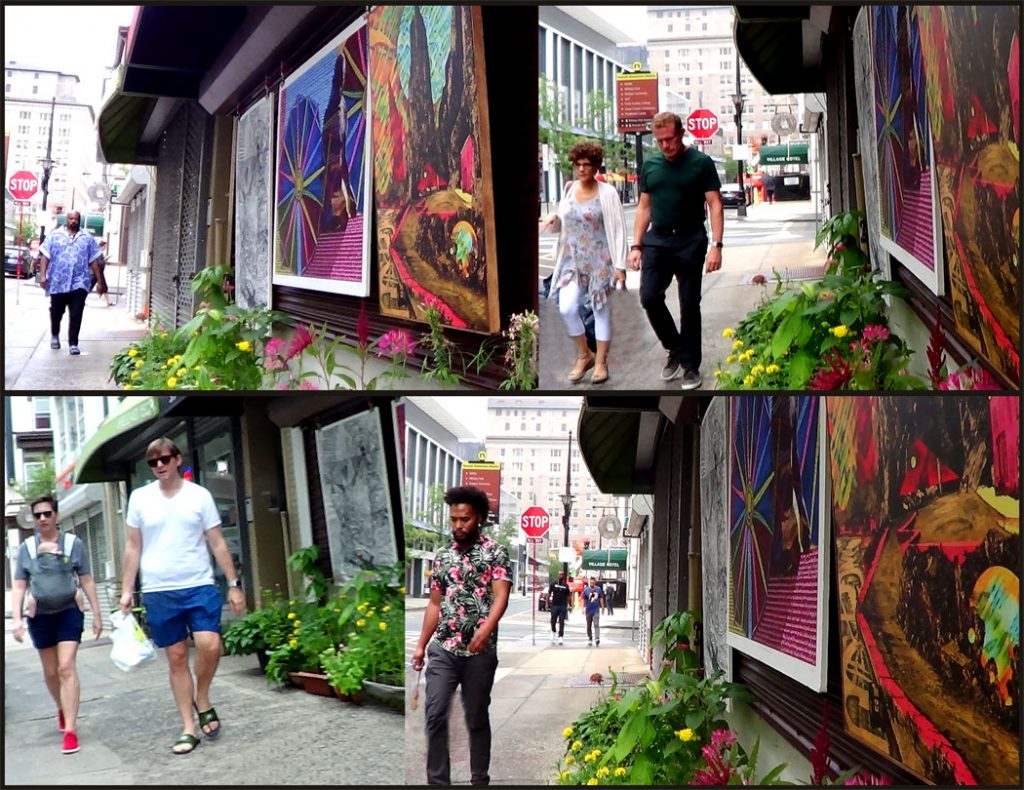 Little one on mother's bosoms
Happy to hang along
Where ever she goes
Ride, ride, ride
Happy mother and happy child
I am a lucky one
Ride, ride, ride
Mommy, Daddy I love you
Ing-On Vibulbhan-Watts, Sunday, November 10, 2019
I wish some of the homeless children that I saw in the parks or the public library will have comfort and be as well provided for as this child.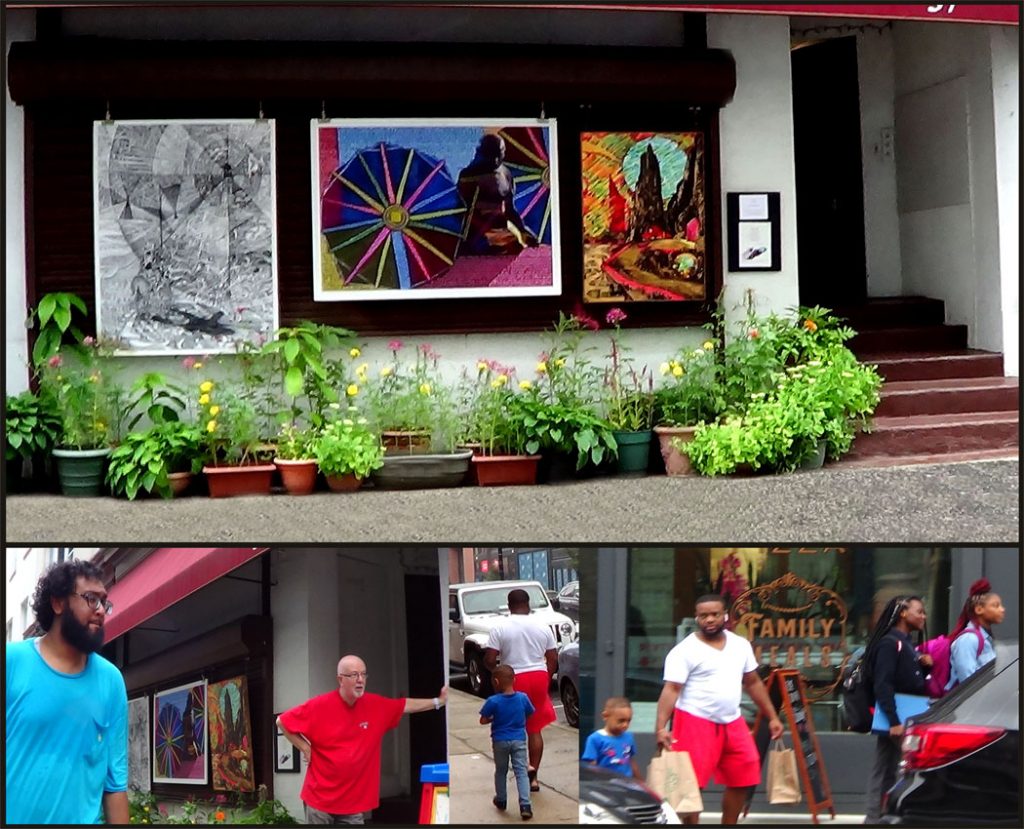 This past summer I took our grandson, Kai to Newark Museum, I found out that it is free admissions for Newark residents, for others it cost $15.00 for an adult and $7.00 for a child. I took Kai to Military park to play. I met a woman who has seven children and is not a Newark resident, so she can only bring the children to the park and cannot afford to pay for the Museum entrance tickets. I think the working-class, poor, and homeless children, need as much as education as they can possibly have. Museums and libraries are good places for children to learn. They can form good habits of learning and be able to do well in school and have ambition to get higher education, such as college or university. Education can help people get out of poverty. The cities nearby Newark, such as Irvington, Jersey City, and others cities have poor and working-class children. These youngsters will be left out of the experience and enjoyment of seeing the fantastic artwork collections that Newark Museum offers to Newark residents, and well to do families out of town that can afford the price of admission.
Ing-On Vibulbhan-Watts, Thursday, November 14, 2019
For more information please visit the following link:
Ing and John's Street Art and International Street Art-Part 6
International Street Art – Part 6
Street Art & Illustration
David Zinn has been creating original artwork in and around Ann Arbor, Michigan since 1987. For more than twenty years, he freelanced for a wide variety of commercial clients while simultaneously sneaking "pointless" art into the world at large. His professional commissions included theatrical posters, business logos, educational cartoons, landfill murals, environmental superheroes, corporate allegories and hand-painted dump trucks, and his less practical creations involved bar coasters, restaurant placemats, cake icing, and snow. Now, thanks to the temptations of a box of sidewalk chalk on an unusually sunny day, Mr. Zinn is known all over the world for the art he creates under his feet.
David's temporary street drawings are composed entirely of chalk, charcoal and found objects, and are always improvised on location through a process known as "pareidolic anamorphosis" or "anamorphic pareidolia." Most of his creatures appear on sidewalks in Michigan, but many have surfaced as far away as subway platforms in Manhattan, village squares in Sweden and street corners in Taiwan. He has achieved global notoriety through sharing on the pages of Facebook, Instagram, Huffington Post, Graffiti Art Magazine, Bored Panda, Central China Television, Street Art Utopia, and Archie McPhee's Endless Geyser of Awesome. His most frequent characters are Sluggo (a bright green monster with stalk eyes and irreverent habits) and Philomena (a phlegmatic flying pig), but the diversity of Mr. Zinn's menagerie seems to be limited only by the size of the sidewalk and the spirit of the day
For more information please visit the following link: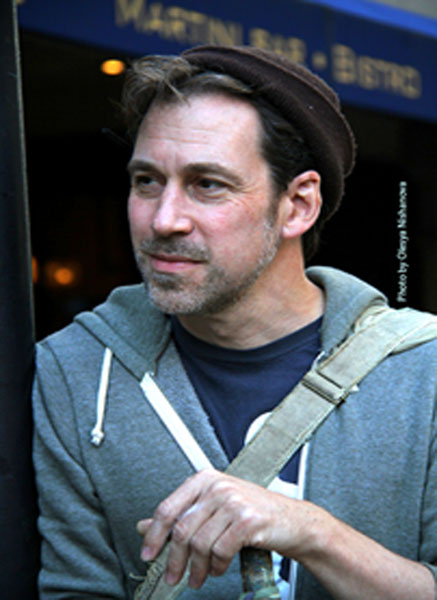 Sluggo on the Street, Vol. 1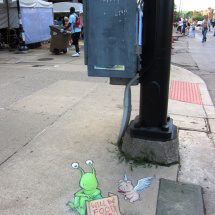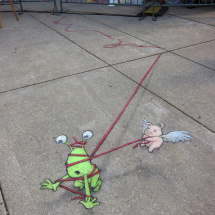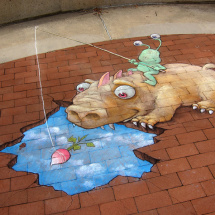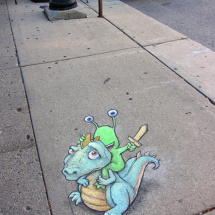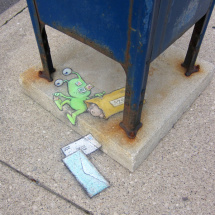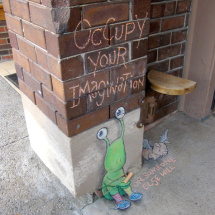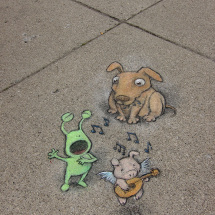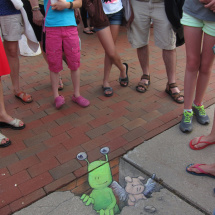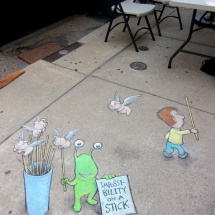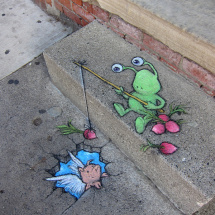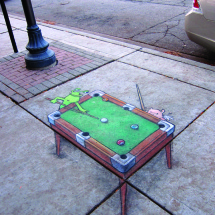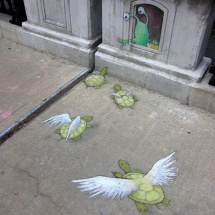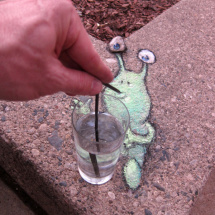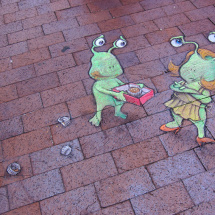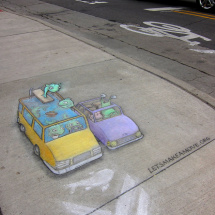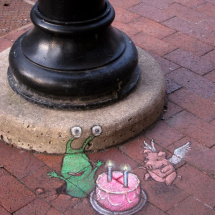 Categories: Chalk Art
For more information please visit the following link: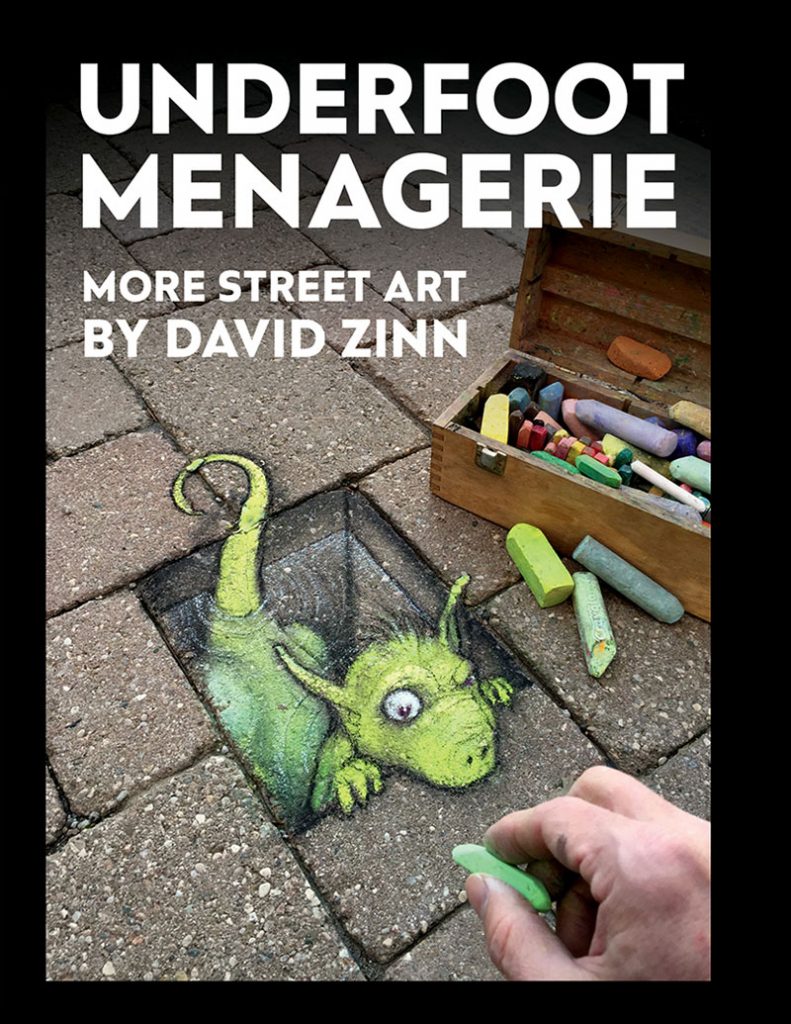 The new book has arrived! "Underfoot Menagerie" is the best way to keep David Zinn's temporary street art creatures from running away in the rain: put them on your coffee table! More than 100 pages of cheerful creatures to brighten your day, plus explanations and inspirations from the artist himself. Click on the "shop" link or the image above to order!
Contact David Zinn: info@zinnart.com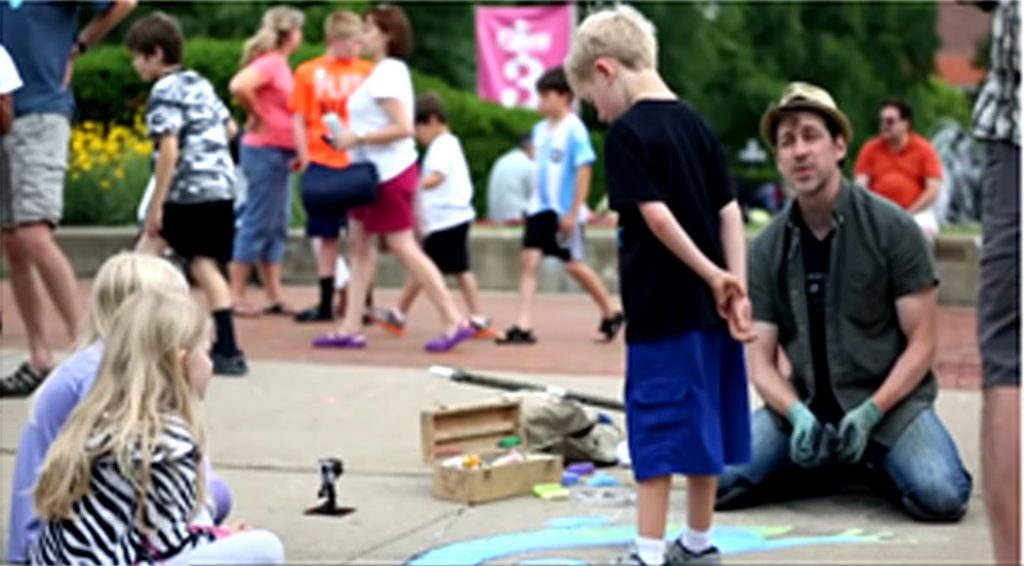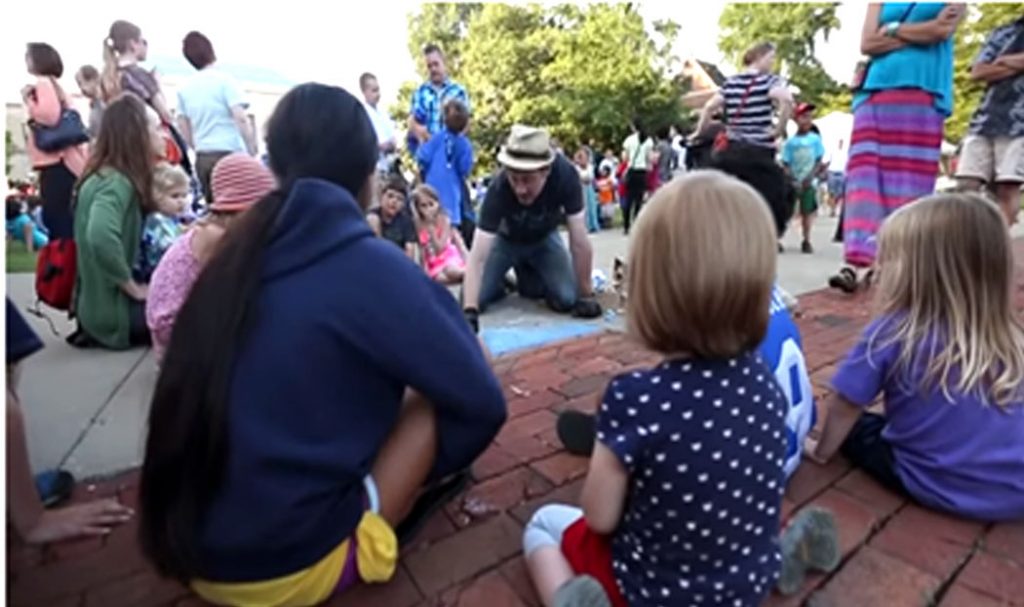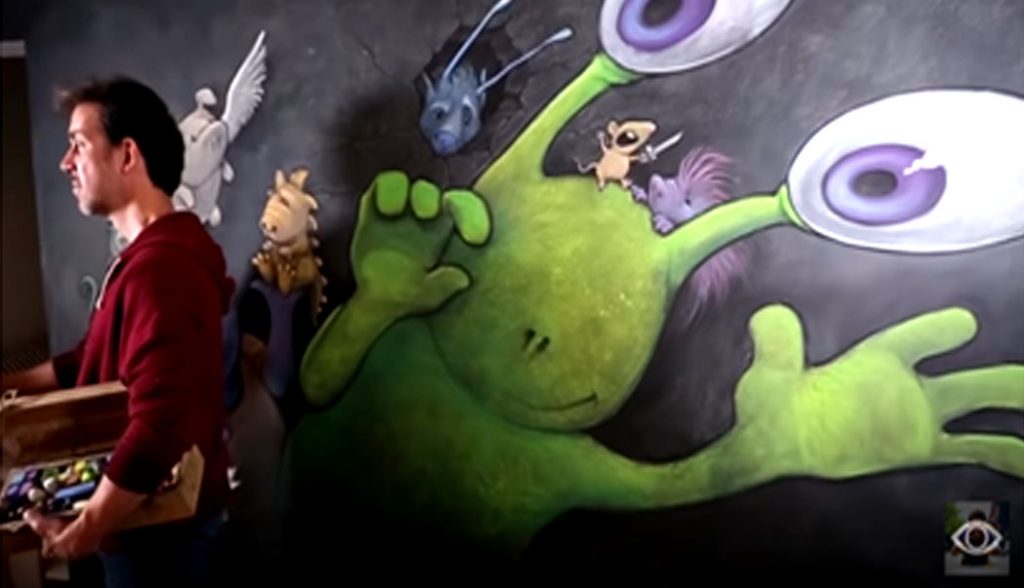 David Zinn: Chalk Art Brought to Life
Dec 1, 2014 VideoVision360
David Zinn is an Ann Arbor artist known for his temporary street art composed entirely of chalk, charcoal and found objects that is entirely improvised on location. Most of these drawings (most notably "Sluggo") have appeared on sidewalks in Ann Arbor and elsewhere in Michigan, but some have surfaced as far away as subway platforms in Manhattan and construction debris in the Sonoran Desert. Zinn's chalk work began in 2001 as an excuse to linger outdoors and pursue his inner-child, but has since achieved global notoriety. Give his temporary chalk-based creatures a safe haven away from rain, by taking his art home with you: https://igg.me/at/davidzinn. David Zinn MUSIC VIDEO: https://youtu.be/ta5cXcCGWsk Video Production: https://www.facebook.com/VideoVision360
Category People & Blogs
David Zinn Art
Sep 11, 2014 Create Michigan
Watch Ann Arbor artist David Zinn as he creates one of his popular chalk art drawings on the street in Dexter, Michigan.
Category Entertainment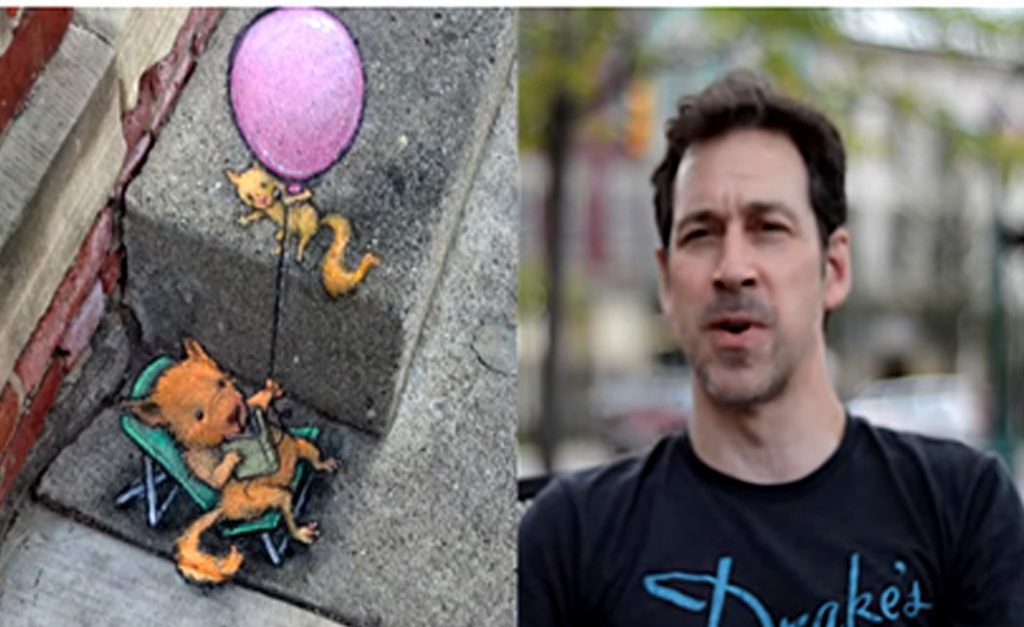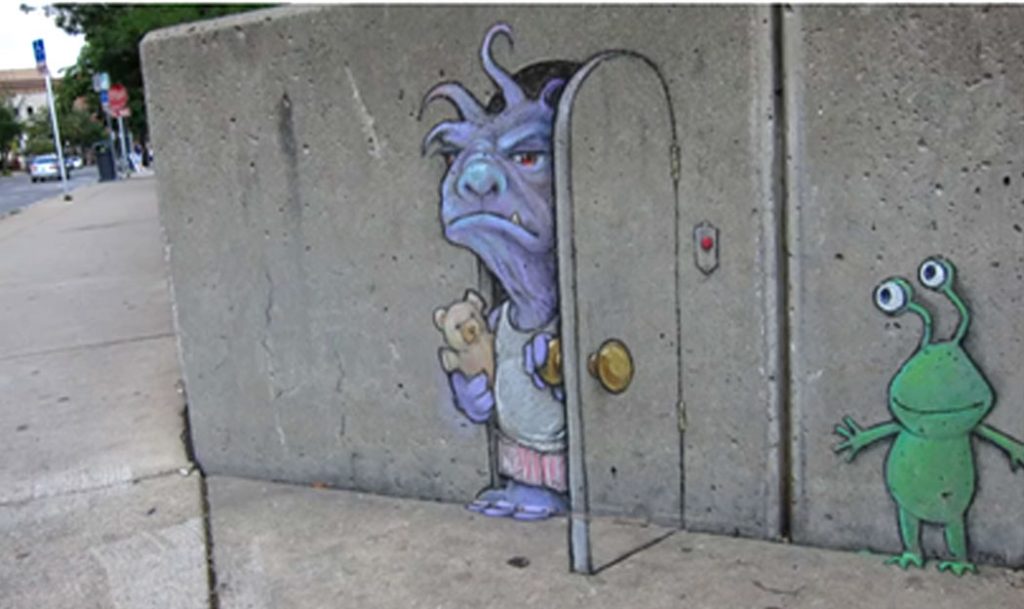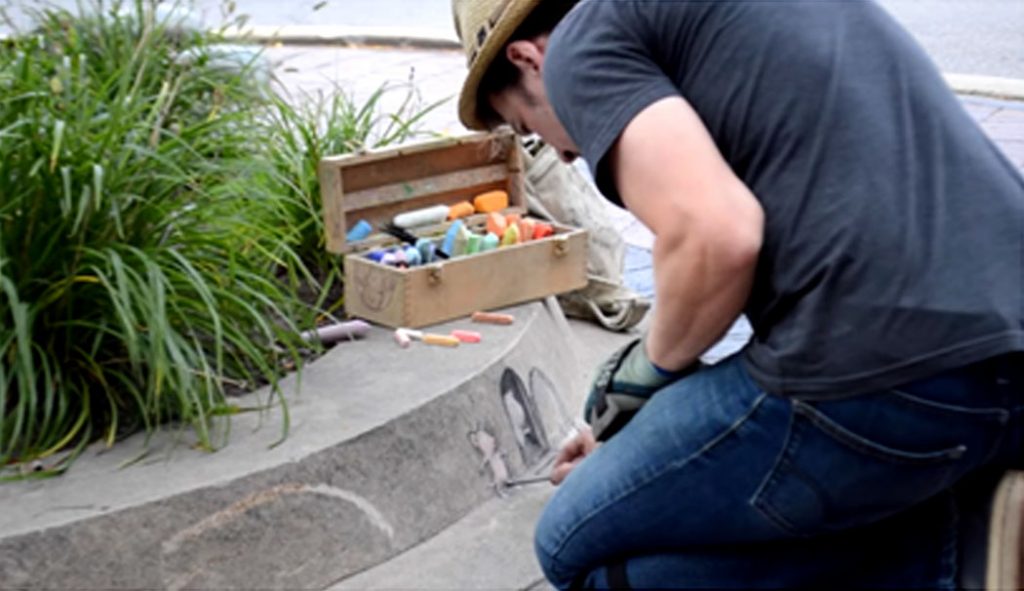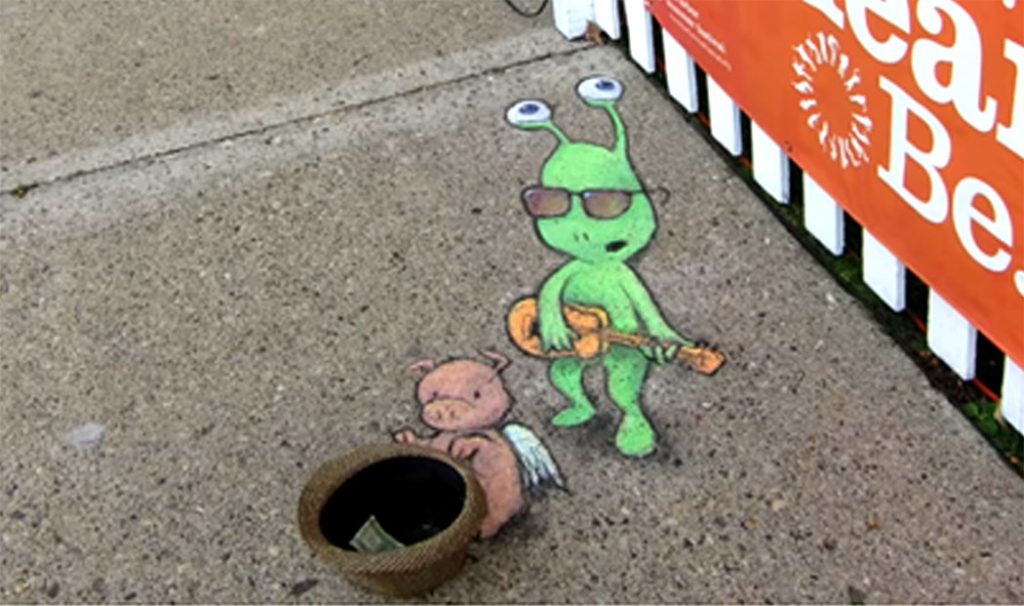 For more information please visit the following link:
Teachers emotionally support our kids — but who's supporting our teachers? In this eye-opening talk, educator Sydney Jensen explores how teachers are at risk of "secondary trauma" — the idea that they absorb the emotional weight of their students' experiences — and shows how schools can get creative in supporting everyone's mental health and wellness.
This talk was presented at an official TED conference, and was featured by our editors on the home page.
About the speaker
Sydney Jensen wants to shine a light on the emotional and mental impact of teaching students who have experienced trauma.
Take Action
participate
Contact your representatives to urge them to support Teacher Health and Wellness Act, H.R.2544.
join
Teachers: share your story with brave vulnerability here.
TED Masterclass | October 2019
To get young kids to thrive in school, we need to do more than teach them how to read and write — we need to teach them how to manage their emotions, says educator Olympia Della Flora. In this practical talk, she shares creative tactics she used to help struggling, sometimes disruptive students — things like stopping for brain breaks, singing songs and even doing yoga poses — all with her existing budget and resources. "Small changes make huge differences, and it's possible to start right now … You simply need smarter ways to think about using what you have, where you have it," she says.
This talk was presented at an official TED conference, and was featured by our editors on the home page.
About the speaker
Olympia Della Flora · Educator
Olympia Della Flora wants schools to think differently about educating students — by helping them manage their emotions.
1,884,173 views
TED Salon: Education Everywhere | January 2019
How can disadvantaged students succeed in school? For sociologist Anindya Kundu, grit and stick-to-itiveness aren't enough; students also need to develop their agency, or their capacity to overcome obstacles and navigate the system. He shares hopeful stories of students who have defied expectations in the face of personal, social and institutional challenges.
This talk was presented at an official TED conference, and was featured by our editors on the home page.
About the speaker
Anindya Kundu · Sociologist, educator, writer
Anindya Kundu suggests all students can succeed if provided collective support systems and opportunities.
More Resources
The TED Residency is an incubator for breakthrough ideas. It's free and open to all via a semiannual competitive application. Residents spend four months at TED headquarters in New York City collaborating on projects and ideas, which they then share in a TED Talk.
1,749,407 views
TED Residency | June 2017
How to Create Beautiful Light Painting Images With an Illuminated Hoop
A Post By: Andrew S. Gibson
Early last year I collaborated with a friend who is a professional circus performer and hula hooper to create the unique images that you see in this article.
There are lots of good light painting photos around, but the factor that sets these ones apart is that my friend Tess used something called a FutureHoop – a transparent hula hoop that has built-in lights that can be programmed to flash in different colors and patterns. It helps that Tess is a trained dancer and hooper, so she was able to create some beautiful patterns with the FutureHoop.
You can try this technique yourself – if not with a FutureHoop then with any number of colored light tubes or similar devices that are available (or make your own). Do a search on Amazon to see what you can find, and use your imagination to reveal their potential.
Whatever you end up using for your painting with light experiments, there are a number of things you need to consider to get the best results. Take care of these and you should be able to create some strong images.
Choose a Location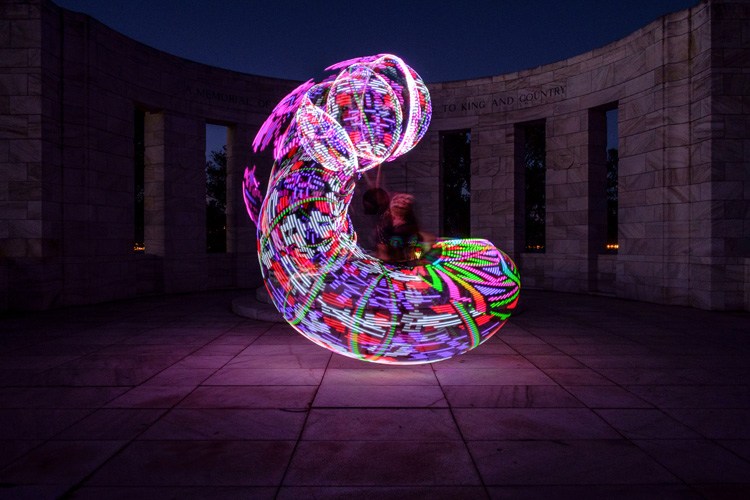 Pick a good location. You need a dramatic background that complements the painting with light technique you choose to use. For these photos we went to Massey Memorial, built in remembrance of a past New Zealand Prime Minister on a hill in Wellington. I knew it would be a great place to take the photos because the marble pillars form a dramatic background. There was also plenty of room for Tess to move and dance with the FutureHoop.
Take the practicalities into consideration when choosing a background. For example, beaches often make good locations for painting with light photos, but you need to make sure your model can walk around safely in the near dark without tripping over rocks (or falling into the sea). Incidentally, isolated beaches are also a great place to try steel wool spinning, another form of painting with light.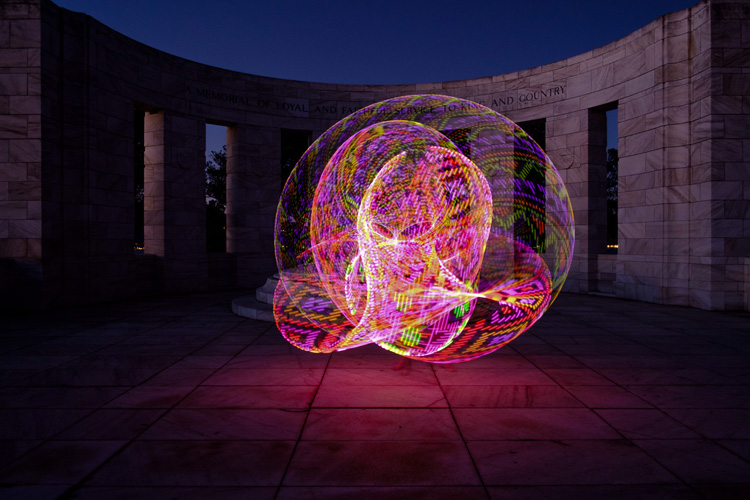 Pick a model
Pick the right model. Tess is a professional performer and I couldn't have created these photos without her. She had the appropriate costume, including an illuminated bra that can also be programmed to give different color displays.
Her training also meant that she could strike professional poses. The following photo demonstrates this perfectly. Look at the arch of her back, the way her feet are positioned, and how the toes on her left foot are pointed. You can even see the flashing bra.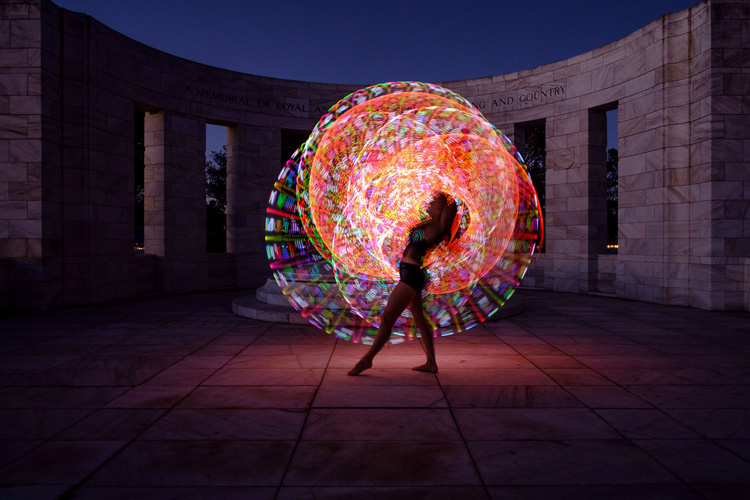 The other thing that helped is that Tess thought about the patterns she would use on FutureHoop, and how she would move the hoop before the shoot. That helped us nail the shoot the first time.
Ask your model to practice, and be prepared to reshoot if necessary. It is possible that you won't create your best images during the first attempt. During the shoot, look at the photos on the camera's LCD screen and see what works and what doesn't. Then you can suggest things that your model can try, or ask her to do something again if you didn't quite time the photo correctly. Use feedback to refine the images and work towards something beautiful.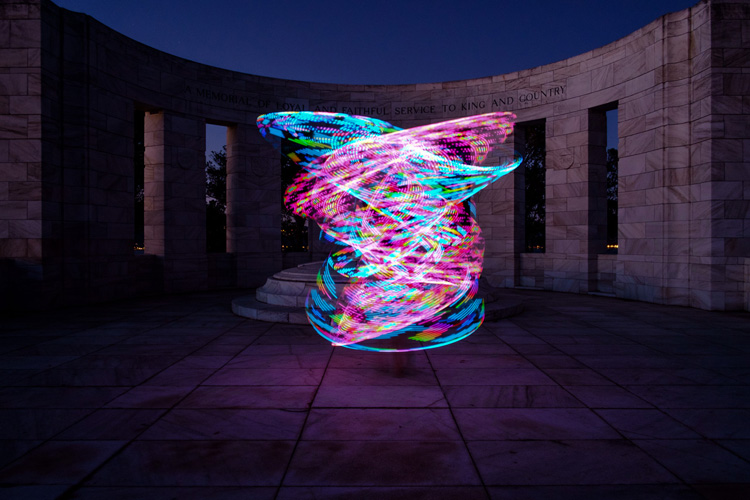 Time of Day
Choose the right time of day. The best time for painting with light is twilight, as it is dark enough for the lights to show, but there is still enough ambient light to subtly illuminate the background, and maintain some color in the sky.
The only difficulty with twilight is that the light fades rapidly, so you have to keep up by changing the exposure settings as you go along. The photos you take earlier on in the shoot, will be different from the ones you take later, as the light is fading. The ratio between the light from the FutureHoop (or whatever devices you are using), which stays constant, and the ambient light, which is fading, changes.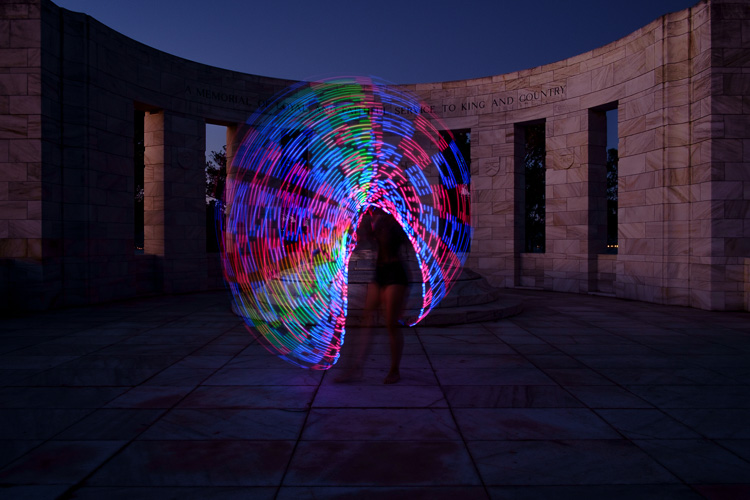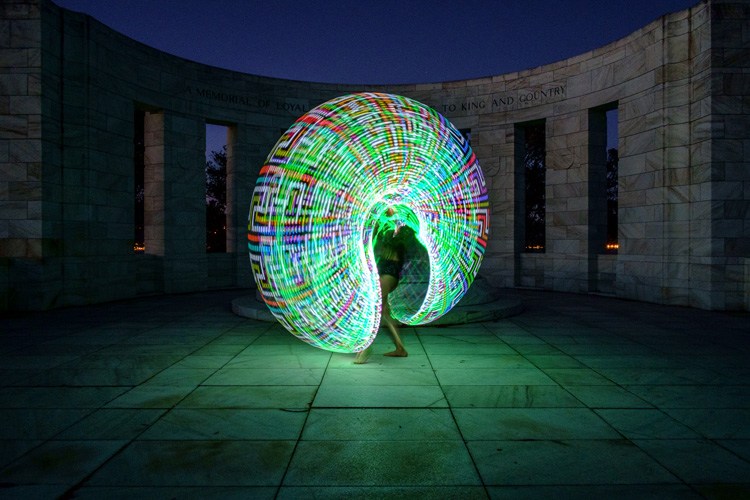 The two photos above show the difference. The first was taken early in the evening, the second one when it was nearly dark. The pillars in the background in the first are lit by the light of the setting sun. The FutureHoop seems much brighter in the second because the ambient light levels are lower. Note that I darkened the background of the first image in Lightroom to match that of the second one.
This photo shows Tess warming up at the start of the shoot. It was still too bright as this stage for the painting with light photos – you can barely see the light of the FutureHoop.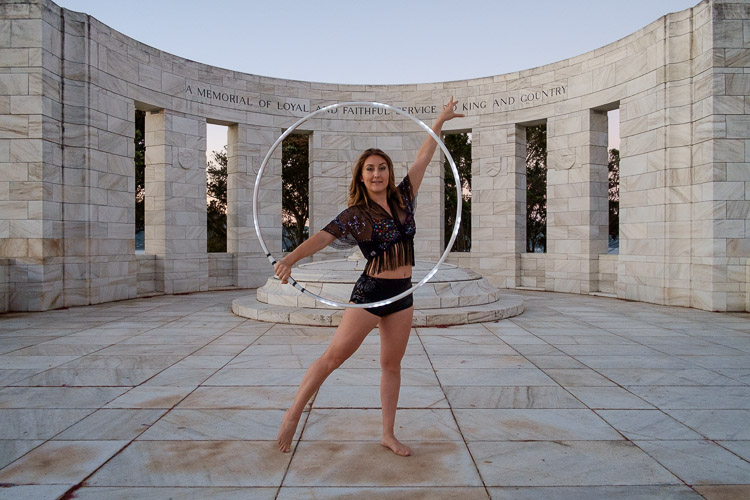 If you shoot at night the exposure should remain constant, but the sky will lack color. On the other hand, the light from the device your model is using could light up the background beautifully if it is close enough. So there may be advantages to working at night, rather than twilight, but in most cases the light during twilight will be better.
Technique and Camera Settings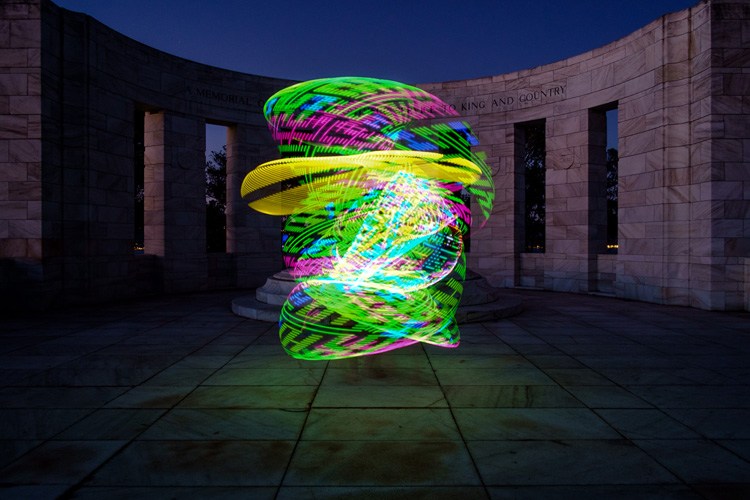 Get your technique right. You need slow shutter speeds to take this type of photo, so a good tripod to support the camera and a cable release are necessities. I used shutter speeds between two and four seconds for these photos – you may need longer exposures depending on how long it takes your model to move the device you are using through the air. Tess moved quite fast, so the shorter shutter speeds we used worked better.
Set your camera to Manual mode so that the exposure remains constant throughout the series (the moving lights will confuse your camera's light meter in an automatic exposure mode). It is easy enough to open the aperture, or raise the ISO, if you need to as the light fades.
Use the Raw format to give you maximum leeway in post-processing. Shooting Raw simplifies the shoot greatly as you don't have to worry about settings such as color profile until you sit down to process the photos.
In this shoot, once the camera was set up, I kept the aperture at f/8 or f/11 and raised the ISO as the light faded. I set the White Balance to Daylight so I could see the natural colors of the FutureHoop and the ambient light. Using auto White Balance may result in some strange color casts as the camera tries to compensate for the colored lights.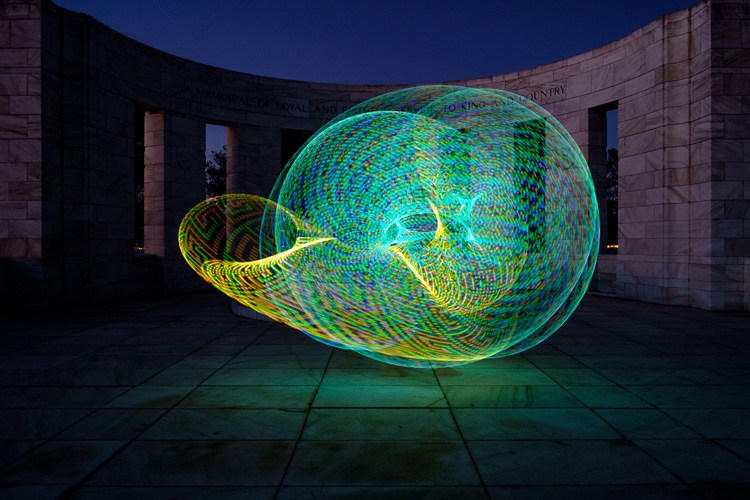 Above all, have fun. If you both enjoy the process you create better images. If your model enjoys it she will want to collaborate with you on future ideas. Below are a few more images from our shoot – enjoy and hopefully they give you some ideas.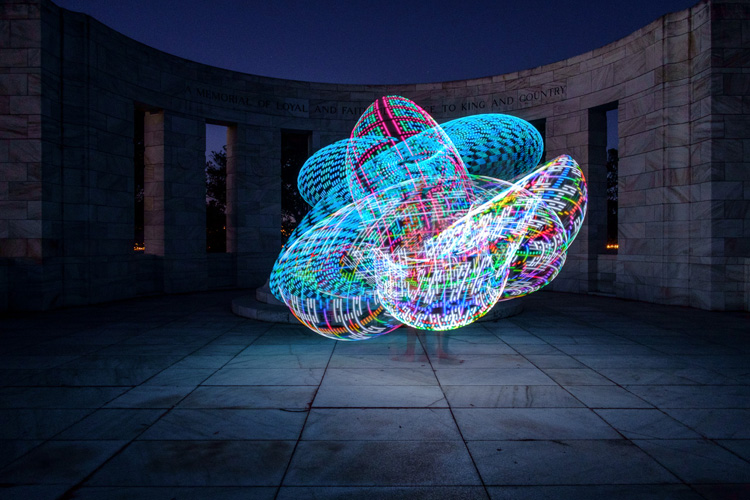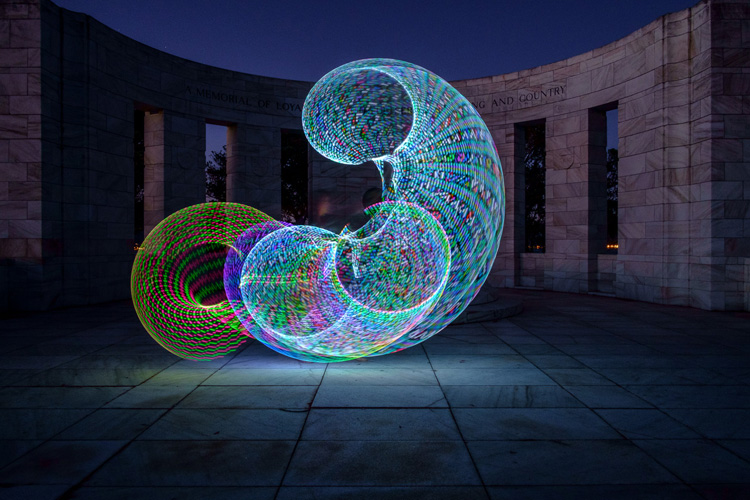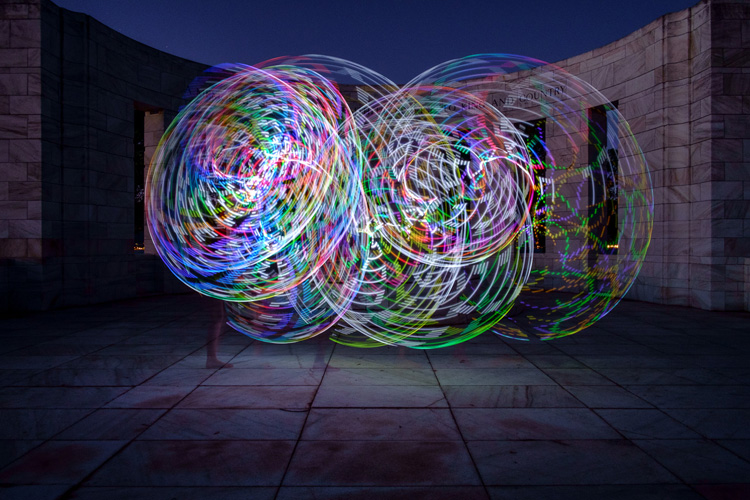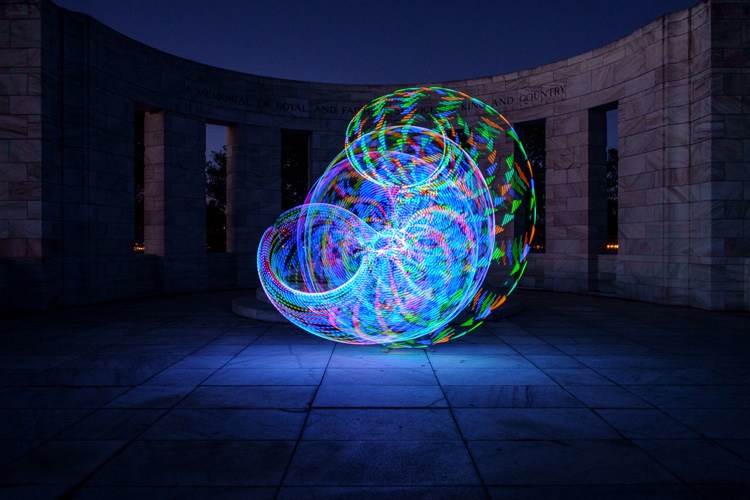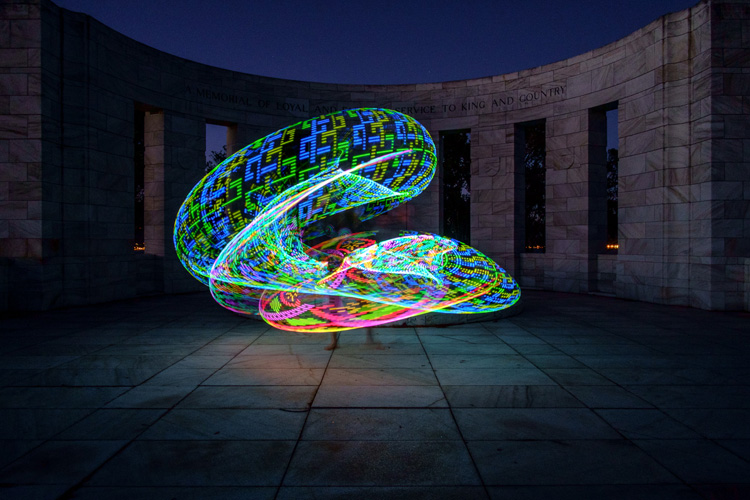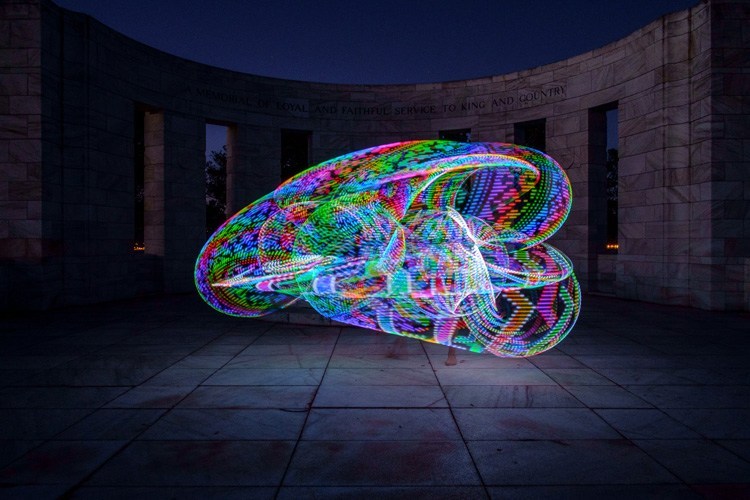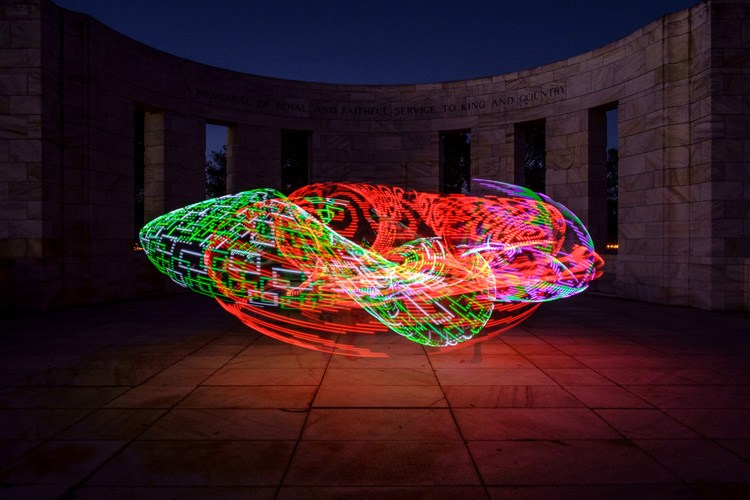 Any questions? Let us know in the comments and I'll do my best to answer.
And if you'd like to learn more about the basics of photography, then please check out my ebook Mastering Photography: A Beginner's Guide to Using Digital Cameras.