Thanks to Daily Mail for posting this
Say hello to 2020! Europe brings in the New Year following huge fireworks displays across the rest of the world
People around the world are ringing in the New Year and a new decade as 2019 comes to an end at midnight
Auckland and Sydney became the first major cities to kick off the celebrations with huge firework displays
They were joined by Seoul, Tokyo and Pyongyang, before Hong Kong marked the New Year amid protests
South East Asia welcomed the new year next with epic firework displays from Singapore and Thailand
The celebrations then drove westward, with western European countries now setting the skies alight
The UK, Brazil and America are among the countries still waiting to put on a big show for 2020
By Ryan Fahey and Sophie Tanno and Chris Pleasance for MailOnline and Afp
Published: 05:32 EST, 31 December 2019 | Updated: 19:49 EST, 31 December 2019
Billions of people around the world are celebrating the start of a new year and a new decade after the clock struck midnight across the globe.
Sydney and Auckland became the first major world cities to let rip with huge firework displays, after a handful of remote Pacific island near the international date line had already flipped the calendar to 2020.
Organisers in Sydney decided to go ahead with their show despite calls for it to be cancelled amid wildfires that have brought swathes of devastation across the country, killing at least 12 and destroying dozens of homes.
There were also fraught scenes in Hong Kong as the state marked the start of the New Year amid pro-democracy protests, as Beijing and Singapore celebrated at the same time.
It comes ahead of Brazil and America who are still set to put on a big show when their times come. Hawaii will be one of the last to mark the end of 2019.
Fireworks illuminate the night sky behind July 15 Martyrs' Bridge within the new year celebrations in Istanbul, Turkey on January 01, 2020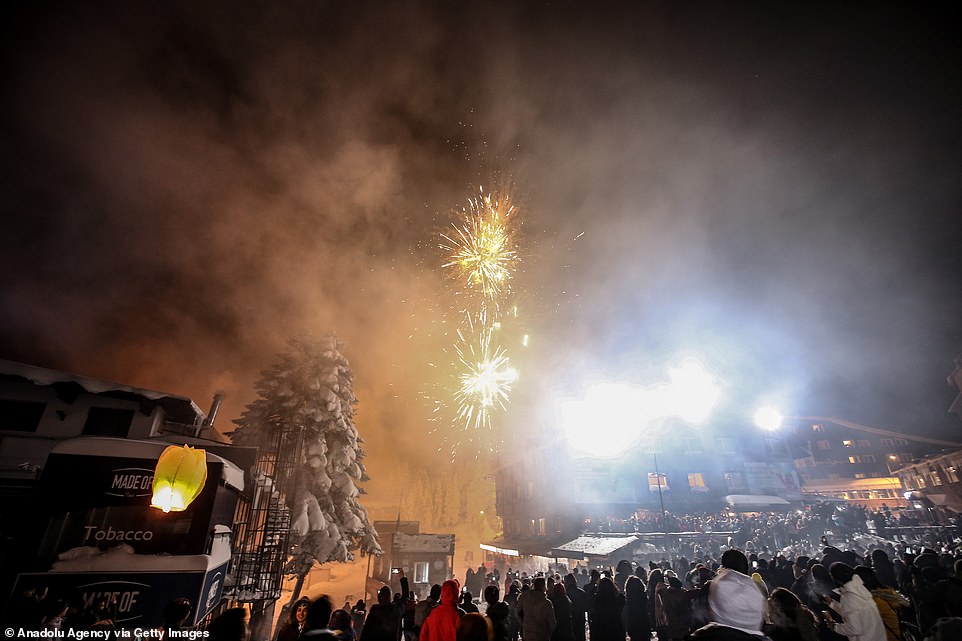 Fireworks go off and illuminate the night sky over people at the Uludag ski resort within the new year celebrations in Bursa, Turkey on January 1, 2020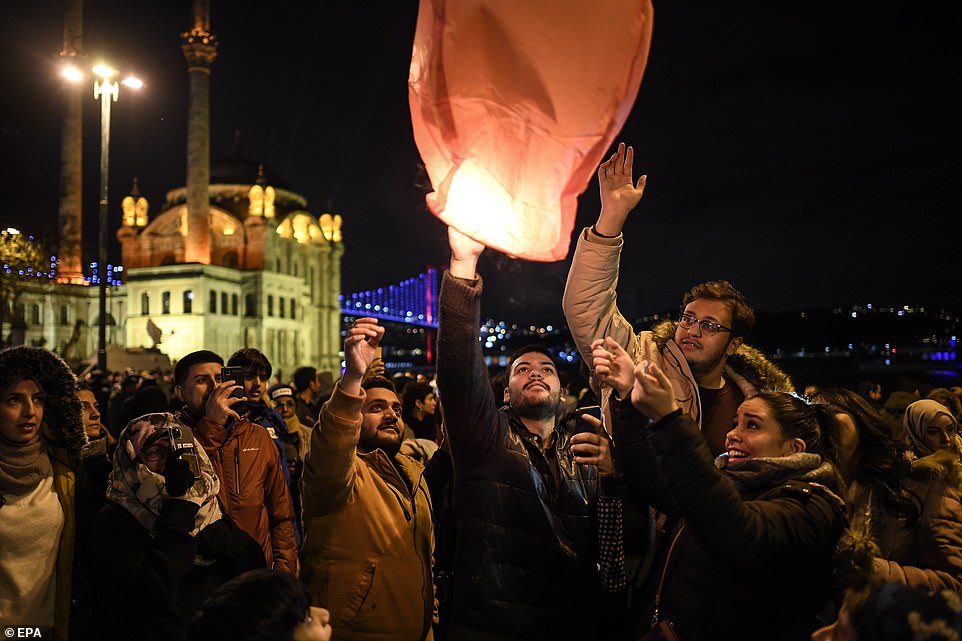 People celebrate the turn of the year in front of the Ortakoy mosque and 15 July Martyrs Bridge near the Bosphorus during new year's celebrations in Istanbul, Turkey, 01 January, 2020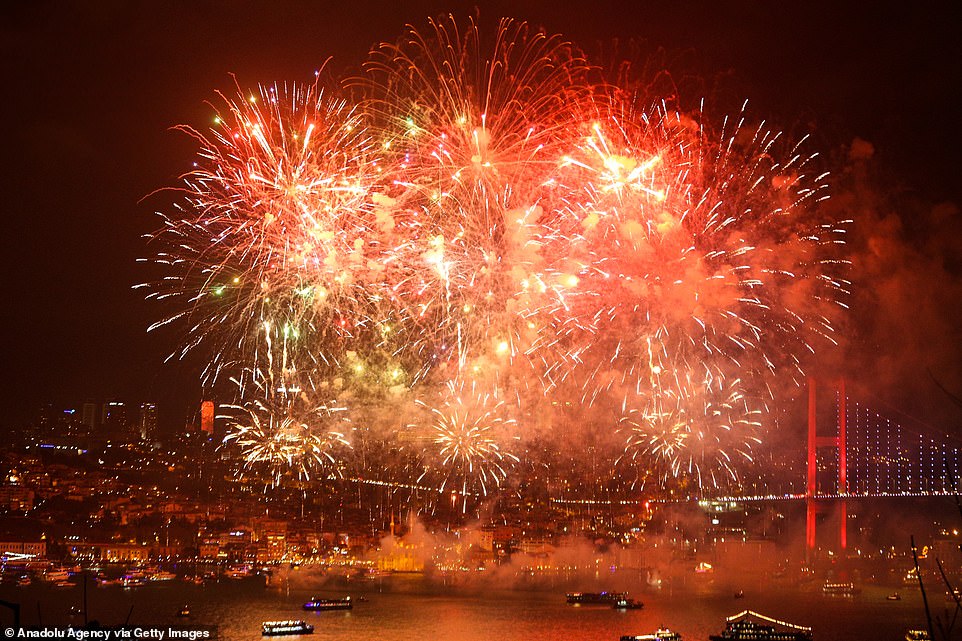 Fireworks illuminate the night sky in front of Ortakoy Mosque and July 15 Martyrs' Bridge within the new year celebrations in Istanbul, Turkey on January 01, 2020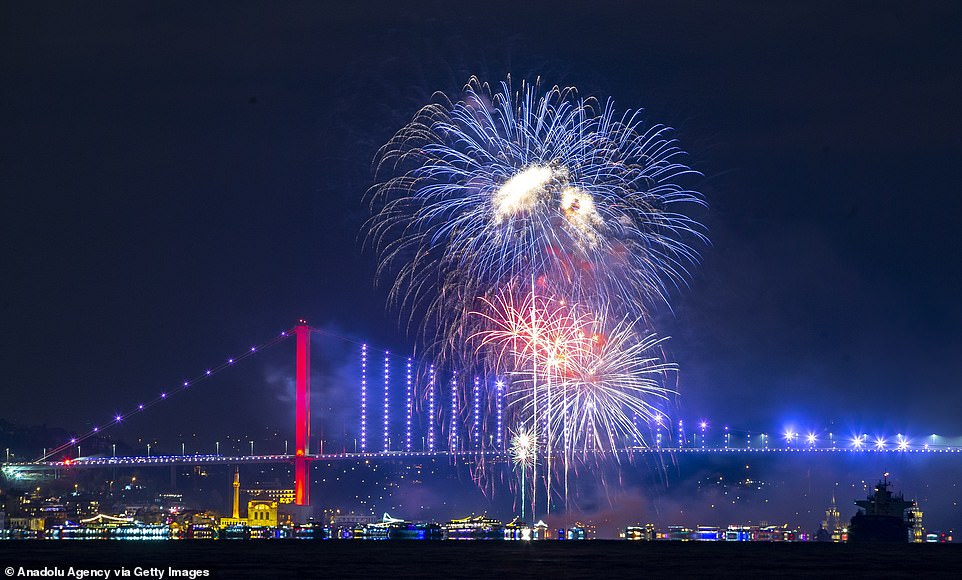 This evening's celebrations in Istanbul, Turkey, as fireworks explode over the July 15 Martyrs' Bridge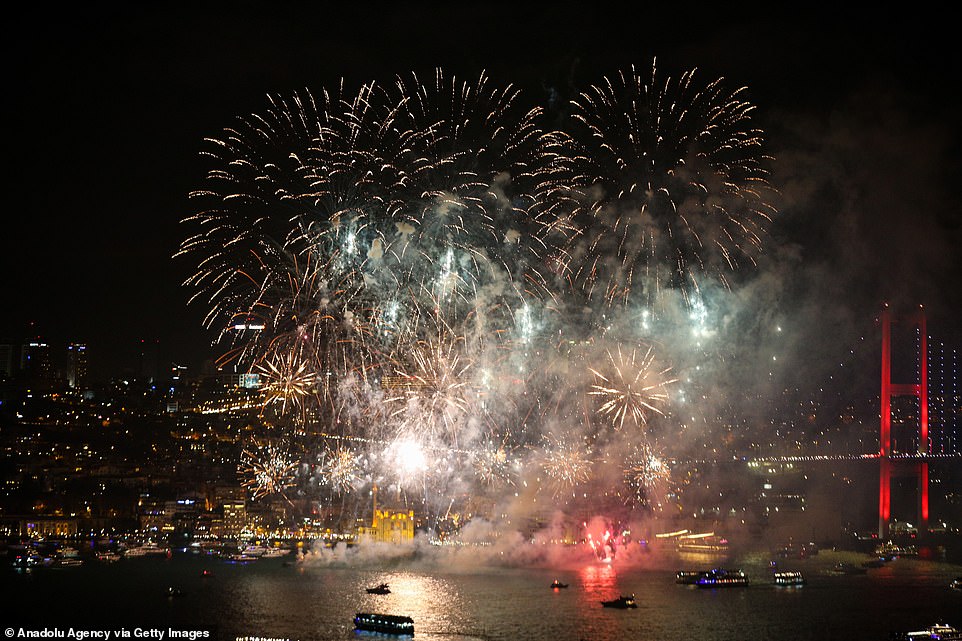 Fireworks illuminate the night sky in front of Ortakoy Mosque and July 15 Martyrs' Bridge within the new year celebrations in Istanbul, Turkey on January 01, 2020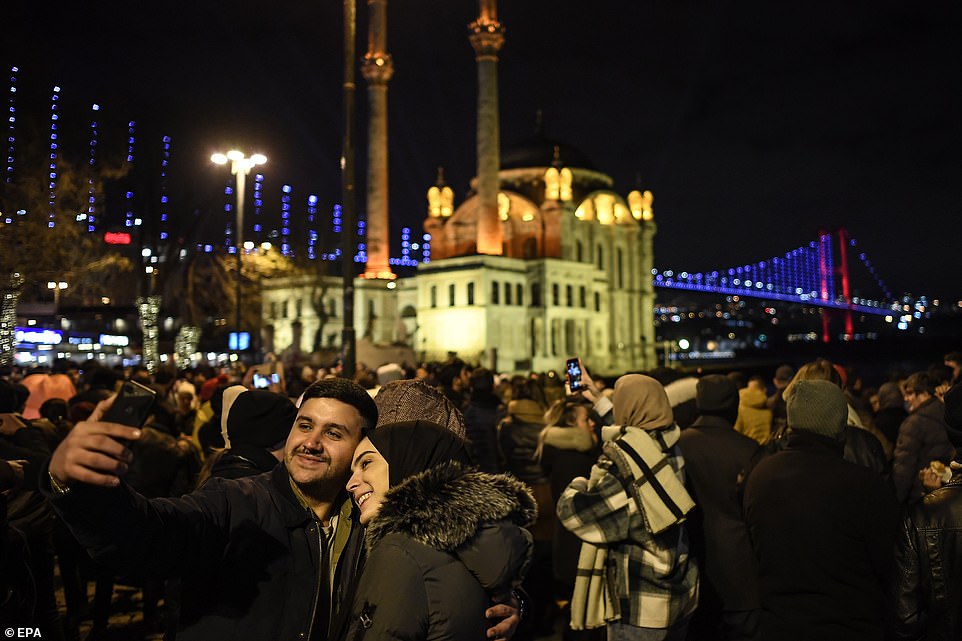 People celebrate the turn of the year in front of the Ortakoy mosque and 15 July Martyrs Bridge near the Bosphorus during new year's celebrations in Istanbul, Turkey, 01 January, 2020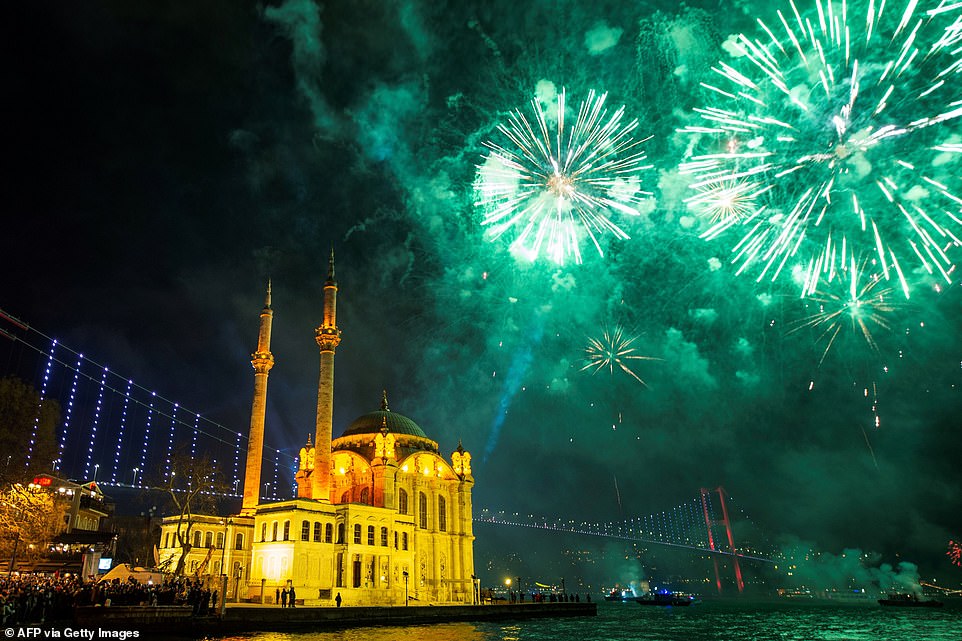 Fireworks explode in the sky over the Ortakoy Mosque by the July 15 Martyrs' Bridge during the New Year's celebrations, in Istanbul on January 1, 2020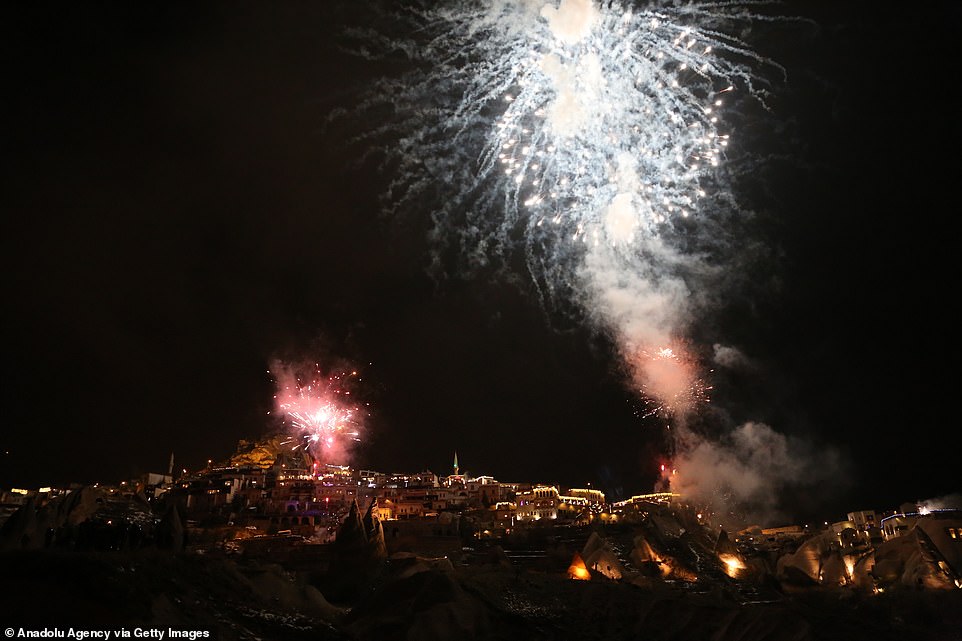 Fireworks illuminate the night sky over fairy chimneys, the famous volcanic rock formations at the historical region of Cappadocia, during the new year celebrations in Nevsehir, Turkey on January 01, 2020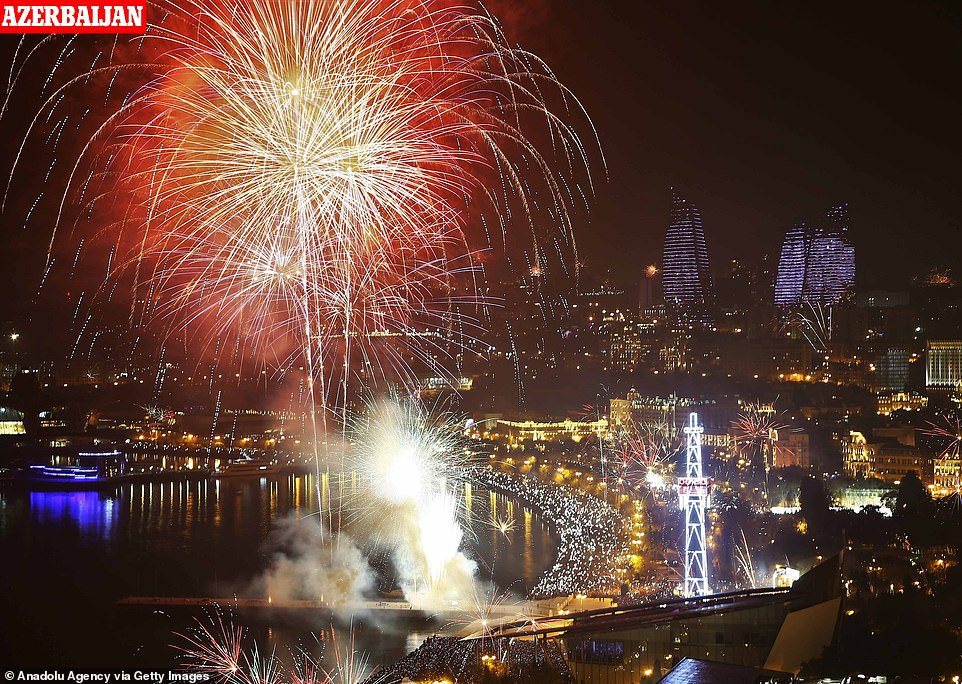 Fireworks light up the sky as part of new year celebrations in Baku, Azerbaijan on January 1, 2020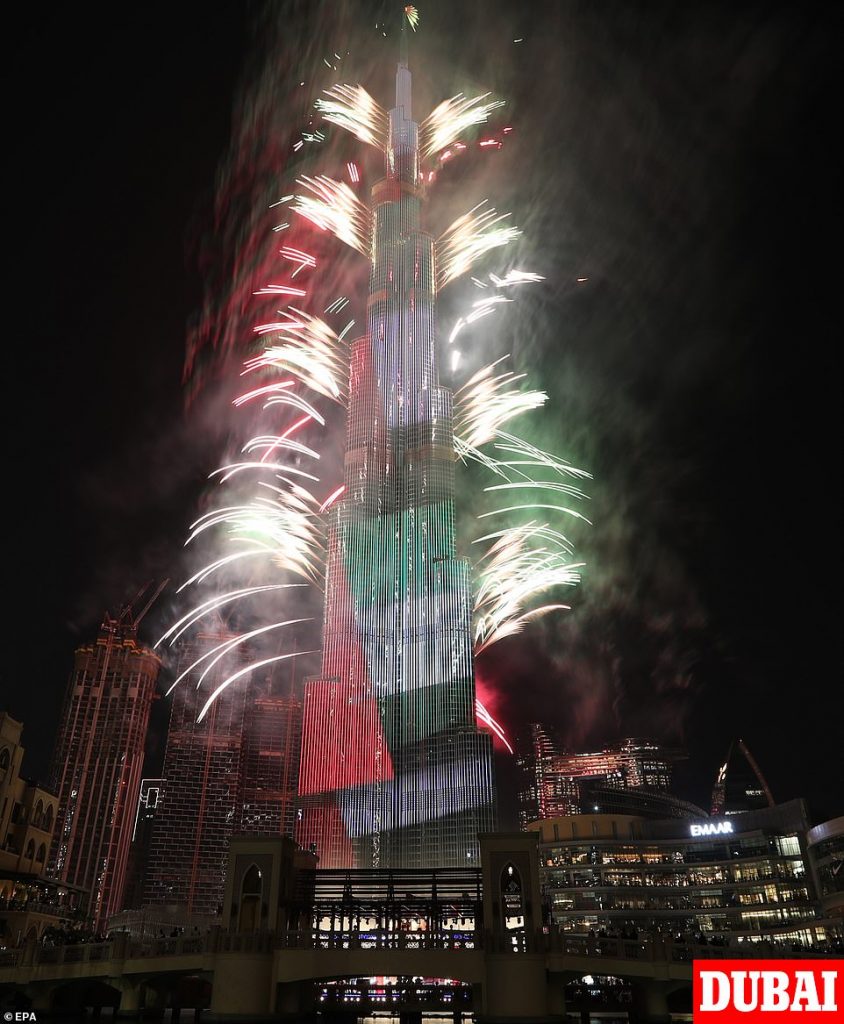 Fireworks illuminate the sky around Burj Khalifa, the tallest building in the world, during New Year's 2020 celebrations in the Gulf emirate of Dubai, United Arab Emirates, 01 January 2020
Video – Burj Khalifa lights up Dubai as the UAE sees in the New Year
https://www.dailymail.co.uk/news/article-7839809/People-globe-begin-celebrating-New-Years-Eve-2019.html#v-6552631572881192126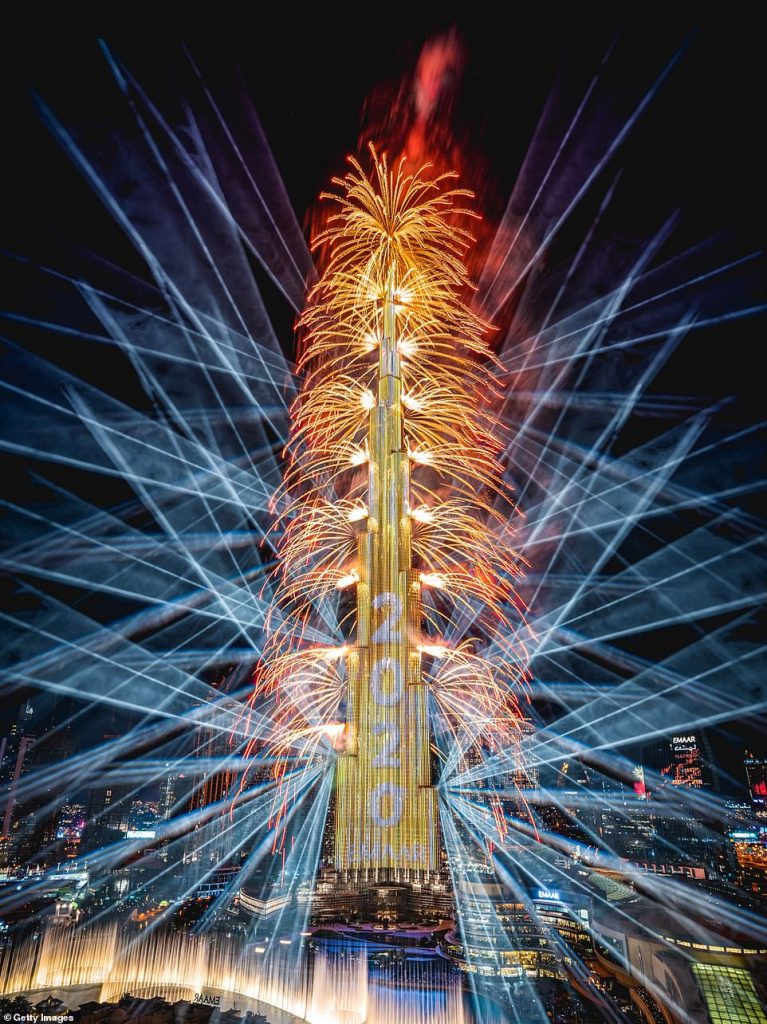 Fireworks go off at the Burj Khalifa on New Year's Eve 2019 on January 1, 2019 in Dubai, United Arab Emirates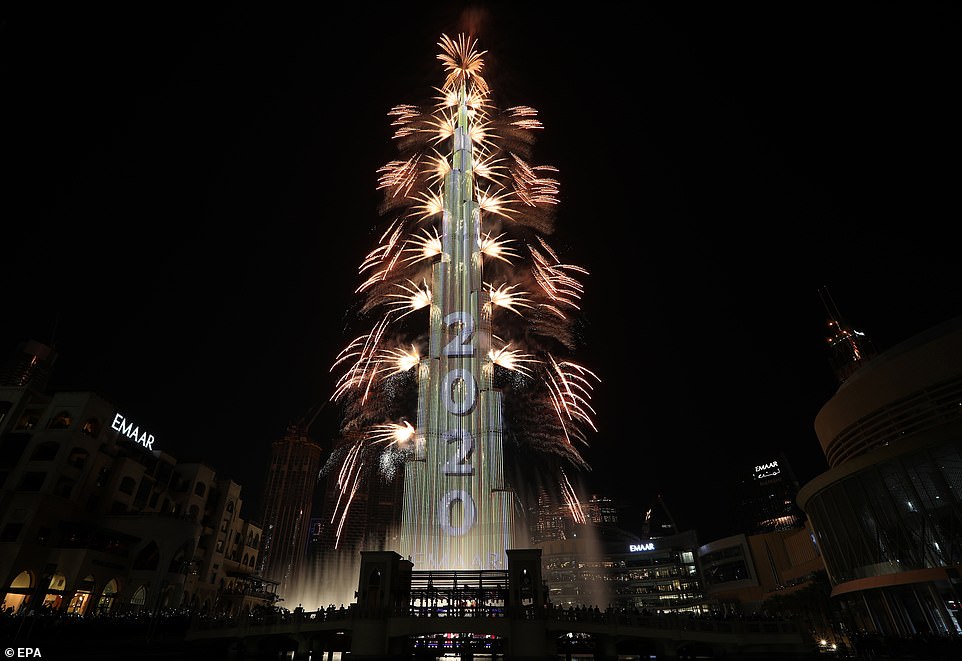 Fireworks illuminate the sky around Burj Khalifa, the tallest building in the world, during New Year's 2020 celebrations in the Gulf emirate of Dubai, United Arab Emirates, 01 January, 2020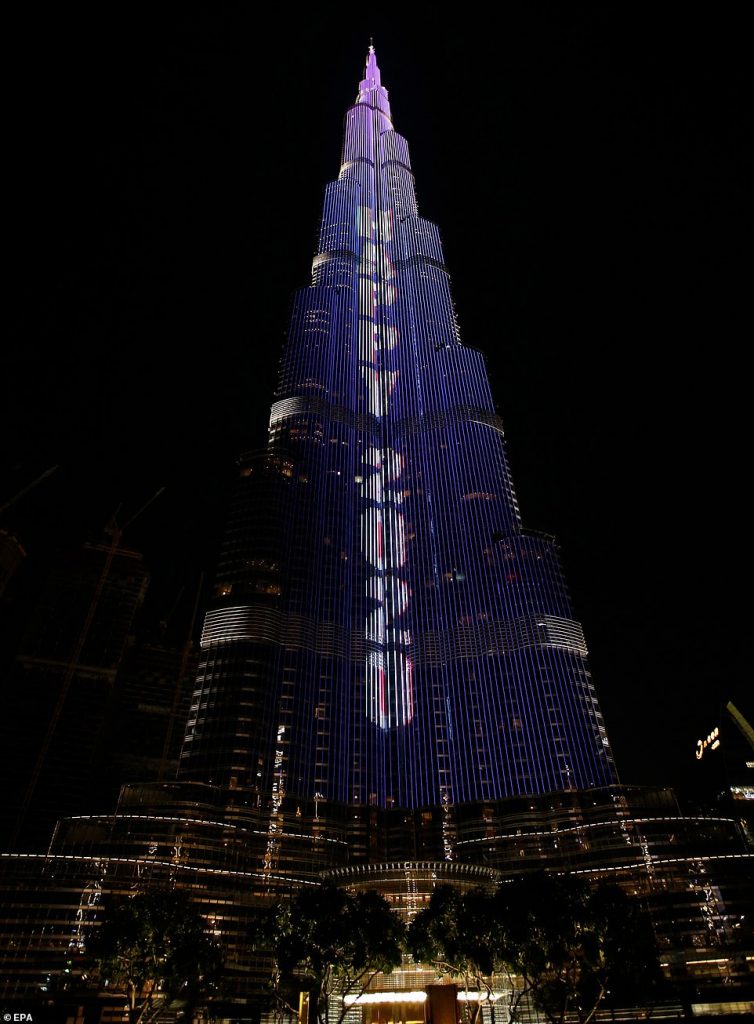 The Burj Khalifa, the tallest building in the world, is prepared for the fireworks of New Year 2020 celebrations in the Gulf emirate of Dubai, United Arab Emirates, 31 December 2019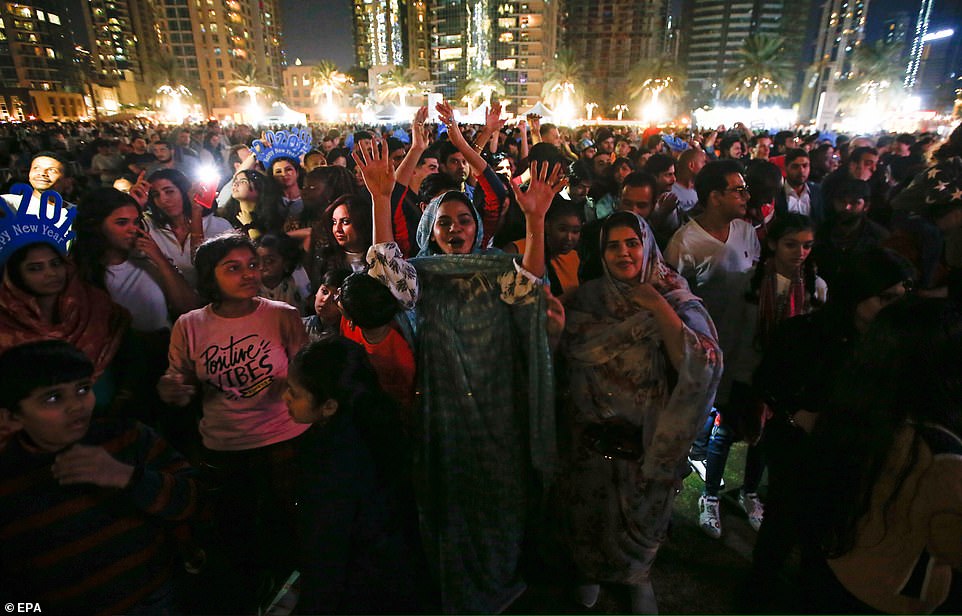 People gather near to Burj Khalifa, the tallest building in the world, prior to the fireworks of New Year's Eve 2020 in the Gulf emirate of Dubai, United Arab Emirates, 31 December 2019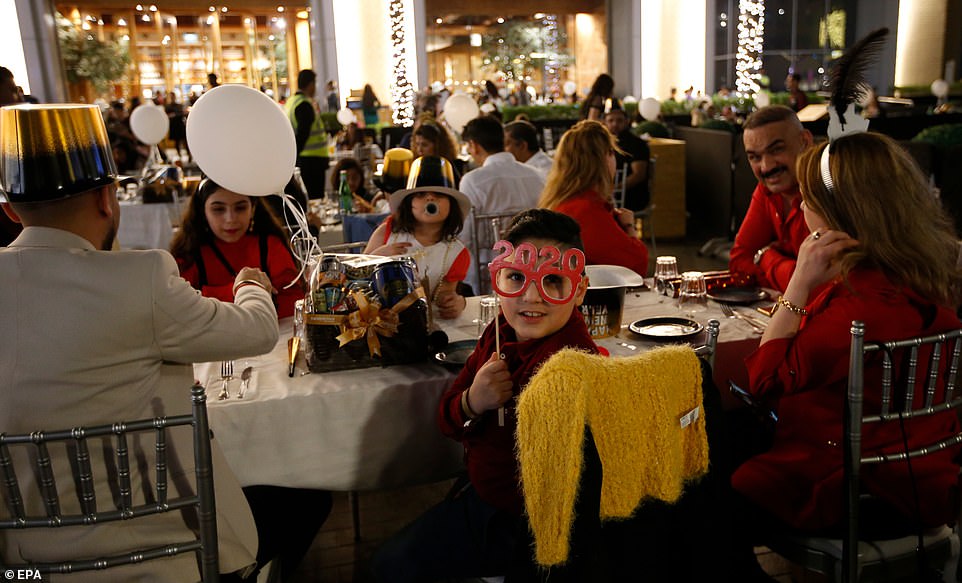 People gather near to Burj Khalifa, the tallest building in the world, prior to the fireworks of New Year's Eve 2020 in the Gulf emirate of Dubai, United Arab Emirates, 31 December 2019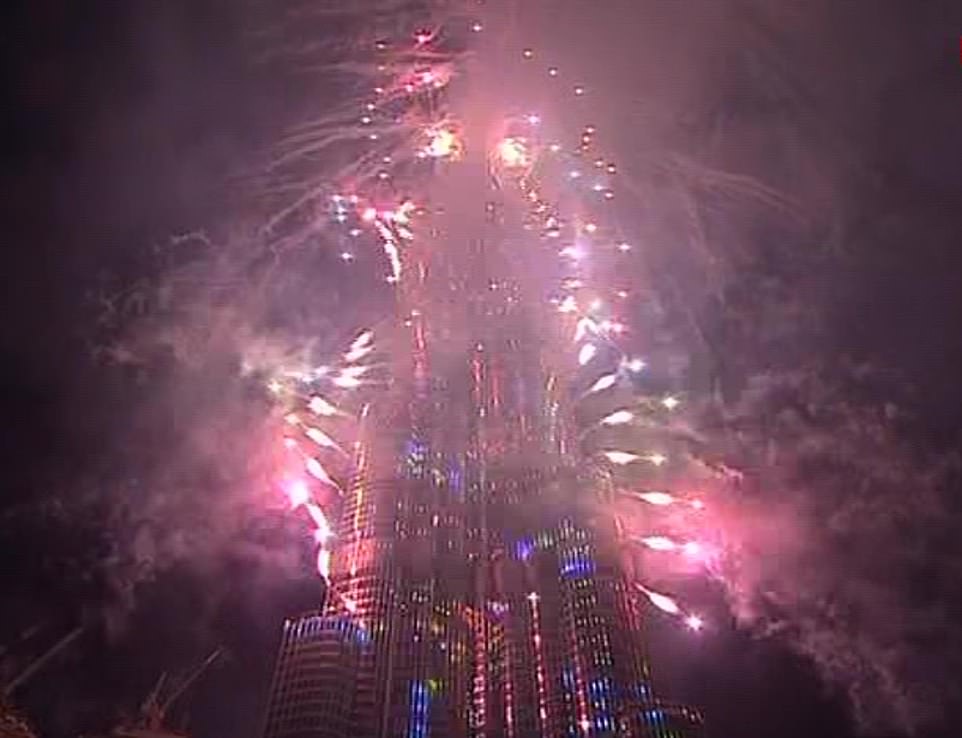 Fireworks explode out of the Burj Khalifa as Dubai welcomes in the 2020 new year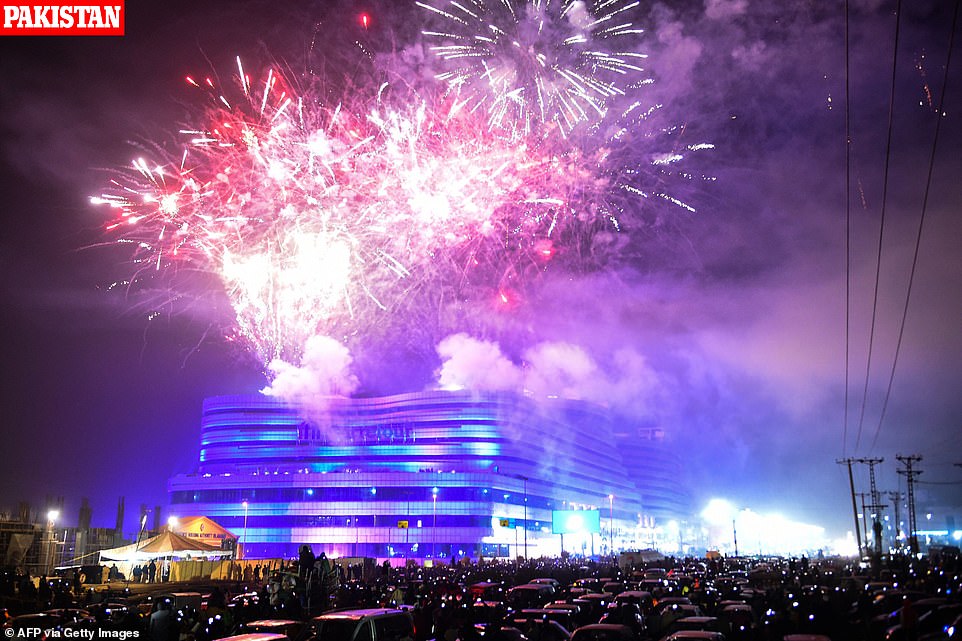 People watch fireworks as part of the New Year celebrations in Rawalpindi on January 1, 2020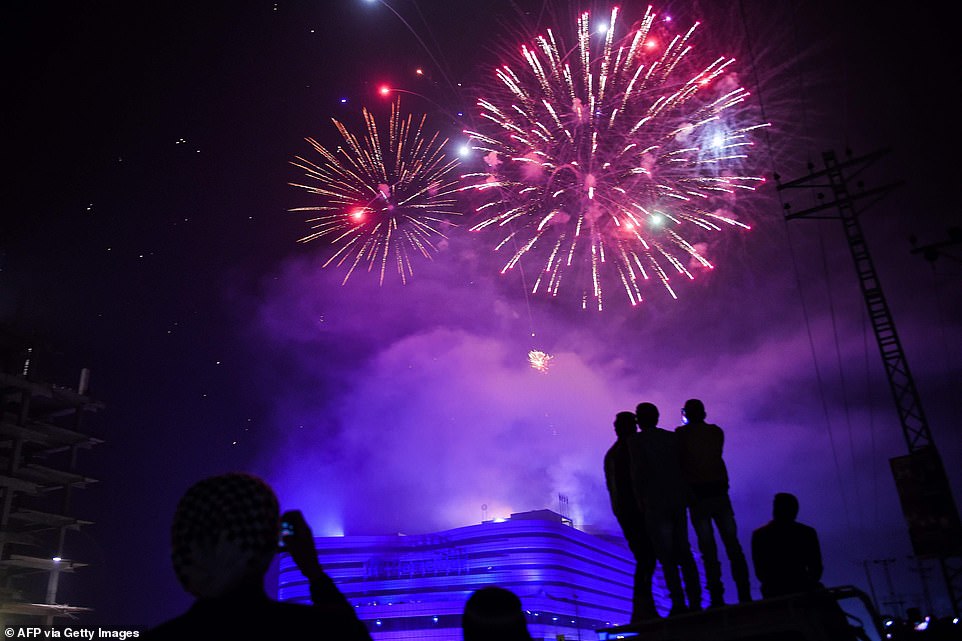 People watch fireworks as part of the New Year celebrations in Rawalpindi on January 1, 2020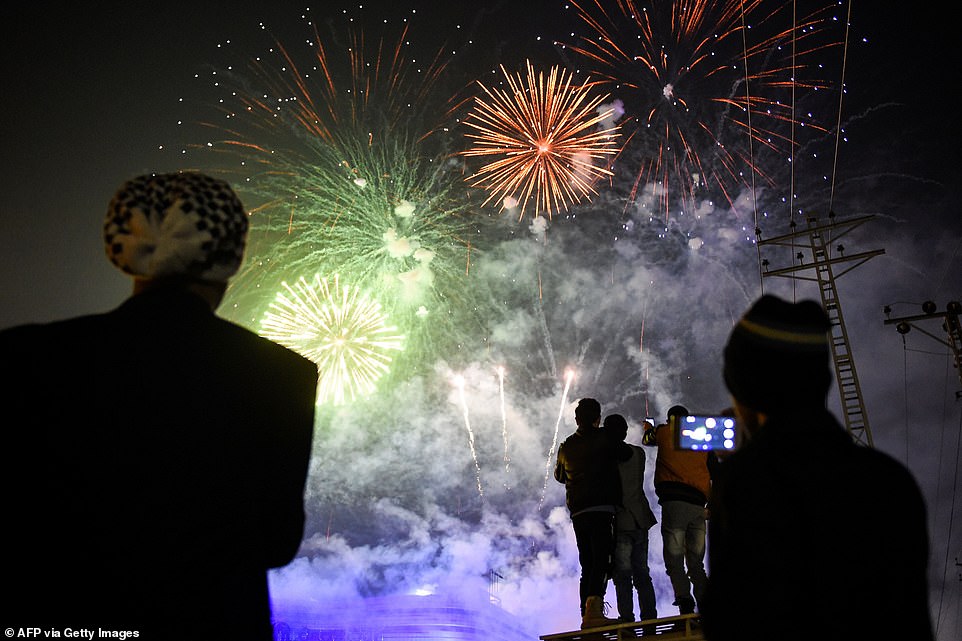 People watch fireworks as part of the New Year celebrations in Rawalpindi, Pakistan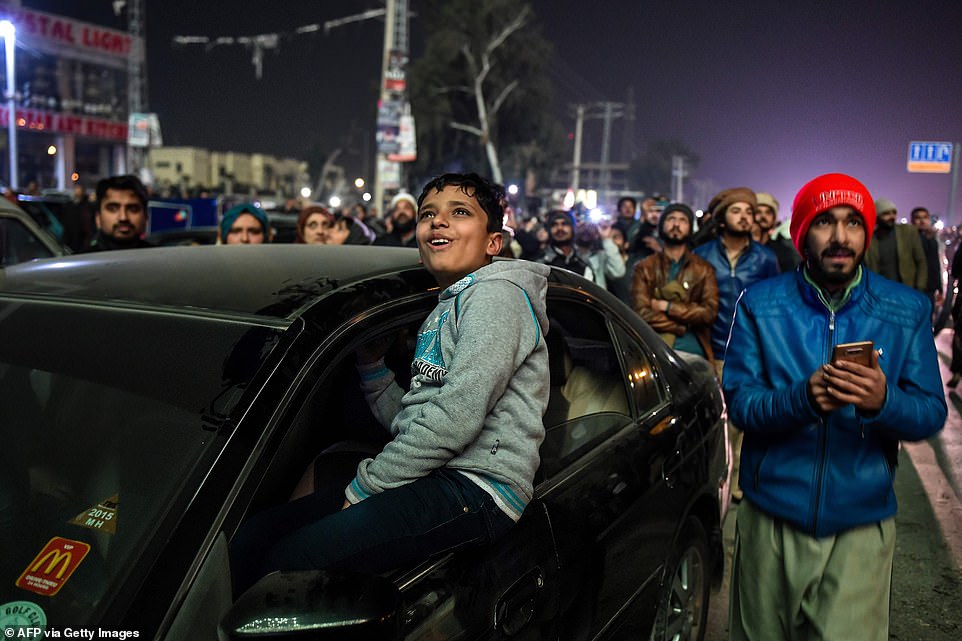 People watch fireworks as part of the New Year celebrations in Rawalpindi on January 1, 2020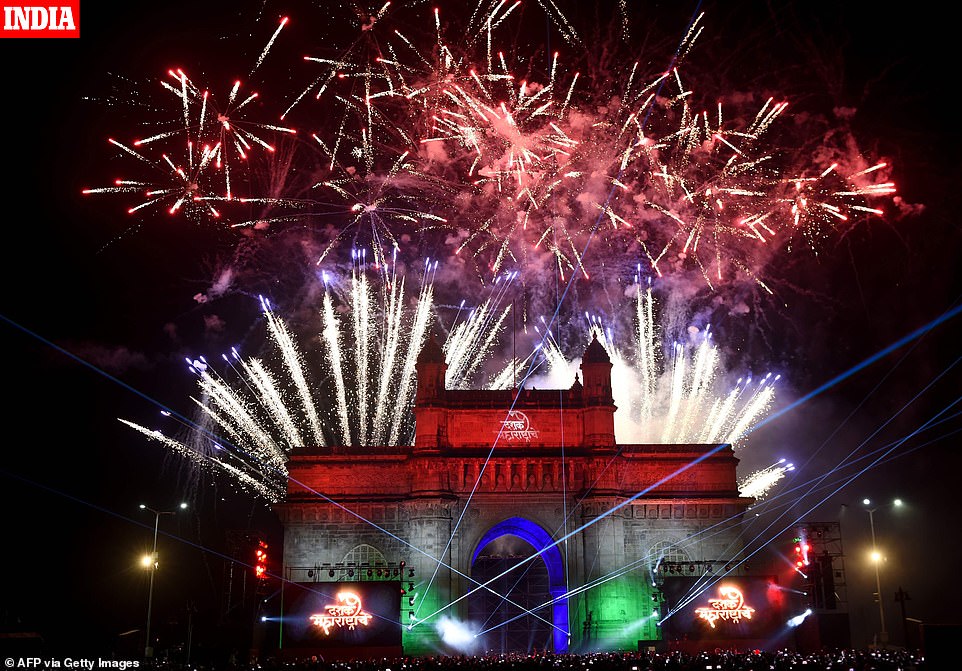 Fireworks are seen over the Gateway of India monument on New Year's Day in Mumbai, India, January 1, 2020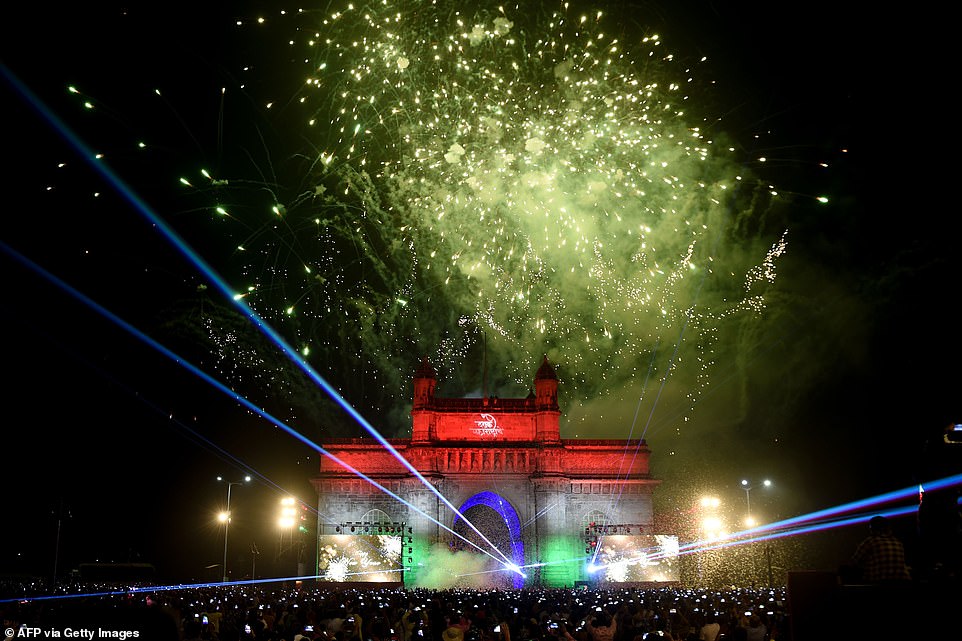 New Year's Eve fireworks erupt over Mumbai's iconic Gateway of India on January 1, 2020
People release balloons as they celebrate the New Year's countdown event in a road in Ahmedabad, India, January 1, 2020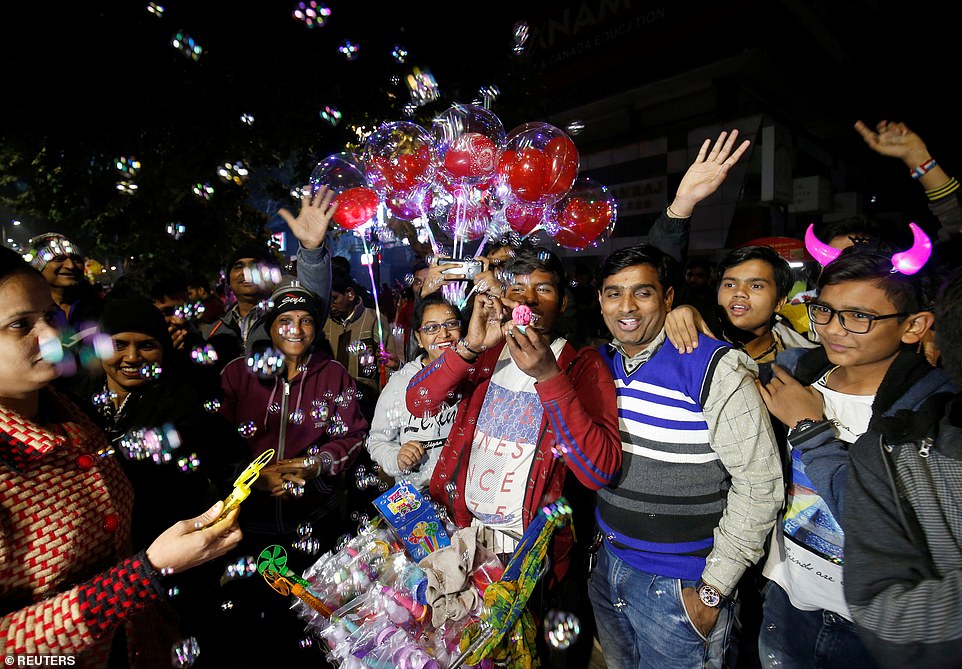 People gather around a vendor blowing bubbles during celebrations to welcome the New Year in a road in Ahmedabad, India, December 31, 2019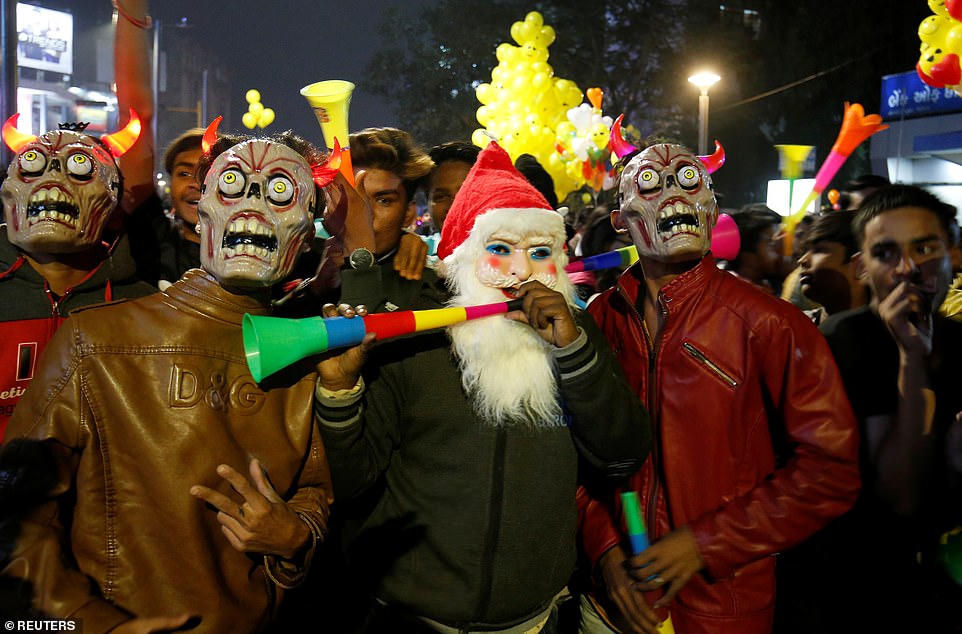 People wearing masks blow horns during celebrations to welcome the New Year in a road in Ahmedabad, India, December 31, 2019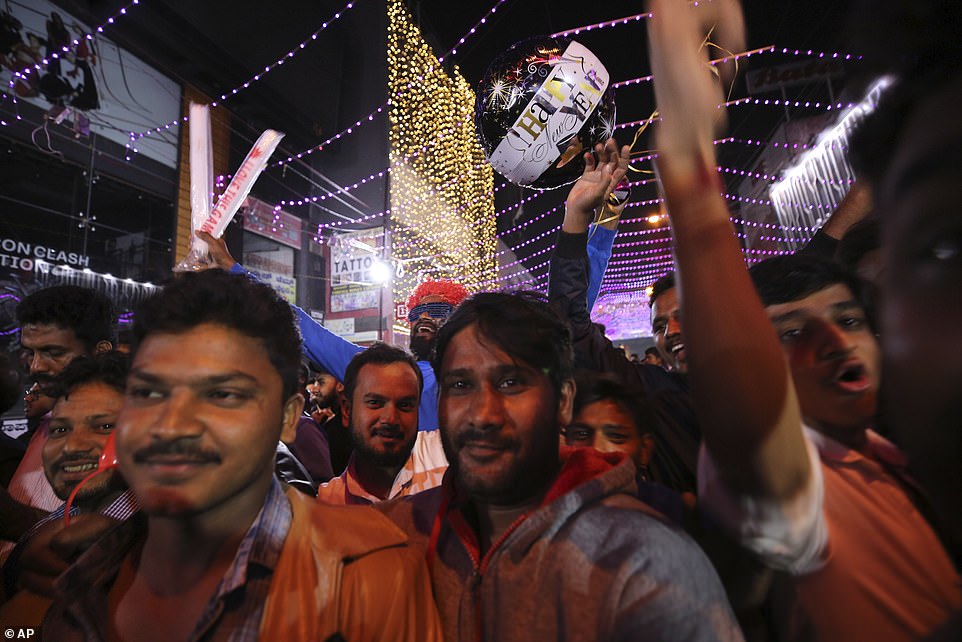 Revelers get together to celebrate on New Year's Eve in Bangalore, India, Tuesday, Dec. 31, 2019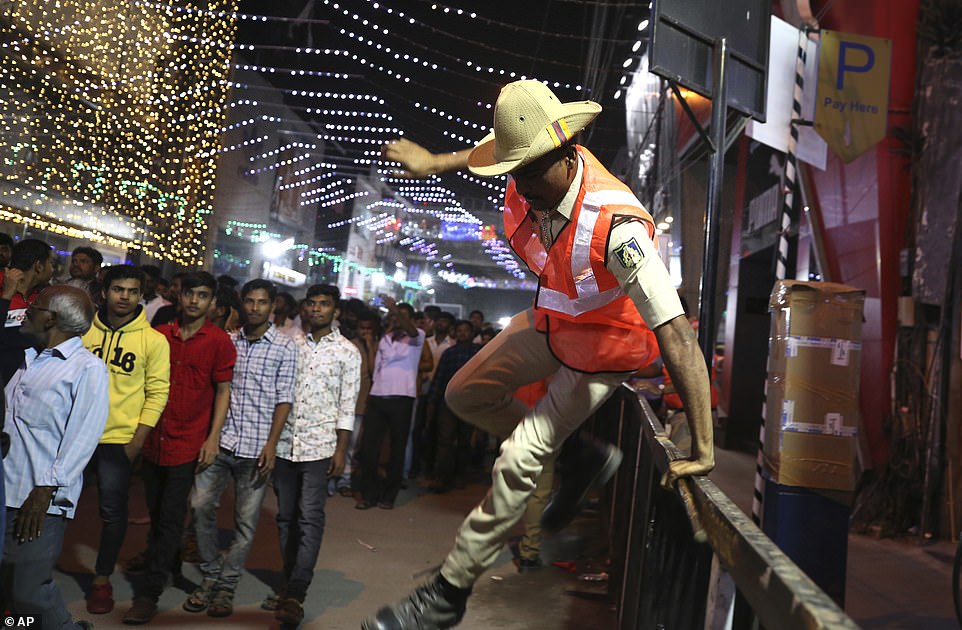 A policeman jumps over a railing to manage a crowd of revelers who assembled to celebrate on New Year's Eve in Bangalore, India, Tuesday, Dec. 31, 2019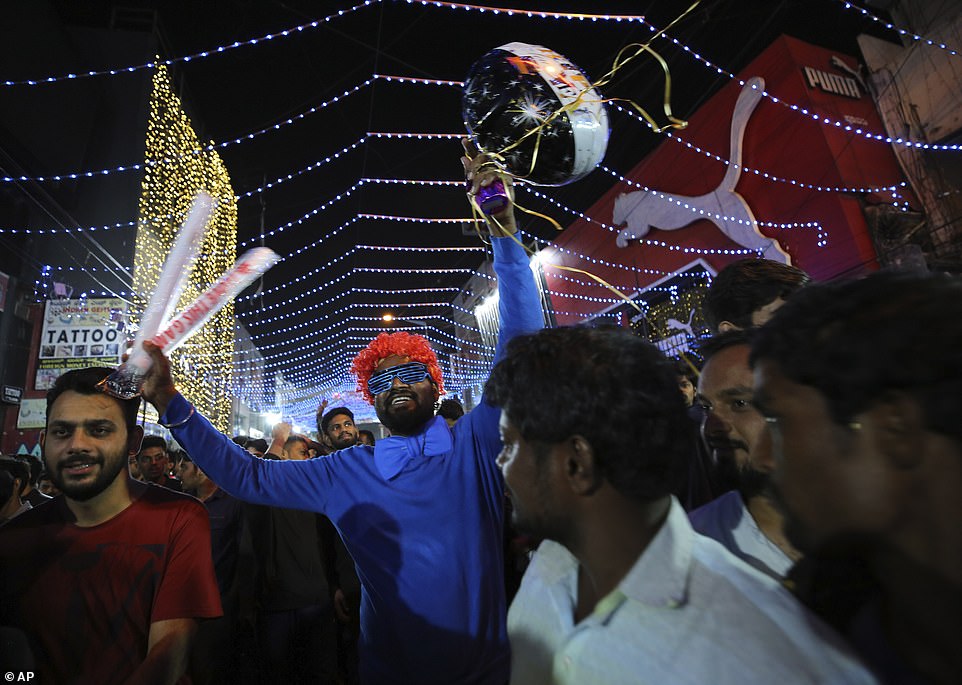 Revelers get together to celebrate on New Year's Eve in Bangalore, India, Tuesday, Dec. 31, 2019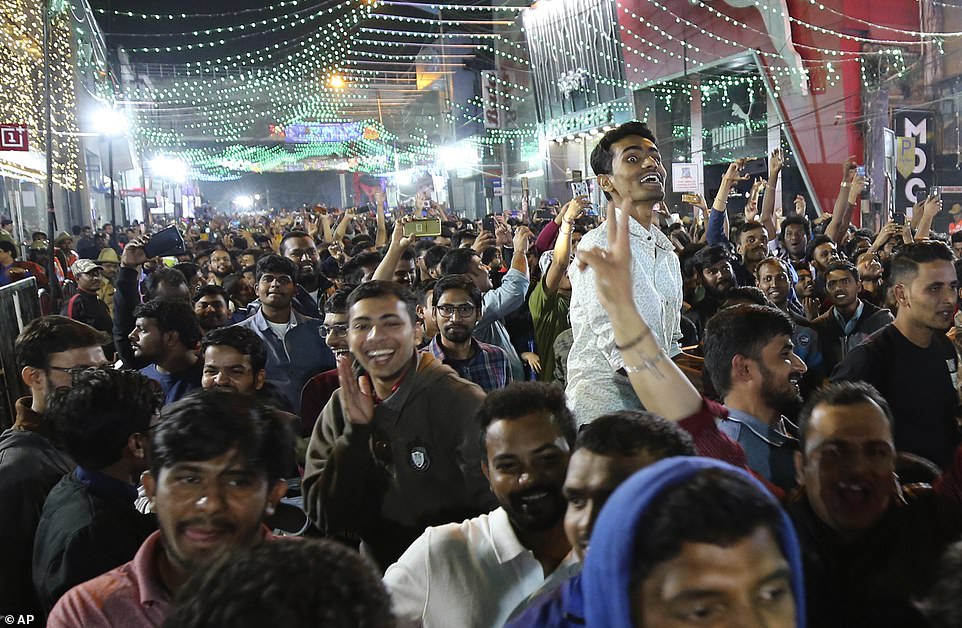 Revelers get together to celebrate on New Year's Eve in Bangalore, India, Tuesday, Dec. 31, 2019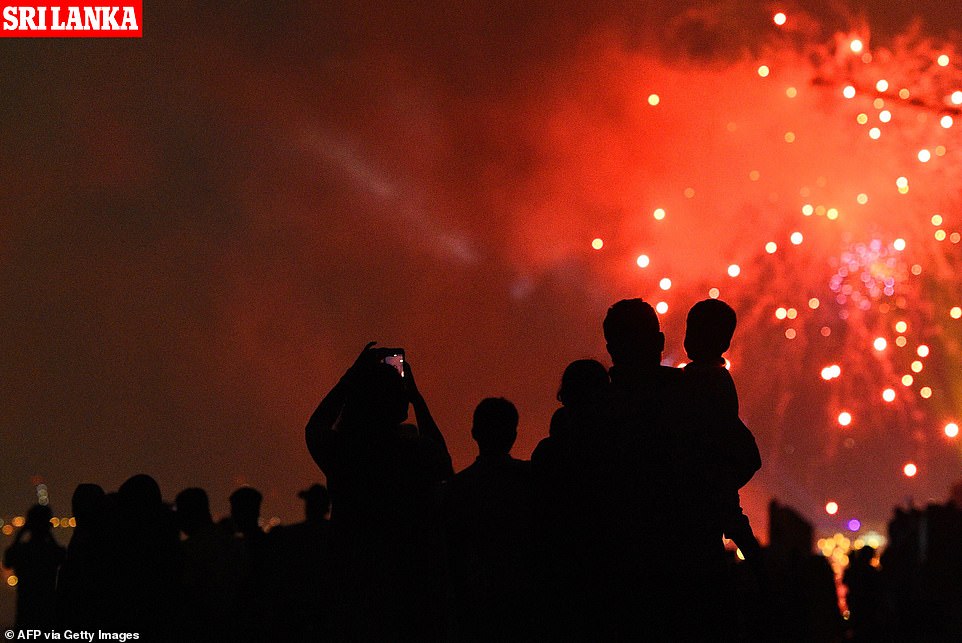 Sri Lankans watch fireworks during new year's celebrations in Colombo, on January 1, 2020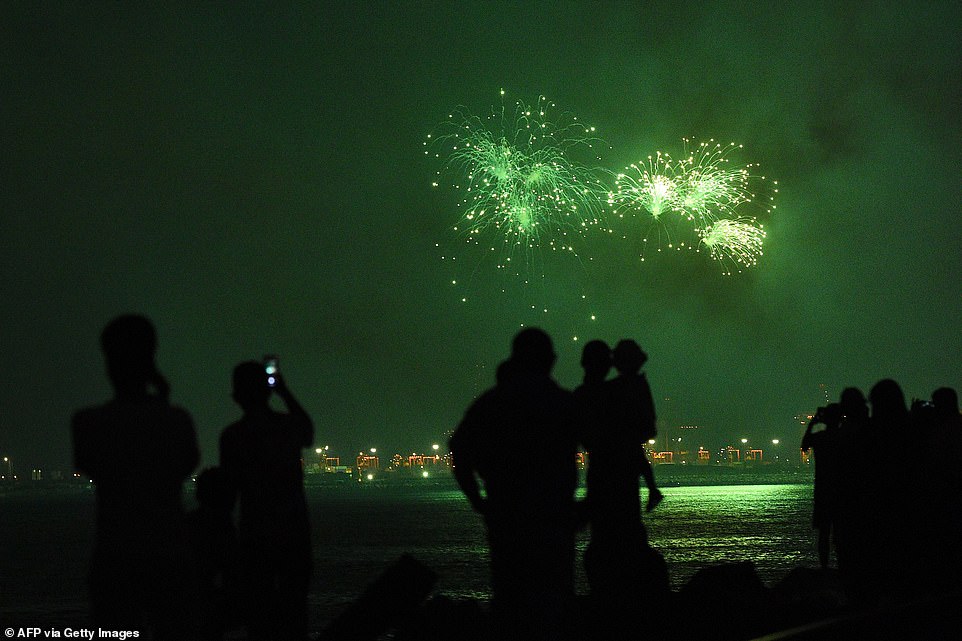 Sri Lankans watch fireworks during new year's celebrations in Colombo, on January 1, 2020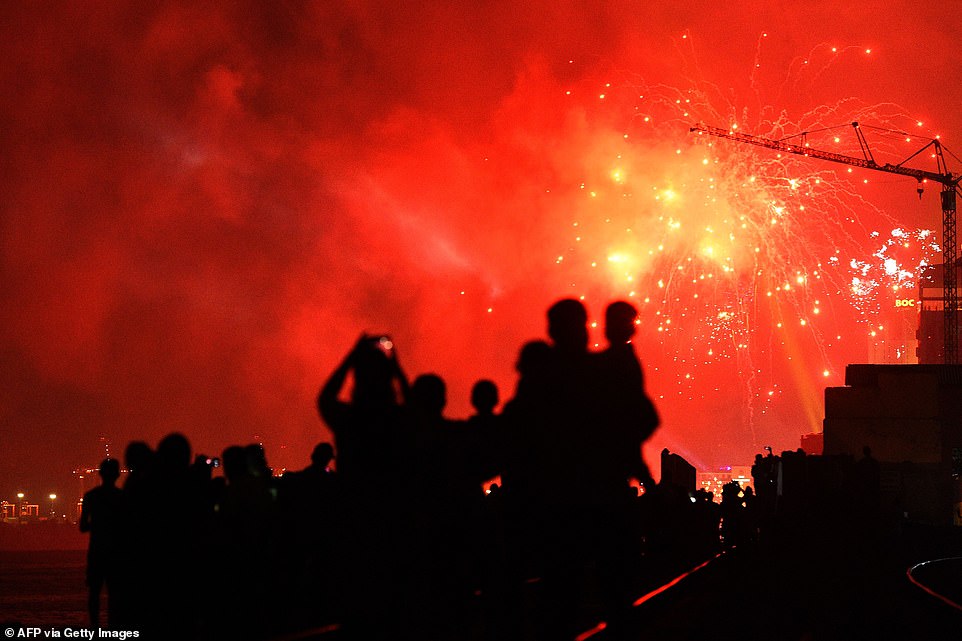 Sri Lankans watch fireworks during new year's celebrations in Colombo, on January 1, 2020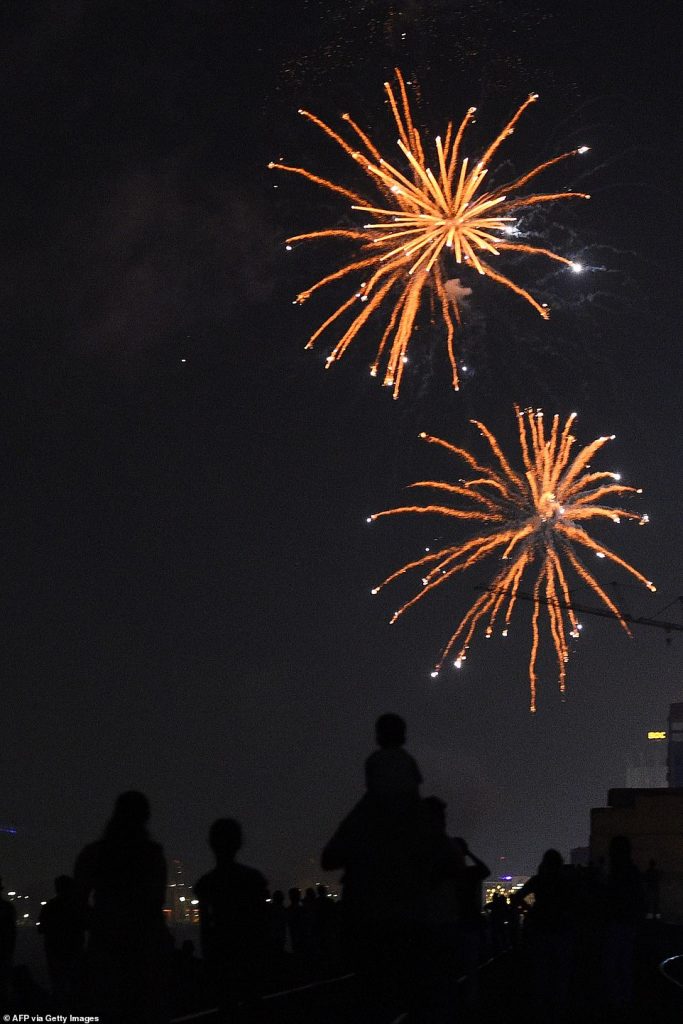 Sri Lankans watch fireworks during new year's celebrations in Colombo, on January 1, 2020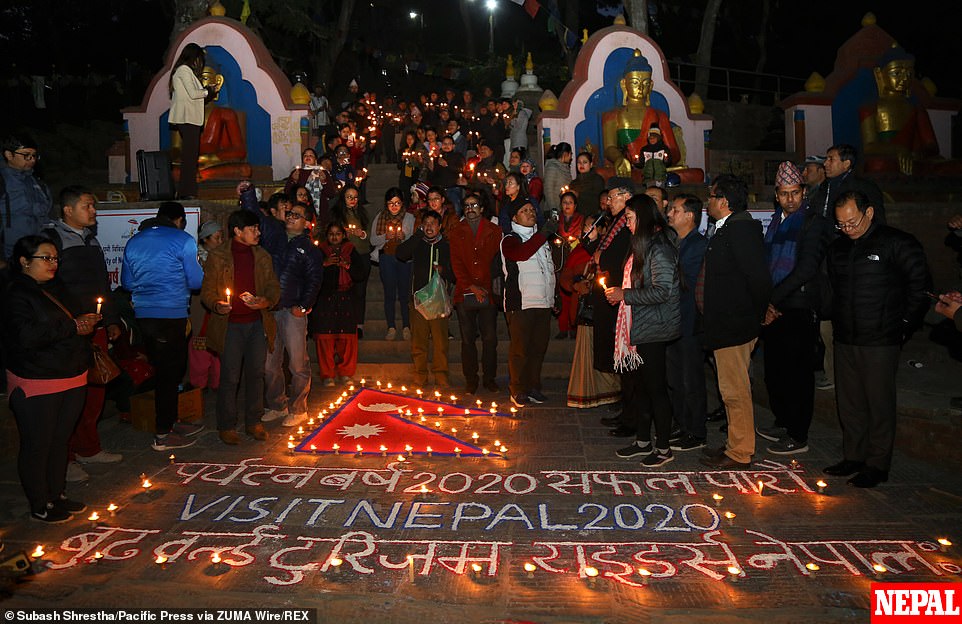 Nepalese people make a human flag of Nepal and light candles to welcome 2020 in Swayambhunath New Year Celebrations, Kathmandu, Nepal on 31 December, 2020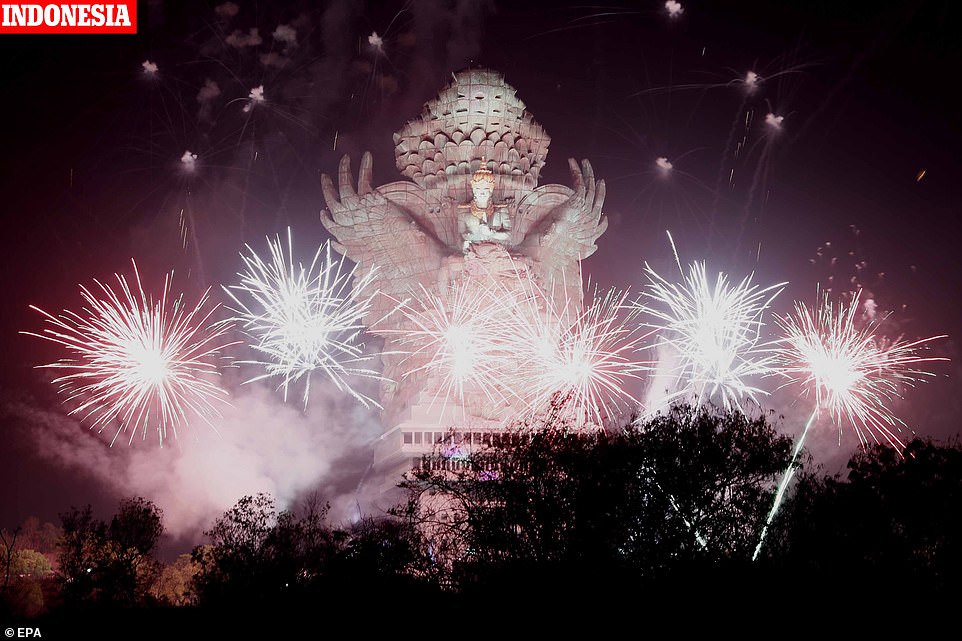 Fireworks explode after midnight over Garuda Wisnu Kencana cultural park as part of New Year celebrations in Bali, Indonesia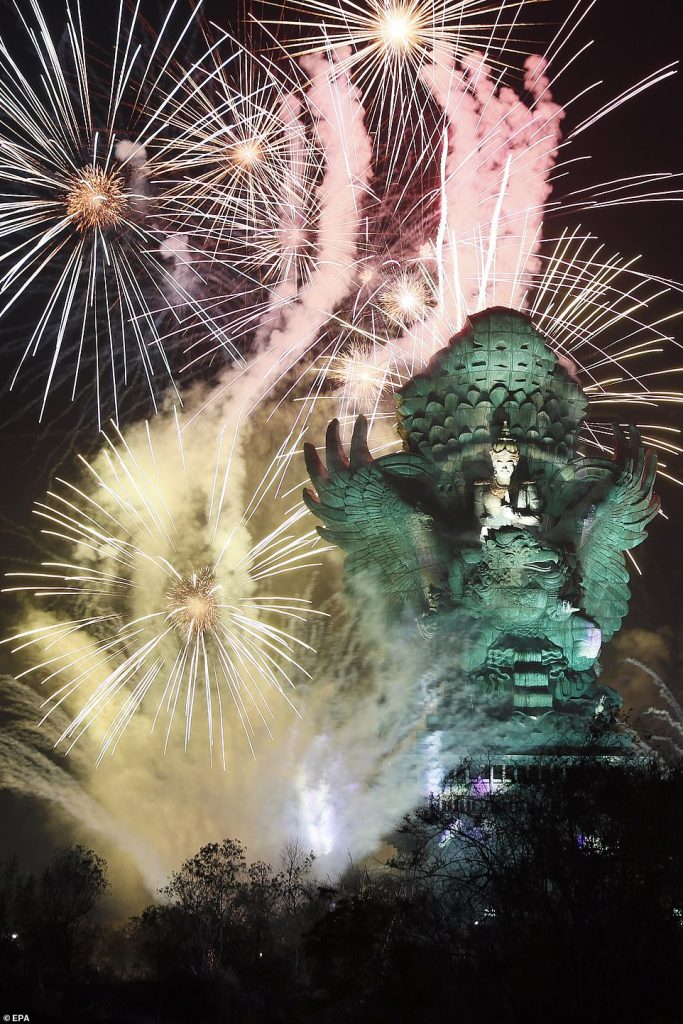 Fireworks explode after midnight over Garuda Wisnu Kencana cultural park part of New Year celebrations in Bali, Indonesia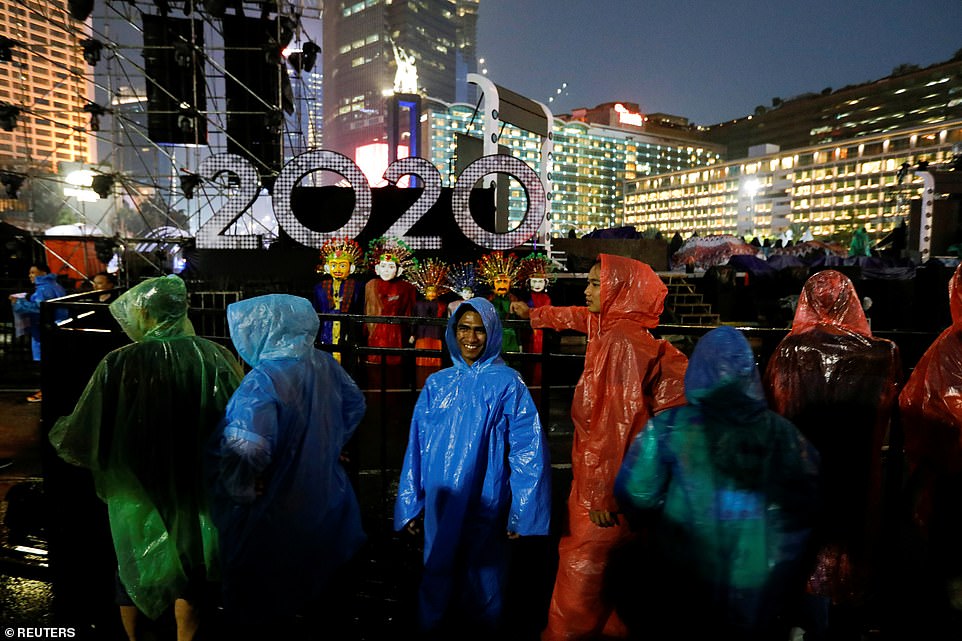 People wearing rain coats gather at Bundaran Hotel Indonesia roundabout as they attend New Year's Eve celebrations in Jakarta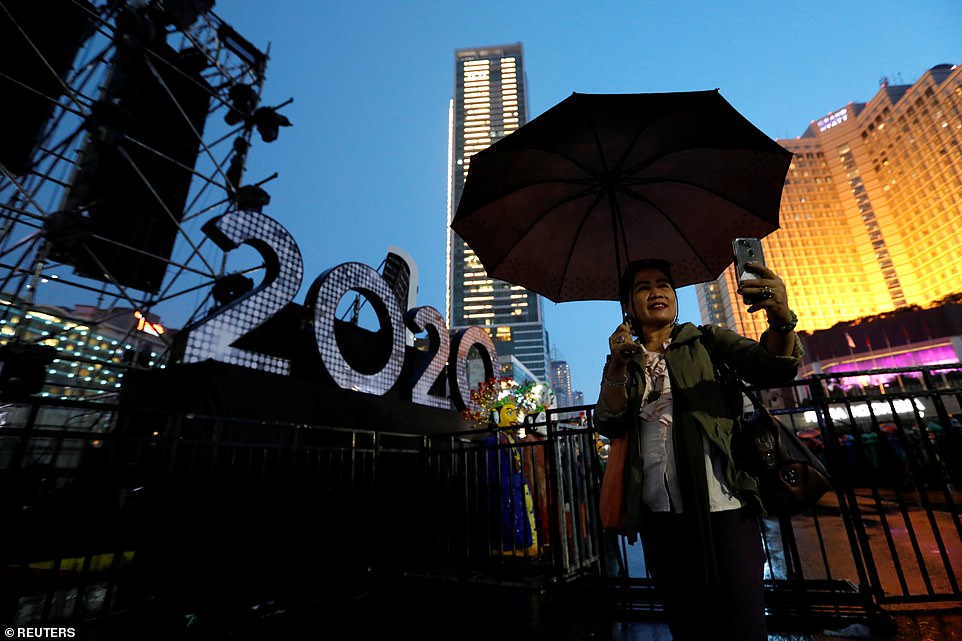 A woman takes selfie pictures next to 2020 decoration during New Year's Eve celebrations in Jakarta, Indonesia on December 31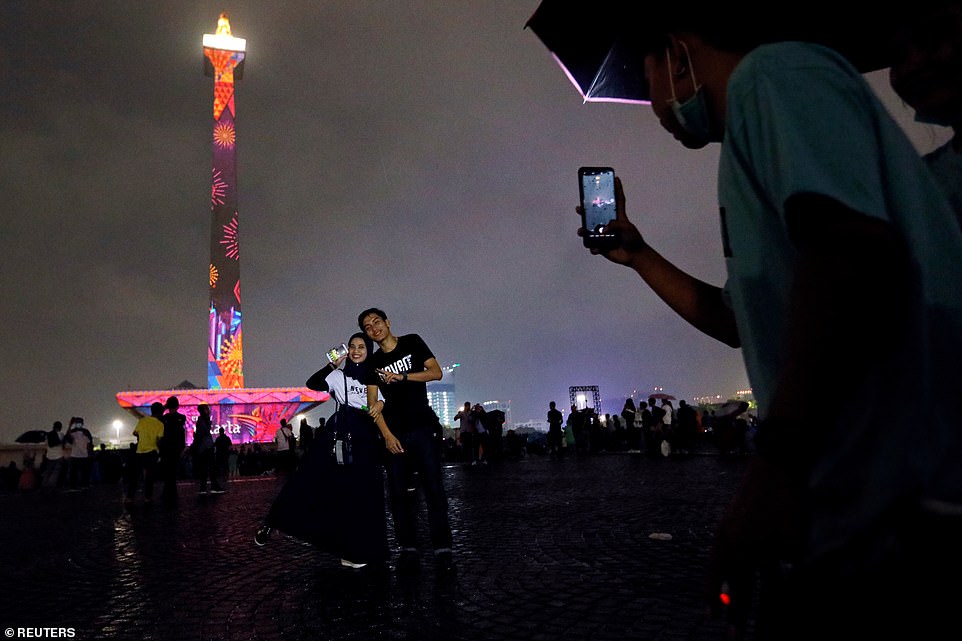 A couple takes pictures as National Monument (Monas) is illuminated by video mapping during New Year's Eve celebrations in Jakarta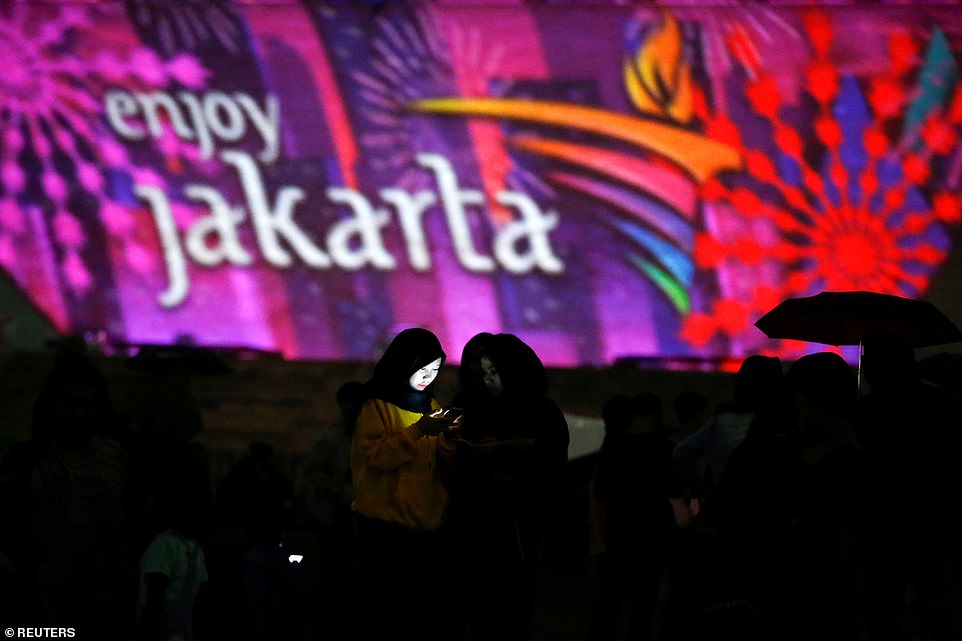 A woman uses a phone as National Monument (Monas) is illuminated by video mapping during New Year's Eve celebrations in Jakarta
Video – Hello 2020! Bangkok brings in New Year with major fireworks display
https://www.dailymail.co.uk/news/article-7839809/People-globe-begin-celebrating-New-Years-Eve-2019.html#v-8346679917147472756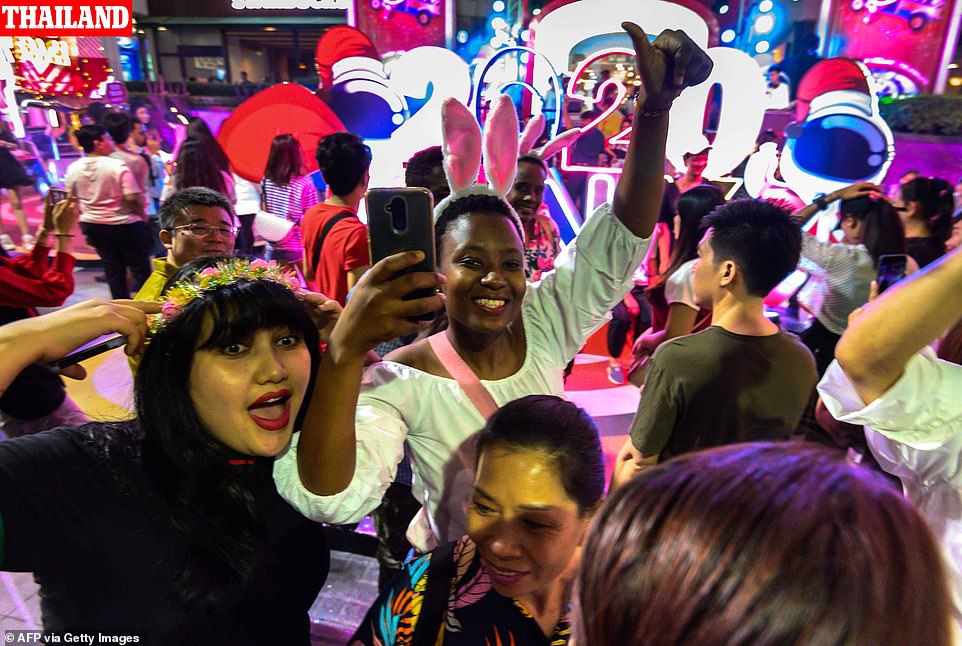 Revellers take a selfie while arriving for a New Year countdown party outside a shopping mall in downtown Bangkok on December 31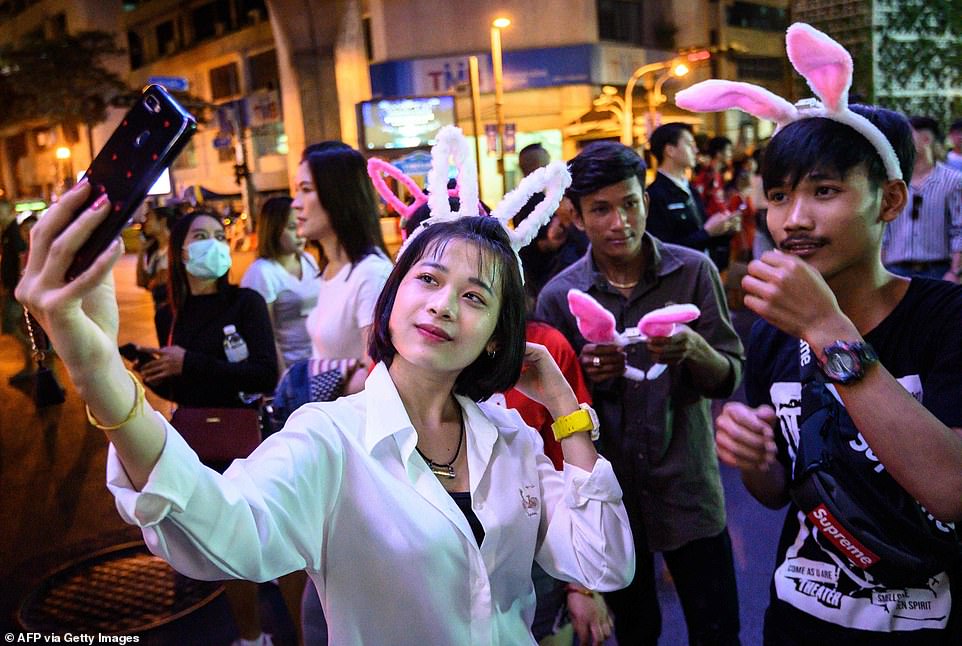 Revellers take a selfie while arriving for a New Year countdown party outside a shopping mall in downtown Bangkok on December 31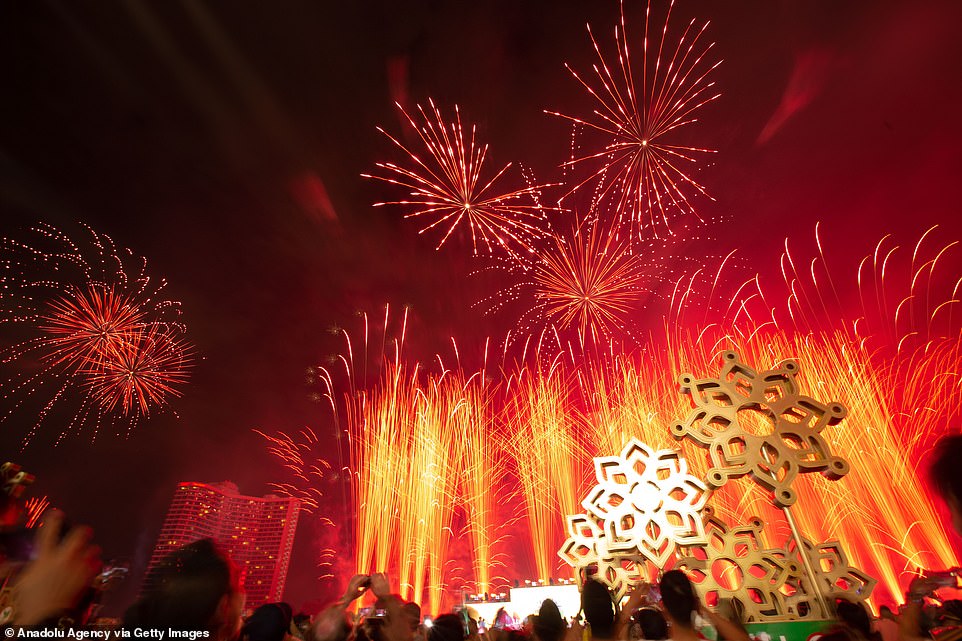 Fireworks explode for the 'Amazing Thailand Countdown 2020' at Icon Siam during the New Year's celebrations on January 1, 2020 in Bangkok, Thailand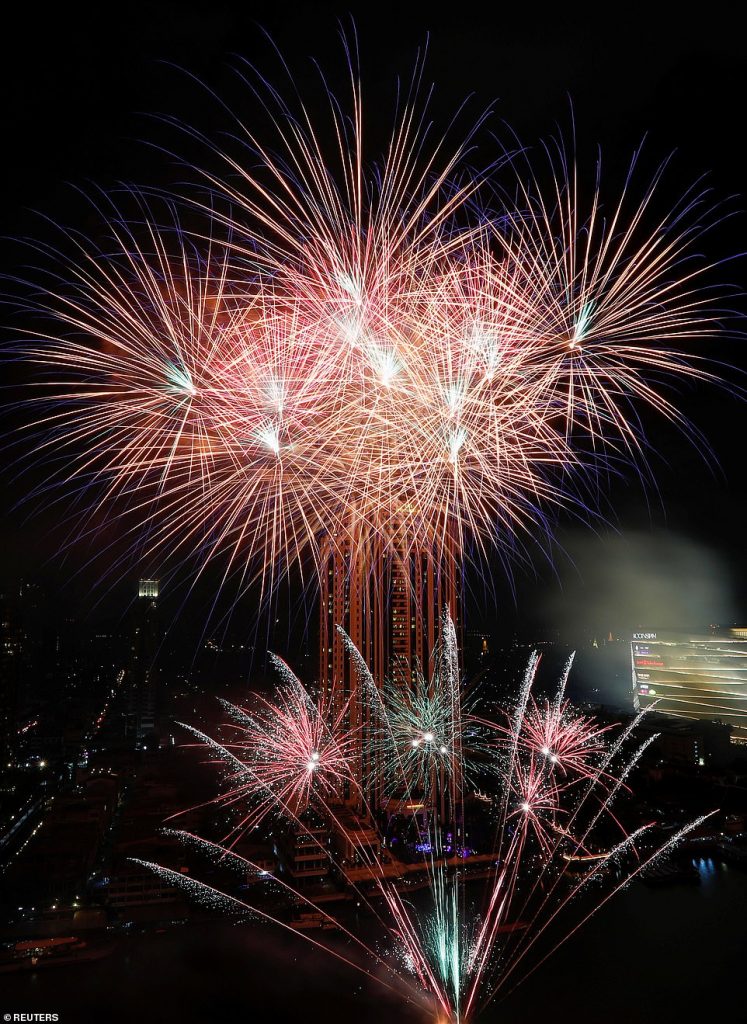 Fireworks explode over Chao Phraya River during the New Year's celebrations in Bangkok, Thailand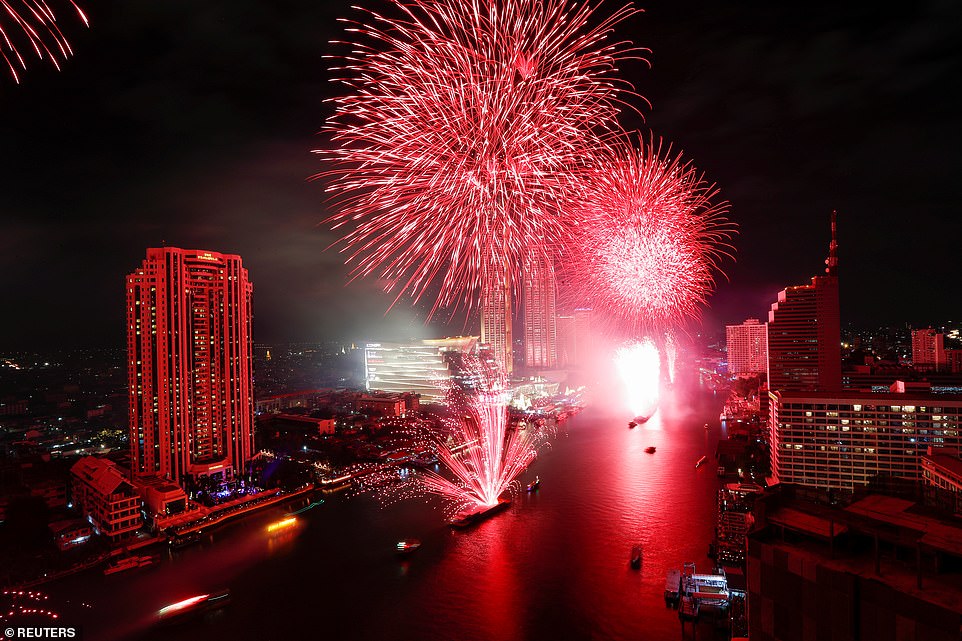 Fireworks explode over Chao Phraya River in Bangkok in a dazzling display to ring in 2020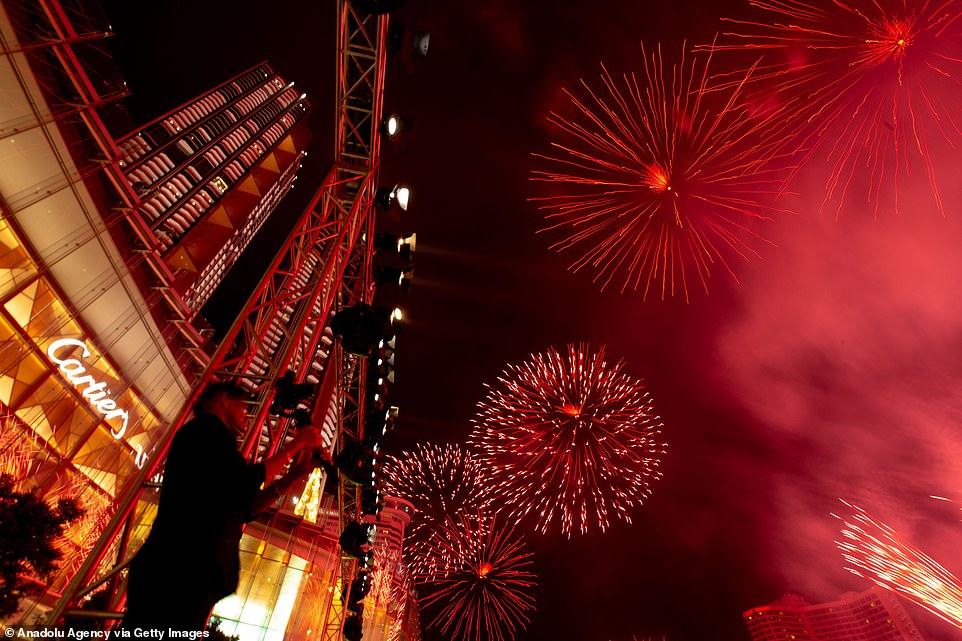 Fireworks explode for the 'Amazing Thailand Countdown 2020' at Icon Siam during the New Year's celebrations on January 1, 2020 in Bangkok, Thailand
For more information please visit the following link:
https://www.dailymail.co.uk/news/article-7839809/People-globe-begin-celebrating-New-Years-Eve-2019.html