Ing's Peace Project
and
International CranioSacral Therapists  2014, Iceland
Comments on
"What does "Peace" mean to you?"
During May and June 2014
Mr. Joseph Giacalone came to our shop to purchase a gift for his wife.  I took advantage to introduce my peace project to him.  He came back a few weeks later on Thursday, May 15, 2014 and wanted to have my peace poster to take to Iceland where he was having a conference with international therapists in CranioSacral Therapy. Therapists were from USA, Canada, Scotland , UK, Germany,  Finland, Copenhagen, Sweden, Brazil and Iceland.
  I gave him my peace poster; he returned the peace poster with written comments on Wednesday, June 4, 2014.  I am very glad and appreciate Mr. Joseph Giacalone's generosity to spend time to introduce my peace project to others.  Thanks to all people who wrote their comments on peace.  I started to work on the finished artwork with the peace comments.  The following is the step by step formation of how I composed the finished artwork:
My Shadow of Peace poster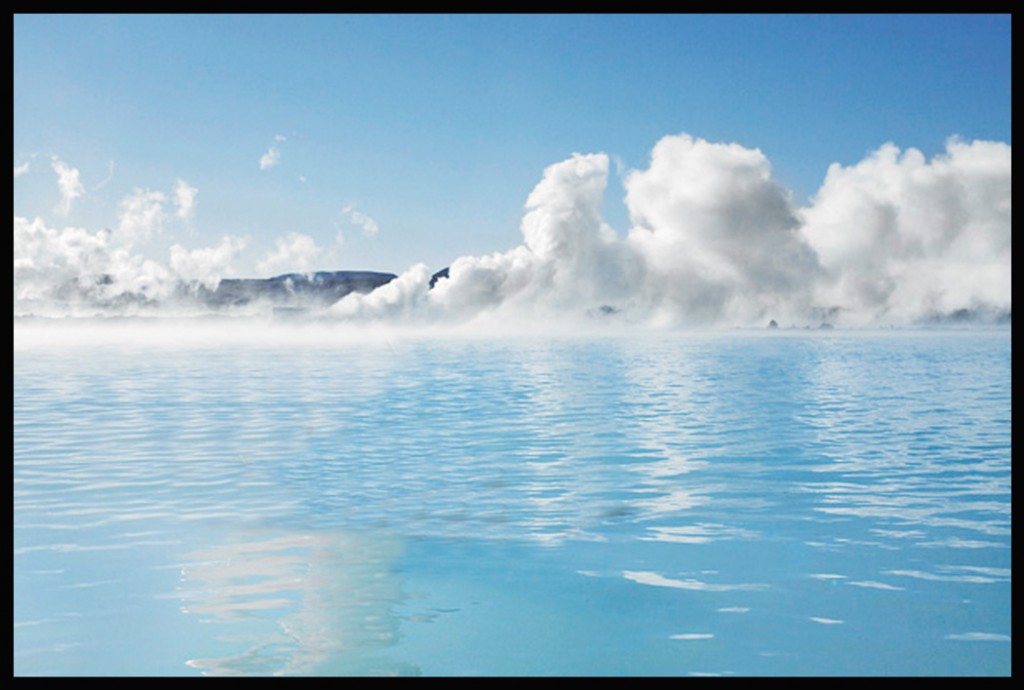 I went on the internet to research on Iceland.  I found that one of the places that people like to visit is the Blue Lagoon of Iceland.  The Blue Lagoon is a spa, built around a lagoon located in the middle of a lava landscape, which has natural spring waters with a blue color resulting from the presence of silica minerals on it.  I decided to incorporate the Blue Lagoon in my artwork.
Shadow of Peace and the Blue Lagoon, Iceland
These are the comments on my peace poster that Mr. Joseph Giacalone retuned to me; on the left is the original writing.  I decided to add certain colors before I incorporated it in to the final artwork, on the right.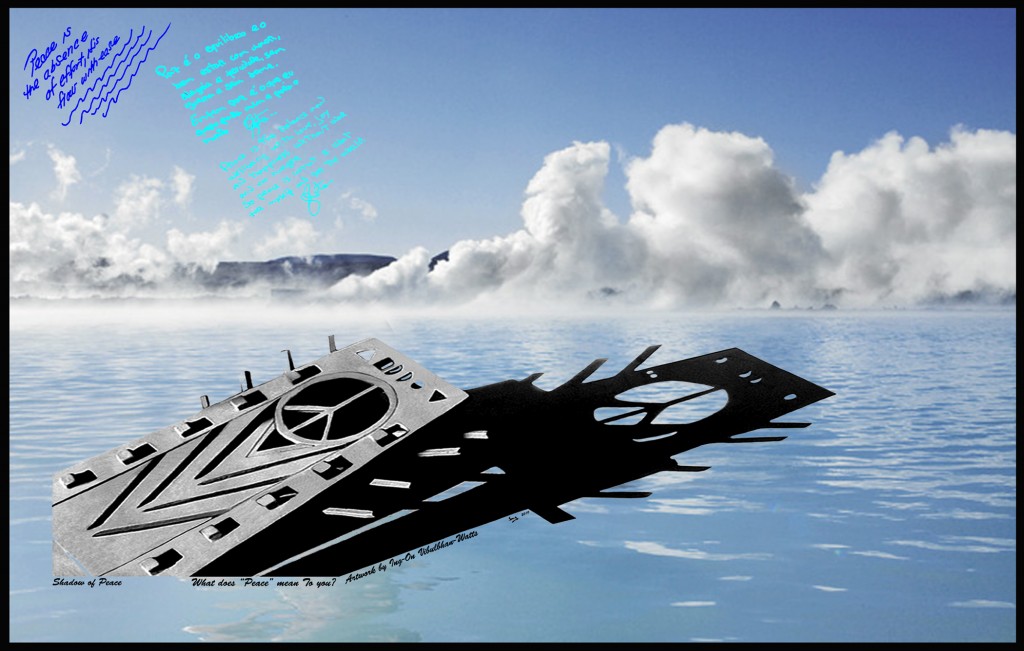 Shadow of Peace, Blue Lagoon, Iceland and "What does Peace mean to you?" comments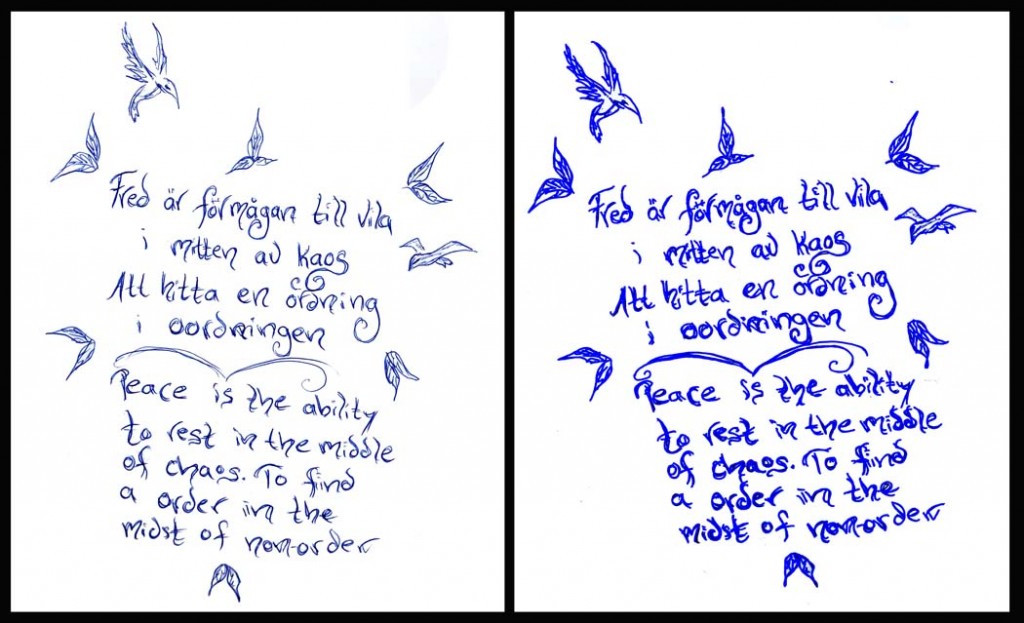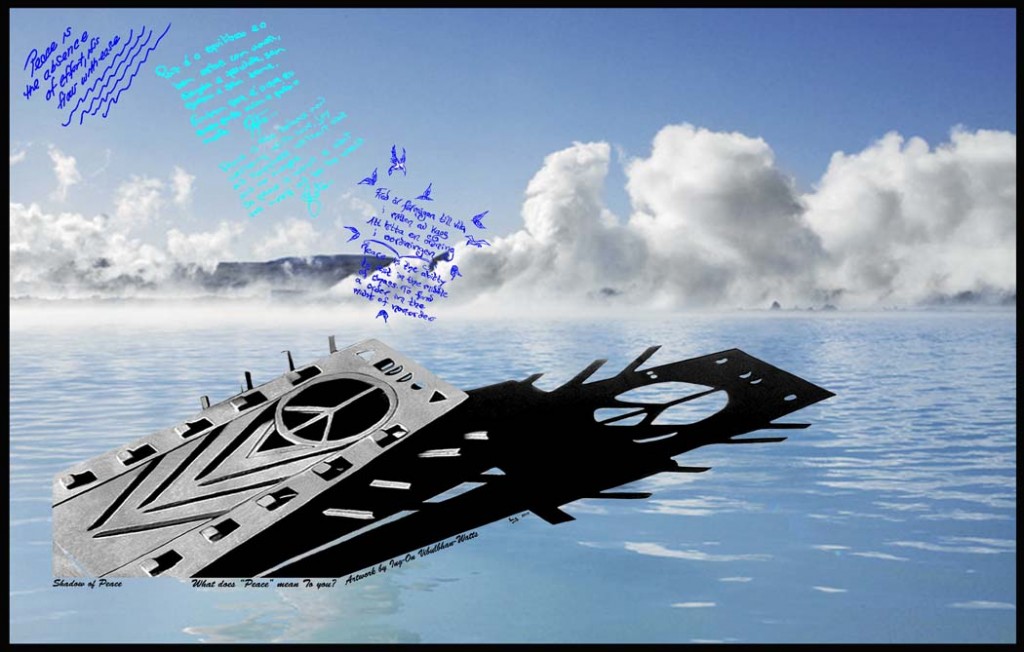 Shadow of Peace, Blue Lagoon, Iceland and "What does Peace mean to you?" comments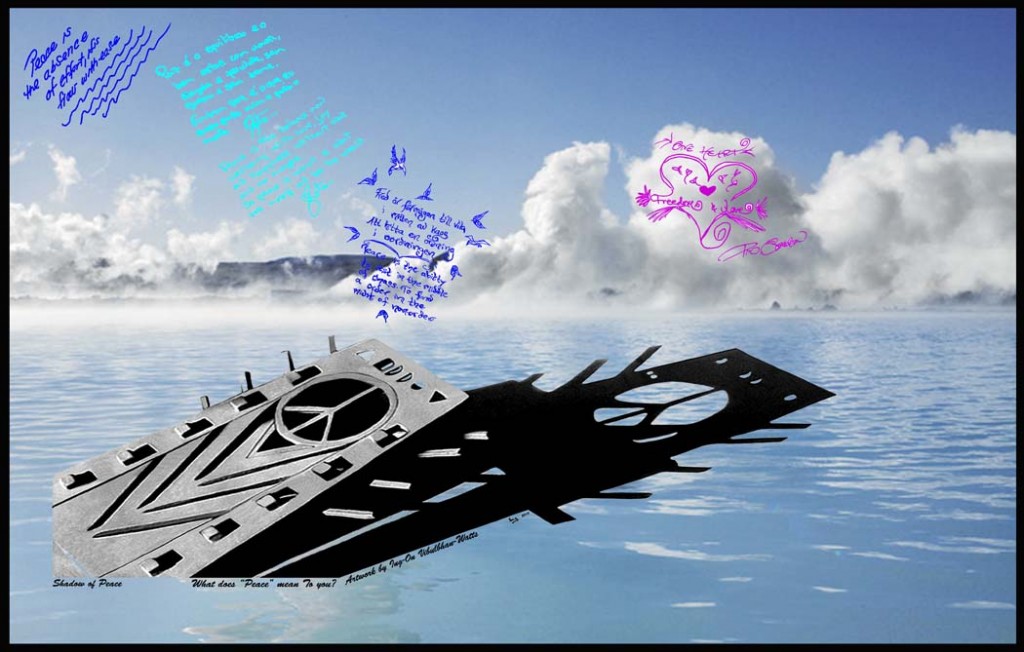 Shadow of Peace, Blue Lagoon, Iceland and "What does Peace mean to you?" comments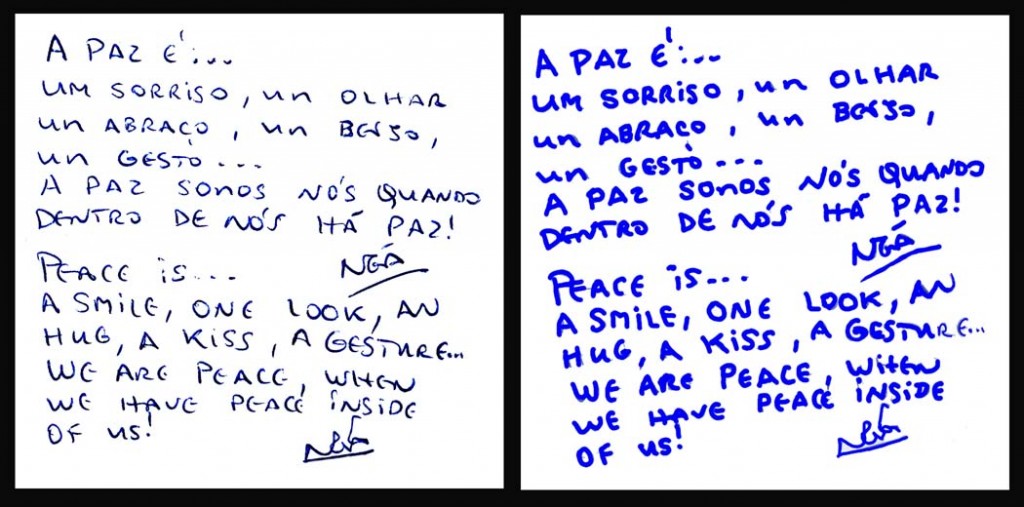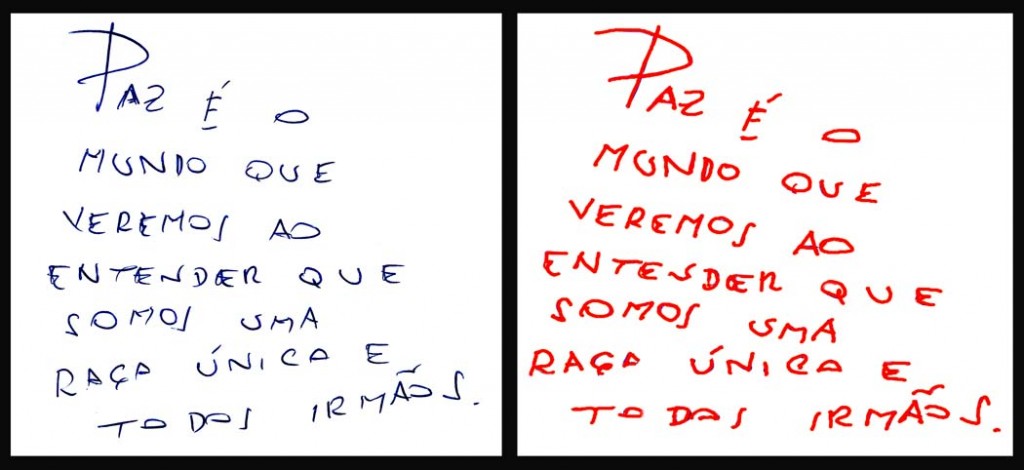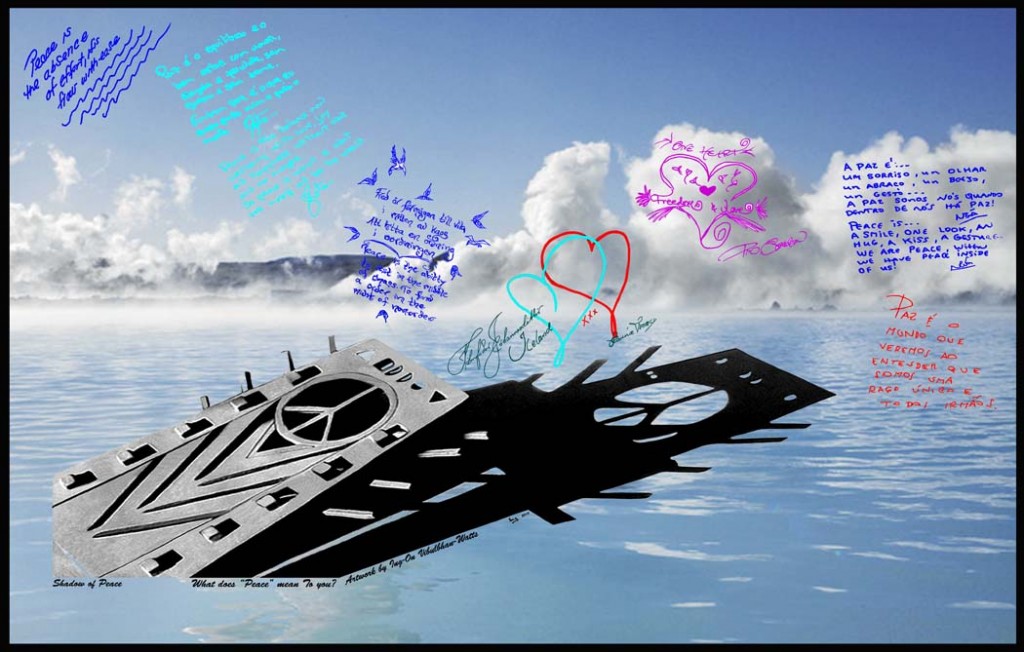 Shadow of Peace, Blue Lagoon, Iceland and "What does Peace mean to you?" comments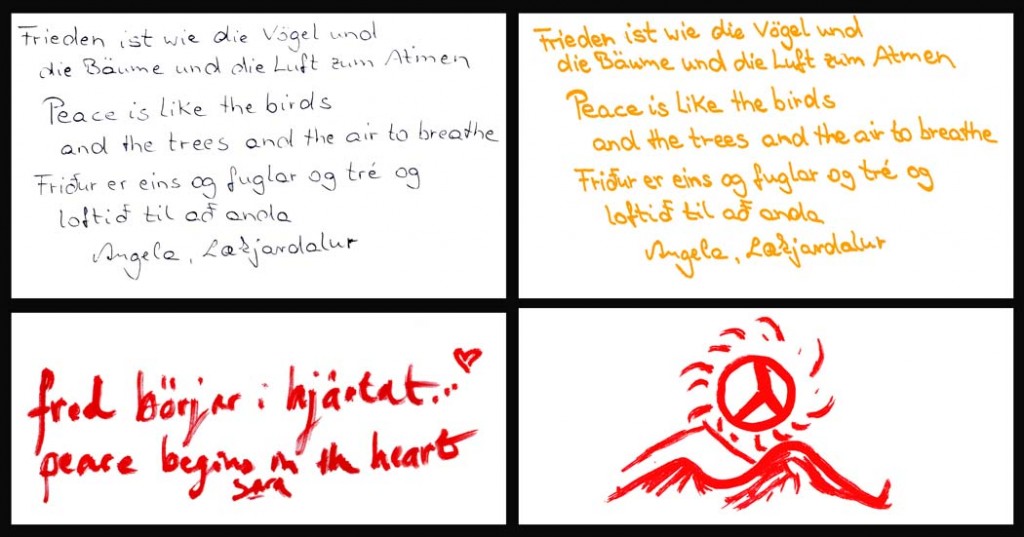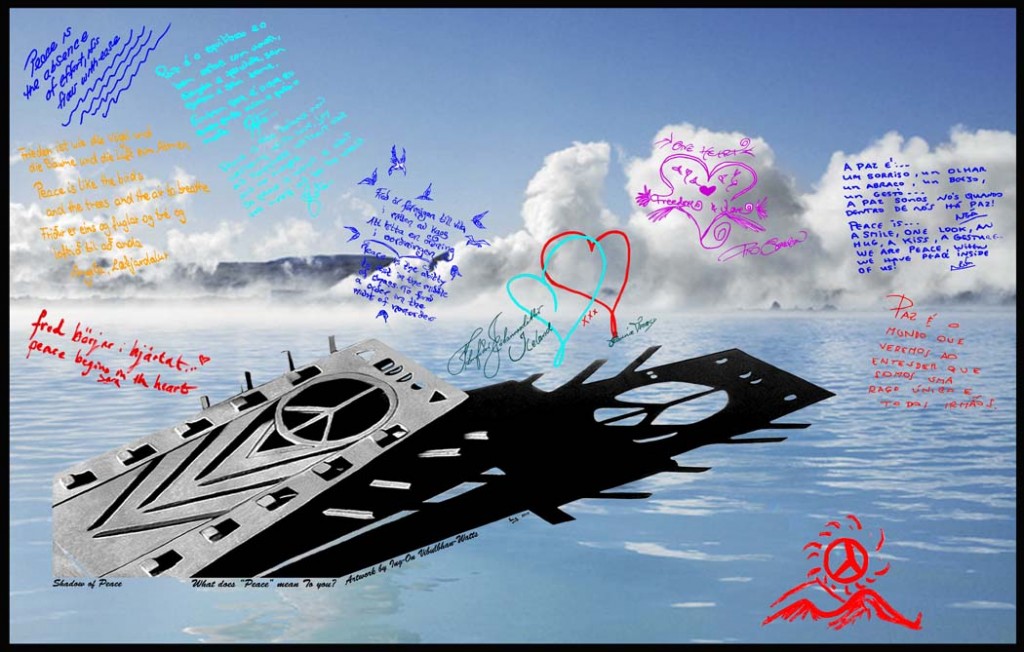 Shadow of Peace, Blue Lagoon, Iceland and "What does Peace mean to you?" comments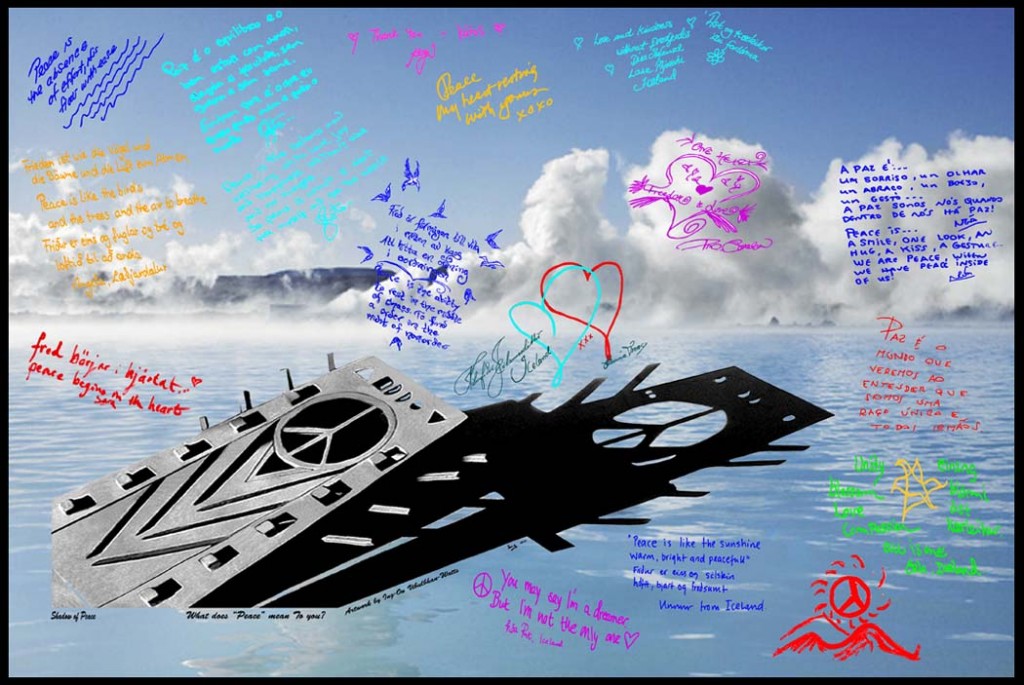 Shadow of Peace, Blue Lagoon, Iceland and "What does Peace mean to you?" comments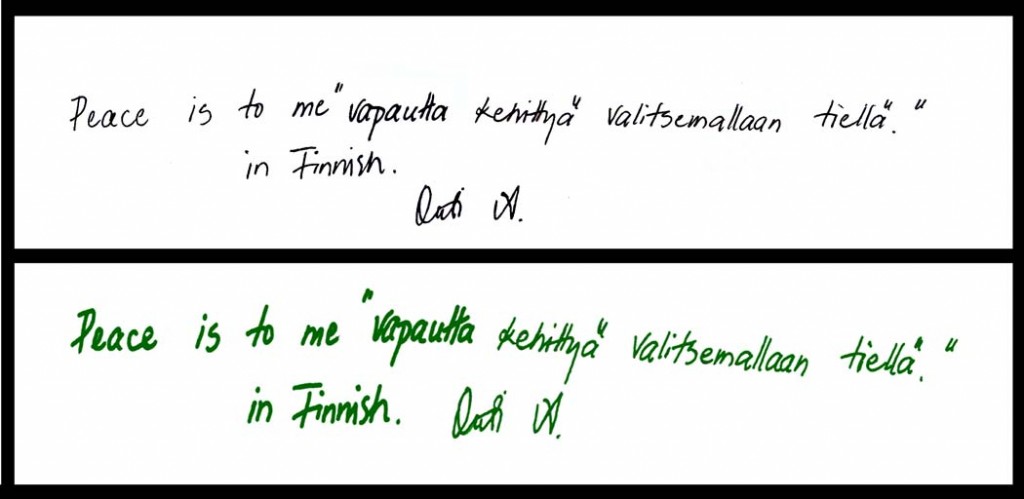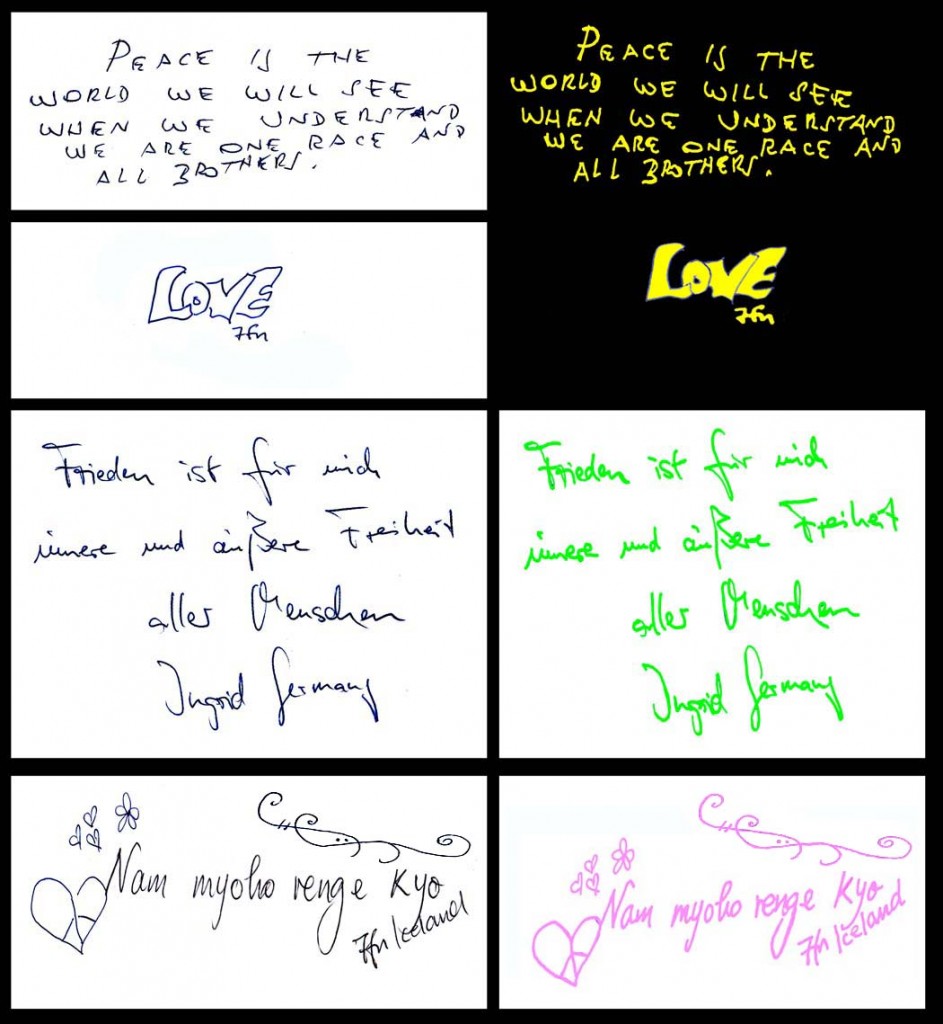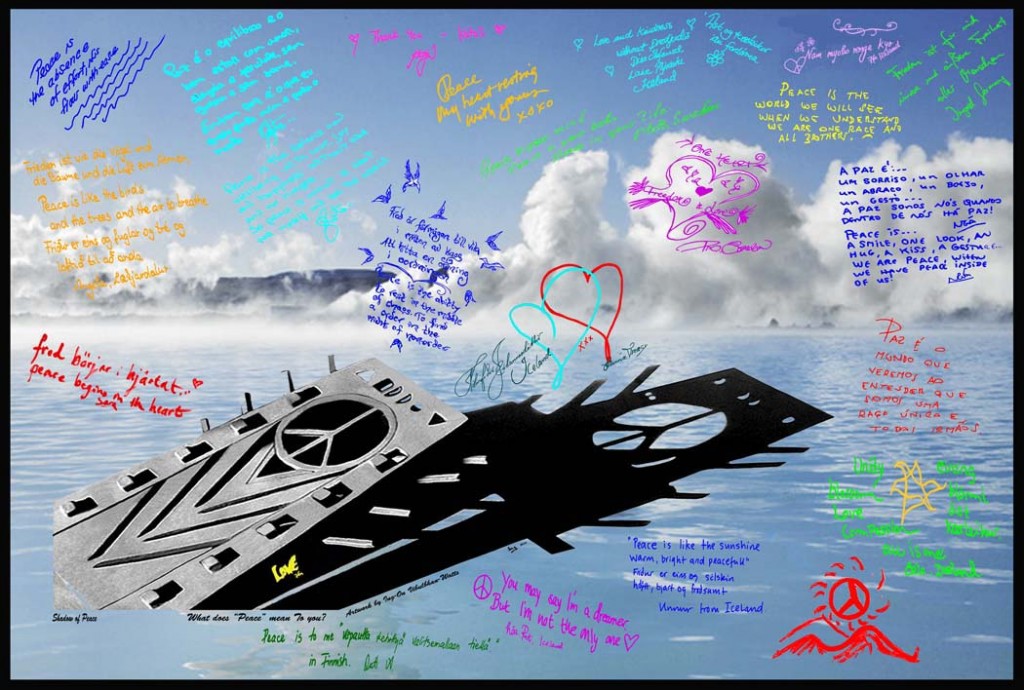 Shadow of Peace, Blue Lagoon, Iceland and "What does Peace mean to you?" comments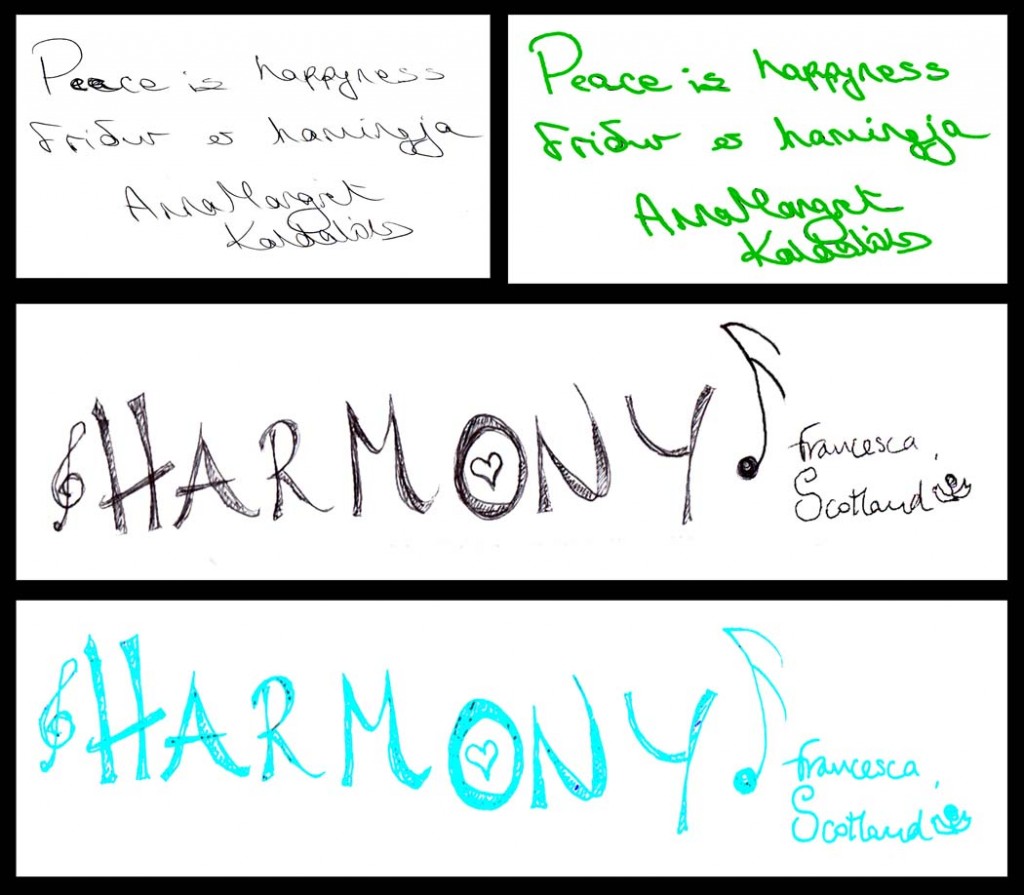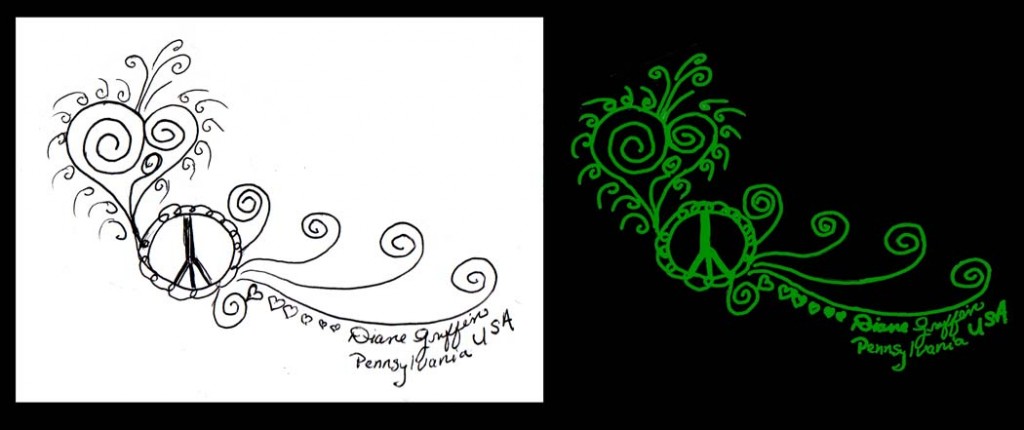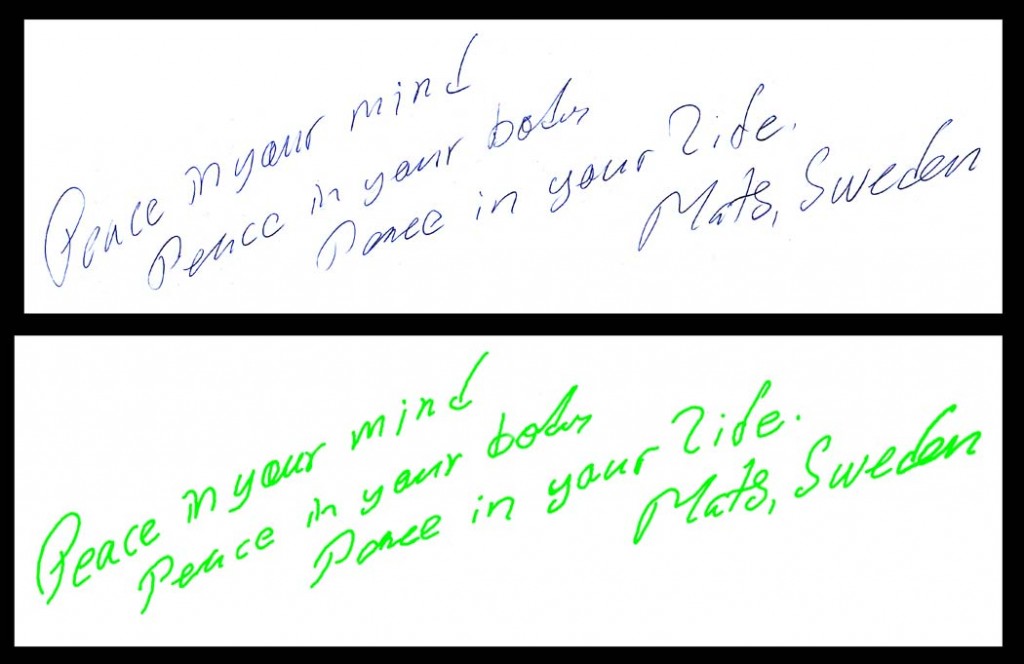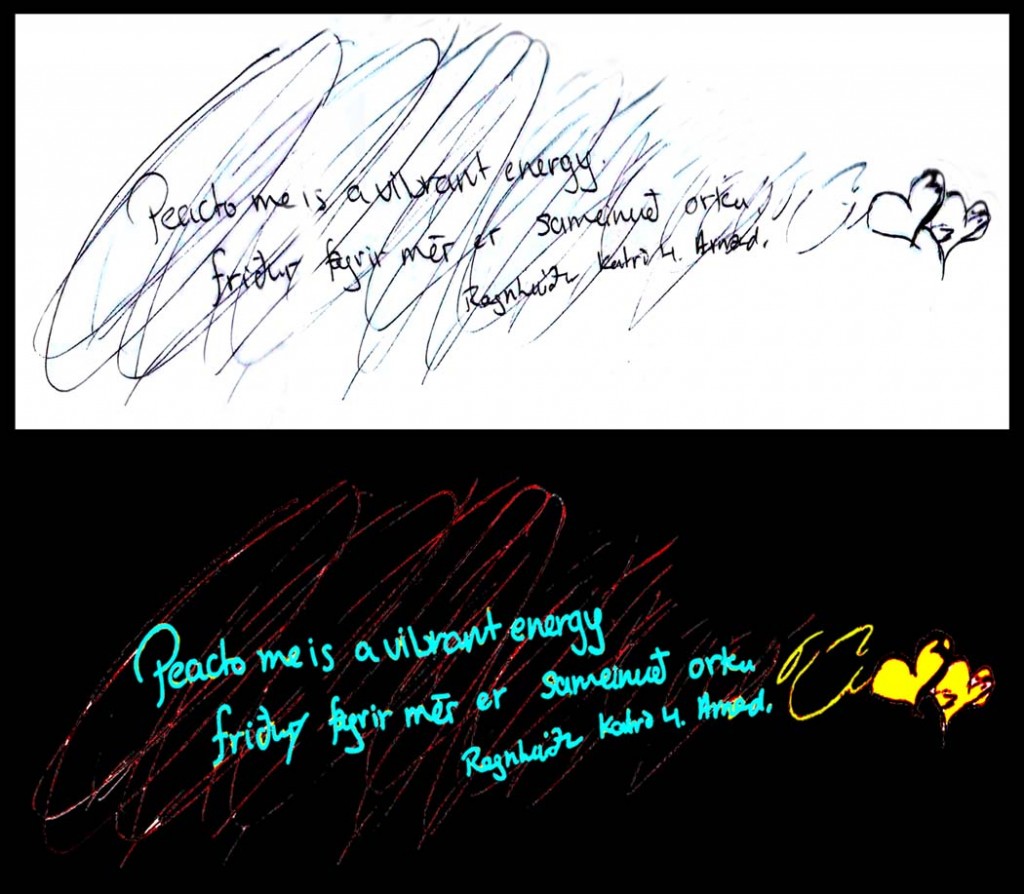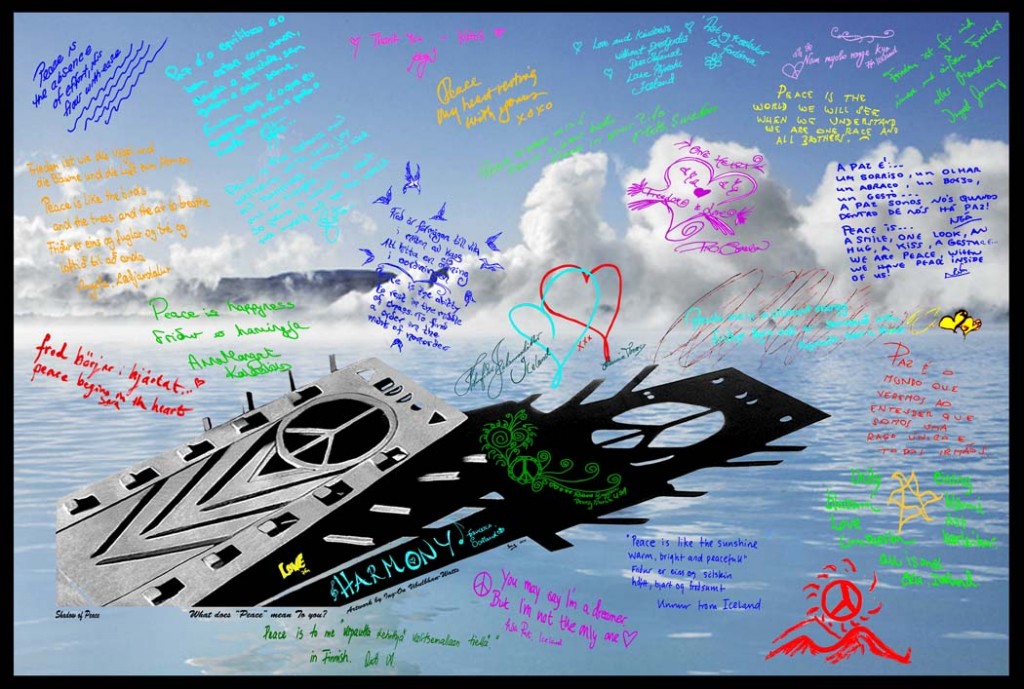 Shadow of Peace, Blue Lagoon, Iceland and "What does Peace mean to you?" All comments are included in the final artwork.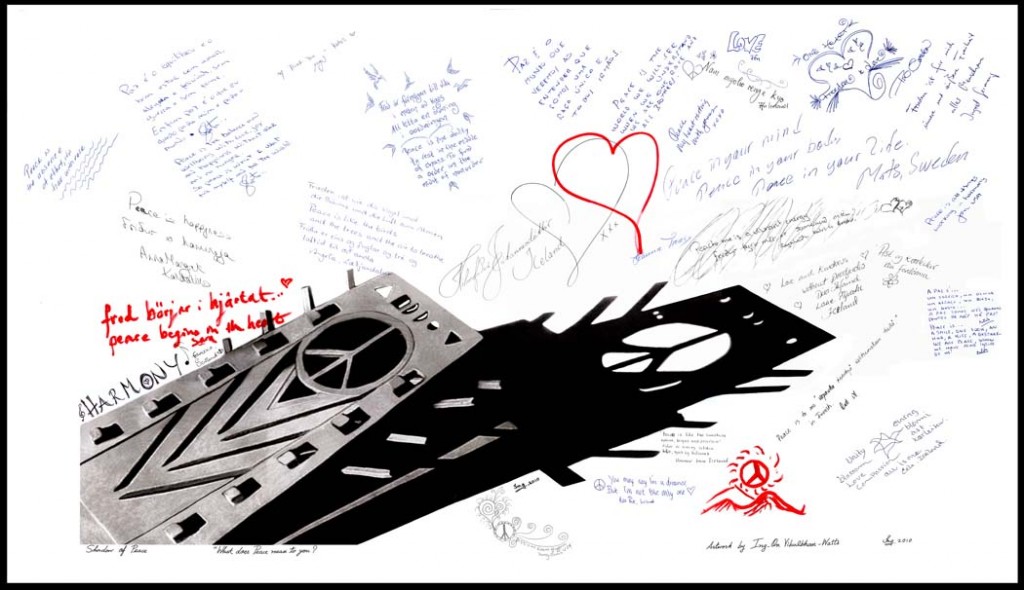 The original comments from Shadow of peace poster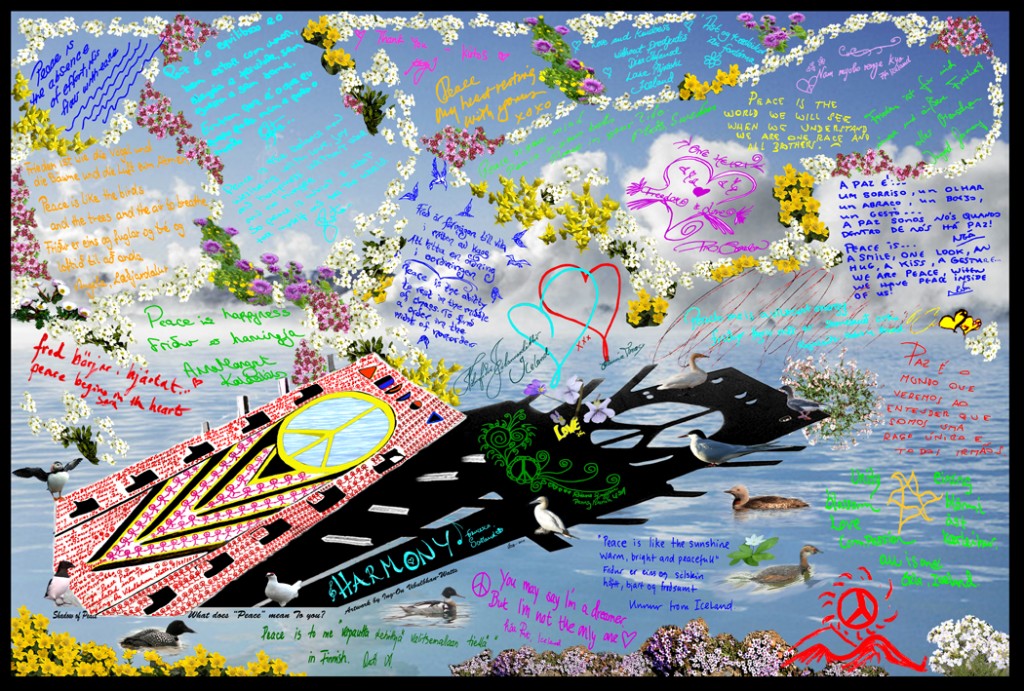 I added Iceland's native flowers birds and ducks to incorporate into the finished artwork to make it come alive.
Shadow of Peace and the International CranioSacral Therapists 2014, Iceland, comments on "What does Peace mean to you?" during May and June 2014, organized by Joseph Giacalone Finished artwork, after the written comments by Ing-On Vibulbhan-Watts
Please note that my peace project is not affiliated with the Upledger Institute and is not sponsored by it. The signings were after the project was over. Before it is officially published.
Joseph Giacalone is a New York State Licensed Massage Therapist specializing in advanced manual therapy in CranioSacral Therapy, Visceral Manipulation and Neural Manipulation. Joseph is a Teaching Assistant for Upledger Institute's CranioSacral courses. He is a support therapist in Upledger's Integrated Intentions Comprehensive Treatment Programs in New Mexico and Iceland.
Mr. Giacalone has extensive training in CranioSacral therapy, Visceral Manipulation, Neural Manipulation, Manual Articular Approach and Total Body Balancing. He participates in monthly study groups led by master therapists. He has an Associates degree in Massage Therapy and has completed 1,000 hours in clinical massage. He also holds a Masters of Science degree in Special Education. A major focus of his work is to tune into a client's inner wisdom and facilitate its healing process.
Skills
Mr. Giacalone specializes in melding with the client's inner wisdom and is guided to the bodies' healing process. His therapy provides high quality treatment for physical, neurological, musculoskeletal and chronic pain dysfunction. Mr Giacalone's passion and focus is to help the client to restore balanced functioning, be pain free and integrate the body and mind.
Joseph Giacalone
Professional Associations / Memberships
International Alliance of Healthcare Practitioners
American CranioSacral Therapy Association
American Massage Therapy Association
Website:
The link for Upledger website
Go to  "Find a therapist" and type in  Giacalone and Giacalone profile will come up


The Blue Lagoon geothermal spa is one of the most visited attractions in Iceland. The spa is located in a lava field in Grindavík on the Reykjanes Peninsula, southwestern Iceland. Wikipedia
A.   Iceland  Country
Iceland (Ísland)
Right: Location of  Iceland  (dark green) in Europe  (dark grey)  –  [Legend]
Iceland's Anthem: Lofsöngur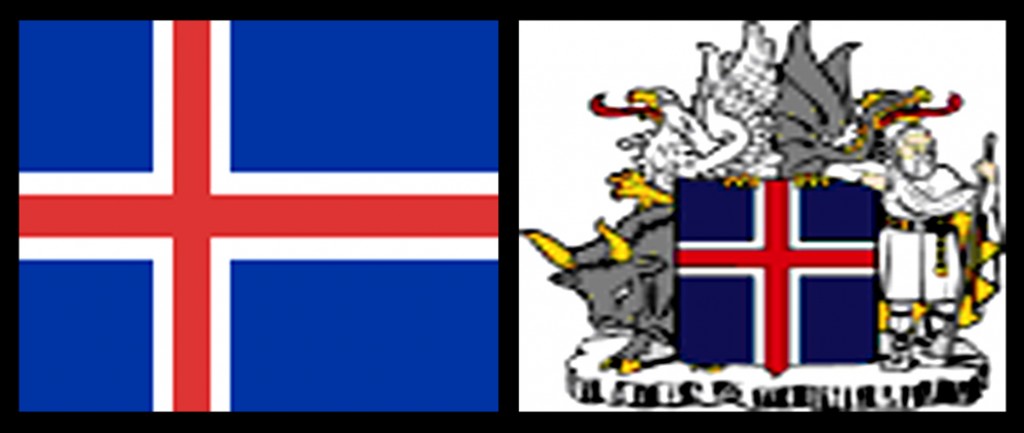 Left:Iceland's Flag                                              Right: Iceland's Coat of arms
Iceland i/?a?sl?nd/ (Icelandic: Ísland [?istlant]), in full the Republic of Iceland (Lýðveldið Ísland), is a Nordic country between the North Atlantic and the Arctic Ocean. It has a population of 325,671 and an area of 103,000 km2 (40,000 sq mi), making it the most sparsely populated country in Europe.[5] The capital and largest city is Reykjavík; the surrounding areas in the South-West of the country are home to two-thirds of the population. Iceland is volcanically and geologically active. The interior consists mainly of a plateau characterised by sand and lava fields
lava fields, mountains and glaciers, while many glacial rivers flow to the sea through the lowlands. Iceland is warmed by the Gulf Stream and has a temperate climate despite a high latitude just outside the Arctic Circle.
According to Landnámabók, the settlement of Iceland began in AD 874 when the chieftain Ingólfr Arnarson became the first permanent Norse settler on the island.[6] In the following centuries, Norsemen settled Iceland, bringing with them thralls of Gaelic origin. From 1262 to 1918, Iceland was ruled by Norway and later Denmark. The country became independent in 1918 and a republic in 1944.
Until the 20th century, Iceland relied largely on fishing and agriculture. Industrialisation of the fisheries and Marshall Plan aid following World War II brought prosperity and Iceland became one of the wealthiest and most developed nations in the world. In 1994, Iceland became party to the European Economic Area, which supported diversification into economic and financial services. In 2008, affected by the worldwide crisis, the nation's entire banking system systemically failed, resulting in substantial political unrest. In the wake of the crisis, Iceland instituted "capital controls" that made it impossible for foreign investors to take money out of the country, leading to the Icesave dispute. The economy has since then made a significant recovery.[7][8][9]
Iceland has a free-market economy with relatively low taxes compared to other OECD countries.[10] It maintains a Nordic social welfare system that provides universal health care and tertiary education for its citizens.[11] Iceland ranks high in economic, political and social stability and equality. In 2013, it was ranked as the 13th most-developed country in the world by the United Nations' Human Development Index.[4]
Icelandic culture is founded upon the nation's Norse heritage. Most Icelanders are descendants of Norse and Gaelic settlers. Icelandic, a North Germanic language, is descended from Old Norse and is closely related to Faroese and West Norwegian dialects. The country's cultural heritage includes traditional Icelandic cuisine, Icelandic literature and mediaeval sagas. Iceland has the smallest population of any NATO member and is the only one with no standing army, its lightly armed Coast Guard being in charge of defence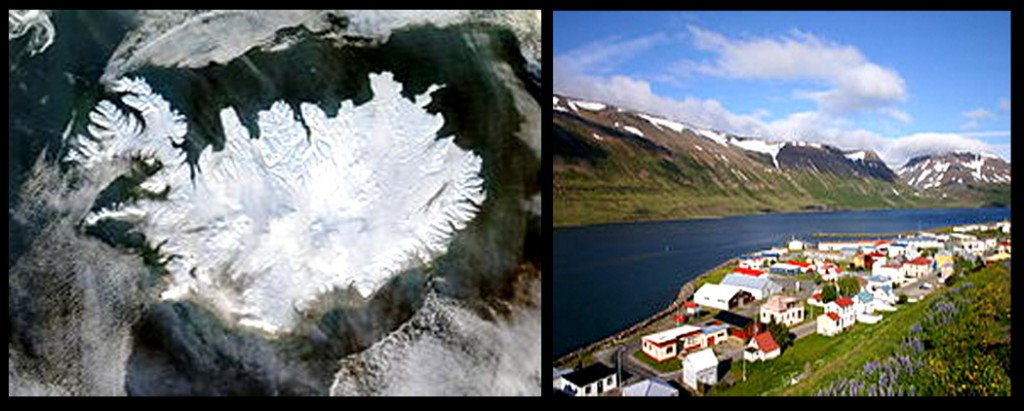 Left: Iceland, as seen from space on 29 January 2004
Right: Suðureyri

Left: The eruption of Eyjafjallajökull
Right: The erupting Geysir in Haukadalur valley, the oldest known geyser in the world

Left: Eyjafjallajökull glacier, one of the smallest glaciers of Iceland
Right: The Nesjavellir Geothermal Power Station services the Greater Reykjavík Area's hot water and electricity needs. Virtually all of Iceland's electricity comes from renewable resources.[120]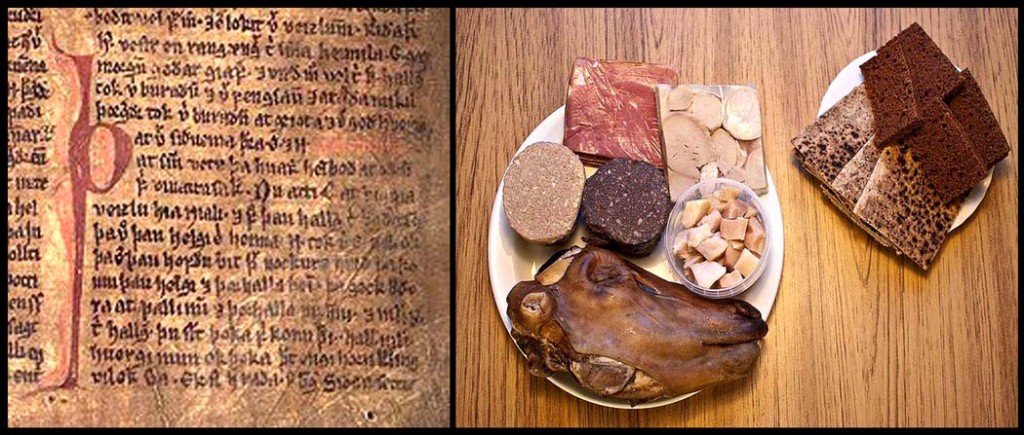 Left: Language-A page of Njáls saga from Möðruvallabók. The sagas are a significant part of the Icelandic heritage
Right: A typical Þorramatur assortment
Much of Iceland's cuisine is based on fish, lamb, and dairy products, with little to no utilization of herbs or spices. Due to the island's climate, fruits and vegetables are not generally a component of traditional dishes, although the use of greenhouses has made them more common in contemporary food. Þorramatur is a selection of traditional cuisine consisting of many dishes, and is usually consumed around the month of Þorri, which begins on the first Friday after 19 January. Traditional dishes also include skyr, hákarl (cured shark), cured ram, singed sheep heads, and black pudding. Puffin is considered a local delicacy that is often prepared through broiling.
Left: The writer Halldór Laxness by Einar Hákonarson, 1984
Right: Traditional Icelandic turf houses. Until the 20th century, the vast majority of Icelanders lived in rural areas
Largest cities or towns of Iceland
statice.is
| | | | |
| --- | --- | --- | --- |
| | | | |
| 1 | Reykjavík | Capital Region | 120,165 |
| 2 | Kópavogur | Capital Region | 30,401 |
| 3 | Hafnarfjörður | Capital Region | 26,031 |
| 4 | Akureyri | Northeastern Region | 17,481 |
| 5 | Reykjanesbær | Southern Peninsula | 14,099 |
| 6 | Garðabær | Capital Region | 10,584 |
| 7 | Mosfellsbær | Capital Region | 8,517 |
| 8 | Árborg | Southern Region | 7,928 |
| 9 | Akranes | Western Region | 6,630 |
| 10 | Fjarðabyggð | Eastern Region | 4,736 |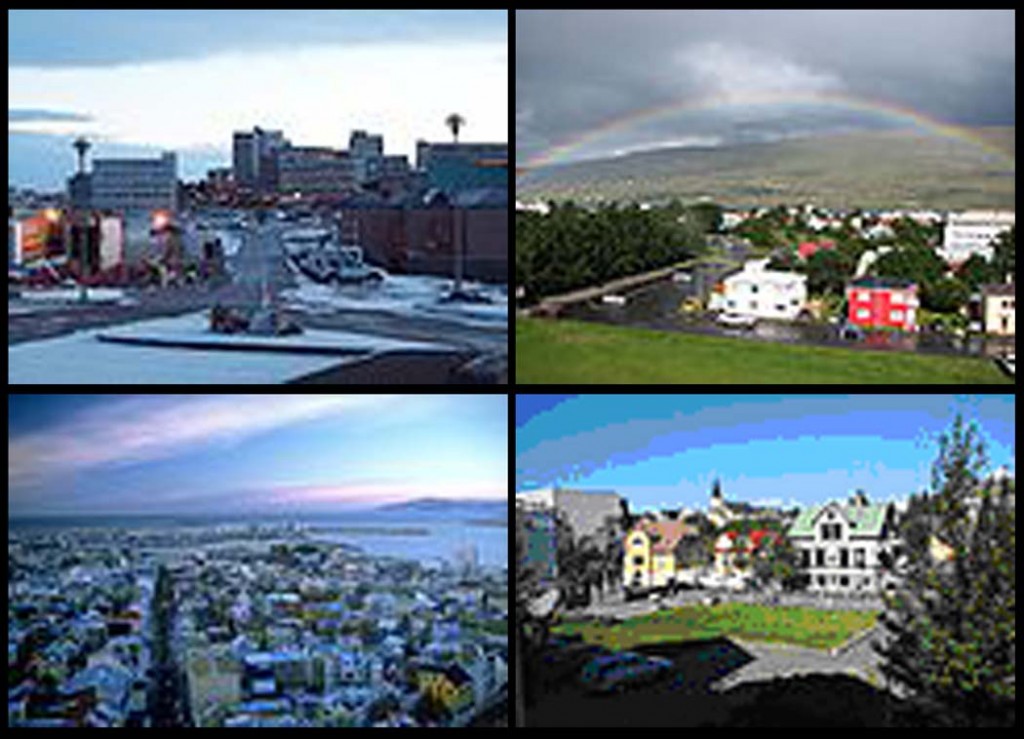 Top left:Kópavogur                Top right: Akureyri
Bottom left:Reykjavík                 Bottom right: Hafnarfjörður
Iceland's Scenery, People and Houses
Please visit the following links for more information:
https://www.google.com/#q=iceland
https://en.wikipedia.org/wiki/Iceland