Photograph by Ing-On Vibulbhan-Watts
I went to Thailand to visit my family for two months, from July and August 2017.  I did not visit home since 2006.  I was glad to see my family.  I enjoyed seeing all new development in Bangkok and loved eating authentic Thai food, especially Thai fruits.
I had a chance to visit my home town, Lopburi, where I was raised when I was young, before we moved to Bangkok.  I traveled to Ayutthaya to see the ruins of temples that were burned by Burmese soldiers, when the Burmese wanted to take over Thailand, The Burmese–Siamese War (1765–1767).  Ayutthaya was one of the former capitals of Thailand before moved to, Thonburi and then Bangkok.  I also traveled to, Chiang Mai, located in the Northern part of Thailand.  Chiang Mai is the second largest and second most popular city of Thailand.
John, my husband came to Thailand in August.  He joined me traveling to different part of Thailand.  I had a good time taking videos and photographs wherever I traveled around Bangkok and other part of Thailand.  I hope the viewers of my website will enjoy the photographs that I present in these projects.
Ing-On Vibulbhan-Watts, Thursday, October 26, 2017
Artwork at the Bangkok International Airport, Thailand
A depiction of the Samudra manthan at the airport
Suvarnabhumi Airport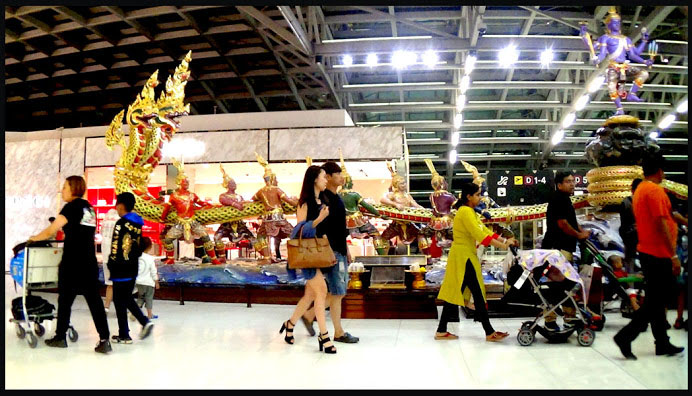 Artwork at the Bangkok International Airport, Thailand
A depiction of the Samudra manthan at the airport
Suvarnabhumi Airport
Suvarnabhumi is the twentieth busiest airport in the world, ninth busiest airport in Asia, and the busiest in the country, having handled 53 million passengers in 2012,[6] and is also a major air cargo hub, with a total of 95 airlines. On social networks, Suvarnabhumi was the world's most popular site for taking Instagram photographs in 2012.[7]
The airport inherited the airport code, BKK, from Don Mueang after the older airport ceased international commercial flights. The modern Motorway 7 connects the airport, Bangkok, and the heavily industrial eastern seaboard of Thailand, where most export manufacturing takes place.
For more information please visit the following link:
https://en.wikipedia.org/wiki/Suvarnabhumi_Airport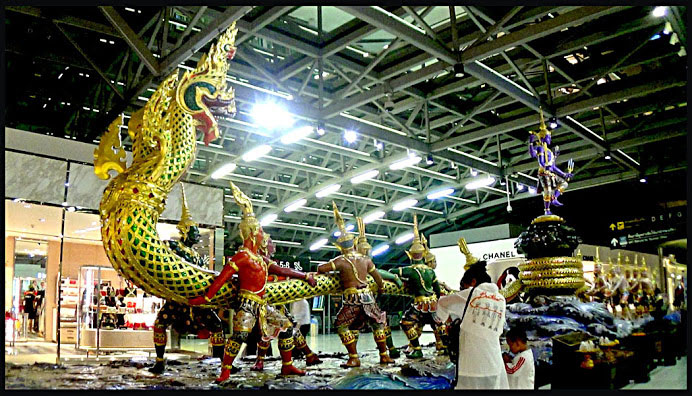 Artwork at the Bangkok International Airport, Thailand
A depiction of the Samudra manthan at the airport
Suvarnabhumi Airport
The airport is on what had formerly been known as Nong Nguhao (Cobra Swamp) in Racha Thewa in Bang Phli, Samut Prakan, about 25 kilometres (16 mi) east of downtown Bangkok. The terminal building was designed by Helmut Jahn of Murphy / Jahn Architects. It was constructed primarily by ITO JV. The airport has the world's tallest free-standing control tower (132.2 metres or 434 feet), and the world's fourth largest single-building airport terminal (563,000 square metres or 6,060,000 square feet).
For more information please visit the following link:
https://en.wikipedia.org/wiki/Suvarnabhumi_Airport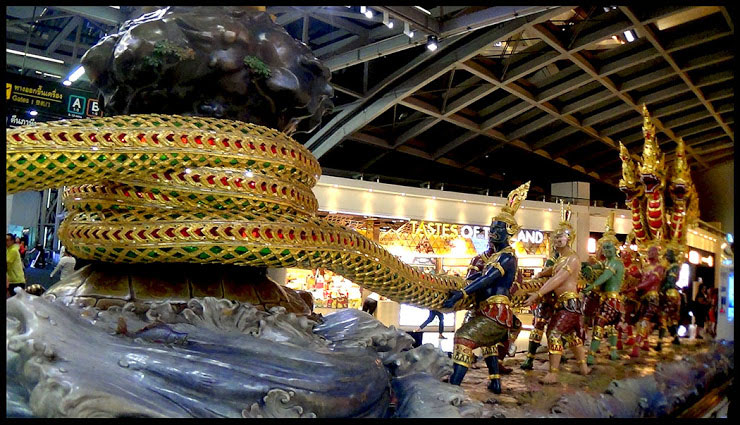 Artwork at the Bangkok International Airport, Thailand
Suvarnabhumi Airport
Suvarnabhumi was officially opened for limited domestic flight service on 15 September 2006, and opened for most domestic and all international commercial flights on 28 September 2006.[5]
The airport is currently the main hub for Thai Airways International, Thai Smile Airways, and Bangkok Airways. It also serves as regional gateway and connecting point for various foreign carriers.
For more information please visit the following link:
https://en.wikipedia.org/wiki/Suvarnabhumi_Airport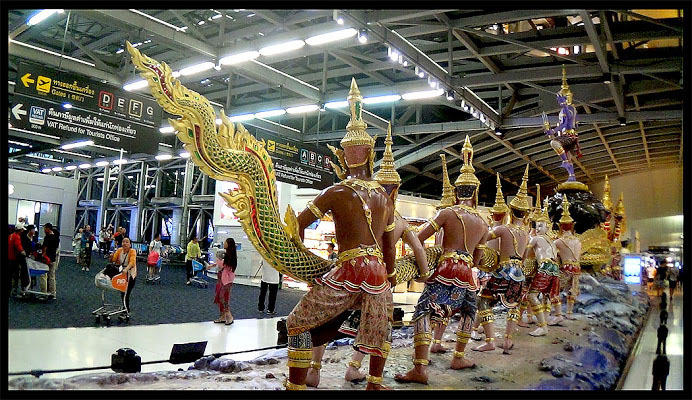 Artwork at the Bangkok International Airport, Thailand
Suvarnabhumi Airport
"Suvarnabhumi Airport (RTGS: Suwannaphum; [sù.w?n.ná.p???m] ( listen)[2]) (IATA: BKK, ICAO: VTBS), also known as (New) Bangkok International Airport, is one of two international airports serving Bangkok, Thailand. The other one is Don Mueang International Airport.[3][4] Suvarnabhumi covers an area of 3,240 hectares (8,000 acres), making it one of the biggest international airports in Southeast Asia and a regional hub for aviation."
For more information please visit the following link:
https://en.wikipedia.org/wiki/Suvarnabhumi_Airport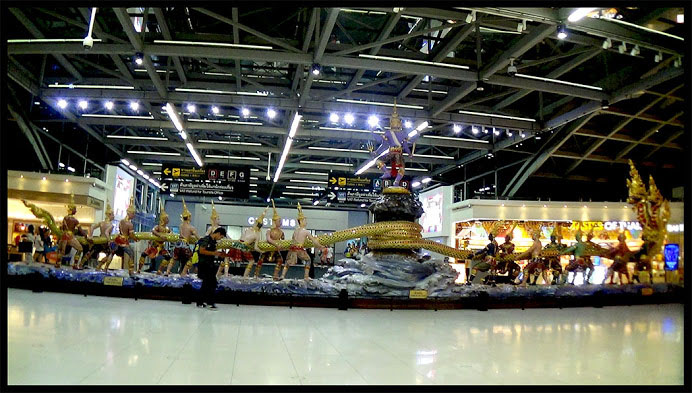 Artwork at the Bangkok International Airport, Thailand
A depiction of the Samudra manthan at the airport
Suvarnabhumi Airport
"Full tests of the airport took place on 3 and 29 July 2006. Six airline—Thai Airways International, Nok Air, Thai Air Asia, Bangkok Airways, PBair, and One-Two-GO—used the airport as a base for twenty domestic flights.[10][11] The first international test flights were conducted on 1 September 2006. Two Thai Airways aircraft, a Boeing 747-400 and an Airbus A300-600, simultaneously departed the airport at 09:19 to Singapore and Hong Kong. At 15:50 the same aircraft flew back and made simultaneous touchdowns on runways 19L and 19R. These test flights demonstrated the readiness of the airport to handle traffic.[citation needed]"
For more information please visit the following link:
https://en.wikipedia.org/wiki/Suvarnabhumi_Airport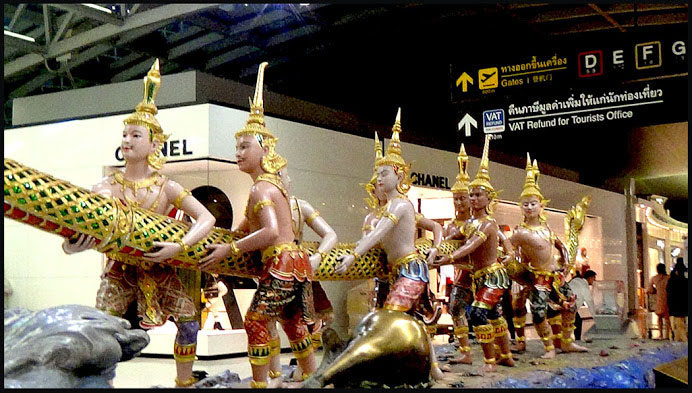 Artwork at the Bangkok International Airport, Thailand
A depiction of the Samudra manthan at the airport
Suvarnabhumi Airport
"Early construction, airport tests, and official opening
The airport was due to open in late 2005, but a series of budget overruns, construction flaws, and allegations of corruption plagued the project.
A further delay was caused by the discovery that the airport had been built over an old graveyard. Superstitious construction workers claimed to have seen ghosts there. On 23 September 2005, the Thai airports authority held a ceremony where 99 Buddhist monks chanted to appease the spirits.[9]"
For more information please visit the following link:
https://en.wikipedia.org/wiki/Suvarnabhumi_Airport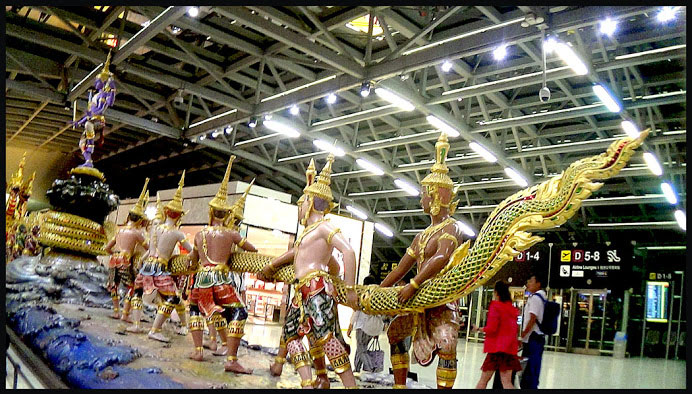 Artwork at the Bangkok International Airport, Thailand
A depiction of the Samudra manthan at the airport
Suvarnabhumi Airport
"Land purchase, early construction: The need for the new airport was recognized in 1973 when 8,000 acres of land was purchased 40 kilometres east of Bangkok. The site, known as Cobra Swamp, was drained and named Suvarnabhumi, meaning "realm of gold". On 14 October 1973, student-led protests led to the overthrow of the military government of Prime Minister Thanom Kittikachorn and the project was shelved.
After a series of ups and downs, the "New Bangkok International Airport" company (NBIA) was formed in 1996. Due to political and economic instabilities, notably the Asian financial crisis of 1997, construction did not begin until six years later in January 2002 by the government of Thaksin Shinawatra."
For more information please visit the following link:
https://en.wikipedia.org/wiki/Suvarnabhumi_Airport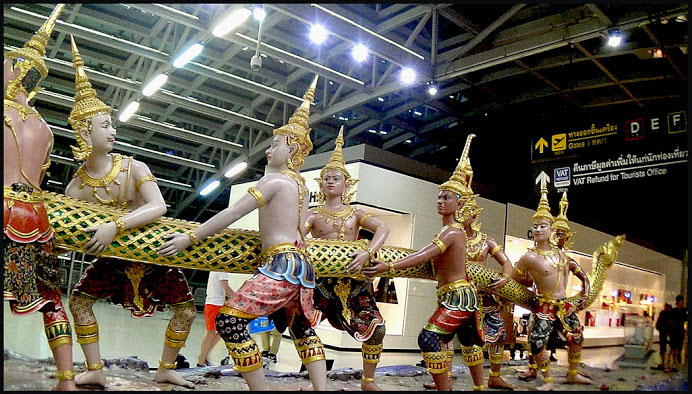 Artwork at the Bangkok International Airport, Thailand
A depiction of the Samudra manthan at the airport
Suvarnabhumi Airport
"The name Suvarnabhumi is Sanskrit for "Land of Gold" (Devanagari, IAST: Svar?abh?mi; Svar?a is "Gold", Bh?mi is "Land"; literally "Golden Land"). The name was chosen by the late King Bhumibol Adulyadej, and refers to the Hindu-Buddhist golden kingdom, theorised to have been located to the east of the Ganges, possibly somewhere in Southeast Asia. In Thailand, government proclamations and national museums insist that Suvarnabhumi was somewhere in the coast of central plain, near the ancient city of U Thong, which might be the origin of the Indianised Dvaravati culture.[8] Although the claims have not been substantiated by any historical records, the Thai government"
For more information please visit the following link:
https://en.wikipedia.org/wiki/Suvarnabhumi_Airport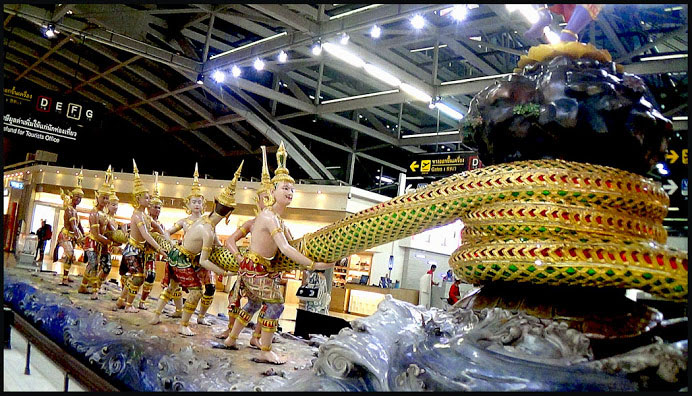 Artwork at the Bangkok International Airport, Thailand
A depiction of the Samudra manthan at the airport
Suvarnabhumi Airport
"Months after its opening, issues of congestion, construction quality, signage, provision of facilities, and soil subsidence continued to plague the project, prompting calls to reopen Don Mueang to allow for repairs to be made.[18] Expert opinions varied widely on the extent of Suvarnabhumi's problems as well as their root cause. Most airlines stated that damage to the airport was minimal.[19][20] Prime Minister Surayud Chulanont reopened Don Mueang for domestic flights on a voluntary basis on 16 February 2007, with 71 weekly flights moved back initially, but no international flights.[21]"
For more information please visit the following link:
https://en.wikipedia.org/wiki/Suvarnabhumi_Airport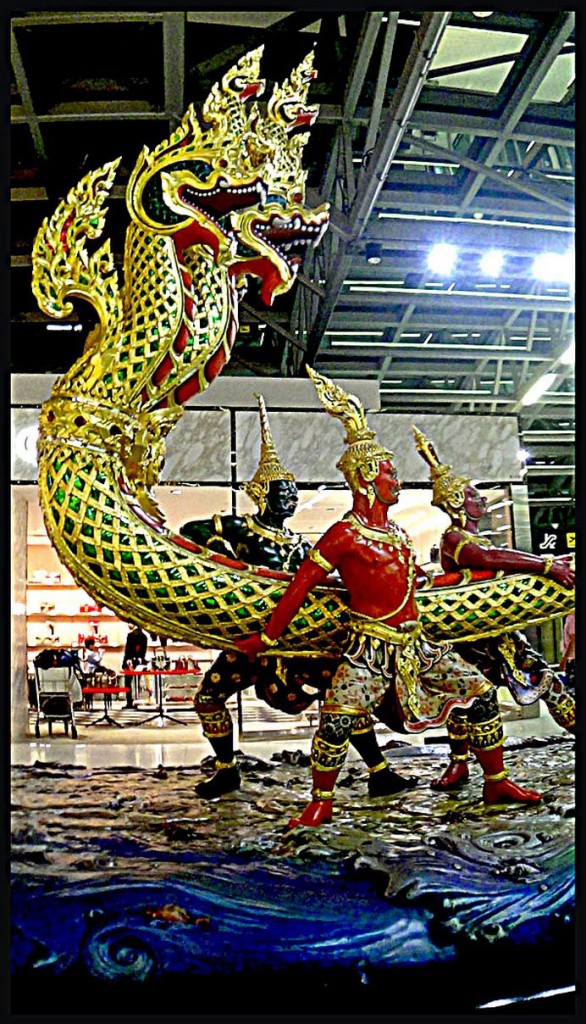 Artwork at the Bangkok Internati
onal Airport, Thailand
A depiction of the Samudra manthan at the airport
Welcome To My Beloved Country, Thailand
Photograph by Ing-On Vibulbhan-Watts
Suvarnabhumi Airport
"Initial difficulties: Difficulties were reported in the first few days of the airport's operation. On the first day alone, sluggish luggage handling was common—the first passenger arrival by Aerosvit took an hour for the luggage to start coming out, and some flights did not have their luggage coming out even after four hours. Flights were delayed (Thai Airways claimed that 17 of 19 flights were delayed that day), and there were failures with the check-in system.[15][16] Subsequent problems included the failure of the cargo computer system, and the departure boards displaying the wrong information, resulting in confused passengers (especially as unlike Don Mueang, there were no "final calls" issued).[17]"
For more information please visit the following link:
https://en.wikipedia.org/wiki/Suvarnabhumi_Airport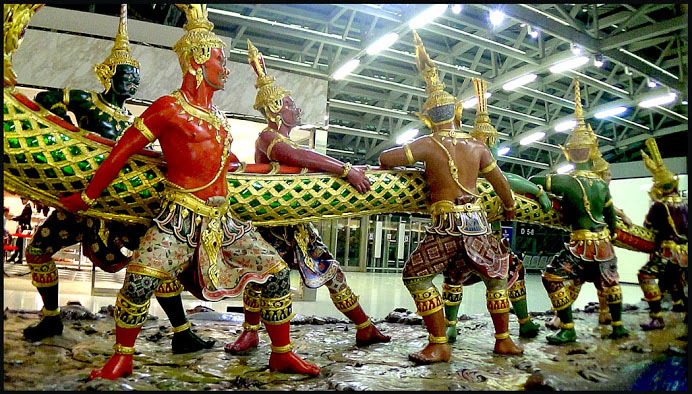 Artwork at the Bangkok International Airport, Thailand
A depiction of the Samudra manthan at the airport
Suvarnabhumi Airport
"On 15 September 2006, the airport started limited daily operations with Jetstar Asia Airways operating three Singapore to Bangkok flights. Bangkok Airways moved to the airport on 21 September. AirAsia and Thai AirAsia followed on 25 September and on 26 September Nok Air moved to Suvarnabhumi Airport. During this initial phase, as well as in the previous tests, the airport used the temporary IATA code NBK.[citation needed]"
For more information please visit the following link:
https://en.wikipedia.org/wiki/Suvarnabhumi_Airport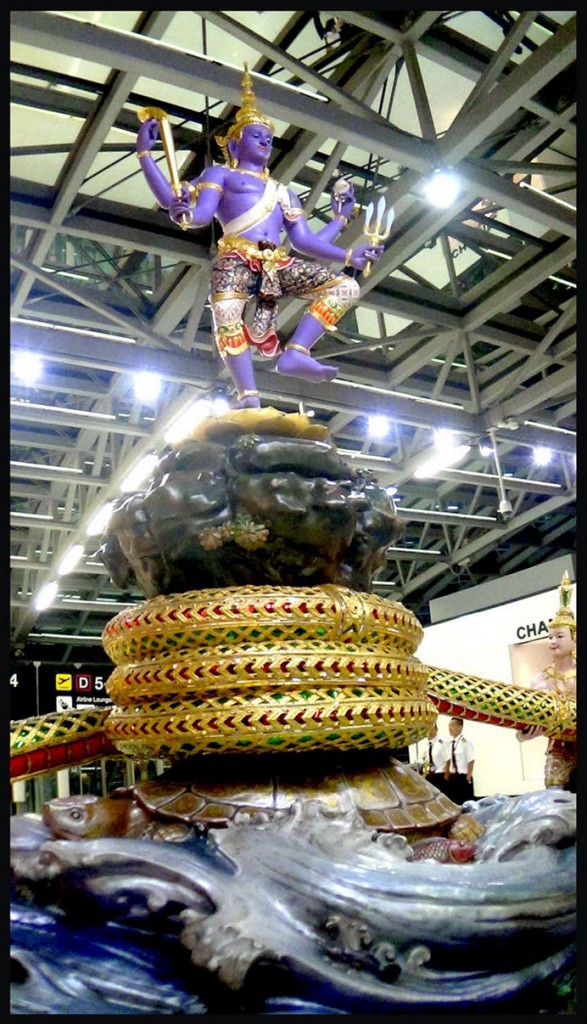 Artwork at the Bangkok International Airport, Thailand
A depiction of the Samudra manthan at the airport
Suvarnabhumi Airport
"Plans to re-open Don Mueang for domestic flights: In January 2007, Thai Airways announced a plan to move some of its domestic operations back to Don Mueang International Airport due to overcrowding. Three days later, the Ministry of Transport recommended temporarily reopening Don Mueang while repair work on the runways at Suvarnabhumi proceeded. At that time, Thai Airways said it would shift most of its domestic flights back to Don Mueang while keeping flights with high international passenger connections such as Chiang Mai and Phuket at Suvarnabhumi. On 28 March 2009, Thai Airways discontinued all domestic flights from Don Mueang. Bangkok Airways and One-Two-GO had similar plans, but Bangkok Airways remained at Suvarnabhumi. Thai AirAsia said it would not move unless it could shift both its international and domestic operations, prompting them to stay at Suvarnabhumi for the time being. Nok Air and PBair were undecided, but Nok Air later relocated all flights to Don Mueang, where they operate today.[26][27] As of January 2010, only Nok Air and One-Two-Go operated domestic flights from Don Mueang Airport. PBair have ceased operations altogether. One-Two-Go was integrated into Orient Thai Airlines in July 2010, but continues to operate from Don Mueang Airport. As of 1 October 2012 Air Asia has moved all of its Bangkok operations to Don Mueang International Airport (DMK) from Suvarnabhumi Airport (BKK).[28]"
For more information please visit the following link:
https://en.wikipedia.org/wiki/Suvarnabhumi_Airport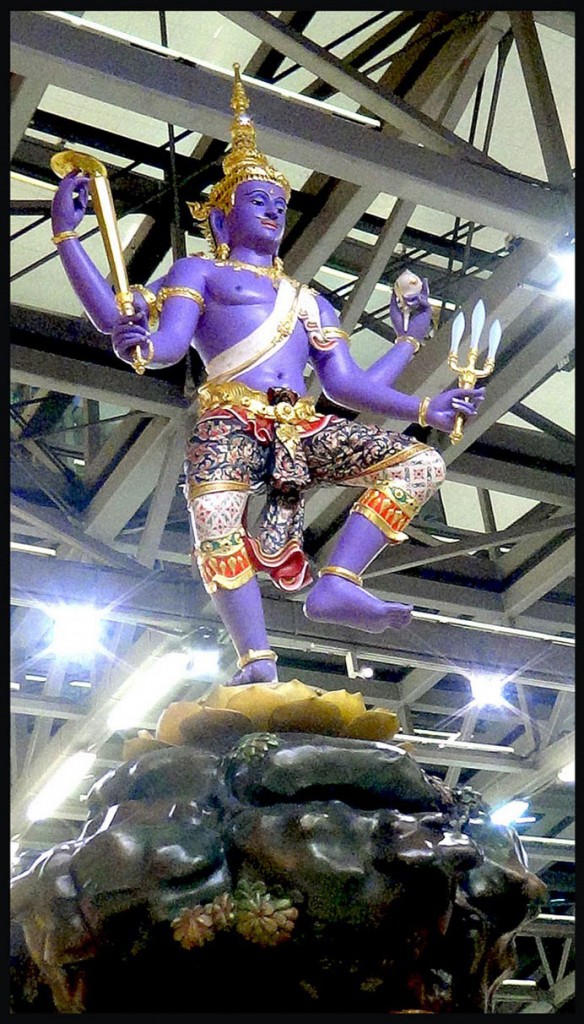 Artwork at the Bangkok International Airport, Thailand
A depiction of the Samudra manthan at the airport
Suvarnabhumi Airport
"As of early-2016 tarmac problems persist at Suvarnabhumi. Soft spots on the tarmac, taxiways, and apron area have not been permanently fixed. Aircraft get stuck on the soft surfaces that are the result of sub-standard materials. "The constant resurfacing of the tarmac, taxiways and apron area with asphalt is an unacceptable patchwork solution. We literally need a "concrete" solution," said Tony Tyler, IATA's director general and CEO.[25]"
For more information please visit the following link:
https://en.wikipedia.org/wiki/Suvarnabhumi_Airport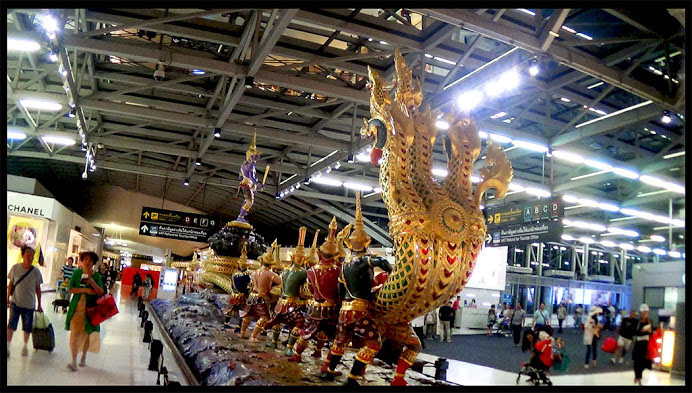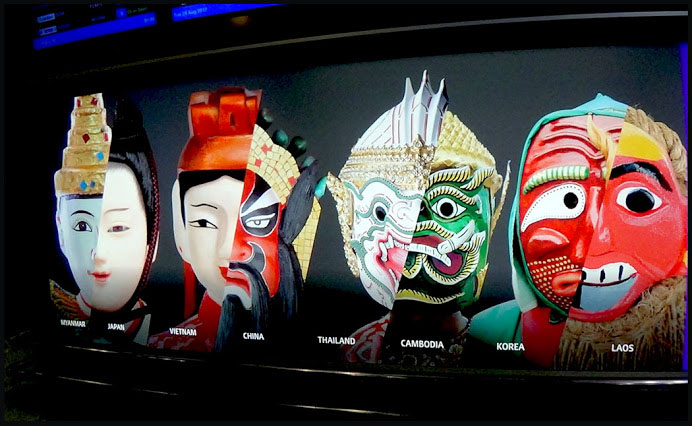 Artwork at the Bangkok International Airport, Thailand
Suvarnabhumi Airport
"On 27 January 2007, the Department of Civil Aviation declined to renew the airport's safety certificate, which had expired the previous day. The ICAO requires that international airports hold aerodrome safety certificates, but Suvarnabhumi continued to operate because the ICAO requirement had yet to be adopted as part of Thai law.[24]"
For more information please visit the following link:
https://en.wikipedia.org/wiki/Suvarnabhumi_Airport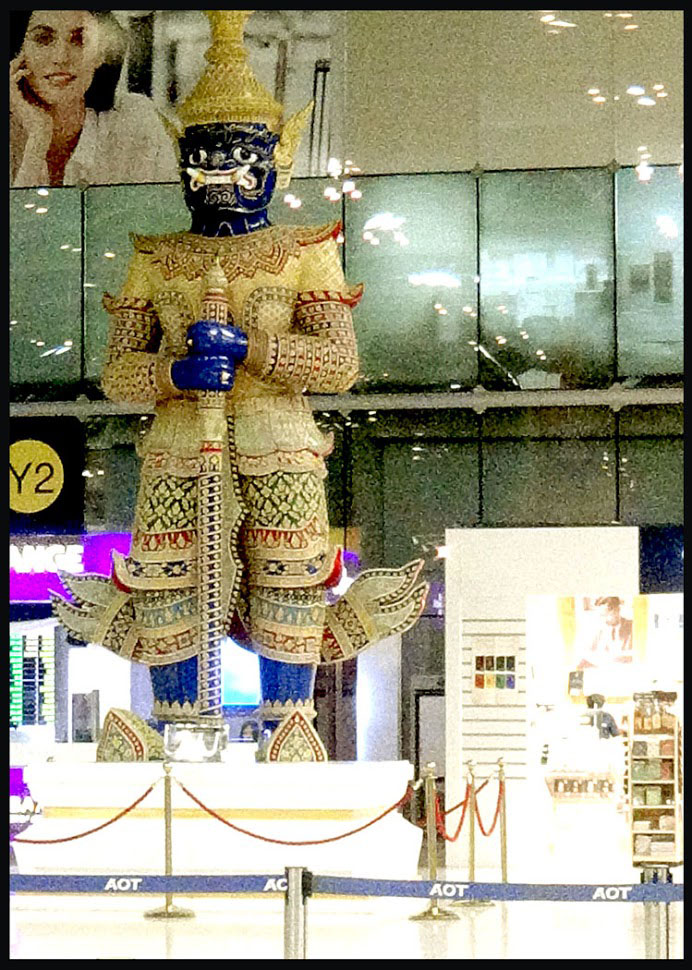 Artwork at the Bangkok International Airport, Thailand
Welcome To My Beloved Country, Thailand
Photograph by Ing-On Vibulbhan-Watts
Suvarnabhumi Airport
"Capacity and safety issues: Tarmac problems: In January 2007, ruts were discovered in the runways at Suvarnabhumi.[22] The east runway was scheduled to close for repairs. Expert opinions varied as to the cause of the ruts.[19] Airport authorities and airline representatives maintained that the airport was still safe and resisted suggestions that the airport should be completely closed and all flights moved back to Don Mueang.[23]"
For more information please visit the following link:
https://en.wikipedia.org/wiki/Suvarnabhumi_Airport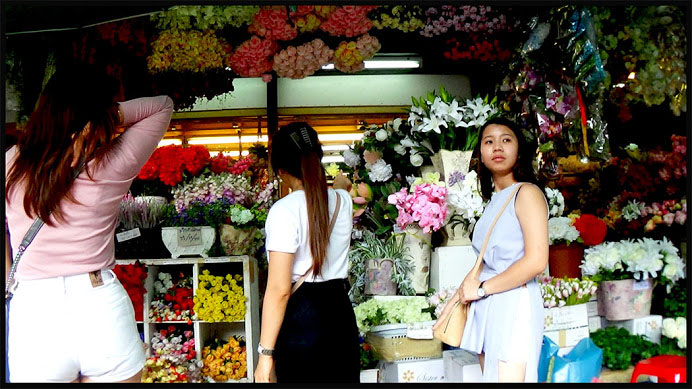 Chatuchak Weekend Market, Bangkok, Thailand
Welcome To My Beloved Country, Thailand
Photograph by Ing-On Vibulbhan-Watts
"Chatuchak Weekend Market has reached a landmark status as a must-visit place for tourists. Its sheer size and diverse collections of merchandise will bring any seasoned shoppers to their knees – this is where you can literally shop 'till you drop'. The 35-acre (68-rai) area of Chatuchak is home to more than 8,000 market stalls. On a typical weekend, more than 200,000 visitors come here to sift through the goods on offer. Veteran shoppers would agree that just about everything is on sale here, although not all at the best bargain rates."
For more information please visit the following link:
https://www.bangkok.com/shopping-market/popular-markets.htm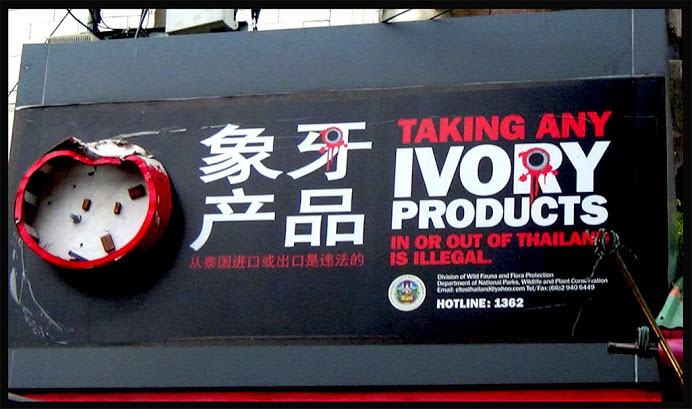 "Taking any Ivory Products in or out of Thailand is Illegal"
Chatuchak Weekend Market, Bangkok, Thailand
"Trade in illegal wildlife (Wikipedia)
Studies have shown that the Chatuchuk Market is a centre for trade in illegal wildlife.[5][6]
In a survey conducted on 28–29 March 2015, researchers counted 1,271 birds of 117 species for sale in 45 shops or stalls. Of the total, nine species were listed as "Threatened" on the IUCN Red List and eight species as "Near Threatened".[5]:24-29[7]
Ing-On Vibulbhan-Watts; Comments
Ivory Products are ban in Thailand. Thai Government ban all the illegal trade of wildlife but there are some groups of people still find the way to do this illegal trade. On the other hand, if there are no customers then illegal trade of all kinds will not survive. Such as the illegal drugs trade, it can continue to operate because there are drug addicts buying from the dealers. It is important that governments, families and societies of all countries are vigilant and put time and finances to educate citizens about all illegal business."
For more information please visit the following link:
https://en.wikipedia.org/wiki/Chatuchak_Weekend_Market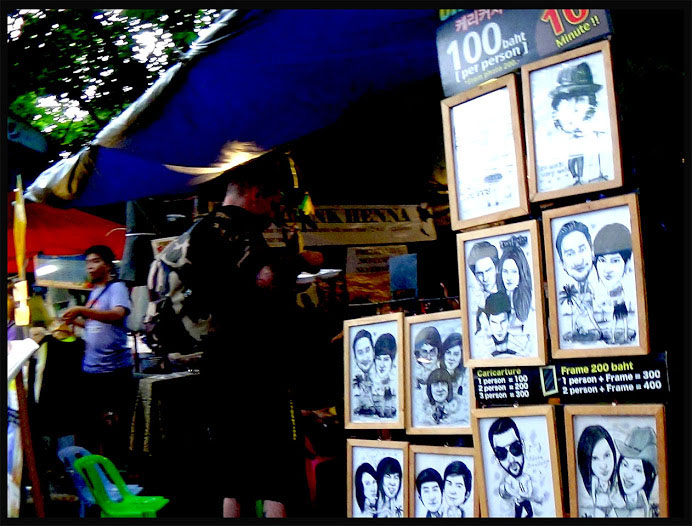 Chatuchak Weekend Market, Bangkok, Thailand
Artists' shop
Chatuchak Weekend Market, Bangkok, Thailand
Market sections
• Clothing and accessories (sections 2–6, 10–26)
• Handicrafts (sections 8–11)
• Ceramics (sections 11, 13, 15, 17, 19, 25)
• Furniture and home decor (sections 1,3,4,7,8)
• Food and beverage (sections 2, 3, 4, 23, 24, 26, 27)
• Plants and gardening (sections 3, 4)
• Art and galleries (section 7)
• Pets and accessories (sections 8, 9, 11, 13)
• Books (sections 1, 27)
• Antiques and collectibles (sections 1, 26)
• Miscellaneous and used clothing (sections 2, 3, 4, 5, 6, 22, 25, 26)[2]
For more information please visit the following link:
https://en.wikipedia.org/wiki/Chatuchak_Weekend_Market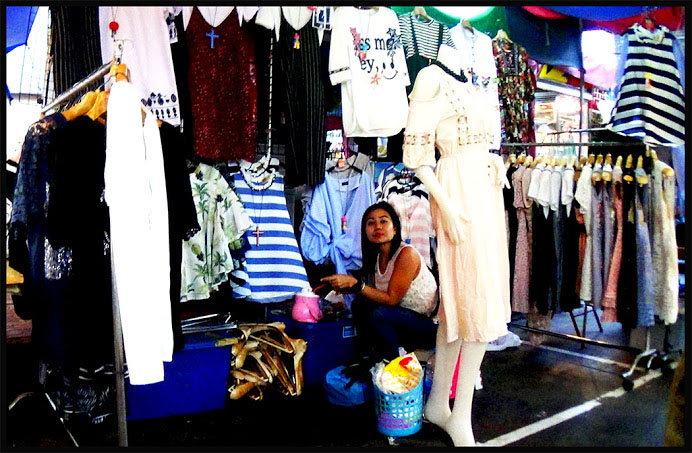 Chatuchak Weekend Market, Bangkok, Thailand
"The Chatuchak (or Jatujak; Thai: ) Weekend Market, on Kamphaeng Phet 2 Road, Chatuchak, Bangkok, is the largest market in Thailand.[1] Also known as JJ Market, it has more than 8,000 stalls, divided into 27 sections. Chatuchak Market sells nine kinds of goods: plants, antiques, pets, food and drinks, fresh and dry food, ceramics, furniture and home decor, clothing, and books.[2]"
For more information please visit the following link:
https://en.wikipedia.org/wiki/Chatuchak_Weekend_Market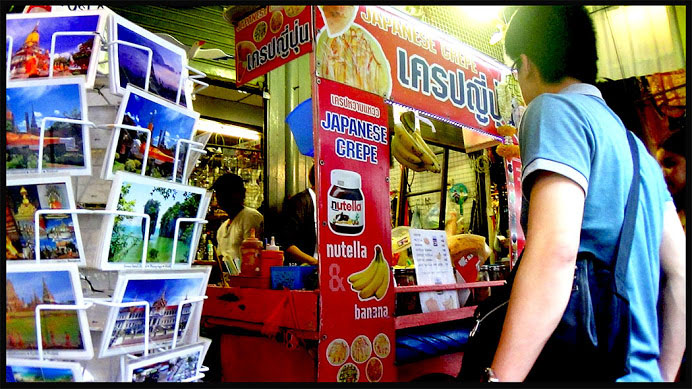 Chatuchak Weekend Market, Bangkok, Thailand
"History
Chatuchak Market has been open since 1942.[3] In 1948, when Prime Minister Jompol Por Pibulsongkraam had a policy in which every province was required to have their own market. Bangkok chose Sanam Luang to be held as the market. After a few months, the government had to move the market to Sanam Chai, but the market moved back to Sanam Luang in 1958. In 1978, the government used Sanam Luang as a recreational area, so the State Railway of Thailand donated the land on the south side of Chatuchak Park to establish as a market. By 1983, all of the merchants had moved to Chatuchak. At that time the market was called Phahonyothin Market. In 1987, its name was changed to Chatuchak Market.[4]"
For more information please visit the following link:
https://en.wikipedia.org/wiki/Chatuchak_Weekend_Market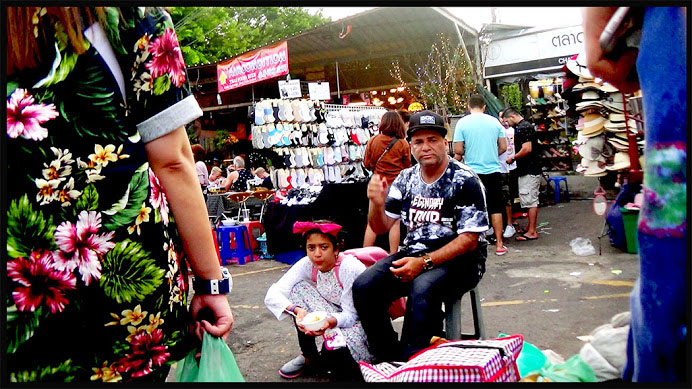 Chatuchak Weekend Market, Bangkok, Thailand
"Nearby Place
Chatuchak weekend market is located near some popular places, for example JJ green market, BTS Mo Chit, MRT Chatuchak and Chatuchak Park. This market is a place where you can easily connect to other places by using BTS and MRT. Chatuchak market is open during the day. However there are other nearby markets open at night time, such as JJ green market. You can also rest or picnic at Chatuchak Park."
For more information please visit the following link:
https://en.wikipedia.org/wiki/Chatuchak_Weekend_Market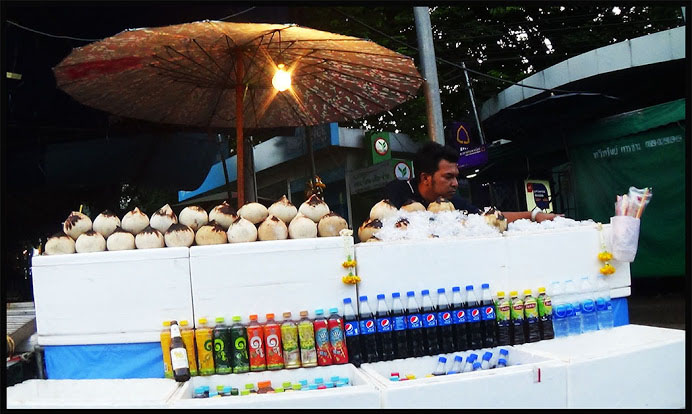 Chatuchak Weekend Market, Bangkok, Thailand
"Clock tower
The clock tower is a distinctive landmark in the Chatuchuk Market. It was built in 1987 on the occasion of King Bhumibol Adulyadej's 60th birthday on 5 December 1987, a cooperative effort of the market administration and Thai-Chinese Merchant Association.[citation needed]"
For more information please visit the following link:
https://en.wikipedia.org/wiki/Chatuchak_Weekend_Market