PBS NewsHour live show July 22, 2019
PBS News-July 16-22, 2019, Euro News, CAN China News, Africa News, DW News,  CBC News, CNA 24/7 LIVE, Wendover Productions: How Rwanda is Becoming the Singapore of Africa, TED Talks: How we can improve maternal healthcare before during and after pregnancy?  ian bui:100-yr-old pianist plays Mazurka by Chopin, Colassal: Mother & Child Vol. II Raises over $15,000 to Support Separated Immigrant Families, Kai at the Maker Space room, in the Mezzanine, of the Newark Museum, Monarch Butterfly: Poem and Photographs by Ing-On Vibulbhan-Watts
PBS NewsHour live show July 22, 2019
PBS NewsHour Streamed live 99 minutes ago
Stream your PBS favorites with the PBS app: https://to.pbs.org/2Jb8twG Find more from PBS NewsHour at https://www.pbs.org/newshour Subscribe to our YouTube channel: https://bit.ly/2HfsCD6
PBS NewsHour Weekend full episode July 21, 2019
PBS NewsHour Published on Jul 21, 2019
On this edition for Sunday, July 21, heat emergencies along the East Coast amid record high temperatures as the Midwest sees relief, Puerto Ricans continue to call for the U.S. territory's governor to step down, heightened tensions over Iran's seizure of a British tanker, and documenting the plight of marginalized Americans after a job on Wall Street. Hari Sreenivasan anchors from New York. Stream your PBS favorites with the PBS app: https://to.pbs.org/2Jb8twG Find more from PBS NewsHour at https://www.pbs.org/newshour Subscribe to our YouTube channel: https://bit.ly/2HfsCD6 Follow us: Facebook: https://www.pbs.org/newshour Twitter: https://www.twitter.com/newshour Instagram: https://www.instagram.com/newshour Snapchat: @pbsnews Subscribe: PBS NewsHour podcasts: https://www.pbs.org/newshour/podcasts Newsletters: https://www.pbs.org/newshour/subscribe
Category News & Politics
PBS NewsHour Weekend full episode July 20, 2019
PBS NewsHour Published on Jul 20, 2019
On this edition for Saturday, July 20, NewsHour Weekend takes the show on the road to Houston, Texas, where we talk to NASA experts about the future of manned space travel, and look at how moon rocks collected decades ago continue unveiling new discoveries. Hari Sreenivasan anchors from Johnson Space Center 50 years to the day that Neil Armstrong became the first person to walk on the moon. Stream your PBS favorites with the PBS app: https://to.pbs.org/2Jb8twG Find more from PBS NewsHour at https://www.pbs.org/newshour Subscribe to our YouTube channel: https://bit.ly/2HfsCD6 Follow us: Facebook: https://www.pbs.org/newshour Twitter: https://www.twitter.com/newshour Instagram: https://www.instagram.com/newshour Snapchat: @pbsnews Subscribe: PBS NewsHour podcasts: https://www.pbs.org/newshour/podcasts Newsletters: https://www.pbs.org/newshour/subscribe
Category News & Politics
PBS NewsHour full episode July 19, 2019
PBS NewsHour Published on Jul 19, 2019
Friday on the NewsHour, the confrontation between the U.S. and Iran escalates further. Plus: A conversation with Iranian Foreign Minister Javad Zarif, dealing with the extreme heat that is a byproduct of climate change, new frontiers of space, 2020 campaign updates, political analysis from Mark Shields and David Brooks and a new musical venture from one of the founders of The Black Keys. WATCH TODAY'S SEGMENTS: News Wrap: Trump defends rally supporters https://www.youtube.com/watch?v=mTAVD… What Iran's foreign minister wants American people to know https://www.youtube.com/watch?v=Qfg75… How we can prepare for climate change's rising temperatures https://www.youtube.com/watch?v=FdT9h… As NASA pursues ambitious agenda, critics question its cost https://www.youtube.com/watch?v=GGIe3… Biden and Sanders clash over health care proposals https://www.youtube.com/watch?v=qF25Y… Shields and Brooks on Trump's attacks, Biden vs. Sanders https://www.youtube.com/watch?v=6mV8r… What The Black Keys' Dan Auerbach is doing in Nashville https://www.youtube.com/watch?v=Nx42T… Stream your PBS favorites with the PBS app: https://to.pbs.org/2Jb8twG Find more from PBS NewsHour at https://www.pbs.org/newshour Subscribe to our YouTube channel: https://bit.ly/2HfsCD6 Follow us: Facebook: https://www.pbs.org/newshour Twitter: https://www.twitter.com/newshour Instagram: https://www.instagram.com/newshour Snapchat: @pbsnews Subscribe: PBS NewsHour podcasts: https://www.pbs.org/newshour/podcasts Newsletters: https://www.pbs.org/newshour/subscribe
Category News & Politics
PBS NewsHour full episode July 18, 2019
PBS NewsHour Published on Jul 18, 2019
Thursday on the NewsHour, President Trump holds an incendiary rally on the heels of his earlier attacks against four members of Congress. Plus: Former Sen. Jeff Flake on Trump's rhetoric and Republican support, a database reveals the true scope of the opioid crisis, the potential risks of FaceApp, moving the Smithsonian into the future, craft cannabis and the black experience in documentary film. WATCH TODAY'S SEGMENTS: Jeff Flake on why GOP isn't disavowing Trump's 'awful' words https://www.youtube.com/watch?v=QOnr3… News Wrap: U.S. warship shoots down Iranian drone https://www.youtube.com/watch?v=TalCB… Database reveals 'jaw-dropping' truth about opioid epidemic https://www.youtube.com/watch?v=rCFeu… How FaceApp highlights a gap in U.S. privacy protections https://www.youtube.com/watch?v=PqlKg… How Lonnie Bunch plans to move the Smithsonian forward https://www.youtube.com/watch?v=n_jHE… Can craft cannabis compete with Big Marijuana? https://www.youtube.com/watch?v=cS9op… Filmmaker RaMell Ross on putting the black experience first https://www.youtube.com/watch?v=02P4M… Stream your PBS favorites with the PBS app: https://to.pbs.org/2Jb8twG Find more from PBS NewsHour at https://www.pbs.org/newshour Subscribe to our YouTube channel: https://bit.ly/2HfsCD6 Follow us: Facebook: https://www.pbs.org/newshour Twitter: https://www.twitter.com/newshour Instagram: https://www.instagram.com/newshour Snapchat: @pbsnews Subscribe: PBS NewsHour podcasts: https://www.pbs.org/newshour/podcasts Newsletters: https://www.pbs.org/newshour/subscribe
Category News & Politics
PBS NewsHour full episode July 17, 2019
PBS NewsHour Published on Jul 17, 2019
Wednesday on the NewsHour, as President Trump stands by his attacks against four congresswomen, a look at the painful history behind his words. Plus: A conversation about the administration's Israeli-Palestinian peace plan, the troubled relationship between the U.S. and Turkey, the 50th anniversary of the Apollo 11 mission and remembering Justice John Paul Stevens. WATCH TODAY'S SEGMENTS: News Wrap: House moves toward holding Barr, Ross in contempt https://www.youtube.com/watch?v=W7jYq… Trump's racist tweets and the 'politics of distraction' https://www.youtube.com/watch?v=M1imw… The outlook for Trump's Israeli-Palestinian peace plan https://www.youtube.com/watch?v=Cm89-… Why U.S. relations with Turkey are on fragile ground https://www.youtube.com/watch?v=HvPZ7… What NASA pilot Michael Collins feared most for Apollo 11 https://www.youtube.com/watch?v=UQ5ra… How Justice John Paul Stevens hoped to be remembered https://www.youtube.com/watch?v=hLsgb… Stream your PBS favorites with the PBS app: https://to.pbs.org/2Jb8twG Find more from PBS NewsHour at https://www.pbs.org/newshour Subscribe to our YouTube channel: https://bit.ly/2HfsCD6 Follow us: Facebook: https://www.pbs.org/newshour Twitter: https://www.twitter.com/newshour Instagram: https://www.instagram.com/newshour Snapchat: @pbsnews Subscribe: PBS NewsHour podcasts: https://www.pbs.org/newshour/podcasts Newsletters: https://www.pbs.org/newshour/subscribe
Category News & Politics
PBS NewsHour full episode July 16, 2019
PBS NewsHour Published on Jul 16, 2019
Tuesday on the NewsHour, congressional Republicans and Democrats continue to disagree over President Trump's controversial tweets. Plus: Why federal prosecutors aren't bringing charges in the Eric Garner case, the struggle of Venezuelan refugees in Brazil, economic and political progress in Colombia, the newest novel from Colson Whitehead and fallout from the Puerto Rican governor's leaked texts. WATCH TODAY'S SEGMENTS: Trump's controversial tweets expose parties' racial divide https://www.youtube.com/watch?v=_p6s8… News Wrap: Esper criticizes Turkey for air-defense purchase https://www.youtube.com/watch?v=nNR-f… What Eric Garner case says about prosecuting police https://www.youtube.com/watch?v=NAEXb… How Brazil is dealing with an influx of Venezuelan refugees https://www.youtube.com/watch?v=6G4PB… Colombian official on chaos in Venezuela, 'progress' at home https://www.youtube.com/watch?v=jCIv_… Colson Whitehead on 'The Nickel Boys,' fantasy vs. realism https://www.youtube.com/watch?v=mr_xg… Why governor's scandal threatens Puerto Rico's credibility https://www.youtube.com/watch?v=xPv7_… Stream your PBS favorites with the PBS app: https://to.pbs.org/2Jb8twG Find more from PBS NewsHour at https://www.pbs.org/newshour Subscribe to our YouTube channel: https://bit.ly/2HfsCD6 Follow us: Facebook: https://www.pbs.org/newshour Twitter: https://www.twitter.com/newshour Instagram: https://www.instagram.com/newshour Snapchat: @pbsnews Subscribe: PBS NewsHour podcasts: https://www.pbs.org/newshour/podcasts Newsletters: https://www.pbs.org/newshour/subscribe
Category News & Politics
[CNA 24/7 LIVE] Breaking news, top stories and documentaries
CNA Started streaming on Jan 15, 2019
Watch CNA's 24-hour live coverage of the latest headlines and top stories from Singapore, Asia and around the world, as well as documentaries and features that bring you a deeper look at Singapore and Asian issues. CNA is a regional broadcaster headquartered in Singapore. Get the programming schedule here: https://www.toggle.sg/en/channelguide… Subscribe to our news service: WhatsApp: https://cna.asia/whatsapp Telegram: https://t.me/cnalatest Follow CNA on the following platforms: https://www.cna.asia https://www.facebook.com/channelnewsasia https://www.instagram.com/channelnews… https://www.twitter.com/channelnewsasia https://t.me/cnalatest
Category News & Politics
Moon Landing 50th Anniversary | Q&A with Chris Hadfield
CBC News Scheduled for Jul 16, 2019
Canadian astronaut Chris Hadfield is taking your questions on the 50th anniversary of the Apollo 11 moon landing. Ask them in the chat. To read more: https://cbc.ca/ »»» Subscribe to CBC News to watch more videos: https://bit.ly/1RreYWS Connect with CBC News Online: For breaking news, video, audio and in-depth coverage: https://bit.ly/1Z0m6iX Find CBC News on Facebook: https://bit.ly/1WjG36m Follow CBC News on Twitter: https://bit.ly/1sA5P9H For breaking news on Twitter: https://bit.ly/1WjDyks Follow CBC News on Instagram: https://bit.ly/1Z0iE7O Download the CBC News app for iOS: https://apple.co/25mpsUz Download the CBC News app for Android: https://bit.ly/1XxuozZ »»»»»»»»»»»»»»»»»» For more than 75 years, CBC News has been the source Canadians turn to, to keep them informed about their communities, their country and their world. Through regional and national programming on multiple platforms, including CBC Television, CBC News Network, CBC Radio, CBCNews.ca, mobile and on-demand, CBC News and its internationally recognized team of award-winning journalists deliver the breaking stories, the issues, the analyses and the personalities that matter to Canadians.
Category Science & Technology
Published on Jul 15, 2019
In this episode of Futuris, we meet the African and European scientists working together to find ways to disinfect water for domestic use in remote, isolated places in Africa, using sustainable and affordable technology.… READ MORE : https://www.euronews.com/2019/07/15/s… Subscribe to our channel: https://www.youtube.com/c/euronews?su… Watch our LIVE here: https://www.youtube.com/c/euronews/live
Category Science & Technology
DW News Livestream | Latest news and breaking stories
Started streaming on Jan 21, 2019
DW News goes deep beneath the surface, providing the key stories from Europe and around the world. Exciting reports and interviews from the worlds of politics, business, sports, culture and social media are presented by our DW anchors in 15-, 30- and 60-minute shows. Correspondents on the ground and experts in the studio deliver detailed insights and analysis of issues that affect our viewers around the world. We combine our expertise on Germany and Europe with a special interest in Africa and Asia while keeping track of stories from the rest of the world. Informative, entertaining and up-to-date – DW News, connecting the dots for our viewers across the globe. Deutsche Welle is Germany's international broadcaster. We convey a comprehensive image of Germany, report events and developments, incorporate German and other perspectives in a journalistically independent manner. By doing so we promote understanding between cultures and peoples.
Category News & Politics
africanews Live
africanews Started streaming on Jul 9, 2019
Africanews is a new pan-African media pioneering multilingual and independent news telling expertise in Sub-Saharan Africa. Subscribe on ourYoutube channel : https://www.youtube.com/c/africanews Africanews is available in English and French. Website : www.africanews.com Facebook : https://www.facebook.com/africanews.c… Twitter : https://twitter.com/africanews
Category News & Politics
How Rwanda is Becoming the Singapore of Africa
Wendover Productions Published on Mar 19, 2019
Watch over 2,000 documentaries for free for 30 days by signing up at https://CuriosityStream.com/Wendover and using the code, "Wendover" at checkout Subscribe to Half as Interesting (The other channel from Wendover Productions): https://www.youtube.com/halfasinteres… Get the Wendover Productions t-shirt: https://standard.tv/collections/wendo… Check out my personal channel: https://www.youtube.com/channel/UCDA1… Support Wendover Productions on Patreon: https://www.patreon.com/wendoverprodu… Youtube: https://www.YouTube.com/WendoverProduc… Instagram: https://Instagram.com/sam.from.wendover Twitter: https://www.Twitter.com/WendoverPro Email: sam@wendover.productions Reddit: https://Reddit.com/r/WendoverProductions Animation by Josh Sherrington Sound by Graham Haerther (https://www.Haerther.net) Thumbnail by Simon Buckmaster Special thanks to Patreon supporters Alec M Watson, Andrew J Thom, Arkadiy Kulev, Chris Allen, Chris Barker, Connor J Smith, Daddy Donald, Etienne Dechamps, Eyal Matsliah, Hank Green, Harrison Wiener, James Hughes, James McIntosh, John & Becki Johnston, Keith Bopp, Kelly J Knight, Ken Lee, Kyle, KyQuan Phong, Manoj Kasyap Govindaraju, MyNameIsKir, Plinio Correa, Qui Le, Sheldon Zhao, Simen Nerleir, and Tim Robinson Music by https://epidemicsound.com Select footage courtesy the AP Archive Select footage courtesy Bigstock: https://bit.ly/bigstock-videofreetrial Rwanda Umuganda photo courtesy Rwanda Environment Management Agency References available at this link: https://goo.gl/5KDmvB
Category Education
Shocking, but true: the United States has the highest rate of deaths for new mothers of any developed country — and 60 percent of them are preventable. With clarity and urgency, physician Elizabeth Howell explains the causes of maternal mortality and shares ways for hospitals and doctors to make pregnancy safer for women before, during and after childbirth.
This video was produced by TEDMED. TED's editors featured it among our daily selections on the home page.
About the speaker
Elizabeth Howell · Maternal health reformer
Elizabeth Howell is working to address maternal mortality in the United States.
Take Action
learn
Learn more about Elizabeth Howell's work to improve quality of care for women.
298,904 views
TEDMED 2018 | November 2018
Related tags
100-yr-old pianist plays Mazurka by Chopin
ian bui Published on Nov 25, 2017
Frederic Chopin, Mazurka in A minor, Op 67, No. 4, performed by Mme Thai Thi Lien, Teacher Emeritus at the National Academy of Music in Hanoi, Vietnam, in an event to honor and celebrate her remarkable career. Mme Lien is also the mother of famed pianist Dang Thai Son, Gold Medalist of the 10th Chopin International Competition in Warsaw, Poland in 1980. Currently living and teaching in Montreal, Canada, Mr Son also performed several pieces by Chopin and Ravel in the second half of this program, which took place in the Grand Concert Hall on November 23, 2017. Video credit: FB Thuong Ha
Mother & Child Vol. II Raises over $15,000 to Support Separated Immigrant Families
July 18, 2019 Laura Staugaitis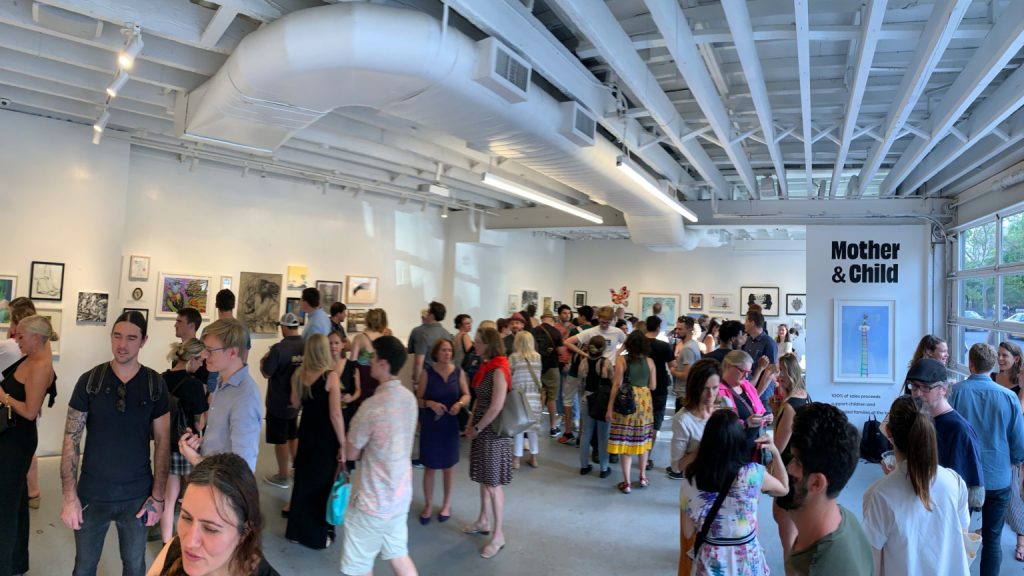 All images © Paul Emile
A heartfelt thanks to the 60+ contributing artists and hundreds of attendees all helped make Mother & Child Vol. II a huge success. The benefit gallery show, which we co-produced with Sugarlift, has raised over $15,000 and counting. 100% of proceeds will be split between three non-profits who provide direct aid and legal support to separated children and families at the U.S./Mexico Border.
We are proud to help further the causes of Kids in Need of Defense, The Young Center, and The Florence Project, and couldn't have done it without the generosity of the following artists: Aaron Li-Hill, Adam Lupton, Ali Cavanaugh, Alonsa Guevara, Amanda Scuglia, Amber Lia Kloppel, Anna Park, Annie Wildey, Antonia Barolini, Chiaozza, Chris Herrera, Collin van der Sluijs, Danica Lundy, David de la Mano, Dina Brodsky, Elicia Edijanto, Ericka Jeffries, Erik Hougen, Faith47, Grace Lang, Guno Park, Helen Robinson, Hillary McCarthy, Icy and Sot, Jacob Brooks, Jaime Molina, James Razko, Jen Gennari, Jess X. Snow, Jonny Sun, Joshua Henderson, Klone, Kristin Texeira, Lauren Matsumoto, London Kaye, Lujan Perez, Lydia Fu, Marcelo Daldoce, Mark Powell, Marshall Jones, Maude White, Melanie Vote, Michael Meadors, Michelle Doll, Nicolas V Sanchez, Pat Perry, Patty Horing, Pepe Salgado, Pixel Pancho, Ramiro Davaro-Comas, Rubin415, Seth Globepainter, Shamona Stokes, Shana Levenson, Sonni, Swoon Studio, Tatiana Ortiz-Rubio, Tiffany Bozic, Valerie Lueth, and Vicky Barranguet.
Missed the opening but interested in shopping incredible art? All available works are framed, priced between $100 and $1,000, and ready to ship worldwide at motherandchild.shop. Help us reach our goal of $20,000!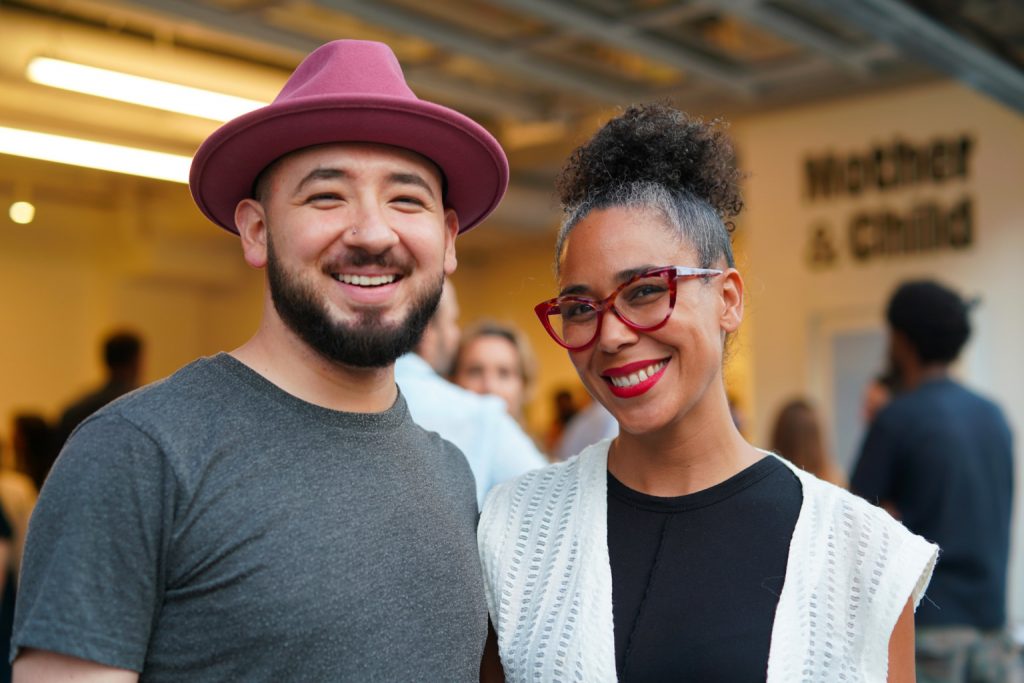 Mother & Child artist Nicolas V Sanchez (left)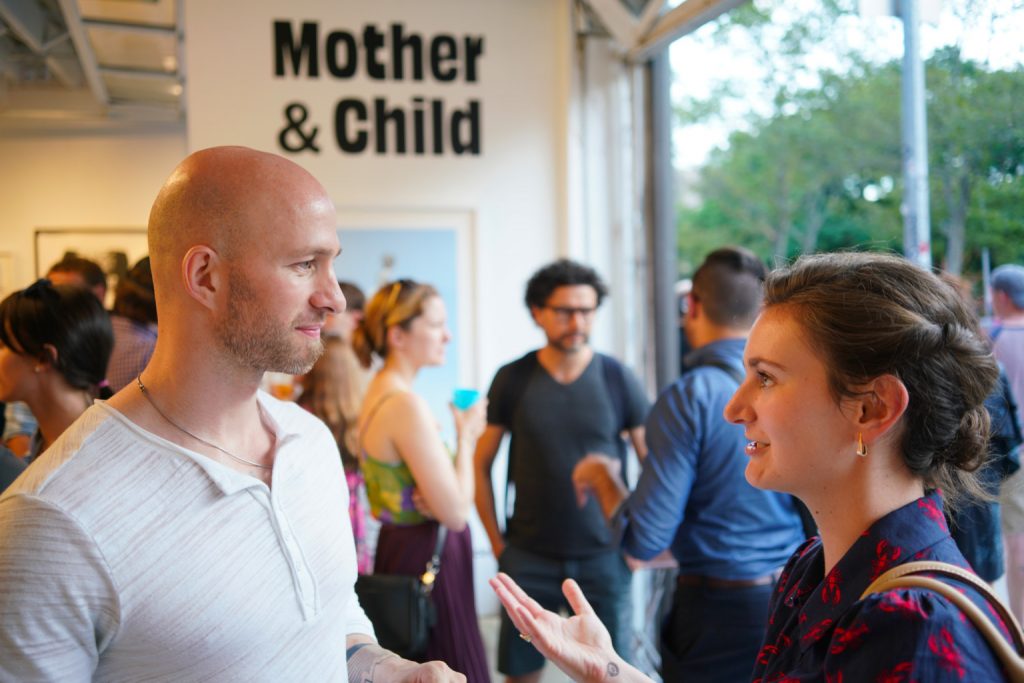 Mother & Child artist Joshua Henderson (left)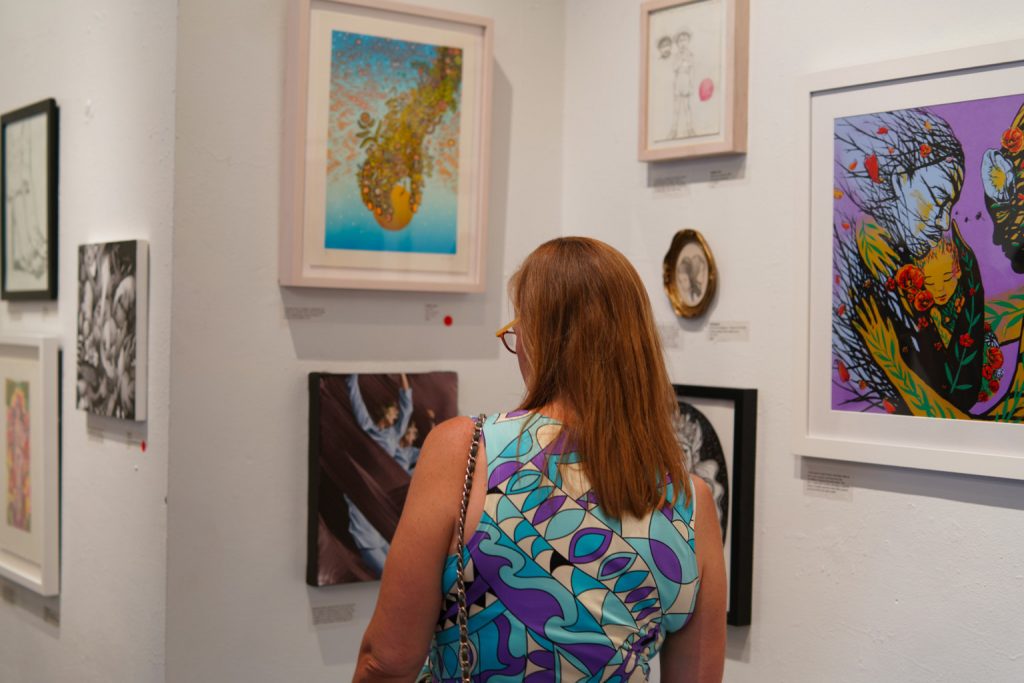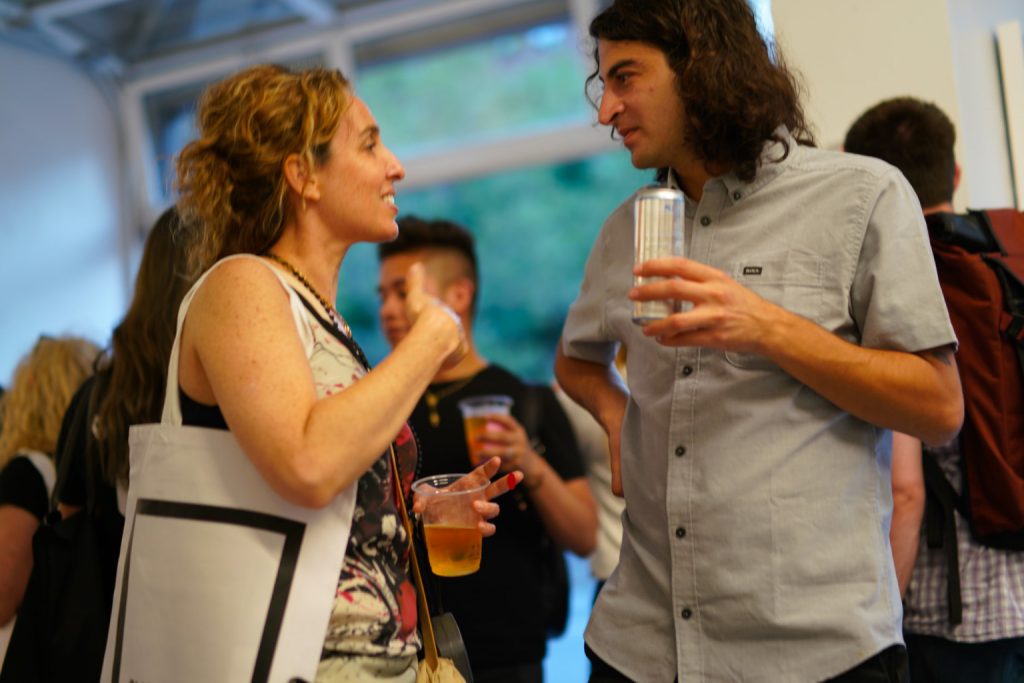 Mother & Child artists Vicky Barranguet and 1/2 of duo Icy and Sot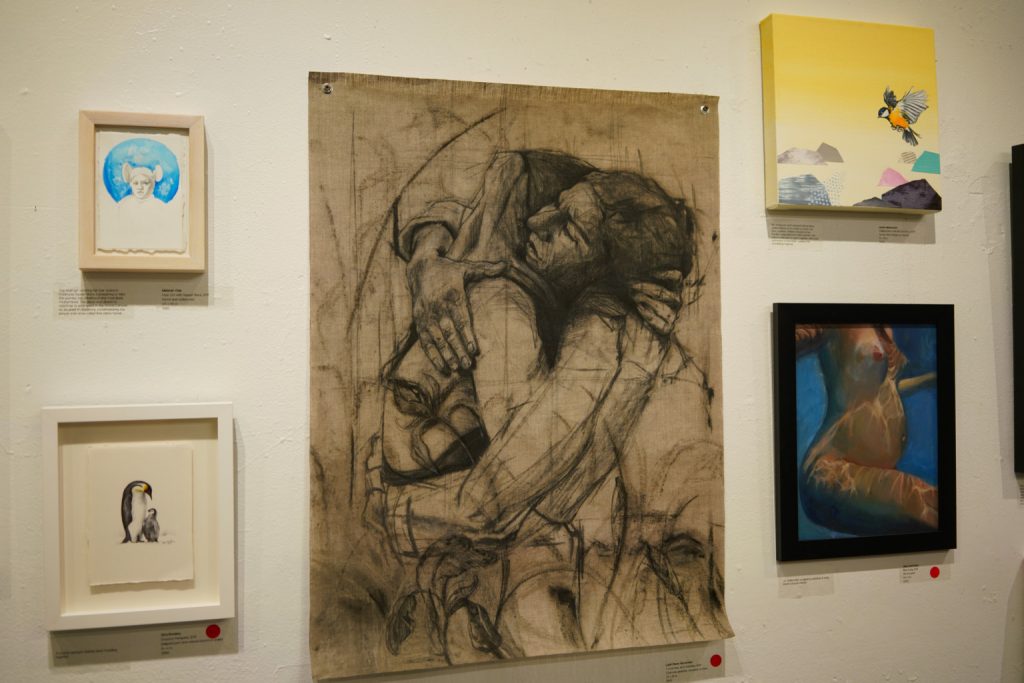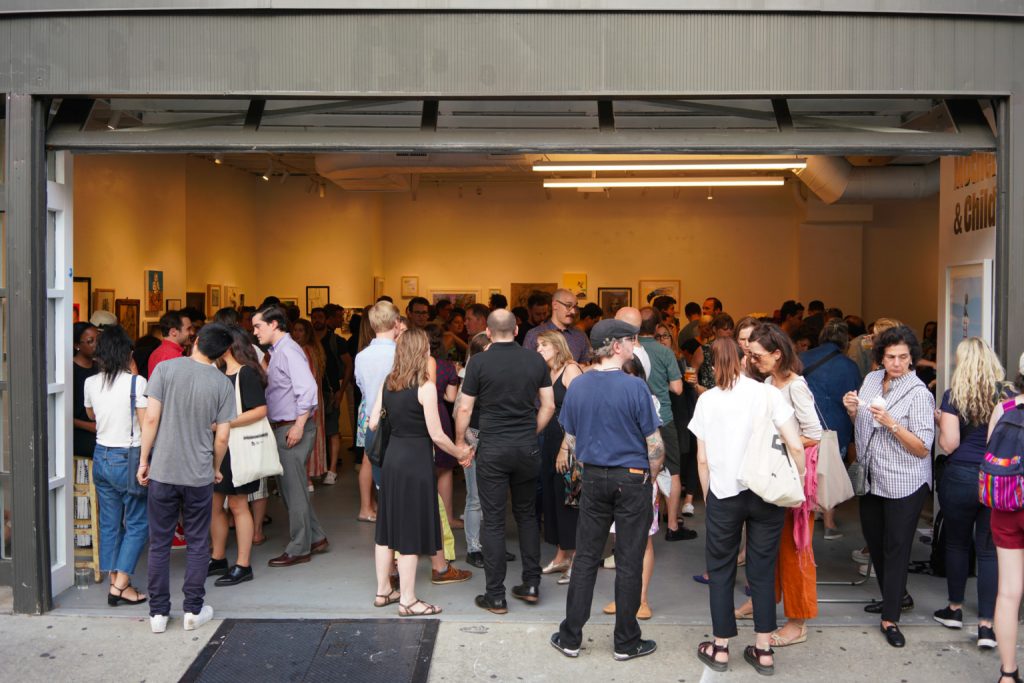 Kai at the Maker Space room, in the Mezzanine, of the Newark Museum on Wednesday, July 10, 2019
Photographs by Ing-On Vibulbhan-Watts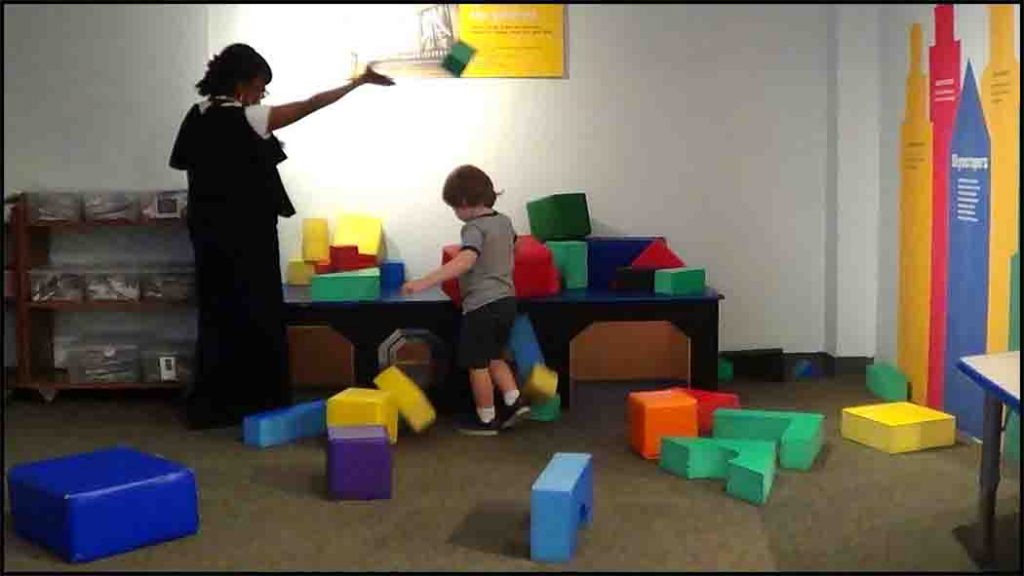 The lady who takes care of the room showed Kai the big foam blocks that he can build something from.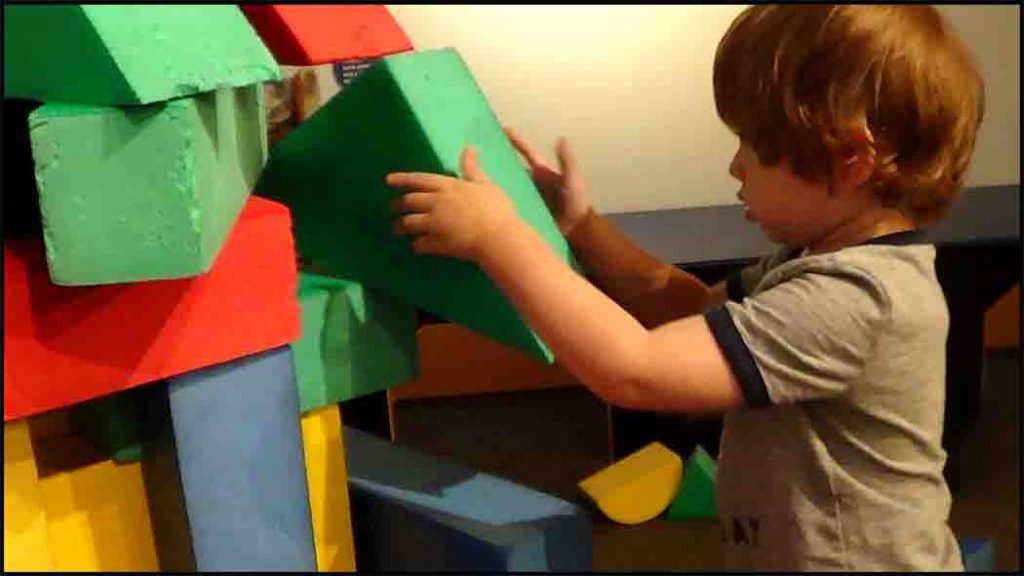 Kai constructed a form of a tall building.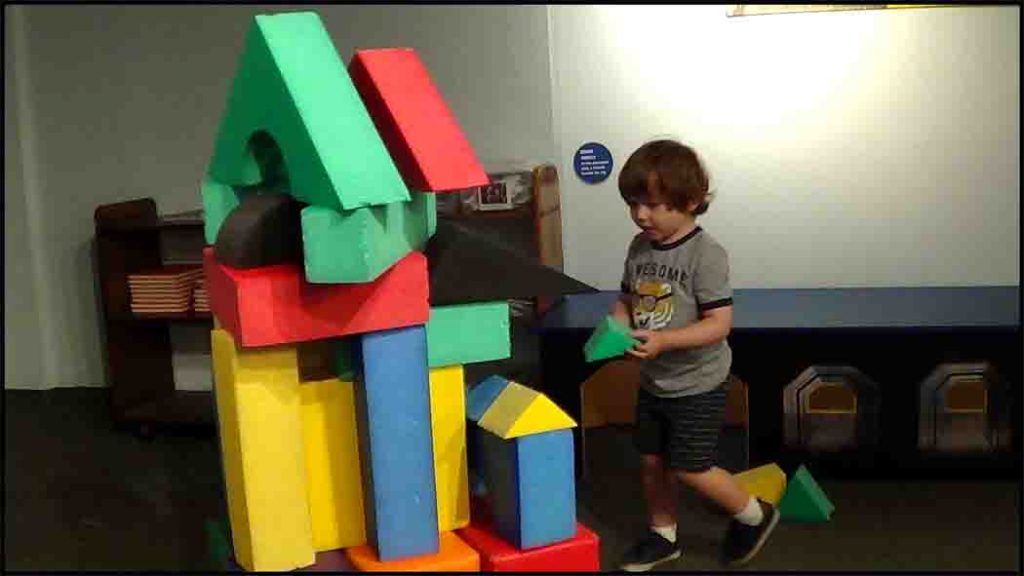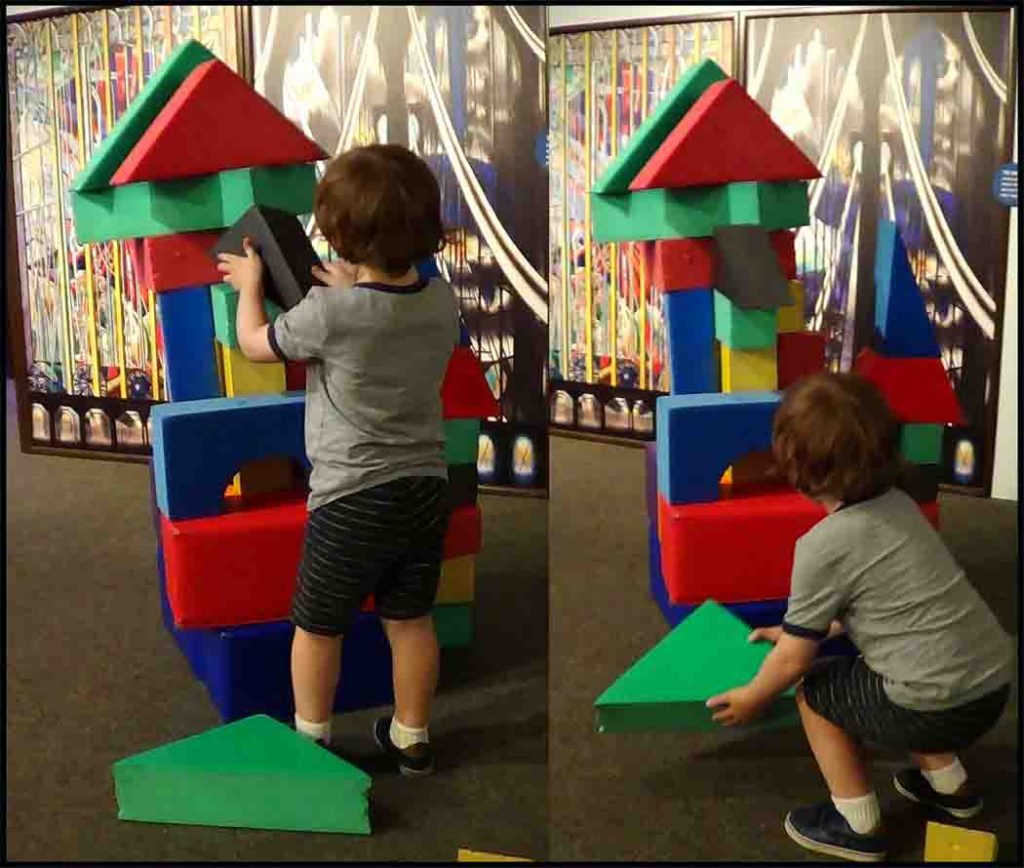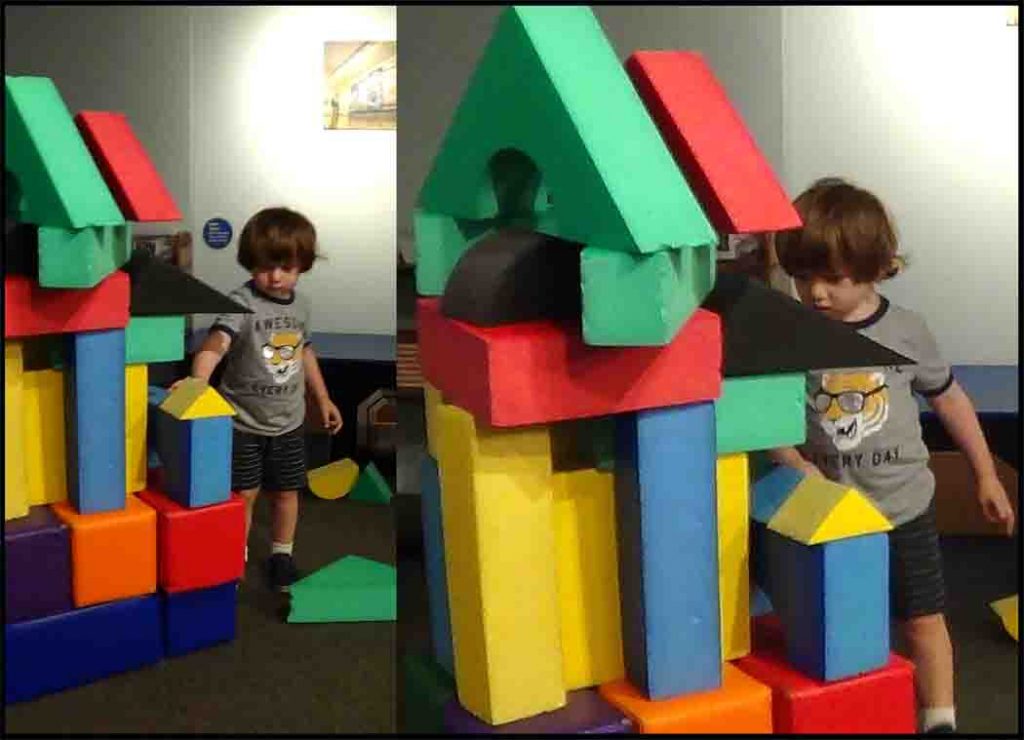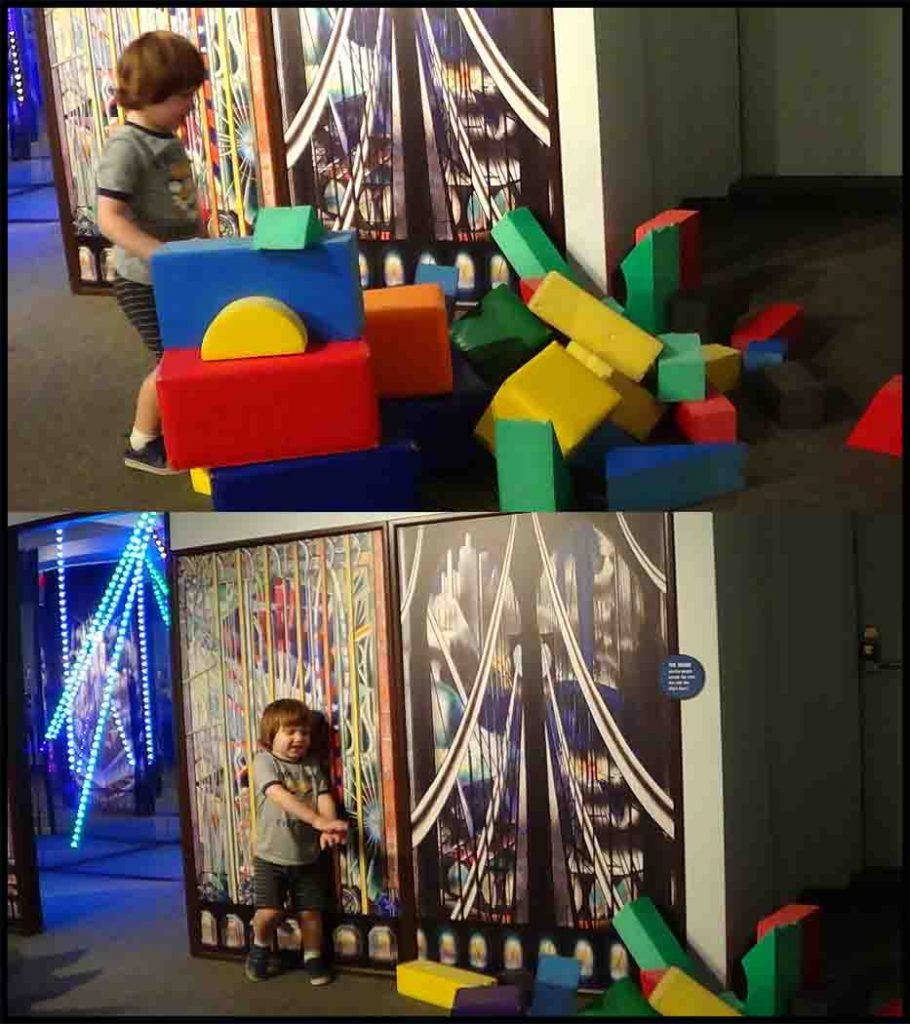 Suddenly, after Kai finished his building, he knocked his building down. He seemed to enjoy it. I think he was acting like Godzilla who likes to destroy buildings by knocking them down. Kai loves to watch Godzilla movies. He goes to John and asks him to turn on the Godzilla movies. I have to talk to John about this instance.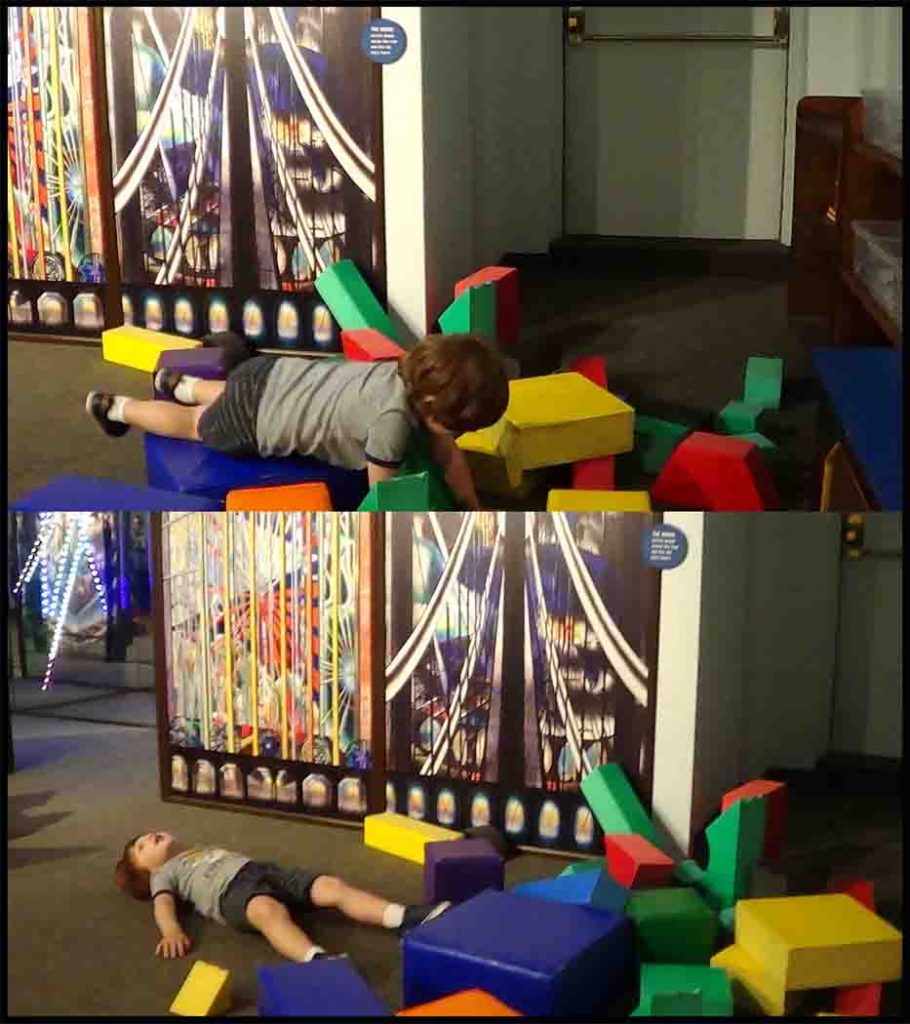 Kai drove into his building and then he lied flat on the floor.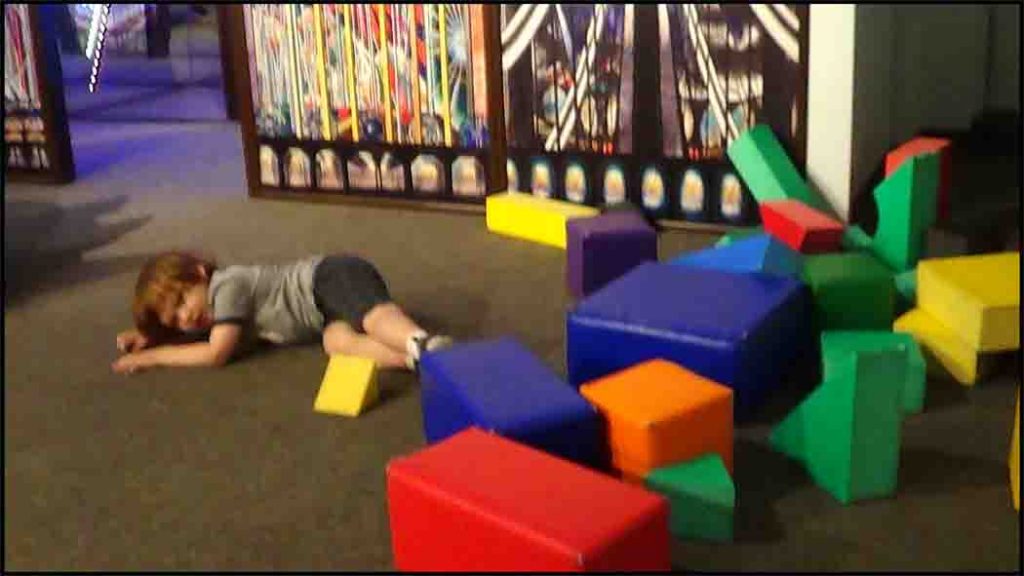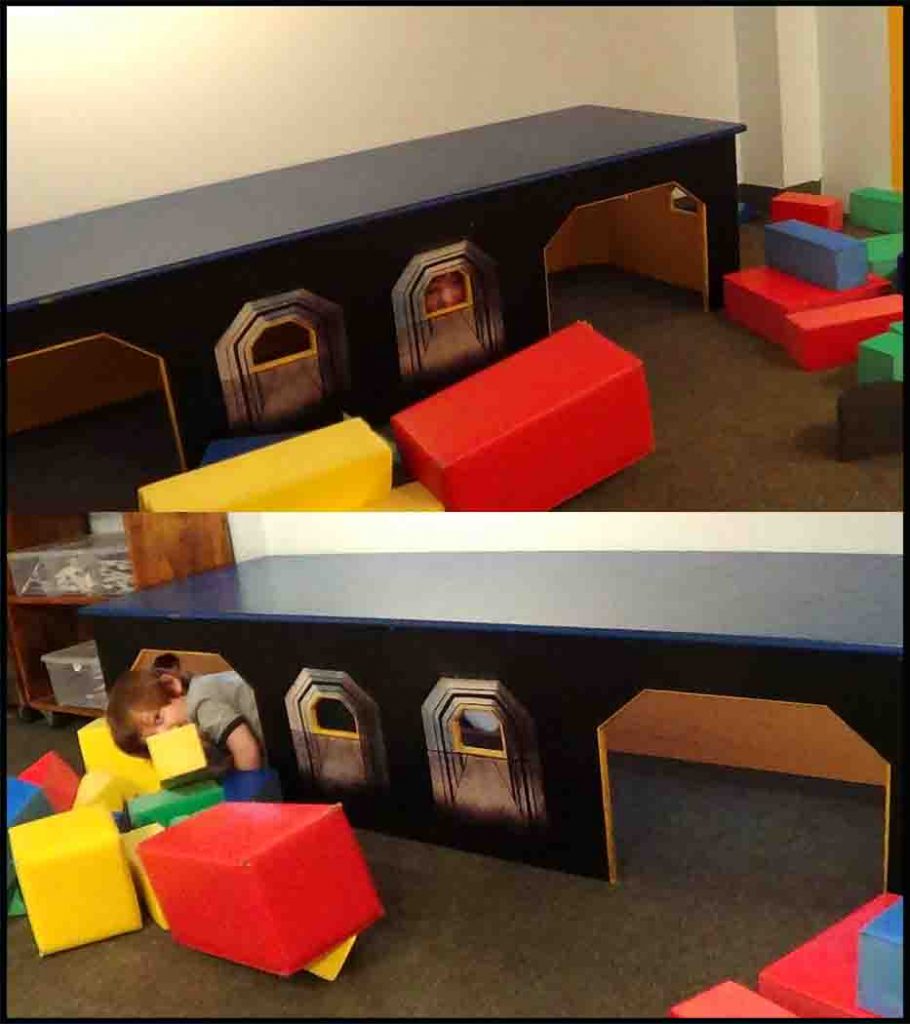 Kai wanted to play hide and seek in the hiding place.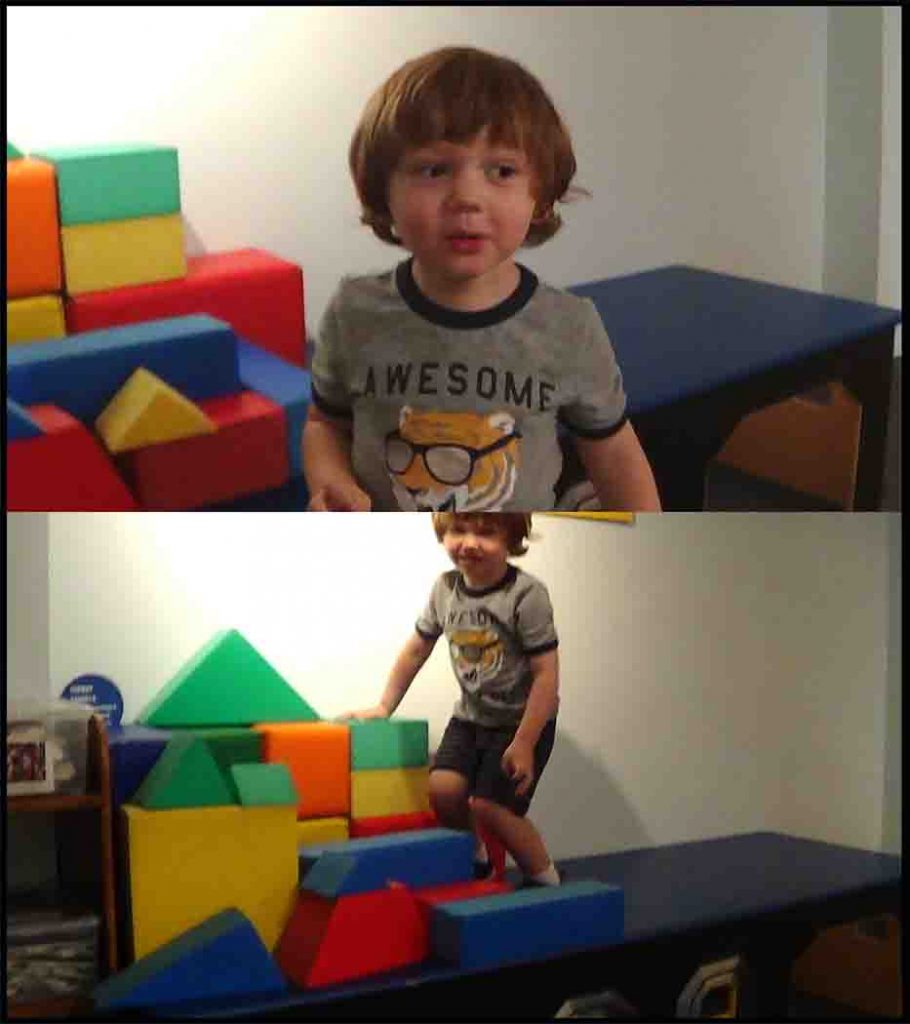 Time to go home, Kai put the foam blocks back where they belong, but still wanted to play for last time. He said "I will build the chair to sit on."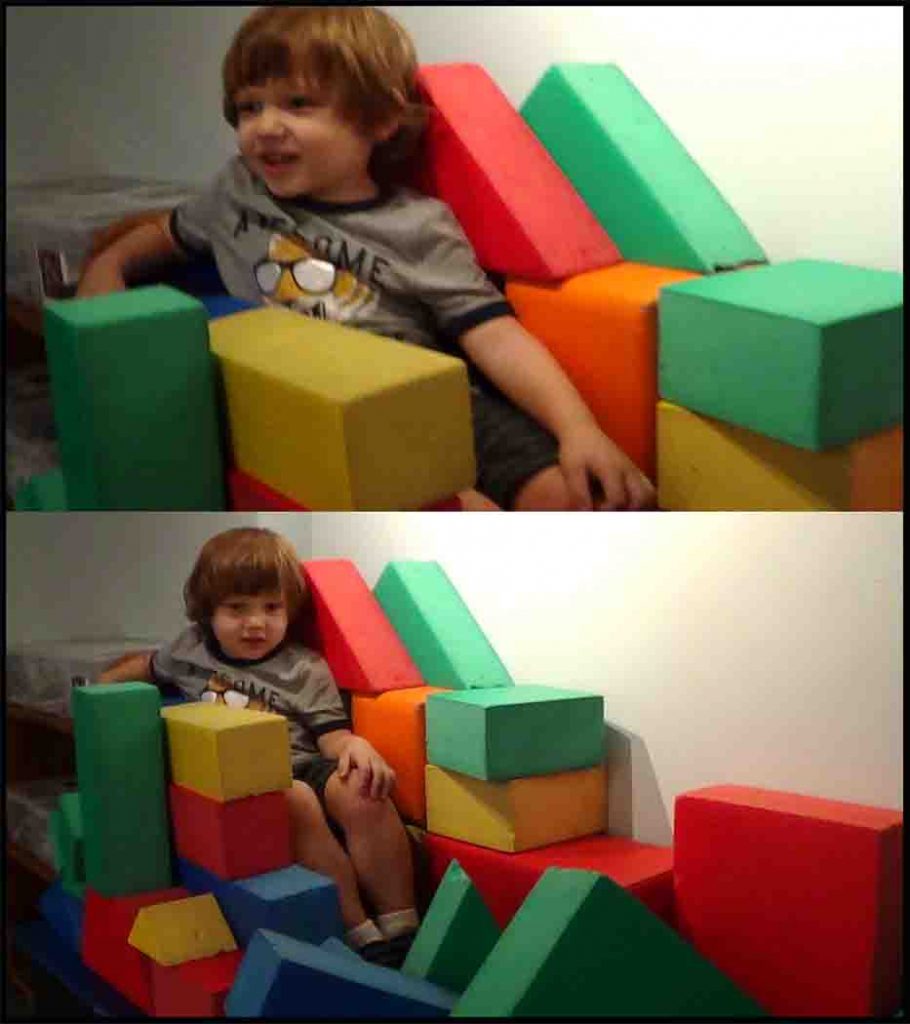 Kai was sitting happily on his throne.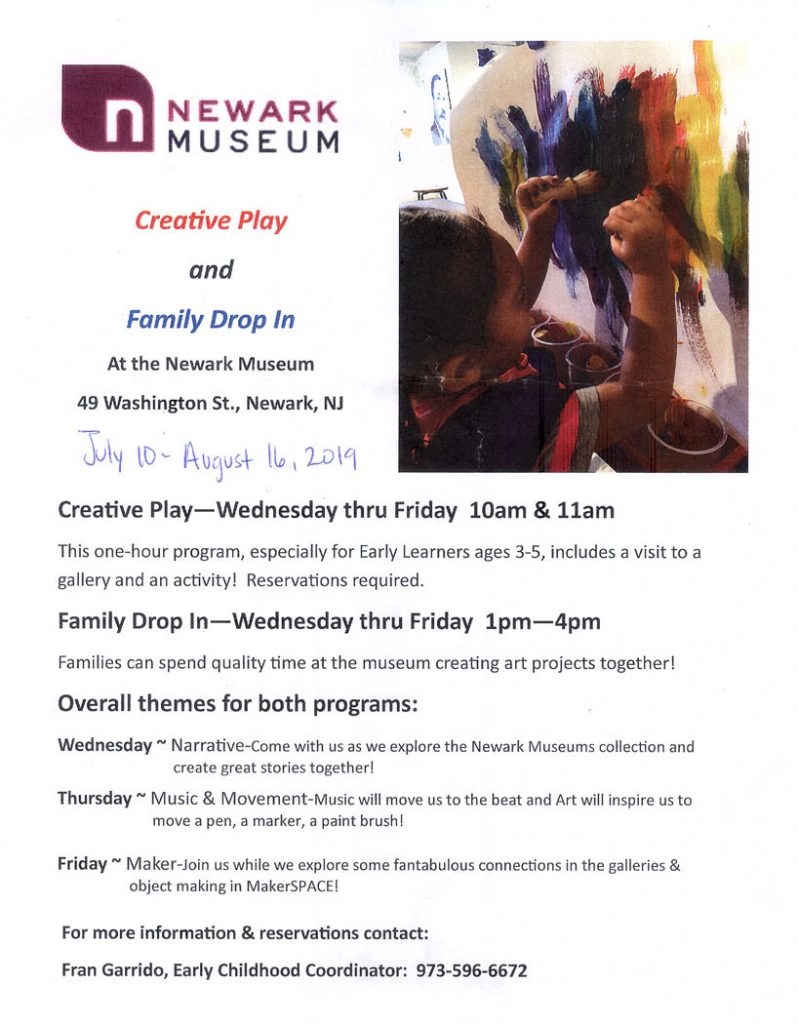 Ms. Fran Garrido, Early Childhood Coordinator gave me the information about their activities for children.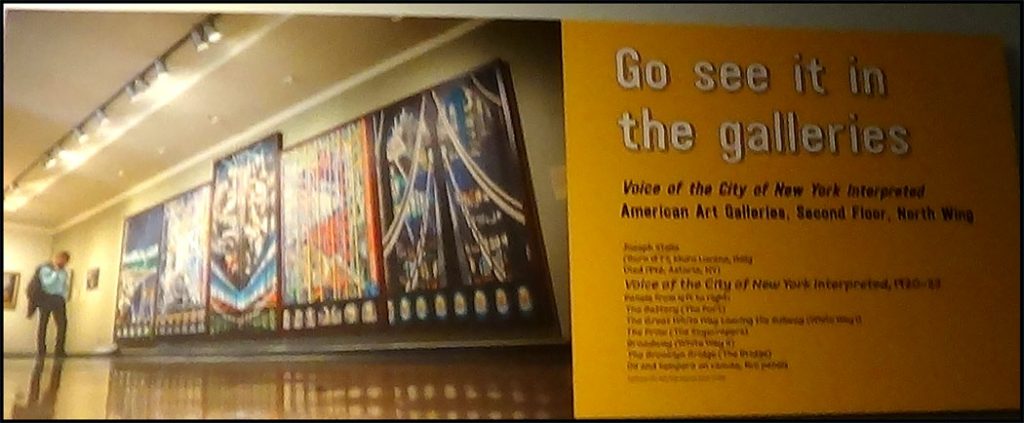 "Go see it in the galleries" Newark Museum's Promotion Poster
Monarch Butterfly, Saturday, July 20, 2019
Poem and Photographs by Ing-On Vibulbhan-Watts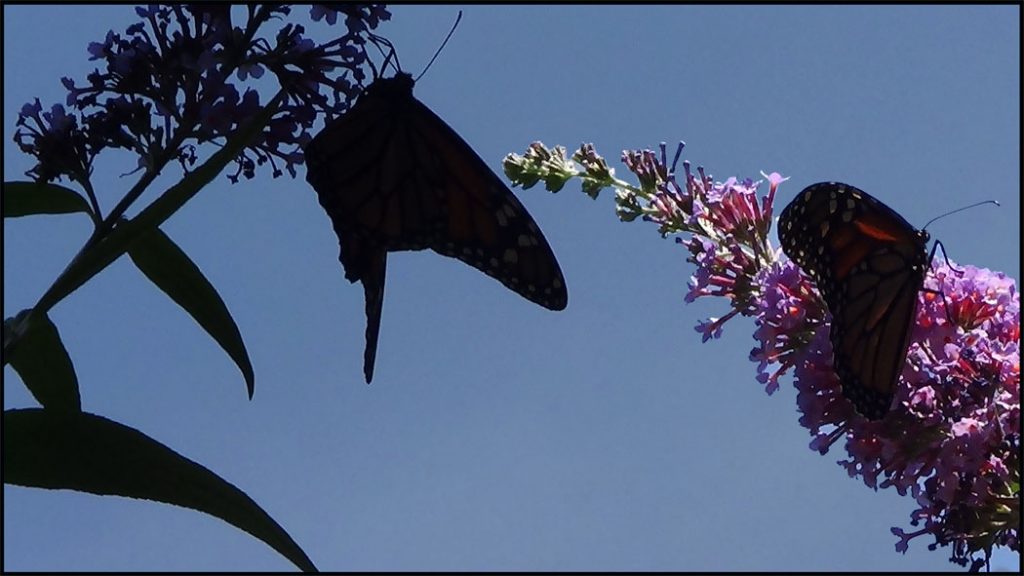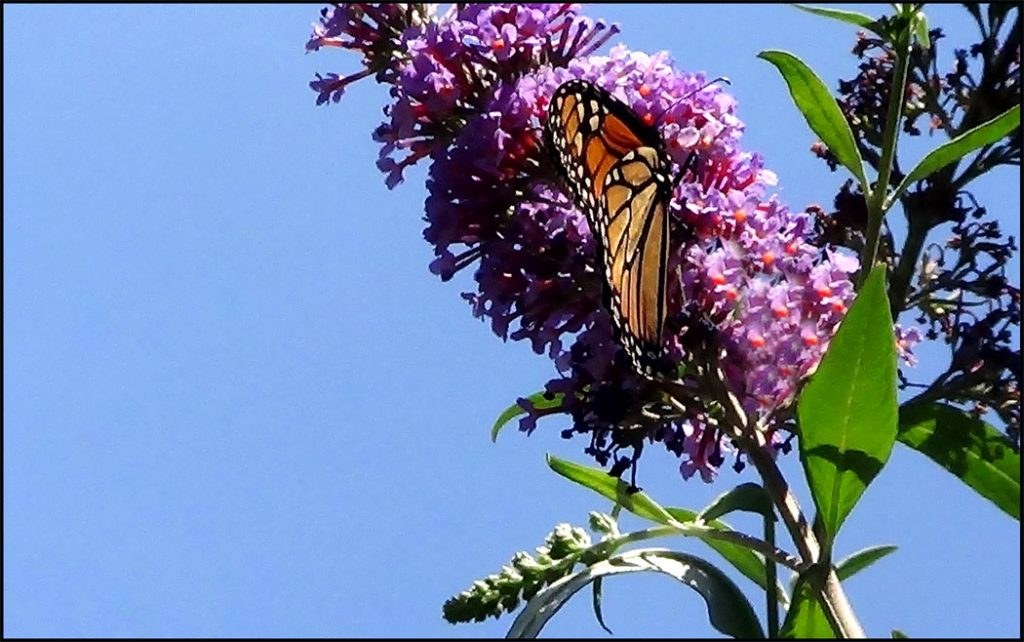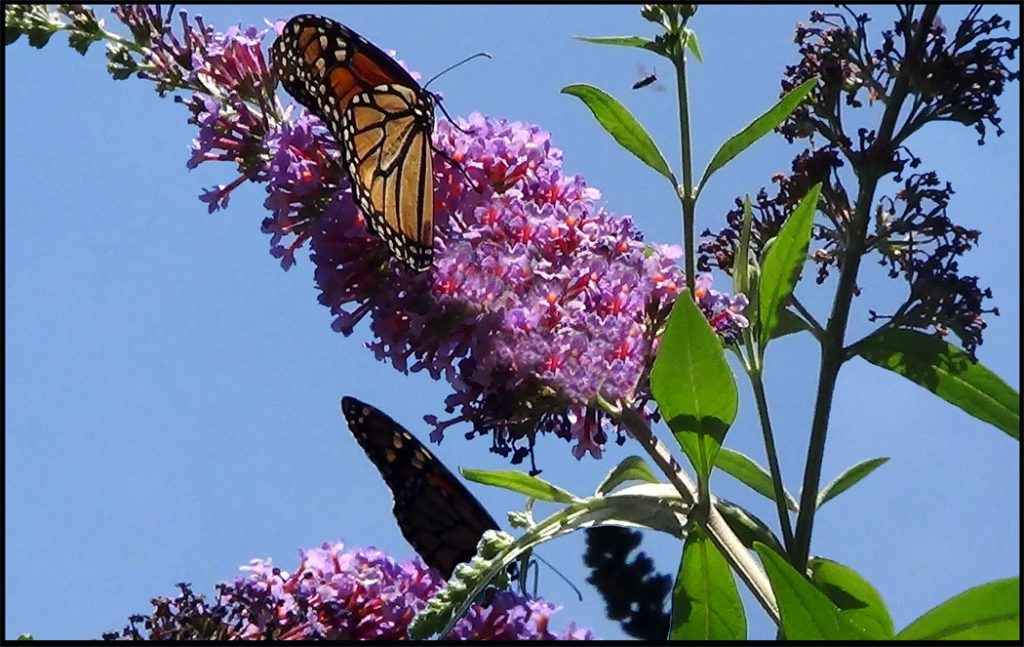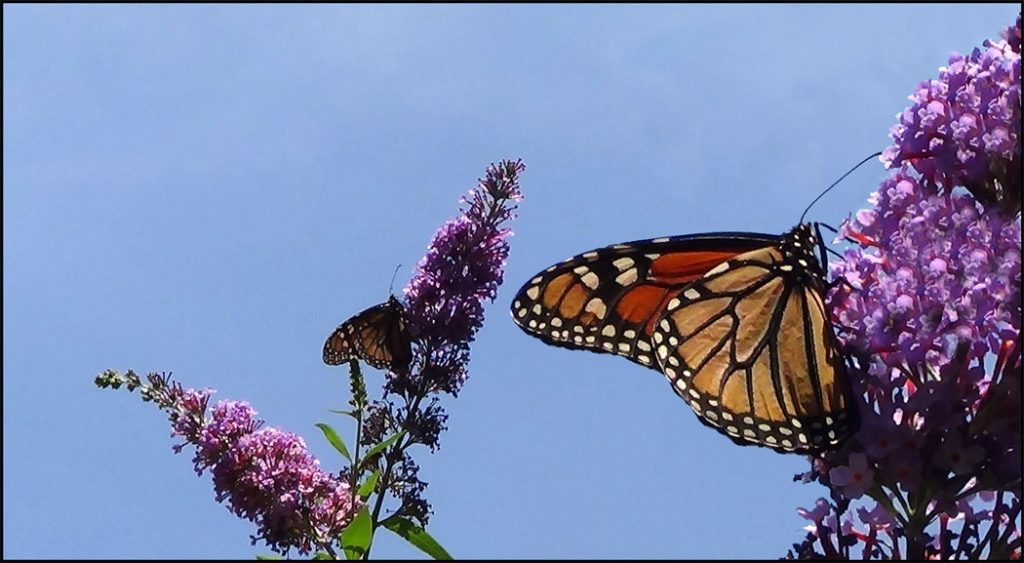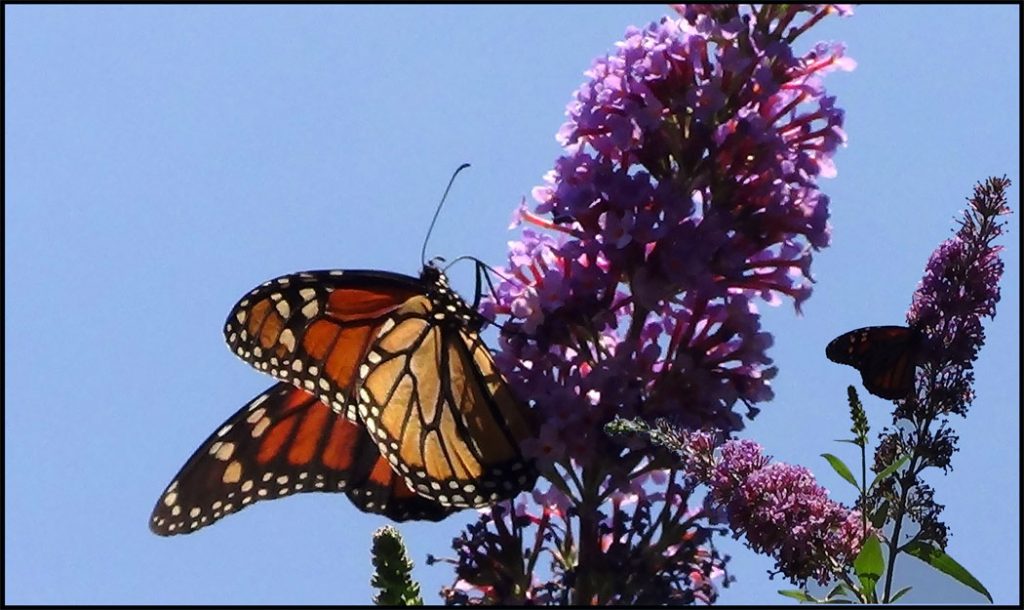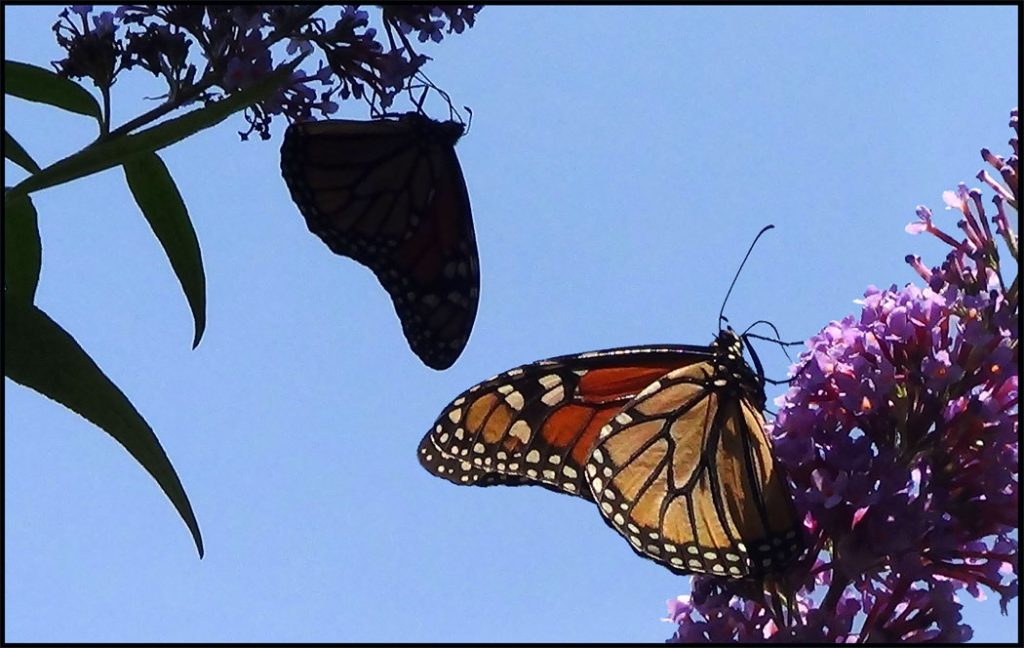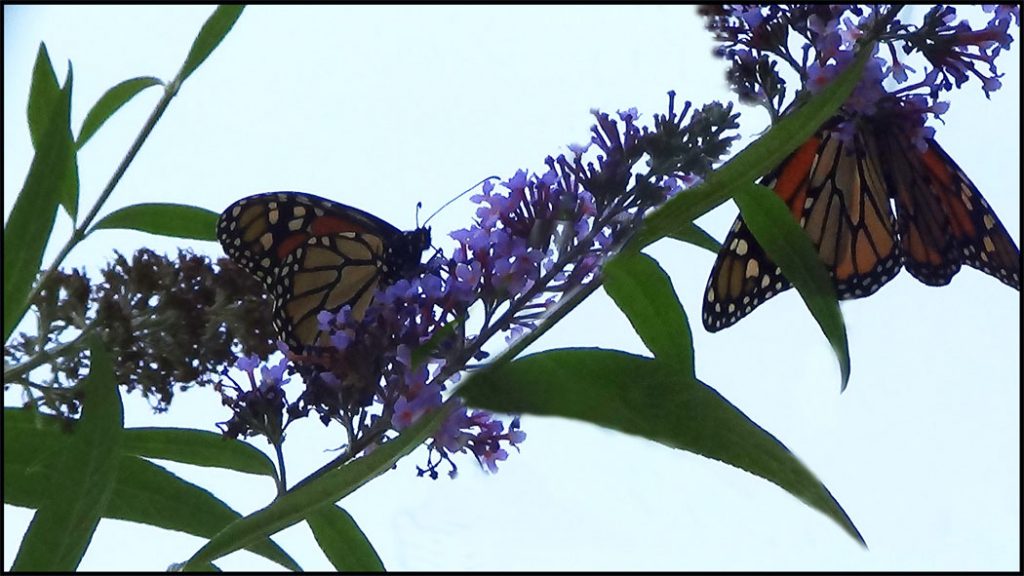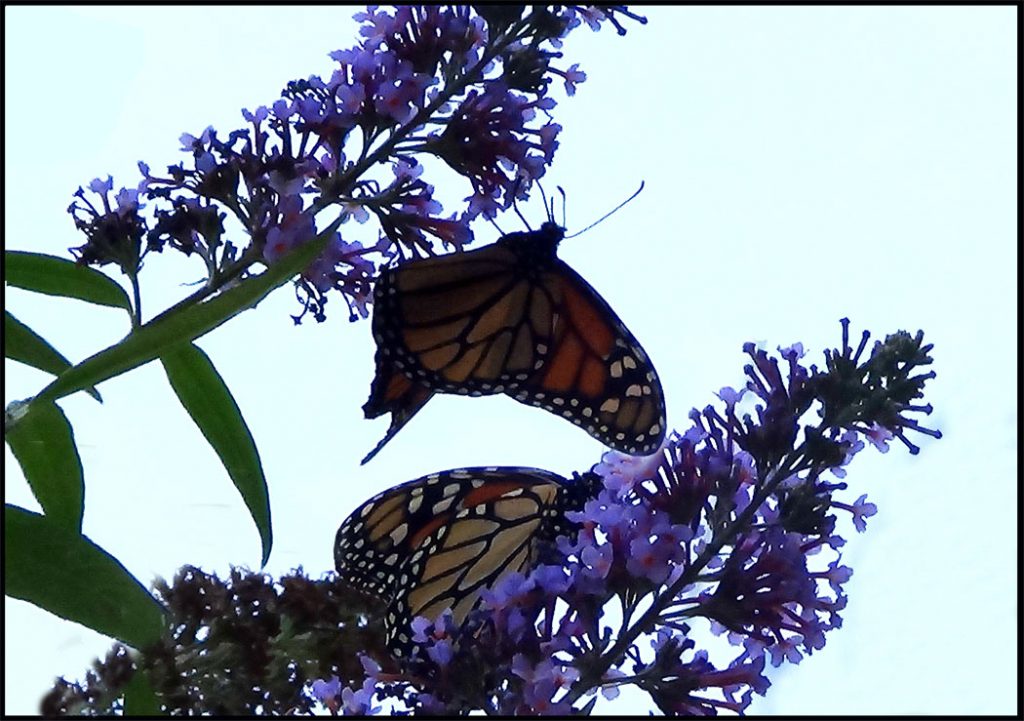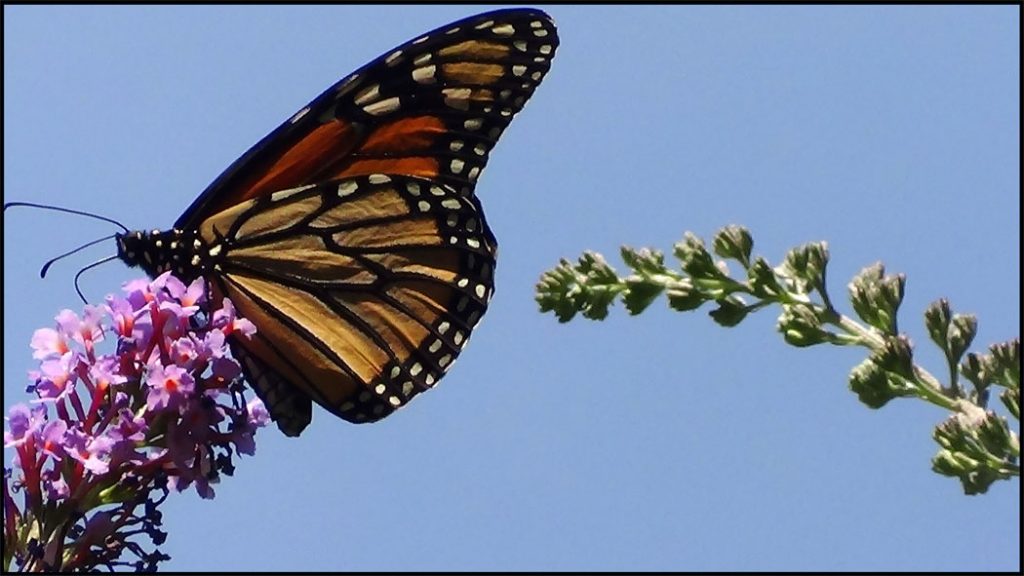 Oh! Monarch Butterfly!!!
You come to visit me again this year
You are the first one
I see today on Saturday, July 20, 2019
You look lovely as always
We are ready for you
With my beautiful purple butterfly bush flowers
All in full bloom
The nectar you need to survive to fly to your mate
And for you to lay your eggs
Your little ones of the next generation
The nectar is here for you
Thanks for fertilizing the flowers
Some will produce fruits
For human to consume
You not only beautify the world
With your pretty wings
Your also benefit the trees
Providing fruits for creatures of the earth
We need you
I am longing to see you
You make me so happy
Capturing you in my camcorder
For other to see
You give joy to me
My day is complete
Oh! My Monarch Butterfly!!!
I love you
Ing-On Vibulbhan-Watts, Saturday, July 20, 2019, 4:12 pm