PBS News: July 28-30, 2019, ABC News (Australia), Al Jazeera English, DW News, TED Talks: why governments should prioritize well being?, Colossal: An Art Exhibition Benefiting Separated Families, Rick Steves' Iran, IRAN – Top 10 Iranian dishes, Aurora australis: Where to view the southern lights and how to photograph them
PBS NewsHour full episode July 30, 2019
PBS NewsHour Published on Jul 30, 2019
Tuesday on the NewsHour, questions about how sexual abuse is handled in the military as a general accused of assault is considered for a high-ranking position. Plus: The latest on separated migrant families, Democratic presidential hopefuls take the debate stage, giving juvenile offenders a second chance, book club reader questions, public schools and student lunch debt, and a special pizza oven. WATCH TODAY'S SEGMENTS: News Wrap: Trump claims broad support among black Americans https://www.youtube.com/watch?v=PJwQo… Army colonel calls nominee for vice chairman's job a liar https://www.youtube.com/watch?v=ciRIL… How the administration explains ongoing family separations https://www.youtube.com/watch?v=A_2dq… Ahead of debate, 2020 Democrats release new policy proposals https://www.youtube.com/watch?v=kwEj_… In Dallas, new ways to keep juvenile offenders out of jail https://www.youtube.com/watch?v=qflmb… Luis Alberto Urrea discusses 'The House of Broken Angels' https://www.youtube.com/watch?v=9v2ZU… Can schools avoid 'lunch shaming' and still pay the bills? https://www.youtube.com/watch?v=FYn0h… The path to a more nutritious pizza, lit by laser beams https://www.youtube.com/watch?v=RBwdf…
PBS NewsHour full episode July 29, 2019
Published on Jul 29, 2019
Monday on the NewsHour, President Trump continued his verbal assault on Baltimore, prompting outrage from members of both political parties. Plus: The immigration policy debate underlying the Trump-Cummings feud, what a staff shakeup means for U.S. intelligence, the safety of the Boeing 737 MAX, a politically polarized couple, Politics Monday and healing South Africa's racial divide with food. WATCH TODAY'S SEGMENTS: News Wrap: Police look for motive in deadly Calif. shooting https://www.youtube.com/watch?v=rv2J8… Why Trump's verbal assault on Baltimore sounds familiar https://www.youtube.com/watch?v=saBTI… What we know about conditions in migrant detention centers https://www.youtube.com/watch?v=sjRNf… How Trump and Dan Coats clashed over policy and personality https://www.youtube.com/watch?v=-a0pE… Did FAA's deference to Boeing compromise safety of 737 MAX? https://www.youtube.com/watch?v=ewLM0… How Va. couple divided on Trump keeps relationship together https://www.youtube.com/watch?v=Z5Ov3… Tamara Keith and Kimberly Atkins on Trump's Baltimore attack https://www.youtube.com/watch?v=kTlFO… Cooking to connection across South Africa's cultural divide https://www.youtube.com/watch?v=aALhd…
PBS NewsHour Weekend full episode July 28, 2019
PBS NewsHour Published on Jul 28, 2019
On this edition for Sunday, July 28, Dan Coats, the director of national intelligence is stepping down, the Trump administration pushes ahead with a new asylum agreement with Guatemala, and mysterious fires destroy Iraq's crops. Also, how a future with robots might look. Hari Sreenivasan anchors from New York. Stream your PBS favorites with the PBS app: https://to.pbs.org/2Jb8twG Find more from PBS NewsHour at https://www.pbs.org/newshour Subscribe to our YouTube channel: https://bit.ly/2HfsCD6 Follow us: Facebook: https://www.pbs.org/newshour Twitter: https://www.twitter.com/newshour Instagram: https://www.instagram.com/newshour Snapchat: @pbsnews Subscribe: PBS NewsHour podcasts: https://www.pbs.org/newshour/podcasts Newsletters: https://www.pbs.org/newshour/subscribe
Category News & Politics
Watch ABC News Live
ABC News (Australia) Started streaming on Jul 6, 2019
This embedding tool is not for use by commercial parties. ABC News Homepage: https://abc.net.au/news Follow us on Twitter: https://twitter.com/abcnews Like us on Facebook: https://facebook.com/abcnews.au Subscribe to us on YouTube: https://ab.co/1svxLVE Follow us on Instagram: https://instagram.com/abcnews_au
Category News & Politics
Al Jazeera English | Live
Al Jazeera English Started streaming on Jun 1, 2019
@Al Jazeera English, we focus on people and events that affect people's lives. We bring topics to light that often go under-reported, listening to all sides of the story and giving a 'voice to the voiceless'. Reaching more than 270 million households in over 140 countries across the globe, our viewers trust Al Jazeera English to keep them informed, inspired, and entertained. Our impartial, fact-based reporting wins worldwide praise and respect. It is our unique brand of journalism that the world has come to rely on. We are reshaping global media and constantly working to strengthen our reputation as one of the world's most respected news and current affairs channels. Subscribe to our channel: https://bit.ly/AJSubscribe Follow us on Twitter: https://twitter.com/AJEnglish Find us on Facebook: https://www.facebook.com/aljazeera Check our website: https://www.aljazeera.com/ #AlJazeeraEnglish #BreakingNews #AlJazeeraLive
Category News & Politics
DW News Livestream | Latest news and breaking stories
DW News Started streaming on Jan 21, 2019
DW News goes deep beneath the surface, providing the key stories from Europe and around the world. Exciting reports and interviews from the worlds of politics, business, sports, culture and social media are presented by our DW anchors in 15-, 30- and 60-minute shows. Correspondents on the ground and experts in the studio deliver detailed insights and analysis of issues that affect our viewers around the world. We combine our expertise on Germany and Europe with a special interest in Africa and Asia while keeping track of stories from the rest of the world. Informative, entertaining and up-to-date – DW News, connecting the dots for our viewers across the globe. Deutsche Welle is Germany's international broadcaster. We convey a comprehensive image of Germany, report events and developments, incorporate German and other perspectives in a journalistically independent manner. By doing so we promote understanding between cultures and peoples.
Category News & Politics
In 2018, Scotland, Iceland and New Zealand established the network of Wellbeing Economy Governments to challenge the acceptance of GDP as the ultimate measure of a country's success. In this visionary talk, First Minister of Scotland Nicola Sturgeon explains the far-reaching implications of a "well-being economy" — which places factors like equal pay, childcare, mental health and access to green space at its heart — and shows how this new focus could help build resolve to confront global challenges.
This talk was presented at an official TED conference, and was featured by our editors on the home page.
About the speaker
Nicola Sturgeon · First Minister of Scotland
As the first woman to hold the office of First Minister of Scotland, Nicola Sturgeon is an important progressive and feminist voice in the governance of the United Kingdom.
Mother & Child Vol. II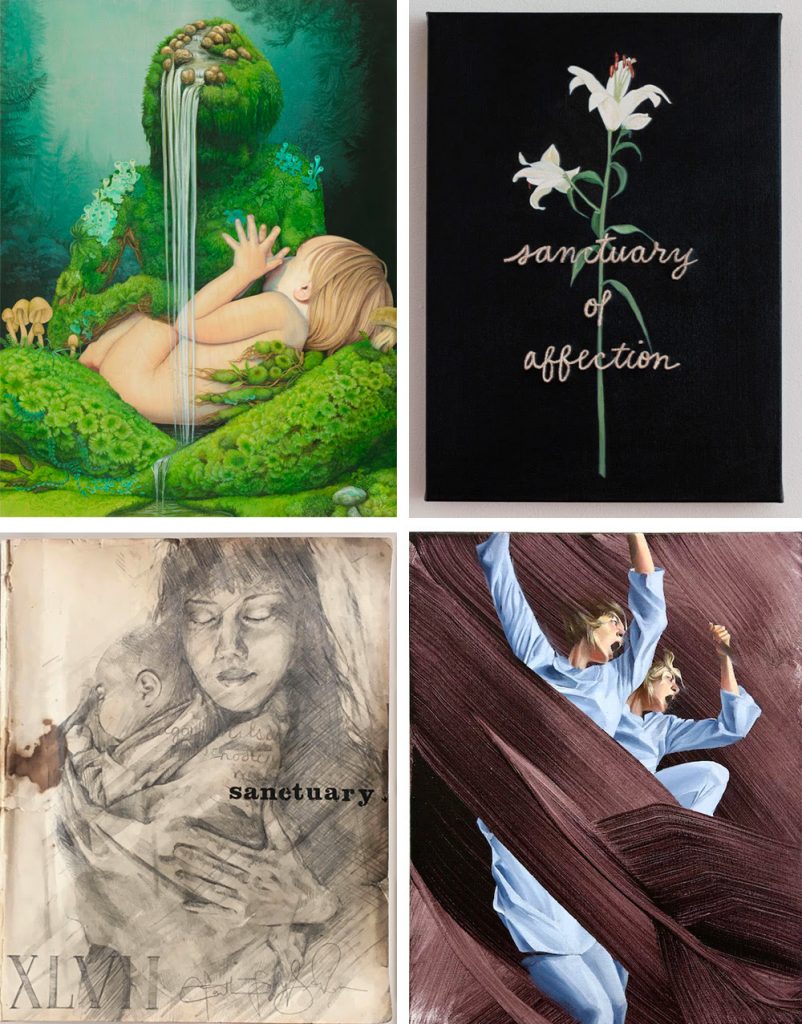 An Art Exhibition Benefiting Separated Families
Mother and Child Vol. II is a one-night-only gallery show and online exhibition whose proceeds will be donated to non-profits providing legal aid to families separated at the Southern border. Sugarlift is hosting this event for the second year in a row, in partnership with Colossal.
If you would like to see the artwork please visit the following link:
Rick Steves' Iran
Rick Steves' Europe Published on May 14, 2014
Rick Steves' Travel Guide | Join Rick as he explores the most surprising and fascinating land he's ever visited: Iran. In a one-hour, ground-breaking travel special on public television, you'll discover the splendid monuments of Iran's rich and glorious past, learn more about the 20th-century story of this perplexing nation, and experience Iranian life today in its historic capital and in a countryside village. Most important, you'll meet the people of this nation whose government so exasperates our own.
Rating No mature content
IRAN – Top 10 Iranian dishes
PressTV Published on Nov 16, 2016
The delicious Iranian food you are about to see were carefully selected by Gisoo Misha Ahmadi as she came up with Iran's top ten favorite dishes. Watch Live: https://www.presstv.com/live.html Twitter: https://twitter.com/PressTV LiveLeak: https://www.liveleak.com/c/PressTV Facebook: https://www.facebook.com/PRESSTV Google+: https://plus.google.com/+VideosPTV Instagram: https://instagram.com/presstvchannel Dailymotion: https://www.dailymotion.com/presstv
Category News & Politics
Music in this video
Listen ad-free with YouTube Premium
Song Gol e Naar
Artist Feisal Galel
Album Sensiz Olmaz Licensed to YouTube by
DashGo/Audiobee (on behalf of SocialBooker Music Publishing)
Metabolism & Nutrition, Part 2: Crash Course A&P #37
CrashCourse Published on Oct 5, 2015
If you're like us, you love the sound of a brunch buffet. But not everything you eat at that glorious buffet is going to be turned into energy. Your body has to work with different forms of food in different ways. In this episode of Crash Course Anatomy & Physiology, Hank takes us through more about our metabolism including cellular respiration, atp, glycogenesis, and how insulin regulates our blood sugar levels. Anatomy of Hank Poster: https://store.dftba.com/products/crash… — Table of Contents Cellular Respiration converts glucose into ATP 2:03 Glycogenesis converts glucose to glycogen 3:26 Lipogenesis converts glucose into triglycerides 5:58 Insulin regulates blood sugar levels 5:22 *** Crash Course is on Patreon! You can support us directly by signing up at https://www.patreon.com/crashcourse Thanks to the following Patrons for their generous monthly contributions that help keep Crash Course free for everyone forever: Fatima Iqbal, Penelope Flagg, Eugenia Karlson, Alex S, Jirat, Tim Curwick, Christy Huddleston, Eric Kitchen, Moritz Schmidt, Today I Found Out, Avi Yashchin, Chris Peters, Eric Knight, Jacob Ash, Simun Niclasen, Jan Schmid, Elliot Beter, Sandra Aft, SR Foxley, Ian Dundore, Daniel Baulig, Jason A Saslow, Robert Kunz, Jessica Wode, Steve Marshall, Anna-Ester Volozh, Christian, Caleb Weeks, Jeffrey Thompson, James Craver, and Markus Persson — Want to find Crash Course elsewhere on the internet? Facebook – https://www.facebook.com/YouTubeCrashC… Twitter – https://www.twitter.com/TheCrashCourse Tumblr – https://thecrashcourse.tumblr.com Support Crash Course on Patreon: https://patreon.com/crashcourse CC Kids: https://www.youtube.com/crashcoursekids
10 most healthiest foods for human body in the world – healthy food list and their benefits
Count Ten Published on Apr 22, 2016
10 most healthiest foods for human body in the world These foods are easy to use and easy to find.Add these foods to your meals and get super healthy body which increase your immune system and prevent diseases. For more interesting videos Subscribe our channel: https://www.youtube.com/channel/UC1q8… Follow us on Google Plus: https://plus.google.com/1154694122856… 10 Foods for Brain Health: https://www.youtube.com/watch?v=suZ6P… top 10 healthy foods healthy food items boost immune system by eating healthy foods healthy foods in the world healthy foods all time healthiest foods you aren t eating healthy food names list of healthiest foods healthy food list healthy food items pictures healthy food items and their benefits
Category Howto & Style
Shop a Curated Art Collection to Support Immigrant Families
Today is the last day to shop Mother & Child Vol. II, a collection of work curated by Colossal and Sugarlift from talented artists around the world. All pieces have been generously donated, are framed, priced at $1,000 or less, and are ready to ship worldwide. 100% of sales proceeds benefit vetted nonprofits aiding families separated at the U.S. border.

Shop work by Faith XLVII, Li-Hill, Klone, Sonni, Tatiana Ortiz-Rubio, Michael Meador, Amanda Scuglia, David de la Mano + more: MotherAndChild.Shop. Learn more about the show here and help us reach our $20,000 goal!
Aurora australis: Where to view the southern lights and how to photograph them
By Sophie Colvin
Posted 13 Jun 2019, 4:51pm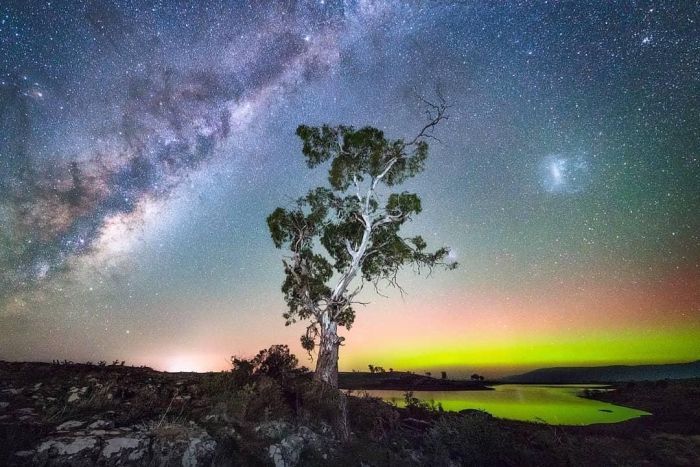 Photo: The southern lights on full display south of Hobart in Tasmania. (ABC Open contributor: Beauty of Tasmania)
Related Story: Conditions seem perfect, so why is it so hard to see the aurora australis?
Related Story: Amateur photographer captures 'spectacular' green 'meteor'
Related Story: Aurora Australis 'picket fence' captured by photographer after five years of chasing
If you've spent any time at all on a social media, chances are you've stumbled across some serious #TravelInspo in the form of swaths of ethereal-looking green and pink lights in the night sky.
While the northern hemisphere — we're looking at you, Iceland, Norway and friends — may have a monopoly on the northern lights, there is no need to travel all that way if seeing the aurora phenomena is on your bucket list.
We have the southern lights, otherwise known as aurora australis, right here in our own backyard.
For the weather uninitiated, ABC Weather reporter Kate Doyle said the process could be compared to that used in neon lighting.
"The sun excites atoms of gas in the same way electricity is used to excite the atoms of gas in a neon tube," she said.
"When the excited atoms come back down to earth, as it were, they release their energy in the form of mesmerising light.
"You could say the aurora occurs when the sun gets excited and busts out the party lights."
Photo: Aurora australis lights up The Hazards mountain range on Tasmania's east coast. (ABC Open contributor: Beauty of Tasmania)
Experiment, adjust and enjoy
We asked our audience to share some of the places they have captured aurora australis.
And while the lights are most visible and occur more regularly the further south you go, sightings are not limited to Tasmania.
To photograph aurora australis there are a few things you will need:
A clear night — the Bureau of Meteorology has a space weather page providing aurora predictions
Set up in a position looking south and away from city lights to avoid light pollution and flare
A tripod, camera, and wide-angle lens (ideally f2.8 or faster)
To increase your chances of capturing the aurora australis in all its glory:
Use a remote trigger with mirror lock to reduce camera shake — if you do not have a remote try using a timer on your camera
Shoot in raw format for better quality photos
Turn your manual focus to infinity — test this on a clear, non-aurora night to avoid disappointment
Set your ISO from 1,600 to 3,200 or greater if your camera has the capability
Set your exposure from 10 to 30 seconds — longer exposures will start to show stars as trails rather than dots
Keep in mind all of these settings will depend on the brightness of the aurora, so experiment, adjust, and enjoy the magic.
Bruny Island, Tasmania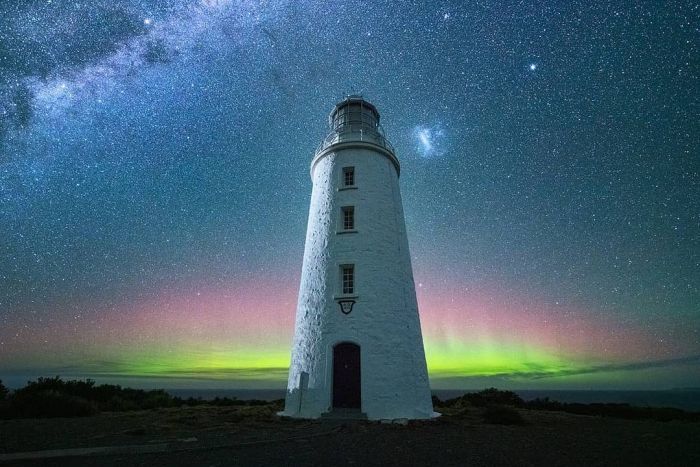 Photo: An aurora australis lights up the sky on Bruny Island, south of Hobart. (ABC Open contributor: Bruny Island Photography)
Tasmanian photographer, Luke Tscharke, has been taking regular snaps of the state's solar activity from Bruny Island, less than an hour's drive south of Hobart.
"The clearest air in the world also provides for some of the clearest skies, and when the clouds stay away it provides an unobstructed view into the cosmos," he said.
"There is little that can compare to nights such as these."
Cradle Mountain, Tasmania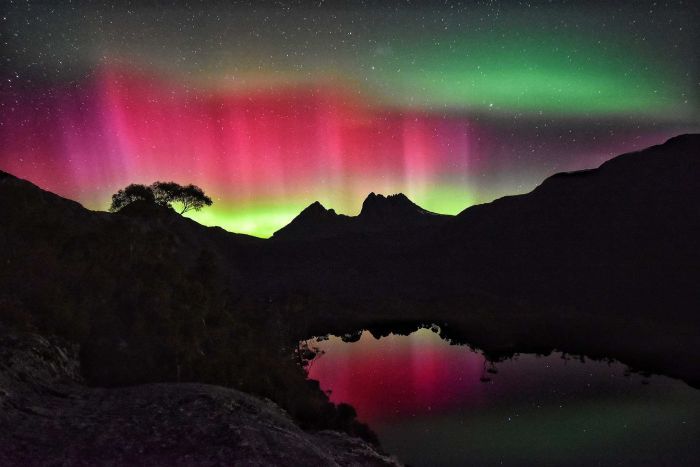 Photo: Cradle Mountain is silhouetted by an aurora australis. (ABC Open contributor Jai Moyle)
In the heart of Tasmania's wilderness and far from any light pollution, Cradle Mountain made an incredible backdrop when Jai Moyle captured an aurora.
"Never will I see a night like this again," he said.
Breamlea, Victoria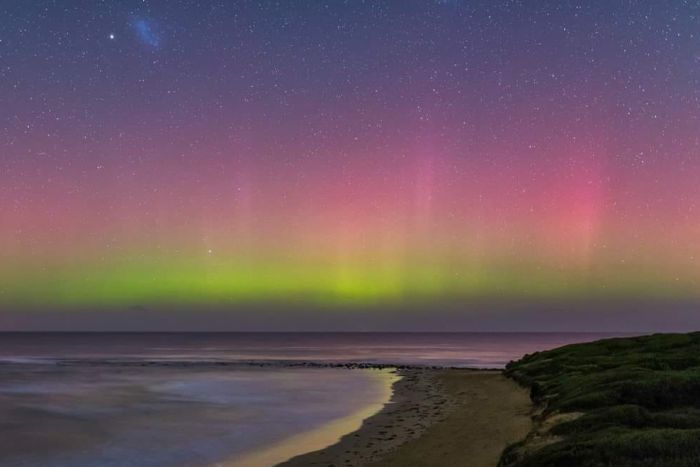 Photo: Aurora australis makes an appearance over Bancoora Beach in Breamlea, Victoria. (ABC Open contributor: Clint Conn)
Surrounding light pollution, and its more northerly location, can make it harder to see the aurora australis in areas like Breamlea in Victoria, but if there is enough cosmic activity and the aurora is big enough, you might just be in luck.
Augusta, Western Australia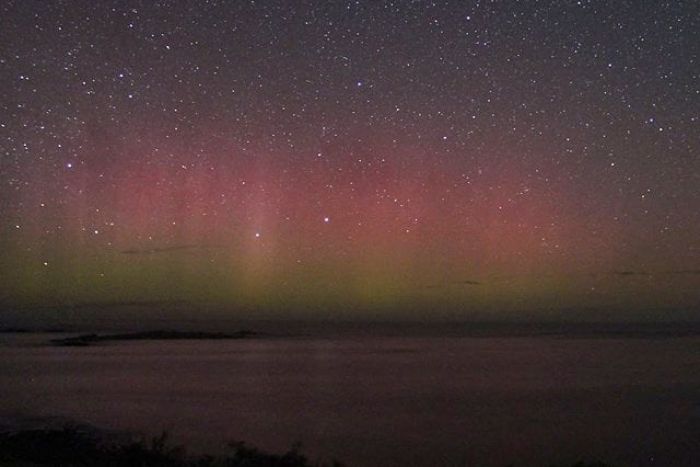 Photo: The lights of aurora australis glow over the water at Augusta, WA. (ABC Open contributor: Michelle Peak)
Michelle Peak spotted aurora australis from Augusta in the far south-west of Western Australia in 2015.
"The first time I saw it it changed my whole outlook on life," she said.
"I have been chasing those amazing southern lights ever since."
Have you captured the southern lights? Share your photos with us here or by using the hashtag #ABCmyphoto on Instagram.