PBS News: January 24 – 30, 2020, The extraordinary legacy and unique voice of Jim Lehrer, and Idlib is the last refuge for Syrians fleeing Assad — and it is barely livable,
TED Talks: Stuart Oda Are indoor vertical farms the future of agriculture?, Mohammad Modarres Why you should shop at your local farmers market, Wevita Davison how urban agriculture is transforming Detroit
BBC Click: The Self-Driving Car Revolution & More
Pocket: Invasion of the 'Frankenbees': The Danger of Building a Better Bee
New York Times: Bricks Alive! Scientists Create Living Concrete
Thisiscolossal: A Towering Turtle of Discarded Industrial Junk Welded by Ono Gaf and A Kinetic Sculpture Built from over 600 Parts Gracefully Imitates a Swimming Sea Turtle Urban Species: Kinetic Lifeforms Created by U-Ram Choe and Slowly Rising: A Mesmerizing New Music Video by Hideki Inaba
Derek Hugger: Carapace – an organic motion sculpture
Frist Art Museum: URAM Choe – New Urban Species Exhibition
Creators: Kinetic Sculptor Puts Cyber Dreams In Motion
PBS NewsHour full episode, Jan 30, 2020
Jan 30, 2020 PBS NewsHour
Thursday on the NewsHour, senators continue asking questions in President Trump's impeachment trial as a pivotal vote on witnesses looms. Plus: Legal experts analyze the latest impeachment trial developments, a preview of the Iowa caucus, novel coronavirus is now a global health emergency, the economic power of peer pressure, Malcolm Gladwell on meeting strangers and Gwen Ifill forever remembered. Stream your PBS favorites with the PBS app: https://to.pbs.org/2Jb8twG Find more from PBS NewsHour at https://www.pbs.org/newshour Subscribe to our YouTube channel: https://bit.ly/2HfsCD6
PBS NewsHour full episode, Jan 29, 2020
•Jan 29, 2020 PBS NewsHour
Wednesday on the NewsHour, carefully scripted legal arguments give way to senator questions in President Trump's impeachment trial. Plus: Legal experts analyze the latest from the impeachment trial, how China and the global health community are responding to the outbreak of novel coronavirus, understanding traumatic brain injury, saving Australian wildlife after bushfires and Now Read This. Editor's Note: The first segment of tonight's show incorrectly identified the location of the bakery sending cakes to lawmakers in the Senate. The cakes did not come from a bakery in Washington, D.C., but rather from one in New York. The segment's transcript has been corrected. NewsHour regrets the error. WATCH TODAYS SEGMENTS Senators begin question period in Trump impeachment trial https://www.youtube.com/watch?v=wrVi0… 2 legal experts on the latest from Trump's impeachment trial https://www.youtube.com/watch?v=8BVXe… News Wrap: Trump touts USMCA trade deal at signing ceremony https://www.youtube.com/watch?v=-IUnH… How China is responding to rapid spread of novel coronavirus https://www.youtube.com/watch?v=AIROm… The challenge traumatic brain injury poses for U.S. troops https://www.youtube.com/watch?v=VAa8c… Australians rush to rescue wildlife imperiled by bushfires https://www.youtube.com/watch?v=PDKyy… 'Heart Berries' author Terese Mailhot on reader questions https://www.youtube.com/watch?v=Y73WI… Stream your PBS favorites with the PBS app: https://to.pbs.org/2Jb8twG Find more from PBS NewsHour at https://www.pbs.org/newshour Subscribe to our YouTube channel: https://bit.ly/2HfsCD6
PBS NewsHour full episode Jan 28, 2020
Jan 28, 2020 PBS NewsHour
Tuesday on the NewsHour, President Trump's legal team concludes its defense, arguing that Trump's impeachment was motivated by political differences and that conviction would set a dangerous precedent. Plus: Sen. Elizabeth Warren on the Senate impeachment trial, reaction to Trump's long-awaited Middle East peace plan, the battle over Huawei and 5G technology and a conversation with Robert DeNiro. WATCH TODAYS SEGMENTS Witness question remains unsettled in Trump's Senate trial https://www.youtube.com/watch?v=uCX8x… Sen. Warren on Trump's trial and why 'women win' elections https://www.youtube.com/watch?v=R6nhN… News Wrap: U.S. steps up screenings for novel coronavirus https://www.youtube.com/watch?v=JCF2I… 2 reactions to Trump's long-awaited Middle East peace plan https://www.youtube.com/watch?v=W-9TV… Why the U.S. doesn't want Huawei building 5G networks https://www.youtube.com/watch?v=GNUWU… Robert De Niro on 'The Irishman' and his prolific career https://www.youtube.com/watch?v=4g6X_… Stream your PBS favorites with the PBS app: https://to.pbs.org/2Jb8twG Find more from PBS NewsHour at https://www.pbs.org/newshour Subscribe to our YouTube channel: https://bit.ly/2HfsCD6
PBS NewsHour full episode, Jan 27, 2020
Jan 27, 2020 PBS NewsHour
Monday on the NewsHour, President Trump's legal team presents its defense in his Senate impeachment trial. Plus: China's coronavirus is still spreading as the city of Wuhan remains closed, previewing Trump's long-awaited Middle East peace plan, remembering the horror of Auschwitz-Birkenau, 2020 Democrats in Iowa, Politics Monday with Amy Walter and Tamara Keith and the world grieves Kobe Bryant. Stream your PBS favorites with the PBS app: https://to.pbs.org/2Jb8twG Find more from PBS NewsHour at https://www.pbs.org/newshour Subscribe to our YouTube channel: https://bit.ly/2HfsCD6
PBS NewsHour Weekend full episode January 26, 2020
Jan 26, 2020 PBS NewsHour
On this edition for Sunday, January 26, President Trump's impeachment trial enters a second week, retired NBA superstar Kobe Bryant dies in a helicopter crash, new limits in China amid a widening coronavirus outbreak, Philadelphia's famed Sigma Sound Studios lives, and award-winning vocalist Shemekia Copeland brings the blues into the 21st century. Hari Sreenivasan anchors from New York. Stream your PBS favorites with the PBS app: https://to.pbs.org/2Jb8twG Find more from PBS NewsHour at https://www.pbs.org/newshour Subscribe to our YouTube channel: https://bit.ly/2HfsCD6
PBS NewsHour Weekend full episode January 25, 2019
On this edition for Saturday, January 25, President Trump's legal team lays out their defense in the Senate impeachment trial, the wind energy industry faces the loss of decades-old tax incentives, the coronavirus continues to spread internationally, and one young lion dancer is impacting the Chinese Lunar New Year. Hari Sreenivasan anchors from New York. Stream your PBS favorites with the PBS app: https://to.pbs.org/2Jb8twG Find more from PBS NewsHour at https://www.pbs.org/newshour Subscribe to our YouTube channel: https://bit.ly/2HfsCD6
PBS NewsHour full episode, Jan 24, 2020
Jan 24, 2020 PBS NewsHour
Friday on the NewsHour, House impeachment managers complete their third and final day of arguments in President Trump's Senate trial. Plus: China's new coronavirus outbreak continues to spread as new U.S. cases are confirmed, a drug company CEO is sentenced to prison for his role in prescribing deadly opioid drugs and the NewsHour family remembers co-founder, anchor, mentor and friend Jim Lehrer. Stream your PBS favorites with the PBS app: https://to.pbs.org/2Jb8twG Find more from PBS NewsHour at https://www.pbs.org/newshour Subscribe to our YouTube channel: https://bit.ly/2HfsCD6
The extraordinary legacy and unique voice of Jim Lehrer
Jan 23, 2020 PBS NewsHour
It is impossible to quantify Jim Lehrer's influence on this news program, American journalism, presidential debates or the lives of so many of us. He was an extraordinary journalist, writer, collaborator and friend. Robert MacNeil, Lehrer's NewsHour co-founder, longtime Lehrer friend Justice Stephen Breyer and Sharon Percy Rockefeller, president and CEO of WETA, join Judy Woodruff to remember him. Stream your PBS favorites with the PBS app: https://to.pbs.org/2Jb8twG Find more from PBS NewsHour at https://www.pbs.org/newshour Subscribe to our YouTube channel: https://bit.ly/2HfsCD6
Idlib is the last refuge for Syrians fleeing Assad — and it is barely livable
Jan 21, 2020 PBS NewsHour
The war in Syria has waged for almost nine years and claimed millions of lives. Northwest Idlib province is the last refuge for Syrians fleeing attacks by President Bashar al-Assad's regime. But the crowded, muddy refugee camps there offer little shelter or support, and to the north, Turkey's border is closed to those seeking better conditions. Nick Schifrin reports on Idlib's "fragile stability." Stream your PBS favorites with the PBS app: https://to.pbs.org/2Jb8twG Find more from PBS NewsHour at https://www.pbs.org/newshour Subscribe to our YouTube channel: https://bit.ly/2HfsCD6
By 2050, the global population is projected to reach 9.8 billion. How are we going to feed everyone? Investment-banker-turned-farmer Stuart Oda points to indoor vertical farming: growing food on tiered racks in a controlled, climate-proof environment. In a forward-looking talk, he explains how this method can maintain better safety standards, save money, use less water and help us provide for future generations.
This talk was presented at a TED Salon event given in partnership with Brightline Initiative. TED editors featured it among our selections on the home page. Read more about TED Salons.
Stuart Oda · Entrepreneur, urban farmer
Stuart Oda is an indoor urban farmer with a passion for innovation and sustainability. His goal: democratize access to fresh and nutritious food by democratizing the means and knowledge of production.
Take Action learn
Learn more about indoor vertical farming by joining a community engagement event in your area. Learn more ?
About TED Salon
TED Salons welcome an intimate audience for an afternoon or evening of highly-curated TED Talks revolving around a globally relevant theme. A condensed version of a TED flagship conference, they are distinct in their brevity, opportunities for conversation, and heightened interaction between the speaker and audience.
608,448 views
TED Salon: Brightline Initiative | June 2019
he average farmer in America makes less than 15 cents of every dollar on a product that you purchase at a store. They feed our communities, but farmers often cannot afford the very foods they grow. In this actionable talk, social entrepreneur Mohammad Modarres shows how to put your purchasing power into action to save local agriculture from collapse and transform the food industry from the bottom up.
This talk was presented at an official TED conference, and was featured by our editors on the home page.
Mohammad Modarres · Social entrepreneur
Mohammad Modarres developed the first-ever Zabihah Halal and Glatt Kosher "Interfaith Meat" to make faith-based foods more accessible.
How to build a more inclusive dinner tableIn his first TED Talk, Mohammad Modarres discusses why he produced the Shabbat Salaam interfaith dinner series, where he premiered Interfaith Meat to help Muslim and Jewish communities eat from the same plate.
Take Action
participate
Support Abe's Eats in their mission to make high-quality, inclusive foods accessible to all.
learn
Learn more about the Farmers Market Coalition, dedicated to strengthening farmers markets across the US.
1,209,420 views
TED Residency | May 2019
There's something amazing growing in the city of Detroit: healthy, accessible, delicious, fresh food. In a spirited talk, fearless farmer Devita Davison explains how features of Detroit's decay actually make it an ideal spot for urban agriculture. Join Davison for a walk through neighborhoods in transformation as she shares stories of opportunity and hope. "These aren't plots of land where we're just growing tomatoes and carrots," Davison says. "We're building social cohesion as well as providing healthy, fresh food."
This talk was presented at an official TED conference, and was featured by our editors on the home page.
Devita Davison · Food activist
At FoodLab Detroit, Devita Davison supports local entrepreneurs and imagines a new future for food justice.
Take Action learn Learn more about how FoodLab Detroit is using food as a catalyst for community change. Learn more ?
participate
Donate to FoodLab Detroit and help strengthen our ability to support, improve and grow resources for our network of good food entrepreneurs.
TED2017 | April 2017
The Self-Driving Car Revolution – BBC Click
Jan 23, 2020 BBC Click
Click looks at the battle for self-driving car supremacy between the USA and China. Subscribe HERE http://bit.ly/1uNQEWR Find us online at www.bbc.com/click Twitter: @bbcclick Facebook: www.facebook.com/BBCClick
Category Science & Technology
https://getpocket.com/explore/item/invasion-of-the-frankenbees-the-danger-of-building-a-better-bee?utm_source=pocket-newtab
Pocket Worthy Stories to fuel your mind.
Invasion of the 'Frankenbees': The Danger of Building a Better Bee
Beekeepers are sounding the alarm about the latest developments in genetically modified pollinators.
The Guardian | Bernhard Warner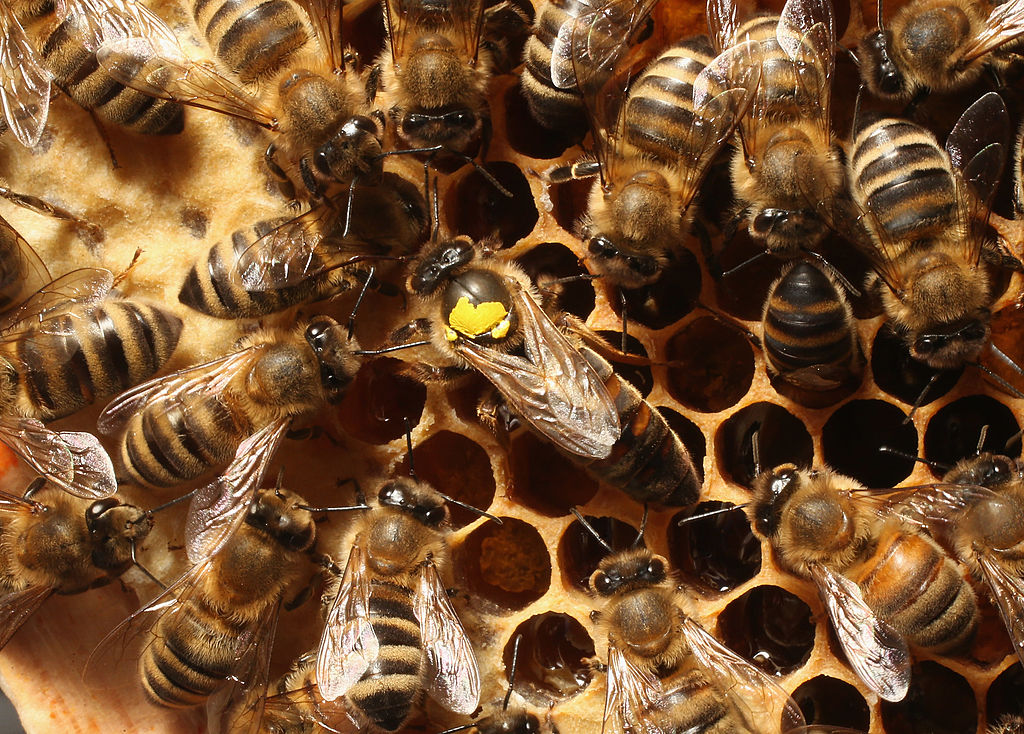 Sean Gallup/Getty Images
The spring of 2008 was brutal for Europe's honeybees. In late April and early May, during the corn-planting season, dismayed beekeepers in Germany's upper Rhine valley looked on as whole colonies perished. Millions of bees died. France, the Netherlands and Italy reported big losses, but in Germany the incident took on the urgency of a national crisis. "It was a disaster," recalled Walter Haefeker, German president of the European Professional Beekeepers Association. "The government had to set up containers along the autobahn where beekeepers could dump their hives."
An investigation in July of that year concluded that the bees in Germany died of mass poisoning by the pesticide clothianidin, which can be 10,000 times more potent than DDT. In the months leading up to the bee crisis, clothianidin, developed by Bayer Crop Science from a class of insecticides called neonicotinoids, had been used up and down the Rhine following an outbreak of corn rootworm. The pesticide is designed to attack the nervous system of crop-munching pests, but studies have shown it can be harmful to insects such as the European honeybee. It muddles the bees' super-acute sense of direction and upsets their feeding habits, while it can also alter the queen's reproductive anatomy and sterilise males. As contaminated beehives piled up, Bayer paid €2m (£1.76m) into a compensation fund for beekeepers in the affected area, but offered no admission of guilt.
The die-off forced a reckoning among European farmers. Hundreds of studies examined the safety of neonicotinoids, known as neonics, and their links to colony collapse disorder (CCD), in which worker bees abandon the hive, leaving the queen and her recent offspring unprotected, to starve. In 2013, the evidence led to a landmark European commission ruling, imposing a moratorium on clothianidin and two other major neonics – the world's most popular pesticides. In April 2018, Europe went a step further. The commission extended the ban on the trio of neonics to virtually everywhere outside greenhouses, citing evidence that by harming pollinating insects, neonics interfere with the pollination of crops to the value of €15bn a year. Environmentalists cheered the victory. Regulators beyond Europe plan to follow.
For Haefeker at the beekeepers association, who had spent years campaigning against the use of neonics, victory was sweet, but short-lived: faced with multiple threats from modern farming methods, beekeepers know the insecticide ban alone is not enough to save the honeybee.
Honeybees originated in Eurasia roughly 35m years ago, and as long as they have had steady access to flowering plants, they have thrived. But in the modern world, bees face all kinds of dangers. Colony collapse is not a single malady, but rather an amalgamation of different challenges. Alongside the dangers of pesticides, diseases such as Israeli acute paralysis virus, gut parasites and invasive parasites such as the varroa mite can overwhelm the bees' immune systems. Industrial agriculture imposes its own threats: a mania for monocultures has led to shrinking foraging habitats, while, according to the US Environmental Protection Agency, bees employed in commercial pollination, in which hives are stacked high on trucks and driven around the country to pollinate almond trees and other crops, get highly stressed, which damages their resilience and eating habits.
Since the EU began phasing out neonics, in 2014, the honeybees' recovery has not been as dramatic as hoped. Neonics are probably not the biggest factor in the demise of bees, but they are the easiest to outlaw. To farmers, this seems outrageously unfair. Citing an industry-funded study, they say the ban will cost the EU agriculture sector €880bn annually in diminished crop yields.
Another, more controversial, response to the slump in bee populations is in the works. This is the plan to create a more resilient strain of honeybee – a genetically modified superbee. The technology for creating GM honeybees is in its infancy, and still confined to the laboratory. But, if successful, it could lead to a hardier species, one that is resistant to natural and manmade hazards: viruses, varroa mites, pesticides and so on. If we can't change modern farming practices, the thinking goes, maybe we should change the bees.
The prospect horrifies many bee people – from commercial beekeepers such as Haefeker to passionate amateurs – who see a lab-made superbee as a direct threat to the smaller, struggling bee species. Traditional beekeepers have a name for them that expresses their fear and suspicion: Frankenbees.
Like many beekeepers, Haefeker is an activist and conservationist. A kind of bearded Lorax, Dr Seuss's valiant spokesman for threatened trees, Haefeker speaks for the bees. For much of the past two decades, he has sounded the alarm on declining bee health, bringing his message to lawmakers in Brussels, Berlin and Munich, before judges at the European court of justice in Luxembourg, to investor roundtables in London, to beekeeper conferences in Istanbul, Austria and Rome, and to corporate gatherings of the agrichemical industry around Europe.
When we met in Bavaria a week after the EU extended its neonics ban, I expected Haefeker to be in celebratory mood. But over lunch at a favourite roadway tavern an hour outside Munich, he explained that he considers the development of GM bees – however long it takes to get them in production – an even greater threat to the humble honeybee. "I don't expect it to be commercialised next week, but then I don't want to leave anything up to chance," Haefeker said. "The public has been pretty late on a whole bunch of bad ideas. We don't want to be late on this one."
Some beekeepers worry that, if the agriculture industry succeeds in building and patenting a blockbuster, mite-free, pesticide-proof superbee, it would dominate and destroy the vibrant local market in conventional bee strains. There are health fears, too: the sting of GM bees may introduce new allergy risks. And beekeepers are afraid they would not be able to protect the gene pool of traditional strains such as the beloved Apis mellifera, the scientific name for the European honeybee, against a dominant, pesticide resistant, lab-designed version.
Jay Evans heads the bee research lab at the US Department of Agriculture, where they are looking at various threats to bee health. Designing a truly pesticide-resistant honeybee, a "bulletproof bee", as Evans calls them, would "throw a lot of nature under the bus".
It is always hive-like – 30C and humid – in the narrow, windowless laboratory where genetically engineered honeybees are created on the campus of Heinrich Heine University in Düsseldorf, Germany. One June day, three students in T-shirts were on the morning shift. Two of them silently inspected plastic honeycomb discs. Each disc contained 140 tiny plug holes, in each of which a single honeybee embryo was growing. These discs were then passed to a third student at a separate workstation, where, with remarkable dexterity, she injected each egg with an sgRNA gene-manipulation solution, a main ingredient in a revolutionary new gene-editing technique called Crispr-Cas9.
Crispr technology has transformed microbiology in recent years by allowing scientists to copy a desirable part of the DNA strand and insert it directly into the chromosome of the target specimen. Now, with great precision, scientists can remove harmful mutations or unwanted traits, or insert a desired trait. In the US, you can buy a Crispr apple that doesn't brown. Medical researchers, meanwhile, see Crispr as a promising route to making mosquitos resistant to the malaria parasite.
The director of the Düsseldorf lab is Martin Beye, a giant in the field of evolutionary genetics. In 2003, Beye and his colleagues were the first to pinpoint the gene variants, or alleles, that determine the sex of honeybees. Three years later (coincidentally, just as scientists determined the likely causes of colony collapse disorder), Beye and an international team of biologists decoded the Apis mellifera honeybee genome, a breakthrough that transformed the field of bee biology. Scientists now have an understanding of bee health down to the chromosomal level, enabling them, for example, to analyse precisely how pathogens and parasites affect their bee hosts. Genomics can take much of the guesswork out of breeding, too, revealing the precise gene markers that make stocks more resilient to stressors and disease. Once the genome was cracked, it was only a matter of time before the scientific community would build a designer bee. In 2014, Beye's lab claimed that crown.
The gene-injection method Beye's team pioneered, and laid out in their 2014 research paper, is painstaking and fraught with risk. To demonstrate, a student motioned for me to peer into her microscope. The faint outline of a tiny needle and its intended target, the egg, came into focus. Magnified, the egg looked like a smooth grey balloon, the kind performers at children's parties tie into poodles and giraffes. Poke the egg at the wrong angle, or with too much pressure, or with an imprecise dosage, and it will pop. And the injection has to be stealthy enough to leave no marks. If the worker bees, the hive's fastidious caretakers, sense in any way the pupae are not perfect, they cast them from the nest, leaving them for dead. Only the pristine survive.
To increase the odds of success, Beye's team keep their injected embryos away from the workers at first, incubating in an artificial hive. Only after 72 hours do they slip the fittest of their modified larvae specimens into a queen-rearing colony. What happens next is similar to the conventional queen-breeding method. The researchers graft the larvae into cell cups lined with royal jelly, the nutrient rich compound that young larvae gorge on to become queens. Even so, the workers, on average, rejected three out of four mutant larvae. But the survival rate was enough to guarantee the birth, in 2014, of the world's first genetically modified honeybee queens.
I was also shown the transgenic queens. Up close, they looked vigorous, but unremarkable. The researchers affixed a magenta-coloured ID tag to the queen's back, between the base of her wings. She mingled with ordinary worker bees in a small wooden nucleus hive. The sides were made of a hard plastic for viewing. Beye's research team told me their transgenic bees behave no differently than any other Apis mellifera honeybees. The queen and the workers covered every inch of their cramped confines, popping in and out of a small well containing water. After a week or so, the queen would be moved outside to a flight cage.
Beye's researchers believe manipulating the genome of the European honeybee will lead to new insights into what makes this species unique – which genes make them such meticulous groomers, or which genes programme the worker bees' super-assiduous attention to looking after their young. They want to know why bees are so good to each other. Is this instinct to work tirelessly for the good of the hive something learned, or genetic?
Beekeepers, dismayed at the prospect of GM bees becoming a reality, made a huge fuss about Beye's work. Many suspected his lab was bankrolled by the agriculture industry, or "Big Ag".
"The beekeeper associations … " Beye said, shaking his head in lingering disbelief. In person, he is affable and professorial. "They thought we were working with Bayer. I mean, they're very close by: Bayer's headquarters is maybe 20km from here." He insisted inferences of a Bayer connection were totally false.
Beye and Marianne Otte, his research partner, explained that the purpose of their work was to understand the genetic basis for bee behaviour and health. It was never to build a pesticide-resistant bee. Building a GM bee, Beye said, is "a stupid idea". The world doesn't need chemical-resistant bees, he says. It needs farming practices that don't harm bees. "They should be working on that. Not on manipulating the bee."
But the truth is that Beye's highly detailed paper serves as a kind of blueprint for how to build a bee. Thanks to research like his, and the emergence of tools such as Crispr, it has never been cheaper or so straightforward for a chemical company to pursue a superbee resistant to, say, the chemicals it makes. Takeo Kubo, a professor of molecular biology at the University of Tokyo, was the second scientist in the world to make a genetically modified bee in his lab. He told me that he, too, is focused on basic research, and has no ties to the agriculture industry. But, unlike Beye, he welcomes the prospect of GM bee swarms buzzing around the countryside. Lab-made, pesticide-resistant bees could be a real saviour for beekeepers and farmers, he says. And, he adds, the science is no more than three years away. "I'm now 57 years old," he told me via email, "and completely optimistic to see such transgenic bees in the marketplace in my lifetime!"
It is not yet legal to release genetically engineered bees into the wild, but the private sector is already watching closely. One US startup contacted Beye's lab offering to help commercialise their breakthrough research. Beye said no.
Beekeepers tend to see the world through the eyes of their bees. After a few hours in their presence, you too begin to re-evaluate your surroundings. The monochrome sameness of our farmlands – that vast, neat checkerboard of green and brown that feeds us mammals so well – can be a desert for foraging pollinators. The shocking yellow brilliance of rapeseed in blossom each spring can be a reservoir of pesticides. Beekeepers have learned to mitigate the risks and adapt, mainly by moving their hives around an ever-dwindling patch of safe zones. But the genetically modified bee, which can breed with other species and looks just like bees hand-raised from carefully chosen strains, is an altogether more dangerous challenge.
Jay Evans at the US agriculture department, an entomologist and beekeeper, admires Beye's work, but thinks his breakthrough GM bee should remain confined to the lab. "The road to making a superbee looks really long to me, and probably not necessary," he said. "I don't see the justification."
Haefeker, a former tech entrepreneur, came to beekeeping late in life, around his 40th birthday. After spending two decades in Silicon Valley, he, his wife and two sons returned home to Germany in 2001, settling in a picturesque village on Lake Starnberg, halfway between Munich and the Bavarian Alps. What started as a backyard hobby quickly became an obsession, then a growing business. Haefeker studied everything about beekeeping, from hive maintenance to nutrition. Later, he developed an iPhone app for breeders called iQueen and started a podcast called Bienenpolitik, or Beekeeping and Politics. One of the few tech-savvy beekeepers in bucolic Upper Bavaria, in 2003 Haefeker was recruited to join the local professional beekeepers association where second- and third-generation beekeepers routinely grumbled about modern farming practices gobbling up open space. His first assignment was to investigate an issue that nobody at the organisation knew much about: GM crops. "I had no opinion of GMOs (genetically modified organisms)," he recalls. "But as the new kid on the block it was my job to figure out: is this going to have an impact on us?".
Haefeker's investigations into GMOs turned into a decade-long crusade. What began as a local case involving a Bavarian beekeeper with GMO-contaminated honey grew into an epic battle, pitting Europe's beekeepers against two giants: Monsanto, the biotech giant that markets MON810, the pest-resistant genetically modified maize, and the World Trade Organization, which, at the time, was pressuring the EU to give GM crops a chance. The beekeepers eventually won a huge victory in 2011 in the European court of justice, keeping European honey, for now, virtually GMO-free. The fight continues, but the beekeepers' message was clear: don't underestimate us.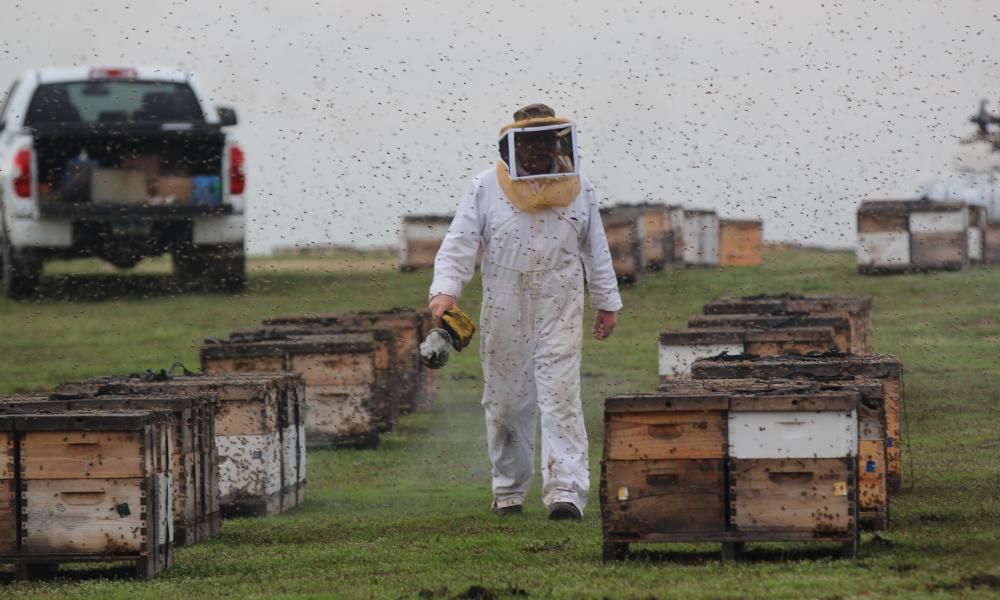 A beekeeper in California with his hives. Photograph: Brett Murphy
The agrichemical companies' business model is to dominate both ends of the market. They sell the farmer the chemical that kills the pests, and then they sell them their patented seeds, genetically engineered to withstand those very chemicals. (Monsanto's top-selling line of Roundup Ready herbicide-resistant seeds are marketed as the best defence against Roundup, Monsanto's top-selling herbicide.) The multinationals have locked farmers into contracts that prevent them from manipulating the seeds to develop their own cross-breed.
Beekeepers fear genetic engineering of honeybees will introduce patents and privatisation to one of the last bastions of agriculture that is collectively managed and owned by no one. "Think about it," Haefeker told me, "the one area Big Ag doesn't yet control is pollination." And pollination is huge. The UN's Food and Agriculture Organization (FAO) estimates that pollinators help farmers grow crops worth up to $577bn (£437bn) annually.
Damage to the bee population, by harming a vital pollinator, is already threatening crops worldwide. Outside FAO's headquarters in Rome, a neon billboard flashes in English, Italian and Arabic a series of urgent save-the-planet messages. Save the bees tops the list. If bees disappear, food crops and animal feeds, not to mention the raw materials for biofuels (from canola and palm oil), textiles (cotton) and medicines, will simply vanish from much of the planet. It has got so bad in some parts of China that humans already pollinate some crops by hand. In what feels like a riff on a Black Mirror episode, Harvard researchers are working on the RoboBee, a flying robotic pollinator that is half the size of a paperclip and weighs less than one-tenth of a gram. In March 2018, Walmart filed a series of patents for its own tiny robotic pollinators.
Beekeepers and conservationists believe bees should be left to evolve on their own, helped only by protection of open spaces and best-practice natural breeding methods. Conventional bee breeding has embraced technology in recent years via the introduction of apps, tracking software and temperature-controlled "finishing" incubators. But the method is otherwise little changed from ancient times. During the year, beekeepers will perform what they call "splitting the hive", or separating a portion of the colony, frame by frame, and putting the frames in new hives with new inhabitants. This can invigorate the gene pool by introducing hardy newcomers.
"Before the introduction of neonicotinoids," Haefeker said, "about 15 years ago, you'd open up the hive and it was bursting with healthy bees. That level of reproductive energy is really crucial."
During 2008, Germany's infamous season of heavy colony losses, the dead piled up on the ground under Haefeker's hives and along the hive's inner floor. "It's got better in recent years, since the bans went into place. But we're not yet back to where we were in the days before neonics," he said. "That will take years." He tests the spring pollen for traces of neonics and other chemicals. The level of contamination is much improved, he says. On his property in Bavaria, he offered me a pinch of raw pollen. The sharp, sweet taste lingered on my tongue. I peered down to get a good look at the workers entering one of the hives. They streamed in one by one, their thighs weighed down with yellow balls of dandelion pollen. "It's good, isn't it?" Haefeker chuckled proudly.
By late July, cracks had appeared in the new neonics law. More than a dozen EU member states sought loopholes to stay the ban, and Bayer pledged to appeal against its legal basis, warning that the ban would limit our ability to grow the quantities of "safe, affordable" food we need.
Despite the setback, Haefeker remains defiant. "Their business model is obsolete," he told me on the phone in July 2018. The "big six" companies of Big Ag are in the process of merging into three, forming Bayer-Monsanto, Dow-DuPont and Syngenta-ChemChina. This historic, quarter-of-a-trillion-dollar spending spree is a sign of market uncertainty, Haefeker asserts, not strength. The future, he says, is big data. Sensor- and computer-assisted crop care – digital crop protection, as it is known, in which tiny robots and drones will tend to rows and rows of crops round the clock, picking off pests and releasing super-precise flows of irrigation – will feed the planet's billions, not chemicals. "I've been telling them this for years."
However ground down by Haefeker's tireless advocacy for bees they may be, Bayer officials told me they largely concur with his view that the industry is beginning to grow less reliant on chemicals, and investing more in big data and tiny robots. They even let Haefeker in the building from time to time to discuss that digital future.
Humans have been consuming honey since our hunter-gatherer days. Not long after we began farming, we started keeping bees (sugar came several millennia later). About 10,000 years ago artists depicted apiculture on the walls of Spanish caves, and, centuries after that, demand for bees wax and honey drove commerce across the empires of ancient Greece and Rome. In the 20th century, apiology, the study of bees, took off. In the 1920s, Austrian zoologist Karl von Frisch was the first to explain the meaning of the honeybees' waggle dance, which communicates to other bees the direction and distance of a food source; a half-century later he won the Nobel Prize. Honeybees are eusocial creatures, making them one of the most studied insects on the planet. Researchers study the species to understand how the human brain works and to improve the design of supercomputers. Bees, it turns out, can even do abstract maths.There are 22 million beekeepers across 146 countries, estimates Apimondia, a 123-year-old organisation that protects and promotes the livelihood of beekeepers, and lately they have been seeing a dramatic rise in membership. "During a downturn in the economy of a country, the number of new members increases," Philip McCabe, an Irish beekeeper and president of Apimondia, told me. The media attention around colony collapse and bee health continues to bring in new members as well.

In October 2017, Haefeker delivered a presentation at Apimondia's International Apicultural Congress in Istanbul, unveiling Apimondia's answer to Frankenbees. Like Haefeker himself, the fix he proposes is geeky and left-leaning: an open-source license for honeybees. A software engineer, he takes inspiration from the free software movement of the 1980s and 90s, which gave birth to the "open source" concept. Now, he sees such a licence promoting open collaboration as the perfect model to protect the beekeepers from a nightmare scenario – powerful corporations building a genetically engineered bee that they then commercialise and lock down with patents and trademarks.
In his opening remarks, Haefeker launched into what he called "the big question". "Did anybody ask our permission before they took our bees, the bees we have been working on, selecting and breeding within Apimondia, before the scientists decided to take these bees and modify them?" The answer was, of course, no. Until that moment, nobody, not even beekeepers, claimed an ownership stake on the bees' genetic code. Anyone can start a hive, which might explain why you can find beekeepers tending to hives in Yemeni war zones, on the roof of Paris' Bastille opera house and in Tanzanian refugee camps. The free exchange of breeding materials – from the queens and her eggs to the drones' sperm – has long been encouraged to keep colonies genetically diverse. Through this free exchange, we preserve a common resource, benefitting everyone and everything. The beekeepers get healthier colonies out of the arrangement. We get flowers, food and honey.
To get around any attempt by the agriculture industry to distribute and license superbees, Apimondia is seeking to enshrine this freedom as a right in the form of an open-source contract, establishing bee breeding as a public good that nobody can own outright.
"This is the most efficient way to legally protect our bees from patenting and privatisation by commercial interests," Haefeker insists. Later, he told me, "we don't want to get screwed, the way farmers did by corporations and their GM patented seeds."
Apimondia has minuscule lobbying resources, but it has lined up powerful allies, including the FAO, environmental NGOs and scientific advisers. Together, they press for international treaties to protect vital pollinators. Now Apimondia, too, is sounding the alarm on GM honeybees. Radical bee-breeding experiments don't always end well, McCabe reminded me. Beekeepers won't soon forget the story of the Africanised bee, a cross-breed between the African bee and European strains introduced in South America in the 1950s. It escaped quarantine, mated with indigenous species and then multiplied and multiplied, venturing thousands of miles north into the US, breeding with local species and quickly coming to dominate their gene pool. It landed the unfortunate, even nativist, nickname "African killer bee" for the aggressive manner in which it defends its nest. "That's what we're concerned with," McCabe says, "any inter-breeding that messes with the genetics of indigenous bee populations."
Jay Evans keeps bees on the grounds of his job at the USDA, at the government research facility in Maryland, 30 minutes north of Washington DC. I contacted him by phone and asked how things were going.
"Terribly," he said with a wry laugh. "The losses have doubled in the last 10 years." He blames a host of factors, with disease and parasites such as the varroa mite chief among them. Beekeepers, he added, are closely watching what happens next in Europe. "I go to beekeepers' meetings all the time. They're suffering. They're trying to keep their operations afloat. They're desperate for a new solution, or technology, or regulation. Anything," he says. But there's consensus on what they don't want. "When I talk to a group, I talk a lot about genetics. And occasionally they'll say: 'Are you making a transgenic bee, one of those Frankenbees?'"
Haefeker and his business partner, Arno Bruder, run their beekeeping enterprise on a field bordering two organic farms in Upper Bavaria. Their colonies have recovered somewhat since the neonics ban went into effect, he said, but they take steps to protect their hives. A lot of beekeepers pack their hives on to trailers and position them near nature reserves or in fields like the one in which we stood. "Over time you learn where you have the worst exposure to whatever it is that harms the bees," Haefeker said.
He pulled out a frame to reveal a queen. Like an awkward commuter on the tube, she brushed up against every inhabitant near her as she made her way from one end of the frame to the other. The jostling has a purpose; it reassures the cavorting masses. "It's the queen's pheromones," he explained. It makes them relaxed and productive. "The pheromones affect us beekeepers, too." He says he plans to harness this anti-stress essence and build a kind of a bee-powered wellness centre on the two-hectare property. I pictured Munich's pampered classes soaking up queen-bee pheromones in a lodge in the hills around Lake Starnberg. A moment later, Haefeker put the frame back, closed the lid, and surveyed his hives with satisfaction. He and Bruder then discussed what's next.
Keeping bees safe from pesticides is labour-intensive and requires specialist local knowledge. Bruder agreed to wake before dawn the following morning and pack up some of the hives, load them on to a trailer and drive the bees to higher ground. They had decided on a region in the foothills of the Alps, about an hour away, near the Wieskirche, an 18th-century church on the Unesco world heritage list. There would be fresh dandelion flowers up there. The bees would be further away from intensive agriculture, said Haefeker. "We've scouted out the locations."
Meanwhile, it is possible that humankind has even more extreme designs on bees. In October 2018, Haefeker sent me a message pointing to something called Insect Allies, a $45m research project sponsored by Darpa, the US Department of Defense's military research department. It proposes using insects to carry immune-boosting mutations designed to protect crops from drought, flooding, pathogens and bioweapons. In essence, the visiting insects would modify the plant's genetic makeup. A group of academics from universities in Germany and France declared the programme's existence alarming, saying it turns the insects themselves into bioweapons.
Darpa does not say what kind of insects it plans to use, but Haefeker did not like the sound of it. "We need to keep an eye on this craziness," his text read, "in case they want to use bees to transport their genetically modified viruses into crops."
This article was originally published on October 16, 2018, by The Guardian, and is republished here with permission.
Bricks Alive! Scientists Create Living Concrete
"A Frankenstein material" is teeming with — and ultimately made by — photosynthetic microbes. And it can reproduce.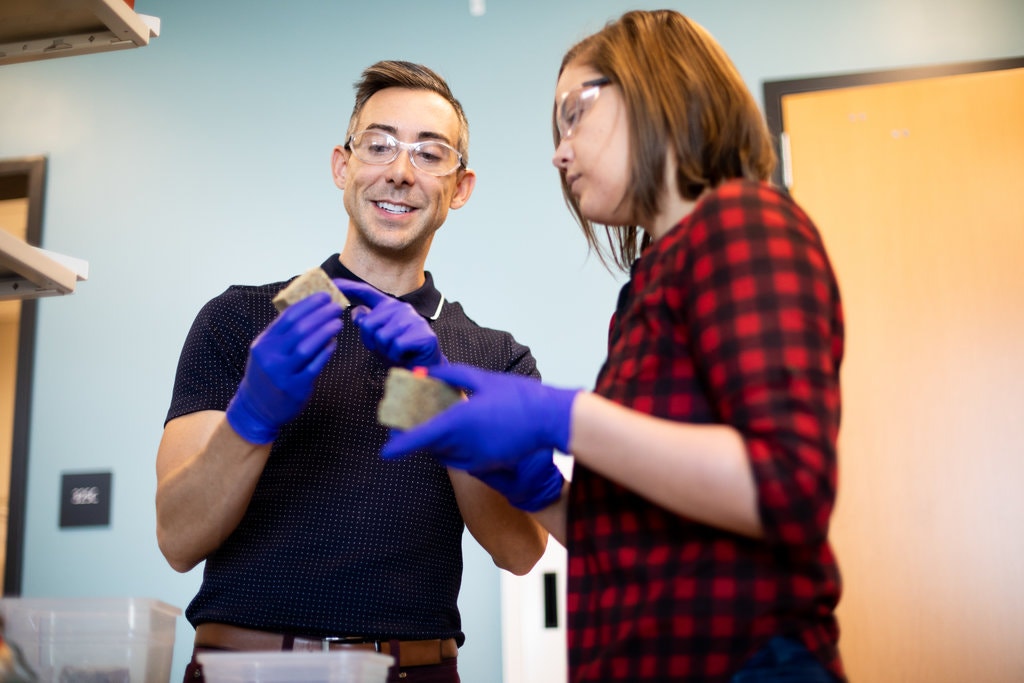 Wil Srubar, left, a structural engineer at the University of Colorado, Boulder, and materials science and engineering PhD student, Sarah Williams, holding bricks of building matter made from cyanobacteria and other materials.Credit…CU Boulder College of Engineering & Applied Science
By Amos Zeeberg Jan. 15, 2020
For centuries, builders have been making concrete roughly the same way: by mixing hard materials like sand with various binders, and hoping it stays fixed and rigid for a long time to come.
Now, an interdisciplinary team of researchers at the University of Colorado, Boulder, has created a rather different kind of concrete — one that is alive and can even reproduce.
Minerals in the new material are deposited not by chemistry but by cyanobacteria, a common class of microbes that capture energy through photosynthesis. The photosynthetic process absorbs carbon dioxide, in stark contrast to the production of regular concrete, which spews huge amounts of that greenhouse gas.
Photosynthetic bacteria also give the concrete another unusual feature: a green color. "It really does look like a Frankenstein material," said Wil Srubar, a structural engineer and the head of the research project. (The green color fades as the material dries.)
Other researchers have worked on incorporating biology into concrete, especially concrete that can heal its own cracks. A major advantage of the new material, its creators say, is that instead of adding bacteria to regular concrete — an inhospitable environment — their process is oriented around bacteria: enlisting them to build the concrete, and keeping them alive so they make more later on.
The new concrete, described Wednesday in the journal Matter, "represents a new and exciting class of low-carbon, designer construction materials," said Andrea Hamilton, a concrete expert at the University of Strathclyde, in Scotland.
To build the living concrete, the researchers first tried putting cyanobacteria in a mixture of warm water, sand and nutrients. The microbes eagerly absorbed light and began producing calcium carbonate, gradually cementing the sand particles together. But the process was slow — and Darpa, the Department of Defense's speculative research arm and the project's funder, wanted the construction to go very quickly. Necessity, happily, birthed invention.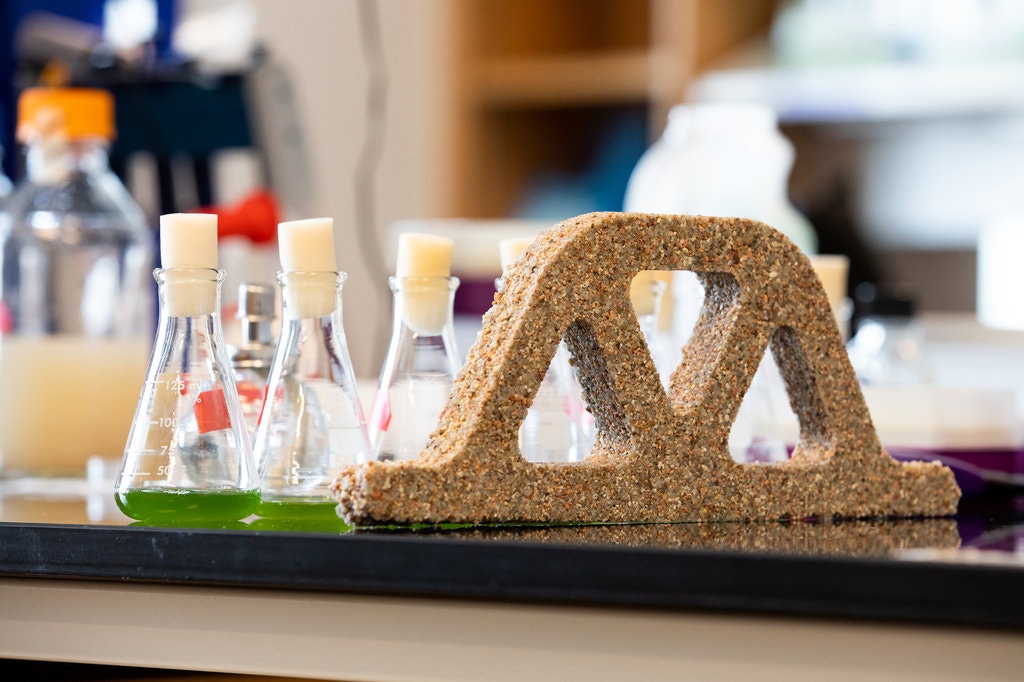 An arch made from living building materials in Dr. Srubar's lab.Credit…CU Boulder College of Engineering & Applied Science
Dr. Srubar had previously worked with gelatin, a food ingredient that, when dissolved in water and cooled, forms special bonds between its molecules. Importantly, it can be used at moderate temperatures that are gentle on bacteria. He suggested adding gelatin to strengthen the matrix being built by the cyanobacteria, and the team was intrigued.
The researchers bought Knox brand gelatin at a local supermarket and dissolved it in the solution with the bacteria. When they poured the mixture into molds and cooled it in a refrigerator, the gelatin formed its bonds — "just like when you make Jell-O," Dr. Srubar said. The gelatin provided more structure, and worked with the bacteria to help the living concrete grow stronger and faster.
After about a day, the mixture formed concrete blocks in the shape of whatever molds the group used, including two-inch cubes, shoe box-size blocks and truss pieces with struts and cutouts. Individual two-inch cubes were strong enough for a person to stand on, although the material is weak compared to most conventional concretes. Blocks about the size of a shoe box showed potential for doing real construction.
"The first time we made a big structure using this system, we didn't know if it was going to work, scaling up from this little-bitty thing to this big brick," said Chelsea Heveran, a former postdoc with the group — now an engineer at Montana State University — and the lead author of the study. "We took it out of the mold and held it — it was a beautiful, bright green and said 'Darpa' on the side." (The mold featured the name of the project's funder.) "It was the first time we had the scale we were envisioning, and that was really exciting."
When the group brought small samples to a regular review meeting with officials from Darpa, they were impressed, Dr. Srubar said: "Everyone wanted one on their desk."
Stored in relatively dry air at room temperature, the blocks reach their maximum strength over the course of days, and the bacteria gradually begin to die out. But even after a few weeks, the blocks are still alive; when again exposed to high temperature and humidity, many of the bacterial cells perk back up.
The group can take one block, cut it with a diamond-tipped saw, place half back in a warm beaker with more raw materials, pour it in a mold, and begin concrete formation anew. Each block could thus spawn three new generations, yielding eight descendant blocks.
The Department of Defense is interested in using the reproductive ability of these "L.B.M.s" — living building materials — to aid construction in remote or austere environments. "Out in the desert, you don't want to have to truck in lots of materials," Dr. Srubar said.
The blocks also have the advantage of being made from a variety of common materials. Most concrete requires virgin sand that comes from rivers, lakes and oceans, which is running short worldwide, largely because of the enormous demand for concrete. The new living material is not so picky. "We're not pigeonholed into using some particular kind of sand," Dr. Srubar said. "We could use waste materials like ground glass or recycled concrete."
The research team is working to make the material more practical by making the concrete stronger; increasing the bacteria's resistance to dehydration; reconfiguring the materials so they can be flat-packed and easily assembled, like slabs of drywall; and finding a different kind of cyanobacteria that doesn't require the addition of a gel.
Eventually, Dr. Srubar said, the tools of synthetic biology could dramatically expand the realm of possibilities: for instance, building materials that can detect and respond to toxic chemicals, or that light up to reveal structural damage. Living concrete might help in environments harsher than even the driest deserts: other planets, like Mars.
"There's no way we're going to carry building materials to space," Dr. Srubar said. "We'll bring biology with us."
A Towering Turtle of Discarded Industrial Junk Welded by Ono Gaf
July 31, 2014 Christopher Jobson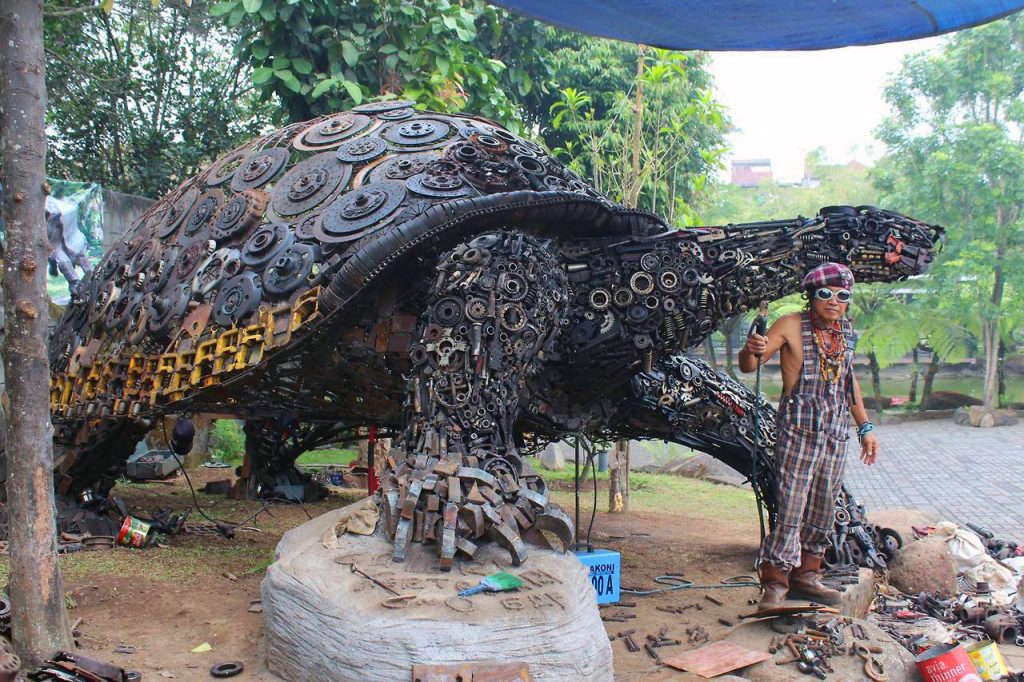 Photo by Gina Sanderson
Indonesian artist Ono Gaf works primarily with metallic junk reclaimed from a trash heap to create his animalistic sculptures. His most recent piece is this giant turtle containing hundreds of individual metal components like car parts, tools, bike parts, instruments, springs, and tractor rotors. You can read a bit more about Gaf over on the Jakarta Post, and see more of this turtle in this set of photos by Gina Sanderson. (via Steampunk Tendencies)
Photo by Gina Sanderson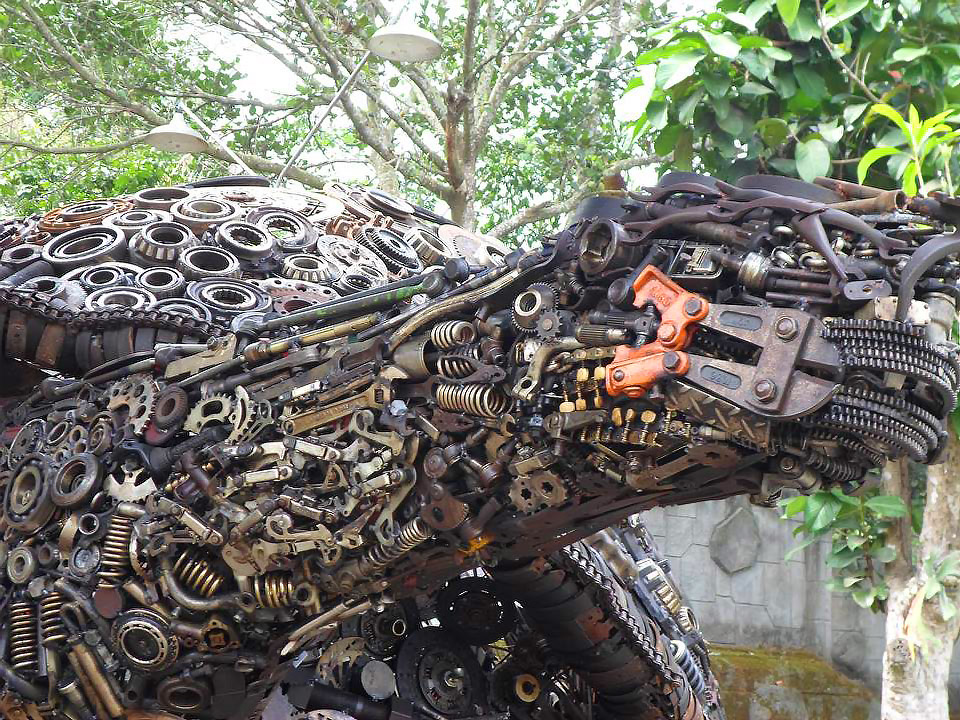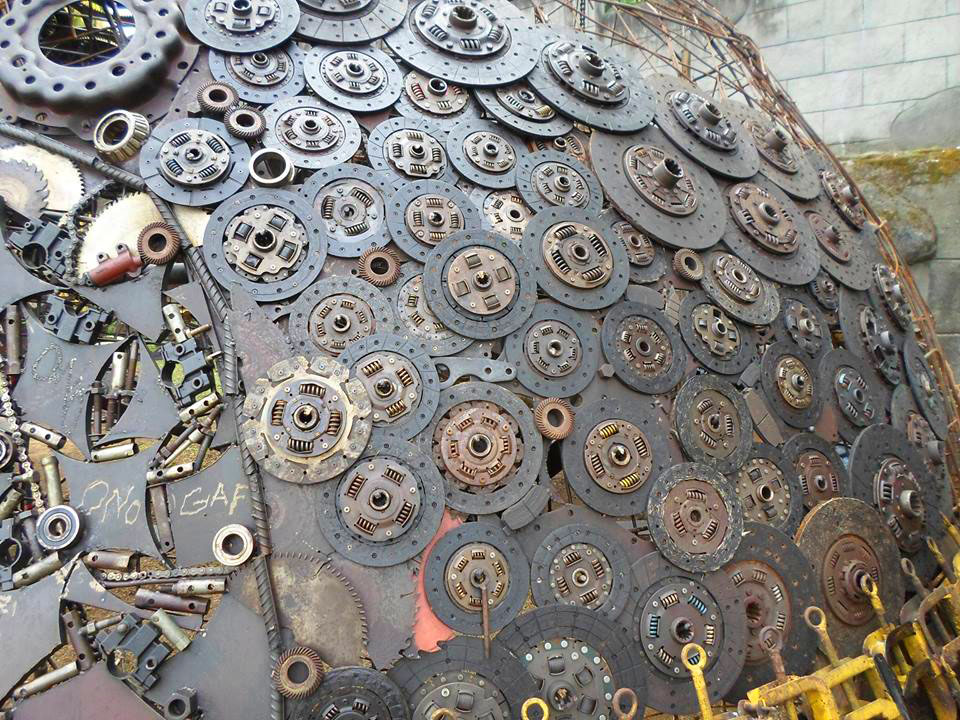 Photo by Gina Sanderson
A Kinetic Sculpture Built from over 600 Parts Gracefully Imitates a Swimming Sea Turtle
November 2, 2018 Kate Sierzputowski
Carapace is a kinetic sculpture designed by Derek Hugger (previously) that mimics the motion of a sea
turtle gliding through the ocean. The wooden work is composed of over six hundred parts which allow the creature to elegantly tilt its fins, move its body up and down, and even crane its head as if rising above the water for air. A single crank controls the complex structure of gears and mechanisms which were designed to flow as organically as possible.
"A non-trivial amount of time was spent watching and studying videos of turtles swimming," explains Hugger. "Getting the motions of Carapace to closely resemble the motions of real turtles was a true challenge. Countless hours were spent refining the sculpture's motion to be as lifelike as possible, even before any mechanisms were developed to drive those motions."
Hugger has also developed a hummingbird in addition to several abstract wood sculptures. You can see these works in action on his website and Youtube.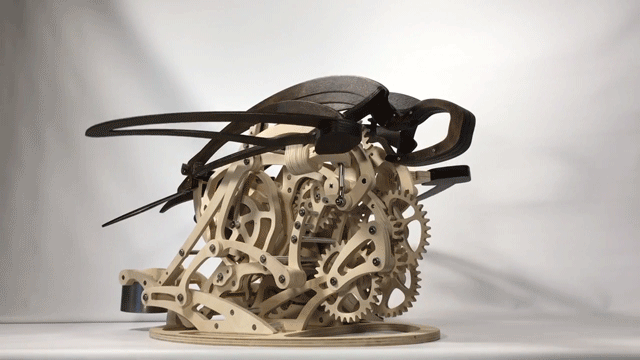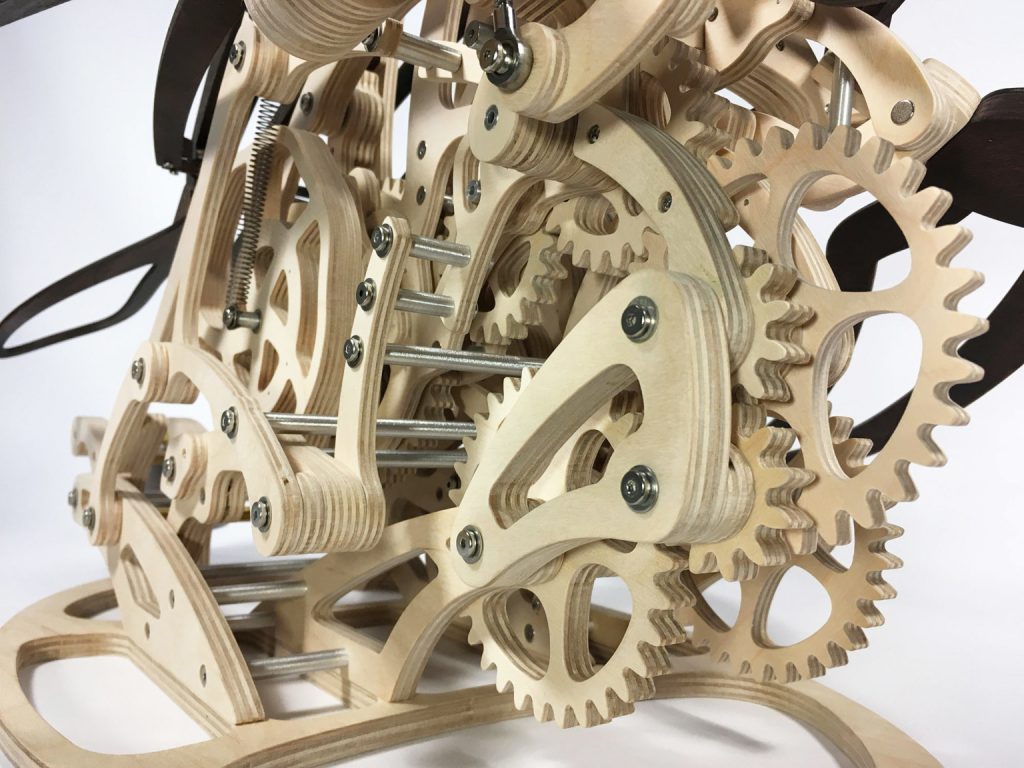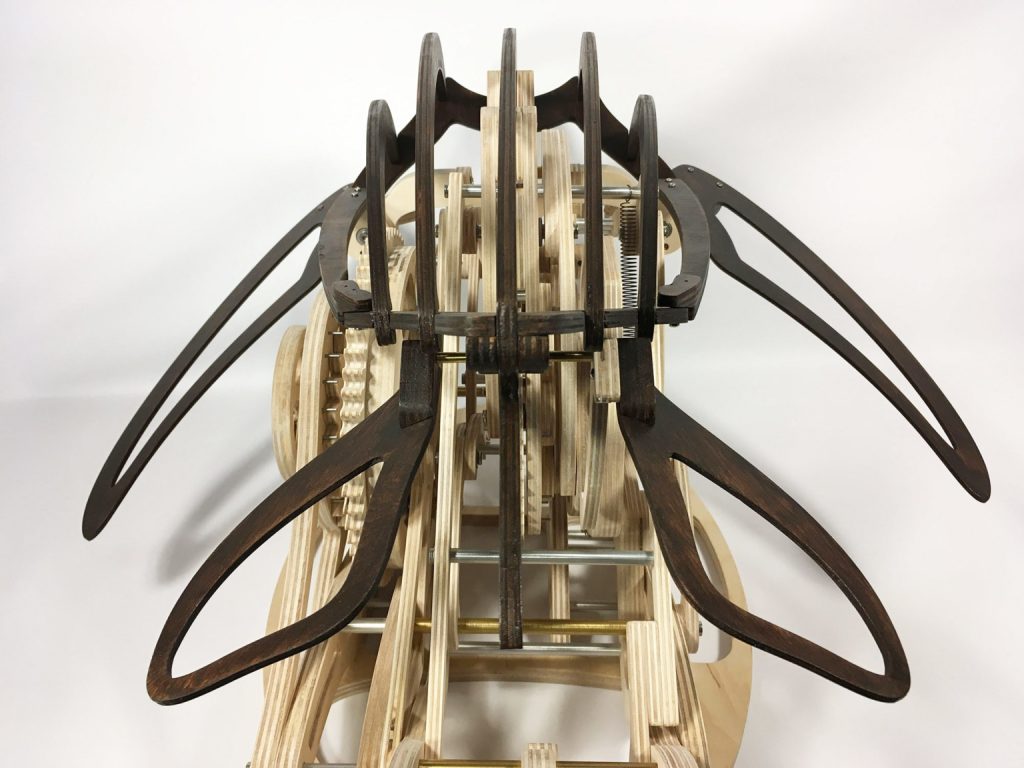 Carapace: an organic motion sculpture
Oct 27, 2018 Derek Hugger
Make your own! Woodworking plans are available at http://www.derekhugger.com/carapace.html Carapace is a wooden kinetic sculpture that simulates the motion of a sea turtle swimming. A complex series of mechanisms allows Carapace to swim up and down, tilt forward or back, and even lift its head up for a breath of air. As each mechanism is carefully linked to the next, each of Carapace's flowing motions are driven by turning a single crank. For more videos and photos of Carapace, check out: https://www.facebook.com/derekhuggerk… The music is "Morning Mist" by Marika Takeuchi.
Category Science & Technology
Urban Species: Kinetic Lifeforms Created by U-Ram Choe
July 15, 2013 Christopher Jobson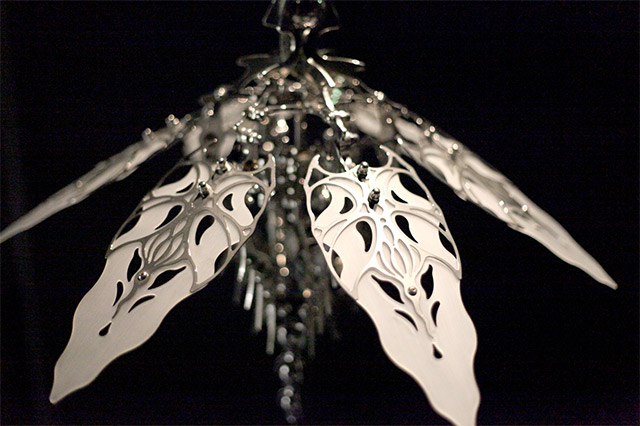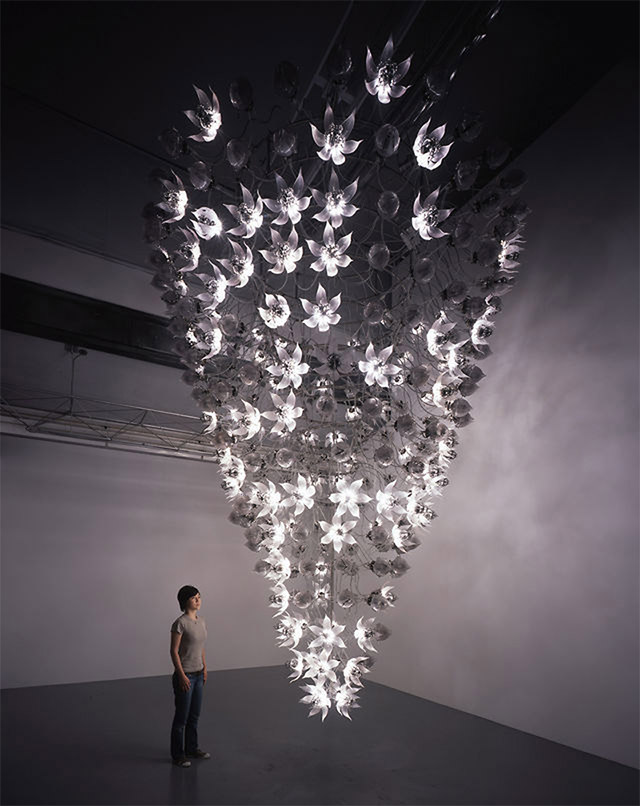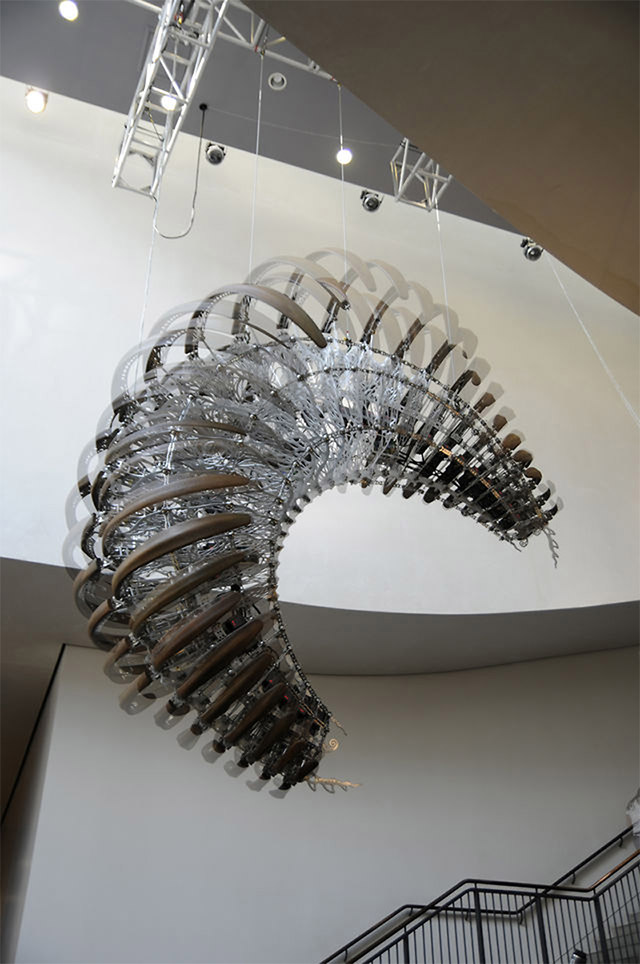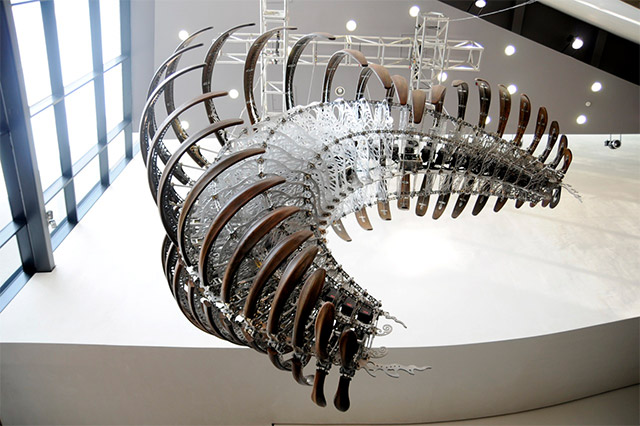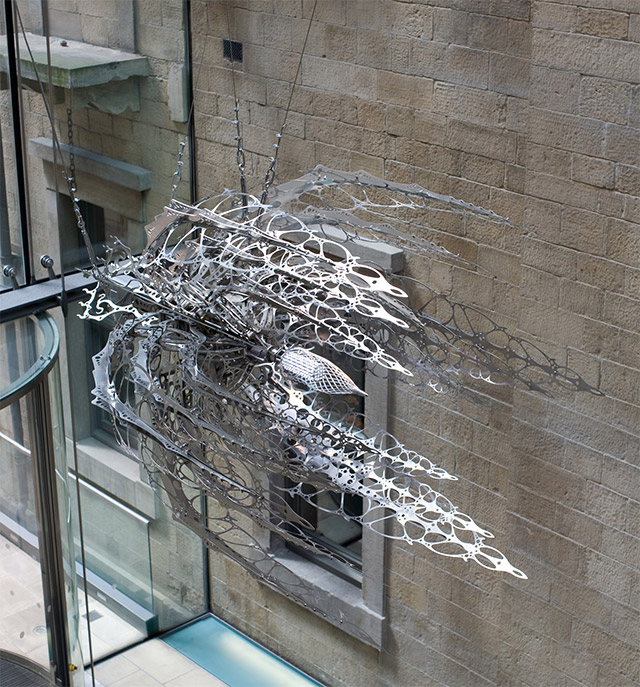 URAM Choe: New Urban Species Exhibition
Mar 29, 2010 Frist Art Museum
U-Ram Choe: New Urban Species is on view at the Frist Center through May 16, 2010. Korean artist U-Ram Choes kinetic sculptures are made of delicately curved sections of wrought metal, joined together in movable parts that are driven by motors to expand, contract, or otherwise suggest the autonomic motions of such primitive life forms as plants and single-celled aquatic creatures. The intricate workmanship and graceful movements of these mechanical sculptures offer viewers an unparalleled visual delight.
Category Nonprofits & Activism
Kinetic Sculptor Puts Cyber Dreams In Motion
Nov 19, 2012 Creators
Through his prodigious understanding of robotics, U-ram Choe sees motion as a necessity in his work, creating moving, futuristic sculptures. For more information: http://thecreatorsproject.com/creator… The Creators Project is a partnership between Intel and VICE: http://thecreatorsproject.com/ ** Subscribe to The Creators Project: http://bit.ly/Subscribe_to_TheCreator… Check out our full video catalog: http://youtube.com/user/TheCreatorsPr… Facebook: http://fb.com/thecreatorsproject Twitter: http://twitter.com/creatorsproject Tumblr: http://thecreatorsproject.tumblr.com/
Category Science & Technology
Korean artist U-Ram Choe lives and works in Seoul where he creates highly ornate kinetic that mimic forms and motions found in nature. Choe uses various metals, motors, gears, and custom CPU boards to control the precise motions of each sculpture that are at times perfectly synchronized and other times completely random. With names like "Unicus – cavum ad initium" and "Arbor Deus Pennatus" it's clear the artist treats each new work like a brand new species.
The artworks are so complex each "organism" is shipped with a manual to show collectors and galleries how to maintain and fix various components. Choe tells the Creator's Project in one of the videos above how some of the works in his studio live a complete lifecycle where they are at first born and put on display, but after time begin to degrade as certain parts stop working. Eventually he raids old artworks for parts and uses them to build new ones.
Watch the videos above to see a good sampling of his work both old and new, and he has a huge archive of videos for nearly 50 artworks over on Vimeo.
Animation Music #music video #psychedelic
Slowly Rising: A Mesmerizing New Music Video by Hideki Inaba
November 3, 2015 Christopher Jobson
Directed and animated by Hideki Inaba, this dense and intensely beautiful music video was created for the track Slowly Rising, off the album Full Circle by BEATSOFREEN. The 3-minute animation features an unceasing barrage of seemingly infinite creatures, hybrids of flora and fauna, that swarm and multiply in space like schools of fish or flowers in a field. (via prosthetic knowledge)
Official music video for BEATSOFREEN ­" Slowly Rising"
directed by Hideki Inaba ?? ??
instagram.com/kanahebi1783/
twitter.com/kanahebi_1783
facebook.com/inabahideki1783
hide.tokyo
"Slowly Rising" suggested to me the image of the sun.
A seed was born beneath the sun, the source of all existence.
The seed absorbed the light. It created more seeds like itself, gradually increasing in number.
Time passed, but still their numbers slowly continued to rise,
and before long they were quietly swallowed up by their own shadows.
After everything that had lived had perished, nothing but an empty world remained.
There, once again, an environment where the next living things could grow silently began to spread.