PBS News: Jan 12 – 8, 2020, What's in the $1.4 trillion federal spending bill, This Paris program helps refugees tell their stories through art
TED Talks: Colette Pichon Battle climate change will displace millions here's how we prepare? And Kelsey Leonard Why lakes and rivers should have the same rights as humans
Scientific American: To Stop Wildlife Crime, Conservationists Ask Why People Poach
BBC Click: Best Of 2019, Tim Peake Talks Life In Space
Thisiscolossal: A 17-Story Dragon Climbs Thailand's Pink 80-Meter Buddhist Temple, Meticulous Detailed Carpets Drawn with Bic Pens by Jonathan Bréchignac
Great Big Story: Ascend Thailand's Temple of the Rising Dragon and Protecting Pangolins from Poachers in South Africa
Inspiration Grid: Surreal Digital Paintings by Cyril Rolando
PBS NewsHour Weekend full episode January 12, 2020
Jan 12, 2020 PBS NewsHour
On this edition for Sunday, January 12, the Trump administration defends a U.S. drone strike against Iran, House Democrats prepare to deliver impeachment articles this week, and the Latin Grammy-winning singer Concha Buika continues to defy genres with an eclectic mix of musical styles and languages. Hari Sreenivasan anchors from New York. Stream your PBS favorites with the PBS app: https://to.pbs.org/2Jb8twG Find more from PBS NewsHour at https://www.pbs.org/newshour Subscribe to our YouTube channel: https://bit.ly/2HfsCD6
PBS NewsHour Weekend full episode January 11, 2020
Jan 11, 2020 PBS NewsHour
On this edition for Saturday, January 11, Iran says the downing of a Ukrainian passenger plane last week was "human error," an influx of migrants attempting to head to the U.S. are stuck in limbo in Mexico amid shifting immigration policies, and neuroscientist Daniel Levitin explores how to age successfully. Hari Sreenivasan anchors from New York. Stream your PBS favorites with the PBS app: https://to.pbs.org/2Jb8twG Find more from PBS NewsHour at https://www.pbs.org/newshour Subscribe to our YouTube channel: https://bit.ly/2HfsCD6
PBS NewsHour live episode, Jan 10, 2020
Streamed live on Jan 10, 2020
Stream your PBS favorites with the PBS app: https://to.pbs.org/2Jb8twG Find more from PBS NewsHour at https://www.pbs.org/newshour Subscribe to our YouTube channel: https://bit.ly/2HfsCD6 Follow us: Facebook: https://www.pbs.org/newshour Twitter: https://www.twitter.com/newshour Instagram: https://www.instagram.com/newshour Snapchat: @pbsnews Subscribe: PBS NewsHour podcasts: https://www.pbs.org/newshour/podcasts Newsletters: https://www.pbs.org/newshour/subscribe
Category News & Politics
PBS NewsHour full episode, Jan 9, 2020
Jan 9, 2020 PBS NewsHour
Thursday on the NewsHour, the U.S. says it is likely that Iran shot down a Ukrainian passenger plane that crashed near Tehran early Wednesday. Plus: How Congress is attempting to limit President Trump's power to respond to Iran with military action, high stakes in Taiwan's upcoming election, Trump's rollback of seminal environmental regulations, a successful Las Vegas labor union and Ronan Farrow. WATCH TODAYS SEGMENTS U.S., other governments say Iran likely downed civilian jet https://www.youtube.com/watch?v=zqUGu… Can Congress effectively limit Trump's war powers on Iran? https://www.youtube.com/watch?v=66eGV… News Wrap: UK's House of Commons approves Jan. 31 for Brexit https://www.youtube.com/watch?v=6WQSK… Taiwanese election resurfaces long-simmering China tensions https://www.youtube.com/watch?v=Ptq0i… Trump may roll back infrastructure environmental review law https://www.youtube.com/watch?v=DX0Mw… Are Nevada's hospitality workers the future of labor unions? https://www.youtube.com/watch?v=bR-Je… Ronan Farrow's Brief But Spectacular take on pursuing truth https://www.youtube.com/watch?v=PG_YZ… Stream your PBS favorites with the PBS app: https://to.pbs.org/2Jb8twG Find more from PBS NewsHour at https://www.pbs.org/newshour Subscribe to our YouTube channel: https://bit.ly/2HfsCD6
PBS NewsHour full episode, Jan 8, 2020
Jan 8, 2020 PBS NewsHour
Wednesday on the NewsHour, after Iran strikes Iraqi air bases housing U.S. troops without incurring casualties, President Trump says the Islamic Republic is "standing down." Plus: Reaction to the Iranian conflict from two members of Congress, Iran's deadly plane crash, immense bushfire devastation in Australia and how the country's government is responding and the promise of personalized medicine. WATCH TODAYS SEGMENTS Both U.S. and Iran appear to want to de-escalate conflict https://www.youtube.com/watch?v=6JP_w… Gallagher: Iran will again use proxies for 'dirty work' https://www.youtube.com/watch?v=xQ_2w… Crow: Trump hasn't answered questions about Soleimani threat https://www.youtube.com/watch?v=m5u7Y… News Wrap: Puerto Rico reels from strong earthquake https://www.youtube.com/watch?v=6tY4u… Ukrainian plane crashes near Tehran, killing all 176 aboard https://www.youtube.com/watch?v=vIXgK… Australia's catastrophic and relentless battle with bushfire https://www.youtube.com/watch?v=_StlM… How Australia is fighting fires while also mounting recovery https://www.youtube.com/watch?v=OneHo… How trove of genetic data can yield individualized medicine https://www.youtube.com/watch?v=t1BB2… Stream your PBS favorites with the PBS app: https://to.pbs.org/2Jb8twG Find more from PBS NewsHour at https://www.pbs.org/newshour Subscribe to our YouTube channel: https://bit.ly/2HfsCD6
What's in the $1.4 trillion federal spending bill
Jan 2, 2020 PBS NewsHour
Before leaving town for the holidays, lawmakers came together to pass a huge federal spending bill that illuminates the government's policy priorities for 2020. The deal allocates a total of $1.4 trillion to the military, education, a barrier along the U.S.-Mexico border and much more. Lisa Desjardins joins Nick Schifrin to discuss where American tax dollars will be going this year. Stream your PBS favorites with the PBS app: https://to.pbs.org/2Jb8twG Find more from PBS NewsHour at https://www.pbs.org/newshour Subscribe to our YouTube channel: https://bit.ly/2HfsCD6
This Paris program helps refugees tell their stories through art
Jan 6, 2020 PBS NewsHour
For years, refugees from the Middle East and Africa have sought shelter in Europe, igniting debates there about immigration, asylum and changing culture. But one Paris program has been using the lens of art to help some of these refugees find community in France — and to try to change the conversation around their plight. Jeffrey Brown reports. Stream your PBS favorites with the PBS app: https://to.pbs.org/2Jb8twG Find more from PBS NewsHour at https://www.pbs.org/newshour Subscribe to our YouTube channel: https://bit.ly/2HfsCD6
Scientists predict climate change will displace more than 180 million people by 2100 — a crisis of "climate migration" the world isn't ready for, says disaster recovery lawyer and Louisiana native Colette Pichon Battle. In this passionate, lyrical talk, she urges us to radically restructure the economic and social systems that are driving climate migration — and caused it in the first place — and shares how we can cultivate collective resilience, better prepare before disaster strikes and advance human rights for all.
This talk was presented at an official TED conference, and was featured by our editors on the home page.
Colette Pichon Battle · Climate justice and human rights lawyer
A Louisiana native with a deep connection to things that burrow in the mud, Colette Pichon Battle fights to advance human rights for communities on the frontline of the struggle against climate change.
Take Action
participate
Participate in the Gulf Coast Center for Law and Policy's work with communities on the frontlines of climate change.
join
Join the Gulf Coast Center for Law and Policy mailing list.
learn
Learn more about the Gulf South for a Green New Deal policy platform.
Water is essential to life. Yet in the eyes of the law, it remains largely unprotected — leaving many communities without access to safe drinking water, says legal scholar Kelsey Leonard. In this powerful talk, she shows why granting lakes and rivers legal "personhood" — giving them the same legal rights as humans — is the first step to protecting our bodies of water and fundamentally transforming how we value this vital resource.
This talk was presented at an official TED conference, and was featured by our editors on the home page.
Kelsey Leonard · Water protector
As a water scholar and protector, Kelsey Leonard seeks to establish Indigenous traditions of water conservation as the foundation for international water policy-making.
Take Action
learn
Learn more about the Navajo Water Project and how you can support the work of Dig Deep to bring water and sanitation access to families across the Navajo Nation.
learn
Learn more about the efforts of Indigenous youth to promote Indigenous water governance by bringing together diverse Indigenous water initiatives, increasing access to knowledge, connections, information and approaches.
participate
Donate to Mother Earth Water Walkers and help foster healing for the water.
https://www.scientificamerican.com/article/to-stop-wildlife-crime-conservationists-ask-why-people-poach/?utm_source=newsletter&utm_medium=email&utm_campaign=today-in-science&utm_content=link&utm_term=2020-01-10_top-stories&spMailingID=62528901&spUserID=NDQwNDA3NDcwNDMzS0&spJobID=1801330883&spReportId=MTgwMTMzMDg4MwS2
Scientific American: To Stop Wildlife Crime, Conservationists Ask Why People Poach
A novel study in Nepal shines light on why people commit wildlife crime and how others might be dissuaded from doing so in the future
By Rachel Nuwer on January 10, 2020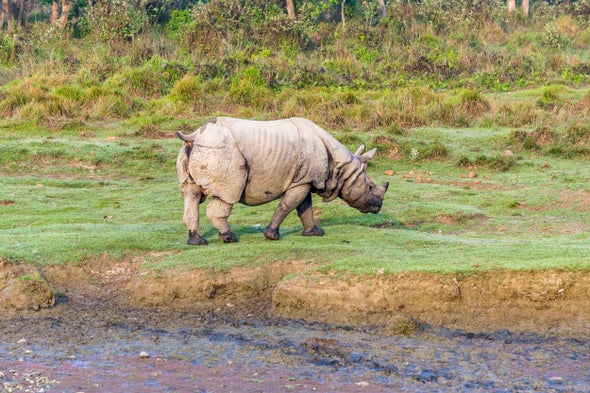 An Indian one-horned rhinoceroswalking in Chitwan National Park. Credit: Frank Bienewald Getty Images
Most people imprisoned in Nepal for wildlife crime share two things in common: they did not understand the seriousness of their offense, and they had little conception of how profoundly it would impact not only their lives but also the lives of their families. In interviews with more than 100 people convicted of illegally killing or trapping wildlife, researchers found some lost their businesses and land following their imprisonment. A dozen men's wives left them. Many respondents' children had to drop out of school, and family members of some took jobs in other countries to survive. One man's daughter found herself unable to marry because of the stigma of his crime, and another said his mother committed suicide out of shame.
"People really underestimate the risk of getting arrested and all of the social harm that comes from that punishment," says Kumar Paudel, who led the research and is co-founder and director of Greenhood Nepal, a science-driven nonprofit organization that focuses on the human dimensions of conservation. He is also a graduate student in conservation leadership at the University of Cambridge.
Paudel and his colleagues uncovered these gaps in awareness of the punishments for poaching as part of an effort to better understand the motivations of, and impacts on, the people who are arrested and prosecuted for wildlife crime. Such information is critical for designing effective deterrent strategies yet is often lacking, despite the hundreds of millions of dollars governments and nonprofits have poured into combatting the illegal wildlife trade worldwide.
The researchers also took their findings, published Friday in Conservation Science and Practice, a step further: they teamed up with a well-known local musician to create awareness-raising songs that share key messages from their study. They hope this effort will ultimately benefit both people and wildlife. "I don't think scientists should wait for decision makers to come and read their paper," Paudel says. "They should find ways to inform policy and undertake conservation interventions on the ground."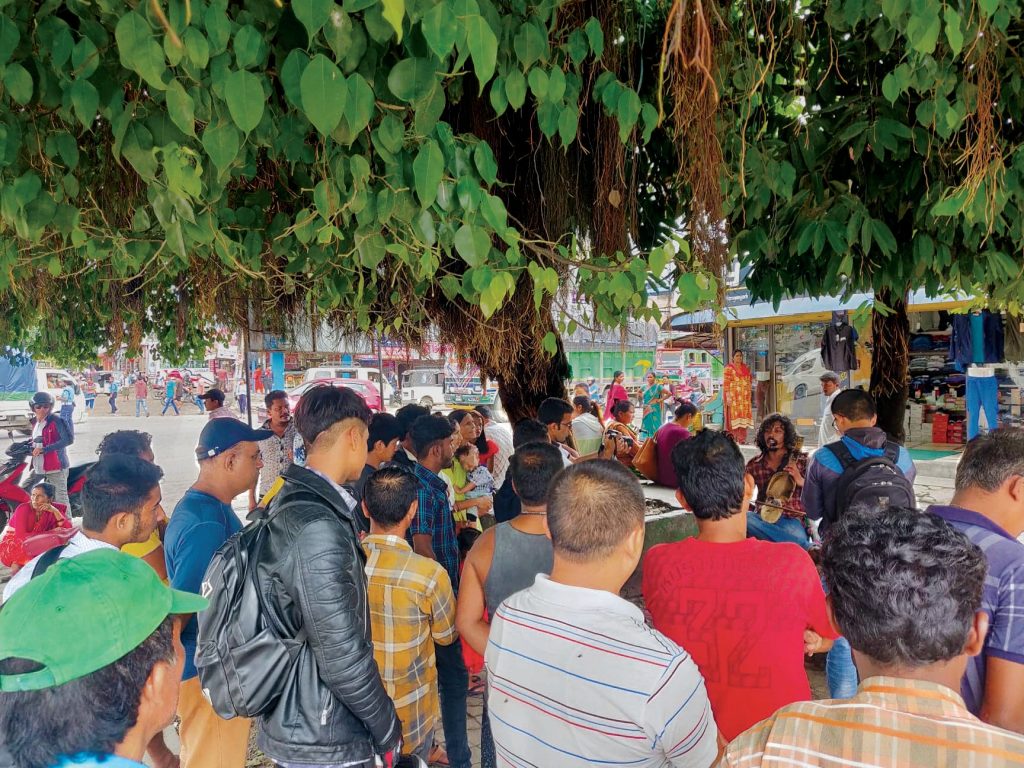 Prakash Gandharva performing "Ban Ko Katha" at Bharatpur, Chitwan, Nepal. Credit: Kumar Paudel
"Full Force" Crime Fighting
Nepal takes its antipoaching efforts very seriously, particularly for charismatic megafauna such as tigers and rhinoceroses, which receive the majority of global conservation funding and attention. Nearly 7,000 military personnel patrol the country's protected areas, and wildlife-crime-related arrests increased more than eightfold between 2009 and 2014. Official data now report around 2,000 such arrests annually, and these efforts do seem to be helping. Nepal celebrated zero rhino poaching for the first time in 2011 and has repeated that achievement several times since. Yet the possible social harms of the nation's militarized conservation approach have gone unexplored. "This is a country that's going full force, but we don't know who they're going full force against," says Jacob Phelps, an environmental social scientist at Lancaster University in England and senior author of the new study.
Paudel, who has worked in conservation in his native Nepal since 2010, wanted to tackle this question to help develop targeted, fairer ways to combat poaching. Starting in 2016, after securing special permission from the government, he visited seven prisons across the country. He persuaded 116 people who had poached primarily rhinos but also tigers, red pandas and other species to speak with him. Paudel says it helped that he came from a similar rural background as most of the interviewees, 99 percent of whom were men.
Their answers offer nuance to experts' understanding of the problem. Most respondents were from poor backgrounds, but surprisingly, nearly 90 percent of them said they resorted to breaking the law to make some extra money—not to meet basic economic and nutritional needs. "A really popular narrative in conservation is that poor people poach, but this overlooks other motivations by just blaming poverty," Paudel says. A lack of awareness also factored in the decision to do so, he found. More than 90 percent of the interviewees said they knew wildlife poaching and trade were illegal, but just 30 percent understood the steep penalties involved, such as the possibility of a five- to 15-year prison sentence. Nearly half of the respondents said their imprisonment had negatively impacted their families' livelihood, their children's education or both.
Communities near protected areas have been particularly affected. For example, more than 20 percent of inmates in one prison near Chitwan National Park were jailed for wildlife crime, compared with about 3 percent of Nepal's total prison population. "That's mind-boggling, especially if you consider that many people are from the same communities that were originally expropriated" from their land to make way for the park, Phelps says. "We're hitting them twice. That's a huge social cost."
Basudev Dhungana, who lives near Chitwan and is former chair of the Mrigakunja Bufferzone User Committee (which works with communities to use park revenue for local development), says he has seen firsthand the impacts described in the study. He knows several people who have been arrested for poaching, most of them heads of families. "Their arrest affects the livelihood of the family and education of their children," he says. "Further, it affects the family's prestige and dignity in society, because they are seen as a family of poachers."
According to Annette Hübschle, a criminologist at the University of Cape Town in South Africa, who was not involved in the Nepal research but has interviewed rhino poachers in South Africa and Mozambique, the study provides "important, novel perspectives" on the motivations, drivers and impacts of people who engage in wildlife crime in Nepal. Yet she would have liked to see a deeper analysis on whether historical injustices, land evictions and political marginalization motivated people to retaliate or seek to reclaim land perceived as unfairly taken from them. Hübschle also wonders whether offenders agree or disagree with antipoaching rules. In southern Africa, for example, some communities contest the illegality of poaching, pointing out that hunting was their right prior to colonization. In Nepal, she says, "future research might want to explore this in more detail."
Maheshwar Dhakal, joint secretary of Nepal's Ministry of Forests and Environment, also believes the findings are important for shining a light on the reasons why individuals in the nation poach. While enforcement is necessary to curtail "greedy people who would like to be rich overnight," he says, education would go a long way toward stopping others who are simply unaware of the seriousness of wildlife crime.
Singing to Stop Poaching
Paudel and Phelps agree that education could make a crucial difference on the ground, and they both say they felt a responsibility to act on their findings. They launched a fellowship program between Greenhood Nepal and Lancaster University to provide more opportunities to young Nepalese conservationists. Paudel also initiated a collaboration with a musician from the Gandharva ethnic group, whose traveling troubadours are famous in Nepal for their sorrowful ballads, played on a stringed instrument called a sarangi. Paudel wrote five songs based on his interviews. In "Shameful Name," for example, a farmer in prison for poaching recounts how greed led to the loss of his freedom and his family's dignity and implores the listener not to make the same mistake.
The songs are now available online as music videos and are being played on the radio and performed live in communities across Nepal. Paudel says more than 1,000 people have already seen the performances, and some were moved to tears. "Music is one of the simplest ways to communicate," he says. "Even illiterate people can understand our songs."
Dhungana attended a performance and agrees people responded well to it. "We all love the sarangi music," he says. "This is a simple and an innovative approach to make communities aware of wildlife conservation." He wonders, though, whether his neighbors will actually retain the songs' messages over the long term. What's really needed, he says, is for the government to invest not only in conservation enforcement but also in education and employment opportunities for communities near national parks. "Local people should be empowered to take advantage of the potential for conservation tourism and nature-based enterprises," Dhungana says. "I think people will poach less if they get significant benefits from conservation."
ABOUT THE AUTHOR Rachel Nuwer
Rachel Nuwer is a freelance journalist and author of Poached: Inside the Dark World of Wildlife Trafficking (Da Capo Press, 2018). She lives in Brooklyn, N.Y.
Credit: Nick Higgins
Recent Articles
Protecting Pangolins from Poachers in South Africa by Great Big Story
Best Of 2019, – BBC Click
Jan 7, 2020 BBC Click
The biggest tech stories and trends of 2019, including space travel, electric cars, 5G and the increased use by the police of facial recognition. Subscribe HERE https://bit.ly/1uNQEWR Find us online at www.bbc.com/click Twitter: @bbcclick Facebook: www.facebook.com/BBCClick
Category Science & Technology
Tim Peake Talks Life In Space – BBC Click
Dec 20, 2019 BBC Click
A longer cut of Spencer Kelly's interview with British astronaut Tim Peake. Peake spent over 185 days in space as part of a mission for the European Space Agency. Subscribe HERE https://bit.ly/1uNQEWR Find us online at www.bbc.com/click Twitter: @bbcclick Facebook: www.facebook.com/BBCClick
Category Science & Technology
A 17-Story Dragon Climbs Thailand's Pink 80-Meter Buddhist Temple
December 18, 2017 Kate Sierzputowski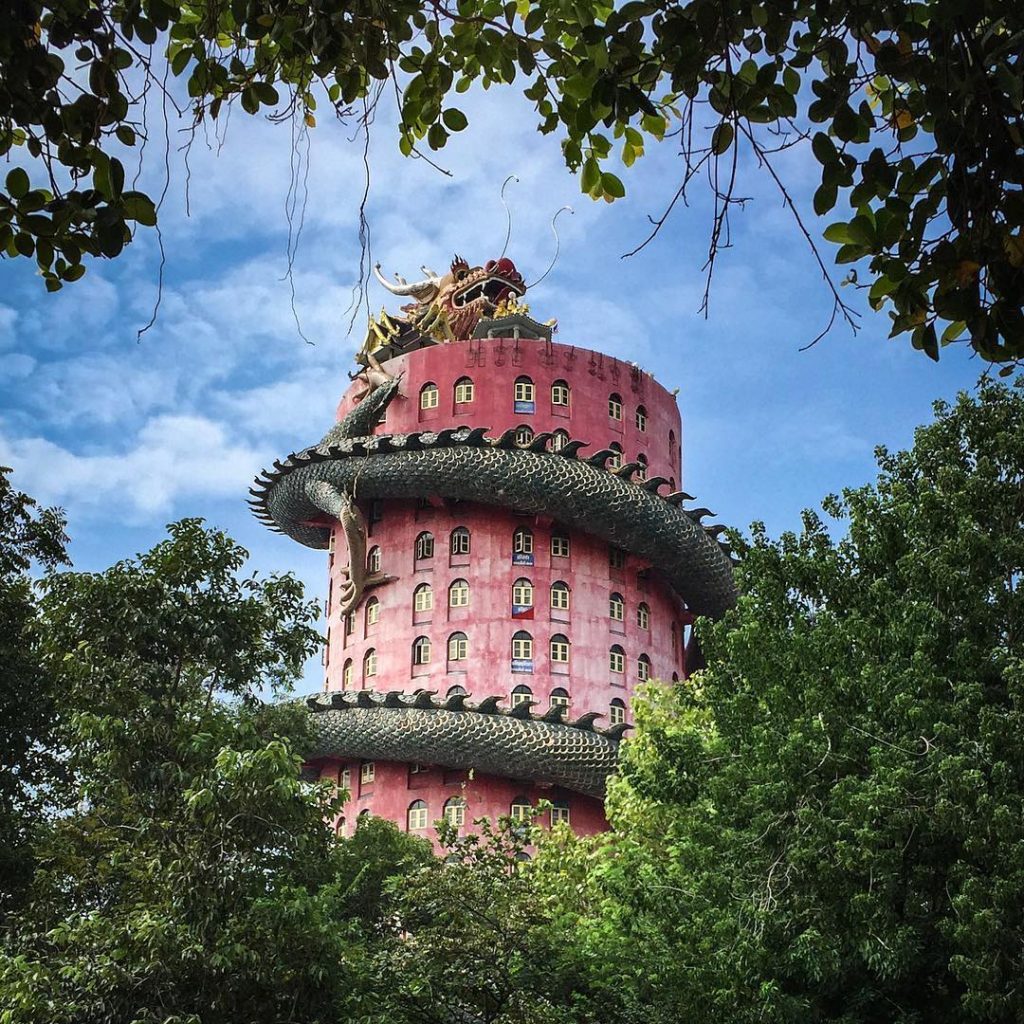 via @nicopicz
The Samphran district of Thailand holds one of the most unique Buddhist temples found in the country. The bright pink temple, called Wat Samphran, stands 17-stories high and is wrapped in a scaly green dragon. The design of the structure came to the founder of the temple during a 7-day fasting meditation, and is built 80 meters tall to honor the number of years that Buddha lived.
Visitors can climb the great building and touch the dragon's beard or large talons from an access point on the roof. You can get a 360 perspective on the gigantic temple in the Great Big Story video below.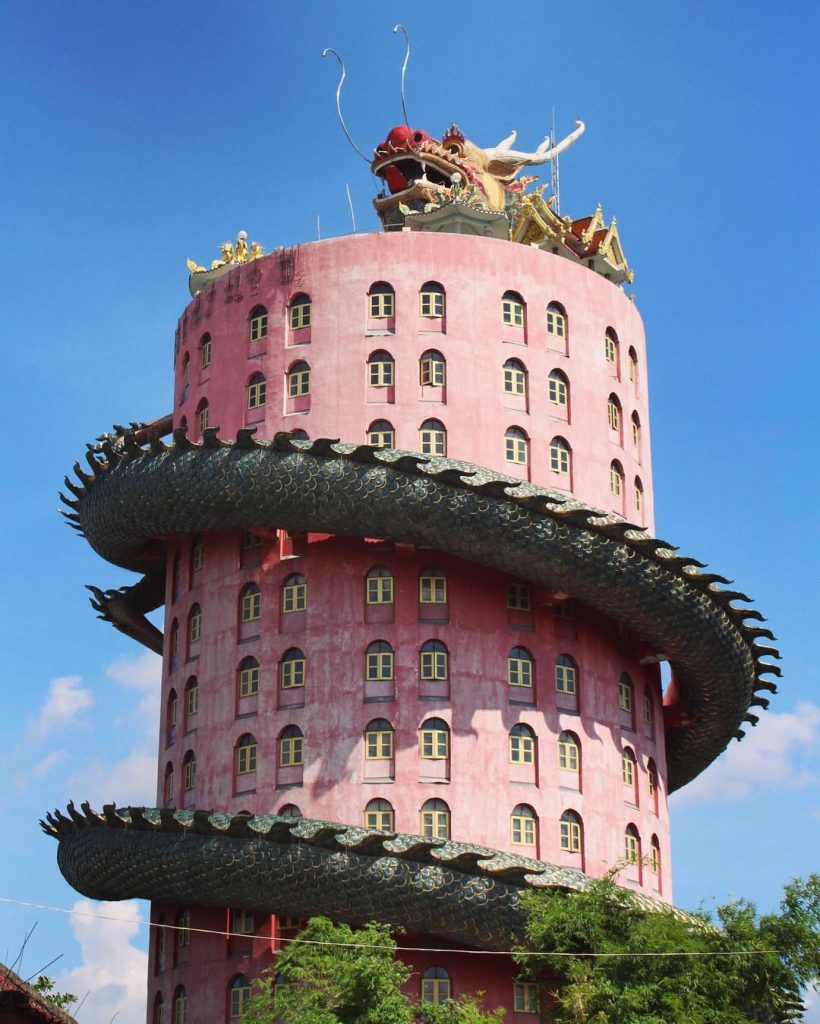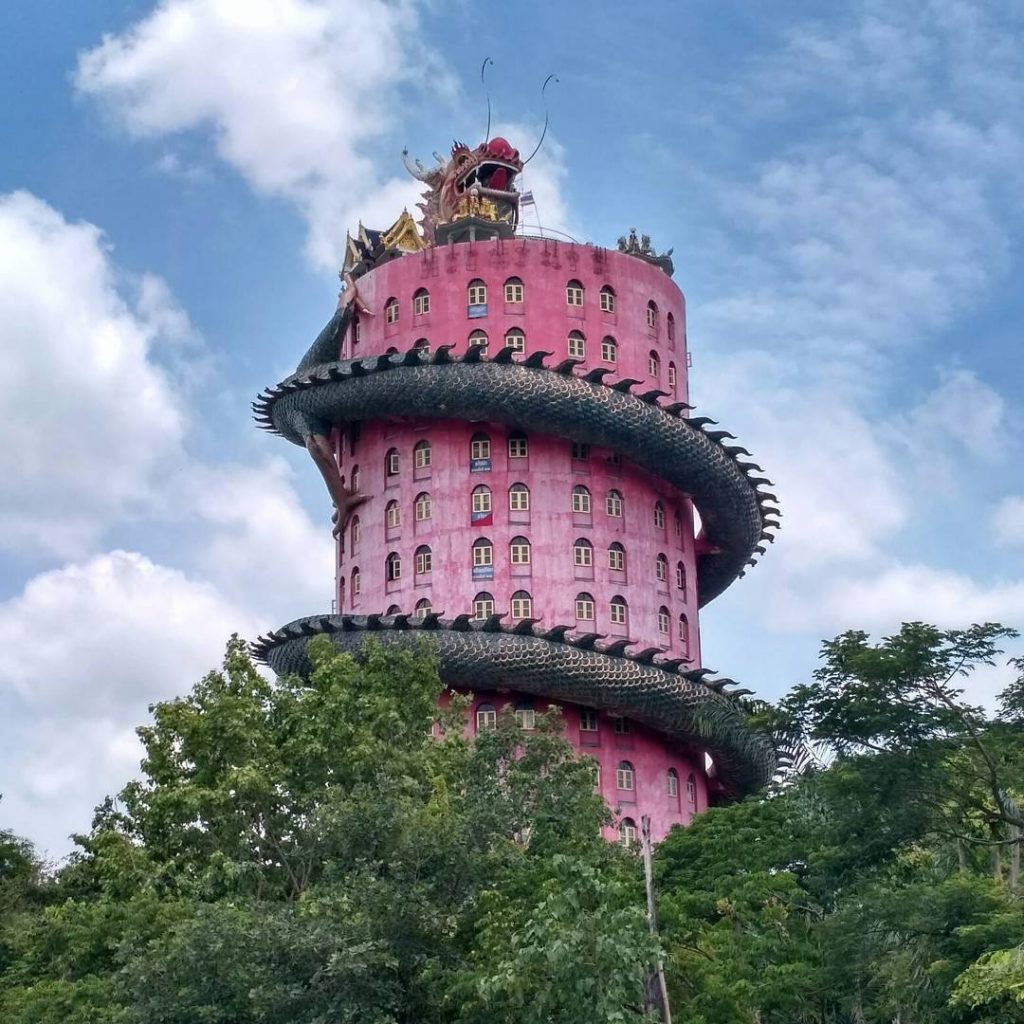 via @seryachkova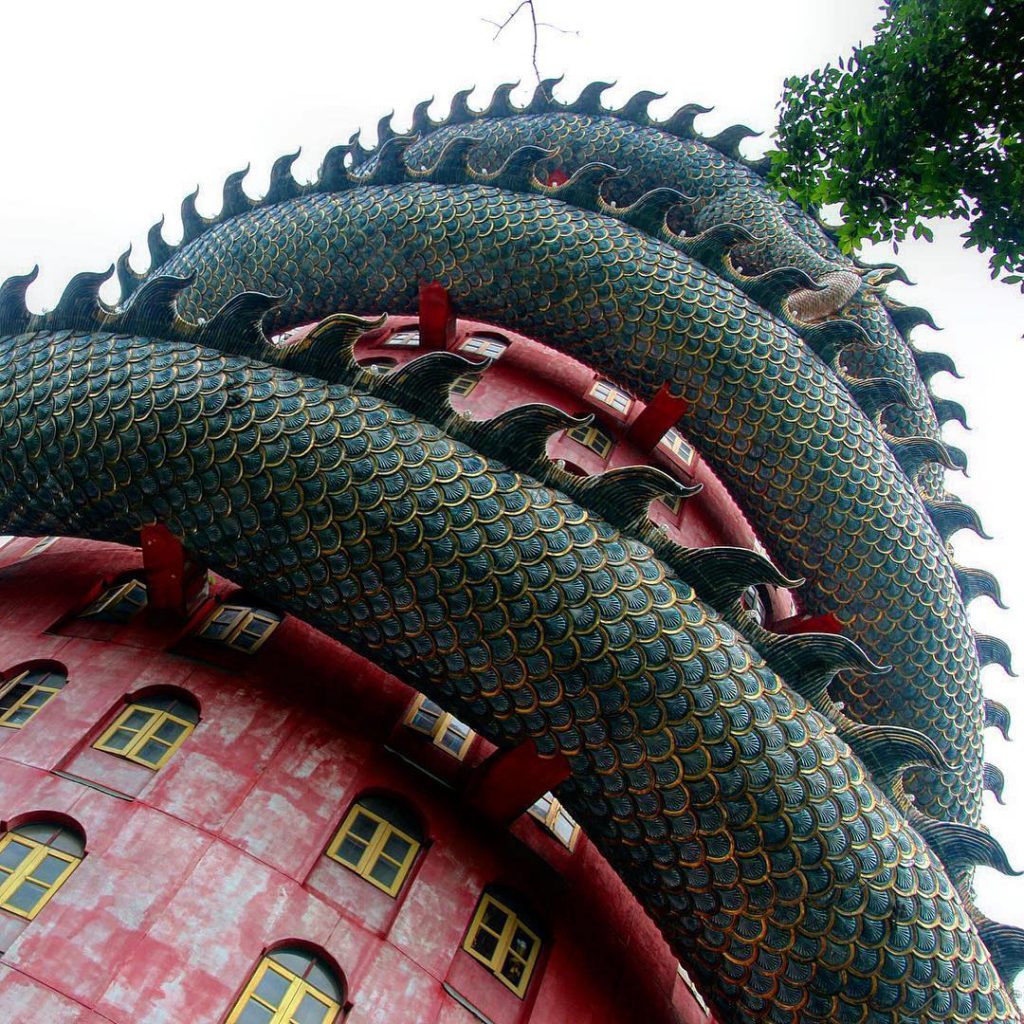 Ascend Thailand's Temple of the Rising Dragon
Dec 13, 2017 Great Big Story
In the Samphran district of Thailand sits one of the country's most spectacular Buddhist temples. Wat Samphran is a towering pink masterpiece scaling in at 80 meters high — an homage to the number of years Buddha lived. Known for the hollow dragon's head that encircles the temple, visitors are welcome to ascend the 17-story superstructure to touch the dragon's beard, or climb inside the belly of the beast. SUBSCRIBE: https://goo.gl/vR6Acb This story is a part of our Planet Earth series. From mammals to insects and birds to reptiles, we share this great big world with all manner of creatures, large and small. Come with us to faraway places as we explore our great big planet and meet some of its wildest inhabitants. Got a story idea for us? Shoot us an email at hey [at] GreatBigStory [dot] com Follow us behind the scenes on Instagram: https://goo.gl/2KABeX Make our acquaintance on Facebook: https://goo.gl/Vn0XIZ Give us a shout on Twitter: https://goo.gl/sY1GLY Come hang with us on Vimeo: https://goo.gl/T0OzjV Visit our world directly: https://www.greatbigstory.com
Category People & Blogs
Meticulous Detailed Carpets Drawn with Bic Pens by Jonathan Bréchignac
September 24, 2013 Christopher Jobson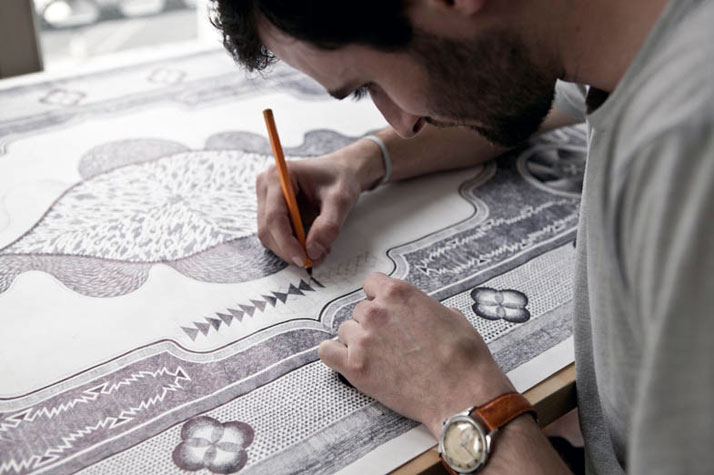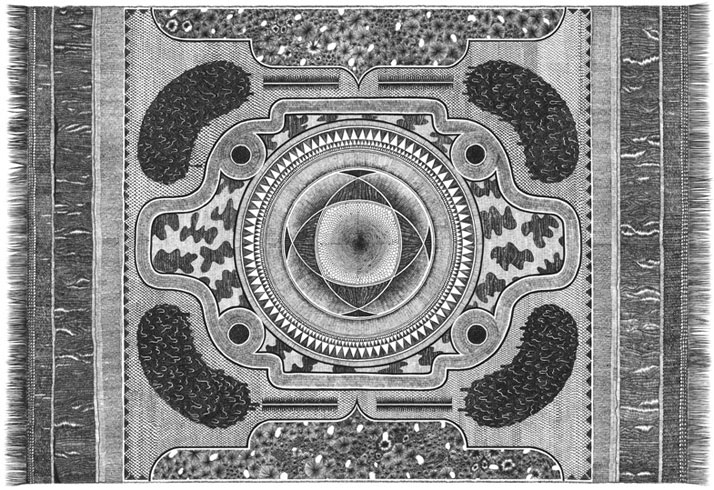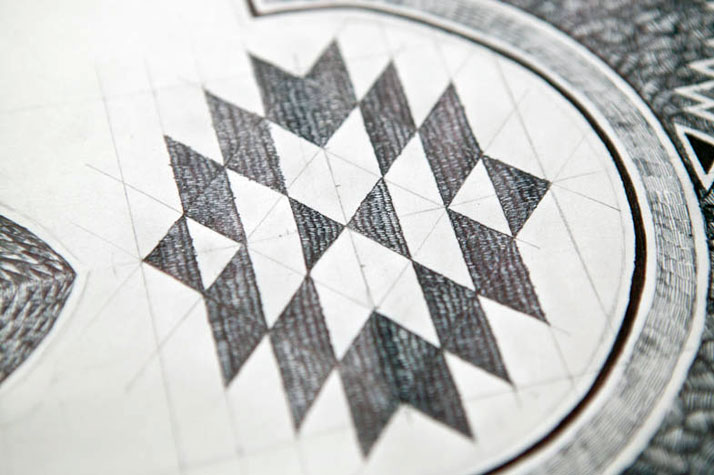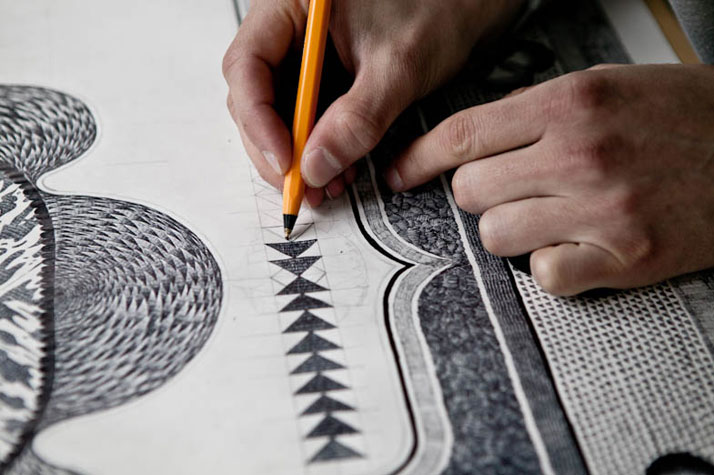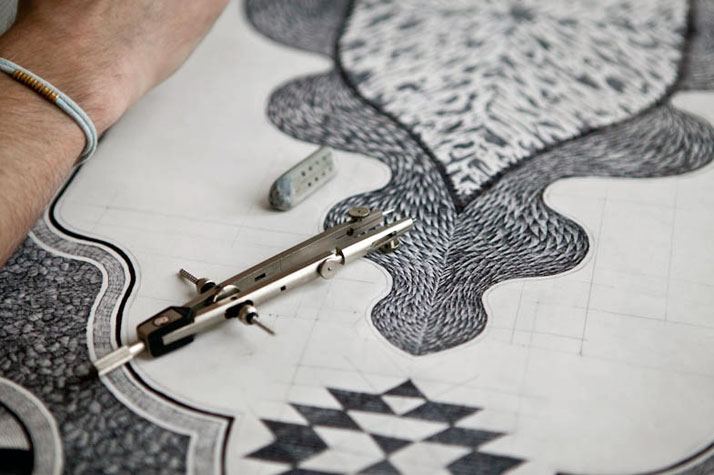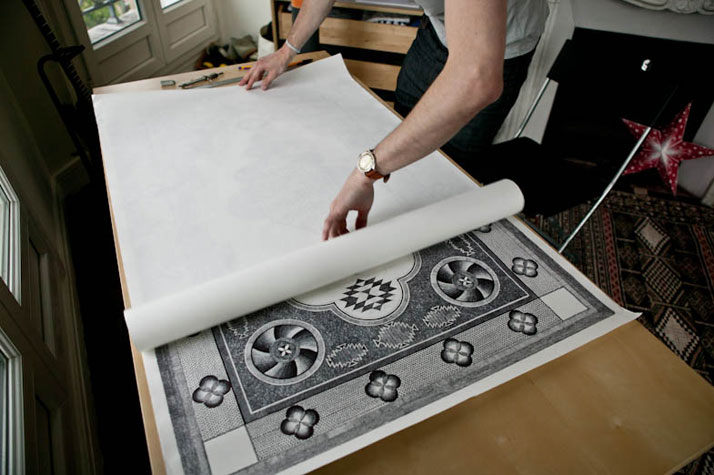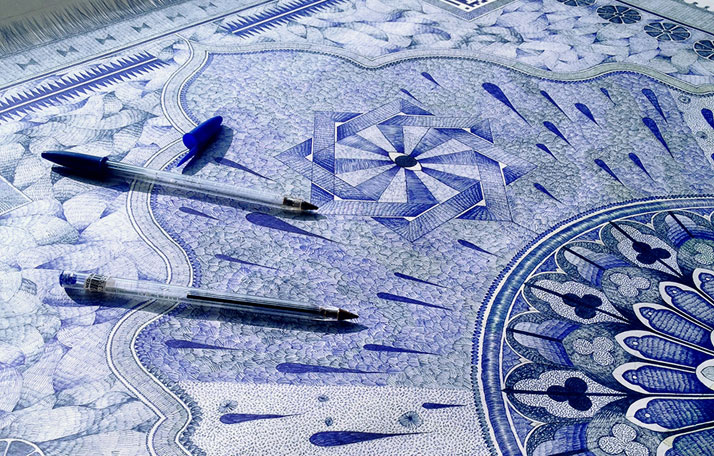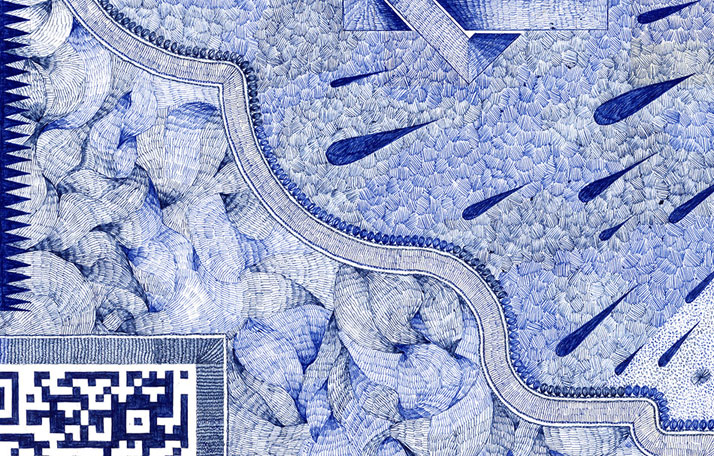 Art director Jonathan Bréchignac of Paris-based design studio Joe & Nathan has been working on a series of drawn carpets using ballpoint Bic pens. The first four drawings were completed last year and were made to approximate the size of Muslim prayer carpets. Bréchignac says the various designs and patterns found in each piece were inspired by an amalgam of artistic forms and influences:
Painstakingly detailed, it explores different ways and patterns to create a unique whole with only a simple tool: the "Less is more" precept. The inspiration comes from different types of art (French roman, traditional Japanese, native American and Mexican) and also military camouflage and animal patterns. Together they create a mix of civilizations and religions bringing forth a new meaning to them.
A newer carpet, aptly titled Ultraviolet, was recently completed and will be on view at the Boghossian Foundation in Brussels through 2014. (via Juxtapoz, Yatzer)
https://theinspirationgrid.com/surreal-digital-paintings-by-cyril-rolando/
Inspiration Grid: Surreal Digital Paintings by Cyril Rolando
Otherwordly Digital Paintings by Cyril Rolando
Published May 3, 2018
Cyril Rolando is a French psychologist that produces incredible digital art as a hobby "I like the universe of Tim Burton and Hayoa Miyazaki. I use Photoshop CS2 and a wacom intuos 4M graphic tablet."
— Cyril Rolando
More digital paintings via Design You Trust