PBS News: February 25- 27.2020 and India's immigrant crackdown leaves nearly 2 million in limbo
BBC Click: Click At CES in Las Vegas
BBC Horizon: Shock and Awe: The Story of Electricity — Jim Al-Khalili
DW Documentary: Soyalism
My Modern Met: Bees Create Heart-Shaped Hive When There Aren't Frames Up to Guide Them
TED Talks: Annie Murphy Paul What we learn before we reborn?, Laura Schulz The surprisingly logical minds of babies?, and How fast are you moving right now? – Tucker-Hiatt – TED-Ed
Design Bolts: Awe-Inspiring Nokia 5G Paper Cut Creative Illustrations by Eiko Ojala
Thisiscolossal: Pouring a Thermos of Hot Tea at -40°C Near the Arctic Circle and Underwater Footage Captures a Blanket Octopus Revealing Her Billowing Iridescent Membrane
NAD Lembeh Resort: The Blanket Octopus and it's AMAZING Blanket!!
PBS NewsHour full episode, Feb 27, 2020
Feb 27, 2020 PBS NewsHour
Thursday on the NewsHour, an infectious disease specialist on novel coronavirus transmission and severity. Plus: Virus fears cause economic instability, 2020 Democrats make their final pitches in South Carolina, a conversation with Mike Bloomberg, should foreign ISIS fighters return home for trial and a new book explores the reckless financial dealings that contributed to the 2008 economic crash. WATCH TODAY'S SEGMENTS How Americans can prepare for broader outbreak of COVID-19 https://www.youtube.com/watch?v=xhe78… What novel coronavirus might mean for 2020 global economy https://www.youtube.com/watch?v=OXOpz… News Wrap: Major military clash erupts between Turkey, Syria https://www.youtube.com/watch?v=cegP2… 2020 Democrats chase votes in SC, Super Tuesday states https://www.youtube.com/watch?v=5p5bO… Michael Bloomberg on crisis preparation, management skills https://www.youtube.com/watch?v=iWGC3… Kosovo offers Europe a test run for handling former jihadis https://www.youtube.com/watch?v=X-Ava… New book explores the schemes and scandals of Deutsche Bank https://www.youtube.com/watch?v=3zkzR… Stream your PBS favorites with the PBS app: https://to.pbs.org/2Jb8twG Find more from PBS NewsHour at https://www.pbs.org/newshour Subscribe to our YouTube channel: https://bit.ly/2HfsCD6
PBS NewsHour full episode, Feb 26, 2020
Feb 26, 2020 PBS NewsHour
Wednesday on the NewsHour, China's novel coronavirus outbreak has slowed, but the information battle between Chinese activists and the government continues. Plus: 2020 Democrats engage in a raucous Charleston debate ahead of the South Carolina primary, the medicine of migraine disease, a Silicon Valley whistleblower, the film "Seberg" and how U.S. officials are planning for possible pandemic. WATCH TODAY'S SEGMENTS News Wrap: Deadly shooting at Molson Coors in Milwaukee https://www.youtube.com/watch?v=KtOyb… In China, critics of state virus response have disappeared https://www.youtube.com/watch?v=dywyh… How 2020 Democrats are reacting to combative SC debate https://www.youtube.com/watch?v=houOy… Why migraine disease involves more than just a headache https://www.youtube.com/watch?v=a8K-7… How Uber whistleblower Susan Fowler took on toxic culture https://www.youtube.com/watch?v=Jhc77… How American actress Jean Seberg became a target of the FBI https://www.youtube.com/watch?v=gtj3G… Trump defends virus response, announces new measures https://www.youtube.com/watch?v=vhUo3… Stream your PBS favorites with the PBS app: https://to.pbs.org/2Jb8twG Find more from PBS NewsHour at https://www.pbs.org/newshour Subscribe to our YouTube channel: https://bit.ly/2HfsCD6
PBS NewsHour full episode, Feb 25, 2020
Feb 25, 2020 PBS NewsHour
Tuesday on the NewsHour, U.S. health officials express rising alarm over the possibility that novel coronavirus could become a global pandemic. Plus: Former Egyptian President Hosni Mubarak dies at age 91, previewing the 2020 Democrats' South Carolina debate, conversations with a prosecutor and a defense attorney in the Harvey Weinstein sex crimes case and Venezuela's crumbling health system. WATCH TODAY'S SEGMENTS Why U.S. officials are escalating concerns over COVID-19 https://www.youtube.com/watch?v=jKt5h… News Wrap: Trump criticizes Justices Ginsburg, Sotomayor https://www.youtube.com/watch?v=nC1uc… Polarizing former Egyptian leader Hosni Mubarak dies at 91 https://www.youtube.com/watch?v=Qjs3R… Is South Carolina still Joe Biden's firewall? https://www.youtube.com/watch?v=8wy3J… Manhattan DA on Weinstein conviction, prosecuting sex crimes https://www.youtube.com/watch?v=ifaIn… Weinstein defense attorney says media 'pressure' swayed jury https://www.youtube.com/watch?v=eLHdC… Sick Venezuelans lack power, water, medicine — and hope https://www.youtube.com/watch?v=KtmWa… Stream your PBS favorites with the PBS app: https://to.pbs.org/2Jb8twG Find more from PBS NewsHour at https://www.pbs.org/newshour Subscribe to our YouTube channel: https://bit.ly/2HfsCD6
India's immigrant crackdown leaves nearly 2 million in limbo
Feb 22, 2020 PBS NewsHour
Immigration from Bangladesh into India's northeastern state of Assam has long been a contentious issue, often boiling over into violence. Last year the government declared nearly 2 million people there to be non-citizens in an effort that has been widely criticized. Many now fear similar measures across the country. Hari Sreenivasan reports. Stream your PBS favorites with the PBS app: https://to.pbs.org/2Jb8twG Find more from PBS NewsHour at https://www.pbs.org/newshour Subscribe to our YouTube channel: https://bit.ly/2HfsCD6
Click At CES in Las Vegas – BBC Click
Jan 17, 2020 BBC Click
Click comes from CES in Las Vegas, the world's largest tech show. With the latest announcements from the show and a look at trends for the year ahead. Subscribe HERE http://bit.ly/1uNQEWR Find us online at www.bbc.com/click Twitter: @bbcclick Facebook: www.facebook.com/BBCClick
Category Science & Technology
Soyalism | DW Documentary
Feb 21, 2020 DW Documentary
Industrial agriculture is increasingly dominating the world market. It's forcing small farmers to quit and taking over vast swathes of land. This documentary shows how destructive the lucrative agribusiness is. Whether in the USA, Brazil, Mozambique or China, agricultural giants rule the market. Food production has become a gigantic business as climate change and population growth continue. This is having devastating consequences for small farmers and for the environment. On the banks of North Carolina's New River, there's a vile stench. Clean water activist Rick Dove takes a flight to show us what's causing the smell. Scores and scores of pigs are living upriver, in so many pens the farms look more like small towns. "We have eight to ten million pigs here. And the problem is that they are kept so close together and their excrement pollutes and threatens the water and natural life on the North Carolina coastline." From above, you can see large cesspools everywhere, shimmering red-brown in the sun. Dove is giving us a bird's-eye view of industrialized agriculture. In the late 1970s, companies in the US began to industrialize farming. Large corporations like Smithfield built entire value chains, from raising livestock to slaughter to packaging and sales. A Chinese holding company bought Smithfield a few years ago. Industrial meat production is supposed to support increased Chinese demand for meat as the country's prosperity grows. Dan Basse is the head of a company analyses global agriculture. He says calorie demand will also increase in countries like India, Bangladesh and Nigeria in the next few years." And with it, the demand for even more inexpensive meat of the kind agribusinesses produce and market. ——————————————————————– DW Documentary gives you knowledge beyond the headlines. Watch high-class documentaries from German broadcasters and international production companies. Meet intriguing people, travel to distant lands, get a look behind the complexities of daily life and build a deeper understanding of current affairs and global events. Subscribe and explore the world around you with DW Documentary. Subscribe to: DW Documentary: https://www.youtube.com/channel/UCW39… DW Documental (Spanish): https://www.youtube.com/dwdocumental DW Documentary ??????? ?? ?????: (Arabic): https://www.youtube.com/dwdocarabia
Shock and Awe: The Story of Electricity — Jim Al-Khalili BBC Horizon
•May 27, 2015 Trev M
Part 1 – Spark 0:00 Part 2 – The Age of Invention 58:30 Part 3 – Revelations and Revolutions 1:56:50 ——— In this three-part BBC Horizon documentary physicist and science communicator Jim Al-Khalili takes the viewer on a journey exploring the most important historical developments in electricity and magnetism. This documentary discusses how the physics (and the people behind the physics) changed the world forever. ——— BBC Horizon 2011
https://mymodernmet.com/heart-shaped-beehive/?utm_source=email&utm_medium=link&utm_campaign=newsletter&utm_term=2020-02-21
Category Science & Technology
Bees Create Heart-Shaped Hive When There Aren't Frames Up to Guide Them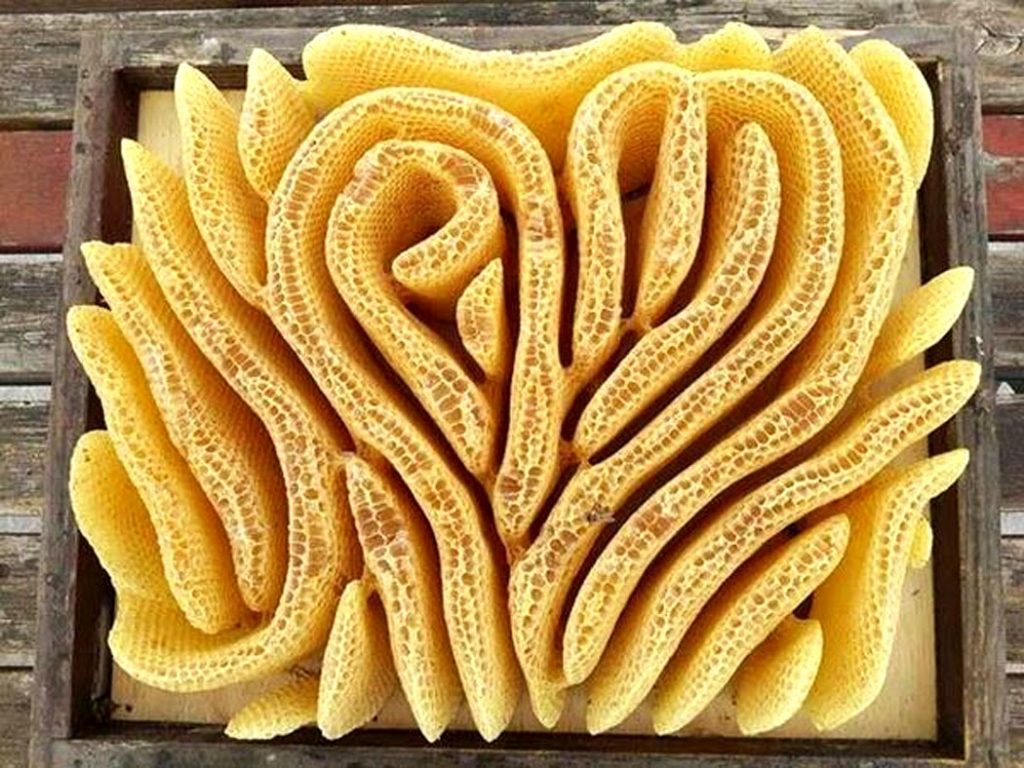 By Jessica Stewart on February 10, 2020
If you ever needed evidence that bees were artists, take a look at this incredible photograph posted by The National Trust. Left to their own devices, the bees at Bodiam Castle in Robertsbridge, United Kingdom made quite the spectacle. Within the structure of their hive, they created a delightful heart-shaped honeycomb that looks as sweet as it tastes.
This may seem like an odd sight, but that's only because we're used to beekeepers placing rectangular frames within the hive. The bees then deposit their honey and build a comb directly onto the frame, which can be easily taken out and harvested by the beekeeper. But the reality is, bees will use as much space as they have to store honey. In fact, natural hives can take on all shapes and sizes.
For instance, sugarbag bees, which are native to Australia, make hives that form large spiraling structures. In temperate climates, some bees will even form an "open colony" where the entire hive is exposed. These can hang off of trees, fences, or overhangs and take on impressive oblong shapes.
Still, the photograph from Bodiam Castle is fascinating because it was formed within the wood frame of a hive. Beekeeper gregthegregest2 mentioned on Reddit that this is a common occurrence when the bees are left a large gap between the top of the frames and the roof of the hive. Of course, it makes good sense that these hard workers would take advantage of every inch given to them. While the shape is beautiful, this can be a headache for beekeepers when looking to harvest their honey. They need to cut away the extra honeycomb in order to free the frames below.
Of course, the skill of bees is well known. In fact, even artists have taken advantage of their capabilities by working with bees to create everything from sculptures to embroidery. So the next time you see a honey bee buzzing from flower to flower, just imagine what interesting artistry might happen when it makes its way back to the hive.
When left to their own devices, bees are incredible architects.
They can create incredible shapes from their honeycomb, whether in boxes or out in nature.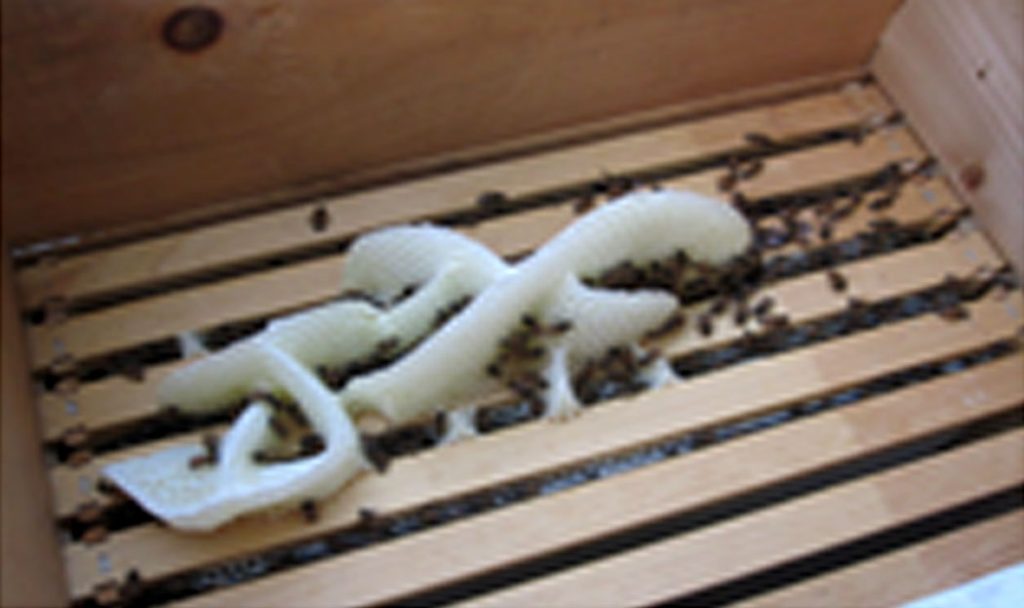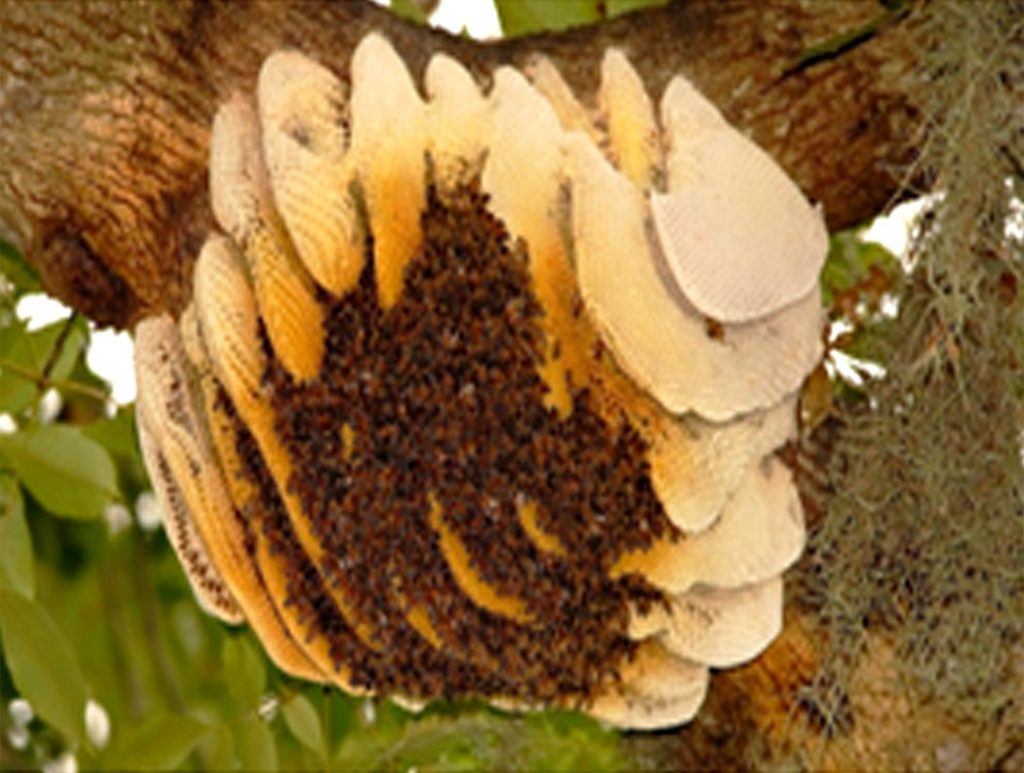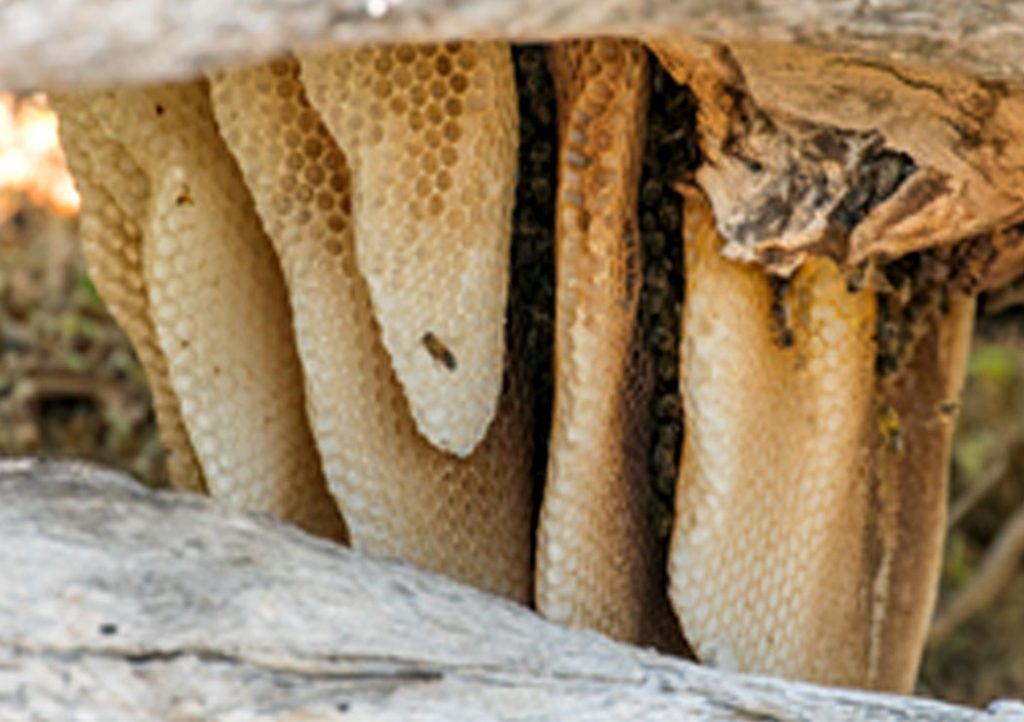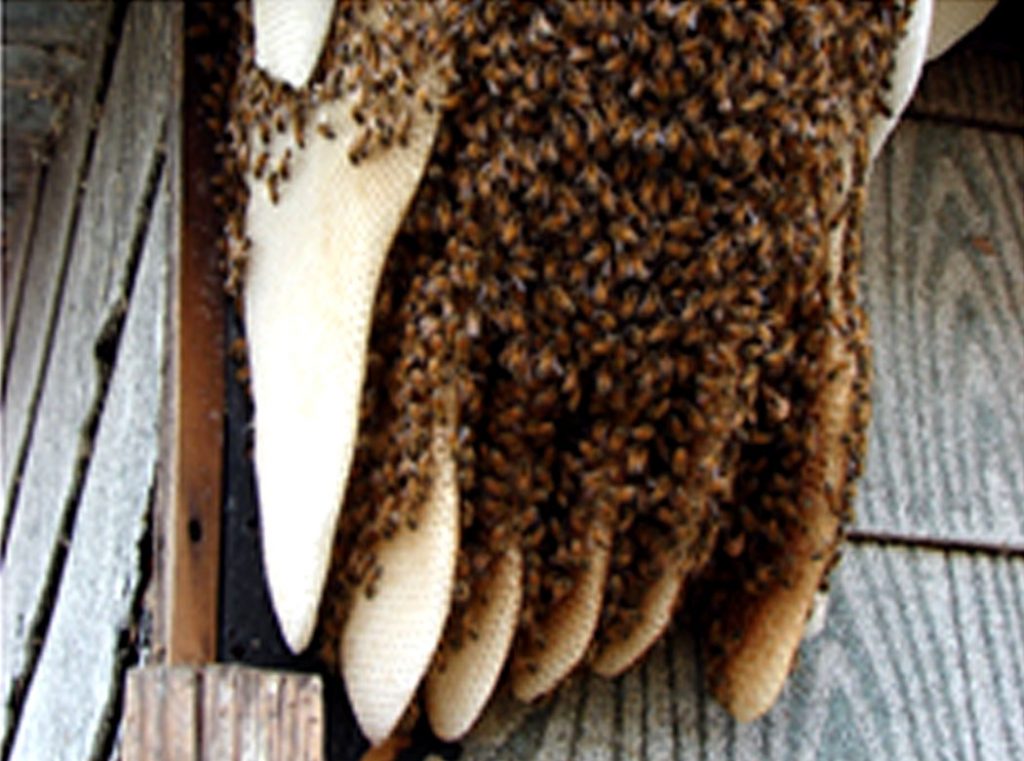 How fast are you moving right now? – Tucker Hiatt
Jan 27, 2014 TED-Ed
View full lesson: http://ed.ted.com/lessons/how-fast-ar… "How fast are you moving?" seems like an easy question, but it's actually quite complicated — and perhaps best answered by another question: "Relative to what?" Even when you think you're standing still, the Earth is moving relative to the Sun, which is moving relative to the Milky Way, which is…you get the idea. Tucker Hiatt unravels the concepts of absolute and relative speed. Lesson by Tucker Hiatt, animation by Zedem Media.
Category Education
Pop quiz: When does learning begin? Answer: Before we are born. Science writer Annie Murphy Paul talks through new research that shows how much we learn in the womb — from the lilt of our native language to our soon-to-be-favorite foods.
This talk was presented at an official TED conference, and was featured by our editors on the home page.
Annie Murphy Paul · Science author
Annie Murphy Paul investigates how life in the womb shapes who we become.
TEDGlobal 2011 | July 2011
How do babies learn so much from so little so quickly? In a fun, experiment-filled talk, cognitive scientist Laura Schulz shows how our young ones make decisions with a surprisingly strong sense of logic, well before they can talk.
Show 1 correction
This talk was presented at an official TED conference, and was featured by our editors on the home page.
Laura Schulz · Cognitive scientist
Developmental behavior studies spearheaded by Laura Schulz are changing our notions of how children learn.
https://www.designbolts.com/2020/02/16/awe-inspiring-nokia-5g-paper-cut-creative-illustrations-by-eiko-ojala
TED2015 | March 2015
Awe-Inspiring Nokia 5G Paper Cut Creative Illustrations by Eiko Ojala
Hey there guys! So, we are back with yet another interesting blog of ours and we are hopeful that you are going to love it as much as we do – mainly because it is one of our favorite topics to cover (and we are sure that you know this too!) and also because well, it feels so great to come across artists who put in their brain, heart and hands to create magic. Our today's blog will cover Nokia 5G paper cut illustrations by Eiko Ojala and we would like to get started right now.
Before we start explaining what paper cut illustrations really are and introduce you guys with Eiko's work, let's have a look at Eiko Ojala as an illustrator first. So, he is an Estonian artist who was born in 1982 in Tallinn. He has studied interior design and it was prior to when he brought himself to the world of creating illustrations (read: stunning). Eiko knows how to create amazing digital paper cut illustrations by combining them with his traditional techniques and making sure that his work speaks volumes.
We would also like to share this here that Eiko has been working with The New York Times, the Harvard Business Review, the Weird Magazine and has also been associated with the V&A Museum. Oh, and just by the way the master of creating paper cut illustrations has also won a Young Illustrators award in 2013 and an ADC Young Gun award by the Art Directors Club.
Isn't it just great that all the artists around the world stun us with their creativity, imagination and work on a daily basis and we share that here on our blog because we want to inspire you guys and to encourage you too so that you can also get into the field and see if that is working for you.
As far as the paper cut illustrations are concerned, we believe that, this technique requires a lot of time, efforts and patience especially when you are creating your illustrations on digital mediums. There are a number of layers involved in order to recreate the original idea by adding depth and meaning to the illustrations.
Now, we know that different artists have different tricks to work on what they love to create but about Eiko's illustrations, one thing is for final that you will require a great deal of time to tell if the illustrations were made using paper or did Eiko created them using his digital editing skills. Yes, you read that right. That is how clean and real his illustrations are that you cannot differentiate between a paper one and a digital one.
You must be wondering that only a few artists could create paper cut illustrations as this requires time, skills and a lot more than that but believe us when we say this, that nothing is impossible or too difficult if we really want to do it for ourselves and once you find your peace and happiness in the things that you do and create then there is no going back. It becomes interesting, it becomes fun and you want to improve yourself in order to get to the bigger goal and that is how it should be.
We can bet that even Eiko must have created illustrations which he would not have considered anything, he must have also discarded a few of his creations here and a few of them there because well, we judge ourselves more than others do and while we are evaluating our work and thought process, we tend to exclude most of the stuff because we want perfection.
What we are trying to say here is that if you think that you have it in you to try out a new skill in 2020 then make it more about paper cut illustrations – both with actual paper as well as on digital platforms like Illustrator. In this way, you will be able to know if you can do it or not and although we know that you are going to ace it, we would also want to say that go easy on yourself and also be patient if you fail because that is going to help you in the longer run.
Coming back to Eiko's illustrations, we love each one of them and we are sharing them in our blog as well but let's take a cursory glance too before we leave you with the magical illustrations for you to look at in detail. The first one is the Nokia 5G one in which you can see the number and the alphabet and there is world in these two elements. Vehicles, humans, trees and birds as well as the scenery is making this illustration that has a story to tell.
Moving on, you can see multiple shapes and backgrounds on which Eiko has used his imagination to create illustrations that are significant and interesting to look at. And from building and monuments to human beings and their cars, trees, birds and clouds – we think that looking at these mind blowing illustrations is a treat for the eyes. So, feel free to share the blog with your friends and family members too and we are sure they are going to like it too.
Credit: be.net/eiko
Awe-Inspiring Nokia 5G Paper Cut Creative Illustrations by Eiko Ojala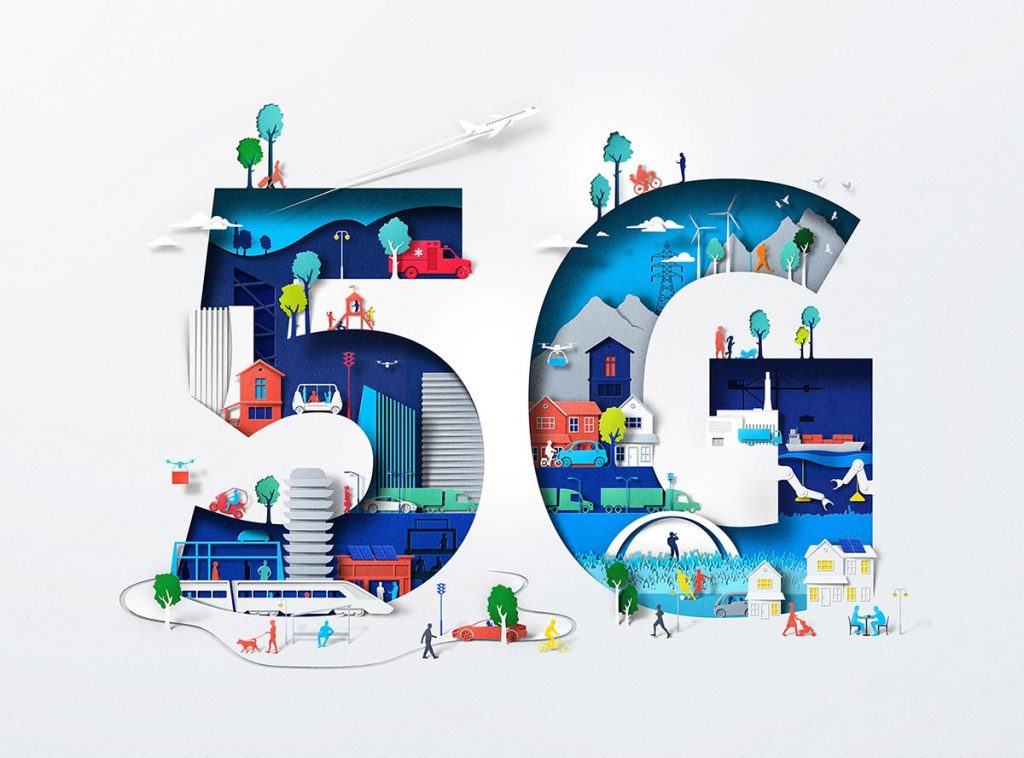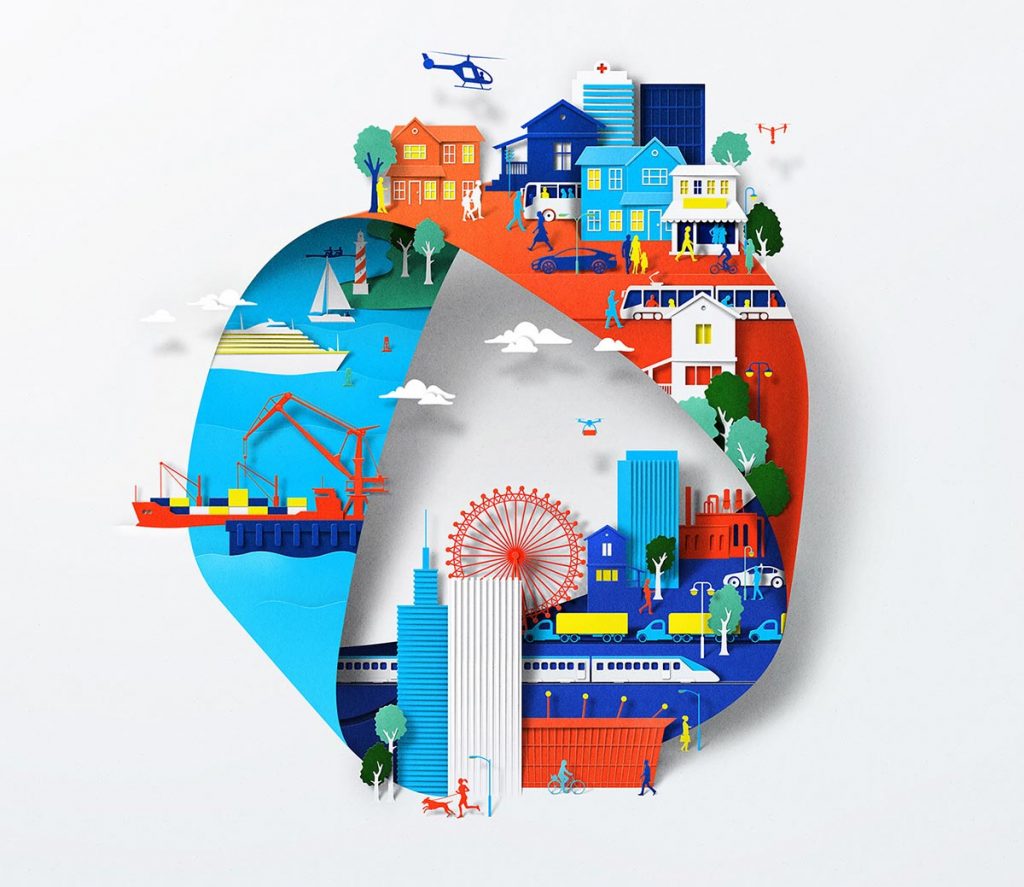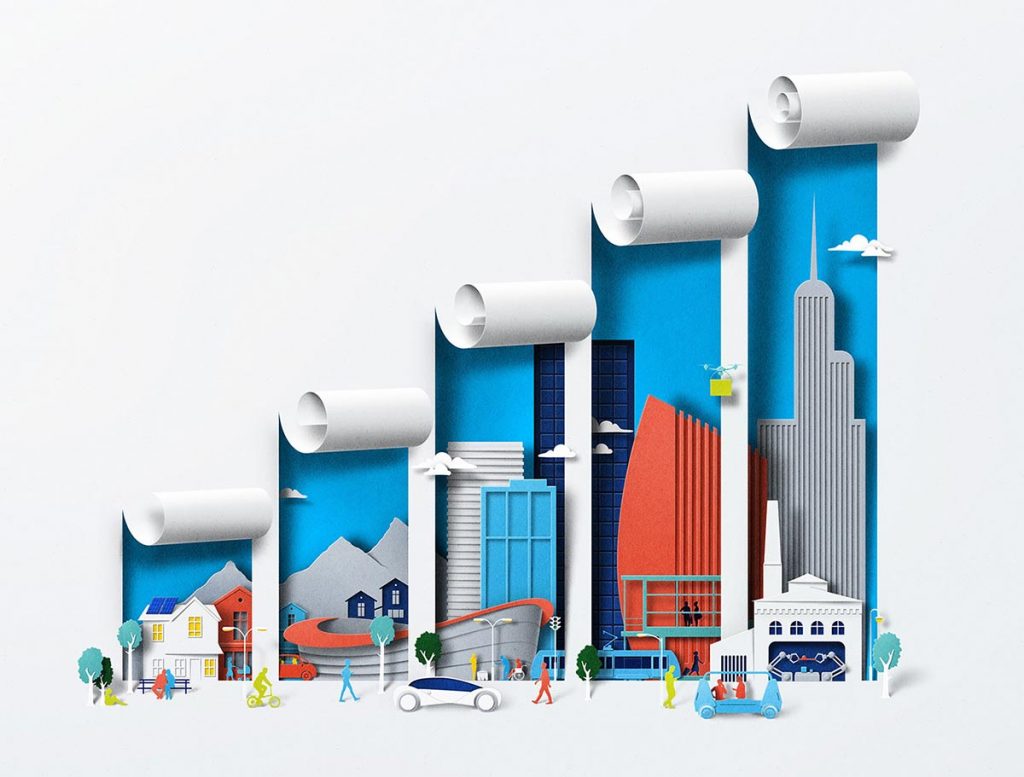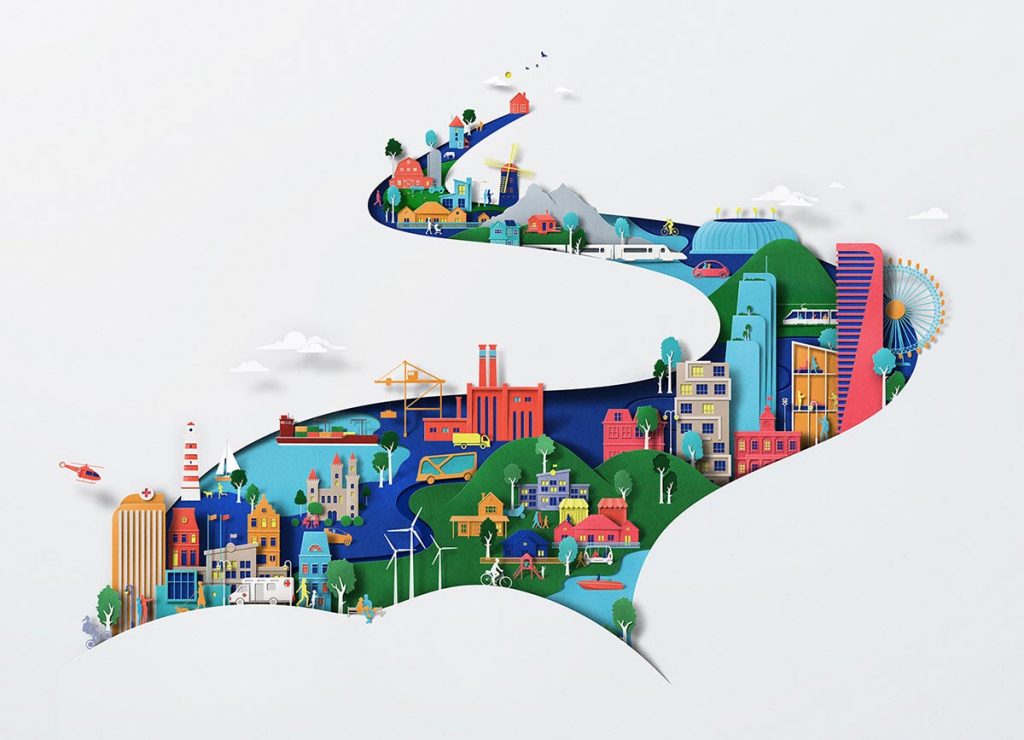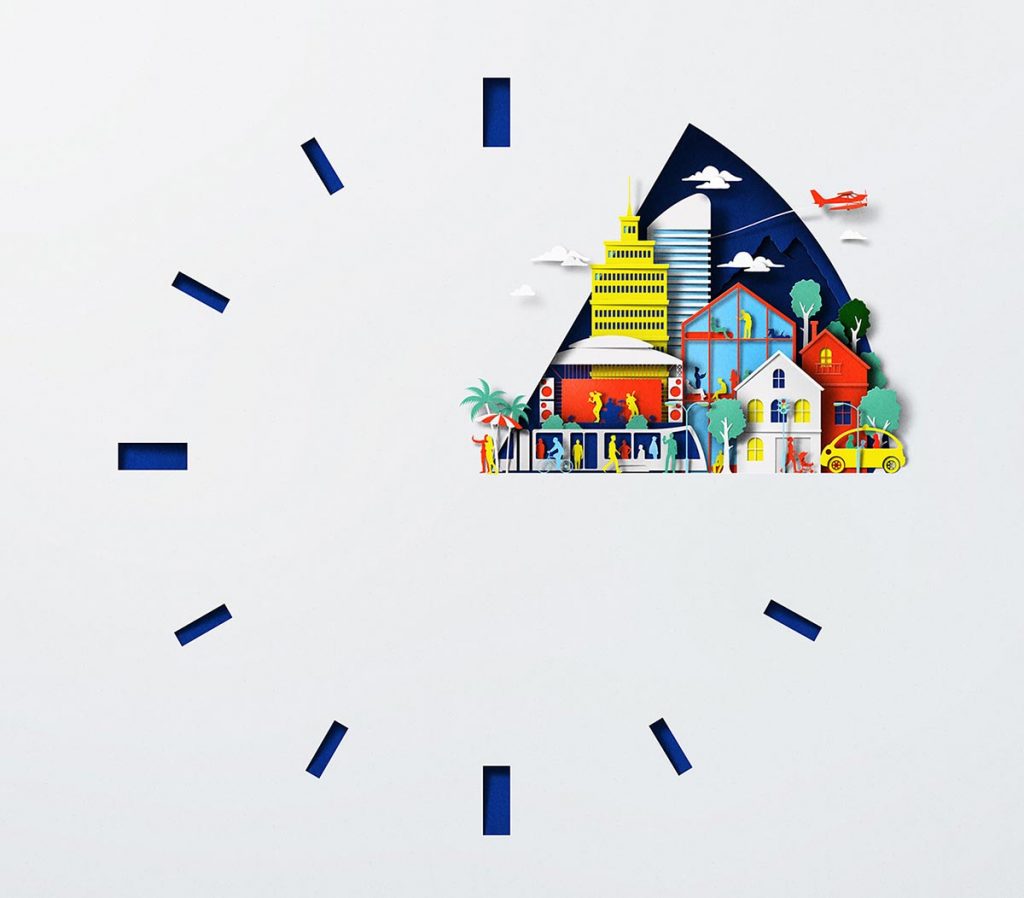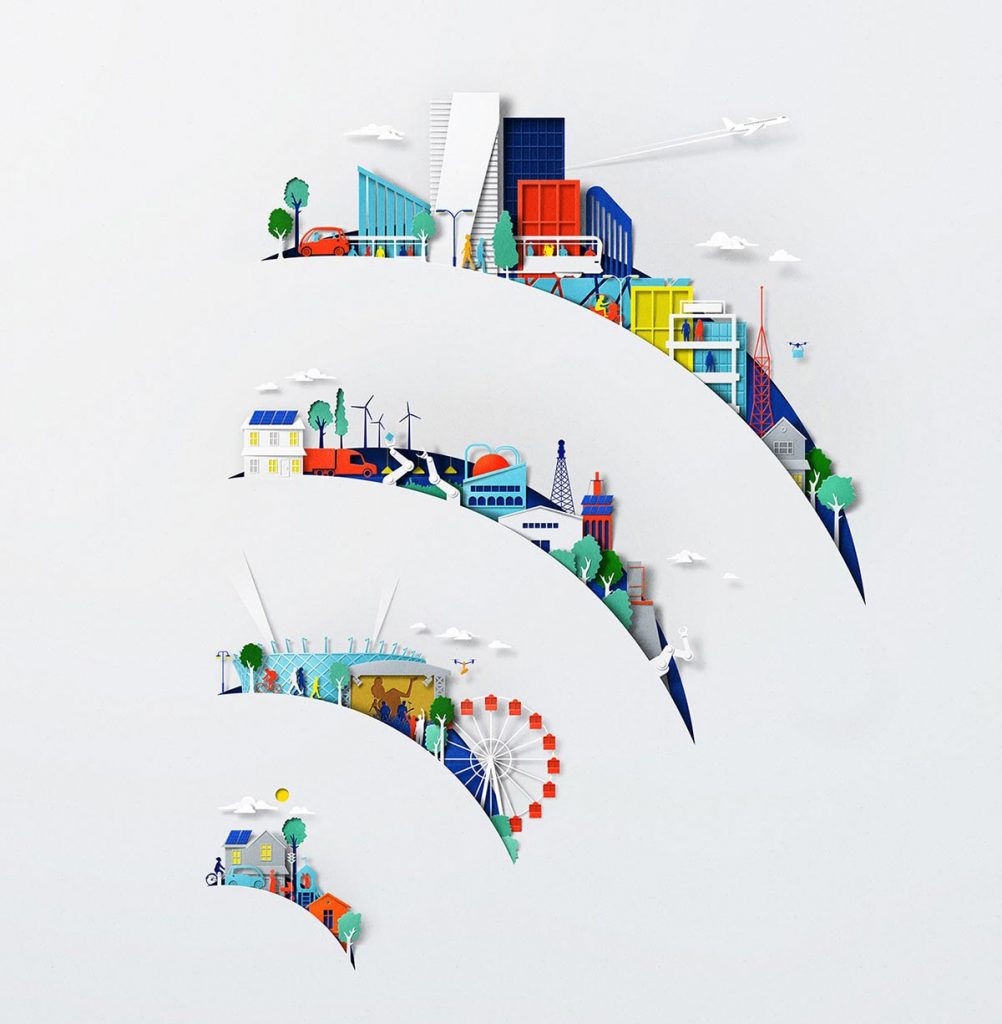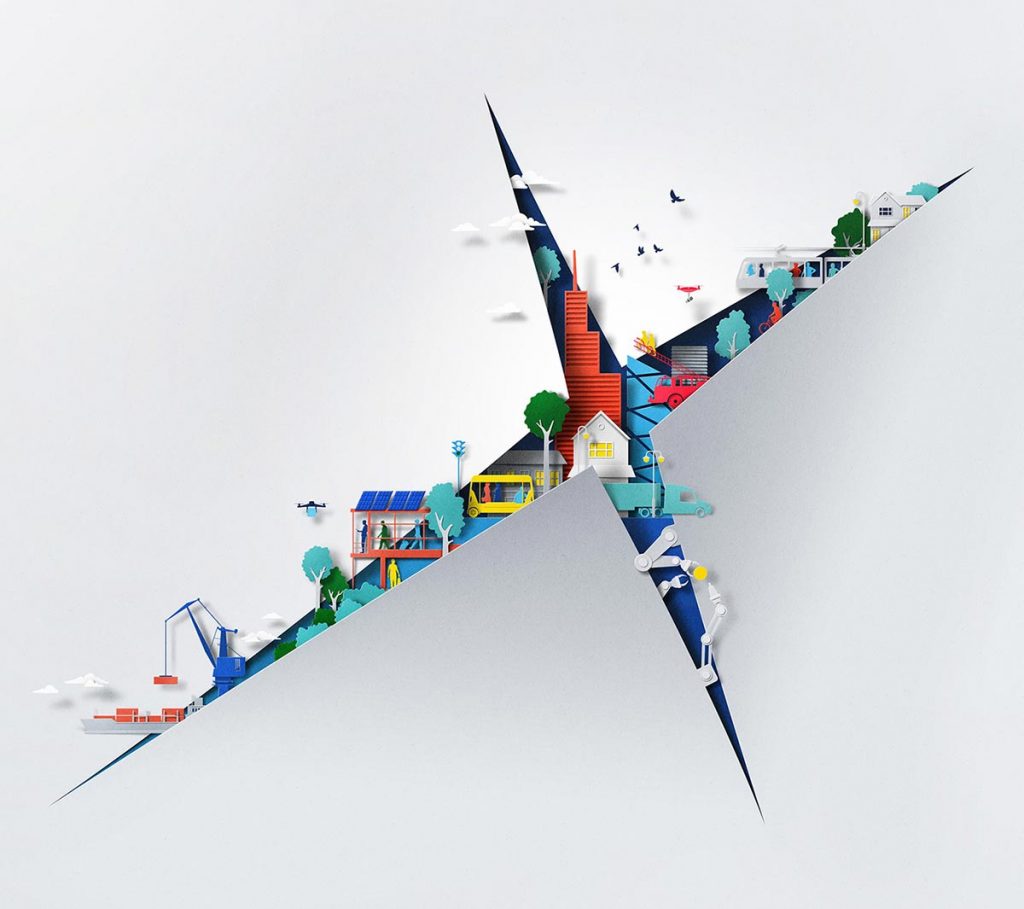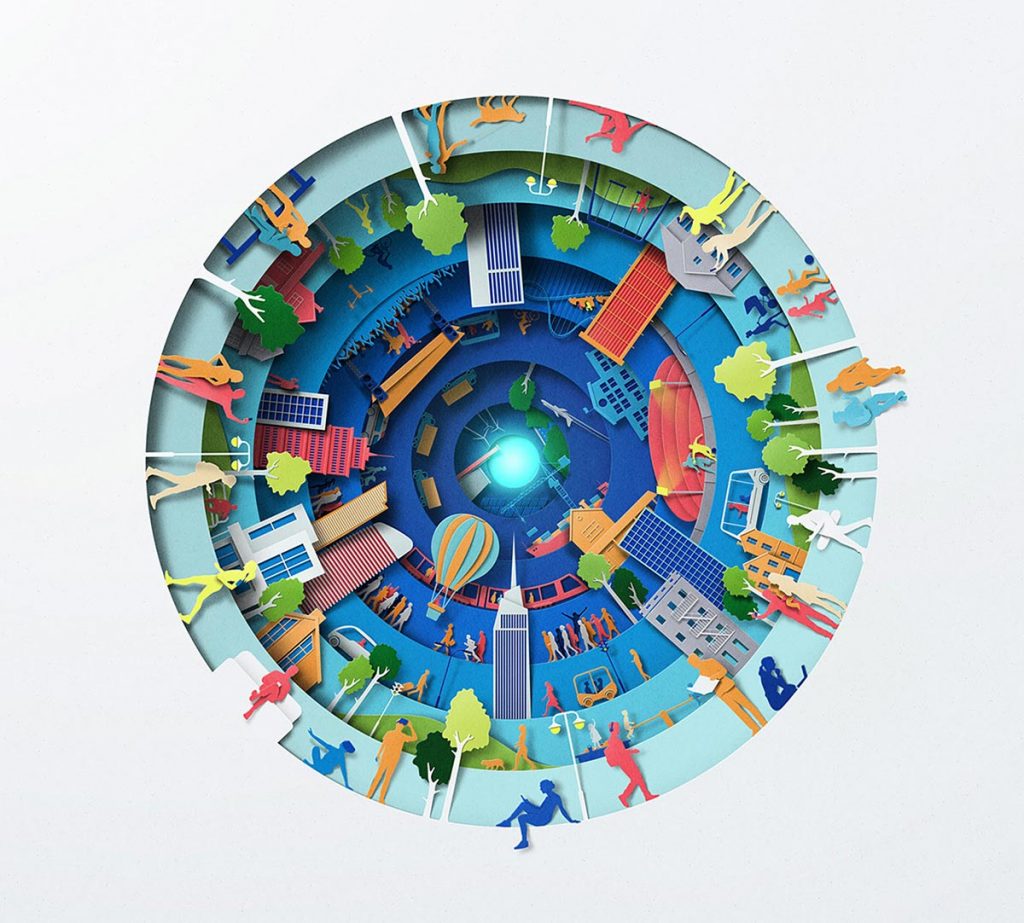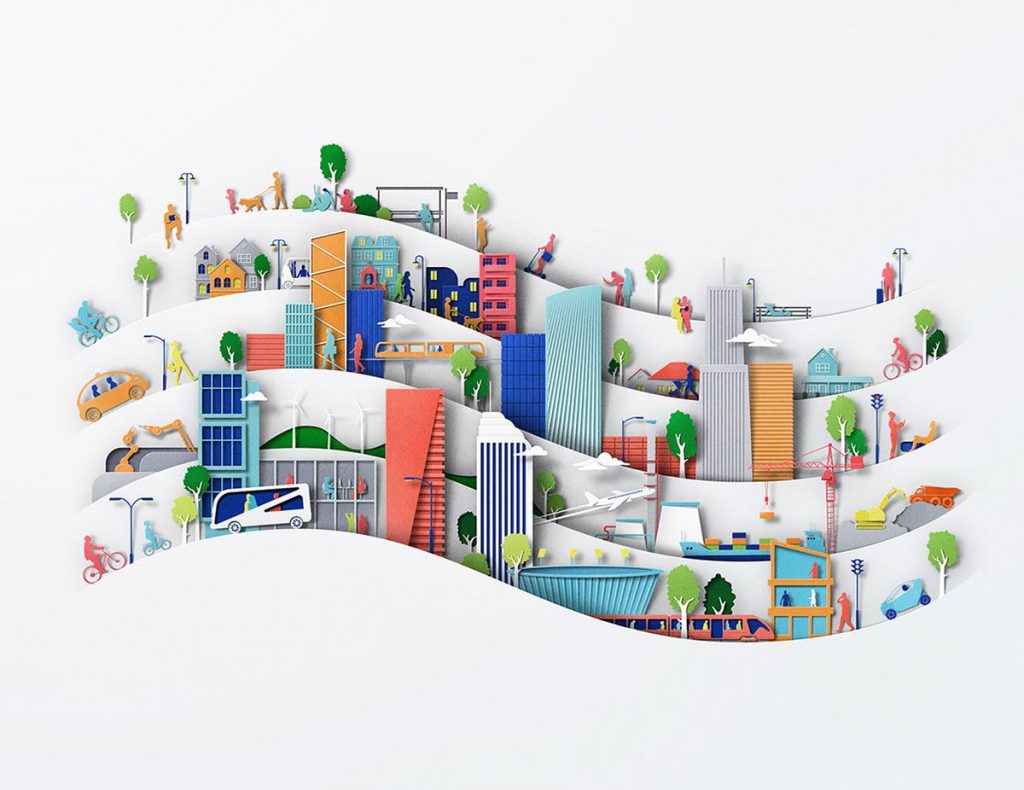 Pouring a Thermos of Hot Tea at -40°C Near the Arctic Circle
DECEMBER 21, 2015 CHRISTOPHER JOBSON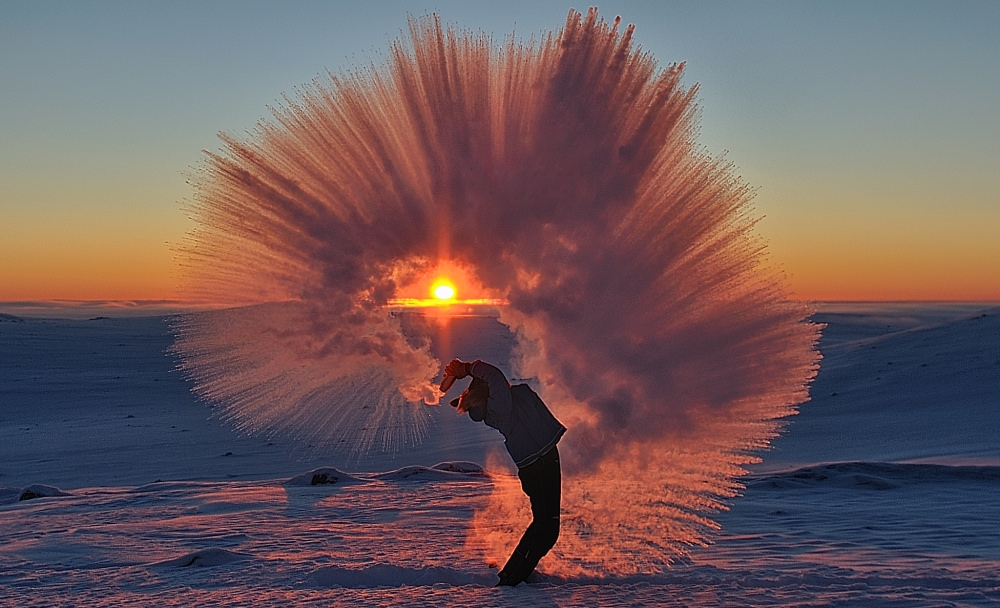 Ontario-based photographer Michael Davies timed this impressive shot of his friend Markus hurling a thermos of hot tea through the air yesterday in -40°C weather. At such frigid temperatures water freezes instantly to form a dramatic plume of ice. For the last decade Davies has worked as a photographer in the fly-in community of Pangnirtung in Canada's High Arctic, only 20km south of the Arctic Circle, a place that sees about two hours of sunlight each day during the winter. He shares via email that almost nothing was left to chance in creating the photo, as so many things had to be perfectly timed:
Around 1pm I jumped on my skidoo along with my friend Markus and we drove 45 minutes to the top of a nearby mountain where the light (which is almost always pink near the solstice) would hit the hills. Prepared with multiple thermoses filled with tea, we began tossing the water and shooting. Nothing of this shot was to chance, I followed the temperature, watched for calm wind, and planned the shot and set it up. Even the sun in the middle of the spray was something I was hoping for, even though it's impossible to control.
You can see more of Davies' most recent photography over on Flickr.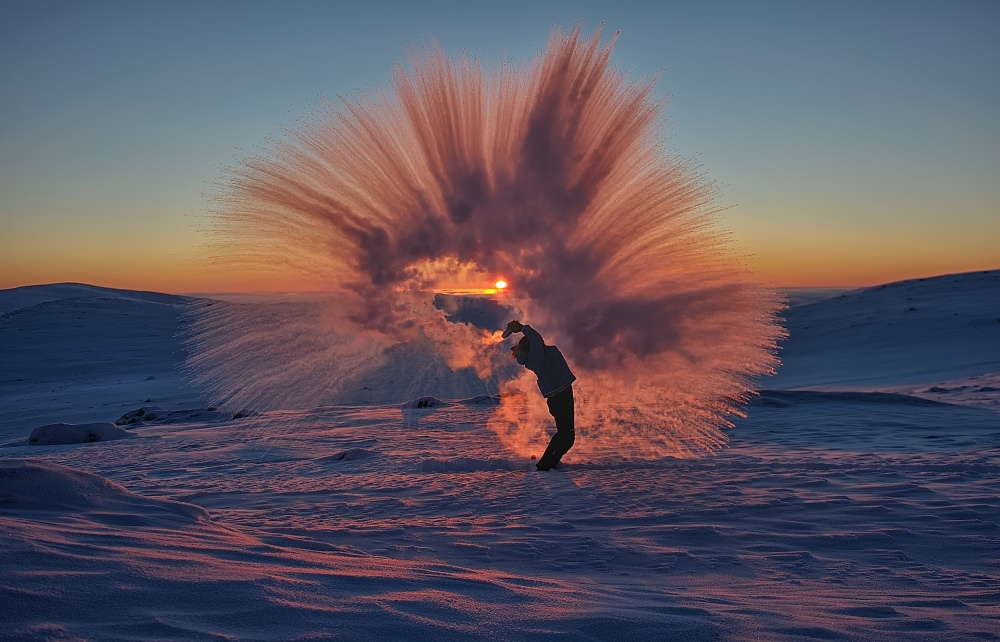 Underwater Footage Captures a Blanket Octopus Revealing Her Billowing Iridescent Membrane
FEBRUARY 24, 2020 GRACE EBERT
In a short clip captured during a blackwater night dive in the Lembeh Strait, a blanket octopus unfolds and displays a colorful web multiple times her original size. The aquatic animal's iridescent body and
tentacles glow against the nighttime water before she releases her translucent blanket that connects her dorsal and dorsolateral arms. Only adult females are equipped with the lengthy membrane that reaches as long as six feet and dwarfs male octopi, which are less than an inch in size and most often die immediately after mating. Generally, the females only unfurl their color-changing blankets to appear larger and more intimidating to potential predators. Shared by NAD Lembeh Resort, the underwater video was taken on a RED Gemini with a 50 millimeter Zeiss Macro lens. You might also want to check out this footage of a blanket octopus in waters near the Philippines. (via The Kids Should See This)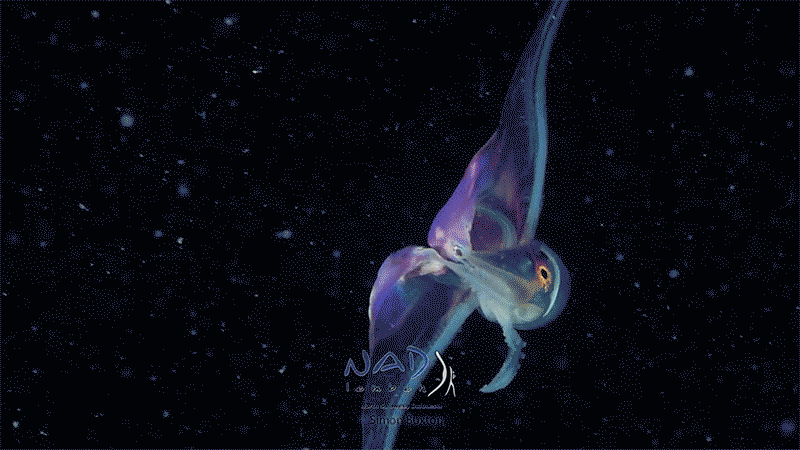 The Blanket Octopus and it's AMAZING Blanket!!
Mar 24, 2019 NAD Lembeh Resort
The Blanket Octopus, shot in the Lembeh Straits on a Blackwater Night Dive with NAD Lembeh. Footage shot on RED Gemini with 50mm Zeiss Macro lens. Copyright Simon Buxton 2019.
Category Pets & Animals