PBS News: February 21 – 24, 2020
BBC Click: Inside Taiwan's Tech Industry
The New York Times: Morning Briefing by Chris Stanford – Learning how to reverse an overdose
My Modern Met: Finland Solves Its Homelessness by Providing Apartments for Anyone Who Needs One
China Icons: FAST – The World's Largest Telescope
TED Talks: Alexander Tsiaras Conception to birth visualized
To Scale: Go See This Eclipse
Thisiscolossal: Go See This Eclipse, Composite Image of the Moon Taken from 47 Photos Reveals Solar Corona During a Total Solar Eclipse and The Movement of Air: A New Dance Performance Incorporating Interactive Digital Projection from Adrien M & Claire B
Adrien M & Claire B – Vimeo: The movement of air / The movement of air
PBS NewsHour full episode, Feb 24, 2020
Feb 24, 2020 PBS NewsHour
Monday on the NewsHour, as novel coronavirus spreads far beyond China, how is it affecting the global economy? Plus: The latest medical concerns about COVID-19, Harvey Weinstein's conviction, Sen. Bernie Sanders' Nevada caucus victory, political analysis with Amy Walter and Tamara Keith, President Trump's trip to India and Los Angeles remembers NBA legend Kobe Bryant and his daughter Gianna. WATCH TODAY'S SEGMENTS With COVID-19 outbreaks, are we on 'precipice' of pandemic? https://www.youtube.com/watch?v=0hewq… Why economic impact of COVID-19 might outlast the outbreak https://www.youtube.com/watch?v=9NQ_F… News Wrap: Man drives into German parade, injuring dozens https://www.youtube.com/watch?v=Wi-TD… Mogul Harvey Weinstein convicted on 2 felony sex charges https://www.youtube.com/watch?v=La6iR… What Weinstein verdict means for the MeToo movement https://www.youtube.com/watch?v=gp2ua… After Nevada win, how strong is Sanders' 2020 momentum? https://www.youtube.com/watch?v=rfdVZ… Tamara Keith and Amy Walter on Sanders' Nevada victory https://www.youtube.com/watch?v=1cwEG… Trump's India visit prompts both hero's welcome and protests https://www.youtube.com/watch?v=jogSC… In Los Angeles, 20,000 gather to honor Kobe, Gianna Bryant https://www.youtube.com/watch?v=VbSDg… Stream your PBS favorites with the PBS app: https://to.pbs.org/2Jb8twG Find more from PBS NewsHour at https://www.pbs.org/newshour Subscribe to our YouTube channel: https://bit.ly/2HfsCD6
PBS NewsHour Weekend full episode February 23, 2020
Feb 23, 2020 PBS NewsHour
On this edition for Sunday, February 23, Sen. Bernie Sanders gains a foothold after the Nevada caucuses, a new documentary explores who killed Malcolm X, and a new concept in caring for people with dementia. Plus, updates on the novel Coronavirus' spread in Italy and Asia. Hari Sreenivasan anchors from New York. Stream your PBS favorites with the PBS app: https://to.pbs.org/2Jb8twG Find more from PBS NewsHour at https://www.pbs.org/newshour Subscribe to our YouTube channel: https://bit.ly/2HfsCD6
PBS NewsHour Weekend full episode February 22, 2020
Feb 22, 2020 PBS NewsHour
On this edition for Saturday, February 22nd, voters turnout for Saturday's Democratic caucuses in Nevada, and a look at how gender is playing a role in local Nevada and South Carolina politics. Also, the first report in our series of stories from India explores exclusionary citizenship laws that are leaving nearly 2 million people in limbo. Hari Sreenivasan anchors from New York. Stream your PBS favorites with the PBS app: https://to.pbs.org/2Jb8twG Find more from PBS NewsHour at https://www.pbs.org/newshour Subscribe to our YouTube channel: https://bit.ly/2HfsCD6
PBS NewsHour full episode, Feb 21, 2020
Feb 21, 2020 PBS NewsHour
Friday on the NewsHour, the U.S. and the Taliban begin a week-long "reduction in violence" in Afghanistan. Plus: Political uproar over a report that Russia is again trying to intervene in a U.S. election on behalf of President Trump, a Nevada caucus preview, political analysis with Shields and Brooks, the suffering of Venezuela's children and Major League Baseball's cheating scandal. WATCH TODAY'S SEGMENTS News Wrap: WHO warns about novel coronavirus' global spread https://www.youtube.com/watch?v=gVziw… What's in short-term U.S.-Taliban deal over Afghanistan https://www.youtube.com/watch?v=lQkLD… Why politicization of intelligence leaves U.S. 'vulnerable' https://www.youtube.com/watch?v=hyB2k… How will 2020 Democrats fare in more diverse Nevada? https://www.youtube.com/watch?v=YLYp7… Shields and Brooks on Las Vegas debate, Trump's pardons https://www.youtube.com/watch?v=b-xxw… Venezuela's suffering children could yield lost generation https://www.youtube.com/watch?v=YKs82… Why MLB players are upset over Astros' lack of punishment https://www.youtube.com/watch?v=RBIld… Stream your PBS favorites with the PBS app: https://to.pbs.org/2Jb8twG Find more from PBS NewsHour at https://www.pbs.org/newshour Subscribe to our YouTube channel: https://bit.ly/2HfsCD6
Inside Taiwan's Tech Industry – BBC Click
Nov 7, 2019 BBC Click
We head to Taiwan to find out what 'Made in Taiwan' really means in the 21st century; from healthcare artificial intelligence to solving the pollution crisis. Subscribe HERE http://bit.ly/1uNQEWR Find us online at www.bbc.com/click Twitter: @bbcclick Facebook: www.facebook.com/BBCClick
Category Science & Technology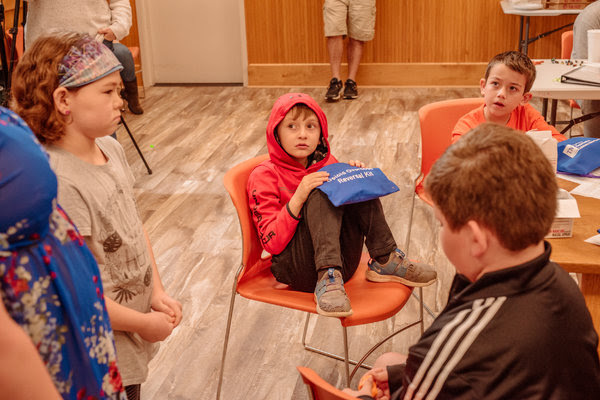 Mike Belleme for The New York Times Carter County, Tenn., is one of many American communities hit hard by the opioid crisis. In an effort to save lives, county health officials have embraced a practical — if radical — strategy: teaching children as young as 6 how to reverse an overdose, using a nasal spray called Narcan. Above, after a training session at a library, each child received a blue bag containing two doses of Narcan to take home.
But in a socially conservative region, where addiction is often seen as a sin, health workers have encountered strong opposition to the training.
Finland Solves Its Homelessness by Providing Apartments for Anyone Who Needs One
By Emma Taggart on February 14, 2020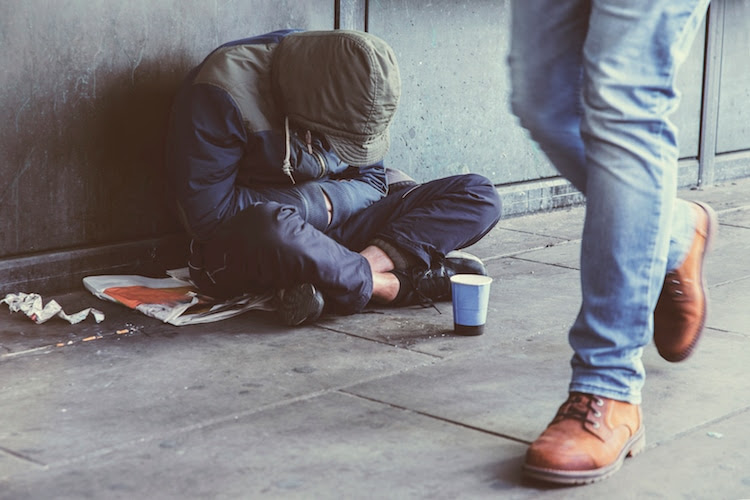 Stock Photos from Followtheflow/Shutterstock
Homelessness is a problem all over the world, but Finland is leading the way with an initiative that could provide a long-term solution. In 2008, the Northern European nation introduced the "Housing First" policy. The concept is simple: everyone is entitled to a small apartment, even those with mental health and financial issues. Since then, the number of homeless people has fallen drastically, and continues to decline.
Like most cities, Finland previously provided short-term shelters for the homeless, but found that the quick fix didn't help people to get back on their feet permanently and build a stable life. Affordable rental housing providers such as Y-Foundation began renovating old flats, and the NGO even turned former emergency shelters into apartments in order to offer long-term housing. "It was clear to everyone that the old system wasn't working; we needed radical change," says Juha Kaakinen, CEO of Y-Foundation. "We had to get rid of the night shelters and short-term hostels we still had back then. They had a very long history in Finland, and everyone could see they were not getting people out of homelessness. We decided to reverse the assumptions."
In the last 10 years, the Housing First initiative provided 4,600 homes in Finland, making it the only country in Europe where homelessness is on the decline. Not only does the country now provide shelter to anyone that needs it, but the government also helps support people to integrate into their community. Social workers are available for counseling and to help people apply for social benefits. The extra support helps encourage people to find a job and become financially independent, as well as to take care of their physical and mental health.
Find out more about Housing First on the Y-Foundation website.
Thanks to its Housing First policy, Finland is the only country in Europe where homelessness is in decline.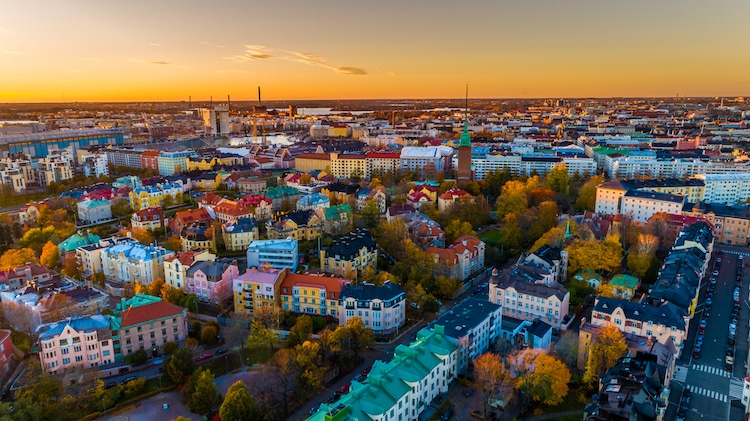 Stock Photos from Subodh Agnihotri/Shutterstock
h/t: [Reddit]
Related Articles:
Denver Non-Profit Transforms Hotel Into Affordable Housing for the Homeless
Compassionate Barbers Give 80 Free Haircuts a Week to Nashville's Homeless
Street Barber Who Gives Free Haircuts to the Homeless Gets Gifted His Own Barber Shop
Finland Is Offering Free Trips to Teach People the Finnish Art of Happiness
FAST: The World's Largest Telescope | A China Icons Video
Sep 25, 2016 China Icons
What's really out there? In September 2016, China unveiled the world's largest telescope – an instrument engineered so finely it is 3 times more sensitive than Arecibo and may help in the international search for understanding more on the origin of the universe and the Big Bang. Sadly, since filming this video, FAST's chief engineer and scientist, Professor Nan Rendong lost his fight with cancer. Not only was Professor Nan a talented and well-respected scientist who dedicated over 20 years to the FAST project, but we found him to be a kind, intelligent and dedicated man who took the time to explain his work and the importance of it to us. The Five-Hundred-Metre Aperture Spherical Telescope, known as FAST had been constructed over five years in a remote area of Guizhou province, south central China. It was built in a 45 million year old crater, unlikely to be affected by flooding and far from human interference. The 500m dish surpasses Arecibo radio telescope, built in Puerto Rico in 1963, as the world's largest and is three times more sensitive in detecting radio waves thousands of light years away. FAST consists of 4450 individual panels and Chinese project engineers had to design a cable net of ten thousand cables to manipulate it to detect signals. FAST's focus cabin is also unique thanks to a directional tracking system. A key mission for the telescope will be detecting pulsars, the matter that remains when a star eight times the size of the sun explodes. These pulsars rotate thousands of times per second and are the universe's most accurate clock. Experience the construction and meet the creators of FAST: The World's Largest Telescope. For more insights and guides to China, SUBSCRIBE to China Icons. Join in the conversation on our Facebook site www.facebook.com/ChinaIcons. Get the latest news as it happens from our Twitter page https://twitter.com/chinaicons. We're also on Instagram! Follow us for exclusive behind-the-scenes photography and more. www.instagram.com/china_icons. Remember to check out our official website too with our blog! www.chinaicons.com.
Category Science & Technology
Image-maker Alexander Tsiaras shares a powerful medical visualization, showing human development from conception to birth and beyond. (Some graphic images.)
This talk was presented at an official TED conference, and was featured by our editors on the home page.
Alexander Tsiaras · Medical image maker
Using art and technology, Alexander Tsiaras visualizes the unseen human body.
Alexander Tsiaras
Doubleday (2002)
INK Conference | December 2010
To Scale: Go See This Eclipse
Aug 14, 2017 To Scale:
On August 21st, 2017, the United States will host its first total solar eclipse in nearly forty years. While a partial eclipse will be visible throughout the continental US, only a thin strip across fourteen states will experience what is regarded as the most astounding celestial event one can witness: a total solar eclipse. This film is about why you should do everything you can to go see it. "Seeing a partial eclipse bears the same relation to seeing a total eclipse as kissing a man does to marrying him, or as flying in an airplane does to falling out of an airplane." — Annie Dillard
Go See This Eclipse: A Scaled Simulation by Alex Gorosh
AUGUST 15, 2017 CHRISTOPHER JOBSON
In this new short film, director Alex Gorosh walks us through next week's total solar eclipse and explains why it's so important to see it. The mix of archival footage, scientific explanation, and a brief outdoor simulation to demonstrate scale similar to his 2015 video about the solar system, all make a compelling emotional argument that this eclipse shouldn't be missed. Just make sure you're prepared.
Composite Image of the Moon Taken from 47 Photos Reveals Solar Corona During a Total Solar Eclipse
MAY 9, 2013 CHRISTOPHER JOBSON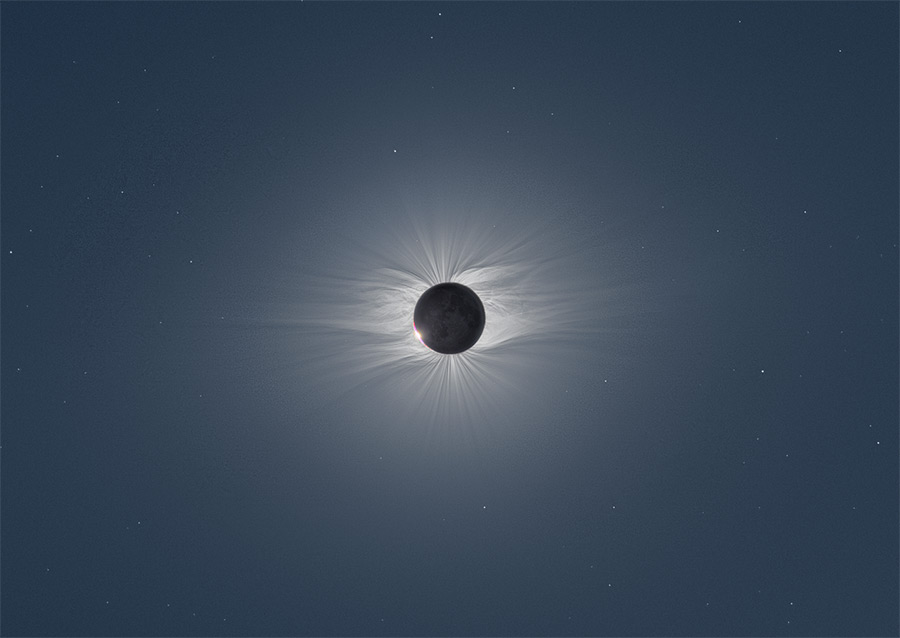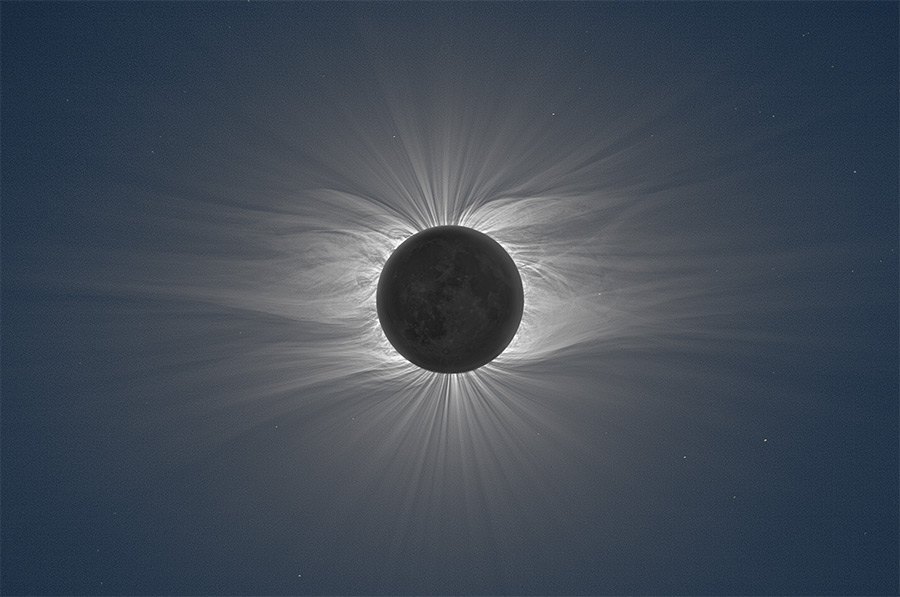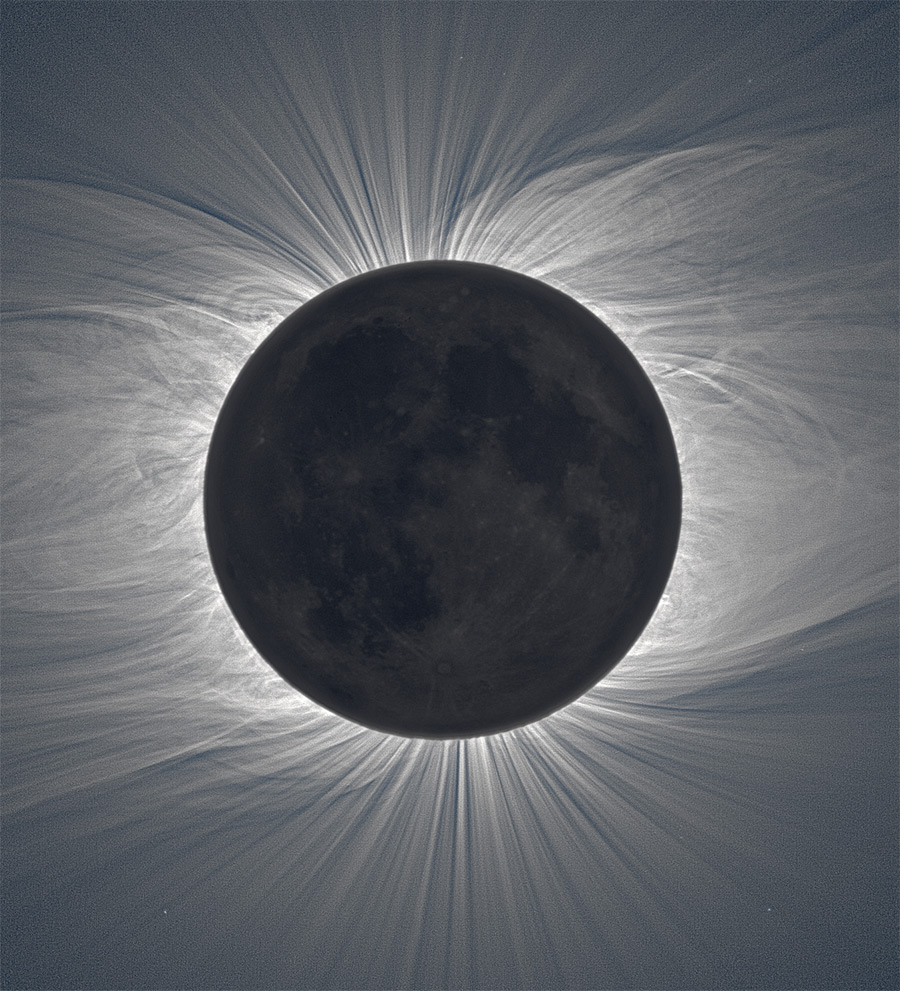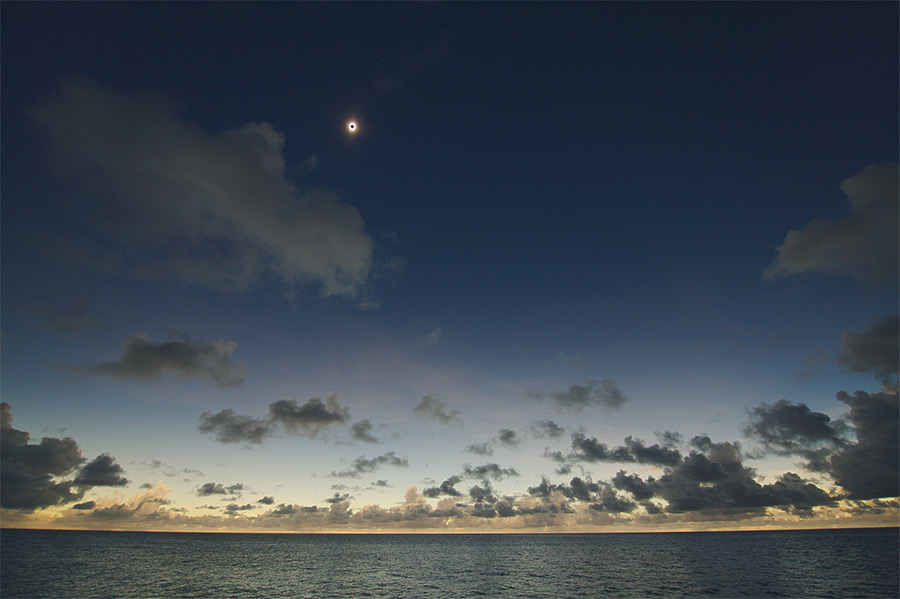 Shot by Czech photographer Miloslav Druckmüller from the Brno University of Technology, these amazing composite images capture the moon during a total solar eclipse revealing a vast solar corona. To achieve the crystal clear effect the shots are comprised from some 40+ photos taken with two different lenses. Additional clarity was achieved due to the incredibly remote location chosen to view the eclipse from, a pier just outside the Enewetak Radiological Observatory on the Marshall Islands, smack dab in the middle of the Pacific Ocean. You can see several more images from the project at Druckmüller's website and don't miss this much higher resolution version including some 209 stars. All images courtesy the photographer. (via this isn't happiness)
The Movement of Air: A New Dance Performance Incorporating Interactive Digital Projection from Adrien M & Claire B
NOVEMBER 11, 2015 CHRISTOPHER JOBSON
Artist duo Adrien M & Claire B have lifted the curtain on their latest acrobatic dance performance utilizing digital projection titled The Movement of Air. Seen in this video is a handful of moments taken from an hour-long piece performed in France last month by a trio dancers. Unlike more common uses of digital project mapping where a recorded animation or scene is projected in a space, Adrien M & Claire B instead utilize fully interactive "scenes" that respond to human interaction. Nothing you see on the set is animated beforehand.
"This 'living light' is produced by video projectors and generated in real time by a set of algorithms," Adrien shares with us. "It is a mix of control room operated human interventions and onstage data sensors that outlines a precise writing of motions and generative behaviors. Thus, the images are never pre-recorded for a rigid show on an imposed rhythm: on the contrary, they breathe and move with the dancers and organize a new space for them to explore."
The overall effect is dizzying, and in many ways enhances the dancer's work instead of looking like a gimmick added as an afterthought. A great marriage of physical performance and digital special effects. You can watch several earlier interactive creations by Adrien & Claire here on Colossal including Pixel and Kinetic Sand.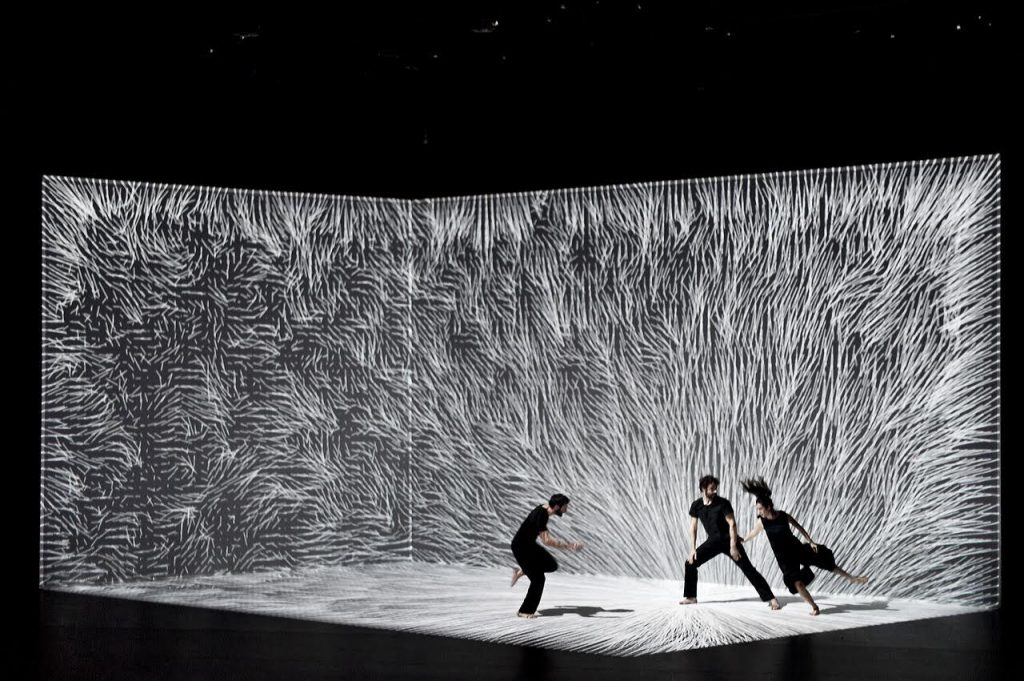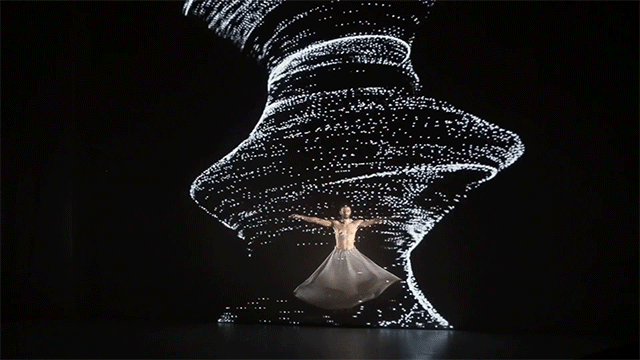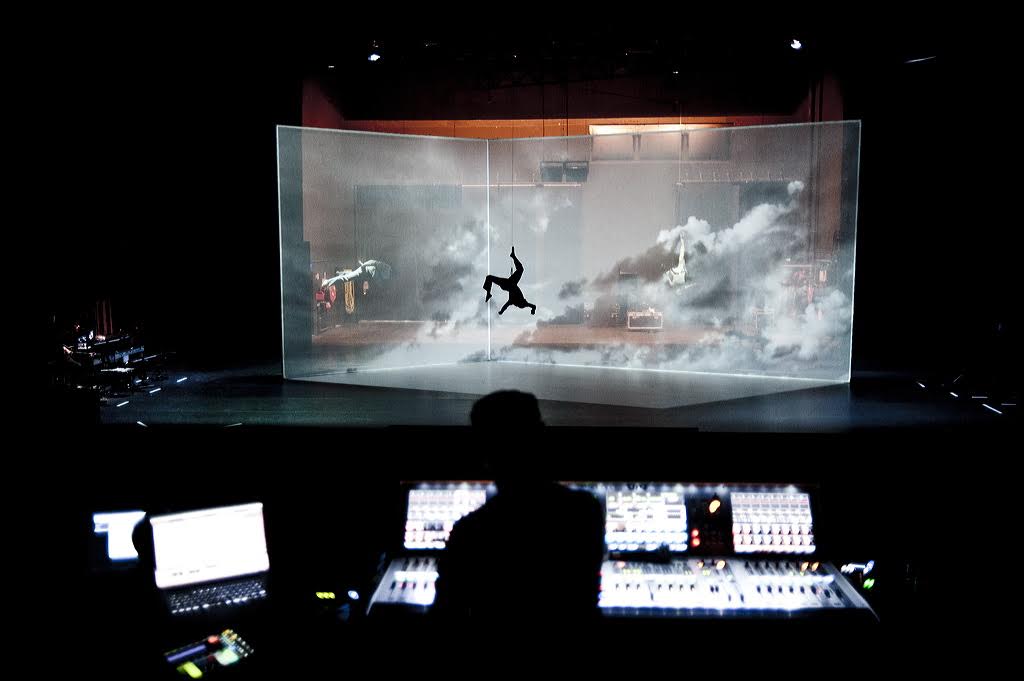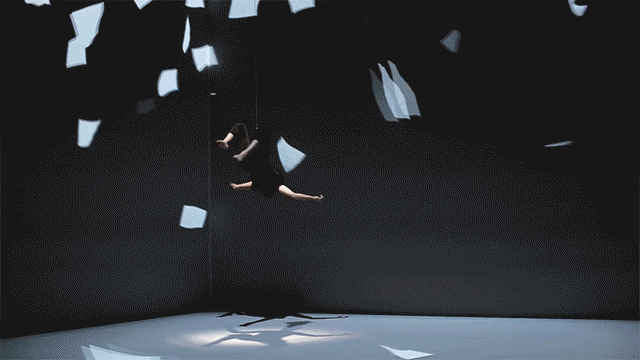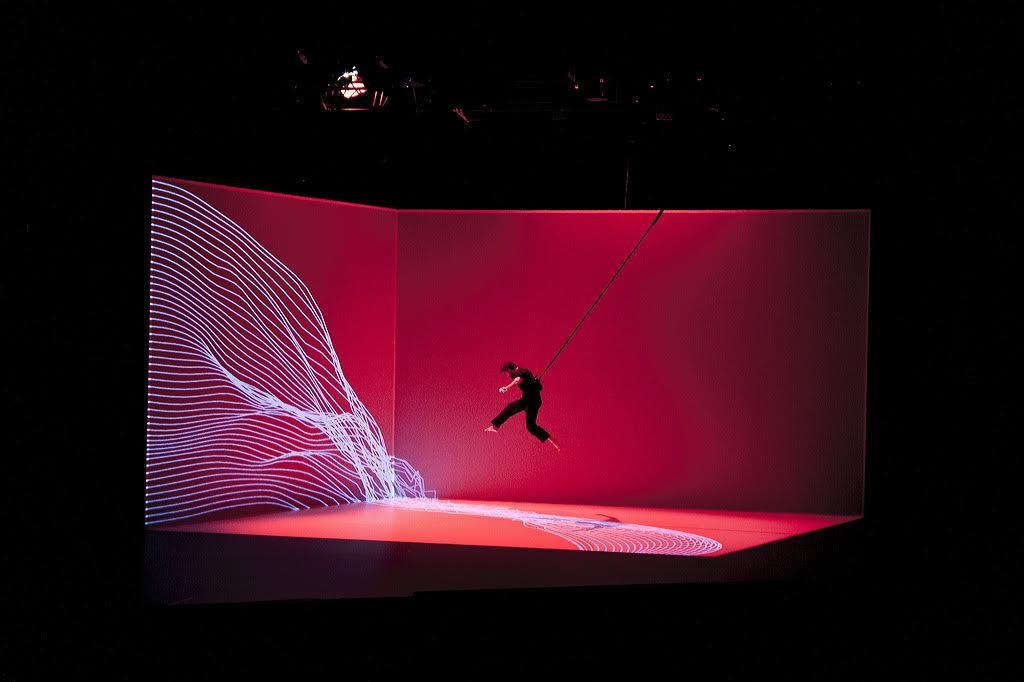 The movement of air / The movement of air
2015 creation of the company Adrien M / Claire B
Conception, artistic direction, scenography and staging: Claire Bardainne & Adrien Mondot
IT design: Adrien Mondot
Choreography: Yan Raballand
Dance: Rémi Boissy, Farid-Ayelem Rahmouni, Maëlle Reymond
Choreographic collaboration: Guillaume Bertrand
Original music and interpretation: Jérémy Chartier
Lumière : David Debrinay
Costumes: Marina Pujadas
Construction & flight systems: Silvain Ohl and Eric Noël
Light management: alternating
General management: Pierre Xucla
Sound management, alternating: Christophe Sartori, Régis Estreich
Stage management & flight systems : Arnaud Gonzalez
Technical director: Alexis Bergeron
Production and distribution: Charlotte Auché, Marek Vuiton, Margaux Létang
The IT development of the show was carried out with the help of the Anomes team and Millumin v2 software.
Production
Adrien M / Claire B
Coproductions
Théâtre de L'Archipel, national stage of Perpignan
Le Cirque-Théâtre d'Elbeuf
La Brèche, National Pole of Circus Arts, Cherbourg-Octeville
GREC Festival, Barcelona (Spain)
With the support of Adami. The Adami, society of performers, manages and develops their rights in France and around the world for fair compensation for their talent. It also supports them with its financial aid for artistic projects.
With the participation of DICRéAM
Fondazione Romaeuropa – Arte e Cultura (Italy)
Center des Arts d'Enghien-les-Bains, scene approved for digital writing
Maison des Arts, national scene of Créteil and Val-de-Marne
Espace Jean Legendre Theater of Compiegne, national stage of the Oise foreshadowing
Odyssey, National Institute of Arts of mime and gesture Périgueux
L'Hexagone Scène Nationale Arts-Sciences – Meylan
National Choreographic Center of Créteil and Val de-Marne / Cie Käfig, as part of Accueil Studio
Support
Le Toboggan, scene approved by Décines
Les Subsistances, international laboratory for artistic creation, Lyon

The company Adrien M / Claire B is approved by the DRAC Rhône-Alpes, by the Rhône-Alpes Region and supported by the City of Lyon.
Photos © Romain Etienne / item and © AMCB
Video © Adrien M / Claire B – with the precious help of Guillaume Faure
"The movement of the air" is a frontal spectacle for three dancers evolving according to a choreographic score in an immersive environment made up of projected images, generated and animated live.
The purpose of the show is to give body to the imperceptible: to make visible the invisible of a movement of air, in its trajectories with infinite nuances, imaginary varying from the most gentle and slow, to the most lively and transparent, from the most powerful at the most subtle. A journey between the dream of flight and the anxiety of falling.
A suspension device allows the bodies to get rid of their weight.
The original music is performed live on stage.
2 Credits Adrien M & Claire B, Design Millumin, Software dev
4 Categories  Arts & Design  Animation  Projection Mapping