PBS News: February 8 – 13, 2020
Scientific American: The World Health Organization chose the name based on the type of virus and the year the first cases were seen
TED Talks: Alicia Eggert Imaginative sculptures that explore how we perceive reality? and Alejandro Duran How I use art to tackle plastic pollution in our oceans
Genius Channel: Albert Einstein Part 1: The Biography, Albert Einstein Part 2: The Formula and Albert Einstein Part 3: The Mind
DW Documentary: Oil and ruin — exodus from Venezuela
Indian Diplomacy: Mahatma – A Great Soul of 20th Century
mortrek: Time Lapse of Sunflower from Seed to Flower
Thisiscolossal: Remarkable High Speed Photos of Birds Catching Fish by Salah Baazizi and Miniature Seascapes and Cities Top Elaborate Paper Wigs by Asya Kozina and Dmitriy Kozin
PBS NewsHour full episode, Feb 13, 2020
Feb 13, 2020 PBS NewsHour
Thursday on the NewsHour, a conversation with Sen. Bernie Sanders, one of the current leaders in the 2020 Democratic presidential primary. Plus: Ongoing political fallout in China over the novel coronavirus outbreak, measles makes a deadly comeback, a book with an inside look at the Trump presidency, controversy over school shooting drills and a Brief But Spectacular take on revolutionary poetry. WATCH TODAY'S SEGMENTS News Wrap: Barr decries public criticism of Roger Stone case https://www.youtube.com/watch?v=krEie… How 2020 Democrats are positioning themselves after NH https://www.youtube.com/watch?v=ELKp8… Bernie Sanders on Culinary Workers Union, Medicare for All https://www.youtube.com/watch?v=43q5B… In China, political fallout from novel coronavirus continues https://www.youtube.com/watch?v=LmaoF… How vaccine hesitancy is causing deadly measles resurgence https://www.youtube.com/watch?v=S0oKa… 'A Very Stable Genius' offers inside look at Trump's tenure https://www.youtube.com/watch?v=zy3kj… Why education unions dispute value of active shooter drills https://www.youtube.com/watch?v=vmFBH… How Tongo Eisen-Martin looks to poetry to create revolution https://www.youtube.com/watch?v=zMWOR… Stream your PBS favorites with the PBS app: https://to.pbs.org/2Jb8twG Find more from PBS NewsHour at https://www.pbs.org/newshour Subscribe to our YouTube channel: https://bit.ly/2HfsCD6
PBS NewsHour full episode, Feb 12, 2020
Feb 12, 2020 PBS NewsHour
Wednesday on the NewsHour, what the results in New Hampshire mean for Democratic presidential candidates. Also: Former Mayor Pete Buttigieg on his second-place finish in the Granite State, crisis at the Justice Department as President Trump tries to take the law into his own hands, a possible solution for the nation's crumbling infrastructure, and a new novel from Isabel Allende. WATCH TODAY'S SEGMENTS 2020 Dems look to more diverse states after N.H. primary https://www.youtube.com/watch?v=0aCSO… Buttigieg: Results are proving he's 'a serious contender' https://www.youtube.com/watch?v=Kkiaf… News Wrap: New novel coronavirus infections declining https://www.youtube.com/watch?v=syiWY… Does the Roger Stone fight hurt the Justice Department? https://www.youtube.com/watch?v=lPKmO… What N.H. primary results mean for the 2020 race https://www.youtube.com/watch?v=rrae_… U.S. needs safer bridges. Super strong concrete could help https://www.youtube.com/watch?v=Eg7CB… In Allende's new novel, a familiar story of refugee life https://www.youtube.com/watch?v=i8D8X… Stream your PBS favorites with the PBS app: https://to.pbs.org/2Jb8twG Find more from PBS NewsHour at https://www.pbs.org/newshour Subscribe to our YouTube channel: https://bit.ly/2HfsCD6
PBS NewsHour full episode, Feb 11, 2020
Feb 11, 2020 PBS NewsHour
Tuesday on the NewsHour, voting is underway in New Hampshire, the first state to hold a primary during the 2020 election cycle. Plus: Controversy over Roger Stone's sentence, how China is coping with its deadly novel coronavirus outbreak, Sudan's Omar al-Bashir is closer to facing prosecution, new efforts to clean India's Ganga River and a woman helping perfect technology for a bionic limb. Stream your PBS favorites with the PBS app: https://to.pbs.org/2Jb8twG Find more from PBS NewsHour at https://www.pbs.org/newshour Subscribe to our YouTube channel: https://bit.ly/2HfsCD6
PBS NewsHour full episode, Feb 10, 2020
Feb 10, 2020 PBS NewsHour
Monday on the NewsHour, 2020 Democrats make final pitches to voters in New Hampshire ahead of Tuesday's first-in-the-nation primary. Plus: The death toll from novel coronavirus surpasses that of SARS as China struggles to contain the outbreak, what's in President Trump's proposed 2021 budget, Politics Monday, Denmark's rising anti-Semitism troubles Auschwitz survivors and a milestone Oscars night. WATCH TODAY'S SEGMENTS NH voters battle indecision as Democratic primary nears https://www.youtube.com/watch?v=Bvs21… News Wrap: Turkish, Syrian forces clash again in Idlib https://www.youtube.com/watch?v=Nx-EG… Can China's information about novel coronavirus be trusted? https://www.youtube.com/watch?v=onE6X… What's in Trump's proposed 2021 budget https://www.youtube.com/watch?v=KgVDh… Lauren Chooljian and James Pindell preview NH primary https://www.youtube.com/watch?v=3_x4n… In Denmark, Auschwitz survivors lament rise of anti-Semitism https://www.youtube.com/watch?v=0ycxV… What best picture for 'Parasite' means for foreign films https://www.youtube.com/watch?v=XsL8o… Stream your PBS favorites with the PBS app: https://to.pbs.org/2Jb8twG Find more from PBS NewsHour at https://www.pbs.org/newshour Subscribe to our YouTube channel: https://bit.ly/2HfsCD6
PBS NewsHour Weekend full episode February 9, 2020
Feb 9, 2020 PBS NewsHour
On this edition for Sunday, February 9, Democratic presidential candidates canvass New Hampshire in the final push ahead of Tuesday's primary, the death toll from the novel coronavirus continues to climb, a 15-year battle heats up over Oregon's Jordan Cove pipeline project, and a look at misconceptions about race and culture. Alison Stewart anchors from New York. Stream your PBS favorites with the PBS app: https://to.pbs.org/2Jb8twG Find more from PBS NewsHour at https://www.pbs.org/newshour Subscribe to our YouTube channel: https://bit.ly/2HfsCD6
PBS NewsHour Weekend full episode February 8, 2020
Feb 8, 2020 PBS NewsHour
On this edition for Saturday, February 8, the Democratic presidential candidates look to New Hampshire for support, new cases of the novel coronavirus emerge, Louisiana oyster farmers feel a changing tide along the Mississippi Delta, and internet satellites are launched into space with the hope of expanding broadband coverage. Hari Sreenivasan anchors from New York. Stream your PBS favorites with the PBS app: https://to.pbs.org/2Jb8twG Find more from PBS NewsHour at https://www.pbs.org/newshour Subscribe to our YouTube channel: https://bit.ly/2HfsCD6
https://www.scientificamerican.com/article/disease-caused-by-the-novel-coronavirus-officially-has-a-name-covid-19/?utm_source=newsletter&utm_medium=email&utm_campaign=today-in-science&utm_content=link&utm_term=2020-02-11_top-stories&spMailingID=63452364&spUserID=NDQwNDA3NDcwNDMzS0&spJobID=1821626956&spReportId=MTgyMTYyNjk1NgS2
Disease Caused by the Novel Coronavirus Officially Has a Name: COVID-19
The World Health Organization chose the name based on the type of virus and the year the first cases were seen
By Andrew Joseph, STAT on February 11, 2020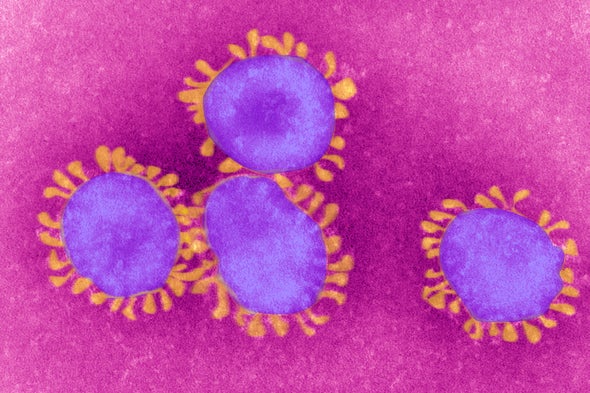 Coronavirus. Credit: Getty Images
The disease caused by the novel coronavirus has a name: COVID-19.
Tedros Adhanom Ghebreyesus, the director-general of the World Health Organization, announced the name Tuesday, giving a specific identifier to a disease that has been confirmed in more than 42,000 people and caused more than 1,000 deaths in China. There have been fewer than 400 cases in 24 other countries, with one death.
In choosing the name, WHO advisers focused simply on the type of virus that causes the disease. Co and Vi come from coronavirus, Tedros explained, with D meaning disease and 19 standing for 2019, the year the first cases were seen.
The virus that causes the disease has been known provisionally as 2019-nCoV. Also on Tuesday, a coronavirus group from the International Committee on Taxonomy of Viruses, which is responsible for naming new viruses, proposed designating the novel coronavirus as SARS-CoV-2, according to a preprint of a paper posted online. (Preprints are versions of papers that have not yet been peer-reviewed or published in a scientific journal.) The name reflects the genetic similarities between the new coronavirus and the coronavirus that caused the SARS outbreak of 2002-2003.
In selecting COVID-19 as the name of the disease, the WHO name-givers steered clear of linking the outbreak to China or the city of Wuhan, where the illness was first identified. Although origin sites have been used in the past to identify new viruses, such a namesake is now seen as denigrating. Some experts have come to regret naming the infection caused by a different coronavirus the Middle East respiratory syndrome.
"Having a name matters to prevent the use of other names that can be inaccurate or stigmatizing," Tedros said. "It also gives us a standard format to use for any future coronavirus outbreaks."
Viruses and the disease they cause do not have to have related names—think HIV and AIDS—but more recently those responsible for the formal naming process have kept them associated. For example, SARS, the disease, is caused by SARS-CoV, the virus.
The provisional name of the new virus stemmed from the year it was first seen (2019), the fact that it was new (n), and a member of the coronavirus family (CoV).
A clear name could also stop the ad hoc identifiers that have sprung up in the press and online, many of which, like the Wuhan virus or Wu Flu, linked the virus to the city.
Republished with permission from STAT. This article originally appeared on February 11 2020
Andrew Joseph
Recent Articles
TED Fellow Alicia Eggert takes us on a visual tour of her work — from a giant sculpture on an uninhabited island in Maine to an installation that inflates only when people hold hands to complete an electric current. Her work explores the power of art to inspire wonder and foster hope in dark times. As she puts it: "A brighter, more sustainable, more equitable future depends first on our ability to imagine it."
This talk was presented at an official TED conference, and was featured by our editors on the home page.
Alicia Eggert · Interdisciplinary artist
TED Fellow Alicia Eggert is an artist making words into sculptures, often in the form of flashing neon signs.
TEDSummit 2019 | July 2019
Alejandro Durán uses art to spotlight the ongoing destruction of our oceans' ecosystems. In this breathtaking talk, he shows how he meticulously organizes and reuses plastic waste from around the world that washes up on the Caribbean coast of Mexico — everything from water bottles to prosthetic legs — to create vivid, environmental artworks that may leave you mesmerized and shocked.
This talk was presented at "We the Future," a special event in partnership with the Skoll Foundation and the United Nations Foundation.
Alejandro Durán · Multimedia artist
Alejandro Durán collects the international trash washing up on the Caribbean coast of Mexico, transforming it into aesthetic yet disquieting artworks that wake us up to the threat of plastic pollution.
ABOUT TED SALON
TED Salons welcome an intimate audience for an afternoon or evening of highly-curated TED Talks revolving around a globally relevant theme. A condensed version of a TED flagship conference, they are distinct in their brevity, opportunities for conversation, and heightened interaction between the speaker and audience.
We the Future | September 2019
Genius Channel: Albert Einstein Part 1: The Biography
Apr 18, 2017 sok sokuntheara
Category People & Blogs
Genius Channel: Albert Einstein Part 2: The Formula
Apr 17, 2017 sok sokuntheara
Category People & Blogs
Genius Channel: Albert Einstein Part 3: The Mind
Apr 17, 2017 sok sokuntheara
Category People & Blogs
Oil and ruin — exodus from Venezuela | DW Documentary
Jan 17, 2020 DW Documentary
Venezuela is experiencing an unprecedented humanitarian crisis. Hunger is widespread and there is a severe shortage of medicines. The UN estimates that more than four million people have now fled what was once South America's richest nation. Venezuela is in the grips of what is now the world's second largest refugee crisis after Syria. But unlike Syria, Venezuela is not mired in civil war, and the country is sitting on the world's largest proven oil reserves. How could such a rich nation be driven into ruin? Where has the country's wealth gone, and why are its people starving? Corruption and mismanagement are driving displacement worldwide. The majority of the world's refugees and migrants are fleeing from countries in the top 10 of Transparency International's Corruption Perception Index – places like Afghanistan, Syria, South Sudan and Somalia. Venezuela was once one of the world's wealthiest countries and a showcase of democracy. The country enjoys an abundance of natural resources, including oil, gold, diamonds and coltan. But rather than invest in its people and economy, this wealth has been squandered. Today Venezuela is mired in corruption, and deindustrialization, debt, political conflict, authoritarianism and poverty are the order of the day. The billions in profits generated by the oil business during the boom years between 2003 and 2014 have largely ended up in private pockets. And once oil prices collapsed in 2014, Venezuela was plunged into economic crisis. Nicolás Maduro, who rose to the presidency after Hugo Chávez died in 2013, has installed loyal military officers in key economic positions. Venezuela is now little more than a state-run criminal enterprise. At the same time, the country has become a pawn in a geopolitical contest over power and natural resources, with the US, Russia and China all looking to assert their own interests. Every two seconds, a person is forced to flee their home. Today, more than 70 million people have been displaced worldwide. The DW documentary series 'Displaced' sheds light on the causes of this crisis and traces how wealthy industrialized countries are contributing to the exodus from the Global South. Tomatoes and greed – the exodus of Ghana's farmers: https://youtu.be/rlPZ0Bev99s Drought and floods — the climate exodus: https://youtu.be/PjyX5dnhaMw ——————————————————————– DW Documentary gives you knowledge beyond the headlines. Watch high-class documentaries from German broadcasters and international production companies. Meet intriguing people, travel to distant lands, get a look behind the complexities of daily life and build a deeper understanding of current affairs and global events. Subscribe and explore the world around you with DW Documentary. Subscribe to: DW Documentary: https://www.youtube.com/channel/UCW39… DW Documental (Spanish): https://www.youtube.com/dwdocumental DW Documentary ??????? ?? ?????: (Arabic): https://www.youtube.com/dwdocarabia For more visit: http://www.dw.com/en/tv/docfilm/s-3610 Instagram: https://www.instagram.com/dwdocumentary/ Facebook: https://www.facebook.com/dw.stories DW netiquette policy: https://p.dw.com/p/MF1G
Category Education
Mahatma – A Great Soul of 20th Century
Aug 7, 2012 Indian Diplomacy
The film 'Mahatma — A Great Soul of 20th Century' is a documentary film which records the life of Mohandas Karamchand Gandhi and his social, political and spiritual influence on the country during pre and post independence times. The film starts with Gandhi's childhood, his early influences, and his study at England and then goes on further to South Africa to practice Law. When he attempted to claim his rights as a citizen, he was abused and soon saw that all Indians suffered similar treatment. He developed a method of action based upon the principles of courage, nonviolence and truth called Satyagraha. Using the principles of Satyagraha, he led the campaign for Indian independence from Britain. Gandhi had been an advocate for a united India where Hindus and Muslims lived together in peace and helped free the Indian people from British rule through nonviolent resistance, and is honored by Indians as the father of the Indian Nation or 'Mahatma', meaning Great Soul.
Rating No mature content
Category Film & Animation
Time Lapse of Sunflower from Seed to Flower
•Mar 26, 2015 mortrek
This is a time lapse video of a dwarf sunflower growing from seed to full flower, then wilting. A version with a beautiful musical score can be found at https://www.youtube.com/watch?v=dKo5I… You can license this video for commercial purposes at my Gumroad store at: https://gum.co/HkNjP Unfortunately the flower was too heavy and it collapsed the plant at some point. This video also illustrates the centripetal anthesis present in sunflowers, where the outer flowers mature first and the maturation process extends inwards. I would have attempted to get it to go to seed, but these sunflowers tend to be self-infertile. Video took about 130 days from start to finish. That means it's slightly more than 1 second of video per day of growth.
Category
Remarkable High Speed Photos of Birds Catching Fish by Salah Baazizi
SEPTEMBER 2, 2015 CHRISTOPHER JOBSON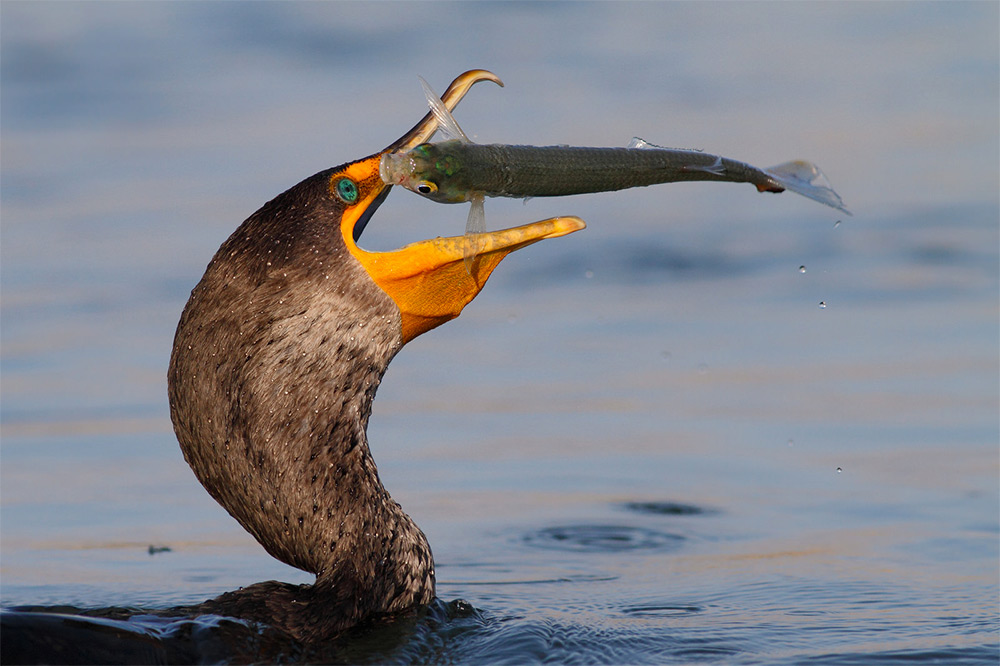 Double-crested Cormorant working on its catch, Bolsa Chica (CA)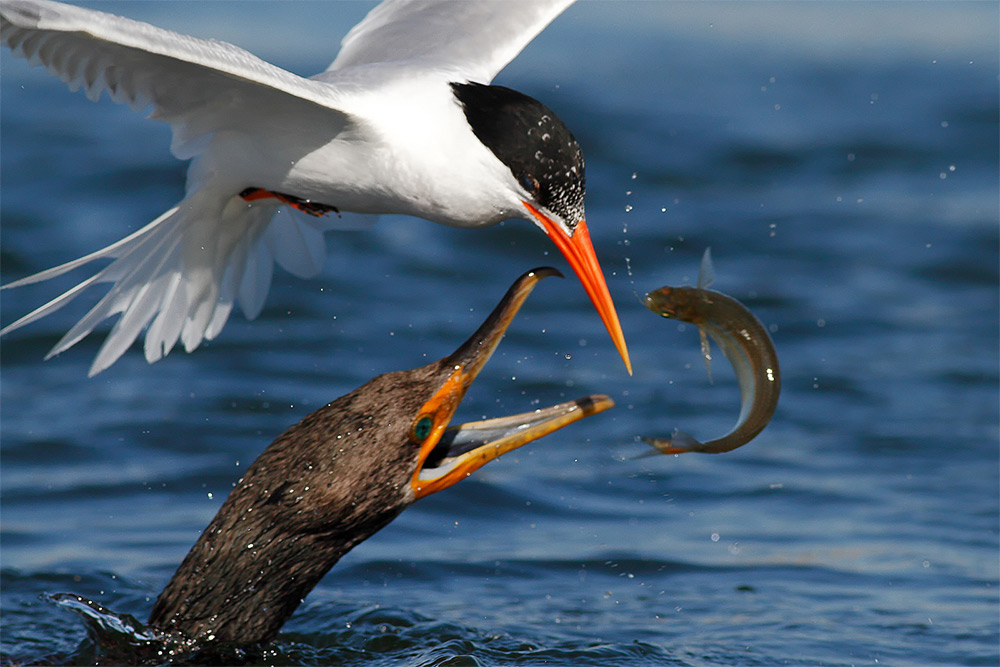 Elegant Tern, Double Crested Cormorant and a fish
Photographer Salah Baazizi has an amazing knack for photographing birds up close and personal as they pluck fish from the waters around Bolsa Chica in southern California. The split-second shots of terns, herons, and cormorants give the illusion Baazizi is sitting just inches away, practically sticking a camera down their beaks, but in reality he uses a 400mm super telephoto lens and positions himself at great distances. This is only the smallest fraction of the hobbyist photographer's wildlife photos, you can explore hundreds of additional shots over on Flickr.
Elegant Tern, Bolsa Chica (CA)
Great Blue Heron working on its catch, Bolsa Chica (CA)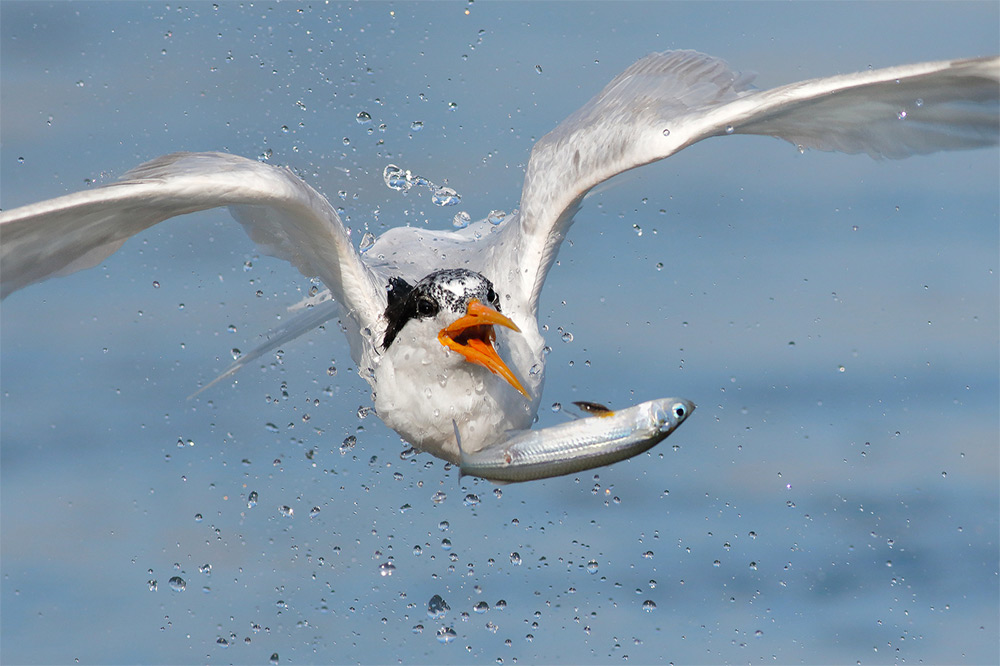 Elegant Tern losing its fish, Bolsa Chica (CA)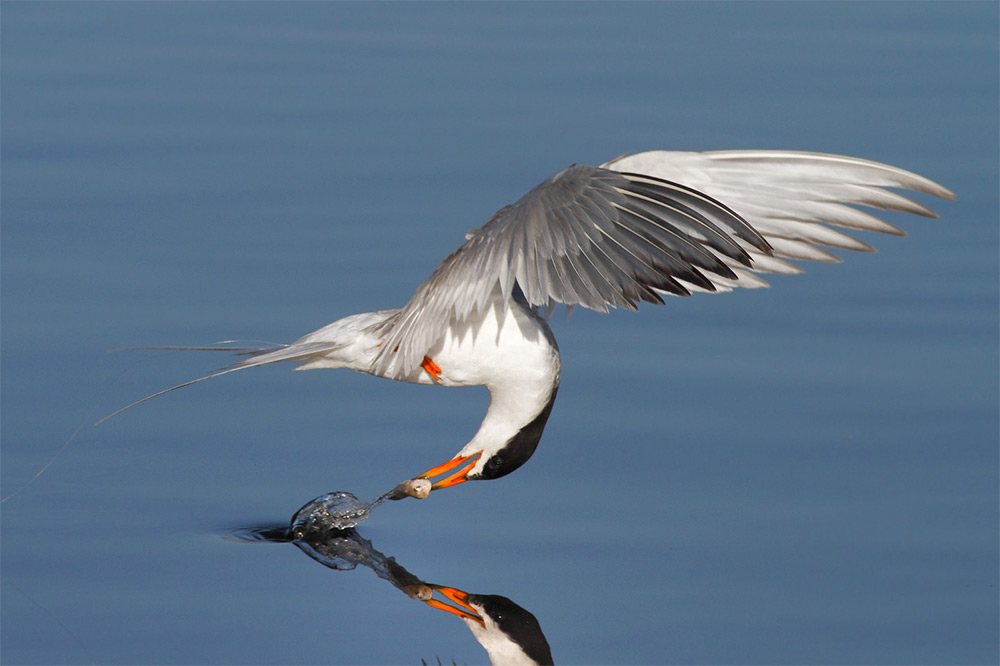 Forster's Tern doing the contortionist, Irvine (CA)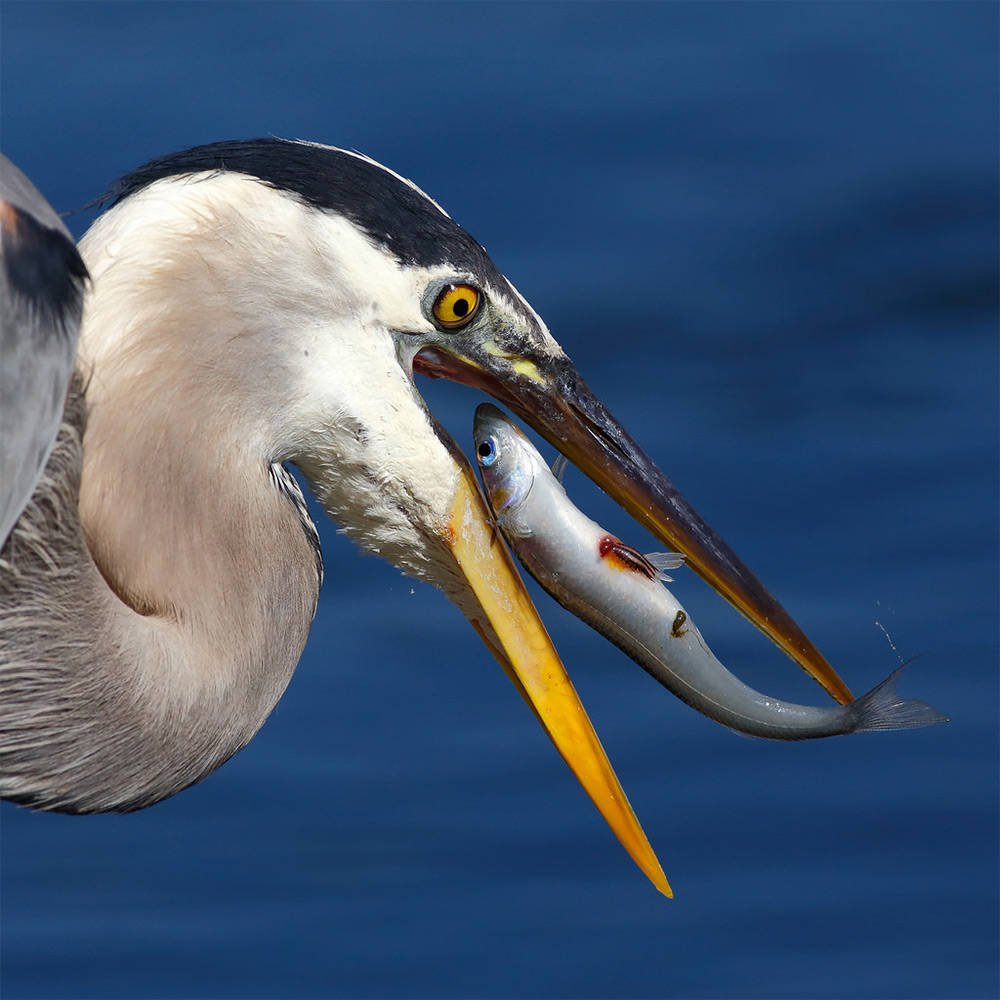 Great Blue Heron working on its catch, Bolsa Chica (CA)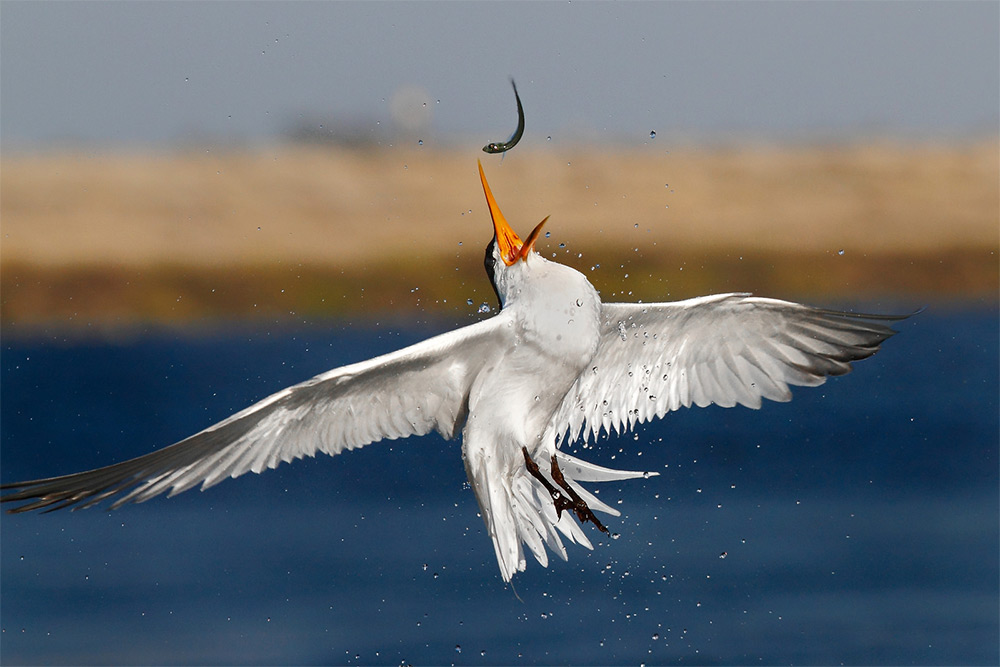 Elegant Tern, Bolsa Chica (CA)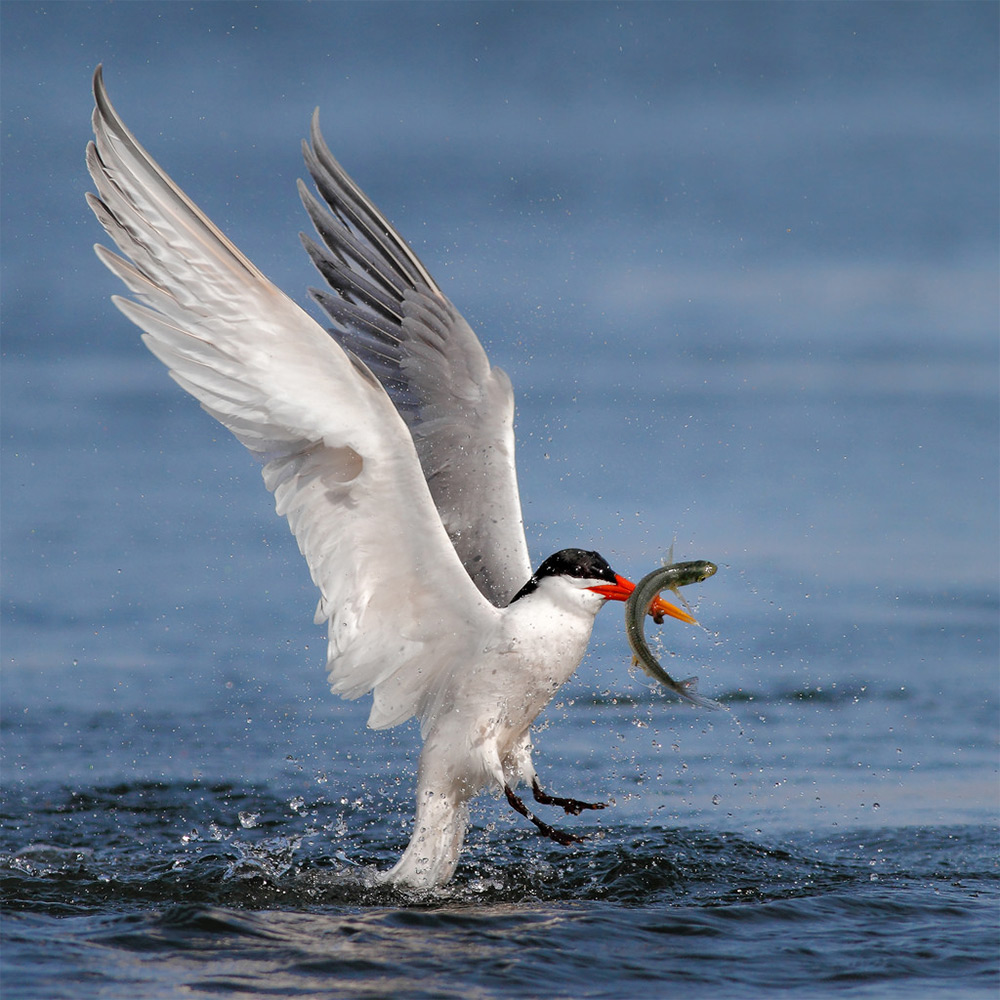 Elegant Tern, Bolsa Chica (CA)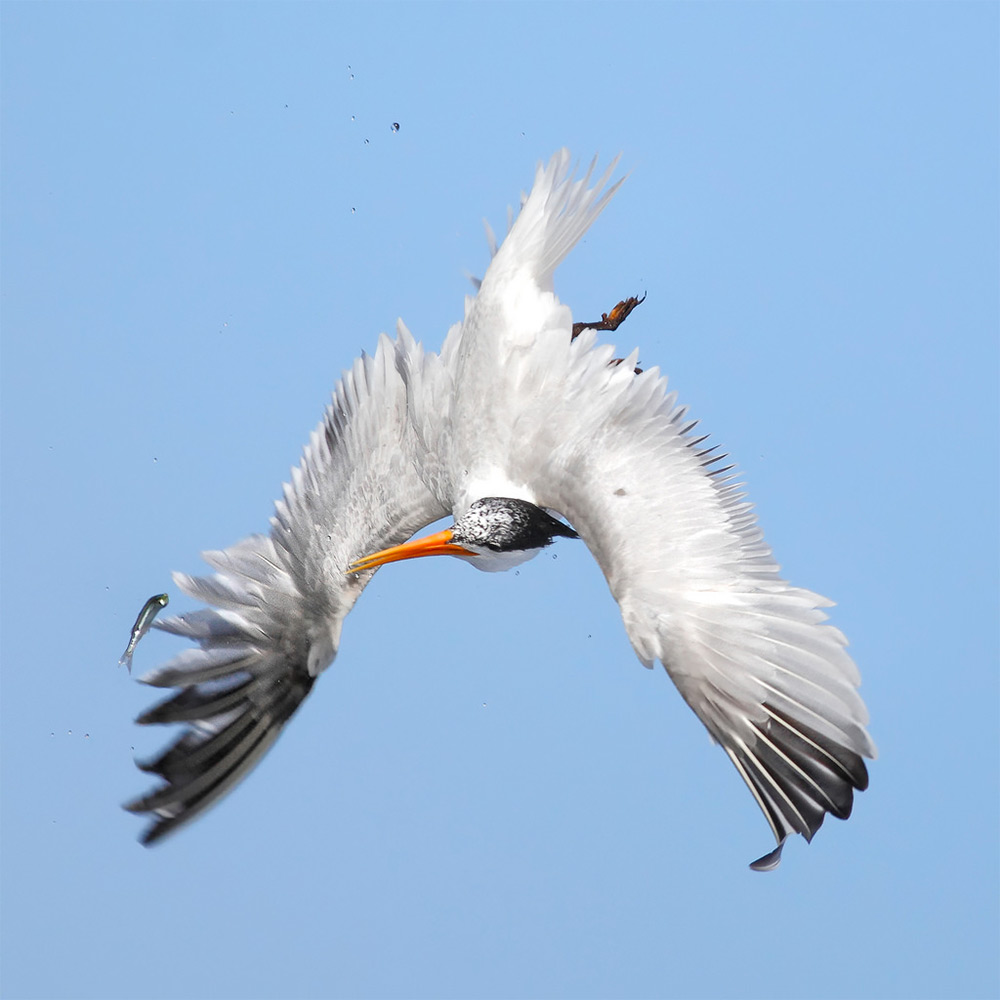 Elegant Tern displaying its acrobatic aerial skills after a fish escaped from its beak
Miniature Seascapes and Cities Top Elaborate Paper Wigs by Asya Kozina and Dmitriy Kozin
FEBRUARY 10, 2020 GRACE EBERT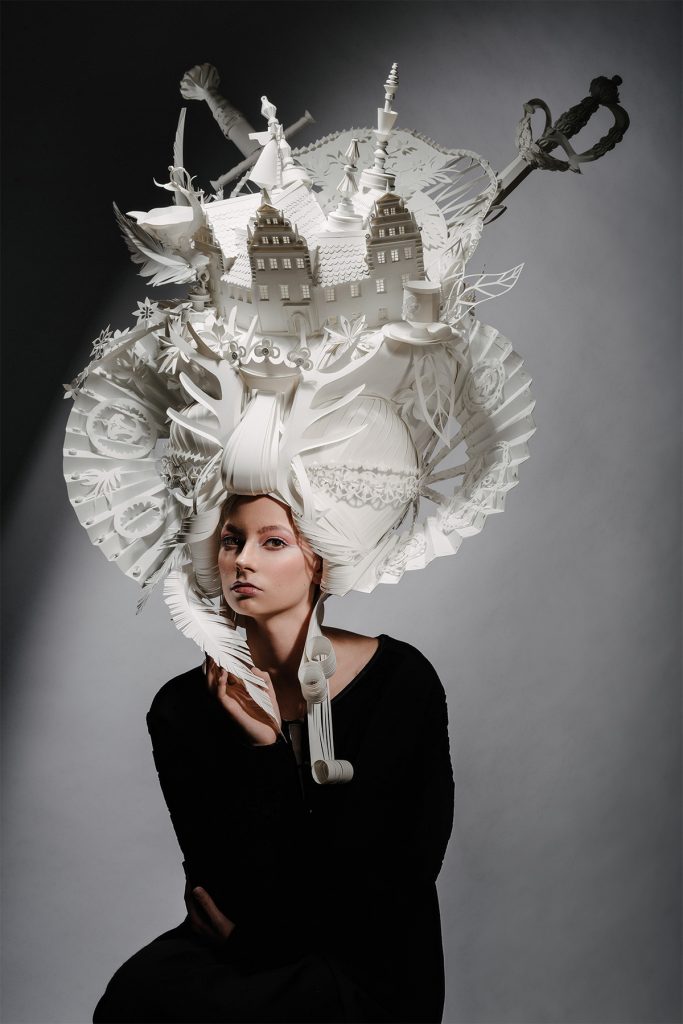 All images © Asya Kozina and Dmitry Kozin, shared with permission
Saint Petersburg-based paper artists Asya Kozina and Dmitriy Kozin situate miniature worlds atop their towering paper wigs. The detailed headdresses combine contemporary themes with historical elements, resembling the extravagant hair and head pieces of the Baroque period. A recent series crafted for Dolce & Gabanna features a whale and lobster with fins and claws woven through and sticking out from the tops of the elaborate pieces. Both have ships, as well, to add a human element. "We did this work and had (the) idea to do works with various marine monsters," Kozina says. "In the old times, sailors believed in gigantic sea monsters… All characters are taken from folk myths."
Since Kozina last spoke with Colossal, the scale and complexity of their monochromatic creations have changed, in addition to their public perception. "Our works fell into collections of museums, became symbols of some events related to the history and history of art and fashion," she writes. "Our work is perceived not as photo props, but as artworks, sculptures, exhibition objects." Head to Instagram or Behance to check out more of the artists' sky-high creations.