PBS News, BBC Click, How Universe Work, South Africa, Thailand, NASA, Colossal, & Our Backyard Garden
PBS News 7.7,8&9.19, BBC Click, How Universe Work, South Africa: City Without Water, Thailand and the fallout from mass tourism, Thailand to ban three kinds of plastic, NASA, Colossal & Our Backyard Garden
PBS NewsHour full episode July 9, 2019
PBS NewsHour Published on Jul 9, 2019
Tuesday on the NewsHour, new charges against billionaire Jeffrey Epstein renew attention to the problem of child sex trafficking in the U.S. Plus: A critical legal challenge to Obamacare, preparing for a devastating earthquake, the wave of states legalizing marijuana, remembering Ross Perot and how a view of the ancient Acropolis has sparked a present-day legal battle. WATCH TODAY'S SEGMENTS: News Wrap: Judge says DOJ can't change census fight lawyers https://www.youtube.com/watch?v=qBW5h… Why child sex trafficking is 'pervasive' in the U.S. https://www.youtube.com/watch?v=HQrGl… Why court battle represents existential threat to Obamacare https://www.youtube.com/watch?v=jYMWU… Preparing for a damaging earthquake will help you survive it https://www.youtube.com/watch?v=FUAsU… What has changed with legalized marijuana — and what hasn't https://www.youtube.com/watch?v=SMpcb… Jim Lehrer remembers 'authentic' underdog Ross Perot https://www.youtube.com/watch?v=Osc9A… How a view of the famed Acropolis has sparked a legal battle https://www.youtube.com/watch?v=qjhFA… Stream your PBS favorites with the PBS app: https://to.pbs.org/2Jb8twG Find more from PBS NewsHour at https://www.pbs.org/newshour Subscribe to our YouTube channel: https://bit.ly/2HfsCD6 Follow us: Facebook: https://www.pbs.org/newshour Twitter: https://www.twitter.com/newshour Instagram: https://www.instagram.com/newshour Snapchat: @pbsnews Subscribe: PBS NewsHour podcasts: https://www.pbs.org/newshour/podcasts Newsletters: https://www.pbs.org/newshour/subscribe
Category News & Politics
PBS NewsHour full episode July 8, 2019
PBS NewsHour Published on Jul 8, 2019
Monday on the NewsHour, how residents of Southern California are coping with earthquake aftermath. Plus: The sex crimes case against Jeffrey Epstein, an Obama official weighs in on U.S. border detention centers, the latest from the 2020 campaign trail, Politics Monday with Tamara Keith and Amy Walter, the 'complex' truth of the Apollo 11 mission and a housing shortage that connects generations. WATCH TODAY'S SEGMENTS: News Wrap: Iran exceeds allowed level of uranium enrichment https://www.youtube.com/watch?v=rl6KB… After earthquakes, Southern California copes with anxiety https://www.youtube.com/watch?v=iKb6T… Alex Acosta's 'unprecedented' plea deal with Jeffrey Epstein https://www.youtube.com/watch?v=E29yw… How Obama's DHS head sees U.S. detention of migrants https://www.youtube.com/watch?v=vFxbV… 2020 field loses a contender as Swalwell drops out https://www.youtube.com/watch?v=gp76F… Tamara Keith and Amy Walter on Biden's outlook https://www.youtube.com/watch?v=AUsXn… Behind the Apollo 11 mythology lies a 'more complex' truth https://www.youtube.com/watch?v=zwGqW… In Boston, a housing innovation that connects generations https://www.youtube.com/watch?v=SKRpw… Stream your PBS favorites with the PBS app: https://to.pbs.org/2Jb8twG Find more from PBS NewsHour at https://www.pbs.org/newshour Subscribe to our YouTube channel: https://bit.ly/2HfsCD6 Follow us: Facebook: https://www.pbs.org/newshour Twitter: https://www.twitter.com/newshour Instagram: https://www.instagram.com/newshour Snapchat: @pbsnews Subscribe: PBS NewsHour podcasts: https://www.pbs.org/newshour/podcasts Newsletters: https://www.pbs.org/newshour/subscribe
Category News & Politics
PBS NewsHour Weekend full episode July 7, 2019
On this edition for Sunday, July 7, new threats to nuclear limits as Iran announces plans to increase uranium enrichment, the rise of ant-Semitism in France, and a look at why the owners of a famous Utah restaurant are stepping up to protect a national monument. Hari Sreenivasan anchors from New York. Stream your PBS favorites with the PBS app: https://to.pbs.org/2Jb8twG Find more from PBS NewsHour at https://www.pbs.org/newshour Subscribe to our YouTube channel: https://bit.ly/2HfsCD6 Follow us: Facebook: https://www.pbs.org/newshour Twitter: https://www.twitter.com/newshour Instagram: https://www.instagram.com/newshour Snapchat: @pbsnews Subscribe: PBS NewsHour podcasts: https://www.pbs.org/newshour/podcasts Newsletters: https://www.pbs.org/newshour/subscribe
Category News & Politics
Can Tech Help Sustain Our Planet? – BBC Click
BBC Click Published on Jul 1, 2019
Click is in Arizona finding out how 'artificial trees' are being developed to suck carbon out of the air. Plus, drones that follow ships to 'sniff' emissions. Subscribe HERE https://bit.ly/1uNQEWR Find us online at www.bbc.com/click Twitter: @bbcclick Facebook: www.facebook.com/BBCClick
Category Science & Technology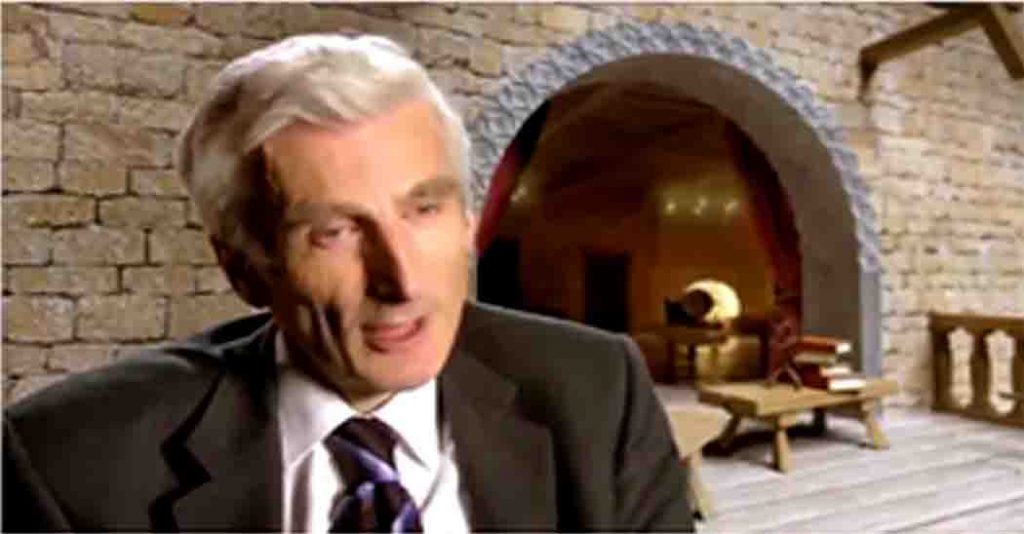 https://www.youtube.com/watch?v=vRwDaWYZntM
Formation of Earth and Solar System Documentary – Space Discovery Documentary
How the Universe Works Started streaming 58 minutes ago
Our home planet is the third planet from the Sun, and the only place we know of so far that's inhabited by living things. While Earth is only the fifth largest planet in the solar system, it is the only world in our solar system with liquid water on the surface. Just slightly larger than nearby Venus, Earth is the biggest of the four planets closest to the Sun, all of which are made of rock and metal. The name Earth is at least 1,000 years old. All of the planets, except for Earth, were named after Greek and Roman gods and goddesses. However, the name Earth is a Germanic word, which simply means "the ground."
Category Science & Technology
South Africa: cities without water | DW Documentary
DW Documentary Published on Jul 4, 2019
By the year 2050, a quarter of the every world's cities will be facing water shortages. Cape Town is already running out of water now. But the catastrophe was foreseeable: politicians have ignored periods of drought and the rapidly growing population for too long. South Africa is facing its drought of the century. Cape Town's water supply is under threat because the metropolis is quenching its thirst with surface water alone. But climate change is making the weather more unpredictable and the reservoirs emptier. Those responsible are feverishly seeking a remedy. Can the worst still be averted? Fear of social unrest, epidemics and the region's economic collapse is spreading. Only through the discipline of the population, who have limited their water consumption 50 liters of water per day per head for months, has staved off "Day Zero," the day when the taps are turned off and people can only draw water from public faucets. The lack of water throws the country's social divisions into stark relief: rich South Africans can buy water, while poorer citizens cannot afford it. The filmmakers accompany a special police unit looking for people wasting water in the townships and meet farmers whose very existence is at stake. It is a race against time and a fight against political sleaze. Cape Town's predicament is a lesson to the whole world: by 2050 one in four cities in the world will be affected by water shortages. ——————————————————————– DW Documentary gives you knowledge beyond the headlines. Watch high-class documentaries from German broadcasters and international production companies. Meet intriguing people, travel to distant lands, get a look behind the complexities of daily life and build a deeper understanding of current affairs and global events. Subscribe and explore the world around you with DW Documentary. Subscribe to DW Documentary: https://www.youtube.com/channel/UCW39… Our other YouTube channels: DW Documental (in spanish): https://www.youtube.com/dwdocumental DW Documentary ??????? ?? ?????: (in arabic): https://www.youtube.com/dwdocarabia For more documentaries visit also: https://www.dw.com/en/tv/docfilm/s-3610 Instagram https://www.instagram.com/dwdocumentary/ Facebook: https://www.facebook.com/dw.stories DW netiquette policy: https://p.dw.com/p/MF1G
Category Education
Thailand and the fallout from mass tourism | DW Documentary
DW Documentary Published on Jun 5, 2019
Plastic garbage and the death of the coral reefs show the downside of mass tourism in Thailand, which hosted 36 million visitors in 2018. The documentary looks at the effects on tourist resorts above and below water. Ten years ago there were 20 million fewer tourists. Today's mass tourism has both social and ecological consequences. Most of the Thailand's popular tourist resorts discharge untreated sewage into the sea, and plastic waste ends up in the water. This is killing off the fragile coral reefs along the coast. The countless hotels and restaurants mainly serve fresh fish, so fishing boats are using giant trawl nets, which are also destroying the coral. The internationally renowned marine ecologist Thon Thamrongnawasawa from the University of Bangkok says 77 percent of Thailand's coral reefs have been severely damaged. Meanwhile, the locals in popular tourist resorts hardly benefit from the huge numbers of holidaymakers at all. They work for the minimum wage and are often pushed out by guest workers from neighboring Myanmar, who are willing to work for even less money. Small local restaurants lose out when the big tour operators take their guests on all-inclusive excursions. The filmmakers first visited Thailand a few years ago, shooting enchanting footage of the still intact underwater world in many places. Now they are back there again to look at the consequences of unrestricted tourism – both above and below the waterline. ——————————————————————– DW Documentary gives you knowledge beyond the headlines. Watch high-class documentaries from German broadcasters and international production companies. Meet intriguing people, travel to distant lands, get a look behind the complexities of daily life and build a deeper understanding of current affairs and global events. Subscribe and explore the world around you with DW Documentary. Subscribe to DW Documentary: https://www.youtube.com/channel/UCW39… Our other YouTube channels: DW Documental (in spanish): https://www.youtube.com/dwdocumental DW Documentary ??????? ?? ?????: (in arabic): https://www.youtube.com/dwdocarabia For more documentaries visit also: https://www.dw.com/en/tv/docfilm/s-3610 Instagram https://www.instagram.com/dwdocumentary/ Facebook: https://www.facebook.com/dw.stories DW netiquette policy: https://p.dw.com/p/MF1G
Category Education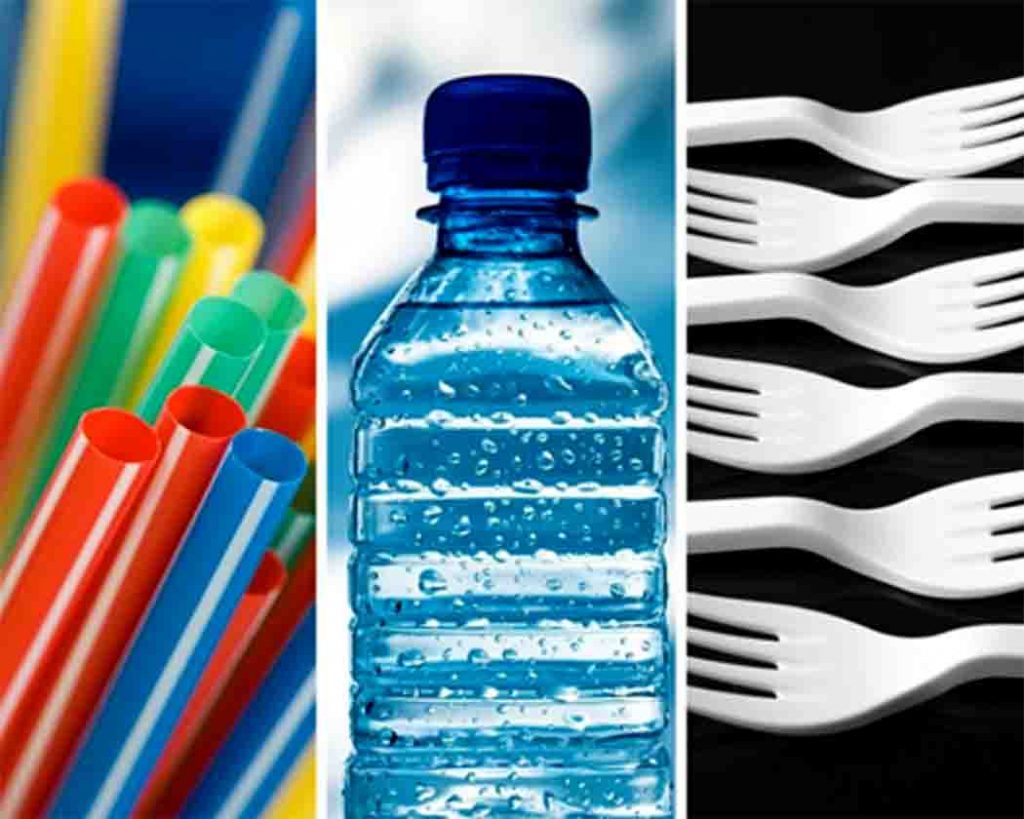 https://thethaiger.com/hot-news/plastics/thailand-to-ban-three-kinds-of-plastic-by-end-of-this-year
Thailand to ban three kinds of plastic by end of this year
Published 2 months ago on May 20, 2019 By The Thaiger & The Nation
By the end of 2019 Thailand will be free from three types of plastic – microbeads, cap seals and oxo-degradable plastics.
Then by 2022 four other types of single-use plastics will also be banned – lightweight plastic bags less than 36 microns thick; styrofoam food containers for takeaways; plastic cups and plastic straws – according to a road map approved by the Cabinet.
The Plastic Waste Management Road Map 2018-2030 also includes an ambitious plan for Thailand to use 100 per cent recycled plastic by 2027 in various forms, including turning waste into energy.
The Cabinet has acknowledged the road map and assigned the Natural Resource and Environment Ministry to formulate a draft action plan for plastic waste management, so it is in line with the 20-year national strategy.
A Piece of the Sun Missing? | NASA's Unexplained Files (Full Episode)
Science Channel Published on Jul 4, 2019
A chunk of the sun appears to have vanished. An ominous dark craft beneath the Shuttle Endeavour. And Hubble spots thousands of unidentified objects travelling faster than light. Are we being watched? Or could we ourselves be aliens from another world? Stream More Full Episodes of NASA's Unexplained Files: https://www.sciencechannel.com/tv-sho… Subscribe to Science Channel: https://bit.ly/SubscribeScience Like us on Facebook: https://www.facebook.com/ScienceChannel Follow us on Twitter: https://twitter.com/ScienceChannel Follow us on Instagram: https://www.instagram.com/ScienceChan…
Category Entertainment
Photography Science #space #stars
140,000 Visuals of Outer Space are Free to the Public in NASA's Image Library
June 12, 2019 Laura Staugaitis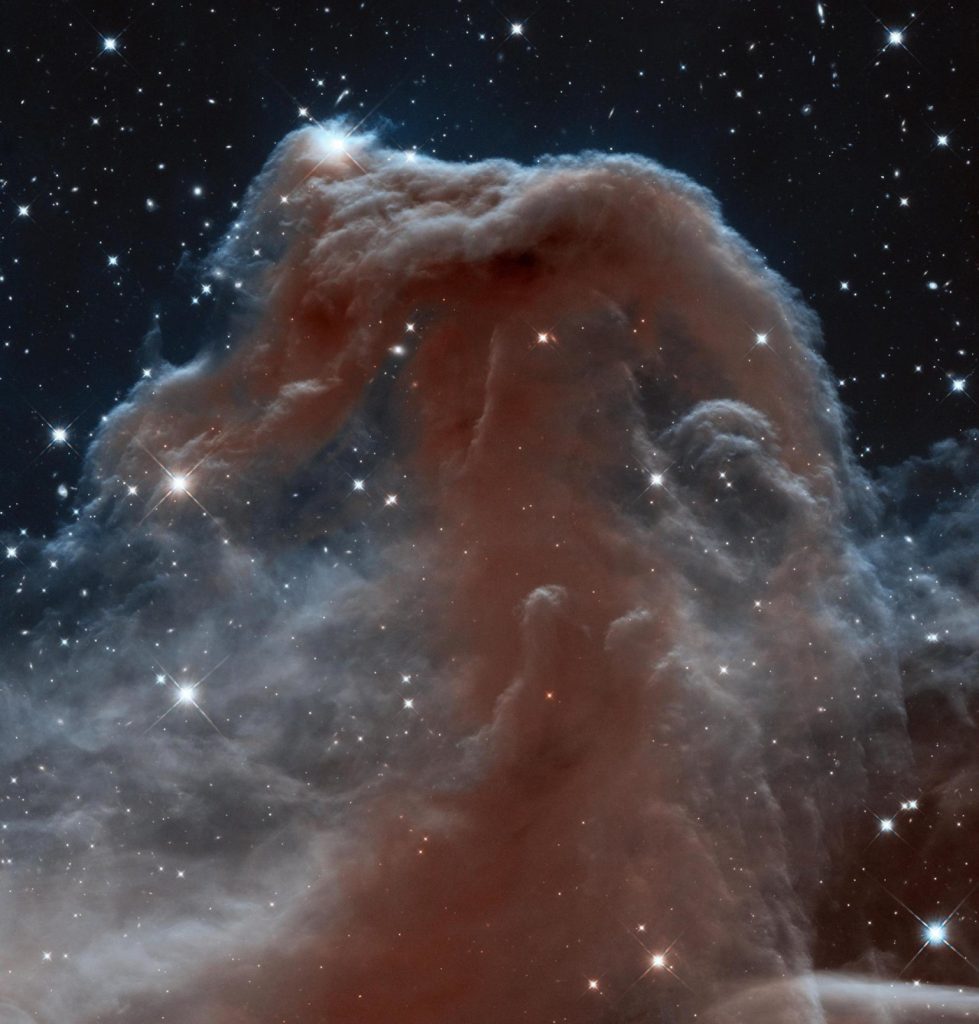 Backlit wisps along the Horsehead Nebula upper ridge are being illuminated by Sigma Orionis, a young five-star system just off the top of this image from the Hubble Space Telescope
The National Aeronautics and Space Administration (NASA) has created a library of 140,000 high definition files filled with photos, videos, and sound clips, all free and available for download. Visual and audio content of planets, moons, nebulas, and specific space missions, are searchable by file type. The library spans the last hundred years, and users can narrow searches to focus on any timeframe between 1920 and 2019. Each file also contains a thorough caption including the date and contextual information about the content. Explore the library on NASA's dedicated website and see more updates from space on the Administration's official Instagram. (via fubiz)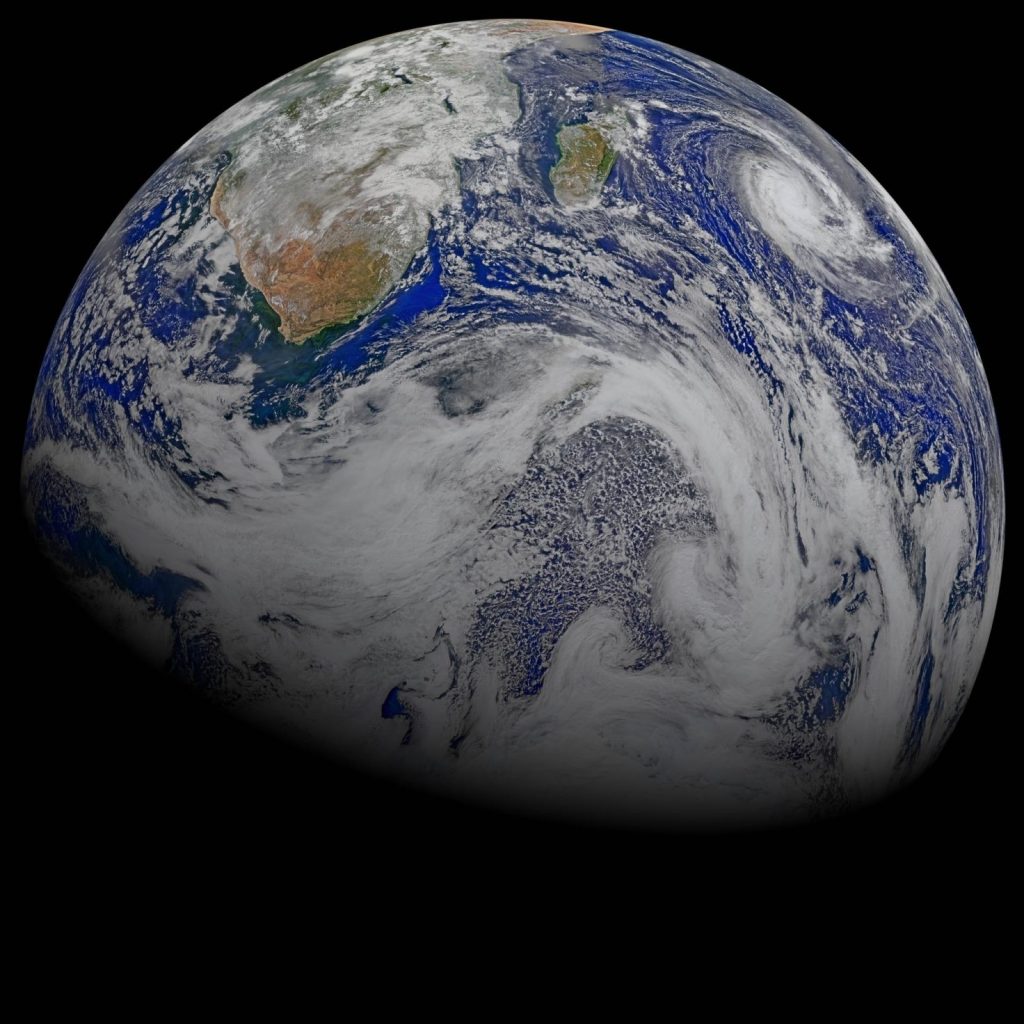 Composite image of southern Africa and the surrounding oceans captured by six orbits of the NASA/NOAA Suomi National Polar-orbiting Partnership spacecraft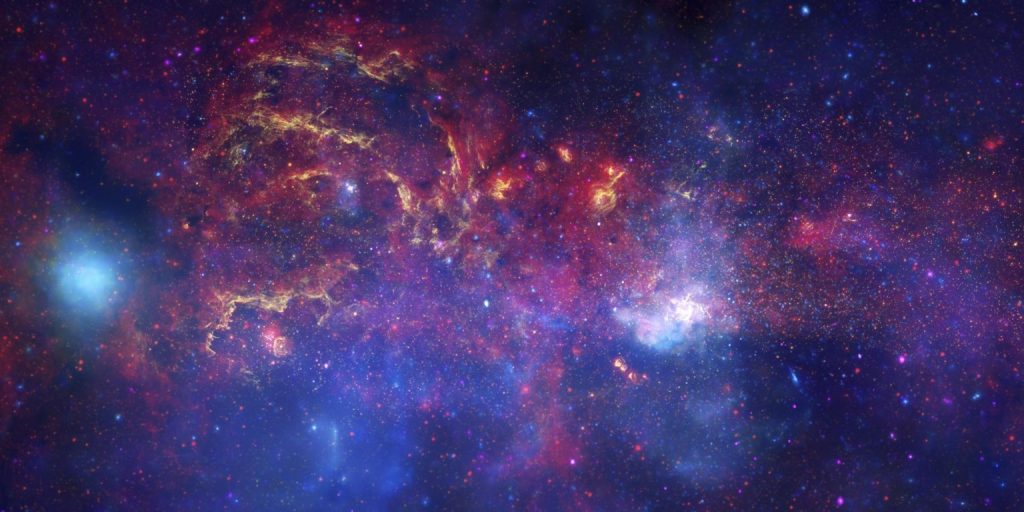 Hubble Space Telescope, the Spitzer Space Telescope, and the Chandra X-ray Observatory produced a matched trio of images of the central region of our Milky Way galaxy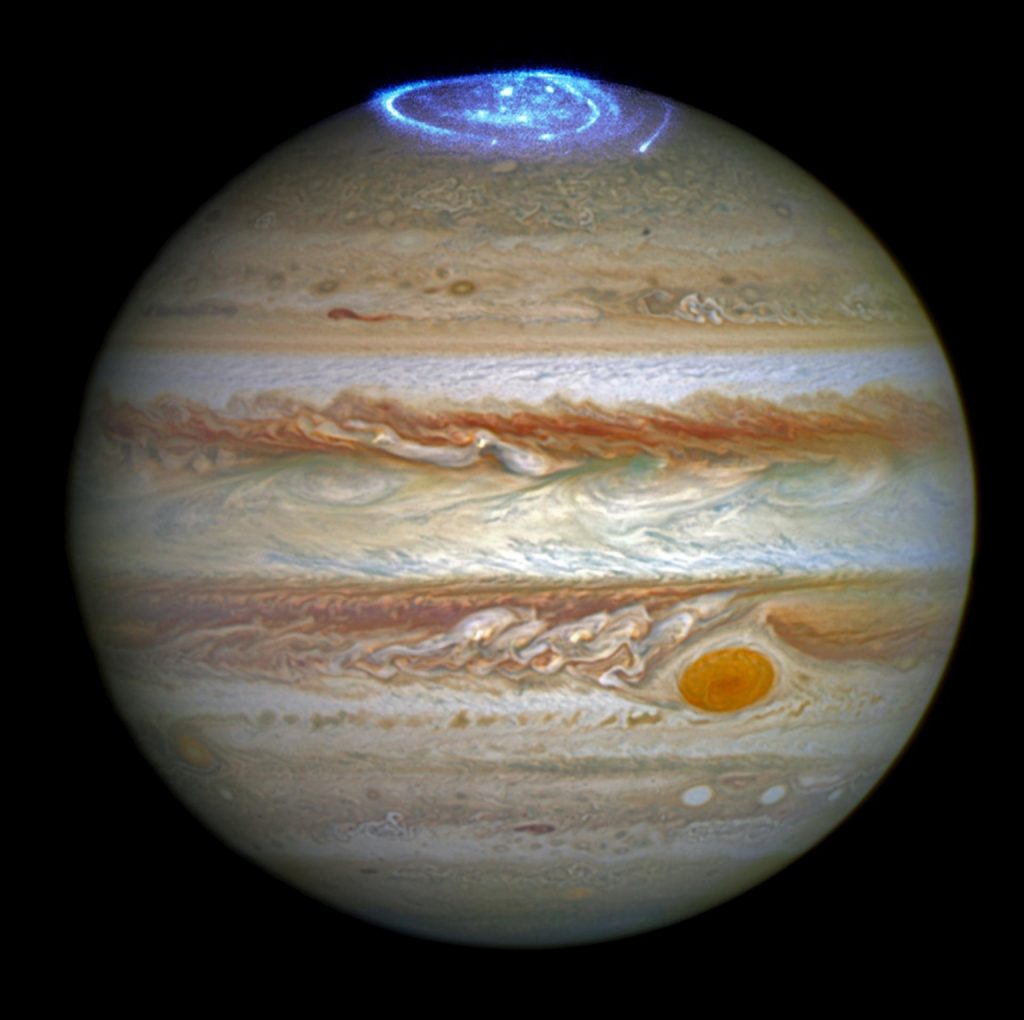 Hubble space telescope captures vivid auroras in Jupiter's atmosphere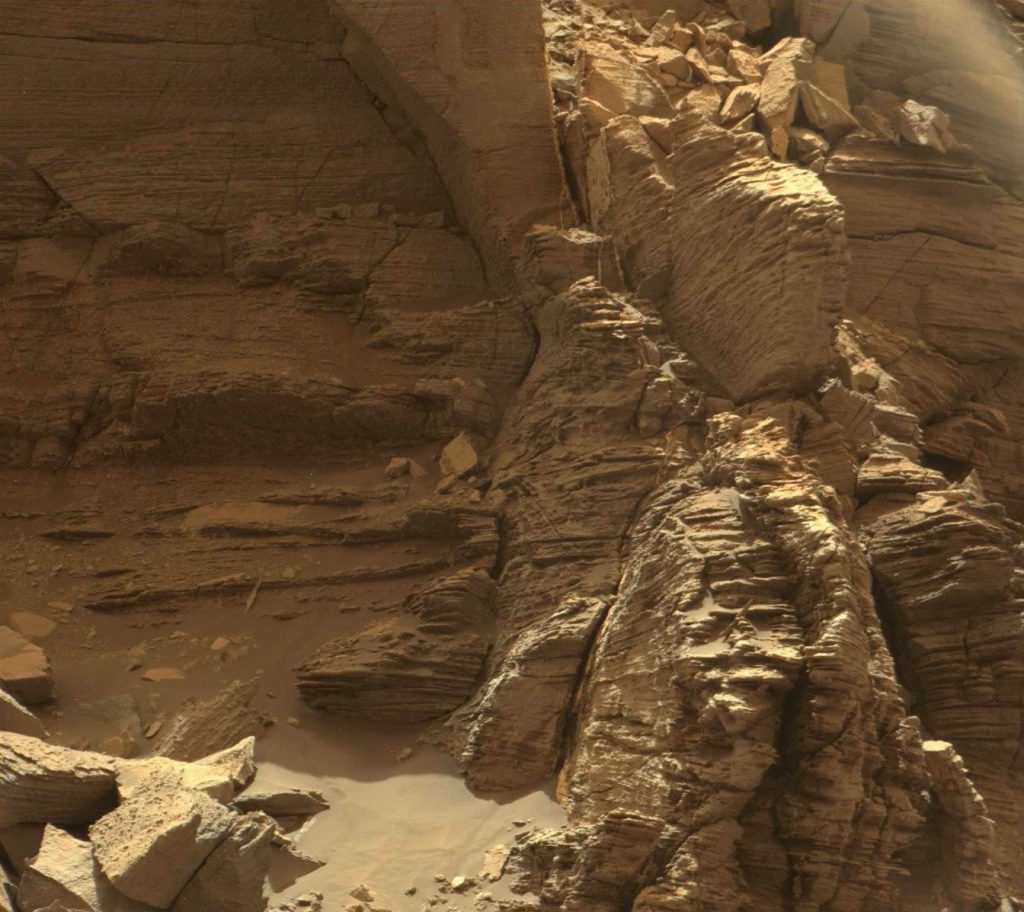 This view from the Mast Camera (Mastcam) in NASA's Curiosity Mars rover shows an outcrop with finely layered rocks within the 'Murray Buttes' region on lower Mount Sharp
Hubble space telescope captures Mystic Mountain in the Carina Nebula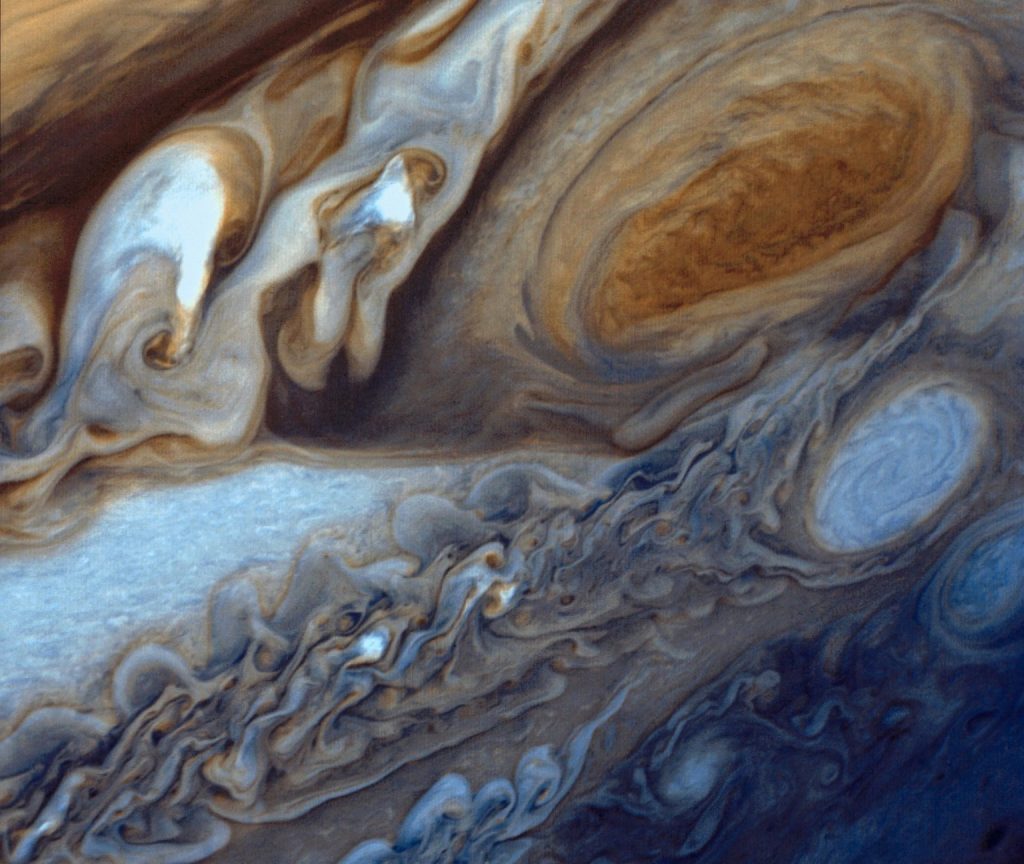 This view of Jupiter was taken by Voyager 1. This image was taken through color filters and recombined to produce the color image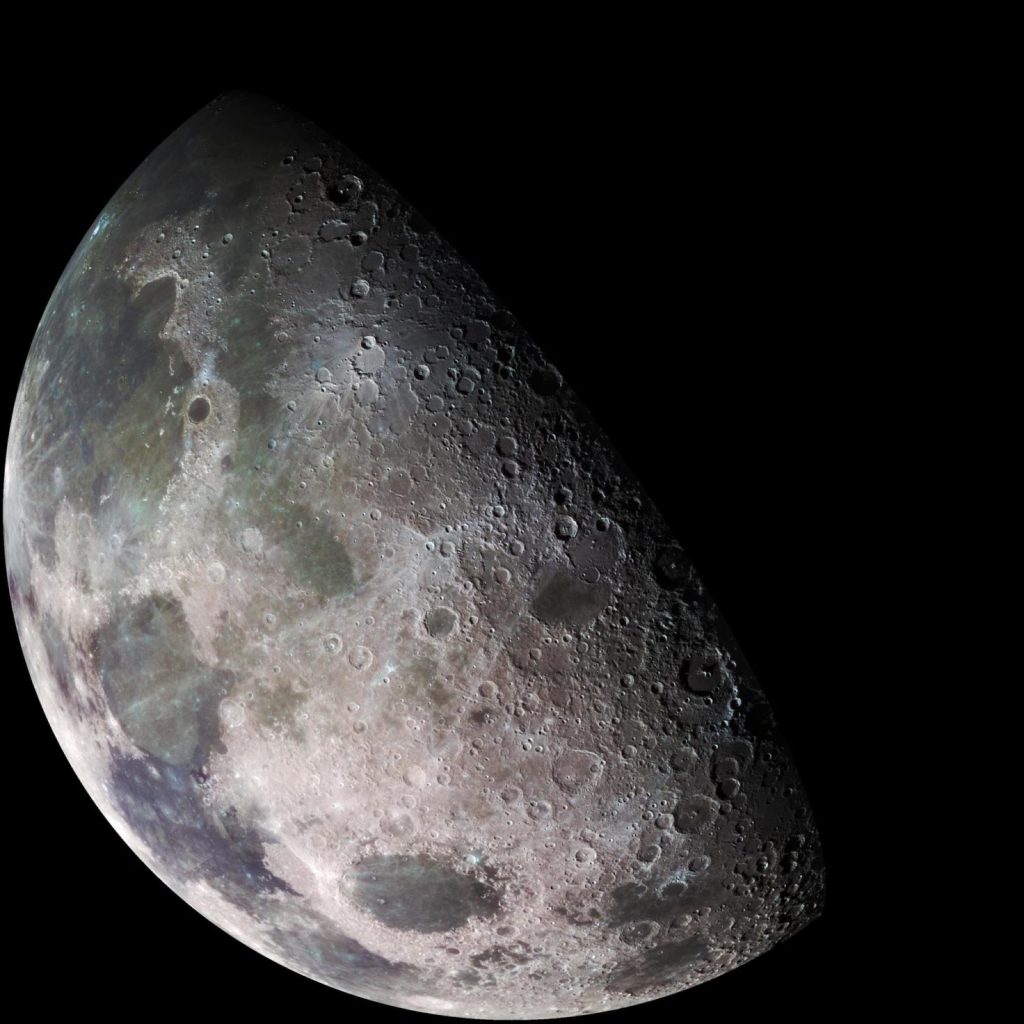 Moon – North Polar Mosaic, Color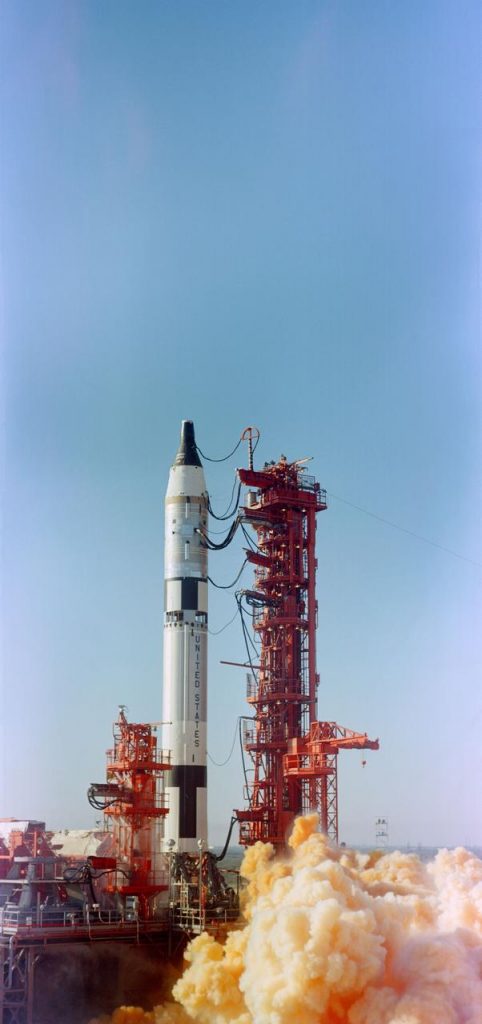 Liftoff of Gemini 2
Full resolution (URL):
NASA ID: S65-14150
Keywords: FLORIDA, GEMINI PROJECT, GEMINI SPACECRAFT, LAUNCHING, LAUNCHING PADS, LAUNCHING SITES
Center: JSC
Date Created: 1965-03-23
S65-14150 (19 January 1965) — Launching of the unmanned Gemini 2 flight. The second Titan II Gemini Launch Vehicle (GLV-2) carried the unmanned, instrumented Gemini spacecraft (GT-2) for a suborbital shot preliminary to the first U.S. two-man Gemini mission.
Ing & John's Flowers at the Backyard Garden Downtown Newark, NJ, 2019
Photographs by Ing-On Vibulvhan-Watts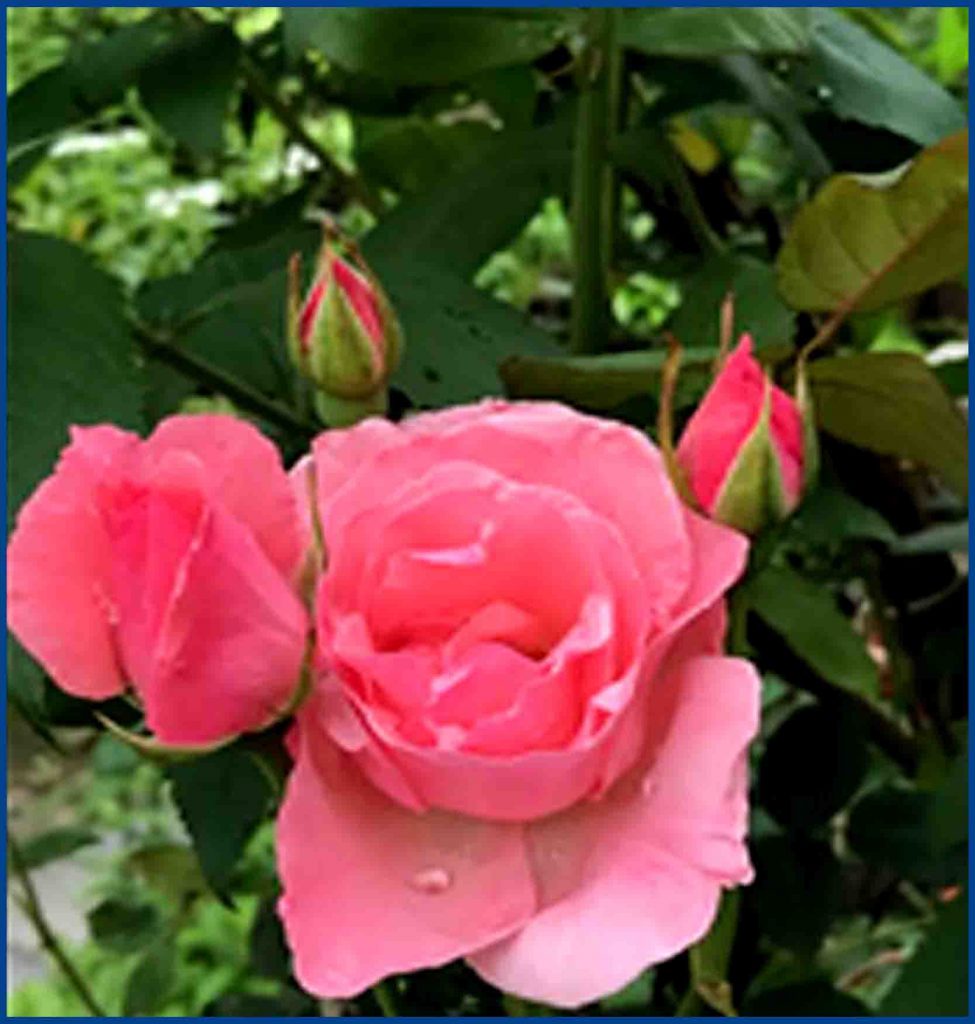 A beautiful photograph of roses from our garden was taken by Deborah.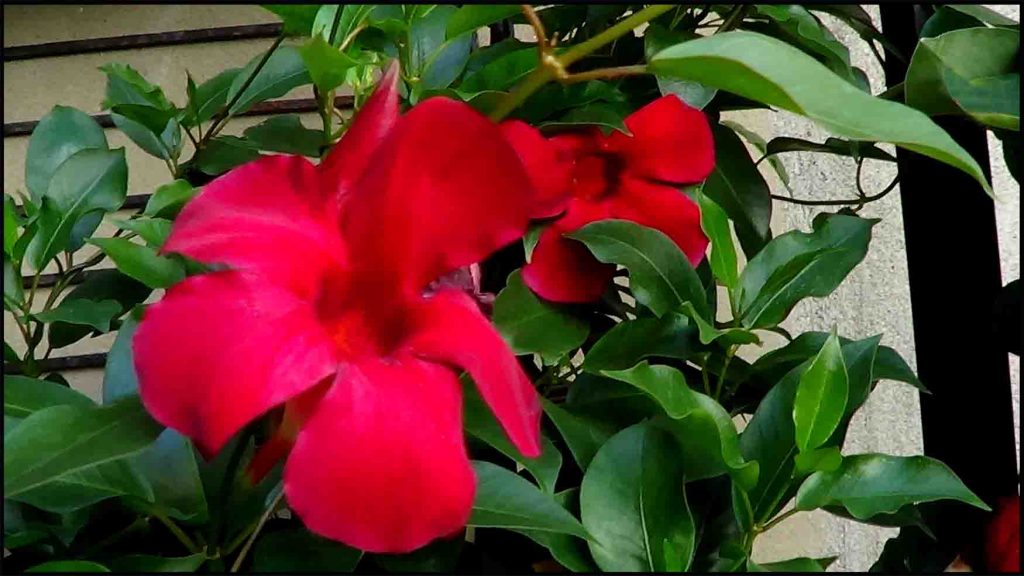 Thank you very much Deborah for taking care of our garden when we went to Swansea, Wale, UK, for five weeks.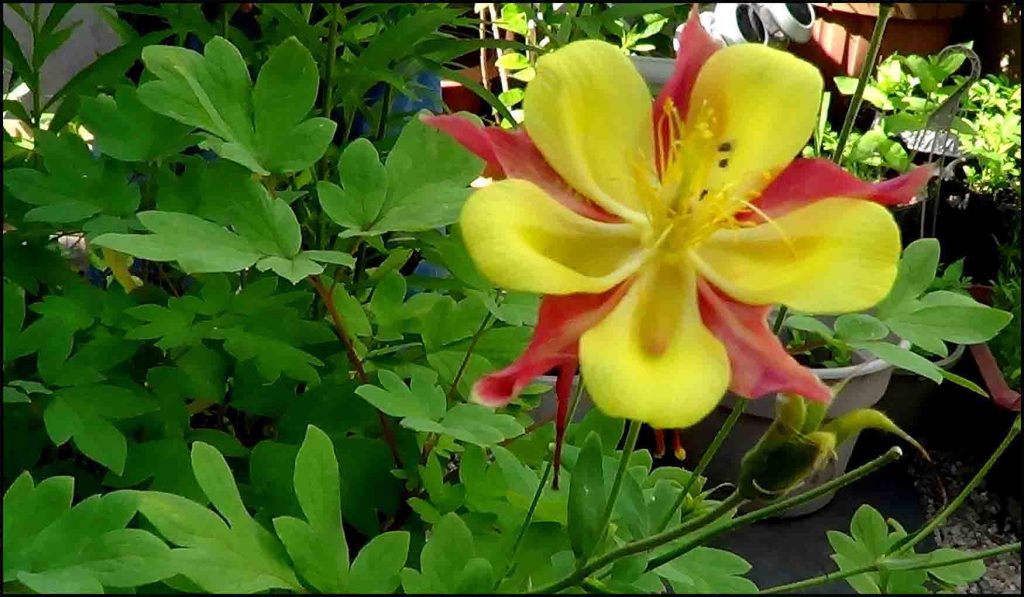 Now, we can enjoy beautiful flowers in our garden because of your help.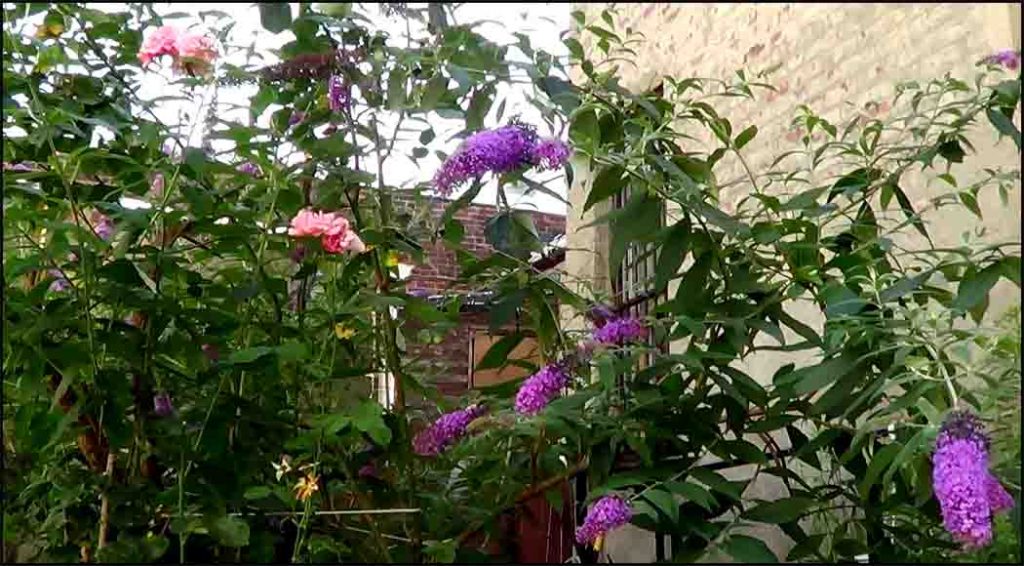 Butterfly bush flowers are blooming on almost every branch.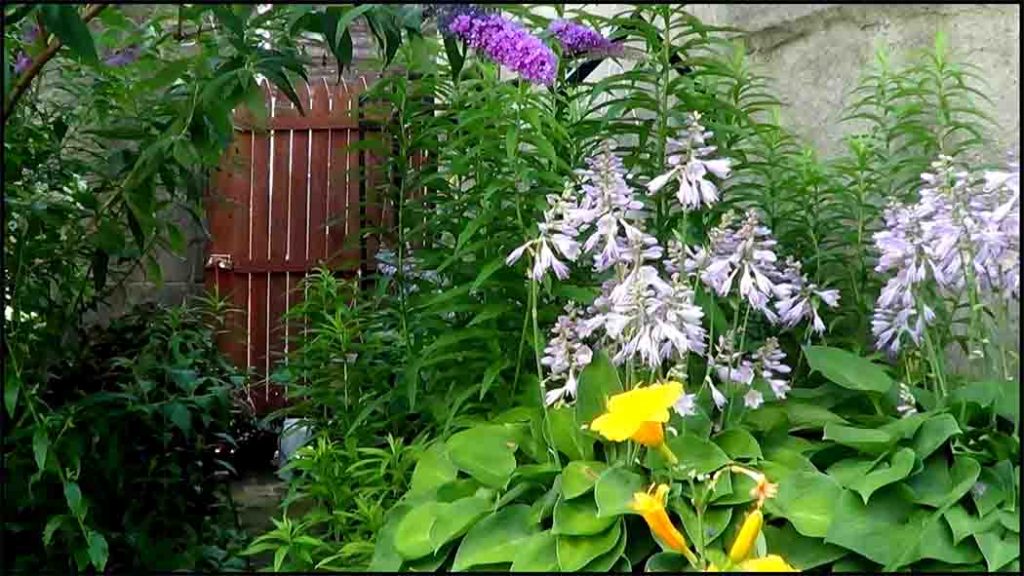 Light purple Flowers are contrasted with the Butterfly Bush and yellow Flowers with different kind of green leaves making the garden become lively, beautiful and tranquil.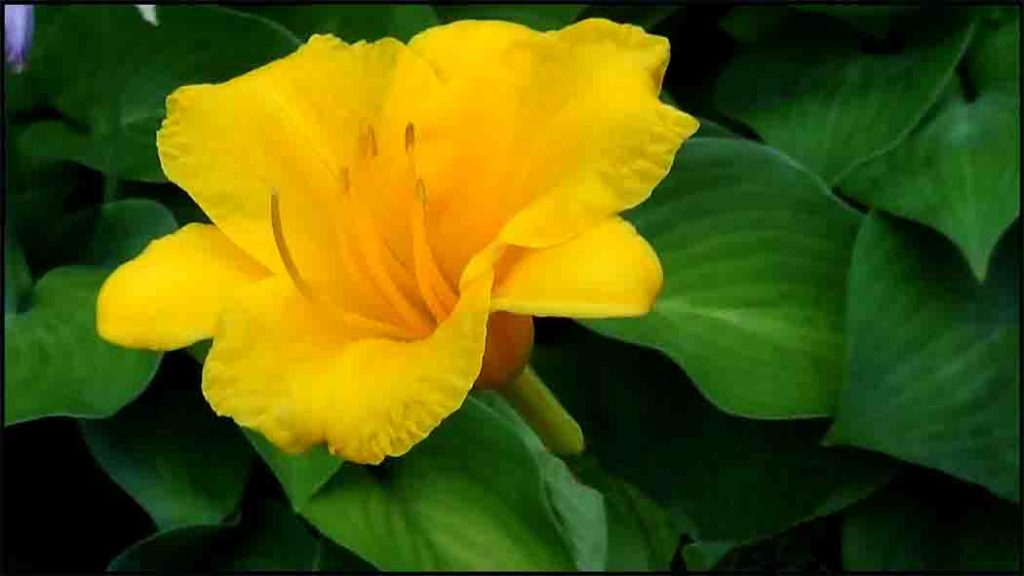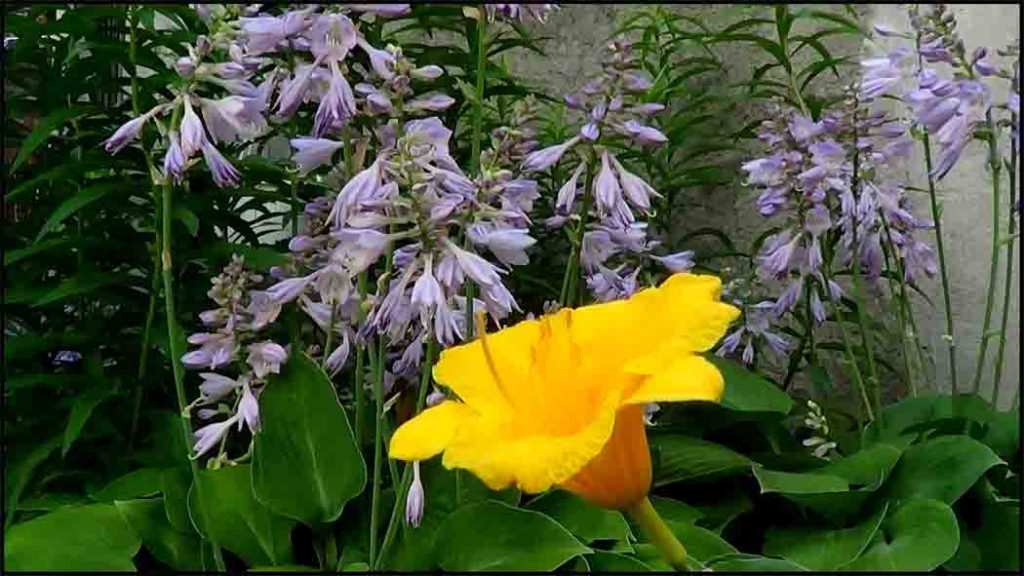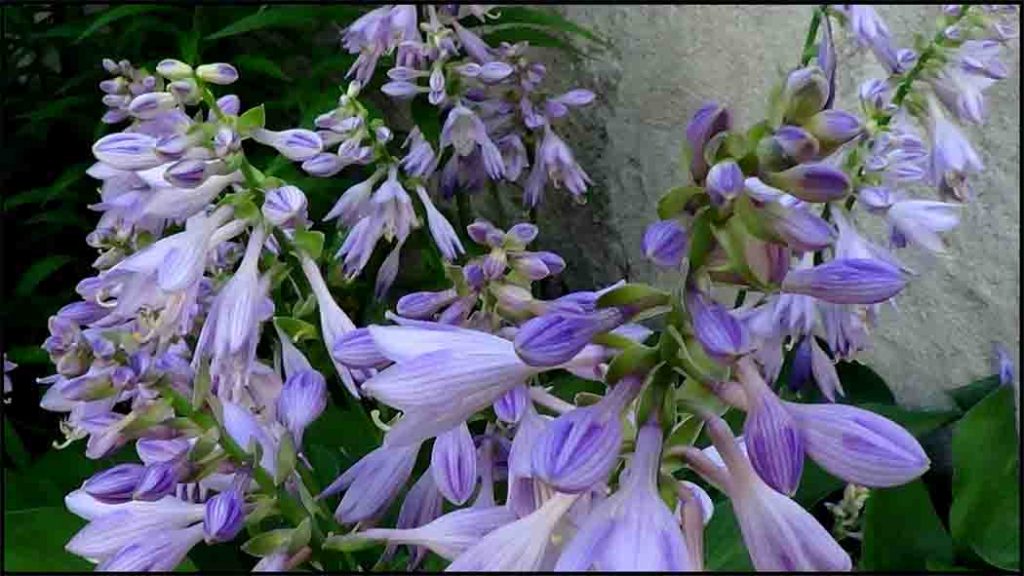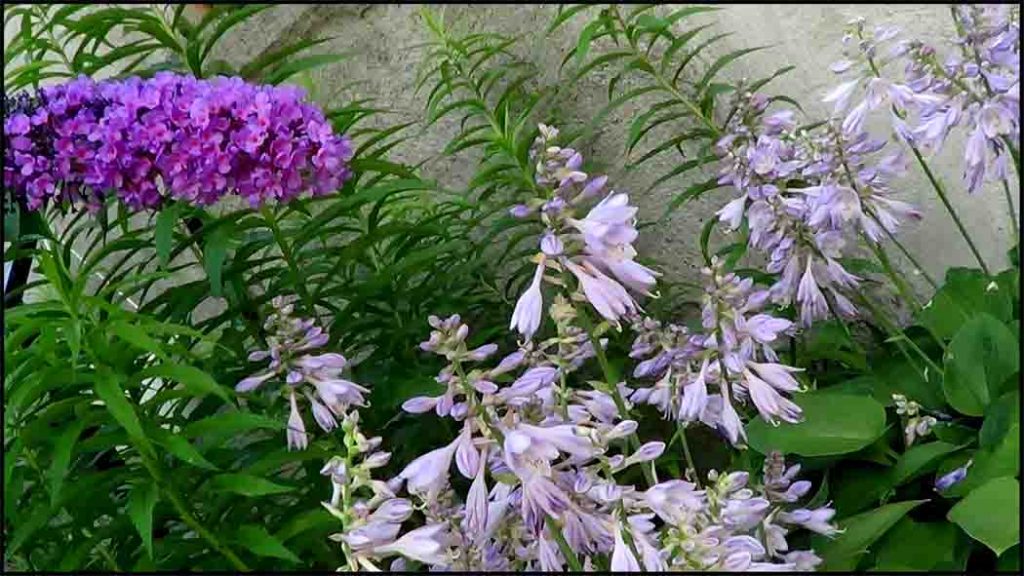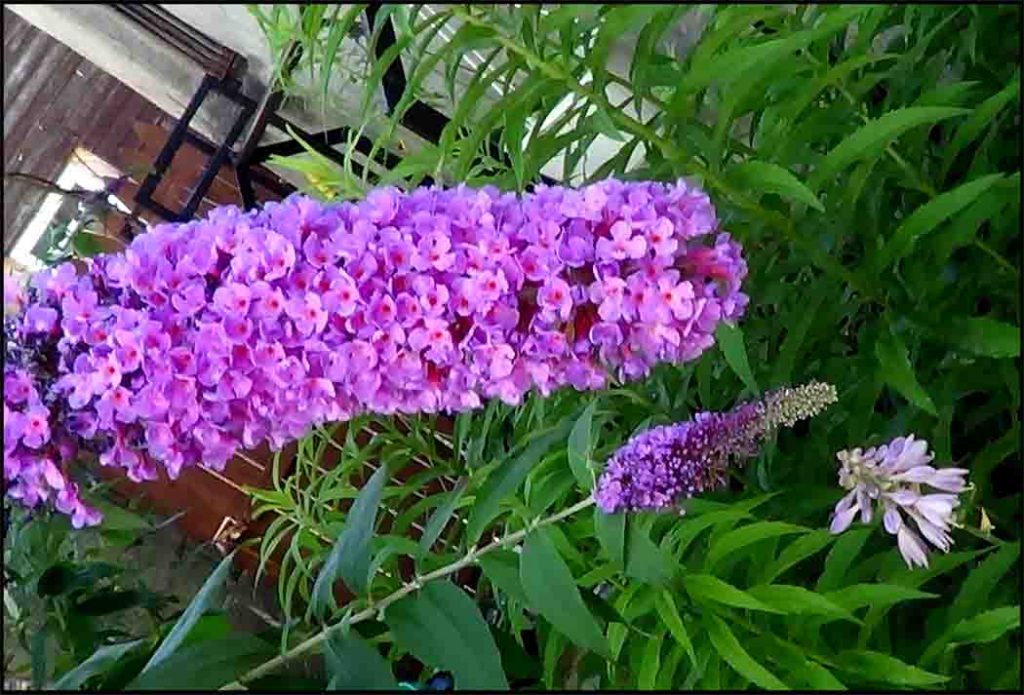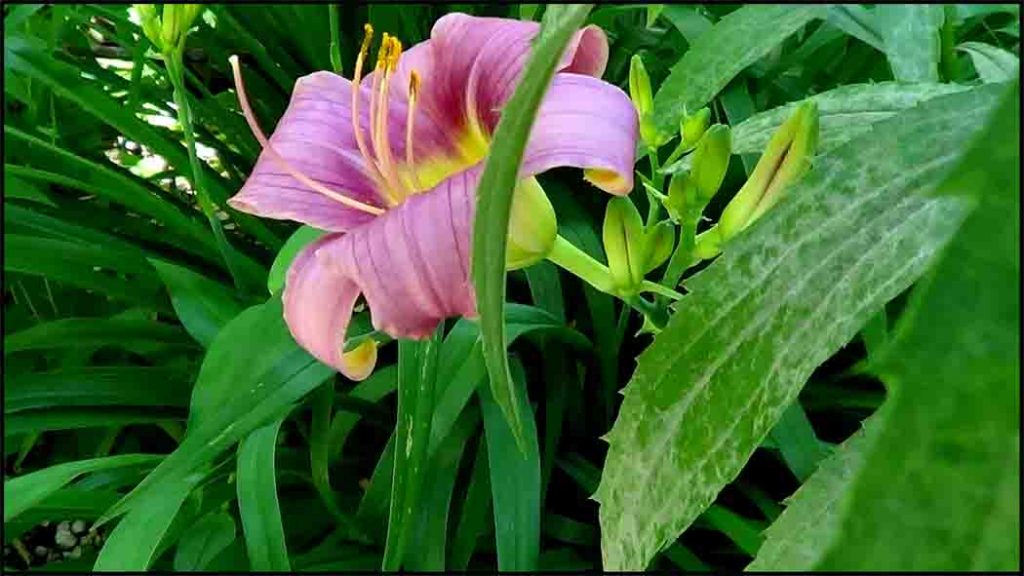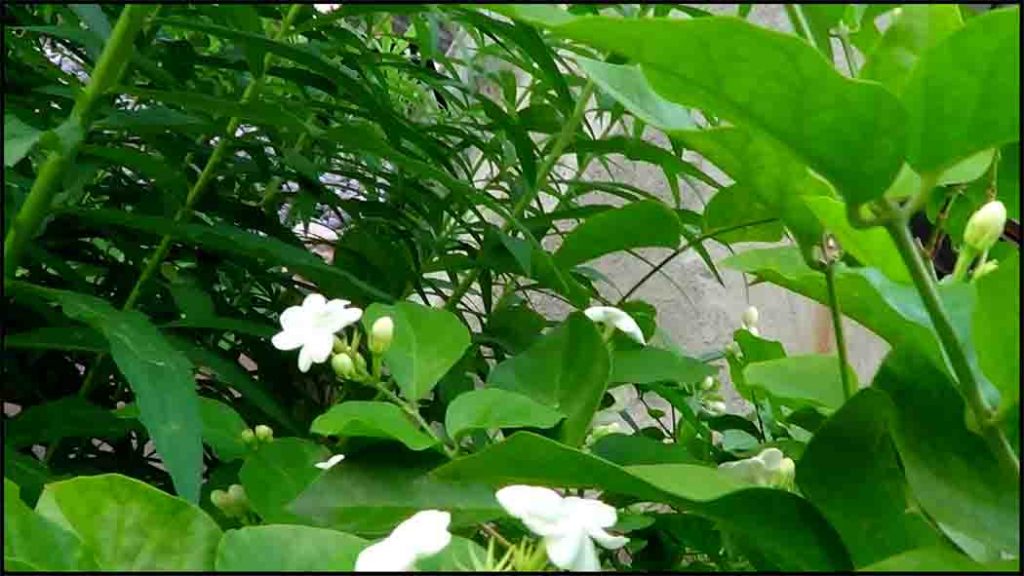 Dainty, pure white jasmine Flowers in full bloom with a beautiful fragrance that pleases everybody nearby.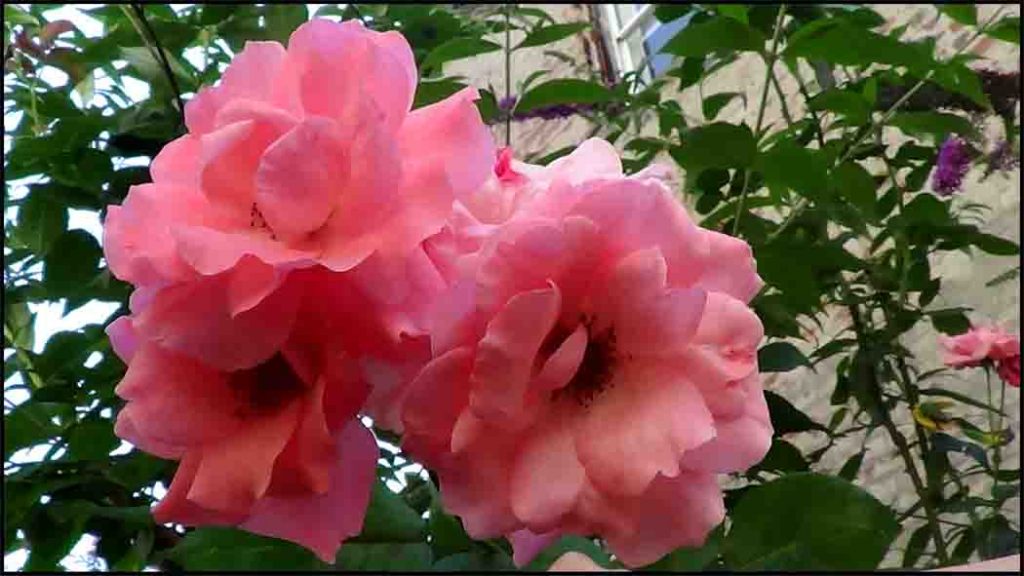 More beautiful pink roses are blooming.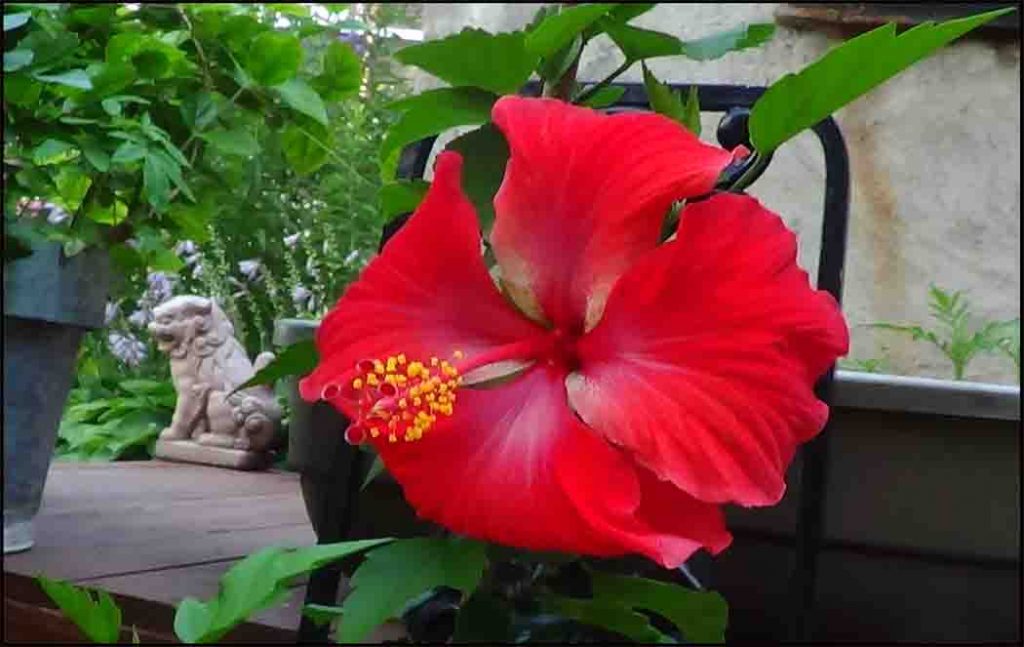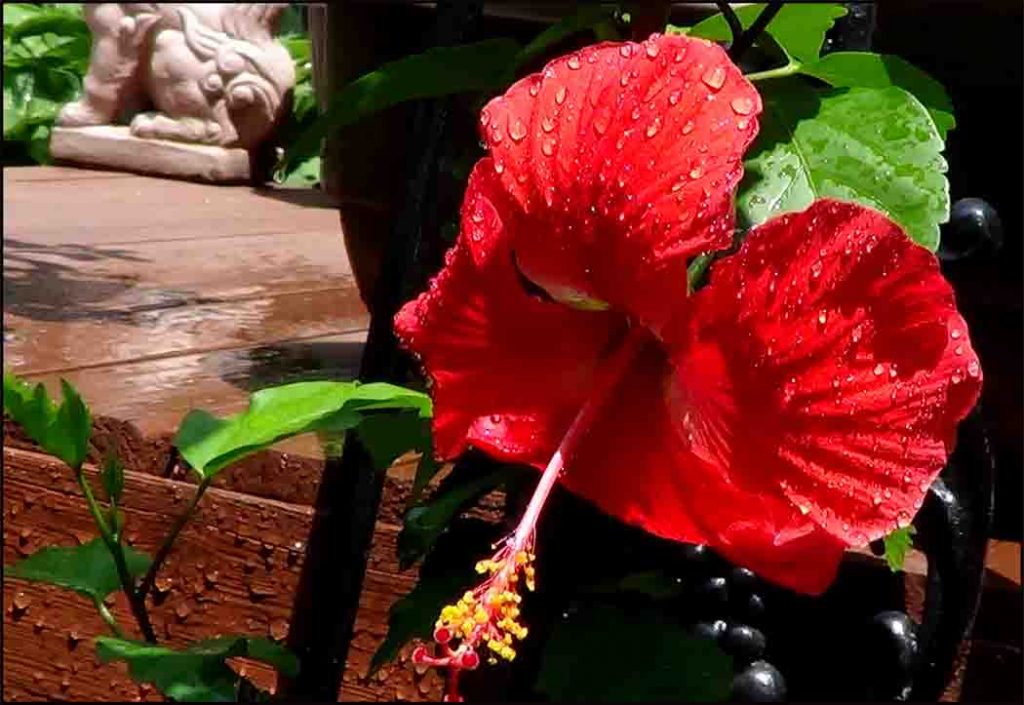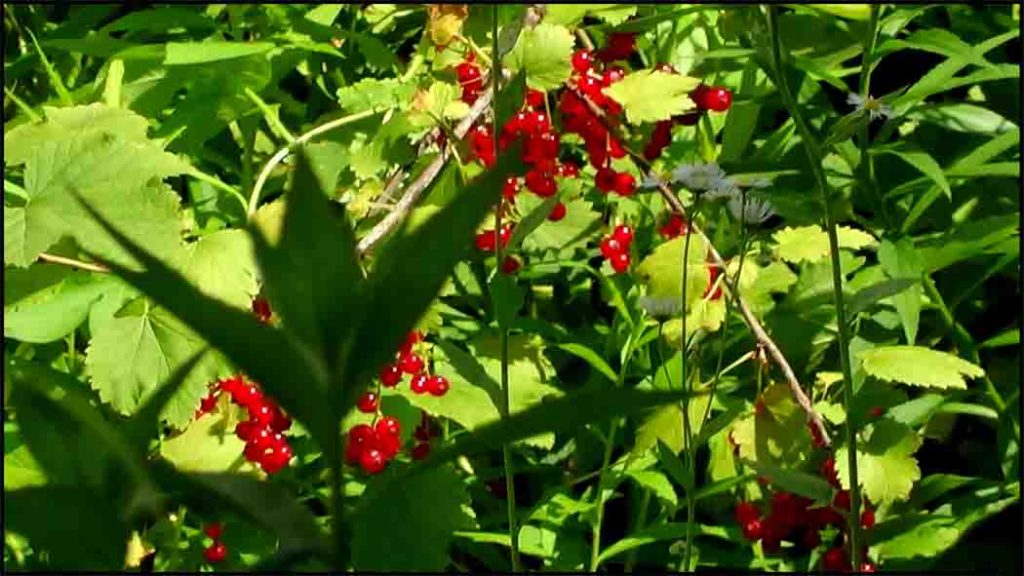 Red currents have a lot more fruit than last year.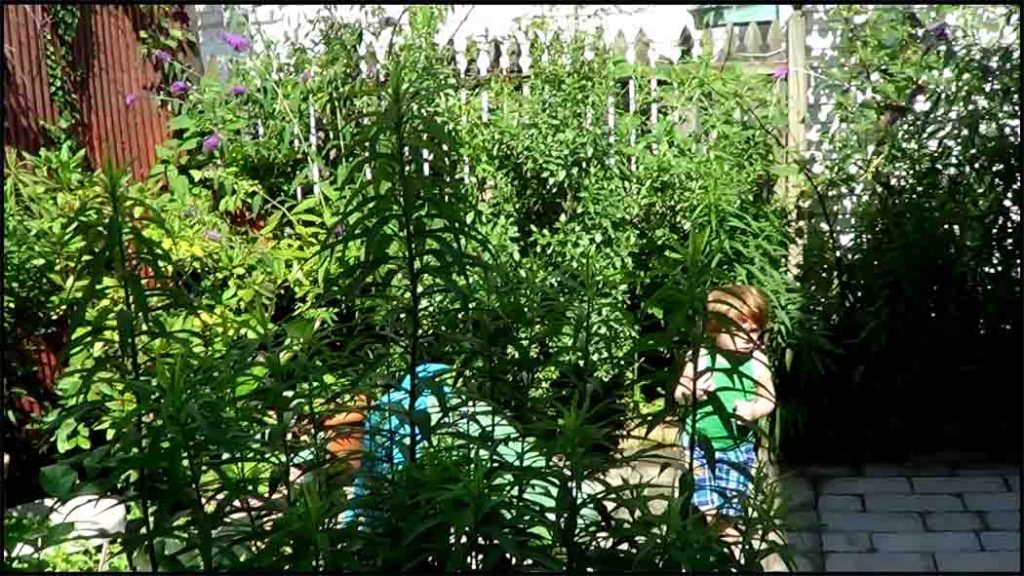 Kai enjoyed playing in the garden.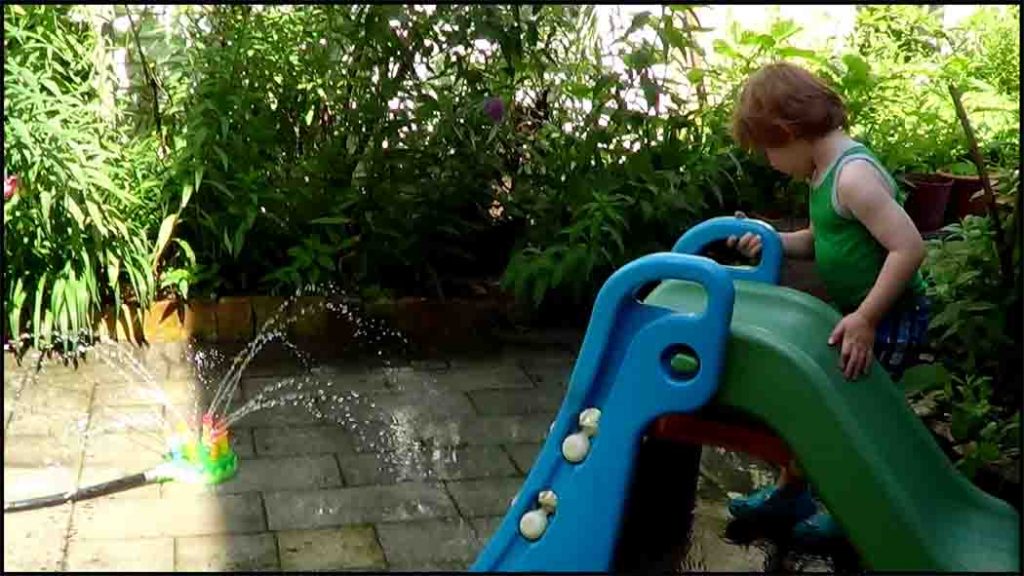 Kai said "It is fun to play with the fountain water in the summer time."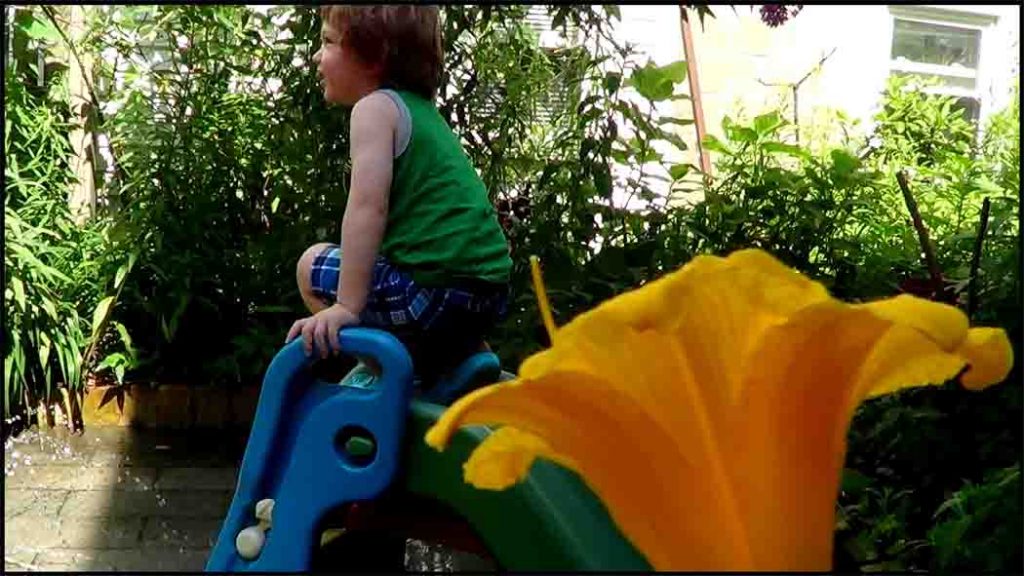 Hey! Grandma look! The yellow flower is bigger than me!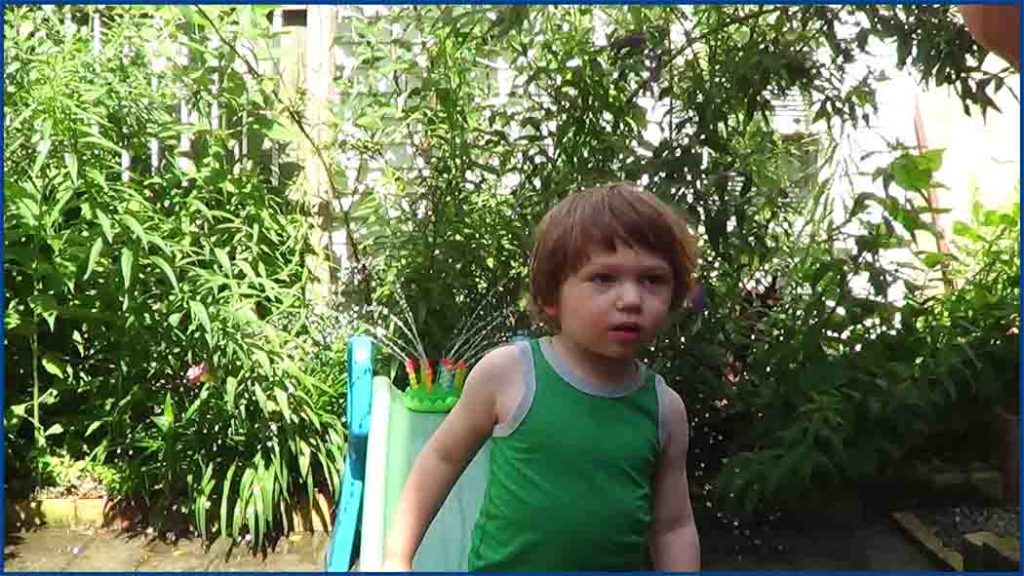 Ah! What should I do to have more fun?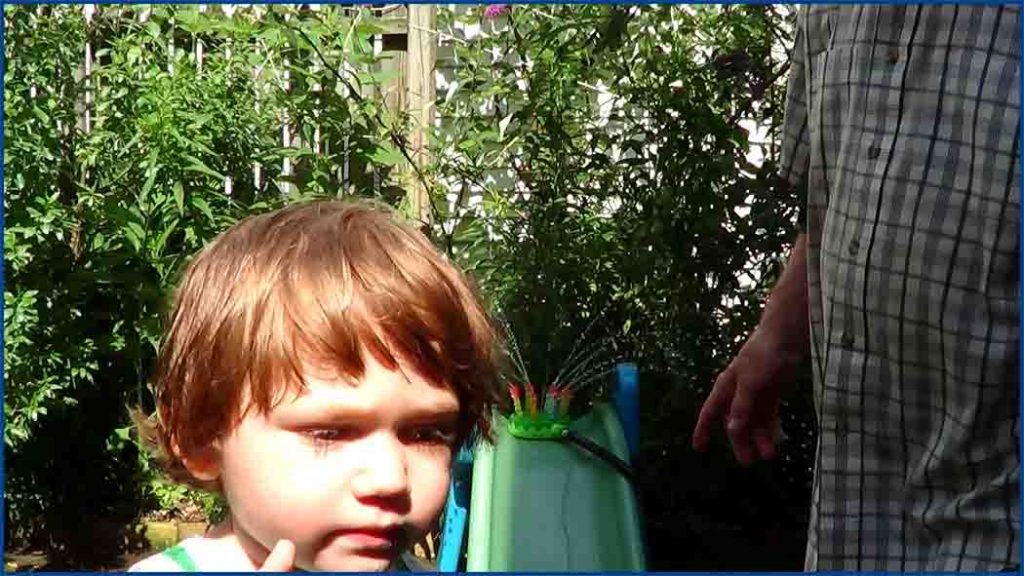 Hey! How about I spray water on Grandma?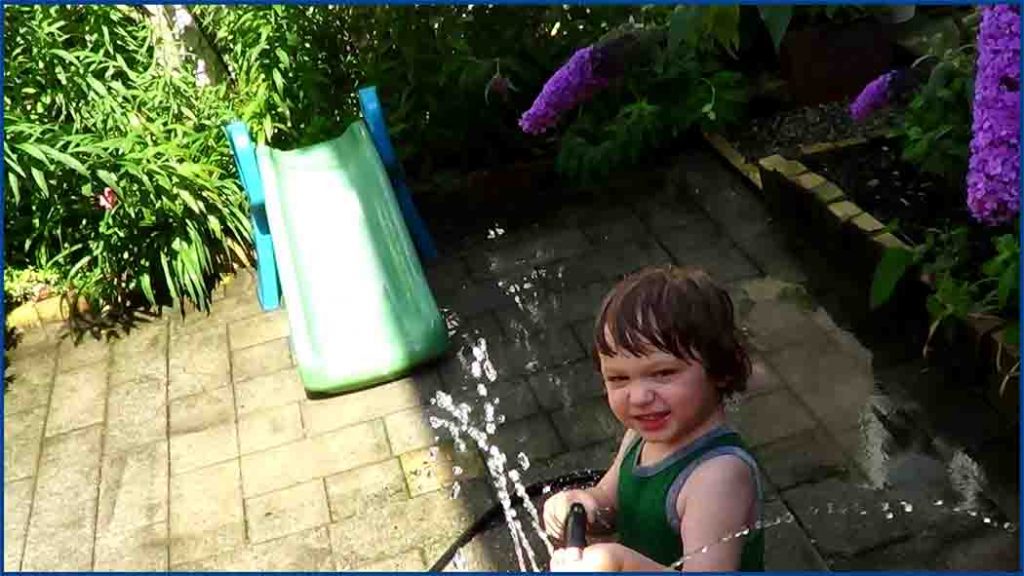 Grandma! Would you please come here? I need your help!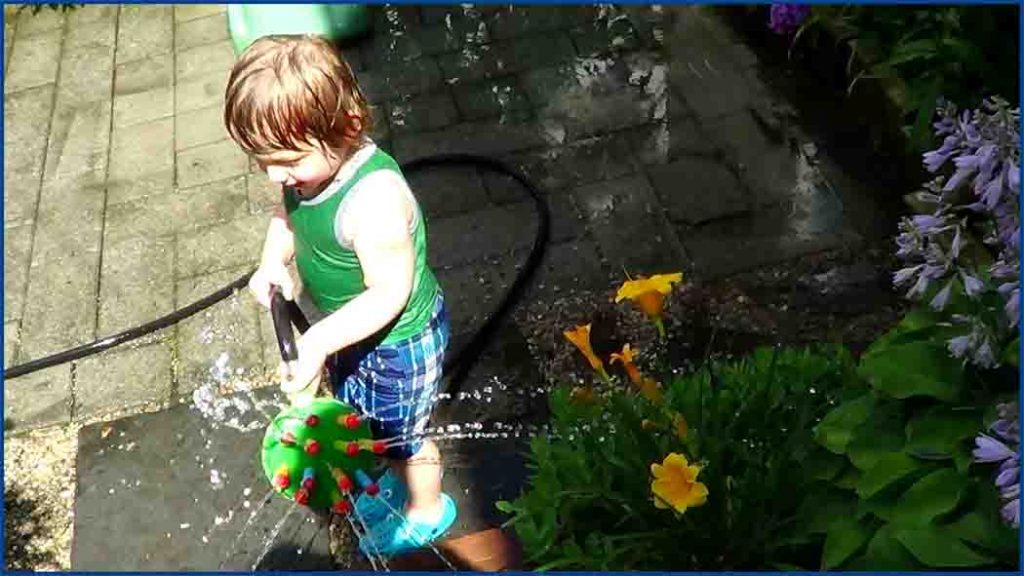 I am going to get Grandma wet like me.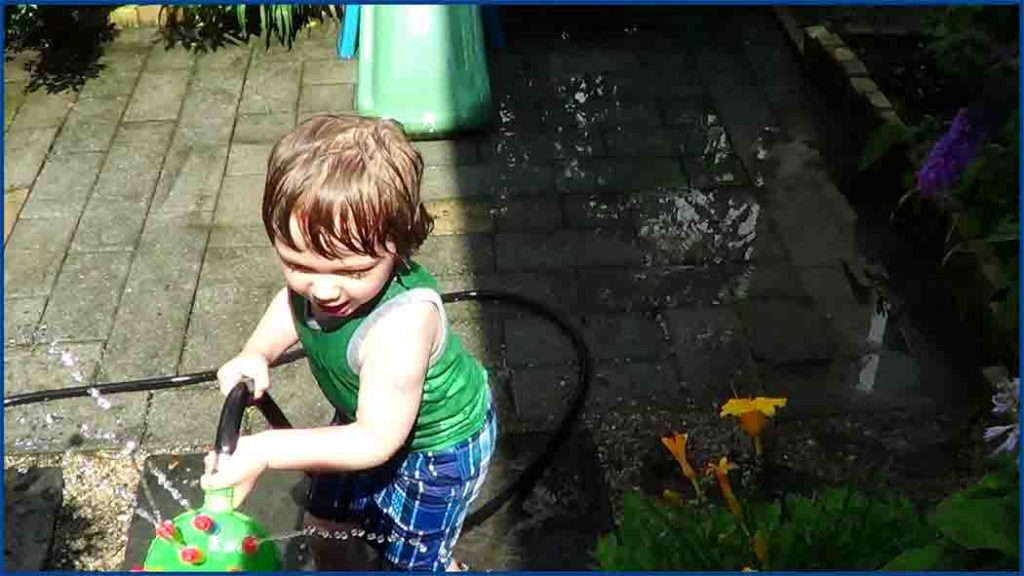 Ready or not here I come! Grandma! Grandma!!!!!!
Photographs and written by Ing-On Vibulbhan-Watts