Kai & Teacher, Ms. Fran Garrido in Creative Play at the Newark Museum, Newark, New Jersey, USA on Wednesday, July 17, 2019
Photographs by Ing-On Vibulbhan-Watts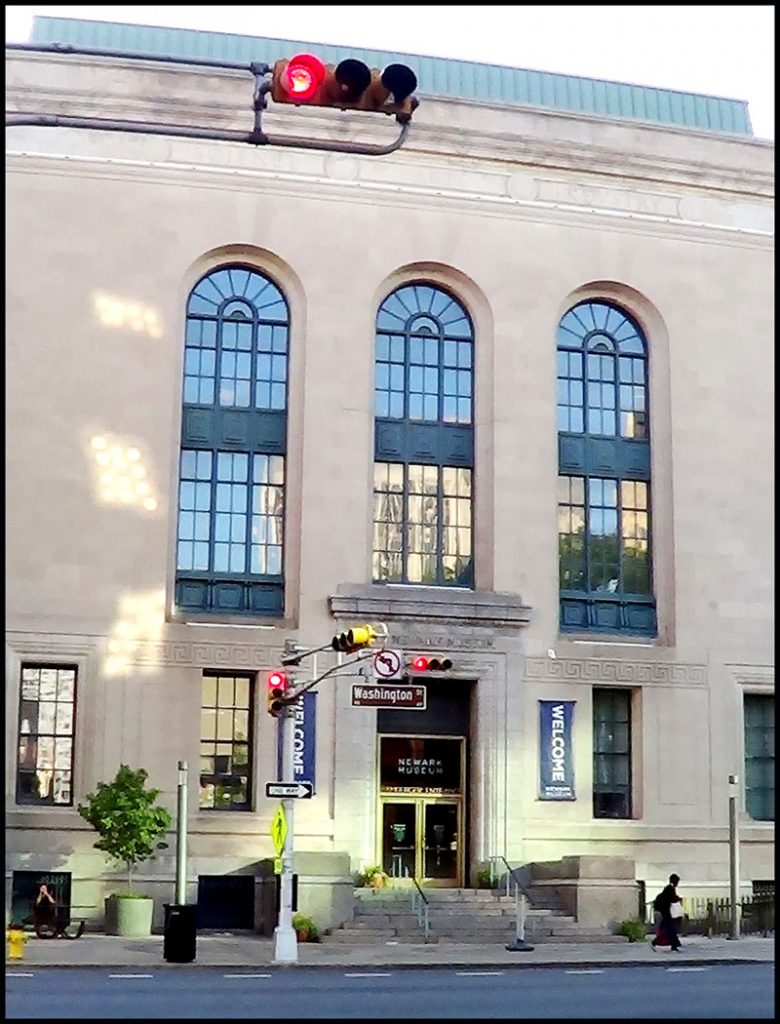 Newark Museum front entrance on 49 Washington Street, Newark, New Jersey.
The Newark Museum, in Newark, Essex County, New Jersey, United States, is the state's largest museum. It holds major collections of American art, decorative arts, contemporary art, and arts of Asia, Africa, the Americas, and the ancient world. Wikipedia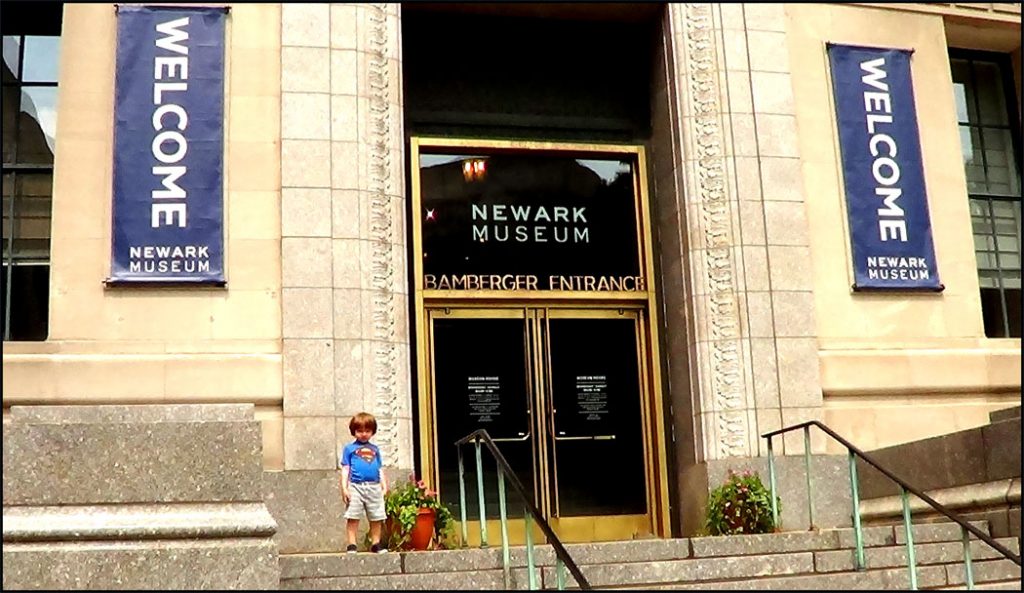 Kai in front of the Newark Museum entrance.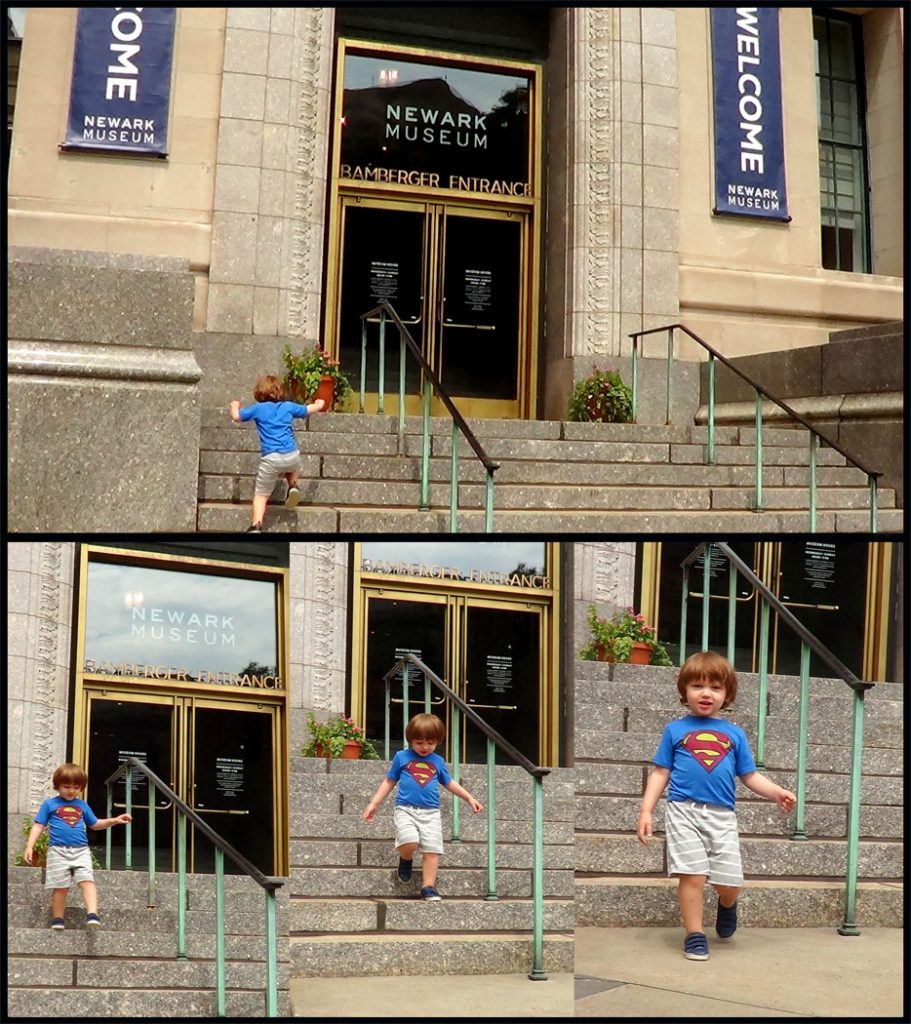 Kai was so eager to go up on the steps to the Museum entrance. Then he decided to come down and went up again a couple times until he was satisfied. He was so proud of himself when he came down the last time.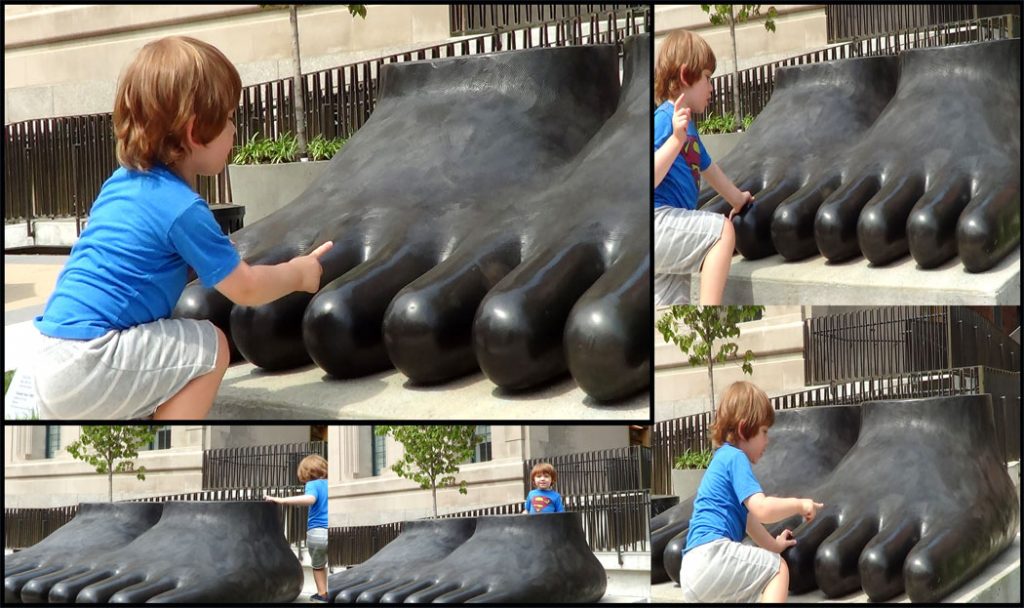 Kai spotted a large foot object in front of The Ballantine House, which is a part of the Newark Museum. He looked at the sculpture and started to count the toes. He said "Nine toes! Grandma!" He counted again, he said "Nine toes, not ten toes!" I told Kai that probably the big toes of both feet are joining together.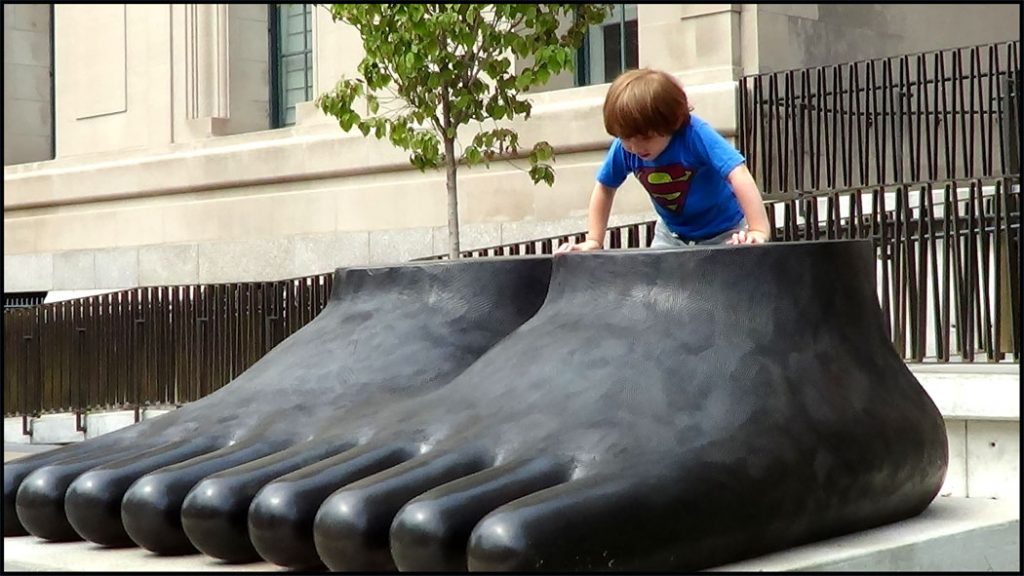 Kai walked to the back of the sculpture. He started to climb up. I told him that he cannot climb up on the sculpture, it is not like an object in the playground. Kai seemed to be disappointed but he listened and walk away.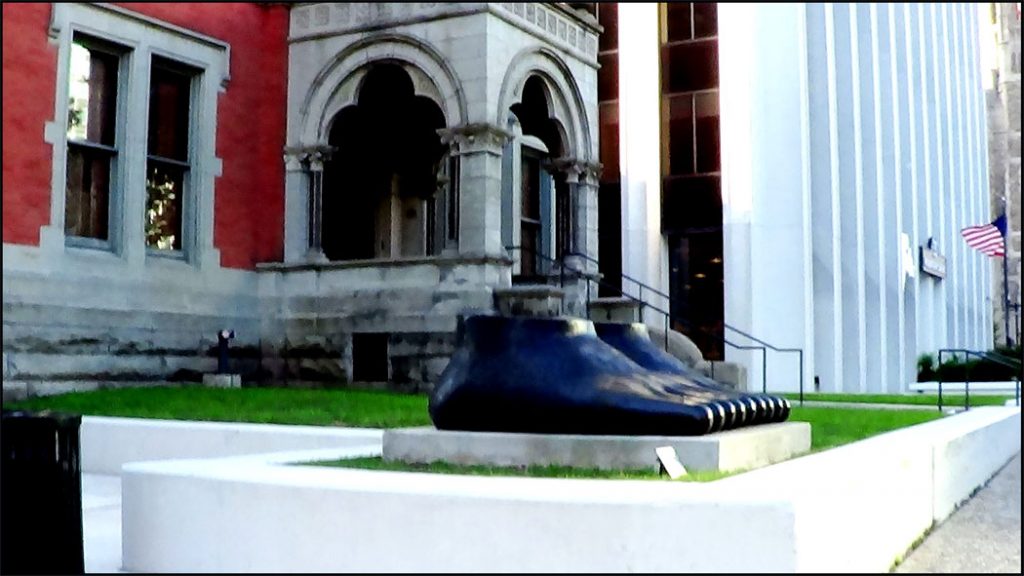 Title: Double Foot, 1992 Edition of 3, No 1 Bronze
Artist: Tom Otterness Born 1957, Wichita, KS, lives and works in New York, NY
Gift of Judith and Lester Lieberman, 2018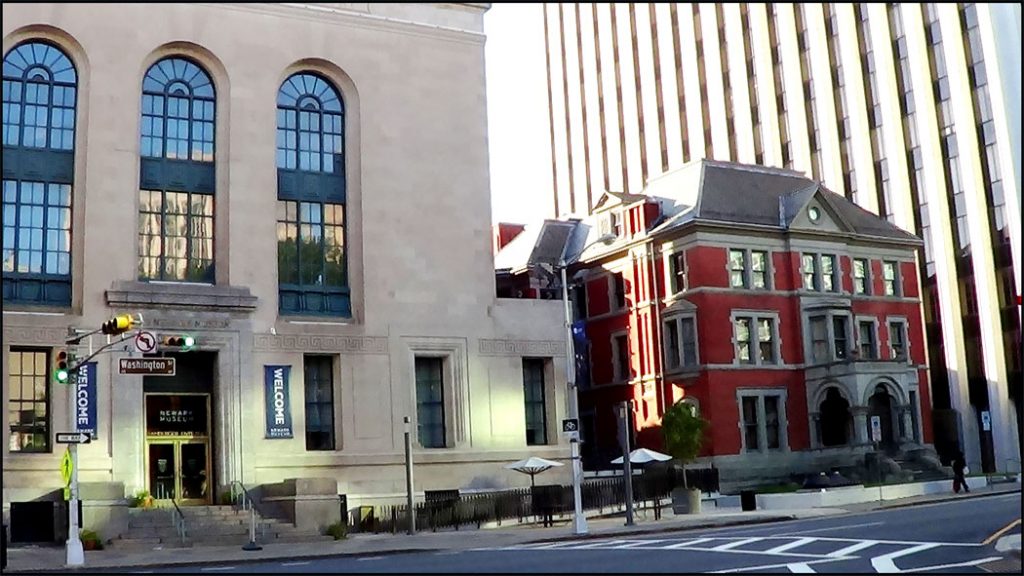 Next to the front entrance of Newark Museum is The Ballantine House
The Ballantine House
The Ballantine house is a preserved and restored house from the Victorian Era, designed by architect George Edward Harney. It was home to John Holme Ballantine, his wife, Jeannette, and their children, John, Robert, Alice, and Percy. Mr. Ballantine owned and ran a brewery in the Ironbound section of Newark. The house originally had twenty-seven rooms and three floors. In 1937, the Newark Museum bought the house and has since restored it to serve as galleries for the extensive decorative arts collections.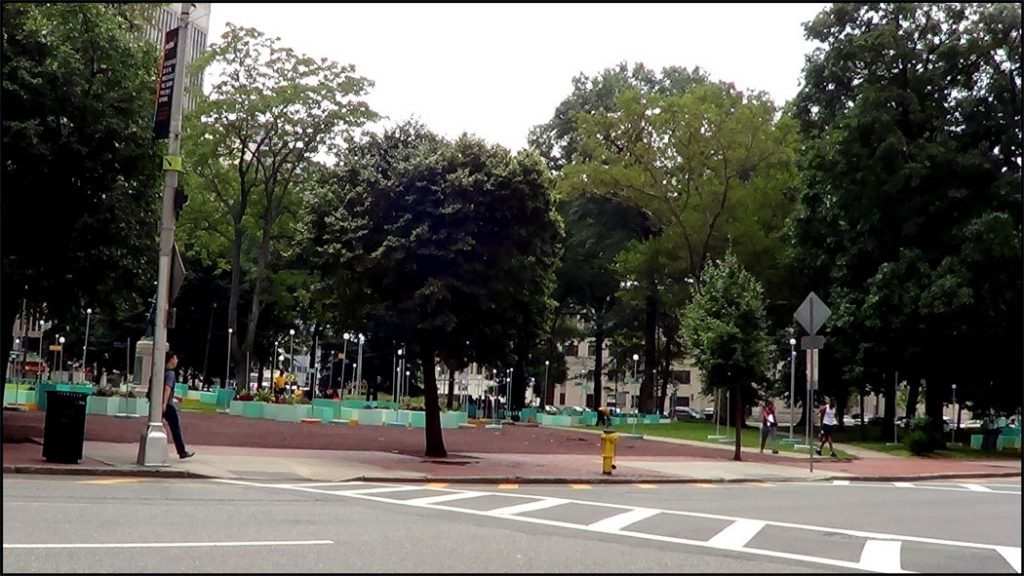 Opposite to the museum's front entrance is Washington Park, which is about a five minutes walk from The New Jersey Performing Arts Center.
Kai & Teacher, Ms. Fran Garrido in Creative Play at the Newark Museum, July 17, 201
Kai and I walked to the Newark Museum from home about 9:45 am and we reached the museum a little bit before 10 am which took us about ten minutes' walk. The security guard told us to wait for Ms. Fran Garrido. She is an Early Childhood Coordinator who is in charge of the Creative play program. The class runs from 10-11 am on Wednesday through Friday. It is a one-hour program, especially for Early Learners ages 3-5. It includes a visit to a gallery and an activity. Kai, our grandson, is three years and 9 months old. He is just the right age to attend the program. Ms. Garrido came to greet us with two carrier bags, one full of stuffed animal toys and the other bag had small pads for sitting. She said to wait for a while maybe some other children might come, she will talk about loneliness today. She gave Kai a stuffed penguin toy to have as a friend.
No one else came so Ms. Garrido took us to an art gallery that had a realistic sculpture of a man sitting on the lawn mower by himself, which makes him look a bit lonely. Ms. Garrido asked Kai what is lonely? Kai said "Sad". Kai wanted another friend for his penguin toy. He selected another penguin toy and tried sitting it on the pad. He managed to get the first toy to sit but not the second toy. Ms. Garrido tried to get the second one to sit. She tried for a while and finally did get the toy to sit on the pad. She yelled out with joy "I did it." They both had a good laugh. She talked and asked Kai some questions showing Kai the artwork in the room. Kai went in the toy bags and took out all the toys to sit on the pads.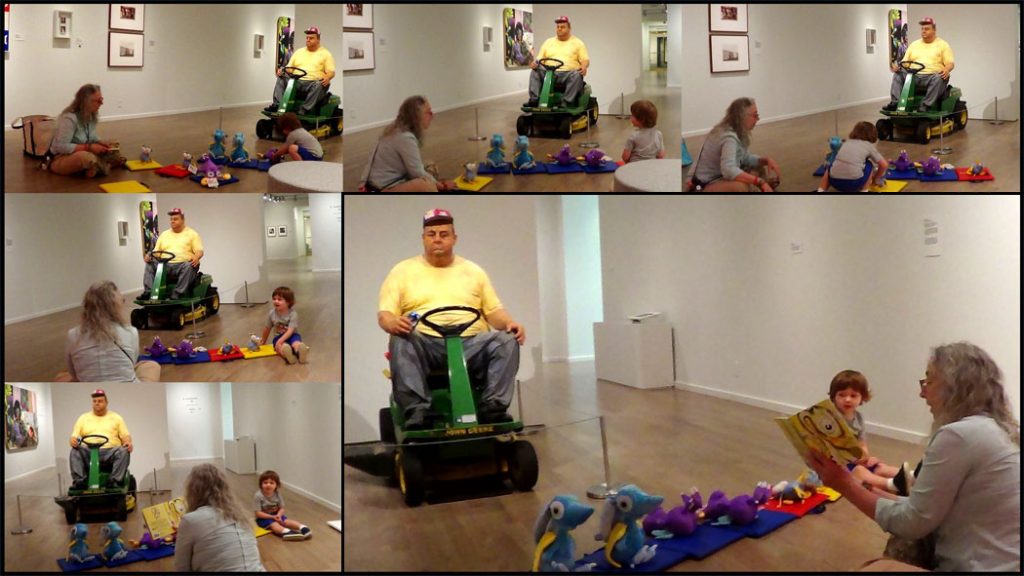 Ms. Garrido told Kai that she was going to read him a book about being lonely. Suddenly, Kai got up and started to rearrange all the toys neatly in a line. Ms. Garrido asked him where are you going to sit? Kai took out a pad and put it at the end of the line of toys and sat listening to the teacher reads the book to him and all of his toy friends.
Title: Man, on a Mower
Artist: Duane Hanson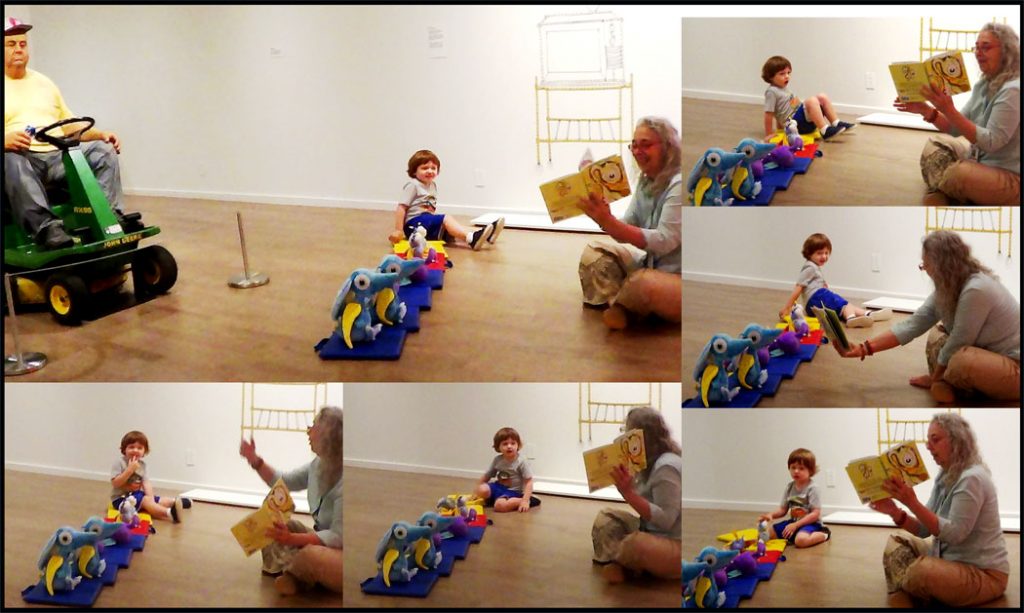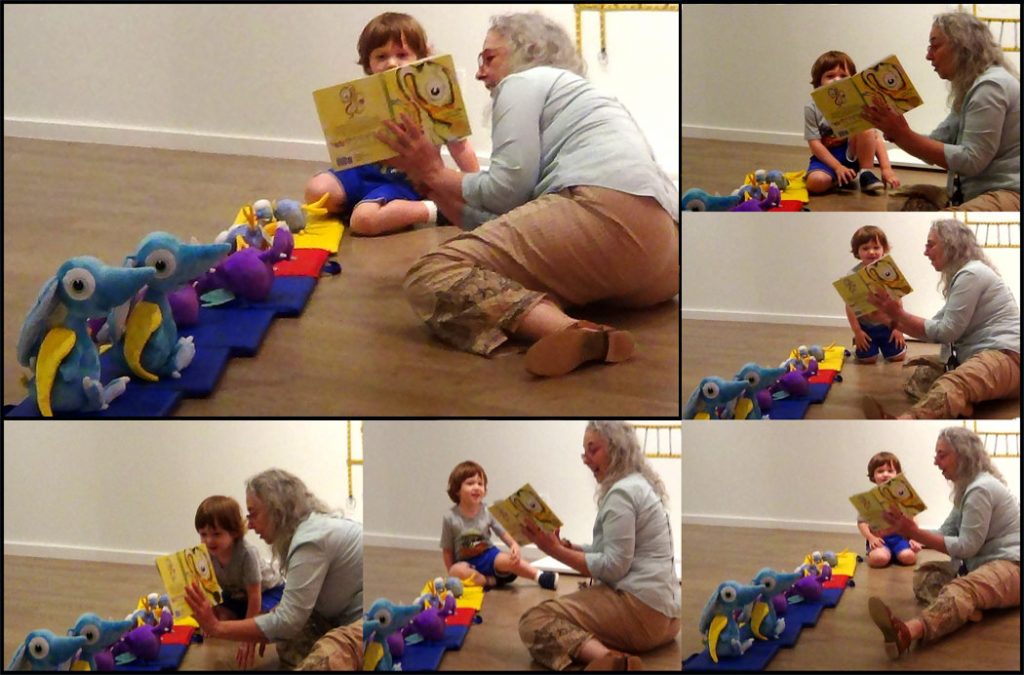 Kai enjoyed the story. Both teacher and student had a good conversation. They discussed the story of the lonely character who is sad because he had no friend but if he looks around him, he will find a lot of friends.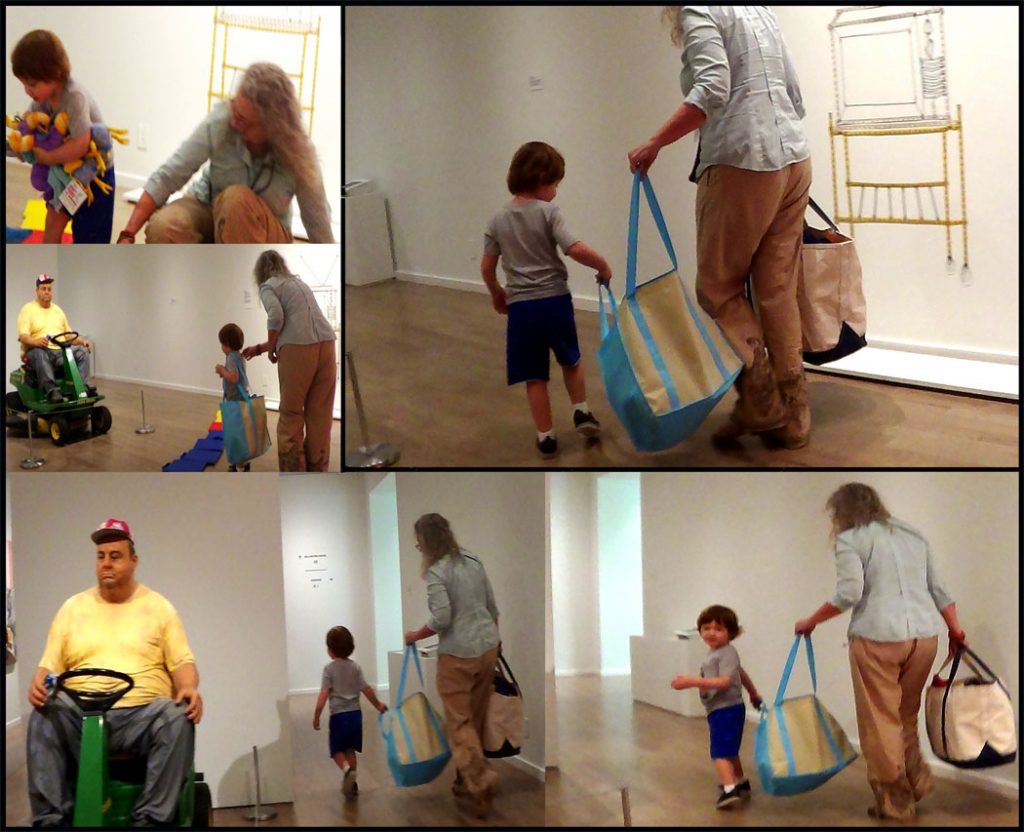 After the story ended, Ms. Garrido said we have to go to another room. Kai got up grabbing all his toy friends in his arms. He put them in the bag and carried the bag on his shoulder. Ms. Garrido said, "Is it too heavy for you?" Kai said yes and suggested, "How about you carry one side and I carry the other side of the bag?" Both of them walked out of the room then Kai turn back and said "Come on Grandma!" He said this a couple times while we were walking to the other destination.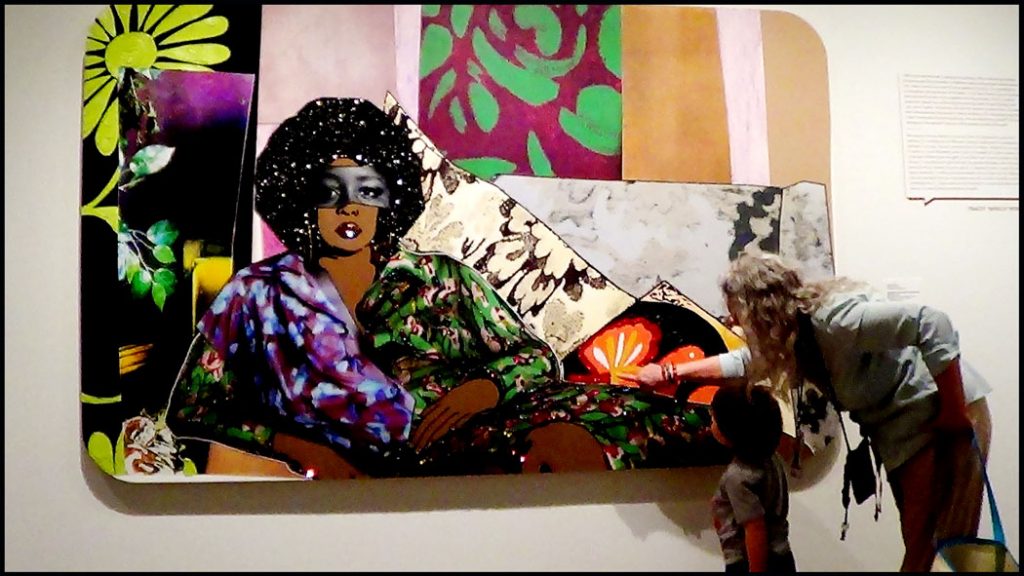 We walked to the next room where we saw this painting. Kai pointed at the artwork and said "Grandma look at this!" Ms. Garrido joined Kai looking at the painting and pointed out some areas of the artwork to Kai.
Title: Afro Goddess Looking Forward
Artist: Mickalene Thomas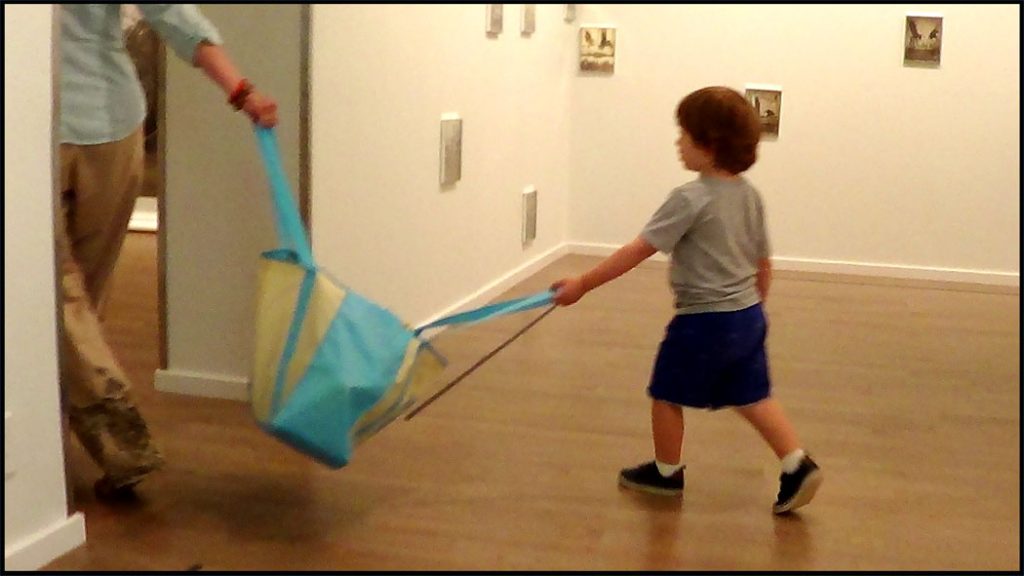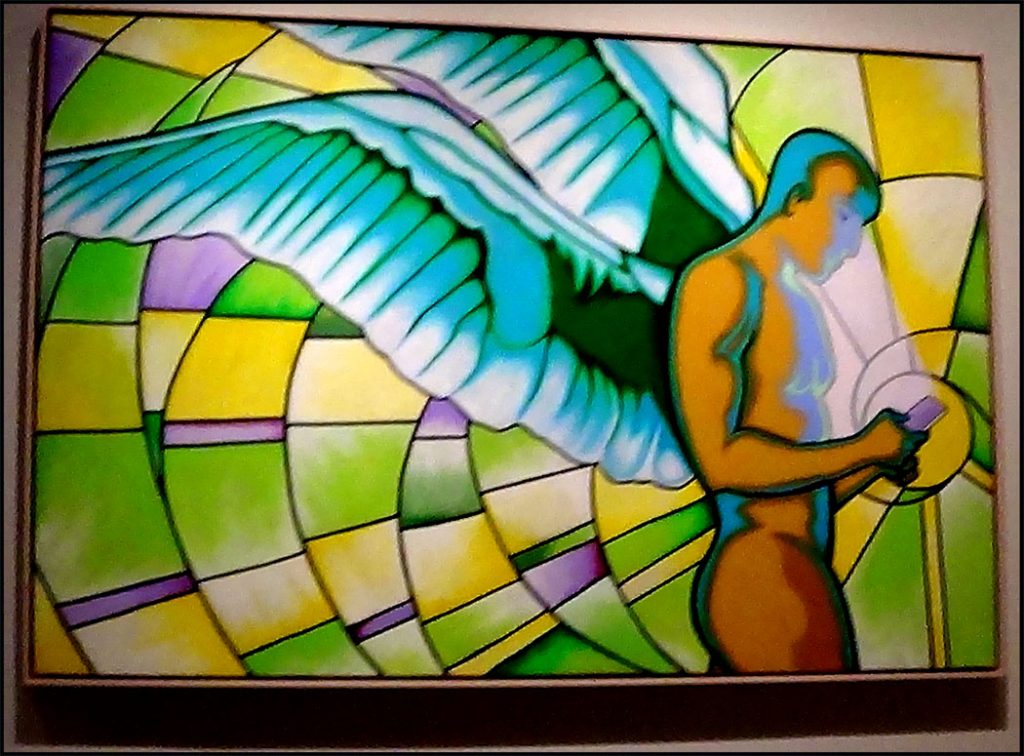 Title: Millennial Guardian Angel
Artist: Jo-El Lopez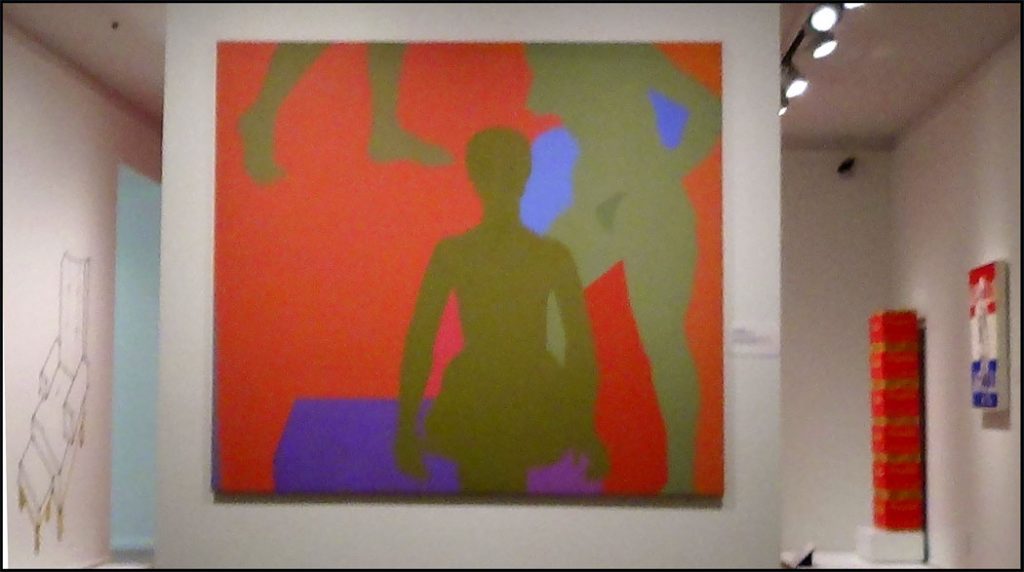 Title: Me and My Neon Box
Artist: Kay WalkingStick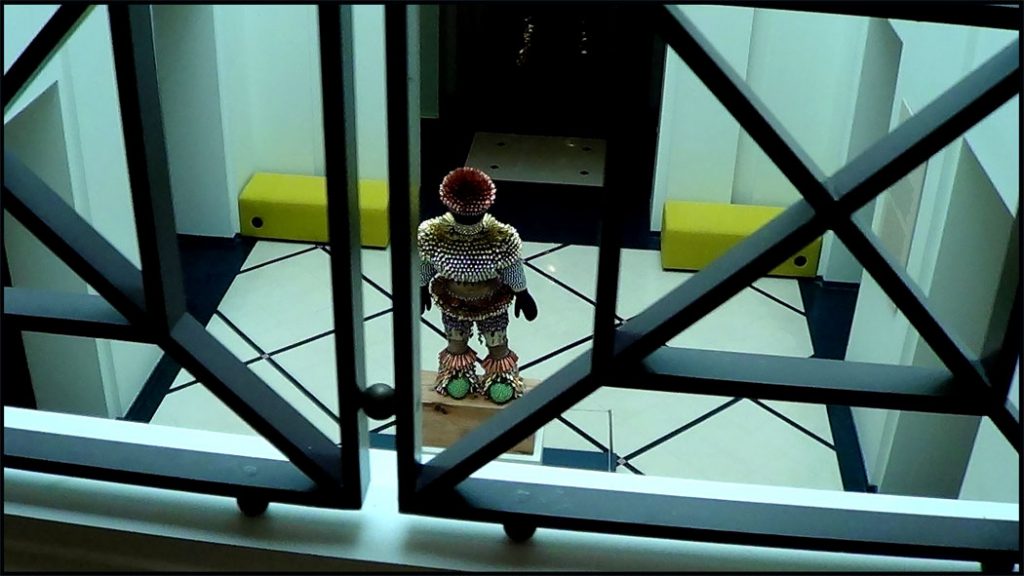 Kai and I enjoyed viewing the artwork while we were walking along. Kai stopped to look at the top of this sculpture.
Title: Come Alive! (I Feel Love)
Artist: Jeffrey Gibson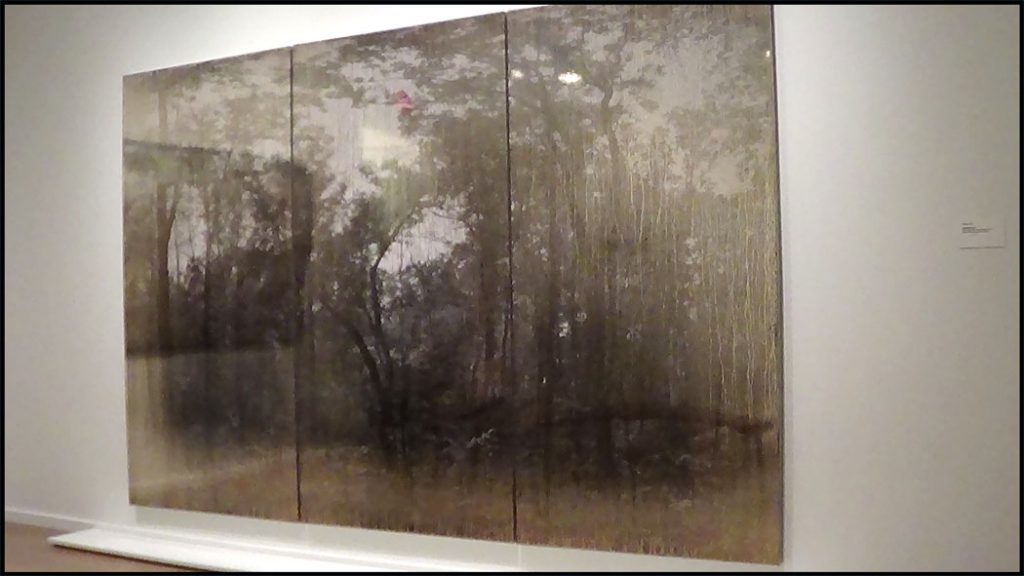 Title: AgXMH821A
Artist: Matthew Brandt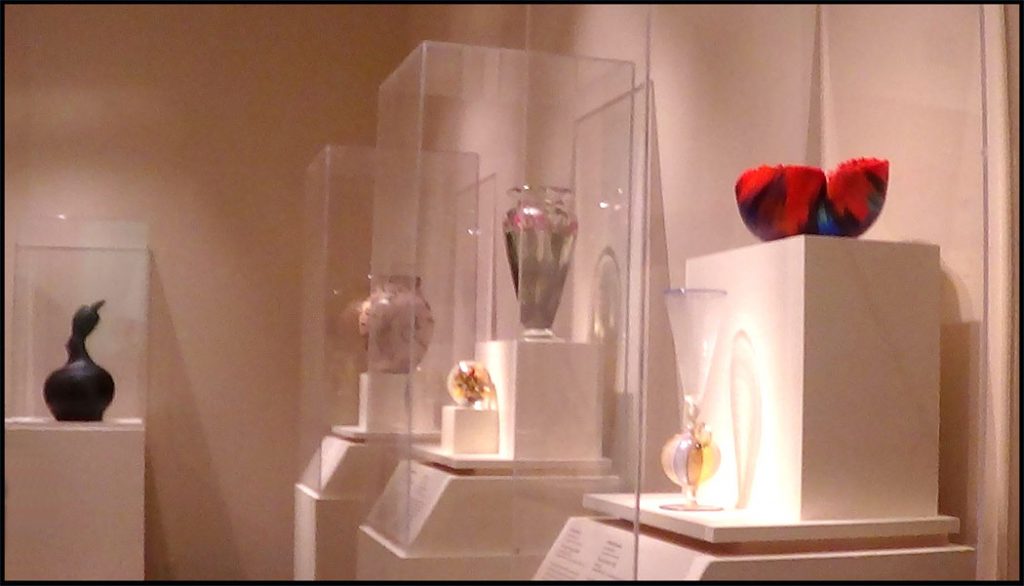 Left to right:
Title: Burgeon Artist: Christine Nofchissey McHorse
Title: Vessel Artist: Virgil Ortiz
Top:
Title: Vase with internal decoration of Irises Artist: Douglas Merritt and Stephen Smarr for
Vandermark Merrit Studio
Bottom:
Title: Fecundity Bouquet Artist: Paul Stankard
Top:
Title: Tierra del Fuego Artist: Toots Zynsky
Bottom:
Title: Teapot Goblet Artist: Richard Marquis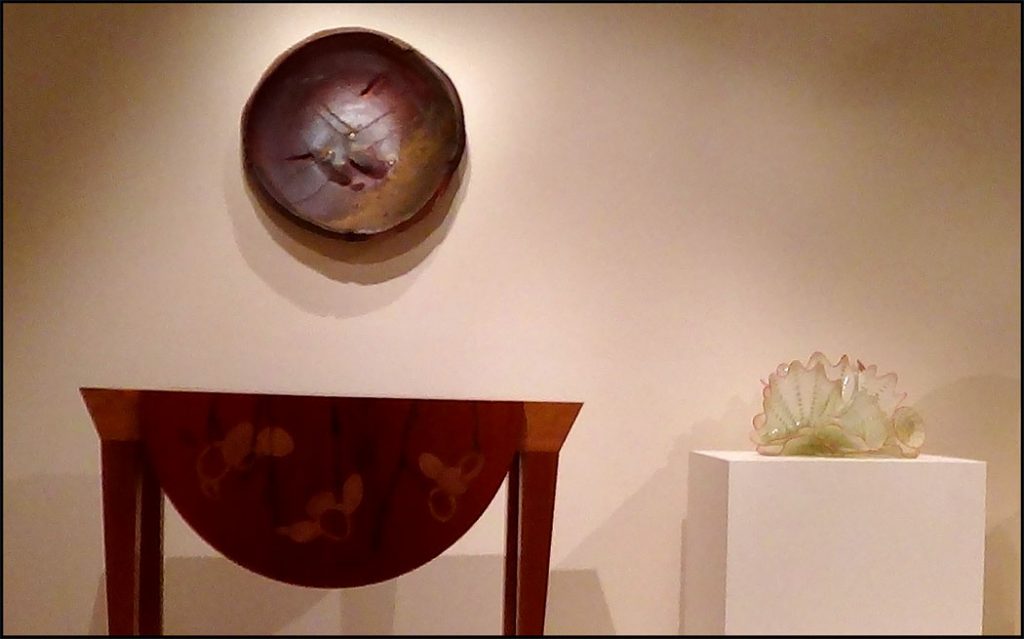 Top:
Title: Plate Artist: Peter Vouklos
Bottom:
Title Spoleto table Artist: Tony Whitfield for Redwing & Chambers
Bottom Right:
Golden Sulphur Persian Set Artist: Dale Chihuly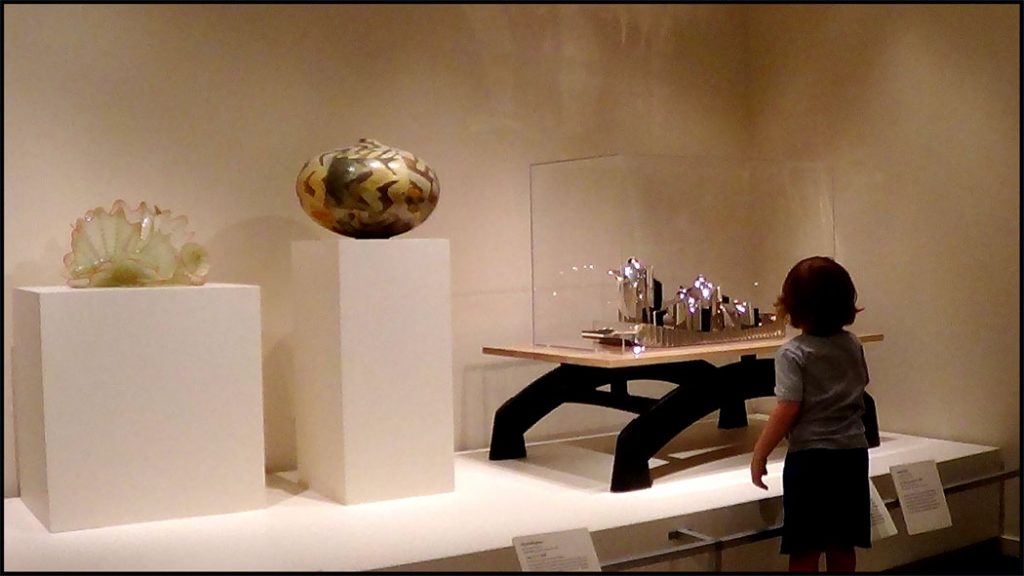 Kai was interested in the art objects along the way.
Title: Anniversary Service Artist: Ubaldo Vitali
Title: Arch Coffee Table Artist: Michael Puryear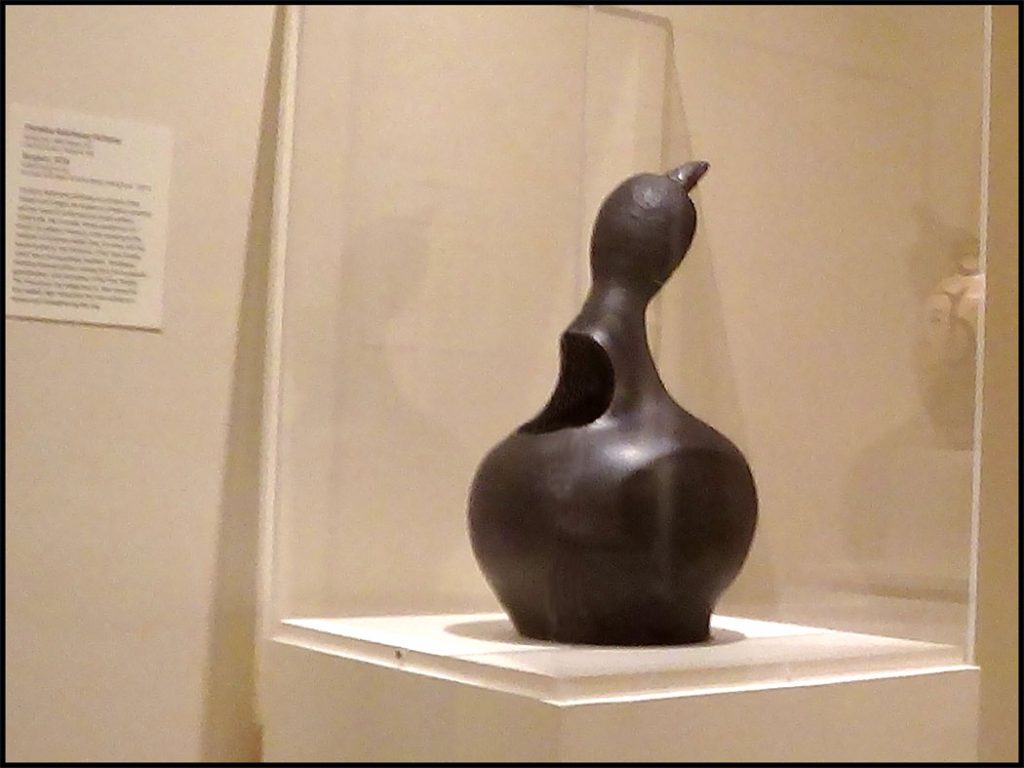 Title: Burgeon
Artist: Christine Nofchissey McHorse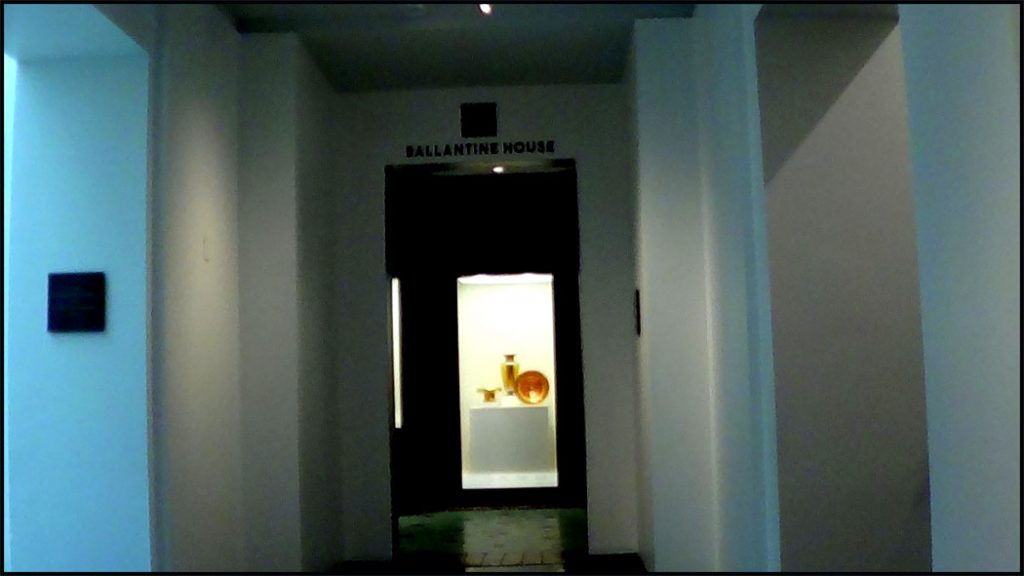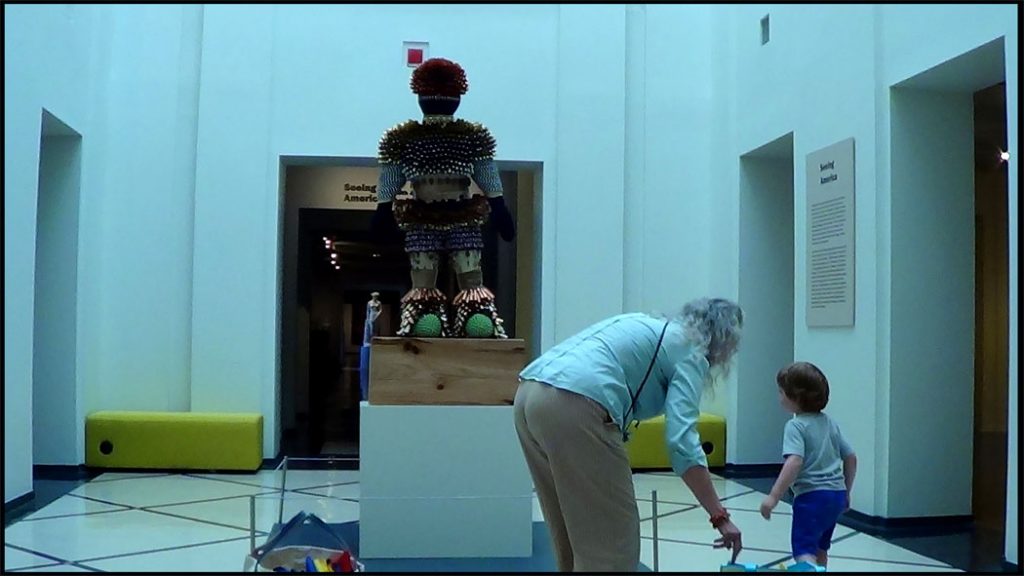 Ms. Garrido gave Kai some insight about the sculpture they stopped to look at.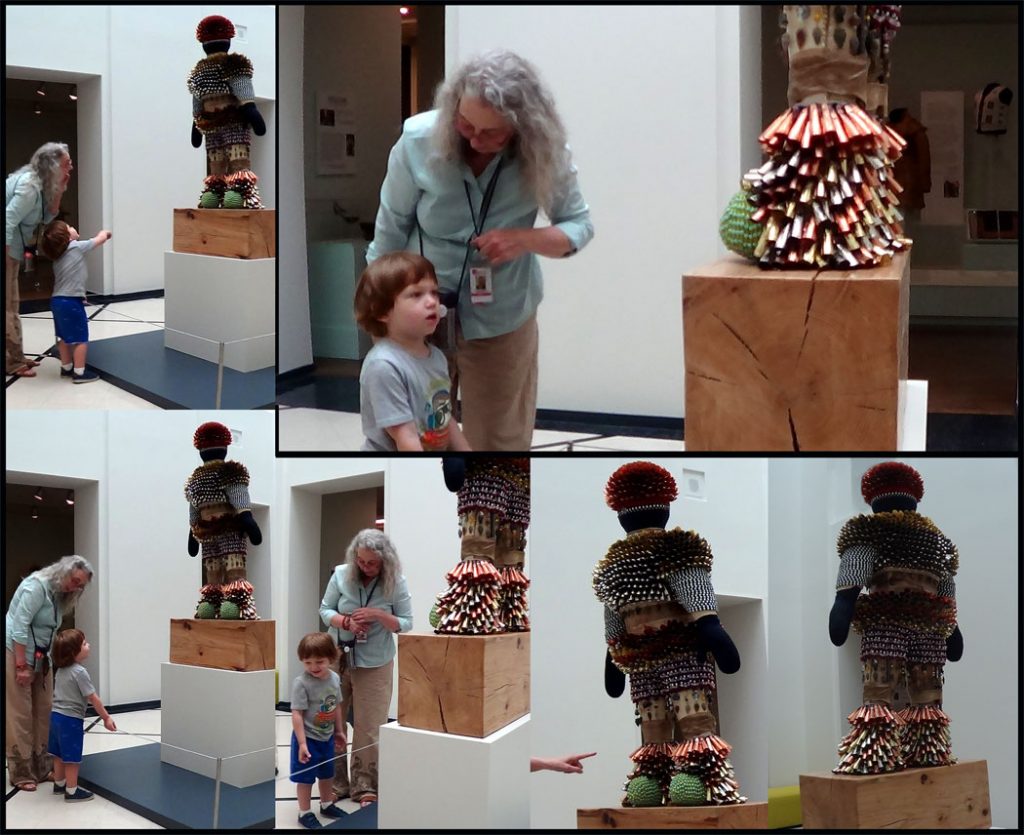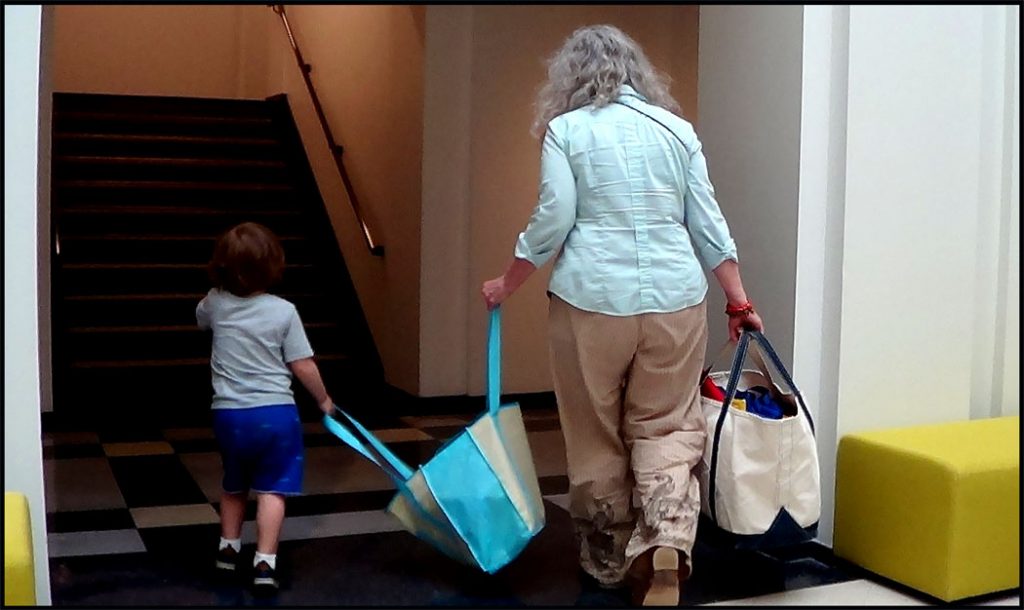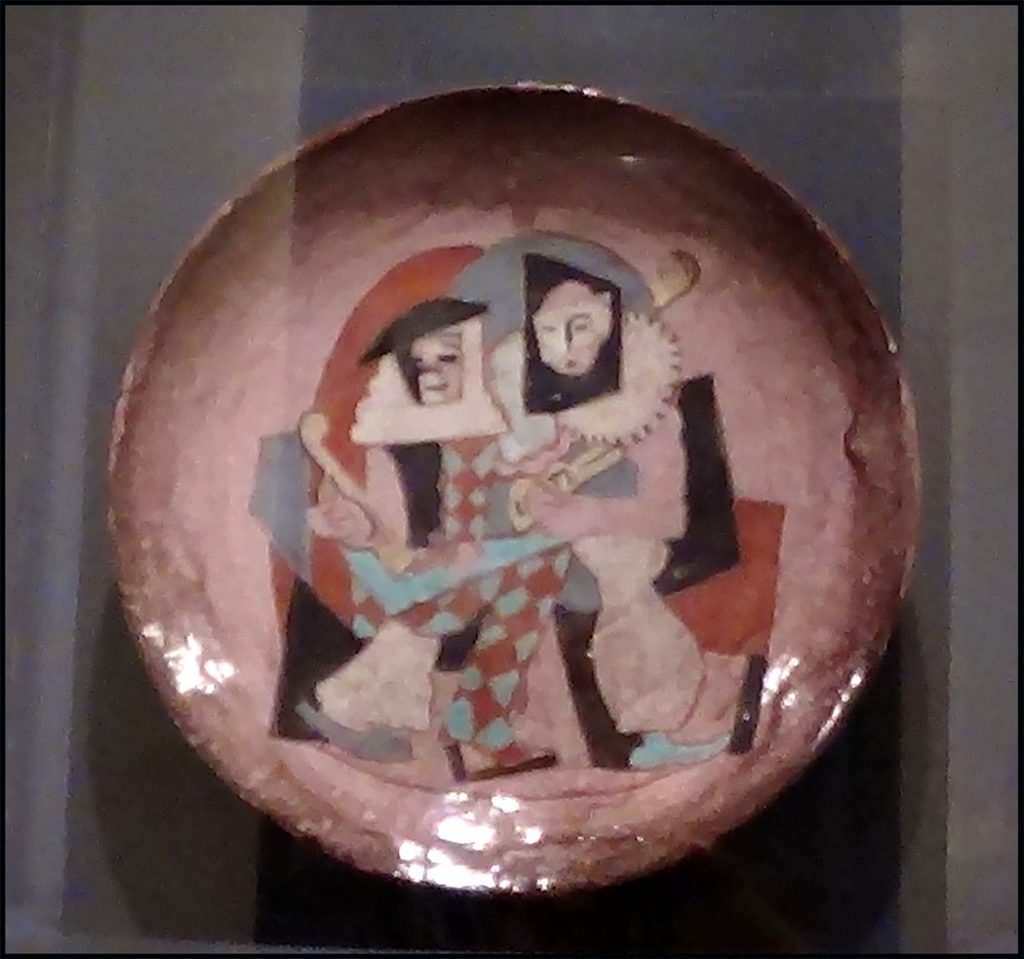 Title: Plate with design of musicians
Artist: Beatrice Wood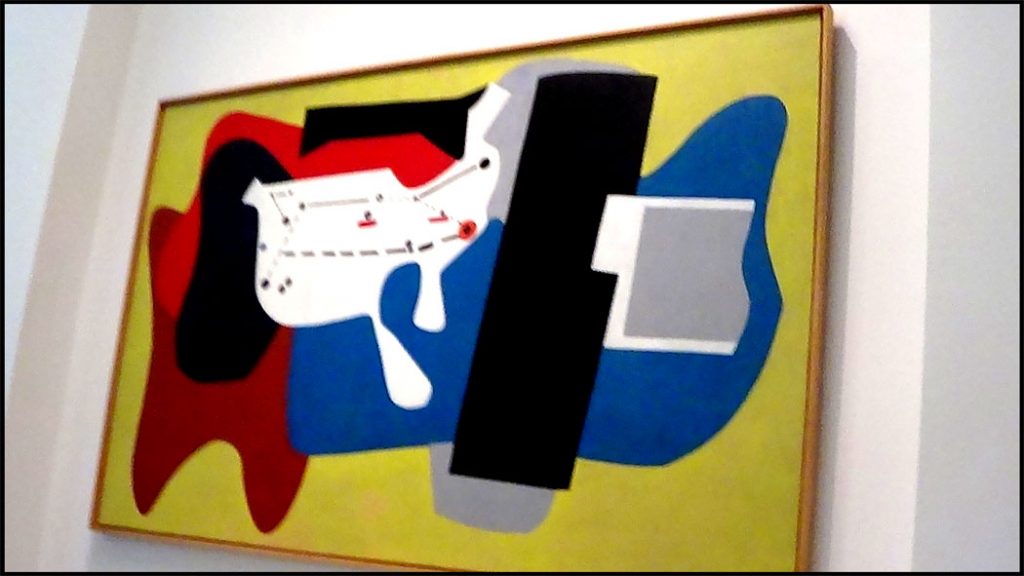 Title: Aerial Map (panel from the mural cycle Aviator: Evolution of Forms under Aerodynamic Limitations)
Artist: Arshile Gorky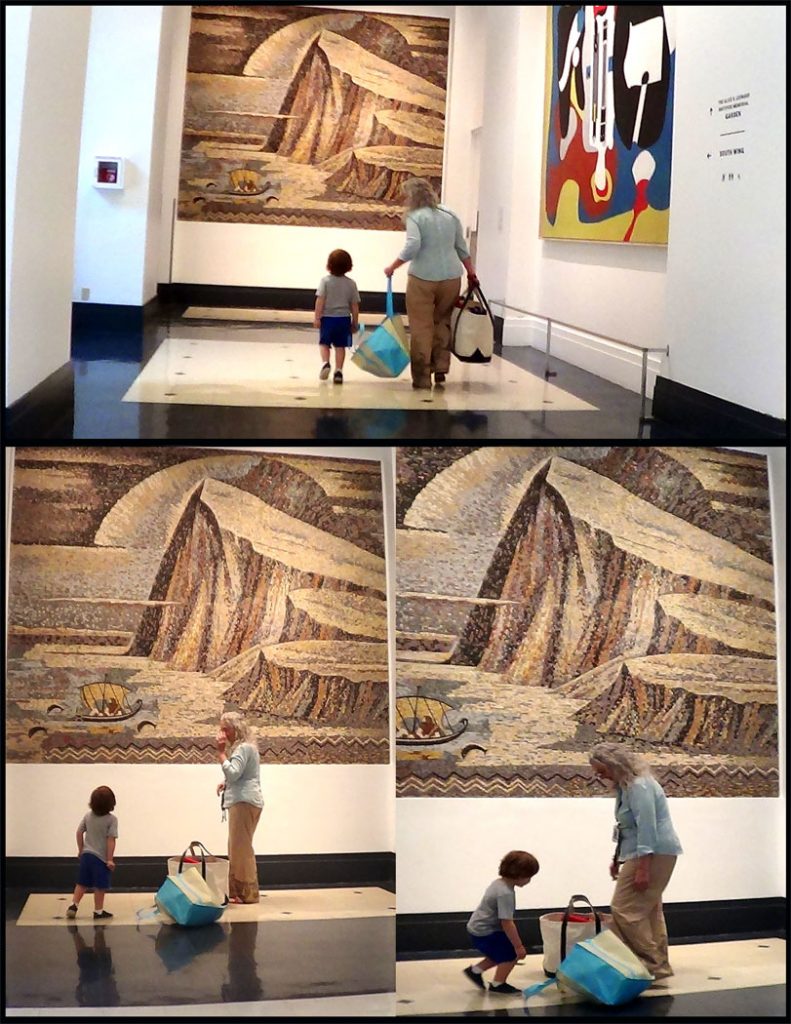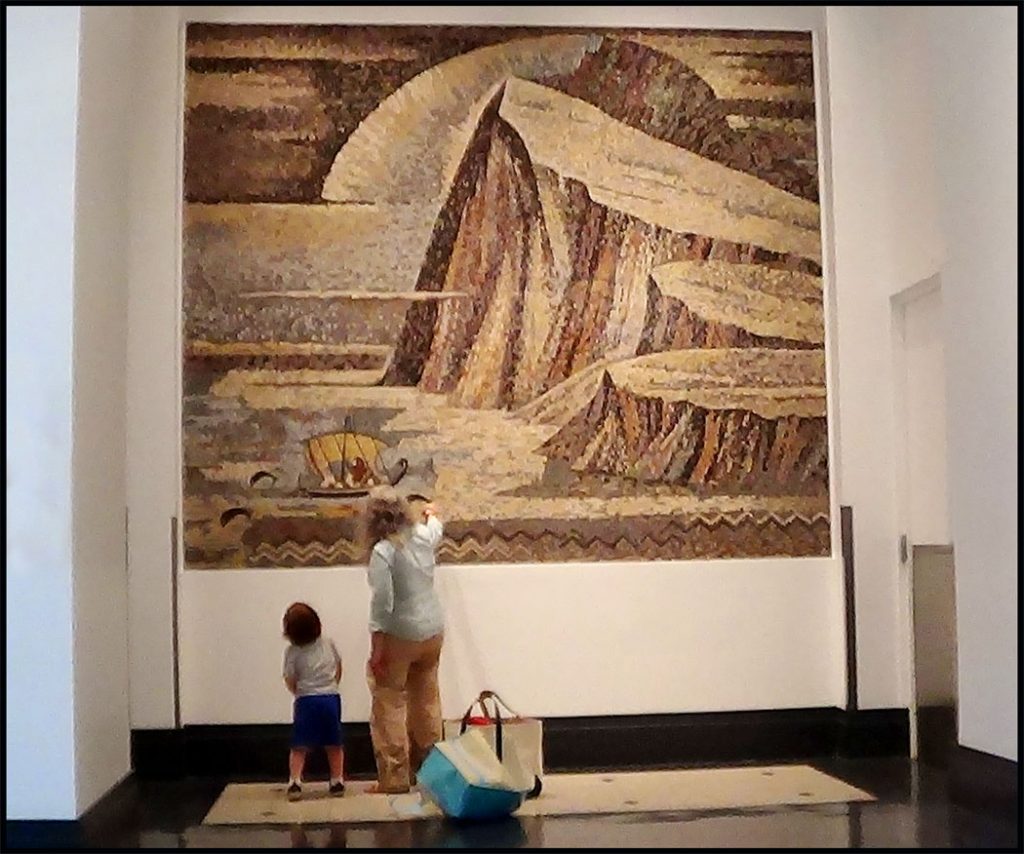 Title: Prudential Plaza Mosaic
Artist: Hildreth Meiere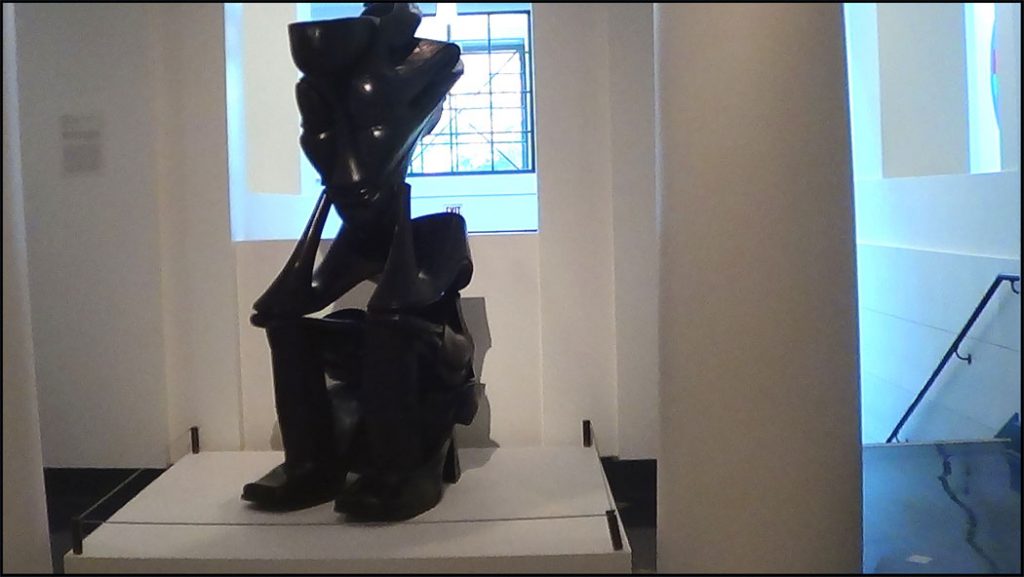 Ms. Garrido explained to Kai how the artist used different styles of shoes to form the sculpture.
Kai enjoyed the sense of humor of in Shoe Sculpture.
Title: Sole Sitter
Artist: Willie Cole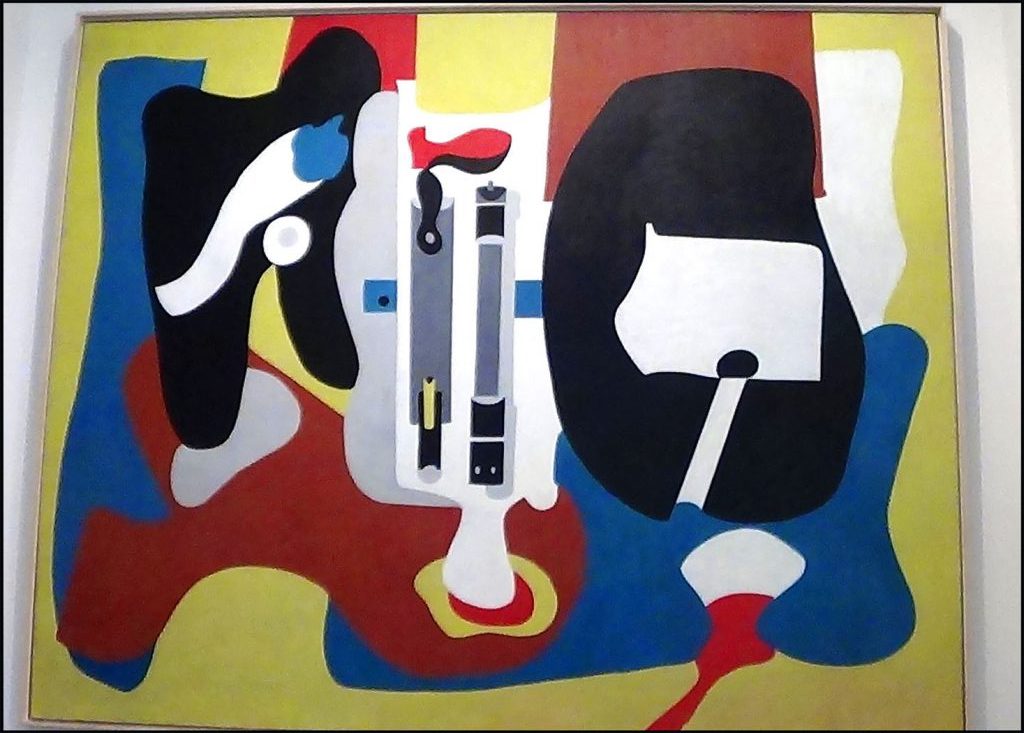 Title: Mechanics of Flying (panel from the mural cycle Aviator: Evolution of Forms under Aerodynamic Limitations)
Artist: Arshile Gorky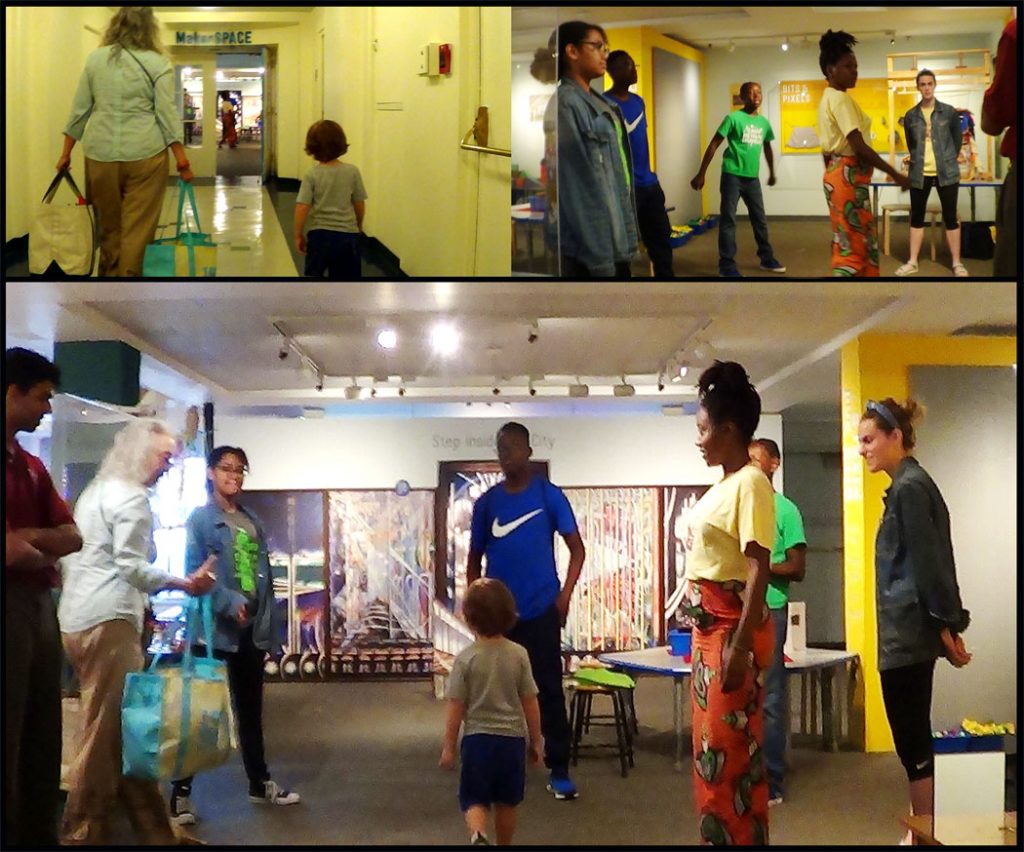 We arrived at the "Maker Space" room. Ms. Garrido introduced Kai to a group of people who were practicing a dance routine.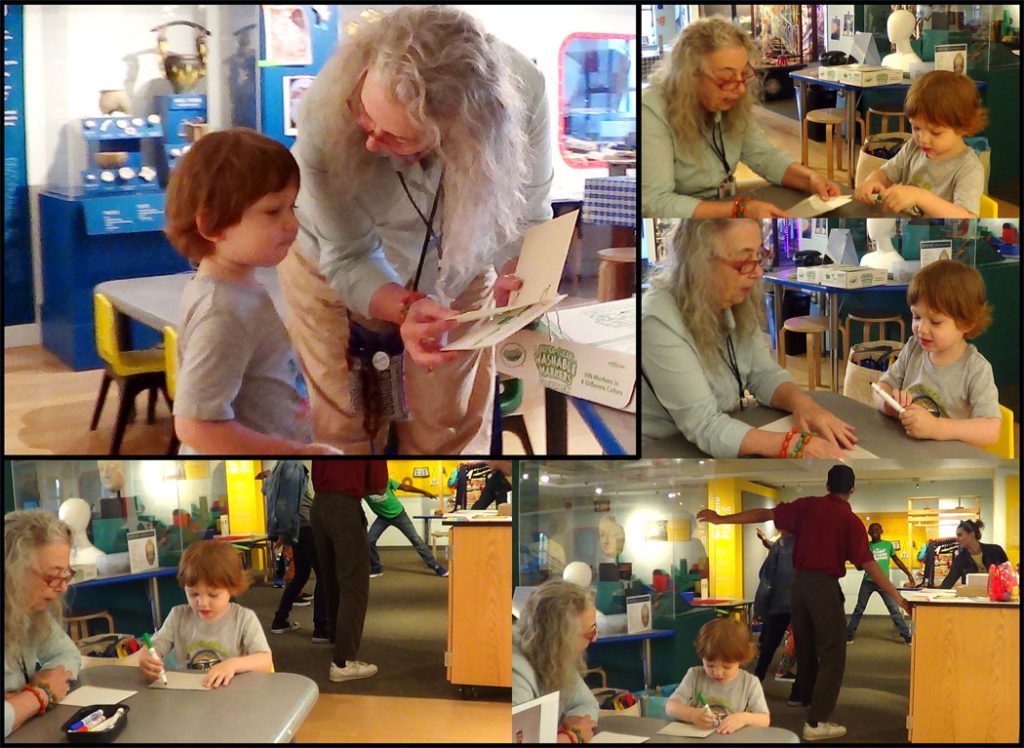 She showed Kai her book about Loneliness and told Kai to make his first book. He selected a green marker to draw with while they talked. She gave some suggestions and asked Kai some questions.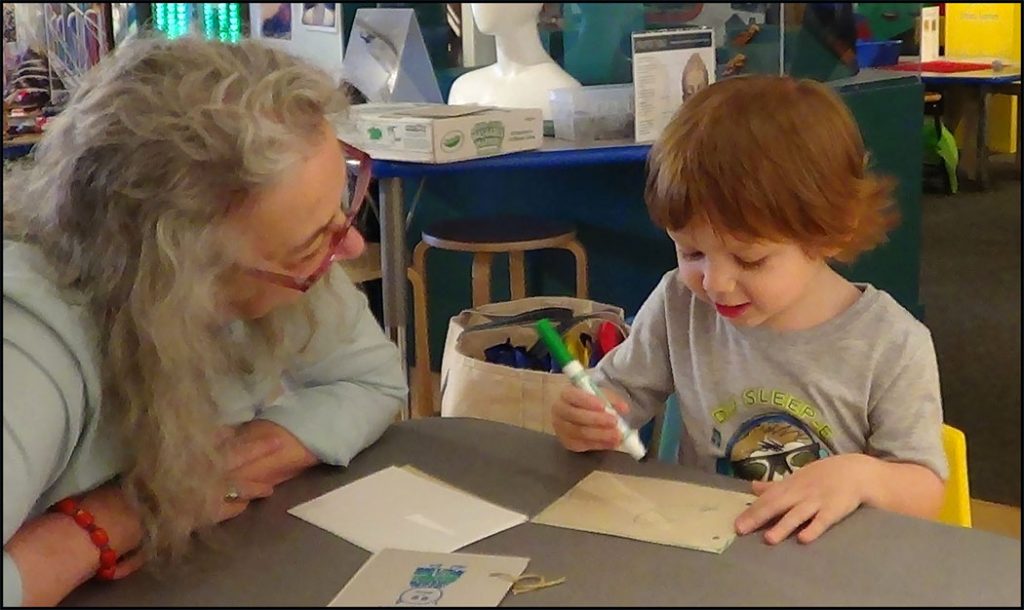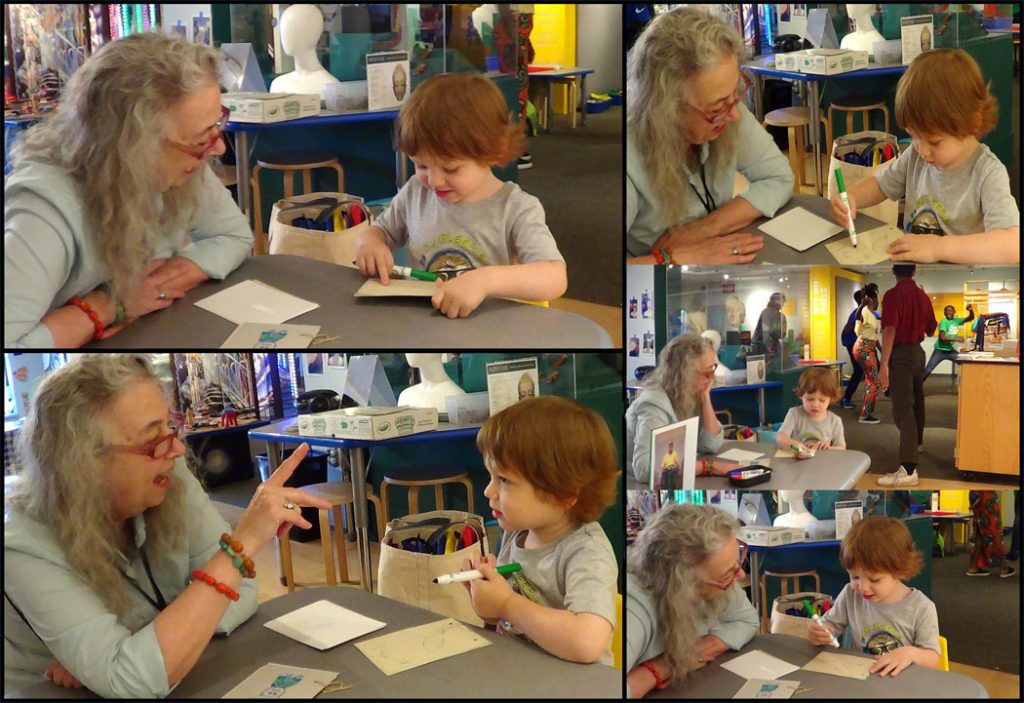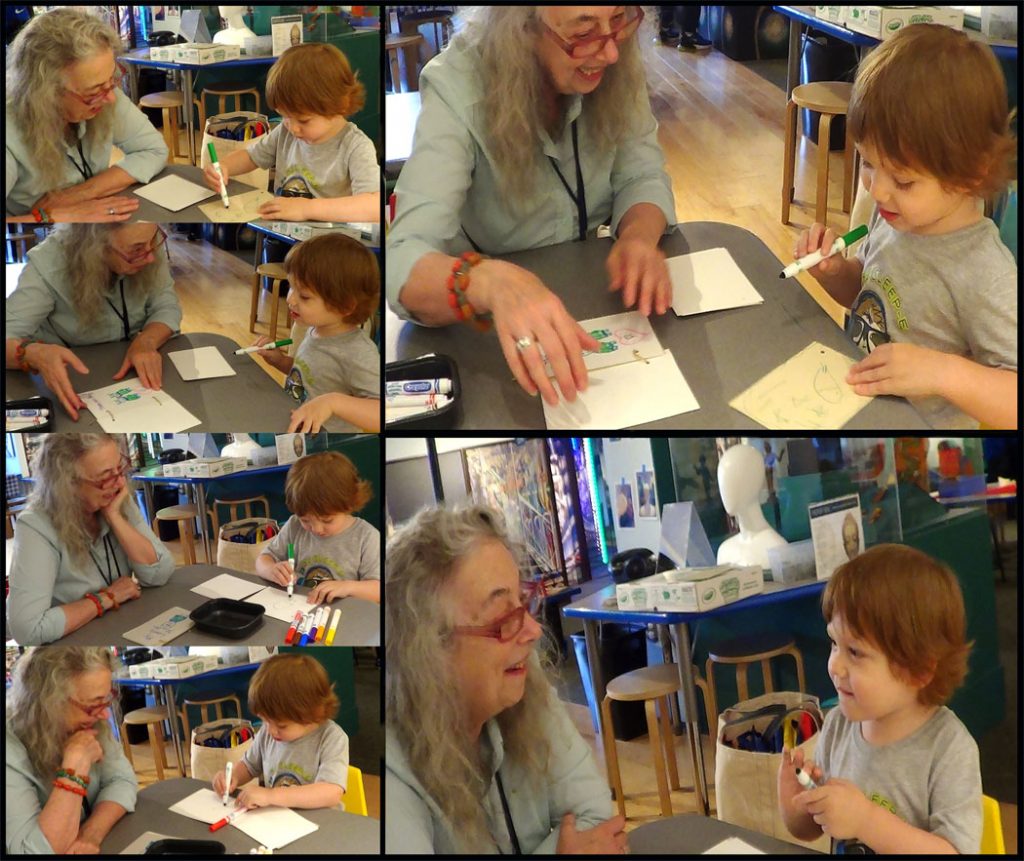 Kai drew pictures of himself, one of them he said looked like a potato head. Ms. Garrido suggested Kai use the other colors. He put other colors next to him but still continued to use green marker, saying that he loves the color green. Ms. Garrido asked him what things are green outside. Kai hesitated to answer.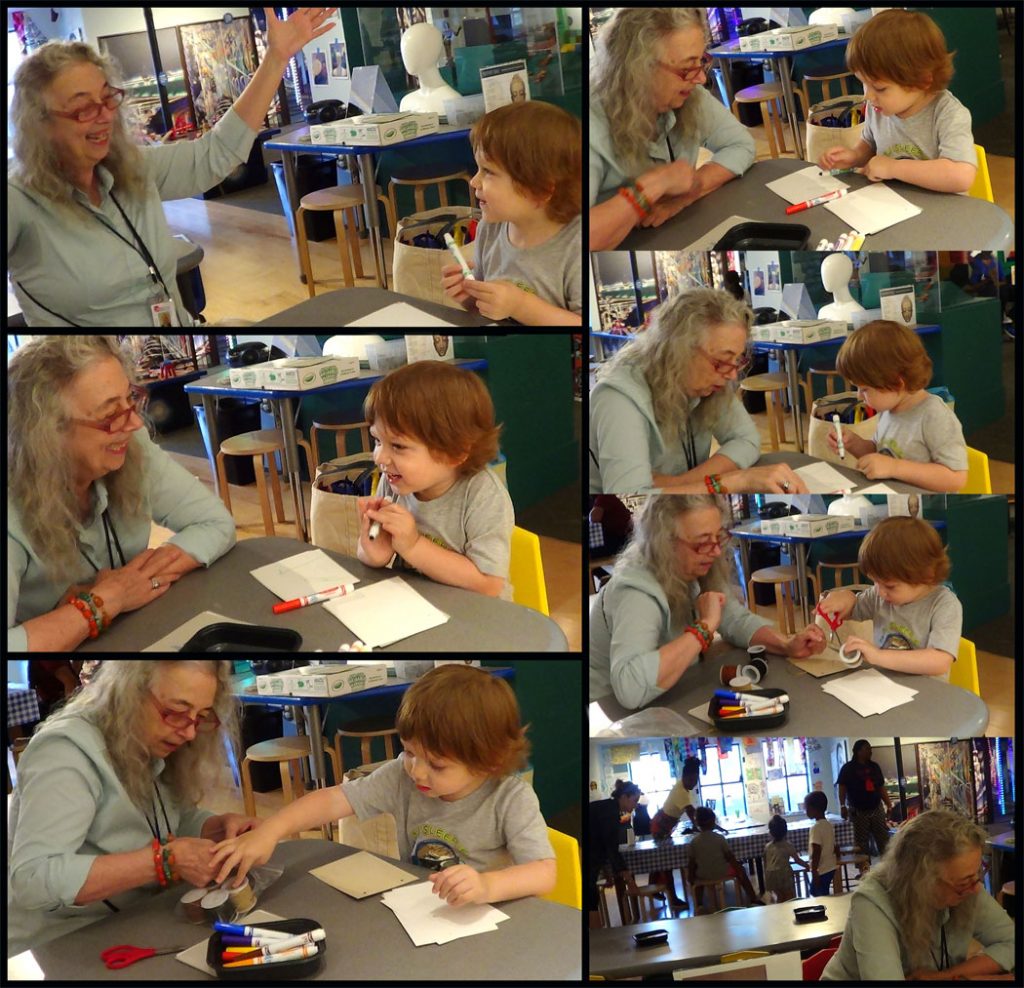 Ms. Garrido lifted her arms up and said "The trees have many green leaves." Then Kai said the ground has green too, it's the grass. She said put them in your drawing. Kai drew a few short strokes on his paper and next to them he drew a tall line with something on top. It probably represents a tree for him.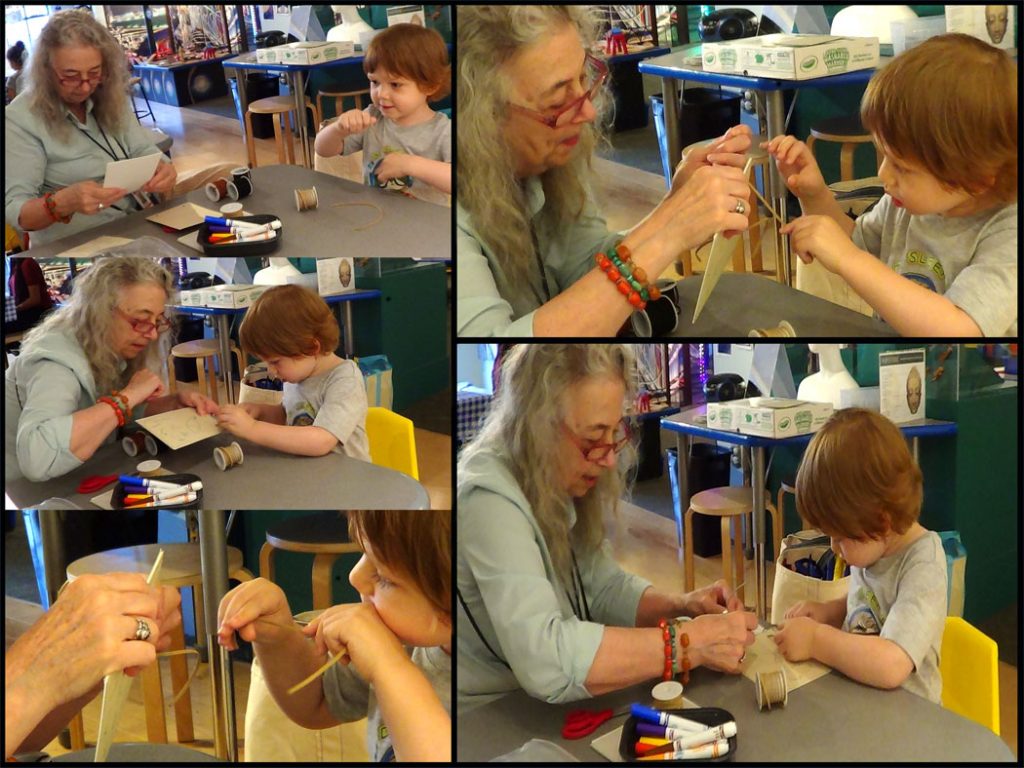 It was very nice to see Kai make his first book binding it together with Ms. Garrido. Kai learned a lot from her guidance and patience, encouraging him to learn and having a great time with her.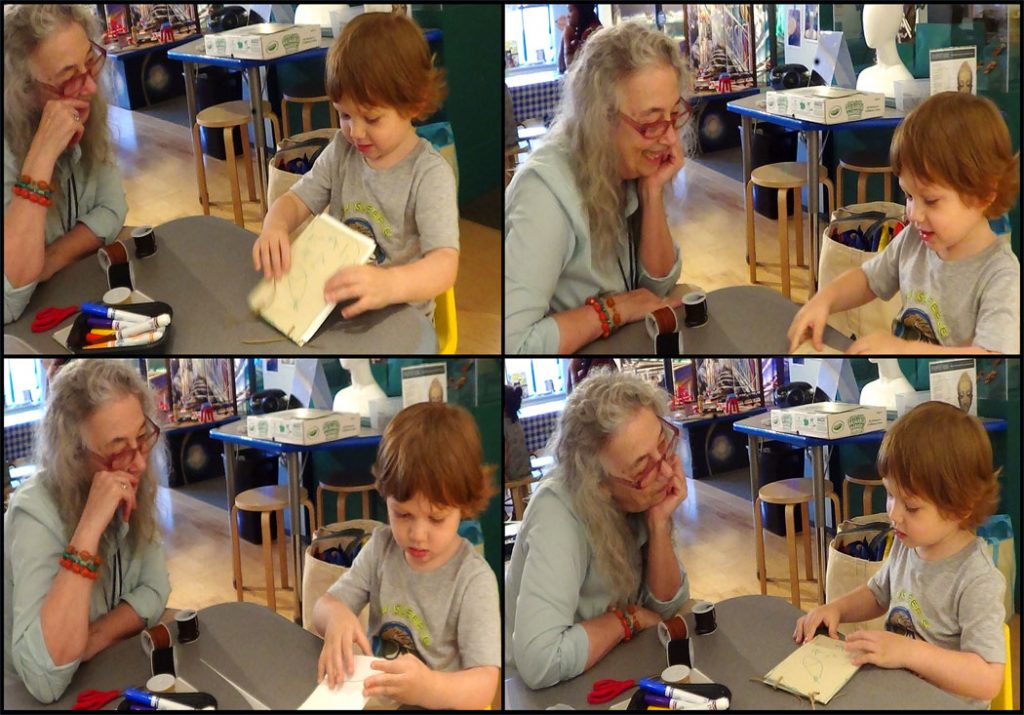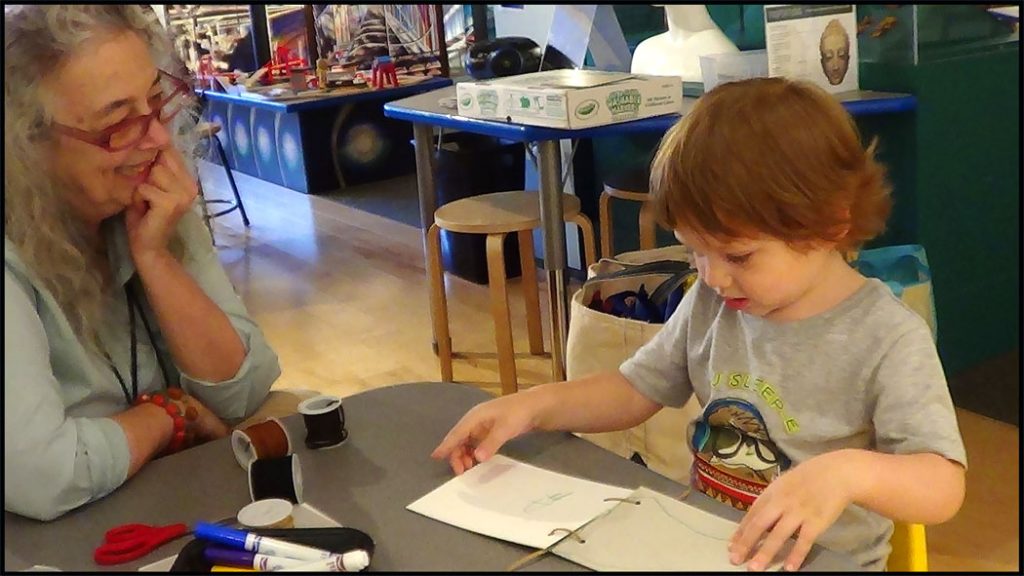 Kai was so proud to make his first book. He showed it to his parents and his grandfather John. He said he is going to show his book to his Papa (Great-grandfather), Pa (Grandfather Jim), Nana (Grandmother Maria) and four cousins when he has a chance to see them.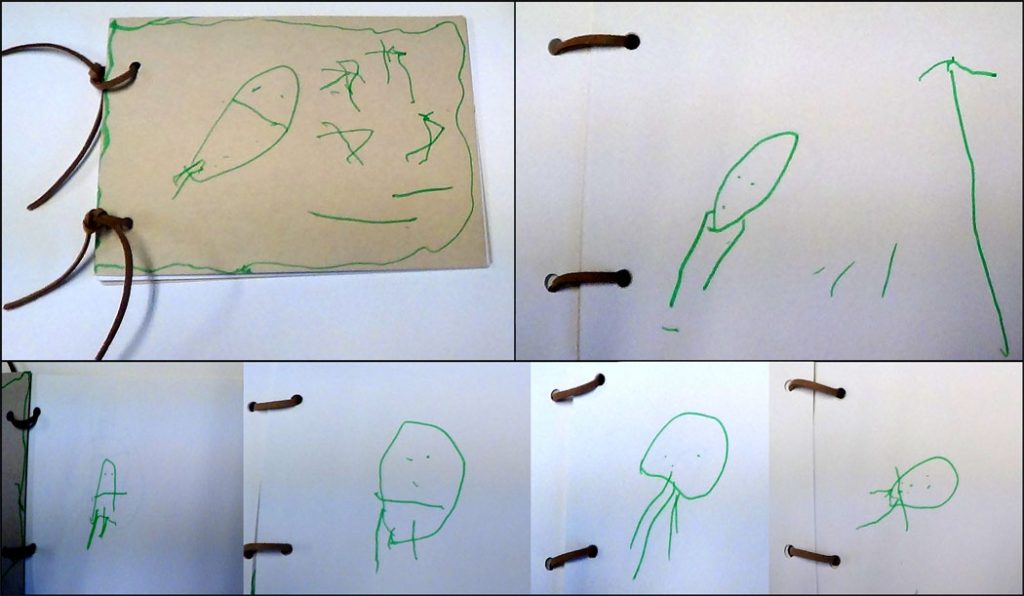 Kai's first book, Self-Portrait, Wednesday, July 17, 2019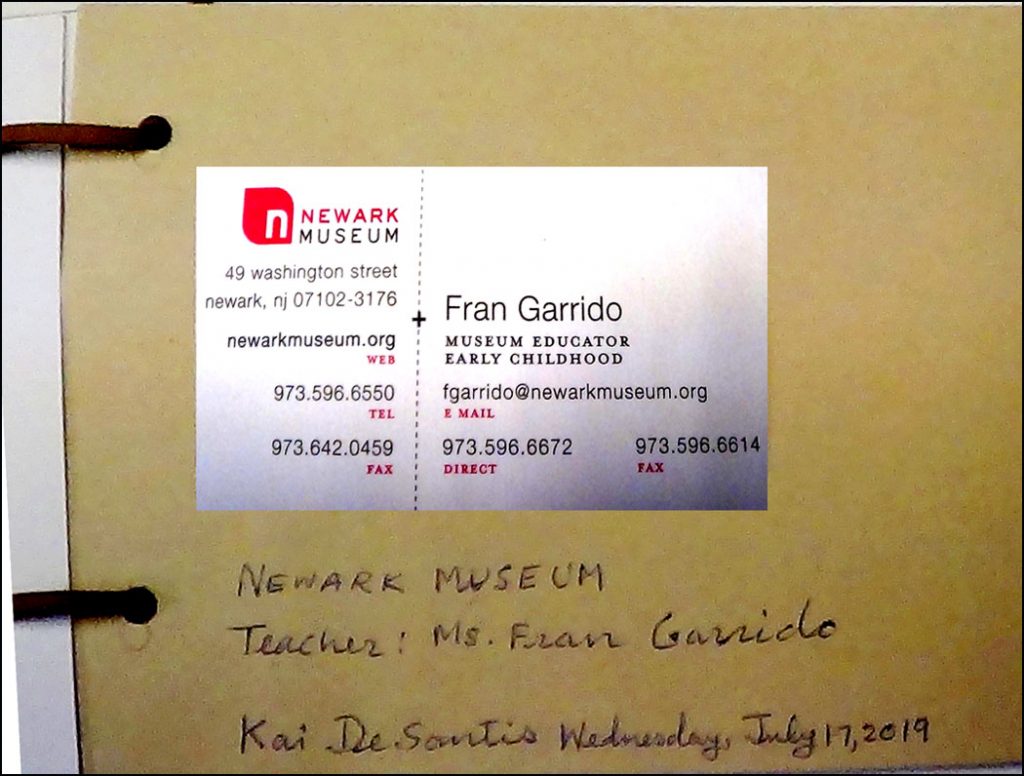 Ms. Garrido still stayed helping Kai with the toy train, even though her lesson had ended.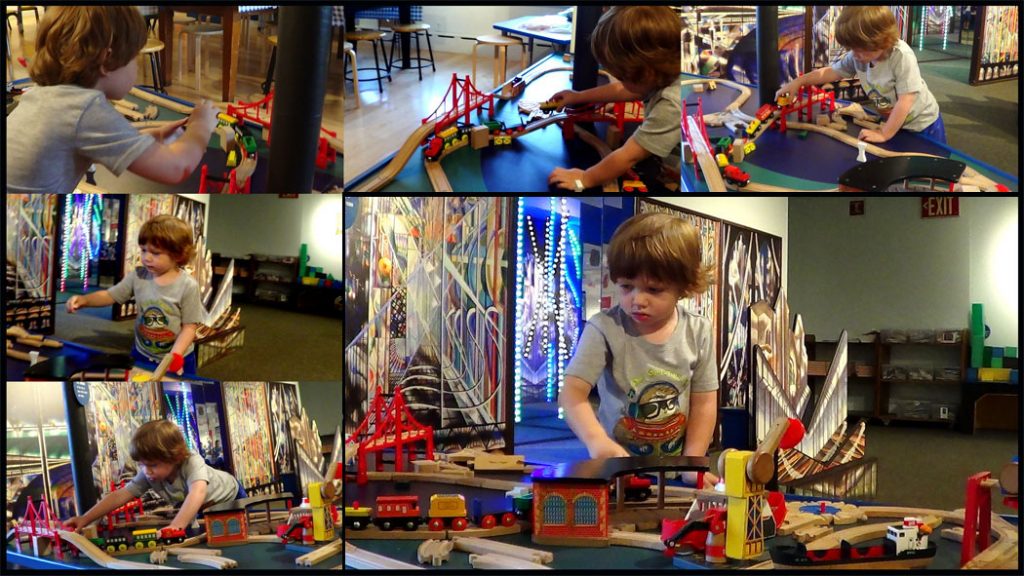 Kai was very interested in playing with toy train, at the "Maker Space" room.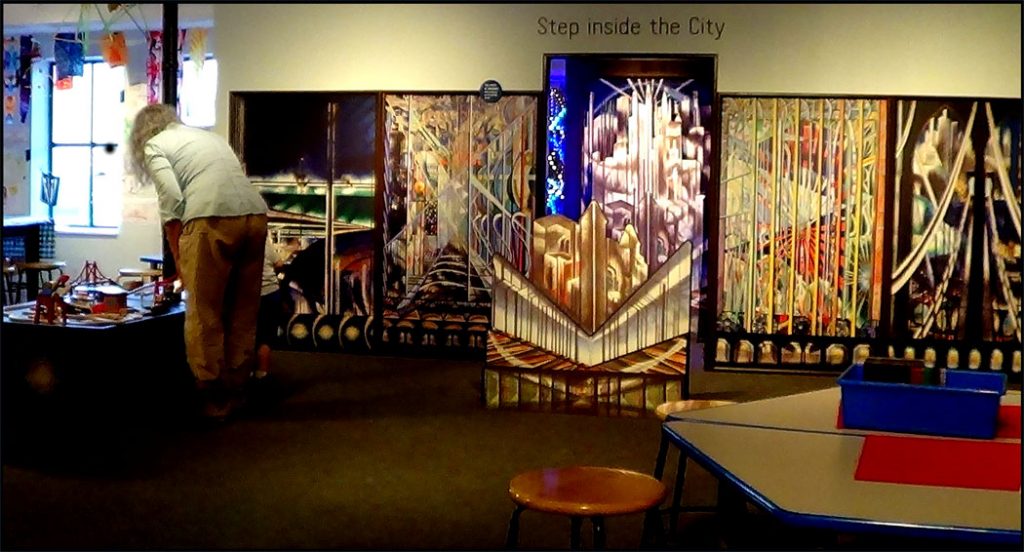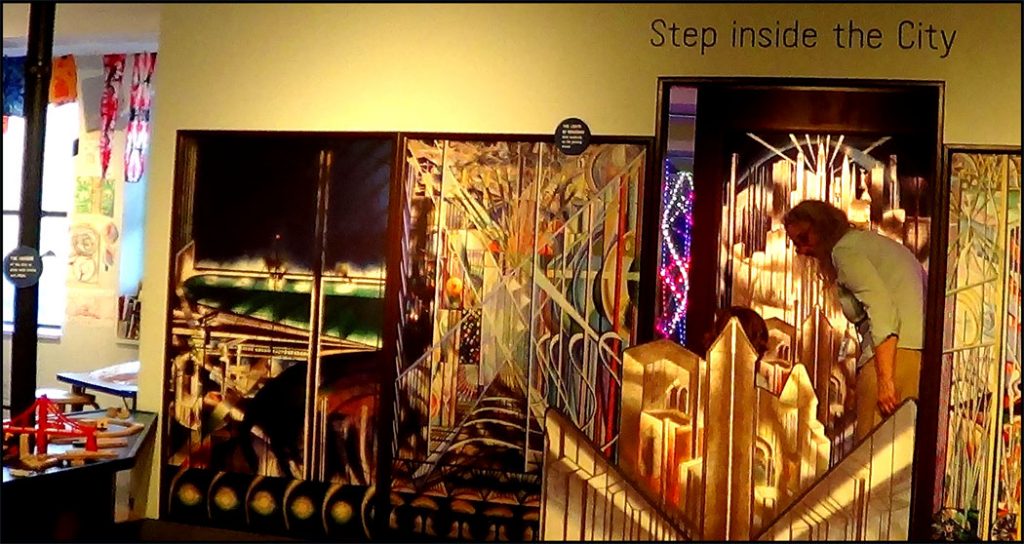 She showed Kai the Step inside the City area where there are the mirrors and colorful lights.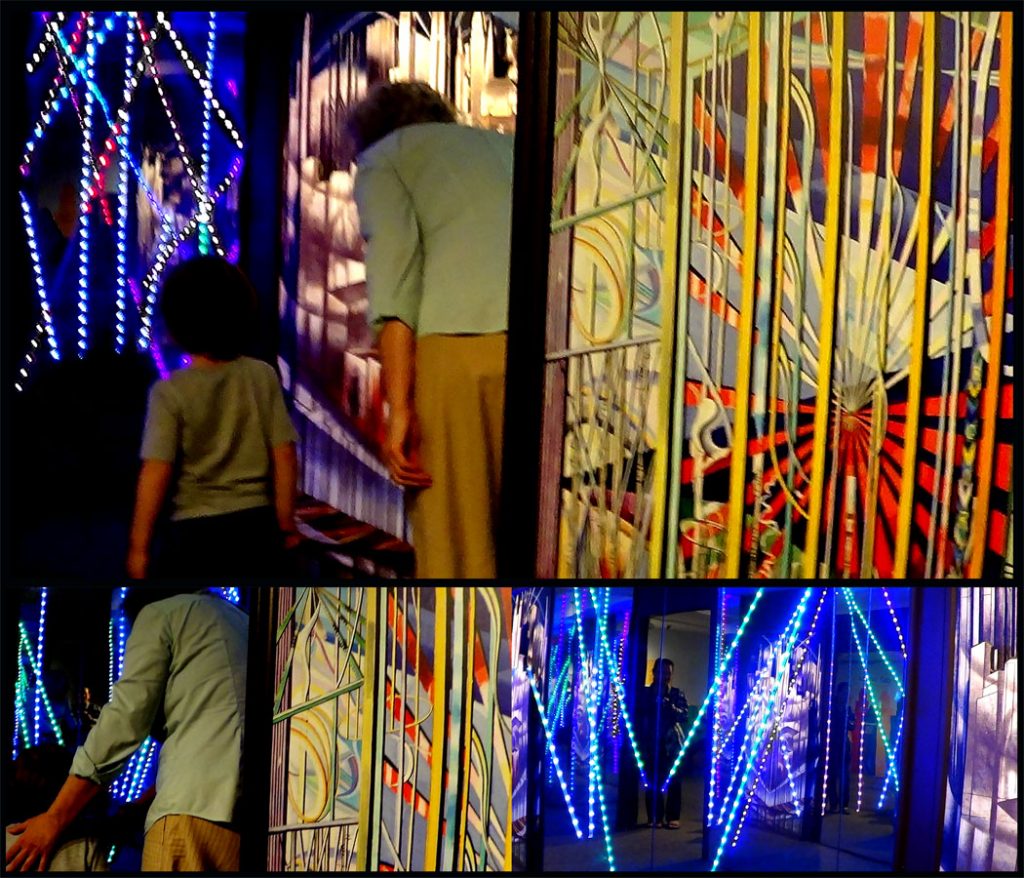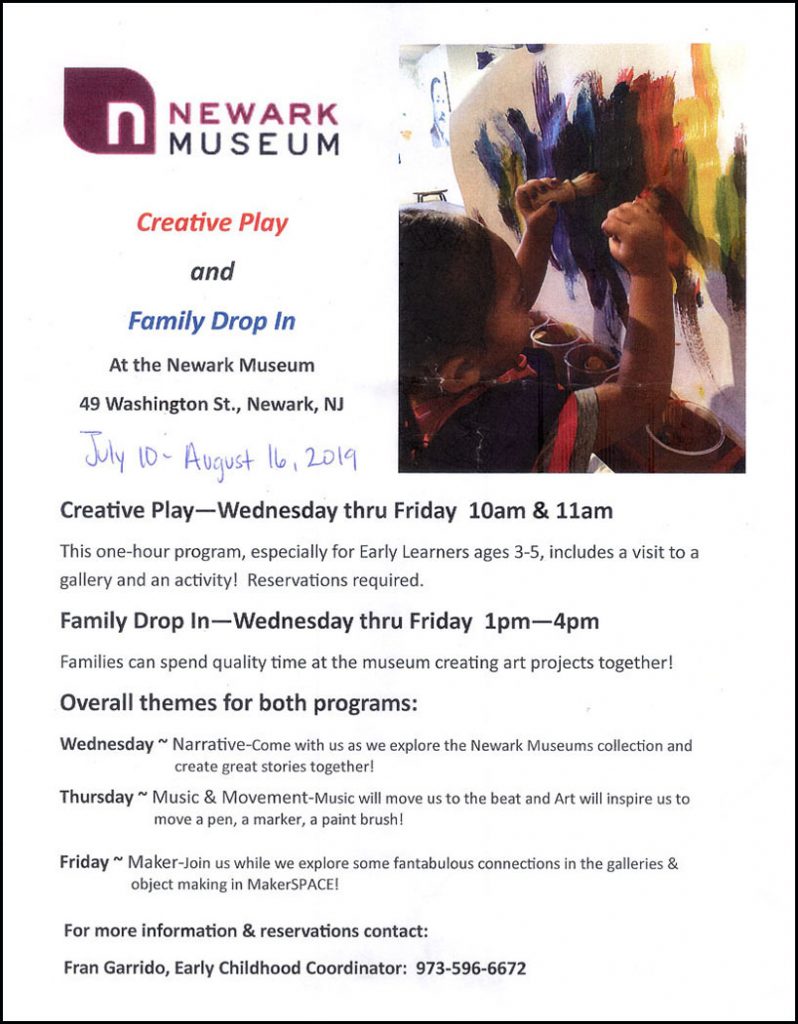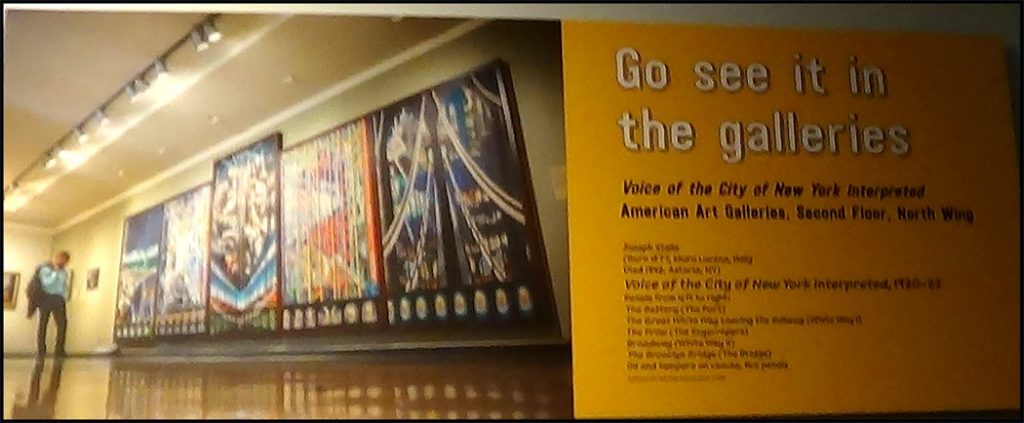 "Go see it in the galleries" Newark Museum's Promotion Poster
Title: The Voice of the City of New York Interpreted
Artist: Joseph Stella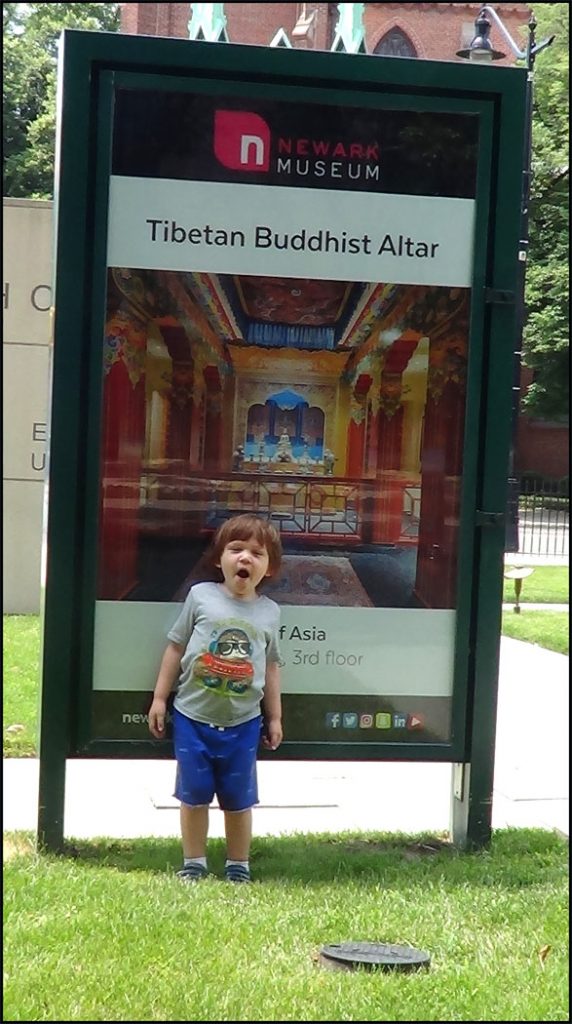 Kai was at the Newark Museum outside compound.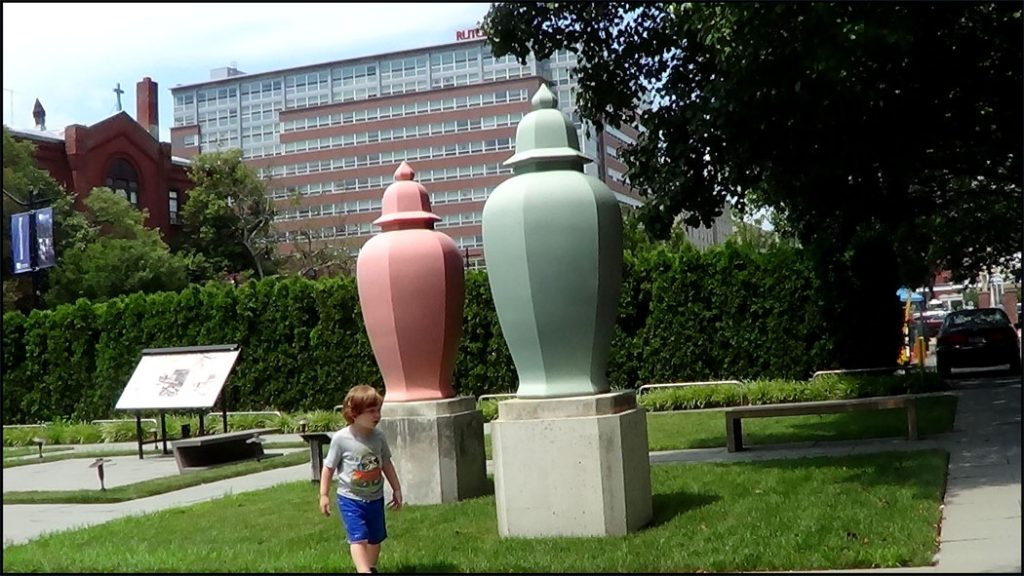 Kai enjoyed walking in the Newark Museum compound, far away a tall building is Rutgers University dormitory.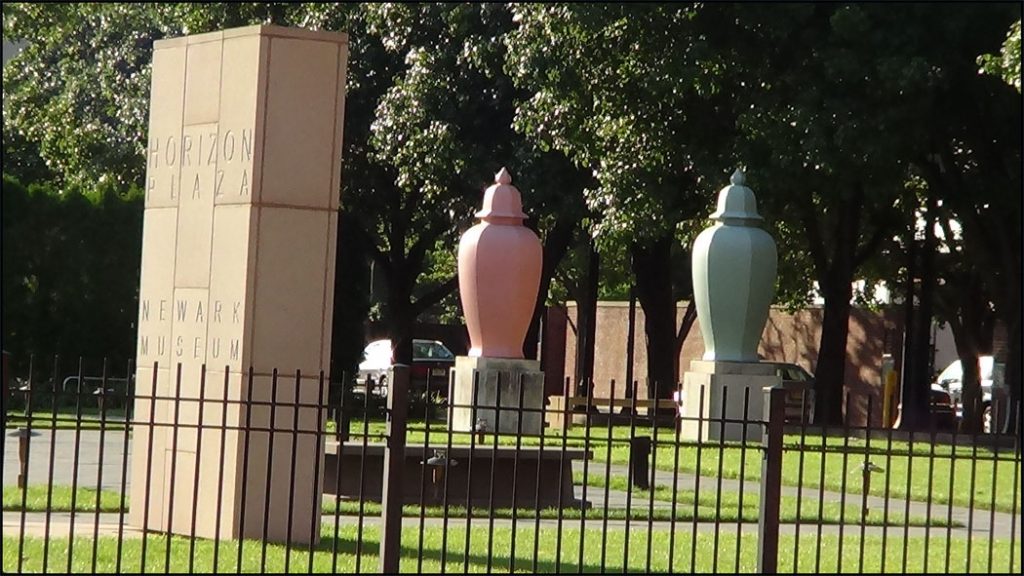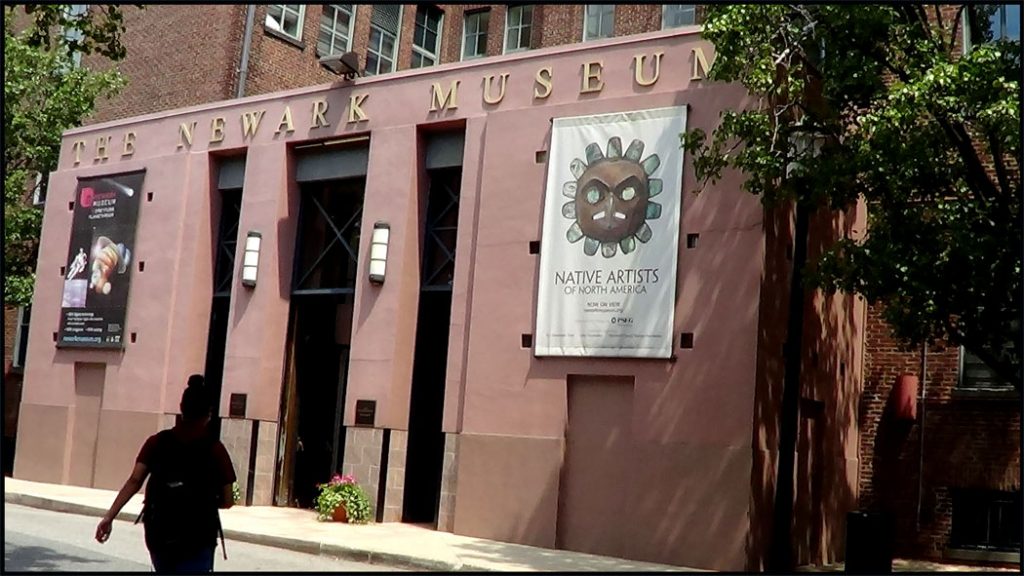 Newark Museum side entrance on Central Ave. Newark, New Jersey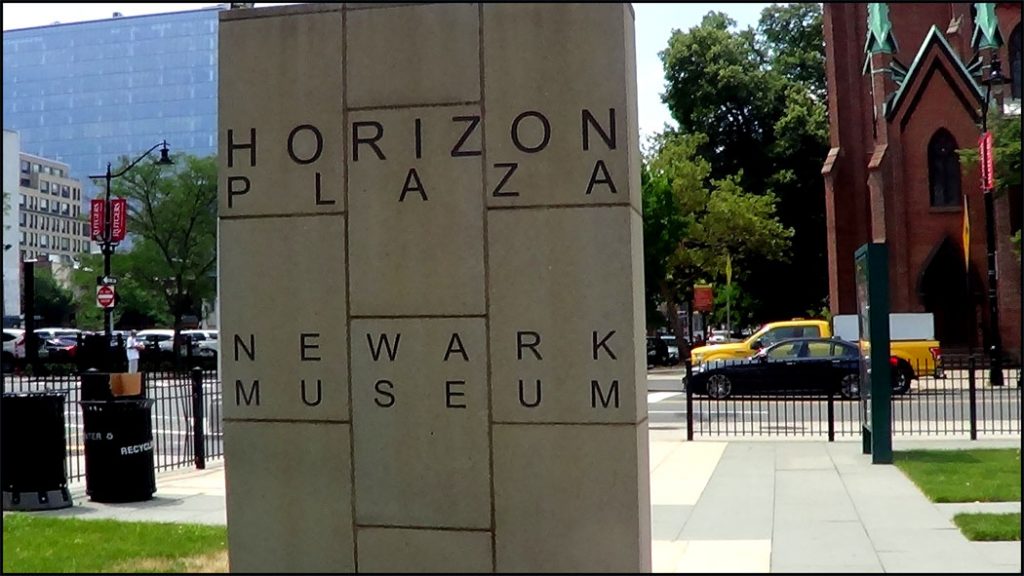 From Inside the museum compound at Horizon Plaza, we saw St. Patrick's Pro-Cathedral on Central Ave. A light blue tall building is the New Prudential building, looked toward Washington Street.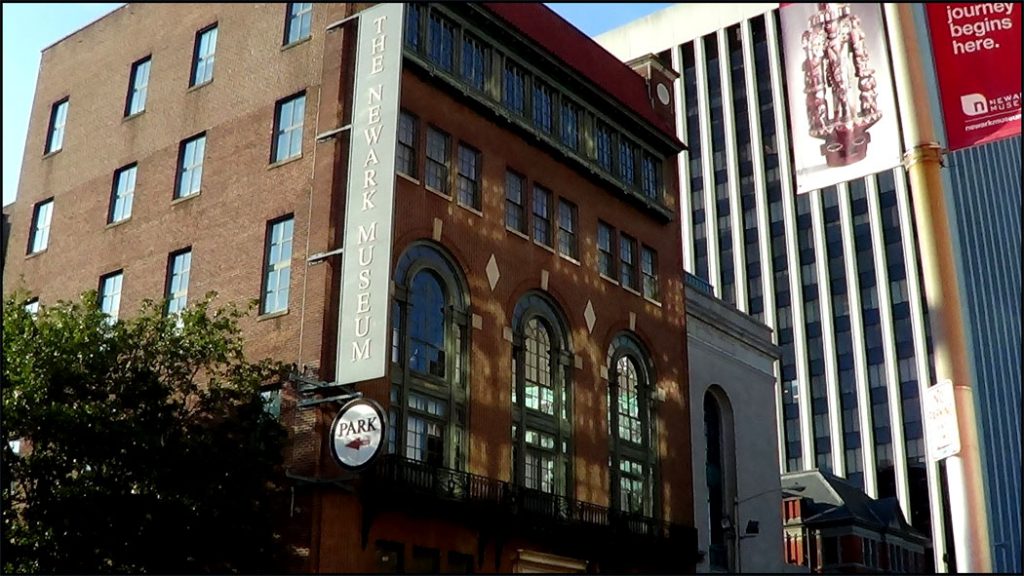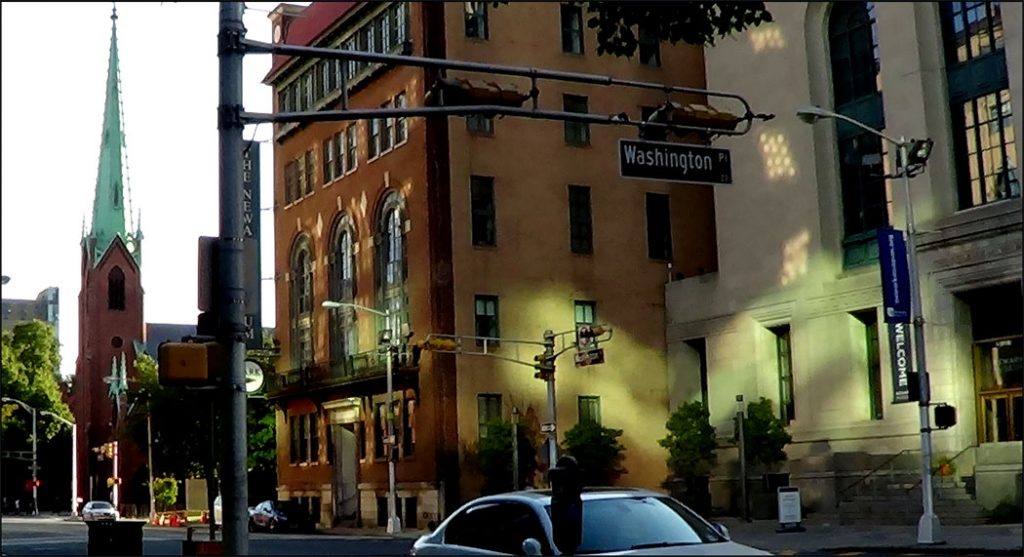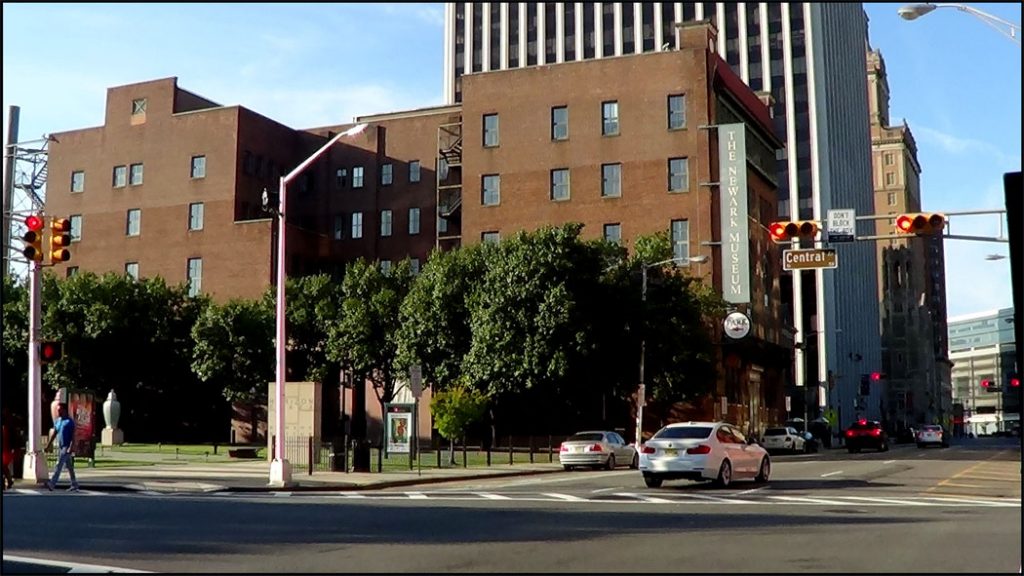 Before we reached the Newark Museum, while waiting for the traffic light between Central Ave. and Washington Street. Further away on Washing Street is a tall commercial building, next to James Street where another Old church located, next to it are the Library and Rutgers Business School. Newark Museum is located in the center of activities of Downtown Newark.
Ing-On Vibulbhan-Watts, Tuesday, August 17, 2019
For more information please visit the following the link: https://www.newarkmuseum.org/